News in the North
August 16, 2018, Elul 5, 5778
Refreshing visit in Genosar
It was nice to start visiting the winners again. Eli-Ram was happy with the post stamps and a nice blessing card from Margo and her team workers from Limburg - Holland.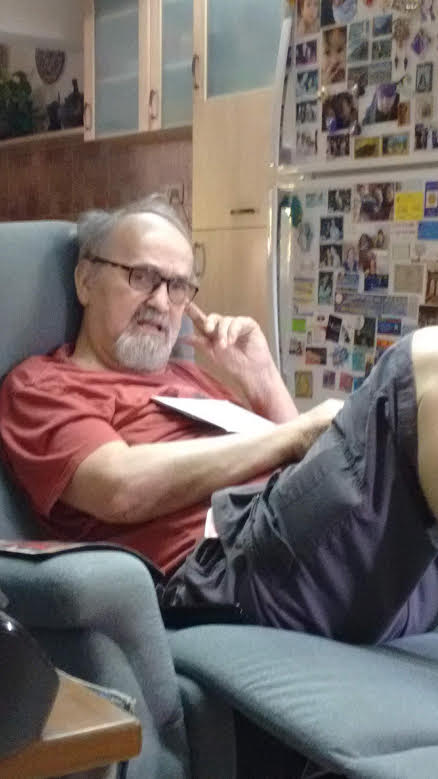 Eli Ram

Batia is enjoying her daily ride through the kibbutz in the scoot-mobile. Both of them are asking me each time when I come, when the students going to start visiting them.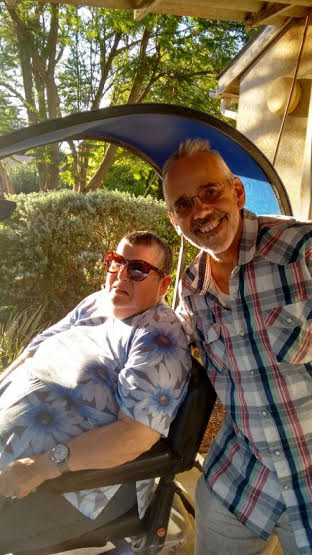 Timek with Batia
The new season will start soon after the Jewish high holidays. Both EliRam and Batya are ready and waiting patiently for the new students that will enter their tiny living room and their heart soon.
Kibbutz Chukkuk
Ruben introduced me to Mika. Mika is a young looking lady, 90 years old. She liked the idea of "Lechaim" with the visits from the students. Mika is not a shoa winner, but a woman with a lot of life experience and a very communicative person, that is able to educate the young students and connect them to the Jewish roots of Eretz Jisrael, like Marit did last year.
Marit and Tzipora were excited to see me again. Marit is recovering after falling down . She is doing fine and happy that her bones didn't break.
Warm Greetings,
Timek
Modiin
Efrat and Rachel: initially Svetlana asked us how we were doing, so, we told her we were in Poland. We asked her how she is and Dimitri as well, and she said they finely handling for Dimitri a helper and this will help both of them.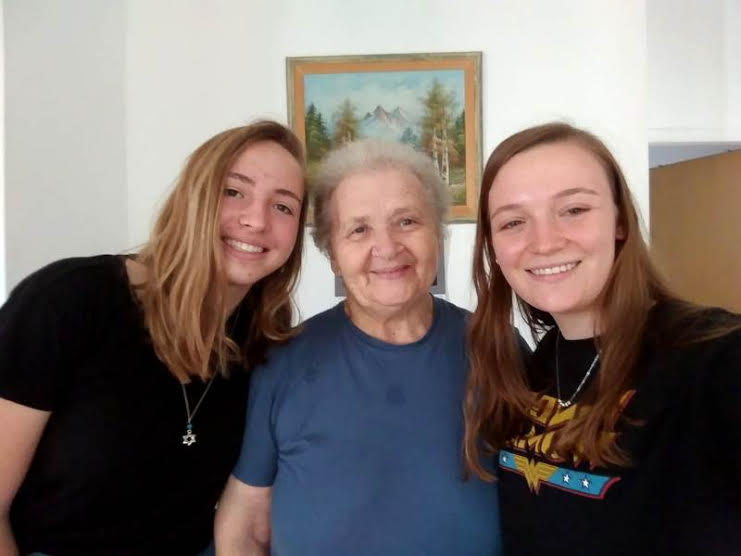 Svetlana with Efrat and Rachel
Rachel told us that her brother was born two weeks ago, and she told Svetlana about her family, which is a little complicate, because her parents are both married again and she have two siblings and stepsiblings. Svetlana said that there will be more people at the wedding of Rachel , and then, she told us about her grandkids. After that, Svetlana offered us coffee and we sat and talked a little about the protests were about surrogacy law. We said that to do some weird stuff but if there is a violation of human rights or something that disturbs, it need to demonstrate and talk about it.
Shir : We came together to Riri , almost every granddaughters.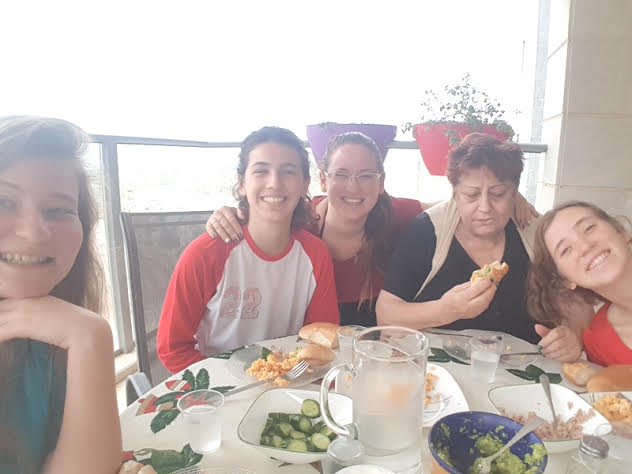 Riri
It was a very special meeting. We talked about life, about the plans of the girls, the special year that we had together, the Preparatory that we each, going soon. Riri said the last time she had dealt with her sick relative. The visit was full and happy as ever.
Precious Shulamit went and we had family reunion. As a grandmother or a member of a close friend mentally, I showed her the album I have done for my tour across the country of Israel, telling her various experiences and Shulamit as usual, was interested asked questions and add her own experiences.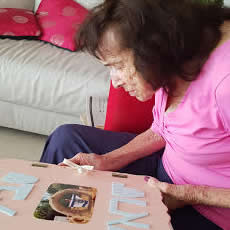 Shulamit
We talked about the future and what I'm doing now and she told me about the problems in her eyes, I hope she will be better.
I arrived to Janet for a short visit and she did not feel so good. We talked a little about the family and our strolls around the world.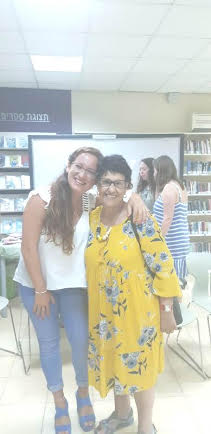 Janet
Janet told me that she is considering a residential facility and talked about the plus and the minuse of this in attempting to help her to decide.
It was interesting and fun.
Mordechai was happy as usual. Marina is his nurse for a month and it's great ! He is just a new person.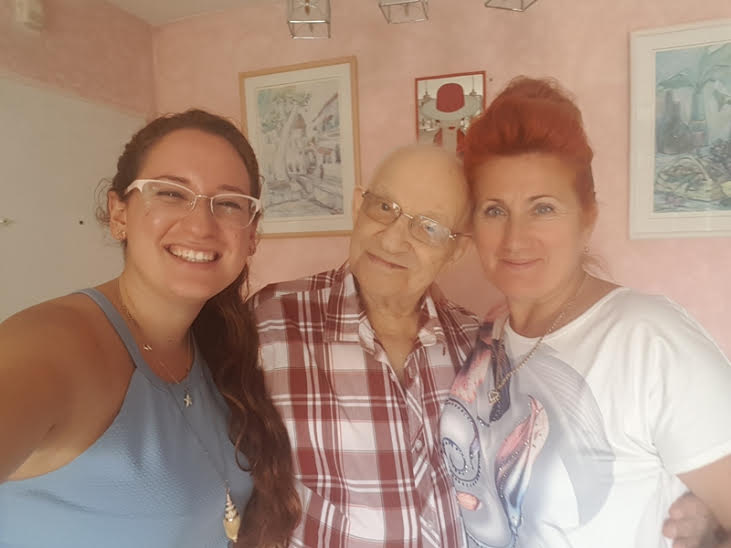 He was with special cheerfulness and optimism. Our conversations is a Hebrew and Aokriainit and complete translation of his.
Grandma Sarah was fun and she was very happy when I came with her favorite cake, done by my mom . We have completed the gaps. She told me her indecision about where to volunteer in the coming year. This will be her 12th year in the high school together. This year she was thinking be accompanied by emotional and fewer students who need a mentor.

Visits in Pardes Channa
Rivka: I went along with Danny who has been mobilizing all the activities that need help. We started with Dina who have all the time something that is missing because she receives a little national insurance and this is all the income and her family can't help her. It has been months that she receive assistance per one week and two-weeks with a break... Something does not work there and it effect her home.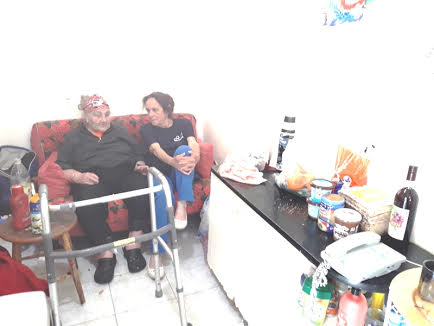 Dina with Danny
She was a woman who really kept her house neat and clean, but today she can't help herself. She did good food from nothing and it was was always delicious. But today she can't and it is very frustrating to see it . We brought her a bag full of groceries which can help her a bit . We arrived to Zippora.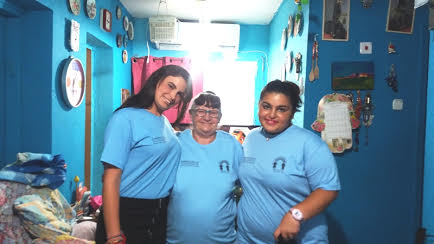 She feel better. The precious man who takes care for her problems (with Amidar) is Alex Talmor which told her that he is approaching for her house solution with Amidar very soon. Let's hope for the best.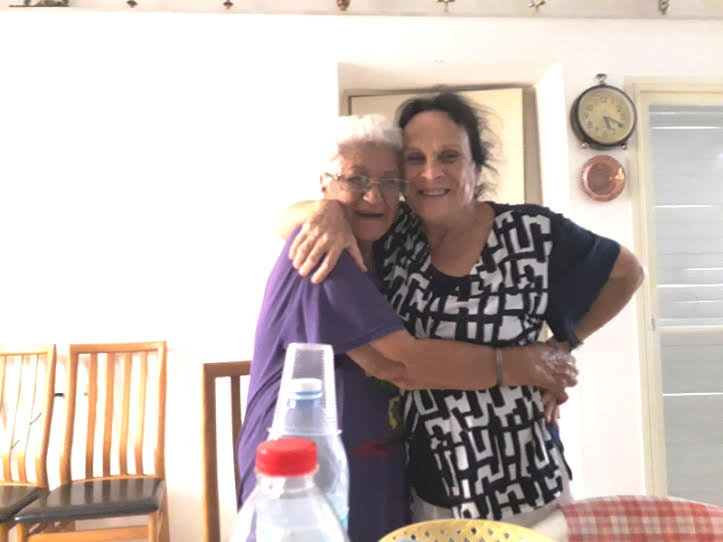 |
Aviva
we came to her and she was very happy to be part of " L'Chaim".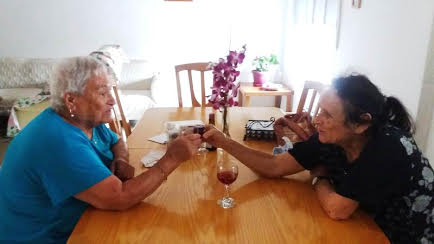 With Shulamit
We drank "L'Chaim" for her birthday. From there we went to Gizela.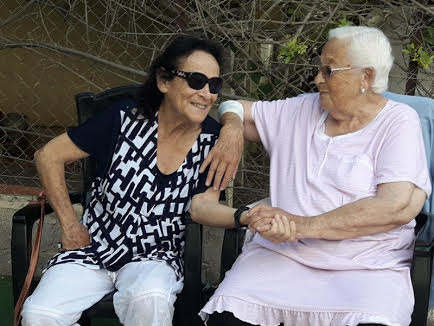 Gizela
After falling hard with dry blows, she got a contractor to repair and expand the shower and the toilet in her house. We hope that the new bathroom will keep her from unpleasant falling . Last but not least, we visited Aliza, steel having a breathing problems which have not been resolved and occasionally uses machine that provides oxygen to her lungs. Nevertheless she made us an excellence cookies to take home. We wish her all the best in the world.
Zfat
Adi and Moria (soldiers) : We arrived to Esther after a long time and the joy was great !! We were greeted with hugs and kisses and of course Esther directly concerned that we will eat and drink.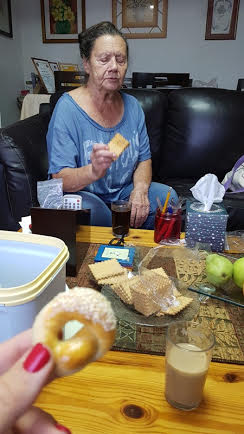 She served us pickles she has made by herself, and we were excited to see a pile of cucumbers on a previous visit which became a huge jar of pickles. Esther shared with us that she went to the beach and showed her bathing suit she wore for 40 years, we were happy for her that she was going out having good time. We continued to talk, telling her our routine at the base, commanders and stress at work. She shared and told us about journeys made during the week and told us about the unfortunate falling she had. We asked her to keep herself safe and to listen to her guts. We talked about the security situation, the families and Eitayi. It was simply amazing and of course we parted with hugs and kisses
Shir : Last week I went to visit in Zfat.
I was first with sweet Shalom. He is very excited to see me and always tell that when we come to visit him, suddenly he feels good and all the problems are gone...
He told me that he was very sad that his daughter do not talk to him and his son from France talk to him more than his sister here in Israel.
I went on to dear Eli. it was a short visit but most optimistic.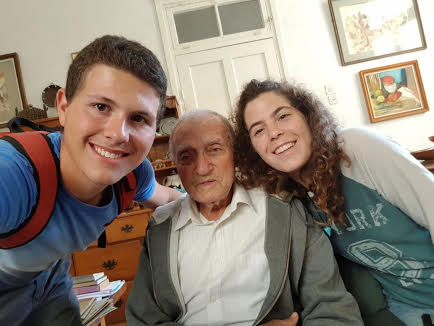 Eli told me about his family and that he should appreciate things in life. He said that at the age of 97 he greatly appreciate and enjoy his life as much as possible, and especially with his family.
Visit Esther was very joyfull.

I picked her up from work and we did some errands she needed to do. Then, we came home and she showed me her garden and what's new there. We have seen videos of her lectures in the Northern Command. It was fun as usual and we enjoyed it very much.
To the children of Shderot-welcome! Next Wednesday, we will get to see the first group from Shderot coming to have vacation.
Full report after the visit. They are waiting for this as we are. Shabbat Shalom and be blessed
Shdrot
https://youtu.be/57b5Dfc4pTo

Manaratrail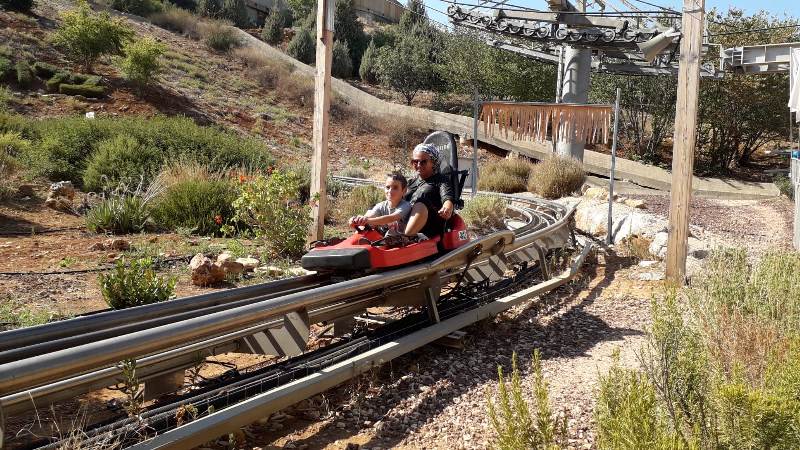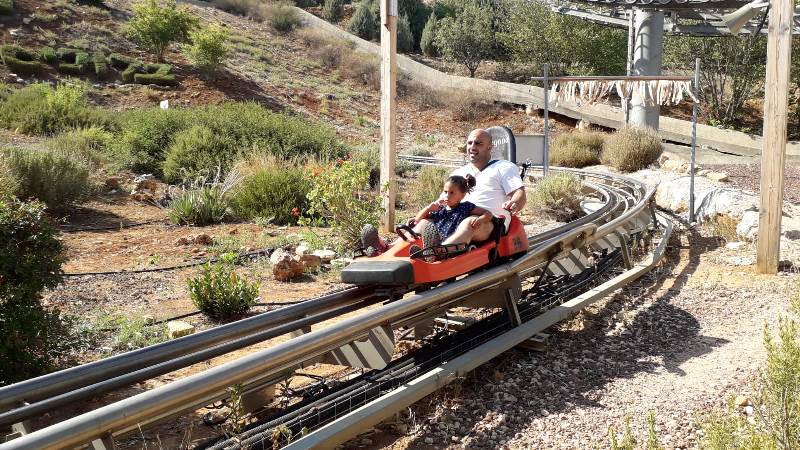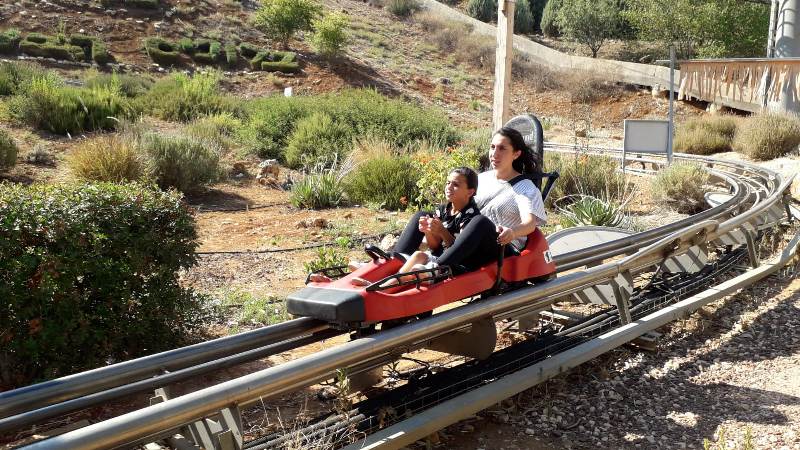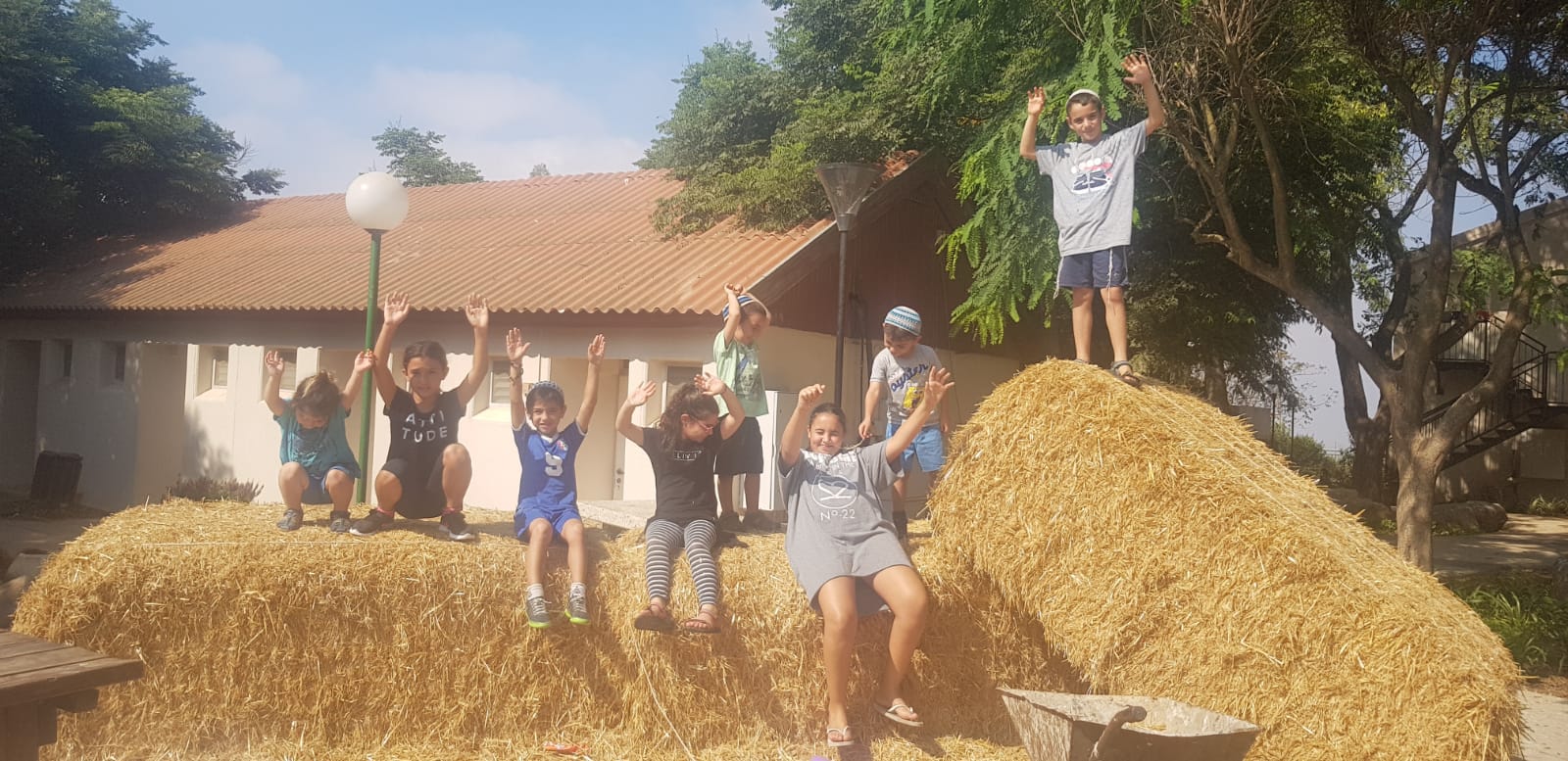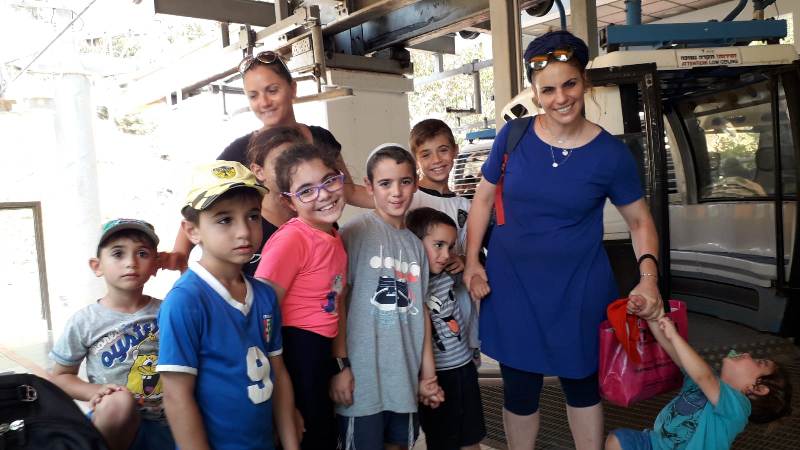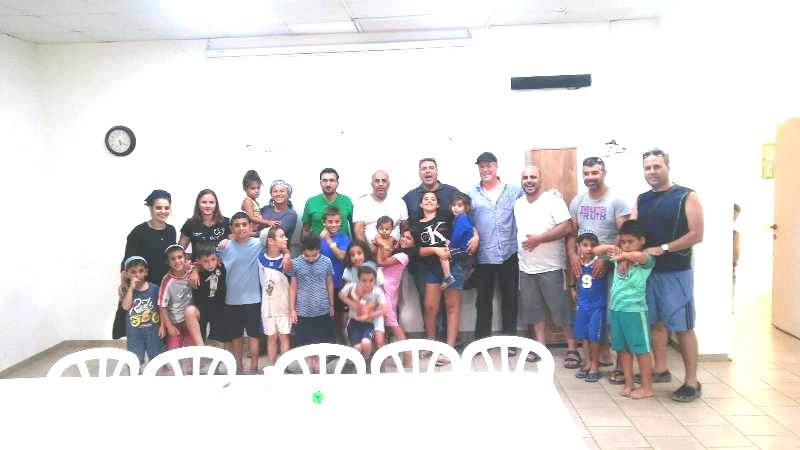 Whole group
Visits in Pardes Channa
August 2, 2018
This time my visits were without refreshing accompaniment of the students from Neve Michael who are currently in their homes during the summer break. I stocked full of all goods in the packages, some of which we get from good people and enterprises in the region: Cheese We provided from Jacobs dairies, vegetables like carrots we get " Shalit carrots " . For years we get this contribution. And of course the Malka Farm from Sde Yitzhak who gives us vegetables such as cucumbers, peppers, etc., and even sometimes we get fruits. We are careful and bring only fresh fruits and vegetables to our friends who need them and are very grateful for that.
I visited Jonah. She still suffer from severe stomach pains and Glaucoma which is impossible to cure. But some Thanks she greet for our visit. At Dina there are constantly problems without an immediate solution. A full olive branch in her yard has broken and I had to reassure her that nobody has done it with wickedness. She was very upset. We continued to Tzipora. She stay all the time at home, and during this period her grands, are with her because her daughters work. We arrived from Aviva which is new to us.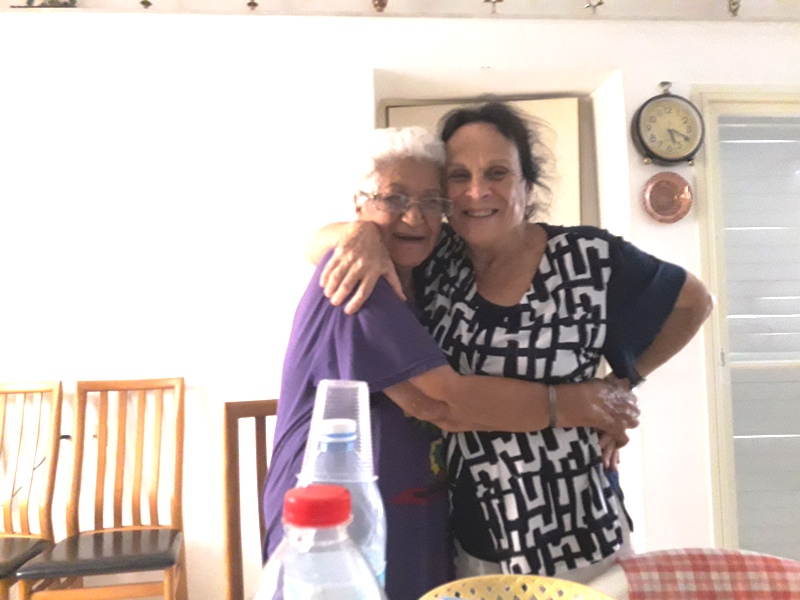 Rivka and Aviva
She is 83-year-old .who was born in Yemen and at the age of eighty began and learn to read and write and actually we found her sitting and reading a book (of course for children) but she is so happy for these achievements. And we will talk about her unique life story.

Gizela were sitting out in front of her well-tended garden, and as usual she express how thirsty she is for our visit because they are the only ones in her reality right now. The tension is great because the maid / nanny of her, going away for a month to visit home, and she remains so far, with no one to take the place...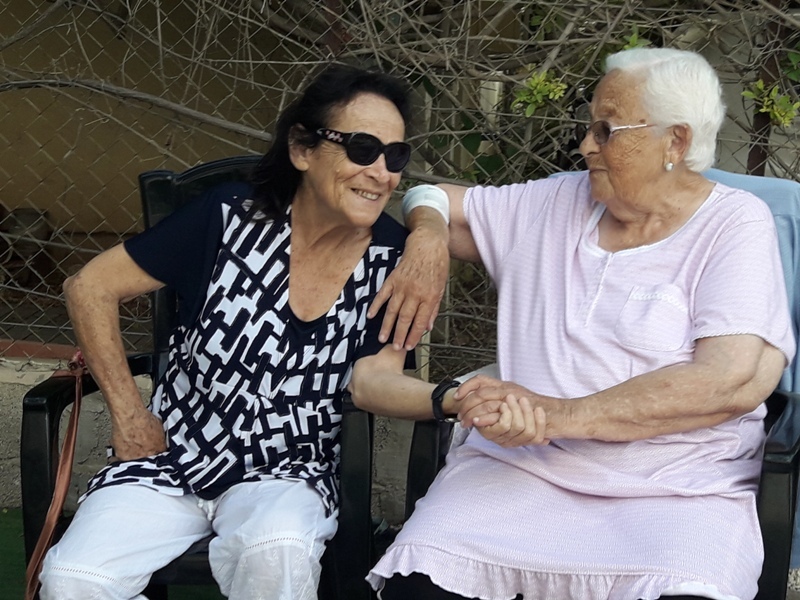 Gizela and Rivka
Her son is coming from America to be with her this month. It is a solution of a lack of choice, because she needs a nanny - and very dependent on her. We will try to accompany her in a greater intensity.

Last but not least we got to Aliza and sat down and wrote a letter to the health officials, because of the problems that have arisen around her latest hospitalization.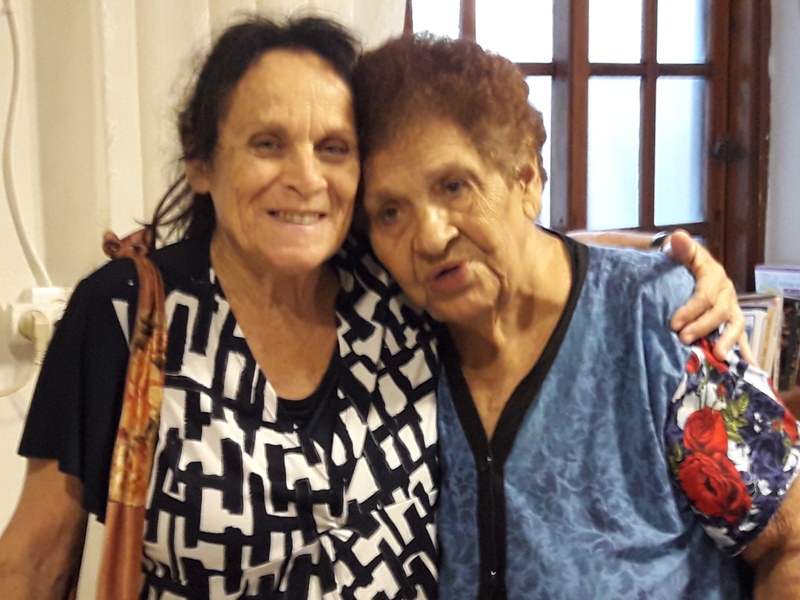 Rivka and Aliza
Let's hope for the best and to have the benefit of what we have done.

Rivka

Modiin
I came to see precious Chemda with my cousin, Shachar, and there was also one of the seniors named Guy.

Shai : After guy left, we had dinner together we talked a lot about Jacob and life. Chemda told us about their trips abroad, she said that when they were on patrol in South Africa Safari, started to rain hard, so they completely drenched because the Jeep was open... She told us about the sense of humor, which could accommodate a joke for everyone and evry situaition he has met. She told us : " in spite of everything what passes in your life, it's possible to laugh. "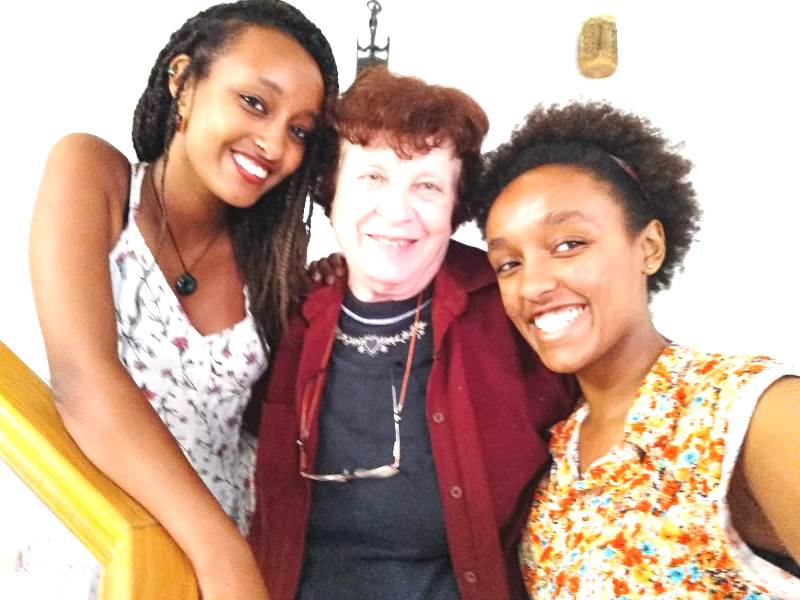 Chemda en Shachar
Shabbat Shalom to all!

Daniel Braun

E-mail: danielxrw@gmail.com
Telefoon: + 972 54 772 3510
Welkom op onze website: lechaim2life.org.il

Farewell party in Modiin
July 28, 2018


Shir : Thank you for everything you have given."
Yesterday we held the graduation of the third year of " Lechaim" in Modiin.
We met with winners and survivors, volunteers, who have volunteered in the past and most intimate friends, empowering and exciting experience for three years, coordinating the branch / family / this wonderful nest.
After each party I say to myself we have reached a peak. The level of openness, the love , greater than that ever. And the party after...
We have created a family. Most special family in the world. I am so happy to be part of it.
Thanks to my mother There are not enough words to express how much I appreciate you, thank you and love you.
Thank you beloved grandparents who taught me what is it : truth, Zionism, love, perseverance and determination.
Thank you my dear volunteers, little brothers and sisters , who teach me already three years how awesome is that education and the right to influence, to borrow and to connect our youth.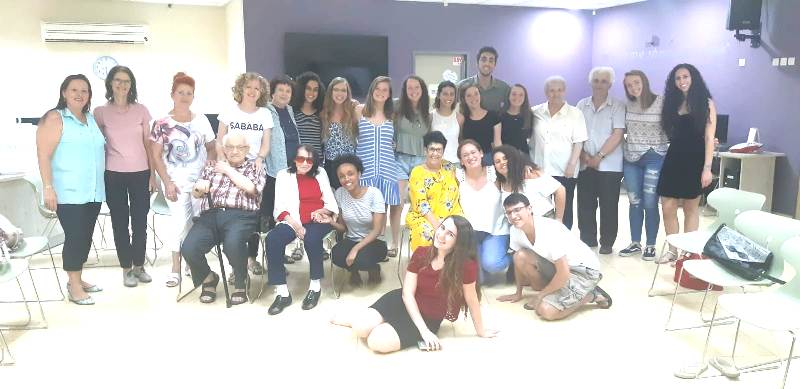 Thank you for your perseverance, smile, relationship and love that accompany your relationship with winners and me. I am proud of you that you people actually do not just say but also do.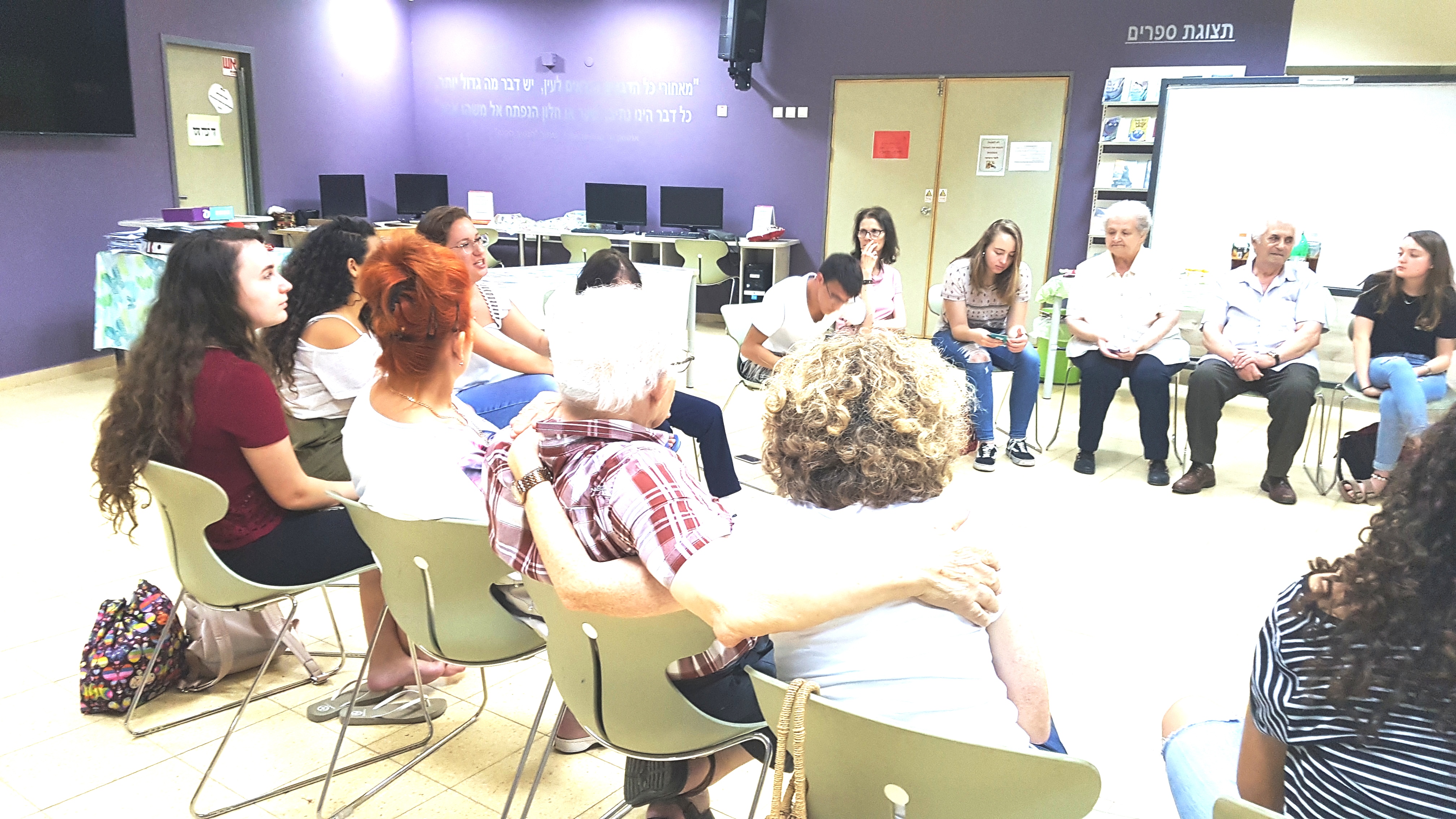 Thanks to the three graduates of the project despite being in a different places in life, you are an integral part of the project and continue to come to any meeting.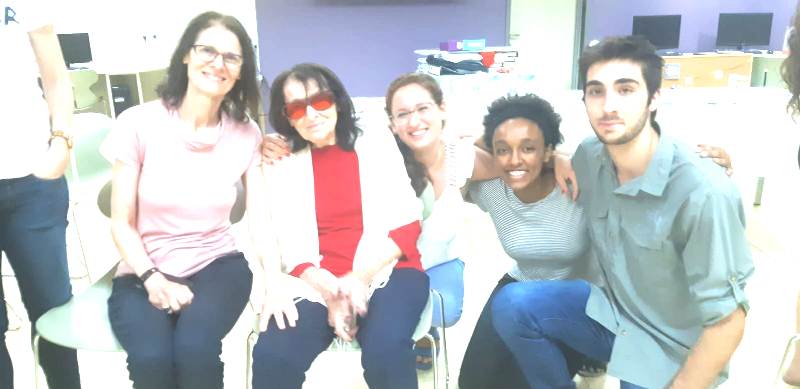 Shulamit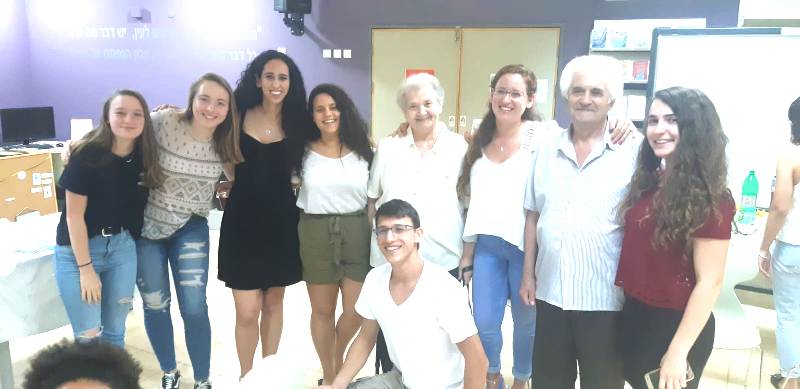 Svetlana and Leonid
Thanks to my older sister and the wonderful Chagit, You prove to all of us that everything is a matter of priorities and that any mother can volunteer. This shape makes the most devoted and affectionate that there has been a full two years.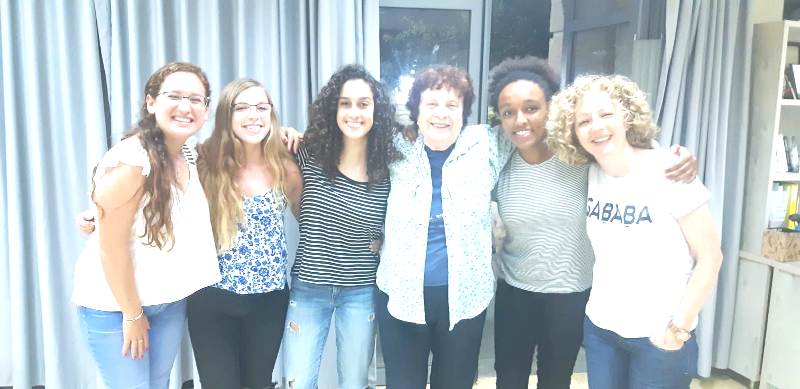 Chemda
During the evening we agreed that this year, we shared, we were happy together. Daniel arrived and also shared his feelings and told us a bit about what's going on with the organization these days.

Then, we had an activity with picture cards. I asked each one to choose a picture that represents it connects her memory ins from the first time he heard us or visit memorable.


Playing a game
Shares were at the highest level, intimate and moving ever had in our party. We reached a state of excitement and a sense of peace and unparalleled rapport.
Then I did a guided imagery. All closed eyes and put them at the very beginning, the first time they heard about us, the first visit, the party first group, the first life march and additional visits to not forget this moment.
Reactions were amazing!
Then those who wanted shared and many said that she felt that volunteering gave them a lot of significance and was a huge part of their lives and will continue to be. Full learned a lot and shared a very connected and they simply acknowledge the rare bond created and each time impressed with the way our team allows and contains.
Personally this was the most exciting party where I'd cheeks. After that, I run and I started crying with happiness. That I just could not believe we got it and I felt most fortunate in the world.
May they will continue to celebrate and rejoice together many more years !!!
Shir

Party for the summer vacation in Pardes Channa
July 5, 2018
We all met at the Youth Club of Neve Michael, with full table with fresh summery refreshments. Tzviya and the students gathered and our adult friends came and the feeling was very festive. David, the Director of Neve Michael, came - and said warm words by pointing out that it is highlighted- the cooperation between Amutat "Lechaim" and the group of volunteers who were enduring and consistent accompanied us this year, led by Tzviya and Yechiam, who believed in those students and themselves, and discovered together with us a whole world of this important activity by adopting the idea of "love your neighbor". Yechiam also told how it "lit him up", when he heard the amazing life stories of each of our people, and realized what an extremely important project it is, and this meetings. This year, the group of students was responsive, sensitive and said very exciting things .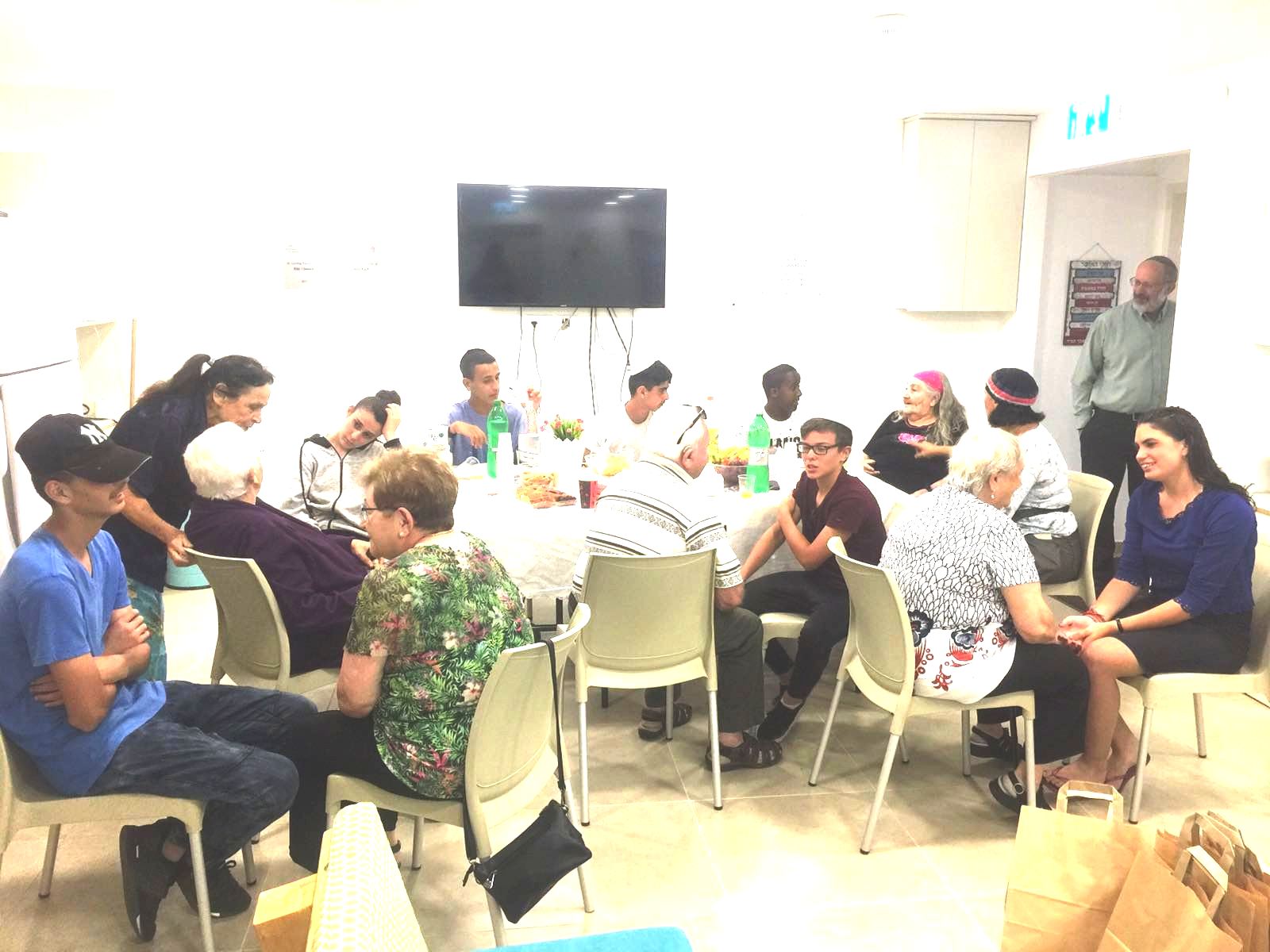 We divided into pairs of adult and youngster, and every couple had to convey a message of what they heard from their mate. Hodaya told us how she sees them as heroes that have passed so many hardships and came to Israel, built the country and good families. In front of her sat Gizela who was in Auschwitz and passed the worth experiences, barely survived, came to Israel and lived here many years. She likes our visits the young spirit and our attention. Morgan "found" with Michael that they has something in parallel and they both, have lost contact with their father at the age of 10. The young age met his father again three years after, Michael lost his father at this age. But the feeling of 10-year-old boy was an experience for both of them .... Ruth was born in Lithuania and was wandering with her family and immigrated to Israel 14 years old and attended in Israel the Ben Shemen Youth Village, which together with the provision they found they both know well what a youth village is. Shirel burst into tears and said how much she will miss because loves to visit Shulamit and she feels great love for her, and Sulamit also really love the students and feel how important it is to her that they would come and refresh her days.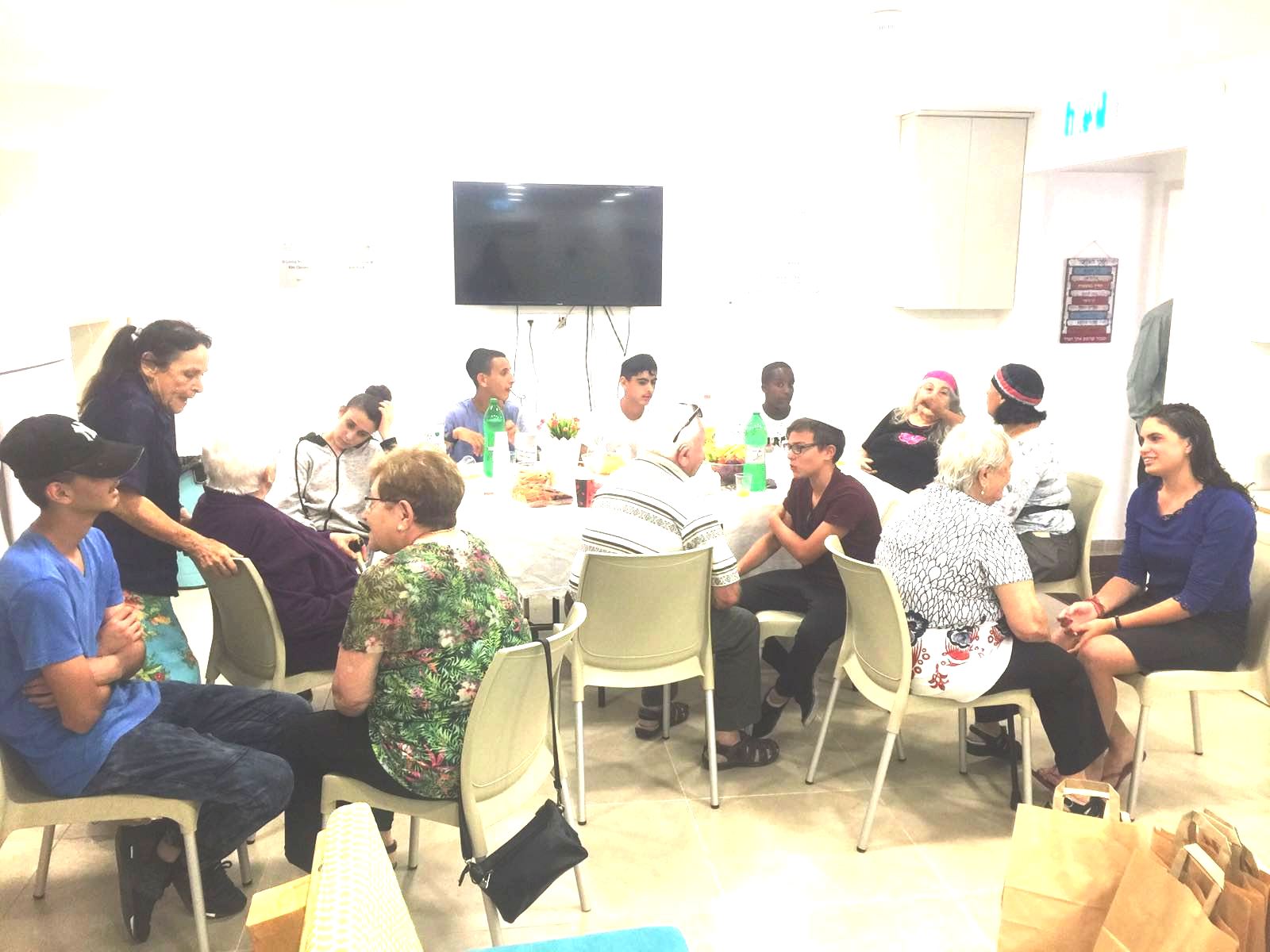 Dina also really appriciates the visits because the students break the long and lonely days she has. Then came the time of giving distribution of a small gift to Neve Michael in the form of a thank you framed in which says that: to the students who volunteer in the project of "Lechaim", Tzviya and Yechiam! Another year has passed and you have done the commandment to "love thy neighbor as thyself" with holocaust survivors and other adults. Warm thanks delivered for every visit, and evaluating your persistence and love. It is not obvious - and is very much appreciated. Bless you and continue to go hand in hand with us. Amutat "Llechaim " and all the winners.
Neve Michael ordered shirts to be given only to the project participants young and adults.
We continued playing in groups and on the end you can see our family pictures and we expressed our hope that this very elite group- will continue with us next year.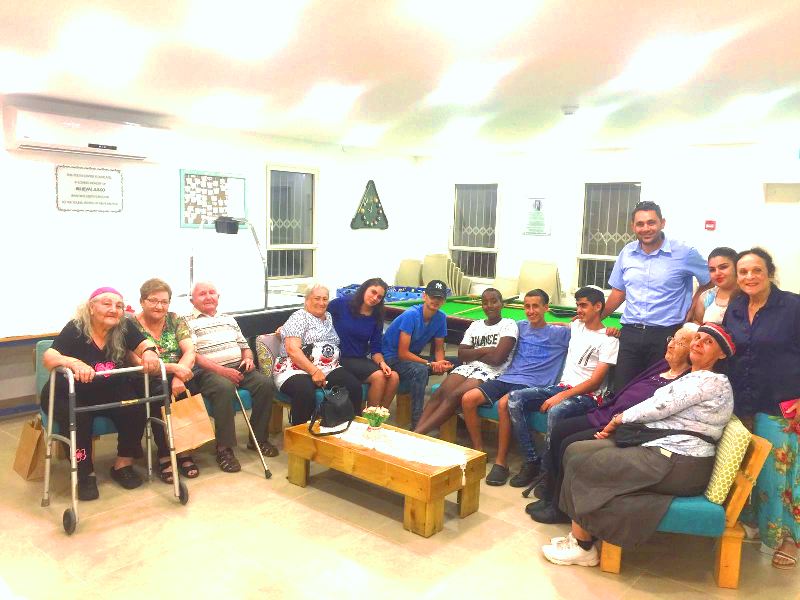 We still had one important task: to reach Aliza who didn't feel well and was ready to accept all the group to come and do at her house the party. Because of transportation problems , we could not respond to it and we decided to reach her after the party only the ones who could come. Indeed, after bringing back the adults to their homes, we came- three students that love Aliza and wanted to see her recovered .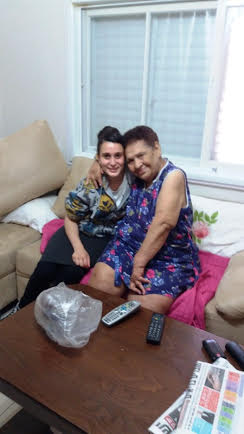 She was so happy to see us and said that they are as her grand children, and they did the same. After speaking a while we greeted her for a better health and after kissing and hugging we left. When we returned , they offered that along this coming month - even though they are in their vacation , they want to visit with me the winners. I see this a remarkable achievement and promised to make it possible . Pleasant summer for everyone. Rivka.
Yechiam : The event was very impressive and very exciting. The visits are very important . When I saw Gizela and she was so alive , happy, graceful and trim , joking about herself, I got very excited understanding more how much it means to her.
Tzfat
The soldiers Ido and Eden Today we were again at Esterke.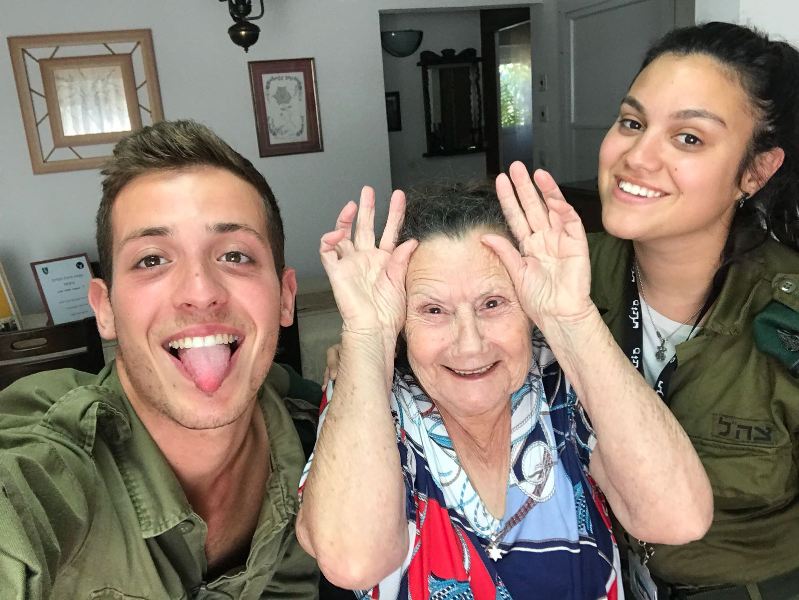 As always, a lot of good energy and motivation, after a tiring walk in the Sun, we couldn't ask for anything better than to sit with Esterke and eat watermelon. We talked, we laughed and we hear amazing stories about grandchildren and great grandchildren.
Shir : Last week, Before I left for my conference, I went to Zfat, and visited the winners who I have been missing .
I started visiting in the club Juli and Yehudit . They were very excited about my coming.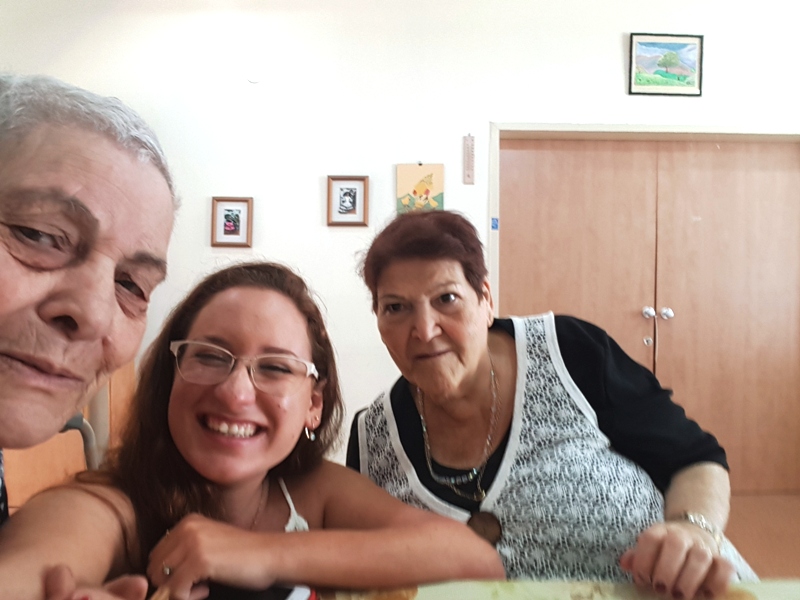 We talked, we completed the gaps and I joined them play Rummikub as they like to play every day.
From there I went to charming Larissa. Larissa visit was just an experience. She heard stories from my trail and was so excited and could not believe I did it.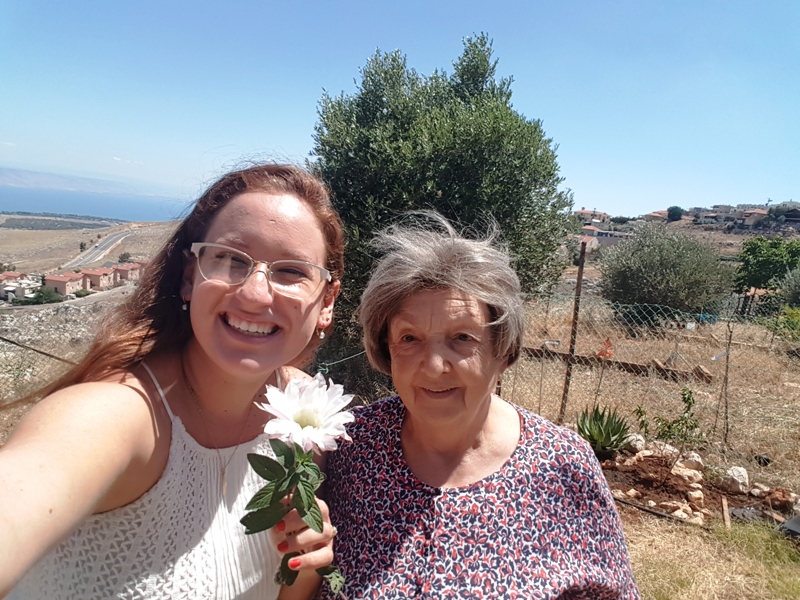 She showed me pictures and videos of her granddaughters. And said that soon, she will fly to see her granddaughter out of Israel (she didn't see her a year and a half ) and is very happy and excited . Then she made me a tour in her garden and showed me all the flowers and its charming tumors .
And of course, I went to visit Clara and Mordechai the ones which I started all this goodness. I visited Clara and Mordechai when I was in the preparatory and since then every time I go to the far Galilee I visit them.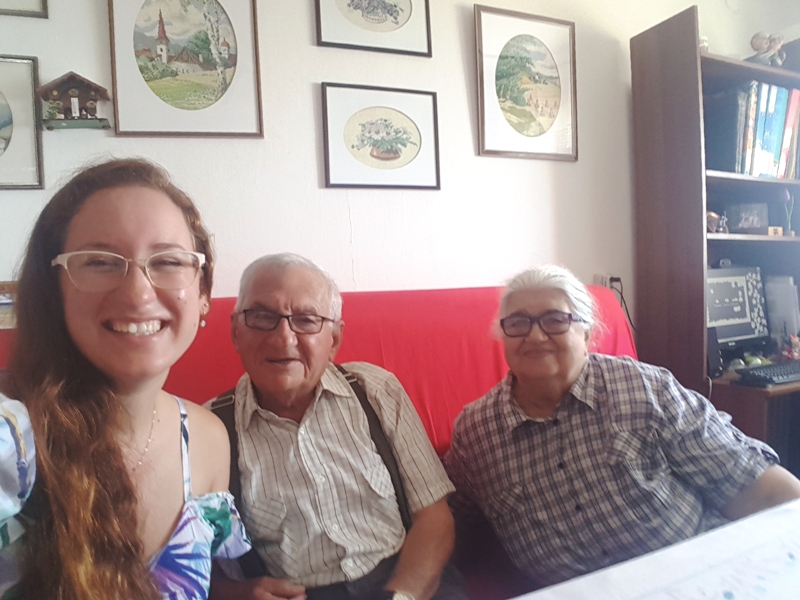 The visit was with full of laughter and hugs as every visit. They talked about the great year they had with Timek and the volunteers, and showed me pictures.
In the evening I went back to Zfat where I slept at the house of my dear grandmother Lillian .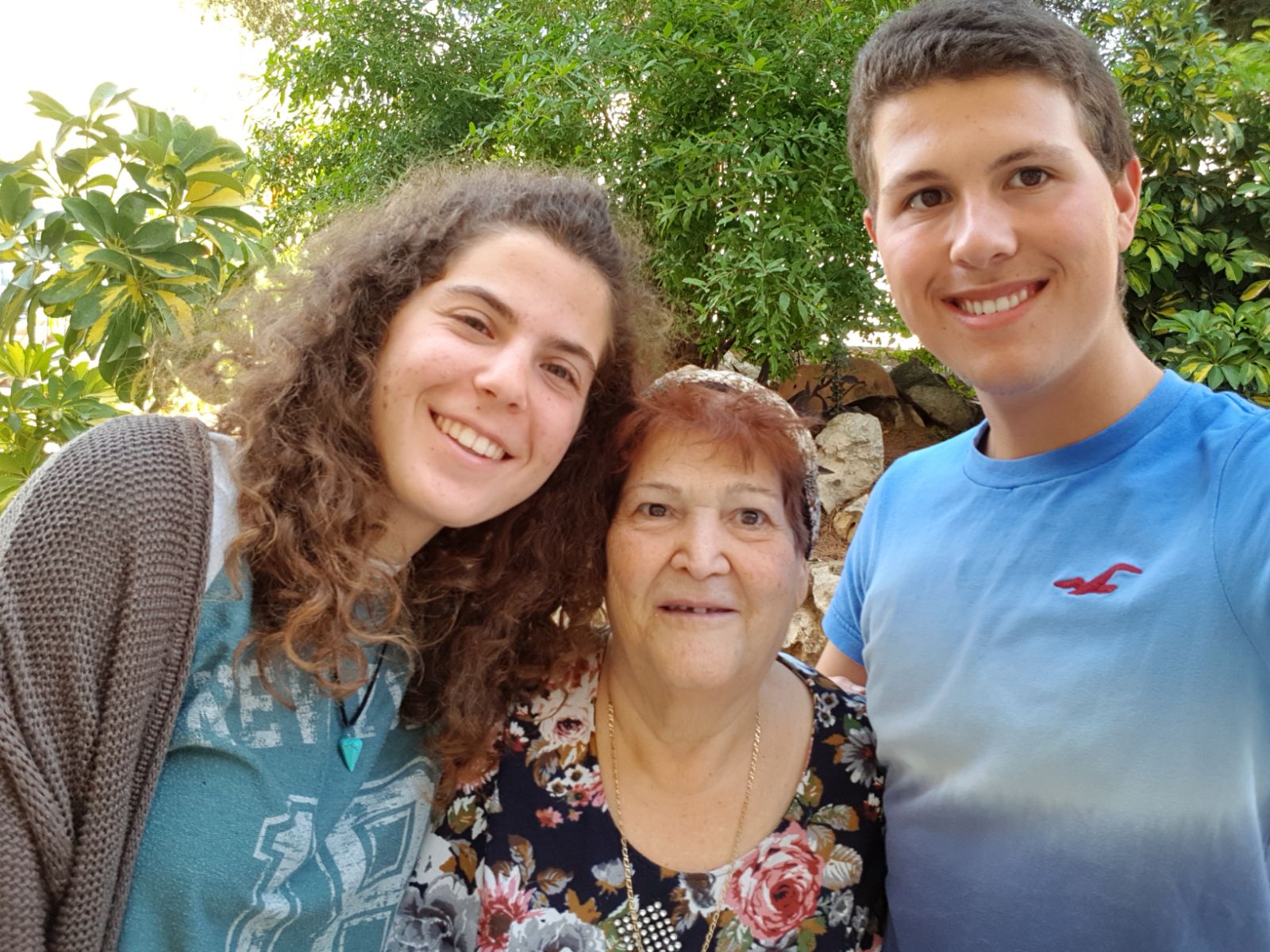 We had a lot of quality time. We talked about the upcoming weddings of the eldest granddaughter, and her great longing to Meir. I showed her pictures from the trip and spoke about my experiences. In the morning, Lillian really did not want me to go and offered me to sleep and live with her any time I want .
From there I went to visit Moses and Irene. Chemistry with them was something that immediately has been since our first meeting and I'm so glad they joined us in the family.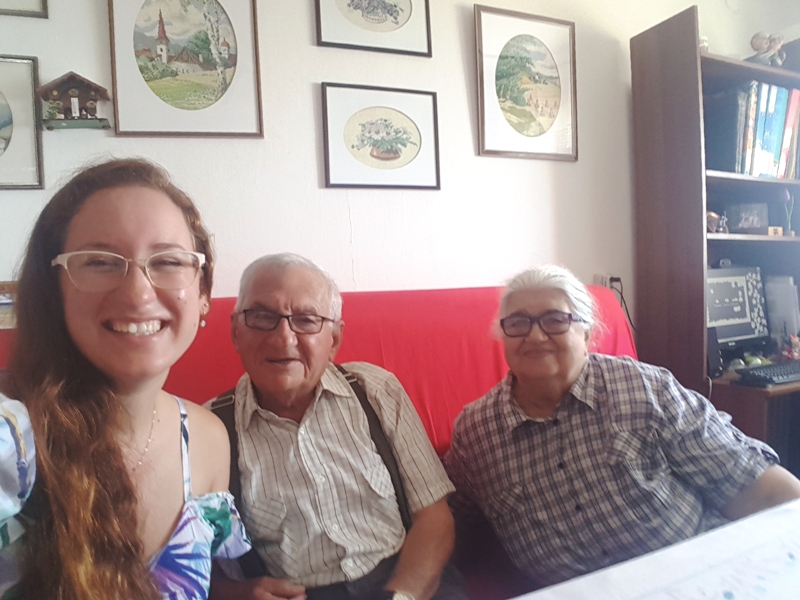 They heard the stories of the trail and I wrote him. They were very interested to see pictures and videos and were excited on my experience. They told me how thrilled for them that every Friday I called to ask how they are .
My last visit was in Esterka. This time I met her younger brother Albert and Ilan her son. The meeting was with very happy family.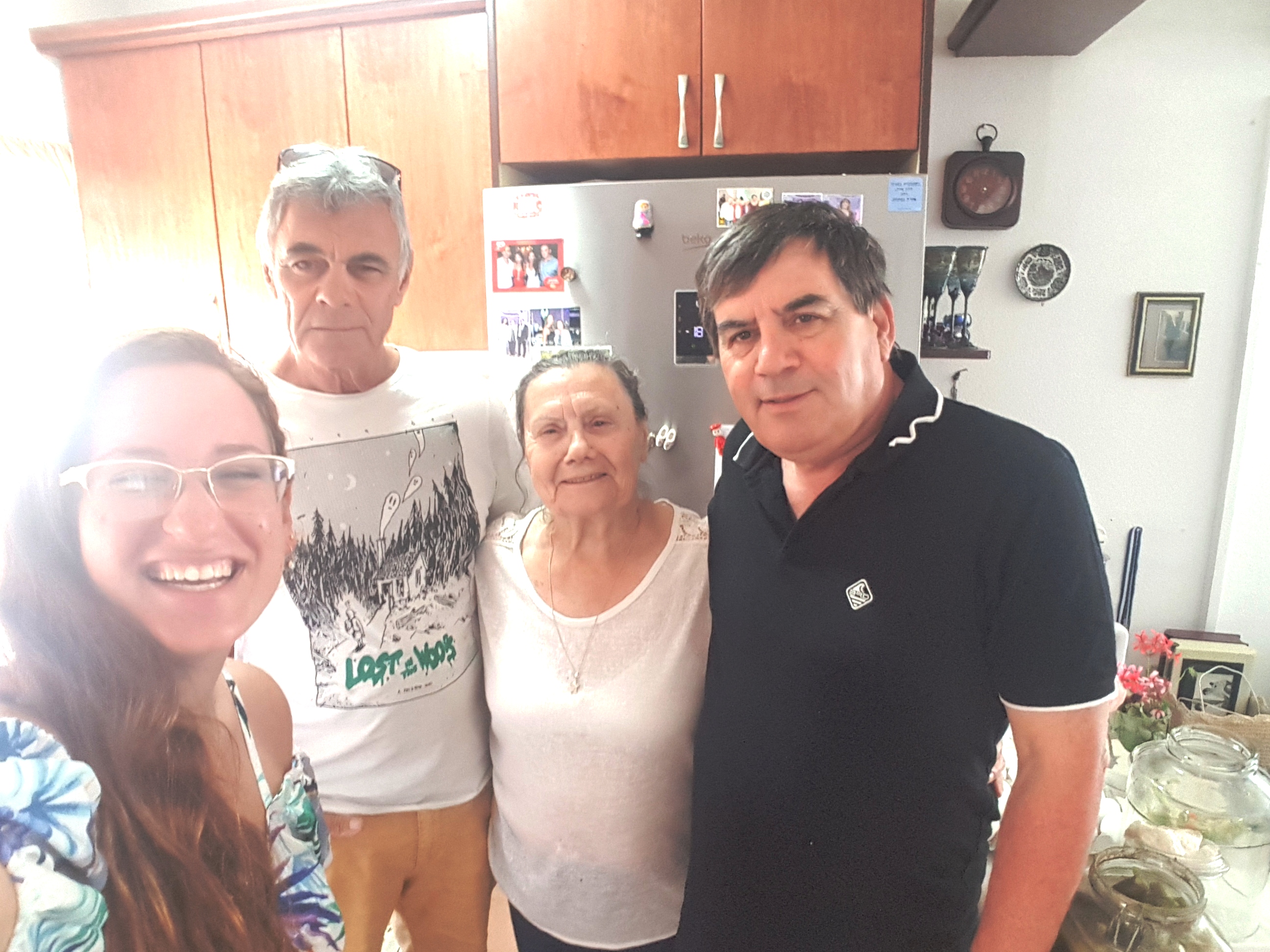 We had a wonderful orangecake prepared, we talked about life, about the future plans, the occupations and the special bond between me and Esther. Albert showed me a great video which were filmed when all the brothers gathered at Esther to harvest the olives in her garden. At the end of the visit - the olives were ready and tasty .
Modiin
Shir : This week I visited Svetlana Shulamit and Chemda.
Visiting Svetlana talked again about the path and she told how excited she was that I returned home.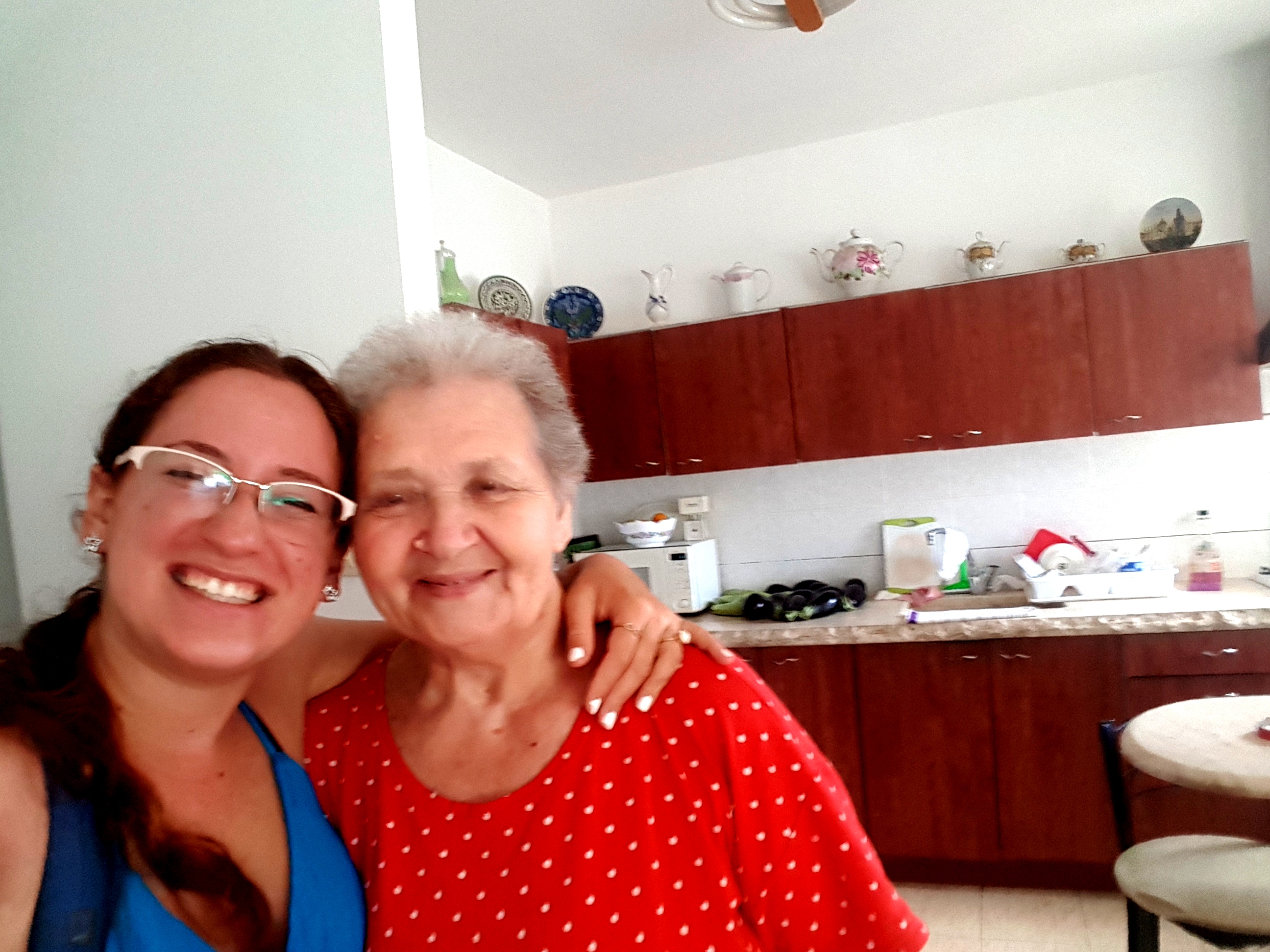 She asked me to go over something she wrote about me and wanted to post on Facebook and wanted to be correct. I was thrilled and I was glad she was so attached to me and to the project of "Lechaim" and feel really a art of my life. Visit Shulamit was awesome. We really missed our conversations and share with her and being excited with her.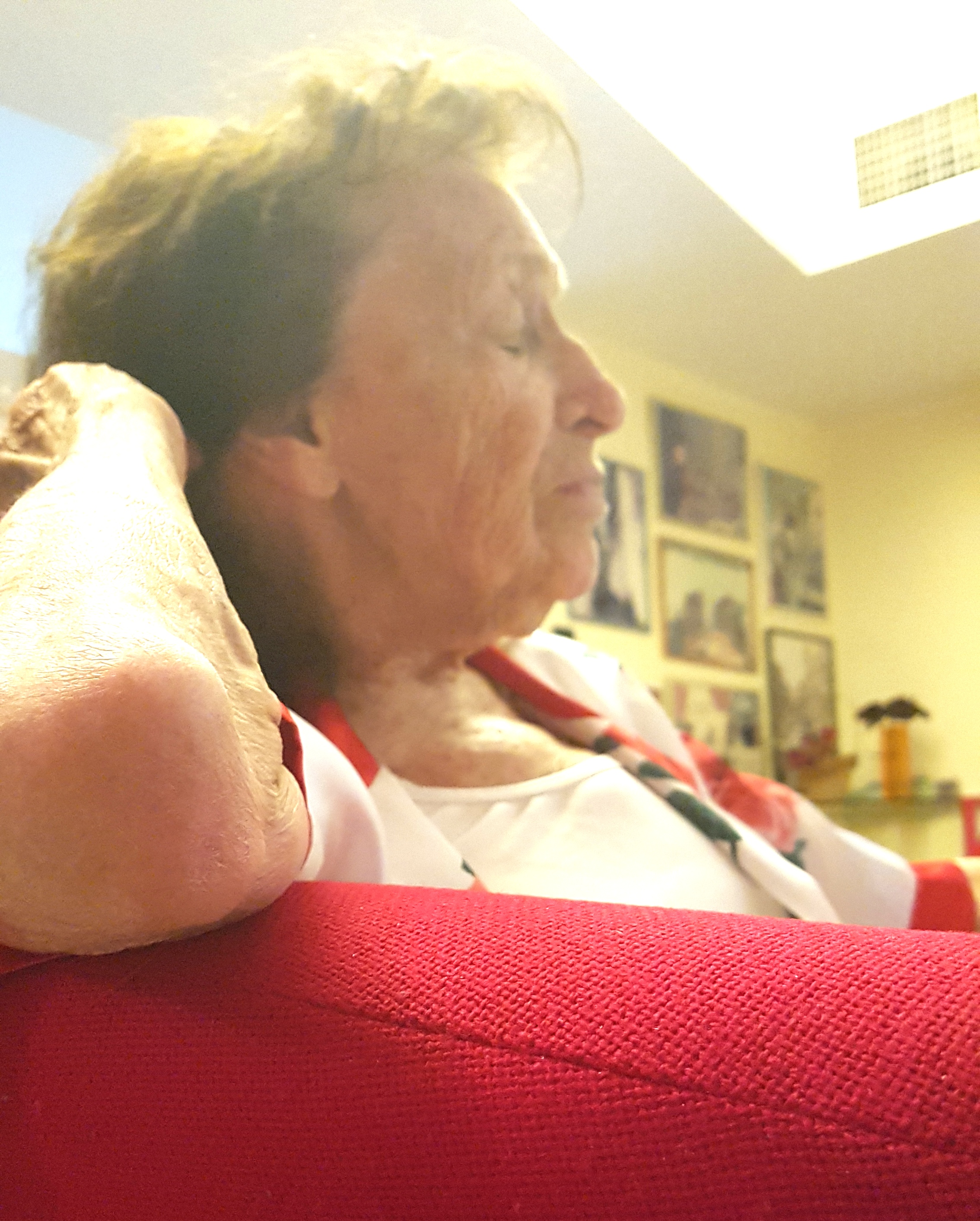 I told her about the plans for a while and she's happy with me and just enjoyed together. She told me about her children and grandchildren and the new therapist. It was just a delight. The visit at Chemda was kind of sad. She talked about the last social security's troubles and with getting a caregiver , and also having bad experience with a neighbors who throw and accumulates at the entrance to the building and made a lot of mess and a headache. As always, she talked about her longing for yankele which will apparently remain forever. We talked about the idea to go to a nursing home because of the solitude and the cost of living. Besides, we also "talked" about her granddaughters who is doing so good to her heart. We plane to arrange her warehouse together .
All the best !


Shir
Shabbat Shalom !
Daniel

Today, thank God, we managed to light a candle in the heart of a Shoah winner, from Zfat who has cancer and suffer from the hot weather.
And here, thanks to the generous donations of our members from the world, we have installed the third air conditioner (in two weeks) in the city of Zfat, allowing the relief in the life of Tamara.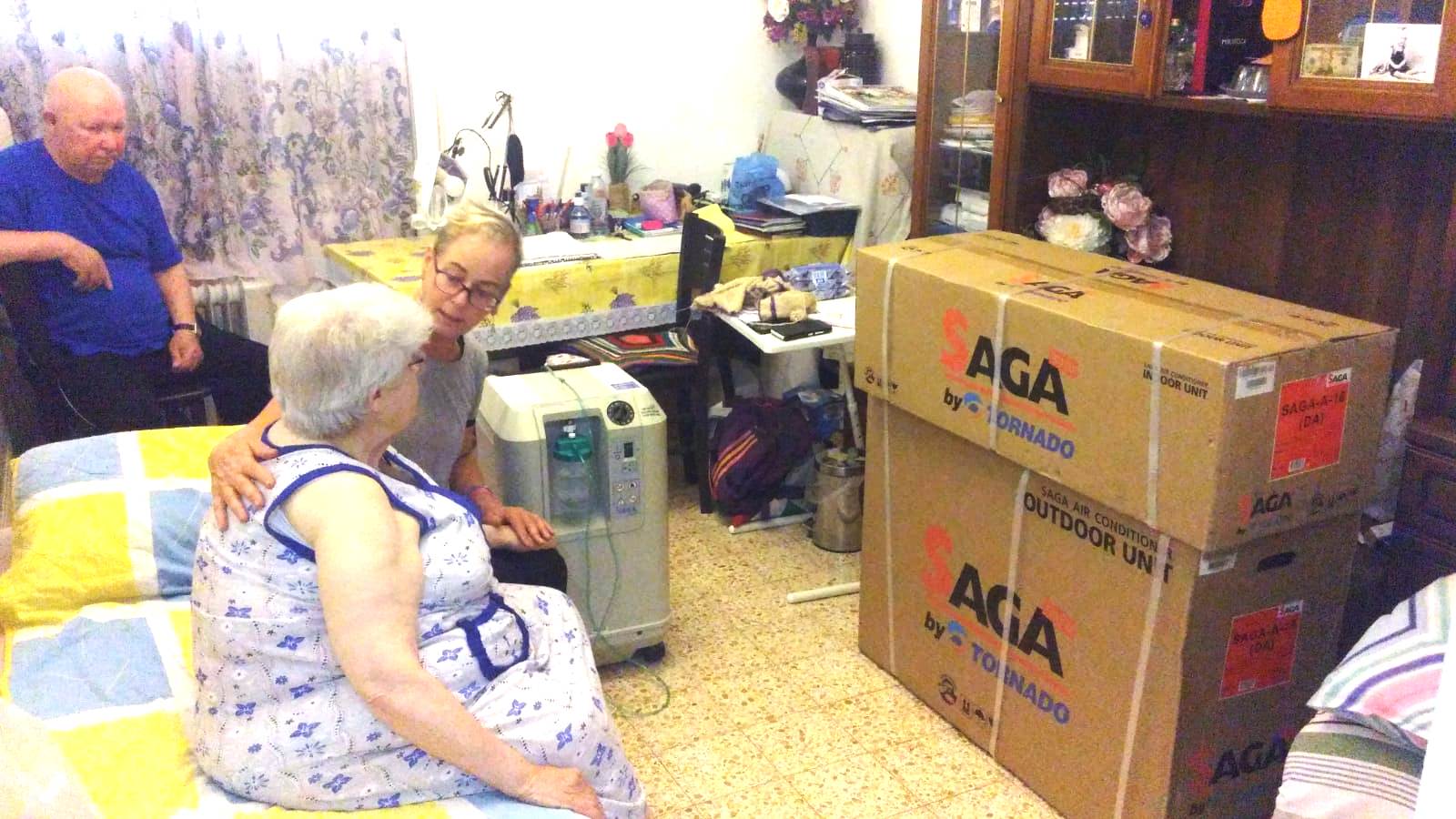 Many thanks to Israel, our faithful men who installs the A.C. and Orit, my class mate, who live in Zfat, reaching the black holes and turn them with so many lights.
Shabbat Shalom,
Daniel


Sunflowers
June 21, 2018

News from the north
Ela - Katzrin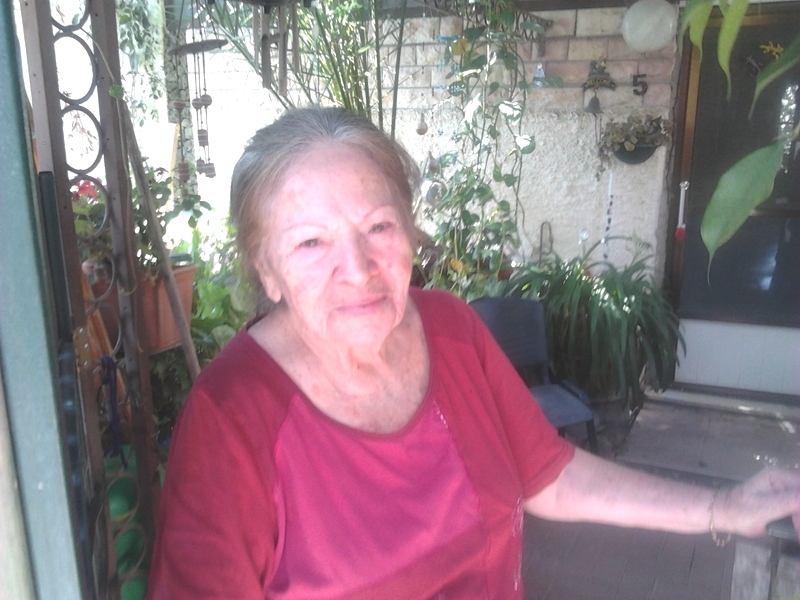 Ela was extremely happy when I entered her house in Katzrin. It was quite a while that I visited her. After a year of not having visits from Lechaim no it was hard for her. She was happy to hear that Lechaim is back in Katzrin. Her eyes and face brightened when I stated that I will do all my best to get for her 2-3 students from Mechina Meitzar that will visit her every week after the Jewish holidays. She felt quite lonely and from the locals in Katzrin, nobody have visited her and she is thirsty for real heart to heart connection. She feel that nobody cares anymore.
Ela told me very sad story that recently happened to her. It is an illustration of how the winners feel in general, and I am happy that "Lechaim" through the donations Lechaim receives, and can do something. She got a letter from the Government (Shoah department) with a promise that all treatments for her chronicle diseases will be taken care for free. Ela filled all the forms, went to her family doctor who also filled the medical diagnosis and Ela sent the letter back. After a while, she got a reply that stated: All the chronicle diseases that she mentioned , are because she is old and that is not covered, she can only apply for chronicle diseases connected to the 1940-45. This is simply unbelievable.
Ela called for explanation. When she mentioned if she could get some support for her heart problems, the lady on the phone advised her to take Vitamine D . This is ridiculous. Ela, after those experiences, just lost all her hope and strength to fight for her rights. She ask why the people who have passed the shoa , is treated so badly? Her friend in the US is a shoa victor too and she is spoiled with all kind of support which Ela only can dream of. It brooks my heart. I have no answers for Ela. I only can listen and continue to do what we do through Lechaim.
We hugged each other and we also spoke about other things that gave us a good feeling. She looks forward for the visits of the students.

Jafim - Katzrin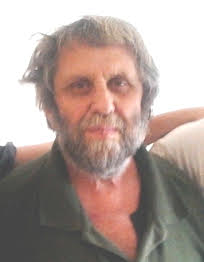 I had a great talk with Jafim. He was so happy for the fresh vegetables and food. Jafim tries to get rid of all his debths. Somebody helps him now to find a way out. Jafim smiled and told me that he sees light in the tunnel. For now he only survives. Jafim can't wait to get visits from the students, and I can't wait too.
Mina - Chazor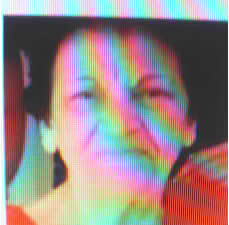 Mina called me and first she said: The visits of the students gave her so much joy and light. It warmed her heart and she couldn't believe that there are such nice people that cares.
She also can't wait until the end of September when the new students will start to visit her.
Warm greetings,
Timek
Visits in Pardes Channa
Yechiam: Yesterday we visited Dina very happy about our visit and talked about how she came from Morocco 60 years ago to Israel and built a family.
She told us that her beliefs are very strong and she just has lit candles in honor for the new month and the righteous. After that we went to Jonah and Yeshayahu. Jonah is very happy to see us and likes the chocolates we brought her.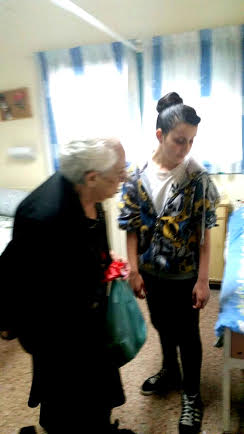 She took us to her room and showed us pictures of her family and made sure that each of the people in the department will know that we came to visit ' and send her love to Zvia and Rivka. Yeshayahu unfortunately, is not in good condition. He is lying in bed and listening to the radio, but as soon as he saw us he was very happy and told how he likes it when we come, aspcially when we play music for him.
Rivka: We started with Ruth and Michael, they are just lovely and immediately serve refreshments and drinks, and know to listen to the students and hear their stories.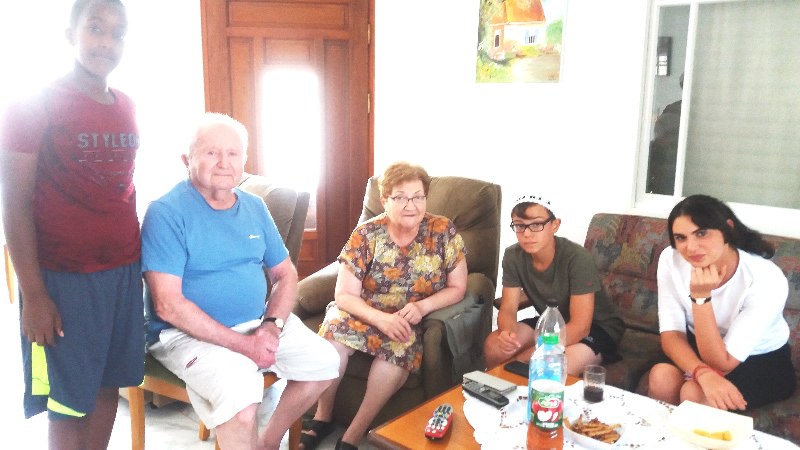 Ruth and Michael
This time we had a drink in honor of Morgan's Bar Mitzvah, which was at the Western Wall with his family and was celebrated with 30 other boys from Neve Michael the next day of our visit. And of course all of the students told a little about themselves, and I feel that these students have already started to be much less afraid to speak and express themselves. It seems to me a real achievement. From there we came to Yonna sitting outside in the shade, waiting for us with joy.
We were joined by a relative who told us how Yonna enjoy our visits and appreciates our work in the project .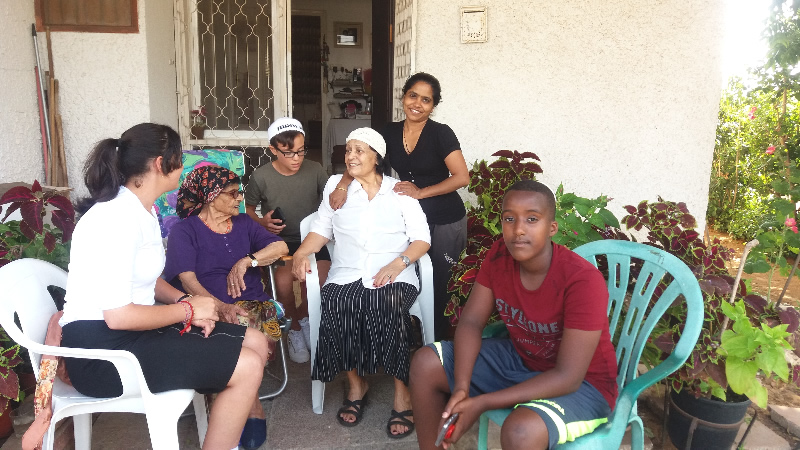 Yonna, Rivka and the students.
From there , we went to Tzipora who received rich package we brought to her , and there we went and Shulamit always meet us very warm and happy, and it can be heard on the video we recorded, as well as the students and their feelings about the visits. https://youtu.be/F_YGuvgDzlo Unfortunately Gizela was hospitalized an Aliza too, receiving a pacemaker and was still in the Hospital to see how her body absorbed the monitoring device. We hope that she and Gizela will be able to join our last meeting for this study year more healthy and stronger.
Zfat
Moriah and Adi : a week ago we went to visit Esther. Esther received us with open arms right after the visit of one of the students from Baraam. We met Esther while giving water in her little garden and she gave us big hug a little wet. When we entered her home she gave us refreshments and hot corn prepared especially for us. When we saw a large bag of cucumbers, Esther told us she got them from her brother and now she's making pickles.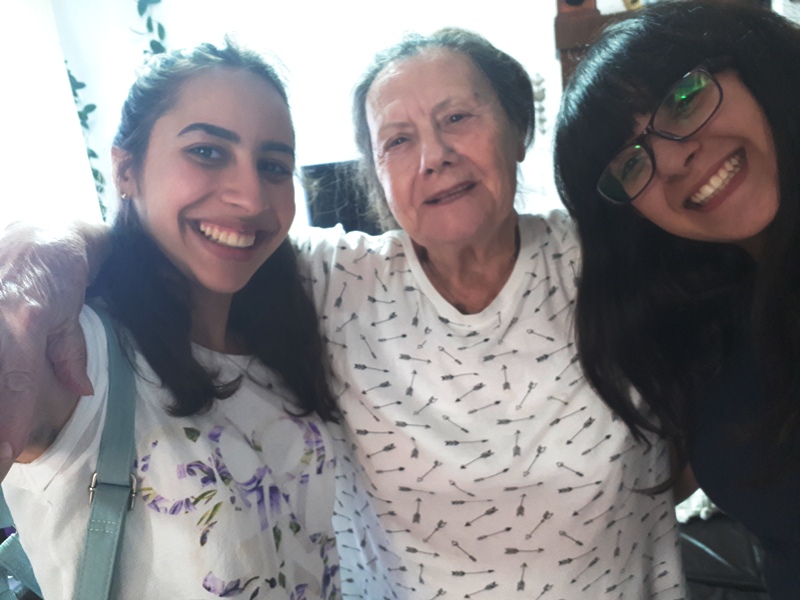 Esther, Moria and Adi
We asked her how she is , and she told us about the new born - grand grandson and her grandson's wedding. Eyewitnesses told Esther to sacrifice holiday and consequently Esther told us about her favorite bathing suit she uses about 50 years ago. We talked about clothes and makeup, just girl talk. Then separated from Esther in hugs and kisses, took and went in and waiting for the next visit ?

Shabbat Shalom !
Rivka




Exciting gathering with Maitzar pre-army students
June 8, 2018


Visits in Pardes Channa
This time, we were a small number due to some year-end tasks of the students and Morgan, the one that always brings his instrument and playing at our visits - were away celebrating his Bar Mitzvah with his family.
Tzviya with students, came to Yeshayahu - but he was asleep and it is impossible to communicate with him.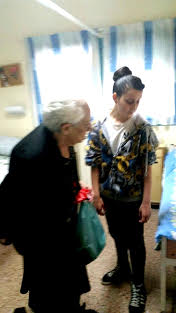 Yonnah

In contrast, Yonah was very glad for our visit and the confections which came to her and she really likes. I visited with students at Yonah who really love us and give us a lot of respect. She suffers from an eye problems and very lost a lot of weight recently. She have a nanny who cares for her and is very devoted to her.

We arrived to Dina. She loves us, and says that most of the day she is very alone and it's great for her the arrival of fresh young people to see and hear them (https://youtu.be/5GOdEEp_3Co). From there we got to Zippora, who is always grateful to the package with fresh vegetables and fruits and cheeses we get as donation. She suffers from asthma, and most of the time coughing and is not in a good health. Alex Talmor our friend ( a Lawyer) take care for many legal problems of her, strictly on a voluntary basis, and she is looking forward to the results of his work. Shulamit had pneumonia for a long weeks, and she was happy to see us and told us that she is back to the daily operations. From there to Gizela, who sat with her two feets, in something that spurs her blood in order to solve the problem in her bloodstream.



Gizela with Hodaya
Then hugs and kisses with Aliza who is always happy to see us. she is going to receive a pacemaker, because she had a lot of problems recently, and we hope that as a result, she will feel much better.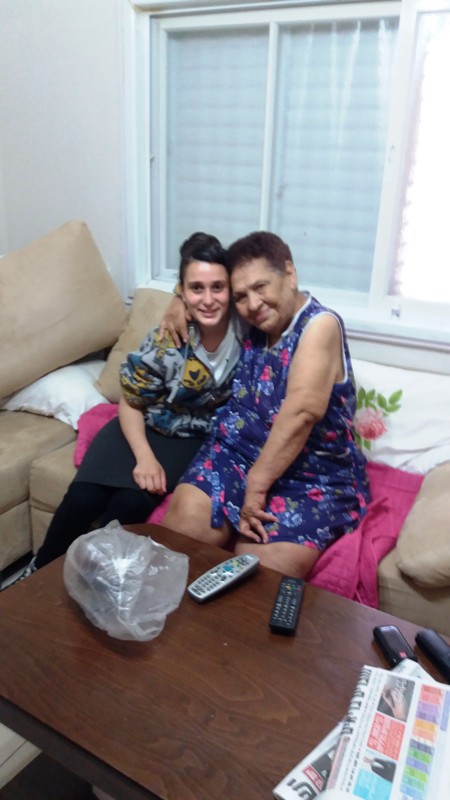 Aliza and Hodaya
This is our news from Pardes Channa.
News from the North
Rachel from Neot have such great memories of Eliav (a student that visited her two years ago), and every time when I visit her she show me the picture and ask how is Eliav doing. I recorded Rachel while she spoke few words to Eliav on the video camera in my cellphone and sent it directly to Eliav by the Whatsup. It was great thing to do. (Rachel is still figuring how this works).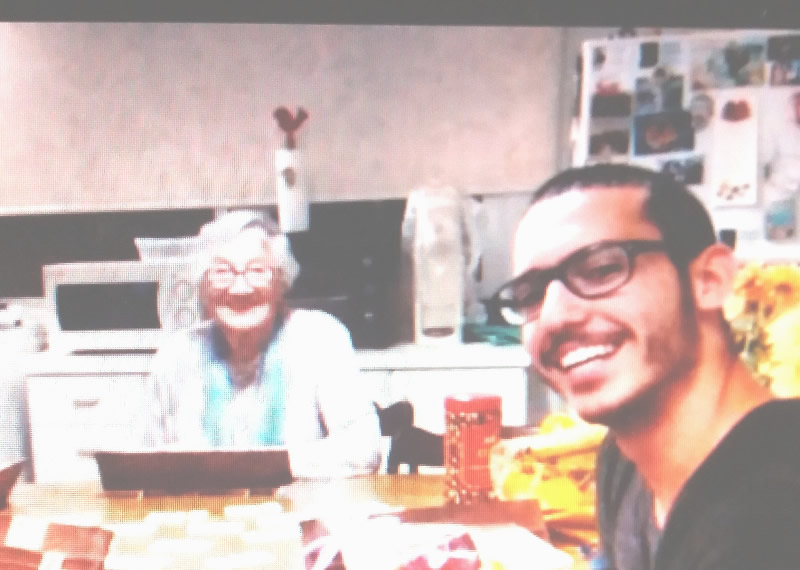 Eliav and Rachel

Eliav respond and he was so happy to see Rachel on his smartphone in the video speaking to him (Amazing technology!) Eliav serve in the army now and he will visit Rachel as soon as he would be able . We spoke, while drinking Rachel's cold coffee, about her past and how she settled in Israel. Very interesting stories. Rachel doesn't feel as 93 years old. She feels young, and she is young! She is healthy and quick in her movements and thinking. Amazing ! Rachel has now a nurse at home from the Philippines, and it is because her children who want it, not because she need her, Rachel explains. But Rachel is very satisfied with her and her help.
Steve from Neot
We spoke a lot together about the most interesting things that passed through our minds. From the past and the present occasions.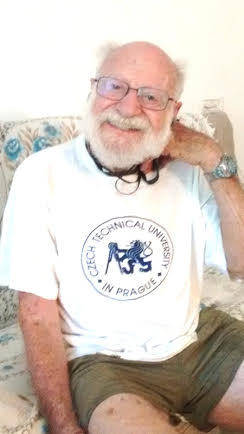 Steve
At Steve's house it's never boring. My visit went by as a breath. His grand-daughter knocked on the door and came an unexpected visit to him. She just finished her study at Tel Chai College and was on her way back to her parents' in Central Israel.
In Meitzar, me and Daniel , visited the students who finished the Lechaim program in Kibbutz Chukuk and Genosar.
We got a fantastic feedback from them and Daniel encouraged them with few words from his heart. After our meeting Daniel asked few deep questions to some of the students. Press the link to listen to this interview: https://youtu.be/odygEGo3a1k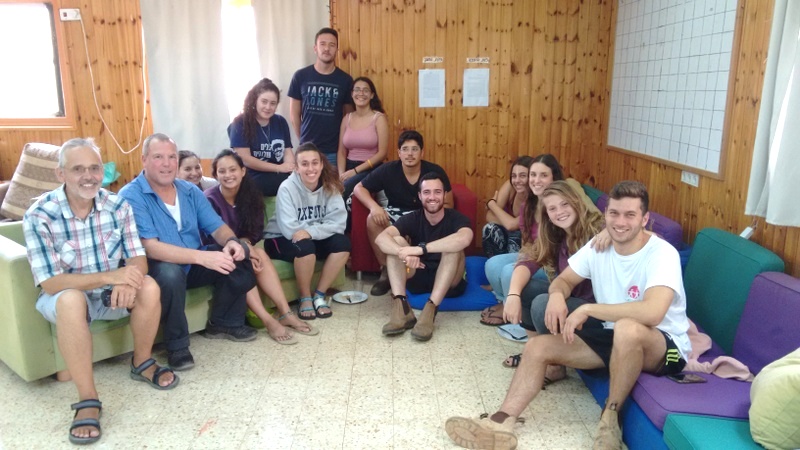 The students from Meitzar
Regards,
Timek


Daniel Braun
E-mail: danielxrw@gmail.com
Phone: + 972 54 772 3510
Welcome to our website at: lechaim2life.org.il
https://youtu.be/5GOdEEp_3Co : I asked Hodyia how she feel when she come to visit , and she answered that she learn a lot from their experiences, and how to keep up even it's hard. Talor agree with Hodyia and say that she take it for her life . Dina says how happy she is when they break her long and lonley days.
News from the North

May 24, 2018

Rachel in Rosh Pina: My friendship with Rachel has grown over the years. Rachel loves quiet and cozy atmosphere in her house. Since last year, she has moved to live with her daughter Miri. She has plenty of private space there, and after a while of settling there, she feels good about it. Rachel loves the students visits. Sometimes she feels tired because of her blood pressure which is jumping up and down. Then she can only rest on her sofa and wait until she is getting better.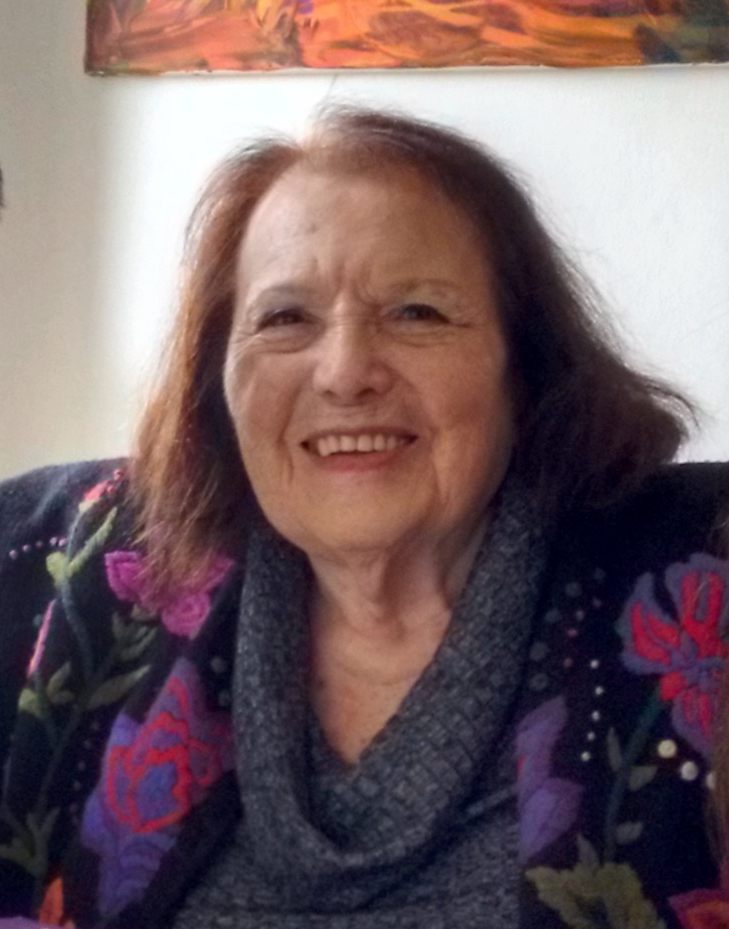 Rachel

Next month Rachel will celebrate her 92nd birthday. I was really surprised. She looks much younger. I would give her not more than 85. I asked Rachel about her family during the war in Romania. After a moment of silence, she told me:" Her older brother and her father, were shot by the Nazi's in Bocharest, while walking on the street. I feel that Rachel still carries this incredible pain. After the war , Rachel and her mother fled Romania to Eretz Jisrael on a boat. They couldn't take nothing whit them. Only cloth that they had on them. Rachel touches her shirt and adds: "Only this, not even a photograph".
Jafim from Katzrin: Jafim opens the door and smiles at me, while I enter his house. He gladly receives the fresh vegetables and fruit and food package that I brought with me. His living room is a heavy mess. Next to his computer is a little table that serves as his dining table. Stream of classic music fills the room played from his youtube channel. Next to his door is a big box on the floor. Jafim collects empty bottles to add a bit to his tiny income. He is waiting for someone to take it. Cloths everywhere.


Jafim

It is hard to find a place to sit. We talk. I ask him how we can help him. No need, he manages. Jafim doesn't complain. He does what he can to manage his life. What he needs and want most , is a visit that he enjoys right now. He longs for the new group of students, to talk about history and politics.


Tzipora from Chukkuk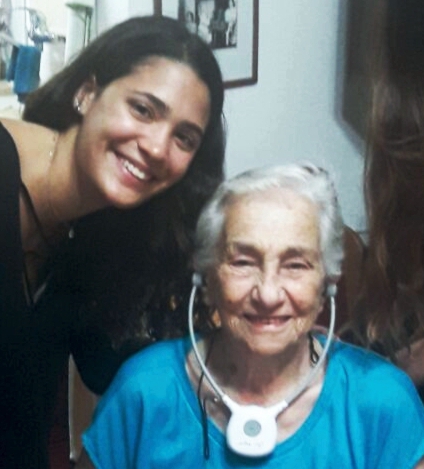 Tsipora
Tzipora sits outside her house on her chair as I arrive to meet her. Her eyes reflected joy. She invites me inside her tiny house, where it is much cooler. I don't know Tzipora yet so well, it is just a few months that I meet with her.I didn't have chance yet to talk much about her past.
I asked about her husband. He died 6 years ago. Next week it will be his remembrance day. Tzipora will light candle on that day. Her husband came also from Romania. They met upon the arrival to Israel on a boat. Two boats with 8000 children on each boat were shipped to Israel them back to Cyprus. From there some of them were sent again to Israel as children under the 15 year. Tzipora was 17 at that time. ?? Israel Hagana was in great need of fighters against the Arabs. Tzipora arrived on February 1948 and was sent to Kibbutz Dafna to help Hagana on fighting at the Syrian border. There, she met with her husband and were married later on.
I asked Tzipora about her parents. Tsipora turned her face down, and big silence filled the room. After a while, she told me: Germans and Romanian officers came into their tiny village and her two brothers and father, have been sent on transport to the camps. She never saw them again. Again silence, Tzipora, is overwhelmed with emotions. It was not before 1964 before her mother could leave Romania and reunite with her and her other sister.

Thank you all who support this project.
Timek

Pardes Channa
Yechiam: I came with Talor and Nathaniel to visit Dina and Gizela. Apparently, it was just "Bikur Holim" a special visit.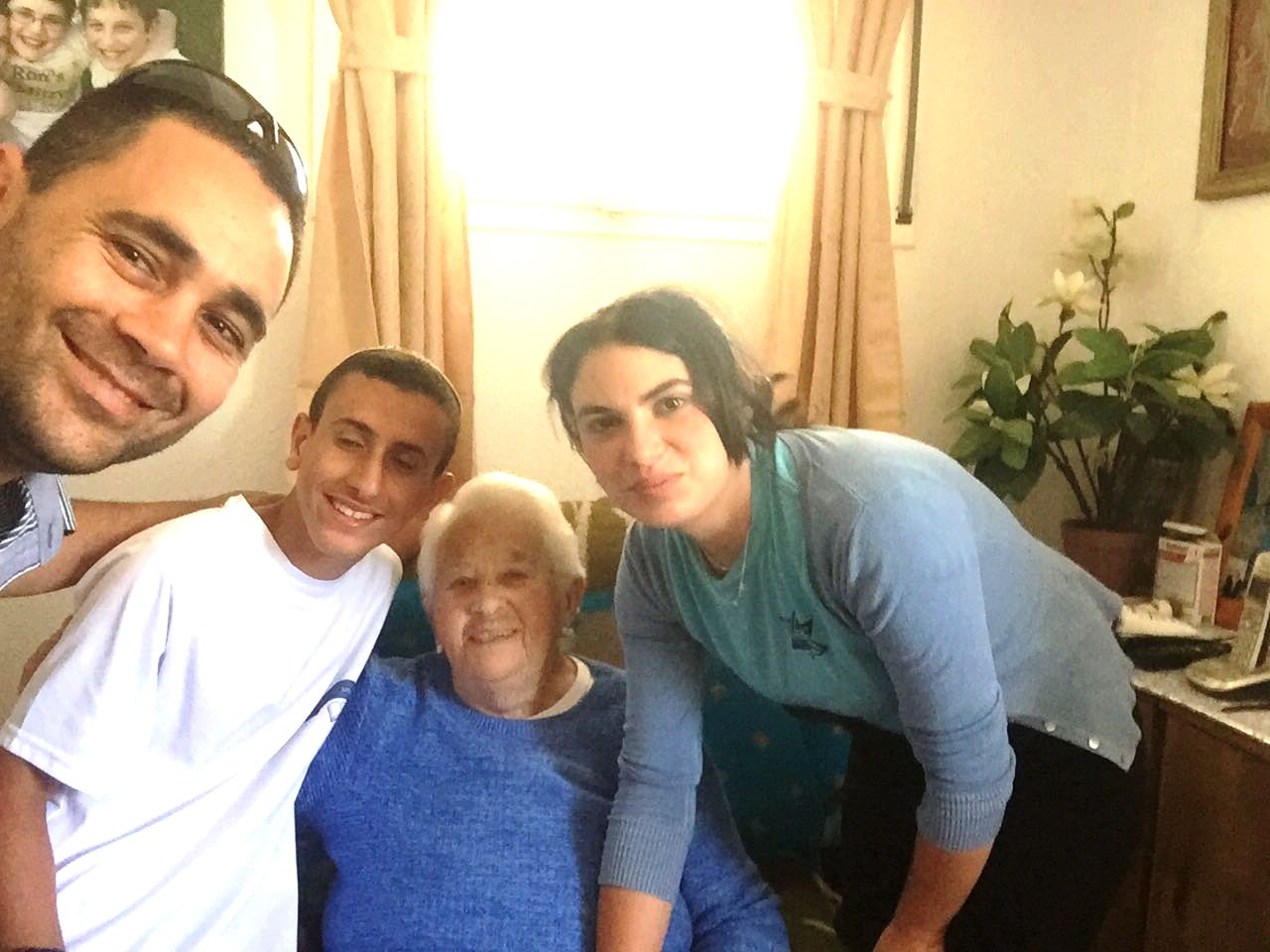 Dina

Two of these brave women, have returned from the hospital after few days of hospitalization. It is amazing to meet women with optimism even going through the pains and hardship, and yet blessings us " to be healthy ... " We told them about the activities in our school, we wished a happy holiday and left some goodies.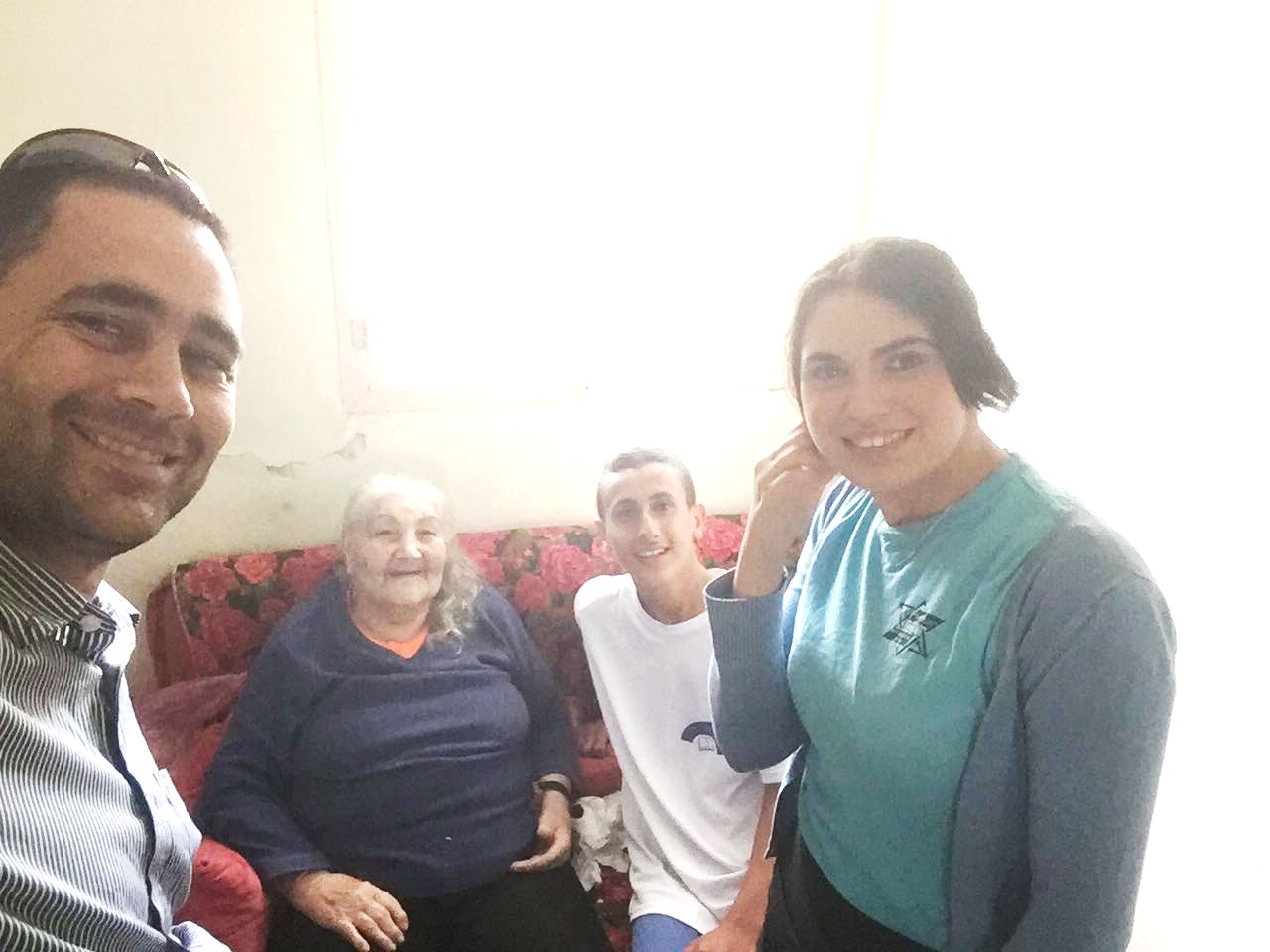 Dina

Zvia : Ishayhu, really stay in bed, and can't go out of it. We played music for him and made him to laugh a bit .
But we think he is very sad in the daily life . Yona waited for us at the door and since she was told that we are coming, she was very happy. Again we played music and all the people were very pleased with it. We also brought chocolates for everyone.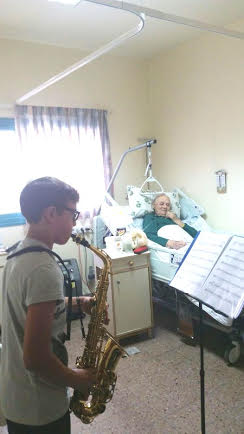 A young student playing music for Ishayhu

Rivka: a week ago, Morris (Chaya's husband) has died while she is lying for a long time not conscious, in an institution. He was 94 and died painlessly. ? We were in connection with this family for many years and Ora volunteered, and came every week and they had a posetive ear listening and care for them. Toda Ora.
May he rest in peace.
Modiin
Shalev and Rotem: We visited Grandma Sarah on Thursday. We talked about the work she do , interviewed her, asking her questions like where she was born, where she was along the Holocaust, how she was saved , and how she land in Israel.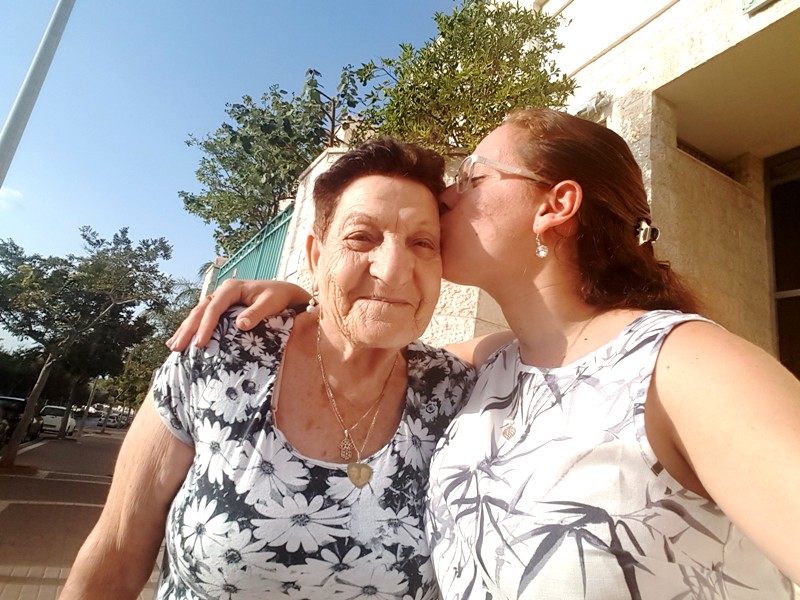 Savta (grandmother) Sarah

Of course Grandma told and specified. After we finished the pre-interview talked to in General. We told her that Shalev has passed his first test , and she expressed her joy that we came. We departed with hugs and kisses.
Shabbat Shalom
Rivka
News from this week
May 11, 2018


Dear friends of L'Chaim!
This week the students of the mechinot Mayan Baruch, Kfar Hanasi and Meitsar finished their year of participation in our project, on visiting the shoa winners in their own houses. In Kiryat Shmona and Chazor, we came together for a goodbye party, with an atmosphere of love and appreciation.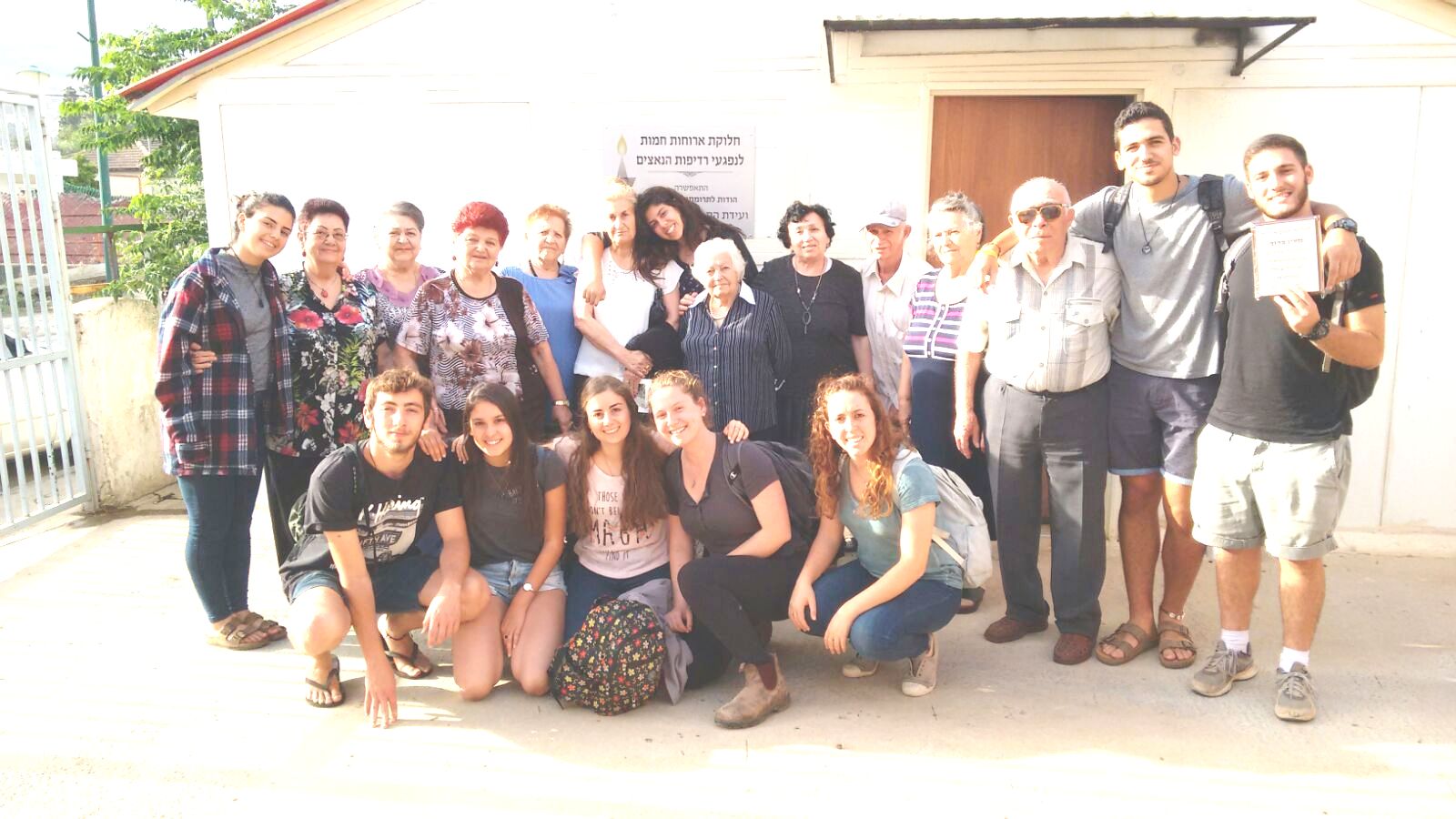 Both sides, expressed their appreciation for this blessed and beautiful year that brought each of us so much love from the students and the winners. We all experienced that we are part of this beautiful prophecy of Prophet Maleachi 4:5-6 " And he will turn the hearts of fathers to their children and the hearts of children to their fathers."
Each mechina has received a "teuda" (a "thank you" certificate) of participation from L'Chaim-to-life.
I was personally touched when students from Kfar Hanasi gave me an extraordinary beautiful bouquet of flowers with the following words: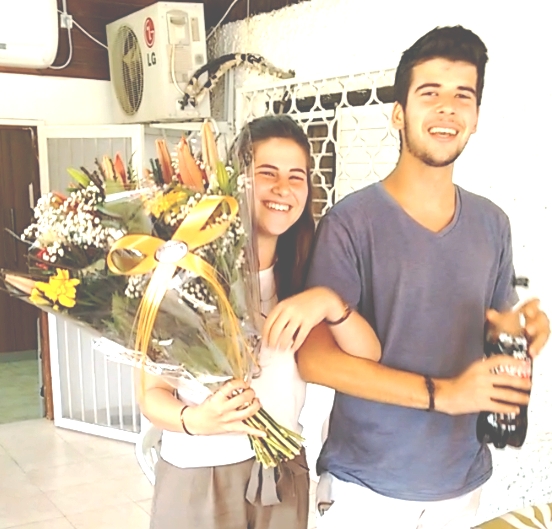 Noam
Dear Timek! We want to say thank you for your participation and investment in "L'Chaim". You give so much and we can see how important this is to you and how much you take it seriously and it deserves generous. You are a man with a great heart and we were glad that we won to participate in " Lechaim" , where you stand on it's head. Our deep appreciation, the "Lechaim's "team: Gal, Tamir, Gal, Alon, Adi, ido, Rotem, Noam, Nitzan, Yotam and Eden.
Klara, representing the winners from Ukraine in Kiryat Shmona, she gave to each of the students a necklace to keep in their memory the winners , as the students enter to their duties in the IDF.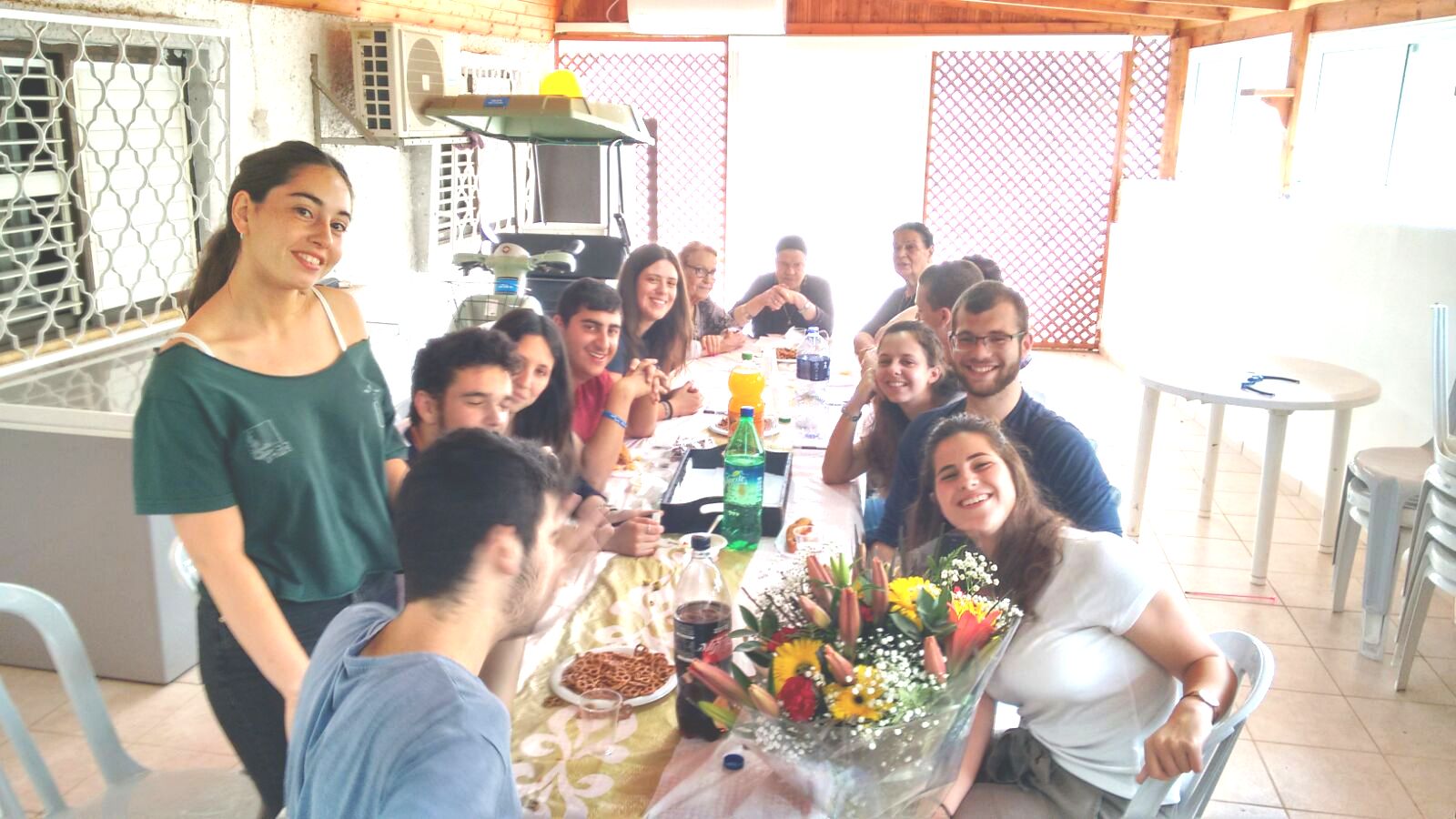 Farewel in Chazor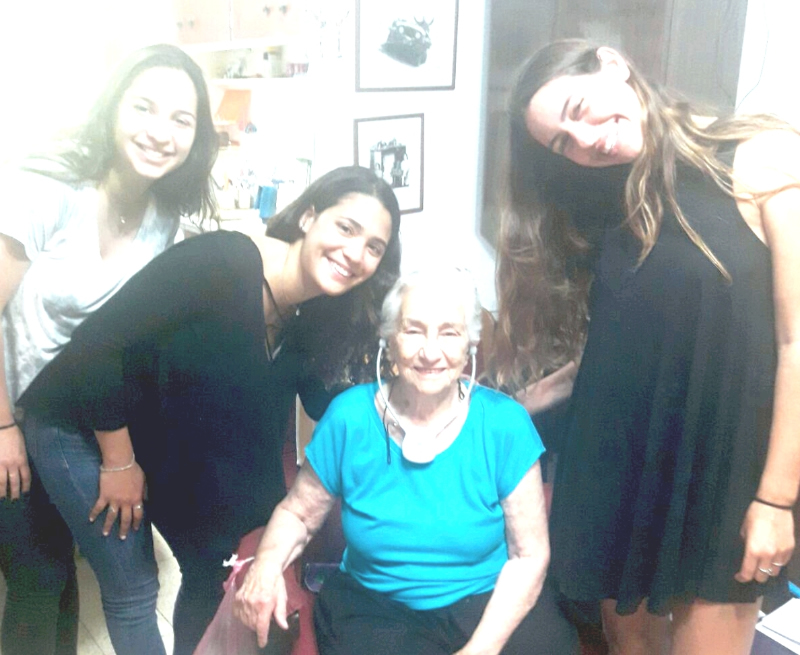 Mika, Dana, Lior, Tsipora and Chukuk

In Kibbutz Genosar, and Chukuk the students visited the winners in their houses. Each of the students experienced this as a very touching moments on saying goodbye to the winners, who they visit every week along this year.
The relationship with students and the elderly became strong. This year was also were marked as a mourning and hardship times , because of Zelma and Izik who has passed away from us.
Video clips:
Ido speaks for students of Mechina Kfar Hanasi words of appreciation: https://youtu.be/T8itK-TN8h4
Ido and Gal share how they experienced participating in Lechaim project : https://youtu.be/p_B1ZHbQ6h0
Klara's word of appreciation for the visits of the students : https://youtu.be/KWJyFqOXE14
Inbal speaks for the students of Mechina Mayan Baruch word of appreciation : https://youtu.be/RAOVlfQBVNU
Thanks of joining and supporting the Lechaim project!
Shalom Timek
Modiin
Efrat and Rachel: Svetlana asked us how it is at school and we told her that we have many tests now. She wanted to know what subjects we learn, and we spoke about citizenship, and equality between groups in society. Then Svetlana told us how she and Dmitry met and Svetlana didn't even want to accept him, but Dmitri continued to insist on her and they have started to talk, and eventually married in 1961. Svetlana told us that when she immigrated to Israel, she worked as a housekeeper for a teacher in Kfar Saba. She wanted to fix it and always glad to learn new words in Hebrew that she heard. She said that once, she was at the post office and needed to send something in the envelope. She asked the clerk to write some words and attached it to the letter. It was written beautifully. And the clerk was impressed by the beautiful note without any mistakes. Svetlana laughed and enjoy her Hebrew capabilities. We end our visit with coffee and cookies.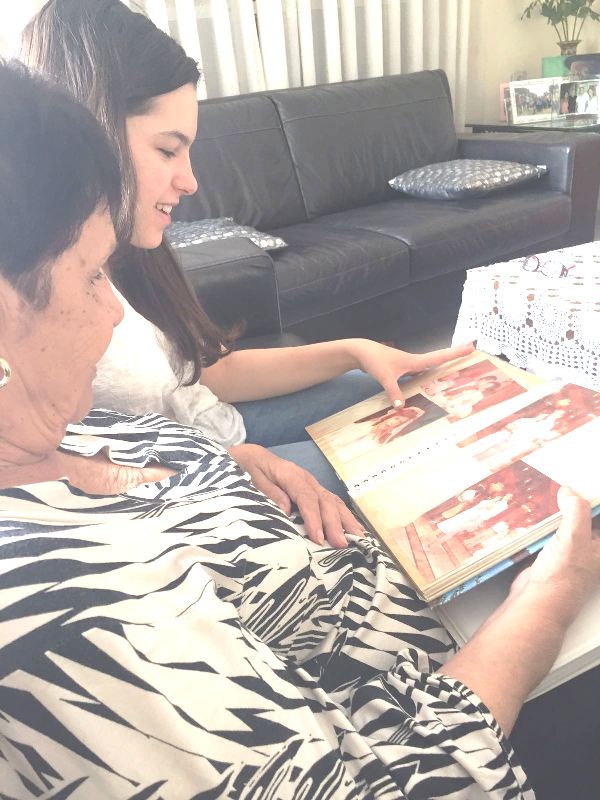 Chemda
Yael : We visited Chemda on Friday.
At the beginning of the visit, she told us that she is very worried about her sister and she shared with us all of her accumulated sorrow on the last weeks. Chemda told us about her longing for her husband and showed us a moving poem written by her, during one of the nights. She made us a very delicious meal, and we ate and talked about optimistic things. I had to go and Maya remained to help to cut and arrange some things for the shabbat (in the evening).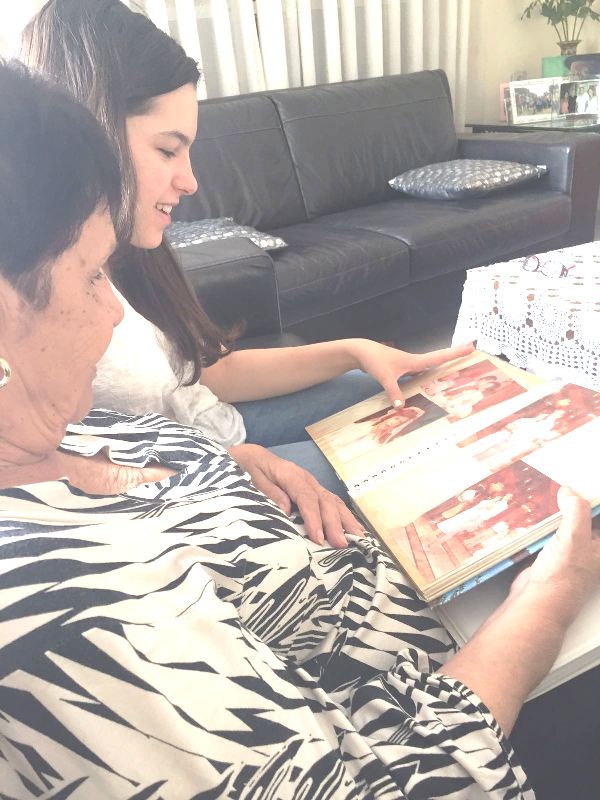 Chemda

Pardes Channa
last week we went, Zvia and me with the students. The visits in the Institute now, are pretty sad. Ishyahu in nursing and can barely speak, but so glad to see us again. Yonnah is also very happy to meet and the attention she's getting, but not inclined to leave the building even for a small walk. Whereas, we develop love and relations with the other winners that we visit. We found Jonah sitting at the entrance of her house with the therapist. She is happy to receive us and heared this time some information about the students, from where they are and what they are doing.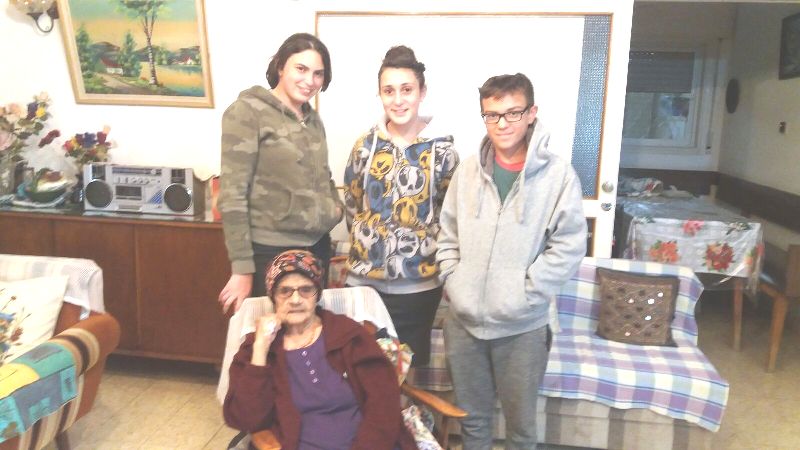 Yonna

From there we reached Dina, who is always happy to meet us and get a package that has all the best.

Also, always admit Tzipora carrying health problems and red tape all the time. With Shulamit it is a real celebration. Hugs and kisses of appreciation on attention (see video). Gizela was at the hospital for about 10 days because her body processed the water and bloated body fluids. She finally feels a lot better. Who surprised us was Aliza. We knew she had her birthday and Morgan brought his Saxsefhon, specially or the event, and even a nice gift. We found Eliza in her kitchen doing Spinag.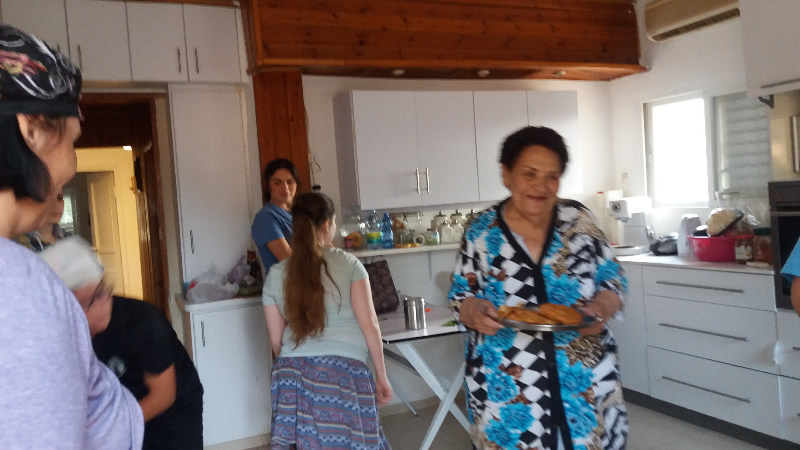 Aliza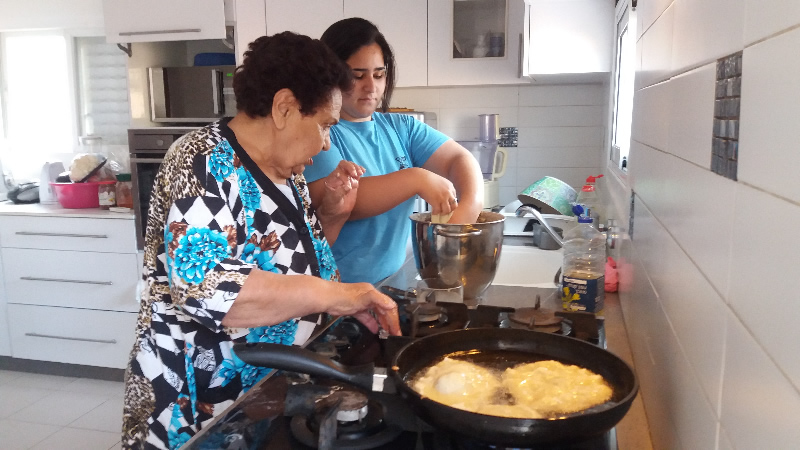 Being together cooking in the kitchen

After promising to teach us how to do it (on Purim, but she was sick and we couldn't even visit her), and we joined the action. Of course, the celebration was in the kitchen and after finishing to do the spinage (which was very tasty)we moved to the salon, greeting her and wishing her a good health and all the best. (see video).
Jerusalem
Hello, my name is Noga, and I am a visiting Eti from Jerusalem, with my friend Yael. We already have visited several times but I choose to tell about this last time: Eti was elated, maybe the best I have seen her since I met her. She told a lot about the week and had many questions as usual. She told us about the volunteer, who came to to photograph her and heard the personal story at Yom Hashoah. ETI also laughed and joked with us, and when we left we felt that our visit made her very happy.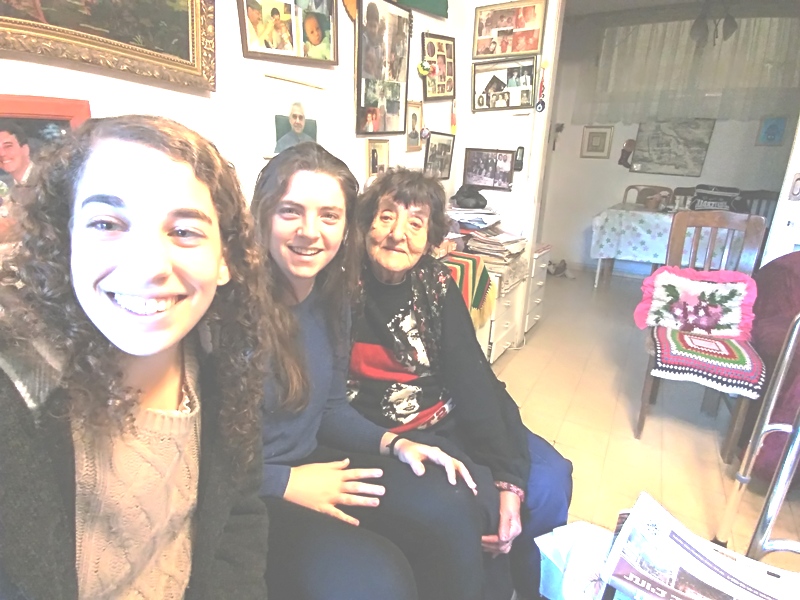 Eti, Noga and Yael

Zfat
The soldiers : Aviel, Moria, and Adi: we met with Esther after missing her terribly.
When we arrived , straight, Esther greeted us with hugs and as always, gave us a lot of respect . She gave us melon, she has bought specially for us, nuts, cookies and of course we made coffee as Esther love -with cardamom. We sat down , asking how she was and were told that she would soon, will have a new born a new grand grand child.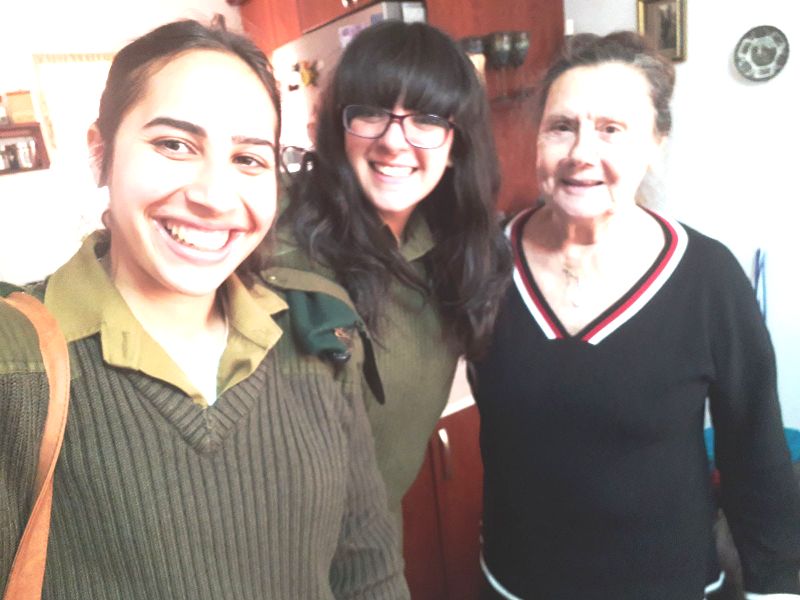 Moria, Adi and Esther
She told us that she took care for several days to her garden, dealt with some dangerous animals along the way and the end result is amazing. We enjoyed hearing all the stories and find out how much is an active woman diligent and positive. We talked about art, we told her about our commanders. And one of the most exciting stories were people she met on the way home who helped her and remember her since their childhood.
We said goodbye with hugs, hot corn and a huge waiting for the next meeting.
These are our news for this week.

Shabbat Shalom!

Rivka
News from the North
April 26, 2018
Dear friends of L'Chaim. The volunteer season with the students of the pre-military schools is coming to the end soon. The weekly visits of the students, are refreshing and inspiring every week to the winners. They love them and see them as if they are their grand children, part of the family. Klara from K.Shmona and also others tell me that students from past years are still calling her and also come to visit t as they travel in the region. Some of them on IDF duty, or in their free time.
Both the students and the elderly experience the deep "kesher" = weekly connection as something very precious. In some of the video's you can hear what the students say and feel.
Batia Michal, Yael and Noa : Batia : I am very satisfied from my visitors and love them. Waiting every week for their visit. https://youtu.be/lanSa_7RRRI The girls: We enjoy to come and speak with Batia about everything. She worry if we ate and how we feel.
We will miss her very much.
Gali and Boaz : We love to visit Eliram and Eirit . They spoil us and we feel as their children. We love each other and we thank them for what they are. https://youtu.be/HT07iqXei5c
Maya, Michal, and Eitai - Mayaan Baruch : It as very interesting to meet the winners who know to appreciate the little details in life and very happy to speak with us about everything. The meetings gave us so much strength to go on along the week. We love them. https://youtu.be/tz4ZsnM42gQ

Zfat
Paz, Eido : we came to Eli. Of course, he was very happy to see us, and we decided to sit outside because of the nice day. Eli told us about his experience of the memorial day , and after that the special ceremony to 70 years for releasing Zfat . All those exciting days, brought a lot of memories for the social difficulties that occurred during the same period, racism between Ashkenazim and Mizrahim. Eli was lovely as always and told the stories in a compelling way as only he knows. We split up with a big hug.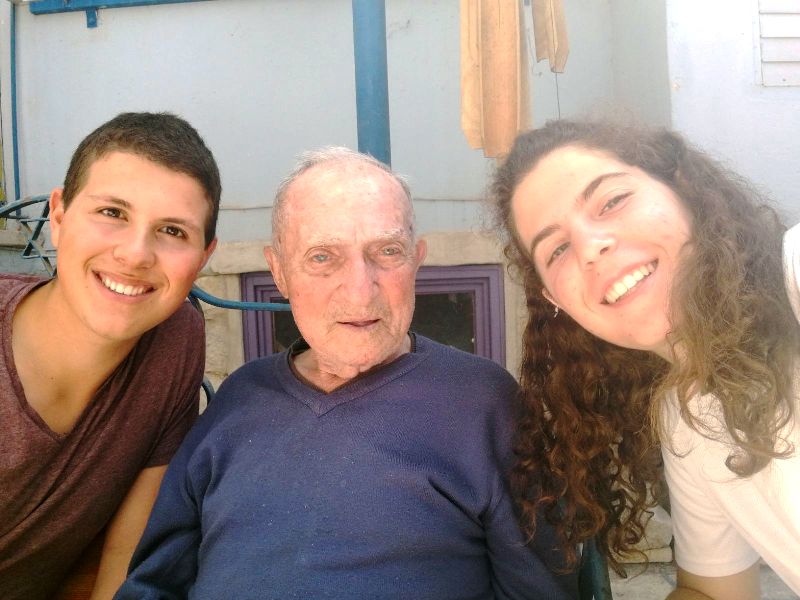 Eli

Eido and Paz: We arrived to Judith and she was very happy . She immediately opened a table with filled and matbucha she made and it was the most delicious in the world. After that we talked about the plans for the Independence day and immediately got sucked into some Rummy games. It was fun as always. And finally: an image with Lillian.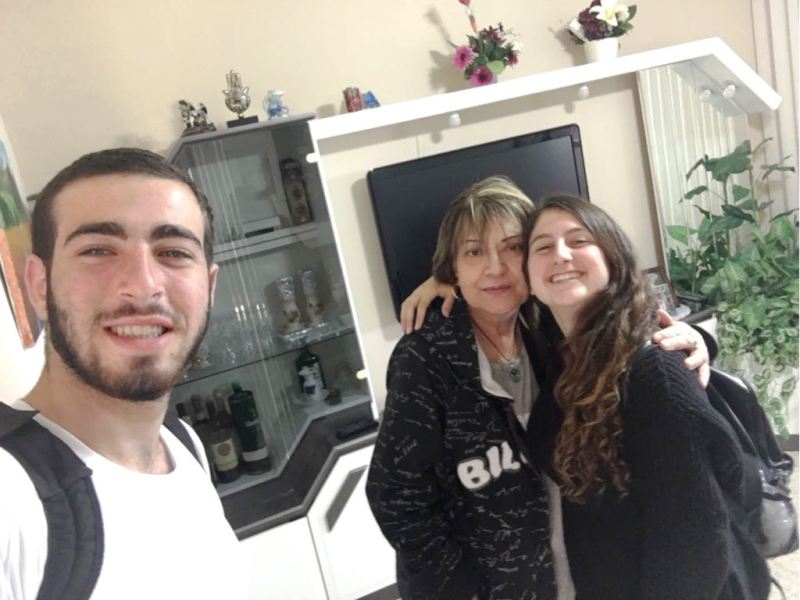 Lilian with Or and Yuval

We got to Lilian and she told us that she was supposed to go with her granddaughter to preparations for the wedding.
She said it was the first granddaughter getting married and very great excitement. We talked a lot about the wedding and Mary's granddaughter Lily and heard how they like and respect each other.
Visits in Pardes Channa
We went - four of us , to visit the most individuals winners. But before, we Came to Michael and Ruth - the specials. Their stories are always interesting and unique. They have a loving family, but we love them as well and want to hear and see them. They are an example of a real winners. From there, we went to Yonna. She is receiving an excellent care, and mentioned the first historic stories of Pardes Channa.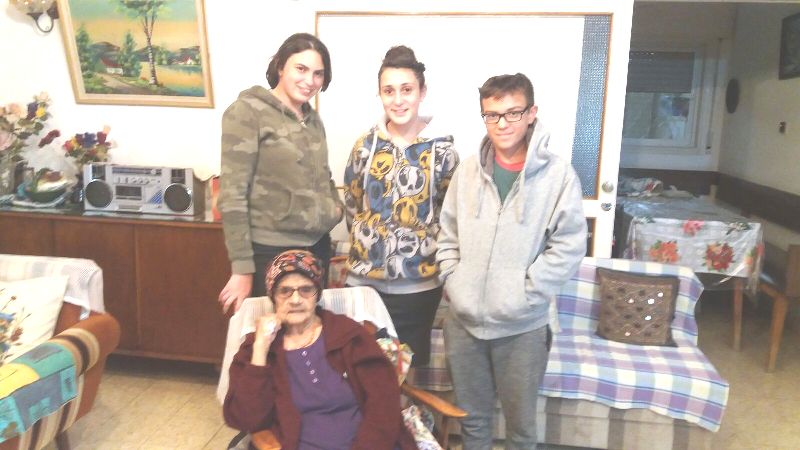 Yonna

The weather today is bothering her because of the heavy air which cause heavy breathing and her eyes sensitivity. But we said goodbye with warm hugs and big thank you. From there, we came to Dina. There is so many thing which is neglected , and it is difficult to control and solve them ... we did the video with her , while hail falls outside and the weather have changed from one minute to another.

Gizela were invited to light a beacon in the Memorial ceremony to the Holocaust , which were held in a nearby town. It was an honor and a privilege.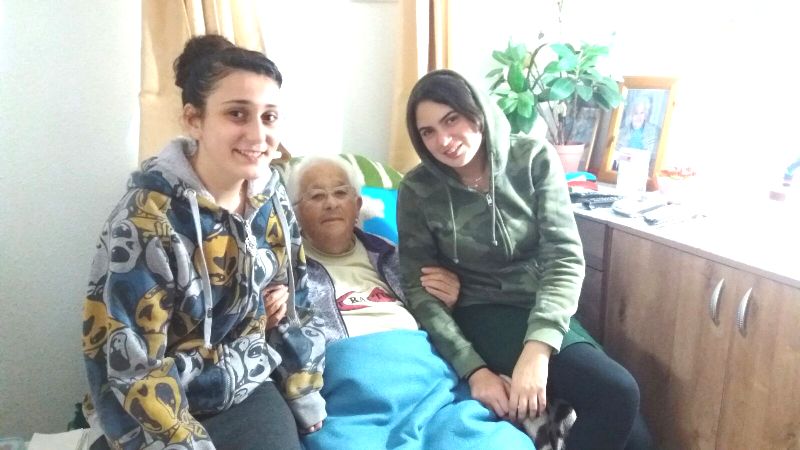 Gizela

She is 92, and not so many like her, have survived despite all what she have passed. It was great honored at this event. Eliza does have difficult situations in her health and probably she will need to implant a pacemaker in her body. Now she is in the stage of various inquiries. We all wish her to a better health and full recovery. Next week - we'll be out in full force.

Rivka
Translation the video :
Hodayia: I can study many things from this people. How to handle the situations in life . I am happy to come and listen and help. It is fascinating to get to know this people.
Tal or : We learn from them and take it to our life.
Dina : I am very happy to have the visits. It brake my lonely day and they are very nice.
Greetings to our Shir , who search the country walking. We miss you and whishing you greet pleasure on geting to know our country. From all of us - L'Chaim's family.

Routine visits - are worth thousand times more than passive memorial event.

April 12, 2018
With a few words that demonstrate our briefs, the shining faces as a result of long and cordial successful connection. Again we remember when holding memorial assemblies, the most important thing is the purpose of the rally? Is focus only memory the atrocities and repetitive descriptions of the ritual, repeated each year? But sinking in excitement that keeps us passive and addicted to excitement itself. the right Memorial is to learn to ask the right questions such as: Why in the first place it happened and what is important to learn from it?
Such dialogue not play unfortunately, and instead- Expenses of million, on flashy events where famous people find what strengthening their publication, and why not? their wealth? ...
I admire and appreciate the remarkable modesty of our volunteers throughout the year Without any platform. You are the fire torches lited along all year! Bless you all! Daniel.
In summary and most importantly: as a survivors told me, whom I spoke this morning and those are her words:"Daniel, any rallies in memory that I have experienced are a big show where the listeners are sitting in a comfortable and pleasant atmosphere, and dive into the story before over 72 years ... and so easy to go far further into the past because it does not require any act, which does not require an amendment but simply sink into memories that cause listeners to become addicted to them willingly. My memory : if it was possible for me to say (so tell me the survivor) I would say out loud: What are you talking about? What happened 72 years ago. Remember the hardships of the day. But here, there is an opacity that much easier to hear the distant past than to face the day - requiring action and repair ! The focus is to get up and do! Anything else is not true and doesn't used as trigger for improvement and growth. Nobody is interested enough to listen and talk about the present, because it requires a different deal and requires much more thoughts, correction and mainly - action!
She said - and this is the sad truth of the winners and their situation .

Daniel

Zfat
Paz Ido: We arrived to Eli, just at lunchtime. Eli told us, that he likes to buy groceries and prepare meals for himself, so he feels independent and passes the time. Eli told us about his Saider. A woman, he knew, asked him, after meeting in coincidentally on the market. Eli is very happy for the invitation and said he enjoyed it very much. He even told us that everyone was keen for his special horse radish that he has made .
We noticed that Eli hanged on the wall a new picture, with people who survived the Holocaust, including his parents, brother and sister and other family members. Eli is going to tell his personal story to students at the college, and is very excited about it.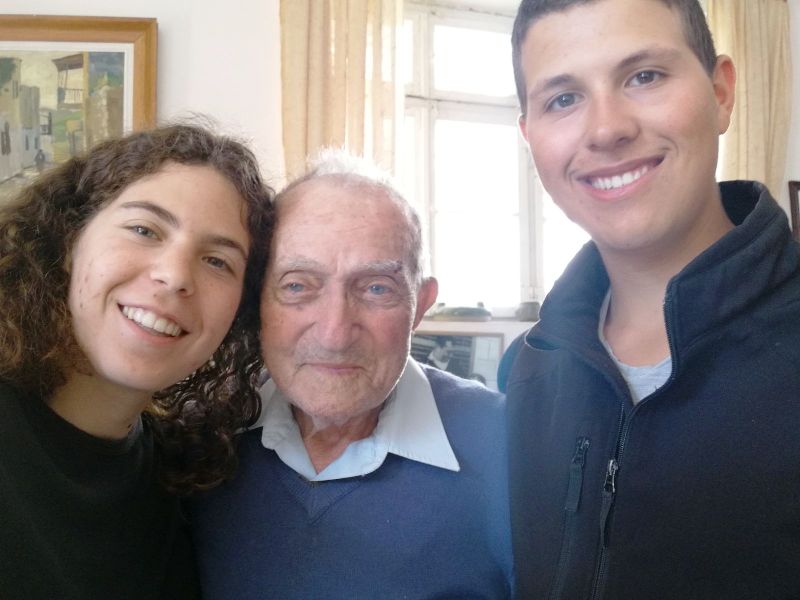 Eli with Paz and Ido
Yuval Maya: We came to Shalom after two weeks. We talked about the holiday, the day center and his nurse. Shalom was interested in where we have celebrated the holiday evening. We talked with him about lovely Shir, who is now, starting to make the Israel Trail. Shalom felt better than the previous times and always glad that we come.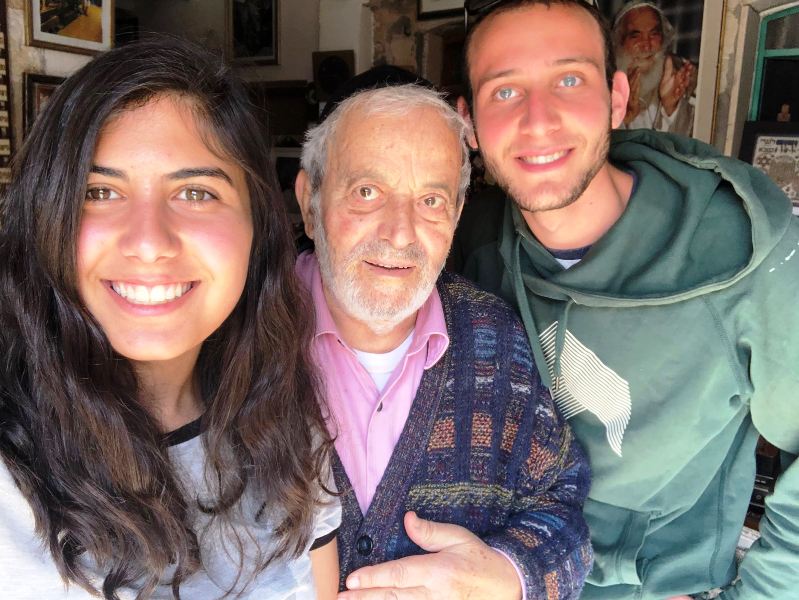 Shalom
Gali and Ofri : Today, we went to visit July in the center today. We missed her after the long Passover holiday. We heard about her holiday, and told her about the holiday we had. Naama Amit - we went out in the morning of the -28.03.18 home of Marcel Buchnik living in Zfat. Coordinated before her meeting a week earlier and talked with her that morning to make sure it is alright with her. Marcel welcomed us warmly and with great joy and rushed to give us a tour in her home. Then we sat in the living room, drinking coffee and talking together (she told us about her family, about her hobbies, her designs on holiday, etc.). We stayed with her for about an hour and a half and returned to base. We enjoyed very much and promised to come back for a visit .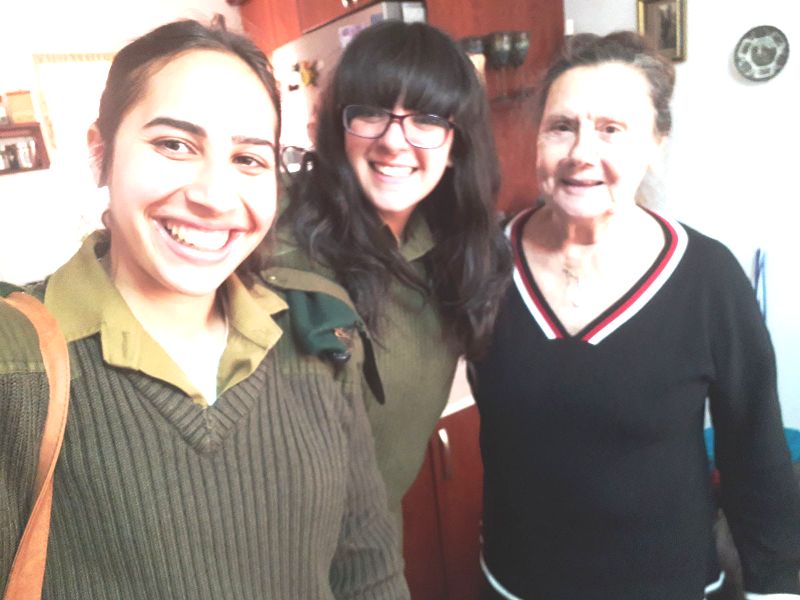 Moria and Adi
When we arrived we met two volunteers. Esther told us how much she loves them and everyone who came to visit her.
We made coffee and listen to her , about the work and gave us to read the passage which she have to read in the Holocaust Day ceremony at the Northern Command. She pampered us cake and she told us about her life through photos. Then we asked her to teach us rummy cards, by she tore us We took a picture, wishing her a happy holiday, of course we got some provisions and went to great anticipation for the next visit.
News from the North
After Pesach, the students restarted thier regular visits to our dear shoa winnrers. Raya, Israel and Bracha in Kiryat Shmona enjoyed the students.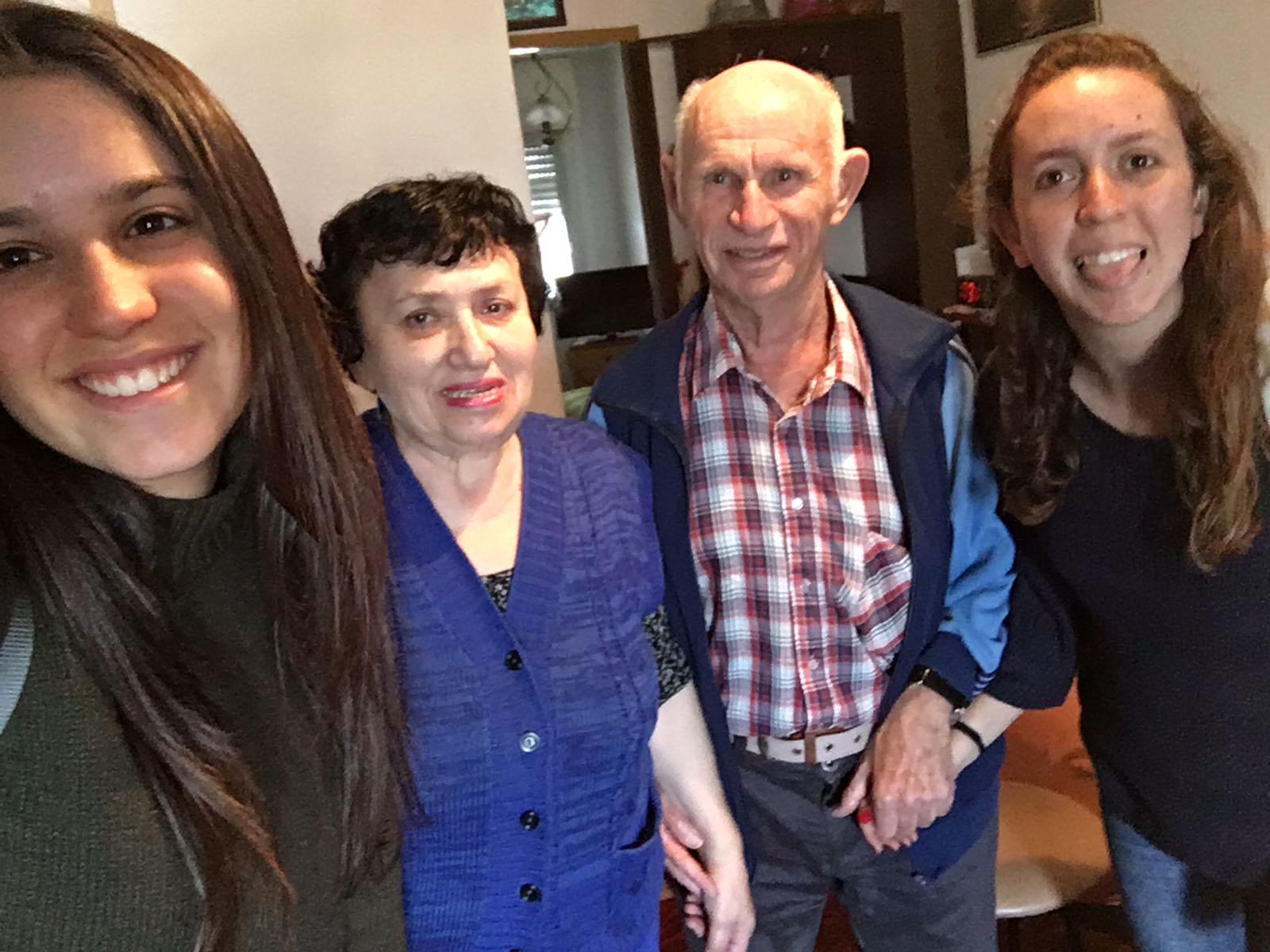 Israel and Ludmilla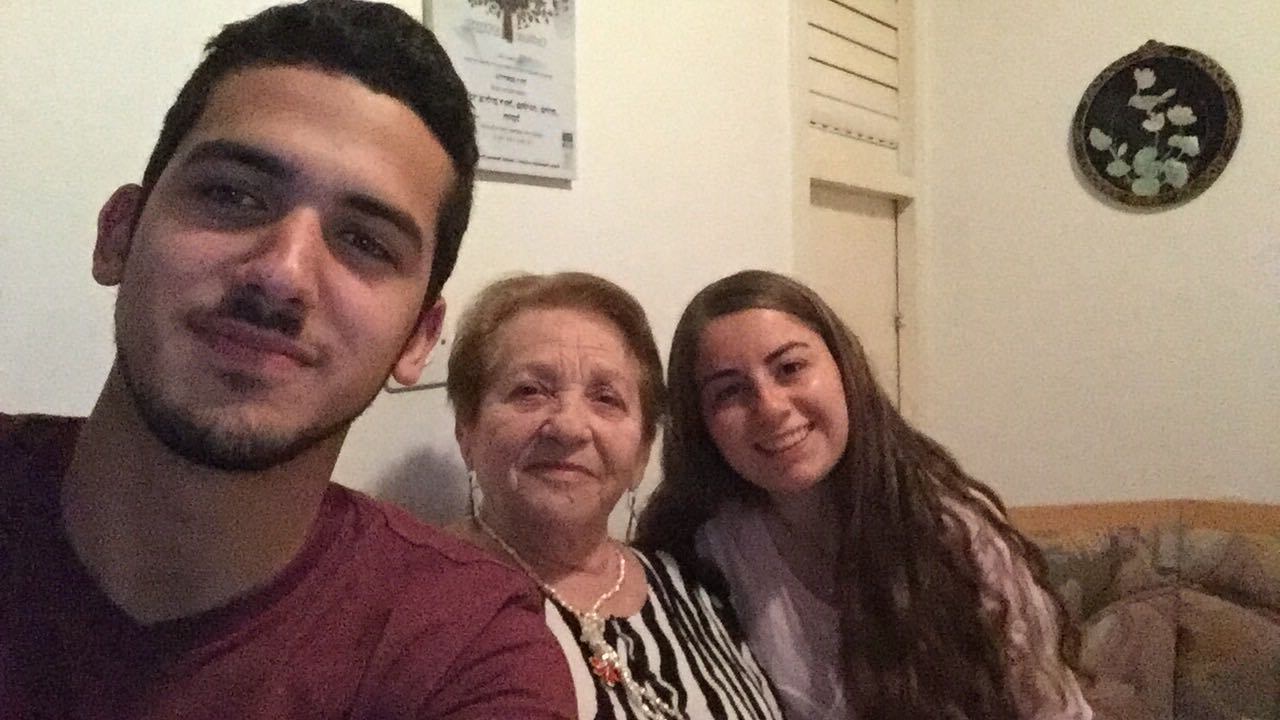 Raya

They brought joy into their tiny houses. Raya baked a cake what she loves to do when the students come. They talked about Pesach , also what the students will be doing after their study is finished. All of them start enlisting in the army.
In Chazor, Mina was so happy that she received extra help from Lechaim. Next week she needs to travel to Haifa for a checkup. Her health is much better now and we all hope that the results of the CT-scan will be positive.
Her problems. She has nobody else to talk to. For the students it is hard, but they take it as it is and keep visiting Mina with joy. I believe that Nitsan and Eden are very courageous. We say: "Kol HaKavod" for what they do!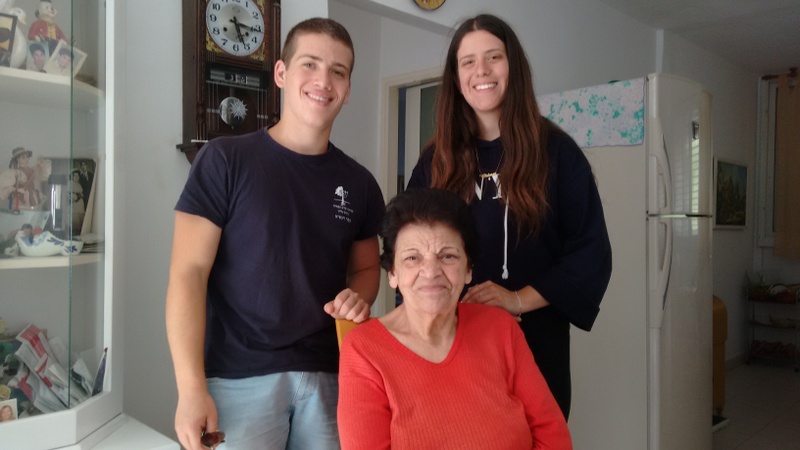 Mina
Jaffa, her health has improved much better (after she fell down). After months of physiotherapy she can move her arm freely, but she can't carry heavy bags. Jaffa is never complaining. She is always ready to help others.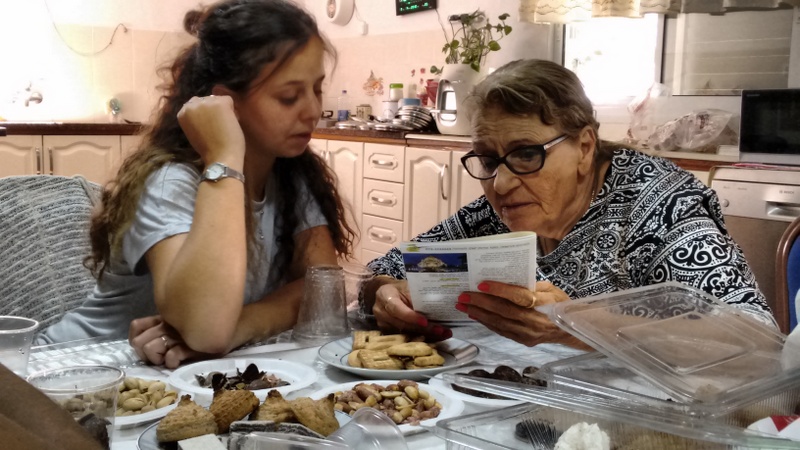 Adi with Jaffa
Bracha and Ruchama also receive the students with great joy. Both are so happy with the youngsters coming into their homes. It is a great blessing to them and it means a lot for them. They wait every time for them.
Thank you for your support!

Timek

Pardes Channa
Yechiam: Hello, today I visited with four students at Gisela, Aliza, Isaiah and Jonah, a very significant visit on the evening of Holocaust Memorial Day.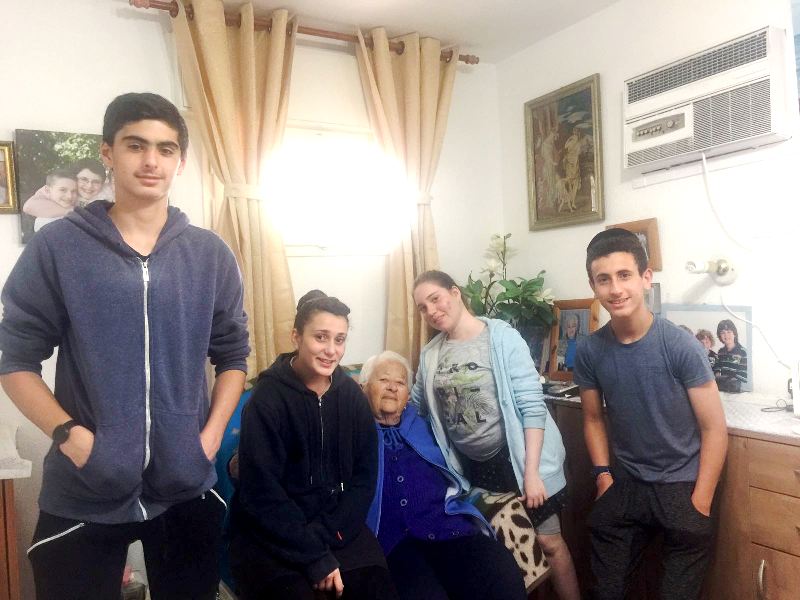 Gizela
We sat for 45 minutes with Gisela and heard again the chilling story, how she survived when she weighs 38 kg, and all the hardships that she had been going through.
One of the girls, stated that she is going to do research paper by hearing and writing her story on the Holocaust for the school.
Fortunately Aliza , came back from the hospital and told the students, about her hardships childhood in Tripoli.
We heard how, as a young girl, she faced with interference, and ad to observe secretly Sabbath and Chanukah candles, and the prohibition to speak Hebrew. From there, she told about her immigration and how despite all the difficulties, we should be proud and happy with what we have. Honored us with food as kings.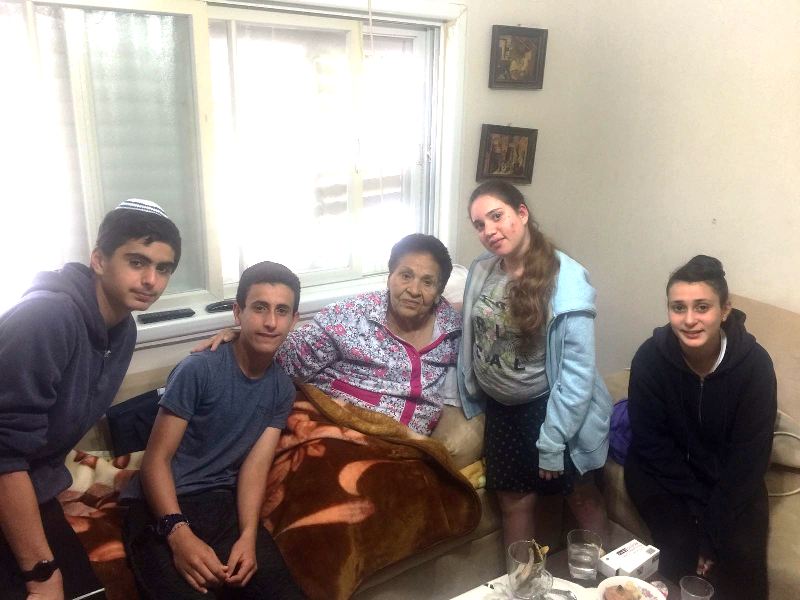 Aliza
Yona always happy, smiling from ear to ear, delighted and says Hallow to everyone, and told us how tomorrow is going Speaking at the Day of Holocaust Remembrance. As usual we left her delicious things as she likes.
We signed the visit with Isaiah He has returned to the ward, and seems less well. He was happy that we have shown him a routine visit, and talked about his youth as a carpenter. Spoke with great difficulty. We left something sweet.
To conclude the visit: the students were very attentively, asked questions, interested and understand how this day is very significant and reminisces even for very old people. It was very special to see the Department of Isaiah memorial plaque in memory, for the Holocaust Memorial Day.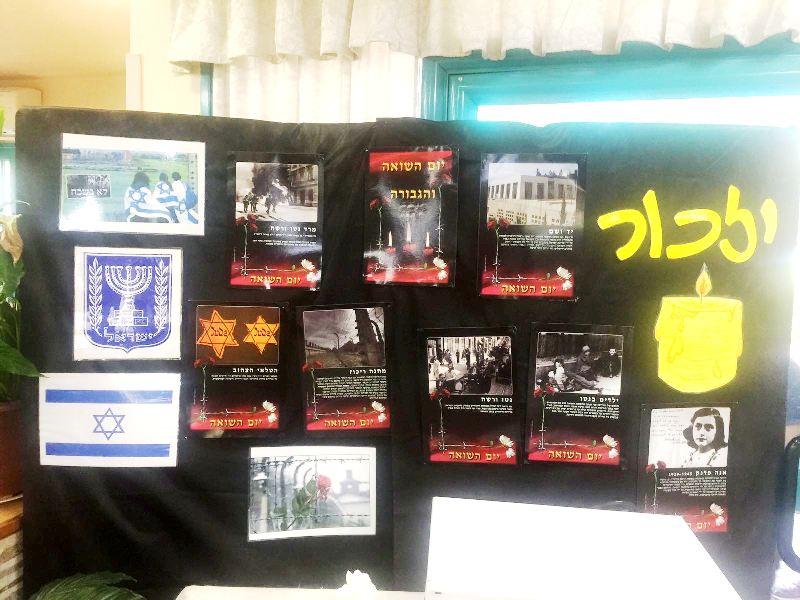 Memorial Corner of Yehushua
Rivka : And I went with a group of four students, and we started with Michael, with a story of amazing person who survived as a boy of 10, and the knowledge to overcome alone the impossible situation and with such a willpower, which has managed to immigrate to Israel scceeding to work in the Aircraft Industries, and was donated and received special recognition from this important industry.
I received with great excitement, a book written about him and his wife Ruth, who is also, part of the story- too. From there we went to Yonna . She was so glad for our visit and indicates how important these visits. She suffers from her eyes, but all light and joy to have us.
We went to Dina. Her situation is getting worse, didn't found a suitable nanny and the house is "screaming" for cleanliness and resourcefulness. She has no one to take her to buy grocery. We went from there feeling great sorrow for her situaition. We left a package for Zippora and talked a bit about her health, and continued to Shulamit , who received us with hugs and kisses, serving refreshments and drinks, as kings. She just returned after week in Jerusalem - with her children and grandchildren. Of course it feels good and uplifting.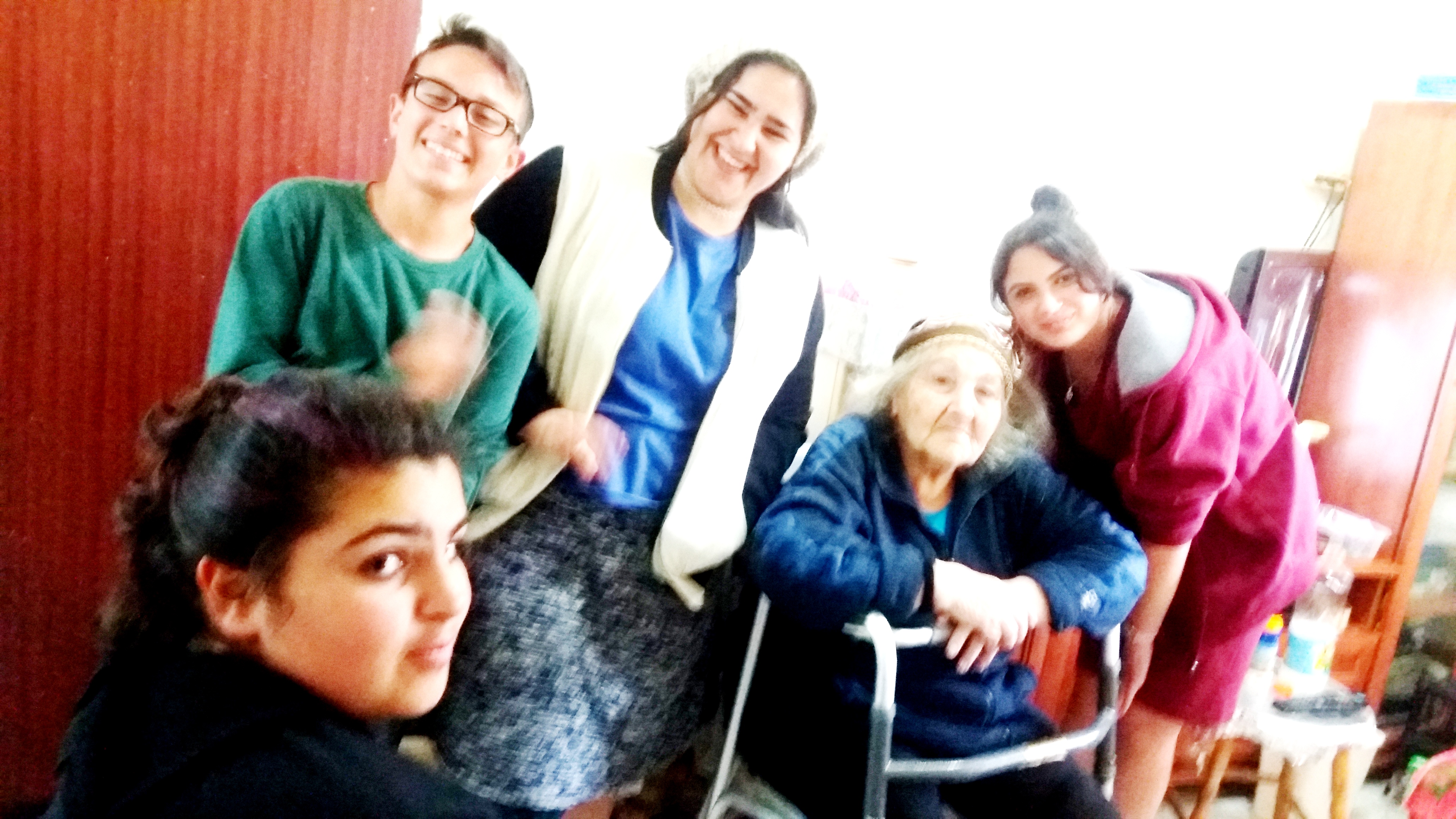 Mordechai, Klara and Anatoli

All the winners thank us very much for the pesach greetings and food packages. Visits with the students, the attention from "Lechaim" makes their life more joyful and at these moment, they forget for a while the pains in their bodies.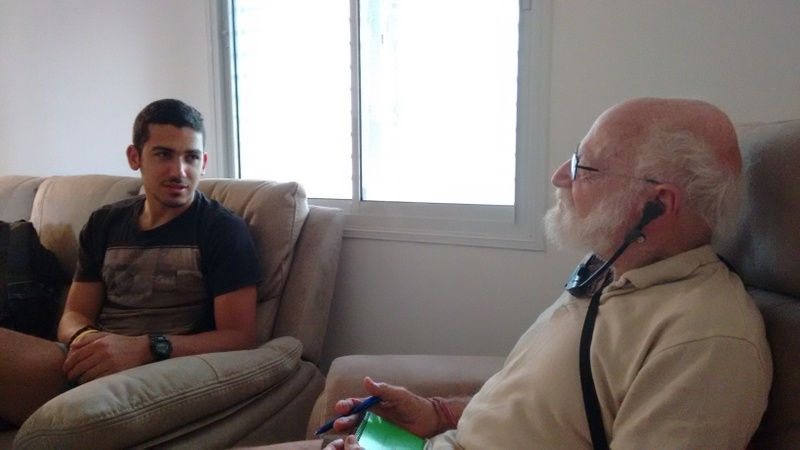 Omer and Steve
Love and greetings also from Rachel and Steve (Neot) and Hadasa & Arontsik (HaGoshrim).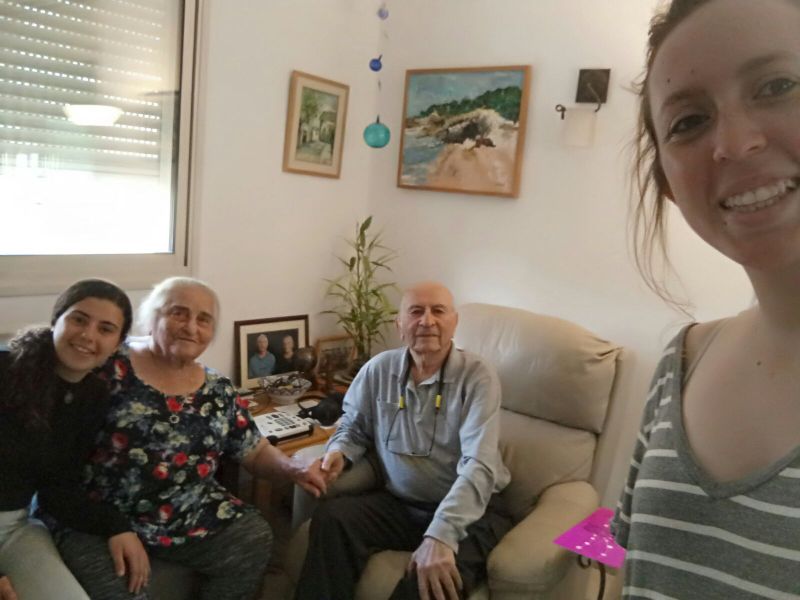 Hadasa and Arontsik

Chag Pesach Sameach,
Timek
New soldiers visit in Zfat
Moriah and Aviel-we came to Esther after identifying the house with the tires. Esterka came out to meet us with kisses and hugs.
?We got to know her younger daughter Alonit, and her great-granddaughter Adele. We prepared tea and black coffee to Esther, and we started to talk. She told us about the interview she had on the radio program which will be broadcasted on the Remembrance day. We looked at the Saloon and Esther told us about her family and how she met her husband (bless his memory). We saw the different rooms in her house, and she told us about her work and cooking. We received olives and jam to the base and went with a huge expectation for our next visit .
Amit and Eden : It was amazing !!!!!
We came to Moses and Arena and brought them cookies and they gave us chocolate.
I spoke with Moses, and Eden looked at the albums with Arena, I spoke with Moses about every possible subject: his military service in Yugoslavia, about the artists city, Zfat was, places to study in the university, places in the world ...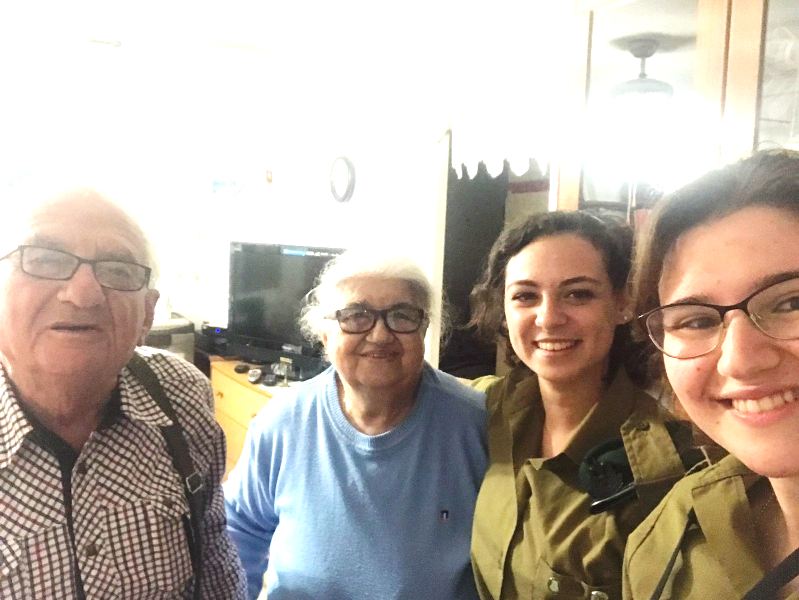 Erna and Moses
He has knowledge on every subject and I was impressed that he knows so much.
In short it was very interesting.
Shir : I went to visit Lillian and took her to a cafe. She was very excited and happy to (finally) leaving the house. We talked about liberation and plans to continue. Lillian told me about the family and the grandchildren and said I was like a daughter to her. We enjoyed the time together very much. Waiting already to for my next visit.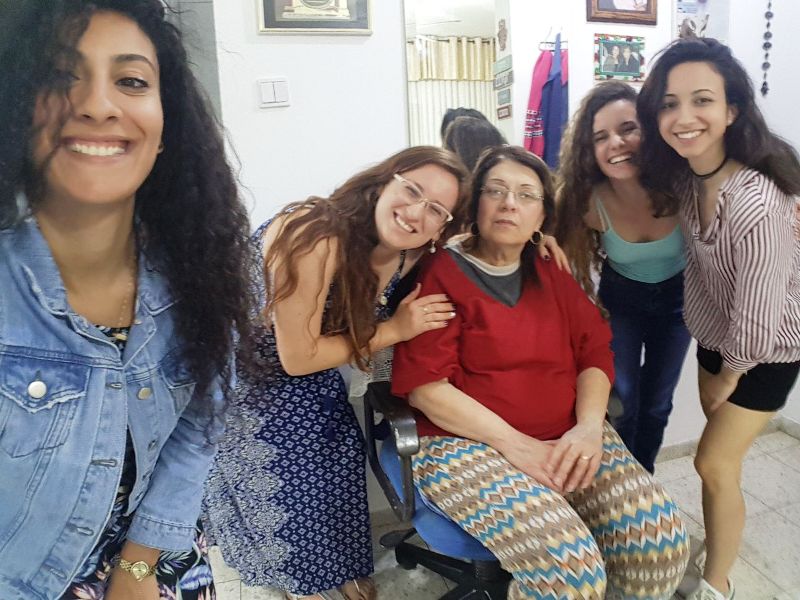 Lilian
Then, I went to Esther and Ido jumped to visit, we talked, we laughed. We heard songs. I cleaned the house and she cooked for us a delicious dinner. It was a real fun and we didn't want to go. The next day I came back for another visit with my brother and it was warm as visiting family. Esther talked about her children and grandchildren and we watched their videos together.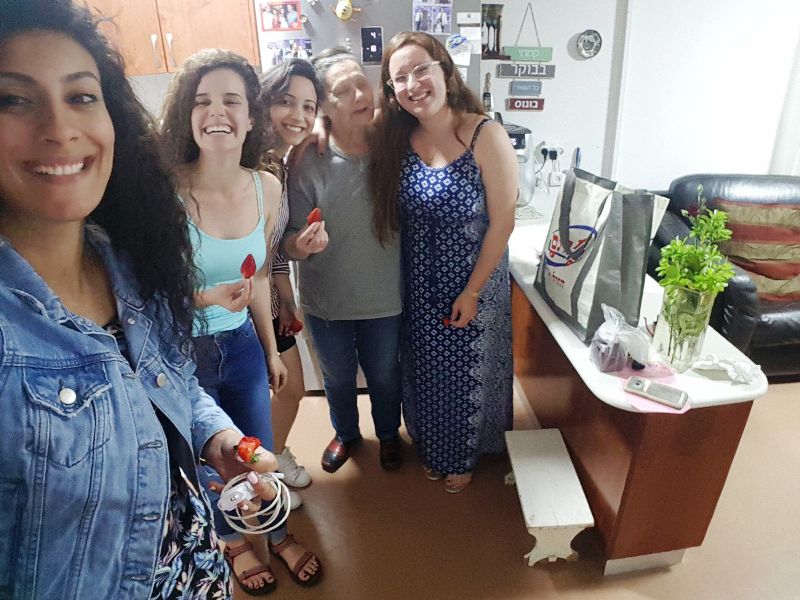 Esther

Shir : This Weekend, on the road to travel in the north, accompanied with some of my girlfriends, we stopped in Zfat. We arrived first to Lillian's, when we arrived her face lit up . She told us that she was crying all day long and was very sad.
The visit was a happy and lively and very happy to know the girls and share what is happening to her. It is very sad when people we should go and we are. She also brought Shipping Passover with a lot of good things and I was very excited. Then we came to Esther, we talked about shared experiences and laughed a lot. We ate delicious strawberries and drinking coffee.
Esther told us about the talk that she is going to speak at the Independence Day ceremony, in a military base and said she was very excited.
My friends were excited and very enthusiastic and said it was an amazing part of our trip.
Amit from Zfat : I came to visit Moshe and Orna who was very happy to see me after a long time that we didn't meet. They were happy for the beg for Peessach. We talked about what they are doing at the holiday. They asked me about my family and what I am going to do in the army .

Paz and Aido: We met Judith at the afternoon. The house was after large cleaning operation for Passover . We sat and had lunch together by listening to her stories and experiences, about her children and what they do today, about her husband and the experiences they had together. We talked about the Seder and where each hosted this year and Judith told their family read the Haggadah from beginning to the end without skipping, which is what encourages everybody but ultimately very enjoyable .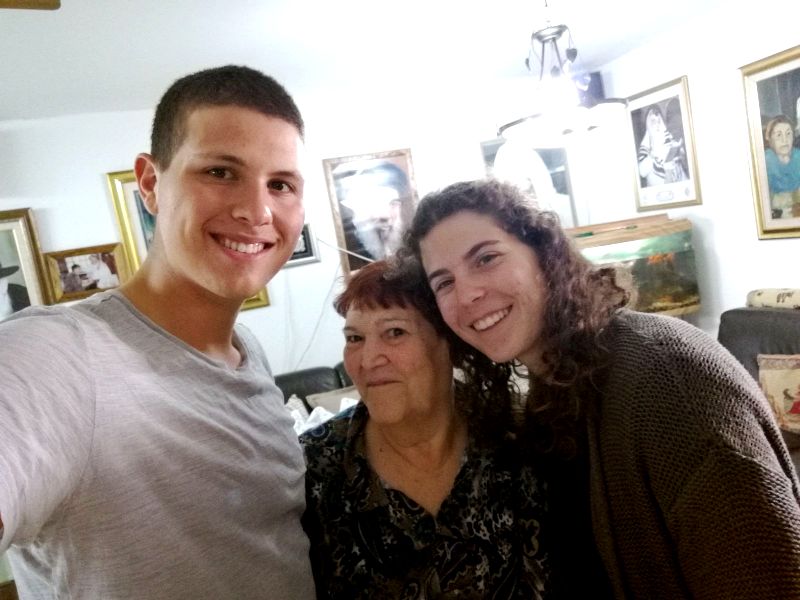 Yehudit

We came to Eli and he welcomed us. Eli was excited to tell us about his grandson's visit from Brazil. He saw him for the first time in three years! He is very proud of it and told us about his exploits in Brazil and what he he is doing. We talked about the Passover and I was told a little more about the family . Ido told Eli that he was formulating captains and they were having a long conversation also the captains and army and military service and life .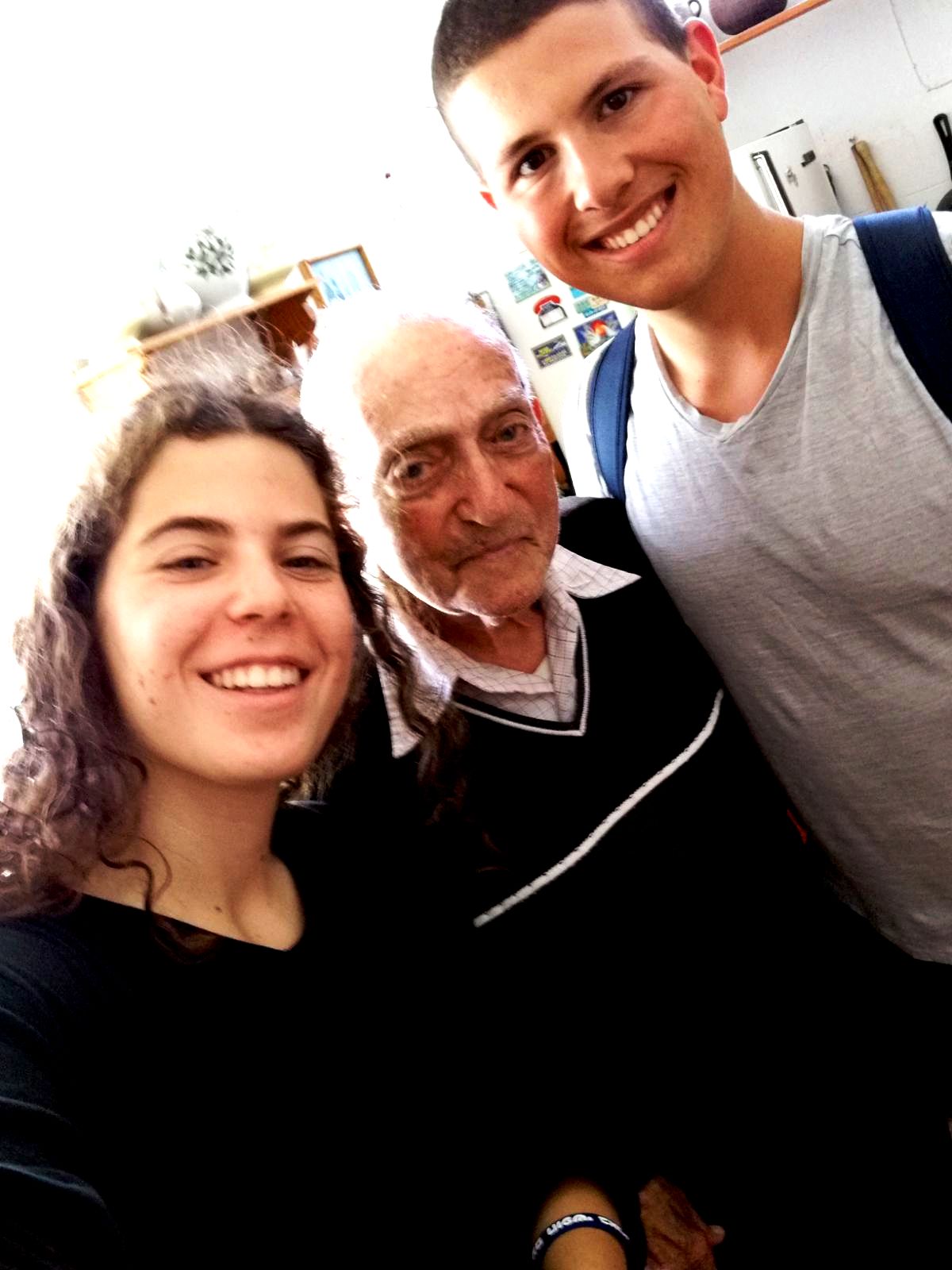 Eli

Eli also told us how he was a POW camp in Russia where he taught the people that were there, how to sort holiday customs. And stressed that the most important thing to us is to be together .
Maya and Or visited today Larissa and Shalom and brought them Shipments from Amutat "Lechaim" made to all winners a package of Kamcha De Pascha.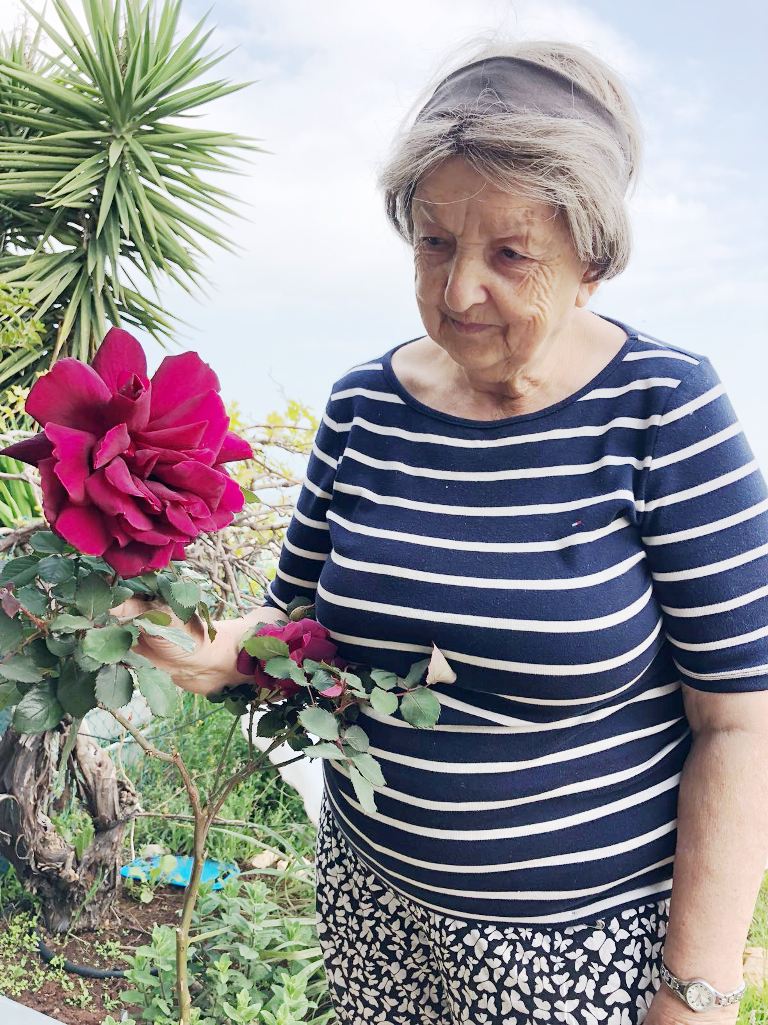 Larissa
Or and I made with Larissa pancakes with apples and drank hot drinks and cookies for dessert. And her granddaughter also were at home but they slept in. Larissa was very happy and said, "the last present " and she smiled. Shalom was in bed because he felt very tired, we had the shipment, we talked with him a bit and went back after a day, full of good deeds.
Lee and Ofri : Monday we got to Diamanta and Chanan finally after a period of time that we were unable to meet with them.
It was very exciting to meet with them and had great yearning. We sat with them updating about the life of the preparatory and in their life. We played (of course) Rummikub, drank tea and ate together and like every time, there was a warm feeling as with family.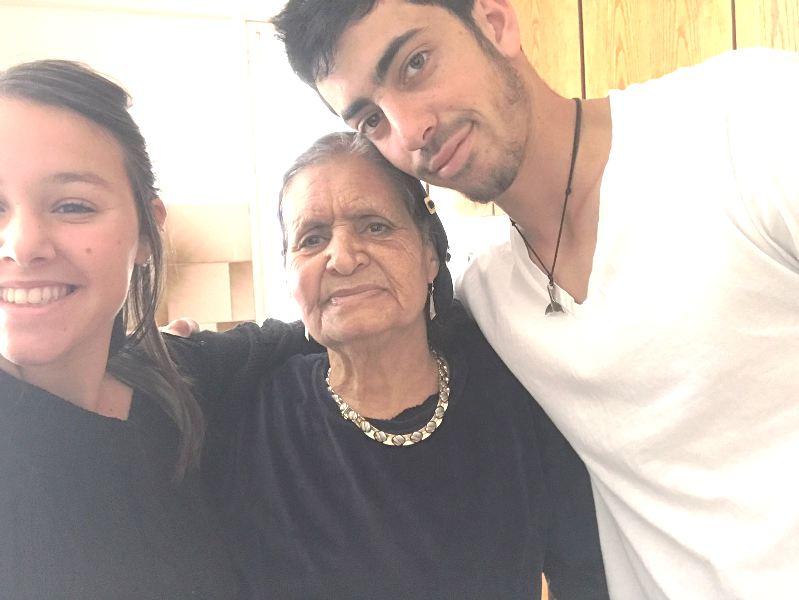 Diamanta
We came to Juli.It was a bit difficult because she didn't feel well, but very quickly, we lift her spirit and pleased her, talking about the Saider and that she loves company and enjoy each time when her family comes and she's just wait to her great-grandchildren massing her home. As always was amazing with her.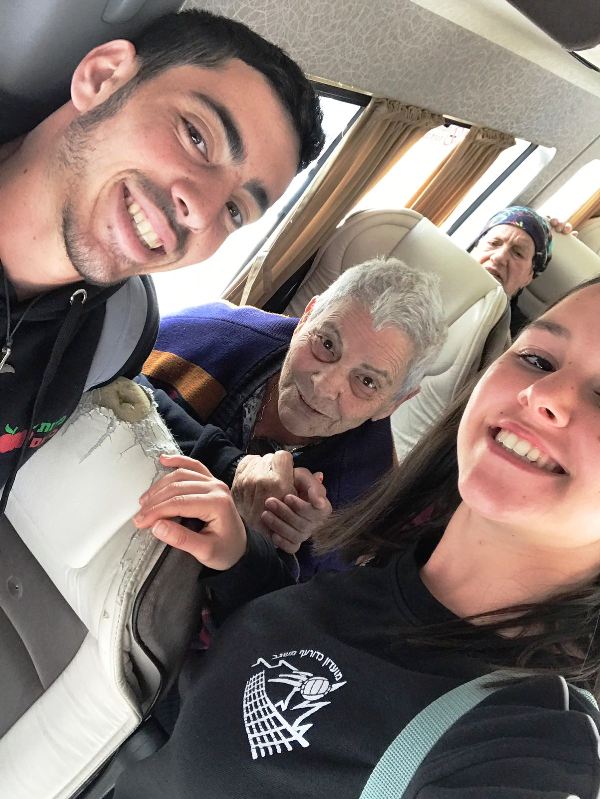 Juli

Pardes Channa

Our visits this time, were splitted into two parts: visits with students before leaving for a holiday to their homes, and this week – where we brought kimcha De Pascha packages, which were received with excitement and hug gratitude. We get a lot of contributions directly from the manufacturers for our needs. So we have carrots and cucumbers, as well as quality cheeses "Jacobs Farm", and "Hashchar " chocolate. Everyone is very excited and we mainly bring the packages and see the joy and the gratitude of our winners . Everyone feels better because of the weather and the bloom every were. Aliza is better in breathing.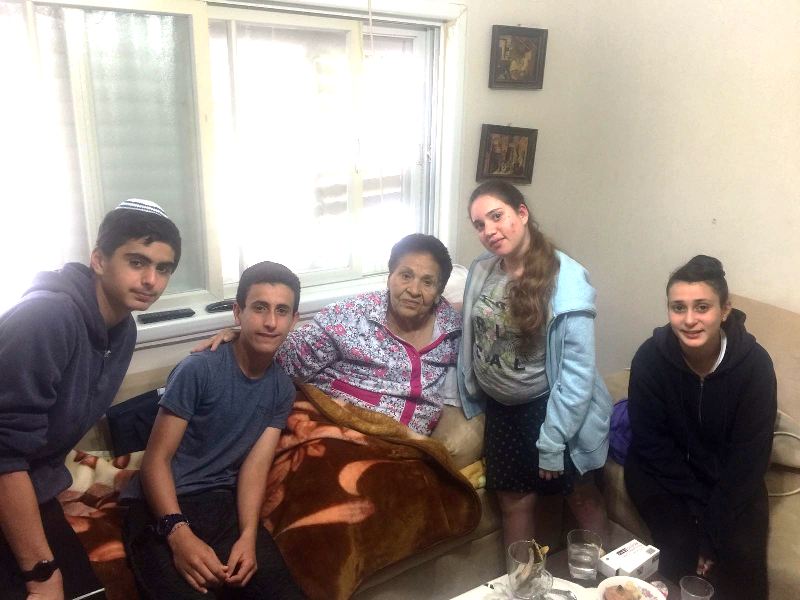 Aliza

For Michael and Ruth : the students came and asked to get to know Michael after hearing about him. Shulamit love the visits and wish everybody happy holiday. Yonna is happy to see us and ofcourse we wished happy holiday to each other.

Gizela was at the hospital for 3 days, because having liquids even in her breath. She is at home and hope it doesn't come back. Shalom is a new lonely survivor and we brought for him package and he was very grateful. There is a volunteer who decided to adopt him and we hope that he will be able to receive the privilege of having this kind of attention . Yonna is happy to haveour visits, and the students love to hear her stories. Ishiayho is sick and was moved to a place where he is getting the right care. He was very happy to see his visitors.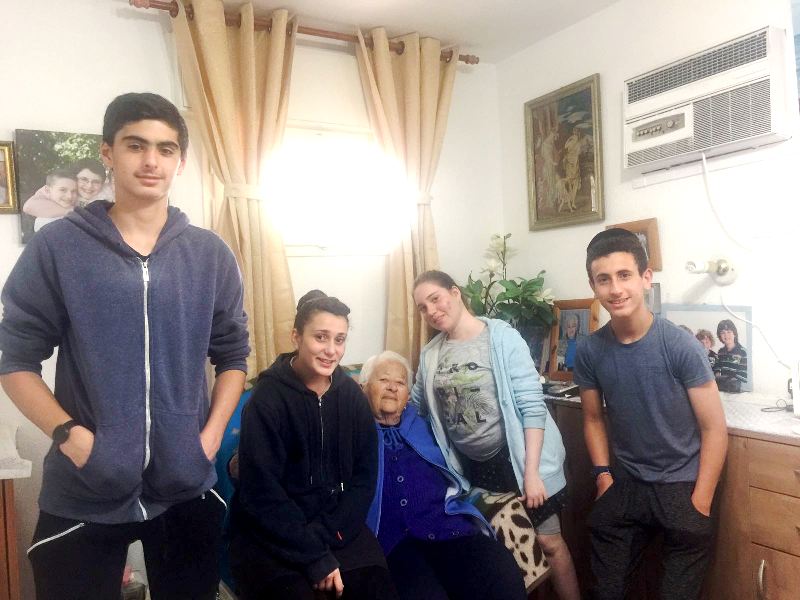 Gizela
Jonah, always happy and proud that we remember her and respect her with our visits. We wish all of our volunteers, winners, and donors happy holiday .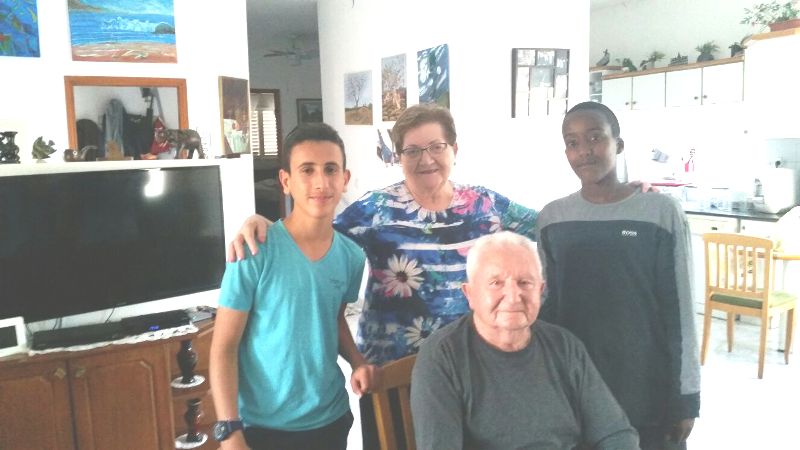 Michael and Ruth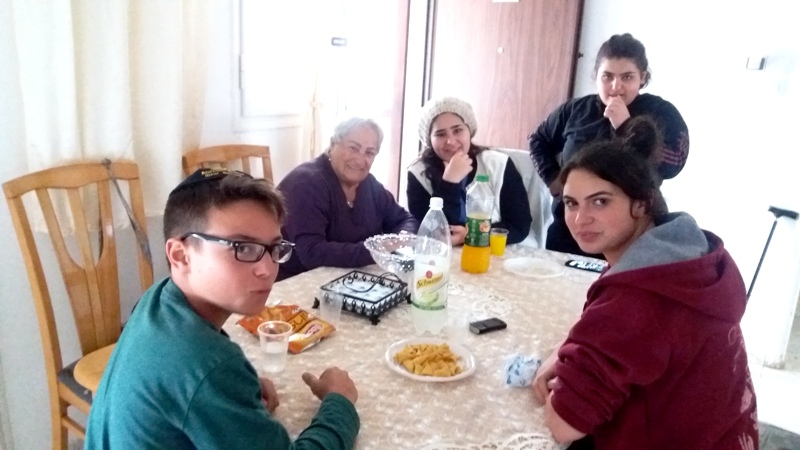 Shulamit

Rivka

Modiin
Shir Talia, Mayaan and Nitzan : Last year, we began a tradition of arranging the cabinets for Passover in our grandmother Chemda. So we came this year, me and three granddaughters of (three others were unable to come) and started the operation. We did it by hearing her songs and talked about life, about work, about school, about the plans of bananas after high school and preparatory and life. Chemda was so happy and excited that we came, even cried with happiness. Then we made delicious breakfast/lunch and we enjoyed together. Chemda quit her job recently (yes, still have to work at the age of 70+) because she suffered there unreasonable level, and now continue treatments and massage at home and hope for good. The visit was a loving and cordial. We finished with Romney's Schmidt's cream which was just great .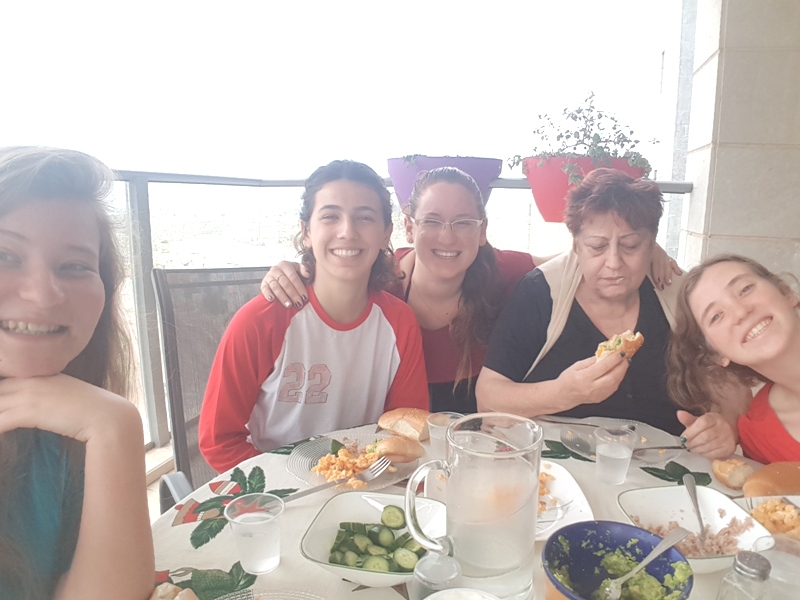 Riri
Yesterday I went to Chemda , she told me that she had her mother Memorial Day. Then I helped her a little with her new phone. Then we recorded a telephone recording by her beloved Yankele , and now she have it in both phones, and she's really happy and excited and I am too.
Shir : Last week I went with Chagit to visit Mordechai. He was very sad because Fitziko his dear cat disappeared.
We went looking for him but unfortunately, we have not found him , but at least we saw Mordecai and made him glad in his heart. On the way, we met Rami, his good friend , who takes him to a chess tournament .
Happy holiday.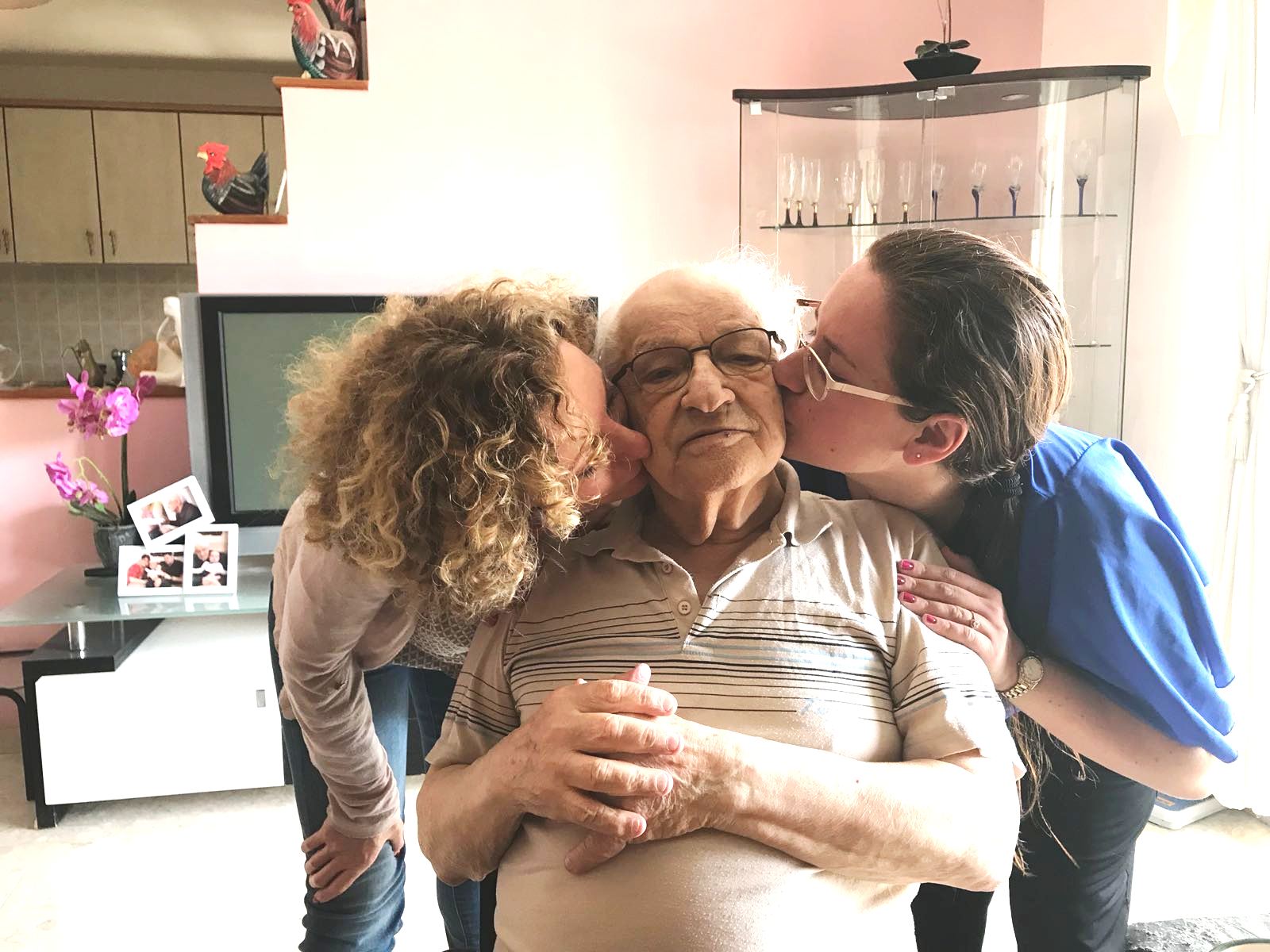 Mordechai

Karen, a soldier from Jerusalem;
The meeting with Eti today was very exciting. I went to have free day - yesterday, and immediately thought I had to visit her!
I got up in the morning, and this is my first time that It was the siren to stand for two minutes and remember the victims of the Shoah, not in any formal framework. I stood and remembered that I had to go to her. I reached her, and she was especially festive. Told me that this week she has received a lot of attention from students, children, adults, soldiers. She was so happy. Etty told her story at the Hebrew University and the Bezalel School and to grandchildren.


I shared with her some day of my day in the army and she just said how much she is proud of me. She keeps responds to those who ask for our picture in the living room: "my daughter". I never attaches special importance to this day, because they live in all year round, and not just today. She live and alive along all year, not just when invited to speak... I'm sure Eti enjoyed today, and I am glad to remember not just today that she is here all year.



Purim events in "L'Chaim"
February 28, 2018

Zfat
Emily Tal: pictures from the party last week, Zippora wanted us to come with her to the Purim in the club. We went together and we danced with her and she was really excited that we came.



Emily, Tal en Zippora
She also, told us a few sessions she has a concussion and she was weak and it is hard but we constantly encouraging her, and talk to her and listen with her music (she really likes Yardena Arazi and Yigal Bashan).
Every time, she makes us something to eat and we eat dinner together and sometimes we play with Jeremy and the next time she wants us to bring poker.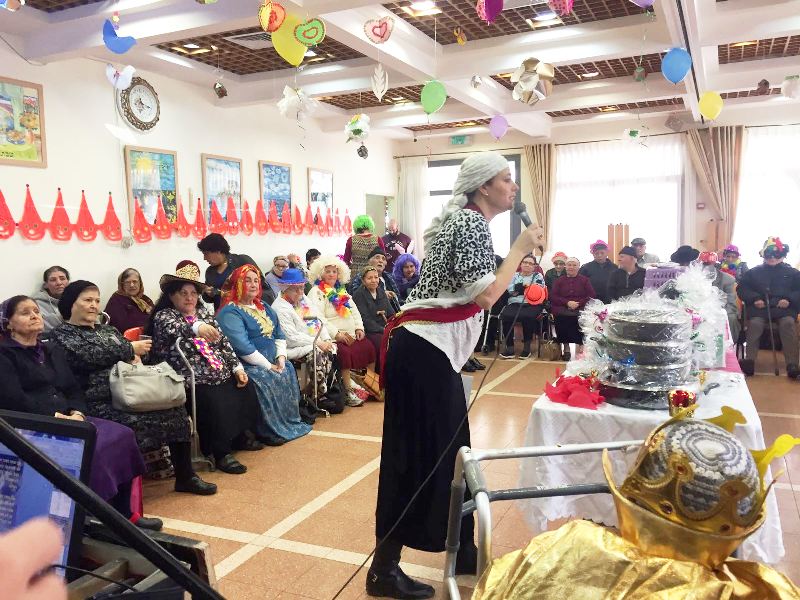 Mechina Braam bring Mishloach Manot in Zfat
Paz and Ido : We came to lovely Eli , we got his full smile as ever. Immediately we sat in his favorite salon and developed conversation. We talked about some philosophical things , about how you can influence yourself and not effected by others, and some nostalgia, and the chance to learn from the experience of other people.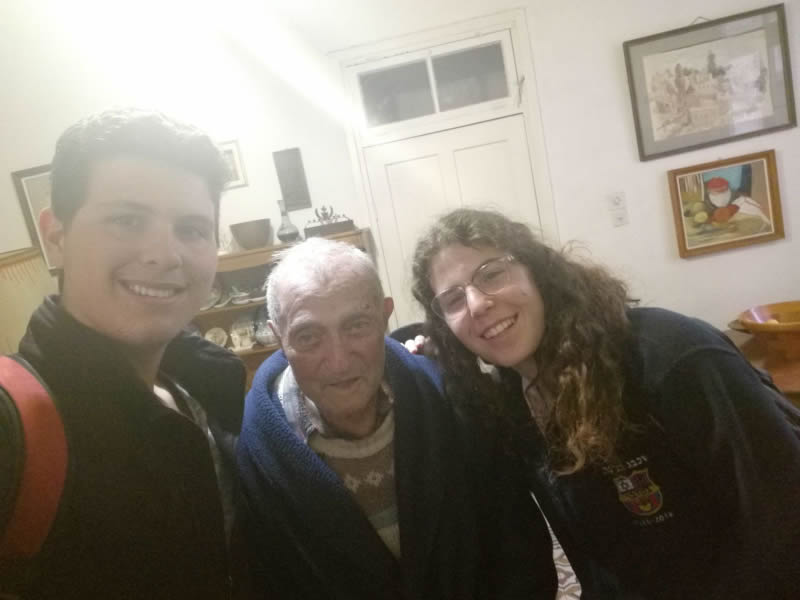 Paz, Adi and Eli

And of course about Purim and Shushan Purim. Eli told us that when he was small, in Hungary he played in a show as Joseph and they were all dressed up and it was really fun.

Eli was very moved our Mishloach Manot which we brought him and said that we are verified, we are a family. After the visit with Eli and went to Judith to wish her happy Purim. Immediately we sat down at the table and she gave us cooked Jewish specialties which she like to make. We talked a bit about her childhood and the places where she lived, and even talked about how she met her husband with a match.

Judith also told us about the preparations for Passover, when they were all -working together for hours with only a short rest. Now- days, it's a little hard for her but she was happy to see her daughters, who learned from her how to cook, and prepare. We played together Remi - Judith's favorite game, and we said goodbye with hugs and kisses.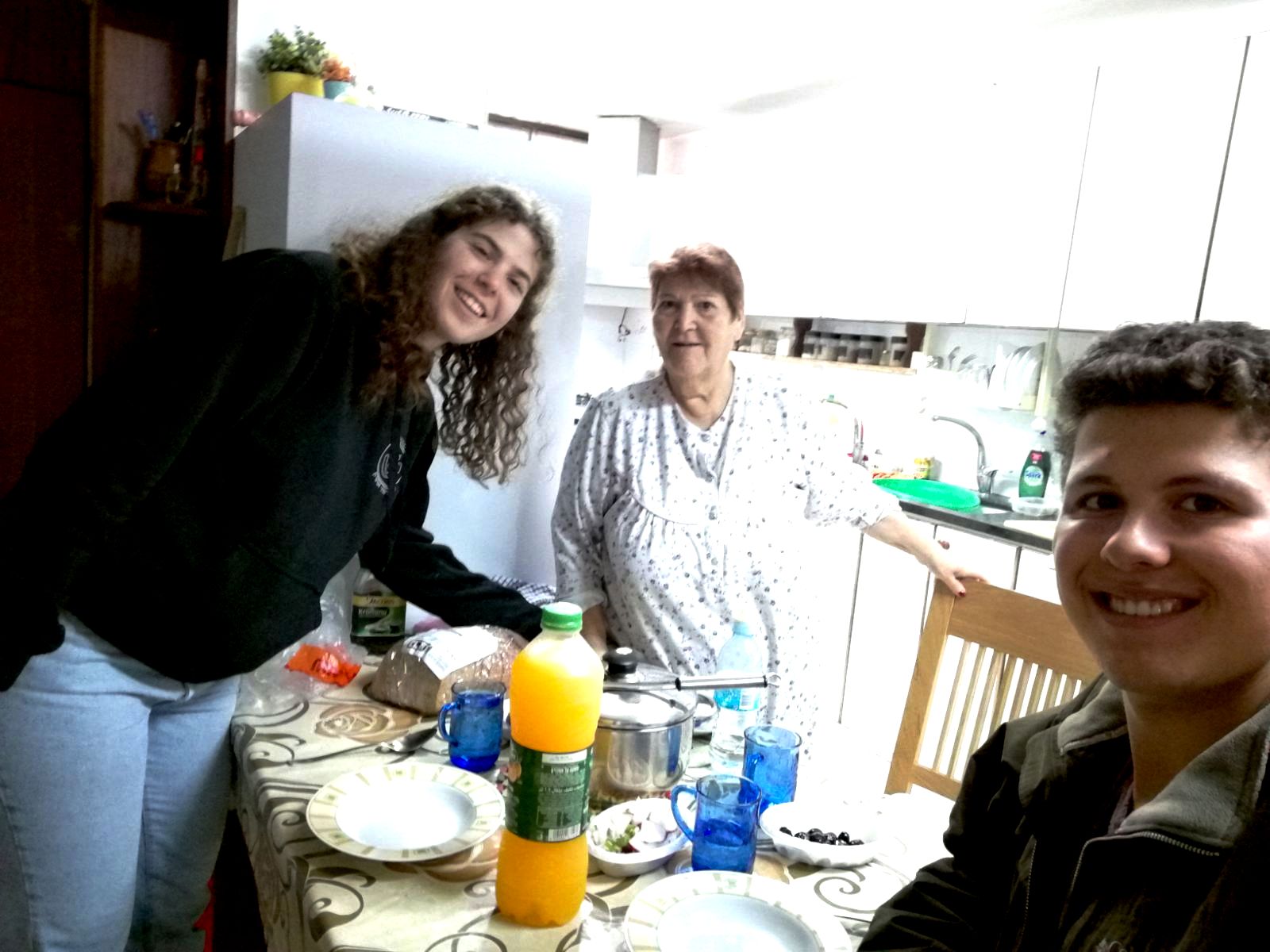 Judith met Paz
Or and Yuval : we came to Esther with Mishloach Manot.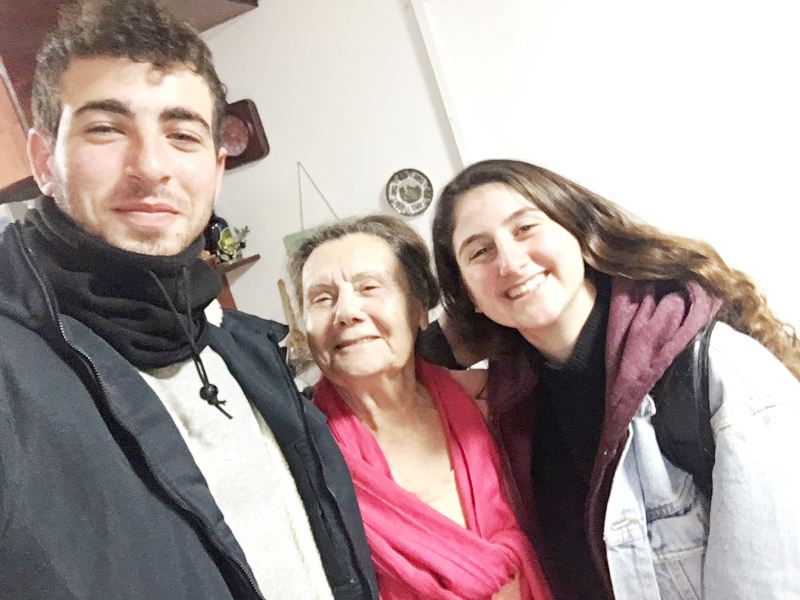 Esther, Or en Juval

She did not feel so good and apologized for not fixing anything to us but even so, she honored us with cake and cookies which she prepared. We completed some gaps and told her about the last two weeks we had, and then, she told us that she was with her daughter preparing Bat Mitzvah which will be soon. We drank coffee and tea, she gave us a box of olives she is preparing for several months. Finally, she read the blessing we wrote to her and was very excited. We hugged each other as always and parted.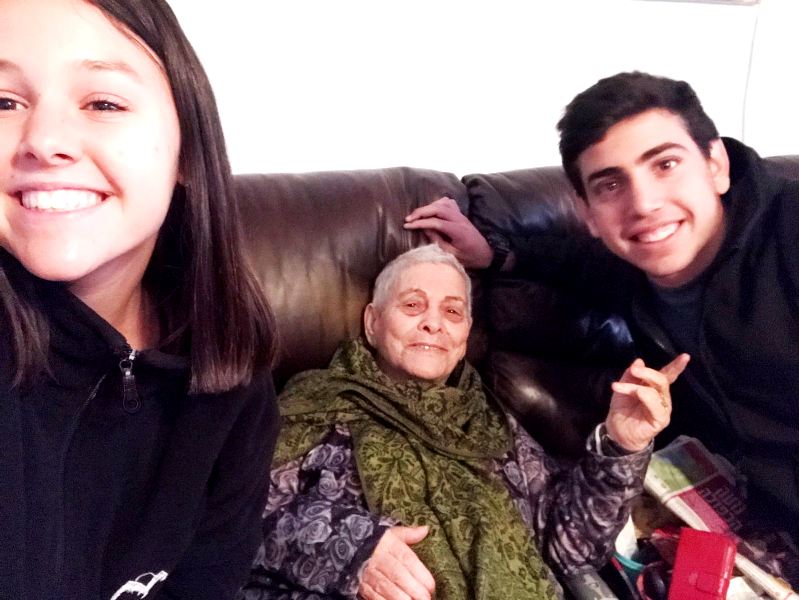 Juli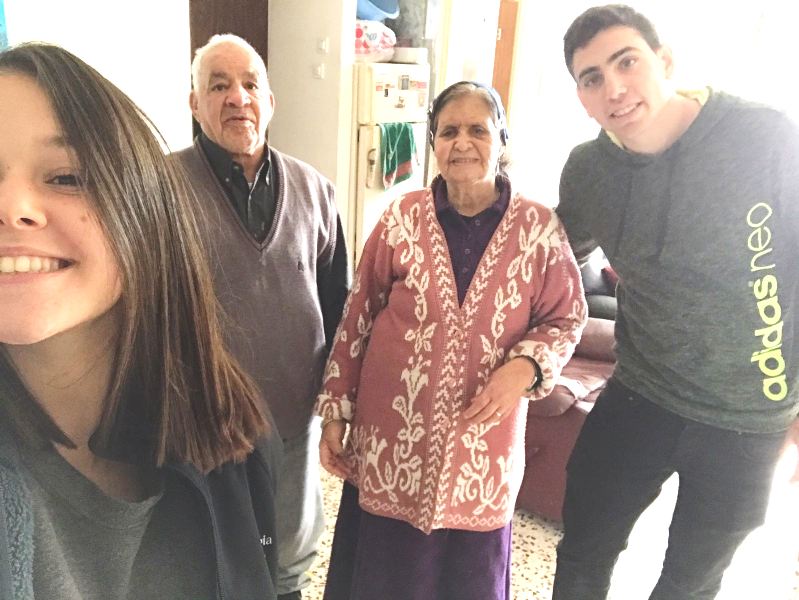 Chanan en Diamanta
Ofri, Gali and Gil : Today we came to Channan and Diamanta and Juli, especially for Purim with gift packages which we have prepared for them. We started with Juli.

She was really happy when she heard we were coming and we brought package for the holiday. and was really fun to see her . Then we went to the day center to visit Chanan and Diamanta and it was incredible to enter with a warm welcome. We were introduced to everyone as their grandchildren and it was really exciting.
Maya and Yuval : we arrived to Larissa, she didn't feel very good and we helped her. We have prepared a delicious pizza and had brought her cookies for the holiday. It was fun.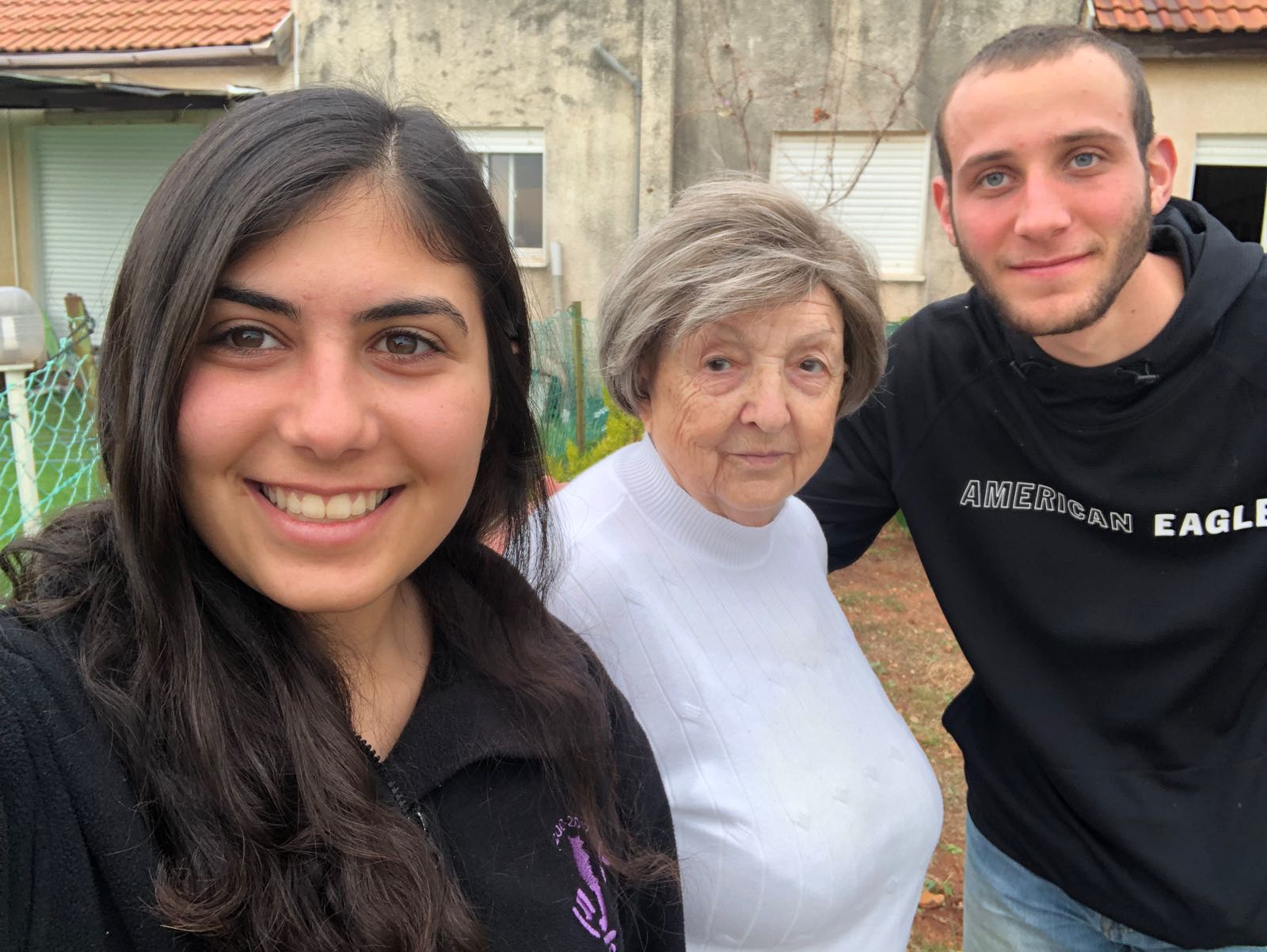 Larissa, Aia en Yuval
Shir : I jumped before boarding base to visit Diamanta and Chanan and Shalom in the Day Center. They were very happy to see me, we played rummy, talked laughed. I met their friends from the club. I was glad to see that they really bloom there and good for them. Hello felt really bad and I helped him move into a rest and relax. All the other people there asking after him and it was really exciting.
I was very happy to see them and celebrate Purim with them.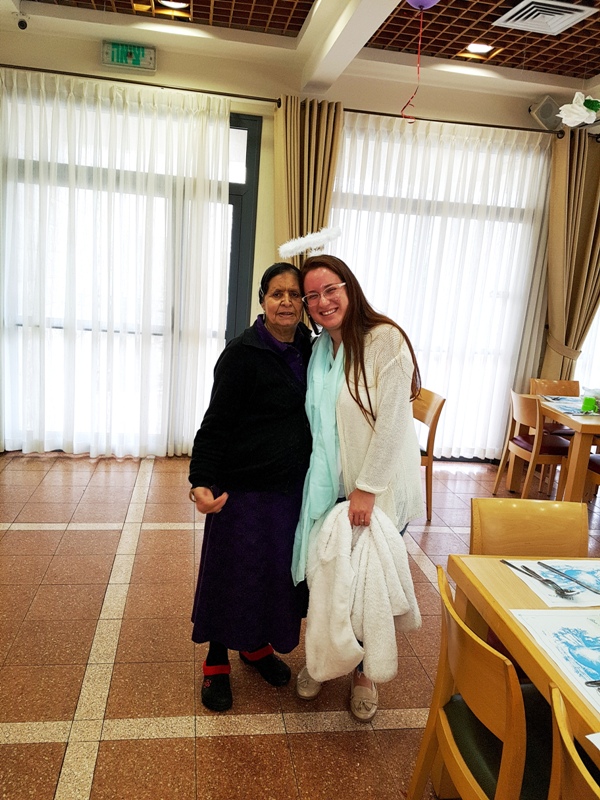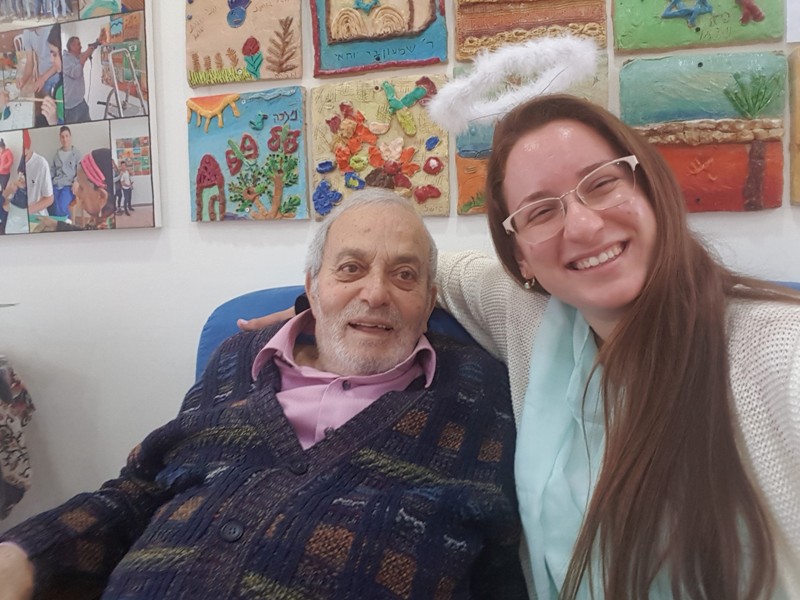 Diamenta en Chanan

Paz from Braam give answers for the questions: 1. I think that the root of all hatred is jealousy and ego. The desire of one to be above the rest And they are confident that they need to download others in order to raise themselves .
2. Modesty In my opinion. We should be proud of ourselves and our country, but do not be arrogant .
3. We need to stop the hatred between ourselves, and work on repairing and try to bridge the gaps in our society. Not trying to change anybody, but to accept and try to understand the other. In short - unconditional love.

Purim in the North
Dear Friends,
We celebrated Purim festival and the divine salvation of the Jewish people from the evil hands. Together with the winners and the students in Kyriat Shmona.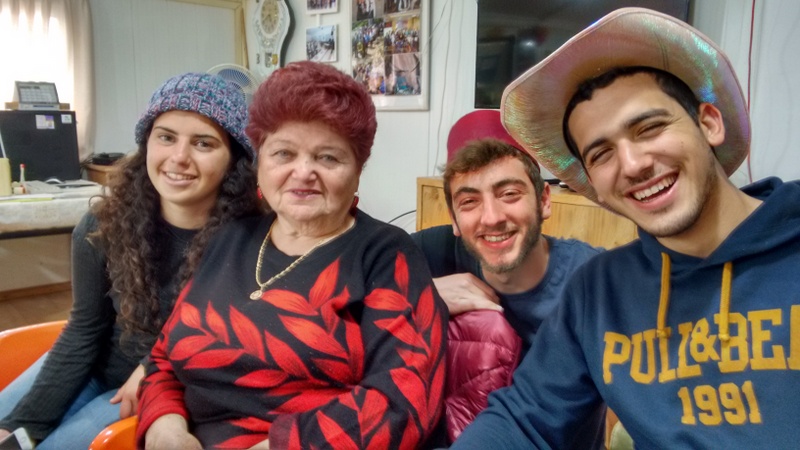 Noa, Klara, Yam en Omer

you can see in the pictures and the movie, , the interaction, connection and the atmosphere were excellent.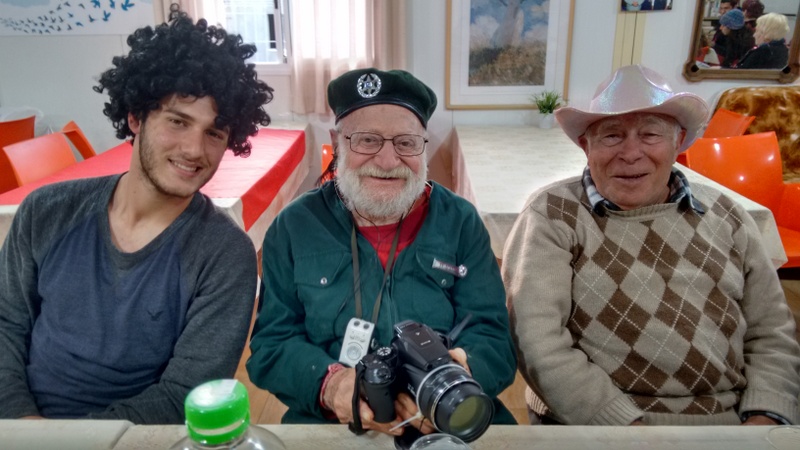 Dor, Steve and Mordechai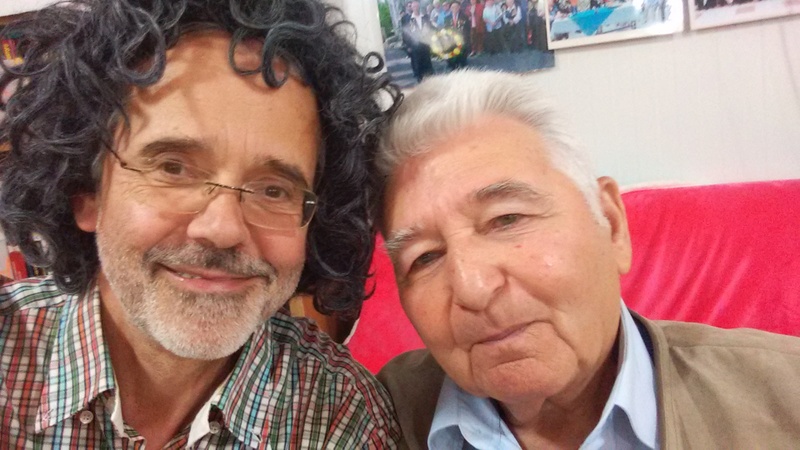 Timek en Anatoli

The students shared with the winners conversations. We spoke about Purim, we sang songs and enjoyed the happiness through our fellowship. With full satisfaction, we all returned home, fulfilled with love that we received from each other.
Watch the video compilation of the Purim party:
https://youtu.be/yU0y6m5OYsc
Also in Chazor, the students from Kfar Hanasie came together to Bracha's house .
Eden and Nitzan brought Mina. Yaffa and Ruchama who couldn't join us will enjoy the stories and the pictures when the students will come to visit them again.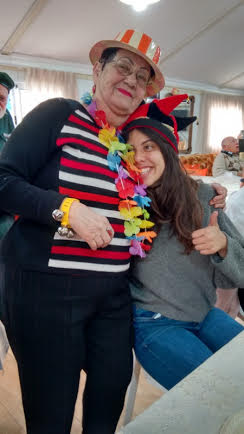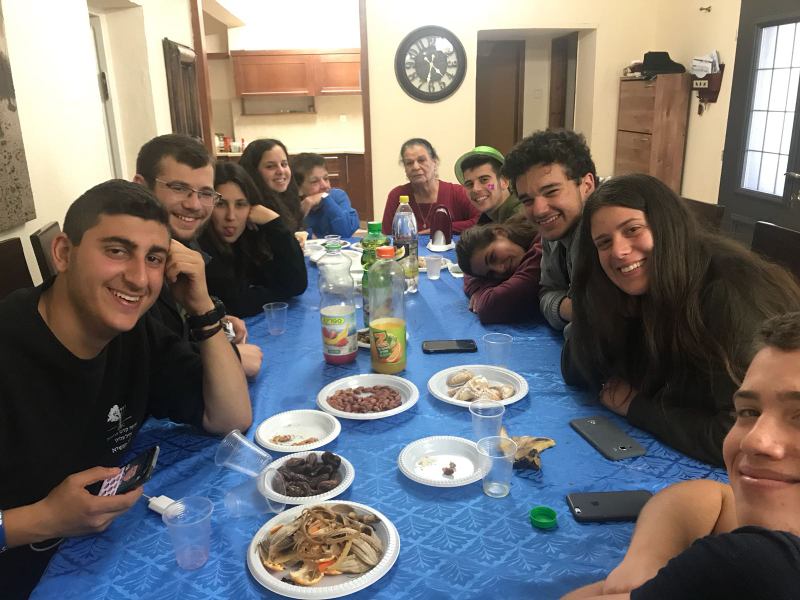 In Rosh Pina, Chukuk and Genosar the students visited the people's homes. See the beautiful pictures below.
The students of Mayan Baruch answered the questions from Daniels last letter:
Student from Maayan Baruch respons to the questionnaire: Maya, Michal, Inbal Eti: 1. The Germans wanted to live in their country without "interference". Jews were the object of envy and jealousy were established. We believe that the roots of the hatred, was because they felt frustration and wanted to weaken others. Most people did not hate at first, but after intensive brainwashing they believed and hated.
2. Not giving any legitimacy to incitement. Give hand to those in need or refugees. After all, we were in the same situation. The lesson is to doubt any charisma, grown under conditions of a disaster.
3. We must be united in order to meet the challenges we have as a nation. We respect ourselves after everything that happened to our people in the Diaspora. In our country we must strengthen our identity to have pride and less splits in the nation.
Omar, Yam, Adi, Nofit : 1. Jews were successful and the Germans were very jealous of seeing how educated and successful Jews were. Also, Jews were an insular and closed with her religion. Maybe because of it, there was hatred. The period before World War II was hard, and people looked for someone to blame for everything, and of course voted for foreigners.
2. First of all, do not behave similar to the way we were treated . We have to be nice treating minorities in our country and respect them. Beyond that, to maintain a strong army so that we can protect ourselves.
3. Keep the commandments, the Jewish culture, and continue the pioneering heritage.
Purim in Pardes Chana
In Neve Michael Purim events begin a week before. We met with them in the dining room which were turned to be as a Kibbutz. Everything was as real. A student played songs for Purim and we joined him. Then we solve Purim Quiz: each survivor and students, solved the quiz. Then we went to see a show of an iron man who told how he came to be so, and showed us his expertise. After when we headed back, Gizela told me she like to be out and reach fresh and pure kids from Neve Michael. And on the end of the celebration the guests received packets for Purim , and the winners was very happy. (The camera wasn't filming this time) and just you can see the package .
? Thanks for the invitation Zvia and Yechiam. It was so thoughtful , and the consideration of the students and their accompanying the adults. Today-Tuesday, I came to visit those who couldn't come, with reach package and they were very excited and grateful. Happy holiday for everyone!!! Rivka.
Modiin
Efrat, and Rachel: At first, Svetlana showed us some beautiful videos she's seen on Facebook and talked about it. She told us that she was not feeling the best last week and just got back from the doctor. She finished doing some stress tests for the heart, waiting for the results.
Then, we drank tea and ate biscuits and dates. Svetlana said she went with Dmitry's cousin, to help him to do certificate as a Holocaust survivor and she showed us her card and Dmitri's card. We talked a bit about Purim and she told us about what happened last year. She said that she felt that her life is a miracle since they have immigrated to Israel, and she learned Hebrew alone. She said that when she went to study Hebrew in Ukraine, She already knew much herself, and when she asked the teacher questions, the teacher yelled on her advanced student not ask questions, and that she will never learn Hebrew because she was too old. All this she was able to learn Hebrew alone within two years at the age of 50 and moved to Israel!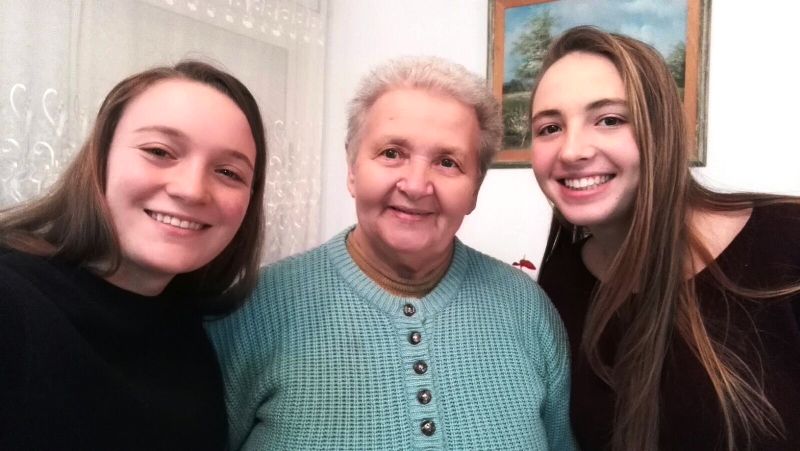 Efrat, Rachel en Svetlana
Noam Noa Maya : On Friday afternoon we went to visit Chemda. At first we drank tea and ate cake and talked a bit and laughed.
Then we started to help coveted cook and we cut vegetables .. Unfortunately we had to go before we finished cutting the vegetables and eat Was really fun. We brought her a gift and flower pot sitting.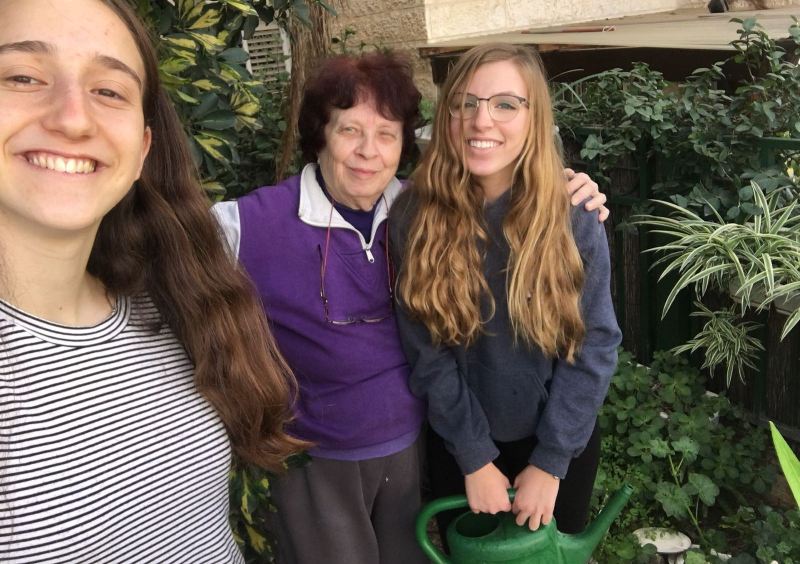 Yael, Noa, Maya and Chemda
Shai and Nadav: We came to Shulamit after long time that we didn't see her, Channan her husband, after 60 years sixty years together has passed away. This was my first time I came to Shulamit, but I was eccepted as a regular visitor at her home. She told us stories about her life and her husband, but always say that her stories are boring and she wants to hear about our life. One of the stories she told us was about her family arrival in Israel from Riga - Latvia. Shulamit arrived to Israel at the age of three, with her family before the Holocaust began because of the increasing anti- Semitic.. Her husband, also immigrated to Israel alone without his parents. he grew up as the only son of an assimilated Jewish family in Vienna, Austria. His father objected to immigrate to Israel, because taking active part in the Austro-Hungarian Empire and had the titles and medals and contributed a lot in the army , therefore he thought that he and his family are protected. Only later, due to the impact of the Guide in UK youth movement, Chanan were exposed to the Zionist idea, the guide said to Chanan: Jews in Europe must leave to Israel because the situation getting worse. Channan came alone with a project who brought Jewish children to Israel in a secret ways during the Holocaust. He came to Israel alone at the age of 14 by the last train through the Arab countries such as Turkey.
Shir : Last weekend, I went to visit my precious grandparents in Modiin.
I began on Friday with my Shulamit, which I haven't seen for a long time due to illness and other reasons.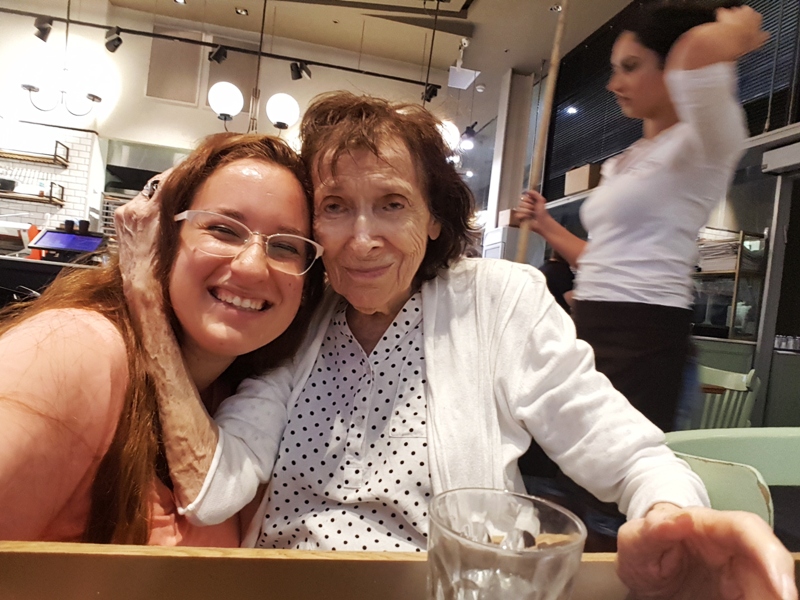 We were happy to finally see, catch up, and share.
Shulamit had many questions about the course and enjoyed commanded to tell her just like to mind.
Even Naama came to the house (Shulamit's daughter) and we talked and kept up about the grandchildren and the family..
The visit was cordial, family and warm on a cool and overcast most.
On Saturday I went to visit Svetlana and Dimitry. I brought them prepared cake made by Shai, our volunteer. They were very happy. We sat drinking coffee and eating a delicious cake. Svetlana showed, what she was writing on the Facebook and explained how important it is for her to tell the to all its members and acquaintances in Russia and foreign about Israel. I told her, she is as ambassador and this is really very important mission. We talked about politics, about the situation in the country and the future and not to elaborate too much, not left or right, and we agreed that we just need leaders that are - first of all - humans and good people.
Then I came to Grandma Sarah and Abraham. They also were happy to to have the cake. We talked about school, about volunteering. We spoke about our good relationship which were created. She told me that this year she does not work with immigrants, but talking with students who need emotional guidance and love. Obviously, excited about it and I was awed by the amount of good and light it distributes. I enjoyed very much to talk to her and hear about her family and her feelings.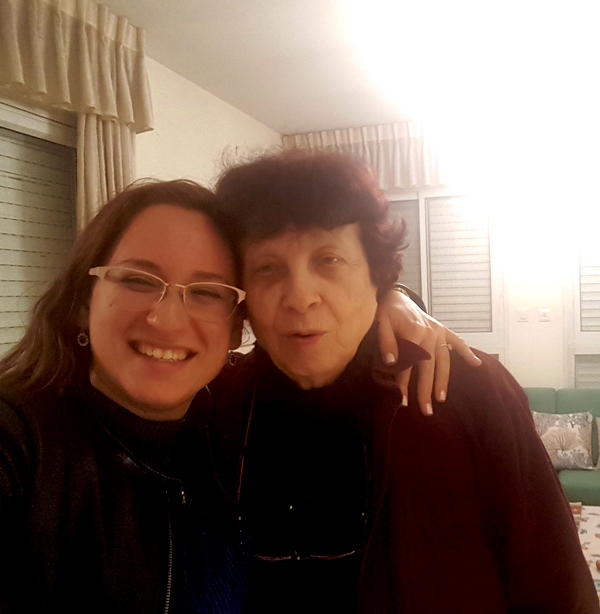 Shir en Sara

Happy Purim !
NEWS FROM L'CHAIM
February 16, 2018, Adar 1, 5778

The soldier Mor, writes a moving letter: When I started visiting the Diamante and Chanan, I did not know exactly what to expect and I volunteered to do so out of a desire to have another layer of my military service. Very quickly I really never felt I was a volunteer or contribute, but, just waited for the day when we visit them. And soon, this day became what enlightens me in my service. Me and Leahy, increased the visits that we wanted to be there as much as possible and sufficient experience as many visits before getting off our service in the army. The visit is my bright spot during the week and I feel I earned more than I contributed from my volunteering .I hope to succeed and visit in the future and really glad that I took part in this project.
Ido answer the questionnaire:
1. I come with a sense of excitement, because every time the conversation will be different and will encounter new subjects.
2. I do not plan anything before the meeting. With one of our winners, we planed that we will cook occasionally.
3. Feelings of joy, I can hear the stories of the winners and I actually make them to be happy with my visit.
4. The most powerful thing of the winners, is their desire to live and be connected to the younger generation and what is happening in the world.
5. When I come out of the meetings I feel satisfaction and happiness. This significant contribution that someone else hears their story hear this story and tell it to the others .

Visits Pardes Channa
On Wednesday last week, Zvia with 3 boys, and myself with two students, went to visit the winners. We went with a rich package of fruit and vegetables and cheeses, some of which were donated with the help of a dear woman named Ruth. Also we get for a long time, a bundle of carrots (from the packaging division of Eyal Shalit, who gives generously). We are very thankful and appreciate the good will.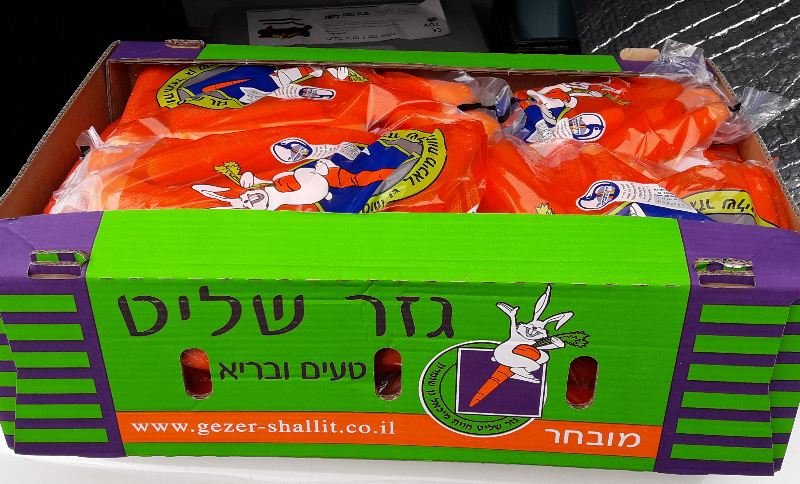 Zvia with the boys "discovered" that Yeshayahu was hospitalized. So, I, with two students visited Yonah , she floated lightly from one to another with joy and pride.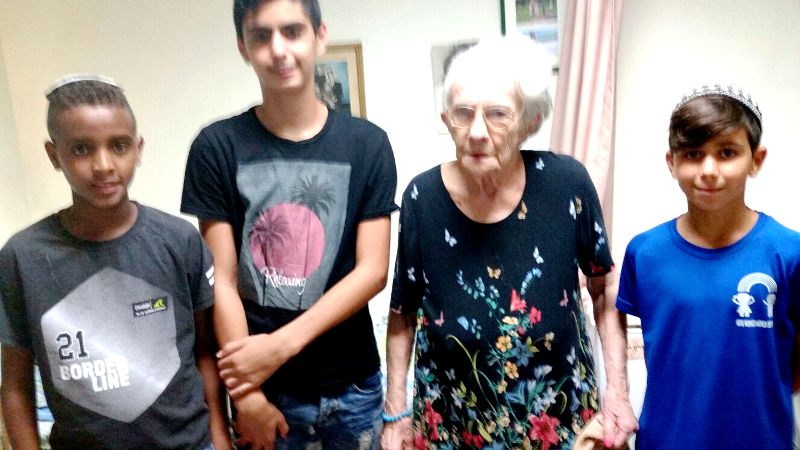 Jonah

She appreciates the attention, especially after the event and meeting with us during Tu B'Shvat in Neve Michael. She understand what a privilege these visits are. We arrived to say shalom to Zippora, gave her the bag with fruits and vegebles and continued to Shulamith. She had pains on her back and could not attend the celebration of Tu Bishvat. There is a relief in her health, and we were received warmly and happily. Then, we went to see Gizela who is trying to overcome the her suffering from her legs, and is very happy for each of our visit.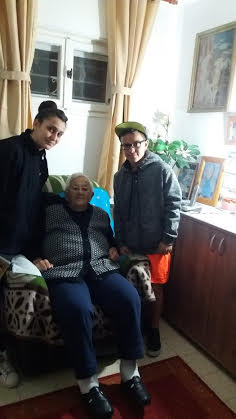 Gizela

Aliza, had a visit by Zvia with the boys, and decided that the next time if it will work, she envite all of us to teach us how to do Sfineg.
Here's what Hodaya answered the questionnaire :
1. I come with a feeling that I can learn from survivors and get more information about what they went through during the Holocaust and in general.
2. It makes me feel that I want to give and help as much as possible. I'm trying to get as close as possible to them.
3. The vast and uplifting thing is that I give .
4. The fact that I listen to them is very significant help.
5. I hereby willingly and I am listening.

Modiin
Shir : I went to visit Mordechai. He was very excited about my coming and said he was already feeling better.



Shir and Mordechai
He told me about a lovely cleaner who has helped him greatly. He recently, is very confused and have pains in his legs. We talked about the course I was done and he was glad to hear stories. He talked about his family and his grandchildren. We were happy to get together and really happy to see him. I also visited twice my lovely Chemda. On both visits, I enjoyed seeing her beautiful garden which she loves so much. Precious Chemda told me a lot of memories and nostalgia about her Yankel. On the second session, I printed a picture of Yankele, which got wet , and also we backed a lot memories and images and things that were on the phone. She was very happy .
We cooked together, laughed a lot as always with joy. I told her about my courses. She spoke about her family, and her charming "granddaughters" from "L'Chaim" which pleased her and brought her a mint planter for Tu B'Shvat and helped her in her garden .
After the last visit she sent me a message that she thanks me for bringing the light to her day. I felt the same !
Yael Ophir: We came to Janet, and talked about her week and ours.


Yael, Ofir and Janet

We saw pictures of her family and her grandchild's post-army trip ... then we ate and talked a bit about the Purim and the courses she join. She talked a bit about hurting her back but there are things that help it . Yael Noa and May: At the beginning of the visit to Chemda, we ate sweet potatoes which she prepared for us, and we talked. At the beginning of the visit, Chemda told us about all kinds of terrible events she has passed in the recent years, with her husband who was sick with cancer. In order to cheer her up, we asked her about how she met her husband. We went out to her garden which is full of many types of plants, and helped fertilize and water it .
News from the North
Genosar
IZIK - Our dear and brave shoa winner, from Kibbutz Genosar, suddenly, but quietly has passed away last week. Izik turned to be 90 in December. Just 2 days before he died, I visited him, not knowing this is the last time.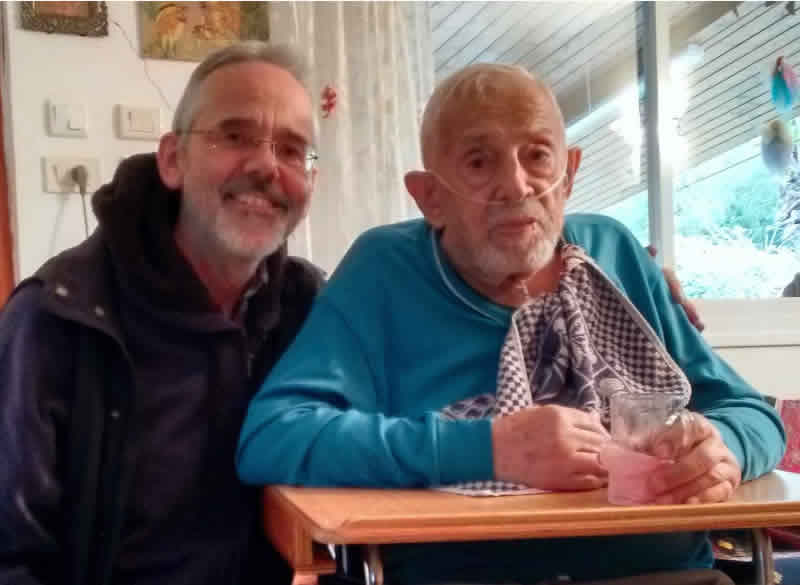 Izik, two days before his birthday

I made this last picture with him. I will miss Izik very much. He followed his dear wife Sara in just 3-week. Izik survived concentration camp in Auschwitz, together with his father. His mother and all his other brothers and sisters has died. Izik's strength, was his positive attitude in life. His positive and open character was a tremendous example for me and for everybody who met him. He loved and enjoyed our visits, whenever I came to visit him, with the students alone, or with our friends from abroad.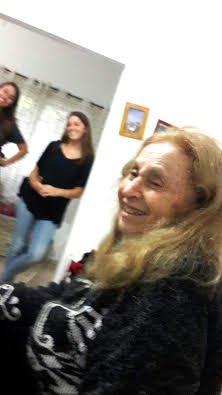 Zelma
ZELMA / ZIVANIT - Yesterday (Tuesday), Zelma from Kibbutz Genosar, has passed away. Tomorrow (Thursday) will be the funeral and students from the Mechina Meitzar, plan to attend. Zelma came from Bulgaria. On the moments when she and her family, were sent to the train for deportation to Auschwitz, they were rescued and the war was over. The students form Mechina comforted Zelma till the end of her life.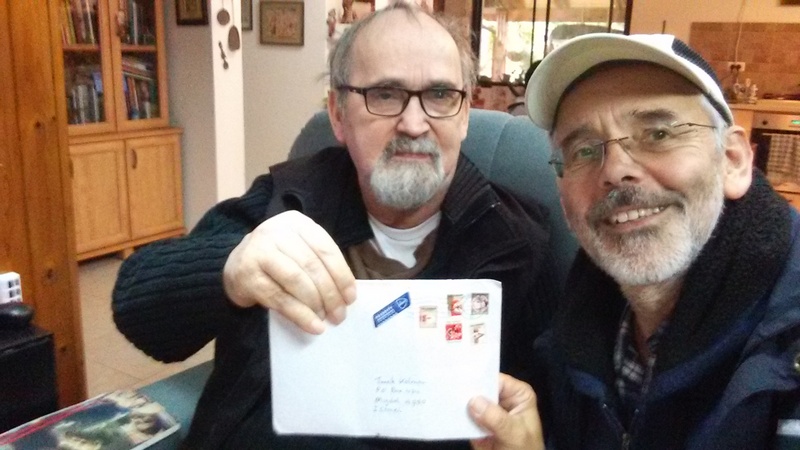 EliRam

Inbar, one of the students from previous years, kept a contact with her for all those years. Zelma collected all the pictures from the students and it was hanged on the wall in her house.
Video: Zelma during Purim in Beth Savion in Kibbutz Ginosar with the Mechina Meitsar: https://youtu.be/xfA2qfwlzZU
Eli-Ram was so sad when I came in. So many of his dear friends have passed away on the last few months. But the joy returned a bit, when I gave him an envelope with stamps from friends in Holland that visited him in November. Also, the visits with the students Boaz and Gali, bring joy in his house.
Video: Remembering the Shoa Victors: Zelma, Izik, Avi, Avraham. Video taken on Yom HaShoa ceremony of 2014. https://youtu.be/zFFeqOAijoo

Chukok
Already after the first visit of the students Dana, Mika and Lior, Tsipora, our new Shoa winner is excited. She is happy with this new and fresh connection. It is a perfect match and also the girls love to visit her. The same holds for Marit. She is excited about the great spirit and love coming from these young students.
Katzarin
Jafim has a hard time being so lonely. It feels very heavy on him. But his face clears up, as we talk and he gets attention.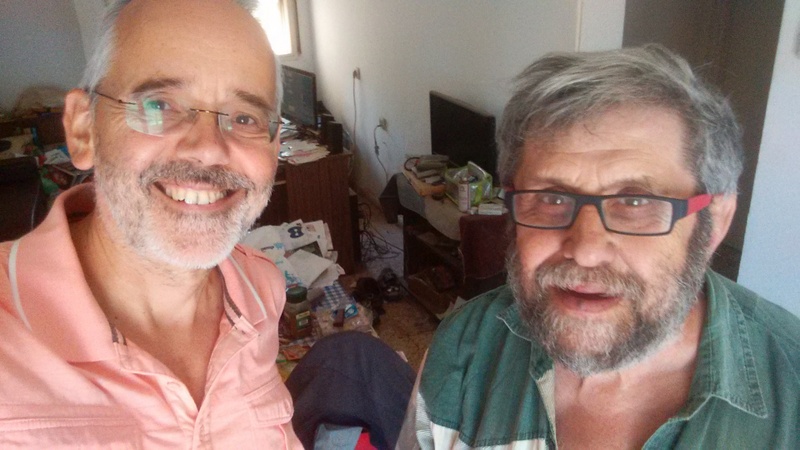 Jafim

Life come into his body again and his eyes start shining. His grandson now about 1 year old, he didn't see him yet, but for Jafim, his grandson is the "King David". He is happy. Jafim is thankful for all the help he receives from Lechaim and the friends in Holland and Singapore. He send his greetings to all of those, who know him.
Kiryat Shmona
Maya, Efrat, Michal and Itai visited Raya (Rachel): We had very good time together. We spoke about her grand children, about her life and about her husband Ilja that has passed away, almost 4 years ago. Raya spend her life at home. She doesn't go out so much, but she have some close friends.
Adi, Inbal and Noya visited Israel and Ludmila. I arrived when the girls left Israels' house. Israel was shining. He and Ludmila enjoyed so much the young students that brought light into their house. "It was excellent", Israel concluded.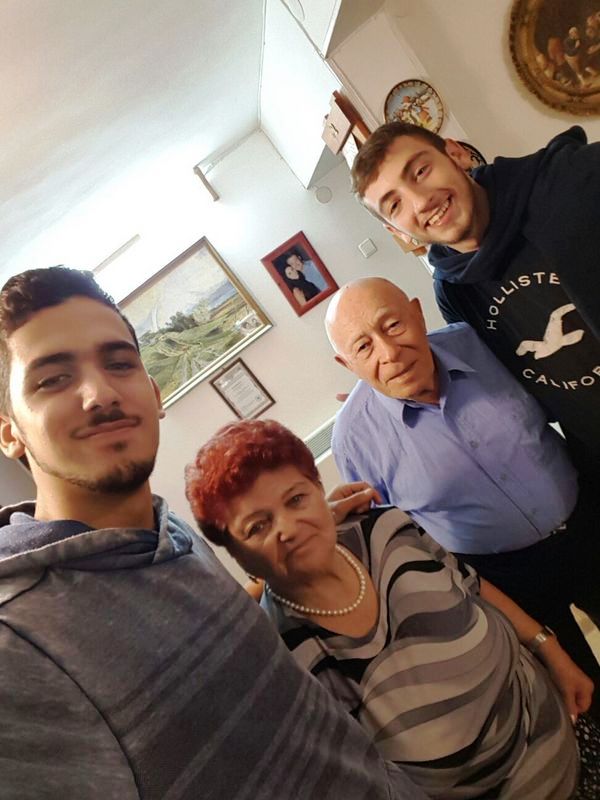 Omer,Yam, Klara and Mordechai

Yam and Omer were playing Rumi cub with Klara and Mordechai. Klara's house was filled for a few hours, of the students visit. For a while Klara and Mordechai forgot the pains that they feel in their bodies. Smile and love was clear on their faces.
Rosh Pina
Rachel and Chana didn't feel good. Rachel's blood pressure is jumping and it don't feel good for a long time. Chana had an eye operation and is recovering this days. Also, Israel suffers from great pains in his lags and can't go out from his house for a while. Now he feels a bit better. The students visited Israel and gave him comfort.
Chatzor
Eden and Nitsan visited Mina. Mina called me and told me how much love and help she receives from the students. They helped her this time in cleaning the balcony.
Bracha and Ruchama are neighbors, and both appreciates the visits of the students.
Video: https://youtu.be/Ka5kYPGgeJw

Kibbutz Neot / HaGoshrim
Steve and Rachel from Neot, are already familiar with the students visits. They wait for them and the students love it. They learn from them and share the beauty of life and the connection together.
Hadasa and Ahrontsjik are a new couple that the students have started to visit in Kibbutz HaGoshrim. Hadasa and Arontsjik are from Poland. They fled to Russia and escaped the war and the death camps. Their life is very interesting and they love to speak about it. The connection with the students is excellent.
Yam and Omar (M.Bruch) answer the questionnaire: I come to the meeting with energy and with desire to listen and enjoy together with the winners. I don't put too much thoughts before the meeting because for me, it is fun to make and spontaneously and see where is this goes. Sometimes we talk about serious things, about them, and sometimes we really enjoy, laughing and talking about life. I think there's a real rapport between the winner without any special preparation, because when I'm there I am all there. Deep link has created and how much they are happy. When I leave I great, and what my present made them feel and what it means to them. We also play and laugh a lot. I don't feel like I'm just coming to them because I really enjoy and it's for me- as well.

ZFAT
Aya and Yuval : We arrived to Larissa after returning from a trip with her two sons in Prag. We arrived and right away she spoiled us with omelette and potatoes, eggplant and yellow peppers in the oven .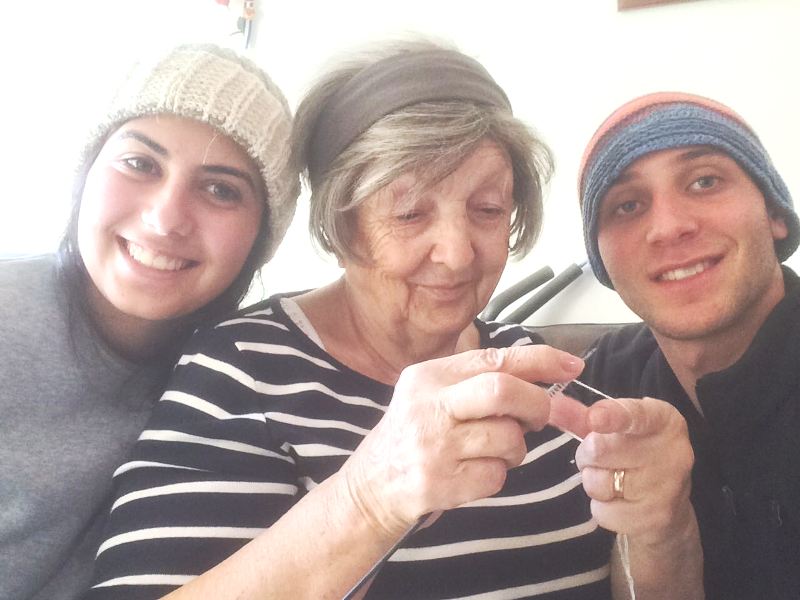 Larissa an Maya

It was so interesting to hear her experiences on her trip. She told us about the places they were, and how much she enjoyed with her two sons and happy that she went with them . Then, we went to her garden and she showed us the flowers she is taking care constantly. It was fun to notice how Larissa improved with the Hebrew and is already talking to us an ongoing conversation. Larissa said she was very happy we came and already looking forward to the next visit !
Gil Gali and Ofri : Yesterday we came to Julie after a long time that we couldn't come, and she was very excited. We talked a bit about what we did in the preparatory, then her son arrived. He was interested and asked us about our preparatory, and then we started to talk about regulating Judea and Samaria. We are going to be there, and we started to talk about what we are thinking of the settlements and the whole issue and it was really interesting to hear their opinion .
Adi Paz and Ido: we came to charming Eli , and realized that he is a little sick, but he calmed down our concerns with the words:" do not worry everything is fine" . He was very interested when we told him we leave tomorrow for educational series in Judea and Samaria and talked about it and the implications and what his opinion on the subject .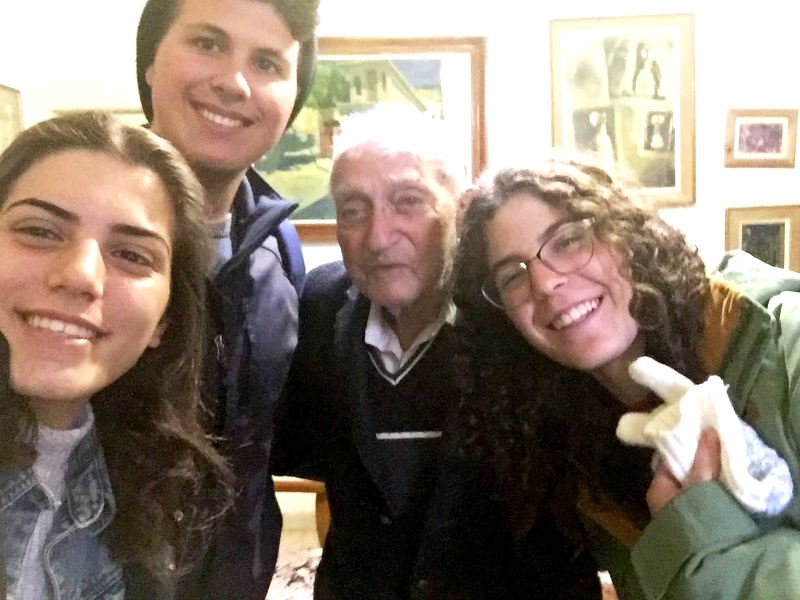 Eli, Paz, Adi and Ido

Then, he told us that when he was captured in Russia, he had some had some interesting experiences ... one was that he and his friend, had a permit to travel unaccompanied because they went to work at the factory for buttons. One day, when it was Yom Kippur , Eli convinced his friend to accompany him to hear the prayer for Yom Kippur. They loved and were pleased with the achievements, when they came back to the camp, they had to be on suspension for five days. Eli remembers it as an experience . Eli is very interested in us during this visit and you can feel the closeness created us .
Or and Yuval: We came to Lillian in the afternoon. Lillian then told us that on Sunday, it was Meir's 30 days to his death, and shared with us the hard times she went through, and her longing to him, but, also spoke about her kids , and offered tea and biscuits .
We talked with her a lot and she even seemed to look better (we told her so).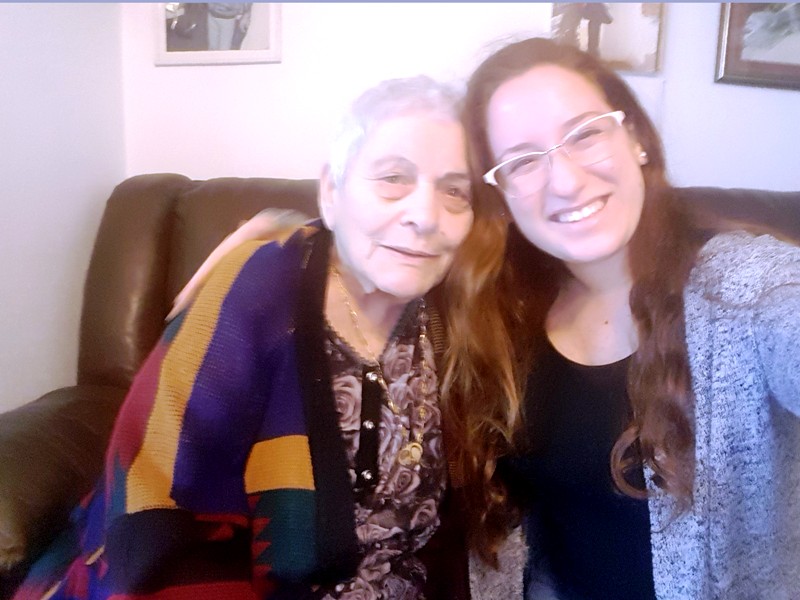 Shir : Visiting charming Juli.

My commander's gave me permeation to visit my grandmother from Zfat. The visit was really exciting and happy and full of laughter. We were very happy to see each other. Juli told me about her difficult health period last year. We talked about her kids, how the grandchildren and what they do today. She told me her club experience where she go and interested to hear how it's going for me in the army.
The visit was full of joy and filled the heart.
Conference, recruiting soldiers for the second year of Amutat "L'Chaim" in Zfat.

Shir : After the soldiers who volunteered for the project, were released or moved to other bases, we held yesterday Daniel and I, special informational evening about the project. For about an hour, we told the soldiers (part of them are soldiers I commanded) about the special bond which was created, between the stunning winners from Zfat and what it means to be a part of it. I was very excited to talk to them and shared with them our story and mine. I enjoyed hearing Daniel tells of intergenerational heart to heart connections generated unlike many of today and especially enjoyed seeing them excited, think and understand what we're talking about.

Shabbat Shalom !

https://mail.google.com/mail/u/0/#inbox/1619aca7e13bf59f?projector=1

https://mail.google.com/mail/u/0/#inbox/1619aca7e13bf59f?projector=1
https://mail.google.com/mail/u/0/#inbox/1619aca7e13bf59f?projector=1




L'Chaim's nieuws, Tu B'Sh'vat
February 2, 2018


Modiin
Shir : Two brief visits and I brought along a cake, prepared by our new volunteer who had decided to contribute his talent in making cakes. Shay is a student in the school . Very shy and feel that it's too much for him to visit, but he wants to help so we decided to bring pies and it was delivered it to the winners. I met Lilush, a lovely mother who turned to be very precious and close to Chemda. It was hard day for Chemda, because it was supposed to be her 54-year of anniversary with Yankele. She told us how she was celebrating the marriage. Later I came and she was moved to tears when I told her about the cake. We saw a program about the Holocaust that had been banned in Poland to say that the extermination camps were Polish. She said that although she was only a three and a half year old girl, she remembers a lot. Her father was hiding inside the couch that would take Jews into servitude to build Jewish tombs. She remembers that bomb synagogues, close to home. She said that since she can't be in enclosed areas such as small elevators and even trains and buses and has anxiety. She was so excited that we care about her and think about her.
Or answer the questioner : 1. I get a sense of excitement every time when I come to the winner. I am waiting to sit down and talk to them and hear them. Before the meeting, I think what I can tell them and what we will do. 2. When I am at the visit , I'm feeling good. Many times, winners tell us how glad they were that we come, and it gives me the feeling that we are helping them. 3. The powerful and uplifting which exists in the winners, is their ability to cope in everyday life, and their willingness to continue to cope. For me, they are a model! when I hear what they have gone through , and I feel that we must learn from them and take an example. 4. When I leave the meeting, I feel their warmth, and it makes me want to go back and meet them again. 5. We are for the winners, a company, with an open ear, since most of the day they are alone and the contribution of the meeting is hug .We get inspiration and examples of people who have experienced difficult things, and yet, set up a new life, a model family and returned to a full life ...
Ariel, Talia and Stav: We were at Riri's house .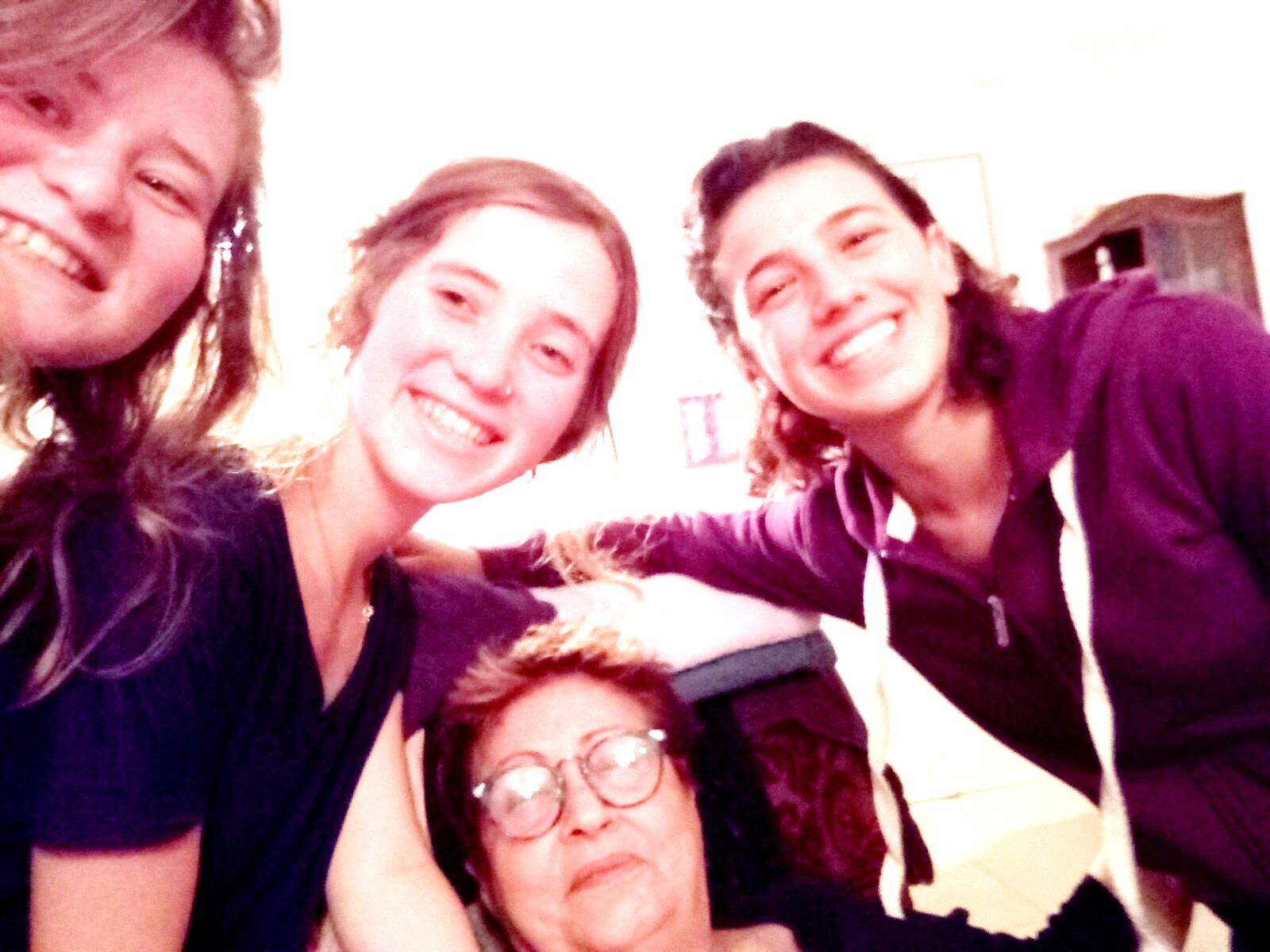 She was really sick and very weak. We helped her by cleaning the dishes , folding laundry and she was heartened and pleased to see it and was very grateful.

Too Bishvat in Zfat
Adi and Paz tells : Today we started our surprise visit, to honor Eli for Too Bishvat. Indeed, we surprised him and brought him a case of dehydrated fruits and blessings, which excited him and he said that he love our visits. Then we went to Yehudit, who was hospitalized in Ziv. We brought her the case of dried fruit and blessed her a happy holiday. During the visit, we met her daughter and we sat with both of them, and listen to their stories about their family, and their traditions. We also told her about our Jewish series in Zfat, and the encounter with the ultra-Orthodox. She told us what she thinks about the devotees and how she sees her religion. Judith was very excited for our visit, and added that the next time, we might make a dinner together. Or and Yuval : We came to Esther and she just hosted her daughter Yael, and a good friend of her. We met them and we talked a little.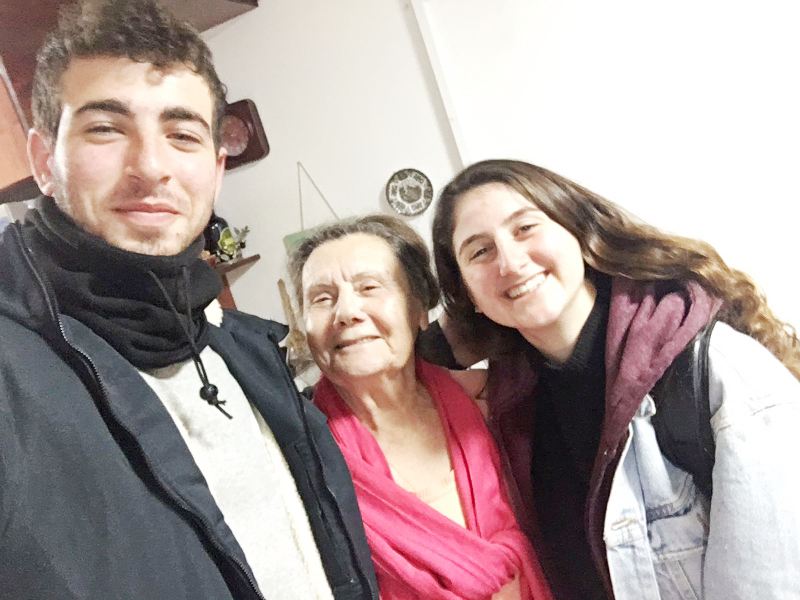 We've bought dry fruits for her and after they left, Esther asked us to try the pasta that she made. And at Esther's you can't say no. So of course, we ate and drank tea, and Esther told us that she feels better and is back to work.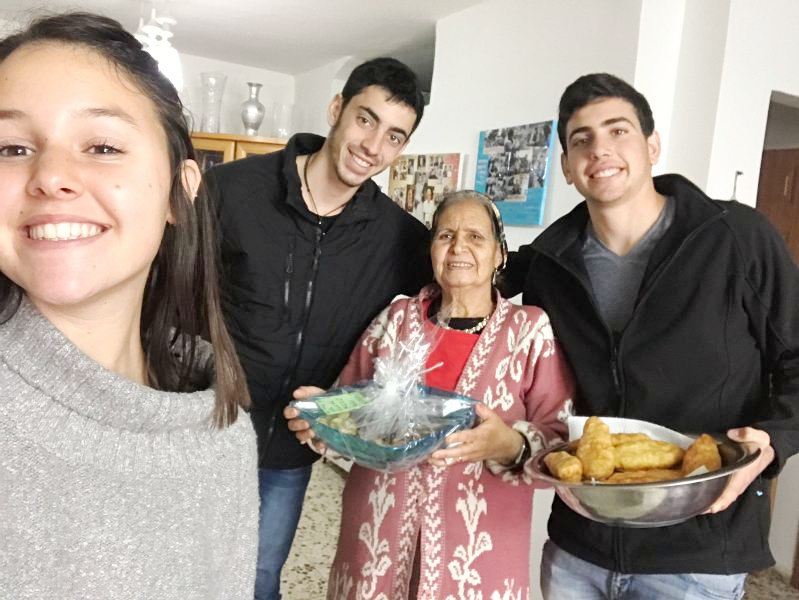 Ofri , Gali and and Gil: We made to Diamante and Chanan, a basket with dried fruits for the holiday. At the morning, she lifted me a phone and sound excited and glad we're coming. We arrived in the afternoon, directly to the full table, loaded with delicious free hot discharge made us especially lustily and lentil soup. We sat with her at lunch and she talked to us about her grandson, who was injured in the army and told us about an accident that happened to her a while ago. Later, we played dominoes and as always, she beated us and it was fun and funny as always and heartwarming.
Maya: we came to visit with a smile and dried fruits in honor of Too BiShvat! Shalom said that he's not feeling good and it is hard for him to be alone and he is just so glad that we came. He told us about people that he meet and the nanny, who come to help him with the House.
News from the North
Ma'ayan Baruch
Together with the Students of Ma'ayan Baruch, and the winners, from Kyriat Shmona, and Kibbutz Neot, we had a beautiful celebration for Tu Bishvat. We planted an Almond tree, to honor our precious winners. And also to remember Ibi from Kibbutz Neot who has died suddenly, during Rosh HaShana. Anatoly helped to dig a hole for the tree and together we planted this beautiful tree that start blossoming exactly on Tu BiShvat. Almond is the first tree that give blossom, before even the leaves comes. This tree reminds us the beauty of G-d's creation, our beauty, His people. It reminds us G-d's mercy and also His promise for everlasting life.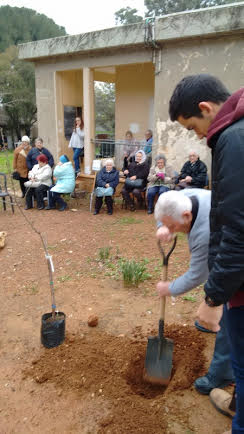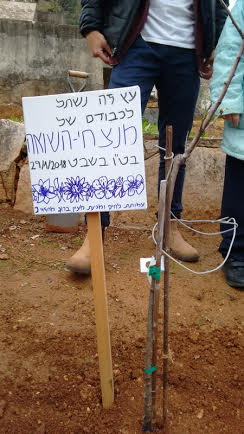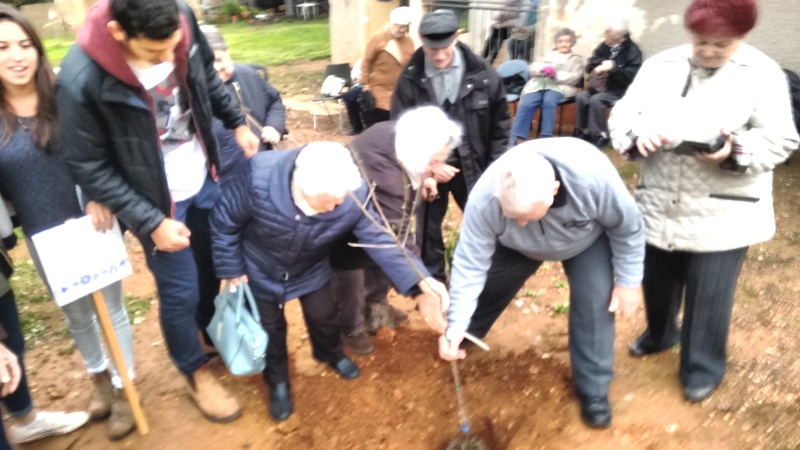 The students blessed the winners, and the winners blessed the students and expressed their big appreciation of the weekly visits of the students. After the ceremony, we had a warm fellowship together, with music and dry fruits, we sang songs together and learned about Tu Bishvat through the game that the students prepared.
Enjoy the pictures and the video clips of this fantastic event.
Boas report from Genosar: "It is always exciting to meet the winners. Yesterday, our meeting was very special. Elinor, Yuval and Lior, came and played on the Guitar, as they promised to Zivanit. she was very excited.
At Eliram's, Irit, made a good cake for the holiday, and they told us memories from the past in the Kibbutz.

Kfar Hanasi
On a beautiful sunny and warm day, we celebrated Too Bishvat with the winners from Rosh Pina and Chazor in Kfar Hanasi.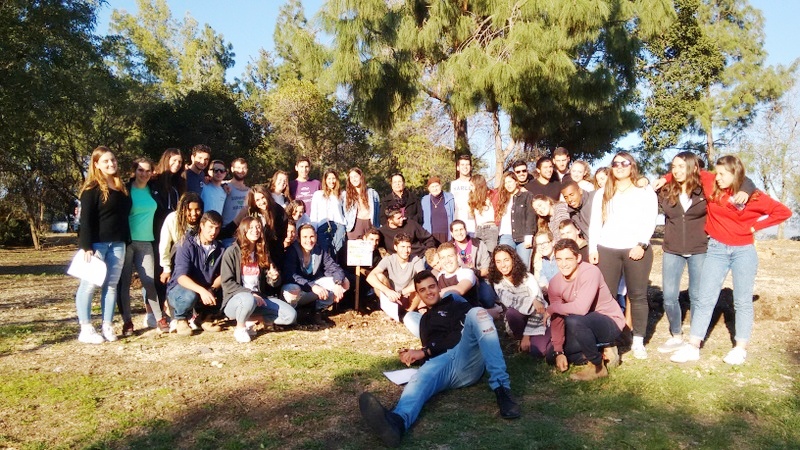 All the students from the mechina, participated in this celebration. You can see it in the pictures and video clips, how they welcomed the winners with a great love.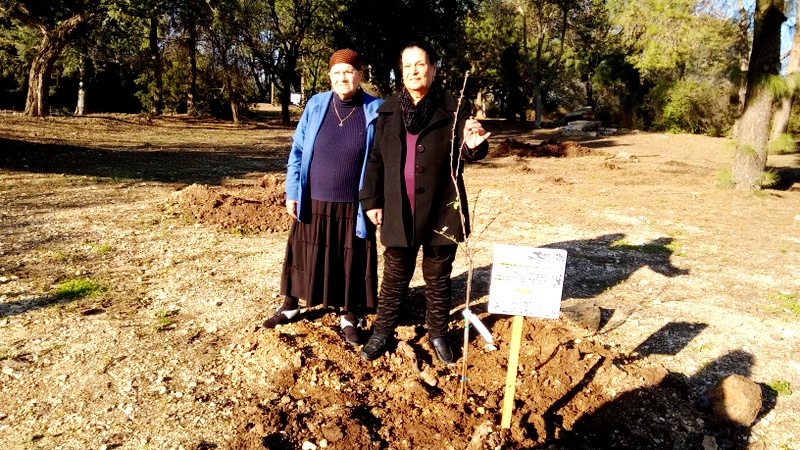 Unfortunately, Israel, Rachel, Mina and Jafa, were sick and couldn't be present on this celebration, but they were with us. As soon as they will be recovered, we will take them to this place where we planted this beautiful almond tree, dedicated to the winners.
Chag Sameach,
Timek

Jerusalem
Noga and Yael: we were today at Ety's. She told us that she fell in the middle of the week and really got hurt, but it starts to get better. We told her about the army and she was very interested and as always, asked if we get from the army what we need. Ety told us about her son, who start his retirement next week and about her heater. She was adorable and looked great.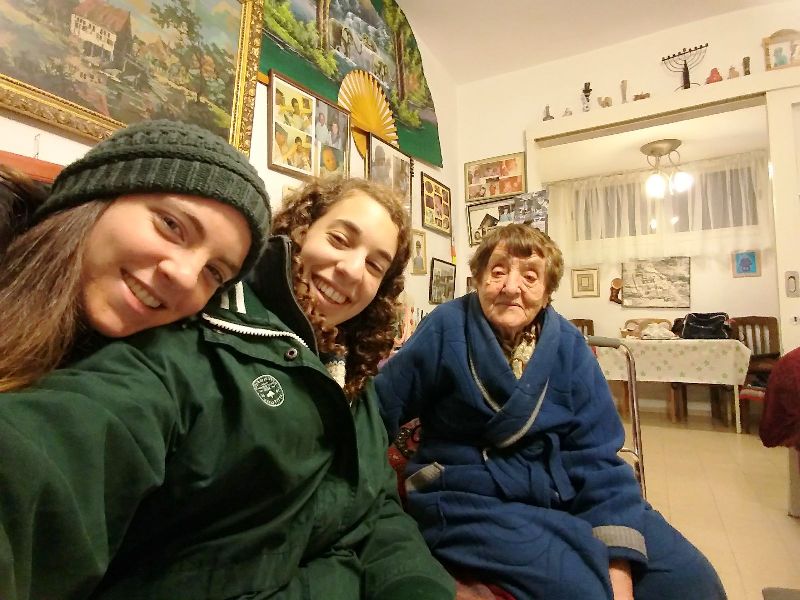 Shabbat Shalom
Rivka



L'Chaims' news, Tu B'Sh'vat
January 25, 2018

Hello friends!

This Wednesday afternoon, the skies stopped for a while the leak, and we gathered with a song in or hearts to celebrate the holiday of the trees , creating a garden of plants along a new building, and inside was prepared a table with all the good fruits of the land. We and our group of winners who could make it , felt the same joy that they out here, contacting with plants and the Earth, seeing the light in their eyes . Indeed, students with winners, really enjoyed to see the results of which have colorful planters with flowers and greenery.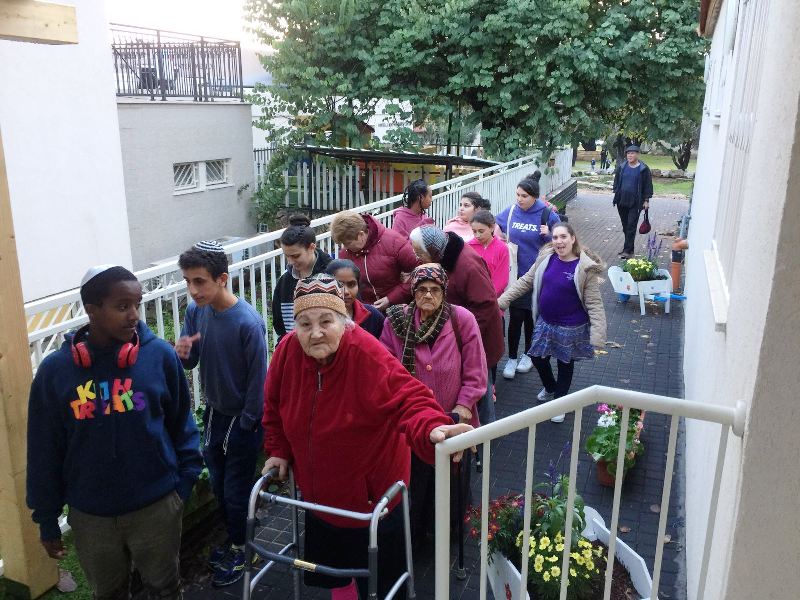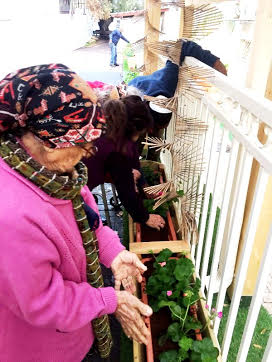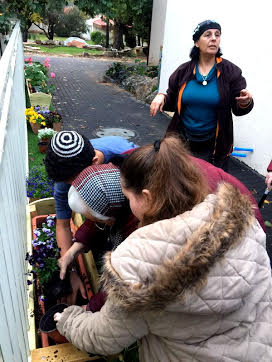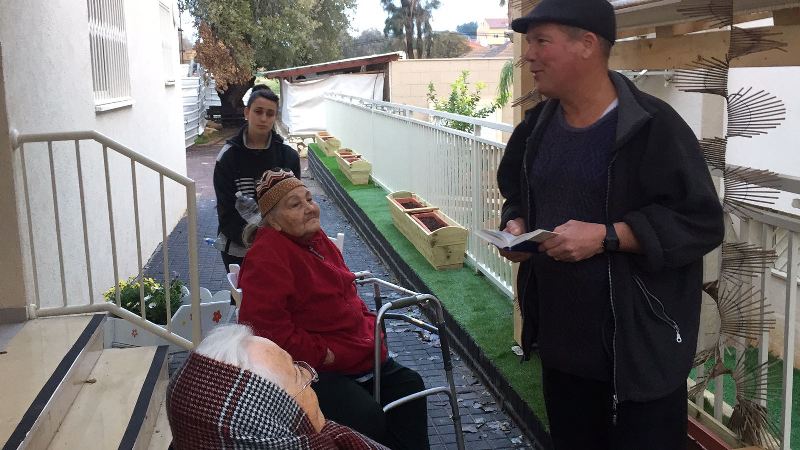 Two students played (Tal-plaid on the clarinet and Morgan plaid on Saxophone ) and a student which sang the "song of the seeds" and have a reall Nightingale voice. It was very special and authentic. There was a feeling of joy and goodwill. Daniel graced us with his presence and read chapters from the book of Psalms "that the joy and the trees get the blessed rain that finally reached us.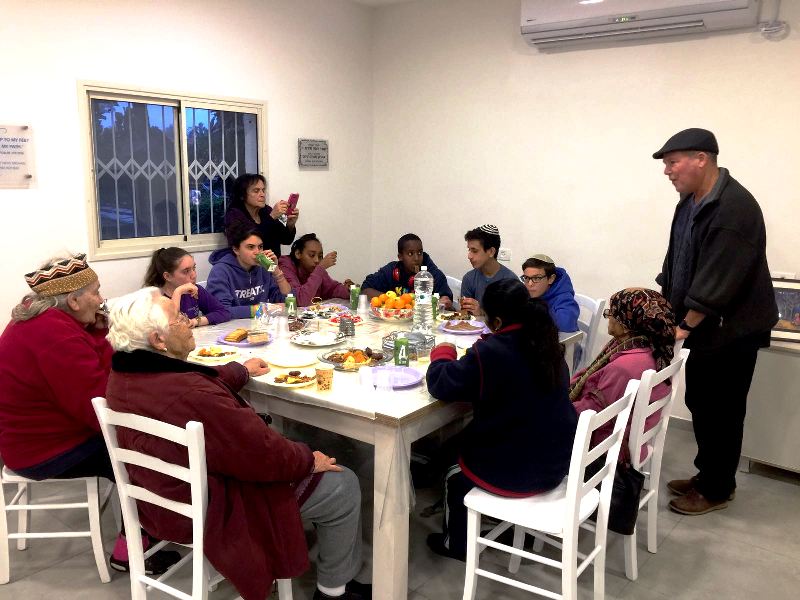 A warm welcome at Neve Michael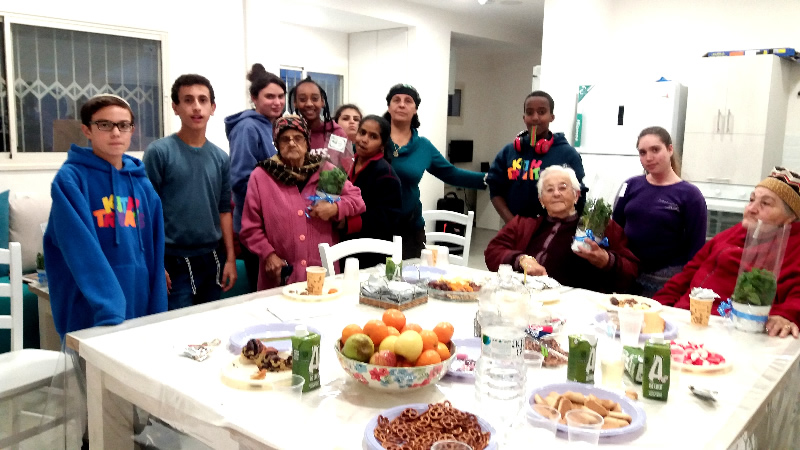 After planting we turned around the table fill the Earth. We sang, we were frightened of riddles, partook, and finally accepted each of our winners has got plant with greeting for the holiday and fruits, and with a good feeling we finished our event. Here we want to wish Aliza and Shulamit get well, who couldn't join us because of health problems ...
Lidia from Ein Shemer feeling well and the connection between her and Chaya is very special for both if them.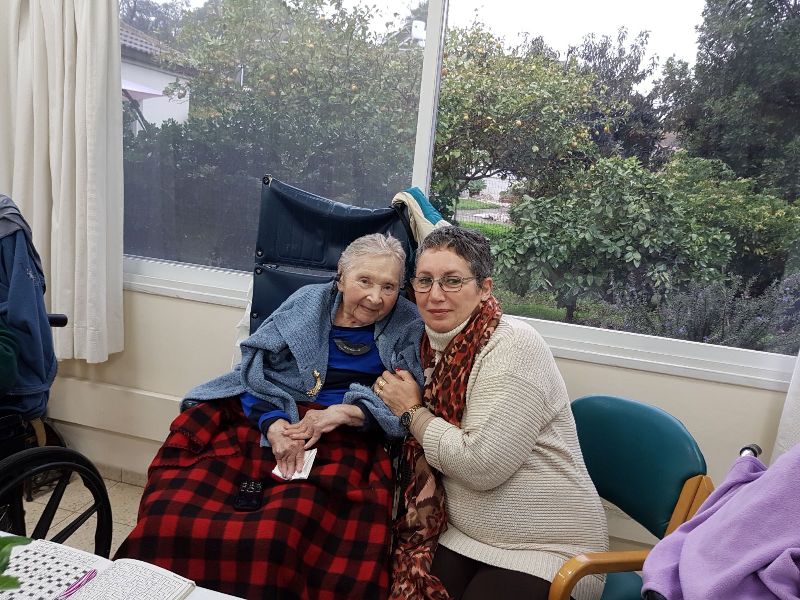 Lydia with Chaya

Modiin
Yael and Maya : We arrived at Chemda, before Noah and organized a birthdaytable with cake, souffle, Tirosh, candle, and coveted gift. Noa arrived and we turned off the light and surprised her. We had fun together .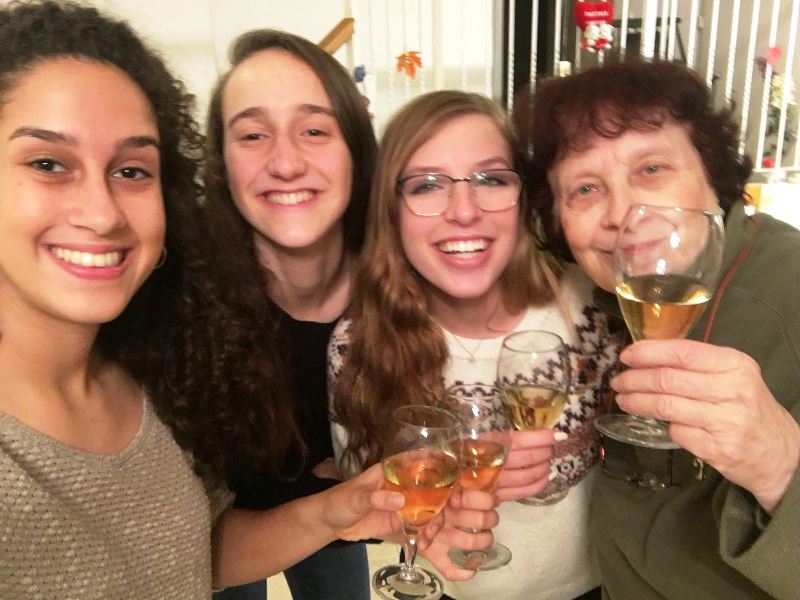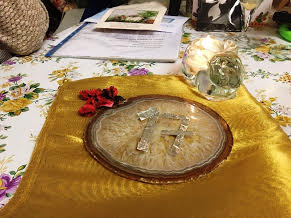 Surpriseparty for Noa
Efrat, and Rachel : At the beginning of the meeting, Svetlana told us about the nuclear accident at the Chernol nuclear reactor in Ukraine at 1986.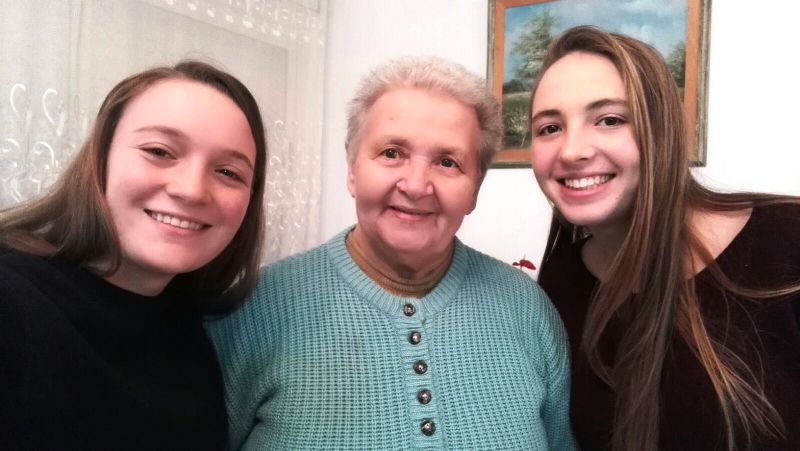 Efrat and Rachel with Svetlana

She said she lived quite close to where the accident occurred, and by the blast, lot of people who lived close has died and many got cancers. Svetlana was a concern for the development of thyroid cancer, then had to remove surgically. She said she was very afraid, luckily everything was fine after the operation.
Afterwards we drank coffee and ate cookies that we brought. We talked a bit about politics, about the affair with Bibi's son, the death penalty for terrorists and other things. After that, Svetlana showed us some beautiful videos she saw on Facebook.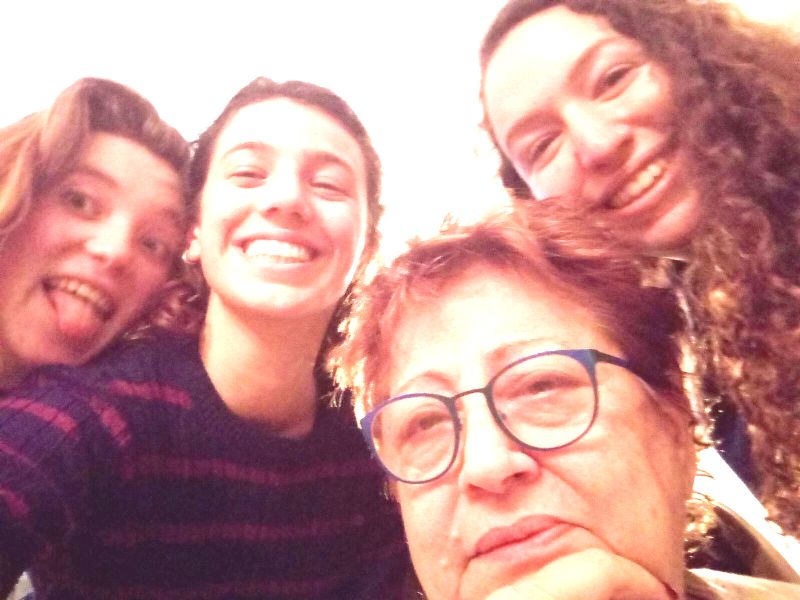 Riri, Libby Maayan and Taliha : visited Riri in her home

It was at the end of the sickness of Riri, she was really tired, although she felt better already.
We cleaned the kitchen (although she told us not to put an effort too much because on Friday her cleaner is coming).
We talked with her a little about her week , and the school children whom she help, called to tell her they miss her !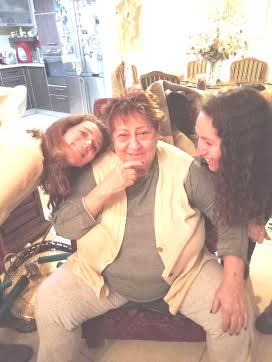 As usual, we stopped everything aside for a while and just enjoyed being with her and talk to her (with a smile as always!) .
We left with a promise that next time we meet will be coming soon!
Zfat
Shir : This week, I returned to serve in Zfat. Today I got a day off, and decided to visit the grandparents in Zfat instead of returning home. It was a great decision .
I started a visit of Shalom, he was very excited to see me and said he does not believe this is happening. He told me the story of his family with his son and daughter. He said he is not in touch with his daughter, and his son live in France and he is has left all alone.
We became his only grandchildren... He said he was going to take a trip with the Center for the Elderly to Tiberias, and it's nice at the center . He is very happy with me, and as always, brought me a flower .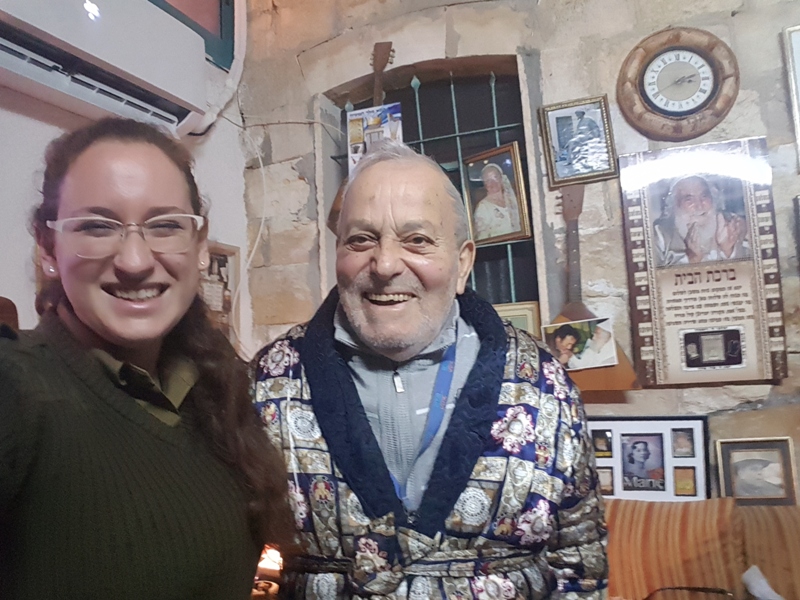 Shir with Shalom
Then I came to Eli, who received me very excited. He told me that he published his book with the story of his life and told me stories about his arrival to Israel and how he met his wife Ayala - the light of his life. He told me also, about his amazing children and haw they pour on him their love. He said that no matter how much he believed, he wrote the stories and with the son he pulled the book. I was moved to tears when he brought me a copy with dedication.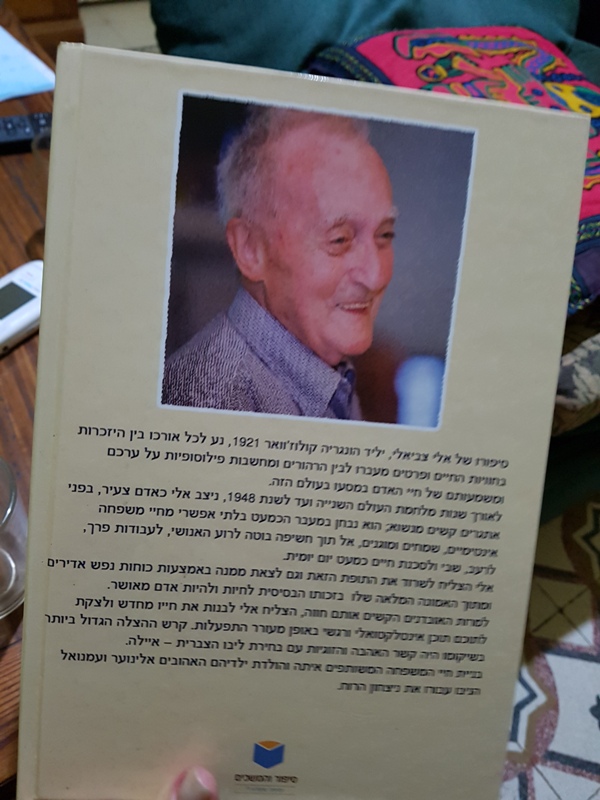 He wanted to give Daniel, but all the copies were delivered to his family and friends. I was excited and I was so happy to see him and was surprised (like every time) how a men almost 97, so positive and clear and independent. Only to be healthy and happy !
Then, I went to Lillian. It's the first day after the swearing and I was glad I could be there with her. Lilian said there were hundreds of people in seven every time the house was full and she showed even more what a good person and was affected Meïr. People do not stop glorifying him, to cry, to admit the things he did for them . He was a volunteer with autism, visiting people in hospitals and gives his heart wherever he worked. She shared with me her hard feelings, I hugged her and encouraged her and reminded her that she was not alone. And Meïr would like to take care of herself and be healthy and happy .
The evening finished with Esterka, hugs and kisses are not over! We were happy to see each other and to dispel the longing.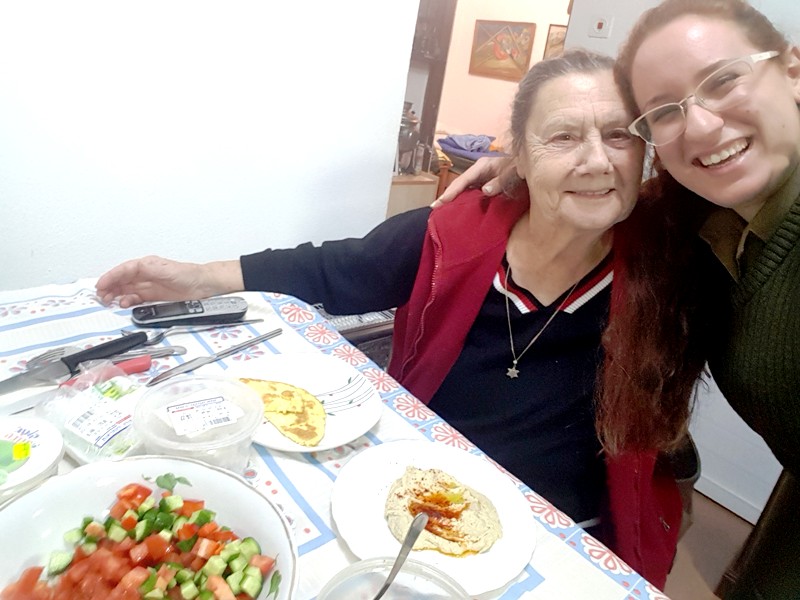 Esterke

We have prepared a fun dinner together, with songs that we love the background. We ate together and Esther said she was happy not to eat alone. Then, playing cards, we laughed, we shared each other past experiences in our lives. Esther said some worried about her and loved her work. I was amazed that a woman 82 still works and treats people sometimes even younger. Esther was so excited that I was staying over with her and told me to come every day. In the morning we ate breakfast together and Esterka had to go to work, I decided to stay and surprise her a bit-I did all the dishes and left her in a cute notes please her when she comes back .
I returned to the base with a heart full and happy! how much love! What a joy to love so heartfelt and feel so loved and desired .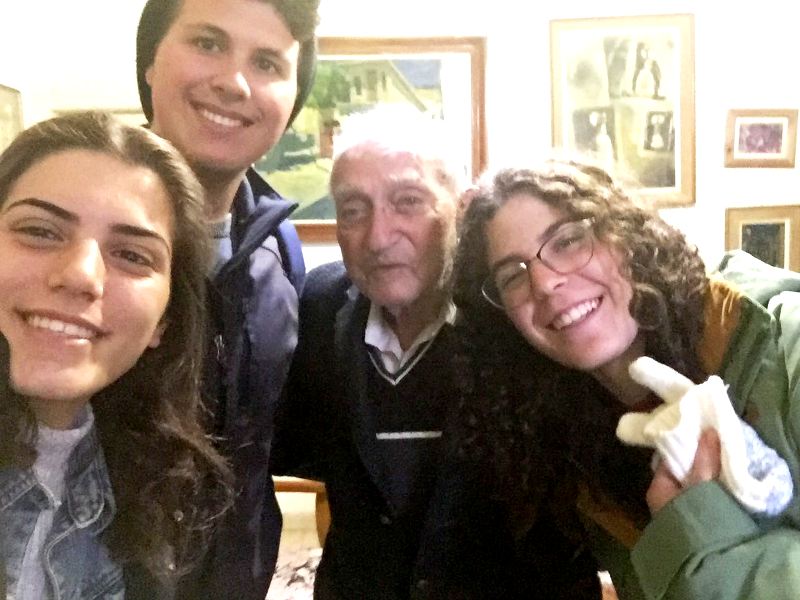 Ido, Paz and Adi with Eli

Ido Paz and Adi : We arrived at the House of Eli, while he was sitting on the couch, wrapped in layers of warm clothing and reading the newspaper. We told him about the past two weeks we had , and he told us what he did and how he spent his time. We are going to have a course in Zfat about Judaism, and Eli told us all kinds of facts about spamming and the deal with the Chief Rabbi of Zfat who defied against the Chief forces of the IDF . And apparently he's his neighbor ! Then Eli told us that eight years ago he rented a room in his house to some Bedouins, and consequently people began to threaten him and demanded that he won't let the Arabs to live with him. The whole story and how the Chief Rabbi was involved and his feelings during the same event. Eli also told us that he was going to sell the house and how he feels about all of this having instead a little chamber after he had so long this House. In addition, we talked also about the events of the Holocaust and the Chasidic movement during the Holocaust and the story of him being in a camp.

Or and Yuval : we came to Lillian, and Yuval and Maya joined us. We arrived and spoke with her, then Lillian honored us with tea and cake. After that, we sat and talked, and she tells much about Meir and how hard it is without him. We tried to speak with her about different subjects but it turned back to Meïr...
Paz answering the questioner: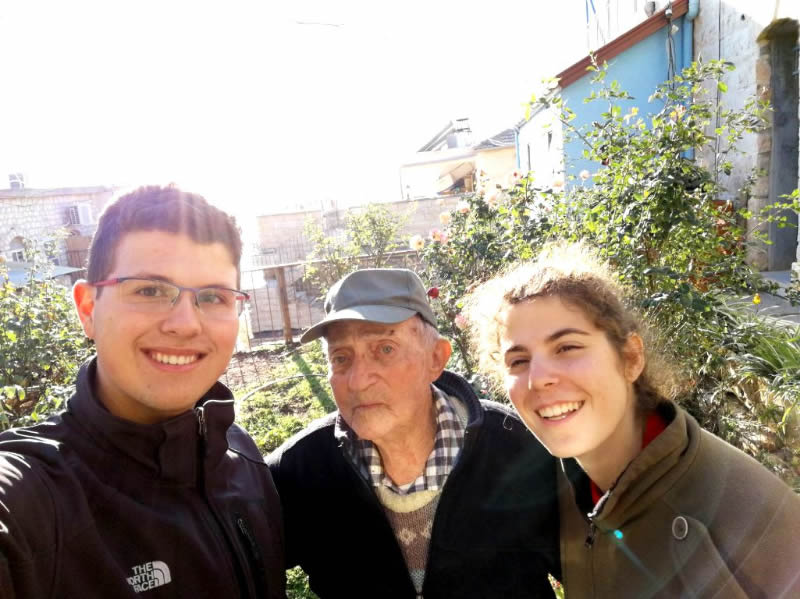 1. Before each meeting we are really excited about getting conductor / A because we know how much they are waiting for us and meetings for them really beautiful and happy. At first, we come without a plan meetings but now that we know the winners we know what can be adapted to each of them. For example with me to make this round of Safed Jewish experience and bake ...
2. When I encounter, I feel a lot of caring about winning in front of me, I put it in front of me and I see the goal is to come in his favor. As time went on we started to really connect with them, to the people they are and what they really love and care and created kinship beyond regular meeting.
3. I think all the time to get to me and see how it independently, always happy and elated, taking it easy and laughing and showing it needs and requires help from anyone, it is inspiring to me. Judith also shows us that she needed help, but it 's so powerful that manages to put its own difficulties aside and interested in us and try to get to know us, not obvious.
4. We always leave happy and content you encounter on what was always talking and recreate the excitement. Mostly feel grateful that we have the opportunity to meet them and do better.
5. As in previous issues, the meetings very happy winners and add them to matter to the agenda, meeting new people false precisely their age and any other party could learn a lot. We are always happy to come to meetings and feel that we are learning lots of new things, even of knowledge and stories and the people in front of us. One can learn a lot from a person spending time with him and we are constantly enriched.

This is our news.
Have a good Shabbat.
Rivka

Links to videoclips, made by Timek:
Reflection on TuBeShvat Celebration in Ma'ayan Baruch
Inbal give honor to the Shoa Victors on TuBeShvat (see translation of Inbal words)

Omer Bless winners on TuBeShvat (see translation of Omer words)
Closing TuBeshvat Celebration with Gheto winners from Ukraine
now living in Kyriat Shmona

Planting of the Almond tree on TuBeShvat in Kfar Hanasi
Arrival in Kfar HaNasi, The students welcome winners .
Nitsan: welcome us on TuBeshvat
Eden: what means TuBeshvat for me
Ido: Blessing before planting the almond tree to honor winners


L'Chaim's news

January 18, 2018
News from the North
This week , six girls from Mechina Meitsar (Shai, Mika, Noam, Dana, Lior and Shoni) have started visiting three new people from Kibbutz Chukuk, Mariet Finkel. She was born in Tel Aviv during the WWII. Her mother was worried for her little daughter Mariet, and has sent her to her Grand Mother in Petach Tikva. Both of her parents, were actors so they were barely home, Mariet was born on the stage, so to speak.
She was raised by her grandmother. She was a good friend of Menashe Kadishman ( Israeli artist). Her tiny living room is full of artistic objects and paintings. Mariet worked as a teacher for special needs. She is a talented woman. Mariet enjoyed our first visit. She felt in love with the girls that listened with a big interest to her story, and asked many questions.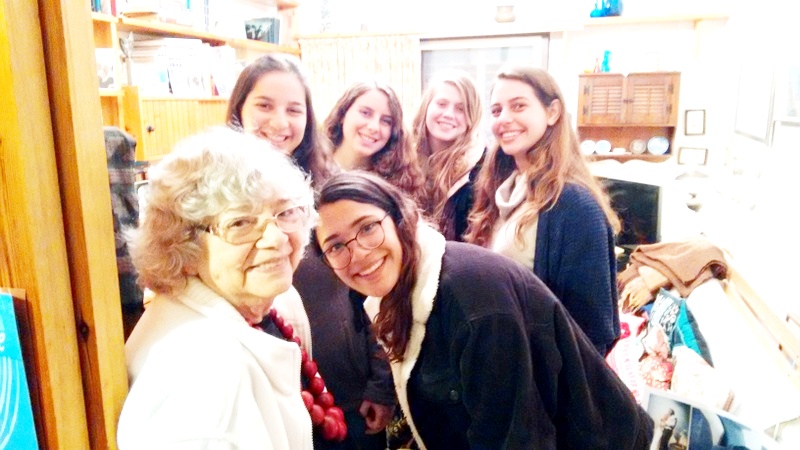 Mariet
Jossi Poljak is from Argentina. Jossi studied at the university in Argentina and his dream was to become Pediatrician. When the Chunta took power, his studies have ended because of the propaganda. All studies were cancelled and were declared as not valid. Jossi took himself to Israel, where he lives since 1961. He was directed to kibbutz Chukuk, where he was married and got two sons. His wife, has passed away 20 years ago.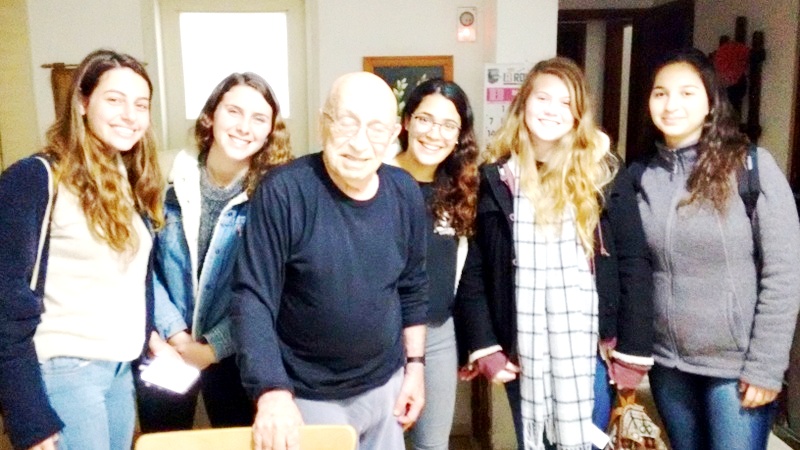 Jossy Poljak

Jossi worked in the Kibbutz and ended as economist of the kibbutz. Most of the time he is alone in his house without any activity. He has problems with his eyes and feet. He was happy that we came and he looks forward for the next visit.
Tsipora Izik was unfortunately in the hospital. She is a shoa winner from Romania. 84 years old. Tsipora told me (Timek) when I visited her for the first time, that in her whole life since she moved to Israel, there wasn't any organization, who took care for the Shoa winners, reaching the north to visit her. I was the first, that found her in her tiny home, at the age of 84. She didn't believe that this moment will ever come... for Tsipora, her story is hard to tell. With tears she tells me a tiny details from her past. She thinks that the students are too young to listen to her stories. I told her that this is not the case. She will find out soon.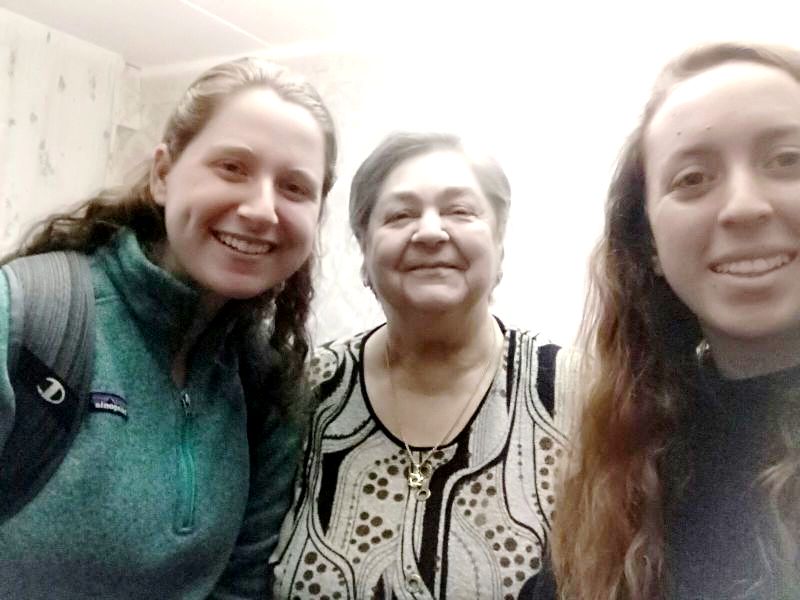 Lisa with Inbar and Maya

Kiryat Shmona
Lisa: The students are so nice. So warm. They bring warmth into my heart.
Klara: I always make blinches when the students come. And it makes me so happy when the students come to visit us and we talk about life stories and have fun and play rumicub. We feel privileged that the students come visit us. The attention we get from them give us strength, warmth and happiness into our lifes.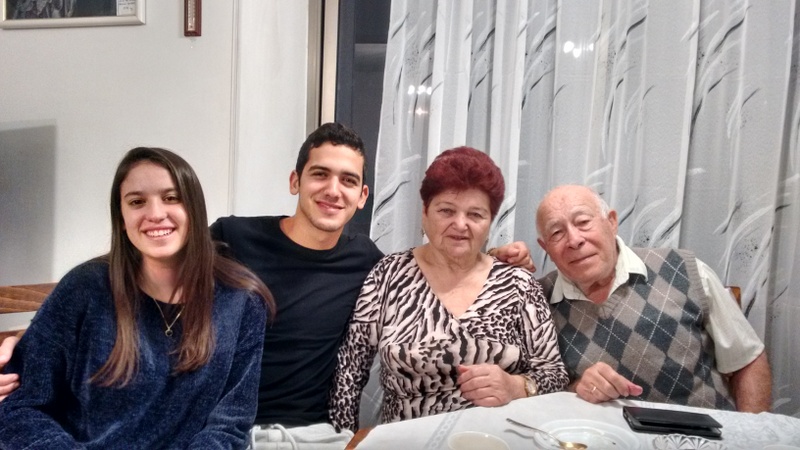 Klara, Mordechai, Omer and Adi
Ida. Her health is not good. She is sad. She has little perspective in her life. She hardly can move around in her house. She weeps over her daughter that has passed away more than a year ago.

Thanks and love,
Timek

Modiin
Chagit: Mordechai was in a good mood and felt much better. We sat on his couch and for once I actually shared with Mordechai in all sorts of difficulties with the kids. I consulted with him and it reminded him when his kids were adolescents. We laughed as usual, and Mordechai couldn't without sarcasm and humor and I shot photos with his cat Pitzco, which he love so much!!!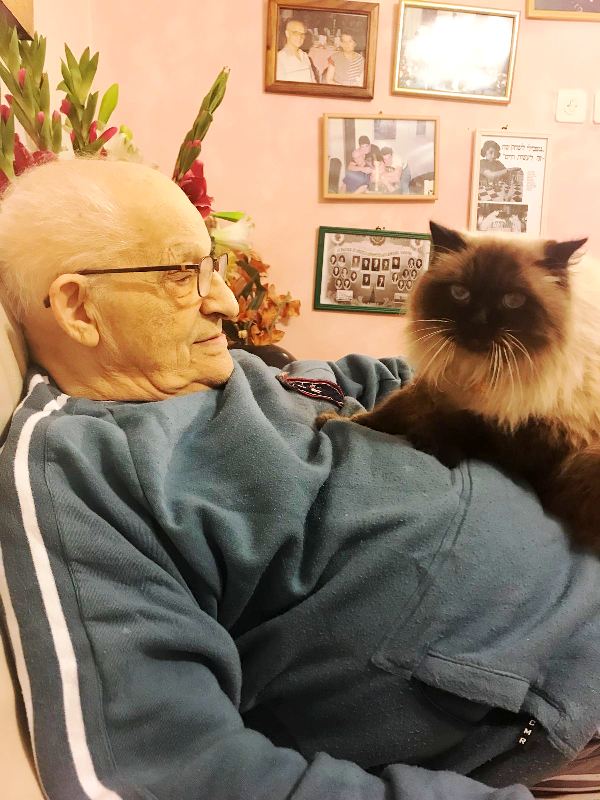 Mordechai
Shir : I started the weekend, festivities late birthday to Shulamit. I arrived with a cake and a present and Shulamit said I shouldn't , but I told her that's grandma's birthday has to be with gifts and celebrating, and she laughed. I read her my blessings, and she was very excited. I brought her a towel with the word : love. She was very happy . We continued to talk and share experiences. Both of us are having a tough time and we encouraged each other and empowers us.

On Saturday, I had visited Grandma Sara and brought her my mother's cheesecake which she really like.
She said she and Abraham are going to Eilat on Sunday after passing a very difficult period of health. We talked about traveling to Poland and the project and she kept saying that she tells everyone about our project and tries to reach the influential people who can help spread it.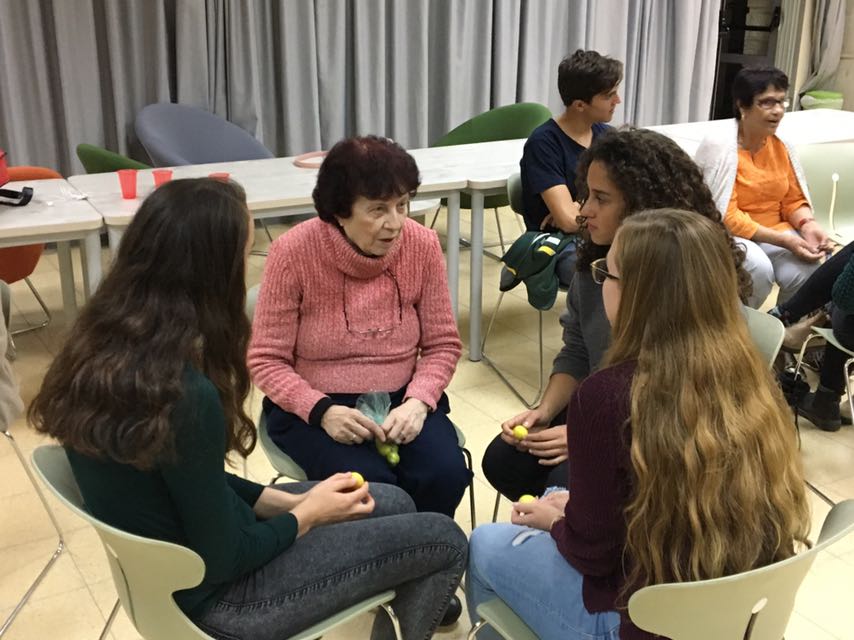 Grandmother (savta) Sara with the new girls
Then I came to Chemda. She was very glad that I came . We shared experiences and she told me about a little accident that she had, and thank G-d she is alright. She told me about a young man she knew in the hospital when Yankele was there, and they keep in touch and he became also as her grandson. She told me how she and Yankele, were in the middle of the day starting to sing and dance, and how much she miss this. She is very happy with the visits.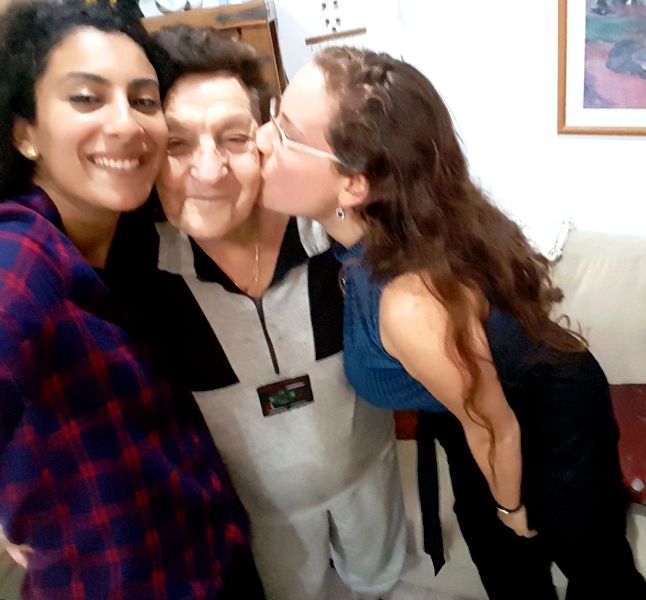 Shir, Chemda and Mathai
**********************************************
Here are Efrat's answers for the questionair we gave to our active volunteers:

1. I come with the feeling of fun to talk with Svetlana. I get a real relief before the meeting It's something different from what we do in school, something that is not stressful. I invest some thoughts before the meeting. The conversation always flows with Svetlana, also we tell (me and Rachel) about what happens in our lives.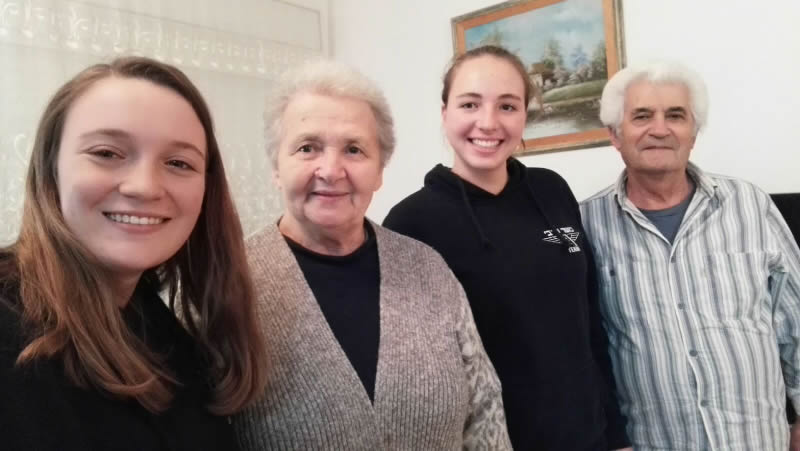 Svetlana with her husband, with Efrat and Rachel
2. When we meet, I always feel huge appreciation to Svetlana, who think to be good with people and she's always saying how good we are and she hope we will succeed on test or other citrus. I'm really happy. I'm trying to create true intimacy (but we only had three sessions so far).

3. the most powerful and enlightening Svetlana have, I think that she wants to do good for other people, big or small - as well. For example, she bought new sofas and she was so excited and glad that she found fresh couple to give them their old sofas being able to help them.
4. When me and Rachel go out of the encounter, we are always excited and leave with a smile. We talk about how cute and fun Svetlana was.

5. The contribution we get from the meeting is to come to the meetings and there is a lot to learn from Svetlana, she all the time tells us about things that will help us in the future. It gives a lot to Svetlana because she have so much to tell and it seems to me that she enjoy to share with us many things.

"Maitzar " visiting in Genosar : Boaz, Michal, Elinor, Michal, Eyal and Lior

1. We were very tired when we started the visits. However, to the meetings, we come with joy and a sense of mission that inspires us – know that the at the following year, we will do something good. Most of the time we think a little bit before we talk about what, according to our own curiosity and interests.
2. Along the meetings many emotions, but emerging us above all exceeds the sense of self-satisfaction that comes as a result of the activity. We are investing a lot in creating connection, mainly through creating deep discourse.

3. We feel that the most powerful thing in the winners, is their hope for a better life and full despite the difficulties.

4. we feel a great sense of satisfaction and meanings, knowing that we've improved the moods of the elderly that nobody visits them. It is the feeling that pushes us to come up with energy and desire every time.

5. The big anticipation, of the elderly waiting for us to come, proves more than anything some meaning there. They long to these meetings because they don't have anyone else. they consider our meetings, as the pick of the week. We are glad to learn firsthand about the old days.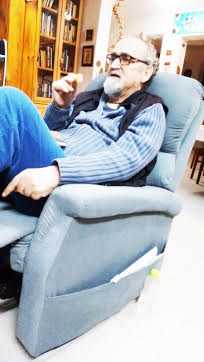 Eli-Ram

Visits in Sdot Yam
We opened new branch of L'Chaim with three ladies from Sdot Yam, located right on the Mediterranean coast, near Caesarea amphitheater. We arrived in the afternoon and met those ladies, who liked the idea and made the visit possible for us. Rachel, Mazal and Ester, are very active and were glad to be a part of giving - and getting as well. Mazal offered us to introduce us to the beautiful places of her Kibbutz . With Rachel we had immediate connection. We saw on her wall, pictures appeared customers from the past and as we got closer to an explanation, it turned out to be that on both sides of her family her uncles were leaders of the nation.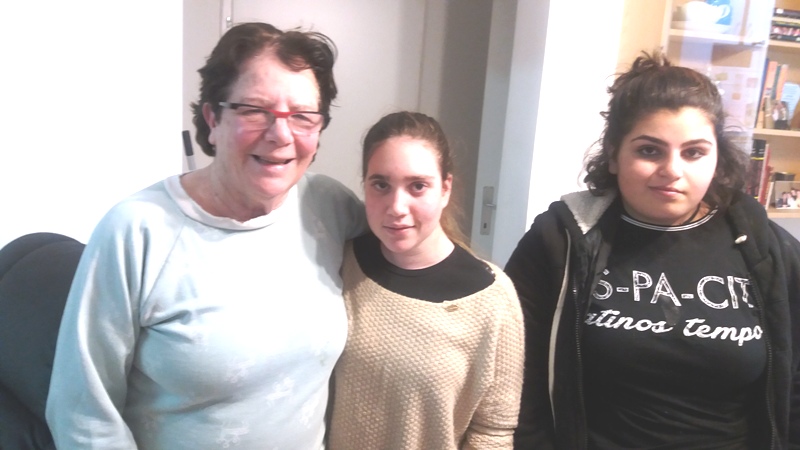 Rachel

She is childless, and taking care of her sick husband. She want fresh contacts with those youngsters very much. Ester apologize for being called unexpectedly , to help someone and therefore the meeting was short, but she expressed joy and a strong desire t connect with the students. She is the sixth generation in the country and very idealistic. She has an Ethiopian granddaughter. Her children do not live in the Kibbutz and therefore, she is very thirsty to associate with adolescents. We see in the opening of this contact, another interesting track and new development, on bringing joy to both sides; the students and the eldery people.

Visits in Zfat
Ofri, Gali and Gil : We came to Chanan and Dimenta , straight to lunch with both of them and their son. A plate of couscous and chickensoup.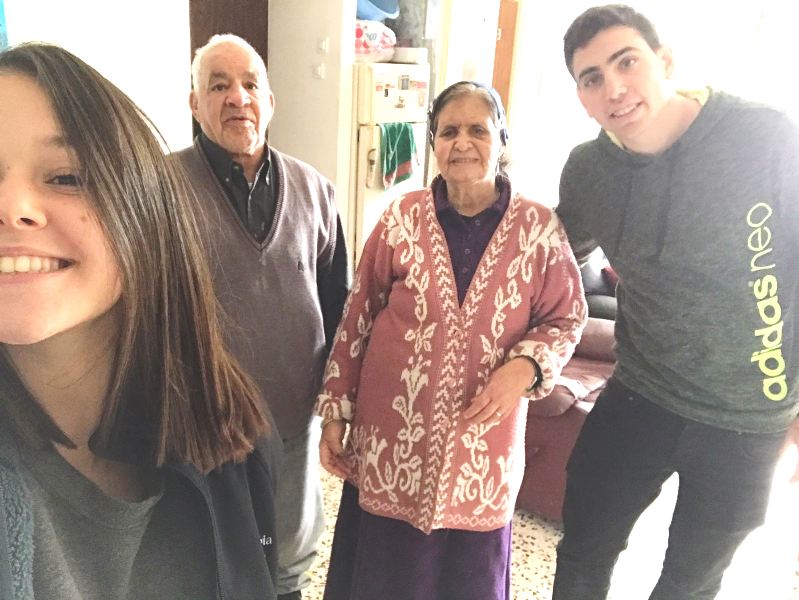 Diamanta with Ofri, Gali and Gill

Today for the first time since the beginning of our involvement, Chanan sat with us and communicate with us. It was really exciting, and we laughed and it did him real good and it made him opening his heart for us. It was a very light and happy visit. We continued the day with Liliane sitting Shivah for Meir. We were there for a while and talked with her and her kids, then we went to see Esther. Esther made a bowl of soup for us. As always she told us that she was really glad we came to eat hot soup in the winter with her and that she has had backaches last days.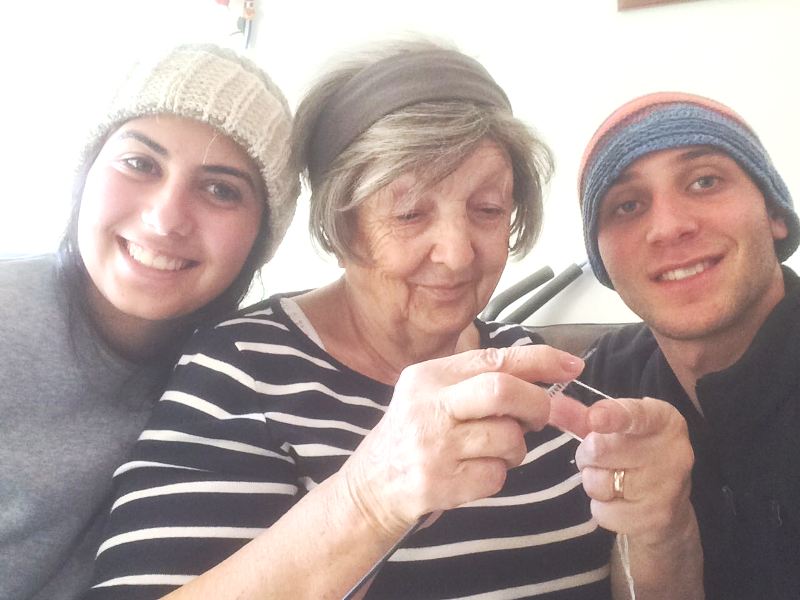 Larissa with Maya and Yuval

Maya: we arrived in the afternoon to Larrisa , and helped her to handle some gardening and taking out a heavy garbage accumulated there.
Prepared omelets and potato and pizza too. Larissa is going to teach us how to knit and next time just start crocheting a hat. Meanwhile, as a gift, she gave us a knitted hat. Larissa talked about her son who works at Kiryat Shmona ...

Ido and Paz : Our visit today was a little different.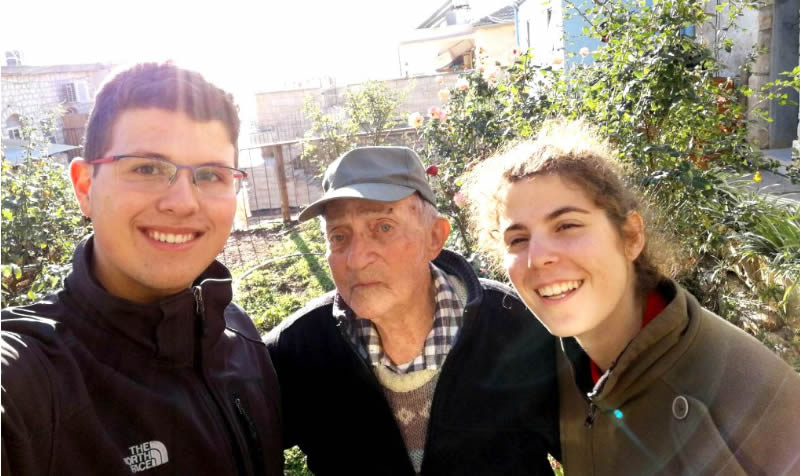 Eli with Paz and Iddo
Today we decided with Eli to do a round of old Zfat. The best is to do the old tour with a person who live here long time. Eli has proved to us that he recognizes the Safed every nook and corner, every street and alley to me knew how to navigate. Made and entered the Ashkenazi synagogue, after it went through all the artists alley, where me met a lot of old friends, everyone is welcoming us with a big smile and the promise to come back again. One of the members listened to a story, how they made a diversion, so amazing that they made everyone think they're bombing all over. They only had one position. After that we went up to view on the amazing Eli's roof , and he explained what we see.

We want to thank alll of our active partners, who was sick but didn't let himself leaving their duty and kept the visits as usual. Well done !

Shabbat Shalom !
Timek


Daniel Braun
E-mail: danielxrw@gmail.com
Phone: + 972 54 772 3510
Welcome to our website at :
lechaim2life.org.il

Thanks !!
January 4, 2018

Pardes Channa
After our visits week ago and yesterday, here are some impressions of the visits: Zvia writes: we were at Ishayhu at Rosh Pina and Morgan (one of the boys) brought his Saxophone and played for him and he was full of joy.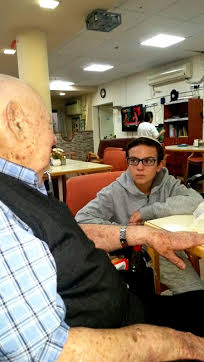 Ishayhu
The boys asked him about his family, when he immigrated to Israel where he lived before. At Yonna we were forbidden to take pictures. She feels good and always happy with us. Yechiam writes: "I heard from Gizela the story of how sad she is having no one... She's not feeling well, a lot of pains, a test in a month for epilepsy, EEG and lots of economic distress. She said: "in Auschwitz was better because at least I had friends. Here, since her husband has died (on 1966) no one is her family besides her family abroad"...



Gizela

She showed us a few picture how she looked in her youth (she was beautiful), and told us about her family had to go to the crematorium in the war. We sat for a long time with much sourness, a woman 91-year-old, feeling that she has nothing... yet survives. Of course I left my mobile number if needed anything, to call, bouncing to a doctor or anything else. The girls said and offered , to come more often , just to be there. I also will try to be more, it does so good to Gizela and I suppose everyone who is in this great project that saves lives.

Sally: I volunteer every other week in "L'Chaim" project . We talk and bring the people refreshments. Yesterday, we were at Yonna, who told us about her pilgrimage to Israel and this is the first time I hear about the rise of Yemeni Jews to Israel. It was really interesting.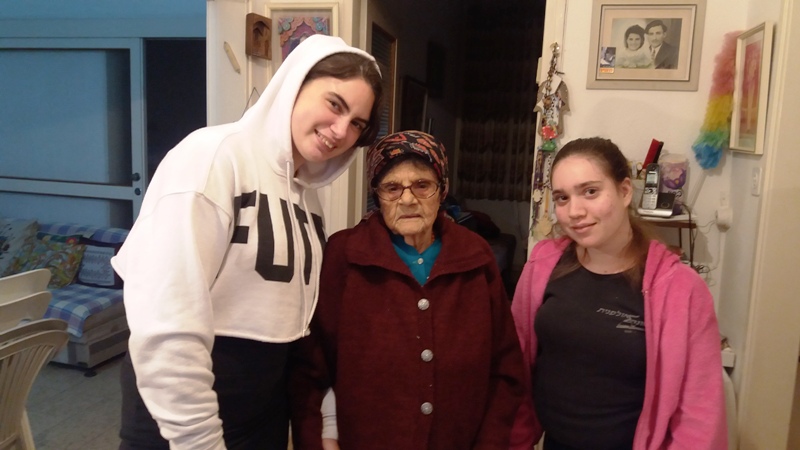 Yonna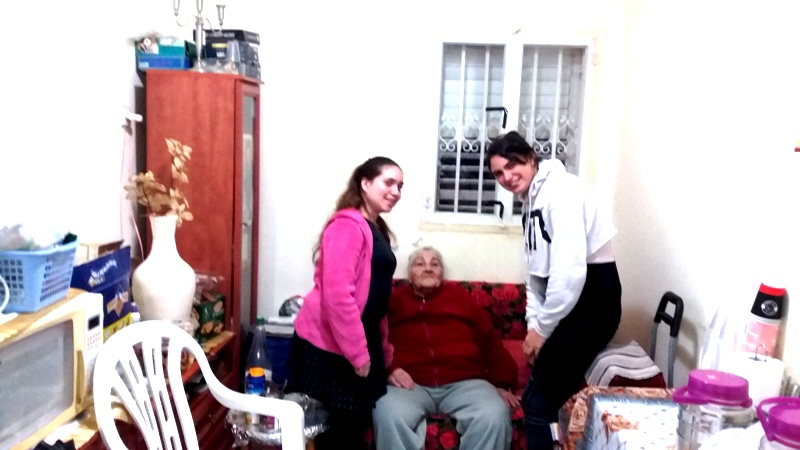 Dina

We came to Dina and she was very happy to see us.

She is a very courageous woman, dealing for many years with allowance for the poor. She never complains and does everything, doing from nothing - a lot. After a stroke , going with a treadmill and uses a therapist to help to organize her. Zippora told us about her visit in Budapest, to attend the memorial service of her sister.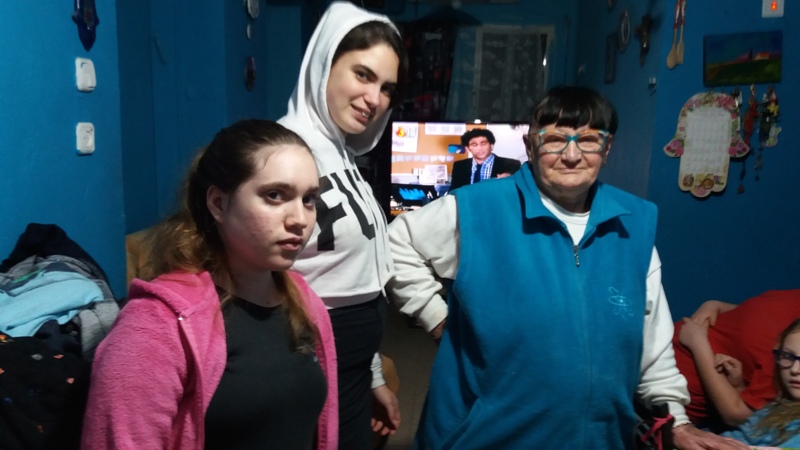 Zippora

She was pleased to see us getting bag full of vegetables and fruit. From there we "jumped" to Gizela for a short visit and we realized that she continues to suffer pains and no solution from the doctors. And, because Adi who was among those who have visited Aliza, had her 17th birthday, and without Aliza's blessings she couldn't complete the birthday celebrations... Attached the video.

Shabbat Shalom to all of you,
Rivka


News from the North
Genosar:
Ilan, a student from the last year, who volunteered the Program, made a surprise visit to Tsachi and Zivanit in Kibbutz Genosar. He writes: Hi Timek! How are you? I hope all is well. I went to Genosar today to visit Zivanit and Tzachi and it was very nice. I was so happy to see them. (Ilan is currently studying in the USA).
Elinor writes: Today, we heard many stories from the past at Zivanit , and it was very interesting, and as usual the atmosphere was very warm - as a family.
Boaz : Today, Eliram shared with us his memories from the past and it was shocking and really shacking. It was the first time for us - to hear from first hand those stories about the holocaust. We fell in-love with him again.
Rosh Pina :
It was Israel's 94th Birthday. Students from Kfar Hanasi, brought him a cake with 94 candles... I brought for Israel a fruit package with all kind of fruit. We enjoyed together and Israel was so happy ( in the picture Israel is with his granddaughter Talia).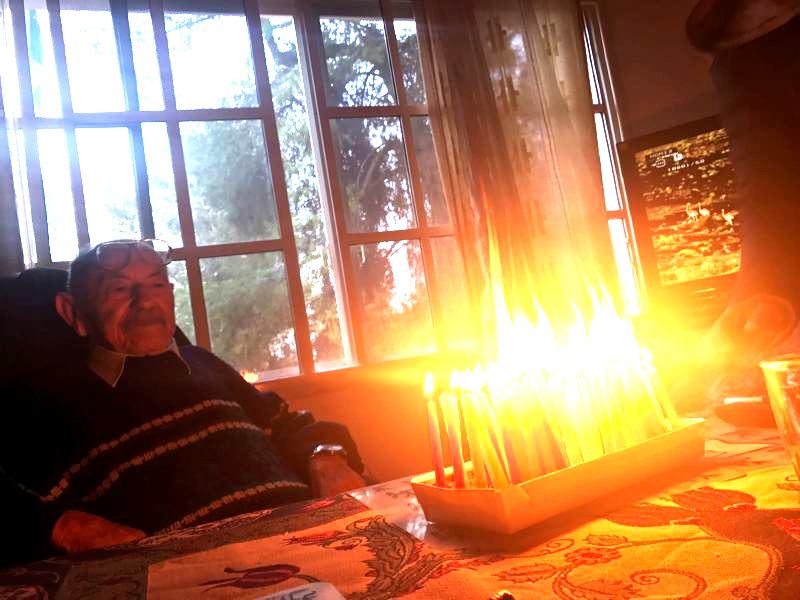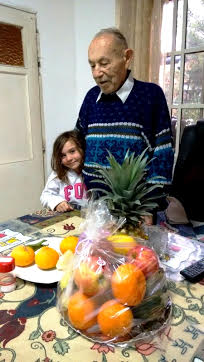 Israel

Rachel is not feeling well, already for 3 weeks. She passed all kind of medical tests, and the doctors can' t find anything. Rachel is suffering from a high blood pressure and dizziness. That makes her depressive and she also doesn't go out from her house because of this. All of us hope that Rachel will be soon better.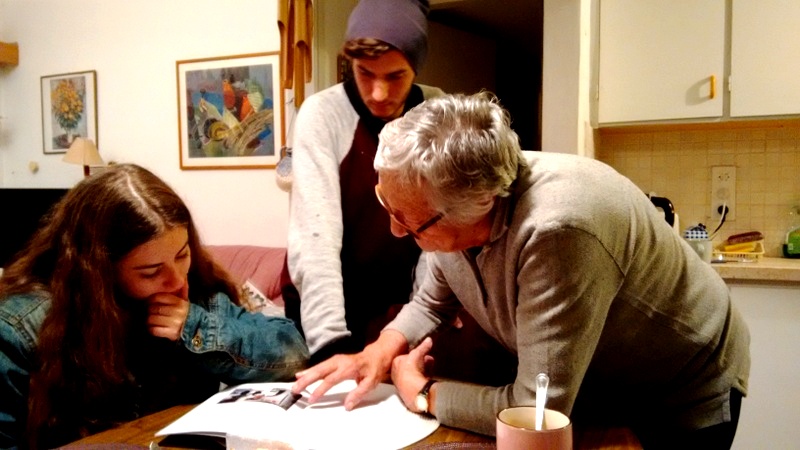 Rachel

Chana is always very optimistic and has a lot to talk about with the students.
Neot :
Rachel showed us the booklet she made as remembrance for her son who have passed away long time ago.
He was very creative. His statutes are seen in the kibbutz. Rachel is 93 years, look young and told us, she doesn't need any home maid. She can manage all by herself. Until last year, every morning she used to go out to swim. This year, only along the winter, she skips the swimming. She reads a lot and keeps herself occupied the whole day. This is her secret of staying young in her body and her mind. Rachel is full of happiness and receives the students with a great joy. It is a great present for her - she admits.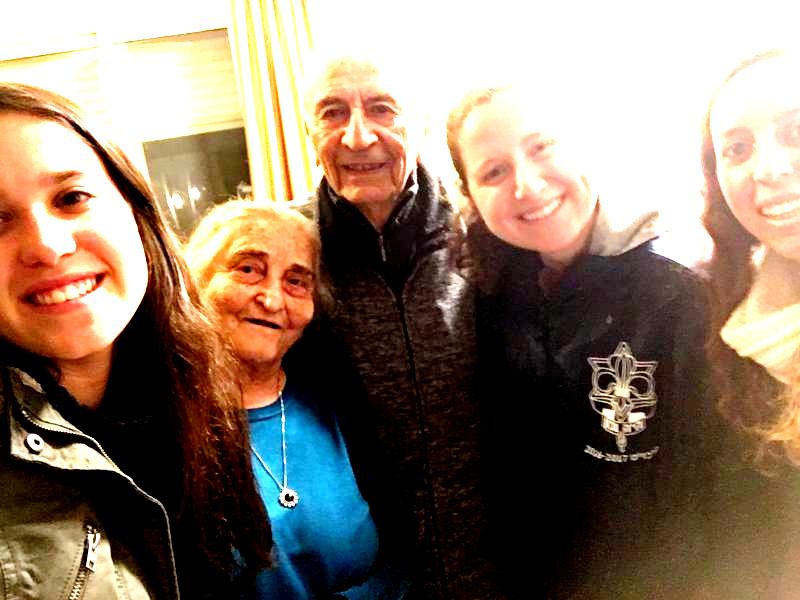 Hadassa and Rontsi
After Ibi has died, we found Hadasa and Rontzi in Kibbutz HaGoshrim.
They love visits from the students. This couple is originally from Poland. During the war they fled to Russia where they hid during the war. Maya, Adi and Inbal have visited them for the first time and they had good time together.
Regards,
Timek


Modiin
Idan, Mayan Nitzan and Talia: We met Riri in Kaiser Center, for ice cream. It was a brief encounter, but we managed to catch up since the holiday of Chanukah .. Two of us, had to go earlier, for a meeting about Poland. Nitzan and Idan, were left with Riri . As always, we are so happy to embrace and loving her . She asked for the next week , we must meet again because she really misses us.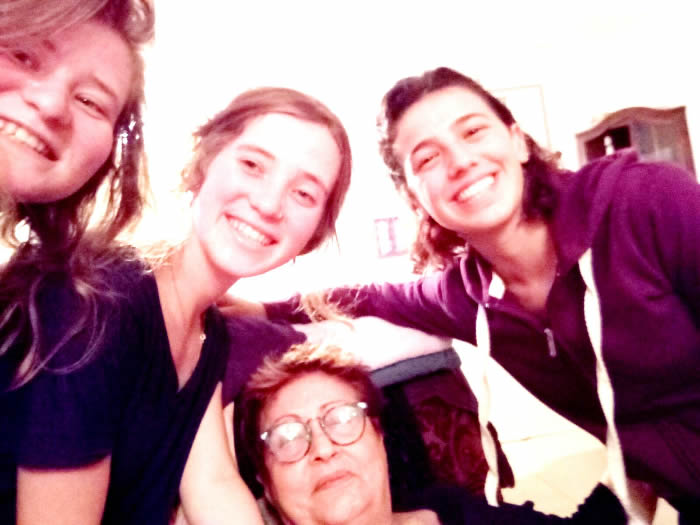 Riri

It was really fun to talk to her and see her. We really love this woman !!
Efrat, and Rachel: meeting with Svetlana and Dmitry. We told her that we were at a seminar of the Intelligence Corps, in the context of the dangers of the Facebook. She also told us, that she bought a new sofa and she could not just throw the old sofa , but contributed it to those in need. While looking for people who need, she even phoned the municipality.
Finally, she found a fresh new couple, who was delighted to have her sofas, and were very happy and excited that she was able to help them. We brought her cookies, so we drank coffee and ate cookies.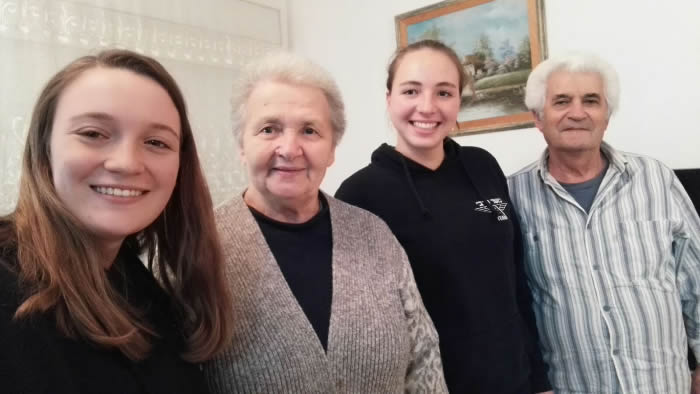 Svetlana , Efrat and Rachel
Shir : On Friday, I came with my best friend Maital, to visit grandmother Sarah and her husband Abraham.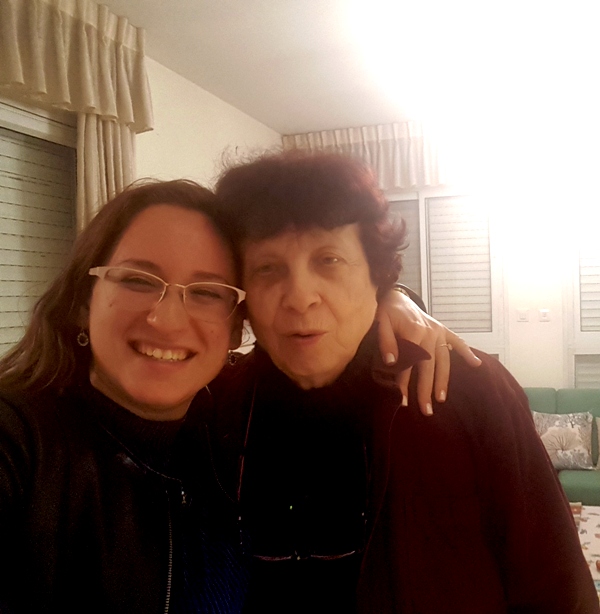 Sarah with Shir

As always, we were received with hugs and kisses. We talked a lot about the situation in the country, education and schools . We talked about her stunning bell collection she has at home, and she tells everyone about the bell that we brought her. It was her most precious of all, because we thought about her when we were in Greece, which is not obvious. She put the bell in the second row and said that sometimes the grandchildren play with the first line and it can be broken. We also talked that at her age, she volunteers every day, with children in both schools and helping new immigrants, and telling her story everywhere . She told us about one of the most special meetings which she had with Bedouin soldiers. They received her with amazing love and respect. She told us they never heard of the Holocaust and it was really very special for her to tell them about her life in the country. We were happy to hear that she was expecting her fifth grand grandchild !!
She also told Maitar, how much she and Abraham like the sign which we brought them to the New Year with the words "I got up in the morning, everything else is a bonus ". Simply, our encounter was full of humor and a lesson about life and our country. We already wait for our next meeting . Shir : On Friday afternoon, I went to my dear Chemda.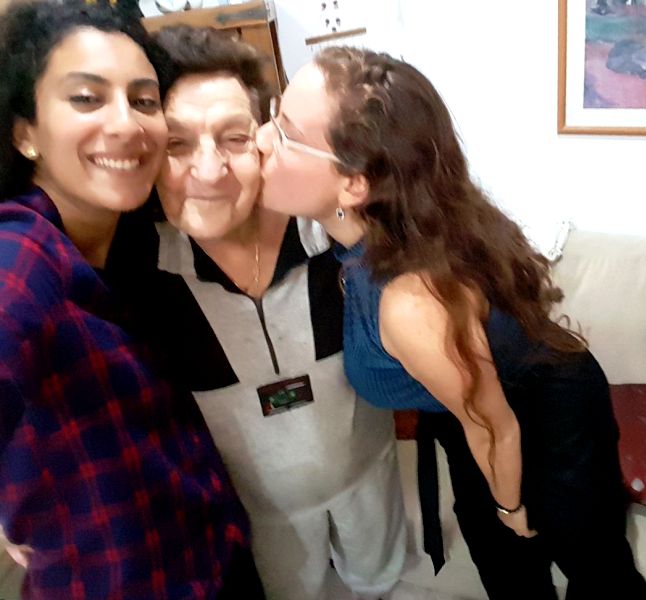 Chemda

Very quickly, we have tightened the relationship we have built and we talk almost every day. Reluctantly shared with me, how glad she was on all the "grandchildren' we placed into her life and said she had "Her diary is filled and maybe she should prepare a guest bedroom"... We talked about a lot of things and we shared a lot of experiences and stories. Chemda showed me the mementos of her trips with Yankel (bless his memory) in the world, small and charming things like salt shakers in various forms, Candle in the form of an apple, heart, flower and more. Then we washed dishes together, and I wired a pot that her helper has burned, and she felt not computable at first and said that Yankel's always did it when he was alive. I did it with love, and this little thing really pleased her very much. Then, she showed me a lovely jewelry he bought her from all over the world, and those that belonged to her mother. She told me a little about her sister today with dementia. We had a delicious vegetable soup and laughed a lot as every encounter with delight and shared lots of hugs to store the new week ?

Zfat
Adi Paz and Ido: We came to Eli and brought him a sweet surprise - Strawberries .
At first, we talked about how he had spent the last two weeks since we met, and how he went through Chanukah. He told us that his family came to visit him one evening, and they were with him and it was very important for him to meet the family.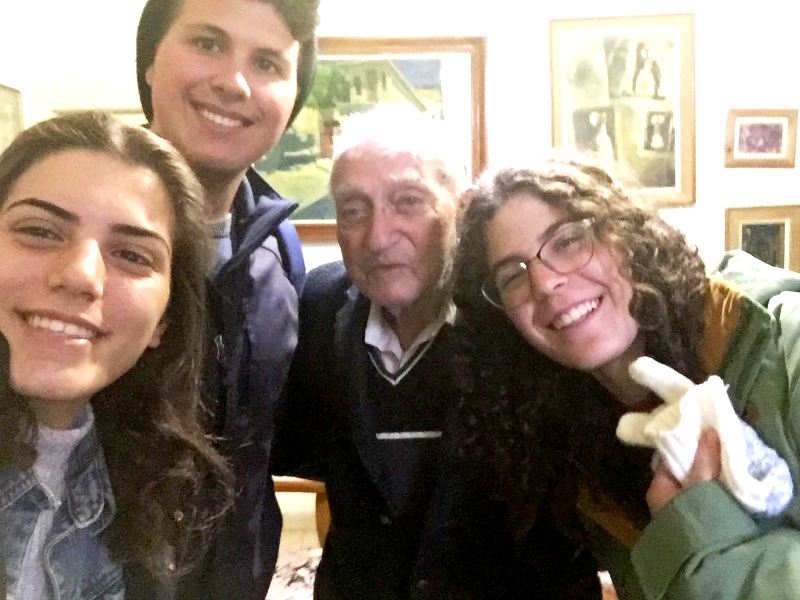 Eli, Paz, Adi and Iddo

Also, we are told what we went through those two weeks, and we walked around the Bedouins , which led to a conversation with Eli about Bedouins and where he met them in the past . He told us that he might have to move to a new and smaller house in Zfat which is a bit sad for him to leave this house that he lived most of his life and he binds to it .

At one point, we talked about the war and he spoke specifically about the role of Russia in the war, and about his good friend who escaped from Russia and later on became a painter. He also showed us a newspaper article about the Rothschild family and how all kinds of important events in history have affected this family . At the end of the meeting he gave us his book about his life.
Or and Yuval: When we got to Esther, she just was in the middle of picking olives from her treesibling, sorting and arranging them, and wanted to rest. Then we sat down and talked . Esther told us in response to our questions about her youth and the period of the Holocaust. She told a little about this period and her family and then the immigration to Israel. For Or it was the first time she had heard stories about the past of Esther. It was very interesting and she admitted that she was not speaking about the Holocaust, but when she realized it was important to unpack, she began to tell a lot. When we had to leave, Esther apologized for the hospitality (because her back was aching ) she did not get up to make us a drink as always.
Maya and Yuval: We came to Larissa earlier than expected, we have prepared potatoes, omelet's and salad.
We sat down and talked. She told us that she used to knit, and read books and seen the pictures of her family. We've determined that next time, we will knit together Caps .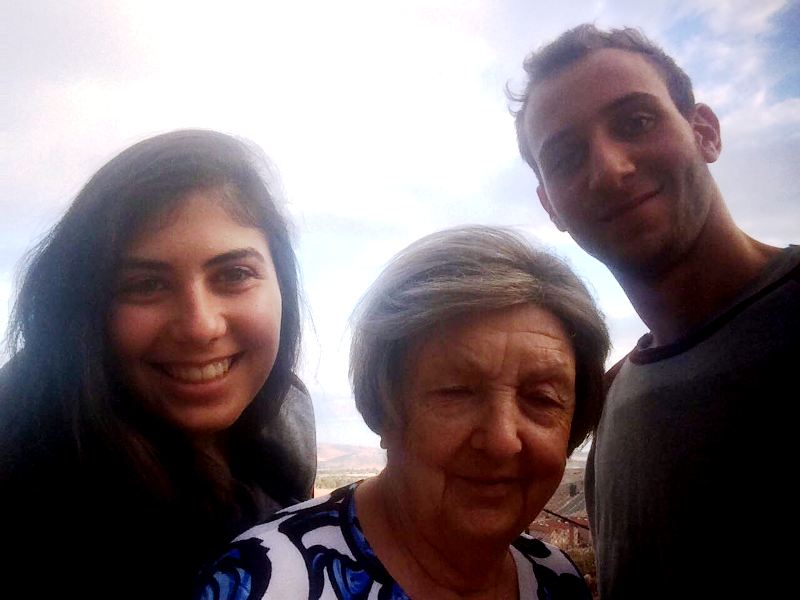 Larissa
Ofri, Gali and Gil: We arrived to Diamanta and Chanan. As always, they except us warmly. We ate lunch together, then she taught us a new game and (ofcourse) beat us. We spoke about Chanukah, and she told us that she went to her son's home in Herzliya to join his celebration for his new house ,and talked with her about housing prices and the gap of the prices. It was really interesting and fun as always.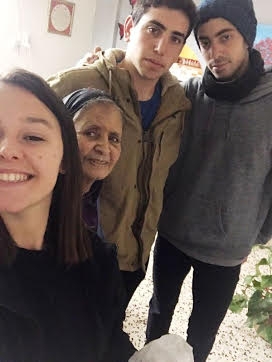 Diamanta
Maya: we arrived in the afternoon, we sat in the living room. Shalom told us about his past as a photographer. We saw pictures of his family and he told us about them. In addition, told us he was born in Tunis, and the country began life in Netanya and now he lives here in his apartment. He is very happy we come to him, and always calls us his grandchildren. He said that he is waiting for his grandson to be Godfather.
Or and Yuval: we arrived to Juli, and she welcomed us. We helped her to go home and prepared tea and coffee and sat in the living room. Two more girls came from the social security who joined us.



Juli

We had a real interesting conversation with her, she told us about her family and the kids and the grandchildren and great grandchildren, and her first work in hotels and then in the falafel shop her family managed . She told us something: "there was inequality, Ashkenazi was married only with Ashkenazi and Mizrachi only with Mizrachi. But now, they have leveled and mixes. A person is a person, no matter what origin or where he came from. " It warmed our hearts and said, she feels that we are her grandchildren, and she likes very much when we were coming.
Or and Yuval: We came to Lilian and Meir, and Lillian gave us cookies and tea. Meir felt really bad and stayed in bed. We sat on the couch and Lillian started telling us about her condition and Meir. She said that it is hard but she really have support from her children and social expressions. She still feels like she can't handle the situation, and she is very upset. She said she isn't going to fund a foreign work.
These are our words for this week,
Shabbat Shalom



Chanukah - wonders and miracles
December 14, 2017
Mechina Braam in Zfat
Gali Ofri and Gil : We arrived at noon and brought Diamanta with Chanukah donuts.
When we entered, we heard that she prepare food in the dishes, and it turned out that she had waited for us for lunch. We ate couscous and broth. She pampered us and we felt most comfortable in the world.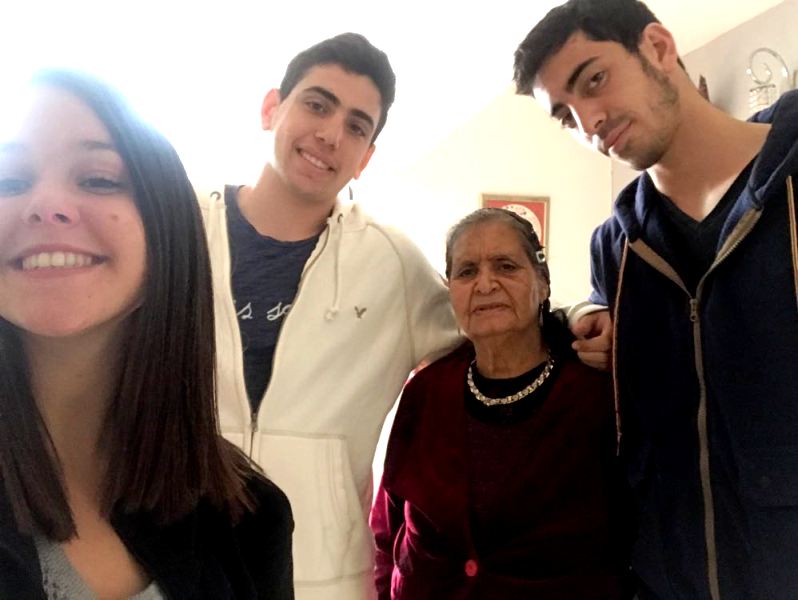 Diamenta
Afterwards, for dessert, we drank tea and biscuits and did Rummikub tournament. Mostly laughed and loved.
Afterwards, we jumped to Juli bringing donuts for Chanukah, and we wished her a happy holiday. She was very excited and told us to come as much as possible and that she loves us and her home is open for us.
Maya and Yuval : On our former visit, we cleaned Shalom's house which was very neglected.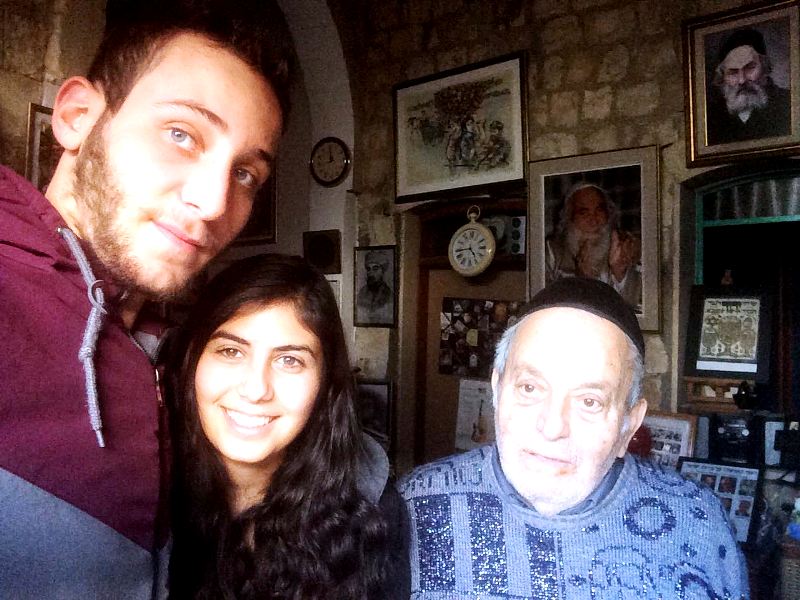 Shalom

This time, we took Shalom to a cafe in the square, near his house. We sat and talked and Shalom told us the story of his Menorah. He bought the menorah in Netanya, and lit her on the street. A tourist came and told him that he made a great mitzvah and he was glad to join the lightening of the menorah. Shalom spoke of his great love for photography, and showed us photos he took in the past . As we sat in the square was nice to see people recognize him and speak to him. We explained to him how to use a new phone he has received . He reiterated that he is very happy that we come to wish us a happy holiday.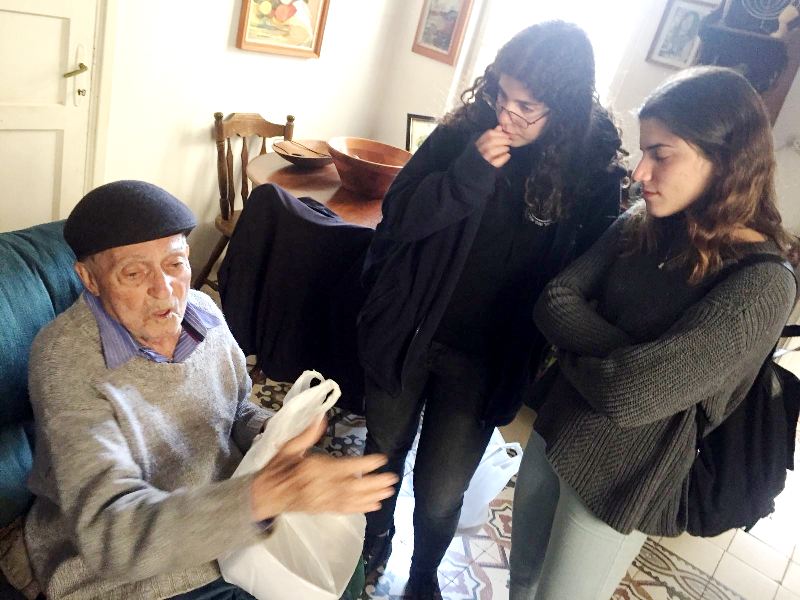 Eli
Ido Adi and Paz: Chanukah afternoon we came to Eli to wish him a happy holiday and brought him donuts.
He is very excited and it was fun to see our little effort makes him feel good .

Then we continued to Judith, she shared with us her past as a child during the Holocaust and told us that while they fled from the Nazis in the Holocaust (Tunis), they have lost one of her younger brothers. He just disappeared and she does not know what happened to him ... Then she told us about the period of austerity in the country, how hard it was when they immigrated to Israel and had to live in tents. She said that there was nothing to buy even they had money, and talked about the method of coupons which was then in the country that was equal and the excitement of Friday, they could finally, get the weekly chicken). Nothing was thrown away, even not a speck of food, and so all the food was much tastier because they appreciated it more. She told us about the daily difficulties she passes and on her experienced Chanuka as a child (they were preparing cakes, candles with wicks of cotton and oil, and really made a feast), in addition she told us about the "dry" period when they just immigrated to Israel.

Finally, we drank tea and Mamolim, of course we did Tournament with Rami. Of course she won mostly).
Or and Yuval: We came to Esther and she welcomed us as always with warmth and love.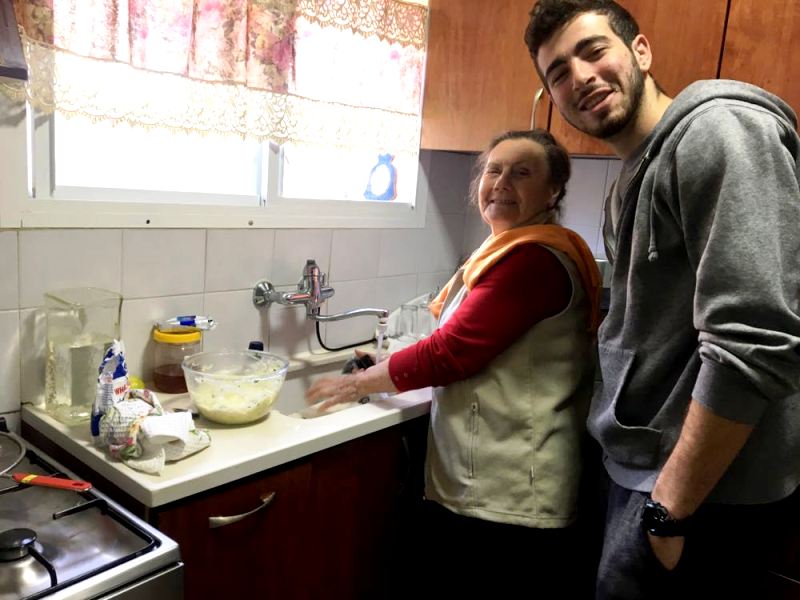 Esther

Then we sat talking, and she told us about her great-grandfather, Rabbi Yehuda Alcalay. We told her about the to come week of an archaeological excavations. She showed us a video, of a moving story about a Holocaust survivor. After whatching the video we started to prepare pancakes (of course before we arrived, we checked that we have all it needed). We read a recipe online, and Esther taught us to prepare it. We ate pancakes, Esther offered us other foods she has made. After we finished to eat, Esther made us coffe e and cake she baked. Our visit was very enjoyable for her. Esther really enjoy preparing pancakes with us and keep saying that she really enjoy our visits . We feel the same .
Milly and Tal in zfat, on service, visit Zippora - New winner about several meetings with her. We spoke with Zipporah mostly about her life. She told us that she came from Romania at the age of four and she lived in a kibbutz in a kind of boarding school . She met her husband when she was 16, and he was already 28. They married two years later, and she said that he was beating her all her life until few years ago, when she decided to get divorced from him. He has died after there divorce. She told us about her children and the problems they have. She talks a lot about the club and its experiences there .We talked about food and dishes, and she told us that she can cook everything so, we decided to meet again and sit on couscous and Brisket , which we would make together.
Next meeting , we ate lunch together, and we heard songs while she was singing along. This meeting was more lighthearted and happy. We talked about the need to be optimistic and happy in spite of what happened to her. To talk less about her past . We talked about her hobbies, the songs she loves and about old movies. And at the next meeting we decided, to see together in the film "Doctor Zhivago '' and to light candles as well. She is very open to us and we really enjoy going to her.

News from the North
Dear Friends,
On the last two weeks, many touching events has happened. Ibi , our dear Shoa winner from Kibbutz Neot , suddenly has passed away.
It happened on her sleep, very softly. That is a great blessing from HaShem, but I was in shock when Anat from the Kibbutz, has called me on
that morning. The funeral ceremony was at the same afternoon. It was not easy for me to say good- by to Ibi. She is one of the many shoa winners, that I have build- a special friendship. We shared many common things together. Three weeks before Ibi has passed away, her book about her life, that she worked for a whole year, was finished and were presented to her. Bless her memory.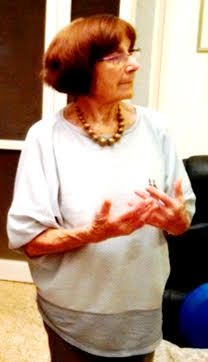 Ibi
----------------------------------------------------------------------------------------------------------------------------------------
Last week I organized a trip with the shoa winners from Rosh Pina and Chazor to kibbutz Kfar Hanassi. We made a little walk in the beautiful natural park, overlooking on the upper Jordan river and the Golan Heights. It brought to the winners many memories from the past. Israel told us about his part as a tank commander in the six days war and how he was captured quneitra in Syria. The students asked him many questions about the army. He said: remember! in the army never be afraid. Israel escaped few times from the gas chambers and from many other life threatening events. He learned this principle in the concentration camps very quickly as a child of 10 years old...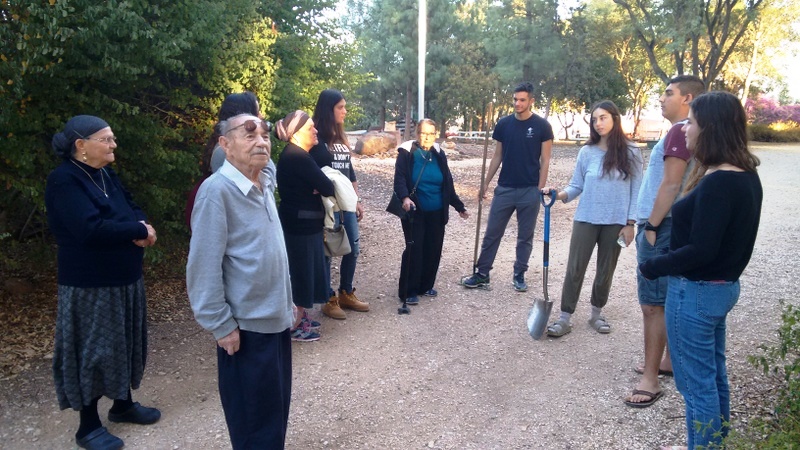 This week, we have celebrated G-d's miracles of Chanukah. The students from the mechinot Meitzar, Kfar Hanasi and Mayan Baruch celebrated with their shoa winners in Genosar, Chazor, Kyriat Shmona and Neot.
On all these places, the atmosphere was warm with fantastic connection.
We sang Chanukah songs, we spoke about Chanukah miracles, about our own miracles, we danced,we spoke one to one with the winners. Everyone was excited and satisfied. It was a dynamic heart to heart celebration of life and victory of HaShem. It happened that Israel from Kyriat Shmona had his 87th birthday.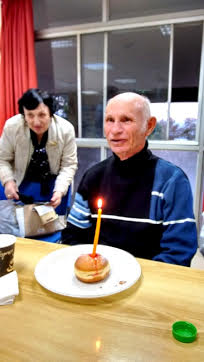 Israels' birthday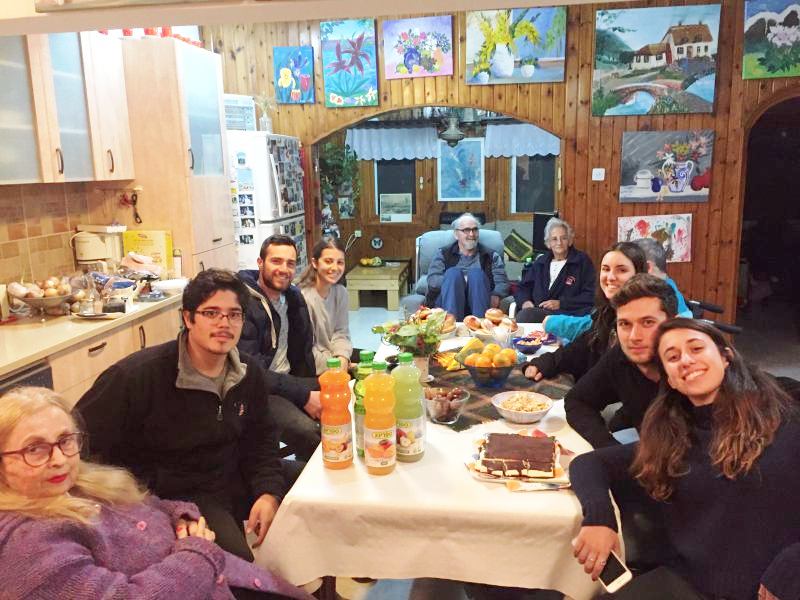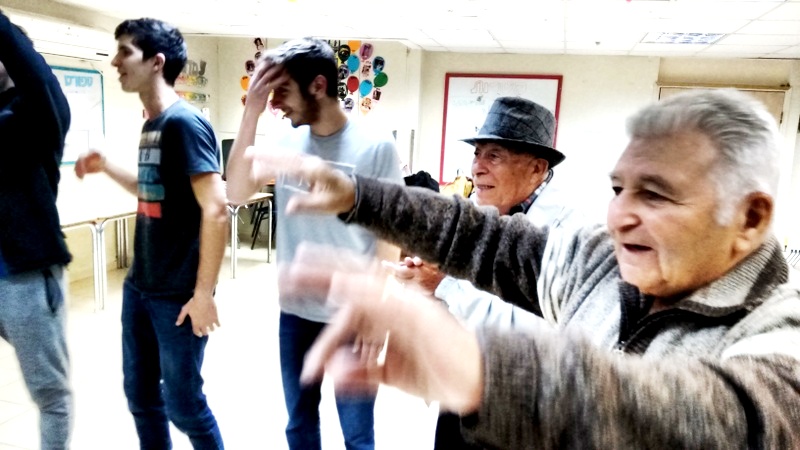 Anatoly dancing (on the right)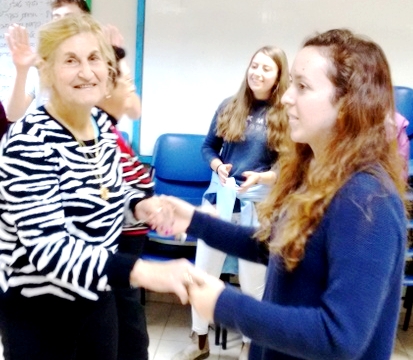 Bracha with Imbar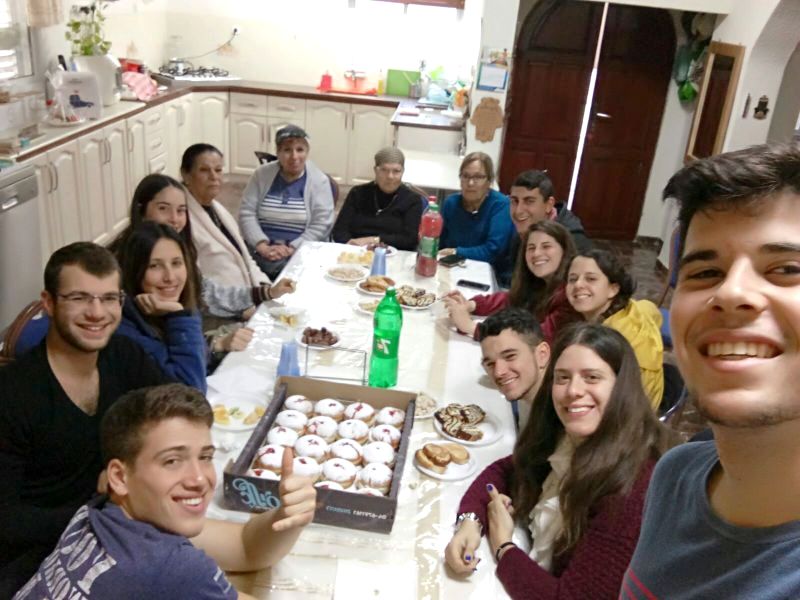 Chanuka in Kfar Hanasie

For him, this celebration had a double blessing.

Chag Sameach!
Timek

Modiin
Shir : Saturday I celebrated with Janet her birthday. We celebrated at home in the morning with charming girls. We ate breakfast together, Janet has updated about her family and told me about her birthday celebrations which were made as a surprise party and a day of trip to Rosh Hanikra. We also talked about Rozitzh whom she also loved and about her husband who has passed away not long ago- J'aston (bless their memory).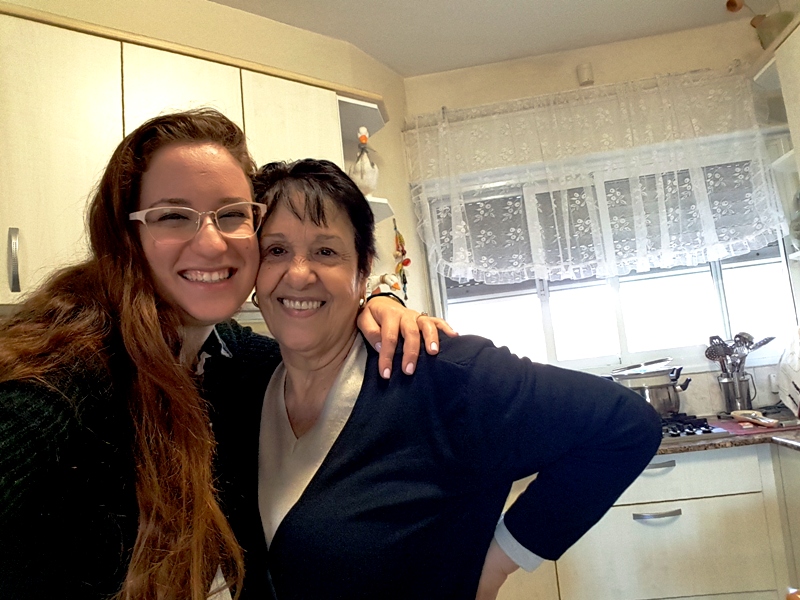 Janet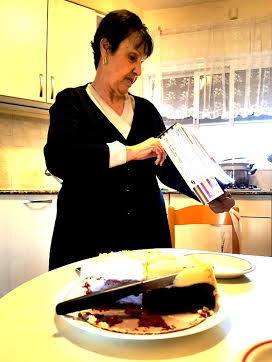 We talked about books we love to read, and we were surprised to discover that we have the same taste .
Then, I read my blessings for her birthday, and she was moved to tears. I also brought her a gift: an embroidered towel with the words: with love from Shir, wishing her that always she will use it - feeling my love to her. Also a cookie jar that symbolizes many visits and hosting as she love. We have really enjoyed and may celebrate together many many years .
-------------------------------------------------------------------------------------------------------------------------------------
Shir : Every one dies at the end. But there are those, who we believe that something like that will not happen. My Rozitzh was such a woman. The real Israeli super Woman . Despite and against everything, she always maintained a smile and optimism . A woman who always outstretched her hands, and had a crushing bear hug, and her kind eyes always looked into the heart . Almost all my visits to her we came to tears, whether it's laughter or excitement .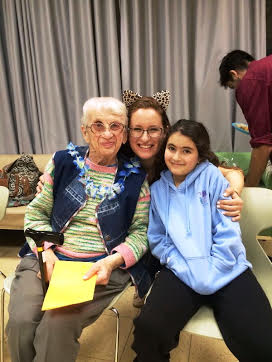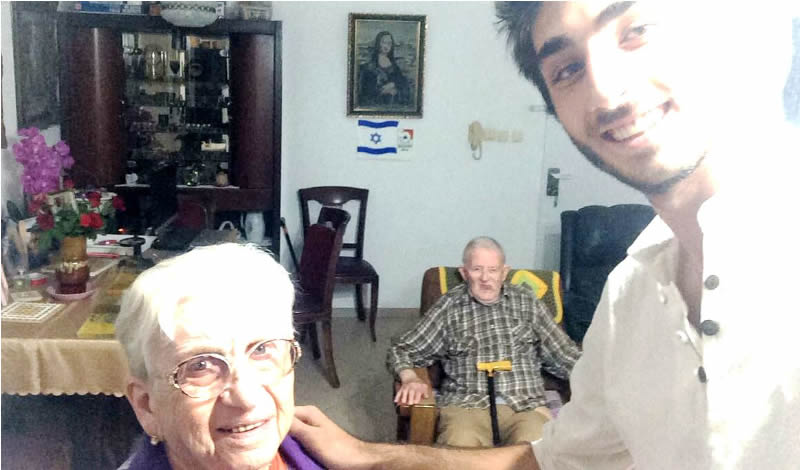 Rozizh

Rozitzh gone through so many difficulties in the Holocaust and in Israel, and always won everything, and was strong for herself and for others. Through these videos and pictures, which are also, three wonderful "grandchildren" of Rozitzh "L'Chaim 's " family, you will understand what is our lost in our world.
As a true Tzadika she went from us unexpectedly on Saturday. God must have missed the angel, who gave the world 86 years ago and wanted her come back to Him.
I learned so much from you. Our conversations about faith, about love, about family and our country. Actually, she taught me about love at being from the age 20 till 90. My biggest dream is to win the love as you had . It is something better than the love in movies.
I learned that you love the country, evaluate and learn to love our country, despite the difficulties and thanks to all the good in it. You turned to the younger generation and said, "We built this country and you take care of her generation".
I promise you, my Rozitzh, I would do everything I could, to keep this country you loved so much .
I love you, do not believe it's real, and already miss you . Bless her memory.
--------------------------------------------------------------------------------------------------------------------------
Pardes Channa
We were invited to Neve Michael for Chanukkah, to light the first candle, students and winners together.
We all gathered on Tuesday, the tables have been prepared and two students played with us, one on Saxophone, and Clarinet, and we joined in singing their tune.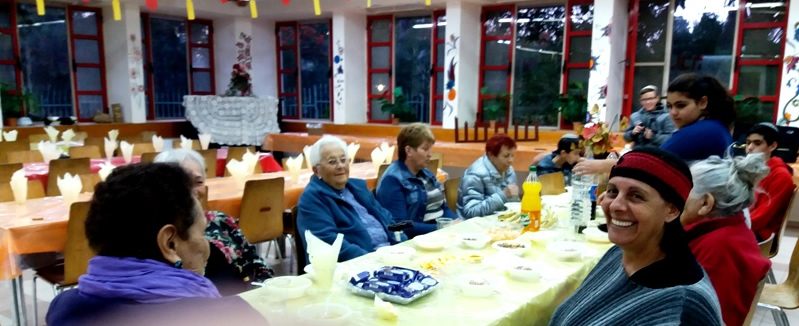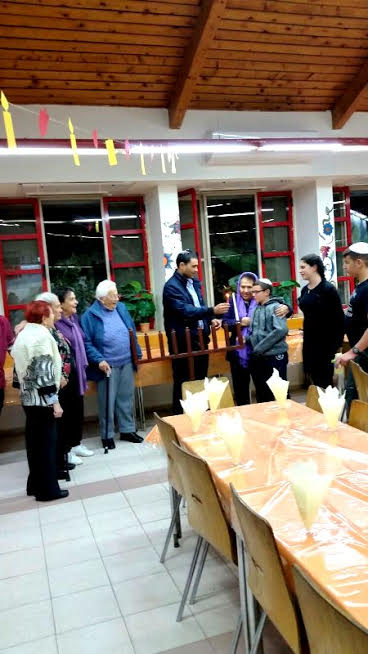 Lightning the candles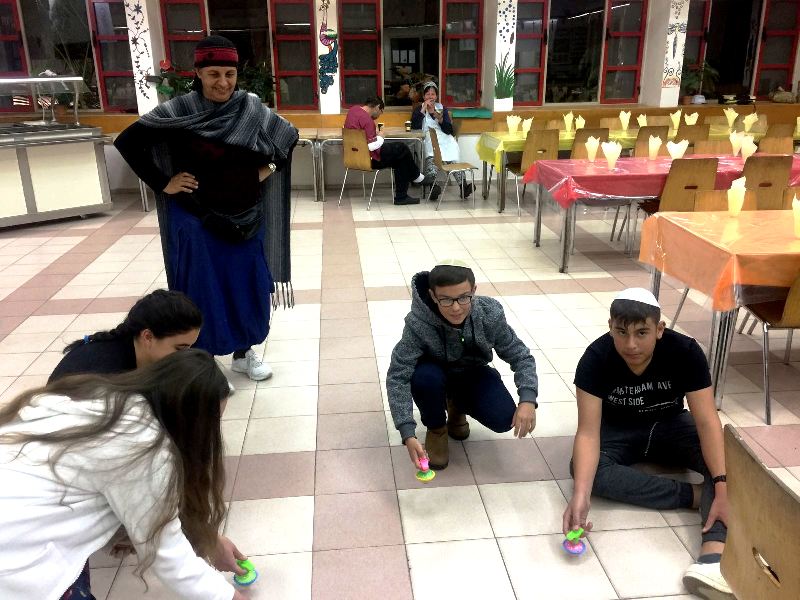 Dreidel tournaments

Then, we did a round of names, bringing the people to feel closer together, and helped ourselves with donuts and more. Then, we sat to solve quiz, contenting Chanukah holiday. Our dear Aliza solved the quiz. And then , it was the time to light a candle of Hanukkah ( 20 minutes, before the first stars comes out ).
Yechiam blessed and honored Aliza and one of the students, lighted the first candle of Chanukah. We joined and sang Chanukasongs. The peak was a tops round contest for the longest time of having the rounds, and the joy was great.
We parted after giving Chanukah gift, with hugs and thanks for the happy celebration. Lidia from Ein Shemer, also won to lit the candles
and our volunteer Chaya, followed her and saw the light in her face. Zvika on a recovery process, sends his greetings to all of us, and really appreciate our concern about him.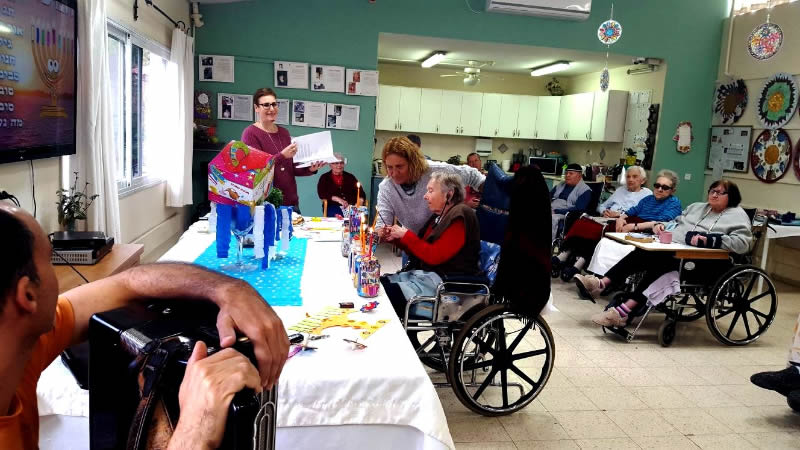 Lydia, lightning the firs candle
Our friends who could not attend - will get our visit with the gift for Chanukkah, and I want to add my greetings for happy festival of Lights!

Rivka


Students from Modiin visit at Chanuka
Efrat and Rachel: at the beginning of the meeting, Svetlana told us how she taught herself Hebrew before she immigrated to Israel from Ukraine, and she was very worried that she and her husband did not know the language and will have difficult to handle the life in the new land.
She said that her husband Dmitri didn't want to learn Hebrew and she put him notes at the sandwich to encourage him to learn a little. We also talked about areas that Putin took from Ukraine. Svetlana told us that at the w.w. II, Dimitri's family fled to Uzbekistan and there, they were very nice and gave them a place to live and clothes. When she was about our age, she competed in chess in Ukraine.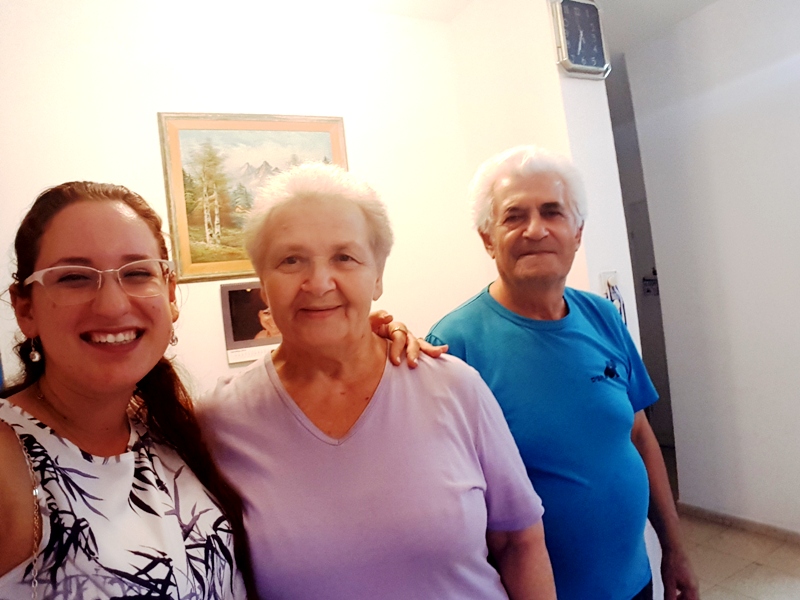 Shir, Svetlana and Leonit
Ophir and Yael : We arrived to Janet to celebrate and lit Chanukah candles. After eating , she told us that she did travel abroad with her family and the grandchildren.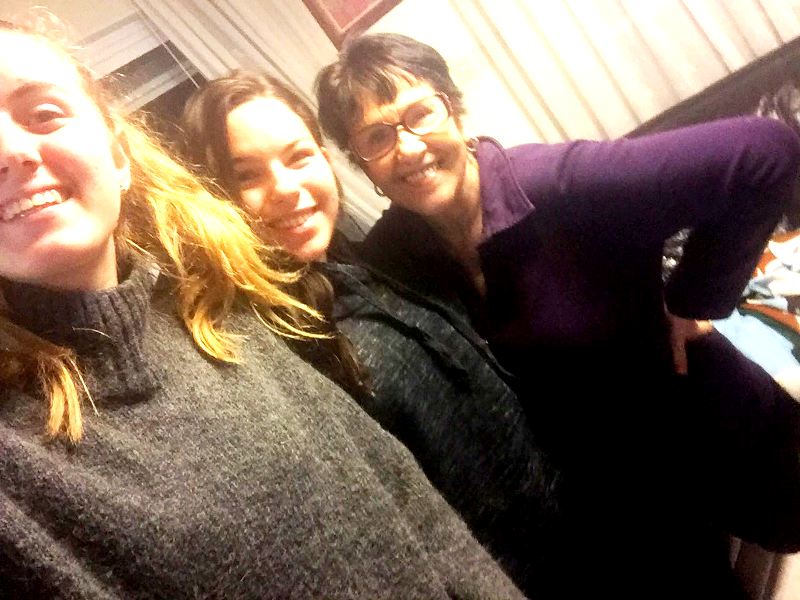 She also told us that she had good friend from the first grade till the end of high school and they both, failed at math and not long ago she discovered that this friend became Professor of mathematics and she told us that she really loved the book and the movie : "Go on your own way".
Yael and Noam: today we visited Chemda. She told us that when she was a kid, she jumped from a height of two stores, climbed a rope and threw something that was never found. We talked about snow and she told us about her travel experiences in Switzerland and Scotland.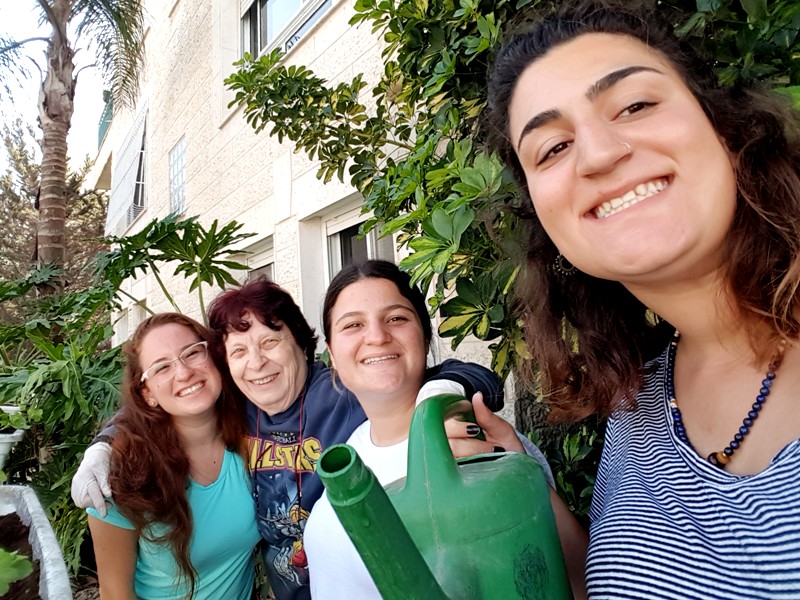 Chemda
Shir, our Soldier : I celebrated the holiday with Chemda. She told me with tears, that this holiday was special for Jacob (bless his memory) and her. They had Chanukaparties friends waited for. It was a visit filled with tears of excitement. Jacobs' loss left in her heart a huge hole . She was so happy that we came to visit her . She is alone, because she has no children. She is strong with a fabulous sense of humor and it's really great fun to talk with her and listen to her stories.
One of the stories she told us was the very close relation between Jacob and her. One was playing a song and the other was suddenly beginning to sing the exact same song. Or Jacob was at the grocery store and she found out at home that something was missing. It happened that they found out, back at home, that he bought what she needed. They understood each other sometimes without words. It made me sad I never met Jacob.
Finally I went to Shulamit and her daughter Ilona. We talked about preparations for a family gathering to be held at their home on Tuesday. We talked about how 'you never know what a person keeps someone busy in his mind and what he carries on his back'. We had great fun. I was happy to see them and I already miss them.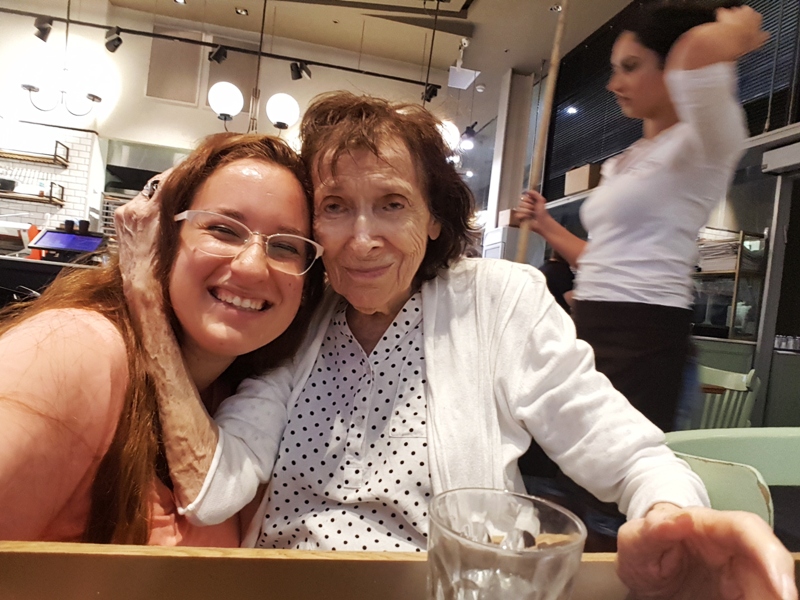 Shir and Shulamit

Zfat
Shir and Ido (the soldiers) went to celebrate Chanukah with some of our winners. We started with Meir and Lillian who were very excited that we came. Meir is very weak. His family takes care of him devotedly in spite of many difficulties.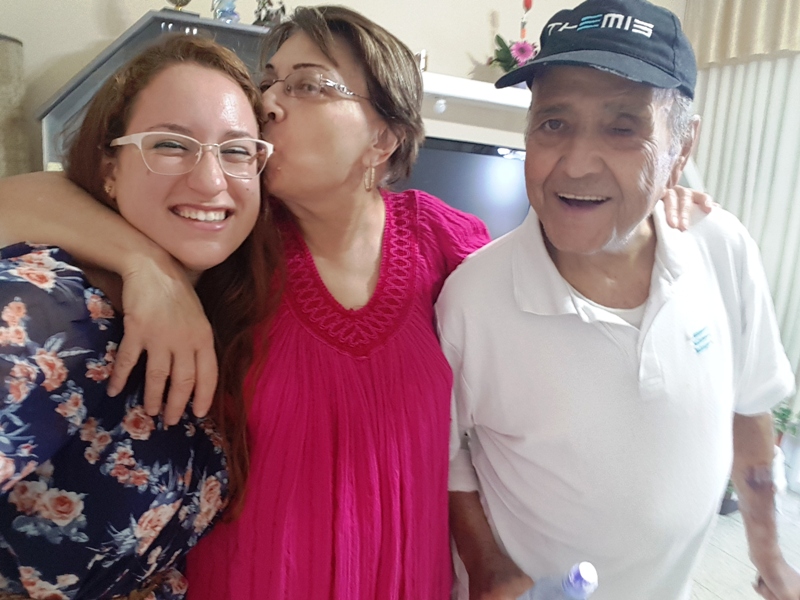 Lilian and Meïr

We sat in the living room , in front of the window watching the sunny Saturday and he was very happy. They haven't stopped saying how much they appreciate our coming and how much it helps. I spoke later with Meir and told him that he must be positive. Lilian told us that Meir is depressed and suffers from nightmares from the Holocaust , dreaming about his mother and brother. I mentioned to him that he always told me and my friends every time:" when it's hard, we need to stop and think what to do to get better and how to deal with the situation", and told him that in his situation he must do the same. He said that I am right and assured me that perseveres in the Physiotherapy, even if it is hard and he has no power. Old age is really hard sometimes, and it is so sad to see people you love in this situation...
Then we drove to Esterke, who does have a few diseases and a lot of pain, but now she was in her best, sat and laughed.
We didn't meet such a long time and missed each other! Esther said that she have very good time with the new visitors, and still maintains a good relationship with Ran and Uri from last year. We talked about Chanukah and the good things of life and family and love. When I served in Zfat, we used to come to her from the cold weather, entered her house, with full of warmth and love. She is also was so glad and told me that we lit up her day.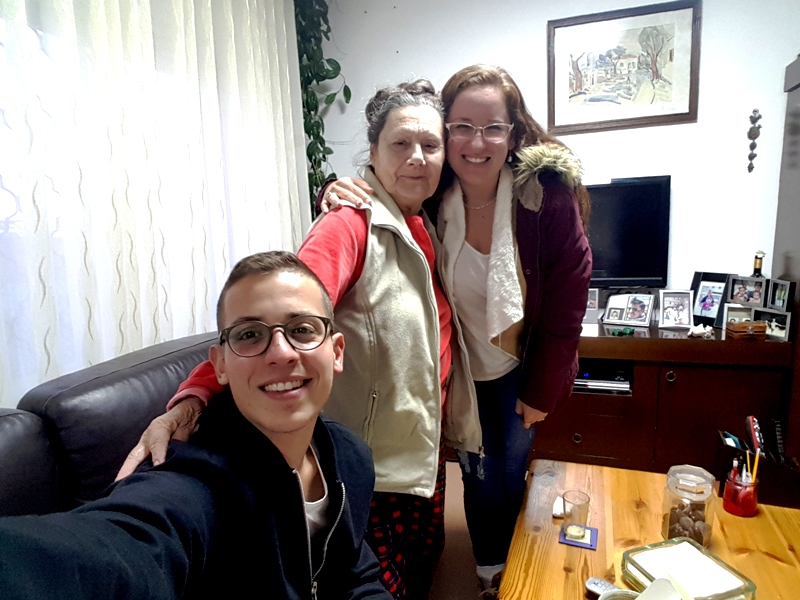 Shir, Ido and Esther

Finally, we drove to Shalom. Because it was Saturday, we couldn't call and announce our arrival, and unfortunately, missed him because he was in the synagogue. We left his box full of fruit and vegebles behind (donated by someone from Modiin). When we called, he was disappointed that he had missed us. Hopefully we see him next time.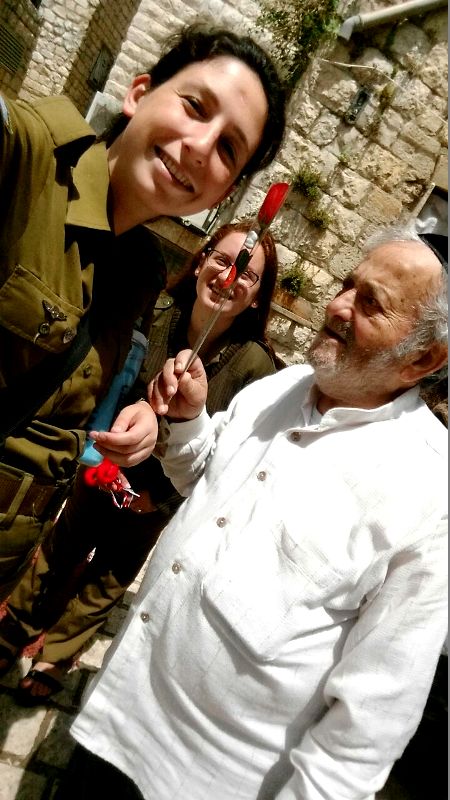 Shabbat Shalom !

Shir en Rivka

The destruction of the Tower of Babel - Building a tower of light
November 16, 2017,

In honor of precious "L'Chaim" ! (A letter of Chagit of November 11, 2017 )
I want to thank you on the behalf of my father and my whole family, for your stepping up to help my dear father Meir Bagauvi, with your fundraising to buy an expensive drug that is not in the health basket.
This drug , help and ease the suffering of my father . Unfortunately, recently he has lost his ability to see and turned to be blind.
Lovely Shir ! Thank you for initiating the move to help us. You are part of our family and one of the granddaughters of grandfather Meir.
We hope for more donations, for my father, who helped so many other people in his life.
?Good luck on your actions .
A huge thank you,
Chagit (Meir's daughter).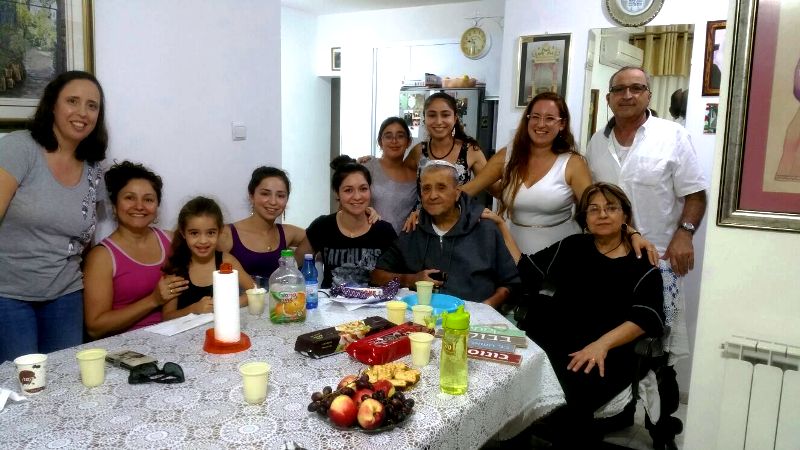 Mechina Baraam visit in Zfat
Adi Paz Ido: we came to Eli and as always, we were greeted warmly and with his typical smile. We spoke about his life story,
and concentrated mainly on the story of a him as teenager, growing up in Hungary. He showed us on a map the hometown and the points he was passing until he came to Israel. He spoke with us about the period of the three years, he spent in the prison camp, where they were six Jews and other people were Nazis, and he also spoke about a new perspective on the Nazis and the relationship they had between them. We also talked about the time he was in the labor camp and what was his job and where he had the difficult period . At one point, two guests came to Eli, and after they left, he told us that they were as probation officers, and continued to tell us about his loneliness after the death of his two brothers. Ido, played for us on the piano, and we talked about culture, musicians and theater. He also told us about his childhood in Romania.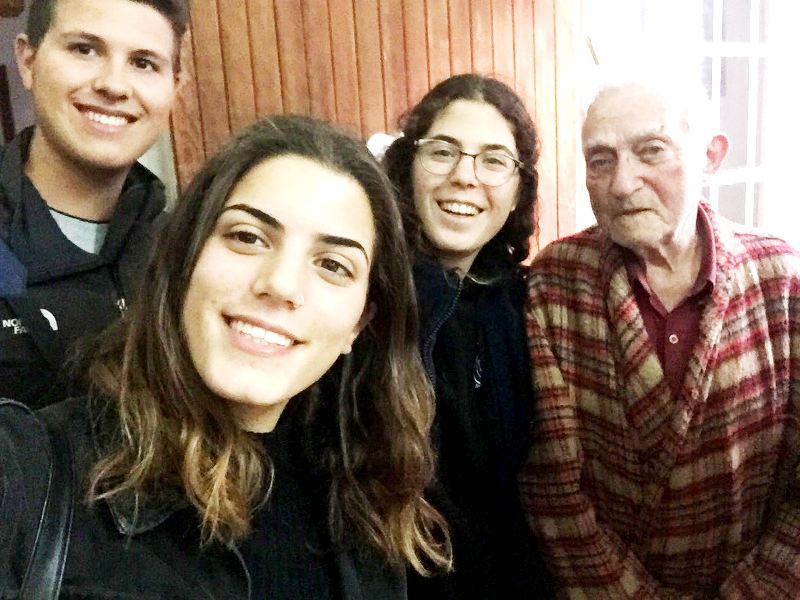 Paz, Iddo, Adi and Eli
Ofri, Gali and Gil : We arrived to Diamenta and Chanan and drank tea. She took a plate of cookies and we realized her generous heart that we always feel warm feeling in her family and she always makes us feel as comfortable as possible . We sat and played Rummikub, and we talked about the Tripolitania food , and planned to lunch together. We sat and laughed together and left her in a good mood .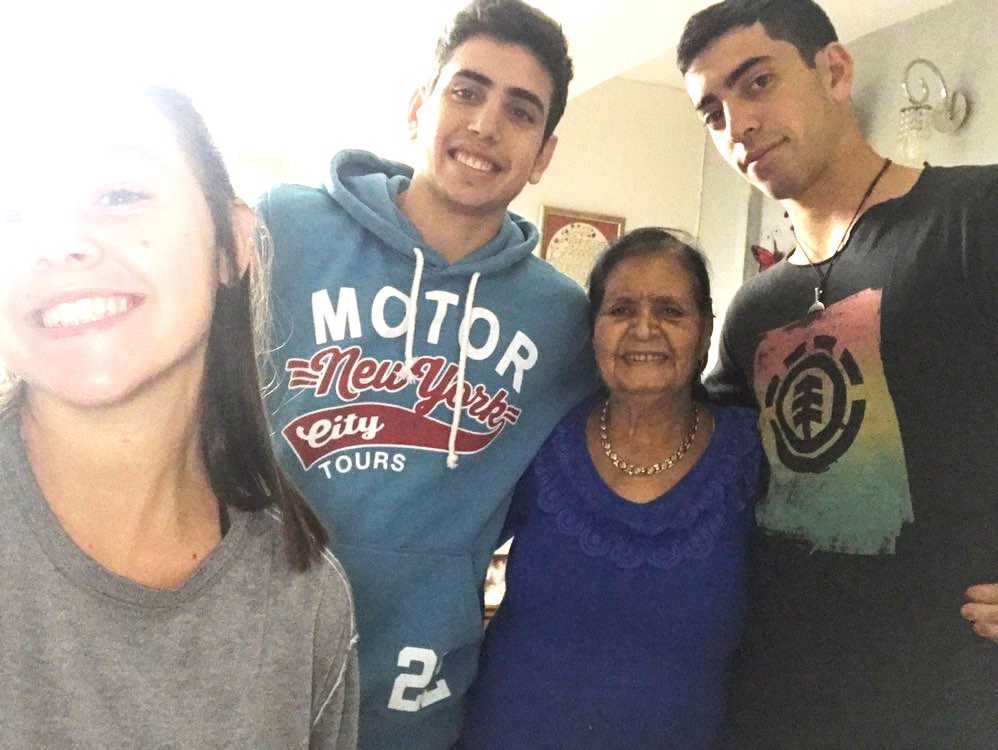 Ofri, Gali, Gil and Diamenta

Maya and Yuval: We came today to Larissa for the first time, to her home in Nof Kinneret .
Larissa entertained us kindly and lovingly, made us tea and apple cake and other refreshments . We overcame the language barrier (Lrish Dobrt Russian and some Hebrew) but along with Russian-Hebrew dictionary, hand gestures and objects from home, which made us able to understand her each second . Larissa told us about her family, and about her work as a teacher in Ukraine . Larissa feel alone since her husband has died, so she was very happy that we came .



Maya, Yuval and Larissa
Modiin
Nadav: when I saw Rositza, I was glad to see Mickey. Unlike most times, Mickey was more consecrated than usual.
He listened and understood. Because of the terrible disease of dementia, most memories is deleted, and the words that he can response is OK and thanks. Rositza and I, talked about the Holocaust and the story of Mickey. When I asked if Mickey remember the Holocaust, he said he was from Austria (Rositza added that there was a work camp for manufacture of a brick) and after that, he went to Treblinka. When she said this, Miki confirmed and said "Yes. Mickey didn't remember much more than that, but said "well, what do you want? I'm 90 years old... Rositza then, told me about the ship on which she and Micky made the aliyah (in Hebrew, the name of the ship was "running"). The ship was loaded 2/3 more people and had over 1500 people. The ride was six days, and the ship sailed on the birthday of rositza's mother. She remembers when the boat, reached the port of Atlit and a passenger pulled out harmonica and began to play the hyme of hope' and everyone stood and sang it . Rositza also told me about a girl from her family (my age), who was on a trip to Poland. When she was in Auschwitz, she wanted to find information on Mickey's mother (who has died in Auschwitz). She called her father, and Rositza, and they gave her guiding instructions how to find Mickey's mother. Eventually, the girl couldn't find her. Chaya Schwartz was murdered at the age of 44 at Auschwitz. Rositza added that whatever it says, they also killed the baby witch she had in her belly. It turned out that one of the prisoners, told the family about their mother's condition when she arrived to Auschwitz. This facts, could be heard by the people who were witness and could tell them.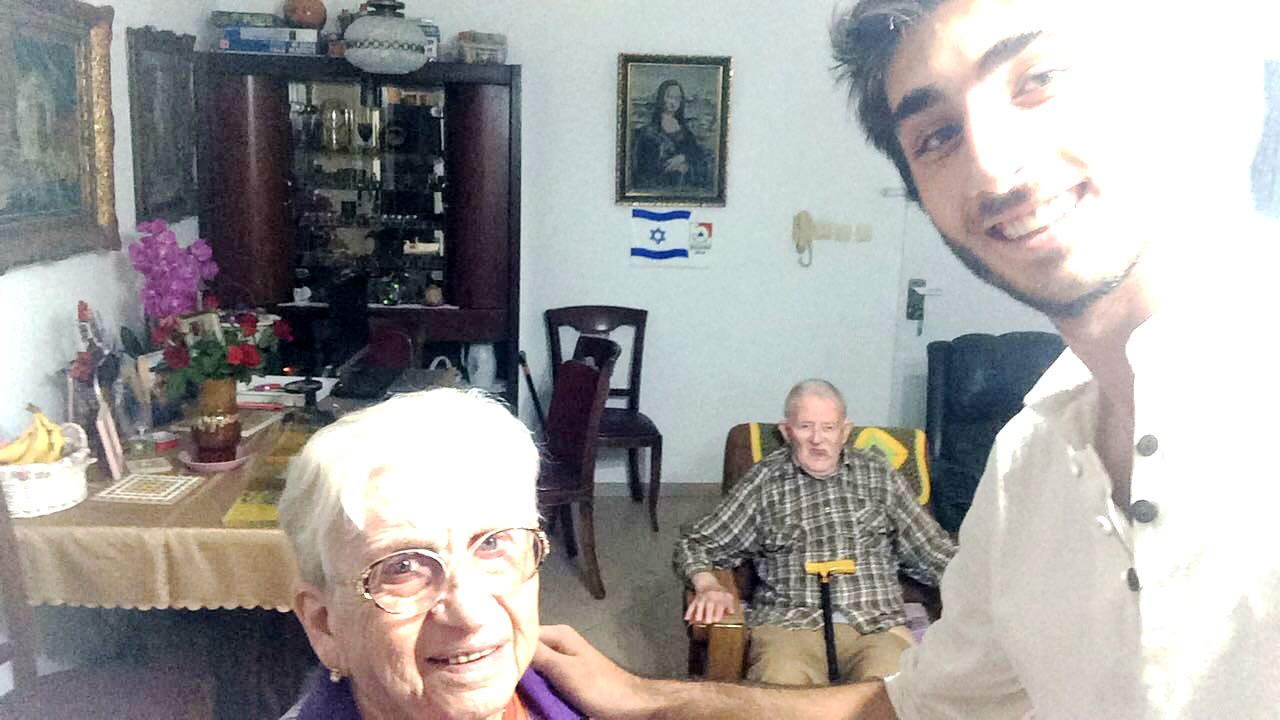 Nadav, Miki andRozitza
Yael and Ophir: arrived to visit Janet. She was really sweet and made dinner for all of us and she told us all kinds of stories and was very interesting. She talked about her kids and that she has a son with two prosthetics legs and all, and all tours and groups is going to.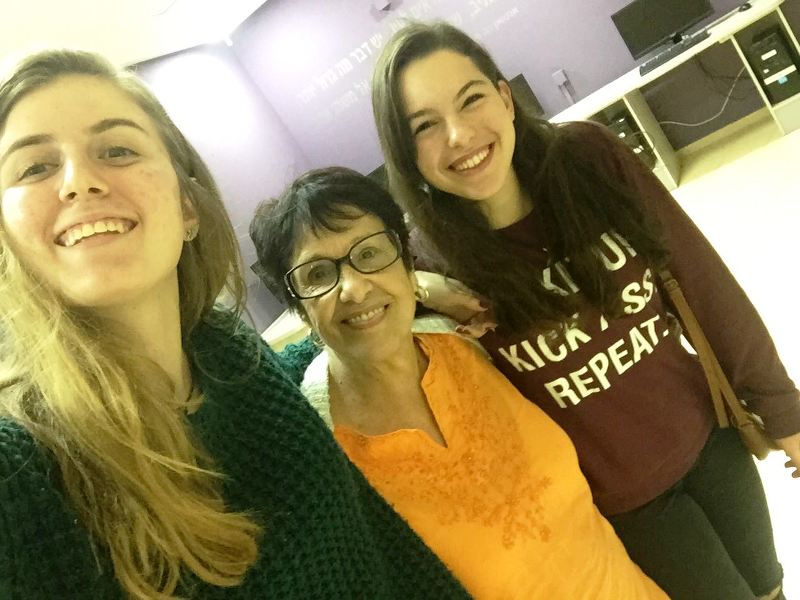 Ofir, Janet and Yael
Noah and Maya : First time that we visited Chemda. We were very happy that we could stay long enough to talk with her and to know her better. She showed us her garden, where she told us that she really likes to take care of plants, and write and showed us a binder, full of poems, written by her for her husband and about him. We sat, and had tea and cookies. We talked a bit about religion, and about her husband, who turned to be religious. We continued to talk and she told us about Yankele, and things they used to do before he died. She told us about his last month's, which were spent mostly in hospitals, where they were not always with good attitude and even about extreme casual which stirred her. We agreed that next time, we'll speak about more optimistic subjects.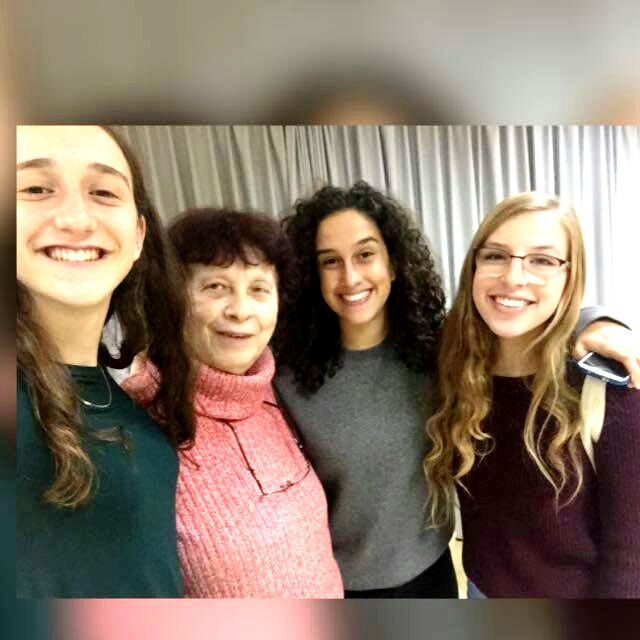 Chemda, Maya, Noya and Yael

Noga: I visited Eli on Tuesday afternoon, and this time he was surprised by a visitors from Australia that he had not seen for a long time.




We all sat together and I heard old stories, when the main story was about an Australian officer who came to Zfat in World War II, to search his family . As usual to my surprise, he left with his sharp humor and smile, and I am looking forward to our next meeting .
Mor : When I started visiting Diamenta and Chanan, I did not know exactly what to expect and I volunteered to do so out of a desire to have another layer of my military service.




Very quickly I felt that I am waiting to my "volunteering" or "contributing" for the day when we can see them, and soon, that day became what illuminates my service. We ( me and Leehee) increased our visits earnestly to be there as much as possible to have as many visits before finishing our service. The visits are my bright spot during the week and I feel I've earned a lot more than I contributed to this very volunteerism. Hope to visit in the future and really glad I got the privilege to take part in this project .
Shir: When I came to serve in Zfat , I saw all kinds of projects offered us to do good by helping students with homework, kids club and more. And thought, 'Why not bringing here also the special project of our : "L'Chaim". Zfat family today includes Mchinistim, service members and soldiers of my base .

News from the North

The students of the mechinot got connected with their hearts in the "L'Chaim" project, visiting the shoa winners in their homes on weekly basis in Kibbuitz Neot, Ginosar, Kiryat Shmona, Rosh Pina and Chazor. And this year also at the Elderly house in Tiberias.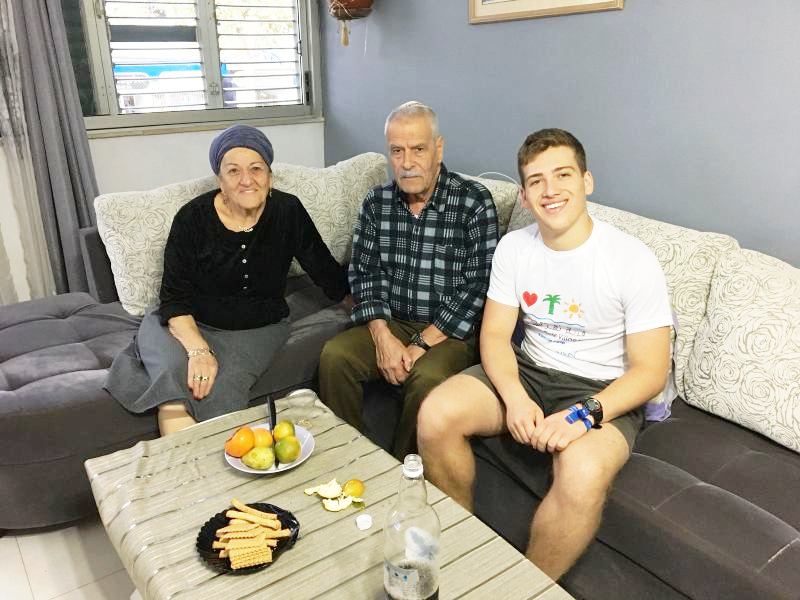 Nitzan, Michael, Esther and Chazor
The winners love them and receive them with smile and love, into their tiny houses. Together, they celebrate their weekly moments together. Touching each other hearts, getting into the stories of the winners and also into the stories of the students and their plan's for the future.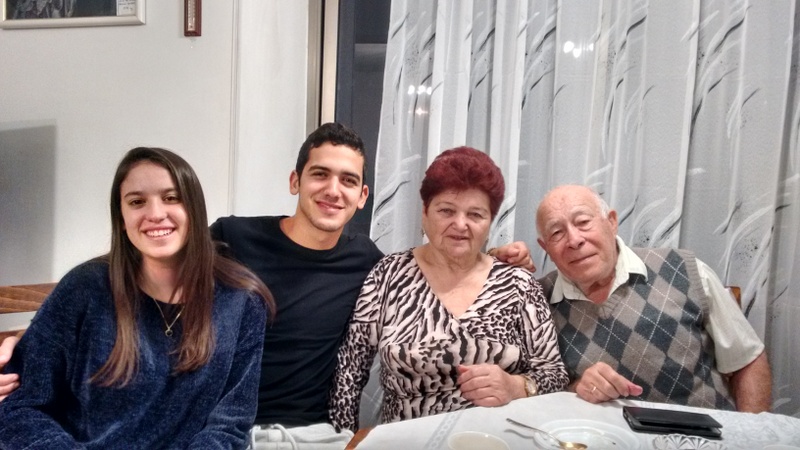 Klara, Mordechai and Adi
Each year, a new bridges between the young and old generation is build. Many students from the former years, continue on keeping contact with them, wish them a peaceful Shabbat or visit them while traveling in the area.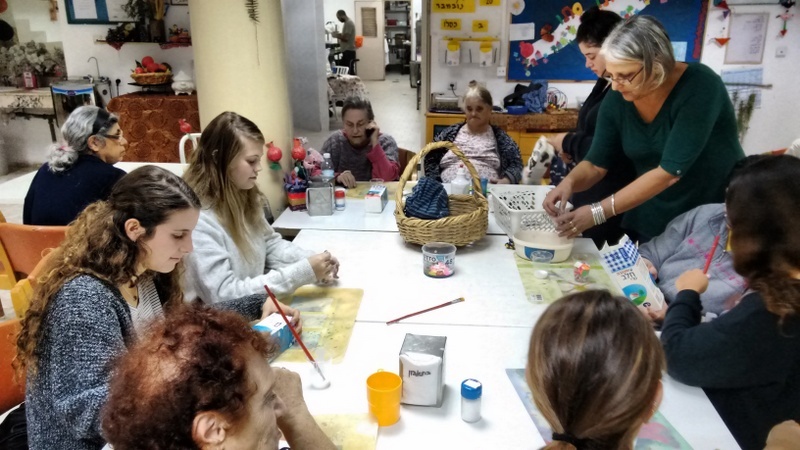 Also in the elderly house in Tiberias, the students settled and bring light to the people there.
They play chase-mat, talk and work together on the channuka project. The students are highly motivated and have a great desire to make difference in their life and to improve their life experience.
In Kfar Hanasi, the students have started on the "Shvil HaChaim" : The path of Life.
This path will be dedicated for L'Chaim, soon on Too Beshvat (January 2018) when we will plant there, new tree's together with the winners. Next week, I plan to bring winners to work on this path of life, together with the students.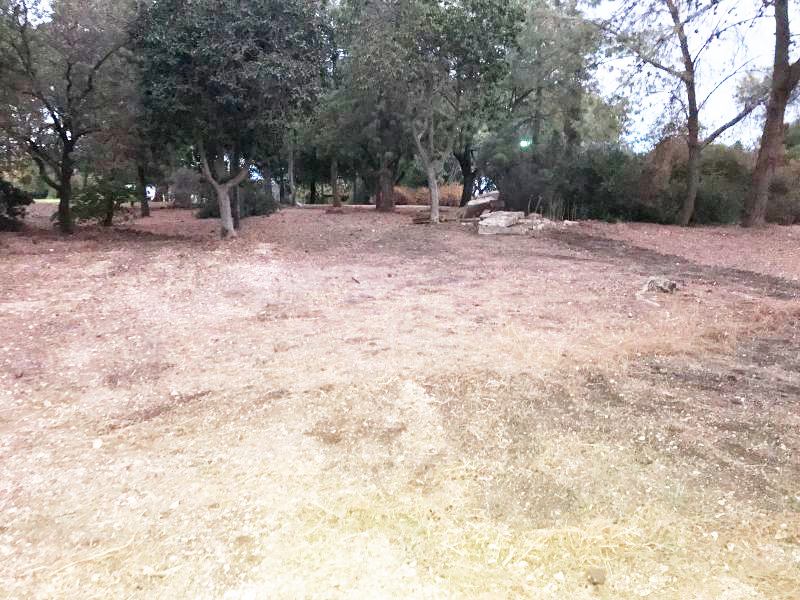 Path of life
Enjoy the pictures, that speaks instead of 1000 words. Lehitraot - Timek.
----------------------------------------------------------------------------------------
Pardes Chana is renewed!

Unfortunately, we had to be separated from some of our winners (bless their memory) , and we experience and meet new people, and their stories are exciting, and very different from those we have met before. Jona(see her pic.)met us at her house, and expressed her joy for our arrival.

Shir-El: This is the first time I meet a woman from Yemen and hear the story of her journey from Yemen as an orphan, who came to Israel when she was only 10 years old, married to a 14-years old boy. It was a situation there (here is their photo). Dina was born in Casablanca (Morocco), and recently suffered a stroke and became very limited in her movements, but her head works fine. She came to Israel already as a mother for 5 children, and here she gave birth for another two boys. She is very brave woman, who is dealing with severe economic distress but survives and makes everything, out of nothing !!! and never complain. An amazing woman.
We are going after Chanukkah, to begin adopting people from Kibbutz Sdot Yam, and we believe that the meetings between Neve Michael with those elders, will be very fruitful.
On our visit Yeshayahu, we led a conversation about the Holocaust and what was he doing here in the country. Ofek: My heart is so glad on seeing the survivors so happy when we come. Jonah also happy to receive us.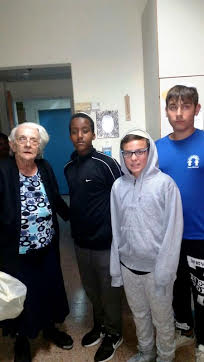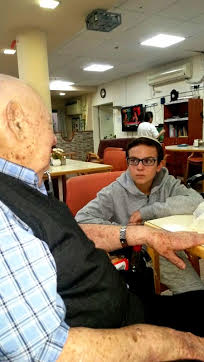 Jonah and Yeshiyahu (to the right)

We came to Zipporah to say goodbye, before leaving to the memorial of her sister. She is invited by her nephews from Budapest.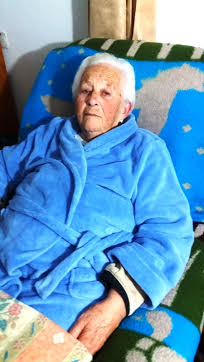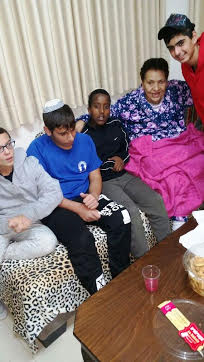 Gizela and Aliza (to the right)
Gizela met us, bereaved painful and quite desperate because no drug can give her cure or even being less painful.

Shulamit, is so happy for our visit, and talked about the trip she experienced the day before, and how she was.
I believe that the next meeting, which we are going to light the first candle of Chanukka, in Neve Michael, where the students are going to host.

Sincerely yours,
Rivka

Modiin
Shay Ariel Noam:
We arrived to Shulamit and I think we all, were excited and did not know what to expect.
We met her and her daughter and sat together in the living room then came also her grandson , and even saying that she don't have such mood in this times, we had nice conversation and it helped that her daughter and grandson were there . We told them about ourselves and they told us about themselves .. Shulamit told us that she came with her family to Israel in the early years of immigration . Her mother was very big Zionist, and her father did not want to go to Israel .. It set a condition immigrate to Israel and the whole family came. That way they also survived the Holocaust .
Zfat
Kal and Emily: It was really surprising for Zippora. First of all, it is really not how I thought it would be, She was quite happy that we came to, and spoke and laugh. But it totally felt (Dekel and I) that she is alone; And it quite "finished" us. She just talked and told us about her life, her children, her husband the situation is now alive and constantly repeated that her life these days are not good at all..... having permanent tear in the eye. Anyway we are very happy to know Zipporah and hope to meet her again.
Pardes Channa

Ein Shemer

I visited this morning Lydia and she was very excited and told me that this week, visited her Dentist and decided to give her treatment that she needed. Also, she had physiotherapy treatments, including walking, and it gives her a good mood. In short, she is very satisfied.
Shabbat Shalom,
Chaya

Pardes Channa

Zvia with three boys came to Soham, and met Yeshayahu, and the boys began to ask him how anybody could not kill Hitler to stop this terrible holocaust. Yeshayahu actually, listened to the explanation of Zvia , that the uprising happened and There were attempts to resist but they were not effective enough. Yeshayahu feel lonely and was very happy and pleased with the visit . Jonah, also always greet them with an excitement and share with other members the meeting with her visitors. ? The final station visit was at the house of Aliza.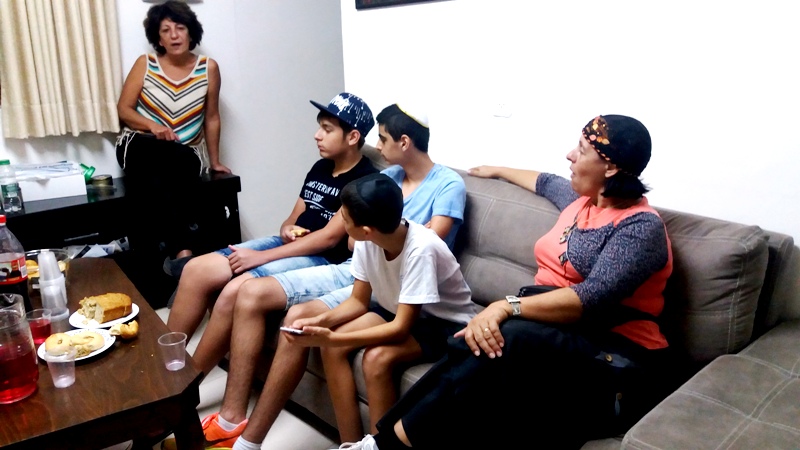 Aliza, Zvia, the boys and Aliza's daughter

Rivka: the two girls, really took part in the visit. We started with Zipporah, and saw the neglected garden which need, already for a long time, to be taking care by collecting all the dirt that has accumulated there for years. The girls offered to take care of the garden.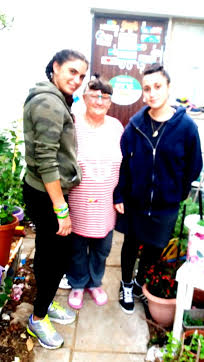 Zippora

From there we got to our dear Shulamit , who received us very warmly with a delicious drink. We sat and listened about her grandson's wedding, which was a week ago and what was happening to her health lately. We suggested that she even begin to do something to her big yard of her house. The girls happily expressed their wish to help her with this matter. Gizela was with a great joy.|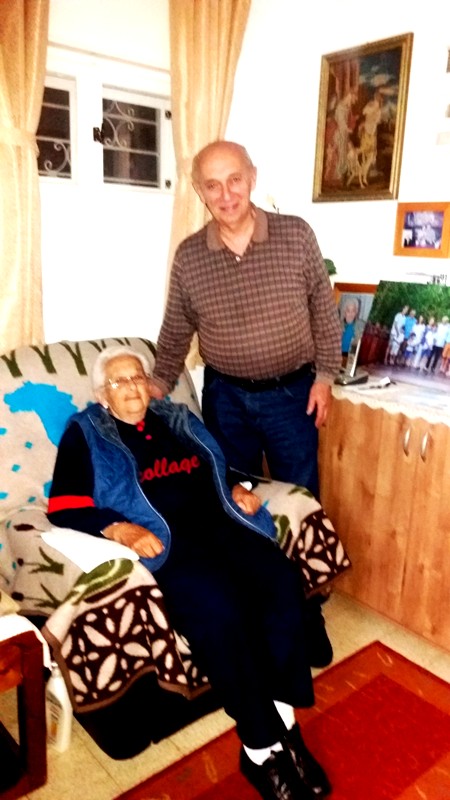 Gizela with her son

Her son, who works in the United States, came for a two weeks visit in the country and we met him. There was tremendous excitement. We already spoke with him on the Skype and seeing him was exciting. Gizela, was dressed and with a very good mood. We offered to arrange someone to write the story of her life, and she expressed enthusiasm for this idea. Aliza, with warm hugs and always having something to hear and be heard.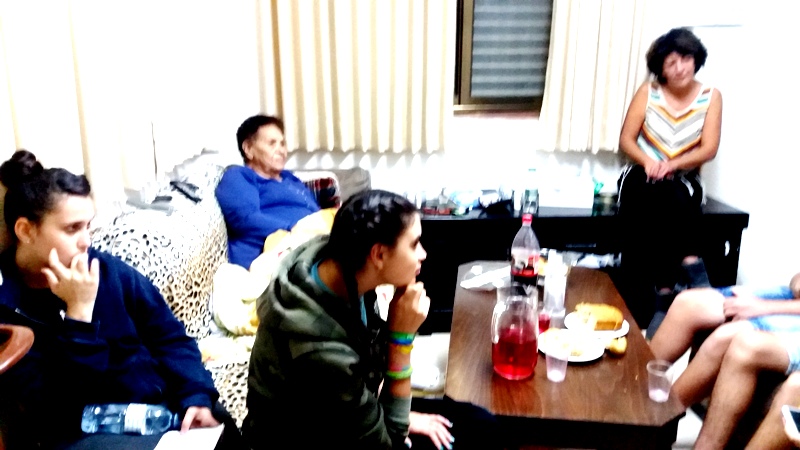 Aliza with her visitors
In a conversation with the girls, they told me they really like to come and visit because they feel they are doing something for the benefit of others and this is a great commandment. there is a say : Trust on the seeds you have planted.

All the best,
Rivka

News from the North

Genosar

Zelma is so happy that Yuval and Lior come every week visiting her. She tells them her life stories.
Eli-Ram enjoys as soon as Gali and Boas enter his tiny room. He just finished his new paintings and gave them to Gali and Boas to express his appreciation for their visit every week. Gali: We had a great time visiting EliRam. We can't wait till the next week! Eyal: Hi Timek, Batya didn't feel well, but we encouraged her and it was very fulfilling.

Rosh Pina

Rachel didn't feel well, but was happy that the students came. Rachel doesn't speak much, but her expression about her feelings speaks for itself. She hugs us and is full of love. Chana loves to talk about her family and her life. She is the 18 generation living in Israel. Her ancestors, came from Spain and settled in Zfat. In the 13th century.

Chazor, Yaffa, Bracha, Ruchama and Mina await the students with open arms. Mina started her chemo-therapy and experience very difficult times . Yaffa is recovering from her falling. Her arm is healing.

Neot

It was Rachel's birthday. Rachel became 93, but she looks much younger. We had a wonderful time. The students brought her flowers and a cake.

K.Shmona

Klara & Mordechai, Rina, Israel & Ludmila, Rachel, Bracha all enjoyed the visits of the students.
They feel that we all, care for them and that, gives them strength and happiness. Omer: We had a great time with Rachel.
Bracha's son, called me another day, and expressed how much Bracha appreciates our visits.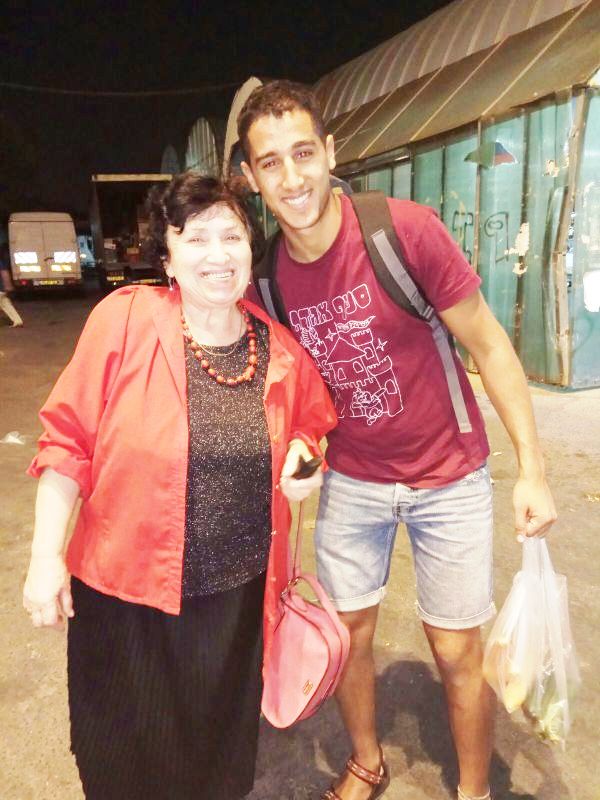 Ludmila

Greetings and love from all the winners!
Timek
Shabbat Shalom!

Marvelous visits ... a river of life!
November 7, 2017, Cheshvan 18, 5778
Dear friends!

This week, we met a great challenge: to assist Holocaust winner, who can't effort to pay for an elementary product called medicine. All of us enlist to this task, and on the top precious Shir . This is the place to tell a little about the project of light - called Shir. To remind, she is a soldier and Commander in the army, which means simply, that time is not the commodity in her life, and here is the great miracle, when a top priority of giving and caring for others. And amazingly the sentence : "At a great distress , I expanded to you." And Shir, organizing the forces of light and love, which are part of the vision of "L'Chaim", bringing to so many dark corners a wonderful light . Thank you Shir, for what you are and who you are. I pray, that we will meet, more lights like stars as you are which will be given to us , from the universe and the land of life. This is the place, to thank the rest of the fantastic "active wonders " who act in "L'Chaim , and for the valuable contributors from Israel and abroad, who give from their hearts, donors, who appreciate our work and their love-is a way of life.
We work with a minimum administrative costs, no buildings, no offices, no inflated salaries, but mainly, without bureaucracy! No red carpet, but following fast understanding that people need it here and now! What a feeling of light and joy, when the light of hope and renewed grace, wakes up our precious winners, when reaching a heartfelt hug. This is Amutat "L'Chaim", that I am proud to be it's project leader and eternal sovereign the right to fulfill the wonderful vision as it consumed today.

Bless all f our friends abroad, about their generosity, and our donors here in Israel! Let the divine Almighty to be with you !!!

Daniel.
P.s. Yesterday, we gave to the family the first amount which was collected and today we add another amount. The family reacted very moved because of this campaign, with a deep gratitude.

Jerusalem
Noga and Sivan: the truth is that for a long time we didn't write about our visit with Eti. This is because visits have become a routine thing. This week we came to Eti and her mental state seemed to be not so good. Her son is abroad for an extended period and next week her lady that taking care of her is flying to visit her family.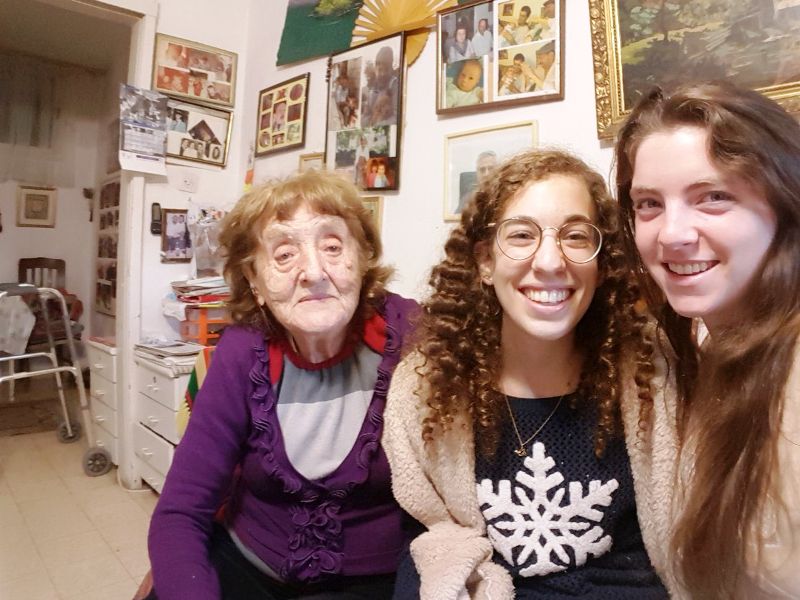 Noga, Etty and Sivan

For so long she had to find someone to replace her, and only naw, it seems that there is solution. The main problem is that she spend a lot of time alone, especially these days when her son is abroad, and so she feels lonely. During the visit, she said again and again that it was better without her , and currently, she is only a burden on everyone... We tried to cheer her up, and she seemed to be talking about her grandchildren and great grandchildren some life came back to her eyes. We will try to visit her as much as possible and to relieve the loneliness.
Modiin
Shir : straight from Zfat and after 4 hours, because of an accident on the road, we arrived right to the opening of the year of " L'Chaim" in Modiin. The meeting opened only with volunteers, and I spoke again about "L'Chaim". We excepted with love, the new volunteers to our family.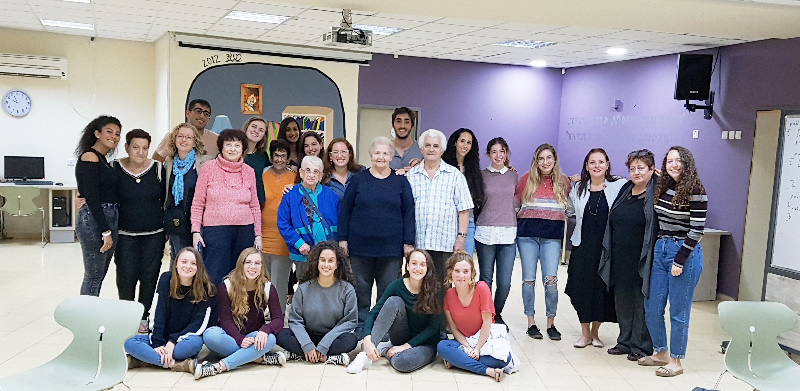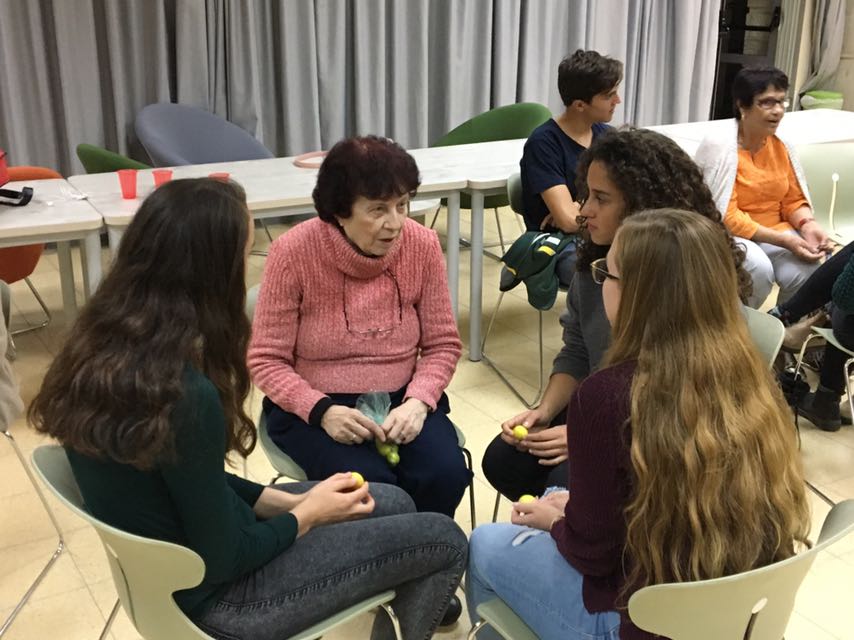 Grandma Savta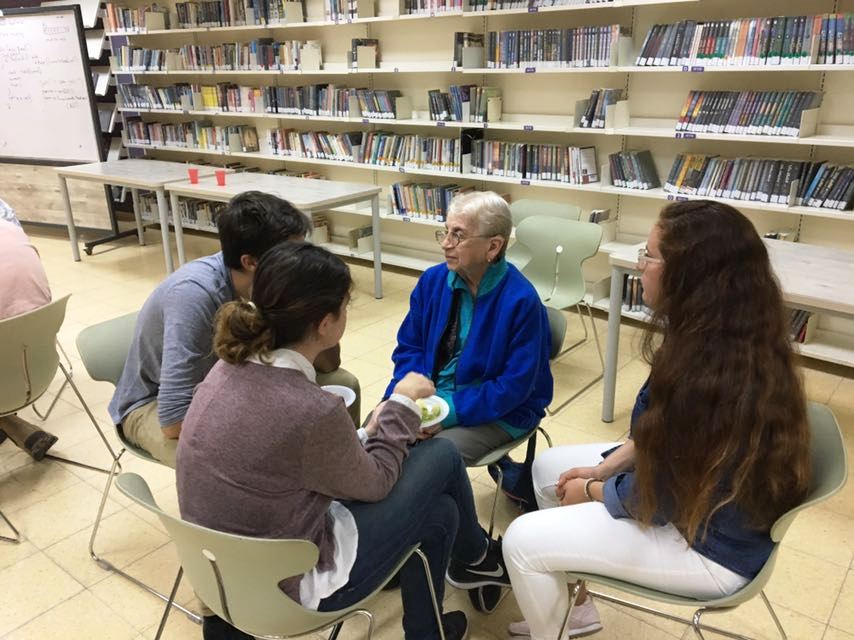 Rozita met new students

Three of the volunteers from last year, told us about their experience and it was just pure pleasure, to hear about this special bond, between the generations, the feeling was as a real family, even after two years, after finishing high school, they came to meeting that feel smooth and realize how rare that is.

It was exciting to move between the groups, hearing the stories. I'm really excited to start the third year of Modiin with 13 winners , 23 volunteers from the 11th and 12th grade , one adult volunteer , and adults from high school, and now they are before or in the army.
Impressions from graduates, who came to the first meeting:
Moria (soldier) :after a long time I saw Svetlana Dmitry finally met them at a party Saturday night.
There was tremendous excitement, Svetlana really glad to see me, and I her. We sat together and made up gaps, she told me what was renewed in her home and I told the army. We're spoken we still meet up soon! Fun to know that I will always have a place as a mature organization, we can always go back and visit. Alon (preparatory military factor): reached the opening meeting for the first time as an adult. It was exciting to see how the and family expands-volunteers winners alike.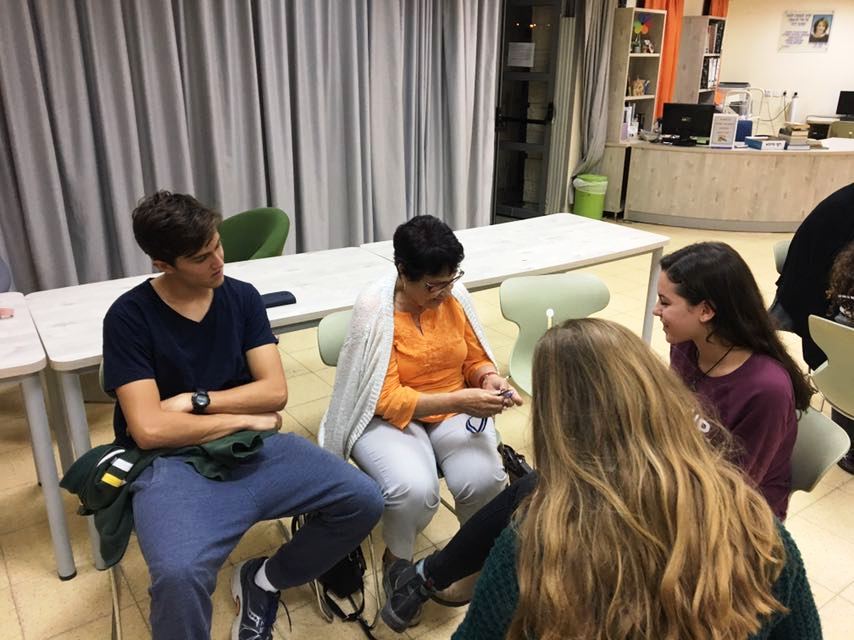 Janet, Alon and Yael

I was glad to see more alumni come and share with the new volunteer experiences. I'm glad to be a part of this family group. Arbel (soldier) as a graduated, I was excited and happy to see a large number of new volunteers with the happy winners. I loved watching them talking and getting to know each other. I was excited to see the joy that appeared on the faces of the winners and volunteers as well. I had also so fun to meet again Svetlana and Dmitri after a few months, I didn't get to meet them and I look forward to meet them again. Mayaan Nitzan and Talia: met today with our Riri !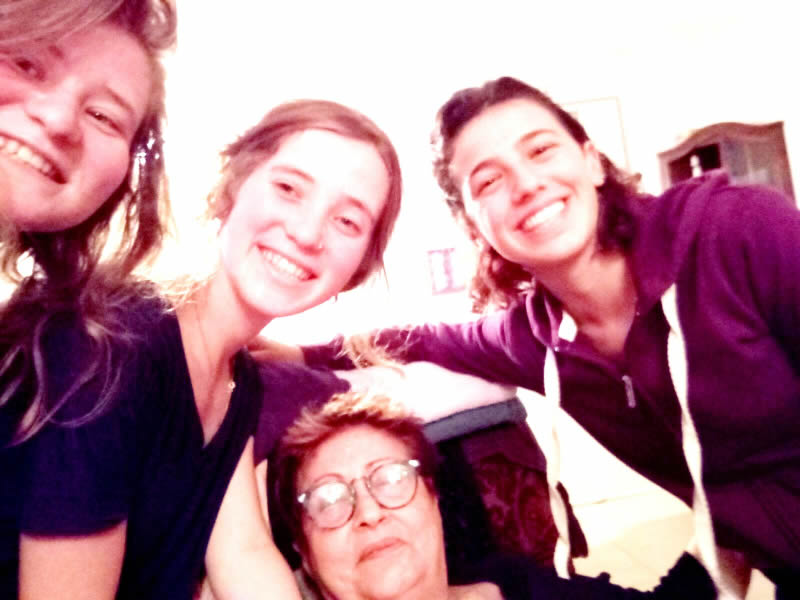 We chatted about funny and serious issues. As always, she bring light to us and Nitzan joined us. We ate pizza and it was just fun fun!!!!! We talked about her grandkids who returned from a trip in Poland, and asked if they knew about her story. She said that she didn't, and we told her that we think they should know, because what's the point of being in Poland if the closest of your family, has been there and they don't know about it ? Then, she just told us about her parents.
Zfat
Shir : On Saturdays, we started in Zfat, visiting Esther. We sat , laughed, Esterke and my mother, sang songs in Yiddish. We taught Esther to use her new phone and she was very grateful . We talked about her family, her bad health recently. I wish her to get better. She was very glad that we came with my parents again. Then, we went to Lillian, and she was very sad. She really wept for Meir situation, and emphasizes what we all already knew that this is a person is all gold! and he isn't deserve this suffering. She talked about the financial crisis with the trial and the medicine that costs 17,000 NIS per month, what he needs to take each month. I said, I will do everything to help them and that they're not alone, because their children and I'm with them. Lillian said she was very glad we came and told my parents that they have always home in the North to come.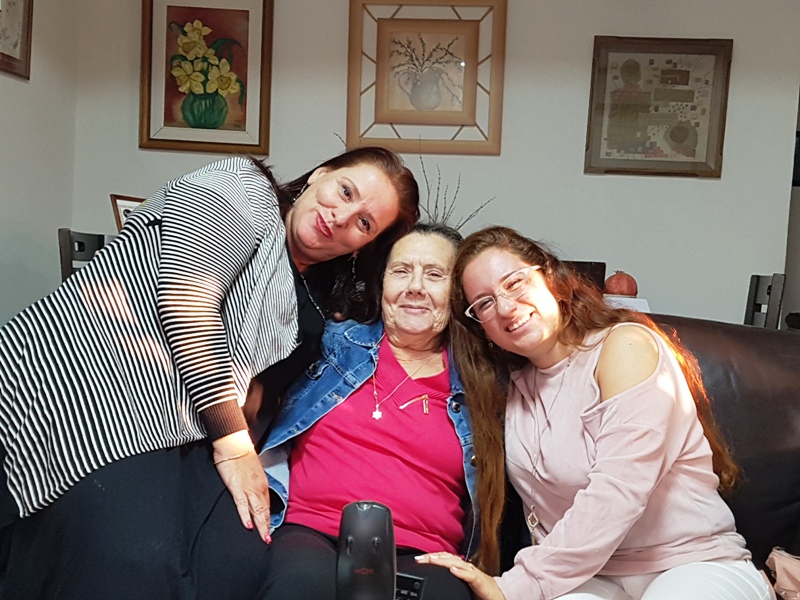 Shir, Esther with Shir's mother
These are our words for this very intensive week . Shabbat Shalom!
Marvelous visits ... a river of life!
November 2, 2017, Cheshvan 13, 5778

News from the North
Visits in K.Shmona
Omer and Yam visited Klara and Mordechai:
"We experienced excellent time with them. We felt their love. It was great. We had a lot of fun together."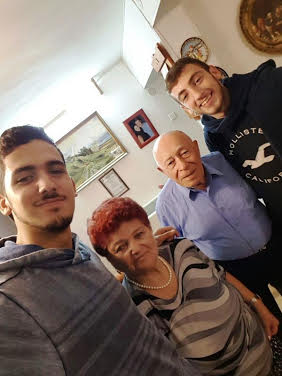 Omer, Jam, Klara and Mordechai
Inbal, Michal and Itay visited Israel and Ludmila and later at Bracha: "Oh Israel and Ludmila are so nice, we all love them. Israel told us his story of life. Bracha was so happy with our visit."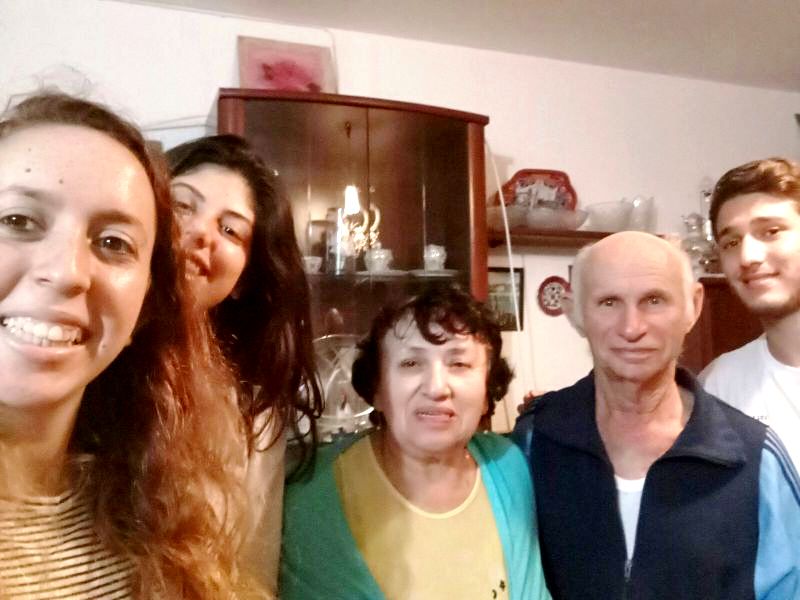 Inbal, Michal, Itai and Ludmilla
Dor came to me after our visits and told me this: "Visiting the shoa winners is very important to me. I also like to visit those who are sick and can't come to meet us". I promised Dor, that next time we will go together and we will visit Ida.
Visits in Neot-Mordechai
Steve arrived on his special bike to meet us.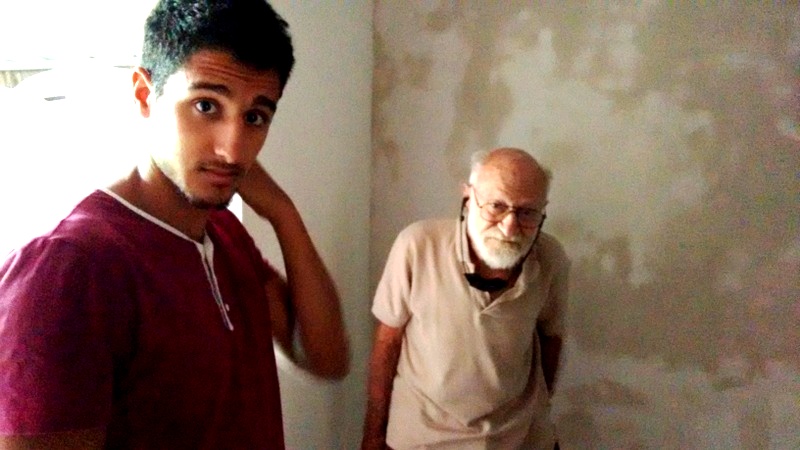 Dor with Steve in his burned house
It happened on eve of Rosh Hashana that his house got completely burned. He sat in his room and suddenly the plastic of his air condition started melting. He tried to put the fire out, but he couldn't. Steve lost all his past memories. Everything. This is very sad, but Steve, seems outwardly unaffected by this great loss. His house is now being renovated, but what he was used to, all his furniture and paintings on the walls, what made him to feel at home, will never be back. People from the kibbutz, took care of Steve and he has a place to live for the time being. Omer Yam and Dor, were both impressed by Steve stories.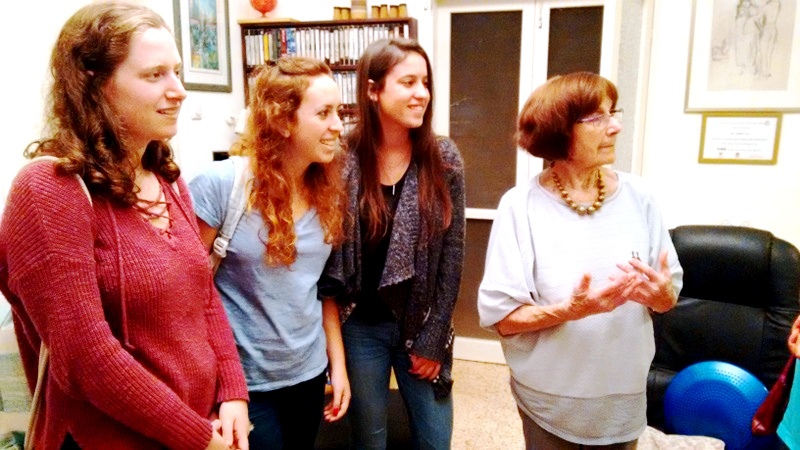 Ibi received the new students with a great hug and love. Maya, Inbal and Adi had wonderful time with Ibi.
Efrat, Michal and Itai visited Rachel.
As always she is shining and very satisfied to receive us for the first time.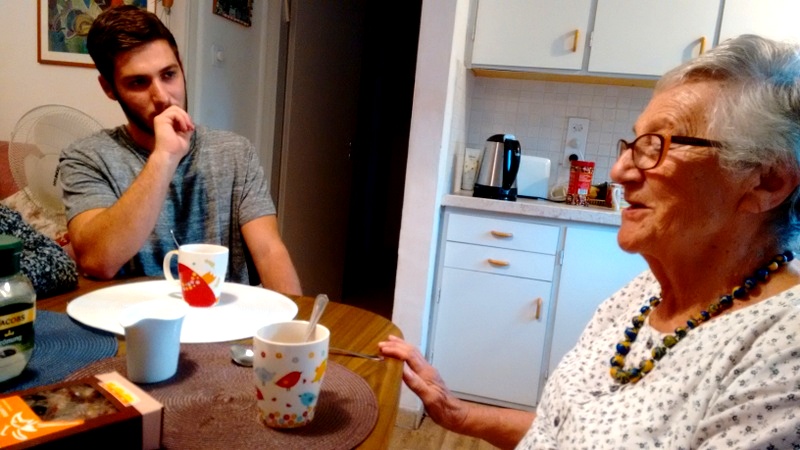 Rachel
Visits in Rosh-Pina
Israel was happy to see us, and after each of the students introduced themselves, Israel quickly started to share his experiences from his past. Also Rachel couldn't wait until we arrived. Each of us, has received warm hug and a kiss. She loves the students so much, they bring joy to her house. Some of you can remember, few years ago, it was so hard to reach Rachel's heart, but today we see Rachel from the first moments, opens and sharing her warm feelings with us.
Visits in Chazor
Yafa is always busy on helping other people. But, when the time comes to meet the students, she sits and enjoys.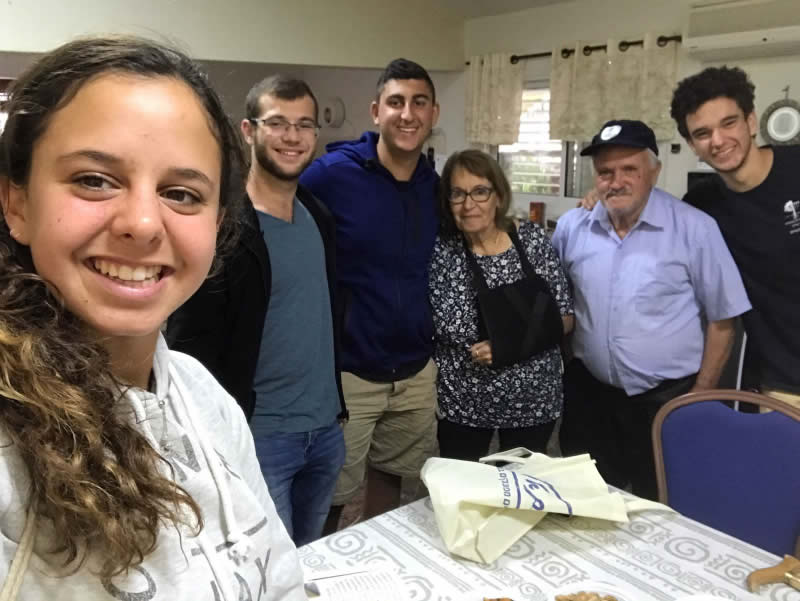 Also her husband, came to sit with us, which means he is more connected to us than I did expected. Bracha and Rachel, both are so happy. Meeting with the students is quality time for them. They bring joy into the lonely house. Mina was in Haifa for the first chemo therapy. I hope next time we will be able to visit her. Now Mina is so sick, Yafa organized that every single day someone is visiting Mina, so she is not alone at home the whole day.
Visits in Genosar
The students have not yet, any idea what a great "mitzva" they are part of. The live, fellowship, the energy they bring into the houses of Eli-Ram.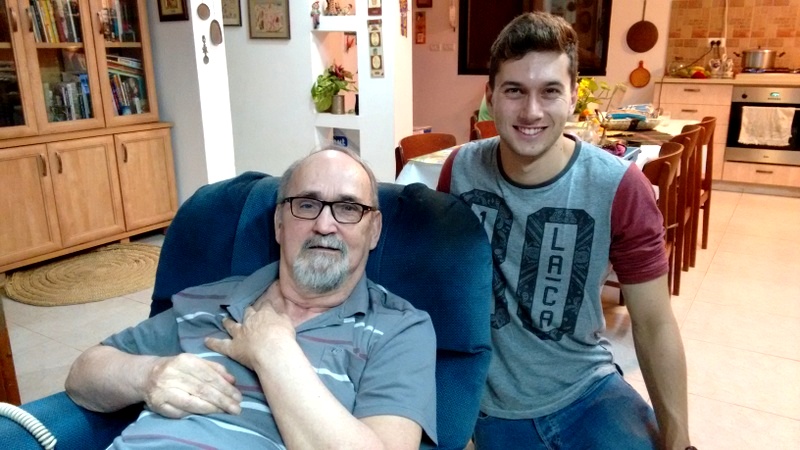 Eli-Ram

Zelma, Batya and Tsachi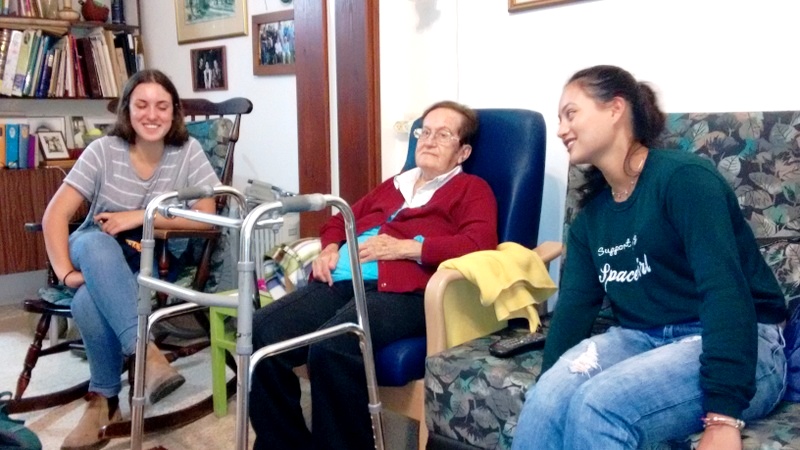 The students love this work more than any other volunteering work they do during their study. They feel the warm atmosphere in the houses and they bring happiness to the winners.

Shalom,
Timek

Pardes Channa
Chaya ,visited Lidia in Kibbutz Ein Shemer. Both of them have assembled together, doing puzzle of 35 pieces from an image that was created for them.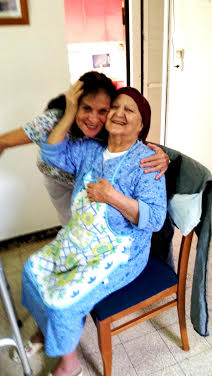 Lydia enjoyed sharing with Chaya this activity. She feels good and always welcome and with appreciation. Yesterday, Zvia and me, have visited earlier, a lonely woman, Channah, who was very glad to accept us.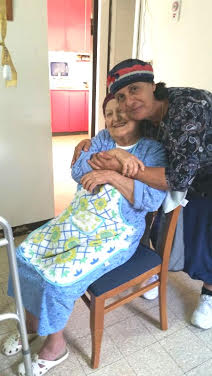 It turned out, thet Zvia's parents and the parents of Channah, lived in two villages which were very close to each other, and apparently, they have even a family connection, such a small world... The excitement was great and they both, recognized past figures, in the pictures hanging on the wall. Zvia with five students, went to visit Ishiayho and Yonah. The joy was great.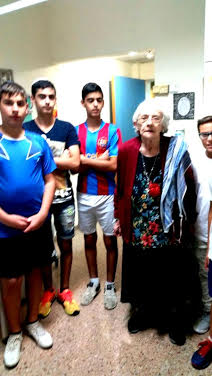 Yonah

Ishiayho, is passing a fastorating period, because his residence where he is, is going to be closed , and he refuse to leave the area and refusing any solution suggested to him. Tthe news about Zvika are, that he feels a little better, and we hope for his recovery and healing. Chaya's condition has not changed. We have steady connection through Yaffa - their daughter, with Morris. I, with three nice girls and interest, went first to Zippora, who is always suffering from breathing problems and every day is a blessing if she feels good. Checking a few things, and we've celebrated with Gizela, her 91th birthday. She have got from us what she really likes, a beautiful plant as a gift, to honor the event.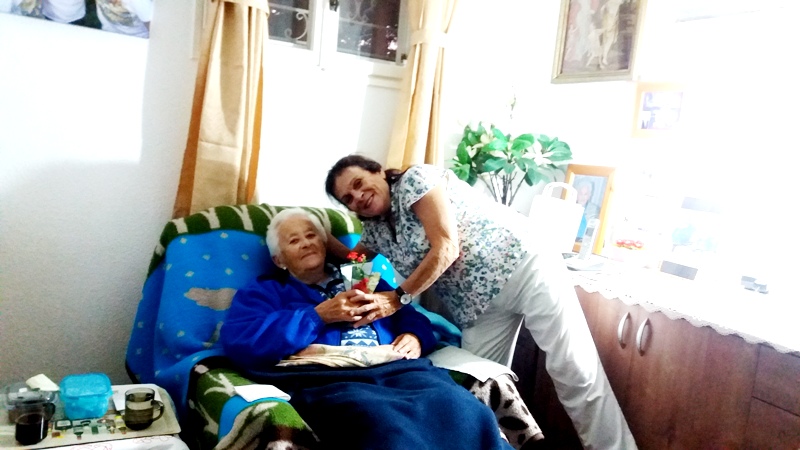 Gizela

She is always, very happy for our visit because we break the social wasteland where she is, although sometime, when she feels good, she go to the day Center. From there, we went to Shalomit.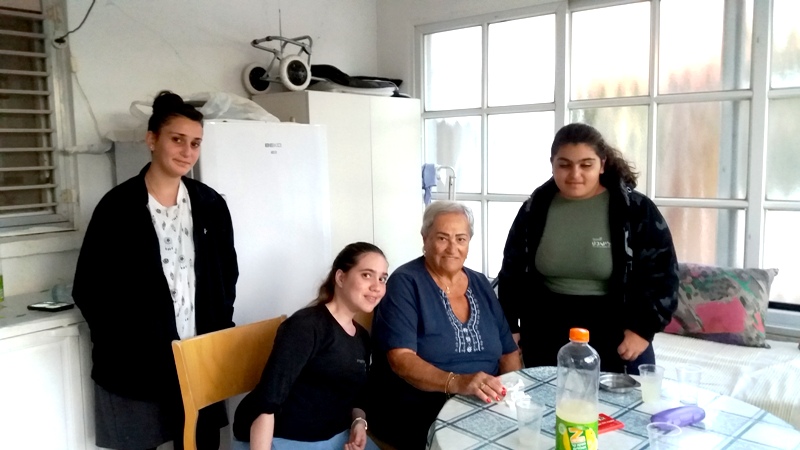 Shalomit

Shlomit is a lovely woman, and slowly winning hearts of the students. And of course, we end up with Eliza, who gets us all smiling, kissing and hugging, and of course always with cookies or cakes what she do by herself. Mayaan loves her as her grandmother.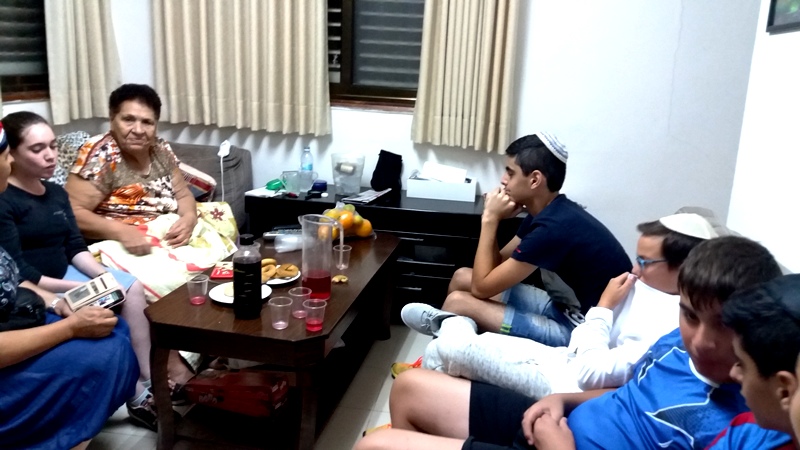 Aliza

Rivka

Soldiers in Zfat
Lihi and Mor : visited now at Diamant and Chanan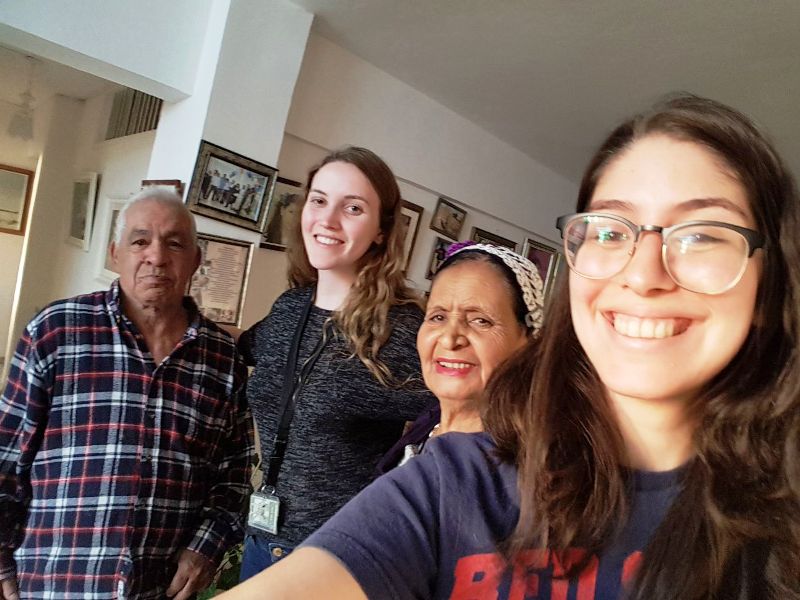 Leehe, Rom, Diamenta and Chanan

It was really fun . we love them. It was brief today because they had to go to a wedding. We plaid Rummikub, ( Diamenta and Mor always competing for first place, while I'm losing...) then, drove them to the Bus station. Usually, we are going to buy her milk and or take her to the supermarket so she do not have difficult time to get what she need.
Preparatory students from Baraam
Paz, Adi and Ido : today, we came to Eli, a little by surprise, and he received us with an open arms. We talked about religion and religious, ultra-Orthodox protests. At some point we talked about culture and writers and musicians, then, Adi played on the piano and Eli was very pleased .

Ofri and Gali : right after we came to Juli,
She offered us hot drink. We sat with her in the living room and she told us that lately she was sick , and about her surgery. Then, we spoke about her family and her husband's , from where they came . She made us feeling comfortable and at home, and it was charming.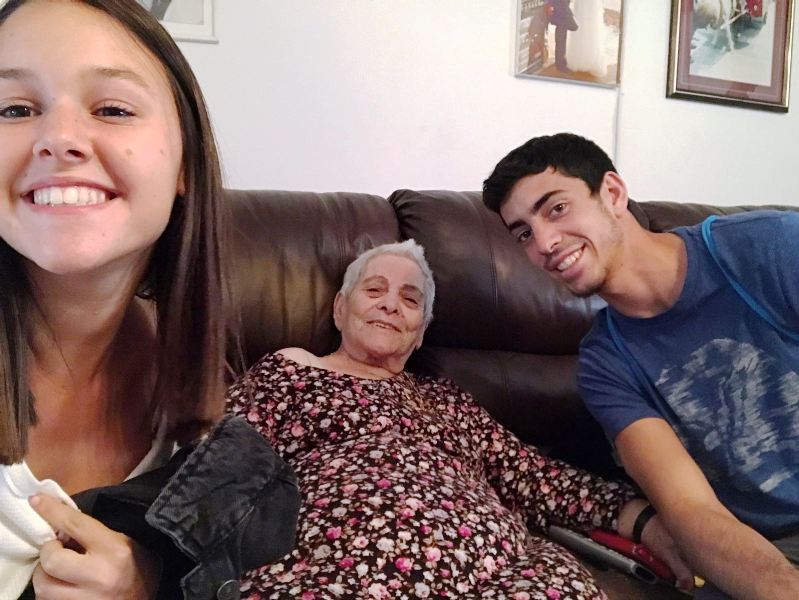 Ofer, Gali and Juli
Maya: we came to Shalom (second time), and it was very nice to see him again. We helped him again, to clean and arrange the House, and he told us, that he has the power to clear only when we arrive and help him. Towards the end of the meeting, Shalom told us about his family and where he lived before. He bought Maya an Apple perfume and for Yuval mug which he chose. He asked us to call him even if we don't come and it was very exciting to hear it .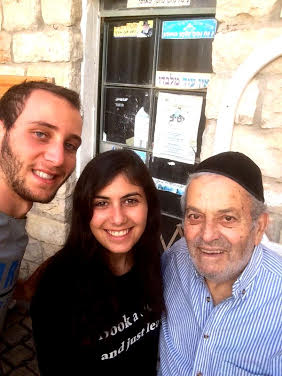 Shalom
Maya: Shalom told us a little about the center, and about the synagogue he attends . We helped him cleaning the House . He was so glad that we came, and so did we.
Adi and Ido: Today, we came to Eli and he received us with open arms! Just a lovely person! We talked about politics, our leaders, and he shared his experiences with his family and fascinated us with interesting stories about Zfat and his life.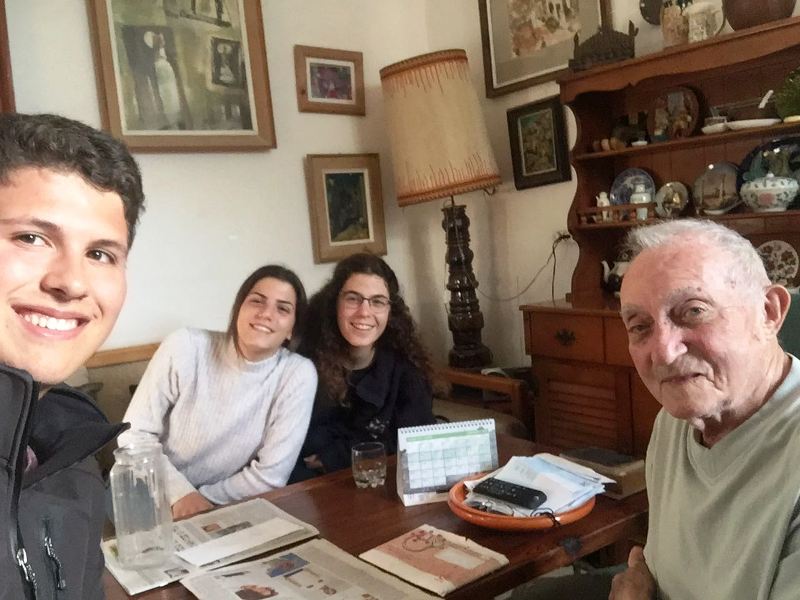 Eli
Yuval Paz: We arrived to charming Ester and she received us gladly. Esther told us a little bit about her family and the kids that everyone living in the area and it's very good for her. About her job in the elderly home, and her homemade Chummus , and also about war and her experiences at those times. We told her what we do in the preparatory and next time we plan to learn from her how to make chickpeas.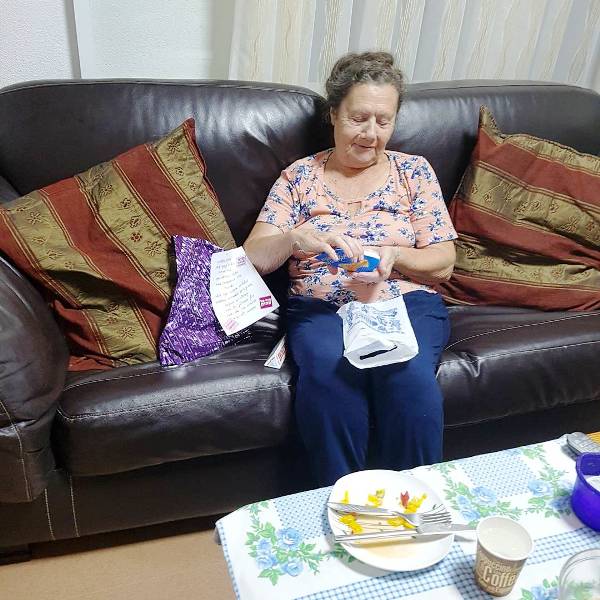 Esther
Gali and Gil: we arrived at noon for Juli, and as always we had hot tea and cookies. We played Remmy and she "toured" us most of the time. We heard stories about her grandchildren, and her granddaughter, who serves as warrior in a special unit in the army, and how much she love it even it isn't very easy...We met her son who came from kiryat Shmona to visit her.

Modiin
Shir : On Friday afternoon, I went to see my precious Chemda. She has lost her husband about a month and a half ago. She has no biological children and after over tributary of happy marriages really is really lonely.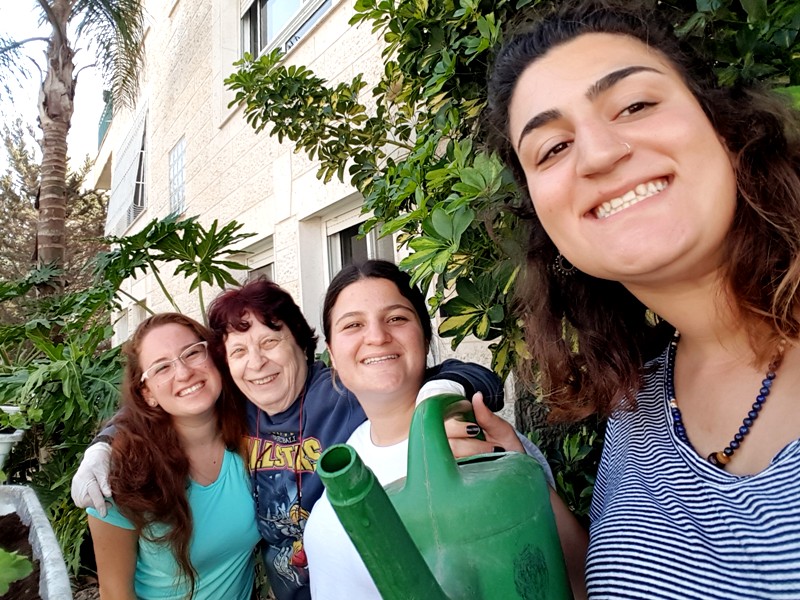 Chemda with the girls
I came home and met her granddaughters "from Europe. Together we worked together in the garden is really like. Switched ground, planted saplings and we all. In addition we have lunch together.
On Friday afternoon I went to see my Riri. I met her just before she was getting ready to host her son, who came to Israel with her grandchildren .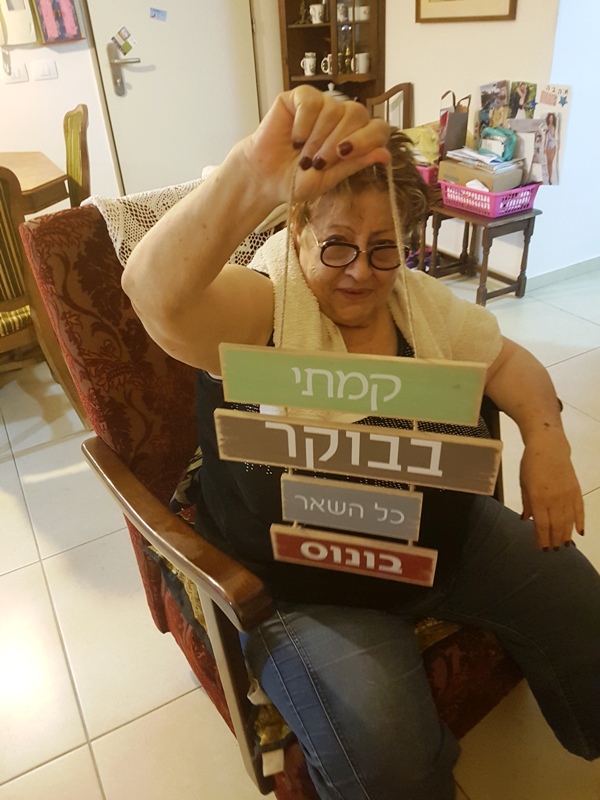 Riri
We made the table and I brought her the new year's present, a bit late because she was very busy. She was so excited and said that it was exactly what she needed. She was moved to tears and said that she don't know how we just "fell" into her life . She loves all of her granddaughters of "L'Chaim's" family, and very happy for this connection.
This is our news! Shabbat Shalom!
It is impossible to stop this melody
Oktober 20, 2017, Ellul 29, 5778
Shir : today, Daniel and me, came to "Yachad" , the high school in Modiin, to recruit additional volunteers , for the new year.
At the beginning of our conversation, we encountered a lot of cynicism. Then came the excitement, questions, and even crying for some sad stories. Eventually, over ten volunteers have signed to join us. Interesting to see every time, that there's a lot of cynicism and apathy in the country and among the youth. But, there is still quality that connects youth to find depth.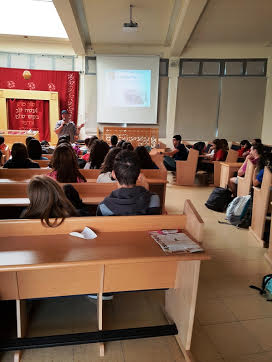 Jerusalem
Noga and Yayel arrived to Eti, after Yom Kippur. The reunion was exciting and fun. Eti told us about Rosh Hashana and Yom Kippur.
Last week she joined at the wedding of a volunteer organization Latet, who cames to visit her. Yael has started to rent an apartment and Eti was very excited to hear about it. We told her about our love for cooking and baking and she told us that she used to cook a lot. Later, she showed us things she knitted and still knitting as socks, hats, scarves and blankets. The Shabbat broke up just before she lit candles. We left with greetings for Shabbat.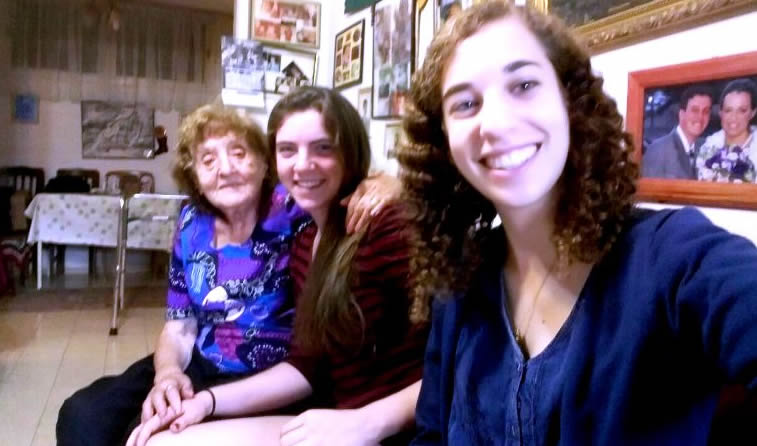 Noga, Yayel and Eti
Pardes Channa
This week, Zivia, the moving spirit behind the project, and the one who organize the students from Neve Michael for the past three years, has received with great joy the marriage of her daughter. We send her warm greetings and congratulations to the young couple and her family, from all of us, "L'Chaim's" family.



Ishayahu
Yechiam: The visit was very successful, Isaiyahu told the us about his immigration from Hungary and his work as a carpenter . Afterwards, we visited Yona, and she was very happy. She showed the students photos and even danced to the music of the Mediterranean voice outof the radio.
Rivka: I went with three students and a girl from the National service - who joined us on our visits We were equipped with a package of fresh fruits and vegetables, for all of our winners. We arrived to Zippora, realizing that she feel much better because of the changed weather and her breathing is relieved. She is in the middle of negotiations with "Amidar" in connection with the rights to the house where she resides. As I have already told you, our friend Alex Talmor is a lawyer, and he enlisted / volunteered, to help her achieving results in this struggle, and they are in the midst of the process. We hope and wish, that it will succeed.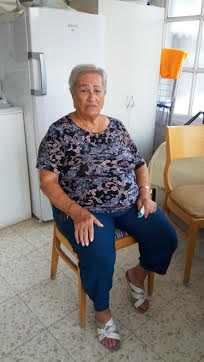 Zippora
From there, we met for the first time Shulamit, who was widowed six months ago and very happy for our visits . She was born in Turkey (Istanbul), who came with her family, when she was 8 months old, and her family had to come on donkeys, they had to " steal "the border from Turkey, Syria, and through the Golan Heights came to Tiberias. From there they went to Jerusalem and there, she grew up in the German Colony. With her, We also heard a bit about the difficulties of the struggle to get help from the National Insurance, although by all doctors recommendations - she need help. But, had been rejected already the fourth time.

From there we got to Gizela, sitting at home and not go out recently, because of the difficulty to stand on her feet. Her answer for the question by one of the students, she explained that when she was their age, she was forced to stand barefoot in the snow and to work for the Germans. And this is a result of those days. this Friday, she will have her birthday - 91, see the picture that not really reveal her age. Blessing to her for happy birthday and a relief for her pains.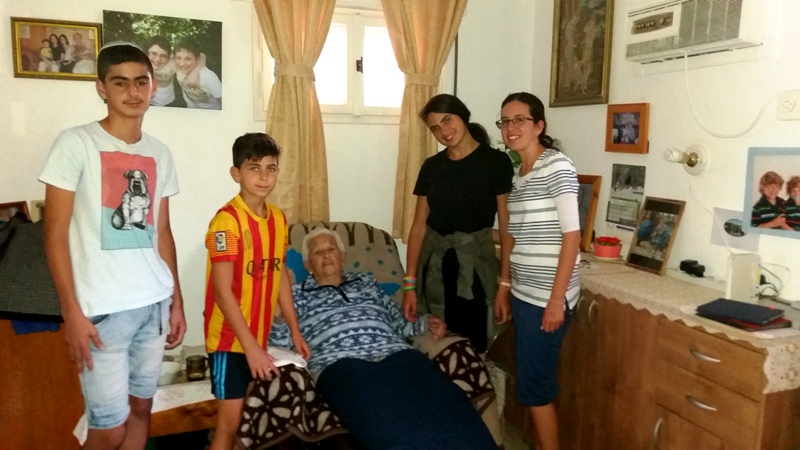 Aliza , welcomed us with hugs and kisses. Refreshments were ready on the table and she tells how she was doing and asking the students how they are. We went to see her revitalized garden, and nothing pleases more than being welcomed by flourishing garden. At the end of our visit , one of the students gave a letter from Mayaan who wrote: " I am sorry that I couldn't come. Loving you so much. You are for me, the grandma with endless love" Mayaan... look at Aliza's excited face....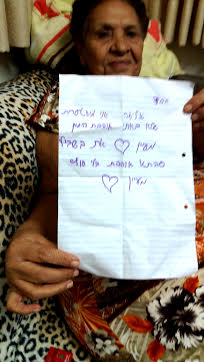 Aliza

News from the North
The new season have started this first week after the Sukkot holiday with full enthusiasm. In Kiryat Shmona, nine students from mechina Mayan Baruch, have decided to join L'Chaim this year. We started our journey in K.Shmona where we met with our dear ghetto victims in their elderly club house. Both, students and the elderly, came together full of joy and with great expectations. They both were not disappointed. A new family has been born. The love was abundantly, present and broke any language barriers. We introduced to each other. The students came to me after this celebration very very excited.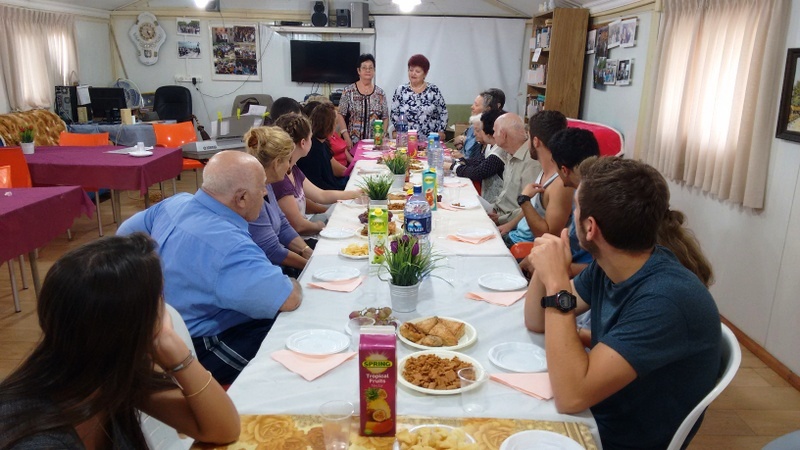 Introductie Kyriat Shmona
In Chatzor, ten students from mechina Kfar Hanasi, joining me this year, and they made their first visit this week at Yafa, Bracha, Ruchama and Mina. The first visit was very nice. It was a real miracle that we could visit Mina. Mina is very sick but she decided to return home and not to stay in the elderly house. The students could bring her joy and light in her tiny house and she was very satisfied.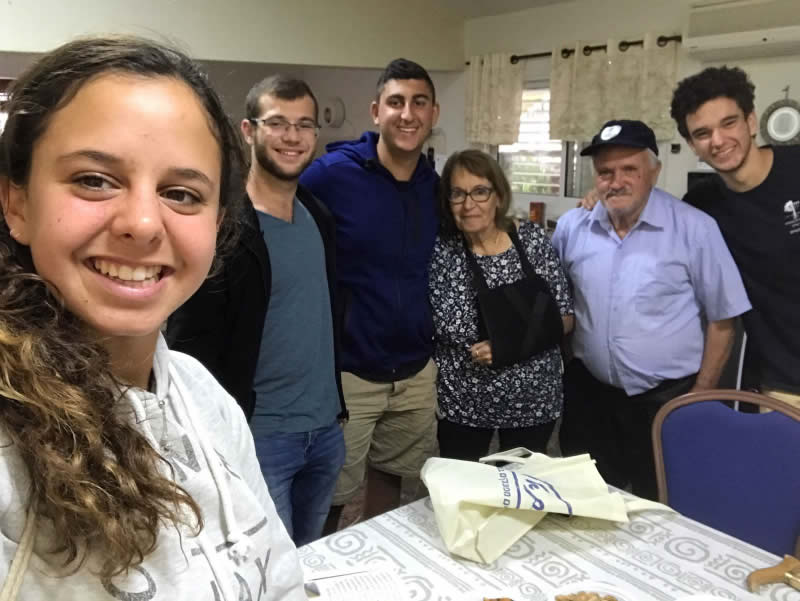 In Ginosar, seven students are joining "L'Chaim" from mechina Meitsar. Brigitte introduced them to our winners: Eli-Ram, Zelma, Tsachi and Batya. Brigitte was very excited about the dedication and enthusiasm of the new students. Eli-Ram was moved to tears when the students entered his house. He was awaiting them the whole hot summer. Finally there they are. Zelma, Batya and Tsachi rejoiced.

Zelma
It was the very first time that students from mechina Meitsar also visited the Elderly house "Kineret" in Tiberias. Tali the social worker, introduced them to the elderly that they will be visiting: Michael, Miriam, Carmila and Baruch. Tali expressed her enthusiasm about the students. She is so happy that L'Chaim is sending students to these people that are longing for connection in their small world.

I wish you shalom, on behalf of the winners and the students.

Timek

Mechina Baram visiting Zfat
Yuval and Amit : We came to the square, near the house of Shalom, and he waited out to escorting us to his house.
We helped him a little to clean his house. He told us he was a former photographer and towards the end of the meeting he gave Maya flowers.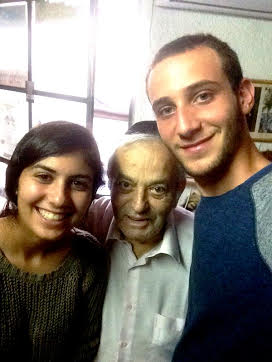 Shalom
Ofri, Gali and Gil : we came to Diamanta, and sat around the table having served hot tea and cookies,
and then she told us from where she came. She told us that the Germans descended on the city, they held a lottery among red ribbon and white ribbon. The red ribbon meant in the lottery that they would burn the city with all residents.... and if the white will win in the lottery, they wouldn't touch the city but will take gold from everybody. Their city had the white ribbon in the Lottery, and the Germans, flew with the gold which were taken, but the airplain have crashed because the pilot was drunk .... We played Rummikub with her and her neighbor Susan, and it was really fun and funny .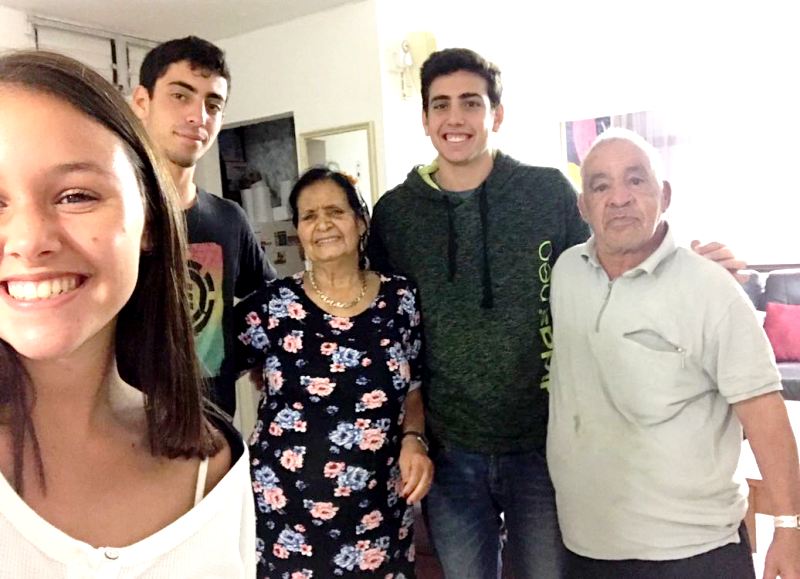 Chanan, Gali, Gill and Diamanta
Adi, Paz and Ido: After a long journey in the rain and hail, we got into the warm house of Eli.
We opened the door, reaching a lovely person with an interesting life story, and a marvelous host. During the meeting, we got to know him and introduced ourselves to him. we heard his stories about Zfat and the various struggles that were there, and about his family . Eli said how much he enjoy when we come to visit and meet with him, and he was very pleased about the meeting . Than, we sat down with him in the living room, with hot cups of tea, and he took us on a little tour of his house hearing about its history, and we saw the old cellar, used by his wife's father. We already, wait for the next meeting.

Eli, Paz, Ido and Adi


Soldiers visits in Tzfat
Mor and Lehee: we came to visit Diamante on Saturday afternoon. We set with coffee, playing remmy and talked about how the holidays have passed. We told her about our holiday and she said that since she didn't go to the kids (Chanan can't go), but they all came to her. All the children were with her at least some of the time.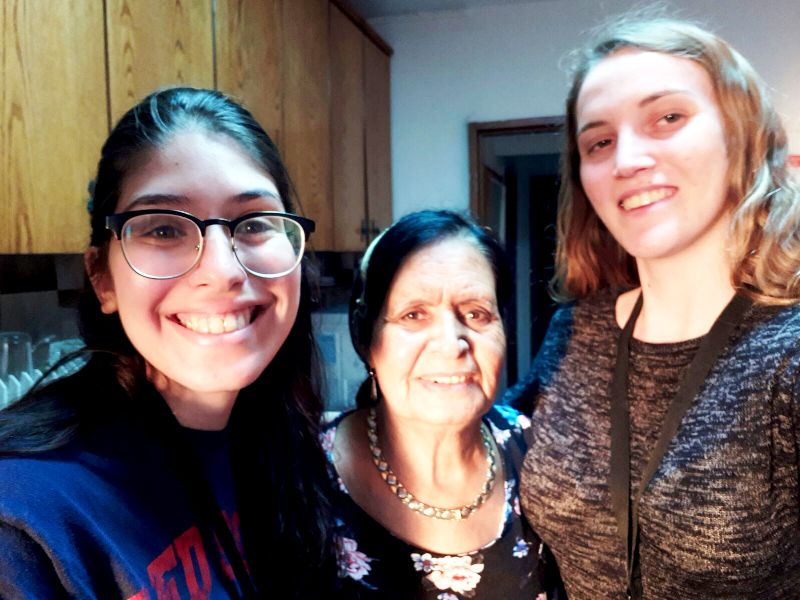 Mor, Leehe with Diamanta
Noga : I was visiting Eli on Tuesday afternoon, and he had visitors. Relatives from Australia, which he hasn't seen very long time.
We all sat together and I've heard stories, when the most important story was about the Australian officer who arrived in Zfat, during the WWII, to look after his family. As usual, to my surprise, with humor and a wide smile. I looki forward to the next meeting.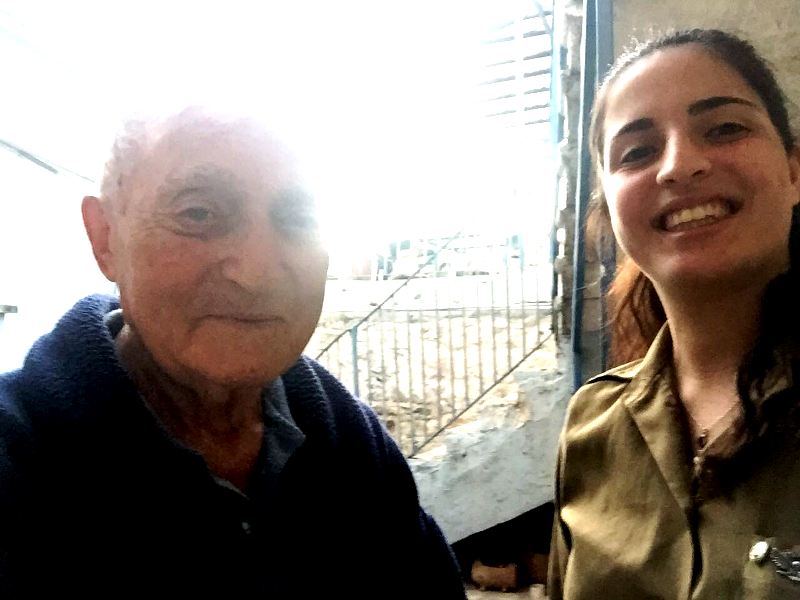 Eli with Noga
Modiin
Chagit : I visited Mordechai on the night of Simchat Torah. Mordechai got a new iPad from his son-in-law with a lot of games of Chess.
He tried to teach me some moves, but his head , works much better then mine. Then, he remembered the story of his daughter's (Estee) introduction to her husband , and told me the whole story. He said he was very fussy and as a father , he didn't allowed her to sleep over anywhere . In General, there is considerable affection and good relations. We agreed to speak again after the holiday. I was glad to see him happy and not complaining too much.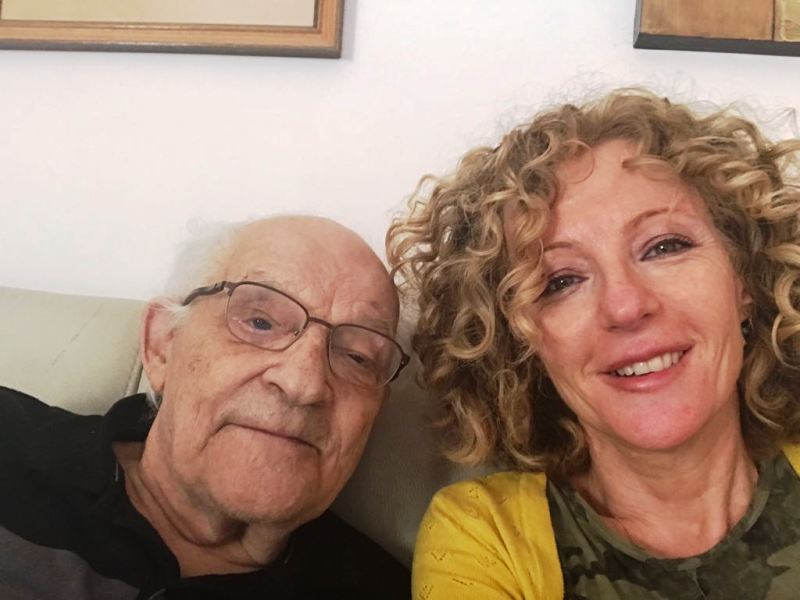 Mordechai and Chagit
Nadav : When we arrived to Rozitzh , as always, she received me with hugs and kisses. I started the conversation after a general updating on what's new, with the question: Where she was on November 1947?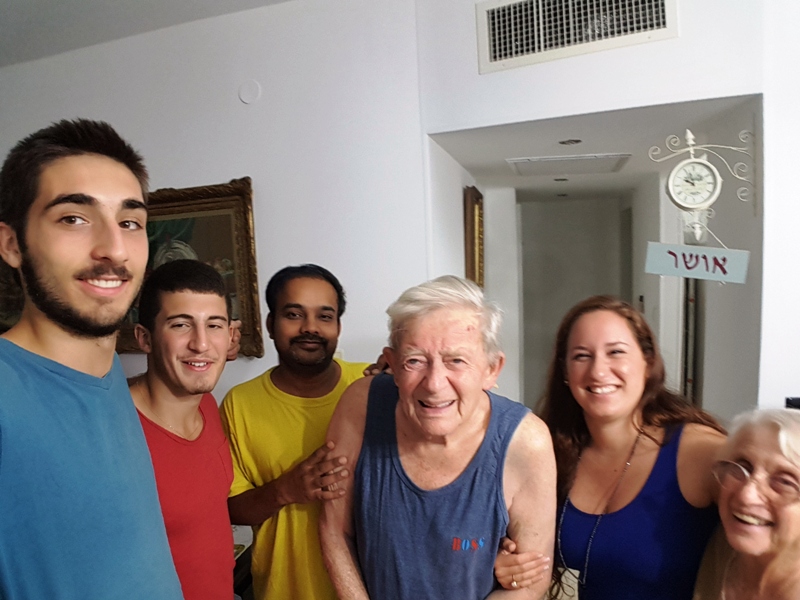 Rozita, Miki, Shir, Babo, Nadav, Snir

She smiled and said that it is a good question, and it's already the second time she was asked today, and started her story: " After the Holocaust, Serbia, which was occupied by the Hungarians during the war, was released and returned to be Serbia. Rozitzh and her family, got back where they lived before the Holocaust. As more mature, Rozitzh saw an accelerated for learning to be a teacher, but in a boarding school in another town. Rozitzh decided to do her studies there. Because the Holocaust , she missed one year (probably 1944-1945). In order to be in a boarding school, she needed the Serbian matriculation certificate and full years of studies. She went to the Ministry of Education of Serbia, and explained that she , as a Jewish girl, missed those years, and still wants somehow, to get the card in a different way. They agreed and said she had to do an exam on the material of the years she has missed, but in the Serbian language . She managed all professions, besides German, because she was not interested in knowing the language after the Holocaust. She was accepted to the boarding school for girls, and was the only Jew there.

In the evenings, they could get out of town and enjoy a bit. One day, when she was in the town, she met a men that told her about the Established state for Jews, and the name is not Palestine, but Israel. Rozitzh did not understand how it happend that suddenly, a new state means that now, it has a new name? She thought about it and did not understand. She decided to go to the local Jewish community and ask. There, they explained everything to her. Then she thought about it a lot. Would I marry here, with somebody who is not a Jew? Will I be a teacher for Gentiles children? Rozitzh decided, to immigrate to Israel. She went back to the Jewish community and has achieved documents (because now the area was a communist and only special permit, could allow migration). On the way out of the building, with the documents , someone who knew her mother, ran over her with his bike ... and told Rozitzh's parents, where he saw her. When she returned home, she argued with her dad for hours, he was against the land, he knew that the Arabs kill Jews there. Her little brother said that he would not stay "alone" with the " old" parents (he was only 10 years old, and their parents was only 40 approximately = "old"...). The day after, her mother went to organize the family's departure . Her father, told her that she will have to work and pay for the family (with the parents), but, Rozitzh has been married, and her father never forgave her that.
This is the news for this week.
Shabbat Shalom!

Rivka

Opening the year / before the New Year's Eve
September 20, 2017, Elul 29, 5777
News from the North
Shalom friends,
It was a joy for me, to bring Rosh HaShana greetings and presents to each of the winners. Some I found happy, some I found sad or worried, or with pains in their body or soul. But the moment we met, a great peace and joy filled both of our hearts.
Israel had hard time to walk. His knees hurt him, but a big smile filled his face when I came in, and we talked only about good things.
Rachel just came home and her face was full of pain when she was taking the stairs, but the moment she saw me, she jumped up like a young girl and hugged me. She forgot completely her pains. Klara's health has much improved since last year. She enjoys life again.
Lisa is going through a tough time because of her heart treatments.
Mina is awaiting for the treatments in a temporary hospice. It is not possible for Jaffa (her care lady) to visit her, and she feels very lonely. I will be visiting her tomorrow.
The introduction of the year in the Mechina Mayan Baruch and Kfar Hanasi was excellent.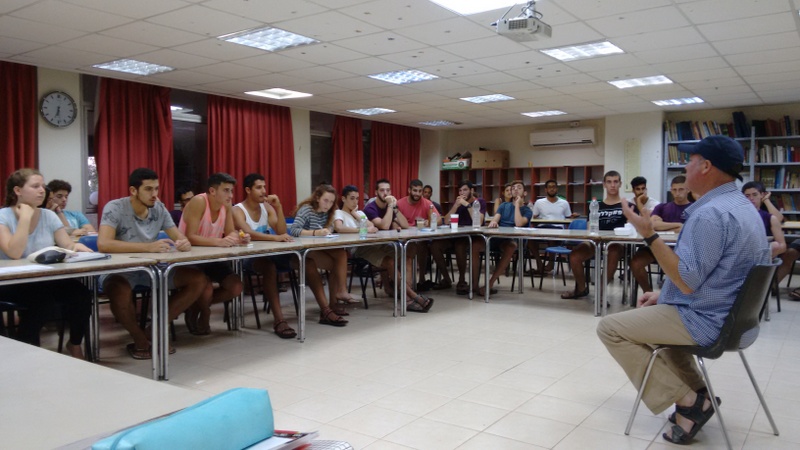 The students were enthusiastic to listen to Daniel's words, heart to heart , and responded with many good questions. After the meeting, they came to me and asked even more practical questions about the project. Some of the students decided on the spot to join our project. The visits of the winners, and the meetings with the students, are for me a great joy. I love to do it, and look forward to a great year with new students. Shana Tova, Timek
Zfat / Mechina Braam
Shir : On Friday afternoon, right after I came home from the army, I changed the uniform, took the car and drove north to Baram. After a long and not very easy way, exactly a year ago, we had the opening meeting and introduction on conscripts, for students from the Mchina. Daniel and me. And here, after a year I'm facing a new group, dressed in white for their first Saturday as part of the program. We spoke from our heart, and in the middle of the lecture, showed up grandparents of one the Mechanistim and they were very excited to hear our story. In addition to my explanation and my experience , Uri, a student from last year, came and told his perspective too. It was exciting and we can't wait to start this year!! Then I went to Zfet to visit Esther and bring gifts for Rosh Hashana.
Pardes Channa
Yesterday afternoon, I met the students from Neve Michael, who filled the auditorium to hear about our project and decide whether it suits them. They were listening with interest, after some of them already experienced the March for life, last year . I spoke about the project and the commitment to be on the side of giving when you get so much. They heard from Zvia about the visits and her experience with students. Yechiam also, added the meanings of giving and of consistency. Immediately, join us 7 students, and we went to greet and give full enjoyment package with holiday symbols, and holiday greetings. This time again we have got from " Ariel pastries", thanks to a precious man named Roi, who got to know our project, and very generously authorized to provide rich muffin here, and the North will be receiving muffins later,
many thanks and appreciation.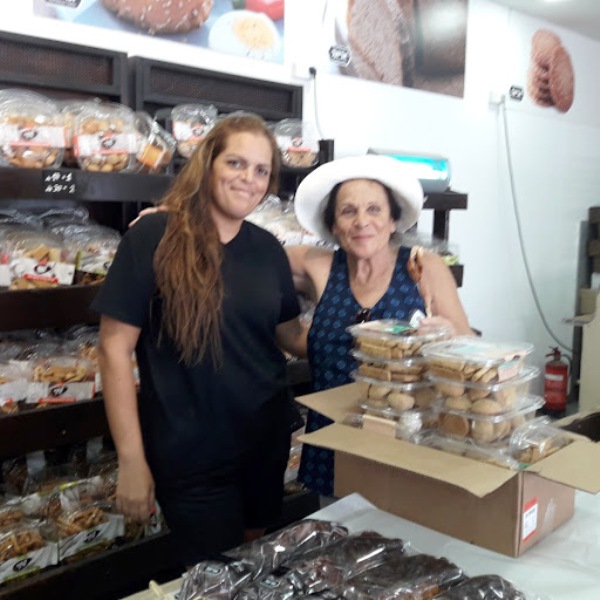 The Ariel Bakery

We were splited into two groups. Zvia's team and Yechiam. Ishayhu was very happy for the visit and the gift we brought to him. Unfortunately, Mordechai has died few weeks ago.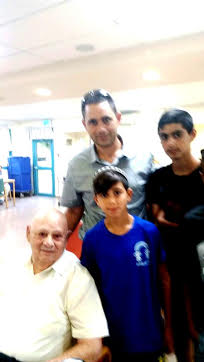 Yshaiyu

With tears, we gave the gift to his friend that accompanied him at his final days. May he rest in peace. Jonah was very excited to see us and told all her friends who the charming friends are. The second group, was with me, and we got with all our bagges of goodies to Zippora, Gizela and Aliza, they thanked us very much.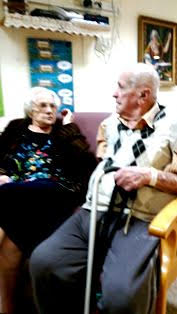 Jona

Zvika, who recently, received an airconditioner, is hospitalized , and we wish him full recovery. Also Morris got our package. Chaya visited Lydia from Ein Shemer, after speaking with the social worker, heard that those visits, are the only weekly visits that Lydia get's. She loves Chaya.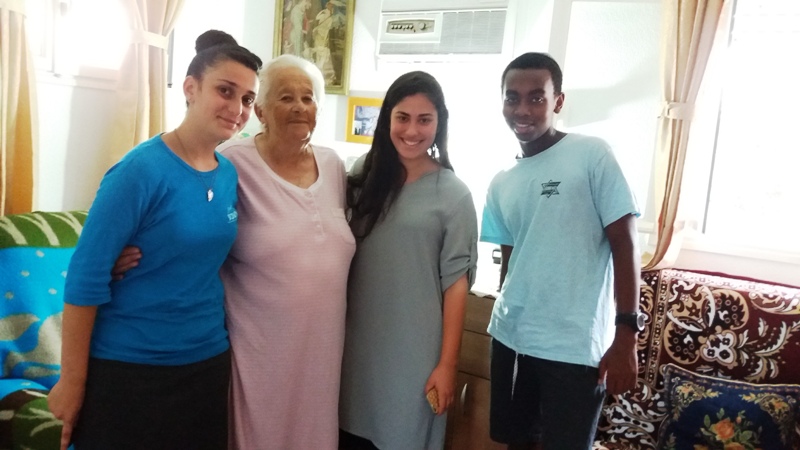 Gizela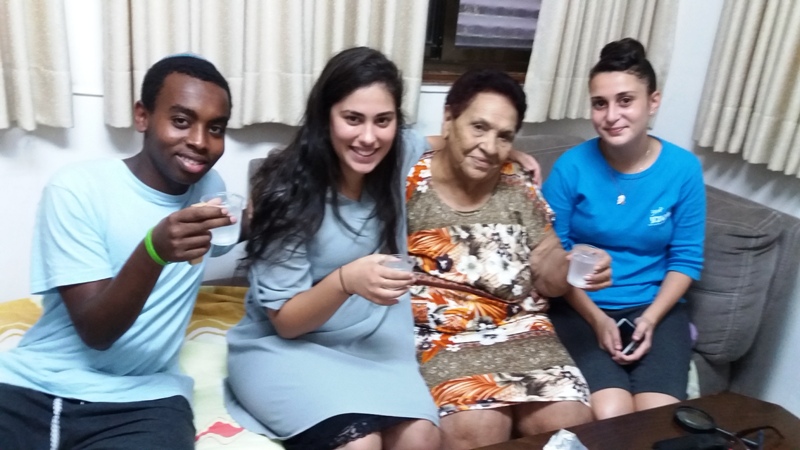 Aliza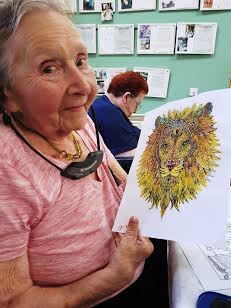 Lydia

We all hope for a successful year, rich in events, making good for everyone. Happy new year, Rivka
Modiin
Ariel & Nadav : We visited Rozitza and Mickey.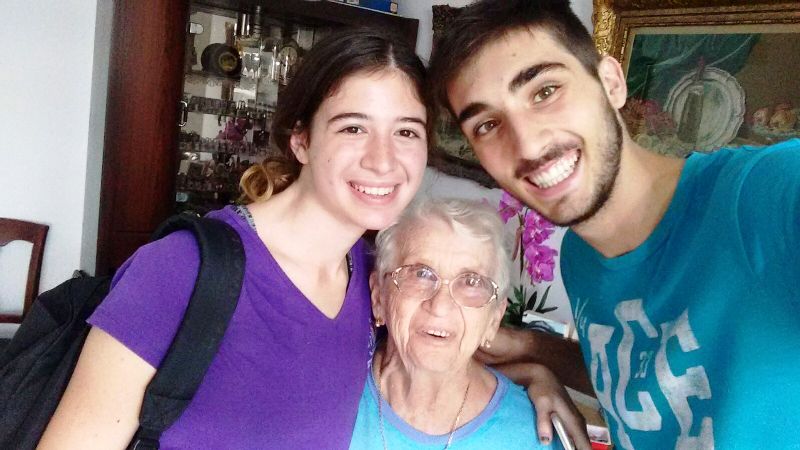 Ariel, Rozitza and Micky

As an active in the Whatsup, we were able to talk to her and also send to her pictures over the month since we fortunately she used the technology from the other side of the world. She told us that few months ago, she took part in the project presented at Yad Vashem, which came into homes of Holocaust survivors, photographed their image presented their proverb born birth location of the image. A month ago, Rozitza decided to give her picture from Yad Vashem. So she went by bus to take this picture. When she were told that some pictures were destroyed and the exhibition is over. Our Rozitza hardened and finally she were told where to find the pictures. With her great attitude, she finally found what she want. She hang the picture in her apartment above her bat mitzvah certificate, which she did when she was over eighty years old, because at the original date (on 1945) she couldn't do her Bat Mitzvah celebration as every girl nowadays because of the Holocaust.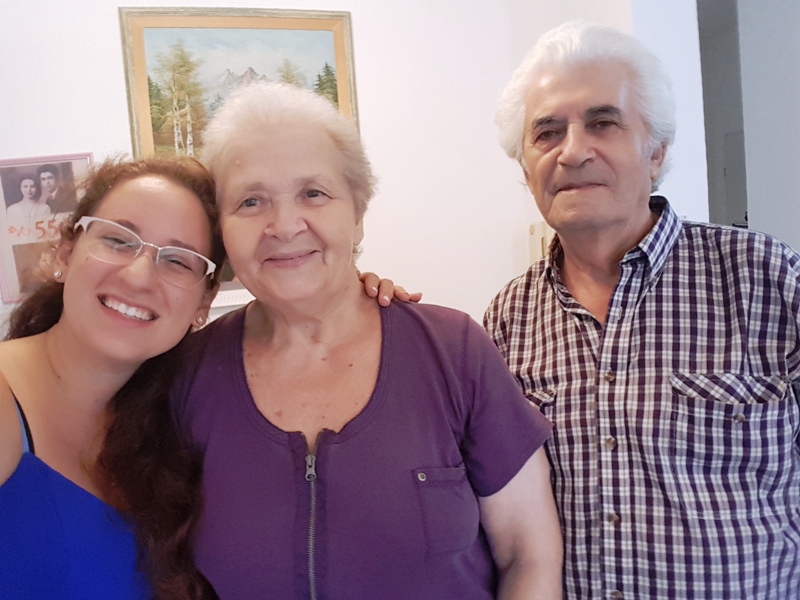 Shir, Svetlana and Dimitri
Shir : I went to visit Svetlana and Dimitri. When I called and asked how she is , her answer was that " there are good days and bad days. So I asked what your day? and she said: " very bad". I offered to come and take her to get grocery and doing shopping and she was happy and excited. So, we went to the supermarket and hardware store to fix a shutter spoiled. At the end, I bought her and Dimitri an ice cream, and they were so moved by this gesture.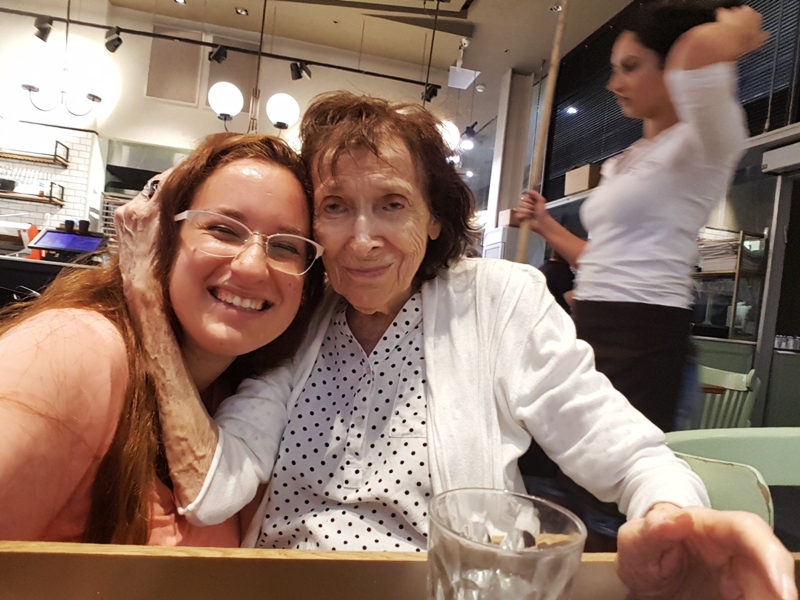 Shulamit

Together, we went home and Dimitri was very tired. We arraigned together the groceries . She said that she is very excited about our meetings and talked about her visit of her volunteer from Modiin. She is waiting for the new year. I told her about my desire someday to write a book with all the stories and briefs and photos of the winners and our elderly. Stories from the past and the horrors and the immigration to Israel, and their family life. She is very excited. And she told me she saw someone talking in the Facebook video, about the city Mhirson, where she grew up. And it really brought her back to her past. We were talking about their family, who escaped and about her mother's sister, whom their children, decided not to run away from the Nazis and how they threw them into well even being alive.... She talked about her mother's generosity, which has always tried to help and add more friends convincing them to escape. And that members of the family, who are in connection with Svetlana, say that thanks to Fanny (s. mother) they left alive.
Then I went to my Shulamit, I was very happy to see her, a little more powerful and positive after a very difficult period. I am particularly was excited to hear the CD I made as part of the formulary soul I made her, and the accompanying album, songs and pictures.

I brought her a souvenir from Greece and chocolate and she said that I shouldn't do it. I told her I thought of her and what will delight Chanan. And I brought chocolate for him, because he loves chocolate and I gave her a nice magnet with beaches and sea. We talked about her grandkids and she told me that one of her grandchildren, finished basic training, with certificate of honor, and begins his first course. I told her that on Sunday I will also begin my course accepting trainees as their guide, and I am very excited. She wished me lots of luck and hugged me and told me how much she believe in me.
Tel Aviv
Orel: Today I came to visit Jenny.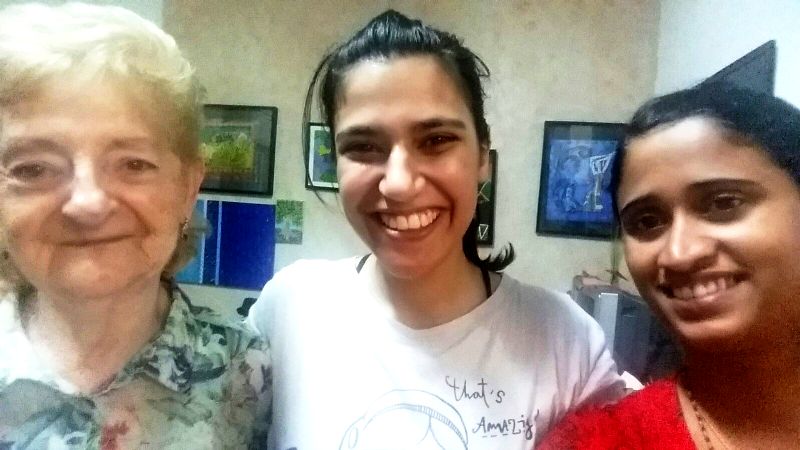 Jenny

Unfortunately, no change in her health and mental condition. She is most of the time, depressed and I'm stumped. She is like this, most of the time and I can't change that, unfortunately. I won't lie it saddens me. The National service took her nanny, she had till now (Sino). I was sad to hear that . Today, I helped Sino to see her email and print important forms and documents that she had received.
Jerusalem
Noga and Yael: we were with Eti again. This time we were at her place for a long time, and I didn't even realize how the time have passed. She have a small white dog her son gave to look after, and she seems very happy about it. It brings her joy and relieves her loneliness. Eti told us about the new Club, which were opened in her neighborhood (Bait Hakerem)
and she walks three times a week, and she loves to spend time there .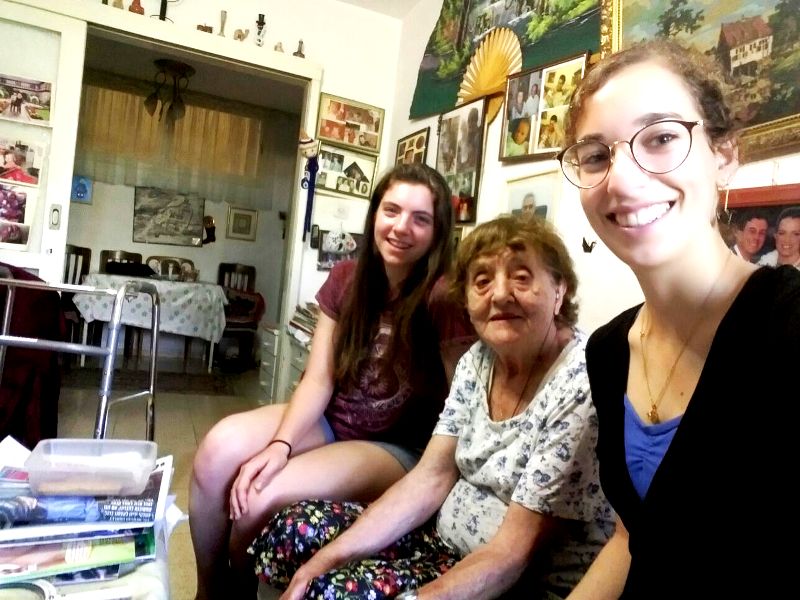 Eti

We were glad to hear that this place provides lectures, movies and more. Also, two meals, and companionship . Today she told us about Romania and provided few details about the war. It was a little hard to hear, but we are happy that she felt open with us. In addition, she showed us pictures of relatives who perished and it was definitely exciting. During the visit, the phone rang and people from her very little family, wishing her Sabbath Shalom. We were glad to see, the care they express to her, not leaving her to be alone. We had a chance to speak with her about current events in the country, and she surprised us with how she was informed and, for her knowledge of what is happening in Israel and in politics. On the end of the visit she expressed her love by kissing us and congratulate us for good Shabbat. There is no doubt that this visit made our Saturday to be much better . We hope that that our visit was also for her very meaningful. We asked if she need any help and she told us that she need new eyeglasses but can't effort it.
Zfat
Shir : I bought mobile with the sentence : "I woke up this morning! everything else, is a bonus." It is to mention that in even in harder days, the good and positive perspective will come up. I met Judith with her daughter. It was exciting to see her surrounded with love. She was very happy and moved. She is sad being alone at home and therefore going four times a week to the senior club. She was waiting for our visits. I told her that soon, the volunteers will start to visit her. Then I went to Ester.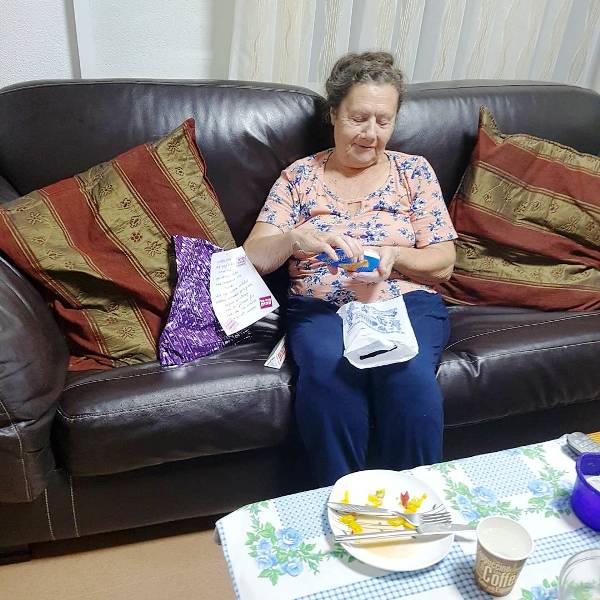 Esther

This visit I won't forget in my life. From these sessions, no matter how tired or what you went through, I just felt joy and strength. When I got there she hugged me, and began to cook. I immediately, grabbed the dishes and started to wash. I told her that it's my pleasure and I want to wash.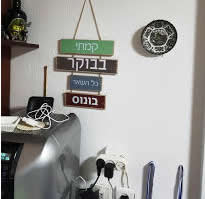 After having a kings feast, organized in seconds, with a beautiful floral map, we shared experiences from Greece, work, family ... Our discussion have lasted long time and we both felt, we just love it... and we both felt that we're just friends who can talk with each other about everything.

On that evening she opened the gift I gave her and was moved from my present from Greece nailed her taste with the magnet and chocolate. She read the card I wrote and immediately told me to put it somewhere prominent. We laughed, we hugged, excited, we sang, we danced, and just enjoyed each other. Funny thing was that I asked her if the cleaner (this week) replaced her linens. She hesitated and said yes. And immediately went up and we both laughed, and went on to change them. In the room she showed me things she bought for herself and said that until the last few years she wasn't buying for herself and never appreciate her own needs. It was another Ester without security as I knew before. Then I taught her how to work with her new phone and she was quite pleased at being able of. Throughout the night we were astonished by the amount of things that are similar in both of us. She thought I was staying to sleepover Saturday, but I had to go back home. We were drinking this magical night . She said that there were things she told me, and never tell to anyone.
Noga: On Tuesday I went to visit Eli, and as usual I was very happy to see him and know that he is well. The previous visit, he gave me the book which his son wrote, telling the story of Eli.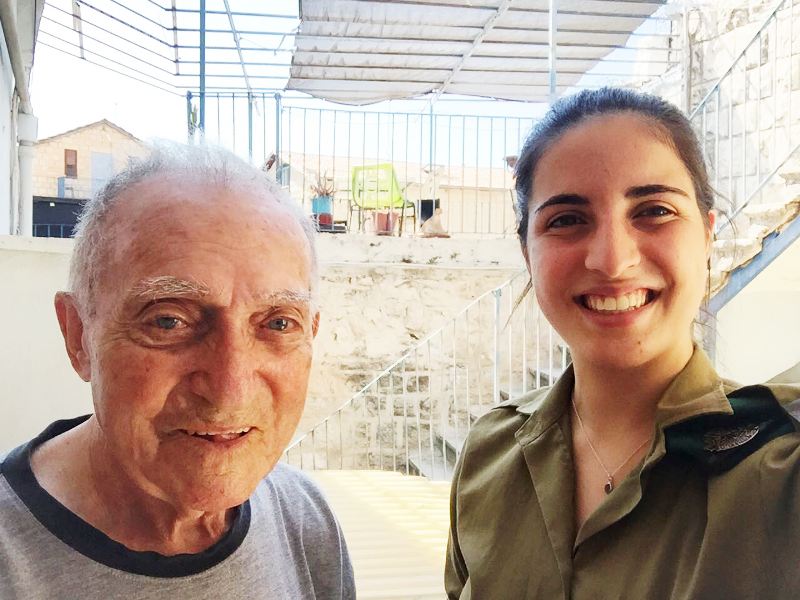 Noa with Eli

This visit we talked a bit about the book and the address it experiences Ellie added and told how he was sent from home to a labor camp when he was a teenager, and didn't know when's the next time he will see his parents. He described, how his mother traveled on Saturday to the camp to see him even though she was a woman that never has desecrated the Sabbath. On the same day Saturday, Eli said it was the last time he saw his mother. We continued to talk about the book, about life and I look forward to next visit to hear more stories and memories.
Shir : on Saturday, we walked with all my extended family in the area of Zfat, and passed right by Shalom's house.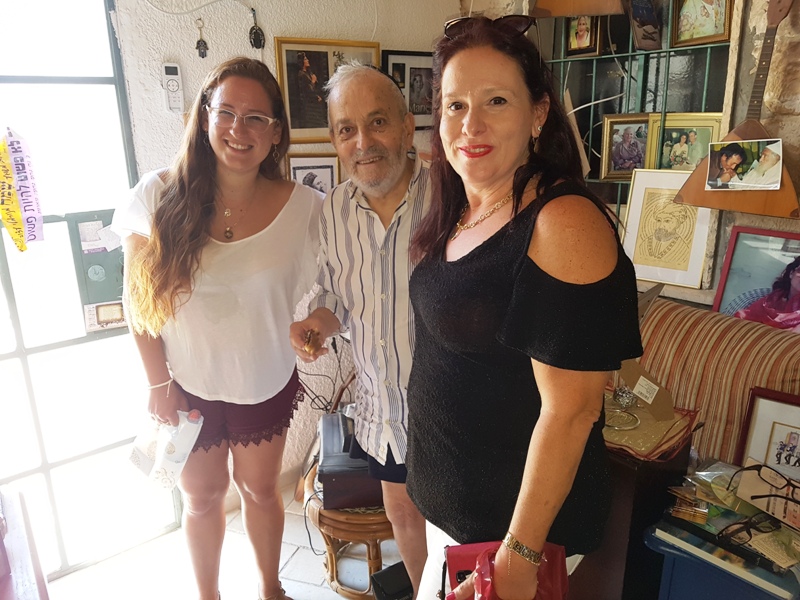 Shir, Shalom and her mother

So, we jumped to visit him and were glad to see the new Air condition. He was very excited to meet my parents and the connection was immediate. He told us how he is glad we met . He showed us the many pictures in the house, which most of them he took. He told us about his desire to develop a large picture that he took, for the memory to the 6 million, who perished in the Holocaust. He thanked us for visiting him, and said that he feels alive and not bored and sad.

Ran and Ori: after three months, of absence, (because I was at summer camp), Ben and I came to visit Ester. Of course the three of us were very excited and glad. I finally had the chance to meet her again ! It was fun to catch up, to speak , and laugh as we always did , just reminded me how much I've missed her and that I'm going to miss our weekly meetings...
Chag Sameach to all !!