Lighting candle with Lechaim
December 26, 2019, 28 Kislev 5780
Chanukah celebrations in the north
Beside of Chanukah party in Kiryat Shmona, we also had a Chanukah celebration in Chazor. Bracha opened her house for the shoa victors from Chazor and the students.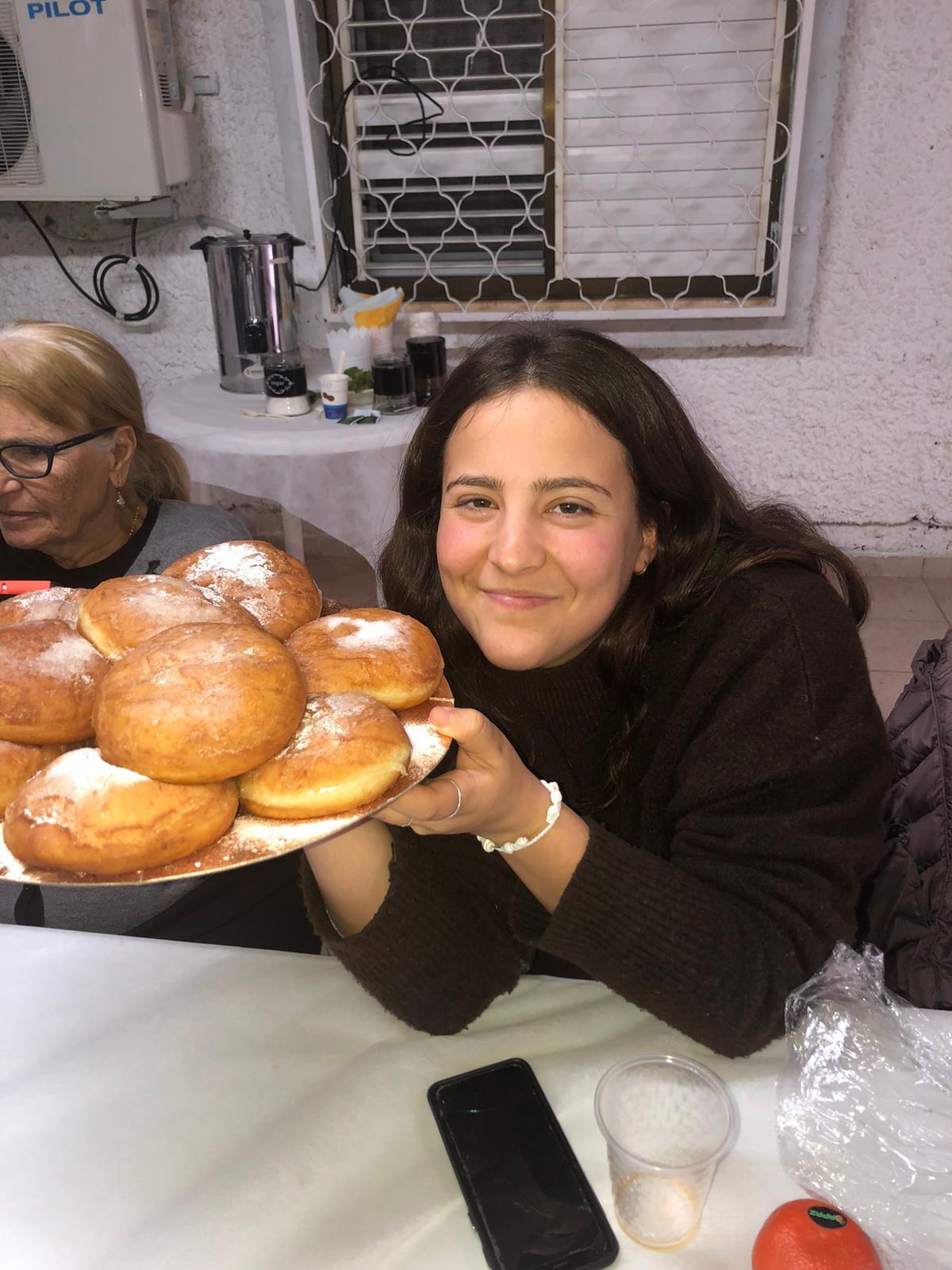 Roni with Bracha. Bracha made lovely suvganiots.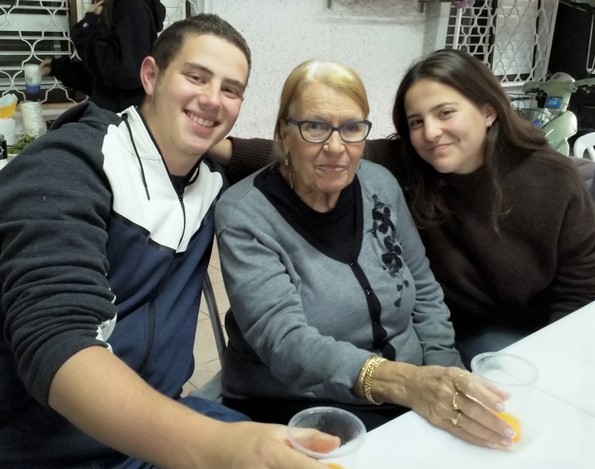 Omer, Jaffa and Roni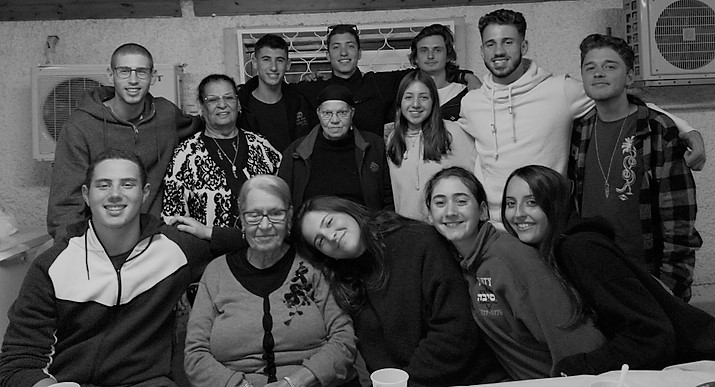 Chanuka in Chazor

The students brought a lot of joy with them and we sang a lot of Chanukah songs, and shared stories together. The students expressed their appreciation of being part of this project. Bracha, Ruchama and Jaffa thanked the students for their visits.
For Mina who was not able to come, the students brought suvganiots and others that was on the table to her. She was so happy.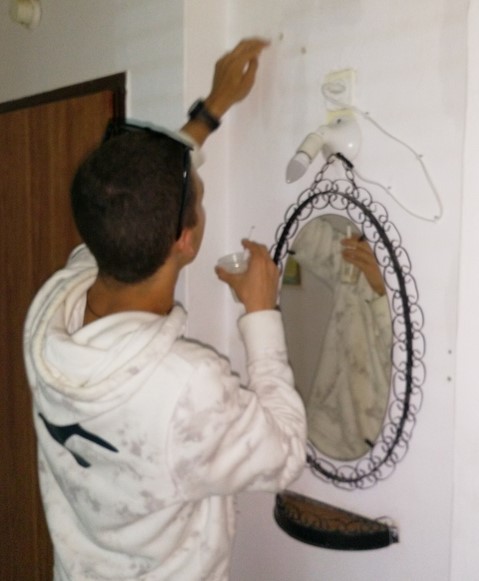 Roy reparing at Mina house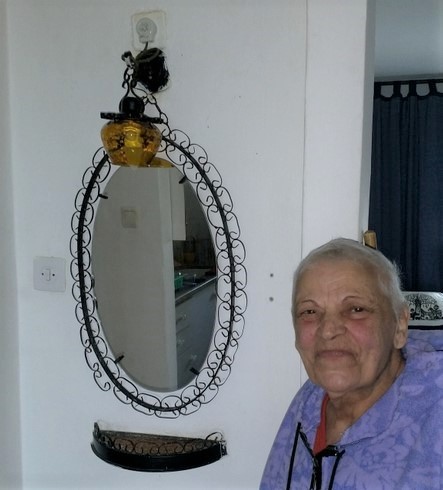 Mina was so happy with the new lamp

Roy also painted and restored some wholes in her walls and I fixed her lamp at the entrance, so she has now a good light when she enters her home. The students represent for Mina real Chanukah light in her home and life.
In those places that we couldn't have a Chanukah party, and those ones that could not join us, I visited and brought them a Chanukah present from Lechaim. A basket filled with all kind of fresh fruits and a personal blessing.
Much greetings from Jafim, Ela and Anna from Katzrin. Jafim feels a bit better now. He walks every morning 4 km and that gives him a good energy and better health. He misses his son and grandson that live in Minsk. Jossi, Marit and Tsipora from Kibbutz Chukkuk enjoy so much from the students. Chagit felt down and is now living with her daughter, not in the Kibbutz. Because her health is not good, she will probably not return home. We are all very very sorry and pray for recovery and new strength for Chagit. We miss her. The students that visited Chagit are now joining visits at Marit and Jossi.
As you have read in our previous report, students from Meitsar visited Eliram in the hospital, just a day before his operation and celebrated his birthday. Eliram is still in the hospital, recovering from his operation. It goes with ups and downs with him. We all pray that he will return home very soon.
Also, Chana from Rosh Pina is in revalidation after her hip operation. Rachel from Rosh Pina was so happy to see me and had so much joy from the Chanukah wishes. Rachel is not feeling good and it is hard for her to receive students on a regular basis. She feels sad about it, because she loves them so much.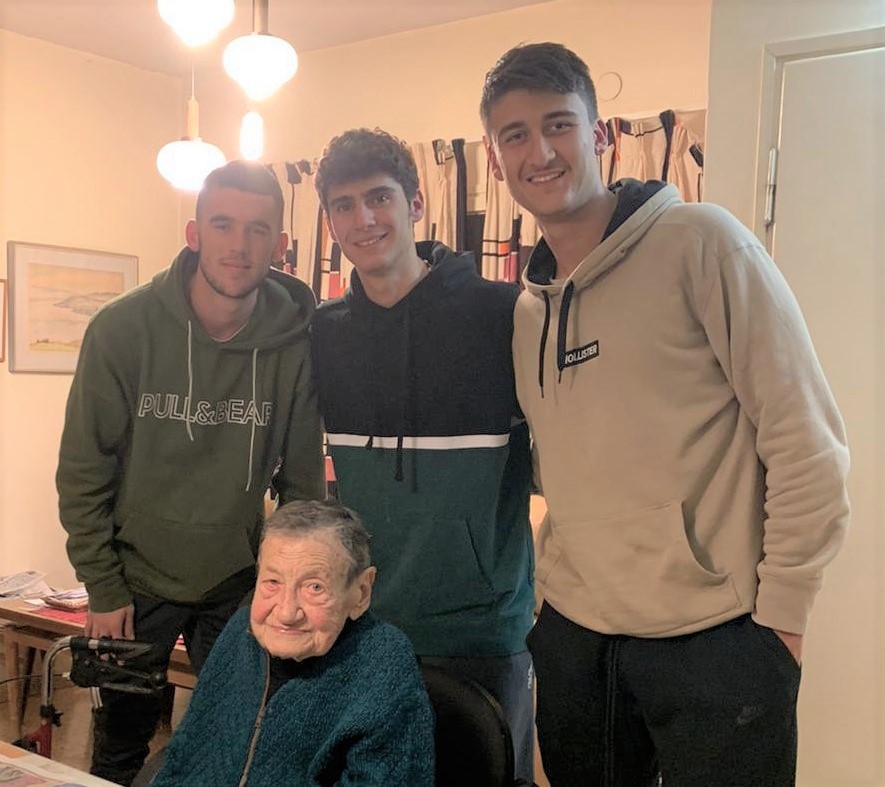 Rivka with Yuval Oded and Yotam

In Neot we have a new shoa victor. That is Rivka, 97 years old and from the very first visit she felt in love with the students and the students with her. Yotam: "Rivka has good hearing and talking skills, she wants us to come every week. We had amazing time with her".
Chag Sameach,
Timek


United hearts in unity

24 october 2019, 26 Cheshvan 5780

Shalom dear Friends,
Now as the Jewish Holidays are behind us, we are ready to have our students begin their first visits of the year this Monday. In preparation for this, two days ago, Shir and I, visited the students in the Mechina Program of Bar Am, located in the Northern part of Israel, next to Tzfat. Together, we met the group of the students that are going to work with our dear survivors in Tzfat.
We came exactly at 2:30pm and the students were already waiting for us in the classroom, glowing with excitement to hear about our program from Shir, our devoted teammate that is maintaining the the branches of L'Chaim in Tzfat and Modi'in in such a beautiful way. She told the students about how she originally became acquainted with L'Chaim five years ago, as she was herself was then a student in the Mechina of Ma'ayan Baruch.


She told them how touching it was to meet with us and to see how we were so dedicated to the great model of bringing new hope to the Survivors and turn them from "Victims" to "Victors." She told the students how she followed up with our project when she became a soldier. In the army, she made a lot of friends and many of them were enthusiastic to join our project as well.

The most special part of that meeting for me was to listen to Shir and to see how she greatly understood the vision of our work and how she, now as a young lady, can bring about change to the hearts of so many other young people throughout our country. By the end of the meeting, the students were very enthusiastic to begin the project.
I didn't have to say anything to the students - I was able to just sit back and listened with pleasure to every word that Shir spoke straight out of her soul.

I want to share one thing that was especially touching to my heart. Shir told me that as she was calling the Holocaust survivors after she came back with her boyfriend from abroad, they surprised her by saying that they have been receiving visits periodically from former students that they had met 2, 3, and 4 years ago. These young men and women are not only still keeping in touch with them and spending time with them, but sometimes they even bring their whole family for the visits - mother, father, sister, and brother. I couldn't' believe my ears - I felt much pride and joy in these words.

After the meeting at the Mechina, I came back to my home in Zichron and Shir went back to hers in Modi'in.
The biggest surprise happened the next day - Shir left me a message that she had had the opportunity to meet the new students in Modi'in who were considering to volunteer with our project in that location.
She had expected about 6 students to sign up, but was overwhelmed with joy that in fact 29 students enlisted to join our project to support our "Winners" in Modi'in!
I want to take this opportunity to say thank you so much to a special donor in Holland - an elderly woman who so generously gave 2000 euro because she feels such a strong connection to the work that we are doing.
At this time, I would like to express appreciation to all the donors from Norway, Singapore, the US, Canada, and Israel that have and continue to be so dedicated to the work of L'Chaim.
I know that they all give completely from the heart. I want to thank Hashem who provides us with the privilege to do our holy work that connects the young heart with the elderly heart, as the Tenach commands us, "Return Sons to Fathers and Fathers to Sons."
We are happy and proud to approach our 16th year of the existence of L'Chaim Project.
Thanks to all of you - students, friends in Israel and abroad, and all the people taking part in the L'Chaim Project.

Baruch Hshem, thanks Gd. With Gd's will we will send out our beautiful report with action and photos after the students' first visits.
Shabbat Shalom!
Sincerely,
Daniel



Leah's Visits with Anna and Jafim
Oktober 31, 2019, Cheshvan 2, 5780
On Monday I had the opportunity to bring four students from Mechina Meitzar in the Southern Golan to visit two of our "Victors" in Katzrin, Anna and Jafim. The students seemed very enthusiastic to begin their volunteer project and get meet the people whom they would be visiting weekly throughout the year. Anna was very happy and welcoming. She had just recovered from a leg and eye infection, but she was still in good spirits and happy to get to know the students. They spoke about their families (including their pets) and where they are from. Then Anna told them all about her life and where she has worked. They spoke about their families (including their pets) and where they are from. Then Anna told them all about her life and where she has worked. She has worked with children of all ages. With a twinkle in her eye, she told them how much she enjoyed catching the students in her school who were cheating on examinations and ensuring that the students understood the importance of honesty. We took a picture together and left with good feelings and enthusiasm to continue with the visits.

Next we went to the apartment of Jafim. Unfortunately, Jafim is in poor health and lives alone and has difficulty keeping his apartment in good order. The students were understanding and want to help him. When we entered the apartment, he was watching a very funny music video. The students sat down and started bopping with him to the music. It was a good bonding moment. After a few minutes he turned off the video and he proceeded to tell the students about his experience in the Holocaust and his life after the war ended. He also spoke about his family. The students seemed moved by their time with him and look forward to visiting him during the year and hopefully helping him better organize his living space.

Yonatan's Visit with Eli and Shalom - "I went to visit Eli, a survivor of the Shoah, for the first time on Monday. He immediately invited me into his home and offered me something to drink. Slowly, we became acquainted with each other and spoke about our respective families. I showed him a photo of my family and described who everyone was and how they are related to me. Then I told him that next week, another student from the Mechina, Rotem, will join me in our visit.
After a few minutes, he told me about his family, about what his life was like in the Holocaust and in the concentration camp, and how he immigrated to Israel after the war and was drafted into the a special military unit under the famous commander "Gandhi*"* at an older age. He spoke to me about what was important in life to him - deep friendships, not getting taken advantage of, and how to get promoted to higher places. We agreed that despite the age gap, there is a good connection between us, warmth, and a friendly spirit, and that we will continue the visits. At the end of the visit, Eli's son called and since it was time for me to leave, I prepared to go. I tried to wash the drinking glass I had used, but Eli insisted on cleaning it himself. Eli accompanied me to the door."



The First Visits of the Mechinot with Joy and Light
Oktober 31, 2019, Cheshvan 2, 5780

Dear Friends of "LeChaim,"

We experienced an exciting start of the new season as our students had the opportunity to finally meet with the Shoah "Victors" this week. The enthusiasm of the students and our "Victors" was overwhelming and beautiful for me to witness.
Kick-off Event at the Community Center in Kiryat Shmona And Follow Up Visits

I picked up the "Victors" in my minibus and brought them to the Community Center in Kiryat Shmona where we met the students from the Mechina Ma'ayan Baruch. Klara, the leader of our "Winners" in Kiryat Shmona, had already set the tables for our introductory meeting. The students mixed with the elderly men and women. There was an instant atmosphere of connection, almost as though everyone had known each other for a long time. You can see the smiles on participants' faces below.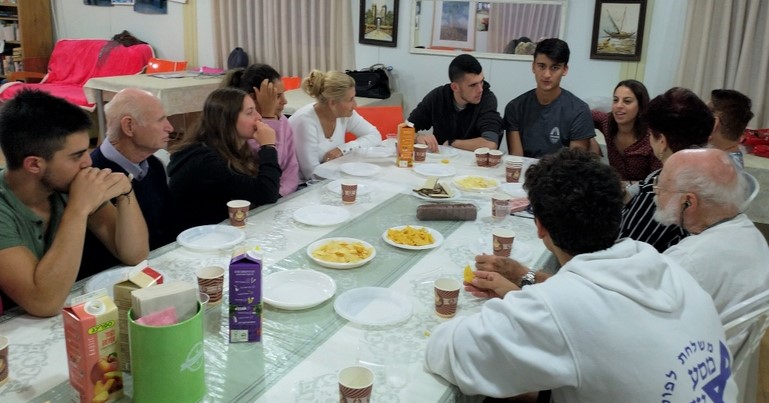 Kick-off party in Kiryat Shmona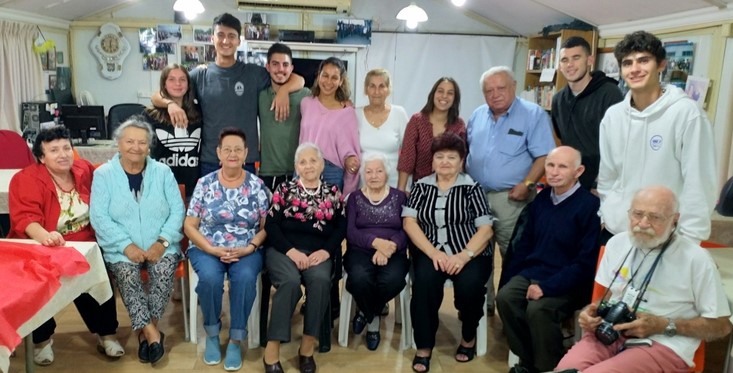 Students and Victors in Kyriat Shmona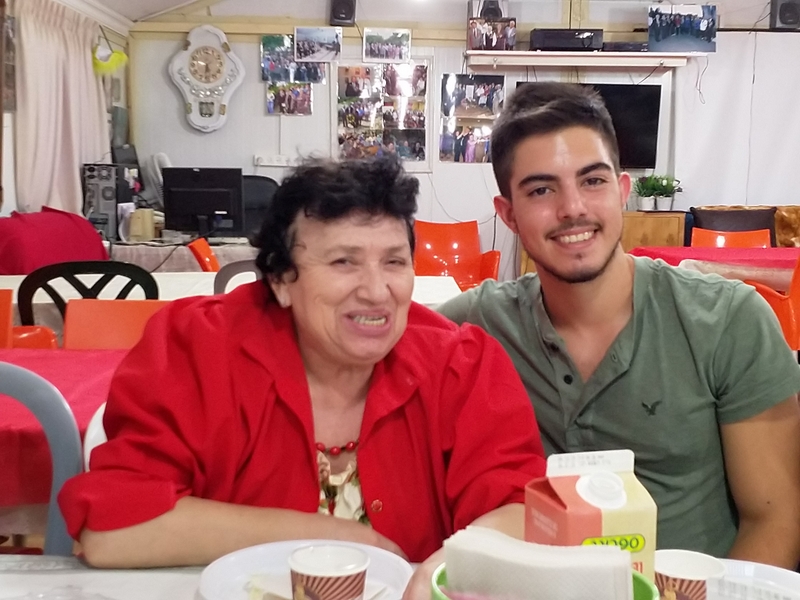 Ludmila with Roy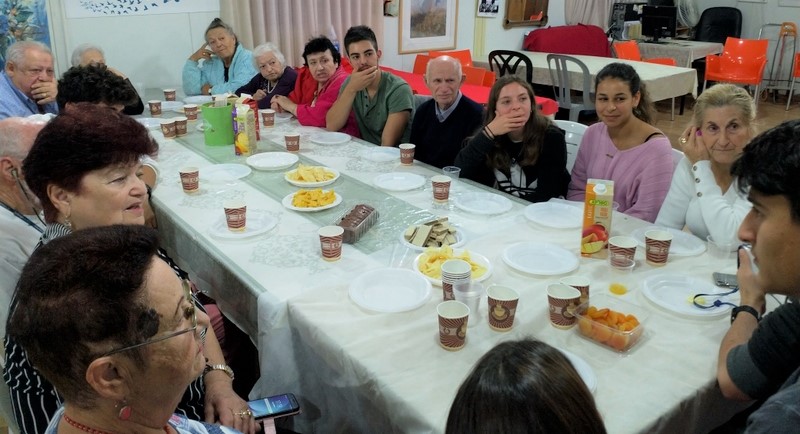 Kick-off party in Kiryat Shmona
The next day we began the regular visits at the "Victor's" homes. Below is a picture of the students Roni and Yuval at the home of Bracha. Yuval actually called me during the visit to share excitedly; "we are enjoying [this visit] so much, it is really excellent to experience this."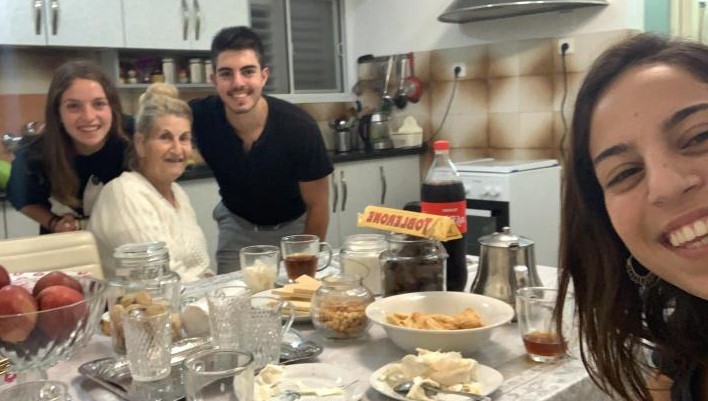 Bracha with Roni Roy and Yuval
Another group of students visited Steve and Rachel in Kibbutz Neot-Mordechai. You can see in the photo below the joy on everyone's faces.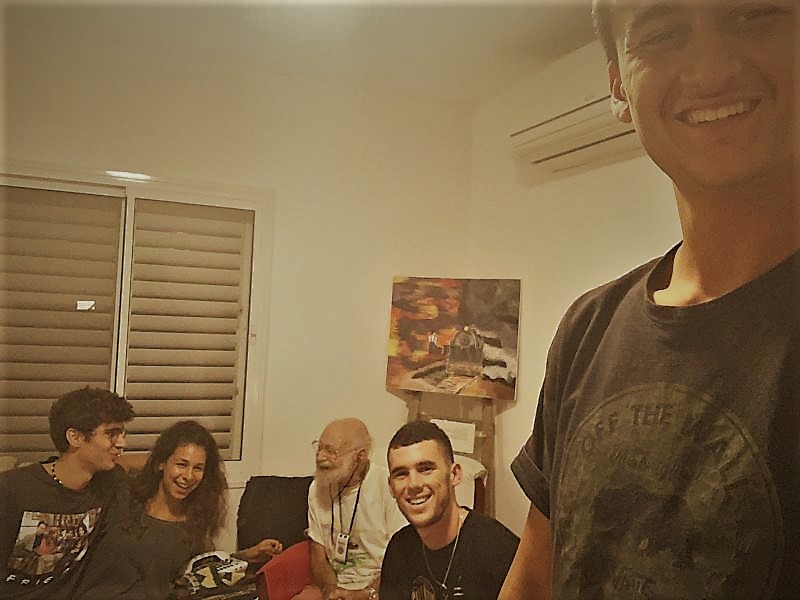 Steve with Oded Yotam Emily and Yuval.
Oded, Yotam, Emily and Yuval (from right to left)
And here are the same students with Rachel. The expression on Rachel's face says it all.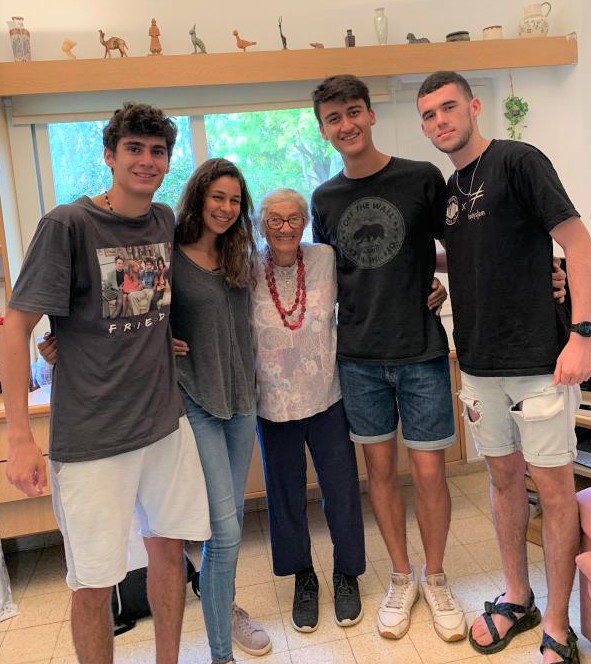 Rachel with Yuval Emily Oded and Yotam

First meeting in Hatzor

The next day I went with the students of the Mechina Kfar Hanasi to the homes of our "Victors" in Hatzor HaGlilit. Some of the students already chose with whom they wanted to visit because they had received an introduction to the program by volunteers from last year. We met at the Central Bus station in Hatzor and we went from house to house of our "Victors." Each time two of the students stayed in one of the "Victors' " homes.
Here we are with Bracha. Vered (most left) and Itai (behind Bracha) knew that Bracha is a perfect match for them! They stayed with her because of a special connection that they have with one of her children in Beer Sheva. After the visit, Itai and Vered were so excited and told me how they love to be with Bracha and will visit her every week.


At Bracha Itai and Vered stay at Bracha.jpg
Here at Ruchama's home, Ofri and Mika (on the right) chose to visit with Ruchama. After the visit, I asked them, "Do you want to remain partnered with Ruchama?" Their answer was, "For sure we will stay with her!"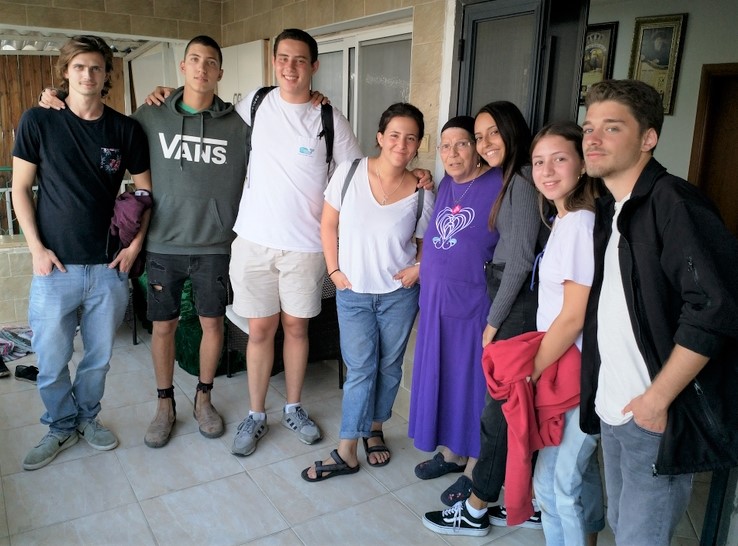 At Ruchama - Ofri and Mika on the left stay with Ruchama
Next, we went to visit Mina. Unfortunately, Mina is not in good health. She is currently is in the middle of chemotherapy. The results from a recent PET scan are worrisome. However, Mina is a fighter and will not easily succumb to her illness. Mina has had many other difficulties in her life and she has developed a bitter outlook. She believes that everybody is her enemy and is out to "get" her. It is difficult to gain and keep her trust. I warned the students that whoever will choose to partner with Mina will have not an easy job, but at the end, he/she will have the opportunity for great satisfaction. This was how the previous students Ophre and Bar felt when they finished their year volunteering with Mina. In fact, they still keep in contact with her. Roy and Vered heard from Bar about Mina's situation and even before their visit wanted to take on this challenge. After the visit, I asked them how they felt about continuing with Mina. Their faces showed sorrow and sadness, but they told me that they will not give up. I feel that this is a very brave decision and I wish them all great wisdom and strength. Below is a picture of the visit with Roy and Vered (sitting just to the left of Mina) and Mina.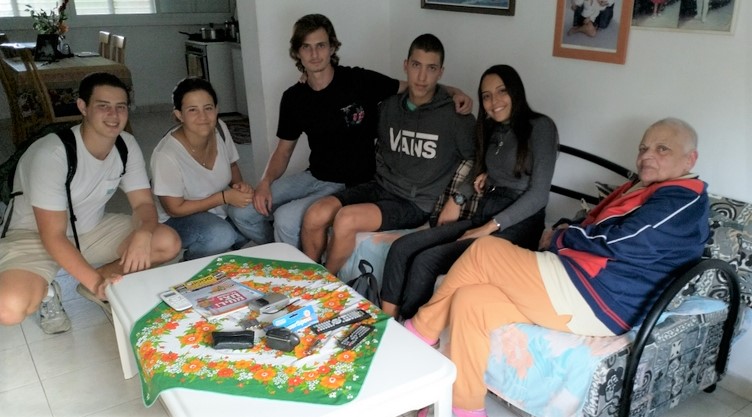 At Mina - Vered and Roy most left stay with Mina

Ginosar and Chukuk
While I was in Hatzor, Brigitte, a coordinator in the kibbutz of Ginosar, introduced the students from Mechina Meitsar to "Victors" Eliram and Batya who reside in Ginosar. Batya just returned from the hospital, so the youngsters couldn't stay for long. Eliram fully enjoyed the visit as you can see in the picture below.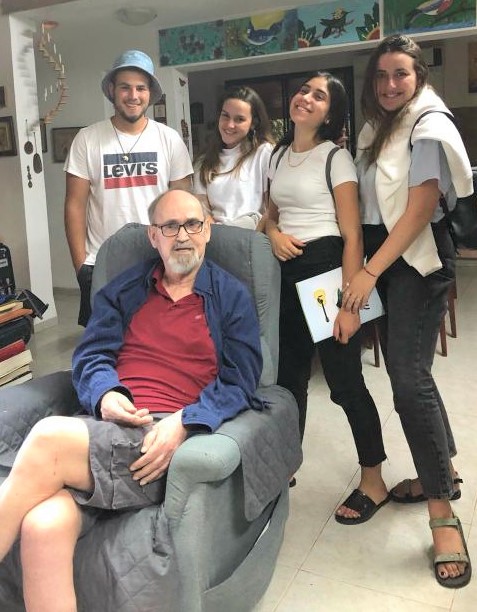 EliRam with Shachar and other students from Meitsar
Ruben, the coordinator of Kibbutz Hukuk, introduced the students to the "Victors" Marit, Yossi, and Chagit who reside there. Chagit is new to our program and she needs to decide if she will want to continue with the students.
I was so pleased with how dedicated this entire group of students are to our project and I am optimistic that this year will bring great joy and satisfaction for both the students and the elderly.
Thank you for joining us in this heart to heart project,
From the Entire Team of LeChaim - Timik, Shir, Shuki, Leah, Natan, and Daniel. We wish you all a good year.

Shabbat Shalom.
--
Daniel Braun
E-mail: danielxrw@gmail.com
Phone: + 972 54 772 3510
Welcome to our website at: lechaim2life.org.il

Happy new year
Oktober 6, 2019, Tishrei 7, 5780

Now a word for my co-worker Timick...

Shalom Dear Friends,

It was a joy to visit all of our Shoah "victors" in their tiny apartments and hear how they are doing and to bring them a gift and food for the High Holidays. Directly after Rosh HaShanah, Daniel and I visited three "Mechinot" (military preparation academy) where we introduced the project of "Lechaim." Some of the students there will start volunteering with our organization during their upcoming academic year. The vision of "Lechaim" that Daniel shared with the students was well received. As you can see in the photograph below, it was a great joy to see so many Israeli youth enthusiastic to be involved in this project. Soon we will start with the first visits. We await this day with excitement.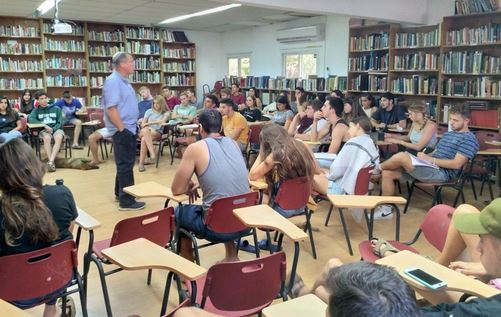 Daniel speaking with the students of Meitsar Mechina
I have been also visiting with the the Shoah "victors" during the summer months when the students are on vacation. As you can see below, we are enjoying the company of one another while awaiting the arrival of the students. Each time I meet with the "victors," they ask me "when do they (the students) come to visit me?"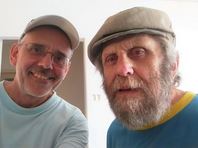 Timek with Jafim out of Katzrin
I would now like to share with you a special story from my first meeting with a new Shoah "victor" named Sara. I was asked if it would be possible for Mechina students from Kfar Hanasi to visit a new "victor," Sara, who lives in a nursing home in that kibbutz. In order to meet Sara myself, I first tried to contact her daughter, whose number I was given. I was unable to reach her after several attempts, so I decided to just walk into the nursing home and ask for a woman named Sara at the reception desk. When I did so, the secretary said, "yes she is here," and pointed to a lady sitting right next to the her desk. I turned to Sara and introduced myself. She looked at me with suspicion and asked in a defensive way, "Who sent you to me and what do you want from me?" I thought, maybe this is not the right Sara that I was meant to visit, but I proceeded to explain to her that I didn't need anything from her; only that I just wanted to visit with her and talk with her for a few minutes. Next, what Sara told me was sad and shocking; "I don't belong here! I don't belong anywhere in this world! I am meant to lay down 6 feet under the ground!" Then she asked me "how old do you think that I am?" I replied, "you look to me like someone in their mid 80's." She started to laugh and replied, "I am 96 year old!" WOW. I would never have given her that age. Sara is a nice looking elderly lady. Then what I noticed is that Sara speaks English with a heavy American accident, and doesn't seem to speak Hebrew. Sara explained to me that she doesn't follow the activities of the home because she doesn't understand the workers and they don't understand her. I am guessing that because of a language barrier she can't integrate and feels useless there and unhappy. I don't know yet if this is really the case. I asked her about her life. Sara told me that she is from Brooklyn, she had a good life with her husband, and they traveled all over the world together. She was very satisfied in her life in the past, but her situation now, living in Israel without speaking Hebrew, is very difficult for her to accept and to deal with. She is very sensitive and her thinking is acute. At the end of our visit, Sara was happy that I came for a talk with her. She gave me a strong hand, looked at me straight into my eyes, and said, "come and visit me again!"
I wish you a meaningful Yom Kippur day and a Chag Sameach!
Timek
Daniel Braun
E-mail: danielxrw@gmail.com
Phone:+972547723510
Welkom op onze website: lechaim2life.org.il