Letter of Daniel from Oktober 16, 2020




Report from Shir and her students
I met with Tova just before Rosh Hashanah, before the closure started and since then we correspond in recordings on WhatsApp and also talk on the phone. She is ok, there were some issues with the electric company and an issue with some rude neighbor that I helped her reach by phone. Beyond that the holiday season is difficult for her and this is understandable. But overall she's just fine. Her caregiver is great and she's getting along.

From Zohar and Hadar - I called Svetlana today (Wednesday) and we talked a little because I noticed she was a bit tired. She did not talk much, I asked her how she was and what she and Dimitri had done today. She's in a bit of a bad mood and also said she's not feeling so well so I tried to lift her mood. I told her to be optimistic with the whole corona thing and explained to her that Zohar and Hadar would also call. We'll try during the week to maybe bring them some cake or something cute because she was a little upset. Next day we brought Svetlana and Dimitri an orange cake we made and she was very happy.

Reports from the phone calls
No doubt our updates from phone calls are shorter than those of face-to-face meetings but they are no less important or emotional. All the beauty in L'Chaim is perseverance and connection. Even if you just ask what's up, show interest and express affection and concern it is worth gold! It gives strength and shows that we care and all the beauty that it is every week and wholeheartedness. May we be privileged to continue this wonderful relationship and also may we be able to meet face to face soon.

Noa - I spoke today with the lovely Anna. We each shared about our own day. She is very very careful regarding corona. She reads a lot of books lately. We wished each other a Happy holiday.


Yuval - Raya and I talked before Yom Kippur, I'm glad they talked. She fasted and it went fine even though it was a bit difficult. I also called on the Friday before Sukkot to wish her a Happy holiday.

Hodaya Rivka - I talked to Tova today, we talked about Sukkot which is coming tomorrow. We started with a conversation about the holiday and from there we went to more interesting topics. She's good overall, and it's always good to hear from her and talk to her :)

Rotem Gal and Noam from Modi'in - In honor of Sukkot, we brought dear Yehudit a package from us in honor of the holiday and she is very happy.

Noa - I talked to Grandma Sarah on the phone and it was really nice and we updated each other because it turns out that we had not spoken for quite a long time and she told me how she is going through quarantine and everything.


Shachar and I (Shir) want to go visit her and bring her a cake next week (of course with distancing and masks).



Hadar -It  was really good with Elah (from Katzrin), we talked for an hour, she mostly told me about her life, her family and also about the difficulties. I hear from her that she is a woman of life, really. During the conversation I told her that she sounds like a woman who is very alive and she was very emotional about this.

Report from Timek and his students
One day, I received a surprising call from Hadassa (Kfar Goshrim). Last year she was very sick and her husband Aronczik turned 90 years and she requested us not to bring new visits. So I respected that and now she called me that she would very much like to hear how the students that visited her that past year are doing. She remembered their names: Maya and Ram.

First of all I asked about her health and she improved a lot and she asked me to come for a visit. I sent the students her number and asked them to call Hadassa and they did and it was fun for them and excited to speak with her. Ram wrote to me: "Hey Timek how are you? You made me very happy with this message, I will call Hadassa tomorrow. Take Care". Also Maya replied with enthusiasm and these two students brought a light and encouragement to Haddasa and Aronczik.

Four other students from the past years responded to my request to phone the winners during the lockdown and they did and enjoyed that very much. Yuval was calling Rivka, Rachel, Steve and Klara. Amit and Ido spoke with Steve.

Steve is doing well, but the lockdown is difficult to carry, because of lack of connections. He feels lonely through this and the phone calls bring life and a needed connection with his outside world.

I am happy for Elah that she likes to talk with Hadar. Elah feels like in a jail. It is hard for her to stay all day home and unable to go out for a walk. She is concerned about corona and she is right. Some people in Katzrin died.

Jafim (Katzrin) is doing well even through this time. He is used to being alone, he walks every day and keeps his body in better shape. He told me that he is feeling much better. I am happy to hear that and I hope to bring him new students soon. He needs it so much. He can't wait for that day.

Klara (Kiryat Shmona, foto right, left is Neli) had her birthday. That same day Daniel called her and that made her really happy. Taking care of Mordechai, her husband is hard, even though she receives help from the healthcare and from her two daughters.

Mina (Chazor) told me that Ido is calling her all the time. Ido is a student that visited her 2 years back and as he promised, he always keep in touch with her, even comes for a visit when he is in the neighborhood. Ido lifs in Modiin, that is at least 2 hours driving from Mina. Also other students keep in touch with Mina and she loves it and needs it.
Yesterday Mina told me that the doctors declared that she is cured from the cancer she was treated for last year, after it came back. It was a very difficult year for Mina. And now she is extremely happy and invited me for a celebration party she wants to organize after the lockdown is lifted. Mina also told me that she received a phone call from Daniel: "What a good man, he is. And how he talked to me was so sweet." Mina is encouraged by all the attention she gets from Lechaim. For her the students and all what we do for her is a blessing from heaven. She asks every time. How does it come that people love me so much? I answer always, because HaShem loves her so much! And she confirms. These simple but touching words give her strength to go on in her daily struggles.

EliRam (Ginosar) is still in bed and doesn't feel good for weeks. Doctors don't know what to do. I pray and hope that EliRam strengthens soon.

I am in touch with the mechina's and we hope by the end of the month some of the students will be able to start visiting and others can start making phone calls. Daniel and I are preparing this "phone call contact program" and we received good responses from the mechinot as an alternative to real visits.

Blessings Timek







A real winner
August 13th, 2020, Av 23, 5780
Dear friends
This week I would like to share with you a very very special story about Tova – a real winner.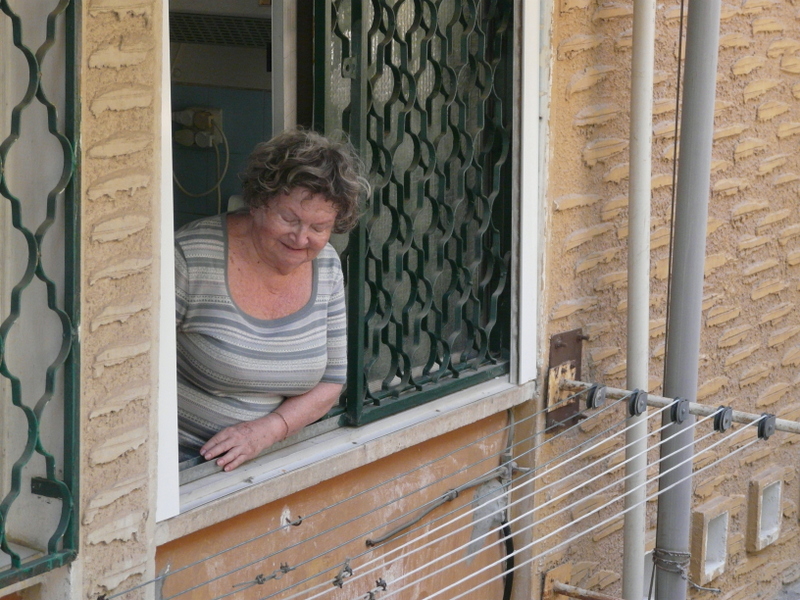 I know Tova for some years now. I thought I knew all about her life story. I knew she lost her family in the shoah. Parents, brothers' sisters. I knew she lost her husband. I knew she lost her daughter. And I knew that few times she was also between life and death. Because of health matters. But last Friday we spoke for nearly two hours. And then she hit me in my heart. And she shared with me what she didn't share before. It all started when I mentioned to her how I am amazed and impressed with her love for life. With great courage. And then I asked her. Tova where are all these strings from. Where do you find a place after what you have been through after being so positive about life? And then she told me. Daniel. She said. You don't know everything. I was not ready to share with you yet. But I am now. My first boy. When he was one month old. He died from illness. My first girl died when she was 24 years old. Very smart, very talented and my second daughter became a doctor and I was so proud of her. God took her from me. And then my heart shut. What was so amazing is that all of them died on a shabbat. And now I have only one son. He is far away and the connection with him is not so good. But all that Daniel she said. Didn't stop me from loving life. To love beauty and nature. To love Am Jisrael. To love people in general. To love Elohim. And slowly slowly with a good connection that life brought me including your people form Lechaim, opened my heart again. I love when Shelly is in contact with me. That Shir sent to me. I love Rivka Hodaja, the student that you Daniel has sent me. And I also love talking to you Daniel. It's always very inspiring.
Well my friends, that is the story of a real winner that chose life that chose to be optimistic and she brings so much hope and inspiration though the young students and if I may say, also to me. God bless you Tova. For a great example How, we can come out from gehenom from death and still choose to live. Tova, you are Israel for me.
Toda raba, Daniel
Report from Timek

During the hot summer months, I travel from the city and a kibbutz and visit our dear shoa winners. I also phone them or they phone me, and each time it makes me and them happy when we meet or talk. Here follow some updates from my visits.

Tsila in Neot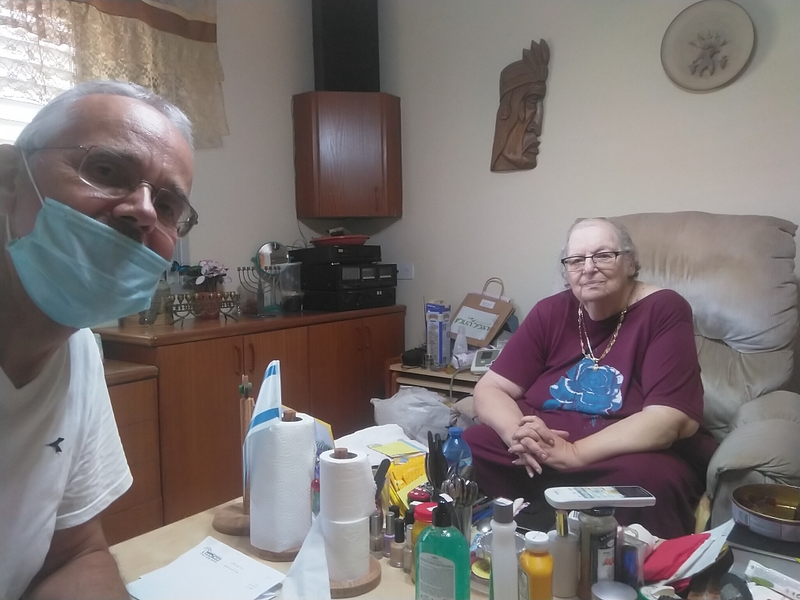 Tsila is a new shoa winner in Kibbutz Neot Mordechai. Tsila escaped the Nazi Germany, with her parents just on time. The last boat took them to freedom in Argentina. In Argentina, after the Shoah, Tsila lost her aunts and grandparents and all her family. Tsila her father hid his Jewish background in Argentina and didn't want to hear anything about the establishment of the Jewish homeland in Eretz Israel. Tsila didn't want to stay in Argentina, she wanted to settle in Israel. And it happened that she visited Eretz Yisrael on one of the sponsored youth programs. As soon as Tsila made Aliya, her mother followed, and later on also her father. He had no choice than to reunite with the family. Tsila feels sorrow that she had to grow up without a bigger family. She feels this great gap that Shoa caused to her. She never experienced what it is to have a grandfather and a grandmother. This is difficult for her. She really wants the visits of the students, so she can express herself. This is what she needs.


EliRam in Ginosar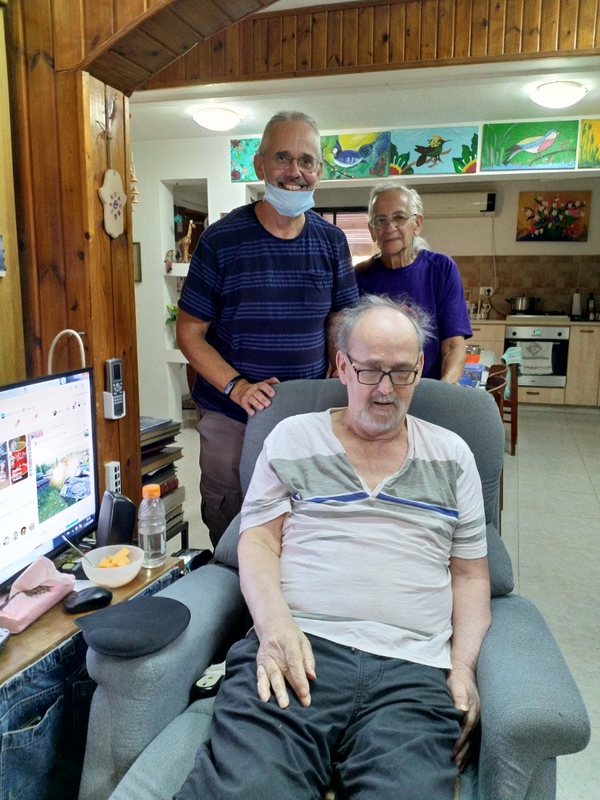 Eliram went through 12 treatments of chemo-therapy. Week after week. It took him always a whole week to recover from the treatment and he is so happy that this is over. Eliram is now very limited. He can't paint anymore. He used to make a few paintings every week. He also can't work on his post stamps. So, each visit is for him a great joy. Last time I visited him, he talked for almost one hour non stop. I have never seen him with such a desire to talk!

 

Jafim in Katzrin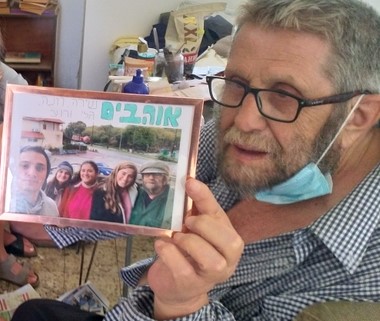 During the time that I injured my knee and I couldn't walk, Jafim called me several times and asked about my health. This is something big. Jafim is reflecting the love that we give him. This is the motor of our relationships. Jafim is one of the shoah victors on my priority list. He has nobody to talk to and so he needs more attention than some others. Jafim calls me when he has a problem, when he needs something to fix. I like this and I rejoice. So last time his air-condition didn't work and he called me and asked what to do. I gave him advice so he could relax and next day I could come and fix that. Jafim loves to talk about global politics from Russia to the United States. He knows every detail and even what is happening behind the scenes. We joke and laugh together and we both feel the healthy joy through our bodies.

Mina in Chazor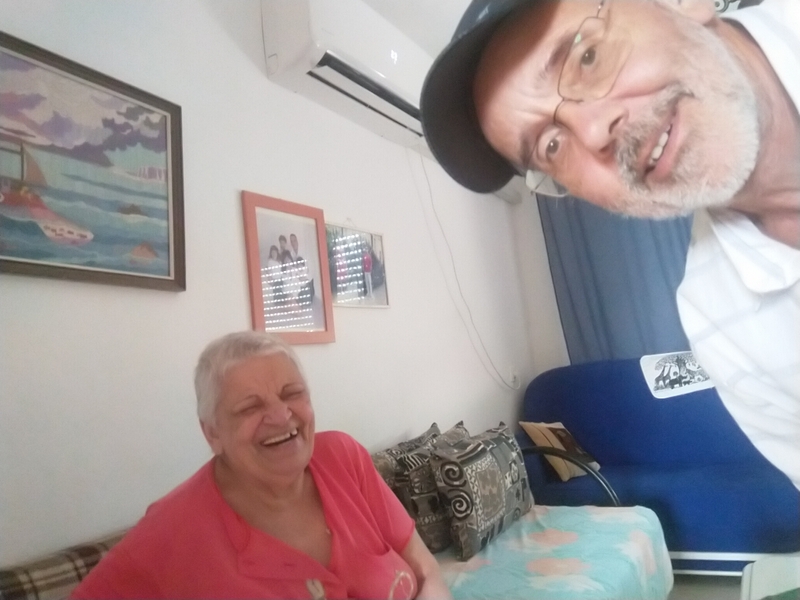 Mina is also on my priority list; she also calls me and asks about my health and so. She has very very few people that really care and she depends on us. Mina never married and has no children to ask for help.

She lives in the same tiny apartment where she grew up with her parents and her two brothers and sister. One brother is living in the United States, her sister lives somewhere in the center of Israel and her youngest brother lives close by, but his health is not good. The relations are very poor and Mina really cries about it. It hurts her.

Mina asks me every time: How does it come that there are people like me, and like Judith (she comes every week to visit her) and like the students that care for her? And I always say to her that it is HaShem, because he loves her so much, he sends people to her. And then the smile on Mina's face comes up and that is amazing.

 

Report from Shir

Last week, Itamar was sent to the reserves in Safed and came to visit Esther without me. They had fun and joyous quality time, they talked, ate together, laughed and connected. I heard from both of them about this meeting and both were happy.

I arrived last Friday to bring Grandma Sarah a cheesecake in honor of Shabbat. Her son fell ill in Corona and she and her husband Abraham went into isolation. Thank God they got negative results and feel good.

Itamar and I came to visit Shulamit after a long time of not visiting her together. We brought her a homemade apple pie and she was happy. We drank tea and talked about corona, what is happening in our lives, how she is and how her children and grandchildren are. We also briefly met her son Asa, who went to pick up something his children had forgotten before we arrived. We had so much fun with Shulamit and it was so hard to sit in the distance and not hug her!

Hemda's volunteers who are currently in the army continue to visit as often as they can on weekends. They came for visits from the garden and outside the door. Hemda's sister passed away this week and her pain is very great.

Updates from our other survivors:

The situation of our survivors in Safed is without change; they tell of a longing for regular routine and a desire for the corona and masks to disappear from the world. Shalom feels a little unwell and we wish him complete healing. Julie and Judith are just fine and are on weekends with their children or they come to visit them. Moshe and Irna are coping well with the situation, Moshe goes out for some errands and trips and Irna is used to not leaving the house for health reasons. Lillian is still very sad and saddened by the loss of her late son Yossi. Esther continues to be optimistic and wonderful as usual - cooks, gardens, cleans and goes to the day center. Eli continues to make his trips and feels fine.

In Modi'in Svetlana and Dimitri suffer a bit from this period and their health but continue to do morning walks. Dimitri recently celebrated his 85th birthday. Their daughters come to visit from time to time and as do the grandchildren.

Jeneatte continues to be optimistic and coping as possible, meeting with her family on the weekends and reading a lot of books.

Mordechai does not feel so well and we wish him complete and good health.

Riri almost never leaves her house due to her asthma.

Miriam enjoys a very close relationship with the volunteers from the school who have really become like granddaughters for her and make her very happy.

We wish all of our survivor's joy and happiness in their hearts.

Regards,

Shir and Shilo

 

Reports from our students that call to the winners

Noa-
I spoke with Anna (from Katzrin). Her condition has improved. She spends her time mostly in meetings with friends who sit in her yard. It sounds like she has great help and support from her neighbors.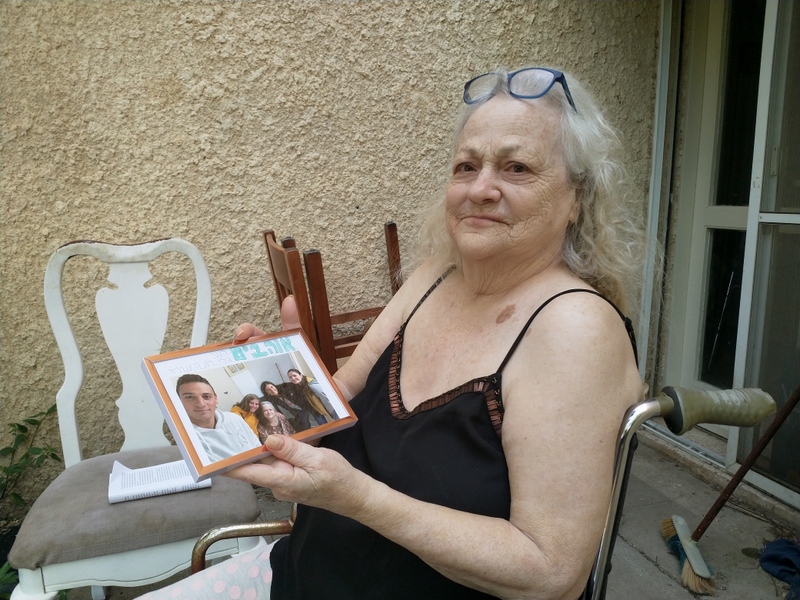 I was able to talk to her this afternoon. I told her about myself and asked how she was and how she was feeling. She told me that a few days ago she fell at home and broke her rib and right now she wants to focus on rest. I asked her to share with me if she needed help because of the injury and she said she would update me but that right now everything is fine. The call was short as she wanted to focus on resting at home because of the injury and we agreed that I would call in a few days.

Yuval-
I talked to Raya (from Kiryat Shmona) today, she is really lovely. Not sure how long they (winners) will have to stay in their homes (because of the corona). It's complicated for Raya, but the conversations make her happy. Raya shared with me that she spends her time mostly watching TV and reading news. Her son brings her what she needs.

Hodia Rivka-
I talked to Tova (from Haifa) and it was very nice. She's glad we talked. She told me some of her thoughts and about her family. Thursday was Tisha B'av, so she talked a bit about it and the loss of her daughter who passed away a few years ago.

 
Blessings and thank you all for your continuous support,

from the Lechaim team


The end of the students activity for this year

July 5, 2020, Tamuz 22, 5780 
End of year visits in the north of Israel
All the students from the mechina in Mayan Baruch, Kfar Hanasi and Meitsar visited in the last few weeks for the final time the shoa winners. All of them did their utmost best to express our winners sincere love and honored them with blessings and words of thanks for having this opportunity to participate in this project that builds the basic relationships between the elderly and the youngsters. We couldn't make celebrations so all students made festivities in each of the houses of the winners.

Most of the students promised to stay in touch with the winners also after the end of the mechina, some promised to come back and visit them during the summer months. In the video's you can hear the students tell in what way this project affected their personal life.
Not only few of them expressed that it really changed their attitude towards the elderly people in general and towards the shoa winners in particular.
Several of the students told us that they learned how to approach their own grandparents (some are shoa winners too) in this very new way of communicating. They now appreciate much more to spend time with them, to talk with them from heart to heart in a new fresh way.

It is a great joy to hear from these young people how much they gained from this project. Some students toured also their parents during the year and showed them this life changing experience. The corona crisis even improved the close friendships. And the fact that by the end the students could visit the winners again after this sudden pause was a big blessing for all of us.
Below you see the pictures from the final visits.

Enjoy,
Timek

In Katzrin - Roi, Ronna, Shira and Gali from Mechina Meitsar with Jafim and Steve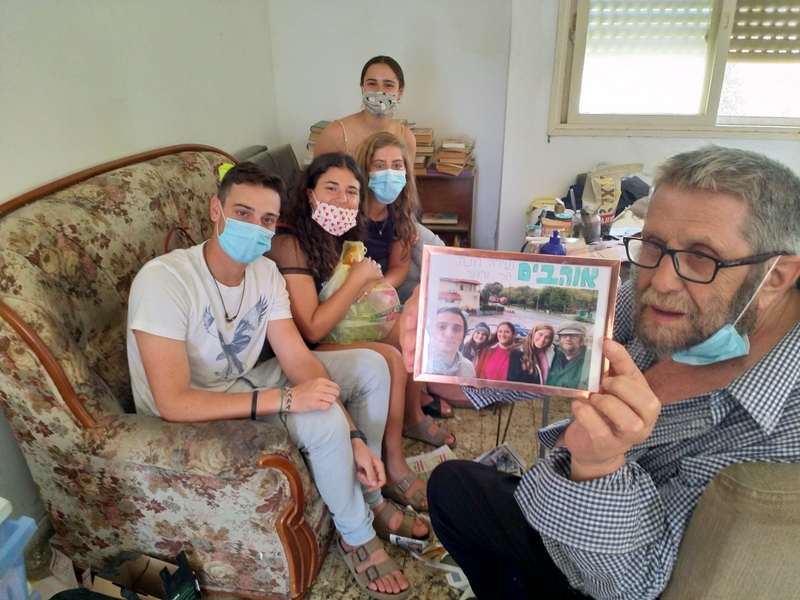 In Ginosar - Amit Maya and Shachar from Mechina Meitsar with Eliram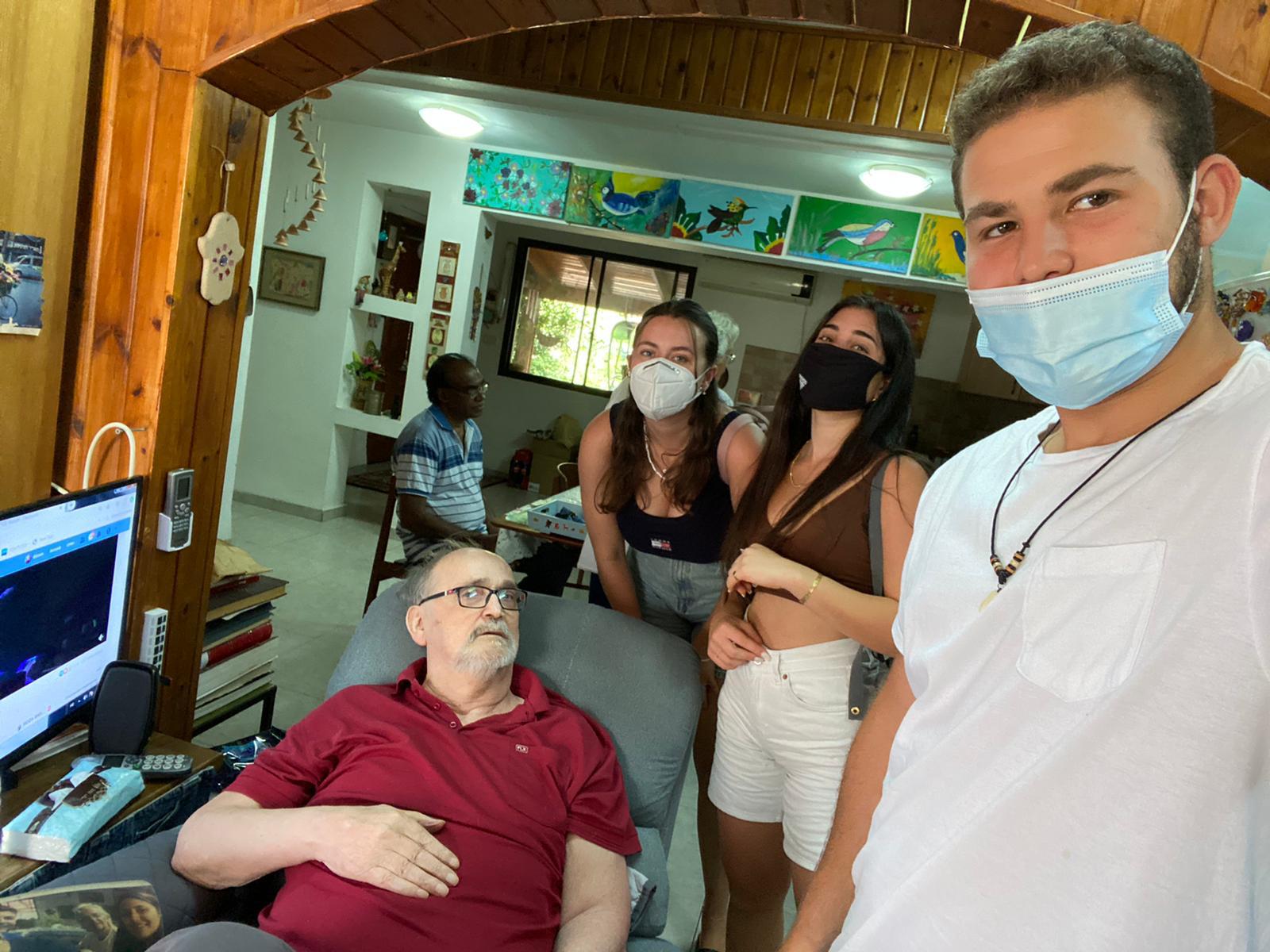 In Neot - Mordechai Yotam, Emily Yuval and Oded from Mechina Ma'ayan Baruch visiting Peretz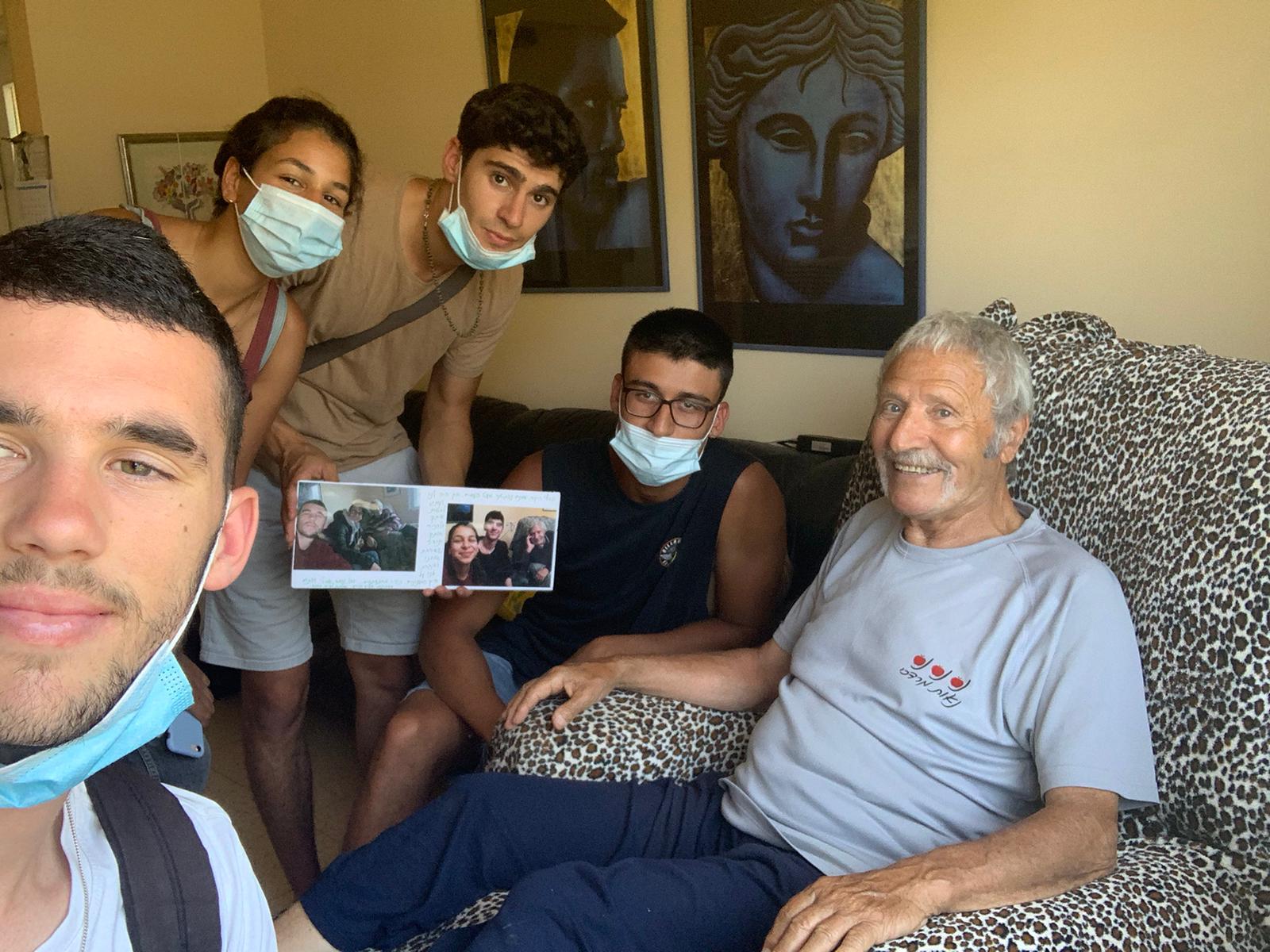 Rachel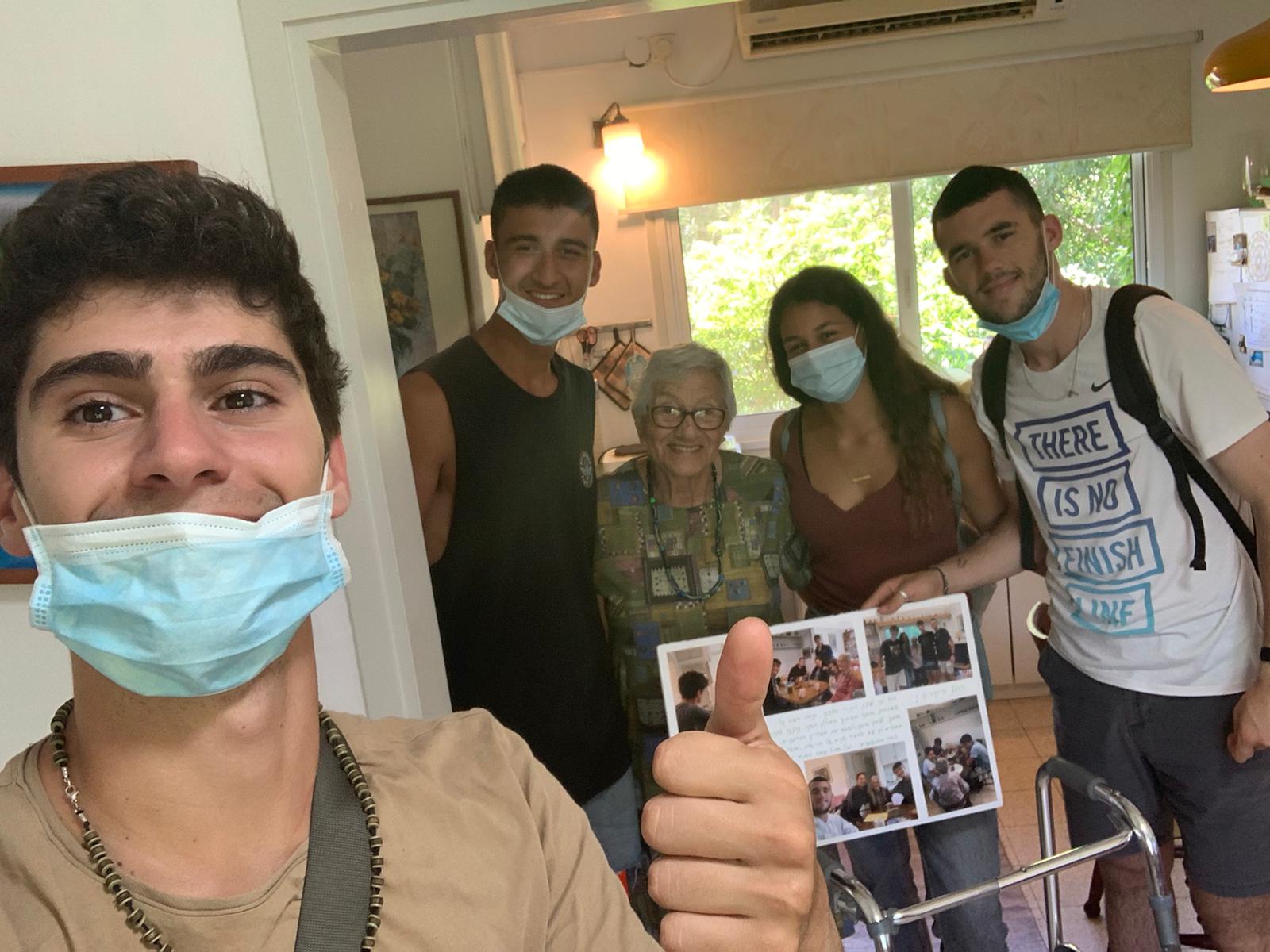 and Rivka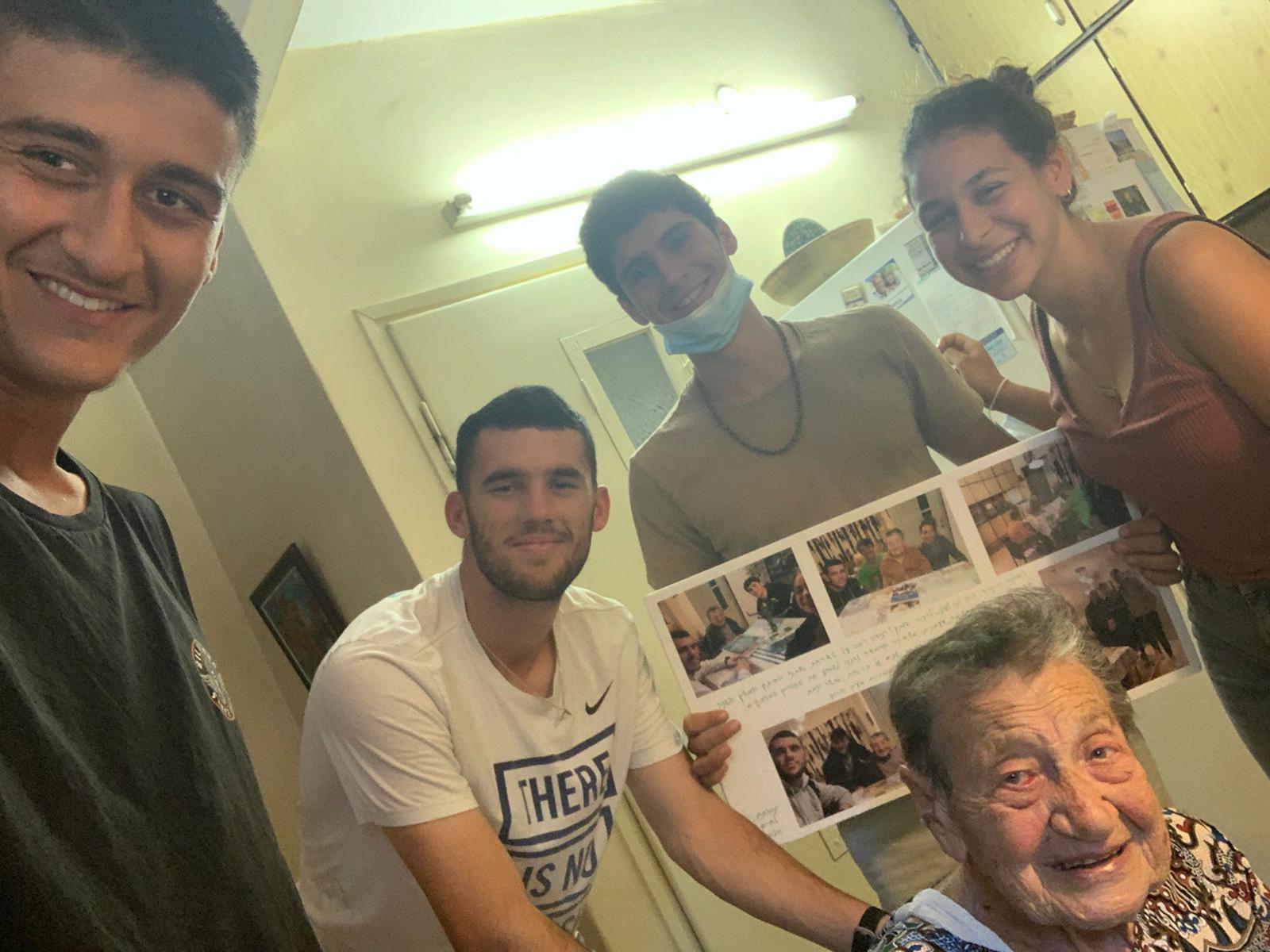 Photo's  for Steve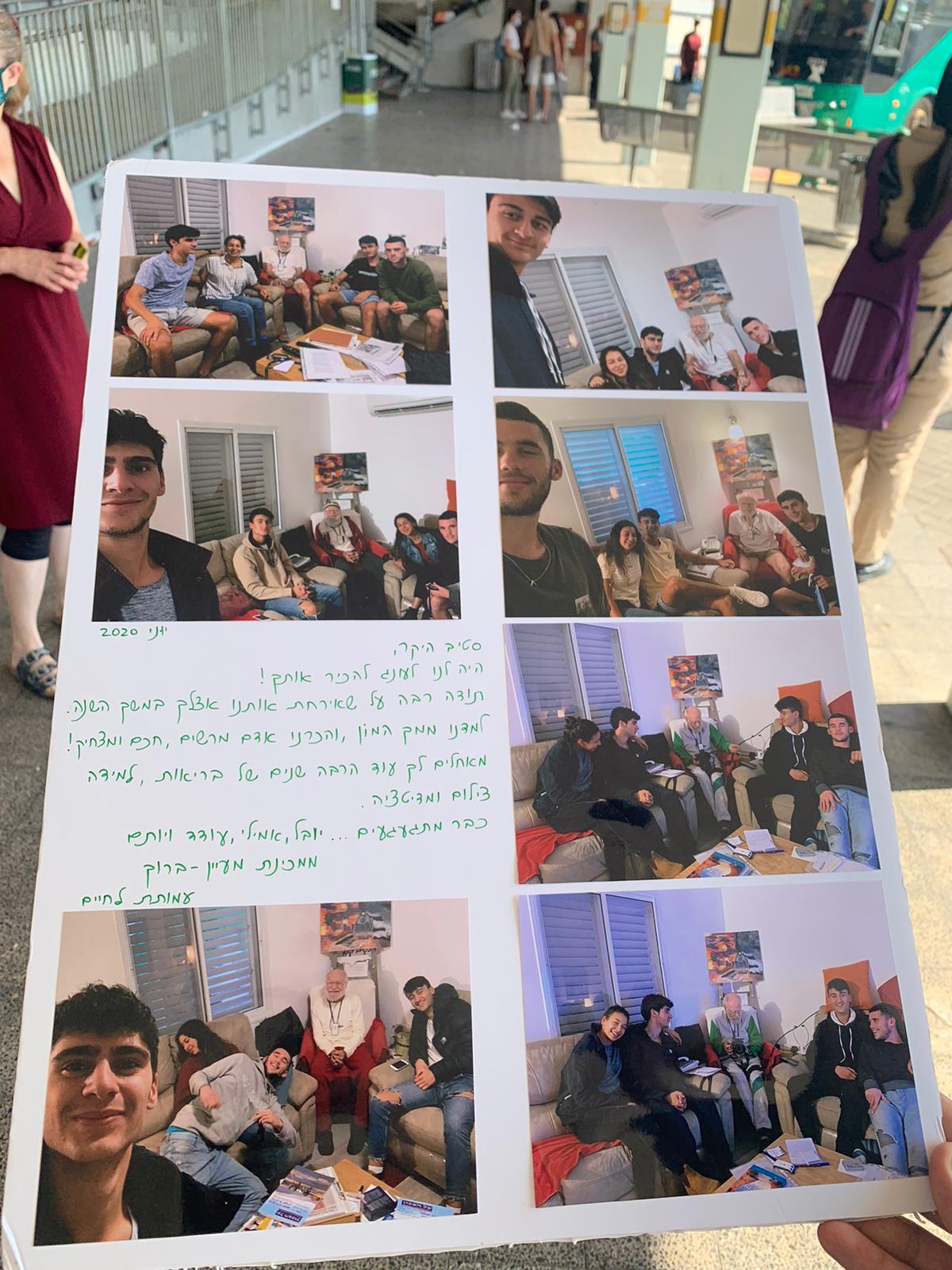 End of year evaluation with Daniel in Ma'ayan Baruch with Yuval, Emily, Roi and Roni (visiting winners in Kyriat Shmona)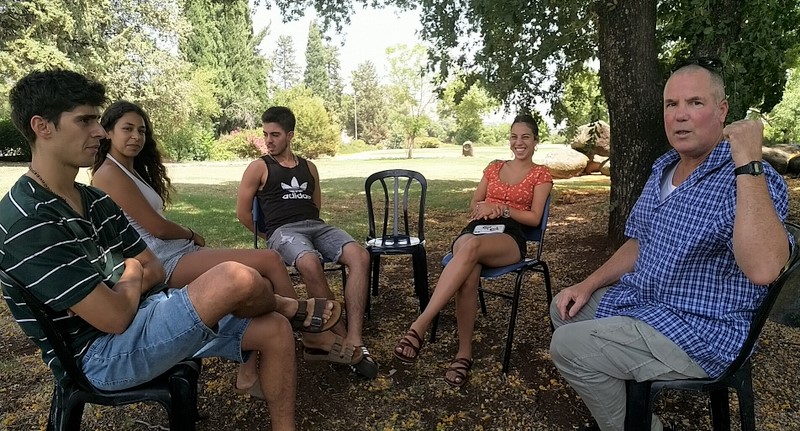 In Chazor Oz, Roi and Vered from Mechina Kfar Hanasi visiting Mina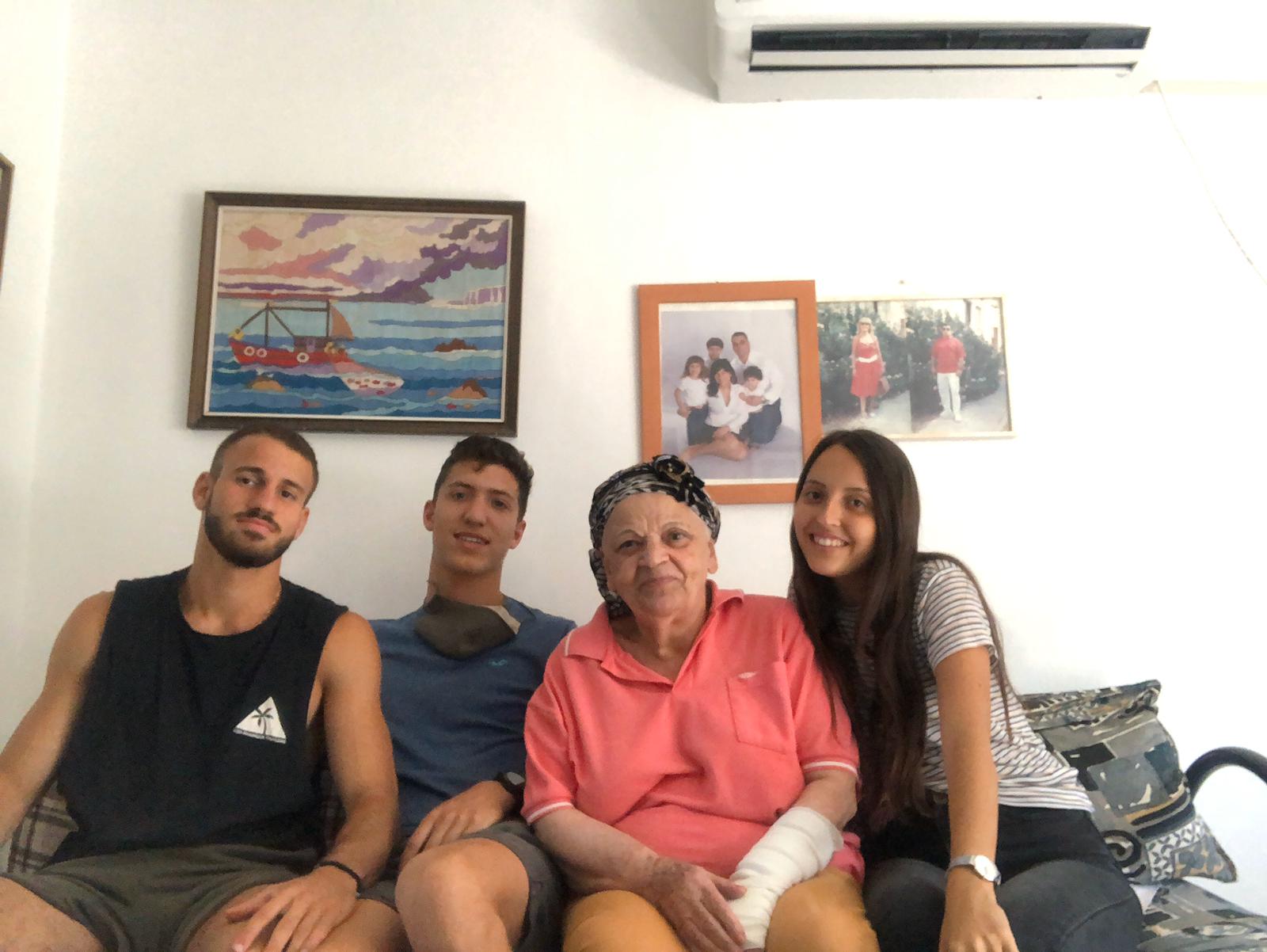 and Itai and Dotan visiting Bracha (with her grandchild)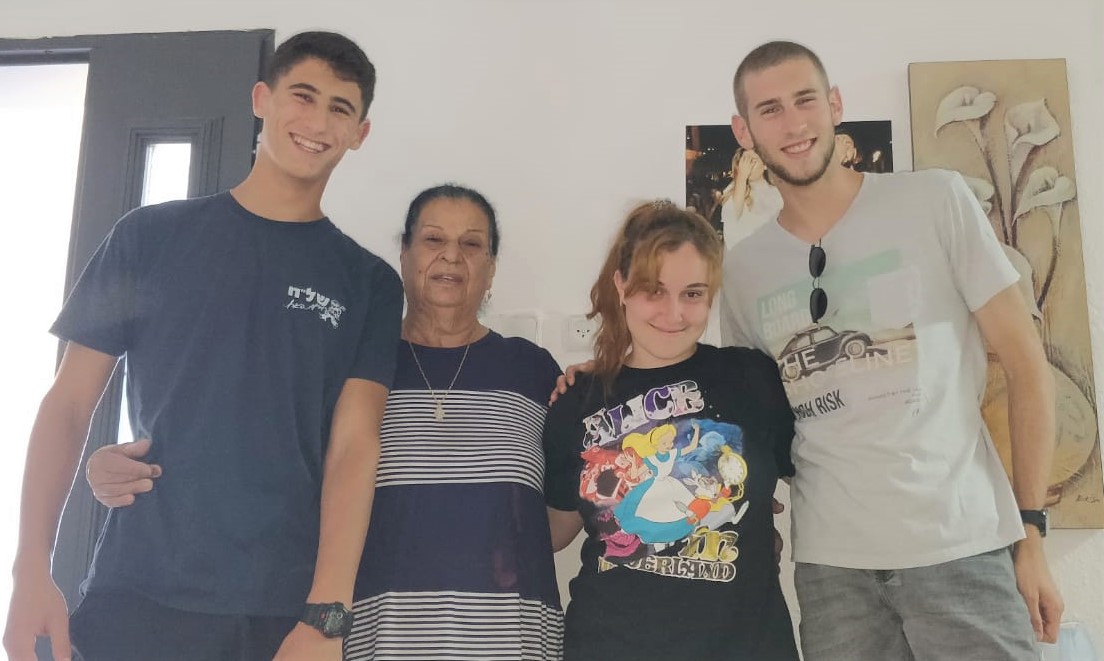 End of year meeting with Daniel and Timek in Kfar Hanasi with all the brave students of the mechina that participated in the Lechaim Project.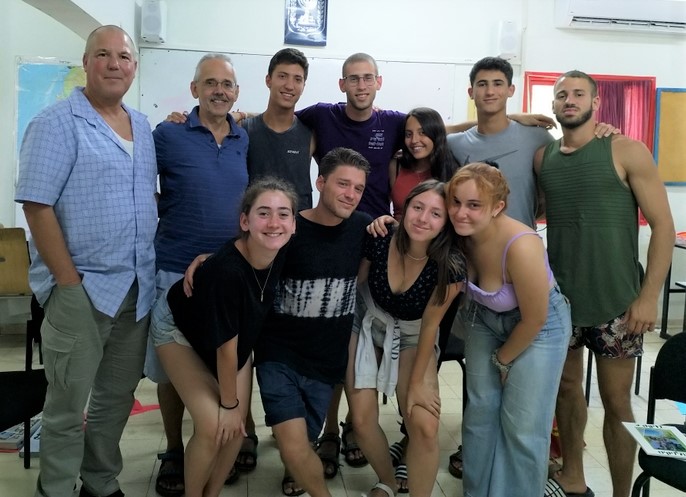 The video's 
Interview with Students from Ma'ayan Baruch Mechina
End of project review with Daniel Yuval and Emily from Ma'ayan Baruch participated in Lechaim project in Kibbutz Neot-Mordechai.
https://youtu.be/PSoyv5jvC4o English
https://youtu.be/3VIAJuoCPlo Hebrew

End of year summary with Meitsar Students

Review of our students from Mechina Meitsar working with us in the Lechaim project in Katzrin (Hebrew and English)

Review of our students from Mechina Meitsar working with us in the Lechaim project in Chukuk and Ginosar  (Hebrew)
--

Daniel Braun
Email: danielxrw@gmail.com
Phone: + 972 54 772 3510
Website: lechaim2life.org.il
lechaim2life.org.il/english




Air-condition for Sofia from Tzfat
June 25, 2020

Dear friends,
Again, short story of how Lechaim is operating.
On Monday morning Orit from Tzfat told me about Sofa 90 years old Shoasurvival from Ukraine.
She lives by herself in a very poor area of Tzfat and has no air-condition. Sofa suffered a lot without heater in the winter and she even got ill in her lungs because of the cold. And of course, the summer in Israel is long and very hot. Sofa has only one son who still lives in Ukraine. So, when I heard her story at 1 o'clock in the morning. I have decided without a doubt to give her a new air-condition. Next day on Tuesday in the evening Sofa has new air-conditioning working. She couldn't believe that this is happening to her. Because many organizations have promised her air-condition, but never gave her one. She couldn't believe how quick we installed her air-conditioning. In just one day after she told us!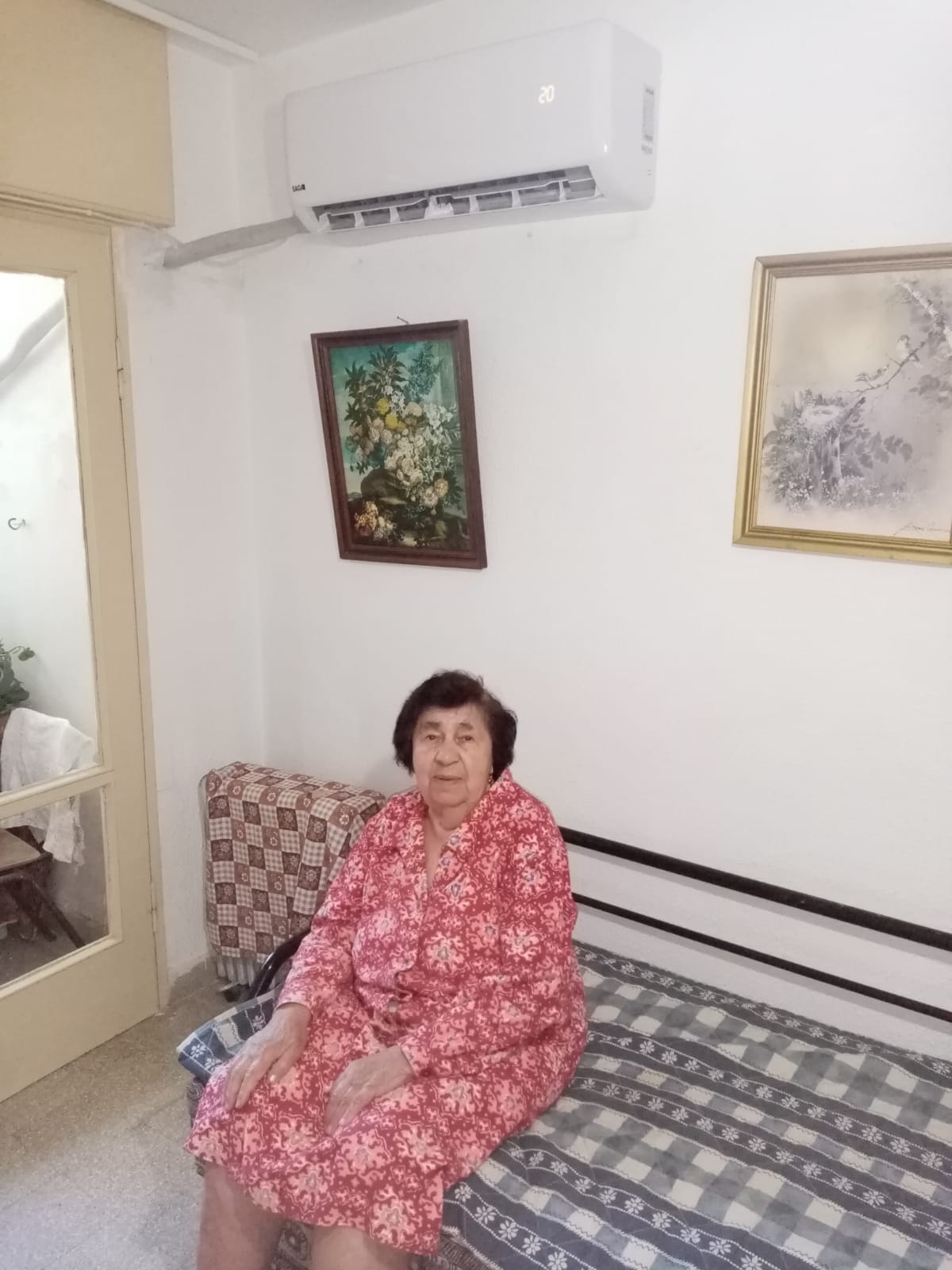 Dear friends, we still need support for this and some other air-conditions that we want to give. I hope you understand that life with air-conditioning makes it much easier to pass the hot summer and the cold winter. It is absolutely another life. It's the difference between "gehenom" (hell) and "Gan Eden" (paradise) really. And now Sofia finally has a little "Gan Eden" at her house. Thanks to Orit from Tzfat, Shir to put is in the face book, to Timek to write this word to you in English to all the friends we have that supporting us and above all G-d of Israel.

Hallelujah.

Shalom Shalom Daniel
--

Daniel Braun
Email: danielxrw@gmail.com
Phone: + 972 54 772 3510
Website: lechaim2life.org.il
lechaim2life.org.il/english

font-family:"Calibri,sans-serif">
Operation Air-condition of light and love
May 27, 2020


Shalom Chawerim

I am happy to share with you this very typical Lechaim story. Wednesday morning, I received a phone call from my friend Orit from Tsfat. She told me that a 91-year-old lady, living in Tsfat, a holocaust survival needs desperately an air-condition. The temperatures at that moment in whole Israel reached 43 degrees Celsius in the shadow.

Her name is Inesa, in short Ina, from Ukraine. During the past couple of years, she lost her husband and in addition to that, she also lost her only daughter. And now she is completely alone without any member of a family.

Reminding you that it was Wednesday morning 11am that Orit called. And you all know summer in Israel is very hot. Especially for the last week we all felt unusual heat wave with temperatures up to 45 degrees Celsius.

At that point I told Orit that I will act very quickly and for sure she will get the air-condition she needs so desperately.

To make the story short, next day Thursday morning 9:45 Ina was so happy and crying out of joy, having her new airco working!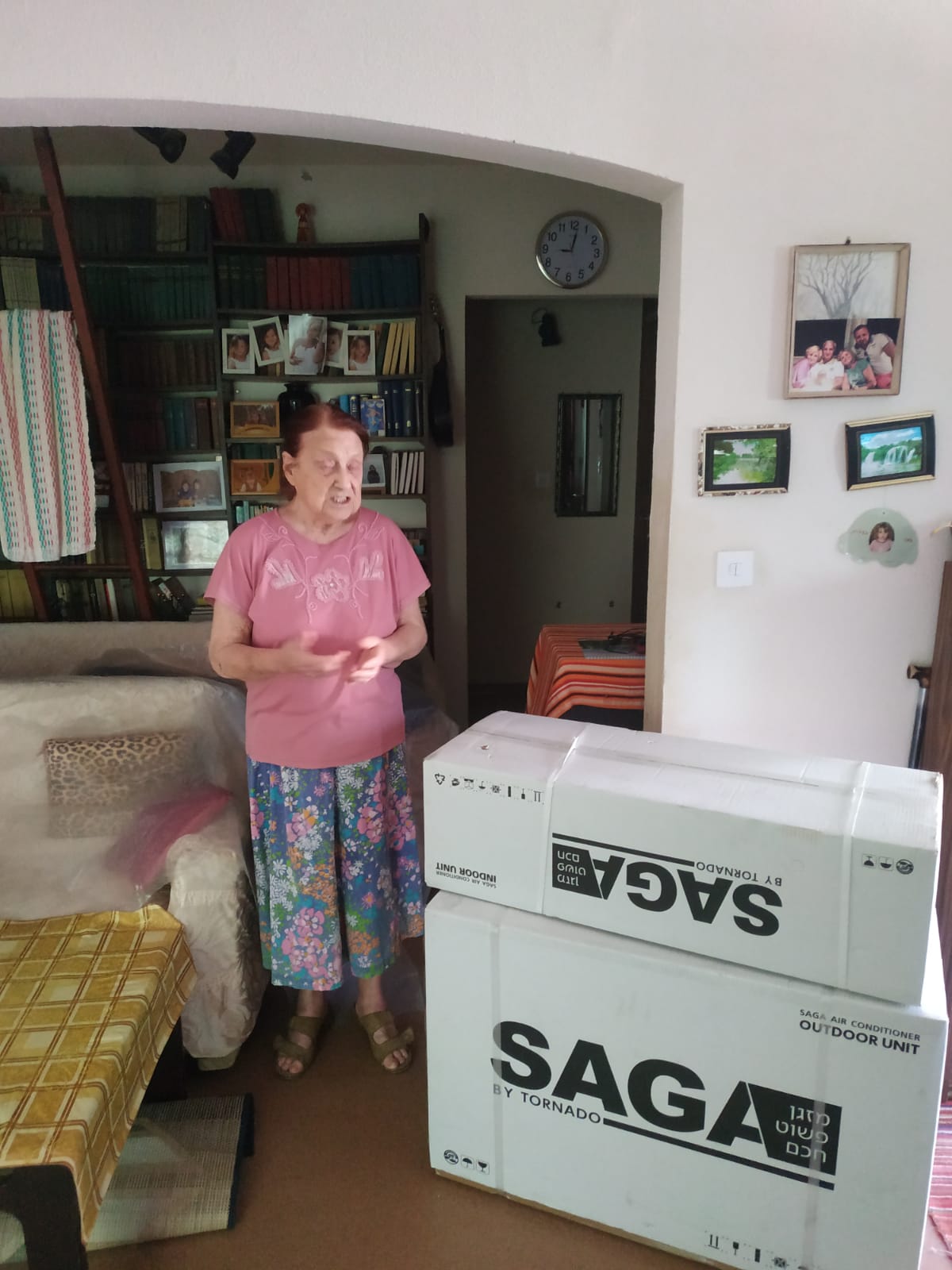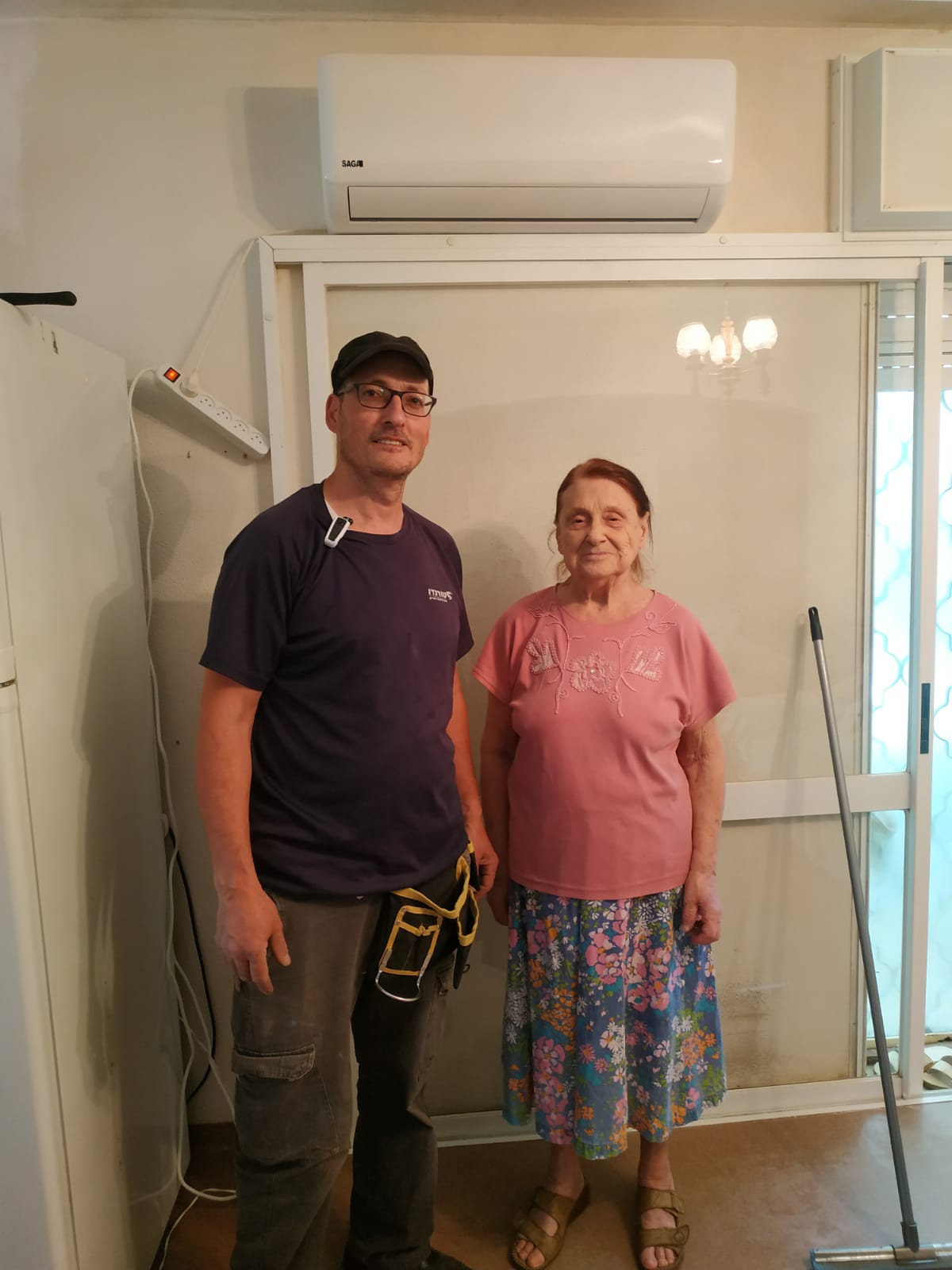 I would like to share with you how many good people was involved in this heart-warming operation.
First Jacob Mendel my dear friend and friend of Lechaim for many years, living in Netanya with his family. He understood the urgency, reacted quickly, made some phone calls and raised a nice amount of money to making our operation possible. In the same time, Shir had put this story on her Facebook, with a link to make a donation, which also resulted in a good immediate response.
And as you will well know, it is not easy to find an airco-technician on such a short notice, special not in this time of a heat wave and after the corona lockdown.
But as you know me, in G-d's Kingdom, nothing is impossible. I called Yehuda Ben Zakan from Chazor.
I explained him the urgency of this widow needs. His first answer was, that he was very very busy and it may take him some days to be able to help her.
Then, I closed my eyes, looked into my heart to find the right words that I could say that will make his mind to change.
I asked Yehuda to go out door for a moment to the porch. And he did. Then, I asked him: how did it feel? He said: it feels like the gehenom (hell). I said to him: Indeed, it is so. Then I asked him if his mother is still alive. He answered: Yes, she is. I told him: may G-d bless her. And continued: how would you feel Yehuda, if your own mother would be suffering from this heat and you wouldn't be able to provide her an air-condition on time? Then it was silent for few seconds. And a moment after, he told me: Daniel I got you. I understand. Tomorrow morning, she will have the airco.
Blessed you Yehuda! Such a beautiful warm heart Jehudi. He did such a great job! Bless also Orit, Shir, and Shuki for closing up the deal and buying the air-condition. For Timek sending this report quickly to our friends in Holland, to my friend Jacob Mindel, to all the donors and above all to Elohei Jisrael – the G-d of Jisrael, who gave us the privilege to do this work of Lechaim.
I would appreciate if those who can, to help us to purchase and install 2 more air-conditions to shoa survivals that we already know about. They need one also urgently.
Bless you all Daniel.
--

Daniel Braun
Email: danielxrw@gmail.com
Phone: + 972 54 772 3510
Website: lechaim2life.org.il
lechaim2life.org.il/english


Lechaim is here !
May 14, 2020
Shir and students report from Tzfat

Yesterday our Esther from Zefat celebrated her birthday and it was important to me that she should feel we are close to her also during this difficult time. So I contacted and reminded all of her volunteers from the pre-military academies who had visited  in previous years. Many of them said they remembered her well. They said that during the day we all got in touch with her, each and everyone of us. She was very moved by by this and said she feels blessed and lucky to know us.
Yehudit tells me that volunteers call her often, mainly Ayala from shnat sherut. She does not stop thanking us for all of our help and that we don't forget her. She says that now she is with her daughter and still maintaining social distance and refraining from hugging but that it really makes her feel good.

Astraka told me in our last phone call that she had an amazing day, her daughter came to her and brought her food for shabbat  and she told me that there is a soldier that comes to visit her and sits outside from a distance but this really makes her happy and she encourages her  and helps her with her difficulties in the army. She told me that she went to the eye doctor and they laughed.  She said that she misses seeing all of us and hopes that this will all end and that even if there is a difficult day, after it will come a good day.

Shalom gets excited each time I call and this is several times every week. and each time says thanks for not forgetting me, thank you for thinking of me  and worrying about me. And this really made me happy that our phone calls get him so excited. The entire situation is difficult for him, aside from being alone but the phone calls and Orit and the caretaker are very helpful.

Moshe and Erena are as usual optimistic and wonderful and try to see the good in the situation and see everything in the most positive way.
Juli is thankful for being at home and thankful for every minute and takes this time period for the good after a long rehab period after her fall.

Lillian lost her son Yossi, aged 51, and the sadness is very great. May she not know more pain. I spoke to her and heard her entire story and we felt the pain together.
Elad and Shira - in calls with Moshe and Erena they said they were ok and getting along. Moshe does shopping in the morning hours when there are less people and Erena has been in the house most of the time even before Corona because of her legs. But they are maintaining optimism and are very happy when we call. We told them a little about  returning to mechina and we told them that we very much are looking forward to seeing them soon.

Hadar Zohar  and Yael-- We speak with Svatelna frequently. We call her and offer to do shopping for her to buy a number of items for her. We are trying to maintain a connection as much as possible and hope that she will feel secure enough to meet in the near future. As of now she is fearful and this is justified.

Avi and Shira- We are maintaining a connection via telephone with Shlomit and this week her daughter, Luni, told us that there is no problem for us to visit but to maintain distance. We scheduled with her to visit on Friday with God's help and we are looking forward to it.

Previous volunteers from Tzfat- Ran, graduate of the first cycle of bra"am that volunteered with us told us that she of course remembered Esther's birthday and tries to call her when she can. Now she is an officer in the army.

Adi, Moriah, Aviel- Soldiers that have been released from service  but still maintain a connection with Esther, talk with her almost every week and have maintained the special connection that was created between them.

Hagar from Bra"am from this year spoke with Lilian while her son, z"l was still in the hospital. They had conversations that were not simple for her and she continues to call as often as possible. Hagar is also in touch with Yehudit who very much loves her.

Ayala from last year in tzfat makes sure to call Yehudit and Loren. Yehudit said that those conversations with her make her very happy and that she calls often. Loren and Ayala speak often  despite the difficulty because Loren speaks mostly English and Ayala doesn't. But nothing stands in the face of one's will/desire.

Shiri and Nitzan-- continue with small gestures with Miriam- bringing her challot for shabbat, flowers,  frequent whatsapp chats and telephone calls. In one of the conversations Miriam said that she worries for them like she worries for her own children and they told me that they were very touched to hear this from her.p
Students report from Modiin:
Svatelna and Vladmir are passing the time with reading, facebook and many conversations with the volunteers from all of the years. During the last conversation Svatelna described how much she benefits from the conversations with the volunteers.  She told me how she really felt bad and a volunteer from last year, Efrat, called her. She lives now in a house near hers and she went and purchased medicines for her and this was very helpful.

Shlomit is a little disappointed with the isolation but she said that this is like all things-- it will pass, and this is very much true. She listens to a lot of music and I suggested to her to leave the house to her balcony to breathe a little fresh air and to see all of the beautiful flowers and she said she will do this.

Chemda says that she has a lot of phone calls. She suffers a little from sensitivity of her eyes but is taking care of it. She told me that she spoke to one of the volunteers from this year about Yom Hazikaron and Yom haatzmaut and the transition on that day and she said that they had a nice conversation on this subject.

Riri is taking care of herself and takes everything in stride. She said to me that she has gone through many more difficult things than this and thanks God that she is in her house. She was very very excited by the video of all of her volunteers from all of the years and related that also her son and grandchildren come to visit her from the balcony.

Miriam received a gift of challot for shabbat from Shiri and Nitzan and they are in close contact and this really makes her happy.

Yehudit also speaks with the volunteers and says that she is doing ok. Savta Sarah and Avraham received cheese cake for shabbat from my mother, as is the custom, and it brought much happiness. Savta Sarah feel's ok, it is a little hard for her at home because she is totally a "people-person" but she said that she survived the holocaust and this is nothing compared to that.
Mordechai receives phone calls from me (Shir) and Chagit and each time he gets very excited. He has a difficult health status even before the Corona time period and I really hope that it will improve and that he will feel good.

Timek from the North

My first visits to the shoa winners after the lockdown was lifted were excelent and inspiering. All of them could not leave their tiny houses for two months! No visits of the family members, no visits from friends. We all realized that isolating people (especially elderly people, that already are so limited) is a horrible experience. A smartphone can never replace the real human connection, face to face kesher

Now the lockdown is lifted, bit by bit, I could visit our dear winners and sit with them in their homes if it was OK for them. And for the most of them I was invited with a warm heart. Even from the distance of 2 meter I could feel the warmth and longing for human connection. For many of them I was the first person who ever visited them after 2 months of lockdown. Some of their children, if they came, they stopped only at the door post. Some of the winners are scared by the 24/7 news on TV with the only subject: corona.

I received postcards with greetings to our winners, form our friends from Holland. I gave each of them this card and they were so encouraged by this. That people do care for them! Thank you!
Following are few of the dear moments during the visits:

Kyriat Shmona

Israel & Ludmila told me how they are longing for seeing the students. They have been in touch with them by phone, but they want their visit as soon as possible.

Raya doesn't feel wel, she feels deep depressed for being locked down for so long in her appartment. She is scared. It was good to visit her and encourage her.

Ida doesn't get out from her appartment for years. Because of her health, she can't. For her corona didn't change nothing in here daily life. As ever, she is so positive. She is thankful for every new day and for every beam of light. It is amazing. She was more a blessing for me! So I felt when I left her appartment.

Katzrin
Also for Jafim little changed. His friends didn't visit him and didn't help him to clean his house. There is big work to do! I hope that students from Meitsar wil start soon and help cleaning.

Jafim was feeling better than at the beginning of the corona. He was excited about my visit and we had a good talk. After a while he started making jokes and I saw that the visit brought him joy and a good mood. He was so thankful for all the help he received from us during the corona lockdown.

Ela was so happy that I visited her. She really missed real connection with people. She is longing for visits more than ever!

Chazor
Bracha enjoyed so much from the chats of the students. Especially Itai was constantly in touch with her! That encouraged her.
Mina was extreemly happy with my visit, she has no family and it was very very hard for her. She needs to talk. Until now beside me, no one visited her during corona lockdown. She is excited that the students will soon come back. They contact her all the time. She loves them!


Ginosar / Chukuk 
I was surprised that Eliram recovered so good. After his operation, he couldn't walk and layed in bed. Now he is back again, making jokes and full of life as usual. He started with the chemo therapy. 12 sessions during the summer. It will be tough time for him. Untill now his body reacts good on the treatment.

Tsipora and Marit were doing fine, but the time was difficult. No activities, no family visits. This was very hard for them.

On the other hand, Jossi hardly felt the corona crisis. He was in a good mood and enjoyed from my visit, like nothing happened. Bary, his car giver 24/7 from Sri Lanka is a great help for him. Jossi doesn't feel lonley, enjoys the day and take life simple as it comes day by day.


Feedback from the students
The students returned back to the mechina and next week they start visiting our winners. This is a great and joyful moment for me and for them and for the winners! I am preparing the schedules so we plan all well. During the corona lockdown, most of the students contacted their winners on a weekly basis. Those that didn't lost track have been richly blessed! Yuval, Rona, Roni, Itai, Vered and many others told me that it made them feel so good to give the winners a call or to chat with them and to hear their voice and to know how they feel and to be in touch with them through this difficult time. It gave them a good feeling that they could do something that is very important for the Shoa winners.


The students experiences by them selves now how difficult it is to sit all day long home without interaction with others people. Now the time has come, they will start visiting them for a short period of time that is left before they go to the army.



Shalom and thank you for your ongoing support for Lechaim,

Timek



--


Daniel Braun
Email: danielxrw@gmail.com
Phone: + 972 54 772 3510 
Website: lechaim2life.org.il









The Shoa Momorial Day

April 21, 2020,  Nissan 27, 5780
Special words from Shir for this day:
Every year since my life, Holocaust Day has been a significant day for me. But since I became part of Lechaim, it became even more significant part of my life. The Shoa Day has taken on additional significance. Throughout the years, I focused on memorial, as a third-generation survivor,I dedicated the day to stories from my family and others about what has happened to them. I think it is very important to know "where you have come from and to where you are going".

But in my opinion the Memorial Day becomes even more significant when it is also backed up by remembering who is here, alive and breathing today after having gone through all the horrors.  And this is what Lechaim does. Not just on Shoa Day, but every day in a living, close, empowering and special relationship with our dear people. They are still around us. Many organizations are "remembering and recalling" and they spend a lot of money each year on large broadcast events, but both before the Shoa Day and there after, they don't really remember them.

The wiser route in my opinion is consisten cypersistence, in seeing the person on the other side as he really is to offer help out of true love, familiarity, genuine caring from the heart. My wish is for us to remember, what was, who was and is no longer and who is here and our right and duty to care, listen, hug and help.
Special words from shir for this day:
News from the North:
I encouraged our Shoa Winners to call also the students and not only wait until they call them. This will strengthen the kesher even more. The positive responses from both the students and the winners are more then encouraging. We all hope that we can start with real visits in a near future. In the video's below, you can experience the sweetness and love of the students, sending their greetings to their connections. Especially for this day of remembrance of the Holocaust. This is very moving. The winners responded with a great joy to see the faces of the students and to listen to touching and encouraging words.
Warm greetings to al of you, Timek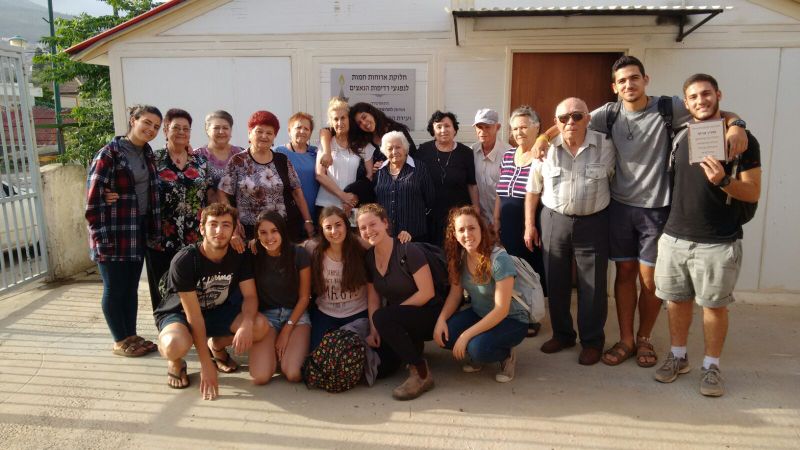 K.Shmona students and Shoa Victors (summer 2018) 
Yuval sends his regards to our Shoa Victors in Kyriat Shmona and Neot Mordechai|
https://youtu.be/3TKKXYG7Kfk
Ram sends his regards to Israel and Ludmila in Kyriat Shmona
https://youtu.be/XYM4hb7TobA
Ronna sends her regards to Anna in Katzrin
https://youtu.be/ISgkdYtQnbA
Daniel Braun
Dear Friends,

This additional news belongs to the letter that you received yesterday.  It contains wonderful and deep evaluation of the students from Baram and Modiin, connecting with the shoa winners during the Shoa Memorial Day.  If you have patients to read it, you will experience how great impact the Lechaim project has on the students.

Enjoy, Daniel Braun


FROM MODIIN
Tomer:  The meetings I had with Chemda have given me a deeper understanding of the depth the issues of loneliness and economic struggles that many Holocaust survivors are experiencing today, and that "Yom Hashoa - the Holocaust memorial day" is pointless if we only attempt to remember those who died and ignore those who  survived and are here today. In addition  during my time spent with Hemda she taught me to look at everything in a positive way and how to be strong.
Maayan & Liyah-  Grandma Sarah gave us an additional and unique meaning for the Holocaust memorial Day. During our visit with her, we were exposed to her worldview - to her beliefs and interesting opinion on matters. We heard the stories first hand and we greatly appreciate this opportunity. To see the personal pain and the daily coping with the basic things. During our conversations, it was important to her that we  remain engaged and involve with the topic and not try to escape or be afraid of it. She makes a point of giving these important stories over and we have the privilege to hear them. Grandma Sarah is a remarkable, inspiring, warm woman with a great desire to give and convey the important message she carries with her. Our conversations with her were enriching and gave us another perspective on the Holocaust.
Gal and Elazar - Our visits to Yehudit were so good for us. Getting to know her and meeting her enabled us to meet a funny and fun woman and it gave us a good feeling to meet her, and also knowing that it made her happy that we were coming to visit. We have maintained our connection with her and we also speak to her on a daily basis and send pictures or videos to each other. This makes both sides feel very good. We would love to keep this connection by keeping in touch and hope that we can maintain it for as long as possible.
Adar, Yael and Zohar -  the truth is that we hardly got to speak to Svetlana and Dimitri about the Holocaust, as Svetlana wasn't keen to discuss the topic and we didn't want to create an awkward situation. Our meetings with the Holocaust survivors, Svetlana and Dimitri, enabled us to relate better to the Holocaust memorial day for various reasons. The main reason being that although Svetlana didn't specifically speak about the Holocaust, she did speak about the anti-Semitism that she experienced in the Ukraine.Svetlana lived in a city called Harson in Ukraine, and in her surrounding she was unable to speak Yiddish because of the anti-Semitism and so she only spoke at home. She described the anti semitism as being everywhere....at school, in the neighborhoods and in many other places. As the root of the Holocaust is extreme anti-Semitism, we feel better connected now to  the Holocaust survivors as we hear about what they experienced. 
None of us volunteers have any family members who experienced the Holocaust or were connected to it in any way and so it was at first more difficult for us to feel connected. Yet thanks to our meetings with Dimitri and Svetlana we learned about their side and we found a common denominator with the whole subject of the Holocaust as we now personally know people who lived through it.
Shiri Tamam - I am truly very close to Miriam and I enjoy hearing her stories. I feel that she makes me appreciate what I have more and more. Her positive energy is the best and she is simply a pleasant and incredible human being. I am so glad I got to meet her.
Yael - the Holocaust memorial day has always been a meaningful day for me, but this year following my meetings with Grandma Sarah as a part of the "Amutat LeChaim" programme, this day will undoubtedly be even more meaningful.  At almost every meeting with Grandma Sara the topic of the Holocaust was raised and we were moved by every story. During the Holocaust memorial day this year I will be thinking of the stories I heard first hand and not second or third hand, something that transforms the day to even more meaningful with a deeper sense of understanding.
Nitzan-  The connection with Miriam influenced me in a way that I learned so much about myself, that I have patience and a need to give, and I did all I could to make her feel good. I phone her twice or 3 times a week and every time I remember to call her, I phone my Grandma as well ?? and that makes me so happy.  After every meeting with Miriam I left with a good feeling and I was glad to see her happy.
Shachar - This year the Holocaust memorial day and my outlook on the Holocaust in general got an additional meaning to the way I usually experience it. 
Over the years the Holocaust memorial day felt to me like just a sad day and this event was unfathomable and shocking for me.
This year it still feels that way but thanks to Grandma Sara it now has an additional feeling of appreciation towards people who experienced and survived this ordeal after they lost many of their loved ones and went through this horrible thing and yet they chose to continue life, to come live in Israel and to establish new families...it is thanks to them that many of us live here. This made me understand how that can not be taken for granted and deserves insane appreciation.
FROM SAFET
Yonatan Baram - my connection with the Holocaust survivors I met through the program is very strong!
At the beginning of the year I met Eli and Shalom and I instantly had the privilege of entering the world of two elderly people, filled with life knowledge and experience and a zest for life and their ability to teach and give so much. In the course of the weekly meetings our connection strengthened and integrated.
Before I met Eli and Shalom it was hard for me to imagine how I could truly connect to a 70 year old person let alone a 98 year old!! It was totally absurd for me, but really as the time passed they entered my heart, I managed to see old people differently and understand how much we can learn from them.
The past period of time has not been simple for any of us, it is during this time that I draw strength from Eli in particular, a person who went through so much in his life yet remains optimistic through it. During this time when I am unable to see people and friends I was used to seeing on a regular daily basis, the person I miss  meeting and seeing most is Eli, and I miss my interaction with him greatly.  I long and anticipate to meet Eli and Shalom again and to return to our good routine,  to our deep and long conversations, in the meantime we try keep connected via the telephone and to strengthen one another.
Hagar - Neither Yehudit nor Lillian are Holocaust survivors but my connection with them is very important and meaningful. They are both warm and loving women who experienced so much in life. Their stories are always thrilling and informative. I learned so much from them both and I am so grateful that I got to meet them and see what true strength and love looks like. Yehudit teaches me thinking strategies in many games and passes on to me some of her knowledge and way of thinking.  At Lillian I learn so much about the wars of Israel and about her and her husband,  Meir's, connection to Israel. I love them both very much and greatly appreciate them both. I am grateful and happy that I had the privilege of decreasing their sorrow and loneliness, even just a bit.
Daniel Braun
Pesach: A flower and a video campaign for the Shoa winners

April 13, 2020,   Nissan 19, 5780

Shalom friends!

We wish you a Blessed and Happy Pesach Holiday. Chag Pesach Sameach!

This week, Shir initiated a great campaign this week for our dear Shoa Winners in Tsfat and Modiin.  She sent flowers, students sent video messages.

Even if the video's are in Hebrew language, you will very much enjoy listen to is!  The students from this year and also from past years participated in this beautiful project. They called them and brought to them "Besorot Tovot" Wishes of happiness, health and strength until this "corona pass-over has passed.We pray that it will be very soon.

Greetings from, Daniel, Timek, Shuky and Shir.

A flower and video campaign got underway today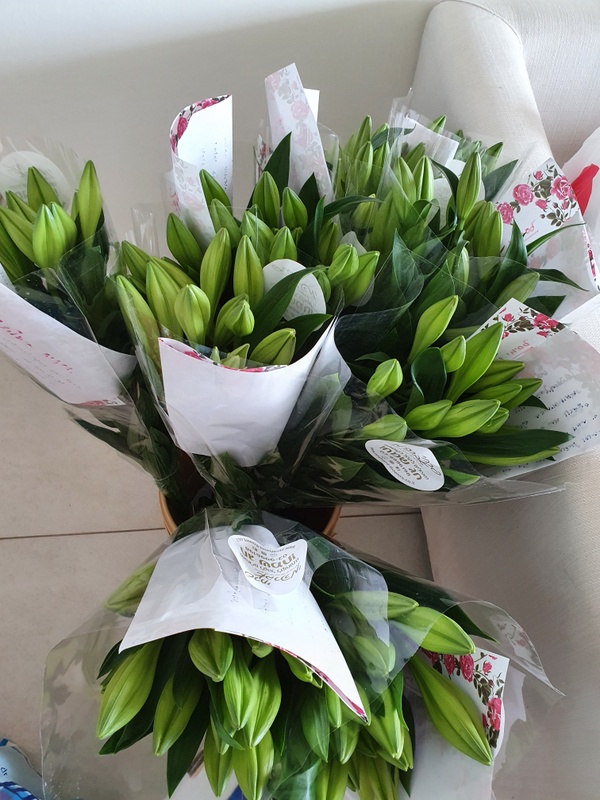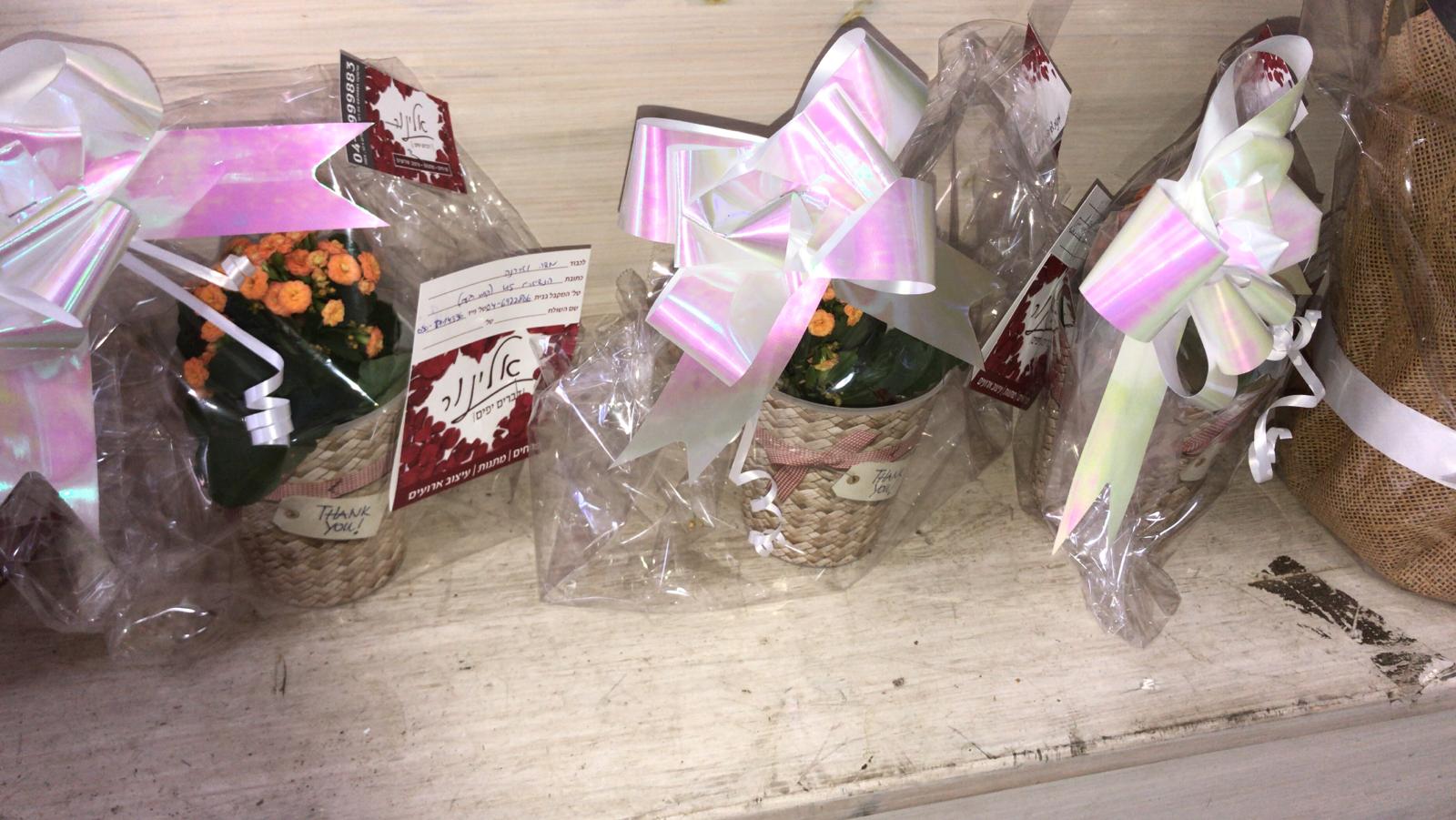 In honor of the Pesach holiday I distributed flowers to all our Holocaust winners in Modiin and the joy was immense!
Seeing the winners in the distance, without being able to hug them was hard! I surprised the winners without notice and they were excited to the sky and so were I.

In addition, today I "showed" our winners that do not have a smartphone of best wishes from all the volunteers who have been with them over the years.
Everyone photographed themselves, whether at home or already in the military, congratulating their beloved grandparents for the holiday. The Winners and me too, couldn't keep our eyes dry. Tomorrow the rest of the videos will be sent just in time for Seder to give them a good feeling and show how much they are loved !!

Also in Safed, flowering flowerpots were sent for all the winners and the videos will also arrive tomorrow. It is amazing to see how the magic of life exists every now and again, and how many connections created,even if it has been four or five years since the students did visit the winners, it left something in the hearts of the students.

Wishing you that, after all,we would have a happy and blossoming holiday,who would look inside and work on what was needed,who would look around us at the special people we had won in our lives and forget to look a little outside of our shell and see where to help.
Most importantly we will be healthy !!!!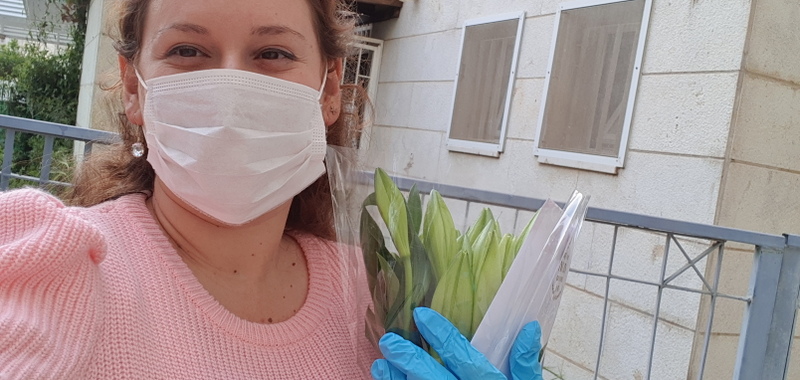 L'Chaim activities during the corona crisis
April 2, 2020, Nissan 8,  5780

Shalom Chaverim.
A joyful news from Lechaim, Israel. Yes, we have the corona too, but in the same time we are bringing you very inspiring story that you can read below in Shir her report. The only think I can say that I am so amazed that our wonderful students keep calling every day to our winners that need this contact more than ever.
Thank you so much to all our dear friends in Holland, Norway, Singapore, USA, and of course to our friends here in Israel that take part in this heart to heart beautiful work.
Wonderful light to Pesach during the Corona peroid!
In the world and in Israel we are trying to understand the lesson that the Corona is teaching us.
This is a situation that we were forced into for a good reason - to tell us that a known way of life is no longer relevant. This situation, when reality changes at once, is so traumatizing and sudden. Our familiar world, with its security, is discovered as untrusted. Mostly when it comes to the competitive, capitalistic world and the crazy rat race,which brought only madness and restlessness and as we see, a terrible epidemic.
In this situation, people are panicked and trying whatever they can to preserve their existing situation. It's an understandable fear that exist in all of us, but we need to know that things will never be the same again. Instead of finding solutions based on our former, unhealthy situation,because that's what we know, we have a wonderful opportunity, when we are in solitary, to look in the mirror and examine the things that we spent our life running away from.
What fears are there and what anxiety? Generally - what our priorities are in this life?
It's not an easy process. The emotions are stronger than usual, because for thousands of years we were used to running, we were addicted to the competitive culture and the endless inner voices which the brain needs rest from but finds that hard to do. Now we have an opportunity to rehabilitate.
It's hard, but there is wonderful news there. In the internal convergence there is a great blessing,
if we do not overload ourselves with too much media noise and if we do not chase after a million sources of information that drive our systems crazy and enhance the fear.
Pay attention, the slowing down that we were forced into, is asking us to stop a little, slow down and reduce. These things are exactly what Pesach symbolizes freedom from the labor and enslavement of the materialism race and the culture of consumption.
I thank all the operatives of Lechaim for continuing a wonderful communication with the Shoa survivors. I'd like to thank Amalia Silberstein, a true poet, for her contribution through her profound songs. I invite people who are sensitive to the spirit of our project, to make a donation, so we can continue this wonderful project. I also invite anyone who wants to learn first hand about the situation that we are in now to call me on my cellphone +972 547723510.
Blessings and have a happy holiday,
Daniel Braun
Shir: Story about Shalom from Safet
Amidst all the current madness our world is experiencing, here is proof that there is nothing that can stand in the way of the genuine desire to help. Shalom shared with Orit who comes to him every morning these days to make him breakfast and to encourage him that he had fallen out of his old bed several times and was suffering greatly.
She of course did not remain indifferent and passed it on to us immediately.
With united forces and with a lot of goodwill and desire to help and in spite of the "welfare" organizations having said in the past that they would help him (he is still waiting - possibly in 2050!) - the operation was completed last night.
A bed was bought in almost new condition and it was transported at night by Orit's boys to the cramped little house of Shalom.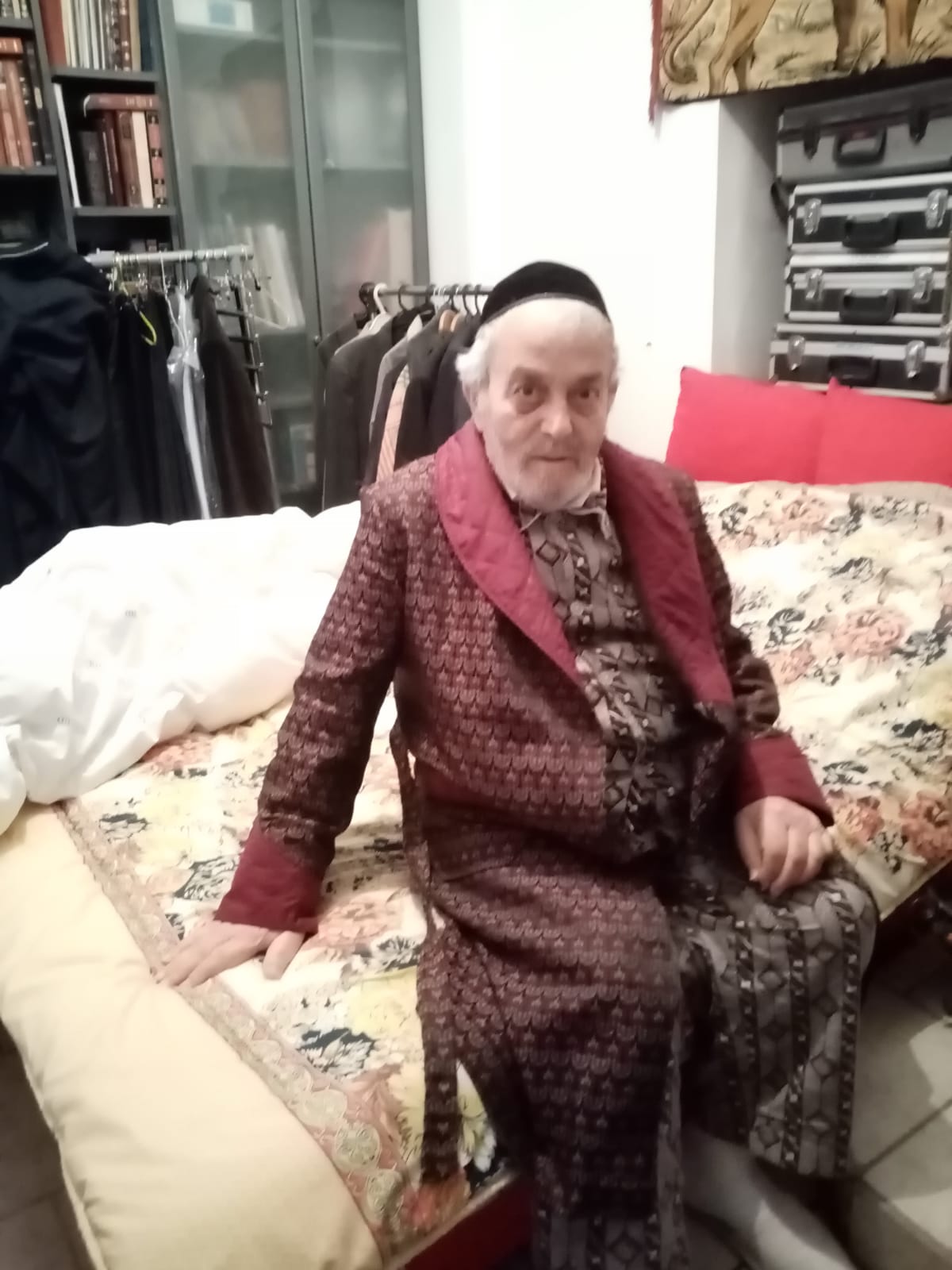 Shalom
It is important to understand that Shalom lives in the heart of the Old City of Safed, where vehicles are not allowed in so the boys carried the bed across town. It is an act of unparalleled dedication and determination to immediately help Shalom and allow him to sleep safely and well at night.What power a team can generate, what strength there is in giving !!!
Students from Baram on the phone with the Winners of Safet:
I talk a lot with Shalom and he is suffering a lot during this period. Orit no doubt makes it easier for him but it is hard for him to be at home all the time and he constantly asks me when I am already coming and says that he misses me very much and does not really understand the situation. We also spoke tonight just before the new bed delivery operation and he was really excited and happy.
The amazing Esther tries to take it easy and tells me that she sees a lot of series, resting, listening to music and learning things online but she has no desire to cook and mostly misses her routine and people. But she gets lots and lots of phone calls from the soldiers and also from the students of Baram of this year and also many from previous years. And she thanked us many times for everything she has received from us.

Julie has moved to another rehabilitation center after her serious fall and says that she is happier with the new place but it is very hard for her not to be at home and that visitors are not allowed to come due to the restrictions.
As usual, sweet Moshe and Irena maintain their optimism and take things easy, for Irena it is a normal situation because due to her foot problems. She does not leave home. Moshe sometimes goes for a walk and continues in his independent manner.
Eli continues with walks near his home and is happy we call him and said his son continues to look after him wonderfully from afar and communicates a lot and takes care to bring him everything he needs. 
Lillian has had a lot of very difficult issues to deal with since the death of Meir Z"L and is really having trouble recovering and rehabilitating herself.
Judith from Safed is happy for the help during this difficult time and thanked us many times and told me it was not easy for her to ask but it really helps her and touches her heart. She suffers a lot from a lack of routine. Her home  is normally always open to neighbors and friends but no one has been coming or going these days.
Shir: In general, this period teaches us about the importance of these special connections happening on a regular basis all year round as a routine and of course all the more so in difficult times.There is nothing that makes me happier, filling my heart during these difficult days than the conversations with these amazing grandfathers and grandmothers of mine and the reactions. I hear both from the volunteers and them about this wonderful connection between them and this Blessed activity, this doing which is called Lechaim! To feel the joy of such meaningful Jewish creativity is absolutely the feeling!!!
Elad: I and Shira talked with Moshe and Orna and the truth is that they sound quite optimistic as always. Since in any event they do not usually leave the house, so except for our visits,  which sadly have been stopped, their routine has not really changed much. They were very happy to hear from us and overall, they sound really fine. 
Hagar: I talked to Judith and she is very depressed. The situation is very difficult for her. She is generally unwell and hardly leaves her home but now that no one is allowed to visit her, she sits in front of the TV all day and is really sad. She is also very worried and thinks a lot about what she will do on the night of Passover Seder and how she will manage it alone.  She was very happy with the deliveries of supplies from Lechaim.
Dan: I and Omer talked to Esther. Esther stays at home on her own. Her children do not visit her at all because of the fear of passing infection to her. While she remains alone in her home, she says that she is constantly receiving calls and with enquiries as to her health.
Rotem: I and Jonathan both called the Winners independently. We spoke to Eli and he sounded optimistic and encouraging. I have to add that Eli has decided to go for walks here and there which is a bit worrying. I gave him my opinion but he insisted that it was doing him good and that he was quite capable and does not need to ask for help.
It sounded like Shalom maybe didn't quite understand the situation but felt bad that he was home alone.
Shir from Modiin continues...
Here is my summary of a number of conversations I had with each of the Winners:
Amazing Jeanette says she spends a lot of quality time with herself and actually enjoys reading lots of books and listening to music and arranging the house and trying to keep optimistic, We had warm and loving conversations.
Judith from Modiin told me she was trying to look at it as a time for friendship and the positive side and said she was getting lots of funny videos and talking to friends from Israel and abroad.
Simi and Rafi were really happy that I called and we talked about the deep message that the Corona teaches us - to appreciate what we have, to behave modestly and to realize that there is something far greater than us.
Miriam from Modiin said she experienced many difficulties recovering from severe surgery that she had following a fall but was glad she was at least home and not in hospital. She said she was managing with food and shopping. But very glad that the girls call her.
Sweet Shulamit said that it is not easy for her with the quarantine and that she does not see the family and does not go out but tries to keep optimistic and I was happy to remind her how much she has already gone through and how much she is capable of and that she has such inner strength and she was very excited to hear that.
Mordecai is going through a very difficult health crisis and has aged a lot and I felt the same way about him on my last visit before Corona.
He is very weak and hardly plays a game of chess which used to be his life pleasure.
But he was glad and excited that I called and told me that Hagit (the volunteer who has been with him for 4 years and is a mother of 4 children and has a private business and comes every week!) calls and it makes him happy.
Chemda as usual deals with everything with humor and tries to make lemonade from the lemons.
Lots of grandchildren from this year and previous years call and I too and make sure she doesn't get bored and she certainly makes sure we don't get bored either.
Riri says she is taking the period as a recovery time and is already feeling better after the severe health problems she suffered from and the difficulty in breathing that made me sleep with her for a few nights about six months ago to make sure she was fine during the night.
She is grateful that she is feeling better and that is wonderful and she is very careful not to go out.
Svetlana and Dimitri as well as Grandma Sarah and Abraham were very happy to receive my mother's amazing cakes that we know they love and which she made especially for them.
The two couples try to take the "difficulties in their stride" and it makes me happy that they are together.
Timek from the Galilee:
I see and experience that our students are calling each of their shoa winners with great love and dedication. It does so much good to them both. What excited me very much, and what encouraged me also much, during these days of distress, that Yuval, who is now in the army, mobilized the previous year group of our students. Every week he encourage them to make the phone call to at least two of the winners, to help them through this difficult time. I see that this is the fruit of the Lechaim-to-life work we do. The seeds that have been planted into the student's heart have been planted in a solid ground and now in the time of distress we see the fruits already.  And also, our students now are very much connected with the winners during this time. It gives them satisfaction that they can do something good, during this time.
Rona, for example, is in contact with Ela, Anna and Jafim from Katzrin. Both Ela and Anna stay at home and do basically well during this time.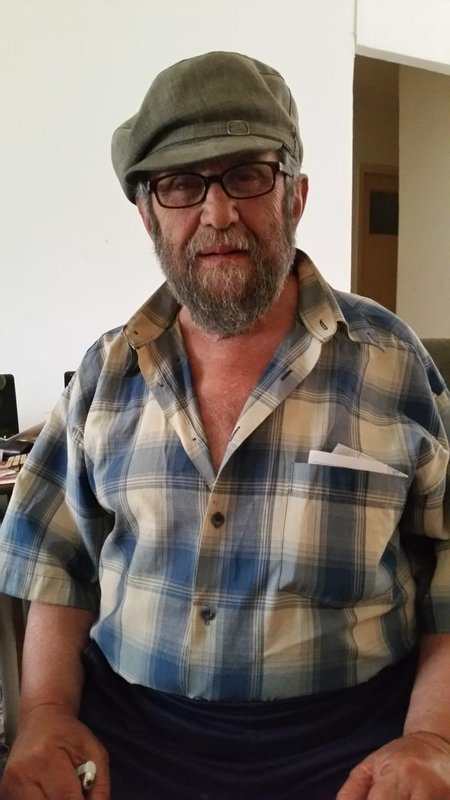 Jafim.jpg


For Jafim it is harder. He struggles with his health and needs his daily walks and connecting with people, which both are now very limited. He is in normal life already very much lonely and now it is much harder for him. Rona's parents live in New York and the situation there is very very bad. Baruch HaShem, her parents are safe at the moment. 
Itai is in connection with Bracha. She love's it. She calls the students sweethearts.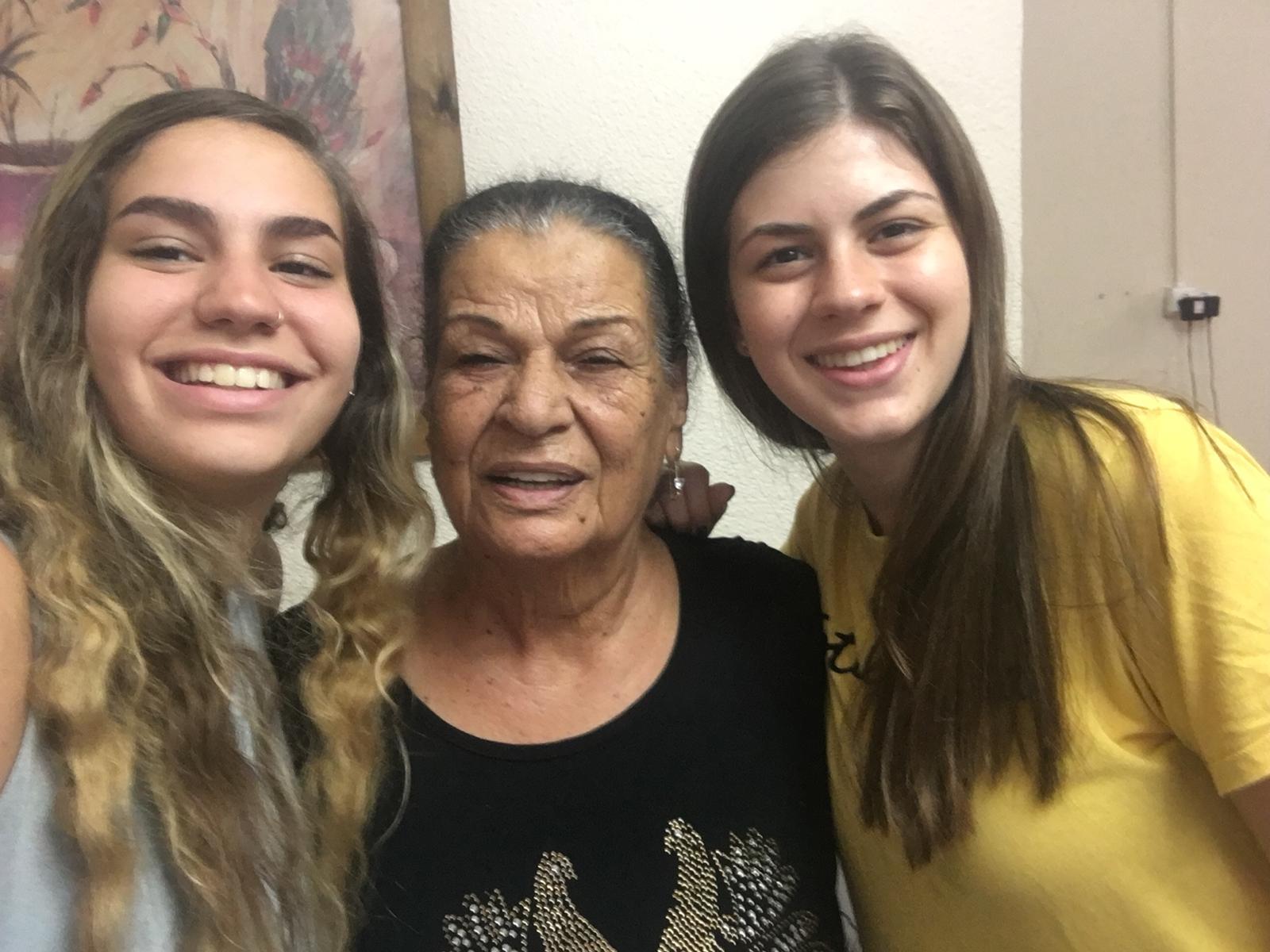 Linoi and Lilach with Bracha

A phone call from the students gives her extra joy and energy to manage through the day. This is the story of the most of our winners at the moment. Baruch HaShem they all are save, waiting in their homes until the situation improves. Calling them is a great help.

Vered and Roy call Mina every few days. Mina needs it so much to talk about her life situation. Vered and Roy listen to her patiently and try to encourage her.
They love Mina and  do it with all their heart.
Mina

Mina had a heart failure few weeks ago. She suddenly felt down, nobody knows how much time she was unconscious. When she woke up again, she had to wash her self and then called the ambulance. The ambulance rushed her to the hospital. Now she is back home, but it is scary for her to be alone. This can happen again. And she needs treatment for her cancer, but now because of the corona, she needs to wait. These are heart breaking situations. Mina needs to talk about it. And so Vered and Roy are basically her life line at the moment.
Shalom,
Timek
A very Special Report from Lechaim
February 27, 2020, Adar 2, 5780

Report
We want to share with you, how our students express what participating in Lechaim project means to them.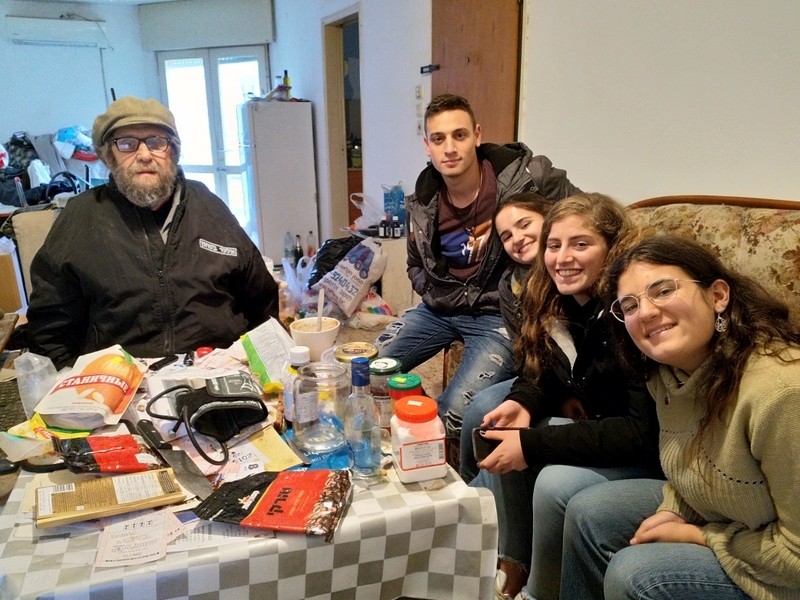 Rona (most right on the picture) from Mechina Meitsar, made Aliya from the United States. Her ambition is to study philosophy and she is dedicated to do something meaningful in her life. Rona is visiting Jafim, Ella and Anna in Katzrin together with Gali, Shira and Roi.
Rona tells us this:
"For me personally this is one of the most meaningful community integration projects I've ever bee a part of. Building a personal connection one on one with the shoa victors throughout the year is a process in which both we get to benefit from each other. I enjoy our weekly visits immensely, it always lightens my heart to spend time with them, learning from them, hearing their story, and not only do I always come out with a fulfilling feeling, but the knowledge that I did something good and helped brighten up someone's week who needed it."

Itai is from the Mechina in Kfar Hanasi and he is visiting Bracha in Chazor together with Ayelet.
We were talking with our students about "volunteering". Monday, is the day of "volunteering" for the students in the Mechina, their time of visiting the homes of Shoa Winners.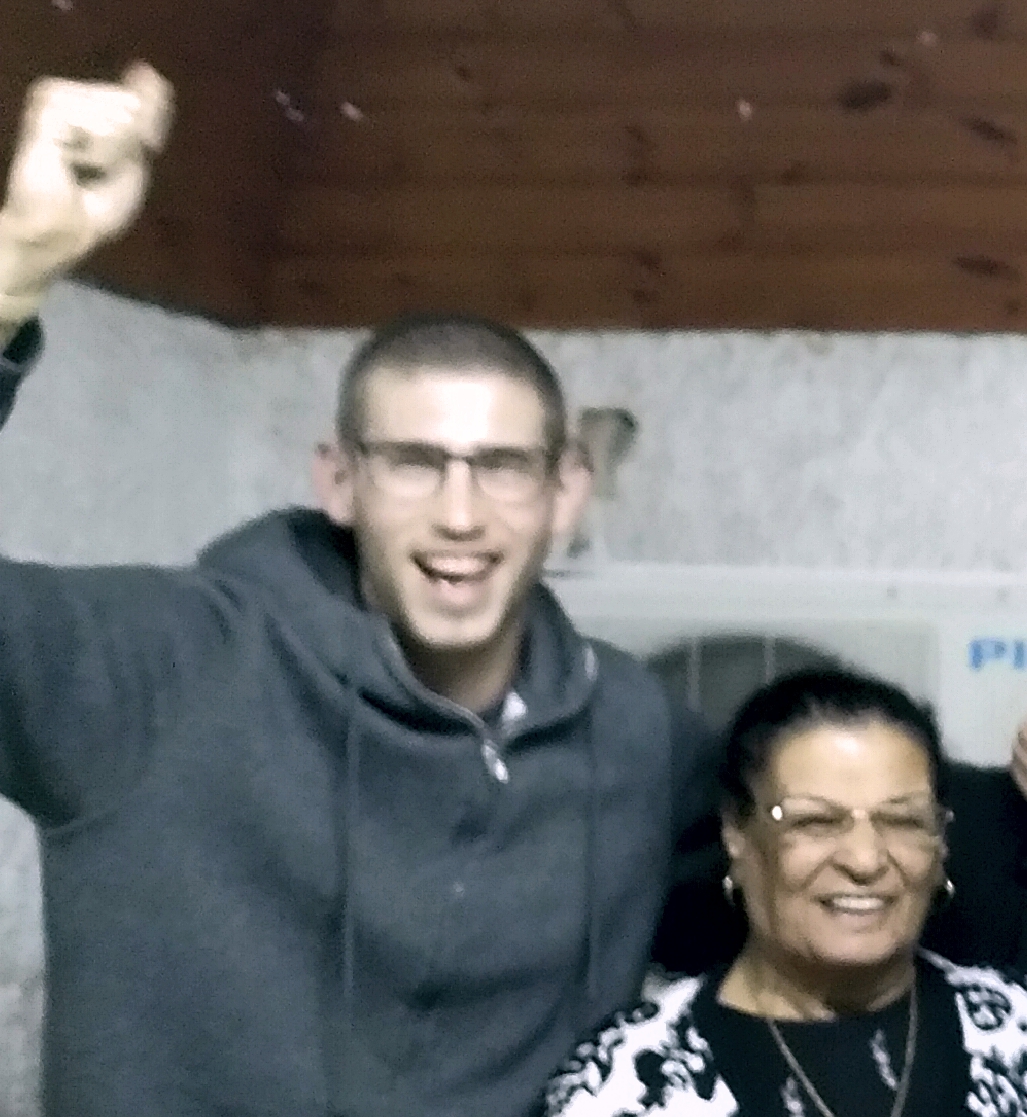 Itai and Bracha

Itai replies: "I don't feel that I am a volunteer. I don't feel that I come to help "poor Bracha". That is not the situation. The real story is that this is my weekly visit of Bracha. This is not volunteering; this is a beautiful meeting. Before I come to Bracha in the afternoon, I did that morning real volunteering work. That work is very intensive and exhausting. Visiting Bracha is the opposite. It is very relaxing, not at all "hard work".
Bracha is always very kind to us, and she offer us always something to drink and to eat. I know when we are together the beautiful conversations make her feel so good. And, when this make her feel good, it makes me feel good too.

When we would speak about our visits "volunteer work", that would make Bracha a poor and needy person. That would be very arrogant to say. That is definitely not the case.

And by doing so, they fulfilled – maybe without realizing this - the greatest "mitzva" from the Tenach:

We visit our Shoa Winners, because it is important to us. And it is a very special project to be involved in this way."


In the video, Yuval expresses how he feels in the Lechaim project. Yuval is from the Mechina Ma'ayan Baruch and he is visiting Steve, Rachel, Rivka and Peretz in Kibbutz Neot-Mordechai, together with Emily, Oded and Yotam. You can see the video by clicking on this link. Yuval speaks both English and Hebrew. https://youtu.be/03lcND4x2CM

These examples represent the feelings of all of our dear students, participating in our project.

Two special stories that happened in the last couple of weeks during the weekly visits.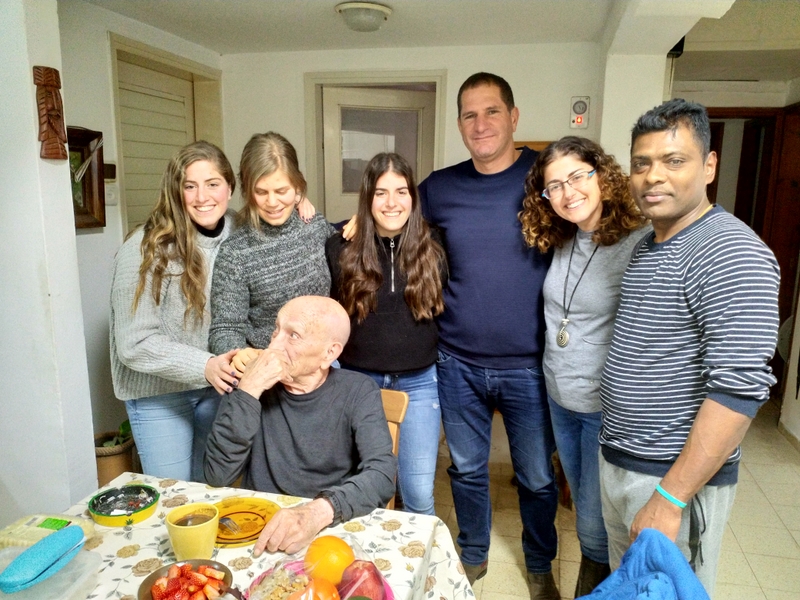 Jossi surrounded by friends: Shira (most left), Noa, Aja, parents of Shira, Jossi's helper
One day, Shira brought her parents to see with their own eyes how she is involved in the visiting of the shoa victors. Shira is one of our students that visit Jafim in Katzrin. While I (Timek) was visiting the students and the Shoa Winners: Tsipora, Marit and Jossi in Kibbutz Chukuk, suddenly while I was standing at my car to pickup new package to deliver for TuBeShvat to Jossi, Shira jumped out of the car, that just arrived and parked next to me.
I was totally surprised to see Shira here in a kibbutz – 50 km away from Katzrin, where she is actually doing the weekly visits!
I asked her: "How come that you end up here"? She pointed to her parents who brought Shira just here on this spot that none of us had planned in advance! Her parents took a day off from work and came all the way from Modiin to the Galilee to spend a day with their daughter to see how it is to visit Shoa Winners in their homes in Katzrin. After they finished visits in Katzrin at Jafim, Anna and Ela, Shira took them to the kibbutz Chukuk where her friend Noah is involved with Lechaim project and visits Jossi.
And so, it happened that I we went together to bring a surprise visit to Jossi. Noa and Aja were already with Jossi chatting at the table as usual. Suddenly Jossi's house was full of people. Six of us! We all brought love and light into Jossi tiny house and he felt this. For Jossi it was a heavenly moment. He was so happy!
At the end of the day, parents of Shira were very much impressed about the great impact her daughter and other students make in the lives of the Shoa Winners through the weekly visits. They went back home very satisfied and fulfilled with joy of what they saw this day.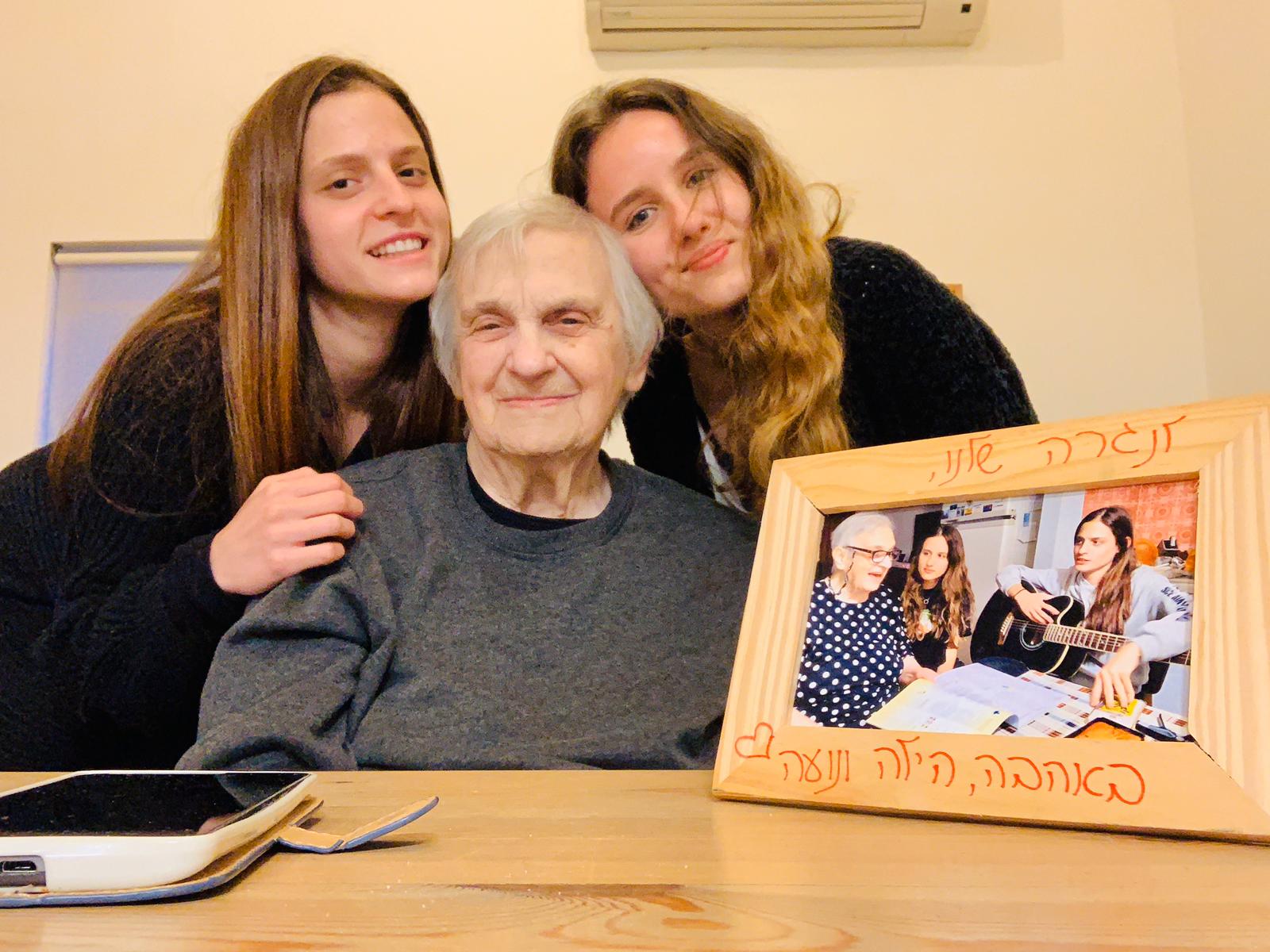 Noah and Hila visiting Chagit
Noah (another Noah) and Hila were visiting Chagit in Kibbutz Chukuk. Chagit was so happy and awaited them every Monday afternoon, until she fell down. Chagit was already very ill and this fall was enough reason for Chagit family to take her out of the kibbutz into their home to care for here from their house. Noah and Hila lost Chagit on their weekly visits, but that didn't make them disappointed! They kept contact with Chagit by phone, but were unable to visit her, because of the long travel distance and without transportation. But one day, they took the bus and traveled all the way to meet Chagit, to see her at least one more time. They framed a picture together with nice note with blessing for her and gave it to Chagit. Chagit was so happy by this act of big love from these young students.
Noah and Hila didn't have to do this effort. But they followed their hearts!

"Love your fellow neighbor as yourself".
Greetings form Lechaim Israel,
Timek


Lighting candle with Lechaim
December 26, 2019, 28 Kislev 5780
Chanukah celebrations in the north
Beside of Chanukah party in Kiryat Shmona, we also had a Chanukah celebration in Chazor. Bracha opened her house for the shoa victors from Chazor and the students.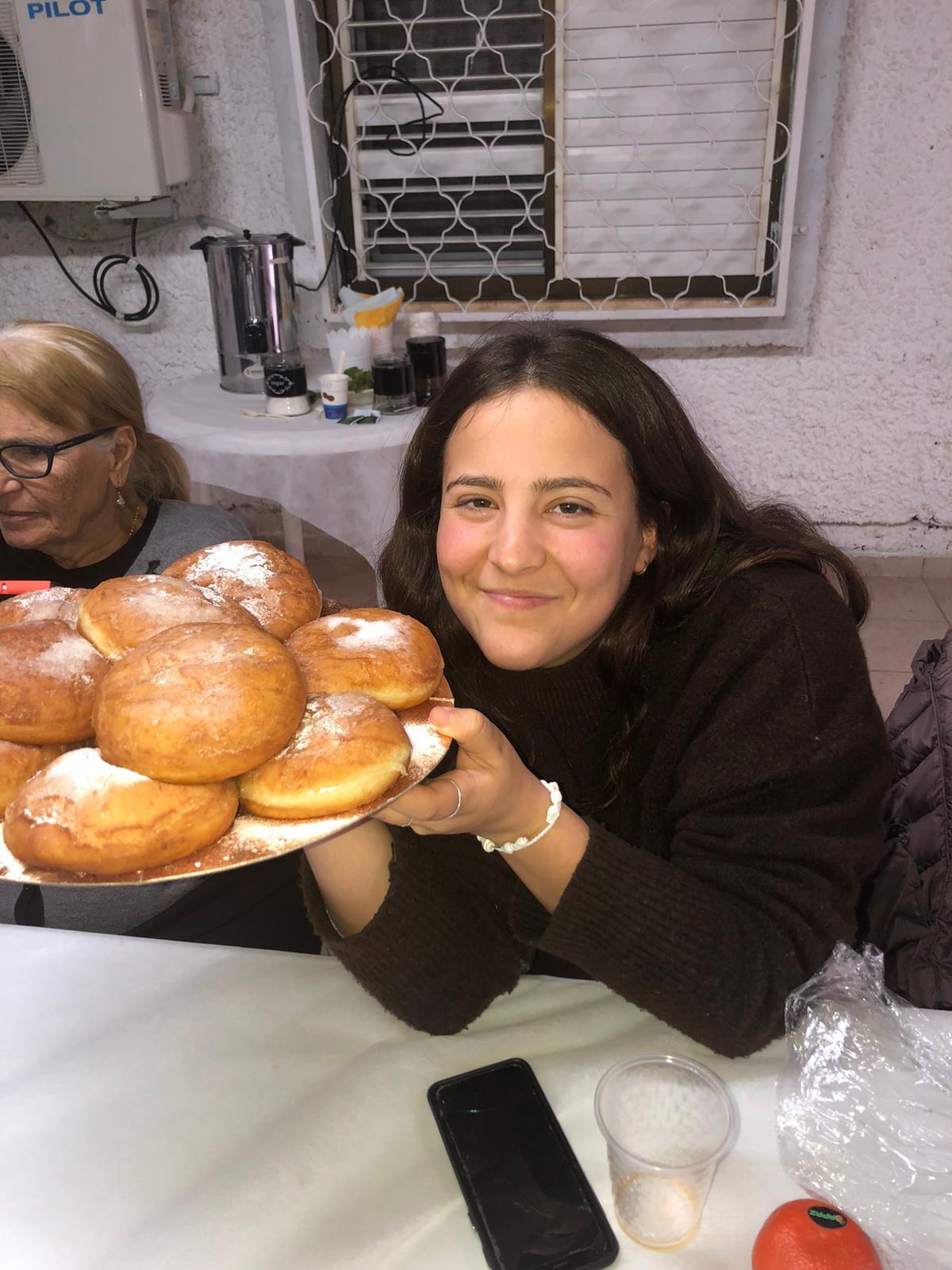 Roni with Bracha. Bracha made lovely suvganiots.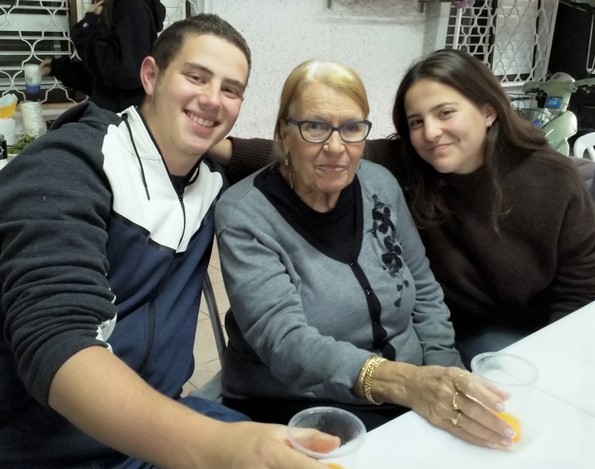 Omer, Jaffa and Roni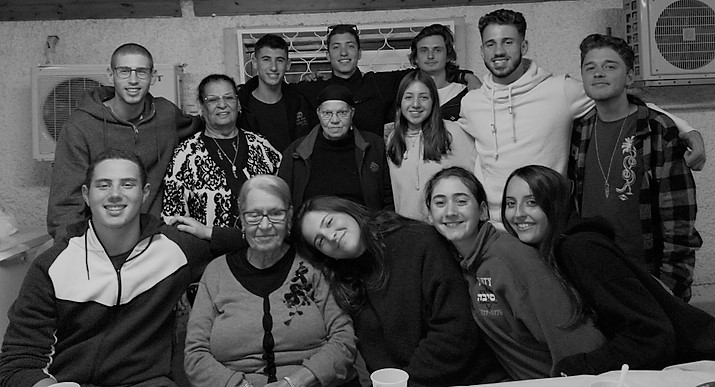 Chanuka in Chazor

The students brought a lot of joy with them and we sang a lot of Chanukah songs, and shared stories together. The students expressed their appreciation of being part of this project. Bracha, Ruchama and Jaffa thanked the students for their visits.
For Mina who was not able to come, the students brought suvganiots and others that was on the table to her. She was so happy.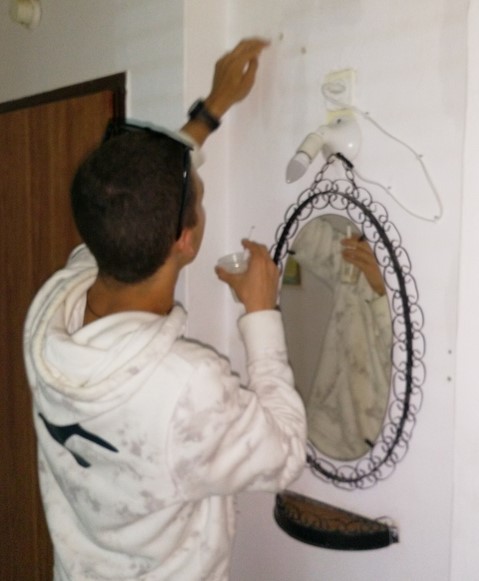 Roy reparing at Mina house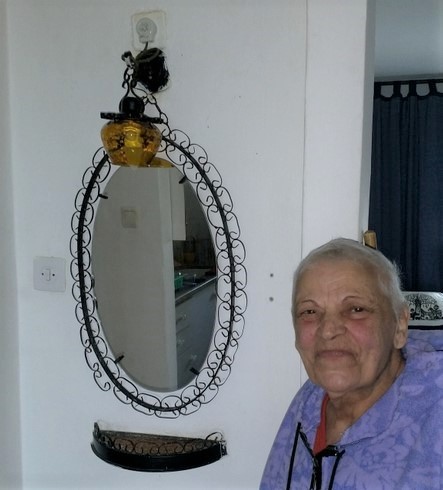 Mina was so happy with the new lamp

Roy also painted and restored some wholes in her walls and I fixed her lamp at the entrance, so she has now a good light when she enters her home. The students represent for Mina real Chanukah light in her home and life.
In those places that we couldn't have a Chanukah party, and those ones that could not join us, I visited and brought them a Chanukah present from Lechaim. A basket filled with all kind of fresh fruits and a personal blessing.
Much greetings from Jafim, Ela and Anna from Katzrin. Jafim feels a bit better now. He walks every morning 4 km and that gives him a good energy and better health. He misses his son and grandson that live in Minsk. Jossi, Marit and Tsipora from Kibbutz Chukkuk enjoy so much from the students. Chagit felt down and is now living with her daughter, not in the Kibbutz. Because her health is not good, she will probably not return home. We are all very very sorry and pray for recovery and new strength for Chagit. We miss her. The students that visited Chagit are now joining visits at Marit and Jossi.
As you have read in our previous report, students from Meitsar visited Eliram in the hospital, just a day before his operation and celebrated his birthday. Eliram is still in the hospital, recovering from his operation. It goes with ups and downs with him. We all pray that he will return home very soon.
Also, Chana from Rosh Pina is in revalidation after her hip operation. Rachel from Rosh Pina was so happy to see me and had so much joy from the Chanukah wishes. Rachel is not feeling good and it is hard for her to receive students on a regular basis. She feels sad about it, because she loves them so much.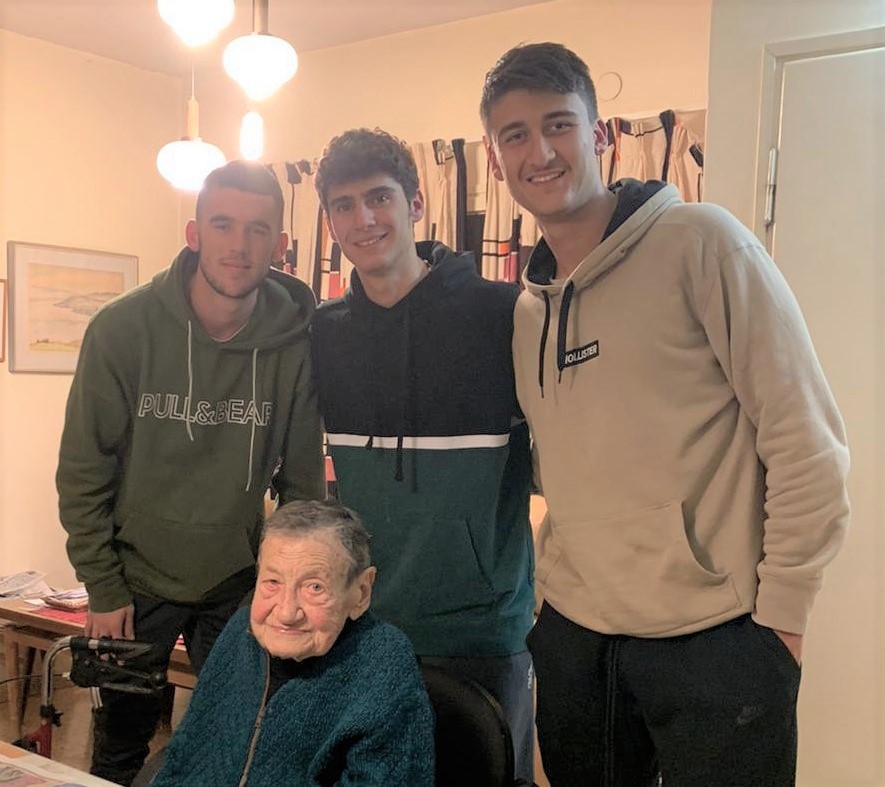 Rivka with Yuval Oded and Yotam

In Neot we have a new shoa victor. That is Rivka, 97 years old and from the very first visit she felt in love with the students and the students with her. Yotam: "Rivka has good hearing and talking skills, she wants us to come every week. We had amazing time with her".
Chag Sameach,
Timek


United hearts in unity

24 october 2019, 26 Cheshvan 5780

Shalom dear Friends,
Now as the Jewish Holidays are behind us, we are ready to have our students begin their first visits of the year this Monday. In preparation for this, two days ago, Shir and I, visited the students in the Mechina Program of Bar Am, located in the Northern part of Israel, next to Tzfat. Together, we met the group of the students that are going to work with our dear survivors in Tzfat.
We came exactly at 2:30pm and the students were already waiting for us in the classroom, glowing with excitement to hear about our program from Shir, our devoted teammate that is maintaining the the branches of L'Chaim in Tzfat and Modi'in in such a beautiful way. She told the students about how she originally became acquainted with L'Chaim five years ago, as she was herself was then a student in the Mechina of Ma'ayan Baruch.


She told them how touching it was to meet with us and to see how we were so dedicated to the great model of bringing new hope to the Survivors and turn them from "Victims" to "Victors." She told the students how she followed up with our project when she became a soldier. In the army, she made a lot of friends and many of them were enthusiastic to join our project as well.

The most special part of that meeting for me was to listen to Shir and to see how she greatly understood the vision of our work and how she, now as a young lady, can bring about change to the hearts of so many other young people throughout our country. By the end of the meeting, the students were very enthusiastic to begin the project.
I didn't have to say anything to the students - I was able to just sit back and listened with pleasure to every word that Shir spoke straight out of her soul.

I want to share one thing that was especially touching to my heart. Shir told me that as she was calling the Holocaust survivors after she came back with her boyfriend from abroad, they surprised her by saying that they have been receiving visits periodically from former students that they had met 2, 3, and 4 years ago. These young men and women are not only still keeping in touch with them and spending time with them, but sometimes they even bring their whole family for the visits - mother, father, sister, and brother. I couldn't' believe my ears - I felt much pride and joy in these words.

After the meeting at the Mechina, I came back to my home in Zichron and Shir went back to hers in Modi'in.
The biggest surprise happened the next day - Shir left me a message that she had had the opportunity to meet the new students in Modi'in who were considering to volunteer with our project in that location.
She had expected about 6 students to sign up, but was overwhelmed with joy that in fact 29 students enlisted to join our project to support our "Winners" in Modi'in!
I want to take this opportunity to say thank you so much to a special donor in Holland - an elderly woman who so generously gave 2000 euro because she feels such a strong connection to the work that we are doing.
At this time, I would like to express appreciation to all the donors from Norway, Singapore, the US, Canada, and Israel that have and continue to be so dedicated to the work of L'Chaim.
I know that they all give completely from the heart. I want to thank Hashem who provides us with the privilege to do our holy work that connects the young heart with the elderly heart, as the Tenach commands us, "Return Sons to Fathers and Fathers to Sons."
We are happy and proud to approach our 16th year of the existence of L'Chaim Project.
Thanks to all of you - students, friends in Israel and abroad, and all the people taking part in the L'Chaim Project.

Baruch Hshem, thanks Gd. With Gd's will we will send out our beautiful report with action and photos after the students' first visits.
Shabbat Shalom!
Sincerely,
Daniel



Leah's Visits with Anna and Jafim
Oktober 31, 2019, Cheshvan 2, 5780
On Monday I had the opportunity to bring four students from Mechina Meitzar in the Southern Golan to visit two of our "Victors" in Katzrin, Anna and Jafim. The students seemed very enthusiastic to begin their volunteer project and get meet the people whom they would be visiting weekly throughout the year. Anna was very happy and welcoming. She had just recovered from a leg and eye infection, but she was still in good spirits and happy to get to know the students. They spoke about their families (including their pets) and where they are from. Then Anna told them all about her life and where she has worked. They spoke about their families (including their pets) and where they are from. Then Anna told them all about her life and where she has worked. She has worked with children of all ages. With a twinkle in her eye, she told them how much she enjoyed catching the students in her school who were cheating on examinations and ensuring that the students understood the importance of honesty. We took a picture together and left with good feelings and enthusiasm to continue with the visits.

Next we went to the apartment of Jafim. Unfortunately, Jafim is in poor health and lives alone and has difficulty keeping his apartment in good order. The students were understanding and want to help him. When we entered the apartment, he was watching a very funny music video. The students sat down and started bopping with him to the music. It was a good bonding moment. After a few minutes he turned off the video and he proceeded to tell the students about his experience in the Holocaust and his life after the war ended. He also spoke about his family. The students seemed moved by their time with him and look forward to visiting him during the year and hopefully helping him better organize his living space.

Yonatan's Visit with Eli and Shalom - "I went to visit Eli, a survivor of the Shoah, for the first time on Monday. He immediately invited me into his home and offered me something to drink. Slowly, we became acquainted with each other and spoke about our respective families. I showed him a photo of my family and described who everyone was and how they are related to me. Then I told him that next week, another student from the Mechina, Rotem, will join me in our visit.
After a few minutes, he told me about his family, about what his life was like in the Holocaust and in the concentration camp, and how he immigrated to Israel after the war and was drafted into the a special military unit under the famous commander "Gandhi*"* at an older age. He spoke to me about what was important in life to him - deep friendships, not getting taken advantage of, and how to get promoted to higher places. We agreed that despite the age gap, there is a good connection between us, warmth, and a friendly spirit, and that we will continue the visits. At the end of the visit, Eli's son called and since it was time for me to leave, I prepared to go. I tried to wash the drinking glass I had used, but Eli insisted on cleaning it himself. Eli accompanied me to the door."



The First Visits of the Mechinot with Joy and Light
Oktober 31, 2019, Cheshvan 2, 5780

Dear Friends of "LeChaim,"

We experienced an exciting start of the new season as our students had the opportunity to finally meet with the Shoah "Victors" this week. The enthusiasm of the students and our "Victors" was overwhelming and beautiful for me to witness.
Kick-off Event at the Community Center in Kiryat Shmona And Follow Up Visits

I picked up the "Victors" in my minibus and brought them to the Community Center in Kiryat Shmona where we met the students from the Mechina Ma'ayan Baruch. Klara, the leader of our "Winners" in Kiryat Shmona, had already set the tables for our introductory meeting. The students mixed with the elderly men and women. There was an instant atmosphere of connection, almost as though everyone had known each other for a long time. You can see the smiles on participants' faces below.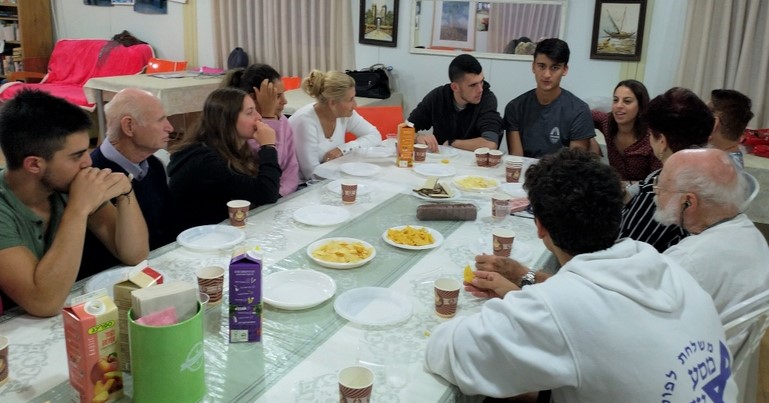 Kick-off party in Kiryat Shmona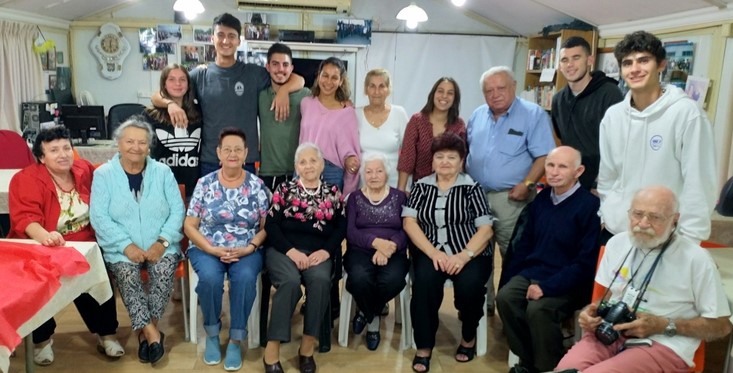 Students and Victors in Kyriat Shmona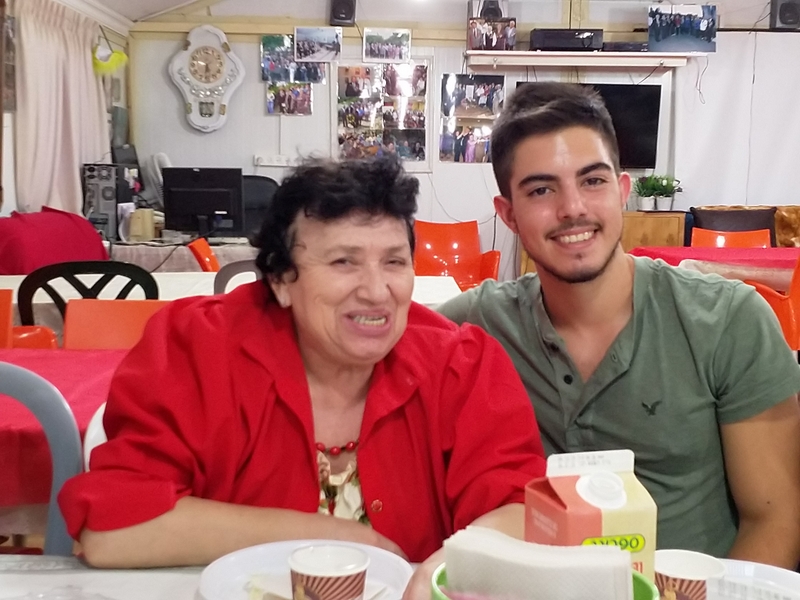 Ludmila with Roy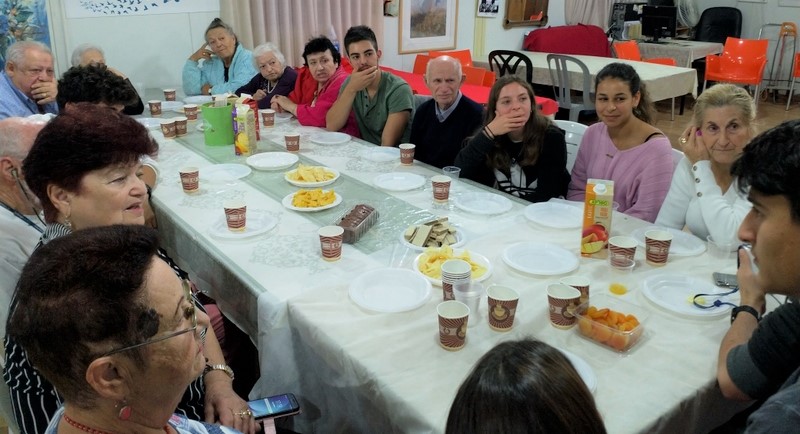 Kick-off party in Kiryat Shmona
The next day we began the regular visits at the "Victor's" homes. Below is a picture of the students Roni and Yuval at the home of Bracha. Yuval actually called me during the visit to share excitedly; "we are enjoying [this visit] so much, it is really excellent to experience this."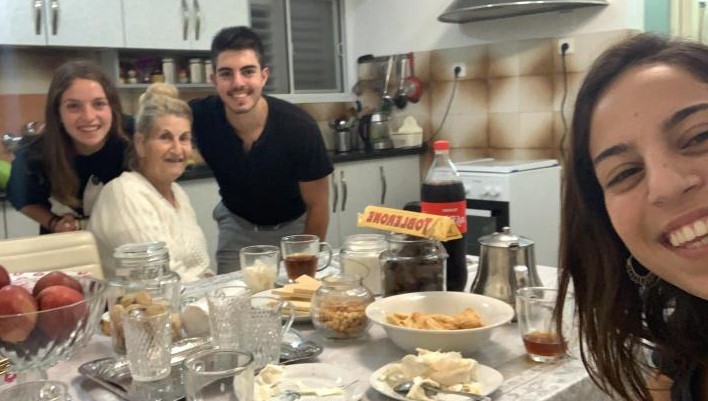 Bracha with Roni Roy and Yuval
Another group of students visited Steve and Rachel in Kibbutz Neot-Mordechai. You can see in the photo below the joy on everyone's faces.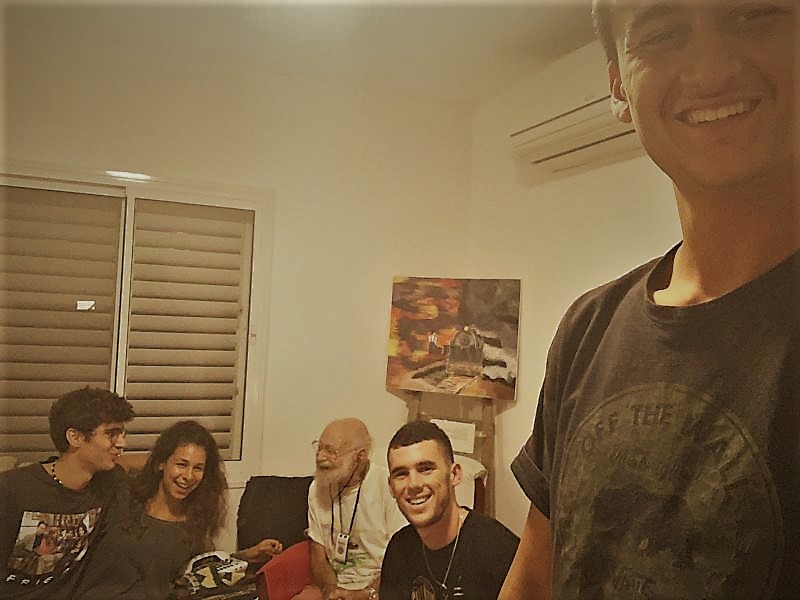 Steve with Oded Yotam Emily and Yuval.
Oded, Yotam, Emily and Yuval (from right to left)
And here are the same students with Rachel. The expression on Rachel's face says it all.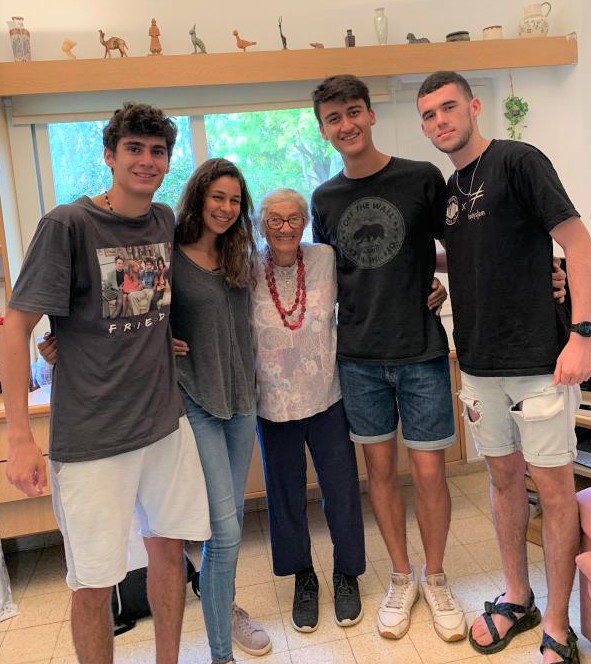 Rachel with Yuval Emily Oded and Yotam

First meeting in Hatzor

The next day I went with the students of the Mechina Kfar Hanasi to the homes of our "Victors" in Hatzor HaGlilit. Some of the students already chose with whom they wanted to visit because they had received an introduction to the program by volunteers from last year. We met at the Central Bus station in Hatzor and we went from house to house of our "Victors." Each time two of the students stayed in one of the "Victors' " homes.
Here we are with Bracha. Vered (most left) and Itai (behind Bracha) knew that Bracha is a perfect match for them! They stayed with her because of a special connection that they have with one of her children in Beer Sheva. After the visit, Itai and Vered were so excited and told me how they love to be with Bracha and will visit her every week.


At Bracha Itai and Vered stay at Bracha.jpg
Here at Ruchama's home, Ofri and Mika (on the right) chose to visit with Ruchama. After the visit, I asked them, "Do you want to remain partnered with Ruchama?" Their answer was, "For sure we will stay with her!"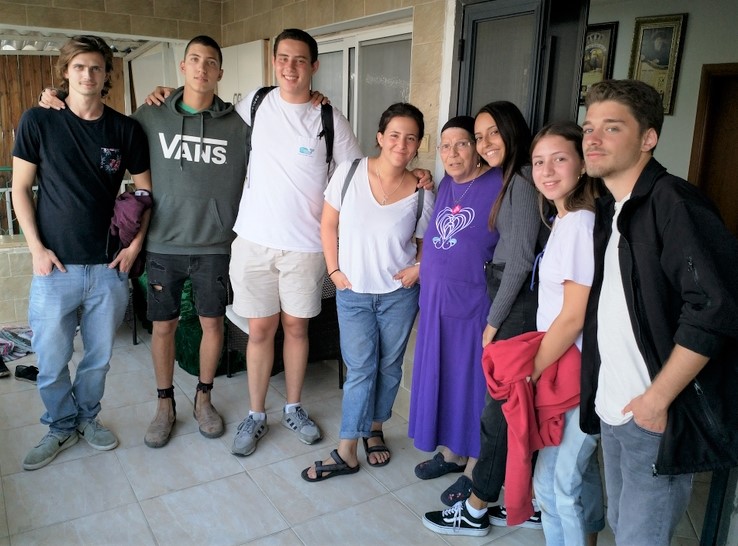 At Ruchama - Ofri and Mika on the left stay with Ruchama
Next, we went to visit Mina. Unfortunately, Mina is not in good health. She is currently is in the middle of chemotherapy. The results from a recent PET scan are worrisome. However, Mina is a fighter and will not easily succumb to her illness. Mina has had many other difficulties in her life and she has developed a bitter outlook. She believes that everybody is her enemy and is out to "get" her. It is difficult to gain and keep her trust. I warned the students that whoever will choose to partner with Mina will have not an easy job, but at the end, he/she will have the opportunity for great satisfaction. This was how the previous students Ophre and Bar felt when they finished their year volunteering with Mina. In fact, they still keep in contact with her. Roy and Vered heard from Bar about Mina's situation and even before their visit wanted to take on this challenge. After the visit, I asked them how they felt about continuing with Mina. Their faces showed sorrow and sadness, but they told me that they will not give up. I feel that this is a very brave decision and I wish them all great wisdom and strength. Below is a picture of the visit with Roy and Vered (sitting just to the left of Mina) and Mina.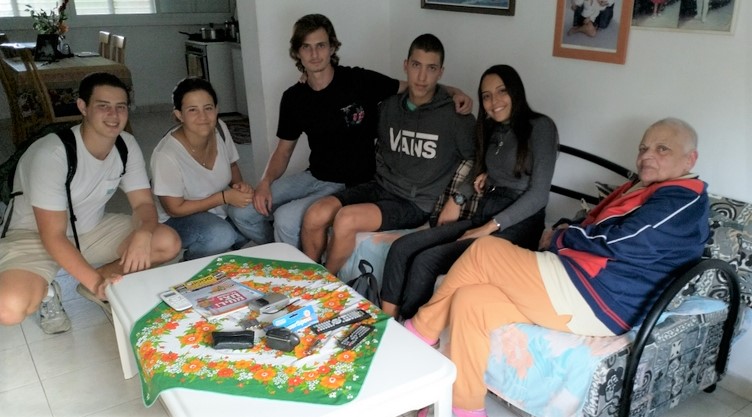 At Mina - Vered and Roy most left stay with Mina

Ginosar and Chukuk
While I was in Hatzor, Brigitte, a coordinator in the kibbutz of Ginosar, introduced the students from Mechina Meitsar to "Victors" Eliram and Batya who reside in Ginosar. Batya just returned from the hospital, so the youngsters couldn't stay for long. Eliram fully enjoyed the visit as you can see in the picture below.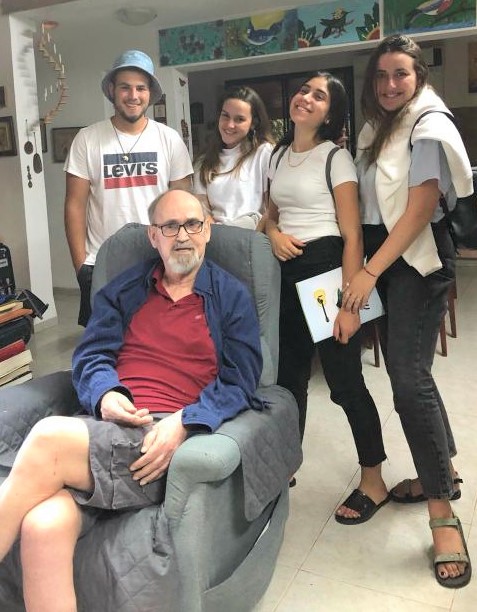 EliRam with Shachar and other students from Meitsar
Ruben, the coordinator of Kibbutz Hukuk, introduced the students to the "Victors" Marit, Yossi, and Chagit who reside there. Chagit is new to our program and she needs to decide if she will want to continue with the students.
I was so pleased with how dedicated this entire group of students are to our project and I am optimistic that this year will bring great joy and satisfaction for both the students and the elderly.
Thank you for joining us in this heart to heart project,
From the Entire Team of LeChaim - Timik, Shir, Shuki, Leah, Natan, and Daniel. We wish you all a good year.

Shabbat Shalom.
--
Daniel Braun
E-mail: danielxrw@gmail.com
Phone: + 972 54 772 3510
Welcome to our website at: lechaim2life.org.il

Happy new year
Oktober 6, 2019, Tishrei 7, 5780

Now a word for my co-worker Timick...

Shalom Dear Friends,

It was a joy to visit all of our Shoah "victors" in their tiny apartments and hear how they are doing and to bring them a gift and food for the High Holidays. Directly after Rosh HaShanah, Daniel and I visited three "Mechinot" (military preparation academy) where we introduced the project of "Lechaim." Some of the students there will start volunteering with our organization during their upcoming academic year. The vision of "Lechaim" that Daniel shared with the students was well received. As you can see in the photograph below, it was a great joy to see so many Israeli youth enthusiastic to be involved in this project. Soon we will start with the first visits. We await this day with excitement.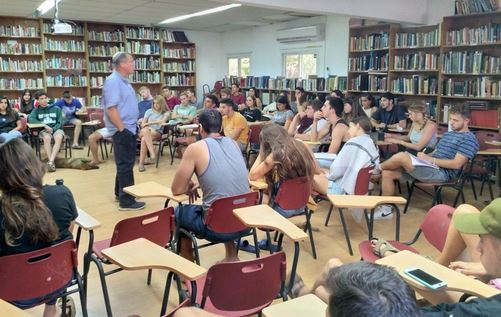 Daniel speaking with the students of Meitsar Mechina
I have been also visiting with the the Shoah "victors" during the summer months when the students are on vacation. As you can see below, we are enjoying the company of one another while awaiting the arrival of the students. Each time I meet with the "victors," they ask me "when do they (the students) come to visit me?"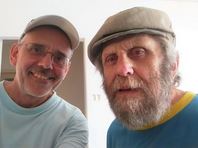 Timek with Jafim out of Katzrin
I would now like to share with you a special story from my first meeting with a new Shoah "victor" named Sara. I was asked if it would be possible for Mechina students from Kfar Hanasi to visit a new "victor," Sara, who lives in a nursing home in that kibbutz. In order to meet Sara myself, I first tried to contact her daughter, whose number I was given. I was unable to reach her after several attempts, so I decided to just walk into the nursing home and ask for a woman named Sara at the reception desk. When I did so, the secretary said, "yes she is here," and pointed to a lady sitting right next to the her desk. I turned to Sara and introduced myself. She looked at me with suspicion and asked in a defensive way, "Who sent you to me and what do you want from me?" I thought, maybe this is not the right Sara that I was meant to visit, but I proceeded to explain to her that I didn't need anything from her; only that I just wanted to visit with her and talk with her for a few minutes. Next, what Sara told me was sad and shocking; "I don't belong here! I don't belong anywhere in this world! I am meant to lay down 6 feet under the ground!" Then she asked me "how old do you think that I am?" I replied, "you look to me like someone in their mid 80's." She started to laugh and replied, "I am 96 year old!" WOW. I would never have given her that age. Sara is a nice looking elderly lady. Then what I noticed is that Sara speaks English with a heavy American accident, and doesn't seem to speak Hebrew. Sara explained to me that she doesn't follow the activities of the home because she doesn't understand the workers and they don't understand her. I am guessing that because of a language barrier she can't integrate and feels useless there and unhappy. I don't know yet if this is really the case. I asked her about her life. Sara told me that she is from Brooklyn, she had a good life with her husband, and they traveled all over the world together. She was very satisfied in her life in the past, but her situation now, living in Israel without speaking Hebrew, is very difficult for her to accept and to deal with. She is very sensitive and her thinking is acute. At the end of our visit, Sara was happy that I came for a talk with her. She gave me a strong hand, looked at me straight into my eyes, and said, "come and visit me again!"
I wish you a meaningful Yom Kippur day and a Chag Sameach!
Timek