5780
Rivka Goldy Zichrona L'vracha

November 4, 2019, Chesvan 6, 5780

Shalom Friends,

This morning we received the news that Ricka passed away after a long battle. Rivka had been working with us for over thirteen years. She was very dedicated to the work of LeChaim and especially to the Holocaust "Winners" in Pardes Hanna. Rivka was involved in everything that happened in LeChaim and was a very important part of any activity that we took part in. This includes the regular visits to our "Winners," special projects such as the March of the Living, Jewish holidays, trips, and more. She was also in charge of our branch in Pardes Hanna, operating with the school of Neve Michael. Everybody loved her - the "Winners" of the Holocaust, the students of Neve Michael, and all our friends from abroad that came to Israel to see and take part in our project. She brought a lot of love, life, and comfort to many people. That is how we remember you Rivka. You brought a lot of good into this world and I'm sure that you are finding peace now in the next world. May your soul be in a healing place under the love of Hashem in Gan Eden. We will carry on with the holy work that you did and continue to adopt as many more "Victors" as possible. The school of Neve Michael will honor the strong connection that you had with them. Although, LeChaim will no longer take part in your activity with Neve Michael without you Rivka, know that the students will continue the visits independently in Pardes Hanna. May you soul be blessed and have an Aliyat Neshama.
Kol Tuv,
Timek, Shuki, Shir, Leah, Daniel and all our good friends in Israel and Abroad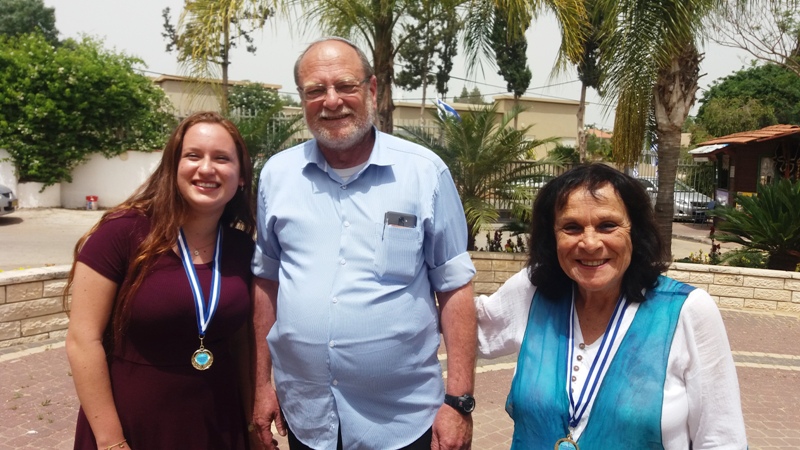 Rivka (at the right on the picture) with Shir (left) and Shuki (in the middle).


5778
Words of Farwell for Micky and Meir
January 12, 2018

Dear friends!
Survivors adoption project, brings us the story of Israel. A story of pain and joy accompany us always. In recent days, three 0f our winners has gone, leaving the world of shape , to a world that doesn't have a name. Within the incredible journey we are passing along so many years, our strength and waves of people's journey, winding life often painful and sometimes uplifting, accompanied us and teaches us so much, especially as the time became almost critical and ease the journey by this guarantee. To accompany people on their way, to meet difficulties, with pains, as Meir and his family experienced.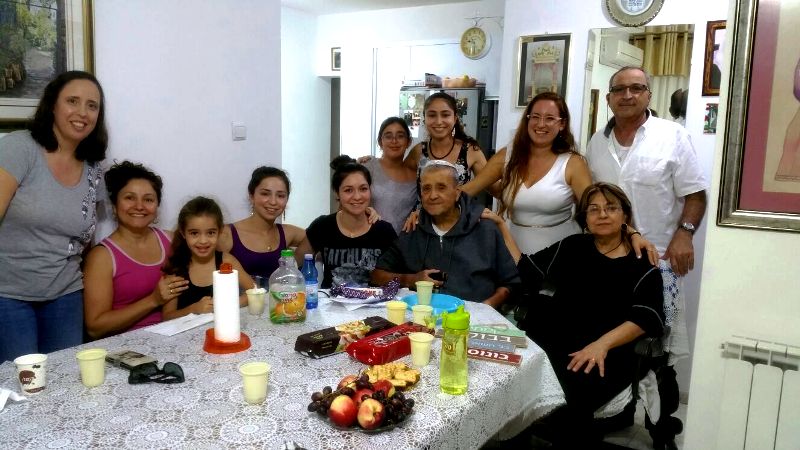 But on that side with pain is also true elation. Meir, Rozitza and her husband Mickey, were accompanied by heart and love . And don't sweeten a bit the pain of those precious winners. We, in Amutat "L'Chaim" will find another two newcomers and we will accompany them in significant Jewish way, in their last phase of life! This week, in a good and best time, we are opening two new branches : one is in Sdot Yam ( near Caesarea)' and in Chukuk ( Near the sea of Galili).You are cordially invited to follow our new steps to follow and to be a part of all the activities that we will begin to develop.

Shalom,
Daniel

Meir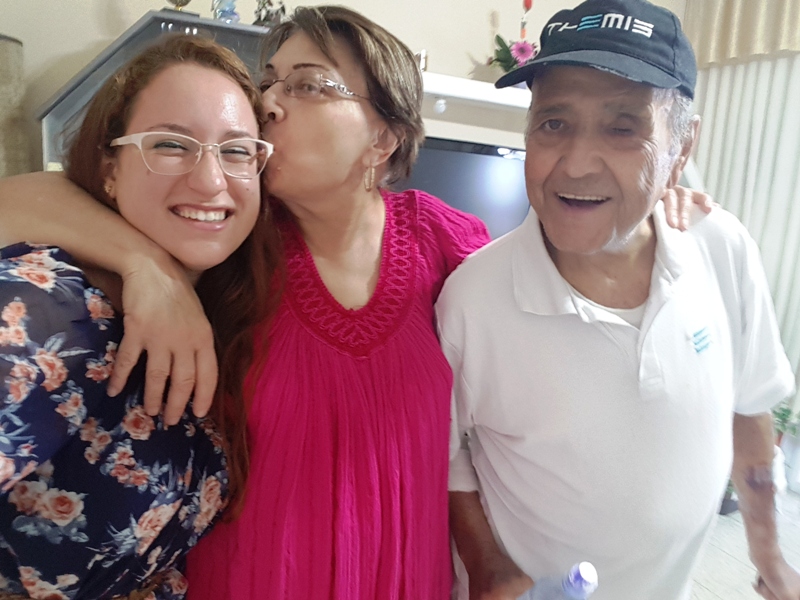 A name express the essence of the person. You , Meir, made the world shining to whom who knew you. Among these people, I won a grandfather for two years. Meir came from Tunisia, and anyone who doesn't know yet, there, was the Holocaust, and memories accompanied him along his whole life. He immigrated to Israel, joined the army and was always the first to determine and helping everyone. He worked a lot, for the welfare of his family and children. Built a house to everyone and invested as he did with his heart and soul. He always did good for others. Volunteered with autism and visited people in the hospitals.

Meir was a man of action. A believer in G-d and in man. A righteous man who died on Saturday [ed. : Shabbat] ! A man of love warmth and intimacy. Meyer showed me his granddaughter, and gave me love and warmth and a sense of home. He taught me many lessons about humility, wisdom, action, perseverance and diligence. You will be always in my heart my dear grandfather. Love you, appreciate you and already miss you. I want to take this opportunity to thank all the good people who helped with donations and gave the lights last longer with this family. Wish that all you have given away may com back to you in blessings!
Miki


Have you seen the movie "The diary" ? It's very reminiscent of the story of Rozitza and Mickey (bless their memory). Amazing couple who simply couldn't live without each other. 67 years of marriage, and they went through the Holocaust, aliyah, meeting each other , fall in love building themselves as a family . It is a type of love, that I will not forget, how I once brought Rozita her coffee, out of the house (Mickey could not join us because he was very sick), he hugged and kissed her and told her:" my love I missed you, and waited for you". He took my hand and said:" thank you soldier Shir that you took her and returned back with her" . He had dimension and other health problems.

Meïr past away after 67 years of love, as in the beginning. It's something I won't forget my whole life. Mickey turned to be 90, only because Rozitza's love. I remember how she wanted him to celebrate his birthday' and indeed' we "the grandchildren and great grandchildren" were invited. He was glad and smiled big smile. Mickey died on Sunday, it took me a while to digest it. Within a month, and some say goodbye to both of them. All of a sudden. One thing that comforts me more than anything that now they're together again. All that remains for me to wish and hope is that they are happy there in heaven.


Zvika
Januari 4, 2018
Today, I received a sad and painful news. Zvika our precious winner from Pardes Chana, has died last night and the funeral took place today. He was a Holocaust survivor from Romania. After their parents were killed before their eyes, two aunts adopted him and his sister , and managed to give them a relative stability along their childhood. We started to adopt him and even installed him an air condition against the heat in the summer. He didn't stop to thank us for it. But it didn't take long, and he was admitted to the hospital with very low hemoglobin level, and all the wrong things stick on him in the hospital. He was back and forth between the hospital and the geriatric Centre institution, located in Pardes Channa, till his last day. He loved life and was interested in everything. His friend, accompanied him with mental devotion as a family member he did not have. (his sister is older then him, and live in Nahariya , and couldn't get around to visit him). He couldn't bring with his wife any children and was a widower without anybody to protect him. On my visits , I recognized that he had no update device or something to play him a song or listen to a news. After calling my friends, I got small radio which he could hear music and news. He kept thanking me. Today, the skies cry together with us for his death.

May he rest in peace
Rivka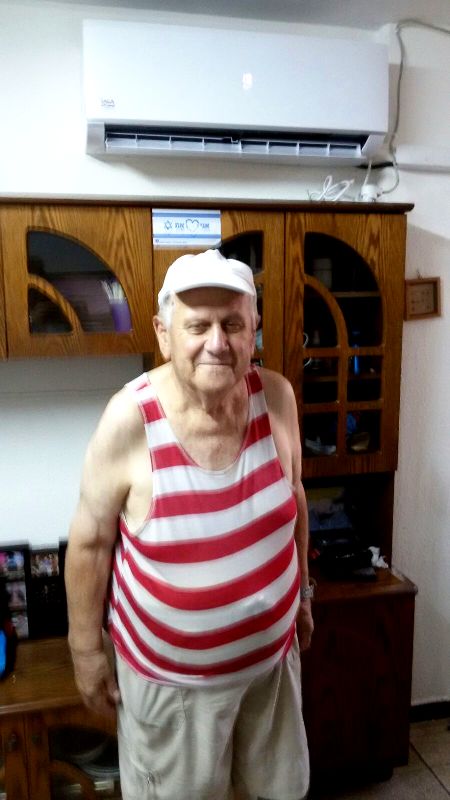 Chanan, 1923 -2017

Shir : Chanan, 'the person's name is the essence of him'. G-d has given you immense talents : creativity, humility, sensitivity, attention to the little things, being good and sincere.
As a little boy, who lift up his hand at the age of 6 grade, when he were asked who is a Jewish, even though, you did not come from a Zionist family. As a youngster, he decided to immigrate to Israel from Austria, against all odds and took part , and was a guide in the Zionist movement. Thanks to your wisdom and your courage, winning the Holocaust, coming to Israel despite all the difficulties. You lost your family in Theresiënstad.
Chanan

The man who immigrated to Israel and built the country. Indeed you formatted, drafted, established and created wonderful places with design in your special taste that characterized you as an architect and as a person. The first moment I entered your house, I was shocked from the color and the warmth, and your Shulamit. You entered my life and my heart immediately. Also experiencing hard times with the damn disease , we had a beautiful moments that you did works even though, at the beginning you refused to paint, but at the end of it, you asked me if there are other things you can paint.
The grandfather founded by a wonderful family, having also great-grandchildren. You have reached the respectable age of almost 94 years.
You taught me a lot about the history, the culture, the arts and love through the special relationship with your Shulamit.
And now, dear grandfather, your time has come to rest. After a long and difficult period of suffering and pains, I hope you came to rest and found a good place in heaven. Watch over us and Shulamit, and make sure you ask God to watch over your wife Shulamit, for many years here with us, before she gets to a place of saints there, beside you in heaven. I promise you to watch her with all my heart . Love you. Bless your memory. Already miss you !
Shir


5777

Jaston passed away on Februari 5, 2017 (Sh'vat 9, 5777)

Shir : On Saturday, Jaston, my adopted grandfather and my dear beloved, has passed away. I remember my first visit to the home of Janet and Jaston, two years ago and a half. The connection was immediate right moment I arrived. I met a pair of warm and loving family.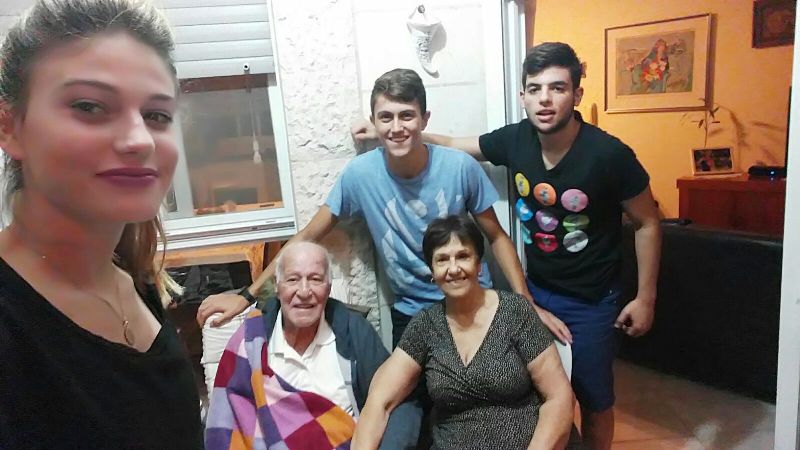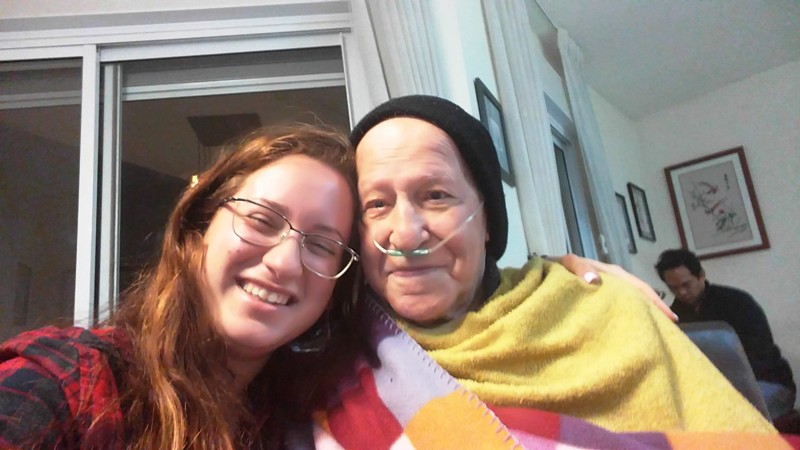 Jaston

I immediately felt at home with them. I remember Jaston always smiling, telling stories about his life and his family with sparkling eyes. Jaston was born and raised in Tunisia. After the Holocaust, he immigrated to Israel. Janet and Jaston have married young and lived for many years in Jerusalem. He was a very diligent and worked long after the age of retirement . He worked in orthopedic shoe store. I remember he told me excitedly how he liked to work and how important it was for him that the people will be comfortable and they will be able to go where they want and feel comfortable. This feature has characterized him. It was always important for him about the people around him and he did everything to make them to feel comfortable, pleasant and good. He was a family person and always very proud for all the children, grandchildren and great grandchildren. He always wanted everyone to be close and connected. He managed it in his life and in his death. I was excited to see how the whole amazing family, surrounding Janet with much love. My longing is huge, and there are no words to describe it. I can' t believe that I wouldn't see him again, I will not get into their house without seeing him beaming at me , giving me hugs and greetings as only he knows to do. But alongside the great longing and sadness is mixed with the feeling of a tremendous joy. I am happy that I got to know him. I won the connection with him, hearing about his life, laugh with him and his special humor, rejoice with him and make him happy. Jaston was a real fighter. For five years, he fought the terrible disease. He could not do it without Janet, his guardian angel, and all his family and their special love over 59 admirably years. I will remember him forever with a smile and the twinkling eyes and his warm golden heart.
I wish my beloved Janet to have no more sorrow, and to have health and happy life with all her wonderful family, that became my family too.

Genosar : I am very sad that Avraham has died so quickly after few weeks of hospitalization. The students, especially Tzur, have developed a very close relationship with Avraham in the last four months, and has visited him every week. Few days before Tsur has visited him in his tiny house and Avraham's health was not good already. Avraham has died on the age of 91 years old. At the funeral Tzur and some other students, have attended it .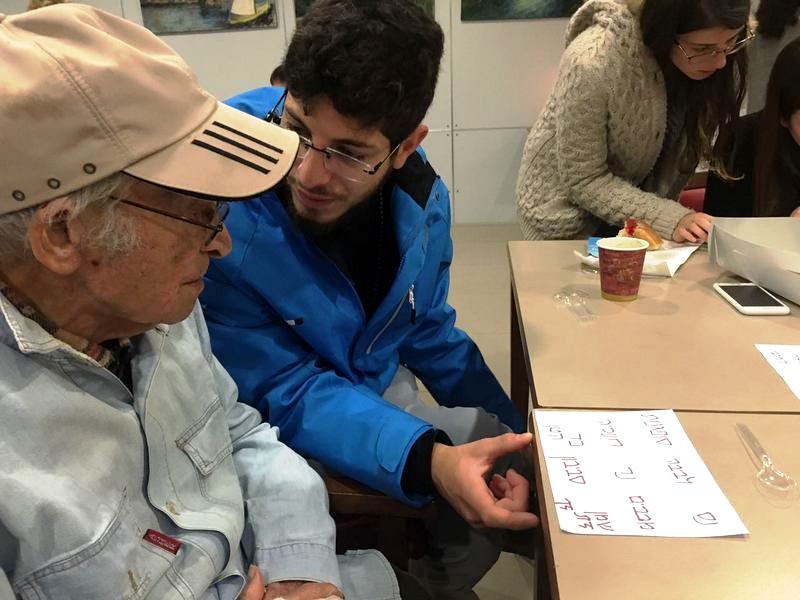 Chava
Also two days ago, Chava has died. Chava was also 90+. On the last two years of her life she spent in the nursery home in Genosar.
Blanka
On the night of Shabbat , the 6th of January, Blanka has died on the age of 91 years old.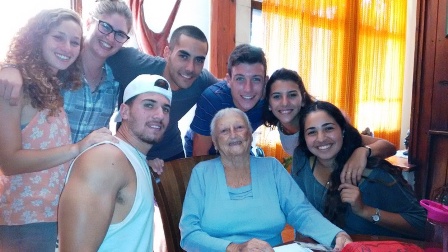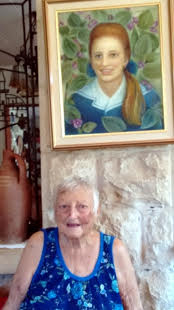 She wanted to live more. She loved Eretz Jisrael and the Tanach. She was connected with the nature and her garden was a paradise. She longed so much to teach the students the love and connection to Eretz Jisrael, the only Jewish homeland on the globe. But her health, didn't allow that anymore. The last visit of the students was in November 2016. See the beautiful picture! Then she was hospitalized and last week, she came back home and died peacefully , fulfilled with satisfaction and thankfulness to HaShem. After Shabbat, some of the students from Mechina Kfar Hanasi, joined me to the funeral.

A few days after our regular visit to Israël and Rachel we came to visit Blanka's three daughters, and grandchildren in Blanka's house. Her daughter, thanked us from the bottom of her hearth for the visits of the students through the last three years. The students Yam and Eden, from last year, have been in touch with her all this time, while they serve in the army. Again, we have lost a very dear friend and brave winner, bless her memory!

5776
Nicolai Platok
Oktober 2016
October last year (5776) Nicolai Platok from Kiryat Shmona has passed away and left his wife Zina, all alone. Along at least 3 years, Nicolai was in elderly house nearby and didn't remember anything. Zina kept going every day, to visit him and bring him food that he could eat, because he refused to eat the food in the elderly house. They have one son in Ukraine and two grandchildren living in Haifa. Zina have nobody to relay on, besides our group of shoa winners in Kiryat Shmona headed by Klara. She doesn't speak Hebrew and that, isolates her even more. "L'Chaim" will keep helping Zina, as much as we can, like we did, all along the years.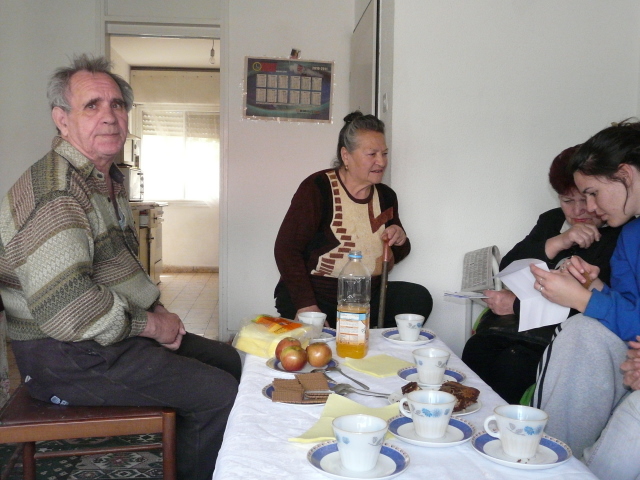 Nicolai

Rachmil has left our world !

August 17, 2016, Menachem Aw 13, 5776


Dear friends!

Today, our beloved Rachmi, went away from our world! A real winner and so precious to all of us. Rachmill was so alive, full of love and longed for love. We adopted him, long time ago. A men with hunger for touch ,for attention, and connection, and this, he has got double, from the magic group of the "L'Chaim" family , which brought him the massage of life: love !

The magic group with Zvia , boys and girls, full of life, light, happiness and endless sensitivity, with smiles, dancing and singing. They have succeed, to entre to this special artistic soul, giving him the strength to go on... Indeed, Rachmill really loved life and wanted life. R' Shachar with his songs, made his soul to be elevated , and Rivka, who accompanied this wonderful men, along all those years, even when he was down, or with depression, when he has been forced to leave his house to a geriatric hospital , and there, he was stuffed with medicines by the " soul exports" which were a drug to take him out of life ... Against the gloomy atmosphere, and the spirit of death, which is this place gave, ones a week a small window with light were opened, bringing life , joy and endless love. This medicine, gave him the power to go on . We went with him all along , and the same music beyond this world: there, he will be adopted by the Almighty with love and Rachmill will be witnessing up in heaven, what he won with this blood and heart connection , from heart to heart! May your soul, dear Rachmill, will have all the best up there, in heaven .

This is the place to thank all of our wonderful friends from Norway and Holland , who made this adoption possible . It only cheer us up to adopt more winners and go along with them till the end of their journey, bringing some joy, light, and loving connection.

Yours,
Daniel

Rivka: Rachmill all the time has said to me that since I met him , his life has changed, because I introduced him to "L'Chaim" and all the help he have got from us was tremendous. We adopted him along the years, and whenever we met him he was cooperating with singing, dancing and more. The last two years , were the hardest for him, because he was in a close place, and only us , came to take him out, being able of seeing other people, giving him the chance to speak and enjoy life. Today, finely we met his family, convincing his two daughters not to remember the bad side of him but the good side and the good memories, giving mercy for him, even, he didn't know how to be the best father. I told them what he have passed in the past , and never told them. They thanked us of what we did for him and we went, leaving them, with their confusion and sorrow. We all, will miss him very much . He was kind of our favorite men, and the students and Zvia, loved him and cared about him. We left the cemitery with full moon who also was part of the ceramony.


May he will have the rest he deserve.


Few words from his family: Thank you for being with him all this years and helping him. it is most appriciated.

The Shmilwitz Family.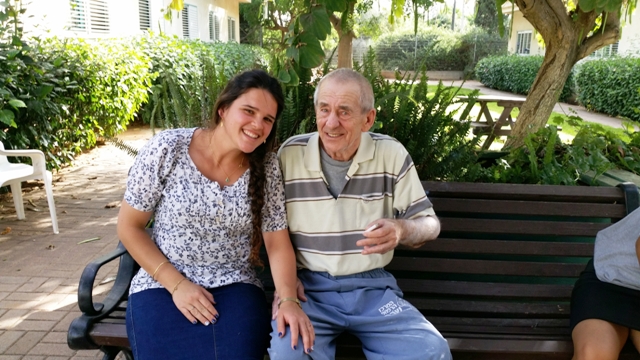 Gad Bar Levav - bless his memory
August 7, 2016, Menachem Aviv 3, 5776

Dear friends! With modest bow and tremendous respect, for ending one journey of life and continuing the journey in heaven! I need to announce that on the end of this week, Gad gave back his soul to the Almighty. All the happenings in the last years, and mainly the fire in his house, were too much for him and the Good Creator , had the mercy to this great soul and brought him "home".
Amutat " Lechaim", was for him very important on this last years. We were his only back rest, he never got so much attention and the love, as we gave him . We adopted him when he was alive ! We made him to laugh and cry, to grown with pains and all of this when he were surrounded with people who loved him. He wasn't alone! After his death , Amutat "Lechaim " has finished it's job , and pass this mission in the hands and responsibility of the Almighty. We are sure that this precious man will win the temple of heaven and a place of honor there... But, our mission is not ended! Tamar his wife, thank-God is alive and as an Aushwitz survivor, need our support as we did when Gad was alive. She need it more then ever. Big hole has been opened in her heart. her beloved husband, has left her here in the land of life. It isn't very easy for her. He was her rest back and all of her attention was for him.
Now, we have to make this hole in her heart softer, and it must be as much as we can. The plan right now is, that when the house will be renovated, she will return back home and we will try to help (as much as we will be able) to furnish and what ever will be needed. The most exciting thing for me, was that he shared his amazement and appreciation for "Lechaim" with Uzi and Ruti - his children, to our support . Meir and his wife, volunteers of "Lechaim" from Migdal Haemek , have attended the funeral , and here I would say humbly: "We promised you, dear Gad, to be with you (without vowel), till the end , and we did". For me , you were very precious. I was with you, along your horrible struggle in the pits of life, and my heart were with you. I never understood why after going through Aushwitz, you had to suffer here in the promised land.... We promise you(without vowel), to go with Tamar and giving her the support as you had... And for you dear people, the ones who helped and still do it. Please continue! our mission is not finished yet. It is great privilege to adopt this women! Many thanks to the donors. May his soul be blessed and be in peace at last!!! Daniel.

Here are the things which have happened till his death:

Meir: I visited Tamar & Gad in Migdal Haemek, and didn't know how I could cheer them up after loosing all they had. I brought chalot for Shabbat, wine and fruits and fish. They were very excited for my visit, and for the fact that some other people think and mind about their situation. At Shabbat afternoon, Gad fell down and lost his consciousness. When I heard it I went to the hospital to see him. He was much better but felt as if nobody looked after him. I spoke with the doctor, who was in charge on the department where Gad's has stayed , and gave my number to call me when they will let him go home, I continued to see Tamar and let her know how he felt. On Sunday, they called me and I went to help him getting home from the hospital. I wonder how he could do it without my help. He was so grateful, and thanked me, happy together with Tamar .
To Amutat "Lechaim": We want to thank form the bottom of our hearts and thank all the ones who is busy to help our parents to : Daniel, Shir, Rivka and Meir , for the warm hug, the sympathy , the good will and the efforts, and the main thing is that we don't feel alone ! We hope to get forwards with bringing them back what they most need and also when they will need.
With all our appreciation for your blessed action, Ruti and her brother, Gad and Tamar.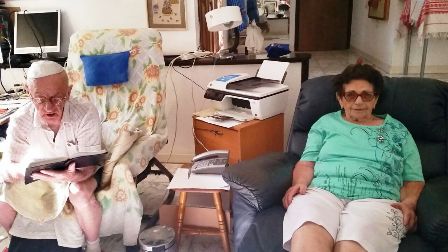 Menashe from Neot has passed away
June 15,2016 , 9 Siewan 5776

Assaf (from Mayan Baruch) : Menashe from Neot Mordechai, has passed away – week ago, bless his memory. I came to his funeral and told his family about our weekly meetings. He has no children and his family is his nephews from his brother. They told me how he couldn't forget the Shoa stories and he was all his life very tough. They told me that this year he got softer then ever. He used to take out his scooter and to have rounds in the Kibbutz with his helper and me , drinking cold water with Nana. I brought with me young students from elementary school ' and they were listening to his wild and fascinating stories which were sometimes hard to hear. His family recognized me because of the picture I have left to him when we said good-bye. Also, my friend Rom, use to join me with my visits and also brought his young students with him.
In the Cemetery, I realized that most of the tombs are with people, who has passed those days of the Shoa.
Dear friends!
I got to know Menashe last year. the women, who presented him to me, warned me that he is very tough. . When I sat with him in his little scooter I felt the rigid of his body when I tried to hug him, and understood what a heavy burden on his back. I knew that our dear students will bring to his life a light he never had before….
Menashe went to the house of out world with a peace of sweetness and love on this last year of his life. Dear Assaf and Tom cured his bleeding heart. We understand more then ever how important this adoption those precious people, giving them peace on their last years on their life.

Bless his memory,
Daniel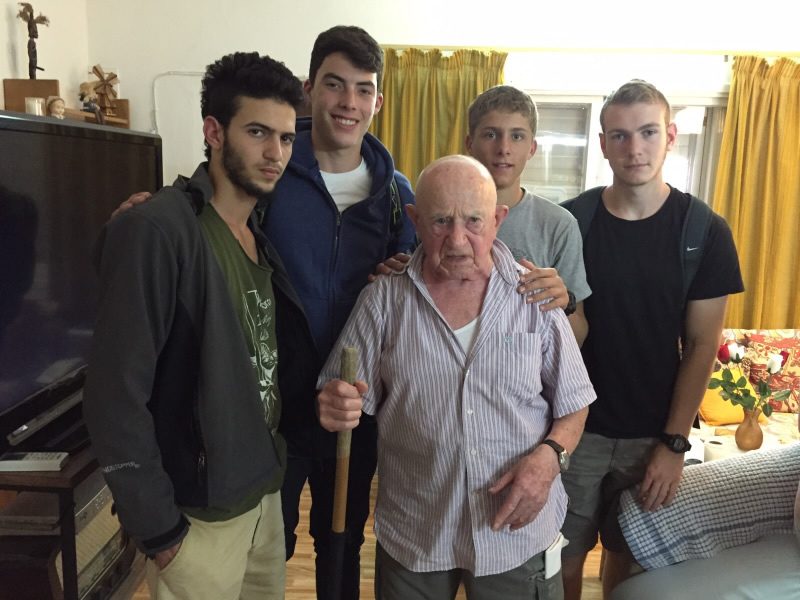 Benyamin Litman
Oktober 9, 2015, Cheshvan 2, 5776

This morning( Wednesday) we were notified that our beloved survivor Benyamin Litman has passed away, after seeing on the last months how his health is getting worth and worth. Along the years of our adoption, it seems, that it was the happiest time in his life. I will never forget, my first meeting with him, warm person and very lonely, who was with thirst for a human touch. We adopt him happily, and many years we took care for all what he needed. We have renovated his house, we brought him an Air Condition, and we took care of his yard, because we knew his love to sit outside. He used to sit there, waiting for our arrival. The wonderful students, R. Shchar and Rivka, were the ones, who brought so much light to his life, and he gave us double, in return. He loved to take part of the events as the march of life, events of the Shoah winners, and the visits in Neve Michael with the students who loved him so much. He was respected by us and never had it before. We ask to give such respect, to other survivors, who is alive, mainly the lonely ones, whom their lives will change completely, when we will start to visit them, and we go with them till their last day, leaving a little corner in their hearts, that humanity, has left in this world.
Amutat "L 'Chaim" has never disappointed Benyamin. He knew that he can trust on us and he knew that when we promise something, we keep it. He has got our love, bless his memory.
Our dear donors! Please, remember that there are more survivors, who can win our generous attitude and adoption, as Benyamin won. We have the heart and the human foundation to do so by strengthening and giving a better quality to their lives in their last years.
Daniel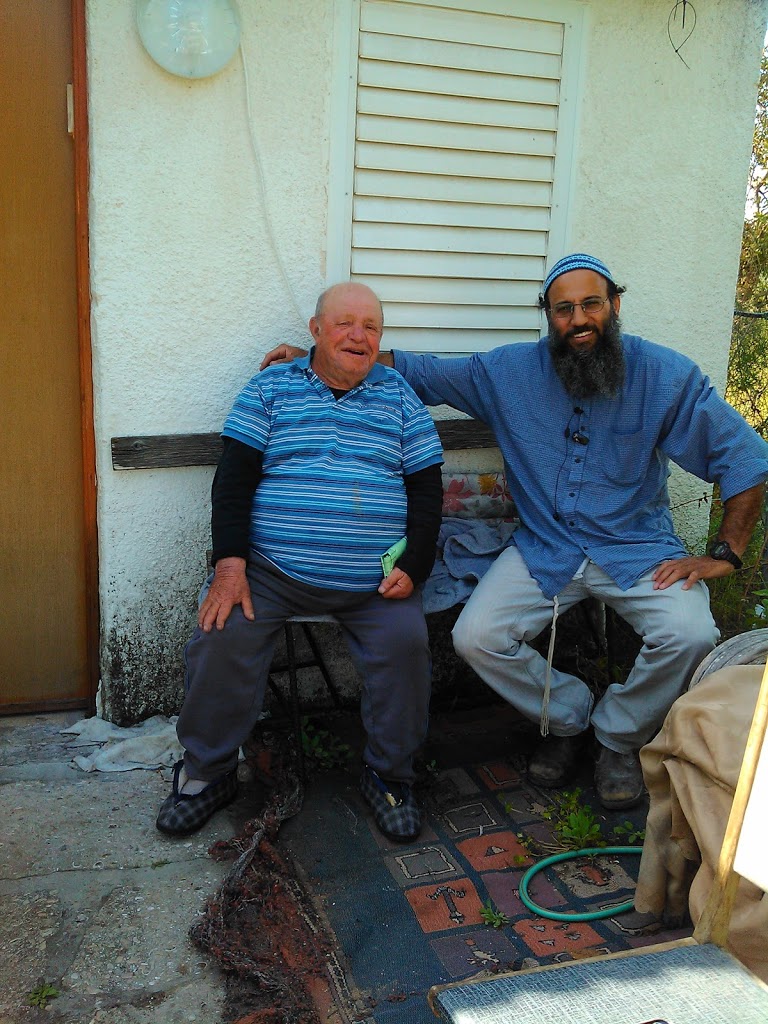 Benyamin Litman and Rabbi Shachar