Endless melody
September 8, 2017

Dear Friends!

There is one place, a secret place, where only sensitive ears with a willing heart , will hear the music of infinity, if they will listen through the door. This graceful music and intensity of immortality and its blessings. The listener , will definitely want to enter this magical room, which is also has no beginning and no end. The name of this music is the music of grace! Miracle! Wonder of wonders! It is a tremendous gift that has the power to elevate this dark world from the peat of material and egocentric cables, elevating us to the eternal laugh, to have entirely true happiness of heaven, a veritable paradise.

And now, a story full of melody: Yesterday, we had a unique musical experience. Our story which is in itself, sounds simple, because we have already done, dozens of times, providing an air conditioner to one of our winner. But this time, it came with a wonderful grace and by many partners. Shalom, a very dear man, a winner from Zfat, a religious man, who lives alone and won this year much grace and light in his life. Thanks to the wonderful Shir and her team from Baraam and soldiers. Our grace team, experiencing his fascinating personality, independent and sometimes bizarre, so much in need of a love, attentive and mostly balanced open heart! Shir, directed my attention to Shalom- good man, who needed the air conditioner. It was certainly not a simple matter and even perform complex. At Shalom's home, the "celebration" of complete objects, stored and buffered during many years. In addition, the house is in a narrow alleys of the Old City of Zfat, and it's almost impossible getting in by car. Here, the party began. Many people, have recruited to the grace which pointed out to this dear man, which will be better in the endless hot summer and the freezing winters in Zfat. First Orit, who is living in Zfat and working behind the scenes with great modesty. She agreed to accompany the process of obtaining an air conditioner.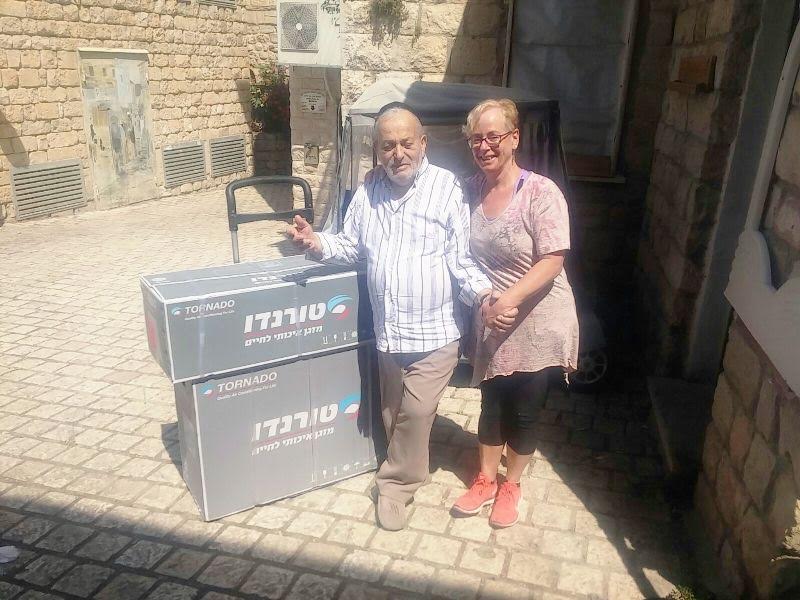 Another "musician" - Israel, who is going to install the air conditioners, who is already know our work over the years and is sensitive enough to understand the complexity. So, yesterday morning, arrived the A. C. to Shalom's house , and Orit guided Israel, helping with the logistics in the complex. She managed to guide Israel, in the narrow streets, bringing the air conditioner , and for hours, he bothered to find in cluttered, a fitting corner , and with infinite patience, installed it until the end of the work.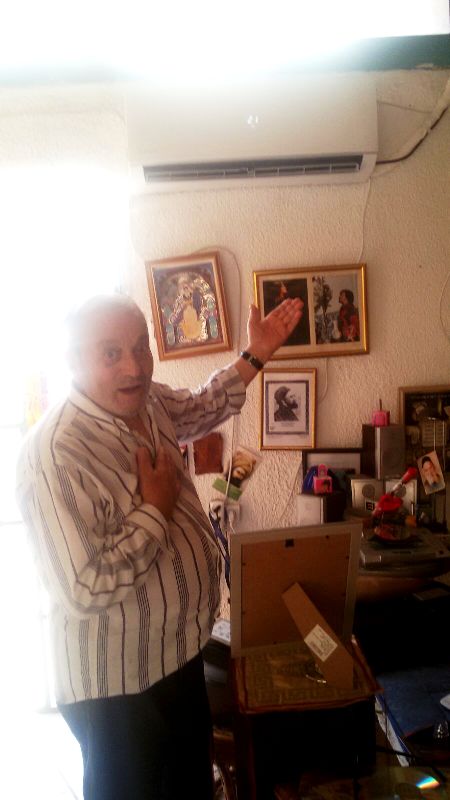 And at a good time, Shalom felt the better world, opens off with a clear skie. People, who living on the street, knowing the state of Shalom - our dear man, expressed amazement for this gesture. Winning all of this celebration is the Creator. We granted a great thanks to Him, with great joy in our heart, and brings closer the infinite light, with ethereal music. Grace equal to Hallelujah! Once again, our heartfelt thanks to all of the wonderful donors.

Een gezonde lach dringt door in ons hart, waar het vreugde bewerkt en het het oneindige licht dichterbij brengt.
We danken u allen die dit mogelijk gemaakt hebben met een lach op ons gezicht. Genade vss Hallelujah! Opnieuw onze zeer welgemeende dank aan alle donoren.

Yours,
Daniel

P.s. Shalom wants to thanks everyone who took part of the operation in order to put the aircondition in his house. Now, he sleeps as a baby.


The path of life
August 31, 2017, Ellul 9, 5777

Dear friends!
Further on deepening the essence of the project as stated last week, we decided to intensify the subject of the "March for life ".
I have a friend who is a pensioner of the society for protecting the nature. A wonderful man named Shlomo. On Saturday, during a conversation with him I had a great idea: this year, we will make in "Lechaim"' a "path for life", led, by Solomon's experience. He will find the right place, probably in the North, and students and some winners, the ones who can, will do once every two weeks, a circular route that sanction is tapped with benches, fitting the nature around. About April-May, with G-d help , we will finish preparing the path for the parade of "The march for life", which will be a proof of love to fathers and sons connection, operating together to celebrate the unity and eternity of Israel. We hope for similar path which will be done also in the central region, and already one of our partnership: activities Coordinator of giving Grace, in Pardes Channa, ) agricultural high school), is a new partner joining our activities, and she expressed her excitement from the possibility for such route that should be established in the course together with the students.
I believe with my whole heart that this type of activity, strengthens the heart for the love of the country, the love of man and Earth, and of course the creator who in-charge for all of this.
This year in addition to our precious Holocaust, we seek to adopt Veterans who are very solated and will get a big advantage from the inter-generational encounter. Of course, the first priority is for the winners.
We thank all our friends in Israel and around the world, for supporting us and understand the significance of this project .
New year's Eve is coming soon, and we would like to give a heartful gift for each of our Holocaust winners. We need your support in this matter.

Thanks,
Daniel

The month of Elul and thanks God, the opening of "L'Chaim's " school
Augustus 27, 2017, Ellul5, 5777

Dear friends!
On a good time , we open another season of activity, a beginning of a blessed year of "L'Chaim to life". Renewable year, and how we do it?
By deepening the vision for the participants on the project . It is more and more clear to us, that we need to pass the message of "L'Chaim" beyond this year. We feel that this is the right moment , mainly because of the poor condition and the low mood coming from the Western world effecting also the Israeli society. The technology, detach the hearts and lessen any healthy communication to others and to the environment in general. This year, as part of the preparatory talks and training with the new apprentices , we will direct the understanding of the need to see this project as a way of the daily life , throughout the year. We call this: the new consciousness studies school! by placing priorities in the right place. There are, some guiding principles which should be in balance this year:

1. Each student, will be asked this year to search and find a point of strength, light and power for the winners and the consistent emphasis to glorify and meticulous this point. Also, the apprentice, must find within himself (through the meetings) the strength, light , and strength, for the encounter.

2. Students, will be asked along this year, to prepare a work surface, a term paper, which will be send to us until the end of the year.
3. A commitment to continue the distribution of enlightenment after the year, each, according to his (or her) ability and the available time. It's about a possible establishing a new branch of L'Chaim or simply continuing visiting a adopted survivor. Also visiting a winner in the own hometown is possible.
4. Deepening studies throughout the year, and the meetings, which are a milestone in the human development to increase world, awareness that legalizing euthanasia are essential life by increasing the light in a dark world.
5. All meetings this year, will be based on the Bible, which is speaking about sociel justic, based on Charity law and grace. Under this new awareness and by learning and increasing consciousness. It is the divine spark that exists in every human being, and we will seek to increase and spread the word. We feel, that the time is ready for it, and the project partners is ready for a real school of movement and singing, with the mind, body, and strength.
In summary: The world of the Bible, uses the concept of charity and kindness in the context And you love your neighbor as yourself". The school f the new work, distributes awareness and achieves the term of grace - is a lifestyle that increases significantly the light between humans and becomes completely the priorities from the old consciousness to a new awareness of heart to heart.
One last thing: this year, besides to the winners, we begin to adopt elderly individuals who are veterans. All, under the prophetic line of Malachi:" 24 And he shall turn the heart of the fathers to the children, and the heart of the children to their fathers; ". On this occasion, I would like to thank all the contributors who helped us with buying and fixing an Air conditioners for our Holocaust winners . God bless you all!!!
Shabbat Shalom ,
Daniel
The heart Temple constructor
August 10, 2017, Av Menachem 18, 5777


: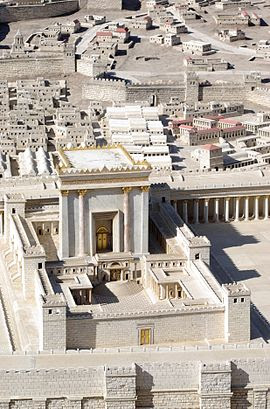 Editor : The Children Are Ready III

Dear Friends!
I would like to tell you a sweet story, full of light, belongs to the month of Av, and can fix what has been destroyed, during this period of 9th at Av. On the next day after the fast, I talked with Shir and asked her what she did and how she experienced the day of the - 9th of Av. She answered me: "I did not do anything special. Just visited Holocaust winners from Zfat ". I felt that my heart was rising with joy and I said : "You did not do anything special? you have done the greatest thing that any Jewish person can do to have back the Temple: free love transaction n a very high level." You took advantage of a day off , you desperately needed from your military service and chosen to give, and visit individuals who feel at these times (as 9 Av) even more lonely ... You have visited them with friends, heart to heart, bringing them precious light which is so consumed, during dark days like ours. "for Shir it is fairly routine. she did not see it as something special - and this , what made it so special and rare.
We remind you that on 9 at Av, hundreds and thousands of Jews, lament and wiped over the destruction of the temple was known, but mainly, because of a baseless hatred. In other words, crying was not for the stones that were destroyed but for the heart which was destroyed. And precious Shir is heralding the dawn of a rare and brilliant light and very remarkable with innocent heart to heart connection. Less talk - a lot of doings. Congratulations to all of you, our dear active poeple. This truth shines in your hearts!
Sincerely,
Daniel
Tisha B'Av - the destruction of the Temple
31 juli 2017, 8 Av 5777


Dear Friends!

Tonight, the Jewish people gathering for fasting, to remember the reason for the destruction of the Temple. Let us try together, to understand a little what is baseless hatred and perhaps from this, we will learn what is love without terms. The destruction of the Temple is a symbol of the sense of deprivation, boarding the men with a sense of abandonment that brings the man powerlessness and a sense of deprivation that he is not able to deal with it.

Person, who feels a sense of helplessness of the Straits destruction of abandonment, it is likely to point out his frustration and anger on others ... especially the immediate surroundings: his brothers, his sisters, his parents, his children the ones who are close to him. That is, instead of dealing with depression and lack inside himself, he takes his frustrations on all who are around him. A bruised ego: emotions, that he can not deal with it. Thus, man is digging a protective walls of ego, and his attitude, only create a division and disagreement, they have no way . Here's the big secret that will allow recovery from this illness: man encounters "Strait internal", such as anger, criticism, fear, must understand that the only way to harmony and peace, is to study these movements which are always inside in him! So he will risk the chance! Instead of seeing these straits - a threat to his existence, he reveals the marvelous function of lifting up in the kingdom of God, that can fix this world. When a person recognizes the will by sending darts of rage against others, bringing together essentially the same with his private Straits, he know, he was given a golden opportunity to a very noble charity, making peace within his own contractions, by observing the genuine triggers, those, that spend out the madness. Healing is a repair work of art, the holy of Hollie's. The work is never ends throughout all his life and the moments of the day, and it allows us to meet internal phenomenal , greatly with exact stories within us where there is space for healing, as it is written: "When you are in trouble - I will expend to you" as it is written by the prophet "time of troubles to Jacob - and from it, he will be saved.

Again to summarize: the easiest thing to do is to throw helplessness out. But the holy work, is to understand that helplessness is not justified. Sense of deprivation and abandonment are stacked pathology and we should deem it and separate from it. These feelings were given to us as a gift in order to discover the power of life, meaning, being not dependent, and as a function of being a divine spark, some transcendent from the Creator of the world. In conclusion, the Holy understanding is that there is out there, even one fault! Everything annoys and frightens us, causing violence to get out from us. Here is a calling for divine teaching ourselves, and the place dividing between you and your peace with oneself. And this is the Cohen Peace! And from such a unity in Israel,the love of Israel, the health of Israel, will carry out the construction of the Third Temple!

Sincerely,
Daniel
The month of Av - constructing the temple heart
July 27, 2017, Av 4, 5777
Dear Friends!

We are in the of the month of Av - nine days of the end of the period "Between the straits", but also, the most critical time of the destruction of the Temple. When I am asked about the grief of this event, my answer is that I do not feel sorry for the devastation. I feel sorry why this has happened and the reason for it! This is a question that every Jew, who has a real soul, should delve into. And the depth of the question is also the answer to what will build again.
Why it was destroyed? The reasons are numerous, but we will be concerned, focusing in particular on: denial and self-loathing that causes hatred without a real reason. Lack of faith in the wonderful gift we have received, with glory and splendor, from the almighty as the chosen people. Denial and the desire to be real and substantial and worship to the gods of foreign cultures, are those that undermine us for many generations throughout our journey. Indeed, it isn't easy to look into the mind and to do housecleaning by asking:" Where am I??? Who am I ? What is my organic - who I am really ??? The consequences are disastrous. Lack of identity leads to emptiness, vanity, arrogance. And assertiveness represents nothing but fashion. The period of "between the straits" especially the days from Sunday to 9 of Av, are difficult times but also allow us to grow. This focus should be on expanding the inner temple of our hearts . Sanctification of life, of love, being the children of God, and part of this wonderful nation, which can be a light to the whole world. To build faith, enabled to a pure and honest heart, which is not caught with short-term opinions. A sincere heart, capable of distinguishing between truth and falsehood.

In my last article, we touched a little in the vision of Islam, and the attempts to Islamize the world. and what does that mean? That all Muslims are bad ??? of course not ! But this does not end the inquiry. Muslims are people, and I met many of them and they are fine people, warm and wonderful. But this is not it! It is clear that minority of Islamic extremist, usually causes the moderate majority to fear, to be afraid of revolting, being silence - consent to evil and terror which appears everywhere in the world, and it is only growing louder ... the majority, prefer to remain silent, instead of resisting, as it was with the "enlightened" Western Europeans, when a madman named Adolf Hitler, managed atrocities round 1932. A handful of bizarre and hateful group of people caused the majority remaining silent and to move their eyes away, without being able to see the atrocities right under their noses. And the results were disastrous. Millions were slaughtered, with force and bloodthirsty hatred. And the majority, stayed silent and said nothing .... Like then, is now. The silent majority is not ready to look the evil in the eyes. The fear to announce insurgency and take a clear step without fear by making a sound. However, for this purpose, we need a strong faith and a true vision, an inner feeling and being clear for our righteousness. Throughout history men of truth were very few.
Now, few words about the recent events: Write it on the walls of your hearts: Muslims, who pray on the Mount Temple, provoke and doing riots do not seek for any solution! They seek to inflame the area and their leaders are fanning them and the people follow them like sheeps to the slaughter. But our leaders also, reveal much groveling and do not behave in real sovereignty. All of this is interpreted as weakness and increases the motivation of radical Islamist terrorism. So they continue to increase it. This is a fact and not an opinion !!! The results experienced in "Challamish" and in the cities of Israel. Weakness and servility do not bring peace !!! In the Bible, the prophet Isaiah implies the quality of today's practices in the world. Isaiah Chapter 1: 23 Thy princes are rebellious, and companions of thieves; every one loveth bribes, and followeth after rewards; they judge not the fatherless, neither doth the cause of the widow come unto them." Isaiah Chapter 2 : 17 "And the loftiness of man shall be bowed down, and the haughtiness of men shall be brought low; and G-D alone shall be exalted in that day.. 18 And the idols shall utterly pass away." And the prophet goes on in the same chapter: "20 In that day a man shall cast away his idols of silver, and his idols of gold, which they made for themselves to worship, to the moles and to the bats; ". And in Chapter 3 he continues: "1 For, behold, the G-d, the G-d of hosts, doth take away from Jerusalem and from Judah stay and staff, every stay of bread, and every stay of water; 2 The mighty man, and the man of war; the judge, and the prophet, and the diviner, and the elder 3 The captain of fifty, and the man of rank, and the counsellor, and the cunning charmer, and the skillful enchanter". and he continues in chapter 5: "20 Woe unto them that call evil good, and good evil; that change darkness into light, and light into darkness; that change bitter into sweet, and sweet into bitter! 21 Woe unto them that are wise in their own eyes, and prudent in their own sight!"
To summarize: eventually everything is now part of sore but at last light, the only solution is the Kingdom and so He leads us. It's a pure recognition-but really: there is no one else beside Him! What is required from us is to enhance our inner self and clear it. The Prophet Jeremiah predicts the importance of truth and the devastation of the lie. Chapter 6: 13 : "For from the least of them even unto the greatest of them every one is greedy for gain; and from the prophet even unto the priest every one dealeth falsely. 14 They have healed also the hurt of My people lightly, saying: 'Peace, peace', when there is no peace." and he continue: "3 Thus saith the God of hosts, the God of Israel: Amend your ways and your doings, and I will cause you to dwell in this place." In Chapter 7 he continue: "4 Trust ye not in lying words, saying: 'The temple of the God, the temple of the God, the temple of the God, are these. 5 Nay, but if ye thoroughly amend your ways and your doings; if ye thoroughly execute justice between a man and his neighbour;" In Chapter 11 he adds: "11 Therefore thus saith God: Behold, I will bring evil upon them, which they shall not be able to escape; and though they shall cry unto Me, I will not hearken unto them." It means, that the Prophet indicates the main tenets: peace is possible only through the truth! And, we are all waiting, for God to build according to our actions. And the good end He announce in the book of Deuteronomy Chapter 32:43: "Sing aloud, O ye nations, of His people; for He doth avenge the blood of His servants, and doth render vengeance to His adversaries, and doth make expiation for the land of His people."
We should know that our savory from all the problems will be done by Hashem, and only Him. But we must improve our ways and it is the duty of each of us. And we understand how easy it is today to live a lie but it does not promote the desired peace, and the thing which will advance it - will be : The love of truth - which means seeing the situation as it is. To increase goodness among ourselves, increasing human peace - itself, and the person - in Israel. And always remember: There is no power greater then unity and love of ourselves bringing our strength, our independence and selfhood. From there, we can bring the dove of peace to the rest of the world, and will desire that the Temple will be built first, in our hearts, to have true life, creativity, health, inner peace and internal consensus recognizing our right to be Israeli nation , with proud, not being afraid to say out loud his great truth. "Hear O Israel, our God, is the only One! Israels' forever Present God, doesn't lie! "
Sincerely,
Daniel


Tamar Bar-Lev is returning home
July 24, 2017, Av 1, 5777

Dear Friends!

This morning, I received a telephone from the daughter of Tamar and Gad Bar Lev ( bless his memory), which had their home burned down, over a year ago, and shortly thereafter Gad has died. His wife Tamar (may have long life), along of all this time, she lived in a temporary place with her son - Uzi . We continue to accompany her and embrace her, and now she is about to get back to her house and she needs things that are important for her. Especially two new airconditioners . Unfortunately, the insurance does not cover that .
Tammar, is very strong woman, and she has survived the Auschwitz camp. There are many more things, we want to help her and some people have contributed some money for this purpose. But mostly, she need at least, two air conditioners: one in the living room and it's a big conditioner, and a smaller one in her bedroom. Tamar is not very healthy, and we wish to continue adopting her until her last day. Right now she needs ours and yours generous and rapid help !!! The purchase of two air conditioners cost (both) is 7000 NIS - including installation. Still a long, hot summer, and this will help this brave women .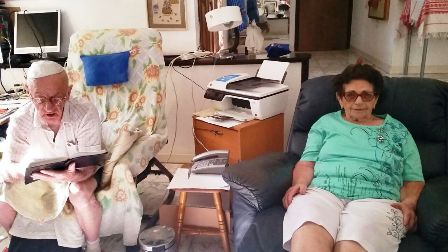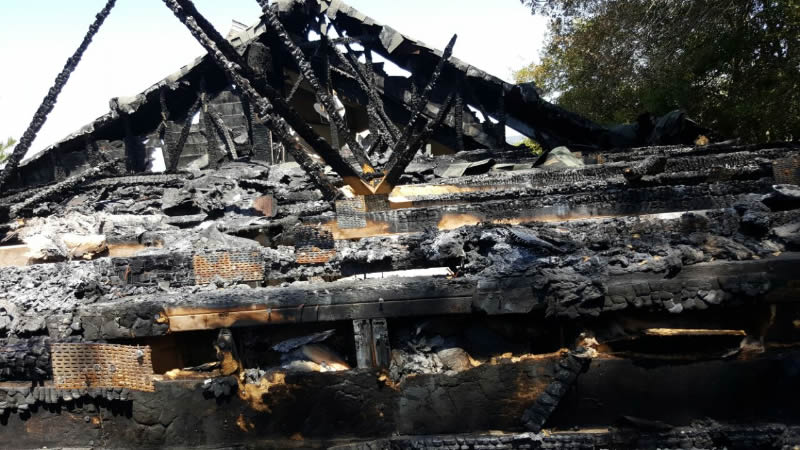 Contribution options are:
1. via PayPal with red button turning you to the right place, on our website at: https://www.L'Chaim2life.org.il/
2. You can move directly to our account at -
Mizrahi Bank, Jerusalem, Branch 458, Account No. - 290 850
3. Or send a check to the address:
The "L'Chaim" Kestenbaum Suki, Moshav Keshet, 12410, DN The Golan Heights.
4. To our account in Holland (Lammi, or Margo), or in Norway (Hans and Signe).
Blessings,
Daniel
The essence of Islam
July 17, 2017


Dear Friends !
I would like to share with you an imaginary dialogue, but with deep orientation inside , suitable for the truth. European journalist named Stephen, obsessed with attacking the Israelis, and all the time claims and insists that, we are occupying and we are not prepared to make any peace with the Palestinians. I got the honor to meet our friend Stephen, who comes to Israel often as a wolf seeking prey , a real "Jews lover". Stefan, turned to me and asked : "Daniel, what will be the end of you? Why you don't make peace with the Palestinians ?" I looked at the bleary eyes, of this little man both, physically and spiritually, and I offered him an offer he could not refuse: to meet with a Muslim preacher from Bethlehem. We shall call him Mochammed who speak with one heart, and he will explain to him why there was no chance for peace between us. Stephen was incredulous, such great treasure fell into his hands. The short journalist with trout eyes and with very low spirit , rushed to set up a meeting with the preacher Mochammed. Indeed, they met, and he was greeted warmly and were served with a cup of coffee with fresh steaming black baklava. Stefan asked Muhammad: "Ya Muhammad! What the Jews / Israelis, should do to make you to agree on making peace with them?" Mohammed, an honest man with his heart and mouth, and he looked at Stefan with his "good eyes", and said: "Stephen! This question is irrelevant. We do not want no peace with the Jews, not with Europeans," then added, in Arabic: "Islam it - Salam! Stefan, looked at him without understanding and he received an explanation from the mouth of Muhammad the preacher: "ya habibi , son Stephen, we are a religious people, and our belief exists and lives in us and it drives us. Our belief that the whole world needs to be Muslem! There is no other option. Until the whole world will become Muslim, there will be no peace! This is the essence of our religion and it is our task to Islamize the whole world, besides the ones who does not want - They will have to die !!! "And so simply:" Salam = Slam! And all the ways Kosher for this purpose .... "

Stefan, the little journalist was shocked but immediately pulled himself together and said to Muhammad:" But we live in the 21st century in a global democratic world .... you have to compromise, " and Mohammed replied:" This is the language of the weak people. We know your weakness, and slowly and patiently our dream will be established : a world of Islam! Israelis / Jews are only a special station on our way. You Europeans, Americans and all the world will be ruled by Islam. Do you understand Stefan ? "Said Muhammad:" It is a belief, an ideology that motivates every Muslem inwardly as you Christians, "said Mohammed" You also , did not stand still and have tried to bring Christianity to the world your faith and this is what drives you ... but you're doing it sweetly accompanies with hypocrisy. Your history had pogroms and bloodshed resulting from faith ... but time is over! This Salem = Islam! "
Dear friends! Again terrorist attack on the Temple Mount, and two policemen were killed by three villains from Islamic method seeks to Islamize the whole world. When Stephen returned, I saw that he was pale, when he told me about the meeting with Mohammed the preaches. I asked innocently: "So what? This what your newspaper will publish, even being full of hatred for Israel and the Jews?" And he replied, "I can not do it, I will be fired immediately and I have to make a living ...." And I asked: "So the truth is not important to you? And I realized what I had always known: the Western world is hypocritical, and not able to speak the plain truth as it is unfortunately a culture devious and this culture is rampant and has also turned to many of our brothers here in Israel by leftist delusional, filled with hatred . And we are at the period "between the straits" and know how important it is to extend free love from ourselves, and to those who love us and are real friends in the Diaspora, whom we admire and like very much.
Bless you all! Long live the simple truth.
Daniel
The period between the straits
July 14, 2017, Tamuz 20, 5777
Dear Friends !

These days, the Jewish people go through what is called the " The period between the straits . This is a time that appears in the Bible, with the potential for troubles. These are three weeks, from 17 of Tammuz - to 9 in Av. The period when the walls of Jerusalem - have been broken and culminating in the destruction of the Temple in 9 of Av. For me, this time is an excellent period to stop and re-examine our alertness and presence of mind during these days. One of the signs of this period in which we are today, is indifference. Materialism , many of the tasks are an enslavement for faster rewards and loses clear sight of who can see the annals of past, present, and future. Today, we will touch the issue which is occurring on our close borders . A prophecy mentions: The evil will come from the north"... and on the date of 12/7 /, 11 years ago, the second Lebanon War started ! All the leaders, who were involved in this, prime ministers, defense ministers and high experts, have mentioned the quiet 11 years that we had since. But my friends! I do not share that smugness in saying a type of sedative. First, let's examine what has happened in the 11-year period of this peace. Chezbollah, is stronger then ever, with an array of deadly missiles, which has been stockpiled for 11 years. The threat is for the whole country, with particularly destructive warheads . In other words, the silence is not real, it is the preparation of the enemy. Crazy ammunition and a reinforcement in the border of Syria, with other actors: the Iranians, and the Russians, and it's not the end. And now, let's go a little deeper: About which peace we are speaking ??? Or ask: What kind of peace we desire? To my knowledge, and according to many conversations which I have had with people of all levels almost, thinking the same: we want to enjoy life! Make money, spend ! spend ! spend !!! Leave us alone! We want to immerse ourselves with the pleasures of life. When I hear this, my heart aches and shrinks. Live well? Why not, indeed !!! But here is an adaptation to the verse, "And Jeshurun grew fat - and kicked everything" .... the will to invest in the material world and forget the essence of life and the wonderful mission of the Spirit, which is strengtheningg the human spirit. Teach your mental potential inherent in us, the values of the Bible so that everyone realizes the amazing significance that humanity is in the land of the living. This is the opposite movement to investing in the swamp of materialism. This is the movement of living life, learning, doing inner work, understanding the main thing by giving priorities. Empowering health, preserving the life with dancing, with strong light of love and unique creativity.
But unfortunately, indifference and heaviness spread every were, and don't be mistaken! The next war - will come. It will not be easy of course, but God will not leave us, and of course " The Eternal of Israel - doesn't lie "! But why wait for the next war to occur? This period, between the straights tells us more about the need for real fundamental educational enterprise, as we do in "L'Chaim". Our hope, is to inspire more people to this melody. We pray for peace in Israel and around the world. But we must remember that prayers alone are not enough. We should be involved with the Creator and choose life !!!

Daniel

Daniel Braun
E-mail: danielxrw@gmail.com
Phone: + 972 54 772 3510
Welcome to our website at:
L'Chaim2life.org.il

Faith
June 29, 2017, Tammuz 5, 5777

Dear Friends!

Again, there is an old word called faith. And how beneficial, it is reflected in our times. First thing, for the true and spiritual people, it should be known that the human brain on it's drilling and efforts, has reached the end of the road. As the wise man Slomon the king : "There is nothing new under the sun"! Everything have been already said. All words and rational solutions, has been stuck, unable to improve and break the code of the blessing Vanished World. But the human mind, which is addicted to himself, continue to try and create up himself by creating destructive bombs , enhances the various technology practices with the purpose of: addict and degenerate and to make them the species consumed less natural instincts activate it and degenerates the human race. We will be more weak, and this weakness getting deeper, dive us into depths. While waiting to see the patents on any variety of colors, popping up like mushrooms every day, when the next step will be flying people to other planets ... But humans are stuck ! Humanity has reached the end of the road !!! And when will come the solution? And where will the promised redemption and Harmony Days of Heaven will come from a heightened States we never knew?
Here is the interesting news: All this goodness will come at the time, human brains have not yet reached !! This is a secret place which is waiting for a command when the code keys,are in the hand of the Creator. This is the righteous belief, who has been long awaited for a change, looking forward to it, and will elevate in a district, which we has not yet- knew: the Holy of Holies. But for this, we must prepare our hearts. We must elevate our faith over, and ask for the unknown: the revelation of God, dwell in our hearts forever as the light of the world! Any attempts, to bring forward the time or trying to visualize the human brain by how wonderful to see these days, a sinner goal and enslave our brains limited. Our Master of the Universe, creating a new heaven and a new earth which not yet known. Please remember, despair comes when we do not find solutions. We recognized districts. We get tired and worn down over the years and do not see light at the end of the tunnel. However, the internal sense, there are subtle hints already, requiring delicate attention and concentration, and herald the beginning of the end of the period. Drought and desolation, hopelessness, dry desert, has been said to us by the prophet Amos: "Here comes a days, the speech of God, who will threw for the hungry and thirsty, not for bread and water." In other words, a sense of dryness. What helps us in this period is a firm belief that instead of the top capabilities unrecognized - for thirsty souls and from there, we will seek to extract fresh water and for the pure soul which were promised in the Bible. This is a shocking news and encouraging ones. Be prepared for surprising places, not yet thought of ... be prepared humbly and modestly for this wonderful revelation we all will expect. But at the same time, continue to work! refuse to accept the ills of progress. stimulate communication sessions of a heart to heart. and all these wonderful tools which are great medicinal solution.
Regards,
Daniel



Hello to all of our friends!
June 19, 2017, Sievan 15, 5777

Summer is coming and with it, and we will continue to accompany our winners.
But who will help them with the payments of water, electricity, in order to take the heat away from them ?
Please, see it as a privilege , to help those preciouse people , through us - for years, and especially in these difficult times of the year.
Help is reflected in financing expenses, increased due to the heat, and for that, we really ask you, just log on, to the web of "L'Chaim" and through the donation button, unique and protected, you can give a standing order even 20$ per month (and highest - the better), and each of your contribute, lending a hand to a much better quality of life, for everyone preciouse people whom we accompany and help.
Help us - to help them, and all of us will feel much better.
The entrance to use the donation button (Bordeaux, left side) :
Thank you so much for your attention. Share this call with your friends please?
Amutat "L'Chaim"



Summary of this year in "L'Chaim"
June 15th, 2017, Sivan 21, 5777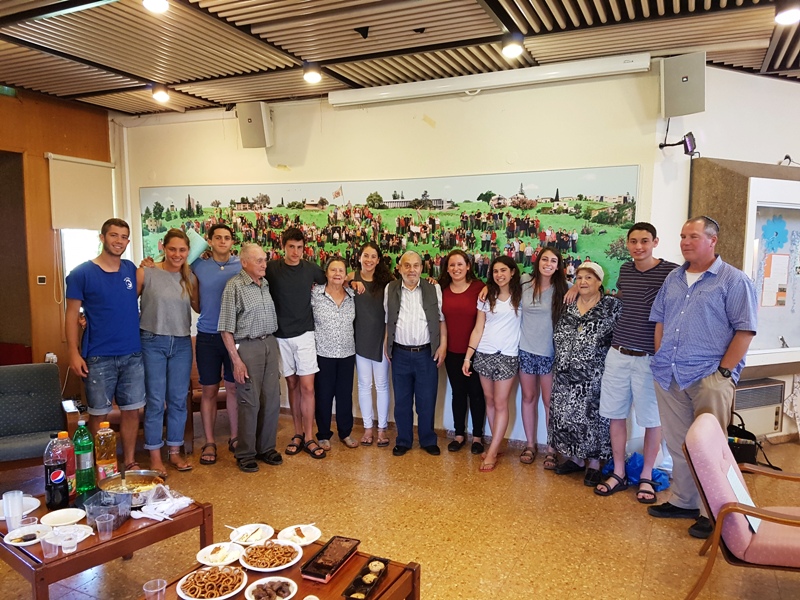 Dear Friends !
In a good time, ended another year of activity with its depth, exceeded all imagination It is felt that the message is important and more young people and adults experience it in firsthand. Again a reminder: the song of "L'Chaim" is that being poor is in the eyes of the beholder. Poverty and difficult life situations - easy to categorize and define to the weak people. Somehow, disadvantaged population, the dangers, "winning" to be the establishment and religions, that keeps up the sad story. The visual results of this patient awareness of the dangers of what can be done for humankind, which we can see all around the world. In "L'Chaim's little God patch, we are engaged, profound and fundamental change in which we treat the weakest layer, known as survivors. First, of course, we've changed the term survivors - to winners. However, a change in nomenclature alone, is not enough. This awareness has gradually introduced elements in the hearts of this organic project partners called "L'Chaim". There is nothing more wonderful, then changing perspective about older people from the Holocaust, thanks to the deep and uninterrupted years, these dear people found in themselves, hidden lights - not turned off, which allowed them to shine with the joy of a unique creation. Young fresh and open hearts of our dear volunteers are the magic touch, healing heart to heart, and this is a miracle of God's really, at the level of exercising the commandment: "Love your neighbor as yourself". Some light and blessings that we have experienced this year. We feel like a little island of sanity in a world of increasingly chaos, sinking into extreme materialistic horror which is in it's end. In "L'Chaim", there is a line of creation and the essence of giving life to others, with a little taste of paradise. As a reminder, what can the human race do as a wonderful alternative, compared to any spoilage of the Western culture that destroys everything. This year, I felt that more and more young people, understand and connect with depth - not only the visits but to see it as a necessary way of life. This is a slow process of recuperation, the change in perspective - and counting. But unfortunately, there is also a frightening indifference of organizations and individuals, whose financial means and are still used to donate millions to organizations that perpetuate the misery of the needy, in order to get rich. We cry out to potential donors, to open eyes, open your heart and help us to expand our activities in other parts of the country. There is a demand from more educational institutions to join "L'Chaim". We ask that people with heart , to spread, to other open hearts, and tell others, the song hope of playing 13 years here in Israel. It was a wonderful year which had contained the annals of the "L'Chaim".
Thank you dear donors, worldwide and in Israel. Thank you for your longstanding support, and above all, thanks to the Almighty, who allows us in the right way, to play the heavenly melody of the country of - milk and honey, but also rivers of blood folly and poor spirit.
Please join the chorus of light and we promise - with God willing, to continue with modesty and determination and persistence, and good hope that next year - will be not less than this one.
Daniel
Apocalypse - the period of the twilight
June 8, 2017, Siewan 14, 5777

Dear Friends!

During this period, we can see again, the chaos in the spirit , politically, diplomatically, which goes in the world. Again, terror in London , thousands are slaughtered each day around the world, but mostly, you can see that there is no policy, no vision in the fevered minds of leaders and experts. For some reason, they don't deliver the "goods'. You can see that once again, delusional leaders, are trying to sell ideas, to the leaders of Israel, the evil idea of dividing the land for two. Again the question is, who are these people? Indeed, Israel is the nation of Hashem, a nation with a everlasting connection with Hashem, which is the promised land of Israel.

On the contrast , invention of mankind, painted the Palestinians, which are a collection of terrorist groups between them and with - nothing. The main point is that millions of people - because of lack of understanding, they experience a sense of desperation and then try to solve it. The civilized world, pay today for it, and this is just the beginning of the crimes and apostasy, by providing humanitarian ideas, forged wreaking havoc Holocaust throughout the world and in this state, when everything is collapsing, most people try to repress, nor see, nor hear, as it has always been. Most repression will only raise blood, destruction and calamities. As well as on health, the human race and the planet as a whole, are extreme lassitude.
So what do we have to do? Before giving my answer, there is a necessity to understand the disease , which causes a moral degeneration of the essence and the presence of God's light. Here, we have to understand what that means, the concealment of the absence of light .In another words, the lack of presence of the divine energy, and the great confusion on life.

Of course, God is always there! without Him, the world can't exist, and depletion of lights, affect all sectors in life: human, plant, animal, air, water and soil. People with deep spiritual orientation, can feel that energy , wasted in agricultural productions, and realize that this is due to the lack of the divine light derived from moral decay. This situation, is a great part of the process at this period: the end of the days, which is demolished to make way for a new world and reality. The period between the end of the old time, until the new times, referred by scholars of Judaism, as "the twilight". These are the difficult times of loss, of smell and taste from the seller, and a sense of a tremendous thirst for something new, that will come to the places that are not familiar to us so far, but comes from the Almighty by himself. The desperate attempts of the world of technology to create virtual communication degenerate, will only exacerbate the situation, and people will be slaved, more and more to those devices.

The solution, that God himself offered to us in the Bible is that such periods, should be set (the upper light) with a touch of kindness between people as "love thy neighbor as yourself " and so we make associations, to life. " I hereby remind you once again: the commandment of great light "and replied heart of the fathers to the children ... is majestic and heralds a new song that allows more light to flow and be present in our lives. It is a place of uplifting life. It is a place where there is miserable with no pattern of misery. It carries a message of love without conditions. A place of miraculous hidden power - which have never turned off, that are within us and allow the younger generation to learn about what life is meant. Love and communication from one heart to another heart. This is the secret of our redemption and our revival : connecting with living connection, which is dance and a song. This opens doors of the top lights . New light coefficient.

For those of you, who understand what we are doing. Join us and help us to spread the word.
Bless you,
Daniel
Shavuot - the holiday of giving the Torah
May 30, 2017, Sivan 5, 5777
Dear Friends!
Pentecost in our doorway! What it says and what it tells us, mainly what it implemented ?
Israel, for centuries, had worked in Egypt ,and an awesome event , suddenly, have changed attitudes and perceptions of the inner life of the people. First, the Exodus, which we celebrating on Passover, and now, experiencing the contract with the Almighty, the everlasting covenant, by getting the , the entirely greatest gift of all = the Torah. The Israeli nation have a great mission which is to be a sacred and binding and example, as the chosen nation with Hashem !!! Matan Torah - means that we are God's chosen people , and it means, the ones who can take and capable for it! A nation with the role of being the example of realization, the secret laws of Tikkun Olam, in the kingdom of God.

The commandments, given to us, are the Ten Commandments, and our ability to the divine documentaries, are much to be a tremendous blessing to the whole world. Commandments which deal with all areas of life, with emphasis on life itself. They allow us the ability to precisely evolution of life, dealing in human relationships between people, the environment, they are a prerequisite for the blessing of God. This issue, is of global importance, but also, most difficult. It is not enough to pray to God in a comfort zone but, our way to approach it, is to actually see our life, and being able to see the events of our lives, our meetings with other, landmarks exact places that we need to fix in our lives. Not for nothing the work for answer is lined that Jewish message must 'deal with the ego, the ability to bow and cultivate humility toward others and allow us to meet with our weaknesses, but also discover amazing powers of growth and expansion'. At present the answer is not provided free of charge to the people of Israel.

The nations of the world, led by false religions - which did not understand and were able to replace the work of soul-searching every-day - and so, the world has been degenerated and the disastrous consequences, we are experiencing today. False beliefs and religions are hypocrisy, and unable to see the truth, and of course , it does not include that we have the great privilege to meet many wonderful people in the world and we thank and feel the true love of those people for Israel. But the Western world, is in general - degenerate, creating vacuum and destructive secular world, and now, when the people of Israel have returned to their land, after thousands years of exile - regain its former glory and announce to the world the message to the One, without any second one! She announce the beauty of answer, and the answer processes which is needed to this degenerate world. Even here in Israel, the decadent Western culture, is in every street and corner, but there is reverence, and more people realize that the Torah of Israel is a living Torah and the healing which is needed to the whole world. Israel still suffers a labor pains, and discover freedom, by receiving our authentic identity as a nation, so that we can bring the best of us, getting cleaned and purify ourselves from foreign and substantial degeneration gods . And here's another little line, which is so wonderful when understood: "The Jewish world, wages good deeds and good actions, but it is not noticeable here in life." Sometimes we act, but we do not see results almost in good faith, and many people break on their way 'that the fruit of their labors are not seen here and now', according to the will of the ego. Herein lies, the wonderful and amazing news: every good deed, especially if enduring values, it counts in the rights of the universe, and written in the book of life. It is not lost. True, we do not always see the results here and now, but these are wonderful spiritual seeds, which produce accumulation in the book of the universe, and eventually, wonders these will be our right with the song of redemption, the message of revelation of the divine spirit of awe over our souls with no partitions : " to fill"- Laughter our mouth, and the light tower of our deeds, will shine and affect the whole world with the grace of God that "justice, justice is His way"!
In conclusion: Israel is committed to adhere to the Holy Alliance and apply the laws through us - as the chosen people, with - God! And as the nations of the world and the least those people, who understand and internalize it, and would not seek to force-feed us with hemlock and hymns falsity. Then, it will be better for them and for us.
We are committed to increase the light in the whole world! And here I send all of Israel and the whole world, once again, wholeheartedly say: Hear O Israel our God, God is One !!! Israel will not lie forever and the light from Zion will come !!!"
Happy Shavuot !
Daniel

Without a vision - people will be avenged!
May 24, 2017, Ijar 28, 5777


Hello friends!

The last two days, we in Israel, experiencing a friendly visit, full of sweetness and appreciation, unheard recently by an American president ... Isn't it wonderful ??? Not at all !!! This is dangerous and a honeyed trap, which have to be watched and we have to understand its meaning. U.S. president, brings a fevered brain solutions to our sacred land, but there is a problem that we have to understand and recognize. No external solution can come from the nations of the world - and bring peace !!! It will exacerbate the situation, increasing terrorism and the perpetuation of hope in seeking to destroy us. The only solution is in with us ! It is well sealed and clearly in the book of books: TORA-NEVIIM- KTUVIM = The Bible ! The solution for peace, will be found only in the connection between Israel and the eternity - the eternal covenant which is an inexhaustible source, full of blessing and good. What is regrettable, is the pagan culture and the servility to world leaders, important as they are. Honor is given from a place of faith and trust and not by fawning, flattery and a yearning spirit approvals by foreign leaders who do not understand and can not understand the depth of the commitment of the Israeli leaders , who have to stick to the old truth which has never lost it's vitality. But, why all the flattery? the answer is not simple. This situation, comes from the tremendous hunger for warmth, love, cure and approval, but all of those, who comes from the outside - have not any blessing in it. Following after warmth, love, kindness and light, which we long so much , we have to find and create, first of all, to ourselves, person to person , to each other, united people, a loving nation, yes! to like ourselves too. The reason for the hunger is being skeptical with our roots, being sure in our way, with the belief that the mighty Creator, gave us tremendous strength to be as an example, and light to the world ! The hidden divine power, which is not extinguished in our souls, and has been said in the Tanach in several places: "Peace, Peace, and there is no peace!". Peace of lies, is always a peace from outside sources, foreigners idols , longing to find a cure for collateral reed, includes all the essence of life, such as medicine, where people are running day and night from doctor to doctor, a healer to heal, but don't clear to their heads, that health - also means, taking responsibility and finding healing power inherent in our power, and so - for the other matters in our lives. Today, we have had a reminder sad and shocking from England - Manchester, of murderous terrorist attack, which reminds us that the Islam seeks to control and dominate the world.
I want to share a shocking conversation, which I had, with one of the winners who told me: "Daniel! do you know, why the Nazis have killed us?" I looked at him and said: "Of course, because we are Jews", and he said, "no my dear, it's not the reason. They killed us because we did not want to be Jews. We have denied our origin and tried to escape from our mission, and this is the reason that they killed us. " I looked at him and my eyes filled with tears, not of sorrow but of deep understanding of devastation that happens to such nation which deny for itself , to it's power and it's independence.

And for you honored President of the United States, "Go safely back to America, and if you want to help to the people who live in Zion, just understand that the only way to strengthen our leaders, is to get back to the name of Israel !!! and from that place. He will make peace for us for Israel and the world! there is no other else- but Him! The eternity of Israel will not lie!"
Have a good week, and Shabbat Shalom.
Daniel

P.S. on our new web: L'Chaim2life.org.il , there is a new button (on the left side, colored Bordeaux ) which you can use for donations with payments as an standing order (each month). It can be from 20 Shekels till 5000 shekels. Please, use it and donate for this wonderfull work. It will be appreciated very much.
Listen to Daniel on the radio: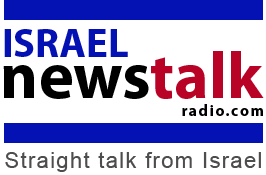 Visit our website:
www.IsraelNewsTalkRadio.com




My preparations for Pessach
10 april 2016, 14 Nissan 5777

The holiday of Freedom, What does it mean to me?
Freedom from material issues, weaning from harmful habits, internal cleansing from bitterness and the rest of those. Aiming of creating health, joy and happiness in order to continue the journey. Last night, as part of purification and cleansing, I went down to my favorite sea, and I filled bottles of pure seawater. This morning, getting up at dawn, with open heart to the spring, praying in live spring, went back home and poured seawater every corner of the floor , while dancing and singing - as Shirat Hayam, cleaned and purged my home, and while, I felt that this cleaning takes place inside my soul. Modest grocery shopping, includes fresh fruits and vegetables in abundance. Some rice and tehina, fresh goat cheese - and I'm ready for the holiday, when it is clear that in order to feel more freedom to feel better and more divine connection, marvelous infinity ... in fact, have considerably reduced consumer culture, the crazy productivity . .. slow down! Slow down! Slow down! Breath ! Breath ! Breath !
Wishing you all , a genuine internal freedom , real holiday, capable to be connected to the owner of freedom : "The Master of Universe.
P. S. Let us remember that Hasem commanded us, beging us again and again, not to return to Egypt with all that entails. Let us internalize it deeply.
Many thanks to all active people of "L'Chaim", who operated to bring Kamcha Depasscha, to all our winners, modestly, without manipulative publications, passing each house with a lot of warmth and love they continued activity throughout the year.
Sincerely,
Daniel
Yackov and Tamara Shacham
February 27, 2017, Adar 1, 5777

Yackov and Tamara Shacham, are a couple from Modiin with no children. The man, a holocaust winner faced in recent months cancer, and are going through difficult treatments. Now he is in rehabilitation after a hip orthopedic surgery, due to the impact of the disease and to prevent fracture, in the future .

Before it is possible that he can come home, a renovation of their bathroom is insurmountable:
By breaking the floor and take out the bath, a greater space can be created to install a non-standard-sized shower and toilet. Due to the lintel or existing page, it should be transferred to the service pipe.
Within two or three days, Tamara is scheduled to meet with two craftsmen, for accurate bidding. She understood that it is about 6,000 euro. This requires immediate implementation, because Yackov can go home in a week or two, and the work itself takes several days. It needs no any long bureaucratic processes. The employee must do everything (plumbing, flooring, etc.).
Expenditure in question constitutes a heavy financial difficulty for the couple, who would appreciate any financial assistance.
In addition, the woman will supervise the execution of the work, and while it wouldn't be able to be with her husband.
We need your immediate help.
Thanks to the ones, who will help this couple,
Daniel



Normal Logic, Versus the Logic of Faith
February 16, 2017, Sh'vat 28, 57777
Dear friends!
In recent days we have witnessed the degradation of the eternal faith in the G-d of Israel, and heresy in the form of a conversational style that is "logical" but nothing else. And I would like to explain: There are threats and accusations by the nations of the world against the settlements in Judea and Samaria, and about the government's decision aimed to establish law and the rights of our construction in Judea and Samaria. Unfortunately, and unsurprisingly, there has been sky high condemnation by the world. But what is more sad, is that our own leaders, without any spirit and clicking their tongues, do not stand firm and say the simple truth that is unequivocal: Israel is sovereign in all parts of Israel - by an order of the Creator! He is the ruler - as we know, the authority of the whole world. But leaders and analysts of all sorts, artfully speaking words of plots "It is not the time", "We should not upset the president of the United States", "Act according to common sense and judgment that matches the sensitivity in the Middle East", and of course millions of other smart words, intelligent, and all of which academically, make sense. But it is completely contrary to the divine faith, which is well-known to be higher than the nature of human logic.
Before we get to the divine nature of faith, let us question the veracity and efficiency of words, the wisdom and prudence, and the great patter of the leaders and experts of this period. What we see today is chaos. Unparalleled violence, the rise of radical Islam, in Syria horrific crimes against humanity, terrorism in Europe and throughout the West. But most of all, every day, more and more wise guys are revealed as corrupt, and only interested in their personal gain and accumulation of power. But the ignorant world is silent, and prefers not to know, not to look and not see the simple truth, sticking to the familiar patterns, correctness and comfort that affects even people who define themselves as believers. It is hard to see the truth, because truth requires responsibility!!!!
And now friends, let's go into the real logic: The logical faith in the Almighty! It's fair to say that throughout history, omnipotent G-d does miracles against logic, against what appears to be solid and clear in the eyes of ordinary people. And I will give examples: The first example of concrete and irrational concepts which don't make sense, is the miracle of the Exodus. It was against logic and required great faith that Moses needed to instill in the hearts of the Hebrews. In the end, the greatest irrational miracle was parting the Reed Sea. I hereby should remind you: even in the desert, the 12 spies in their exploring the country reported truthful reports, supposedly "very reasonable" such as "we cannot have it because they are giants ..." or, "This is a land that devours its inhabitants" ... This was heresy in the divine belief, that only two out of 12, knew in their hearts, and had the courage to tell the irrational truth: Joshua Ben Nun, and Caleb Ben Yefune.
Let's come to the irrational quest of our time: the return to Zion had no chance against the "logical". The people were the remains of broken men after the terrible Holocaust, but thanks to the hidden divine powers, full of courage. They are the ones who built our country and set her glory. Even brilliant victories were against all normal human logic and miraculously came when a few defeated the many, headed by the miracle of The Six Day War against all logical chances. Israel had a heavenly triumph. And many other examples such as the triumph of the Maccabees: few Jews in front of many Greeks, normally - irrational.... Also, the rocket attacks that we "won" in recent years. Reason and normality says there should have been much damage, but the damages were to a minimum...
So what is the moral of all this? To gain true peace, Israel's leaders have to know: It is impossible to turn the truth round! It must be said clearly and securely, majestic faith, is not in stimulating words, but obvious to those who knows the truth, in - the name of G-d, and our leaders should act with the name of G-d in their hearts and in their mouths, even if it does not sound logical. Surprisingly, even the enlightened world gets to know these statements correctly. Really, there are two faces! those who say "It's not the time" and " we should adapt ourselves to the world" have a big mistake in their hearts, because if not now - when it would be ever ???
One last thing to keep in mind: The Jewish Torah, requires responsibility and commitment!
Of course, it's easier to take mystical concepts, which are far away from them and what life is about... people are attracted to mysticism only for one reason: it is not binding. However, the Torah of Israel, is not far away "because it is very close to you, in your mouth and in your heart- to do."
I pray, that more people will wake up from their deep sleep and understand this wonderful line, if not now - when?
The truth should be our guiding principle, even if it does not make sense.
My blessings,
Daniel


ISRAEL PROVES BIBLE PROPHECY!! An Amazing Story Israel

Global Revolution, from Where Does it Occur?
February 2, 2017
Dear Friends! We are currently, experiencing a global revolution unfolding before our eyes. To understand the significance of this revolution, let's travel together to the United States. The election of the president has drawn a statement from millions of people who were fed up with political lies. In the name of the democracy there were lies in which there was no Right, or Left, forwards or backwards. This is a global revolution, actually occurring deep within human souls. Donald Trump, president-elect, was proposing activities that destabilized the foundations of existence. Indeed, for centuries, people have become accustomed to leaders with lies that promise and do not fulfil. This was a culture of lies that seeped well into the souls of millions of people in silent agreement for many years. The culture of lying dominates, so no wonder that values and vision - do not exist. Within the Western civilization, horrors of humanity, led by the terrible Holocaust, occurs and have occurred, of which billions of people did not want to see. Also, today a culture of lies is skyrocketing. Donald Trump is breaking conventions. His language is popular, and the amazing thing is that he is carrying out what was promised in the elections. Imagine, a leader who fulfills his campaign promises? And that culture of a Media of lies, along with leaders who have lied because of idolatry of money and materialism - is shocked. Where is all of this leading?
First, let's understand something fundamental and important: Donald Trump is only part of a divine plan to return to the real world. This conclusion will clearly be recognized by Israel and the G-d of the universe and His Kingdom. But for this to happen, first the old lies of this same world must be smashed. Trump is not be attributed as any spiritual destiny builder! The role is to destroy the old debased culture and to publish the rulings which so far are being received as disastrous worldwide.

Indeed, the decisions of the president are shocking and provoking the forces of dark extremists led by radical Islam and the rotting Western civilization, which are sinking into the abyss of deception, and indeed can cause a World War III. But remember, such a war takes place first of all, deep in the human soul. It is a war of light and darkness, holiness and impurity. Here is another thing to remember: this program is accurately and well managed by the Master of the Universe, and endorses the prophets to their own generations – as written in the Bible. Here one must understand another point: no peace is possible, when we do not go according to the laws of G-d, which is embedded on our D.N.A. from the dawn of human creation. Any attempt to make forged peace or establish a false governmental culture, will lead to results like we are experiencing today. Indeed, the earth is shaking and there is great confusion. Indeed, the world of lies is continuing towards it's end, but this happens because of the difficulty of acceptance and detachment from this world, instead of being in accord by an internalized look within, with humility, to understand that there is no one else - but G-d! The words of the Bible are alive and well and our bedrock, and the world understand this. When the leaders of Israel will understand and agree hereby about a diverse Israel, Right and Left will stop fighting one with another, and even call the right, the right of Hashem. From this, Left and Right again will meet one with another in harmony, without shame or tutting, sing and shout aloud Hallelujah! Hallelujah! Hallelujah !!!
To refine the matter and summarize: Donald Trump is mere putty, with a role to stimulate extremist and opposite forces, in order to take the lie away and not deny it. This causes deep shock to the world, but ultimately, divine intervention from above will raise the name of Hashem and the honour of Zion will come back. The kingship will pass from the West and Washington, European capitals and the Arabic countries, back to Jerusalem. This whole process, is part of the correction of the world, the kingdom of the Almighty. Things are done very quickly in our times, and those who think and want life, it's better for them to wake up to see the potential, arising with wonderful light, needing to awake our hearts that know the G-d of Israel - never lies! Hear O Israel, G-d is our G-d, the only G-d !!!
Daniel
Shabbat Shalom.

Fire of hate - a purifying fire
November 23, 2016, Chesjvan 22, 5777


Dear Friends!

These days, and the time which this letter is written, huge fires occur in Israel. Even the colony where I live - Zichron Yaacov where the fire has burned about - 30 houses, including 15 with total lost. Thanks God - no casualties. Fires also occur in many other places in the country, because of an extreme weather of strong east winds and extreme dryness.

Editor:
Fire in Israel after arsonists attack : https://www.youtube.com/watch?v=1MrKzmCcMDQ
Zichron Ya'akov after the fire : https://www.youtube.com/embed/dz_MV9vcPWY
Haifa : https://www.youtube.com/watch?v=VeLgYYgmye8


In this letter I would like to describe a awesome which holds tremendous message. One of the women, whom her house has been burned completely, was interviewed by the network Israeli state radio. The interviewer asked her with sensitivity, about her feelings about what has happened and her answere brought me, to have a big smile, full of love in my heart. The wisdom of this woman, which I doubt if she understood the message, was giant. The interviewer asked her, what is the dominant feeling that accompanies her with the loss of her home and all of her possessions? So, Helen, a resident of Zichron Yaakov replied: "The feelings is difficult and we lost everything, but the most difficult of all is the loss of all the old memories I feel like I am forced to be reborn to a new reality after my old world have been destroyed "...

Indeed, Helen's statement was deep and true, as we have already stated: the way to build a new world, is by destroying the old world, the old memories, once collatera, are slipping under our feets. Another insight has struck me, as closing my eyes and marvel at the insight that, came to me right after : The name of the settlement is Zichron Yaakov! Jacob - of course, is the name of Israel! Memory Israel! remember me! The name of our God !!! In other words, the old collateral, is taking sometimes one thing , and force us to be reborn, with all the sorrow, pain, devastation and sense of helplessness. There is a tremendous message !!! On the other hand, revealed the fire hatred of Arabs, who do not need special reasons to impose their hatred and shoot down their terror on every step, because knowing incitement in mosques is overflowing. But, what they don't know is, that the fire - which were done by hatred of hearts and small minds, with no humanity in them - makes the God's lovers, to feel stronger than ever, and united as peacekeeper, who are forced to go through harsh and sometimes shocking foundations of our existence, to meet again in the kingdom of God (Who is our rest back, the One and only One! There is no one but Him!). Thus, anyone who understand this process, will look into his innersoul, and check the armrests falsehood that in it, and understand that all armrests, are over! As well, stiffed and stony beliefs - as the gods of the material - will not save us from inserting new understanding for new faith, new language, that will allow to Israel a new heaven, eternal redemption, which will come to us from high up. Hear O Israel, our God, the only One!!!


Sincerely,
Daniel


Editor: Let's pray for rain...


New land
November 14, 206, Chesjvan 13, 5777

Dear Friends!

Modestly, my heart is excited, because something great has happened today, which continues the process of destroying the old world as we know it for thousands of years, and towards the creation of a new earth. America does have elected a president of her own choice. Different from all the polls, analysts, according to all content networks on their types - plus sports and culture idols, who have wrapped Hillary Clinton, plus President Obama and his wife, and in fact, all the sounds of arrogance and condescension - which were expected to continue the rules of the lies, occurred here a quite different subject, which have not been mentioned in the media today. So, we will mention it, and say aloud and clear: the hand of Hashem was right there!

When you hear all the experts, professors, celebrities, journalists and academics, and of course reviewing all kinds. everyone sounded confused and they can't find any explanation for what has happened. The answer for this is very clear! these people, were confused in the false tower of Babel, which has lasted too long, and at the destroyed tower of illusions, did not find the words, to admit their big defeat. In fact, there's really no answer, and indeed , it isn't logic of what has happened. It is not a logic matter , but a deep spiritual matter, and is part of the Biblical process of prophecy, which have predicted the end of the sick lies in world, on the end of days. Indeed, many people in America and around the world, hated the current situation and mentally, strongly cravaid for different message. Yet, there is, a very long way to go . Already there are people, which made Donald Trump as idol , the one who did what seems to be impossible. It is true, that the Almighty has many messengers to do His plans. Donald Trump does not have any spiritual message to the world, but, in one line yet spoken; he was able to say what has many people felt: being tired from the old establishment, the elites uppermost and culture of deceit, which many have walked blindly with illusions , for too long. This is a seminal moment! This is one of the magic moments in stark contrast to human logic, and countless academic empty speeches, as it has been said: "There are many thoughts in the heart of man, and by being advised of Hashem - it will be established!" .
Finally, once again clearly stated: the old world as it was known: the world which has turned to be as stone, is in advanced stages of destruction, and to the people who want a better world, they should better understand the main point: There is no one besides G-d! "And in that day, He will be One and His Name One!" Yet, let's understand that the journey is not over! No one knows what will bring tomorrow's forecast. But remember: G-d is teaching us a new language which is still difficult to understand ,and in order of being able to understand, we have to shed, as soon as possible. Many previous knowledge, immobilizing and hoeing our souls. The message of the redemption of Zion, will come! Remember, all Israel lovers,: faith and truth - are one! And I pray, that many people in the world, who moves blindly and still insist that they don't see what's happening: wake up! wake up! The time is not on our side!
Sincerely, with excitement and gratitude to the G-d of Israel, who keep his promise that on the end, He will redeem His people of Israel which is in his completed country, by bringing the light to the world as a light of the nations !!!

Daniel