Letter of Daniel of febr 4, 2020

Shalom Chaverim,
This is a part of our monthly report that was sent earlier to our Hebrew speaking friends, but not to you, the English speakers.
Even though you may not be able to read the attached letters, you can look to the pictures. And I will pass to you the essence of this writing. Basically, its a report from the city of Tsfat, coordinated by Shir, where students and soldiers are visiting our dear winners over there. The other attachment is a report from the city of Modiin that is also under the responsibility of Shir. The most important is that you can see the full picture of our work with the great youngsters that are so dedicated. By looking to the faces, it tells everything about the heart of the youngsters and the elderly both. Below, is a letter I just received from our dear friend Ivor Mindel, supporter of Lechaim for many many years that I want to share with you.
4th February 2020 A Tale of Two Cities - Antwerp to Netanya
We were living in Belgium until 2010 when we decided to fulfill a longstanding commitment to make Aliya and emigrate to Israel. Our three children had already made Aliya some years previously, my mother and late father had come to Israel just after the six day war in 1968 so that we had additional incentives if they were needed. In fact as children both my future wife Danielle growing up in Antwerp and me in London,were exposed to our Homeland Israel from a very early age. Both our families were strongly Zionist and we as members of the religious youth movement Bnei Akiva knew that our future lay in Israel and when it would happen was just a matter of time. There was still a spirit of idealism after 1948 in the 1960's and 1970's which was drawing inspiration from the early kibbutzim, moshavim and those who underwent hardship draining swamps, defending the country and bringing the Land to life after centuries of neglect. Then came the spirit of Tzahal, the unique Jewish Army which had risen firstly from the young defenders and underground resistance fighters later reinforced by the arrival of those risen from the ashes of the Holocaust horror, all making their contribution as Jews now finally able to defend themselves.Of course, the return to Our Land started long before in the 1700's and 1800's with those pioneers who started resetling our Land before 1948 when the modern State of Israel emerged. Some years before 2010, Daniel Braun visited us in Antwerp to raise awareness and support for a pre-military academy with fine motivated youth on the Golan.
Not long after he returned home and just after Yom Hashoah, Holocaust Memorial Day, he telephoned me to ask whether I knew of a shocking, upsetting situation that he had seen on television portraying many of the Holocaust Survivors living in poverty and loneliness. He asked me whether it was possibly true that - such a situation exists in MY COUNTRY?! He was quite incredulous when I confirmed that this shameful situation does exist. Daniel's response was straightforward and immediate. He said to me 'If that is the situation then I am going out to look for these people'. That was about 15 years ago and backed by the support of some great people I have met, Shuki Kestenbaum; founder of Lechaim, Timek, Shir, Rivka and so many others Daniel has tackled this shameful situation his way through Amutat Lechaim. With action and loving dedication and zero tolerance for the unkept promises of the authorities to remedy this situation once and for all. Not to mention the various organizations that were set up years ago to bring fairness and justice to all of those survivors, the "winners" who felt abandoned and are still waiting to see action following up the impressive speeches and ceremonies. Israel has many faces and facets to be proud of,most of them are incredibly inspiring and impressive but we have to improve dramatically, our concern for each other and especially the basics of caring for the underprivileged, the poor and those who need help but are embarrassed to ask for it. We are a great Nation living in our Historic G-D given Land and that carries with it great responsibilities not least of setting good examples in all fields of endeavor.
We are a great Nation living in our Historic G-D given Land and that carries with it great responsibilities not least of setting good examples in all fields of endeavor. Daniel and his volunteers in Lechaim really do this and our future depends on such youth with these caring values and ethics and proud to help the aging generation. to learn from them and give them the pleasure of recognizing their immense value to Israel and the contribution they have made to bringing us to where we are today.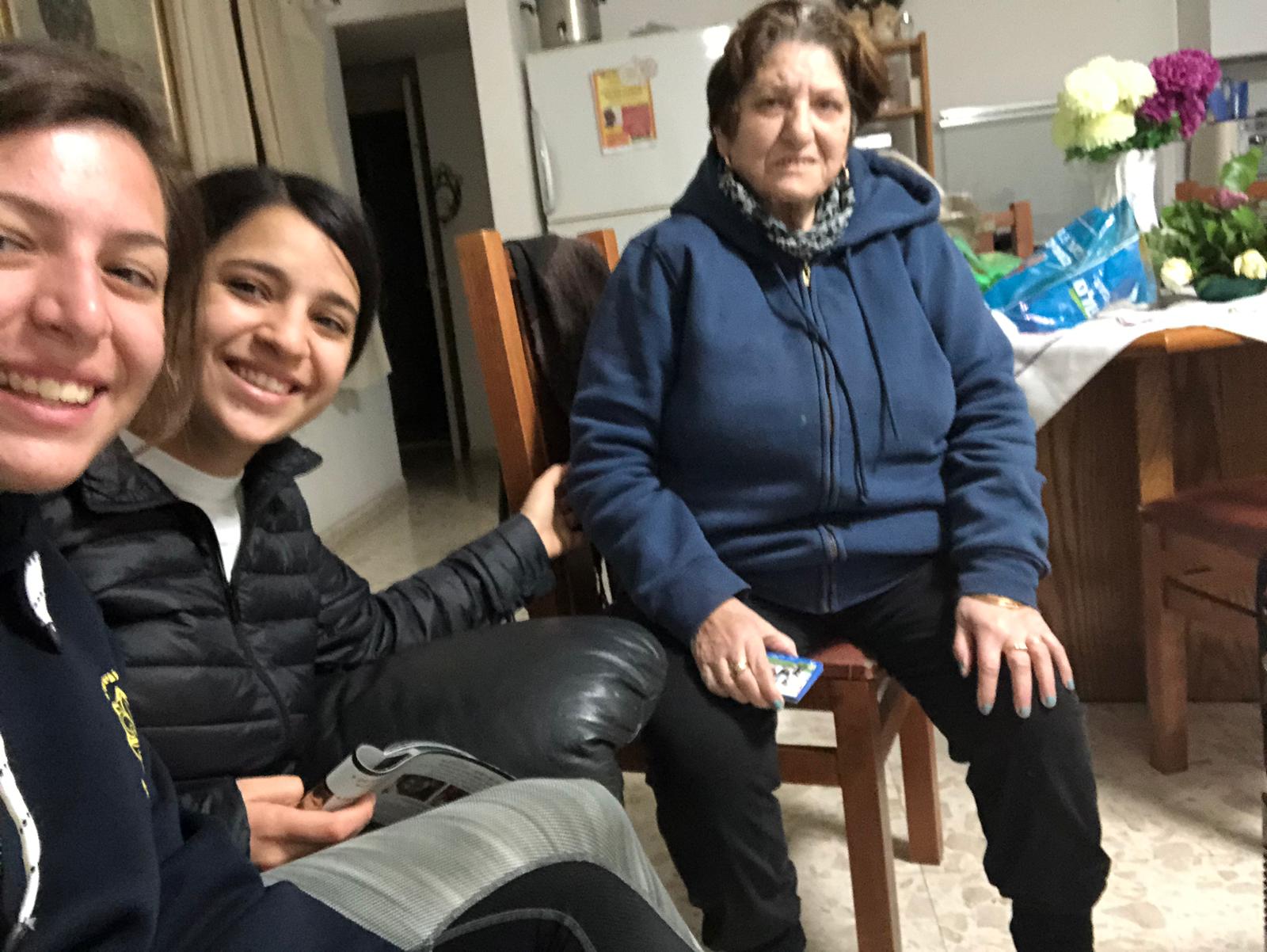 Ivor, Danielle and Mindel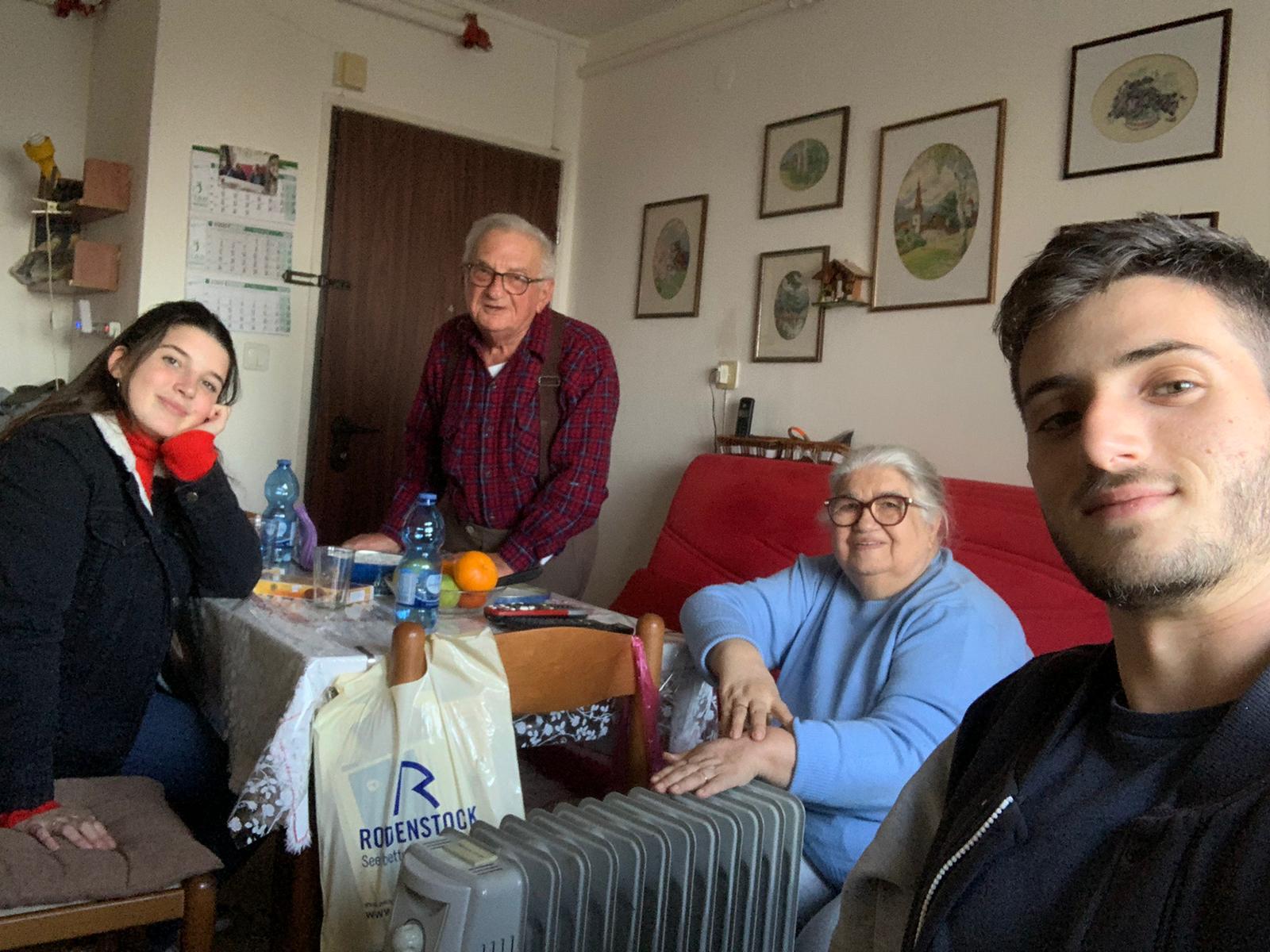 Tsefat: Arena and Moshe (originally from former Yugoslavia)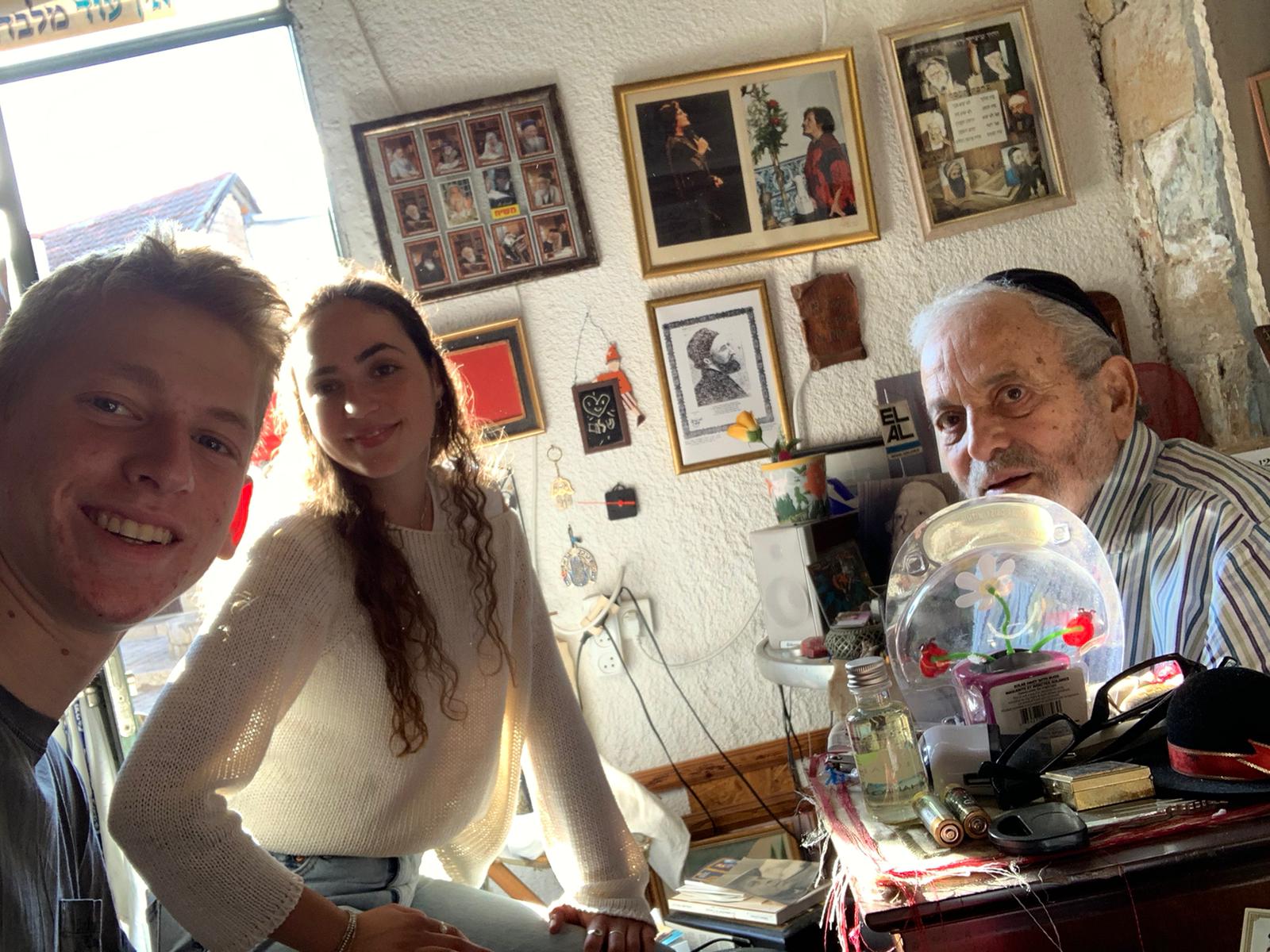 Tsfat: visiting Shalom in his tiny appartment
Shalom from Israel
Daniel
International Holocaust Day In Jerusalem
(A Day of National Shame and maybe encourages Antisemitism)

Januari 26, 2020, Tevet 26, 5780
Dear Friends,
Last Thursday there took place in Jerusalem, The International Holocaust Day Forum "Festival" to commemorate the Liberation of Auschwitz Concentration Camp that took place seventy-five years ago.
The words which I am setting down here will not be easy to read, but sometimes it is necessary to present the simple truth in order to gain a sane and realistic perspective.
In the daily papers and various news broadcasts, there was a shocking portrayal of the rich feast menus prepared by leading chefs for the noble attendees, whilst at the very same time many Holocaust survivors were struggling to try to get warm. Shivering, swaddled in blankets against the cold because they do not have money to pay the electricity bills for heating their homes in this very cold and rain-blessed winter. These same Survivors having to witness the grandiose sparkling, eye-popping ceremonies put on for visiting world leaders for the Glory Of The State Of Israel, whilst they the Survivors struggle to buy basic subsistence food.
There are today around 200,000 Holocaust Survivors living around us and according to accurate census many of them live below the poverty line, in loneliness and very far removed from the shining projectors at the festival purportedly held to commemorate the Holocaust. We in Lechaim, a small group with minimal resources have been busy for sixteen years repairing many run down decaying homes, have donated many air conditioners and heaters and year long we bring nutritious food to their homes.
Most importantly though, we arrange regular visits which are spiritually and morally uplifting, carried out by students of the Pre-Military Academies of Israel and by other volunteers. They dedicate precious holy time to raise the spirits and warm the hearts of these wonderful elderly people whilst showing them great respect and sensitivity, all of which are reported in the regular reviews we send out. Those of you who follow our activities in the reports can see and feel the immense value of these heart to heart, person to person meetings which go some way to correcting the terrible distortion whereby these people are being treated as second class citizens by a mostly uncaring hard-hearted bureaucracy.
So I ask myself, what message are we sending out to the world? How can we cry out and blame the World and ask for their help to fight the growing anti-Israel and anti-Semitic behavior in their countries, when we at home, our Governments past and present show such ongoing shameful insensitivity to the plight of those suffering Holocaust Survivors and also the poor and other underprivileged who need and deserve help.
Dear Friends, my opinion is clear that these grandiose eye popping events serve only the egos of the organizers since they do nothing to raise awareness of how to help to immediately improve the lives of those that are still with us and who look to us for help and a compassionate heart.
We need less ostentatious shows with the emphasis not on ego and publicity but on real immediate solutions driven by someone who cares and has a mandate to heal this wound, by immediate and ongoing meaningful action, using resources which are there and waiting, built on heart to heart not committees. This will help to build a healthy world for us and others and create "Tikun Olam". Let this be thought for action to get our priorities right and let this be For The Glory Of Israel. It is up to us to get our priorities right and then we shall have no need to complain to the world since we will live up to our mission in this world and set an example of care and compassion as is our credo.
In conclusion it is my opinion that a component of anti-Semitism, strange as it may sound, emanates from self-hate, self-flagellation and mainly from senseless hatred of others within ourselves. Once we recognize these unfortunate traits and correct them then the projectors will shine inwards not outwards, to help us improve and refine our society along honest, humble and sincere guidelines which will truly be to The Glory Of The State of Israel.
Regards,
Daniel Braun
Winter in Israel
January 7, 2020, Tevet 10, 5780

Shalom dear friends.
Just few words with a great thankful heart for a blessing winter in Eretz Jisrael. We have plenty of rain all over the place and everything is fresh and life. Thanks G'd. Baruch HaShem.

But in the same time, winter is a very dark and cold, which bring a difficult part of that time. Especially for the elderly people that are very lonely and sick. And we in Lechaim are trying to make sure that specially at that time we will keep in touch with our winners as often as possible and make sure to bring a lot of love and light. And I mean warm heart to the soul of the dear survivals.

I have a very important words that I want to announce. All over the world it's the same problem with old people.
That for some sad reason are not receiving good retreat. They don't receive the respect, the love and care the way it should be. That is the result of very busy and quick generation. That, while we are running, we tend to forget the most important: to take care of the dear old people.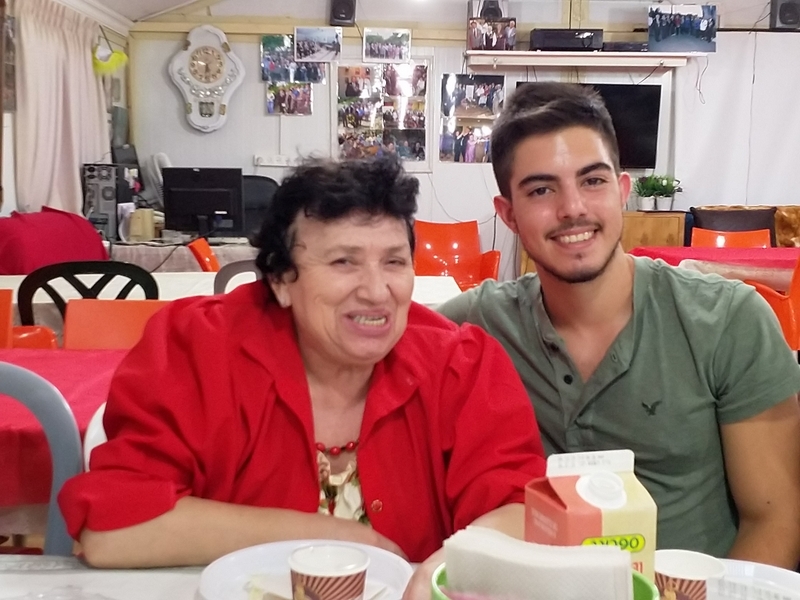 Ludmila with Roy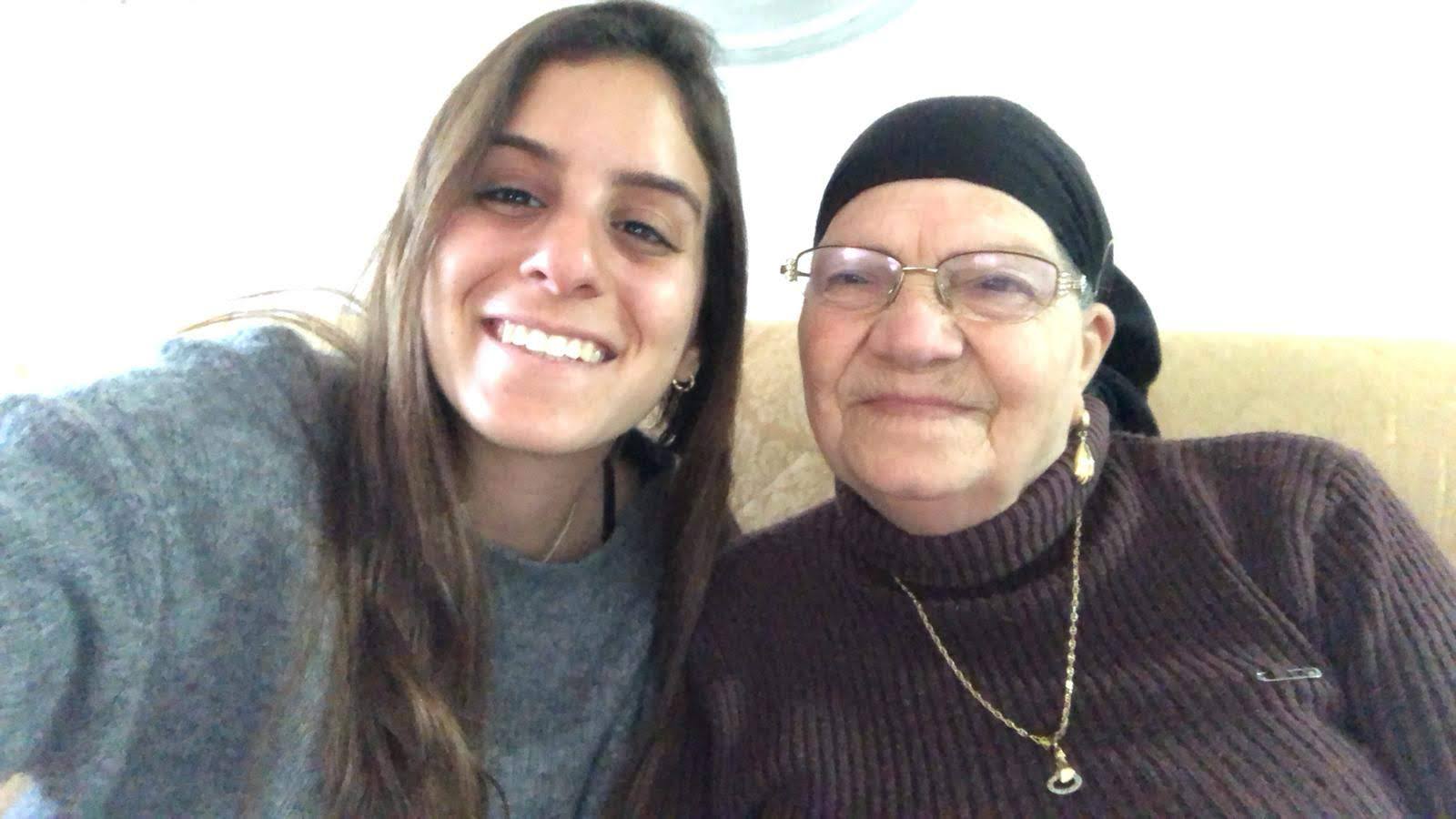 Adi and Ruchama
Not because we do them a big favor but, because this is how it should be. And this is important to remember. To put it in the first priority in our life. Even if the live is so quick and busy we should stop from time to time and think that somewhere in the dark and in the cold, there is a lonely old heart, that is longing for our love and attention. I am very happy to say that Lechaim vision its all about this.
To bring the joy and love and the connection – "kesher" – the beautiful kesher of young hearts of the youngsters to the heart of the elderly people. This is a blessing and great joy for all of us. The great privilege to be able to bring this blessing to the winners and to the youngsters.
Wish for all of us good winter and always remember the biggest mitzva that we are so depending on in our time: Love your fellowman as you love your self.

Much blessing from Daniel

P.S. During this month and next month we are giving money to the winners that need support and help with the electric bills.
Many thanks to the great support that already was given. And we can use more help for the next month.

Toda Raba,
Daniel
Lighting candle with Lechaim
December 26, 2019, 28 Kislev 5780


Shalom Chaverim
I would like to share with you few special words that came to my heart regarding to Chanukah.
Last evening, I had such a joyful time to visit our wonderful group from Kyriat Shmona at the Chanukah party.
I met Timek in the Mechina Mayan Baruch at 16:15 he collected students and some other shoa winners and we met in the moadon (club for elderly in Kyriat Shmona).
The elderly people entered the moadon slowly slowly and I could see that they are getting older, and they looked very tired. As we sat down at the table and we lighted the first candle of Chanukah the shine and the fire came slowly slowly from the heart of the shoa winners.
They shared with us some of the private stories that came down to one important essence: They all felt that the only home for them is Eretz Israel. The Jewish homeland.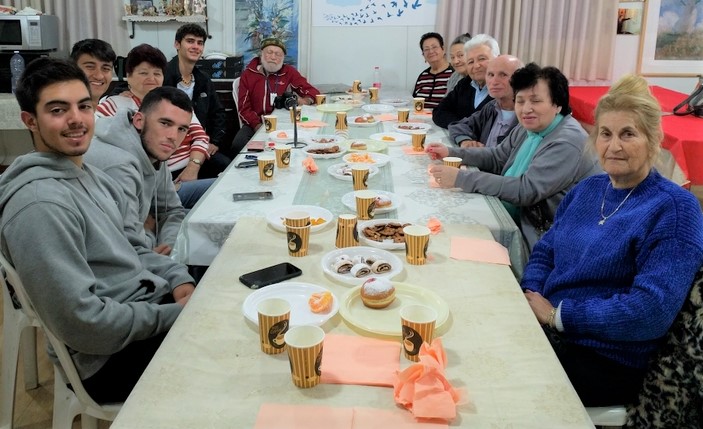 Chanuka in Kirjath Shmona

And more that we spoke about that you saw the eyes of the elderly people shine and filled with enthusiasm. To share with the young students and with us what a beautiful journey they made to come back to Israel. And once again we can feel how important it is the "lev to lev kesher" - the heart to heart connection.
That brings so much fire and light. From deep treasures inside secret place which I call the neshama.
That was special and I felt that we all were unity. The light of the first candle was shining more than ever.
The second story is too fantastic not to share with you. We have a dear winner from the holocaust, elder lady that she is in the hospital for many months. She is very clever woman, but she has a very great tragedy in her life. She lost all her family in the shoa. But the worst part for her when she lost her only daughter in Eretz Israel. When that happened, she closed her heart and she didn't want to believe anymore in anything.
And now look how a beautiful heart of a young girl can magickly do to a closed heart of a bitter woman. As she takes her home with the train from the hospital. She took her hands and made the elderly woman close as much as possible to protect her from the cold and maybe from anything else.
As they were sitting in the train, the girl put her head on the shoulder of the winner of the holocaust and in that moment, she said to me, when I felt the head of this sweet girl lean on my shoulder then suddenly my heart was open again and I felt closer to God then I ever felt in my life. This close attachment with that girl that could be my grand child was so lovely and so warm and that was moment of heaven. That made me want to live.
That the second light of Chanukah for today. From that spirit of the story.

Thanks to Clara, the students, Timek and our donors that supporting us for organizing of this event.

Chag sameach,
Daniel Braun
Listen to Daniel's Chanukka message for you in Hebrew:
https://youtu.be/w-2bdfkNi3Q
In English
https://youtu.be/MFwk4nTZpJ0
And a new Chanukah story in English:
https://youtu.be/X2JPQiIBfag

The messengers of light
December 11, 2019, Kislev 13, 5780
Dear friends,
Today we are sending unexpected beautiful story. That happened yesterday in the day of weekly visit of the students from the mechina Meitsar, in the north of Israel. In my opinion this story is so special and so very encouraging that I didn't want to spare it from you.
You all know Eliram. A very special victor of the shoa from the Kibbutz Ginosar. The student love him very much and feel very deep connected to him. And also, Eliram love them very much. The students give him a great purpose for live.

Few days ago, Eliram had to go to the hospital for an operation, exactly when his birthday took place. The students, four righteous, their name is Omer, Maya, Amit and Shachar were determined to see Eliram in the hospital, which is located on very distant location. That was their personal free choice. They didn't have to do that. It was a very rainy and cold day. They had to change bus couple of times in order to be able to reach the hospital. On the way they bought a tasty cake and balloons. They visited Eliram with a great joy and love as they always do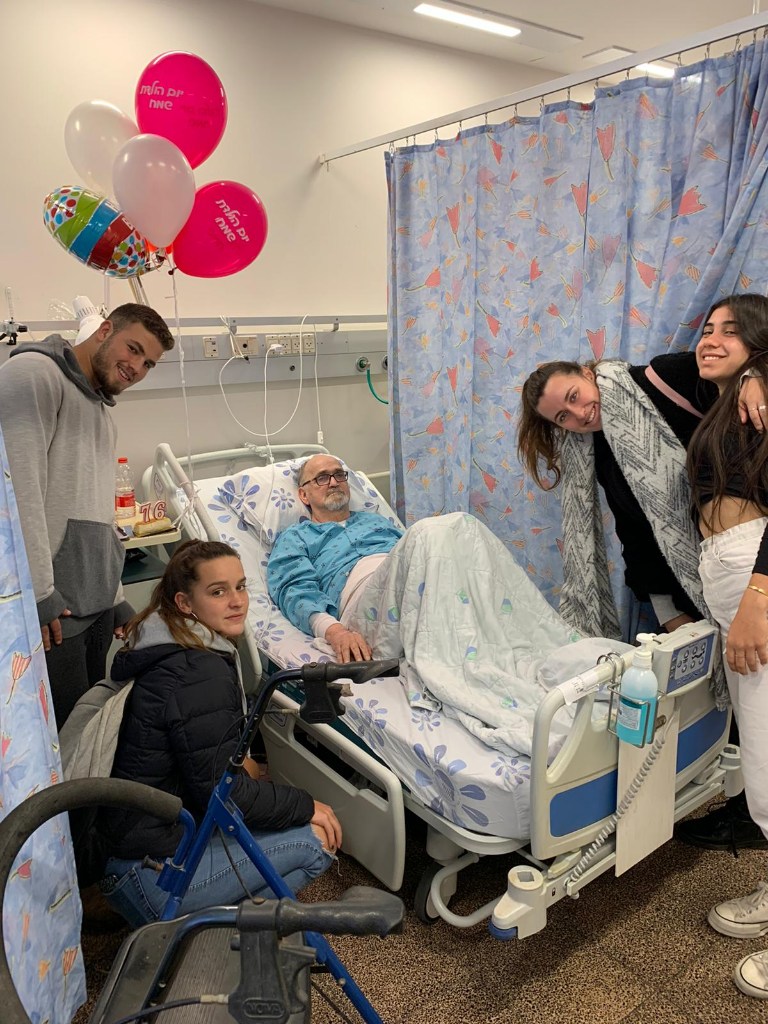 Omer, Maya, Amit and Shachar at Eliram bed.

It was a big surprise to Eliram. He didn't expect to see them, and when he did, tears came out of his eyes. Joyful tears, pure tears. And the eyes of the students were not dry either. They made Eliram birthday party in the hospital. And gave him another reason to live, through this beautiful connection.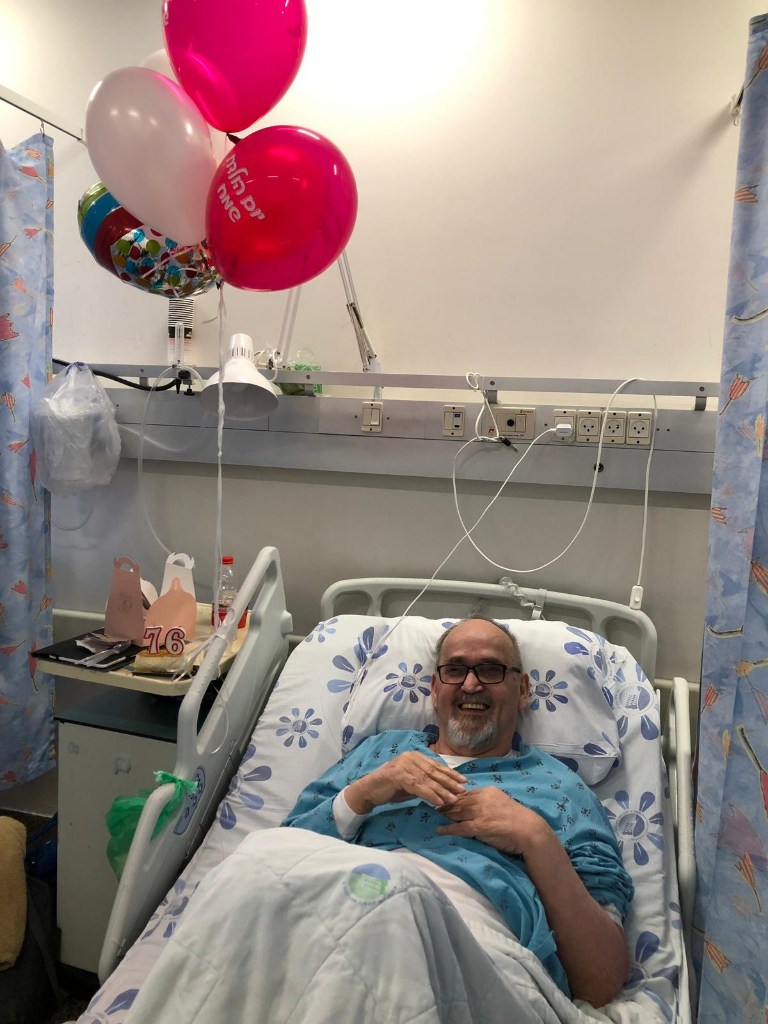 To be honest with you, when Timek told me this story, I also had tears in my eyes. I felt great love and privilege to al these great students that we have. To the mechina in Meitsar and to Timek, from Lechaim who is walking with the students all the year around, like a father to his children.
I couldn't help myself and I called Tair – she is responsible for the students in Meitsar - and I complimented her so much for the good job the school is doing in Meitsar. I also called Shachar, young beautiful soul, one of the righteous, that took time to buy for Eliram a cake and balloons so he will feel not forgotten.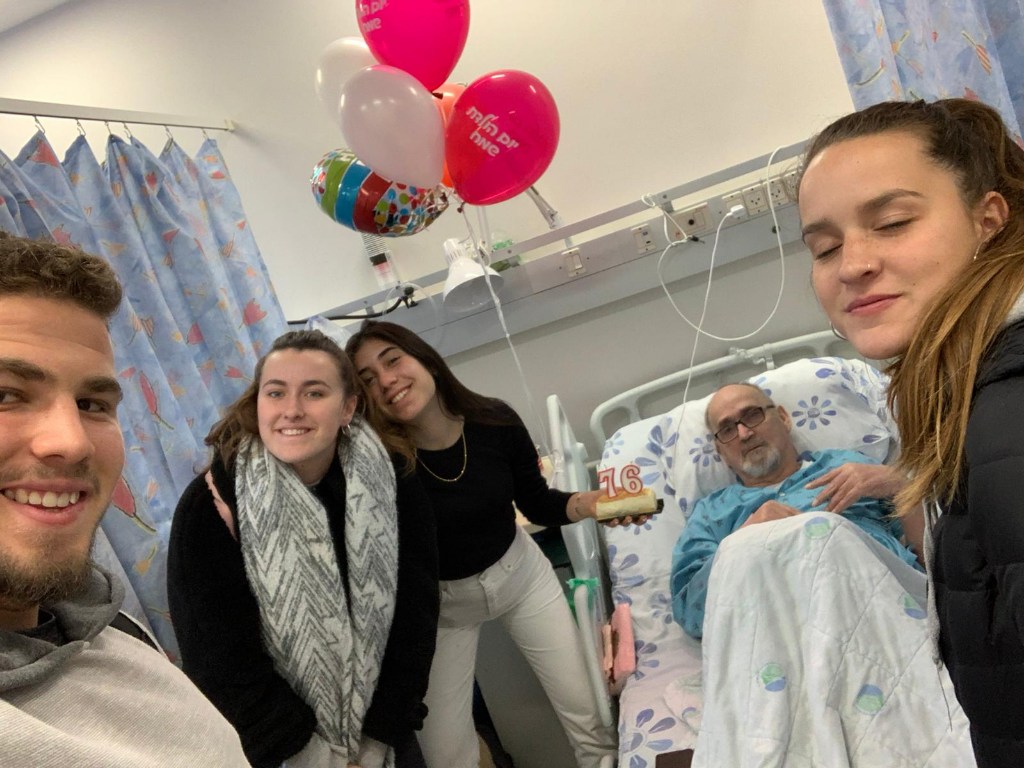 This is a great story before the Chanukah festival starts friends, a real music.

God bless you all and thanks G-d, who give me and you the privilege to be part of this beautiful symphony.

Shalom,
Daniel




United hearts in unity
November 28, 2019, Kislev 30, 5780

Shalom Friends,
We are so happy to share with you this report from the beautiful visits that the students do, week by week to the homes of our shoa victors. These visits represent this special unity of the heart. This new year that just started few months ago, we all feel already that the fruit of our activities taste better and better, year after year. The students are very dedicated and obligated to this great opportunity to bring light to the victors of the shoa. This is such a great joy that we all - the Lechaim members - feel, to have this great privilege to do this work in a time like this.

My dear friends there is a lot of darkness in the world these days, and also in Israel. Therefor its even more important to understand how special work we are doing, and what a great light it brings to our nation. Its all about unity.
"Ahavat Jisrael" - The Love of Israel.

And now, The festival of Chanuka is at the door steps. The Holiday of Light. During this Holiday, we would like to bring a special light to the hart of the shoa victors. Please, help us and share with us this vision.

I want to thank all of you: the members of Lechaim in Israel and all the great friends of Lechaim in Norway, in Holland and the USA. And to all our friends that put so much effort and great love in this project of unity of the heart.

Thank you all and G-d bless you.
Daniel Braun



Visits of Families from Sderot
November 17, 2019, Cheshvan 19, 5780
Shalom Chaverim,

We had a wonderful Shabbat with the families from Sderot that traveled to the Golan and finally had a chance to rest and sleep in peace. It was such a joy to see the mothers relaxing, while their children played with ear-to-ear smiles shining from their faces. As you can see in the beautiful photos below, this trip gave the families an opportunity to rejuvenate both body and soul. Unfortunately, even when there is a "cease-fire," the intense stress in Sderot is very very high. The residents never know when the sirens will sound again and the next rocket will fall. Every donation that we receive will allow us to bring more families to the Golan from the south. May we continue to feel unity with the people in the South during this period of war.

G-d Bless you All,
Daniel Braun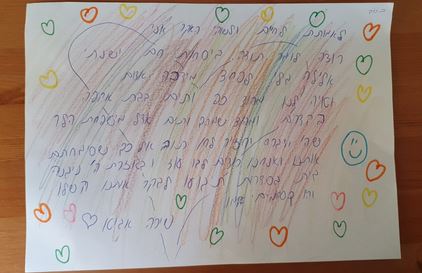 Greetings from LeChaim
November 12, 2019, Cheshvan 14, 5780
Hello Dear Friends,

As promised, we will continue to send out reports keeping you involved in our programs about once a month.
The next one, with wonderful stories and photos to share, will be sent in about two weeks. In the meantime, I would like to give over a few of my thoughts.

First, I would like to say that we have had a fantastic beginning of the year. Our current group of students are showing great dedication to the work of LeChaim and building strong connections to our representatives - Timik, Shir, and myself.
We are already witnessing the great fruits of our efforts. The "Winners" of the Holocaust are joyfully receiving the students and trust is growing rapidly. I want to remind all of us that one of LeChaim's most important goals is to actualize the well-known command from our Torah, "Love your neighbors as yourself" ( and love your neighbor as you). We are doing this by connecting Israeli youth with our Jewish history and people and ideology of the Jewish nation. There is great hunger and thirst in the souls of our young people to do something meaningful in their lives in our times. What I mean by "our time" is that we are now using so much technology that our connections with one another are usually through machines in short messages. As we all know, nothing can replace a warm, true, lev b'lev (heart to heart) connection. This is the essence of the work we are trying to do and I must say that great efforts by our current group of students seem to embody this famous verse from our holy Torah. I admire them for that.

I would also like to share with you a short story about a Holocaust survivor named Tova from Haifa. We have been in touch with her for years. She is now almost in her 9th decade of life and unfortunately is ill in the hospital. Tova is intelligent and clear-minded. Sadly, being in the hospital has made her frustrated and depressed to the point that she doesn't want to live anymore. When Shir became aware of this situation, she asked one of her friends named Shelly to visit Tova in the hospital.
That visit was true "first aide" for Tova. Thank G-d for Shelly and her boyfriend, Itai, who visited Tova and brought her a lot of comfort. It was not easy for them to hear of her suffering and that she wanted to leave the world. Fortunately, they were able to lift up her spirit so that she has the will to continue fighting for life.

We have seen that a number of young people are interested in joining our project from all kinds of different places. But as you know, for us, the number of volunteers is not that important. Rather, the quality of the people, and their bond towards the project throughout the year, is what makes a difference. Before we close this letter, I want to say that what gives me so much pride in our project is to see the real enthusiasm, the fire in the hearts of our youth, transmitted to the "Winners" of the Holocaust.
This is a real medication, my friends. We will continue with Gd's help to do this work. Thanks to Hashem who gives us the credit to do the work that we do. We don't take any of that for granted.

I wish you all the best and thank you for the support you give us.
Gd Bless you All,

Daniel Braun

Email : danielxrw@gmail.com
Phone: + 972 54 772 3510
Welcome to our website at: lechaim2life.org.il (hebrew)
https://www.lechaim2life.org.il/english (english)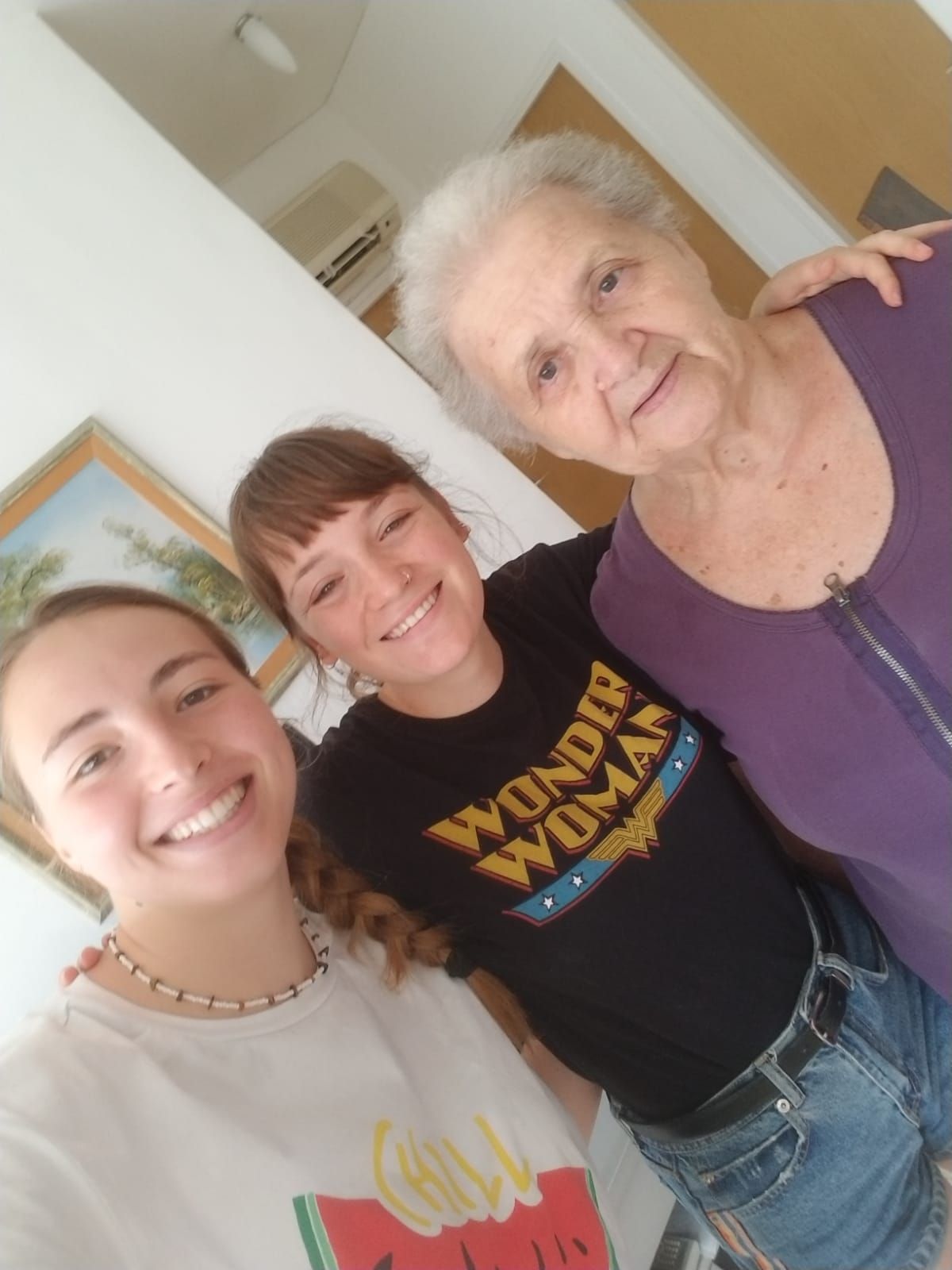 Happy new year !
Oktober 6, 2019, Tishrei 7, 5780
Dear Friends,

We, the nation of Israel are currently celebrating the Jewish New Year in the Hebrew month of Tishrei. At this same time, we are initiating our new students who are in pre-military preparatory frameworks to our special program. Timik and I have experienced the immense excitement and enthusiasm of these youth to start this project which brings so much joy and meaning to both the young and the old. As we do every year, we are meeting with each educational facility individually and telling the students about our unique project "LeChaim" for Holocaust "victors". As in prior years, we are thrilled and delighted at the wonderful youth who are so thirsty for a life of meaning and understand how important it is not to forget the elderly people, the builders of our land, and the essence of our whole nation. Please look at the pictures below and see the bright, excited eyes of these young hearts. Finally, it is so important that we, at "LeChaim," make sure to continue to elevate the the warm spirit, embodied in our Jewish hearts and souls, in both adults and young people and strengthen our unity with one another.
We want to take this opportunity to bless you, our friends in Israel, and throughout the whole world!
On this occasion, again, I want to wish a complete and speedy recovery and many blessings to Rivka and a Happy New Year to her and her family and also express appreciation for all the years of hard work and dedication that she gave with a full heart to this project. I would also like to welcome Leah Politzer, who has made Aliya with her family to Israel. Even as a mother of five children, Leah still finds the time to do the important computer work to assist with our project. We would also like to welcome Natan Greenman, who has very recently joined the "LeChaim" family, and is partnering with Leah to help with translation work. May we continue to spread light and joy for the benefit of all the people of Israel during this challenging time period.

Blessings to everyone,
Daniel Braun
Head of "LeChaim"