Closing Chanukah events!
December 6, 2013, Tewet 3, 5774

Haifa:


Shalom friends!

On the sixth candle eve, eight of our survivors (Haifa) , went with us to the resort Hotel of Bait Oren. Me and Carmit (social worker) went with them and were accepted warmly by the people in the hotel. We joined the lightning of candles, with other guests from the Hotel, and then, our hosts, took us for a tour around and presentation about the place. We realized, that this place was at first, for holocaust survivors.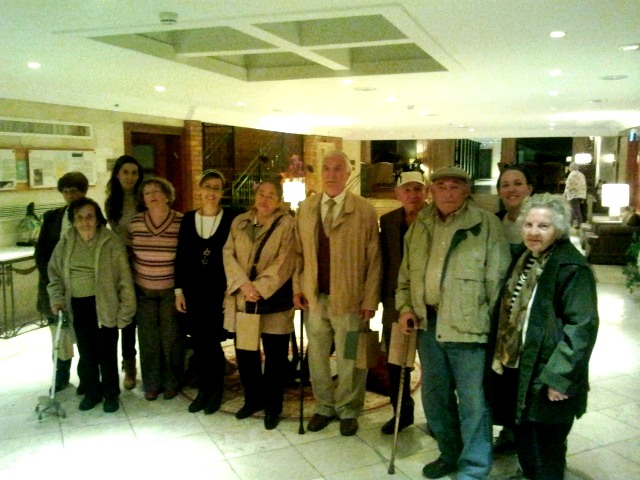 Visit to the hotel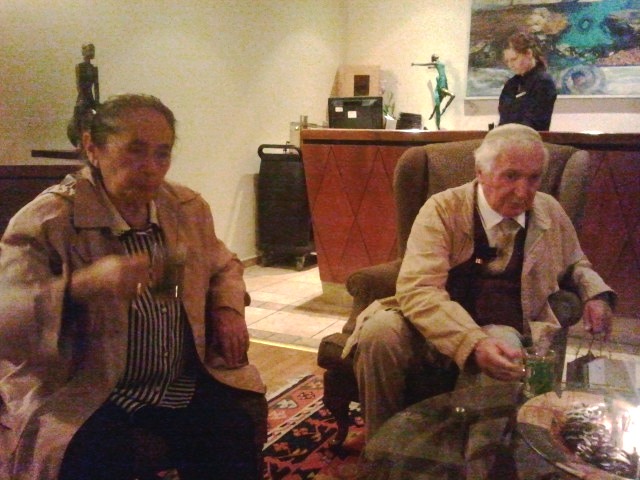 A nice cup of tea together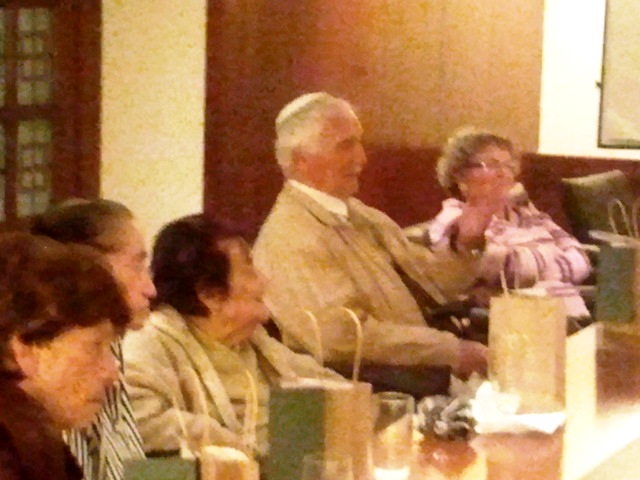 Speaking about miracles

We gathered to speak about the miracles in our lives. The discussion opened up the people and they told us their own story and the excitement was very high. After that we were invited to eat a reach  and tasty meal, and ended up, sitting in the lobby, to drink tea.

The survivors and the people from the hotel felt that this connection must be continued. As you remember, Amutat "Lechaim" has started this, and one of our lonely survivor, turned to be part of  Rami's family, the director of Human Resources in the Hotel.

We returned very happy and satisfy, back home.

Many Thanks, to the Hotel and Amutat "Lechaim" - who made this pleasant connection.

Riki Evron.

 
Pardes Channa:

On the eighth day of Chanukah, a group of soldiers who is going through conversion, came to meet some of our survivors, to listen for their stories as survivors

They met Benyamin, Ruth, Aliza and Rachmil.Daniel met them in their basis few days before and gave them presentation about Amutat "Lechaim " and what it's about. So they came already prepared on whom they are going to meet

You can see the excitement on the faces in the pictures.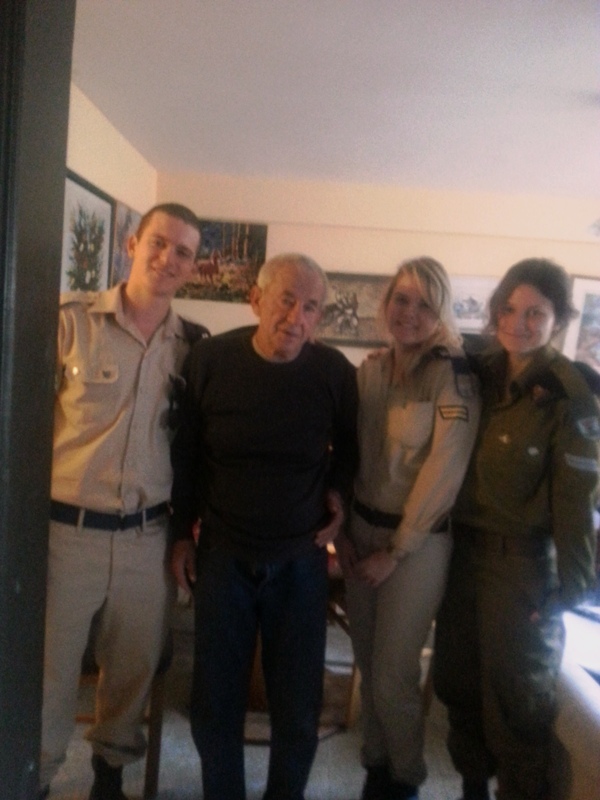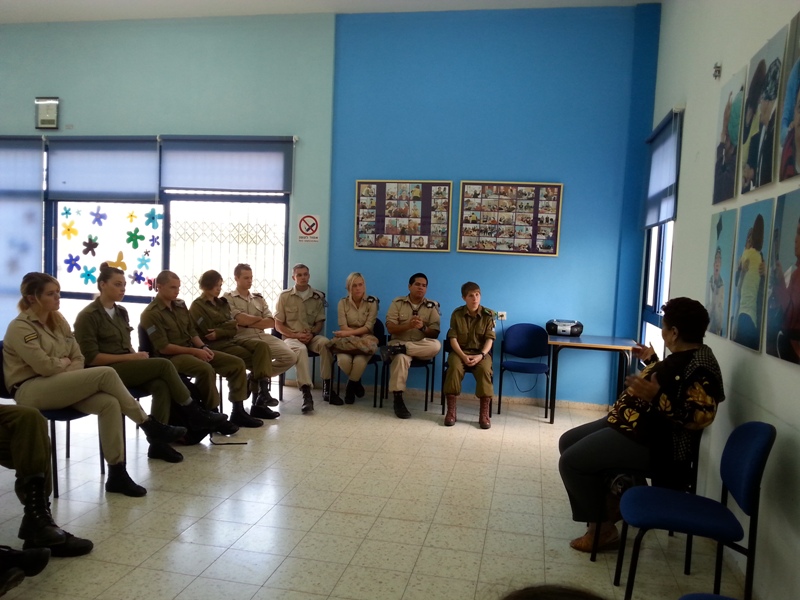 Rachmill and Aliza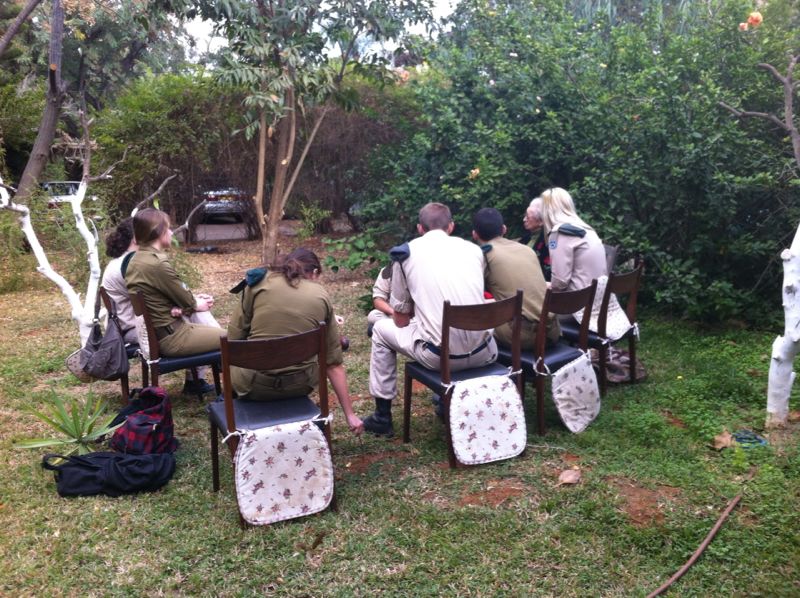 Ruth talking to the young soldiers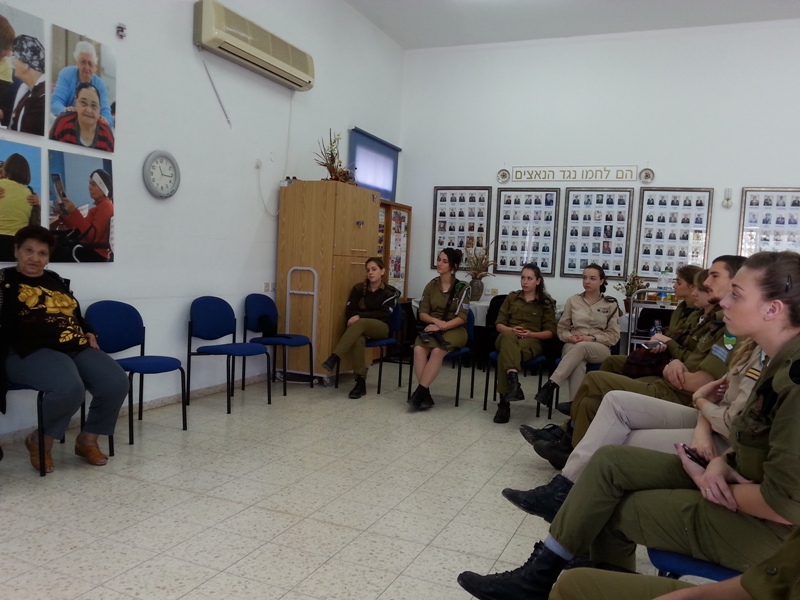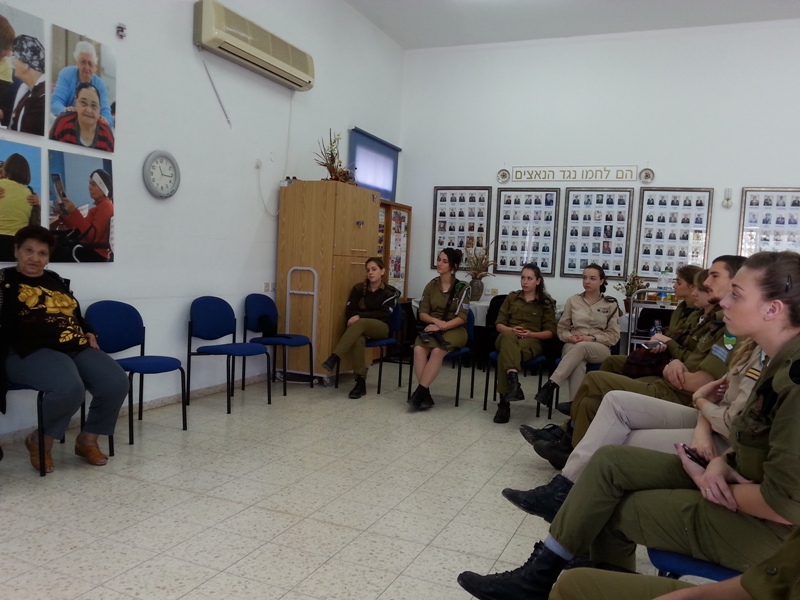 The whole group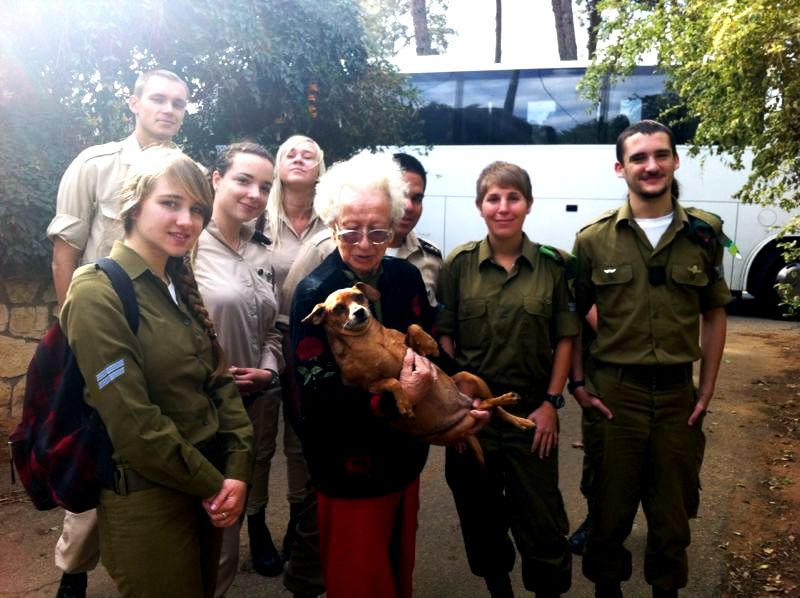 For these soldiers, it was the first time of meeting survivors and hears their stories.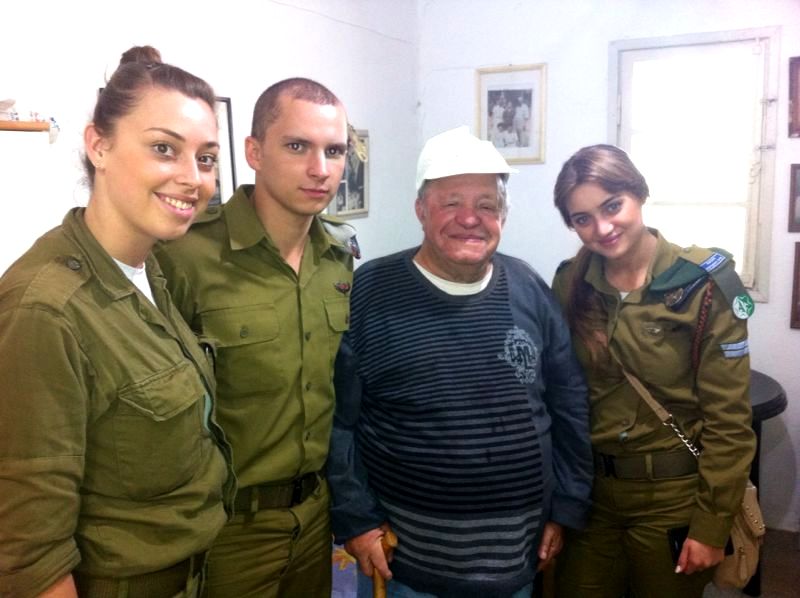 These are boys and girls that becoming closer to their sources by studying to get full Jewish identity.

After the successful visits, we gathered for some refreshment, and a discussion of what their impressions.  All of them were very impressed from this special experience. Rachmil came to me and said: "I feel finely, that I can add something for these wonderful youth."

---------------------------------------------------------------------

Here are few warm words from two of Klara's daughters:

" Dear good souls! I was extremely excited to see the pictures and the video with R. Shacahr playing on his Guitar. I noticed that my mother had tears in her eyes and it is so touching. You are doing a holy work. It's hard for me to express my deep appreciation for your work.  Thank you, deep from my heart. Please, pass this word to the active volunteers who are doing this wonderful work".

Lea.  


Thank you for the love and friendship you gave to my mother. For making her so happy each visit.

Tzipi.
 

We will continue our work doing as best as we can.

Best regards and Shabbat Shalom.

Rivka.

 
 
Daniel Braun
E-mail: danielbraun.lechaimtolife@gmail.com
Phone: + 972 54 772 3510
Welcome to our website at: www.lechaimtolife.org
Kindness as an allegory for candlelight
November 29, 2013, Kislev 26, 5774
Tonight (Wednesday), we are celebrating the first candle of Chanukah. This holiday, symbolize our nation, the wonderful miracles which has done always, by the All mighty.
The amazing fact is, that it reefers the few as the winners: modesty and limited quantity, but with quality. Our G-d show us, that even being few on the wars for the All mighty, our victories, were beyond nature, common sense or human sense.

We know the power of little oil tin which gave light for eight days. We know that a little candle can lit the dark.

For me, my friends! Candle lights are, as our amazing volunteers, which are doing their mission along the year , the light express their human love and lightning exhausted elderly, with grace which lightning bodies and minds.

Reality is not simple these days. Neither politically, diplomatically, culturally and spiritually. Within rampant chaos, wild materialism there is boys and girls who come to those remote and abandoned places in our country, week after week, devotedly, light candle of the survivor's souls by magnificent realization. This gathering is a holy act of illuminating and warming those neglected areas. A little smile of hope, of giving, listening and helping. Thes is the essence and glory of humanity which those volunteers do in an outstanding way. I would call it a drizzling rain of the Holy Spirit.

After nine active years, the miracle happens weekly. A little organization, without any offices, with a very few paid positions, without sophisticated Web, T.V. or festivals, our activities continue inside the people hearts! Accurate constant work and sustained. We experience the soul of the elderly, their body pains, their ageing, loneliness and turning to be needy. By being loyal to our vision, to go with them till the end, and do it with sensitivity (mainly with survivors) and caring . Try to imagine the strength and light it gives them

I am very proud in each of our volunteers who understand Lechaim's vision . I cherish our donors abroad , mainly the one's who go hand by hand with us and not abandon or leave us knowing that we are a little organization and any help make our holy work possible.

I feel very privileged, and proud to know you, because, besides donating money you feel, understand and experiencing the power of the spiritual and practice love we give in this project. More than all, I want to thank to the All mighty, G-d of Israel and  the universe, which blesses our project and bring abundance, light and glow.

Here in Israel I chant and sing:" Am Israel chai vekyam!" (Israel nation live and alive).

Daniel Braun
 

Pardes Channa:
Our celebrations for Chanukah had started yesterday night (Wednesday), with our youngster volunteers from Neve Michael (school for children's on risk). We took them for a first reunion with other new volunteers to listen and speak about their experience. We lit candles and greeted them for the holiday. Today (Thursday), in the afternoon, R. Shachar, with three beautiful young ladies, who came to listen, speak and hear first hand stories from our survivors. They were accepted warmly with full of cooperation. Between them, was Sivan (R.Shachar daughter). They brought a lot of happiness and big smiles (see pictures). Here are their impressions:

It was so interesting to listen and study their stories. It gives us a lot of joy and strength. We met very special and amazing survivors. It's very sad to realize how hard their lives right now. For us, to lit their face was a great opportunity. Thank you for the very special experience we had here. Sivan, Talia and Achienoam.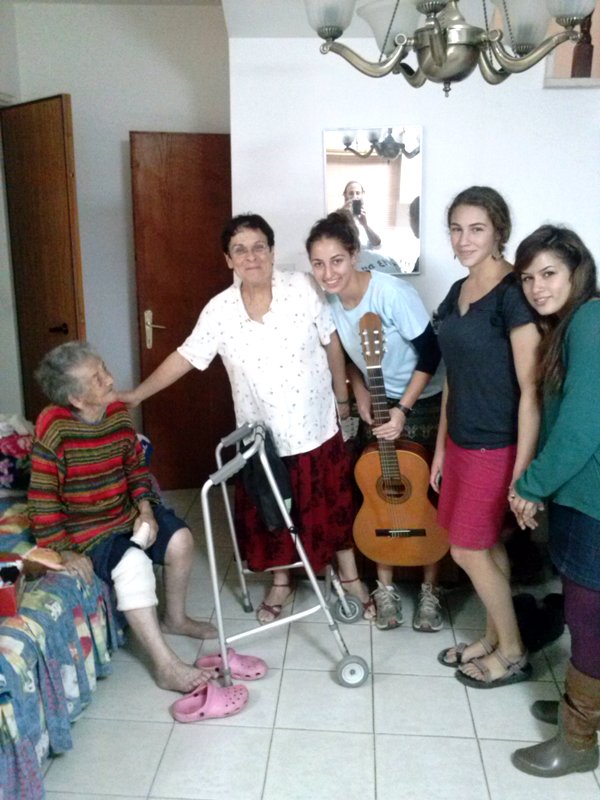 Sivan, Talia and Achinoam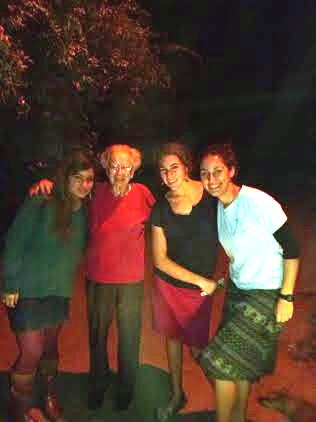 Ruth with the girls


Ruth and  Aliza told their story of their survival.

On knocking on Rachmil's door, R. Shavhar with his guitar heard a lot of noise. When he got in, he met girls from high school who came also to cheer up our Rachmil. So, R.Shachar with his guitar, and the girls with their singing, had a happy moments of lightning candles and feeling the beauty of being together. All of  our survivors, had a present for Chanuka rapped in a paper shaped as  Sevivon (driedel). Also, Sufganiot (jelly doughnut ).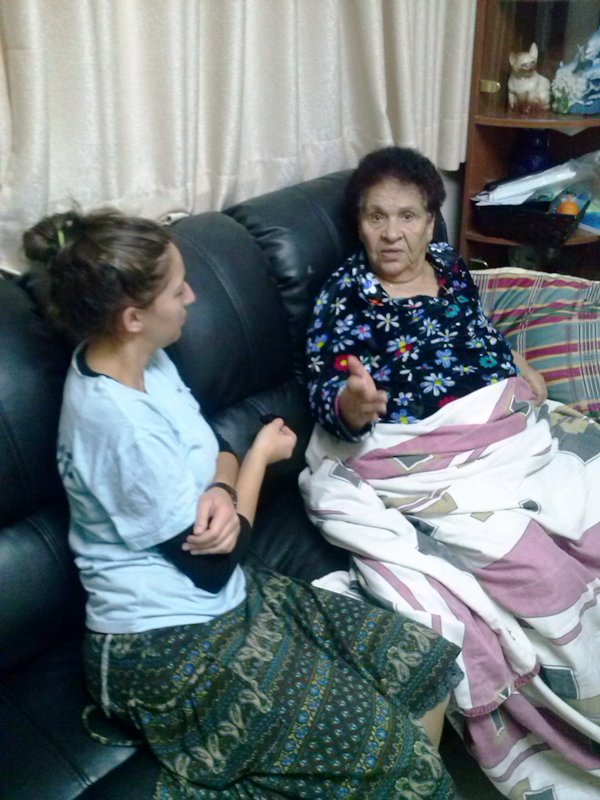 Sivan with Aliza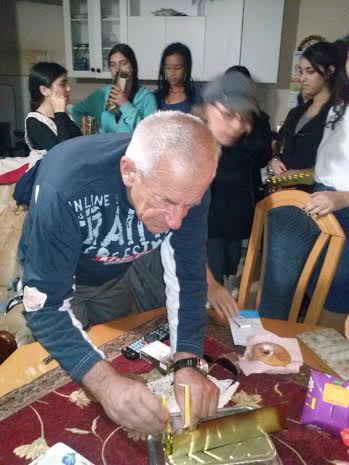 Rachmill lighting the Chanoukacandles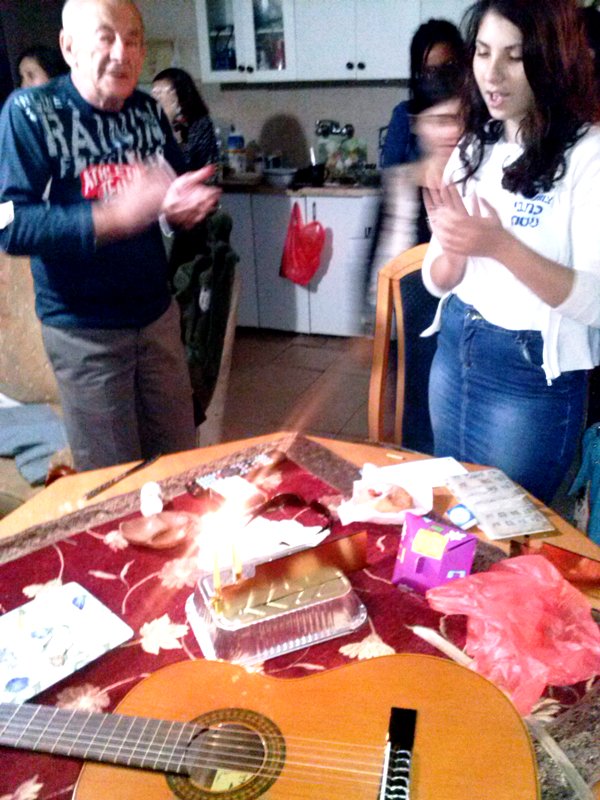 Enjoying the joy around Chanouka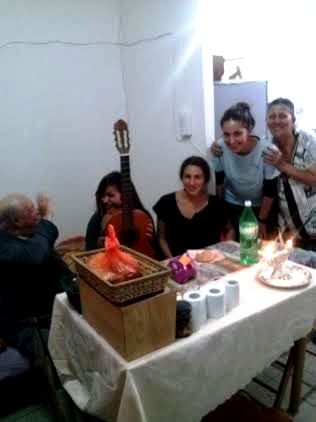 Sivan, Talia and Achinoam at Benyamin's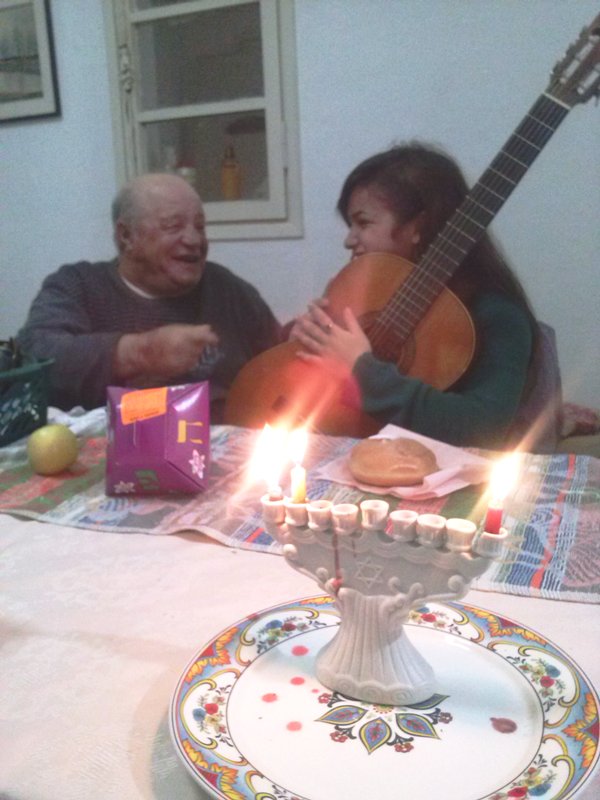 Benyamin and Achinoam

On the round of my Telephones to our survivors, at Klara's house I had the answer from her daughter, and she told me that klara passed away! Her funeral was yesterday, and they sit Shivah! She was a real warm and loving person. She loved us and never let us go, when we had to go. We will miss her very much. She had a real lighted soul!

May her memory be blessed.

Happy Chanukah! to our volunteers, Amutat "Lechaim", and our supporters, from the world. You make it possible, giving our survivors to live a better life at the old part of their lives.

Thank you!
Rivka


Haifa:
The boys came to the survivors who they know already and waiting and longing for their visit . This time, they helped Tova, to get reed from an old sofa which she
didn't have any body to take it out from her house. They also   brought her a present for the holiday and got to know her.

All the survivors got from "Lechaim" menorah and candles for the whole holiday. They were very excited getting this for Chanukah.

Best wishes for Chanukah and many thanks for "Lechaim" and the good cooperation in favor of our holocaust survivors.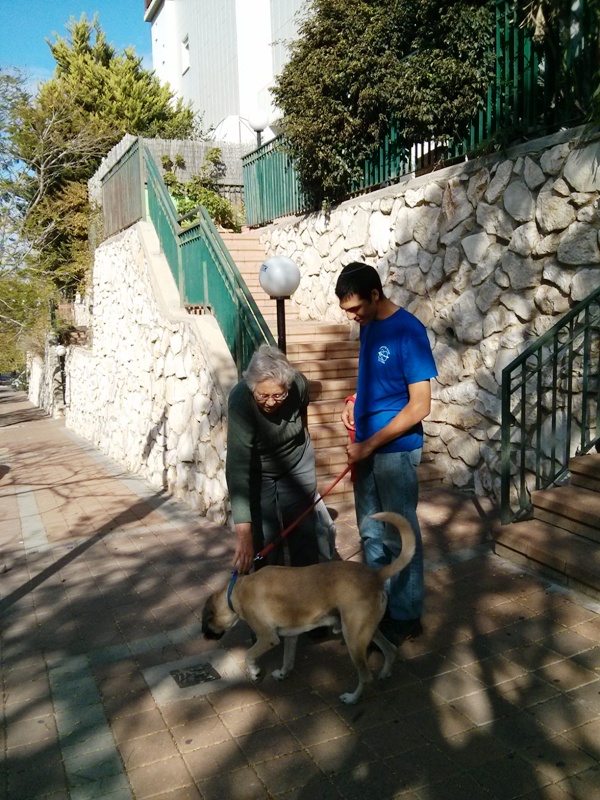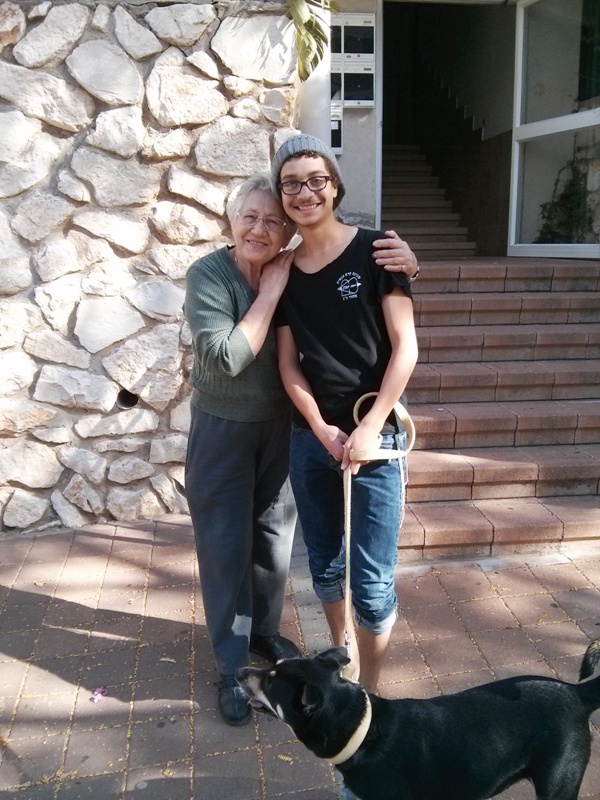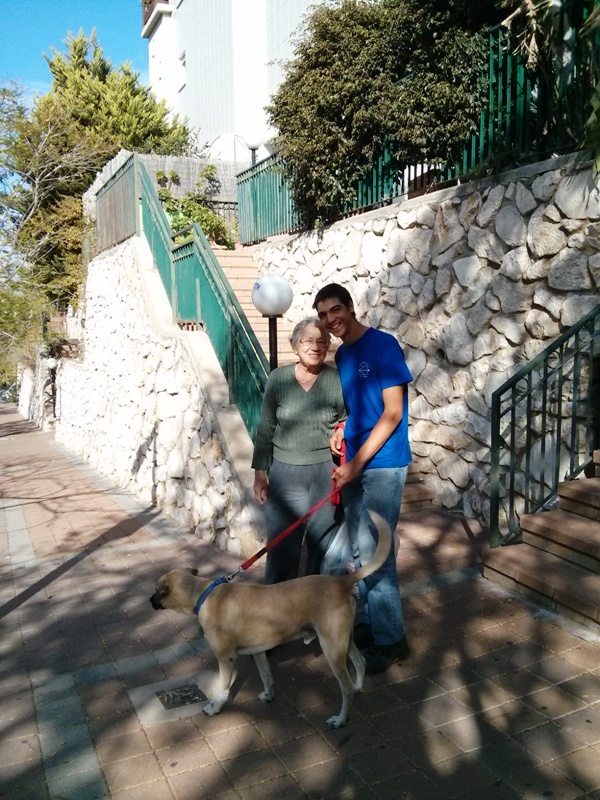 Tova from Haifa with the boys in front of her house

Riki Evron



B"H

Shalom to all!

Another fine visit to our good friends in Haifa.  We brought Menorahs and candles along with our smiles and other goodies. Chanukah is here and the boys were like shining lights brightening up the survivor's day.

"Each time we visit, I learn something new about our past. It's hard for me to believe that people could treat other people like that." Jeremy pointed out."Yeah, it's one thing reading or watching a movie about it, but it's another when I hear first hand…it's makes me angry." Was an emotional response by Eli. This was a snippet from a lively discussion the boys had at lunch after finishing their visits. In the end they felt that what they were doing was very important to them and they would never forget these visits.

Rikki had a job for the boys. Move a sofa down stairs from one the survivor's apartment. Tova was grateful to have these strong young men effortlessly move the heavy couch from her apartment. She was beaming with pride! They boys felt the appreciation and were delighted to be able to do it.

Chaim reported once again on his visit: "My partner and I left the bus and headed into the building where our survivor was located. When we reached the third floor door and knocked, my partner and I waited with the gifts until the door opened. It did quite quickly, and our survivor, Ya'akov was smiling. He opened the door wide and we entered and presented him with his gifts of food and menorah. Ya'akov lives in a respectable, medium-sized apartment. It is quite airy and has a nice view of the Haifa waterfront, shipyards, and city in-between his house and the waterfront. He was very mobile and went to get us some water, which he insisted on doing. He was very talkative throughout the visit, and mentioned that he likes to watch films of Nazis getting massacred and he mentioned that "Inglorious Bastards" was one of his favorite movies, due to the fact that Hitler dies at the end. We talked about what he does during the week, which amounts to basically nothing other than going to Beit Kenesset, watching TV, reading, and going to various doctor appointments. Then we talked about Chanukah and then he showed us beautiful menorah, which was passed down for over three generations. He wasn't so sure how old it was, but he was sure it was older than eighty years.

Before we knew it, it was time to leave, and he accepted the fact that we had to go see another person in a similar condition to his – living alone, old, and quite bored. We bid him farewell, shook hands, wished him a happy Chanukah, Shabbat, and Week, and left. all in all, Ya'akov was very full of energy and spirit, and engaged us both in an interesting conversation. He always looks forward to seeing us, as do we him.

 Now, a little on Chanukkah…

 As you may or may not know but Hanukah means rededicate. I like to think that for our little group we are like Hanukah. Why because we are eight guys and each young man is like a Hanukkah candle. As you can see for yourself how much light these young men bring to the world. And they are just getting started. Each young man carried a special light inside them that shines out the world. How many young men do you know that do what they do? They represent the rededication of our Nation, just like in the days of old. Our survivors were under great oppression with little and no hope. Yet just like the miracles that happend back in those days. We clearly see the miracles happening today! So when light your menorah or if you are not Jewish or you happen to see one, Think of how you the supporter, along with Daniel and the boys, are bringing a great light to the world and that we are in the process of  rededicating the great Nation of Israel!

Happy Channkah,
Avraham.


News from the North:

Ginosar:
Every week, the students from Maitzar, visit the survivors in their homes. They already built up, good relationships, and they wait for them and
cherish these special moments.

Eden and Sharon visit Eliram and Eirit. They speak, laugh, and try to get know each other.

See also pictures below of Zelma and EliRam.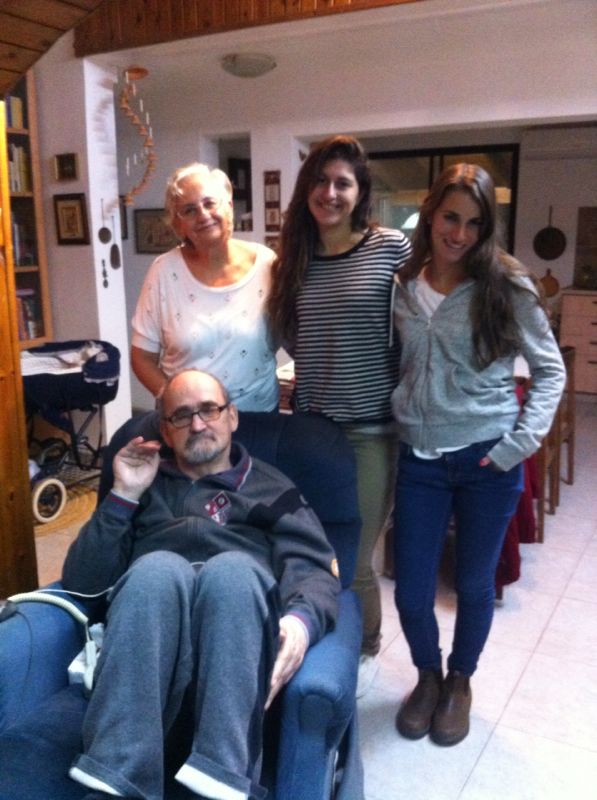 Eliram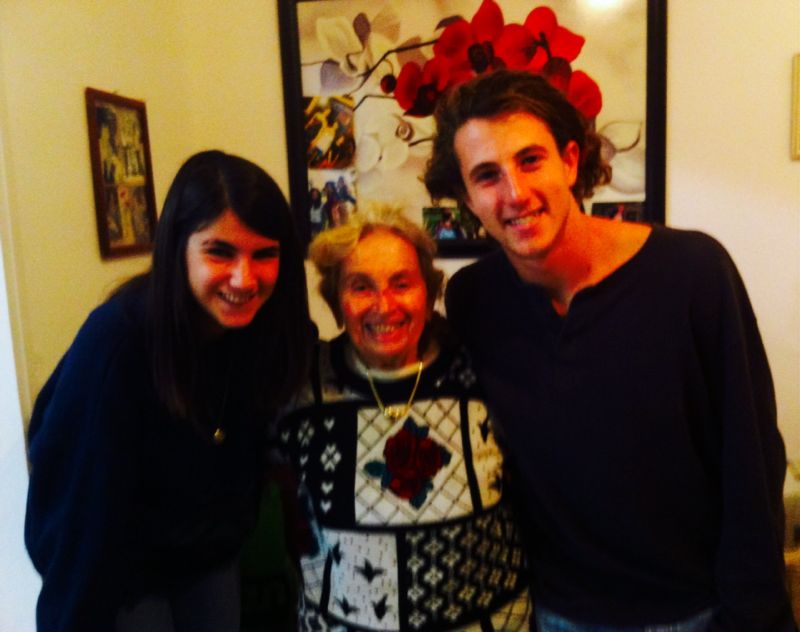 Zelma

Chava, is over 90 years old and became recently very weak . She gets help from a nurse, who take care of her around the clock. It is pity, that she can't receive students anymore.


Kiryat Shmona:
Eliahu enjoyed the last week visit, very much. The students, brings joy and smile into his life and his house.
Also Neli, Ina and Rina enjoy the visit. They tell a bit about their lives to the students.
Tamara, is recovering from her operation. Her wounds in the lags, doesn't heal and she have a lot of pains. She replaced her wheelchair, by a walker.
She still can't leave her house. 

Katzrin:
Shlomo, is so happy with the students. It is hard to leave his house. he tell a lot of special stories. His heart, burning to tell what happened to him during the Shoa. Talja,  was so happy that her sick body allowed her, to receive the students. She told her visitors a lot, and we had fun together.
Rosa, was very sick and she is getting worse. We couldn't visit her. Shaul, loves the students who are interested in his life and in his stories.
 

Tiberias:
Fanja's husband passed away and now she is more lonely than before. She loves when I come and bring her a smile and a healthy package of food, and a present for Chanukah. She knows, that she is not alone! Somebody care for her. That, gives her strength to go on with her life.

Shalom,
Timek


This is our report for these days of Chanuka.

Best regards,
Rivka


E-mail: danielbraun.lechaimtolife@gmail.com
Phone: + 972 54 772 3510
Welcome to our website at: www.lechaimtolife.org