Chanuka events
December 19, 2014, Kislev 27, 5775
Dear friends!
Hanukkah is the holiday of light which rejects darkness. It is the holiday of miracles and wonders which G-d has done for us. Let's go deeper: Who were the brave Maccabim? Mattityahu and Judah, his son, were special people, there hearts were on fire with righteousness through faith, that the Almighty will do anything even against all impossibilities. They had a great vision. The truth and the fire in their hearts, resonated with the fighters and lit the Holy Spirit by turning darkness into a big light. They won, even though they were few against many Greeks. How can it be explained? Only with a big faith and by ignoring the circumstances, did those amazing heroes make the impossible to be possible. These days, there are very few - like needles in a haystack - people who go with the truth without any hesitation, saying it out loud and going with it, especially when we are in a deep spiritual crisis in Israel and the whole world. Today, more than ever, each of us should find his inner Maccabi, to find the strength according to the message of the Prophets from the Bible with their vision and salvation of the people of Israel and the whole world.
The people of Israel are a minority and even so, there are many disagreements among them. Our project of adopting survivors is holy. Last night I was part of the Chanukah celebration which Amutat "Lechaim", organized for the survivors in Kiryat Sh'mona with the cooperation of the students from Maayan Baruch. I watched with a big smile how the fruit of many years has ripened to be as the fruits of heaven. The love, unity, closeness and quality connection between survivors who came from all over Russia, who don't even know Hebrew, and the youngsters who don't speak Russian, and yet, the warm relationship brings without words, a great connection. The Deputy Mayor of Kiryat Sh'mona honored us with his presence at the event and expressed how impressed he was from the wonderful connection which was created so simply, inspite of the differences between their world.
A short story about kindness and beauty: Gad & Tamar from Timrat, precious survivors who were distressed. Even in spite of promises from the local council, nobody came to clean their yard of leaves which had accumulated to an intolerable amount. We came with students from the Yeshiva in Migdal HaEmek, and after few hours, the yard was cleaned. This was a true Chanuka light!
To all our dear donors! thousands of thanks, to our stable and wonderful supporters, in this amazing project. Happy Chanukah, to all of our Jewish brothers, and non-Jewish friends. Lots of blessings of love and light.
Daniel

News from the North:
Kiriat Shamona:
The students of mechina Ma'ayan Baruch and the survivors, met together for Chanuka celebration in Kiryat Shmona. We had a very joyful time. Daniel spoke few encouraging words to the students and the survivors. After refreshments, the students danced with the survivors a joyful dance. The atmosphere was very warm . The students, prepared a chanuka - bingo in Russian and Hebrew. All of us, had a lot of fun together (see some of the pictures below).


Genosar:
The students from Meitsar, has celebrated chanuka in Beit Savion in Ginosar, with all the survivors together. We sang Chanuka songs together. For every shoa surviors the students prepared a beautiful personal blessings ("Bracha"),you can see the picture with Moishe. These blessings show us how much the students love the survivors. These are the most beautiful moments of the Lechaim project.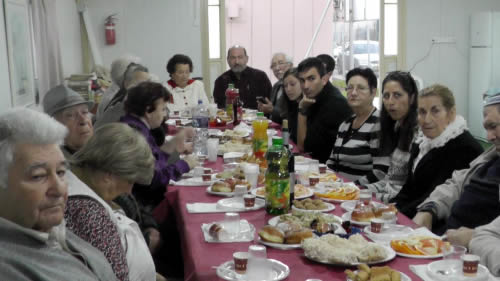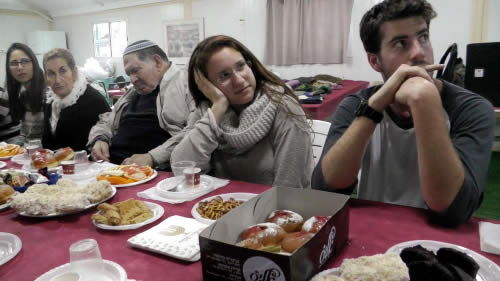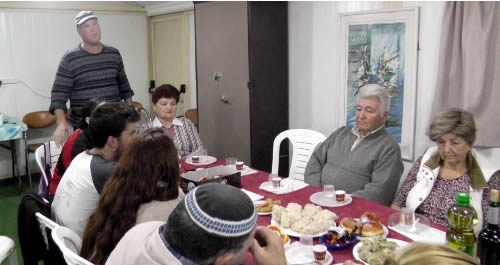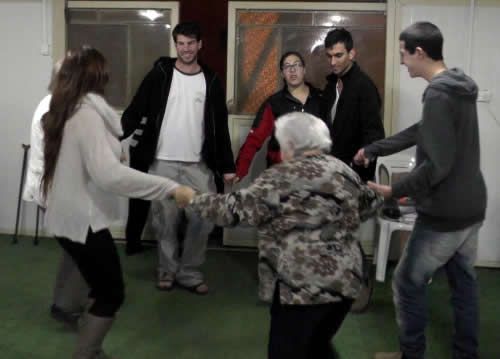 Dancing together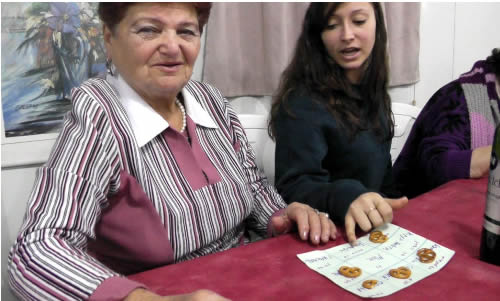 The playing of bingo with salt cookies. Nice such a variant, Clara enjoys it !!

Katzarin:
Chanuka party with the mechina students of Kfar Hanasi was cozy. Israel who will celebrate his 91st anniversary on January , had the honor to light the chanukia. We sang traditional Chanuka songs together, Shaul, Ela and Israel told us some interesting stories. We all had a good time playing bingo. The survivors enjoyed this special time with the youngsters.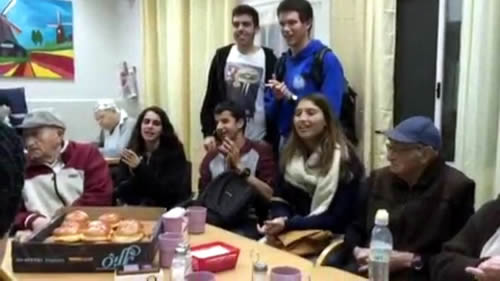 Chanoeka was celebrated in Beith Savion. The nursinghome for elderly in the kibbutz.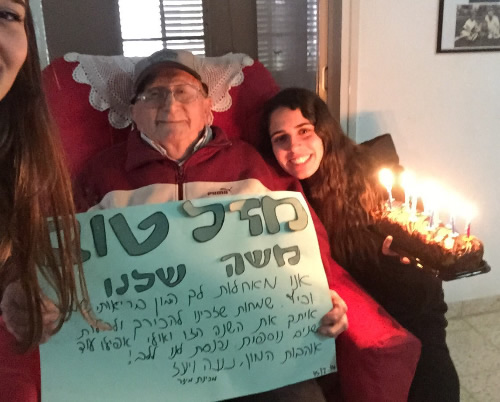 Moshe

Shalom Timek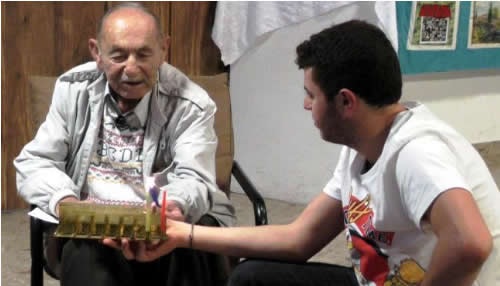 Israël, The oldest survivor.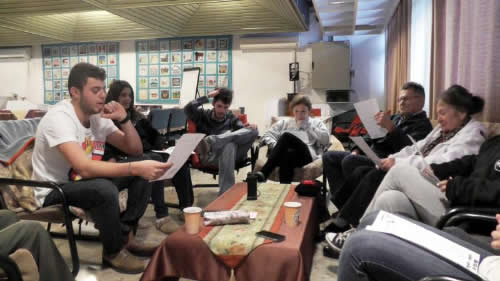 Dgania:
Kibbutz Dgania, invited us, as the representators of Amutat "Lechaim", and as honor guests to celebrate with them Chanuka. I brought with me four students from Maitzar, and they were full of motivation, and touched everybody in lighting candles and singing Hanukkah songs with a guitar and made parents and children to act together . I said some words about Amutat "Lechaim" as I had been asked, and it was a blessed activity.
Well done for the students from Maitzar for the beautiful activity.

Daniel.
Pardes Chana:
We had this time, invitation to join lightning the first candle in Neve Michael. Rachmil, Benyamin and Aliza came with R. Shachar and me. Aliza was admitted in the hospital, last week for a few days, and at first, when I told her about the invitation she said that she did not have the strength and would stay this time at home. but, when I told her how much the girls and the boys would be disappointed if she wouldn't come and how much they love her, she decided to come and join us. When we came to the place, where the event was, we saw with great surprise what the wonderful boys and girls and Zvia, prepared for Benyamin's birthday: placate with greetings to Benyamin (see the picture), and two kind of figures, made from balloons white and pale blue, and on the top, Helium Hearts. Benyamin was invited to sit nearby. After lightening the candles and singing some Chanuka songs, all the attendance started to sing happy birthday for Benyamin, dancing around him with excitement and a lot of joy. And Zvia brought a beautiful cake with Benyamin's image on it. We ate a good holiday meal (Benyamin was so astonished that he couldn't eat any thing), and after that, performances has started, First sang Or and R.Shachar (see the pic.), and than, Rachmill and R.Shachar (on the Guitar), they got a lot of applauses. There was quiz, about Chanuka, and after that, everybody got on their legs to dance (see Rachmill dancing) and it was the happiest part for the energetic youngsters. Of course, all our survivors, recieved souvenirs for the holiday and ladies, who has knit scarfs to warm up our survivors gave me and each of our dear survivors a new scarf made by good hearted ladies from Pardes Chana- Karkur. I am sure that our Benyamin never had such birthday as this one, and it all planned by Zvia the big heart behind all of it. Again we gave the chance to bring back sons to their fathers and fathers to their sons. What a great joy! many thanks to, Amutat "Lechaim", the great hearts in Neve Micaheal, and the school principle who support this connection.
Rivka.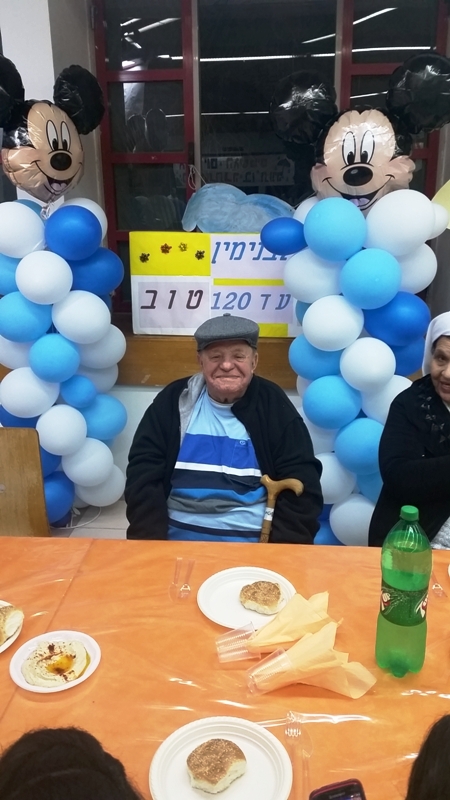 Benyamin honored.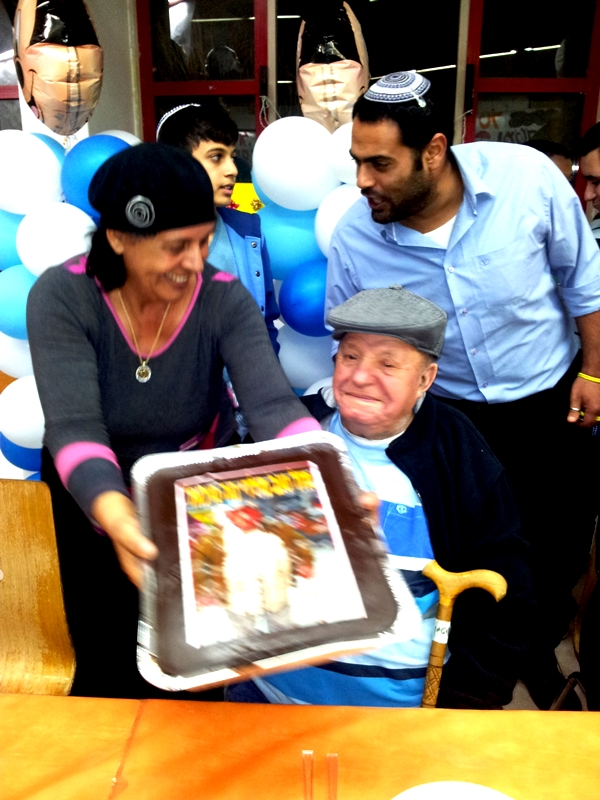 Benyamin is offered a cake with his picture on it.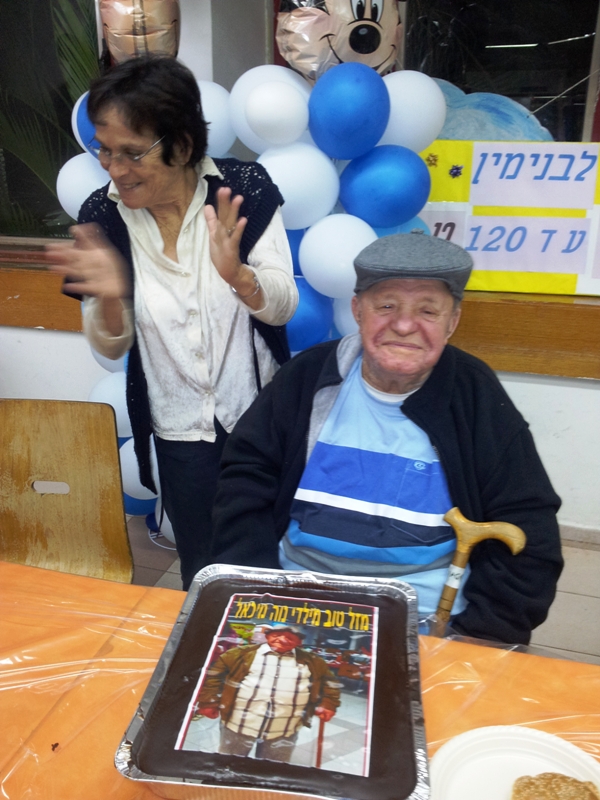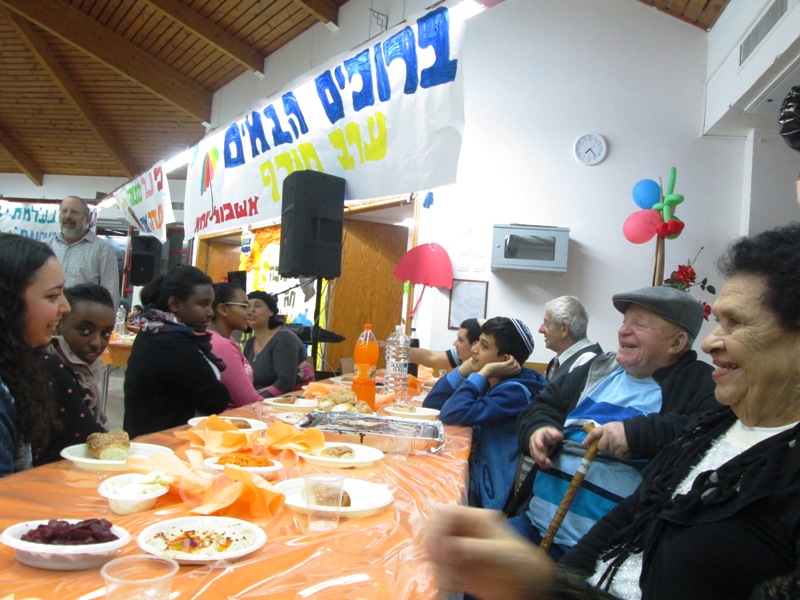 The laid table.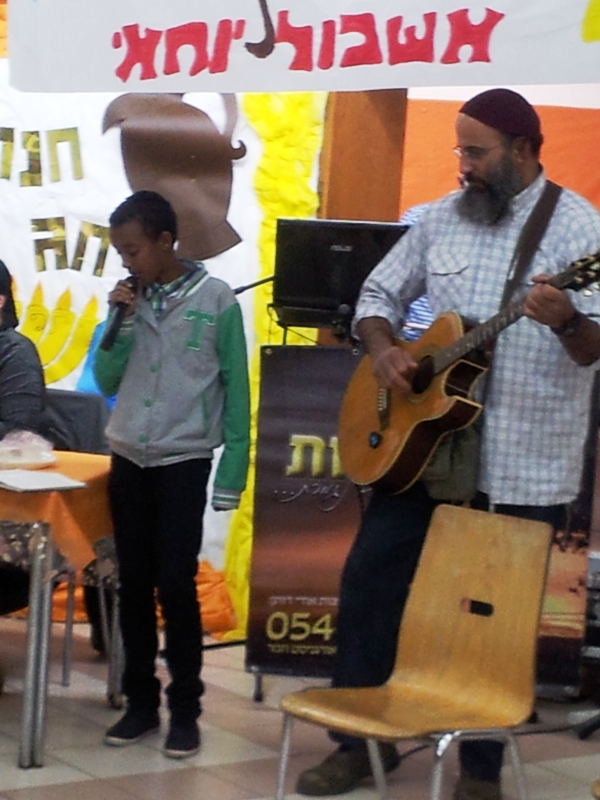 Rabbi Shachar with his guitar. Together with Chanoukasongs .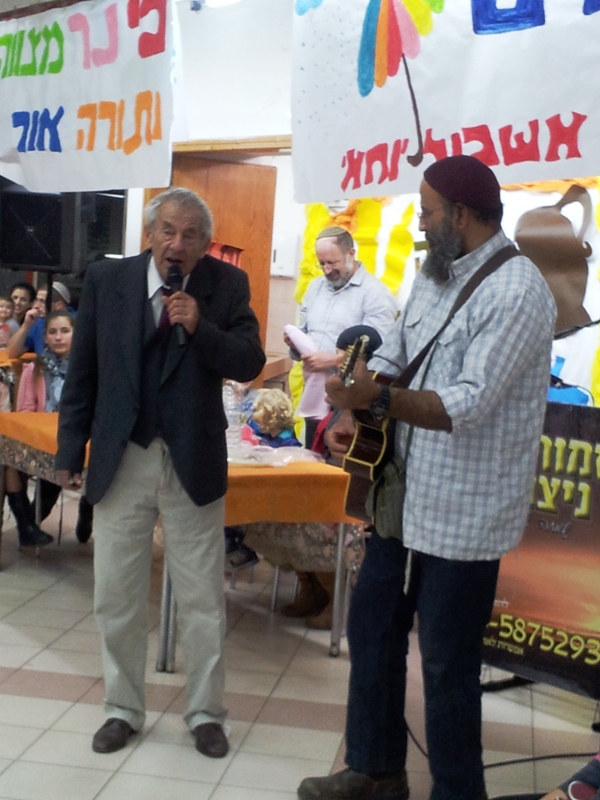 Rachmill together with Rabbi Shachar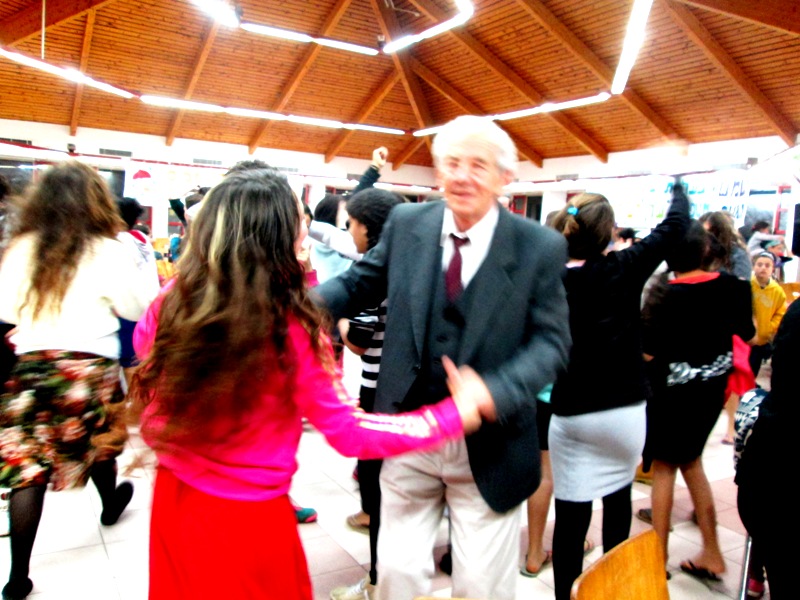 Rachmill met één van de studentes.

These were all the celebrations. Happy Chanuka !





Chanuka in Haifa


December 21, 2014, Kislev 29, 5775

Today, when we went to Haifa, the excitement was different than usual. When we packed the packages which contained Chanuka presents: Menorah, candles and dry fruits, the smell of Chanuka felt in the air, the heroes and their amazing long last survival. This spirit, kept along all our visits.

Tova, was in a good mood, and not as usual, she spoke about her history.

Chaya, told us, that when she was 7 years old, she met her father who survived the war, and how angry she was, for his disappearance along her early years, not bringing back her mother and brothers who were killed in the camps and, about her part of helping illegal immigrant during the British Mandate. The students, helped her with fixing things in her house, and said Chag Sameach on their department.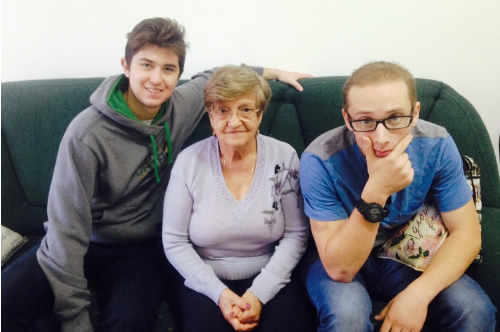 Tova of Chaya, with the students
Shalom, was as usual, with high spirit. This time he preferred to play Chess with the boys , and spoke about winning and battles. As you know , he was the Champion of Boxing , and his house is full of medals and award certificates. We departed with greetings for Chanuka, hoping to see them again next time, and telling them about the "March for life" in Zichron Yackov.
Best regards,
R. Erez
Daniel Braun
E-mail: danielxrw@gmail.com
Phone: + 972 54 772 3510
Welcome to our website at: www.lechaimtolife.org