The holiday of Chag Shavuot – When our Torah was given
June 8th, 2016 - Siewan 2, 5776
On the coming Sunday, we, the Jews, will celebrate Chag Shavuot – When our Torah was given to us. It is powerful event and an interface between worlds which affected us along all generations! Let's go deeper on a trip together: On such amazing and supreme event, Millions of Hebrew people, gathered as a united hearts, to hear the massage of the Torah. The ability, of a whole nation, to gather, feeling pure responsibility, made it receptacle on getting such G-d's present. Being together, with united hearts, was the power, of such a one - time event: Matan Torah! Thousands of years have passed, and very recently, we came back to our father's land, after being exiled for so long… Very soon we are going to get the best present and the biggest of all: salvation of the people and the world! The Torah of Israel is a life torah! It reminds each of us, daily and every minute, the essence of our life! This Torah makes it possible for us, to stop for a moment the race of life by connecting and purify ourselves, and understand our targets of life in this world. More than ever, at these times we have to understand the beauty and the depth of the holy Torah based on the Ten Commands, which are so useful in the materialistic and the fast journey of our life, reminding us of the thing: "Love your neighbor as yourself!" deep matter, which, will be researched, in another time. Again, we won to do this Mitzva with our friends from the club of injured I.D.F.
Matan Thora is a big joy for the soul, an anchor for insanity or stability in our endless experience. Happy Holiday! Daniel.

Pardes Channa
The second visit with the injured I.D.F. were on Sunday, at 09.00. I came to the club in Gan Shmuel, and met 7 charming volunteers who were ready to visit Aliza and Meir.
Meir was born 83 years ago in Hungary and he looks very good and it doesn't show his advancing age. He and his sister and brother, was at the age of 6, 8, 9 when they had to gather in a camp , meant to be sent to the east to the death camps. Somehow, his father succeed to arrange for them to be sent to an orphanage house, and this saved their life. Later on, they joined a youth movement preparing the youngsters to make Aliya. The rest of his family, were killed in the death camps… He live in Karkur, and his sister and brother live in kibbutzim. He was very pleasant, and prepared for us refreshment, and told us about his past . He spoke about his wife who passed away very few years after being his wife. Meir spoke with us about his deep regret, of not building a family with children. He tried to convince the unmarried to put an effort to do so, because now, it seems to him a great loss. He love to play Chess, and every once an a while, he joined Chess tournaments. It was decided that next visit the group will start to study this game with his guide.
Shalomi, from the group, write: We met Meir and at first we tried to learn one on each other. We present ourselves and our names, and he told us about the transfers and the life under the shadow of the Hungarian police, who were under the Germans occupation. It was very interesting. Meir asked about us and was very excited. We decided to study Chess with him, and we are very excited about it. Another group met Aliza and they spoke about the good things in life. Avi, brought a beautiful Jar with mosaic and she greet him and loved it. All of us, returned with a good feelings, back to the club. Eliza won a visit with Noa (the manager of the club) and four volunteers. They had a good time together.
On Monday, me and 3 excited charming volunteers from the club, went to visit Rachmill, and brought a picture, done by the forth mate in the group who couldn't join us this time. We set under the shadow of the trees and Rachmill gave his art criticism on the picture, and was so excited to have the chance to be heard. He promised to hang it in his room (see the pic). We decided with him that on our next visit, we will bring him all what he need to paint and he will try to get back to his ability on painting. I feel, that this group, brings Rachmill, to feel again (for a change) as partner and not as sick men who is treated between many others, but a person with his own will and want, which are accepted and have the legitimate to be expressed. I feel that we take him out of the regular routine and bring him hope to live a more meaningful life. It is great, and worth all our efforts.
Next week, we are planning, to celebrate the end of the year with the students from Neve Michael . They start their summer vacation, and they will meet our survivors again, only on September.
Have a happy Holiday! Rivka.
The holiday of Pesach: from slavery to freedom
April 22, 2016, Nissan 14, 5776
Dear friends!
On Friday night , The Israeli nation will sit around the Seder tables of Pesach. This is the holiday of freedom, and as usual, I will try to explain my humble opinion about the depth of the idea of freedom. The Israeli nation had been for hundreds of years, under a total awareness of slavery and when the soul couldn't bear it anymore, G-d made the possibility by using earth-shaking miracles, to move one big nation to do the first step in a long journey towards freedom! As I have written before, G-d is an educator and doesn't punish, but when He educates, He uses His ability to see the whole process, from the beginning till the end! One of His big lessons and a great gift for His nation, is the holiday of Pesach when the Almighty, orders the people to reduce reliance on, and to deal less, with material matters. The Mitzva to eat Matzah, is a pure and deep symbol for decreasing and using less: "Seven days you will eat Matzah"! Generally there should be less need and an increase in the awareness and the spirit of the people which has been hidden all during the slavery years. Unfortunately, the journey is very long and tiring. These days, madness has taken place of the original idea of the holiday. One month ahead, people buy like crazy, and this is shocking and doing the opposite to the original idea of the purity process of slowing down, reducing abuse of materialism. For too long, Pesach has turned into a festival of crazy and dangerous shopping. We should remember, that the journey of study, is to return back to the inner point which make us closer to our sources. I cry out in this mail and ask you to remember the meaning and the source of this holiday. The one who can understand - will understand.
Herald of down, New song from Modiin
Here is a story full of inspiration: in Modiin as you know, our dear Shir, has built a branch of "L'Chaim" in which students from her recent school, has adopted 6 Shoa winners from Modiin. For Pesach, this amazing group, has decided, to celebrate with a symbolic Pesach meal for the 6 winners and with the student's parents. Shir, was leading the whole thing with the help of her charming parents. For weeks, they had planned and organized evening with deep meanings, good food, and united and loving atmosphere. But, pay attention for the big message from that evening. Three of the winners couldn't come, because they were sick. Naturally, according to the trends these days, the natural reaction could be to cancel it and just bring food packages to their house. But, this amazing group didn't consider the term of quantity, and just knew that each soul, which will come, is a whole world, and here is the message: not a grandiose event that loses its beauty and the essence and it only feeds the ego and no more! Here, in Modiin, the melody was pure. The three winners, won the honor as kings, and as well the parents and the students, from this modest event, with value and message. For you, beloved people from Modiin, I, Daniel, hug you, and appreciate so much what you did on that evening and all that you are doing. All my love to you! The melody you have played, is
the voice of true giving and a loving, true connection. You are blessed by the Almighty with the best and blessings. Above all, Shir! you are a new song. Love you, hug you for what you are.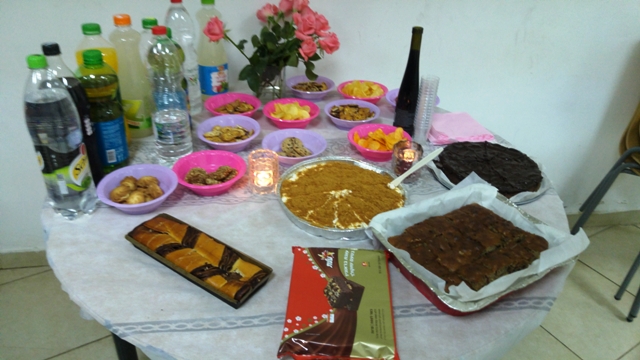 Refreshments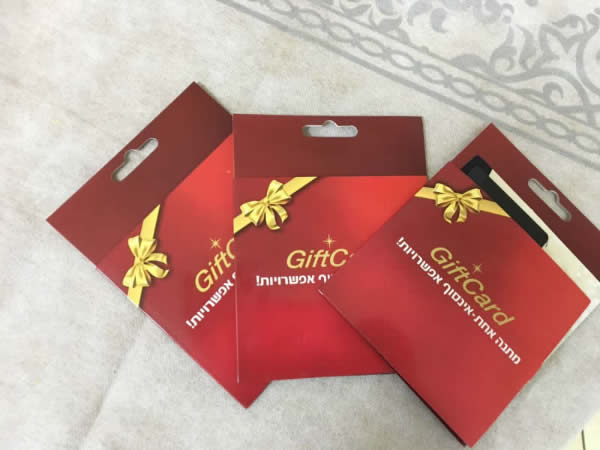 Giftcards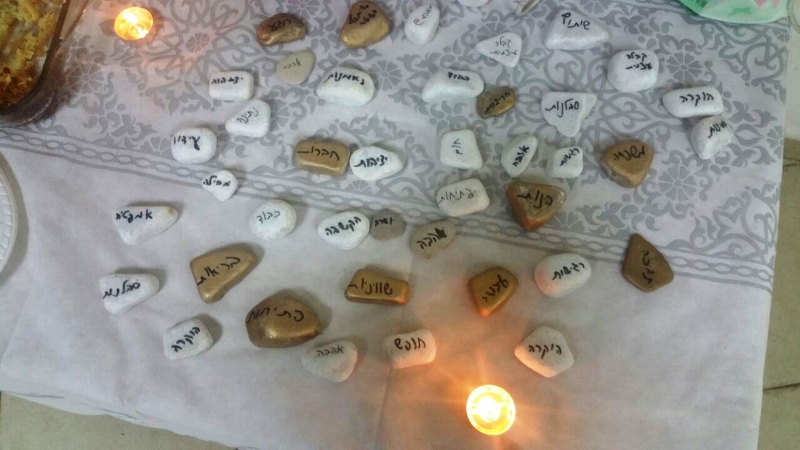 Stones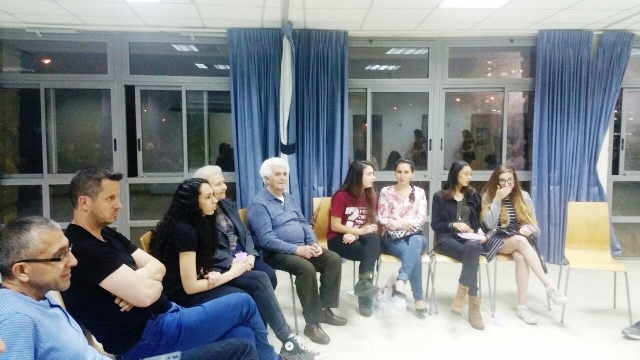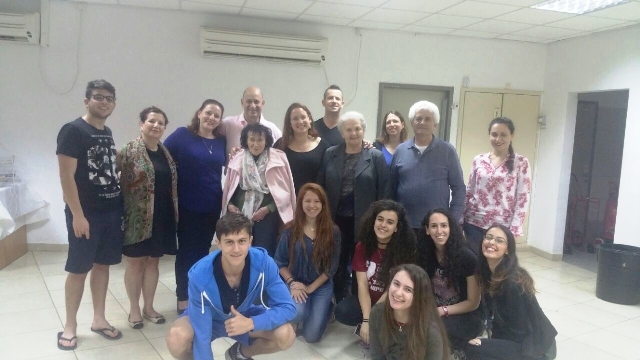 Pesach in Modaiin, all group together

Pesach activity summary: On the end of the blessed activities of Amutat "Lechaim" for Pesach, I joined symbolic Saider, which were organized by Mechina Kfar Hanasie with the winners from : Genosar, Rosh Pina, Kiriat Shamona, Neot Mordechai and other winners from the Kibutz. The students organized it with a lot of love. Well done dear students, and specially Yael.
My blessings,
Daniel

Modiin
Shir: This holiday of Pesach we decided to celebrate with a most family way. To this special eve, came Svetlana and Dimitri, and Shulamit (Chanan, Jaston and Janet were sick and we wish them a quick recovery). Our volunteers, their parents, my amazing parents, and my best friends: Maitar and Eladar. Each of us brought good food and drinks, and after tasting the food we gathered to with glace with wine to say "Lechaim" in the spirit of "L'Chaim's" family, as we say at Pesach: "to get out from slavery to freedom" and what has happens to our winners who made it possible for us, to live and be free in our own country since our birth. After that, I read a story about "The big stones". The lesson is that we have to choose the big stones to put in our life container – the things that we shouldn't give up because they are most important for us. And for Pesach we should clean our inner soul and what is an obstacle to put the important things in our lives in order to take away heavy load. Each of us has chosen the right stone to remind him at hard moments. On each of the stones were written: love, happiness, giving, patient family and more. It was interesting to hear the ones, who shared their choose word. The most exciting one was Adi, who choose for Shulamit, the love stone and told her that when ever she will feel sad; this stone will remind her, their love to her and to Chanan.
[Ed. L'Chaim to Life Netherlands: Thank you dear Shir for your wise lesson. We do not choose our own path in life. Most of all HaShem is the One Who directs our ways (if we let Him do so) ! Sometimes because of a choice we once made (and never regrets !). As a result of such choices we grow up together. It's knitting us together as a family, in a unbreakable connection, even if we never met in person. Sometimes we need to encourage each other to do the good things, like you did today.)
I am very happy for this wonderful evening. It was with mental strengths, familiarity, and love from heart to heart. It was very joyful, to meet again the volunteers and their parents, after a while of departing. I want also; to thank my amazing parents that without their help, nothing could really happened specially during this time, since I am in the army, and their support and belief in me. I really won. I wish all of us a happy holiday, and that we will know to clean our inner soul, and live the good thing in us. Let's enjoy from our unity, because this is the real joy in life.
After the party, I felt the need to end the evening with our beloved winners who couldn't join us. I took some of the good cakes and the gift for the holiday (see the picture) and went to see Janet and Jaston . It was hard to see them so week and sick, but I brought them happiness, and they were so grateful for it. I wish them from my heart, all the health and cure, they can get back.

Light translation for the video where Shulamit (Modiin) is speaking: "I am going to another club for survivors, but what I have found here is warmth and the feeling of a true love, and it feels as having a new family. It gives us a lot of strength and we feel lucky to have you dear girls."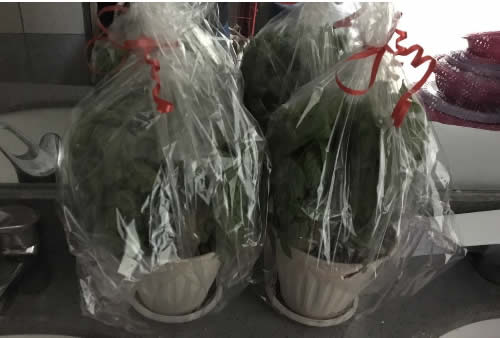 Flowers from the volunteers Adi, Neomi and Noa, who visit Shulamit and Chanan.

Shir
Three videos :
1. Shulamit
2. Svetlana greeting.
3. Shir sing what Svetlana tought her


News from the North
Weeks ago, the Mechina from Kfar Hanasie Upper Galili, have decided to organize Pesach meal for the Survivors in the area, who are neglected so much and don't get the right help from the government. We spoke with Daniel and Timek, and they helped organizing the event and the survivors. Today, we gathered for the celebration. We made all the food by ourselves and beside the meal, we sang together, blessings by Yossi – the manager of the Mechina, Daniel – the head of "Lechaim", Student from the Mechina and one of the the winners. The interaction was very good, and the exciting discussion between the winners and students caused big joy for both sides. It will stay in our mind as a successful and joyful event, and we hope that we opened some kind of tradition in our Mechina.
Pesach Sameach to all,
Yael
Through the years that I visit the shoa winners, I became part of their life and families. Their private houses, is always, open for me to enter and move there freely. This is actually, very very special. As soon as I enter to their homes, they don't hide their joy or, as well, their sorrows and needs. They are getting older and older and their growing body sorrows. They all have a lot of needs, but no one complains about it. If I ask, they give me answers. Klara , this time, showed me a box, with many pills she need to take daily. It is not easy to visit these brave people sometimes. They want to share all what is going on in their lives nowdays and not only in the past.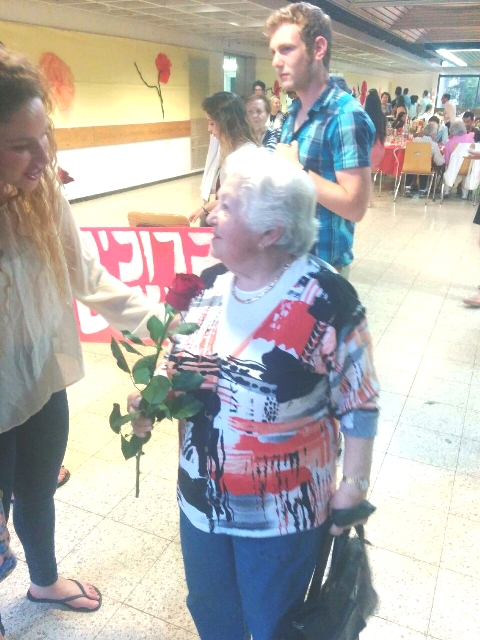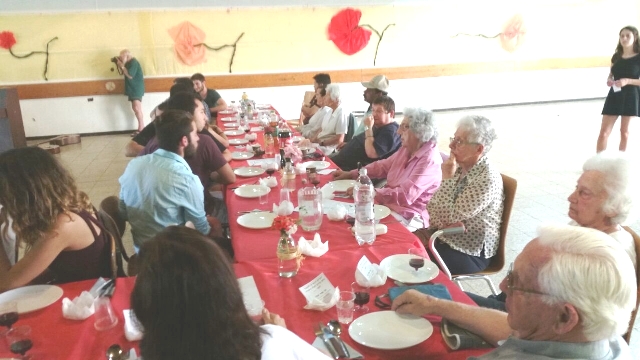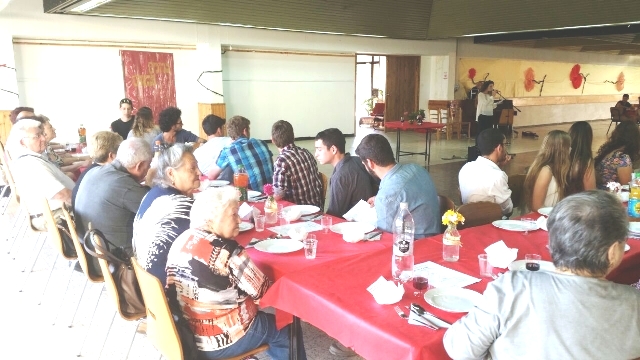 Pesach in Kfar Hanasie Upper Galili

K.Shmona
All the shoa survivors, has received their package for the holiday of Pesach. They all, appreciate it very much. The help and festivities, that "L'Chaim", give them through the whole year, and especially during the high holiday's. All received also a nice painting, a card with greetings and a flower that our Dutch friends Margo and Sheila, brought to the "march for life". See the picture with Rina.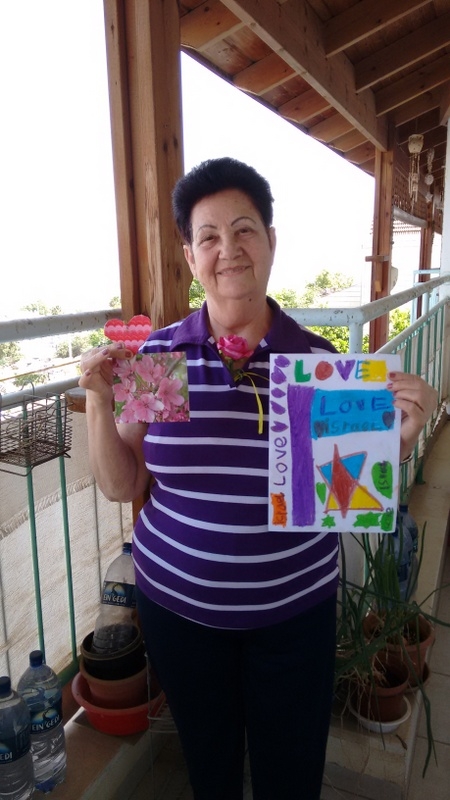 Lisa was especially happy, because the waterleak from the apartment above has been fixed, just before her birthday and the coming Pesach. The ceiling of her house looks (finely) nice and clean.
Nicolay is very weak; Zina showed me a picture from the Purim party in the elderly house. Nicolay doesn't eat the food he gets in the elderly house, and Zina is not allowed to bring him their own food. It is heart breaking.
Anatoly's Alzheimer is progressing aggressively. He knows everything, but his body coordination, is getting worse.
Eliahu, has returned from the hospital few weeks ago, but he only lay on his bed now. He can't attend the prayer services in Beit haKnesset. It is hard for his wife Bracha to take care of him. Eliahu receives medical treatment at home.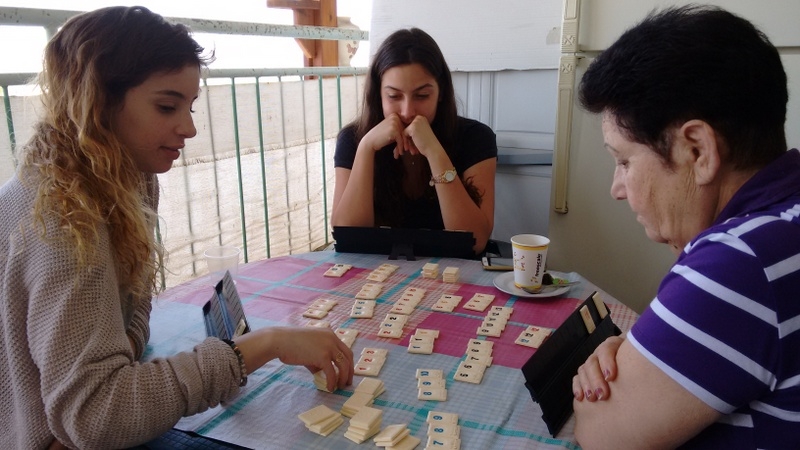 The students enjoyed visiting Rina as you can see in the pictures (playing Rumicub on the balcony).
Neot
Ibi , has returned from the hospital, three days ago. She is still very weak. She wanted so much to join the "March for Life", but on the same day her body collapsed. Her daughter didn't expect that her mother will return home, but she did! Now she needs to get her strength back again. Ibi is 92 years old, a very strong woman.
Rachel was so happy to see the girl students Shir, Shiraz and Juli. The students cooked food and played rumicub with Rachel. They all had a lot of fun.
Also Steve was happy to see Ofir and Ohad. They talked about Steve's life.

Katzrin
Shaul moved to a new apartment. He is very happy about it, because the old land lord, made a lot of problems to him. The students helped him to move. It went all very quick.
Jafim, fell down in the bath room, and hurt his arm. He doesn't feel good, and was quite depressed, when I met him, but, very glad for the attention and for the food packages and financial support that "L'Chaim" provides to him.
Shlomo and Lili, are struggling with their health. The fact, they know, those friends from Holland and other countries who think of them, makes them smile and it gives them strength.

Rosh Pina
Israel, is now alone. After a week of mourning and having family around, the life is now different and he has to adjust with it...
He enjoyed the visit of the students from Kfar HaNasi. Also Blanka and Rachel, received the students with a great joy.

Genosar
Dana and Tomer made pasta for EliRam and Irit. It was tasty and fun.
Gal and Yuval worked in the garden with Avraham. They had a great time together and Avraham told them what he did last week.
Shalom and thank all for your continuous support and prayers.
Timek
Pardes Channa
R' Shachar and me , we gathered for Kamcha Depasscha. Our bags were filled with vegetables, fruits, Matazot, gefiltefish, and other supplies. We also gave flowers, with heart and post card which were brought from Holland by our dear friend Margo and Sheilla. It was the happiest visits, and the bright eyes spoke to us with thanks for the abundance we brought. We visited all our survivors (see the pictures). Zippora, Boarones, Chaya, Aliza, Klara & Lionid, Rachmill , Yonna, Mordecai and Yeshayia. We felt that we are really help them to have a better holiday, and it was a very good feeling. Thanks for "Lechaim " and Chag Sameach.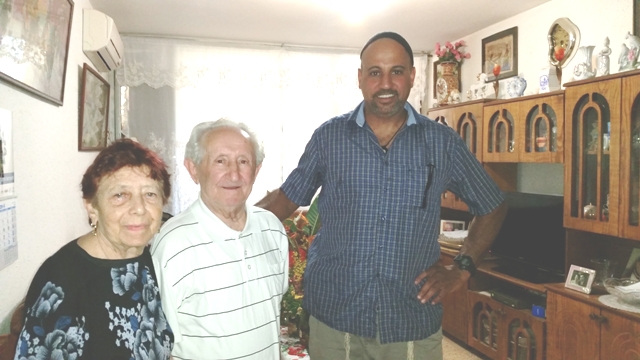 Klara and Leonid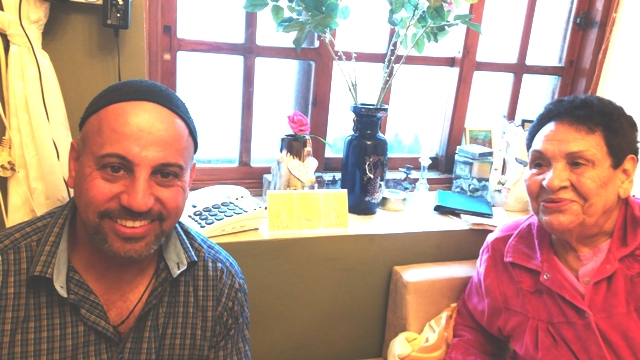 Rabbi Shachar and Aliza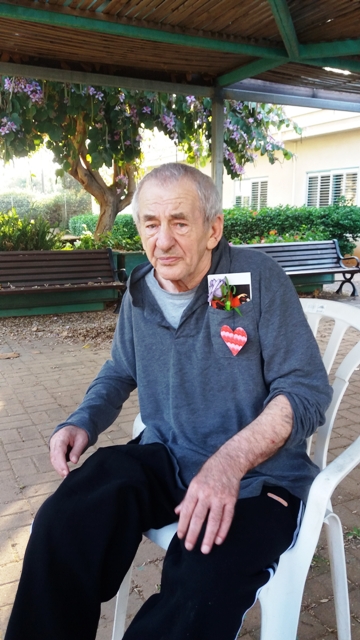 Rachmill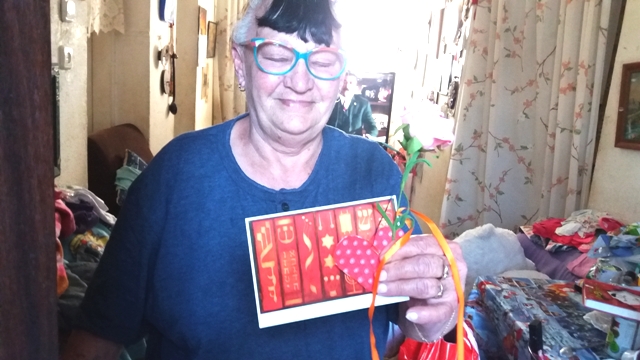 Zippora
The students from Neve Michael do have vacation and we wish them joyful holiday. They came last week to say Pesach Sameach before they went to their vacation.

Rivka

Timrat
We went to visit Gad and Tamar in Timrat, with supplies for Pesach and Matzot. Both of them were very excited from our visit
and the supplies. Tamar told us that she is doing Saider as she remembers from her parents, with all the symbols of the holiday. Gad blessed us for the holiday and we greeted them in return. The Yeshiva from Migdal Haemek.
Beer Sheva
Otto , called me to greet me for Pesach. Day after his call, I came to him in return, to greet him, and bringing coupons from "Lechaim". Otto, will celebrate the holiday with his daughter in Beer Sheva. His mood was good and thanked me for the present and the visit.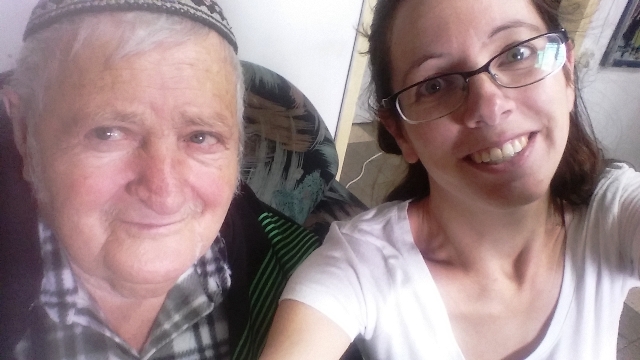 Sara & Shmuel, were very happy for my visit with my little daughter Inbar and they loved her very much. They are going to Nataniya for Pesach to their daughter. I was happy to hear that they wouldn't be alone. Shmuel leg, is getting better and Sara is watching him very carful. They send thanks for the Pesach present and greeted me and "L'Chaim".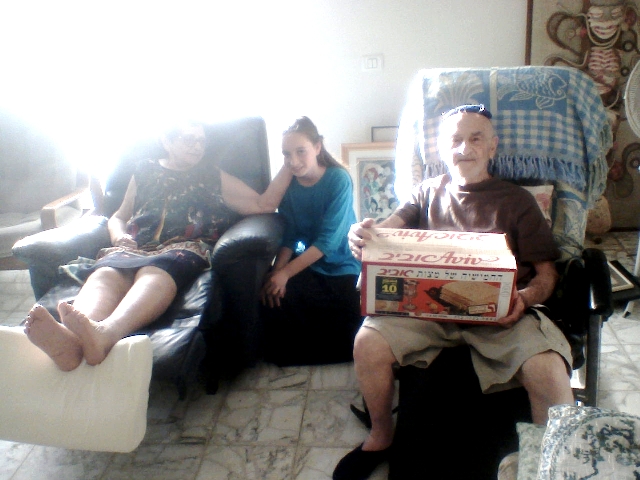 Suzan, was very happy to see me and Inbar, she is so maternal and it was charming to see her with my daughter. She showed me what she has done for Pesach. Right now, she mean to stay alone in her house for Pesach. I hope that she will change her mind…. Efrat. ( More visits will be done and will be on another report).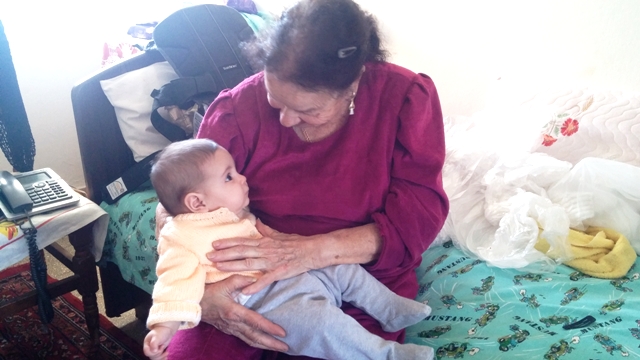 Many Thanks for all the donors, the active volunteers and above all to the Almighty, given us the oportunity to bring happiness and abundance to our dear winners and many more.
Happy Holiday to all!!!
Rivka


The Holiday of Purim and its Meanings
24 maart 2016, 14 Adar II, 5776

Dear friends!
Purim is on this week. We will study a bit deeper as to what this holiday means, and the spiritual meanings of the drinking tradition "till not knowing" ['Ad Lo Yada']. As we know, Mordechai symbolizes courage with faith which can be achieved in life. Simply, one man who refused to get addicted or enslaved to any idol or any myth. He wasn't afraid for his life and knew that the long dynasty of history, the present and future of the Jewish nation, was hidden in this courage. In Megilat Ester the name of the Almighty is not mentioned, but the essence of the Megilah is - solid faith, with the blood tie which can't be separated between Mordechai and his Father in heaven. Even at times of the 'hidden Face', it is so important to meet our inner Mordechai (the eternal truth) even it isn't easy. It is easier to be carried by the winds of fashion and get lost in the world of beliefs – the real world. We should remember and emphasise that redemption works in both levels, but in fact, it is the same level. The main thing is to change the inner soul of the human. In another word, changing our consciousness. The last change will be done by the Almighty when He will come to us and will give from His spirit. But the preparations for it, is what we have to do daily and every minute. We must develop inner listening, and the ability to see the destructive behaviour of these days, and the degree of the awareness of the human soul and what impact it has on the world.

And now, a bit deeper (as people with the ability to feel and be sensitive): the old world is in the process of being destroyed in order to give place to the new heaven and new earth (the new consciousness) taking place in the human realm.
The 'Ad Lo Yada' tradition is a blessed action only if it directs the drinking towards getting closer to G-d awareness. It means, the loosening of regular understanding, restricted and attached to the world's fashion. "Ad lo yada" can elevate the person above his known world. But, the difference of being drunk in a cheap and wild way, and being prepared in the right way, is that the channels of control are expanded beyond the regular to a safe place of elevation. Unfortunately, most people who celebrate today, find reasons for hollow and vulgar parties and the holiday turns into another kind of festival and not more than that. Only very special souls can really relate to the real essence, that of inner work. About the joy, here my friends, it is not dependent on 'anything outside', but from the joy which comes from the deep connection to the world of longing, for the time when all the screens will be taken away and the illusion of separation will cease. When we will be able to feel the united consciences. It will be the redemption.
To end, a nice little story which I experienced during a long drive: I stopped to have a break, and suddenly a saw a long ant convoy along many meters. Mistakenly and shamefully, I trampled some ants under my foot, and what I saw after that was shocking: the whole line of ants lost its harmony and they were running without any order in a crazy way. A more unique thing happened: more ants came out in panic, mysteriously concerned for their sisters' troubles, as if connected with their umbilical cord one to another. I sat on the rock and suddenly I understood: it isn't coincidence that the smartest man Solomon the king, told us to learn from the ants. I lit up with an enlightened smile, understanding the Almighty: The ants don't have any illusion of separation! They live experiencing a complete G-d consciousness! They are connected to the navel of the world constantly. They don't have to choose as we do as the crown of creation. Our journey is going through tunnels of darkness and illusion, and the promised correction when redemption comes. This is the end of the lie of the separation illusion, when all of us will experience fully, to know G-d including everything, as it has been said in Zechariah 14:9: "On that day, will be Hashem – one, and His name one!"
We should remember: our generation is going through difficult transitions between the old world and the new world. Our generation encompasses the chronicles and all the human history along thousands of years of our existence. It is a heavy journey, and we feel through us all the results of this history, and we are going through a process of being purified from the rivers of illusion. The one who can understand – will understand: It is a real painful process but a simple one, and Mordechai's faith and courage are needed. Happy holiday with a lot of joy!
P.S. after all what I have said about the drinking "Ad Lo Yada" in order to reach spiritual elevation, I am personally, against the idea for the need to use any alcohol or other such things, believing deep in my heart in the natural process of life, preparing the instrument in a healthy and balanced way. Short cuts have never promoted humanity! We should remember that Purim is not a holiday from the Torah, but joined our holidays much later.
I wish that our joy will come from healthy and full sources. Daniel.

Modiin
Shir: Last week, I had a surprise party for my 20th birthday. All my family came and as part of my family came my grand mothers/fathers of "Lechaim " family in Modiin. It was great! I don't have enough words to explain how excited I was to see them between us. They greeted me in front of my family and I almost cried from their warm words. My family had deep impression from them and was very excited to get to know them. I couldn't ask for a better party as it was.



Tomorrow (Sunday), I start my basic military training in the army, and very excited carrying in my heart all the greetings I have got from my dear Shoa winners, and can't wait to come and visit them as a soldier.
Dear Shir! best wishes for your new journey in the army. We wish you good luck and interesting service. Keep yourself healthy and safe! From your "L'chaim" family.
On Thursday, we came to visit Janet and Jaston. They told us how much they enjoyed from the fundraising eve, and the "March for life" with Amutat "L'Chaim".



Janet and Jaston wrote Purim greetings.
Janet prepared for us a very tasty tortilla with her very special Nana tea. Jaston looks much better these days.



Today we came to Svetlana and Dimitri after not seeing them a long time. When Dimitri had his rest, Svetlana told us,how much the fundraising eve was exciting for them. We brought for them Misloach Manot and they were very excited from this.

Visiting Shlomit


News from the North

Kiryat Shmona
We prepared a joyful purim party in the comunity house. Some of the students from the mechina Mayan Baruch, helped to prepare the hall, I brought drinks and food for the party and for everyone a good healthy package of fruits and vegetables.
The survivors and the students have spent quality time together. We spoke about Purim, we talked, hugged, danced, sang purim songs together, as one big family.

The students prepared also a traditional purim bingo. It was great fun and a lot of joy. Enjoy the pictures.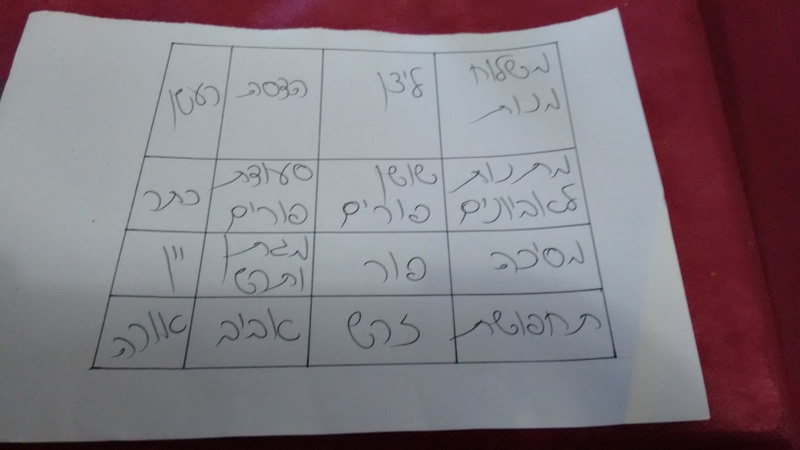 Bingo sheet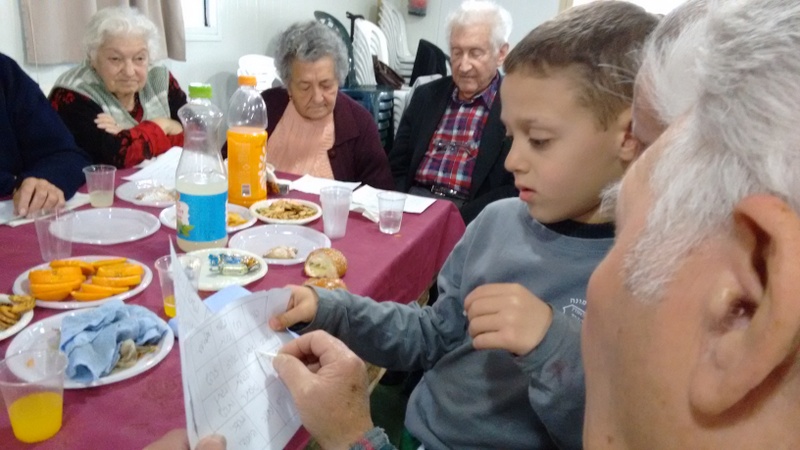 Purim Bingo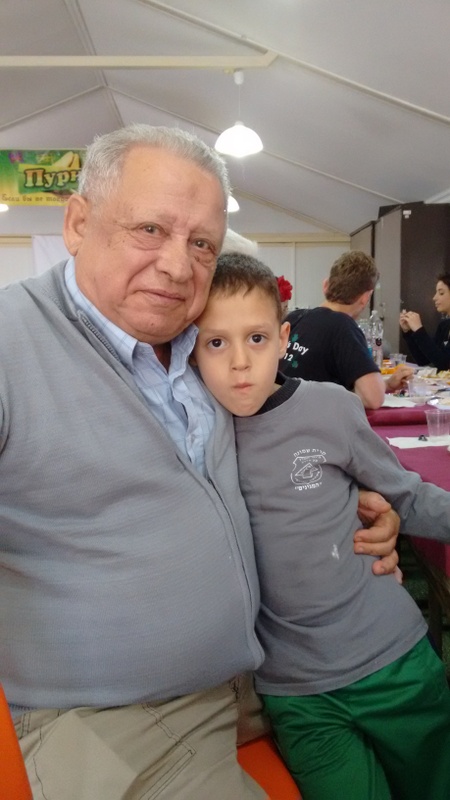 Roman with his grandson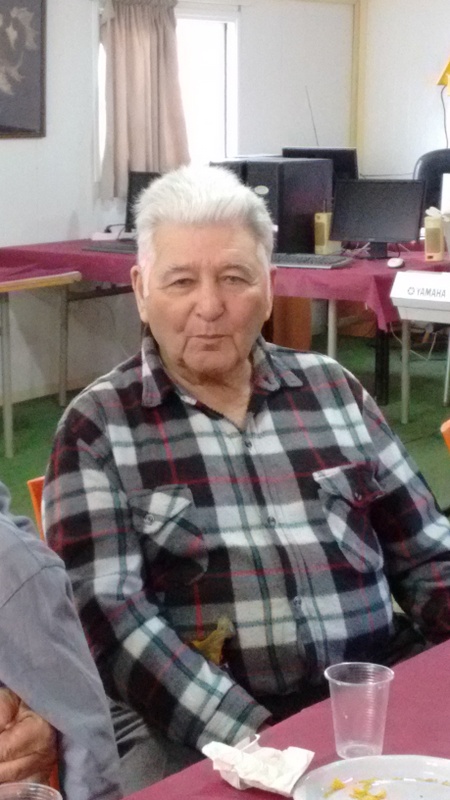 Anatoli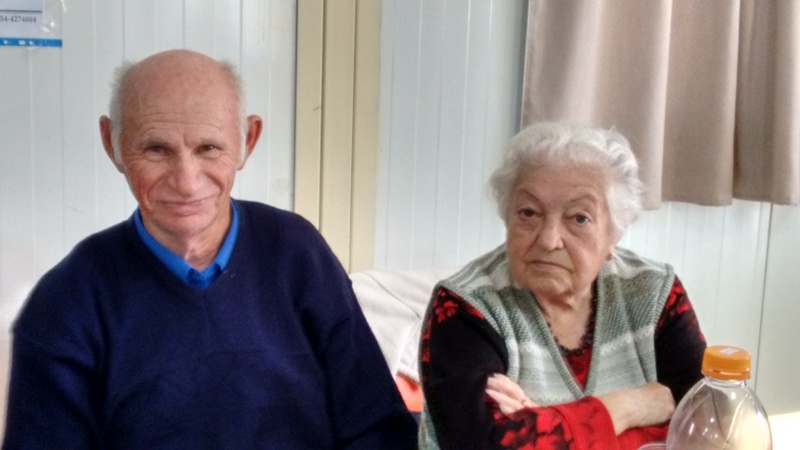 Israel and Neli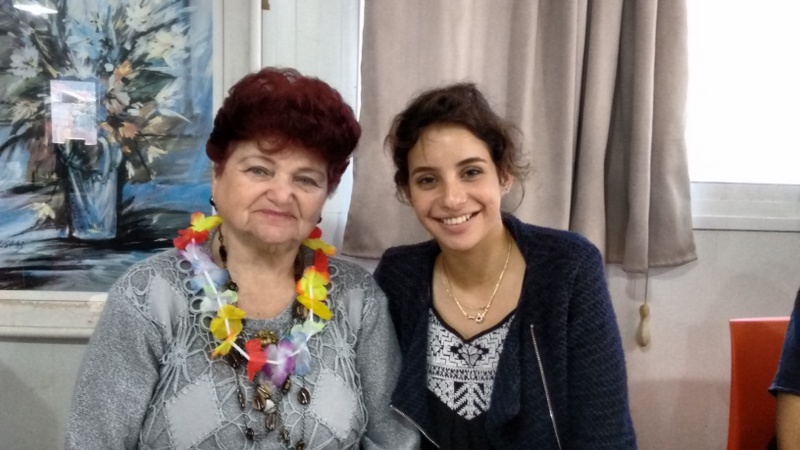 Klara and Shiraz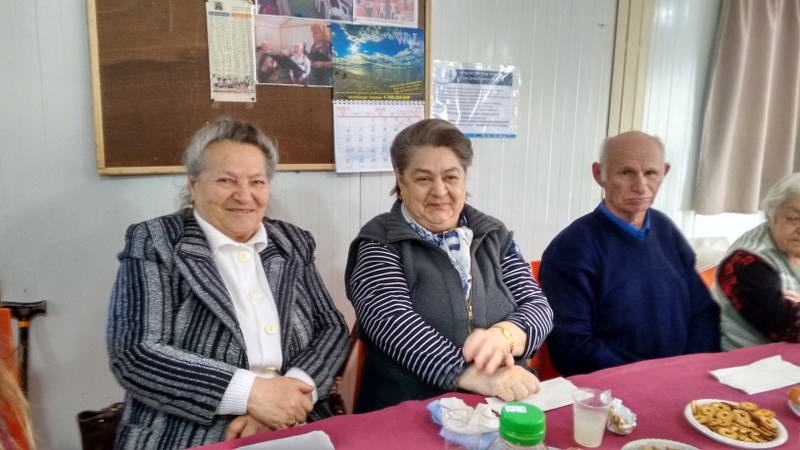 Zini, Lisa and Israel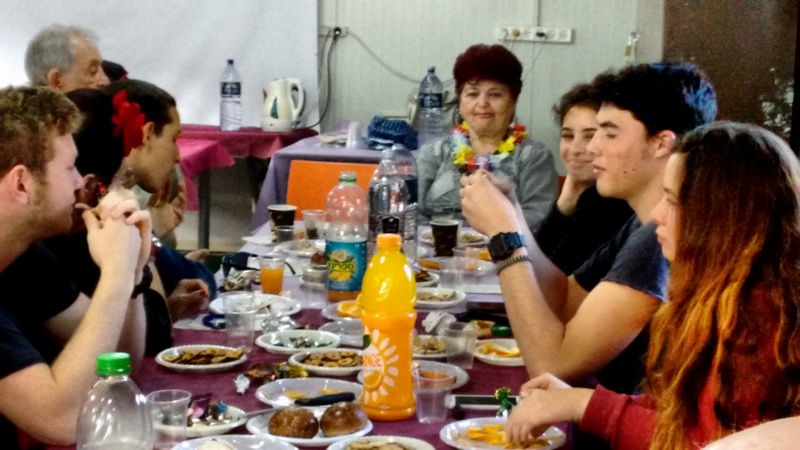 Students and Klara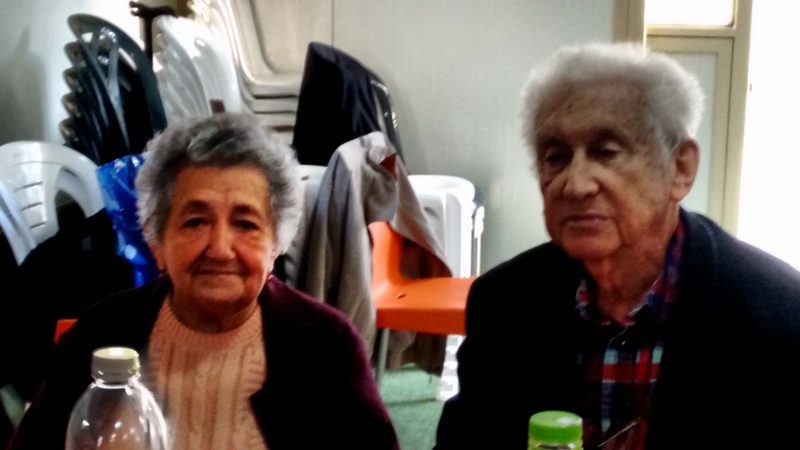 Ina and Mark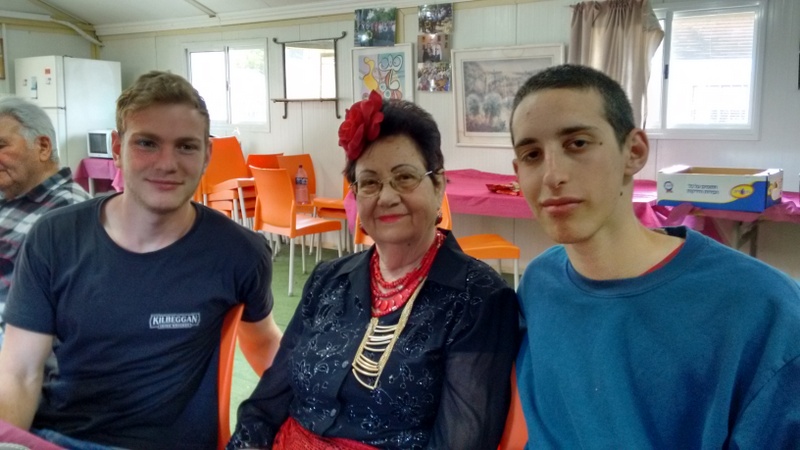 Ohed, Rina and Ofir



Playing and singing students

Rosh Pina
The students from mechina Kfar Hanasi visited Israel, Blanka and Rachel in Rosh Pina. They all spent good time with them. The relation is fantastic. The students love the survivors and vice versa. Yael is so happy that Rachel is now, so open to her. She did a great effort to reach Rachel's heart and she succeeded!

Katzrin
All the survivors, have got nice present for Purim and a healthy package with fresh fruits and vegetables. Shlomo and Lili are struggling with their health. Jafim receives so much joy from the visits of the students! Shaul is moving to another appartment by the end of this month and hopes to get more rest and joy in life. I try to find proper dental help for him. without having to pay a huge amount of money. He needs implants. His dental prosthesis is broken and does not fit anymore. The students make him to be very happy . Talja is very sick. She has lost her sight in both of her eyes and because of her bad health she can't have an operation. Etja and Ela are fine, and both enjoy life at their age.

Timek

Genosar
After visiting and meeting the survivors in their houses, the students brought the survivors to the comunity hall of the kibbutz. The students surprised the survivors with "Purim drama". Each student, performed a character from the book of Esther: the Megilla, telling the story of Purim. Timek and me, brought the Purim refreshments. The students helped to prepare the tables and brought a lot of joy with the drama, music, and created warm athmosphere. You can experience this through the pictures. Everyone, was fullfilled with excitment and joy. For a while the survivors, have forgot their daily sorrows.



Eli-Ram with the students



Zachi, Ruth and the students



Moshe with the girls

Brigitte

Pardes Channa
It is almost Purim, and we have two bags of goodies, as Mishloach Manot .



One bag is from Neve Michael, and one from Amutat "L'Chaim".

We had parts of costumes, and first start with our beloved Rachmill, who wasn't well at all, but we put him on a chair singing and dancing around him while R' Shachar who came this time with his son Noach (charming and tall teenager), playing on his guitar. For the south American music joined us a lady who danced the exact steps as a young women. The joy was real , and the smiles could witness it.



Meeting Rachmil


From there, we came to Yona , who was very happy to get the Mishloach Manot , and gave to one of the workers to give a cake to her partners in the house.




We continued with our dance and Purim songs, and people watched us with big smile on their face, and Yona was very proud to have the honor to have our visit.



Meeting Mordechai

From there, we went to Mordechai , who set and was waiting for us, and had a big smile, when he met us and got his Mishloach Manot. You can see in the video, how we waked the people there in our singing and dancing.



Underway to the next survivor

Then, we split to three groups and went to visit Chaya, Zipora, Aliza and the Boarons.



Shiri tries to play for Aliza

Zipora, was pleasant, and happy to meet us. We spoke with her, and she told us how much she enjoyed the "March of life", and told us a bit about the problems she had in her house. The Boarons weren't in the house , and we left our Misloach Manot in their balcony and went to Aliza. She was laying on her sofa, didn't feel so well, but, as soon as she saw us she cheered up and as usual was happy to have us and told us stories about her life. We went to the new couple who came from Russia 25 years ago. Lionid and Regina. They came without knowing Hebrew to Israel. Lionid was a serious ingeneer in Russia, but here, without knowing the language, he had to work as a cleaning person and took care on old people. Today, he need to be taken cared because of his dementia, and Regina does it with all her heart. Her Hebrew is good and we could speak with her. We hope to be able to help them. We returned back very satisfied and happy.

Rivka
Beer Sheva
Otto, as usual, is very embittered, even winning in his request for more hours of help from the national insurance. He complains about his health and about the fact that he is not getting an apartment on the groundfloor. I showed a picture of my little daughter Inbar, and his mood got better. He thanked me for the Mishloach Manot.
Shmuel and Sara, received the M. Manot with excitement and said how good it is that they are not forgotten. Shmuel told me that his leg getting better and they could join the Purim party in the club.
Suzan was on the end of her fast (Tanit Ester), and told me that she has start to clean for Pesach. We spoke about other things and her adopted daughter came with her little girls to visit Suzan.

Olga was happy to see me, and said that she also had a visit of school students and expressed her appreciation for this education that brings respect to the old people. She told me about her pains from her back. We spoke a lot and enjoyed each other.
Tomorrow I will visit our other survivors.
Efrat

Some words to my friends in "Lechaim's family:

Last year I was celebrating Purim with the Shoa winners with a funny show, tasty refreshment, dancing and joy. This year my Purim is different. Suddenly I am soldier (no doubt special costume). Unfortunately, I wouldn't be able to join celebration with my winners because I have to stay in the basis this weekend. But, my amazing volunteers did visit the winners bringing Mishloach Manot and greeting which I prepared ahead. The joy of both sides can be seen in the pictures and raise a big smile filling my heart with a big joy at such period in my life. I wish all of you happiness. Purim is the proof that we can't be defeated as you can see in the smile faces of the winners, and with the fact that we are here in the land of Israel. There is no bigger pride to wear this uniforms knowing that I am part of "L'C haim's" family which turn my country for a better place because of the values, and the vision which is done daily with pure love without borders.
Shir
Attached pictures from my surprise party with the winners and my family.



The birthday cake for Shir.



The family of Shir sitting together.



Shoa winners at Shir's suprise party
About Miracles and Wonders
10 december 2015, 28 Kislev 5776

The Holiday of Chanukah
Dear friends!
On this evening, all the Jewish people will light the fifth candle of the eight days of Chanukah. In this article we will try to understand the need to experience miracles in our life, the benefit we can get from them, and if so- when?
One of the Jewish mental strengths comes from the Maccabim's spirit and Mattiyahu who stood in front of those with vision, with a great spirit and belief in the rightness of their way, and which brought about the total collapse of huge armies with many armed fighters, who couldn't stand before their fighting spirit, which was mingled with a strong faith, treasuring it, and knowing that Hashem was fighting with them! It's interesting that when we speak at CHANUKAH about miracles, we tell about the little pitcher of oil which lasted for eight days. For me, it's more about their efforts, their braveness which was connected to the source of the sources - as full partners, by doing the Almighty's will. This special spirit, highlighted the importance of making an effort when we believe in how much we have to act – knowing the purpose of the action is Hashem's will, sanctifying Hashem's heaven, the love of the land of Israel and having the real will to protect and maintain her. Of-course, the miracle of the little pitcher proves the great torch of light from which the Almighty gives light to those who walk in His way as an eternal gift reminding us: " I am with you and when you love my name and act accordingly, I will lift you on eagle's wings."
NOW, to the benefit of miracles or vice versa: The Hebrew people were under Egyptian slavery in which the essence of it was being without any spirit, but only focused on the material. Material, material….I am a slave and a small person. This was the slavery mentality of the Hebrew nation, and in order to move a whole nation which was entrapped in its slavery, the Almighty had to activate the tool of miracles. Huge miracles, which shocked the soul of the slaves, and those miracles motivated the people to go from slavery to freedom! Another tool He used to educate them from the beginning, was that the people had to be a huge light, a great teacher which was Moshe Rabainu, as we all know, surprised the people by his miracles which were given by the Creator. In order to believe, he needed those miracles to understand that beyond the limited world of material and shapes there is another world, one of spirit, a part of which he has within himself – the divine spark! During those days, the people's spiritual situation was very low, and it was necessary to do miracles beyond nature.

These days, in my humble opinion, part of the reason of the divine hidden face, mentioned in the Bible, is to make it possible for us to work on our inner-soul and correct ourselves by being full partners in fixing the world, by active repairing, because this is the reason we came to this world: to receive full partnership and responsibility, and add to our soul growth, by getting to know the lofty divine spark within us. Indeed, it is understandable why so many people follow after wonder-makers and people of magic, who are false prophets, they long for miracles. The Almighty says through His prophet that "All of that will pass completely". The essence is not miracles, but the effort to choose, to overcome the material and animal side of our personality, which drives us, every minute, to study how to be elevated by our divine soul. The good news is, that the older generations didn't work on their inner-soul so deeply, but today, when there isn't any king or prophets, no miracles or wonders, or giant lights such as Moshe, people have to find God's kingdom in their lives without any mediators. This work demands a lot of braveness. The hidden face is subjective and purposeful, and it means that Hashem knows that we can reveal Him without all those tools He used as I mentioned in the beginning of this article. So, when Hashem takes away the curtain from His hidden face, and we will attain the longed for salvation, we will find glory in the party of salvation which we will celebrate with our Creator and then "We will have full laughter and our mouth will be filled with music", and then, we will be able to see that the good and bad has not reached a synchronization, but, as matter of fact from the beginning, evil wasn't even existing. When we will find the awareness of the salvation and know Hashem's secret, and the size of His love for us, we will find that as hard as the passageways were, they were very good for us, helping us in the journey of repairing the world in the kingdom of El Shadai.
In summary, there is big message which has to bring a big hope to the human soul, particularly at this period of time, at the end of days. We came here not to run away from the material part of us – from our body, but in order to sanctify the material as the true and real miracle, by finding the divine part in us which can win in all the fights, minute by minute.
My blessing for Chanukah Sameach!
Daniel

Chanuka celebrations in the North of Israel
Students from Mayan Baruch organized together with Lechaim, a great chanuka party at the Mechina in Mayan Baruch. We had a fantastic time together. We sang chanuka songs and danced together, we played "Chanuka bingo" and learned a lot about Chanuka. It was also fun for them to learn some new Hebrew words connected to the holiday of Chanuka. We celebrated lighting the candles with the blessings and songs. Everybody was satisfied and joyful and thankful for such a beautiful evening.

Raya: "All the day's I am home alone and now we had such a beautiful evening together and I was out of my house. Thank you so much."
Those who couldn't come to the party, we have visited in their homes. We visited the new adopted survivors in Kfar Blum, Dafna and Neot. We lighted the candles with them and brought them presents and joy and light into their - often so lonely - homes. The survivors just loved that and their face whice were full of sorrow, has changed for a great smile!
So it was also with the students of the mechina Kfar Hanasi. They visited the survivors in Rosh Pina and lighted the candles with them. We visited together the survivors in Katzrin and went from home to home, singing Chanuka songs, bringing joy to them.
More other students from the mechina who wanted to participate in our project had the opportunity to do so, and they loved it. One boy from the Mechina Mayan Baruch played beautifuly musical parts on the piano. The leaders of the mechina also participated in the chanuka party and saw how good this project brings young and old together cousing so much excitement for both generations. Enjoy the pictures!

The Chanukafestival in the North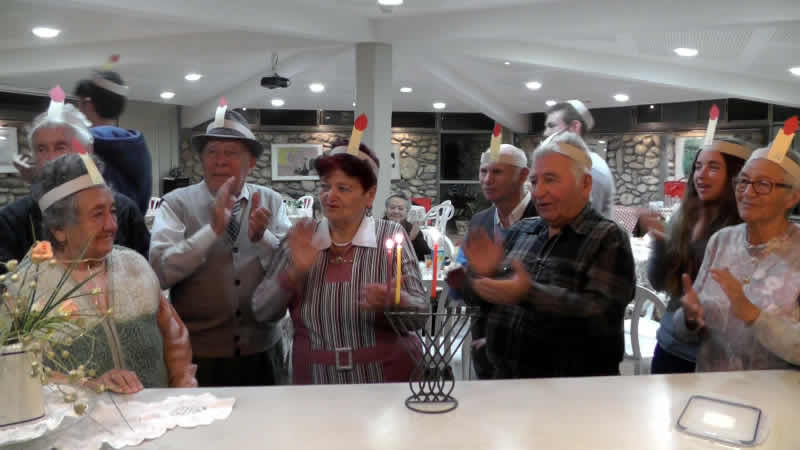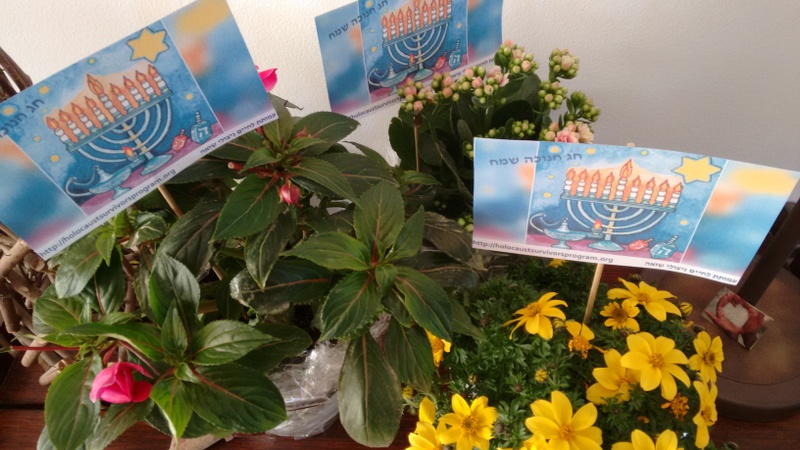 All the flowers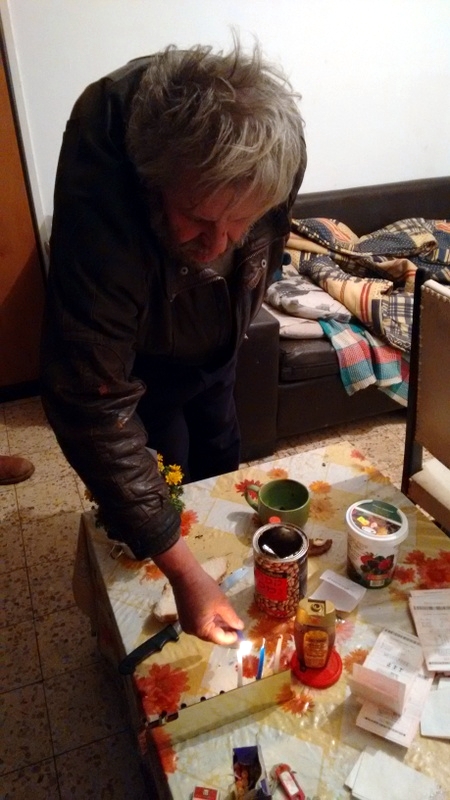 Jafim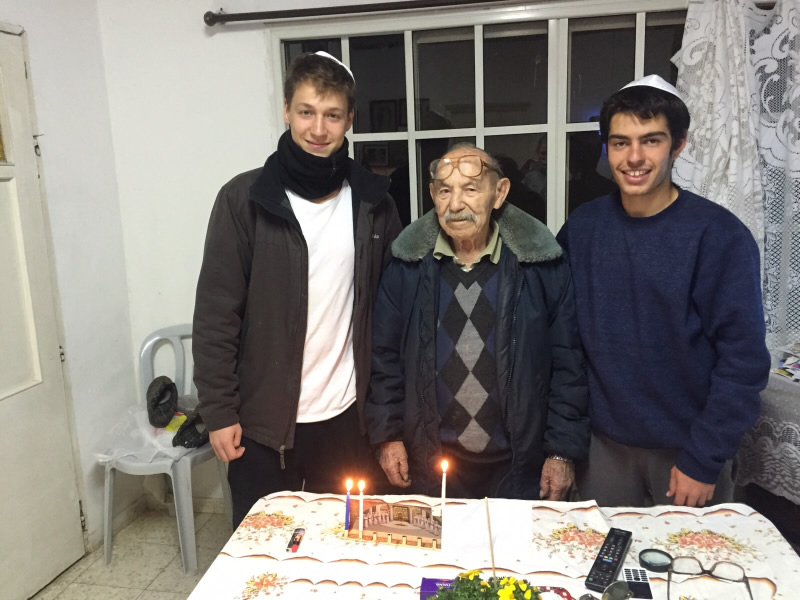 Israel, Tom and Ayal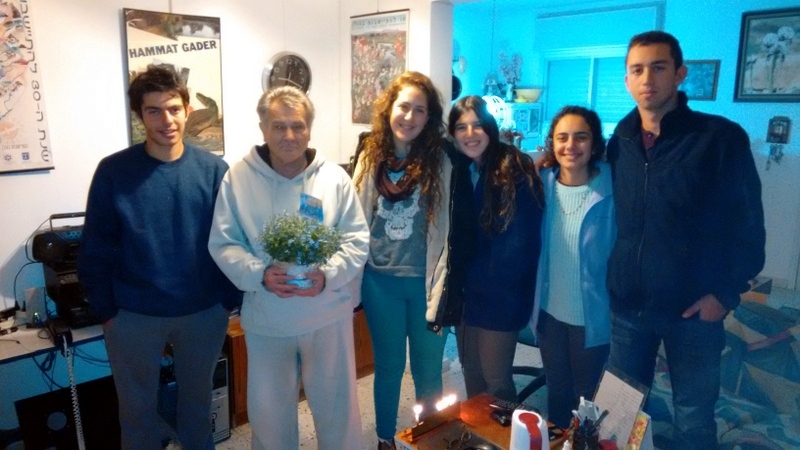 Shaul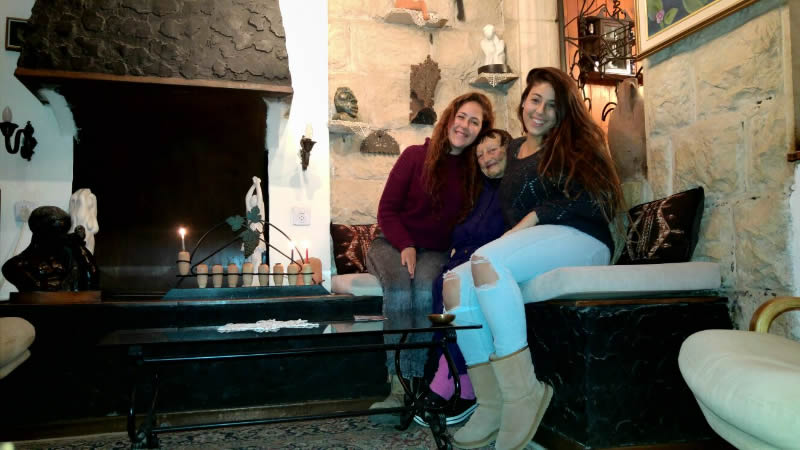 Yam, Eden and Blanka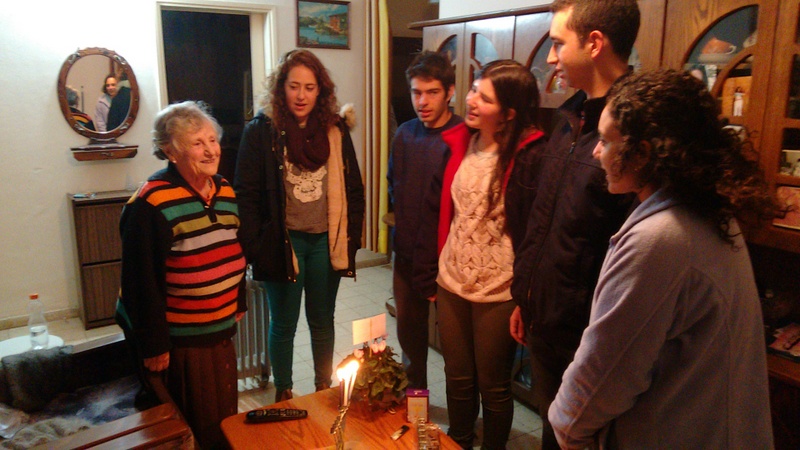 Etja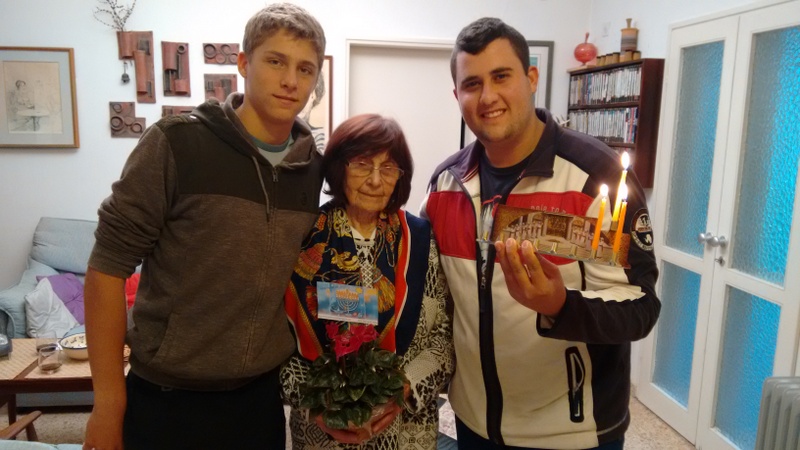 Idi from Neot

Chag Chanuka Sameach,
Timek

Pardes Channa
Our celebration for Chanukah, has started when I came to Neve Michael, and the girls, came to me with full hands of what they have made for the survivors (see the Picture). They prepared, all by themselves, Soufganiot, Spinage, Chocolate cake, and Latkes. One of the girls prepared for Rachmill a beautiful painting with greetings for the holiday (see the picture). They were happy and ready to bring light and happiness to our dear survivors. Zvia and Shiri took the girls to Rachmill, Yehosyia, Robert and Mordechai. I took a little group with me to visit Zippora, Baoron's, Chaya and Aliza. The girls came to Rachmill and he was so excited that almost burst with tears and said to the group that:" He will never forget, what they did for him". He got the picture with the greetings and the fresh goodies they have made for him. They danced with him, light the candles and sang and the excitement was very high. Also Robert Mordechai and Yehoshia, joined and enjoyed the songs, and as you can see even the nurses couldn't stay on the side and joined this happy group.
I went with the girls to Chaya. Morris joined us and insisted to light the two Menoras, one of their own and one which we brought to them, with candles. He also burst with tears, and told us that his birthday is on this month and he will be 92, and it excite him our gustier by coming to them lighting together candles. Even their daughter (Zvia) joined us and we saw a different spirit for a change. From there we went to Aliza, whom I had to stop from preparing for her visitors Sufganiot, knowing what we are going to bring with us. And still, the table was filled with refreshment for us. We lit the candles with greeting and singing Chanukah songs. The visits at Aliza is always a great experience for the girls because she tells stories and very cooperative. At Zippora and the Boarons, we could only leave our goodies and only say Chag Smeach.

It seems to me that this holiday we have lift up our survivors, away from their sad reality, and brought joy and happiness, thanks to the happy group from Neve Michael who made it possible.




Aliza



Morris



The girls with everything they brought with them



Rachmill, next to him Rivka



Singing together...



and dancing. Being happy together!
Happy Chanuka, to all of our friends,
Rivka


Modiin
Mai, Ofri, Alon: Today we came to Janet and Jaston. We brought Sufganiot and Latkes, and Janet made for us Spinag. It was fun and tasty. Later on, we spoke about life and watched a movie together. They always giving us to feel at home.
Shir and Arbel: We came to celebrate with Svetlana and Dimitri and brought our Sufganiot and Latkes (homemade). We lit candles with them, drank tea and tasted our hand made. Svetlana shared with us here political opinion, and then, she teaches us to read and write Russian. It was very pleasant .




Shir and Arbel visits Svetlana and Dimitri. Feeling almost as at home!
Arbel wrote to Shiri: I want to thank you for introducing me to this project. I enjoy meeting Svetlana and Dimitri. I feel part of their family and think that the project is very important and help to the Shoa winners and Iproud to take part in it.

Happy Chanuka

Timrat
We came to light the first candle with the charming couple Tamar and Gad. We brought refreshments for the holiday, lit the first candle, and than sat and listen to their memories from the past at Chanukah times, and about their families. Later, we danced and sang with them and Gad was very excited. This meeting brought to all of us a big light in our soul. Gad loves our visits and can't wait for the next one.




Visiting Gad

Migdal Haemek Yeshiva
Mazal Tov to Efrat (Beer Sheva) for giving a birth to a baby (girl). We wish her good luck on being a mother, hoping to see her soon??
Daniel
E-mail: danielxrw@gmail.com
Phone: + 972 54 772 3510
Welcome to our website at: www.lechaimtolife.org

Upgrading our activities in the North
November 16, 2015, Kislev 4, 5776

This week, Timek and I, have met key women in the upper Galili, who have many names of survivors who need desperately connection. This month, we are going to adopt those survivors from the Kibbutzim in this area. Our meeting was very good and practice and on the 23rd of this month, Timek will meet Miri Sinai, who will escort us, on Timek's meetings with survivors from Kibbutz Neot Mordechai . On the next day, I was invited to Kibbutz Kfar Bloom by Yehudit Hameiri - coordinator of the Nursing house in the Kibbutz, to meet Frida and Menashe. Both of them are survivors with amazing story of life.

Menashe, is 90 years old, who has passed a traumatic experience from the camps, and couldn't get married or build a family, because of health problems. He is very special, clear as crystal, but very lonely. I met him by joining him on his electric scooter, and while driving, he told me about his longing for a deeper sharing , and said that the ones who will come to visit him will have to organize a lot of patient . I listened to his story and my heart, were sore to realize his long last isolation, which is crying out laud for an open ear, for a human soul which can contain the spring existence of this precious person. When I was ready to leave him and promised him to continue our discussion and that we are going to adopt him, he said to me:" You are not leaving me, I didn't finish yet", and I understood the results of our discussion and how it was for him, so I stayed longer with him. His eyes were strong and his speech, were sharp and clear. I wanted to hug him, but knew 'that it will take a while and some tests with this true men' and it need to say no more… He will be adopted with big respect by Amutat "Lechaim".

Frida, a lonely women, very squeamish and precious, who need desperately for human touch, and because physical limitations it is hard to understand her. But, the light in her eyes and her glance can be understood. Her pains for decades, and yet, her strength and the love of life with gratitude for what she have.

I feel so much respect for these people, and a great privilege to have them with us. She will also, be adopted by Amutat "Lechaim". As it has written and said at such period full of craziness in our world, "L' Chaim's project is full of light, the light of unity, between generations: the hearts of fathers, to their sons, and the hearts of the sons to their fathers. The fruits are ripen, and more hearts joining the "Lechaim's" project.

The coming holiday Chanukah !

On the 6th of December, we will light the first candle of Chanukah, as we do every year. We bring a lot of light to our Shoa winners were ever they are, and in order to make our dear volunteers, being able to light the candles with these precious people, and bring a little gift which will sweet their soul and hearts. The weather here is extreme, and especially this time of the year, but our people, need mostly the visits and the lightning candles. It warms the hearts more than a duvet. Please dear friends! Donate and make it possible for us to light with them the candles and by that, to warm their hearts, and give to other survivors. You will be blessed for that. ".

(see in the picture the light it brings to both generations).

News from the North

This week I visited the survivors in Kiryat Shmona, with the students from Mayan Baruch. Everyone was excited. Klara prepared "blinches". She loves the students. Also her husband Mordechai love them and is very interested in their studies and what they will be doing in the Israeli Defence Force. Asaf and Rom, know already that they are going to apply for being fighters. Others, don't know yet.
Klara shared her story from the shoa with the students. It was very touching. She also showed them the book and the pictures of her family and the album with the pictures from previous years, with the students and the group of shoa survivors in K. Shmona.
Rom and Ofir went to Eliahu. Eliahu and his wife Bracha enjoyed thier visit. For the students, it was quit an experience. Yet, they felt a bit uncertain with him. Eliahu is not easy to communicate with, because he is paralyzed on half of his whole body. Eliahu told us how he made aliyah from Tripoli- Libya. Through Italy, on 1949. We also spoke about the current wave of terror. Bracha is really scared. She don't trust anybody. The war is in the streets. She went back in her thoughts to Iraq. Before the the day of Independence, the Jews and Arabs lived together in peace. Things that happen now, were not happening at that time. She remember well, the time that all the Iraqi Jews, have been brought to Eretz Jisrael.

Asaph: Today we have visited Klara and Marek (Mordechai), Klara told us her story, cooked blinches, showed us photos and Marek taught us how to get stronger through eating soup and doing sorts and exercises. Another great experience at "L' Chaim".
Rom: The time we spent with Klara was good. For Eliahu, I felt that it was a bit difficult (for me) to connect. Shir: It was amazing to talk to the Nitsolim. They made me feel like I am in my grands home.



Klara, Mordechai and Asaph,

Ofer, Eliahu and Ron



Judit, Shir, Omer, Shiraz and Klara

Here follow the reports from the students of Meitsar visiting in Genosar:
Dana: We had a great time with Eli-Ram, I even got a painting from him! Sadly, we didn't make a picture.
Noam and Lior: We went to Batia's house. We had a nice conversation with her and with her daughter.
Ron, Hila and Jonathan: We met Moshe, and saw a movie about him and his childhood... it was very nice and we even spoke with him about it after the movie.
Yuval and Gal : We went to Avram and worked in his yard. After that, he told us about his uncle and his childhood.

Here follow the reports from the students of Kfar Hanasi in Rosh Pina:
Tom: Israel, has told us stories about his childhood at the Shoah. It was very interesting.
Yeal: Rachel is very nice. It is hard for her to speak and she bring her daughter to help her communicating with us.
But, she is lovely, and I hope that she will be open up soon.
Yam and Eden: We went to Blanca's today!!! It was great!! We had so much fun.
Again, we had a week full of activities and good connections with our shoa survivors in the North of Israel.

Shalom,
Timek
News from the South
Last week, I have visited Otto. He complain and unhappy because he feel very lonely, even having visitors every day and at the weekend he stays in his daughter's house. Each minute that he is alone he feels very bad. More than that is the fact that Amidar, the national company, who give houses, doesn't react to his request of getting a house on the ground, because of his inability to go on stairs. He need the connection with the people in the street ….Otto, thanked me for my visits, and wished me to have easy labor (it's getting closer), and it brought him to speak about his children's and this subject cheered him up.

Otto
Yosef , worries all the time about the weather. By following it's movements (specially at the Autumn), he can protect himself from being sick. His volunteer came back to visit him and he is getting extra help from his helper. As you know, he is blind but he fight it trying not to be depended on anybody, and I adore this. It was really pleasant to visit him. On the end I helped him to prepare Tea for the night.
Yossef

Modiin
Tair and Moria : Yesterday we have visited Svetlana and Dimitri. It was our second time to be with them and they told us about their health and about what has happened, during the two weeks which has passed. We wished them good health. We practiced the Numbers in Russian, and Svetlana found a new word in the dictionary. Our meeting was short but very good. We are waiting already for the next one.
This is our news for this week.

Shabbat Shalom.
Sukkot, the Holiday of our Happiness
Oktober 1, 2015, Tisjri 18, 5776
 
Dear friends!

Thank God, we have passed Yom Kippur, and now we, the Jewish people, are commanded to sit seven days in the Sukka. This holiday is considered the time for happiness and joy. Let's go together, touring our inner-soul in order to understand the deep meaning of having such a true joy, and how it's connected with sitting in a frail, temporary structure which is the Sukka. G-d orders us to leave for seven days, all the known certainties which cover us throughout our life and mistakenly cause us to feel we are in safety and security. It focuses us on our house with everything in it such as furniture and other possessions, and the warm environment which gives us an illusion of safety. But now, the Almighty, has commanded us to make discoveries between the gaps in the roof covering, making it possible to see the skies, horizons and the stars in the endless galaxy, which we call the universe. By staying in the sukka, we can feel the nature and its size, compared to our little size, and it helps us to remember what it is our real security - being a piece of the heavenly spark of a huge, amazing and wonderful thing: The Creator of the galaxy : the Almighty! If we can be connected we will experience exhilaration of the soul. When we are exposed to the winds of the earth, then, at precious moments of mercy, which are as diamonds and gems, we can connect to the stream of inner joy as sons and daughters of G-d, belonging to the huge Soul dominating Galaxies and Worlds- who is the genesis Soul of all times- G-d's heart. Such revelation fills us with huge joy like pure water, and demands from each sensitive soul an understanding that isn't obvious at all, that in the external events and happenings, especially in our dreary, busy world, just how hard it is to be part of this joy.

Here is my idea which can help: Our main problem is, that we don't understand what we have to do in order to connect to such internal emanations. We have to be focused, as befitting each one, in the here and now. By creating peace from the daily annoying storms and thoughts which take us out of the here and now, and by matching a magical moment of an imaginary future, and a past which has already gone. It means that we must study more and more the amazing demand of:" And you must love your G-d with all your heart, your soul and with all of yourself" (with all your attention). Finally, an idea to those who want to get closer to G-d: There are millions of people who are trying to prophesy day and night, on signs, testifying about what could happen these days. It is wrong! And against our Torah which demands from us not to be busy in any speculations, or forecasting. When there is no prophet, let's stop our useless imaginations. However, what does those celestial phenomena mean? (Strange weather, odd lightning and thunder- storms, floods, typhoons, and more). It has only one meaning: Alarm clock, that's all! To wake us up, by returning to ourselves, improving and learning from each moment, the here and now! As it has been said: "The visible is for us, and the invisible is for G-d"!

It seems that the people who give prophesy and speculations have a lot of free time and are very far away from their G-d. The work for G-d must be done daily, every minute. Each of the moments which can make us close to ourselves and to our G-d as a tremendous gift. Each moment is magic and can help us to get to know ourselves on the road to Beit El, each moment Here and Now! By simplifying our lives and living in the vast era of the present, we can better understand what our G-d wants from us. Again, we should remember that the joy is not obvious and we need a lot of awareness within ourselves, for our strength and for our self-sufficiency.
Happy holiday!
Daniel
Modiin
Svetlana and Demitri. They came to Israel from the Soviet Union 21 years ago. Dmitri doesn't speak Hebrew but Svetlana speaks a little Hebrew. They were very emotional by our visit. They told us, that during all the long years of been here, they didn't get any help from any organizations, and didn't even know that they deserve help as a "holocaust winners". She told me about her childhood at the Shoah, as a two years baby. She had more brothers and sisters and the "oldest" one was 9 years old. Her father disappeared and she doesn't know what has happened to him. Her mother was a women with "gold heart" and smart women. When the Nazis get close to their city, she decided to take all her family with her sister and her family as well, and run away. Another 3 families with widows and their children, joined them even being such a big group made it harder. One brother refused to join them and as she know, he, and his family were thrown alive to one of the well water and sank there.... . Their way was very complicated. It included horse carriage and there, one of the women gave birth to a girl, and then, getting on an train of animals and from there the were forced to jump and to hide in the forest ... Lucky for them, it saved their lives and all of them survived.
Svetlana and Dimitry made Aliya 21 years ago, even being refused to get the permit to leave the Soviet Union. After the war the Ukraine were very Anti-Semites and she only wanted to reach a friendly safe land. Six years ago, She fell down in the centre of Modiin and it took her very painful and long period of recovery and restorationshe still suffer from her left hand, and can't dress or have a shower by herself. Dimitri, takes care of her and after trying to get a helper without any success , and it is makes their life harder than it could be. It seems that they are lonely most the times even having one of their daughter in Modiin. I hope to bring a good and warm volunteer to them and make their life happier.
Shir
P.S. On the 11th Shir is orgenizing a opening party for the survivores and the new voluteers. Good luck dear Shir.
Timrat
Our visit in Timrat before Yom Kippur
Before Yom Kippur we have decided, after seeing Tamar & Gad's Siddur and the book for Yom Kippur, which were very old and some pages were turned, to bring them a new ones. Yedidia and Hillel, came to them and brought the new books and the surprise and the excitement was really on it's peak. They said to me after getting also some sweets for the holiday, that our attention and minding about them, warms their heart and give them so much happiness. We pelt that this was the best preparation for us, for the coming eve of Yom Kippur.

Meir Katz
Pardes Chana
After Yom Kippur, R.Shachar and me, went to see how are our survivors. First, we went to Ester who was happy to see us and told us, how lonely she was all along the day of Yom Kippur because she couldn't join anything and she is not allowed to fast. But, she is so happy to see and speak with us. From her we went to Rachmill who was waiting for us so eagerly. We took him a bit to walk outside the place where he is, and slowly we saw a little spark in his eyes and slowly he also spoke more fluently with us. We hope that after the holiday a volunteer will come more often than us to take him and awake him a bit from his sleepy situation.
The couple  Ehusyia and Mordechai who live in a house of survivors, was happy to see someone who visit them. They are lonely, and being with us with our attention, gives them a lot. From there, we came to see Chaya, who is very thin and most of the day, stay in bed. She has lost a lot of her vitality on the last time. Ora, her dedicated volunteer, don't give up, trying to take her out, at least to sit outside, breathing fresh air and moving a bit. We brough her our best wishes her for the holiday and a full bag of dry supplies, and continued for Benyamin, who came a day ago from the hospital. He sits in a wheelchair, and he almost didn't recognize us. He is not very well. Aliza, vital but painful spoke with us and was very glad to see us. From her we went to the Boarons, It wasn't Avraham best day. He felt not very good, and also Rachel is not very healthy. But were glad to see us and to get the bag with the supplies.
Zippora, as usual, suffering from Astma, but told us happily, that her daughter has got the permission to buy the rest of the house where they live. For Zippora it's a moment of relaxation, because she fought for it such a long time…

As you can see, our survivors, is getting older and needy more and more. Please, help us to support them by giving them the chance to smile and have a little joy.

Rivka


News from the North
Genosar
Me and Brigitte, welcomed the new group of 20 most motivated students from Maitzar, who came for the first time to Kibbuts Genosar to meet with the survivors.
Most of the survivors, have been waiting for this moment for a quite a long time and so they opened their houses for them with a big open hart and smile on their face. Zelma showed them the pictures and the lovely letters from the previous students, who until today, stay in touch with her through the years.
Eli-Ram, was so happy with his full house of young students, who soon, will be part of his family. Eli-Ram made, as usual a lot of jokes.
Avraham, was very much interested who the students are, and, from which places in Israel they live.
Batja is new lady, that the students will be visiting. She served her whole life, Shoa survivors in Kibbutz Ginosar and now, she is paralyzed and can't move. She is, in a great need to have visits . Batja welcomed us warmly; In Beit Savion (nursery house), we visited Chava and Herbert.
Mojsje, Zaggi and Ruth were also  very exited. Izik is at the hospital, we hope for his recovery soon. The students will be visiting Genosar every week.
I feel that the again these students are very motivated in this program. It will be a pleasure to work with them. They expressed already, their motivation and their desire to learn from these elderly people and learn about their own roots and the roots of the Jewish Nation . By learning about their past, it will enable them, to build their own future and the future of Israel as a nation.>
Kibbutz Dafna
I met also, the students from Mayan Baruch, and we made a preparation visit in Dafna. We met Ruti who is our intermediary for the visits in Dafna. She spoke about the people that the students will be visit every two weeks.
I met Israel, Simcha, Sophia and Chaineke. Unfortunately, Lea got stroke few weeks ago, and she can't receive the visits of the students.
I wish the students and the shoa survivals a very good and inspiring year!
And also, for our donors: blessings and happiness.
Timek
Volunteer recruitment day in Modiin
It was a real excitement to go back to my amazing old school Ychad, and this time as a graduated of this school and the Mechina, with the initiative to join the blessed activities with "Lechaim". This school is very special and mix religious and non religious students, and even won this year as the most valence school in whole Israel. On that day, I met two of the highest classes in the school explaining and giving the idea about the project and what have to be done. It reminded me the first meeting with Daniel, who gave us introduction about "Lechaim" in Mayan Baruch and the great privilege to be part of this great project and to pass it over to another volunteers – youngsters from my school.

We need 8 volunteers , and their are already 12 who want to join the project. I was so excited to see how eager the students listening to me and ask good questions and expressing their interest on being part of this.  

On the page of the questions why they want to join the project the answers were interesting and here is part of them:
* It is important to me to create connection with survivors right now because they still with us, and they need our attention.
* Your explanation gave me to realize the importance of the Amuta and the need to volunteer and help them. Thank you for your lightning explanation.
* As one who doesn't have grand father or Grand mother who had to survive at the Shoah, I would like to help as much as I can.
* It is a long time that I thought how I can volunteer to those heroes, who suffer because of our own government. I will feel much better when I would be able to help them, because it is our (all of us) responsibility, to take care of them.
Shir: I have no doubt that we start here, very exciting activities, and I am proud to see the nice side of those youngsters from my own school. I can't wait to the opening meeting: students and survivors. Also, we are planning to have fundraiser event in Jerusalem next month.
P.S. We are very excited to see Shir's endless action in favor of "Lechaim" project, and feel blessed to have this "energy storm" investing all her free time on doing what she can, to advance our project forward.
Thank you dear Shir, you are the most beautiful Israeli soul that we ever met.
Good luck !
Daniel Braun
E-mail: danielxrw@gmail.com
Tel: 0(0972)54 772 3510