Sukkot -the time for joy
Oktober 4, 2017, Tishrei 14, 5778
Modiin
Just before Rosh Hshana eve, I stopped at Janet who was very happy to see me. I saw the magnificent open table at her home and she showed me specialties, which already, passing for generations in their families. She let me taste her own creations.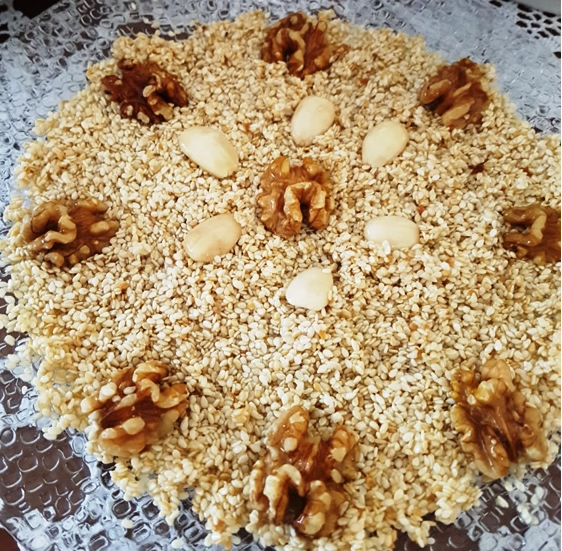 Then came her daughter Ofra with her husband and son. It was fun to share these happy circumstances (after we met at the funeral and at the seven days of mourning for Jaston, bless his memory). Janet was very connected to the present. Grandma Sarah and Abraham, I met them, before riding to their son in Be'er Sheva. They were very happy to meet me before the holiday. They told me about a serious injury he had in his leg and having an infection because of a wrong treatment (he is better now). We talked also about what happens with the school volunteers . Indeed, grandma is very excited and waiting to join the project.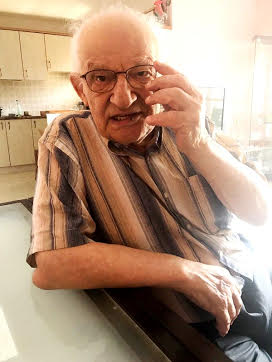 Mordechai
Mordechai gave me big hug, and said that "I am the greatest gift which is worth everything, even before he got any gift".
I brought him the Mobile and he also heard me reading my blessings for him. Then, he showed me a collection of blessings, he has received and articles written about him in the newspaper. Each story and a letter, brought another story. One story I remember especially, about playing chess in Modiin, with students (organized by him). The newspaper wrote that it was something special. Rozitza gave me big hug, and told me that she has been with her son.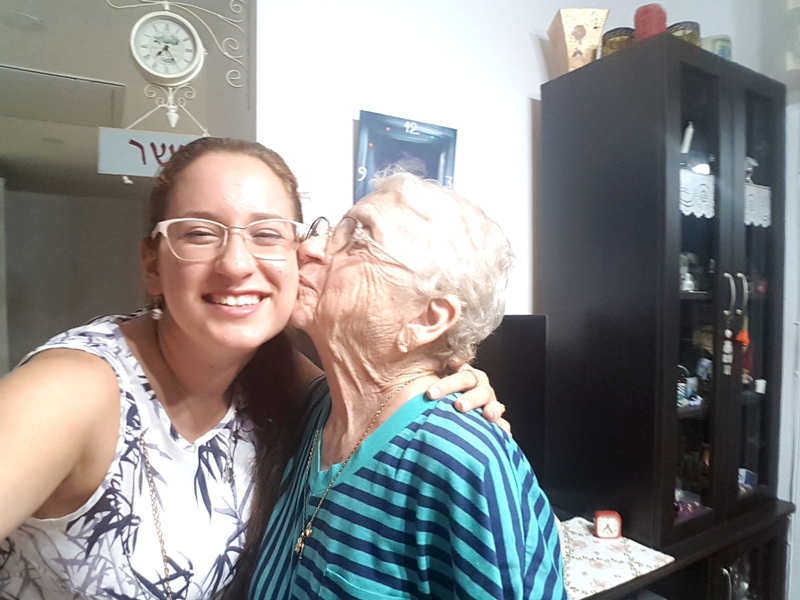 Rozita

Even Mickey, her sick husband , arrived and joined the celebration. She really loves all her grandchildren and they come to visit her, and hope to having them much, this year, because it's really makes her happy.

Svetlana and Dimitri, were moved and thanked for the gift and blessings. They were very excited for the love and care they gets, and that we never forget them. They don't know other organizations, who give assistance in any city and nowhere else, and really happy that we were there to visit and help them when it needed.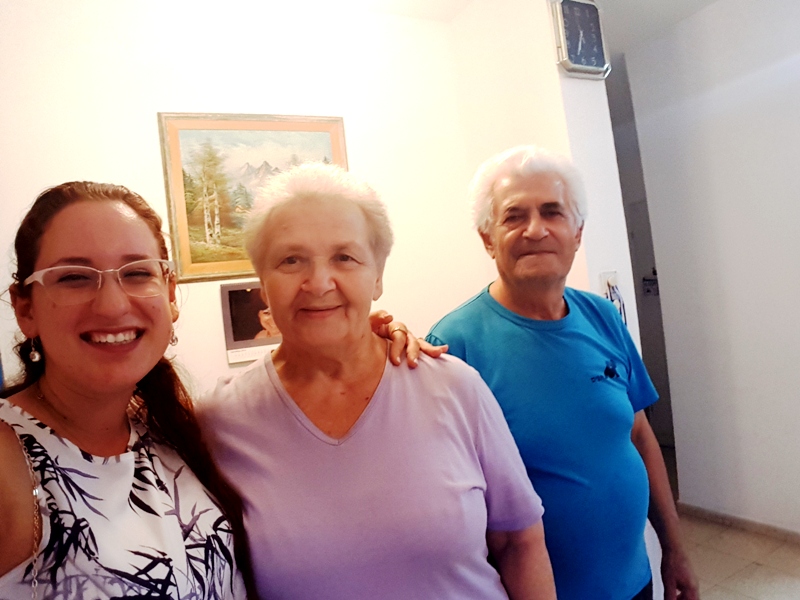 Svetlana and Dimitri
I met Shulamit and her daughter Ilona. Shulamit was upset that I came again with full hands and brought her a gift. But it's really fun for me to make them happy. She was very excited when she heard the heartfelt greetings. Then we talked about Rosh Hashana, and glided to a conversation about tradition and how important it's to study tradition even being not a believer, at least 100 percent to be open, to listen and be interested. Shulamit said it is a disaster that we bring on ourselves when we're not exposed to study Judaism and the Talmud.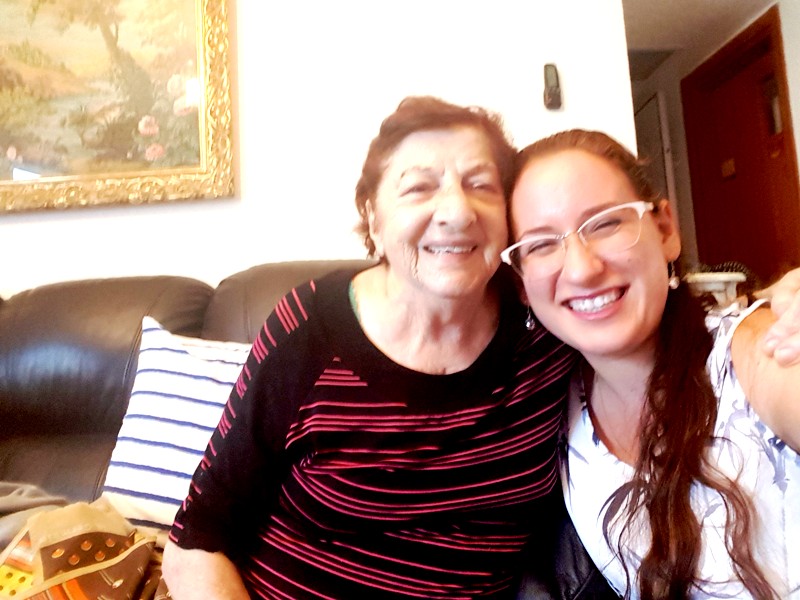 Rachel and Shir
When I got to hug Rachel her statement surprised me. As we hugged and complimented, Rachel said that no one is like me. And the statement itself moved me but it was the first time that Rachel showed love and happiness for our meeting. Nissim said, that they had another granddaughter: Opal, Sappir, Ravid and Topaz. (All of them with names of Priestly breastplate). They told me funny stories about their holiday and I told them mine. Rachel was very excited for my gift and the blessing. She promised that her son Chaim, will hang it on the wall.
On Friday, I got a call, from precious Chemda, who told me that her husband Yankele has died few weeks ago. Chemda and Yankele are the couple from Modiin, we have helped in the renovation bathroom and shower, after hip surgery he underwent. On Saturday I came to visit Chemda. She was broken. She is full of memories. She told how hard it is to be alone, especially because they don't have kids and all members friends, are also sick. Only a few soldiers who they got to knew in "Europa" (a coffeeclub for survivors) from time to time. She said that it is very hard for her , because everything reminds her of him. I was sorry that I didn't know much about them but a little number of meetings and phone calls, loaded with jokes and humor and pain of Chemda. She showed me, love letters she wrote to him and it moved me to tears. I told her to keep in touch and she can always call. She was very glad that I came.

Pardes Channa
One day before Yom Kippur, I get a call from Roi, who is our donor of "Ariel bakeries and pastries" here in P.C. and also going to contribute to the North. He tell me that this Thursday he is going to celebrate his 50-th birthday, and wants to open that day, with a couple or single survivor, to spend that day on helping them at home, cooking a meal or invite them out for cup of coffee or shopping ...whatever they will ask for... This special man, has turned his way of life with the joy of giving, and therefore, he relate to us and share the joy of giving. Indeed, after thinking, we decides in favor of Lillian and Meir.It will give them such good and happy gesture.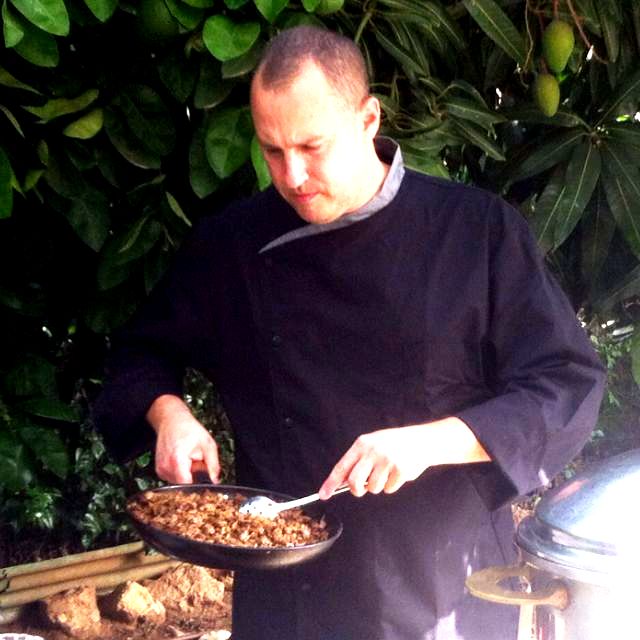 Roi
Last Sunday, few days before Sukkot, I went with three students from Neve Michael, who was interests, and wanted, to congratulate our winners a happy holiday. We were equipped with suites for the holiday and greetings. We met first Gizela, who was at the middle of a treatment with accelerator to help the circle of her blood in her legs, and she told us that this device saved her legs and because of this instrument she can walk . She was happy for our arrival.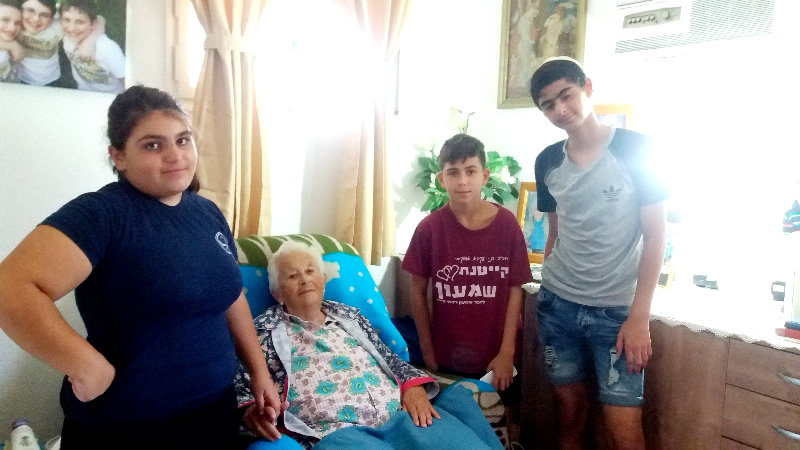 Gizela

We spoke how we spend Rosh Hashanah and Yom Kippur. We ran to Aliza (due to the short time, which was standing at the disposal of the students). Maayan , defines Aliza as her grandmother, and even invited her to attend her Bar mitzvah, few months ago. Maayan wanted to wish "happy holiday" , to her grandmother. And so it was. We got to her, and to our surprise we saw an amazing thing. Last year, we renewed Aliza's garden not very successfully, and for the new year's Eve, asked her daughter from her brothers that instead of unnecessary gifts, to contribute money to renew her garden and that will please her very much. And so it was. We saw it and were very excited. I feel that the sow raise seeds now. Maybe the garden, which we tried to revive, gave her the desire again to have a garden.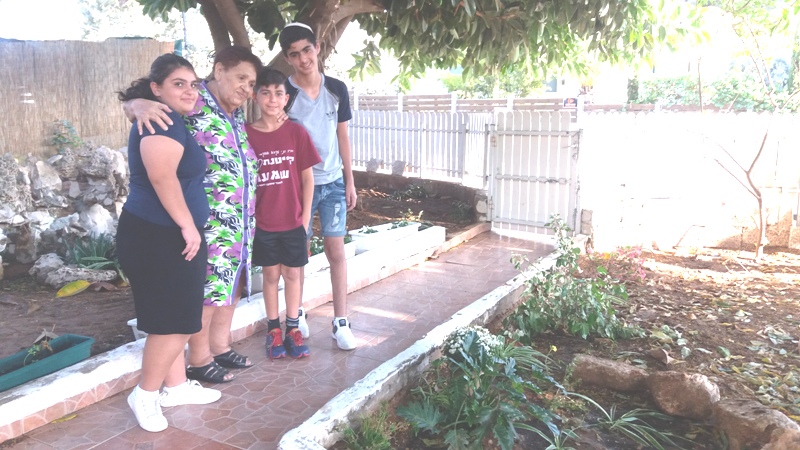 Aliza's garden
From here on, I had to say goodbye to the students and move on, without them. I got to Zippora. She received the package for the holiday with joy and thanked us. From her I met the Boarons , who suffers from various health problems, but was happy to sit and talk with me, while the Sukka were build by one of their friends. From there I met, Yaffa, Chaya's daughter (who lying unconscious). I gave her our holiday package for Morris, then went to meet the two new ladies, who we will visit throughout the year. Their stories, we tell in upcoming reports. Chaya, our volunteer, came to visit Lydia, from Ein Shemer and she writes: yesterday afternoon, I met Lydia. She's well and was happy to see me. She told me that she had contact with the few relatives she have in Israel and with her brother, who lives in Germany. She told that there was a holiday dinner party at the home she live. The staff like her, and it affect their treatment to her.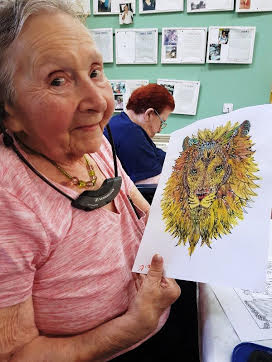 Lydia

Another sad news is that Zvika is still in the hospital and he has infected with a wild virus, and we don't know how he will survive it....
Today, Klara called me and told me that Lionid - her husband have passed away. She had to wait for her son who is Professor in Berkly University, and he came today for the funeral.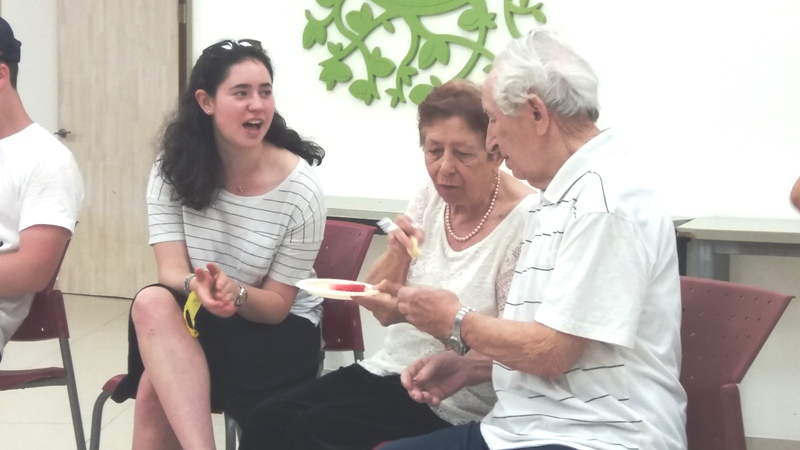 Klara with a student and her husband (while he was alive)

We knew him already with dimension, and couldn't relate to him. Klara, was so brave and suffered to see her beloved men goes down in functioning as a zombi... she didn't let herself to leave him in any senior house to take care of him. It was very hard because he didn't understand what's going on, and yet, she did it with endless dedication. Only in the last two months she had to let him be in a senior house because he became violent. Klara is very sad, but at least she, maybe, can live life a bit more relaxed now..... ?

Bless his memory,
Rivka.
Zfat
After visiting my brother, who stayed at the base, I went with my parents to visit Grandma Esther. There, we sat for coffee and cake with her family. We switched holiday experiences and met her daughter Yael. It was very nice and always fun to meet people that I heard so much about them.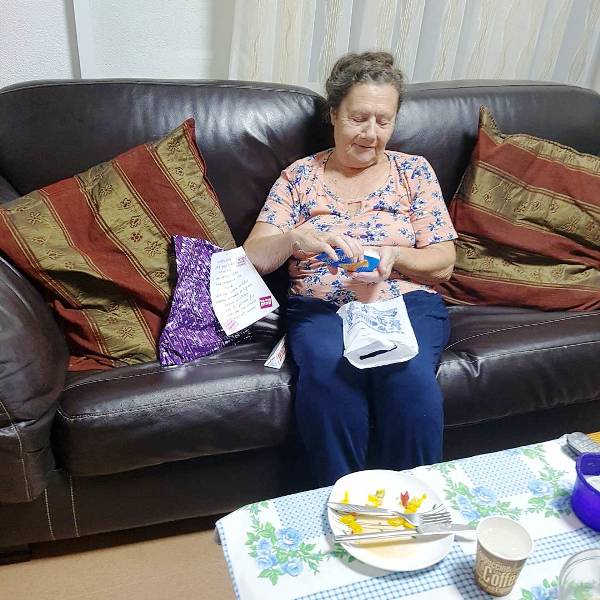 Esther

Then I reached Juli. She was happy and very excited, and said it was appropriate for her that I came. She has had a stomach complication after surgery (few years ago), so she is unable to eat and drink. I hope she will get better, soon!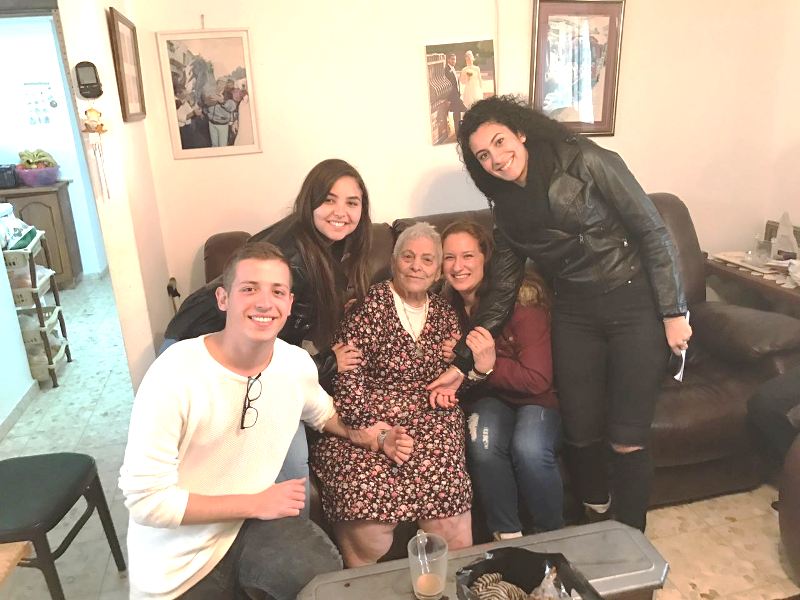 Juli
Finally I reached the House of Meir and Lillian, and I was glad to see a long table full of people.
Most of her family I met due to the problem with the house - they had, and also they joined the "March for life" this year. They really have become a second family to me and were excited to see me as one of thier granddaughters. They told me that on Rosh Hashana eve, the whole family took a picture, only we were missing.... We took the picture with the happy family. They were very excited to meet my parents again, and feel that they also their family.

News from the North
As the Mechina students in this new season prepare themselves to join the "L'Chaim" project, I visited the winners and brought them package with good food, fresh vegetables and seasonal fruits. The winners can't wait to get visits from the students.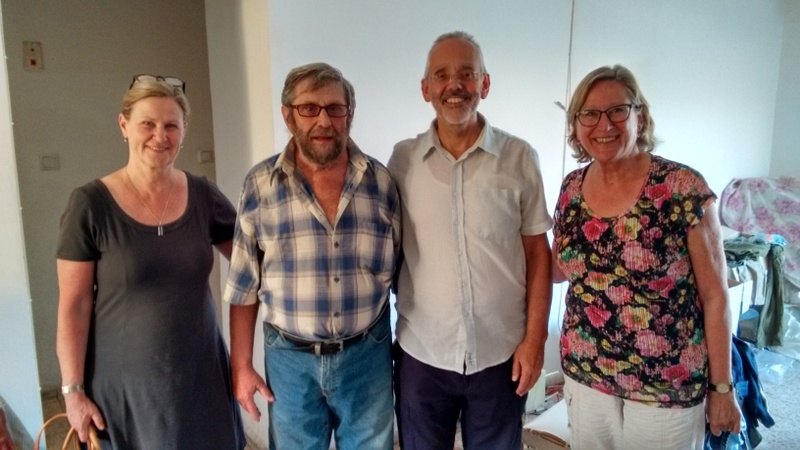 Jafim with Nanny, Timek and Henny
With our L'Chaim friends from Holland: Jan & Henny and Emoes & Nanny, together, we visited Jafim in Katzrin.
Our visit made him shining. We talked about many things. About his life, his family, friends and we listened to his favorite music. Jafim and we all together had wonderful time and I saw how much joy, came back to Jafim's heart. He was very thankful that we came to his home.
The next day, Daniel and I, went to the mechina Meitzar to introduce our project to the new students.
Shalom and Chag Sameach,
Timek