Ten years for "Lechaim", The march for life
February 13, 2015, Shevat 24, 5775

Dear friends!

I have no words to explain our experiences on this special day, on the 10th of February. The whole story of the March is of a great miracle, and I will explain: This week in Israel, we have been in the middle of a sand storm, with winds, rain and very cold weather. This weather was supposed to start on Monday night. All the weather reports warned about this storm. It wasn't simple, we needed a lot of faith. There had been months of work to organize the many details: transportation, speakers, performances, ordering refreshments and more. Tuesday came, and I woke up as usual, at six o'clock in the morning, a beginning of a new day, and the skies are clear, with light wind, as if the Almighty whispered to me: "Daniel, this is my present for you" … the sun rises, the skies are blue, and full buses of survivors and students arrive from north and south. All of them connected with the daily activities of "Lechaim".
The event was very convincing and powerful. We felt the sanctity of heaven. We felt that the March with its symbolism, unity and the spirit of fortitude, was served as a present to the Almighty, and He, with this wonderful weather, received it in bright shining love. It was a kiss from the world, moments of joy and a high spirit, a real inner happiness.
I have no words to add, just will say: This is the nice face of Israel! Here was unity! Concluding ten great years!
From now on, we will do it with the blessing of G-d, every year, to give the message to the world:" We are living here in Israel, and here we march the "March for Life!"
I want to thank all of our active people, who worked on each detail in order to work it out. Our dear Timek, who is giving aid, to his sick mother in Holland.
He left, exact plans with maps, for Shuki and R. Shachar, who had to bring the people from the north. R. Shachar played wonderfully, on his guitar and brought, his mate who played on the recorder, the spirit of redemption. Efrat, from Beer Sheva who, even though was sick, still organized and accompanied our survivors from the south, and of-course, Rivka, who put everything together with me, piece by piece, till we could see the whole picture. The most exciting thing was, the great motivation of the students, girls and boys, and the survivors, who were so united in their dances and words, and had vibrant hearts.
Also, the Chief Rabbi Mordechai Avramovski, who connected our event with Torah in his greeting.
Hugo Van Trago, the general manager of Hanadiv Gardens, who said excitedly what a privilege he had, to host this special march.
And the wonderful volunteers who helped us, during the event - from Pardes Channa and Benyamina: Hodaya Rivka, Ariel, Erela, Aliza, Ron, Mina. Thanks to them, every detail was done as it was planned.
All my blessings to them. And of course, you, our donors, our friends from the world, who make it possible, with your love, by returning the hearts of old and young to each other, before the coming salvation.
Finally, as you can read, we continued our visits, even in the stormy weather.
My blessings and love, hallelujah! hallelujah! hallelujah!
Daniel

https://www.youtube.com/watch?v=VFidzylOc6k

https://www.youtube.com/watch?v=tjUKj8As2KM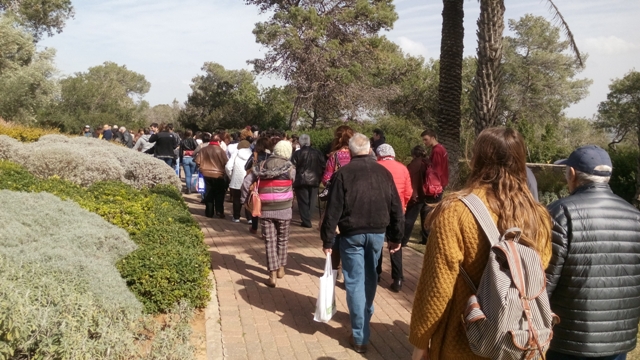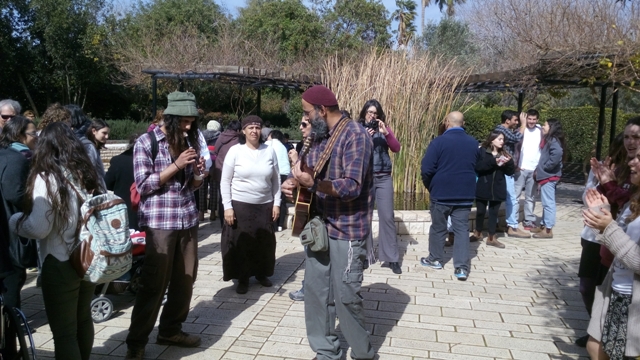 Impressions from the North:
Take your time to read it because each word is proving our vision:
Eldad: It's already half a year that we are part of the "Lechaim"'s program, and on this days I finally understood the deep meanings of this great project: The connection between generations, Shoah winners and youngsters, between pioneers and us as a future pioneers. Many thanks for this special and unique opportunity.
Shiri: It was heart moving. We had a great experience and a lot of pride, being part of such a day like this. I feel, that we did kind of salute to this survivors who won .
Nimrod: This day, made it very clear to me why I had chosen this subject and this volunteer program. I got back, with a great feeling of satisfaction that I am part of this project..
Shaked: I came without knowing what's going to happen, and was so surprised. The march was so meaningful to me after hearing what was said at the beginning about continuing life and generations, in this amazing Garden. The spirit there was so high.
Adi: It was good to meet students from other academies who volunteer with survivors and also experiencing as we do. We saw how happy our survivors are and it made us feeling so good.
Shir (Shalev): The march for life is probably the most exciting event that I ever had, and will cherish it all my life. Walking hand by hand with the amazing winners of the Shoah, in this beautiful land of Israel, was very special for me, will stay in my mind forever. One special moment, which even made me shiver, was when one of the survivor has said to me at the event with glowing and red eyes: "Now I understand that each day of life is a present". Thank you from the bottom of my heart.
Boaz : I looked from the side of the Camera eyes, trying to get the spirit and understand what should I photograph . The connection between generations expressed unity and mutual between two worlds. It was exciting and uplifting.
Shir
Beer Sheva:
Hi Daniel and Rivka!
Many thanks for the perfect event and your considering the survivors so much. The march was a bit hard for the survivors, yet, they were very happy to walk in the nature with the music and the exciting high spirit. The song in Yiddish was so amazing, and all who spoke or performed or joined the event, was so connected with his heart and presence. We were very happy, even the short notice, for giving Malka, to read her poetry of the remembrance of her mother.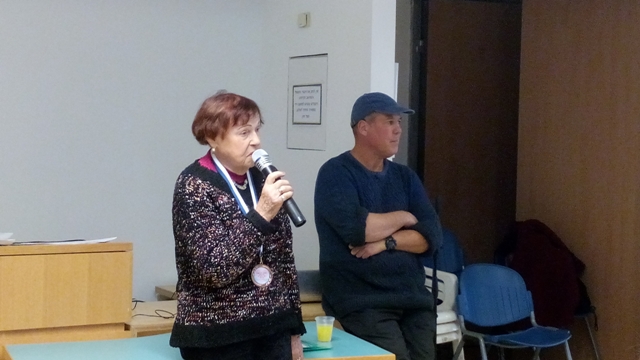 Anna add: Survivors and volunteers of Amutat Lechaim, celebrated the symbol of life, the bloom and continuing, in the Nadive Gardens, few days after celebrating Too Bishvat. After the march, each of us, has got medal and the vision of Malachite was written on it " He shall reconcile parents with children and children with their parents"… and a branch of olive.
The program was with a few speeches and survivors and volunteers performed. They danced sang and hugged each other. It was very exciting.
In the pictures you can see Malka reading her poetry..




Anna, Malka, Olga and Susan

Efrat
Pardes Channa:
Yesterday, after the event, we had our visits – as usual at our survivors, bringing a big package of vegetables and fruits. We have visited Benyamin which has moved to a rehabilitation center , and lost some wait and was very excited to meet R.Shachar and the boys.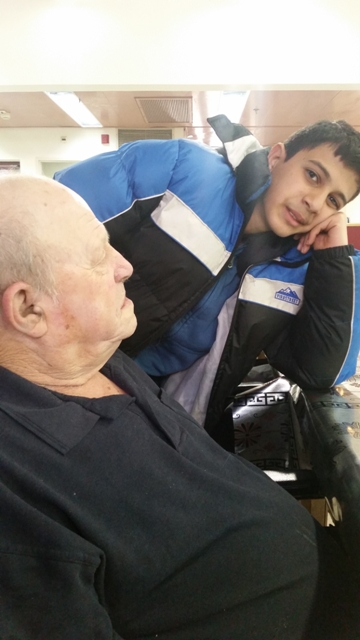 Benyamin

Rachmil in Chedera, was so happy to see us again after being in the March for life and said to me that we are lifting him up all the time, and give him a lot of honor.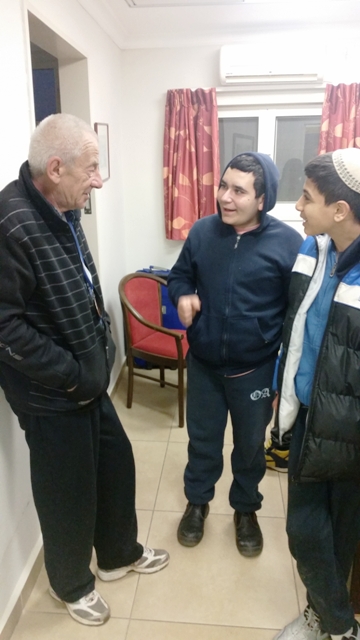 Rachmil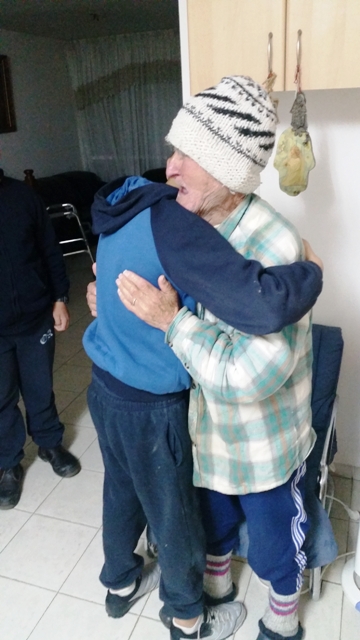 Rachmil


Avraham Boaron had hypodermic few days ago, and is now recovering from it. He and Rachel couldn't join the March because of what happened to him. They are limited in using electricity because owing the electricity company money…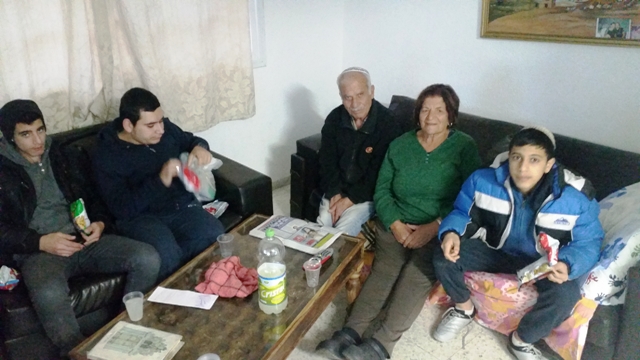 Aliza, had a very complicated treatment in her eyes before she is loosing her ability to see. She was so sorry not being able to join the March.
Itzchak has been very happy to see his visitors and to speak with them.
Chaya and her husband Morris, accepted their visitors, and when Eyal, hugged Morris he was so excited that he started to cry…
Now, my impression from the event of the March: It was so noble seeing the care and the connection between the old and the youngsters. It felt that all of us had the light of kindness and love. No words can explain the high spirit we all felt. I can say that such event will stay in the memory of most, who joined this event.
We had Signe & Odd from Norway, who were going with us, hand in hand, for a long time. Thank you for honoring us with your participating. Also Maxine, who came from Australia to join us in the march. Thank for being with us and doing so much to "Lechaim.
We are trying to send you a video that will show you some and may be will give an idea how it was.

Shabbat Shalom!
Rivka
Daniel Braun
E-mail: danielxrw@gmail.com
Phone: + 972 54 772 3510
Welcome to our website at: www.lechaimtolife.org
Amutat "Lechaim" – The March for Life!
February 9, 2015,  Shevat 20, 5775
Finally, by the will of G-d, with hope for good weather, on next Tuesday, February 10th , the March for life is going on its way.
It will be held in the Baron Gardens (Zichron Yackov), and it concludes 10 years of unique and blessed activity. It's our birthday of 10+!
The March contain a deep message in line with the vision of Malachi Ch. 3, 24
Ps. :" He shall reconcile the parents with their children and the children with their parents …".
During those ten years, continuously, Amutat "Lechaim" has given a message, Thank G-d, we have partners, from here in Israel and abroad, the message is a new song! We are not a charity organization, and yet, we have in our activities a lot of charity. The main message is to raise spiritually the honour of old and young people by having a practical and coherent project which makes the hearts closer in the deepest way.
The main thing is not quantity, or grandiose events with-out any message, but, a lot of personal love, studies and spiritual elevation.
During these ten years, hundreds of students, Israeli Jews, religious and none, had the privilege to get to know the glory of their Jewish identity which is the appeal of an ancient nation, with great vision and a great history with present and future.
We took on, as our responsibility, to work in a new way, no need of buildings, bureaucracy, or any other obstacles, but working directly with determination to aim to the target.
These days, we are witnessing, Islamic extremist groups, who practice murders beyond any human perception. Mainly the questions which were raised by the media, after burning the Jordanian pilot one month ago, which shocked the hearts of many people from the whole world… the question is how, and why youngsters, from the west, are so enthusiastic to join this infamous organization.
By trying to answer this question we will be able to understand the importance of Amutat "Lechaim" and others like it.
The cruel reality is, that those, who join ISIS, feel purposelessness and hopelessness, feeling despair in the abyss of materialism, humanity revaluated in their souls. There is no direction, no message, bringing refreshing and a meaningful life, filled with human kindness and creativity. And when there isn't any vision, the people will be without heart. Their souls are empty and thirsty for excitement, and when the fear is there, there is a desire to ban this emotion. We should remember that in the inner soul, there is an endless movement, it is never static , but, when the world sinks into its inner self, the evil will reach peaks that will get higher.
In human activities, there are two possibilities: evil or creation. Creation means, life filled with love for life, when the compass is G-d, who gave us a wonderful present: The book of books: Torah, Neveim, K'tuvim. The Torah of truth, contains all parts of life as work, love, creativity, self-correction and soul-searching. That alone, develop rich and meaningful lives. When there isn't such a model, many of those youngsters, are immersed in the profound despair that unfortunately, leads them to negative directions. At least, in our little piece of our G-d's land, we in "Lechaim", try and have succeeded sometimes, through this decade, to pour deep meanings in the youngster's hearts which "drink" from thirst and enthusiasm from these pure waters… Of course, it's a long way yet, for all of us, on this journey.
In the end: we should remind you with a clear voice: This journey isn't requiring perfection. We are not angels. This journey is filled with pains, wonders, and can be in dark tunnels. But, here is the message: we have to struggle, even if we fall thousand times, and on the thousand and one, we will get up. We can't judge ourselves by Western eyes; the main character which we need is, long lasting patience and courage! This is the meanings of life: to grope, fumble and droop again and again, to laugh and try not to take ourselves so seriously, and with that, to go up on the railroad, up towards Beit El.
Here I would like to thank from the bottom of my heart to the active people in Amutat "Lechaim: Shuki, Rivka, Timik, R. Shachar,Revital, Efrat, Miki, and above all: our dear students, whose hearts are pure, watering their love to those thirsty, tired and lonely hearts. The message of Amutat "Lechaim" is a different message, more real.
To you , our dedicated, dear donors, Thank you, Thank you, Thank you! for making, all of this, possible. There are so many challenges in front of us.
My blessings, with love,
Daniel
P.S. After the "March for life" we will send you all about it.
News from the south:
Shalom !
I spoke on the phone with Izik & Miriam (Shaderot) , and they were full of gratitude for my call and the help they have got from Lechaim. They told me that they are managing.
Suzan, was happy to see me and host me very nice. We spoke about her struggle to move near her family along 25 years already, and nothing happened yet. We wrote together, a letter to the Ministry of construction and housing. After that, we spoke about nice things like, food and about the "trip" to the "March for life". She is very excited about it. She thanked me for my attention and my visit.
Olga , spoke with me about her excitement of joining the "March for life", and shared with me some of her problems.
Shmuel & Sara are charming, and they praised me and their volunteer. Sara manages, to use the Internet, and even find movies in Polish to watch with Shmuel. Their son, is not in contact with them, and they are not very happy about it. Also, they are very tight with their economic situation. Eventually, they wouldn't be able to come to the March for life.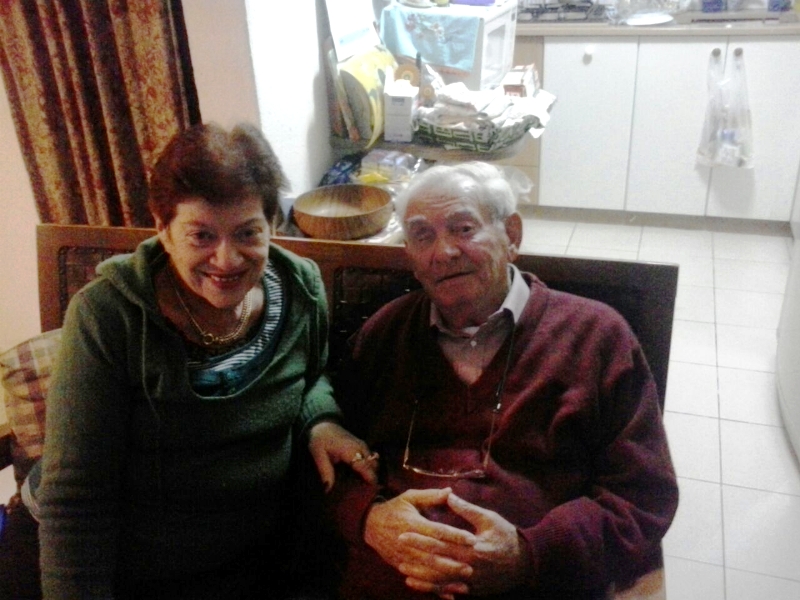 Shmuel & Sara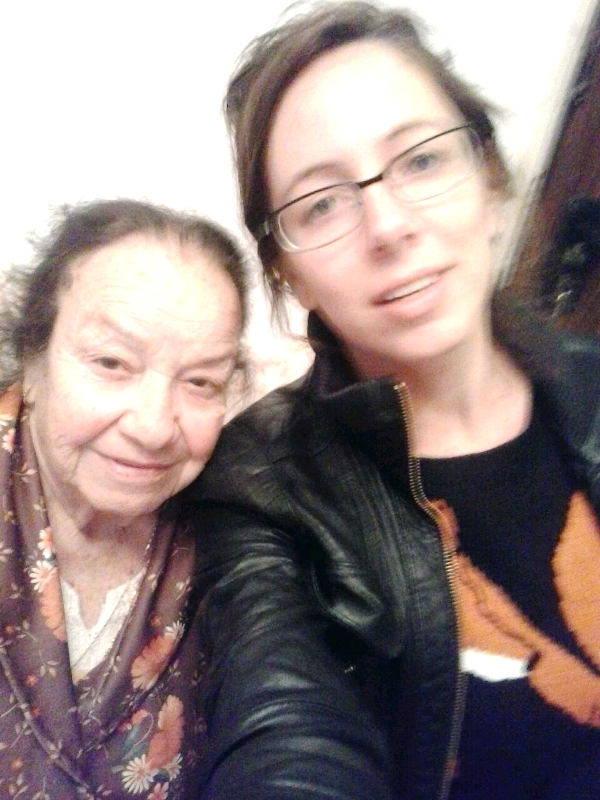 Susan en Efrat
Best regards, we will meet another few days, on the 10th of February.
Efrat

News from Jerusalem:
Our survivors from Jerusalem, are well, and meet Miki, when he comes to help or to bring our coupons. They appreciate it very much, and feel deep gratitude for that. On the Phone, I spoke with some of them and here are some news:
Ety, is a very alive and smart lady, and like companionship. She goes twice a week to a senior house for survivors, and having their some activities. Shoshana, our volunteer, recently has started to speak with her, and will come to visit her. Ety is very happy for it, and waiting for her.
Miralle, have her daughter and grand son, in her house. Her daughter, has gone through a very bad year in her health and Miralle is helping her even to raise her son. It keeps her alive, and she feels very useful. She have both volunteers, Kali, and Bloria. Kali, finished his studies, and returned back to Jerusalem, and keeps coming to her. Bloria, moved from Jerusalem, and yet, once a week, when she come to study in Jerusalem, she come to visit Miralle.
The connection is very stable.

Edit is going to have an operation very soon, Miki helped her with her bathroom; he fixed a heater for her and it really changed the temperature there.
She and Niva (Daniel cusin, who brought her soup at the cold days) is studying together once a day through the phone. She is afraid from the operation , but it must be done soon.
We will pray for her health and for her recovery.
This is some of our news from Jerusalem.
Rivka
News from the North:

Zachi enjoys the visits very much.
Ruth gave a lesson to the students how to make home made bread. They loved it.
Moshe had to go to the hospital.
Avraham, EliRam and Izik enjoyed fully together.
Brigitte
We got a little note from Timek:
Timek's mother, returned home today, after spending three weeks in the hospital.
It is a great miracle. She almost died because,of heart collapsed. Now, she got a pacemaker.
They cured also, her gallbladder inflammation which was really bad.
She could return home for revalidation only because I came to her and gave her the needed support.
I hope, that in few weeks, she will be much stronger.
Thank you for all of your prayers and support.
Timik
Dear Timik! We all miss you . Come back as soon as you can.
All our love to you, whisihing your mother to get better.
Shabat Shalom!
Daniel Braun
E-mail: danielxrw@gmail.com
Phone: + 972 54 772 3510
Welcome to our website at: www.lechaimtolife.org
The March of Life
On the 22 January 2015, Amutat Lechaim means to organize the "March for life" with our survivors, the Mechinot students and other volunteers and guests.

This march is the first to be held in Israel!

For years, the governments in Israel do the March for life in Auswitz, which cost a lot of money (Millions) while
there are 75,000 survivors living below the poverty line.

In my opinion, we have no good reasons to do this in Europe in camps, symbolizing death!
It is designed to strengthen life, mutual aid, relationship between young and adult,
strengthening the Jewish consciousness connecting to the Bible,
mainly to Malachi in his vision to "reconcile sons to fathers  and fathers to sons".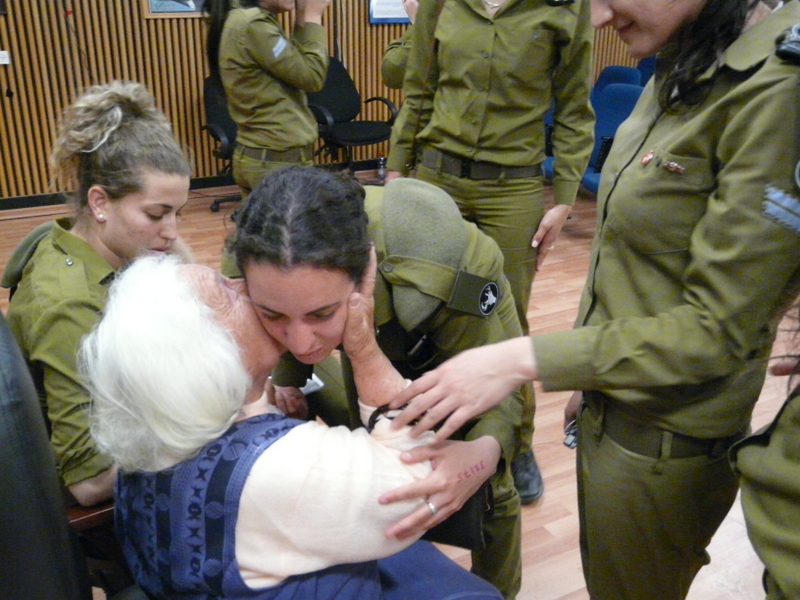 The March is to strengthen the mutual between our Jew brothers in Israel, and non Jews Israel lovers,
and above all to thank to Almighty for the sovereign and the wonders he did for Israel,
and a real cry to revive the Alliance between us and Him.

The March will be held in Zichron Yackov, in the Gardens on the name of Baron Rotshield
whose vision was to redeem the land of Israel and to strengthen agriculture.
So it's only natural and this task will be done in these genes-the life.
Our activities, complete his vision with the redemption of the human heart that is the essence of our activities.

The program:

The people will come till 10.30. Our representatives will receive guests with nice signs.
 Refreshments will be served, Sandwiches, fruits, Hot and cold drinks.

11.00 –     We will gather in the hall and listen to opening words by: Daniel,
    The representation of the gardens will tell us about the place and then we will watch a short movie.

11.45 –     We will start the March, singing songs accompanied by the R. Shachar's  guitar. (If it will be rainy we will do it with umbrellas).
    We will carry Bibles as a symbol of the blood connection between us and the Almighty, and for our love and will, on connecting with Him.
    The survivors will march hand by hand with the students, and for those for whom the walking is hard, a shortcut will be planned for them
     ( we will prepare few willchairs for them).
    At the end of the March, each of the participants will get a Copper medal heart shaped, and, on one side will be written the sentence from Malachi: "Reconcile sons with fathers and fathers with their sons",  and on the other side it will be written: "The march for life T,S,H,A,  Amutat"Lechaim"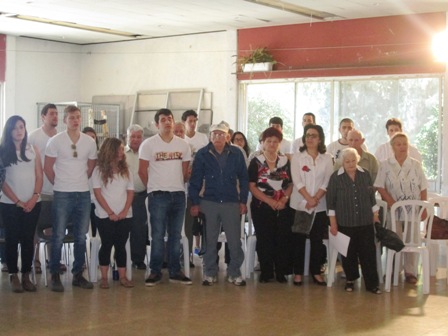 Returning back to the hall and have some refreshment, and we will see some performances by the Mechina volunteers,
and then, listen to a story of one of the survivors, a powerful story about heroism.
And than short speeches by:

    Yudit- from the Ch. Embassy,
    One of our Rabbi,
    and me, Daniel on behalf of Amutat "Lechaim".

The event will end between 13.30 and 14.00.

We will let you know if anything will be changed.

My blesses,

Daniel