March for Life
28 april 2017, 2 Iyar 5777

A small paradise on a big day of Light is so consumed contemporary global human landscape. So many words could be said about what happened yesterday, but I feel it isn't necessary. The atmosphere was magicl and full of holy light of unity, of love thy neighbor, which includes a variety of different people from different backgrounds united marching together with the Torah's eternal with Israel, a sign of "Hear O Israel", and in all it's a real treat pure. No words can express the wonder of our participation in the total of each individual person was yesterday at the event, and we felt the blessing of God as if echoing Yes Yes the river of life, as if telling us ,our Heavenly Father: "You see my sons and daughters? You can, you can do, you can download heaven to earth. It is not far from you "...
So many exciting things have happened yesterday, but the main thing was the lively, enthusiasm, calling big Yes to the message of "L'Chaim" in practice. The march was for the memory of : Chaya & David Kestenbaum, Vollter Braun, Harry Bande, and Barry&Trudy Mindel . bless their memory.
Soon, we will send video and in the meantime will suffice uplifting content and images. In the report, there is a true story of a true educator named Ziv: Ziv Or (light) in my addition. The story is attached and you precious Ziv with your dear students, great joy fills my heart. Even you, belong to the message of "L'Chaim" to feel the joy of this meaningful Jewish event. May be there will be many drawees as you, you're like a brother to me. Bless you. Thanks to the Many wonderful partners of The March for life 2017.
Rivka : Today, Wednesday, the March for Life, were hosted in Neve Michael (educational institute) runs and led by David Fridman, and " Emuna " Organization. Buses arrived from across the country with the winners, accompanied by youth from Mechinot and students from high school. We were greeted at the entrance , by illuminating signs, following and define that the march is in the spirit of the love for Israel.

?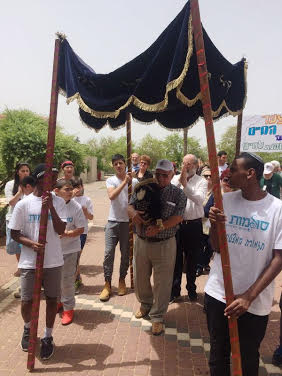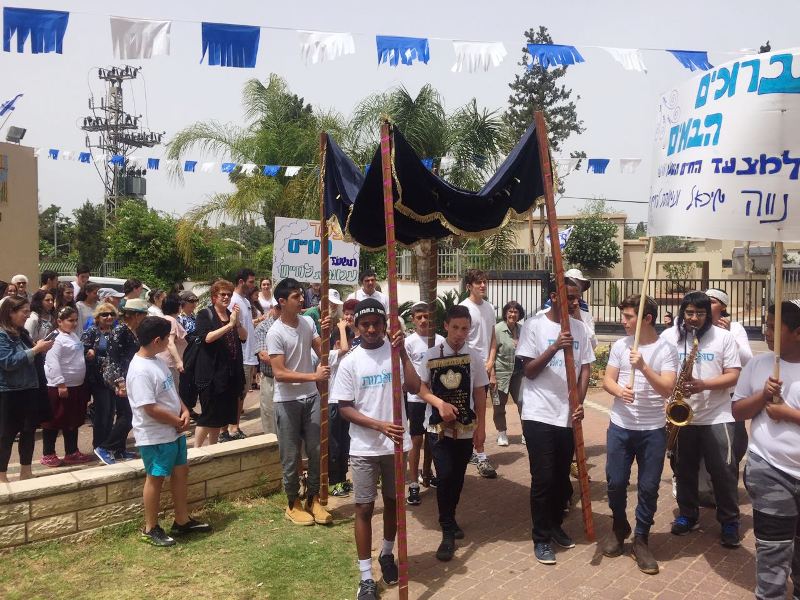 A Youtube-link about this event
In the dining hall, on the side, tables were laid with buffet, with plenty of healthy food, including fruits, vegetables and sandwiches and various hot and cold beverages, as people came from Baram, zfat , Maayan Baruch, Kiryat Shmona, Rosh Pina, Kfar Hanasie , Neot Mordechai, Ginosar, they needed refreshing, before starting the march for life. After the blessings of the village manager and Daniel , we started with the March. The area looked beautiful with happy people who say: yes for life.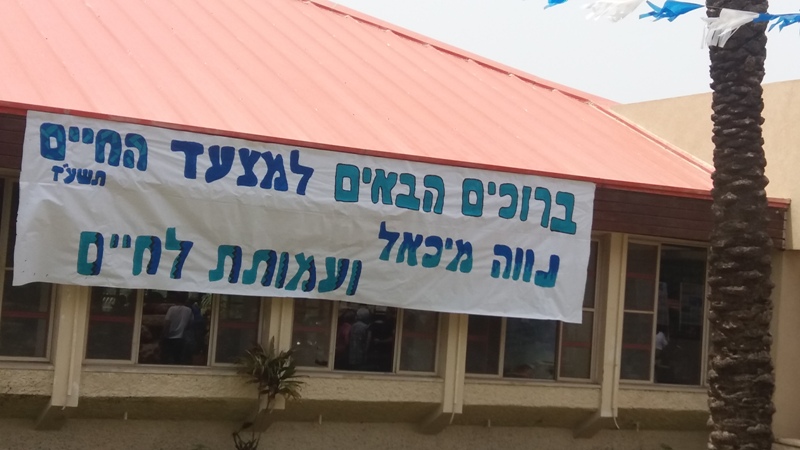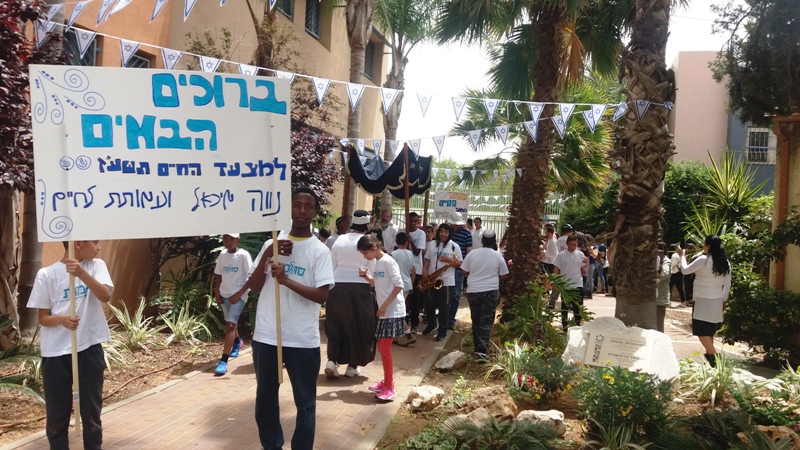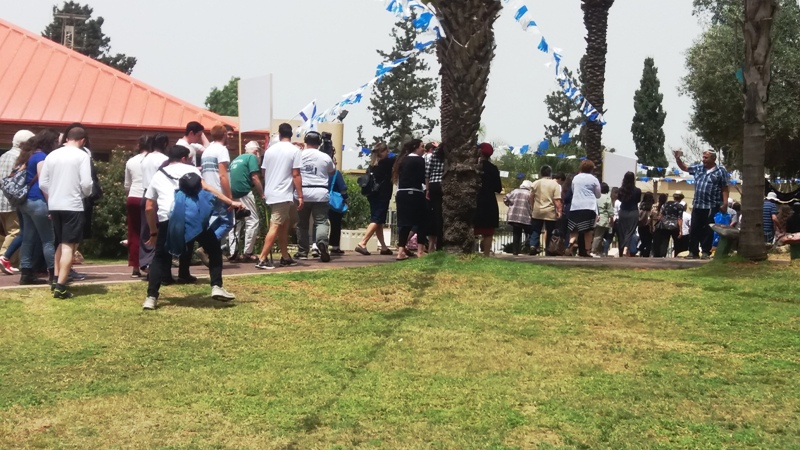 A Torah was escorted from the synagogue in the parade which were carried by the village director and other people. We all sang, accompanied by student, playing on saxophone. At the parade, we passed by, the garden where we have planted (on Tu Bishvat) shrubs and flowers, already the second year (see the sign).

At the end of the parade, each participant, has received a medal that says (from Malachi): "He shall reconcile parents with children and children with their parents."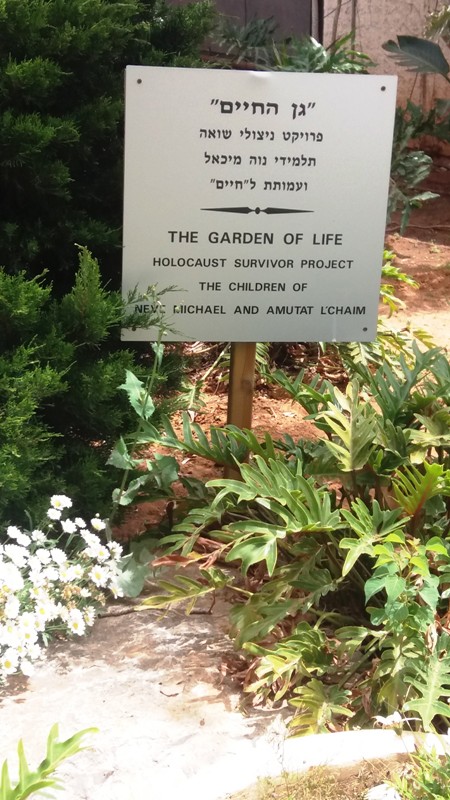 Garden of life
When we gathered again, sitting adults and young, one with another, the orchestra of Neve Michael, opened a remarkable brass orcestra, convergence by the students of Neve Michael, who learn with teachers, who come every week from the Philharmonic and the results were a remarkable and accurate .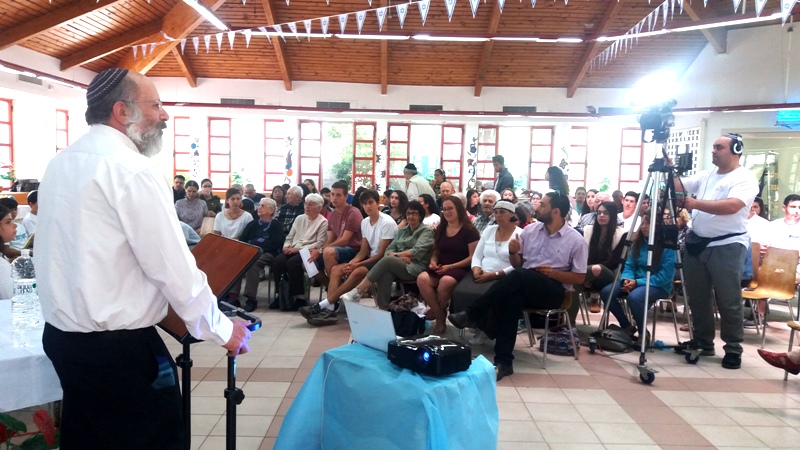 David Friedman speaking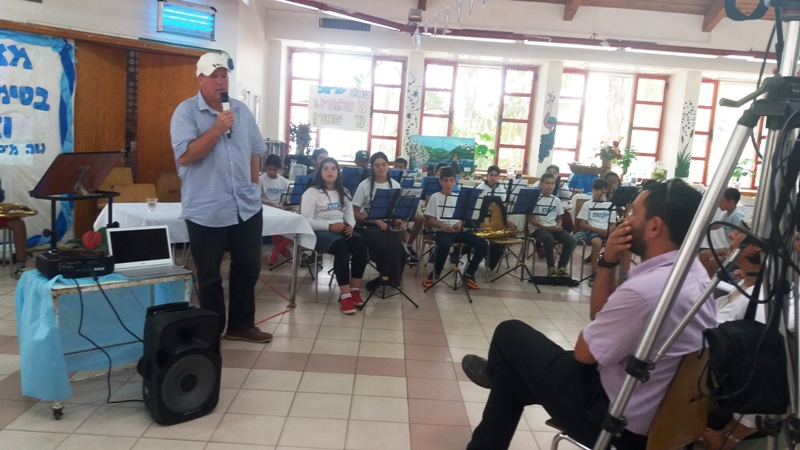 Daniel speaking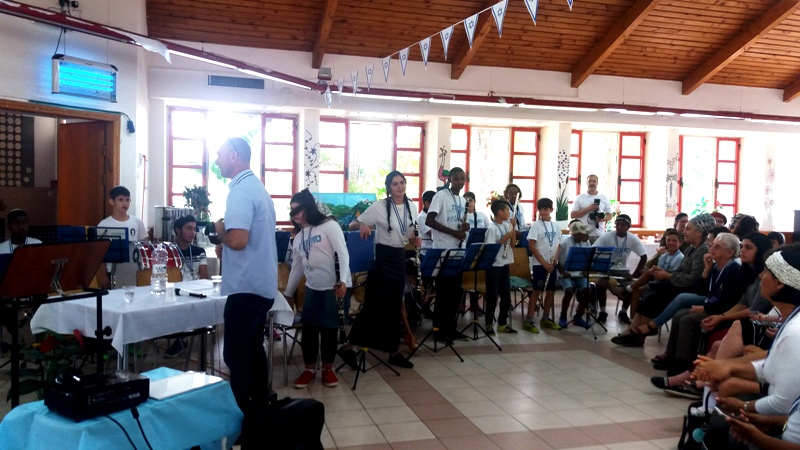 The orchest

Especially, we were amazed from one of the students, who played solo on the flute, and was accompanied by a piano. It was just exciting to hear and understand what a wonderful project they have. Then came the poet Amliah Zilbershtin, reading two poetry from her book " poetry in a true language" and it was exciting to hear it. Eliram, from Kibbutz Ginosar,
brought a picture painted for the students of the preparatory of Maitzar in the Golan Heights, who upgraded his life completely. Four years ago, when the students started to search through the internet , they found his brothers and sisters he did not know all the years that they even exist ... Imagine what it did to his life. this year, he is sitting with those volunteers on the book of his life, and he consider them as his grandchildren and always celebrate with them the events during the year.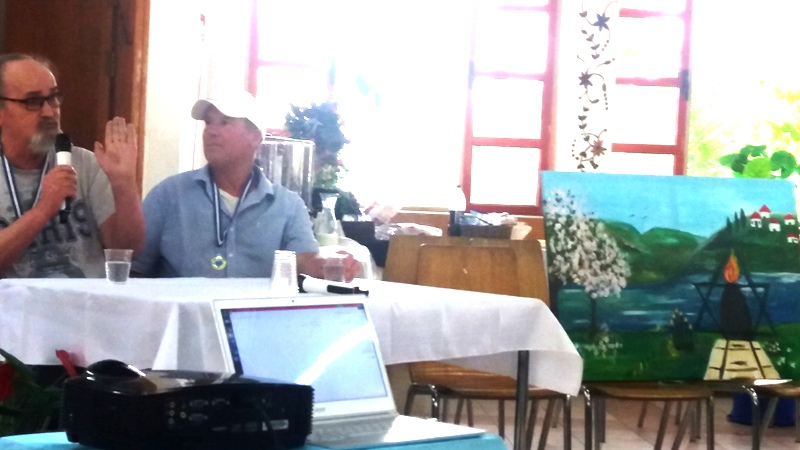 Eliram and Daniel

Students from the Mechinot rose one after another, singing and talking about the warm relationship, which were created between them and the survivors. They sang the song which speaking about togetherness, and all the hall joined this beautiful song. Shir is on her twelfth grade, from Modi'in. She told us, how much this project, gave her, and how much she loves it.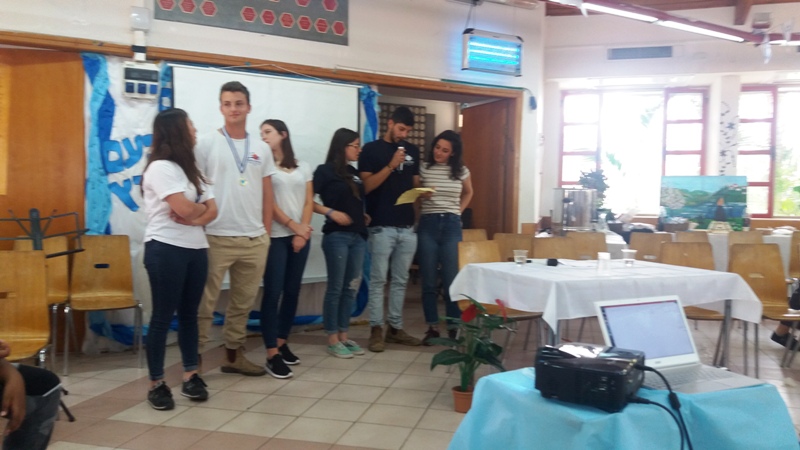 Students from Kfar Hanasie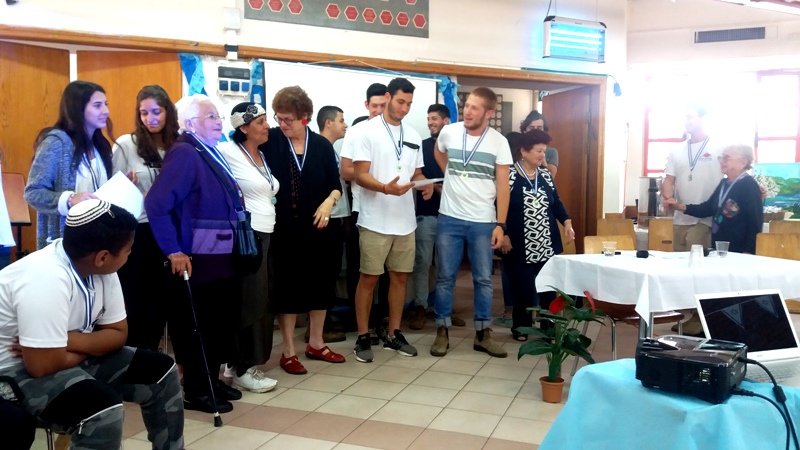 Students with the survivors
Two girls from Neve Michael, read the poem written by N. Alterman , and then, Daniel distributed certificates of appreciation to volunteers who leave very soon to the army for their service, and other volunteers who worth notable for their devotion, as Zvia from N.Michael, Timek from the north , and Shir, our dear soldier .Finally, Liora Minka, the chairman of "Emuna", greeted the project and its contribution to the students. Finally, the young musicians, has called the rest of us to stand on our feet , and all of us sang the "Htikva".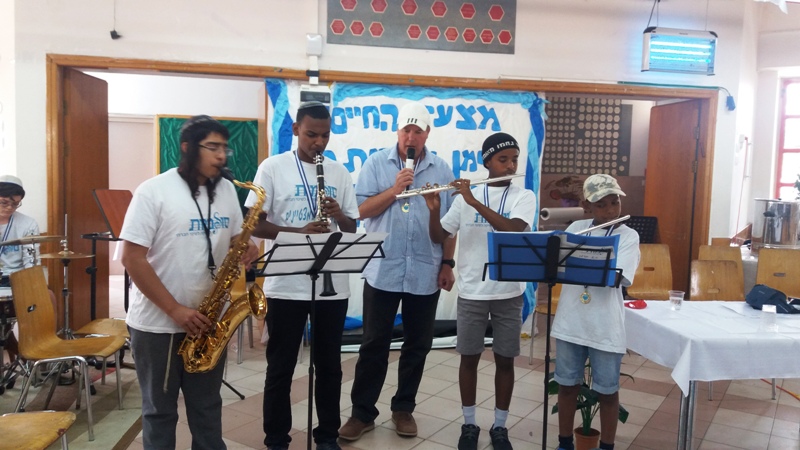 Playing Hatikva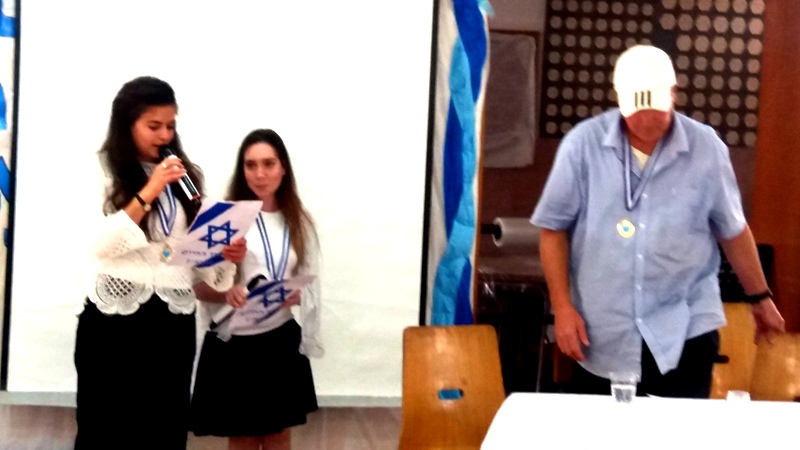 Reading the poem
So, we said goodbye with hugs and kisses from everyone, and we departed from each other, to get back home , hoping to meet again next year.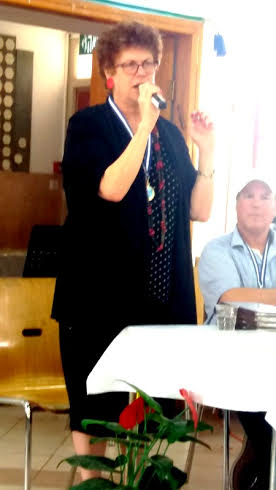 Zvia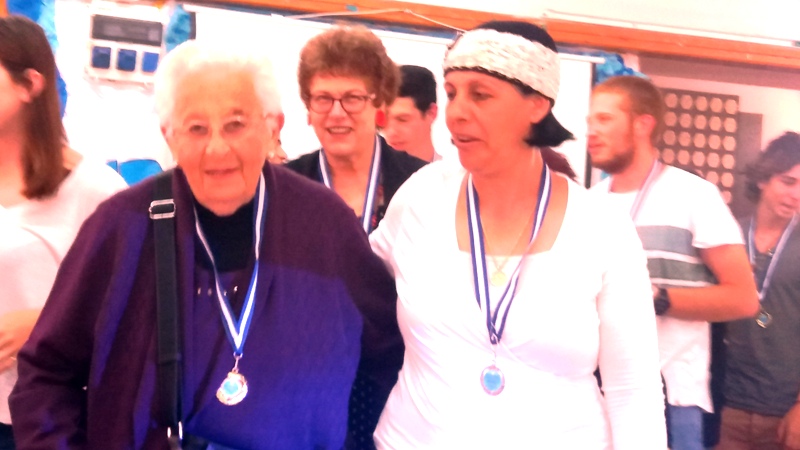 Zvia, Liora Minka
Impressions from Neve Michael: David Director: I am very glad we shared this together. All of us were full of admiration. Zvia: Everyone was excited and said they were in the clouds with a lot of pride. Yechiam: As a manager of the
?boarding here. ?I was filled with pride to see our students accompanied throughout the event the winners. I had the opportunity to see the love between them, aspciely seeing one of our boys going hand by hand with one of the winners from the north. This is an intergenerational encounter between the "Watts-up generation" and those who still write with pen and pencil and brought us to this point [in time]. Our staff training in our village, live to see the students which are facing many difficulties, and suddenly became leaders and volunteers. All of this, affects the entire village and makes us all better persons. Israel leeft !!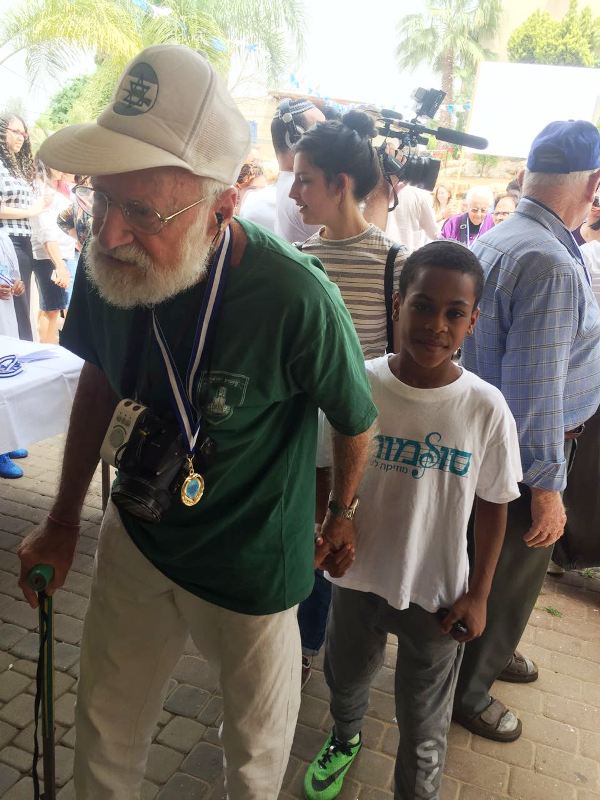 Young boy holds the hand of a survivor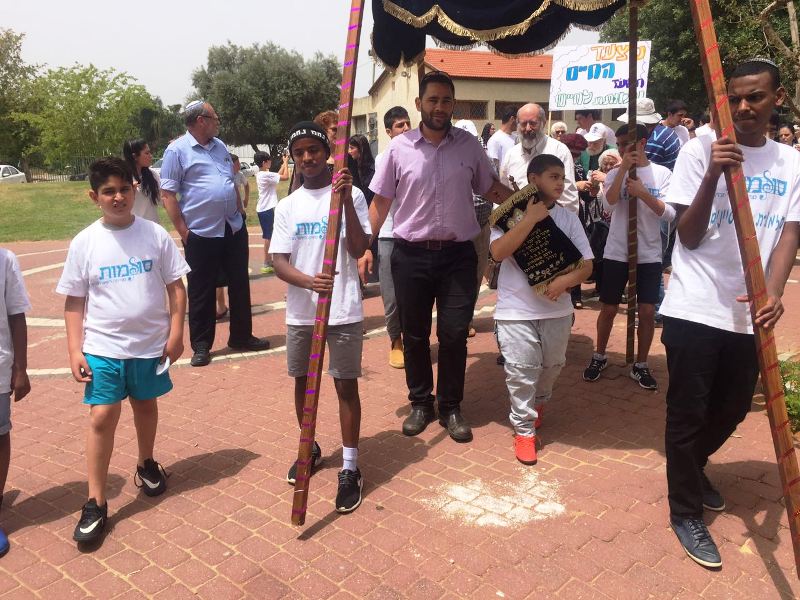 Yechiam escorts the students with holding the scroll
Ziv from Chedra : I would like to share with you that about 10 days ago I came across a newspaper article tells about the hardship and loneliness experienced by some of the heroes of the Holocaust in Israel. I decided to present the story to the class students as part of our learning about the Holocaust Day events.
To my surprise, the students were so excited and took to their hearts the theme r- asking questions and insisted to understand how those elderly live and about their suffers from loneliness. I was very excited for the curiosity and showed them my local fundraising initiative, carried out by the private children .
Again, to my surprise, without delay and without question, the class was divided into teams, roles were distributed, and the same day left the team imbued with faith to the streets penetrated to sell lemonade or cold juice for thirsty residents.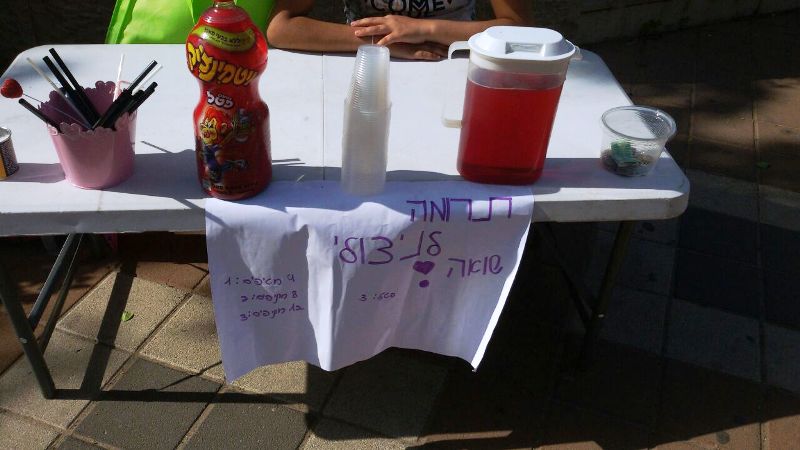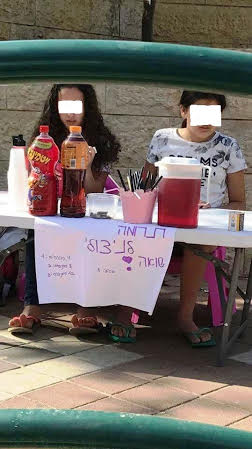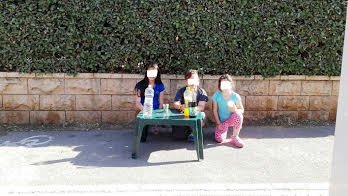 Proceeds to "L'Chaim". The initiative had heard other students from other grades , and some have also sought to contribute to the effort . If so, I am proud to tell you that our wonderful students were able to collect a sum of money of 632 shekels, I add another 18 shekels, and blessed the way your organization is in check for 650 shekels, and I am sure that you will find for the money a good use .
Wishing you "... and bringing back heart of boys(and girls of course) to their fathers"...

Shir : After a sleepless night, with excitement, the day came. The third March for life. Every year, the month March is the time for me to stop, breathe the love that I spreads around all year and see what have been done.This year, I had come up, with my two branches-Modiin and Zfat, and extra special and exciting branch in Rishon Letzion.
From the moment that we gathered in the bus : dear Holocaust winners, their family members, volunteers and more, there was an atmosphere of joy. Neve Michael were amazing, welcoming us with songs and dances and we felt already at home.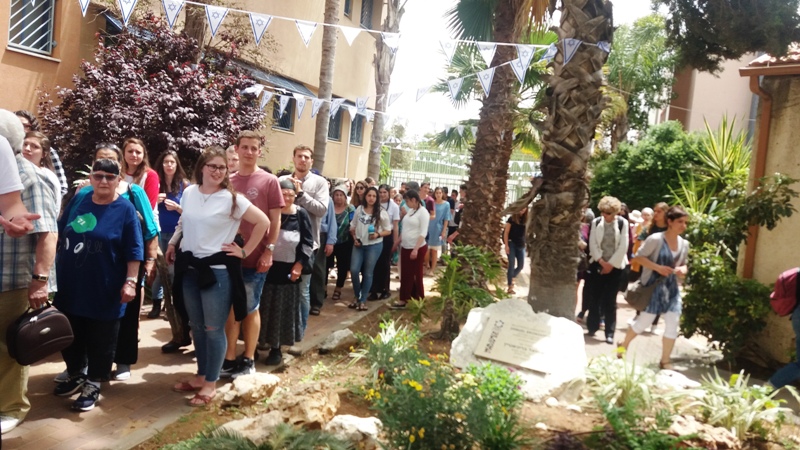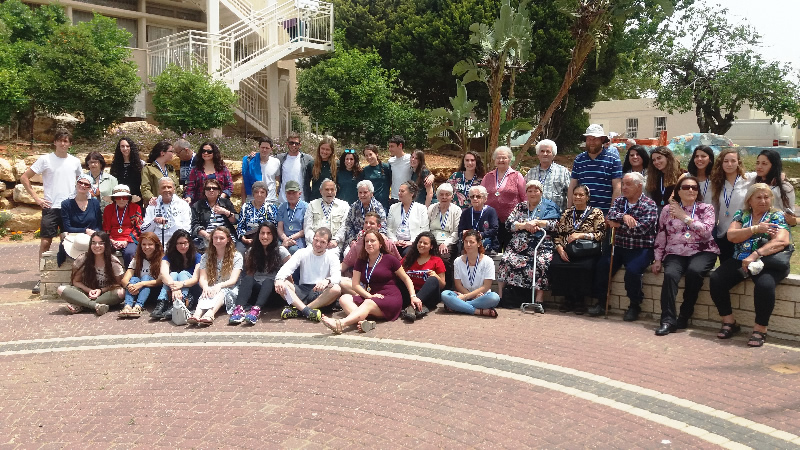 Part of the L 'Chaim
During this special day, we marched along , hand by hand, young and old, grandparents and grandchildren, singing the songs of Israel with the Torah book . At the end of the parade, we received medals, winners and volunteers as well.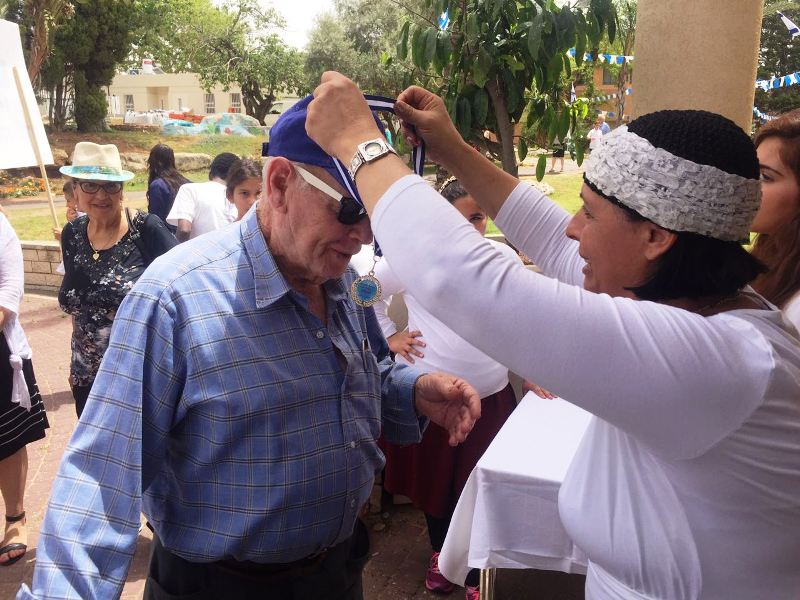 A survivor receives a medal
After the day of Holocaust Remembrance, we were busy instead of death and horror, we were busy with life every minute of it. Then, we were moved to tears by the appearance of scales in collaboration with project of Children playing and studying by the Philharmonic Orchestra.
Each branch raised a spokesperson, track on his behalf indicating another year of remarkable action and love. I was excited to see the faces of the winners of the Holocaust from Zfat, when they saw the video prepared by the students from Braam. Photo countless wonderful encounters. Images which most of what you see is a beaming smile and sparkling eyes, and most importantly love and warmth.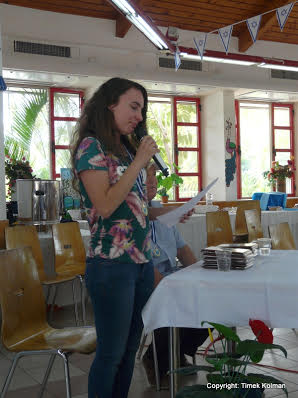 Then came to speak one of my wonderful volunteer which is doing the visits for two years, visiting a favorite pair of winners, and adds tremendous light to their lives.
We completed with certificate of appreciation to all participants of the project ,the amazing preparatory, and high school students, doing the activists together and costly.
One of the most powerful moments were taking a photography of Modiin, Zfat and Rishon Lezion together after the parade. I was so excited to see how many wonderful people I know. And I was surprised, as time and again, how much some loving hearts, can contain.
All I wish is that we continue to celebrate together the health, true love, joy and happiness every day again and of course next year in the March for Living.
Comments of the winners :
Larissa said she was very happy to participate and also to see friends from Kiryat Shmona and Zfat, volunteers and friends.
Sholamit from Modiin said that her mood was pretty low until the moment she got on a bus and refill with energy and joy.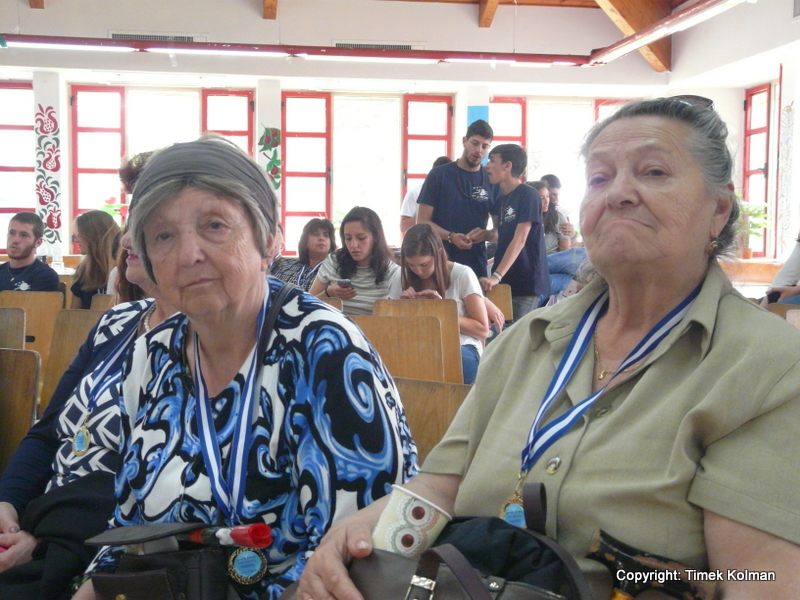 Larissa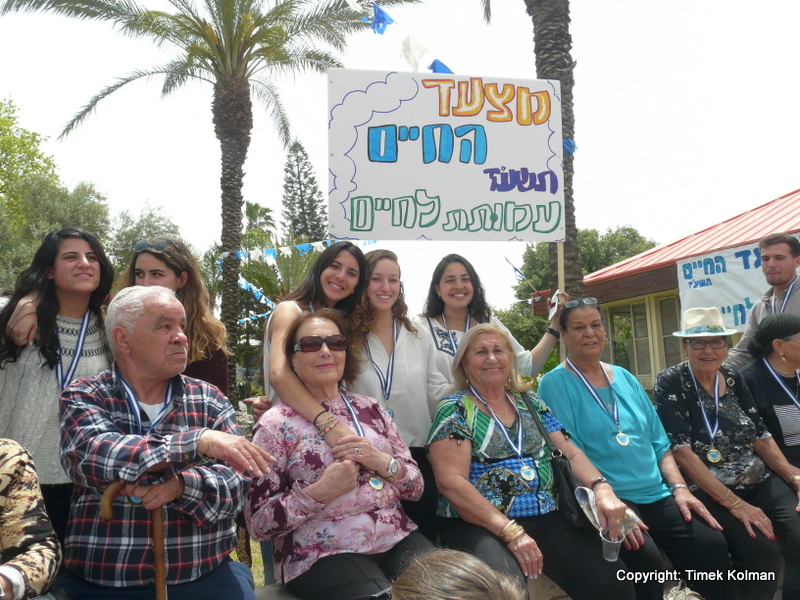 Together as L'Chaim to life

Svetlana never stopped praising the amazing investment of everyone on this day, the thought of everything, even the smallest.
Mair Olilian came with their children and granddaughter years did not stop to get excited and thank you for inviting them and what we do for them.
And including all responses, simply said it was a special day and a memorable parade full of life and light of love, which took place in the most appropriate way, with a family atmosphere and homely warmth.
Zfat volunteers, invested a lot in arainging buses and bringing all the winners to the bus and back home, enjoyed every minute, stunning togetherness and happiness on the faces of the winners.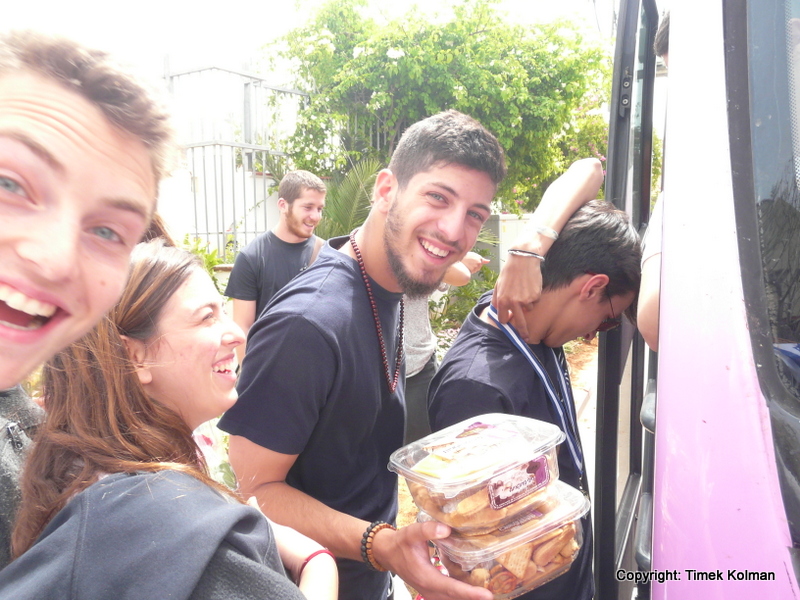 Getting on the bus
My base soldiers are volunteers who join our project director, were happy to see all this work. Thet told me that they really did have a huge desire to start the project.
On this occasion I would like to thank my wonderful volunteers choose to either place again and once or week after week to do it from the heart and stir so many people and me. I was so happy I could blindly trust Safed volunteers take care of all winning and winning and transportation Safed intelligence volunteers coming year despite the load stage where they are.

Timek from the North: Neve Michael school, organized all very well. They have put their hearts into it and so they made it to an unforgettable day for all the winners and the students and all attendants. The nice welcome with music and singing upon arrival was heartbreaking. The march with the Tora scroll, young and old walking hand in hand. The music arrangements and the words of those who shared with us from their hearts and from the volunteers of the mechinot, the hospitality, the people who were there, the joy, it was a day full of life. We all returned home with a big fulfillment ad thankful hearts.
Rachel, Rosh Pina: It was an beautiful day. I have really enjoyed
Aviv from Maitzar: A day above all expectations.

These are our words. you can see more pictures made by Timek in this link: https://drive.google.com/open?id=0B4kSB9URHwxbRFF4ZDBsS0ROWjQ



The eternity - of my nation / Daniel Braun
It's impossible to stop this melody ,
And we don't want to.
Chronicles, bloody victims,
Groaning mourners, a cry for God's help
A Journey which has not yet ended!
The nation has never became silent.
For eternity my nation,
To discover my independence,
as unique, with my heritage,
Solid as a rock !
The journey has not yet ended, we would never stop,
As powerful spring,
Slashing, seeking to reassure, stems, reaching, play,
The message of the cry for God's help.
We were as dreamers!
The eternity of my nation, the journey has not yet ended.
Hear O Israel, our God is One.
There we can relax , there we will reach ,
This message we will proofreading .
It's impossible to stop this melody ,
Israel nation is alive !
Sincerely, Daniel.
Completing the story of the "March for Life"
4 mei 2017, Iyar 8, 5777

Dear Friends!
There are so many exciting stories that took place in the March for life, and I feel that it is important to talk about it some more. There is a wonderful poet, saying poems from a deep point of view, of the Jewish Holocaust story. Amalia, is her name. A daughter of a Holocaust survivors and a gifted educator, who understands the message of "L'Chaim", and managed to excite us with three poems, and the souls , who were able to get the message. I can proudly say that Amalia is the "home poet of "L'Chaim".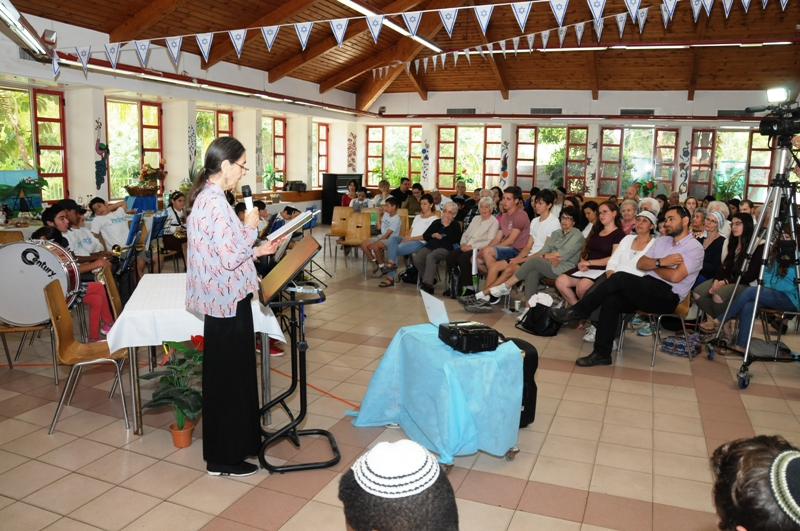 Amalia
I want to to draw your attention to the great wonder that our youngsters expressed their feelings and that this project helps them to change perspective. The message is: Do not be miserable, do not be a victim. All life situation, even the worst, can be overpowered. Learning is it's purpose, bringing expansion, finding power that enable the realization of everyday life, in the country of life. The message of "L'Chaim" is a message of journey, and in a journey, there are ups and downs. But learning is challenging, and the results are remarkable .

We feel that the love of God, is like a shadow over this project, and thanks to all who support us at home and abroad. Jews and non-Jews, who can see the real message in this project.
Sincerely,
Daniel

Pardes Channa
Rivka : A beginning of relationship, between survivors from the nursing home of Kibbutz Ein Shemer: It took place the day before the Memorial Day. Two noble women, were excited from the idea of volunteering by visiting winners, and began their mission with "L'Chaim". We will hear from them, after each visit.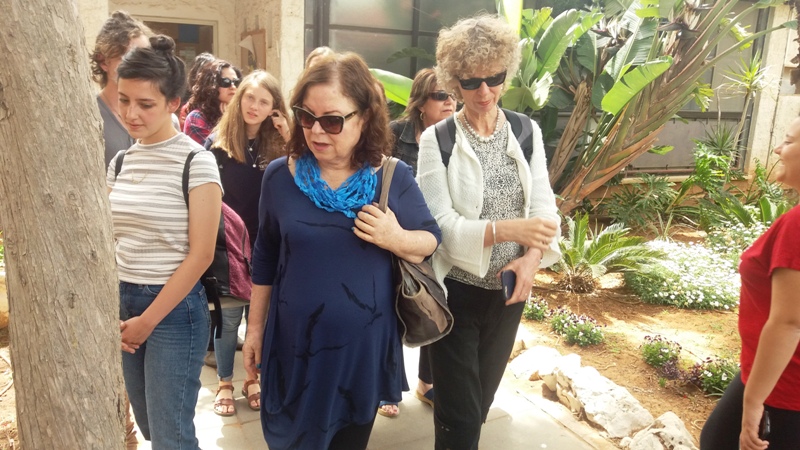 Yudith, Jenny and Chaya

It was an initial meeting and exciting. She mixes between fantasy and reality. She told me about her children. Shared that she loves to draw. We looked together on her drawings. Thank you for the privilege. Chaya Karni: I came back very excited. Had a good meeting with Danial and Tamar (the social worker there). Then I met Lydia, she speaks mostly Russian and I'll have to get a dictionary and renew my knowledge of Russian language, in order to develop our relationship. Thank you for the privilege.
After the Independence Day, most of Neve Michael students , has remained at home, with their parents for a long weekend, so I went to do the visits. When I met Klara & Leonid, they said that the parade was very special experience for them, and they are proud to belong to such a vast family of "L'Chaim".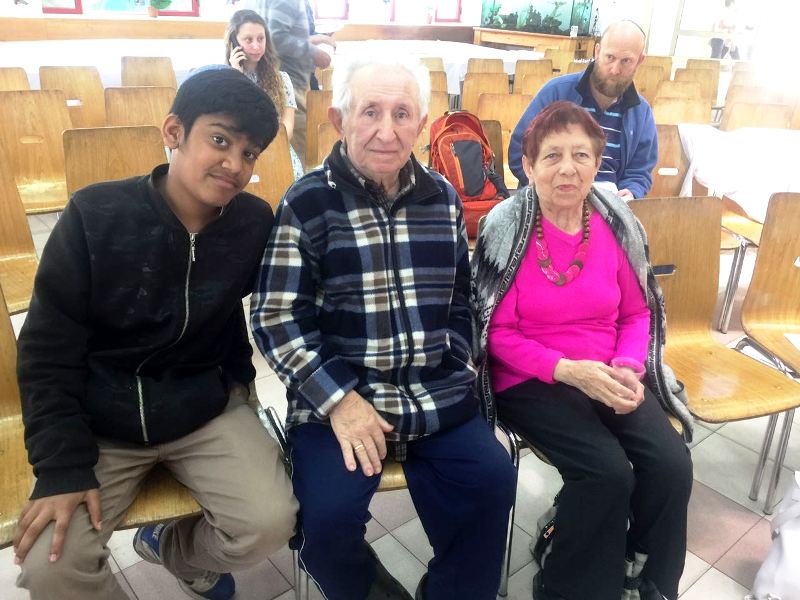 Klara, Leonid with a student from Neve Michael
Even Zippora said, that the parade was very exciting and was a powerful gathering and she felt proud to belong to this special family. Gizela was with full of gratitude for experiencing it. Aliza, had a birthday surprise party, organized by her children, so we did not get in. But, we send warm greetings to her health and happiness? We brought Morris a package of fresh vegetables, and heard from Chaya's daughter, that today, the Doctors is going to put into her throat, a breathing tubes, also to transfer liquids to her body.
Jerusalem
Nitzn and Roni, the soldiers from Jerusalem, met again with Eti! She is really fun and funny from one meeting to another. She kept forgetting our names and in the same breath, says she speaks about her family and it really warms my heart! We talked about our service in the army, about her family . We laughed a lot today! We really love her. She told us about the new club (last time , we were told about it before it was opened) for Holocaust survivors that runs three times a week and "so close to her house". She sounded so happy for that.
Zfat

Today we came, a group of soldiers from Zfat with Eitamar , (the student who regularly visit Shalom), to renovate and clean Shalom's house. We were amazed from the bad state of the house. Shalom, had a hard time being able to say goodbye and throw things. He never really agreed to throw , and we fixed as much as we could. It was also not easy to paint his house , but eventually, it went fine and Shalom was very happy and thanked us from the bottom of his heart.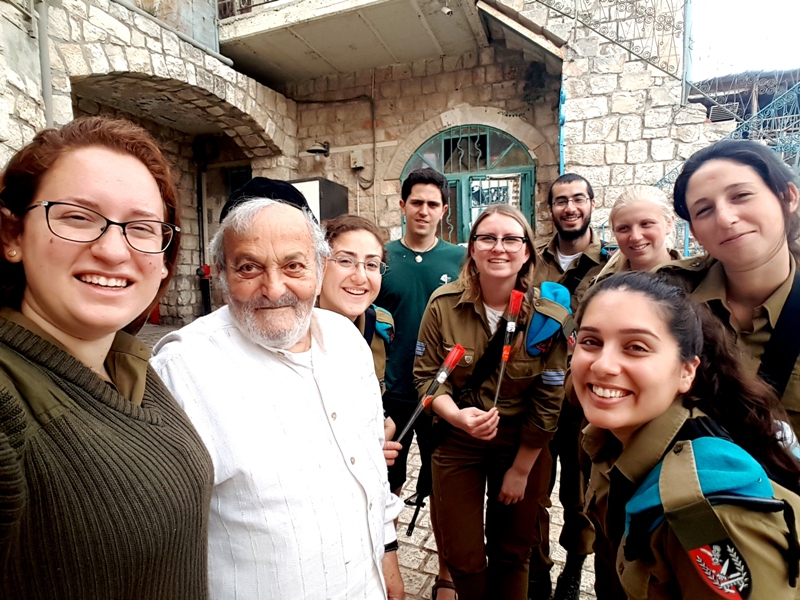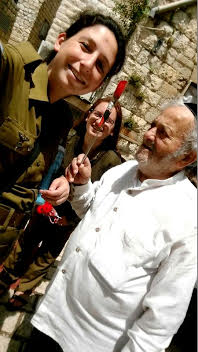 Shabat Shalom !
Rivka