Joy ! Joy ! Joy !! and news
Elul 19, 5776 , September 22, 2016

Dear friends!

Rosh Hashana is very soon, and here is a story that shows the huge gap between the vision of Amutat "L'Chaim" and the old ideas of "servants and masters" and the ignorance of what is charity in a higher level. Few days ago, I got a phonecall from abroad, by a person who get our reports, and he asked, to my astonishment:" Excuse me Daniel, I don't see miserable people in your pictures, but happy ones, with full of energy and joy... I wish I had it...." After regaining my composure and patiënt understanding, I answered him: "Dear sir! the reason you see this joy, is because of the real help which we bring and this is our vision - to bring forth and to stimulate the rivers of joy out from youngsters and elderly. The joy is a result of a long lasting work, and this is the most expensive food these days. Indeed, those people needed our help and connection, and at the beginning they weren't so happy! They were very sour and disappointed and we brought them a new message, given in a different way. Not by arrogant and cocky organizations, building their wealth on the account of misery, and serving mainly, the huge and sick ego of those organizations. Of course, the people whom we have adopted, need our help and we do it with all our hearts and quickly, but our point is to straighten the spirit of old and young, and the pictures you see are results of our vision." Unfortunately, his reaction was very dry :"I want to see poverty in my eyes, to see the tragedy in order to be convinced..." I answered him: "If so, we are ready to volunteer and help you, according to your reaction, it is you who needs the help...." and this is the way how our discussion ended.

Dear friends! before the holidays, again, it is as the big ego monster has been waken by the manipulative users of misery, and systematically play on the conscience of people who find themself less important then their nabour. On this way they save on misery, while getting richer of that that has not been ment for them. We, in Amutat "L'Chaim", are very proud and happy to announce that our vision revives a huge high spirit in the hearts of all the ones who are connected with us. Our activities are getting wider, the seeds are sown, and the sprouts are seen. All those, whose ears are sensitive and their hearts are open, would understand this reaction which is the pure message: Continue with us in the orchestra, which say "yes" for life ?!
Thanks to the G-d of Israel, the Eternity of Israel does not lie !
Joy ! Joy ! Joy !!!

Daniel
Pardes Chana
Tuesday, last week: Rabbi Shachar came with a reach bag of supplies, and to say good-by to the winners for a while from our region, and he already greeted the survivors who love him so much with Shana Tova , and each of them greeted him back and said that they will miss him and wished him to come back soon. I would like to greet him for being wonderful partner and with a lot of ingenuity, which escorting us for 8 years . We will be missing the light of his face, his music, and for his family , who joined us when the students were on vacations. We wish you Rabbi Shacahr, good luck with your new project of families adopton, in Katzarin.
On Thursday, the same week, I met the students in Neve Michael, with Zvia , who is the one that gathered about 30 curious students who came to hear my orientation, who listen with interest and also saw video of the march of life. The new social coordinator of the school, joined our meeting, and was very impressed, and offered right away, to host the March for life. The result of this evening are that 15 students has signed to join the project, and we will be on this Wednesday, visiting our winners.
New beginning, new students and new horizons! Lets wish ourselves only good for the project and for our winners as well..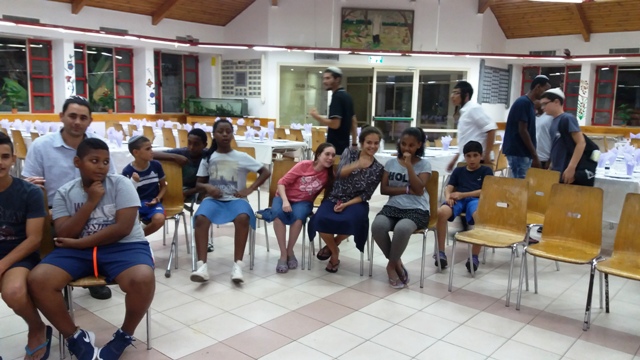 Neve Michael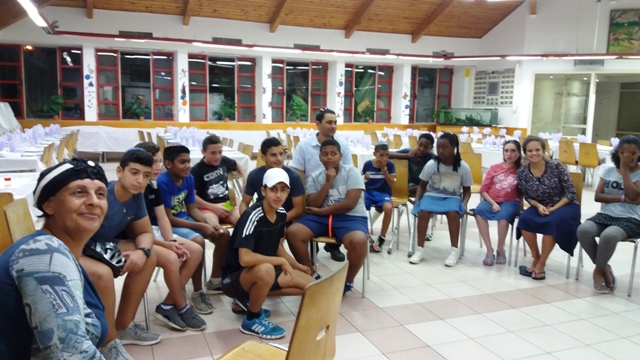 Zvia (to the left on the picture)

Wednesday afternoon, we gathered with enthusiastic students who are going to visit our winners, for the first time . We were split for two groups, one with Zvia and one with me. This time, we had with us honey and apples in order to bless the new year, and some vegetables. Zvia with the students reached Shoham, where Rachmill (bless his memory) lived and they missed him and expressed their yearning to him. They loved him so much that one of the girls from last year said that she can't continue the project because it makes her to be very sad by missing him. Yonna, was very happy to have the visit (see picture).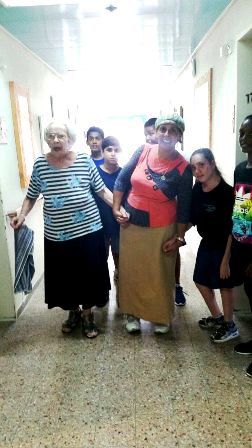 Yonna

Ishiyahu also, was very happy and set and spoke with us, and told about the operation he is going to have this coming Sunday (fixing his pacemaker) and we send ur wishes for him to go through the operation and recover fast. Mordechai even waiting to nurse was happy to see us and greeted his visitors. The other group went with me first to Chayia & Morris . We couldn't get into their house because of a gasleak, and we just greeted them , left the bags and went to Klara, and there , we took an apple, split it to pieces and opened the Honey (see pic.) , sang, greeted and spoke happily with this brave women who haven't easy life at all. She enjoyed it very much. From there we went to the Boaron's and Rachel told me how much she appreciate our project and she feel that we are part of her family.... Zippora was very happy to meet us, and asked from us to help her to clean her garden , which is very neglected. Gizela, just came from the hospital, we stopped her in the middle of her Skype discussion with her only son who live America... her husband few months ago, has lost him and she feel very lonely, and when we greeted her and hugged her she started to cry and was very thankful. From there we went to see Aliza, who really waited for us and was very excited to meet again the students. These days, she is going through a very deep examinations because her kidneys is not well and the Doctors try to find solution for her pains.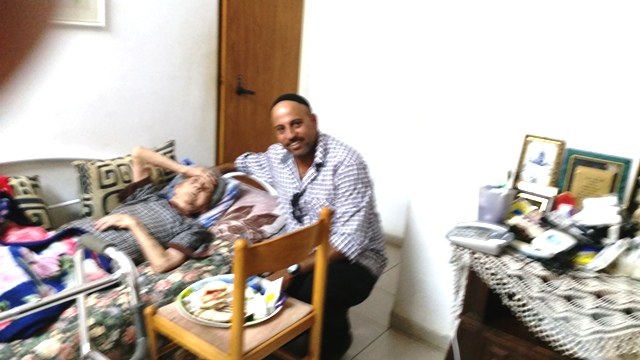 Chaya with Rabbi Shachar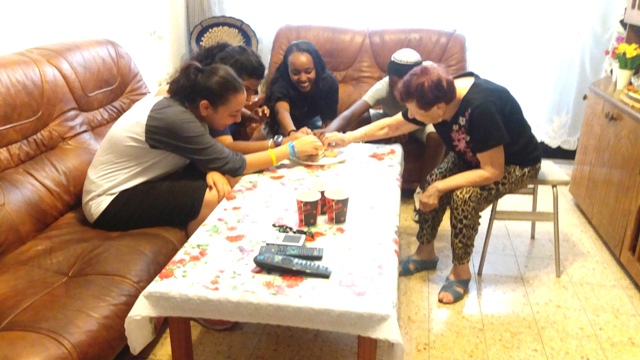 Klara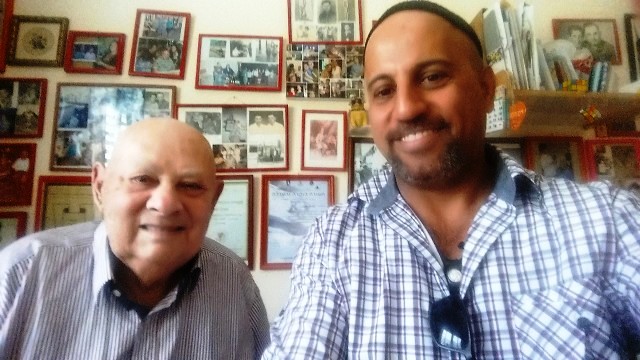 Yehoshyia with Rabbi Shachar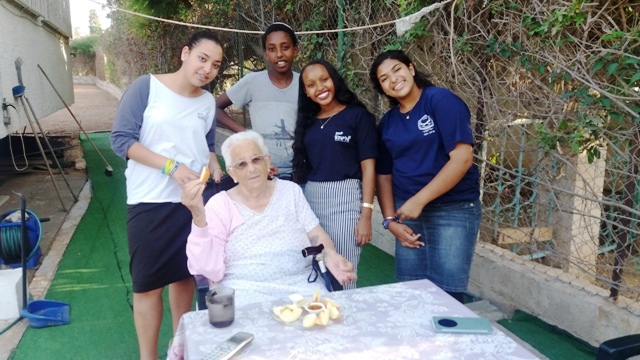 Gizela

We wish everybody from "L'Chaim's" family to have good and sweet year!

Rivka
Modiin
Shir: On Thursday, along the week of recruitment in the Mechinot, I came to my old school in Modiin to give introduction to the charming students from the 7th grade. Two of experienced students from last year which going to continue their volunteering with "L'Chaim", joined me to tell about their experience. All of us were very excited and they listen with curiosity to my words and stories. The reactions were very exciting and it seems on their faces their anxiety. After my lecture they signed for the mission and thanked me for building this project in Modiin. One of the students came to me and said that it is a long time that she want to help survivors and didn't find a place to do so. She is very happy to have this chance to join us.
My visits on the weekend: My first visit was at sweet Mordechai. I came with the Chocolate cookies and a picture from our first meeting, which I promised to develop for him. He was very excited fr my gesture and looked again and again on the picture. We spoke about many things, mainly about diligence and hard work. He told me that this motive effected and went with him, along all his life. Also, he wanted very much to join the Olympic Chess games but gave up because of the problems he have in sleeping and nothing help this problem. He thanked me for my visit, and repeat his promised to dance when I will get married.... and I promised that he will the first to be invited. after that, I went to Shulamit and Chanan, even the preparation for Shabbat , because I felt in our discussion on the phone that she is sad and I came even for a short time to cheer her spirit up. I came with the magic cookies my mother make and are very popular for all, who have taste it. Indeed, Shulamit with the apron, and the mass , set with me and we spoke an exciting conversation but strengthening. Shulamit &Chanan and the family, going through hard days and we spoke how much we have to focus on the many good things in life. We decided to have in each of our calls, to have three good things to focus on them and to be happy with them. She thanked me for my visit and the love I pour on her , and I said that she entered to the key of my heart, and I am very happy for our connection. I told her about our meeting with the new students and meeting we plain, and she was very happy and promised that they will come.

Nice cookies for Mordechai
Chaggit: I went to Mordechi , this time, with my younger son Assaf. He made a lot of happy noises, he played with "Pitzhko" the amazing cat Mordechai does have, and then, he started to teach him to play Chass. It was great !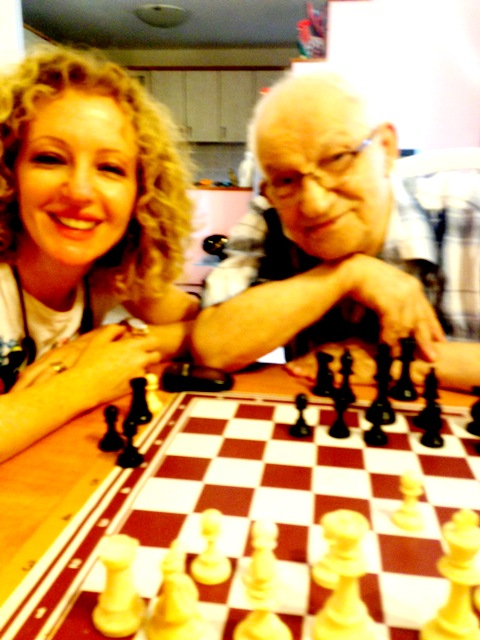 Chagit with Mordechai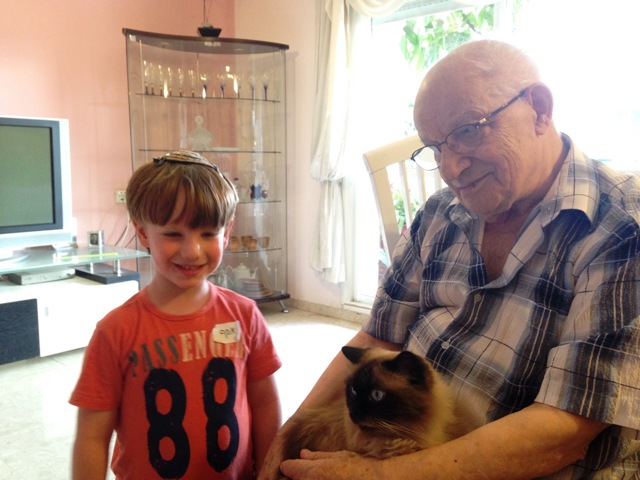 Mordechai wit his cat and the son of Chagit
Shir: My teacher for Arabic, met me and told me that she heard about me and the amuta, and offered me to organize the girls who study with her art, to do for the survivors from Modiin and Zfat, a nice cards for the holiday. I was very happy, and joined the girls who are in this activity and even told them about "L'Chaim". They made wonderful cards and I am sure that the winners, will be very happy to get such cards which were made from pure and meaningful hearts, for Rosh Hashana.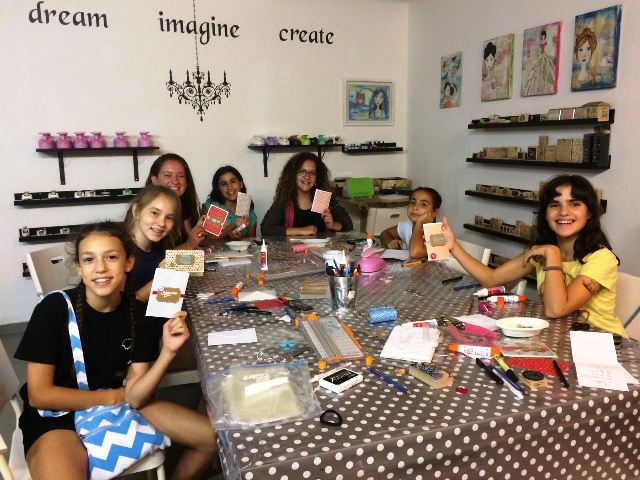 Making cards for the survivors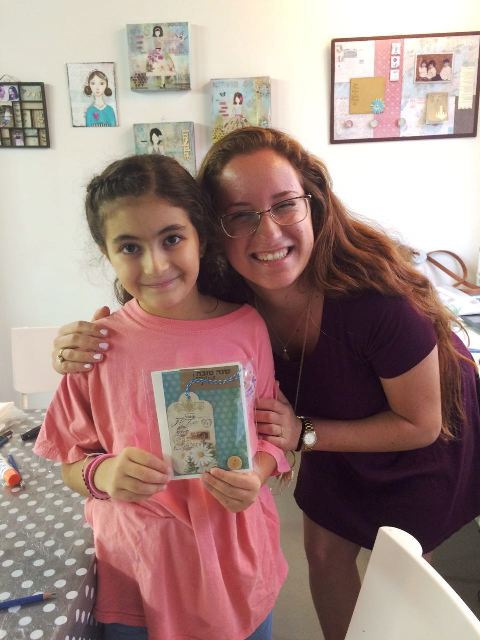 Our dear Jaston, is in the hospital, already one week. Please, pray and wish him to get better.

Shir
Haifa
Tal's visit in Haifa : On my last visit, I came to the house without even knocking on the door , straight to the room were the computer is set, and there, Naftali waited for me, with big smile of joy, on his face. I asked him how he is and he asked how I am. and then , I asked him how I can help him with the computer. Naftali looked around for a little note but didn't find it, and I told him that I'll be a soldier during our next meeting. Naftali lift his glance to me, and asked what I am going to be in the army, and from now on we spoke about who I am, and I realized that it's the first time that I have the chance to tell about myself. After long discussion what I have done and what I like , I looked on my watch and relized that I am already two hours with him, and my sister , who I intended to meet, will have to wait for me if I wouldn't run. I apologized that I have to run, and his reaction was that this discussion was more important. I said good-by, feeling very satisfied that we got to know much better.
Maitzar
As you can see in the picture, enthusiastic and motivated students that started fresh in the Mechina Maitzar will again volunteer for L'Chaim-to-life this new Jewish year in Kibbutz Genosar. Next week, 14 students will be joining me for the first visit. We are looking forward, to meet them! It will renew their spirits and refresh their life again.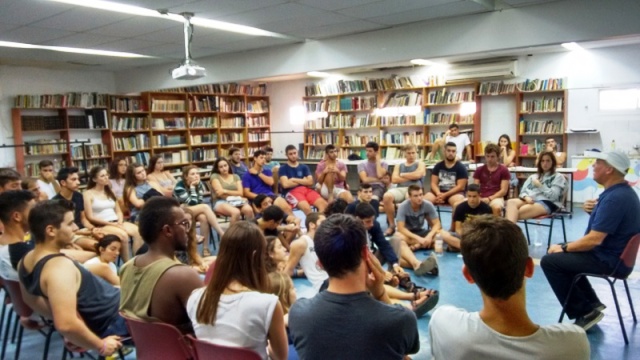 Maitzar, introductio to L'Chaim

Timek
This is our news,
Shabbat Shalom !

Rivka
To our friends! this news, will come not as usual, twice this month, but a little sooner:

Towards Rosh Hashana
15 september 2016, 12 Elloel 5776
Dear friends! This week, we had an uplifting experience of the soul, through the process of getting new students from both the old and new Mechinotl. On Sunday morning, Timek and I collected Shir from her army base, and drove to Kibbutz Baram, which located in a beautiful place on the upper Galil. There, started a new Mechina , the little sister to Maayn Baruch, Kfar Hanasie. The students gathered excitedly to hear about a project which can change their lives.
I opened with the vision of the Amuta, and I felt that from one year to another, it is easier to bring this unique vision to those lively hearts, yearning for meaningful vision and values ... After me, shir naturally and easily, told them about her experience and what burns in her bones as a member of the young generation, and magically, she succeeded, to give the message about the project that went straight to their hearts. This Mechina will start with the blessing of G-d, to work in Zfaat. They already, plan to celebrate Rosh Hashana in Baraam, bringing the Winners from Zfaat to their club.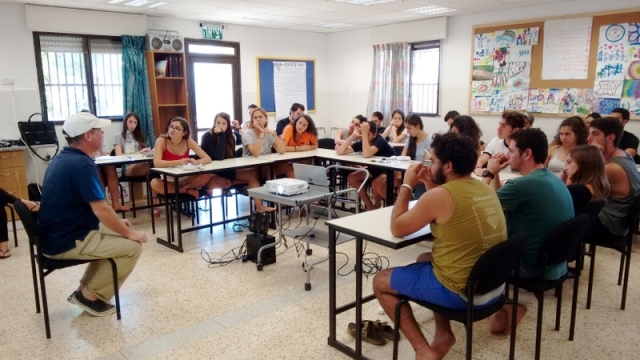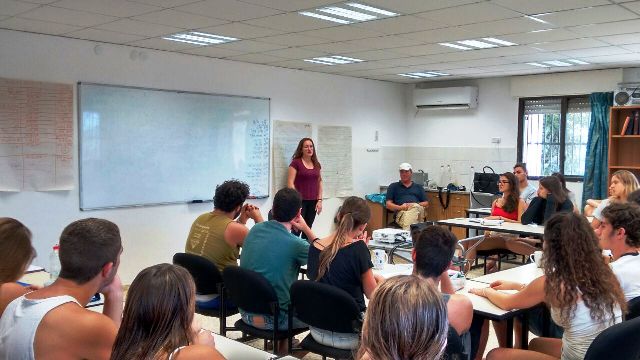 Shir and Daniel speaking
From Baraam, we went to Kibbutz Mayan Baruch. There, also big excitement and Shir felt as if she had came back home... to a place which affects her life so much. Also here, after my explanation of the vision of "L'Chaim" Shir continued with inspiring playing and singing which came right from the depth of her heart . A short DVD also, gave more understanding for the essence of the project. It was very special and successful day!




Kibboetz Mayan Baruch
The day after, Timek and I, met the students from Kfar Hanasie. Also there, the message went through, and it seems to me that the students are impatient to start already the project. After my lecture, one of the students came to me and told me that along my lecture she cried but because of her glasses nobody could notice it. She explained me that along her short life she heard many lectures but never felt so connected deep in her heart, as it was this time. I thanked her for her openness and smiled to myself with gratefulness to the Almighty because the melody is continuing to be played, and more souls understand it here in the land of Israel.




Kfar Hanasie
Rosh Hashana is coming soon, and all the Mechinot will meet the winners for the first time , before the holiday and we need your donations which will help us to get supplies to our dear winners.
I am very happy for the three new branches of "L'Chaim": In Rechovot by the leadership of precious Assaf. In Tzfat, by the leadershipShir with the Mechina in Baram, and in Chatzor by the leadership of Timek and the students from Kfar Hanasie. This joy, makes possible to bring awareness to the vision of truth, to a better generation, which can love more, and feel more obliged to bring more light to humanity, which we need so much in this materialistic world.
Many thanks to the precious people abroad , who donate and makes it possible to have this holy project.

Thank you.
Daniel
Shir: On last Sunday I went out to a magic and exciting day. Daniel, Timek and me , went to recruit volunteers from the Mechinot in the North. We have started in Kibbutz Baram, with the new Mechina which is going to join the project for the first year. The Branch in Zffat, was my idea, when I started to serve there, and now, the dream turns to be true, and it was most exciting to see our new volunteers . Daniel explained the vision of the Amuta, and the way of our credo. After that , I told them my story. They were very enthusiastic and asked many questions. They will be my partners for the adoption of five amazing winners. Eight volunteers from the Mechina, and on vacations and holidays I and some of my friends will join them.
After leaving them deeply excited , we stopped in Kibbutz Dafna, and there, we surprised Savta Sofia, who was so happy to see me and I was very excited as well. Then , we headed our way to Mayaan Baruch, and my excitement raised as we got closer to the Kibbutz. It felt as I came back home. When we sat in the class, where two years before, I was sitting , listening to Daniel's orientation, crying because his words, were so touching. When I started to speak, my voice was trembling from the excitement, and I told them about the brunch I has built in Modiin, and the events of raising funds for the Amuta, the March for life, and my other experiences by being in "L'Chaim". By speaking to them, seeing their enthusiasm, I realized what a journey I have passed ,the love I am wrapped , what a privilege to know such a wonder people , having grandma's and grandpa's all over the country.
My wonderful volunteers from Modiin: Daniel, Shuki,Timek, R' Shachar, Rivka , this group who directing all of this and making it to be possible, and now, the new volunteers the "new generation"... I was with full of thankfulness and satisfaction, for my great self-fulfillment, and I wish to all of us a year of love and success, with new connections by giving with our hearts, having health in our souls - for the precious winners, volunteers and donors.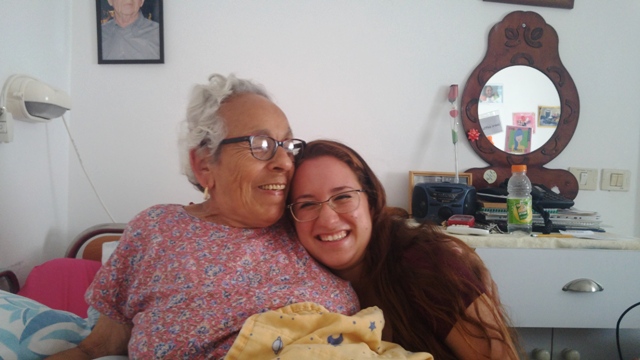 Sofia and Shir

News from the North
Our journey to Introduce "L'Chaim's" program, in the Mechinot :
This week, for the first time, we have visited the mechinot, to introduce them the volunteer program of L'Chaim. Every year, we meet with the new and enthusiastic students at the beginning of their personal development study program, before starting their army service. On this coming week, the students will decide, if they choose to join our project.

I could sense the moments when Daniel spoke about his personal experience, with some of the shoa victories. The students, were very moved and connected. Daniel and Shir, were able to reach each heart of their listeners. At the end of the session, I asked one of the students who would like to join me in this program, because I am limited to take only eight students. He answered: "I know for sure there will be many more, who want to join this program".
Katzrin
Last week, me and Shachar, have visited our dear shoa victories from Katzrin: Etja, Jafim, Tsila & Leonid, Ela, Shlomo and Shaul. Shachar will continue the project in Katzrin, while I will open new branch in Chazor with the students of Kfar Hanasi.
We couldn't visit Talja. She is, at the moment, in the hospital. Her health is very bad. I don't know if she ever would be able to return back home. I pray that she will. Your prayers for Talja, will be most appreciated. She is the most optimistic woman that I ever met, even suffering so much. This spirit, keeps her to stay alive. Only love and blessings and words of encouragement, comes from her mouth. Simply amazing!
Genosar
Avraham was excited for receiving a letter from Dutch Friends: Margo and Sheila, who has visited him last year. On the wall of his house, there are already hanged three pictures from the last three years, which he has received from his visitors. The students call him every week, to wish him Shabbat Shalom or just to say hello. Some of the students, have finished already the army and still, have connection with Avraham. It gives him, warm feelings of love, along his long days. But Avraham, is never bored. His books are his good friends and after having his eye operation, he can read again.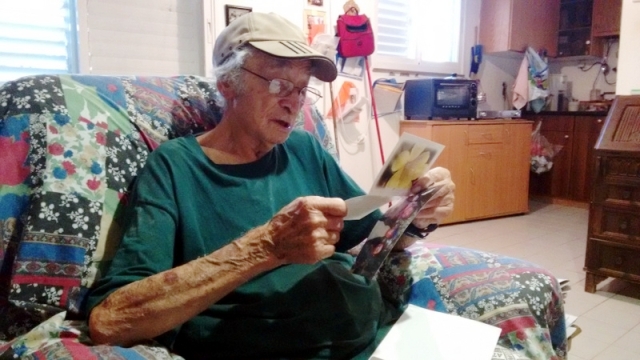 Avraham


Rosh Pina
Israel didn't feel so well last week. He simply don't eat and feels somehow depressed. He wait to see the students soon. It gives him hope and reason to wait for something new.
Blanka was exited to my visit. We talked about her past and today's politics. She is thankful for her clear mind and love to tell stories. She already has plans what she want to teach the new students. Blanka lives only according to each day, she doesn't make any planes for tomorrow. She just has returned back home after 5 days in the hospital in an elderly care house. She is happy to be back at her home. Blanka showed me her paintings, when she was young. She asked me to make picture with her, as she is today. ( see the picture), her body is a bit older now, but her face and eyes, are the same today as when she was young.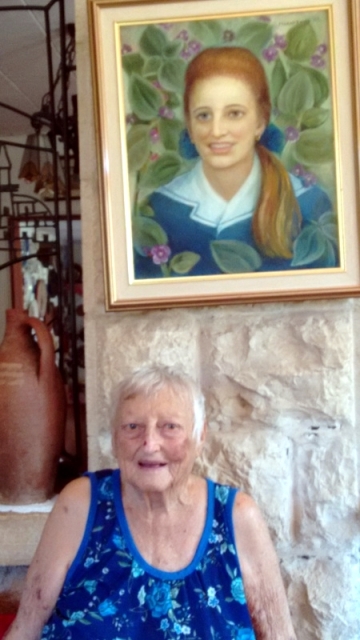 Blanka
Regards,
Timek

Modiin
Chagit: My recent visit at Mordechai have last for about four hours and we knew, that it is my last days of vacation and we have to make up with all what's new, to laugh, and to learn from Mordechai how to make mamaliga. He look as young person, when he move in his kitchen. before that, we went to buy the products for it and he knew exactly what we need. The results were delicious!!!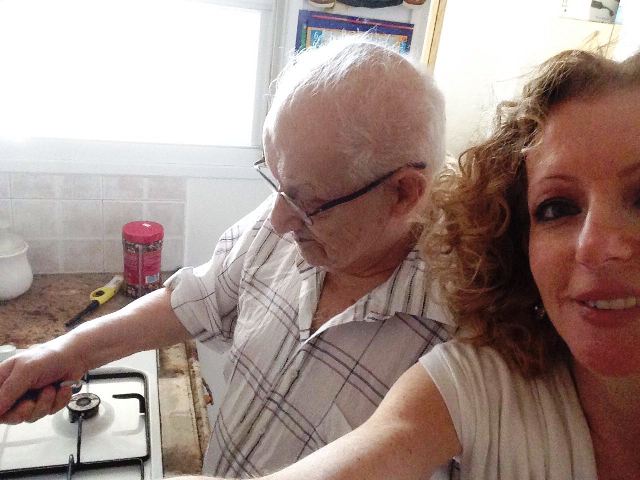 Mordechai
My visit this time was shorter, and Mordechai asked from me to be simply his guest .He bought for that, good Ice-cream, and didn't let me to refuse. Then, I drove him to a special store to get Russian bread which he like very much. My daughter Noa, asked me to get to know Mordechai, and their meeting was very exciting with "Klick"... It's a joy to get phone calls from him these days, because he open our dissection with the words:" My dearest", and then, we speak about everything, and he ask when I am going to visit him again... . It's a great friendship.

Tal: Last Friday I came to Svetlana & Dimitri for my second visit in their house, after a while that we didn't meet. They thanked me for my gift to Rosh Hashana. Svetlana and me, set and spoke about her experience as a new comer to Israel, the hard life they had in Ukraine, the language and the hardship of getting used to a new country. All of that, she also has painted or used Photo- shop as she has studied. Then , we sat together in front of the computer, and I tried to teach them to use it more efficient. They thanked me with all their heart, and we drank coffee together and said good-by till my next visit.
An Endorsement from a friend.
In L'Chaim's reports, it's wonderful to read of dedicated contacts, enthusiastic visitors and see how this project has grown. In spite of the sadness of stories of hardship and the death of aged Holocaust Survivors who have been part of the program, it's heartening to know how many lives are touched by being adopted into a caring organization.
It has been my privilege to be associated with L'Chaim almost since its beginning. I remember some of the early adopters as I had the opportunity to go to some lonely, deteriorating homes with their sad occupants. Was it possible that Holocaust Survivors who had come from a darkness we cannot comprehend, and then helped build this country, were ending their lives this way? Sadly this is what L'Chaim's Coordinator, Daniel Braun was discovering. Some of those, who became the first members of the L'Chaim family, had only a few years left as it turned out. But the friendship and practical assistance which suddenly entered their lives brought back the light in their eyes and they did not die alone and forgotten.
Observing the interaction with elderly survivors and young visitors was delightful to behold and I heard in person many times, how much they loved it. Their 'grandchildren' some would call them. The young people were equally enthusiastic and it's been wonderful to know that over the years in different parts of the country, more and more young people have become visitors.
Although no longer having the same involvement, it's been a great pleasure to hear of the ongoing changes that L'Chaim makes in the lives of elderly survivors who have struggled in difficult economic circumstances. One very interesting aspect is that they have given them back their dignity, not just through the food packages and outings and visits, but they have given them a new name. No longer only Holocaust Survivors, but Winners. Acknowledging who they are, a people who are overcomers, from a unique and terrible era.
Helping these precious people, who will soon no longer be with us, is incredibly important. However only ongoing, and increased funding will assure that other aging survivors who are asking for help, will have all their needs met.
I know for sure, that L'Chaim's system has been proven to be one that makes a real difference and your assistance will help them to go on doing just that.
Maxine,
Australia
Thank you Maxine for your letter, it is such an encouragement.
Shabbat Shalom to all of you!

Rivka
The Program of Activities for the Coming Year and more news
24 augustus 2016, 20 Menachem Aw 5776


Dear friends!
This month, our activities begin and will be more extensive (which blesses us) here in the holy land of Israel. Here are the places, the people and the institutions which will be involved in our project: In the North, before the holidays, four pre army Mechinot, will start their visits with our precious winners, who wait for them impatiently, as new survivors join "L'Chaim's" family.
Mechina Maitzar in the Golan, will start their first visit, on the 26/9 and continue every Monday from now on in Genosar. Mechina Kfar Hanasi will start to adopt our survivors in Rosh Pinna, and the new winners in Galil Chatzor, accompanied by Timek. Mechina Mayaan Baruch will continue a wonderful tradition of adopting winners in Kiriat Shmona, Kfar Blum and Neot Mordechai. All of this happens on Mondays, and accompanied by Timek. R' Shachar will start a project with families from the area, instead of students, who, will be with their children, joining us, for permanent visits in Katzarin. We believe that this project will be meaningful for both sides and the winners will gain the warmth of the families.
In Zafat, thanks to Shir's enthusiasm and interest, we will open a new branch with some lonely survivors who will be adopted by the new Mechina from Kibbutz Baram. With all of these Mechinot, we: Shir, Timek and me, will meet next Sunday and Monday, and will tell the new students about the project, even if some of them have heard and know already about the project, and want to join us.
In the Center, Rivka and Zvia, will continue the project in Pardes Chana with the students from Neve Micheal.

In the South, Shir will continue in the city of Modiin with new students and more winners. In the city of Rehovot , our dear Assaf, who was in Mechina M. Baruch (last year), will continue what he has started already, to build a new little branch in his city. In Jerusalem, Beer Sheva and Sderot, a few volunteers continue their visits.
In Haifa, there are a few winners to visit, and of course, Tamar Bar Levav, Gad's widow, whom we continue to help as much as we can.
We intend to give a gift for the coming holiday of Rosh Hashana, and will need your donations. This gift is meaningful for our winners!
During the year, we will have the March for Life, which will be held this time, in Maayan Baruch by the Mechinot there..
All of us, are very excited for a successful and fruitful year, which will bring a lot of light to all who are involved. We hope that the essence and importance of this project is understood by our donors and the new ones who will join it. My blessings to all the active people and to our dear donors.

Daniel

Rechovot
My visit of Mordechai & Malk, was with a lot of excitement. Mordechai asked for visits in the past but nobody could give him this, and he gave up even to hope. When I offered to visit them, I had to get help from their daughter and grand-daughter to convince them to agree and let me come and visit them. They showed me a movie about him and his life, which was very moving, and we spoke about it after watching it. When I said good bye, Malka pressed my hand and said : "drive safely, come back safely and the most important thing is to be happy". Tamar , their daughter said, that they were very happy for my visit.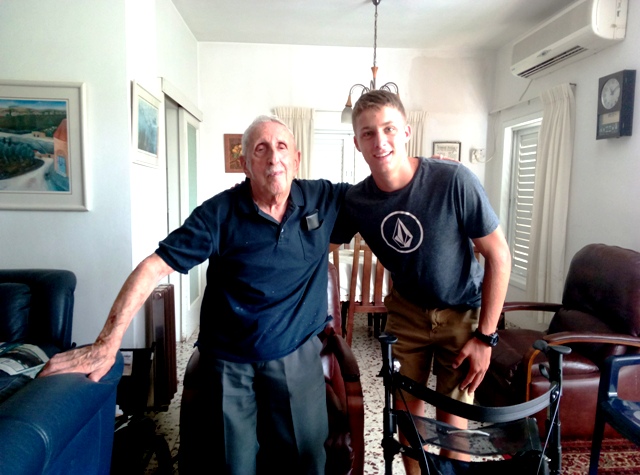 Assaf and Avraham

My second visit to Avraham, was also very important. He is "stuck between the walls" as his wife says, and its' a great change, because she still works, and my visit gives him to feel much better. I offered, to take him to the sea and watch the sunset there. She loved the idea, and said that he didn't get out from the house for a long time. We spoke about his paintings and sculptures and about his family. I hope to take him out or next meeting.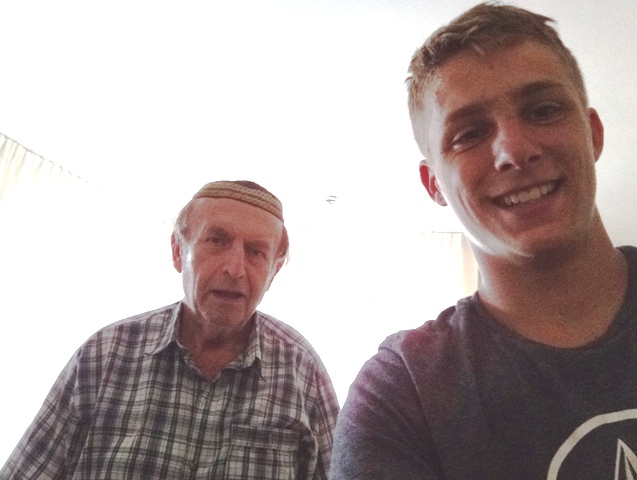 Assaf and Mordechai

Modiin
Shir : Yesterday I had a day off from the army and I went to a date with Rozita. We met in the Kenyon and walked embraced as grandma with her granddaughter. I invited her for ice - cream, and it was very tasty and fun. We spoke about my service, and about life in general . I drove her back home and her husband who have Alzheimer and dementia waited awake in bed and thanked me so much, for taking her to have some good time, and said to Rozita "my sweet heart, I missed you and couldn't sleep without your hug"... I was very excited from this gesture of love, even after been together 67 years, and wish them to win long years of health and love, wishing for myself such love as they have...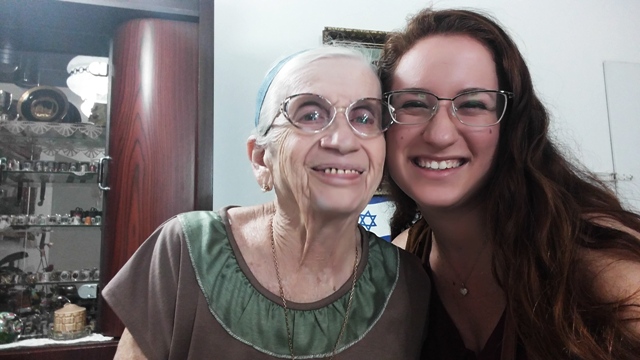 Rozita
"L'Chaim" Family is coming to Zffat
Shir: Very soon, we are going to recruit volunteers from the Mechina of Kibbutz Braam, to the new brunch in the city of Zffat. It is very exciting to bring "L'chaim" to the places where I am, and this time it's close to my service place. Larissa, is a winner who moved recently to Zffat, and we renew our connection which was very good two years ago in Kiriat Shmona, and now I visit her as a soldier. We has prepared Maipel cake with cream, and Cinnamon cookies. It was a real pleasure to work together. She told me how much she love to cook and bake. I helped her to read the letters she has received and couldn't read, and we wrote a letter of thanks to the Doctors and the team who took care of her husband Anatoli (bless his memory). It was very important to her. She told me that at the beginning of September she is going to visit her son and grandees in the U.S.A for a month. She told me about her loneliness in this new place. In Kyriat Shmona she had her friends and now she is alone. I promised her that she will have our visits and she was very excited and relieved to hear that. I wish her to have a good voyage and to return back safely home and begin to be part of "Lchaim''s family in Zffat.
Pardes Channa
On Wednesday, R' Shachar and his wife (after experiencing his mission) and me, went to visit our survivors and it was very exciting to hear that all of our survivors, misses the group of the students and Zvia from Neve Michael, and wait to see them again. Again, we came with full packages and met Aliza organizing herself for a wedding and you can see in the picture how she is organized and dressed well and look well. She is getting better after being with a lot of health problems, and we wish her all the best .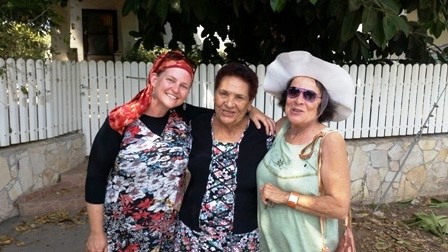 Hadassa, Aliza and Rivka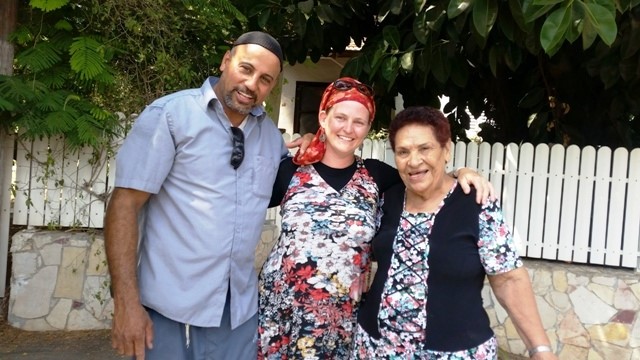 Rabbi Shachar, Hadassa, Aliza

Clara & Lionid accepted R' Shachar with his wife with joy and greetings. Clara, takes care (all by herself) of Lionid, who has demenstia in progress, and refuse even to hear, about letting him to be in any public institution. Our help is very vital for them because the low income they have. They are very grateful for our connection with them.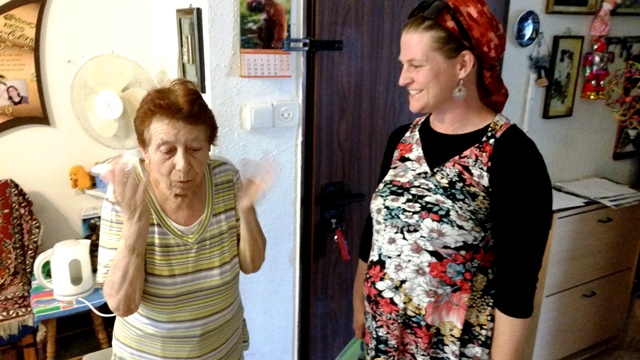 Clara and Hadassa

At the Boaron's we got the information that Rachel, had a little operation and is recovering from it these days. Avraham, suffers from heart problems and we wish both of them, to get better.
Zippora, for a change, didn't complain about breathing problems. It's probably the better (cool) weather, which make the change.

Chaia & Morris, live with a lot of health difficulties, but our visits cheers them up and they are grateful for the package.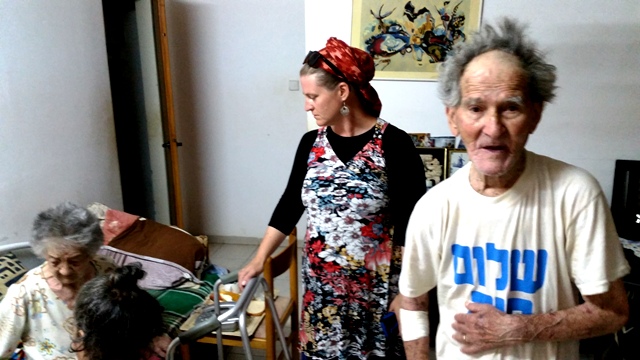 Hadassa with Chaya and Morris

Our second visit at Gizela, and we found her very upset because the lack of understanding what she need desperately, and her helper didn't understand her, but we did, and took her and solved all the problems with her. When we have returned back she was very grateful for our help and expressed how much it means to her, this connection. Also the products were accepted with thanks. At Mordechai and Ishayhu we came to say "Shalom" and they were happy to see us. The group of the students from Neve Michael and Zvia is on the process of being organized. Unfortunately, Zvia is sitting Shiva on her brother in law, and we send our condolences to her and her husband , and hope to see her soon with her full energy with the new group.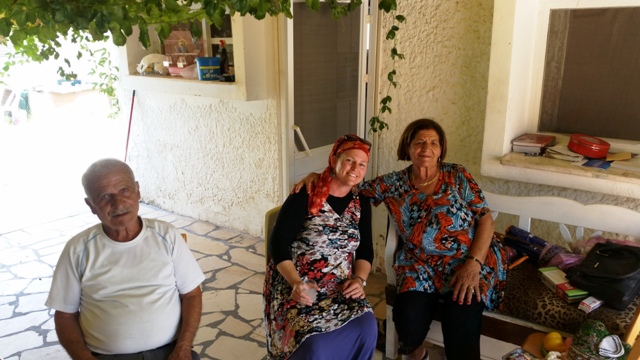 Hadassa with the Baorons'.

My greetings, Rivka.

This is our news. Shabbat Shalom!
Light from the dark
August 24, 2016, Menachem Av 20, 5776

Dear friends!

The active year of Amutat "L'Chaim" is coming soon. In the next few weeks we will receive new students who will join our project. This is the time to sharpen the essence and the vision of "L'Chaim". We don't see ourselves as a philanthropic organization, but with a vision, which the young generation, gains great space and appreciation from us. We feel, that it is a great honor to have the privilege and use the help of the Shoa winners, in order to bring light, mercy by giving - the young generation, as in the whole world , which is suffering from emptiness, without any vision, with terrible loneliness and luck of meanings. The young generation, cleaved itself in the world of Technology , and there is their comfort... but, it is neglected and dark! No light or message, of the essence and the human potential - because they are hidden. We feel, that our mission is to hand out a loving hand to this amazing young generation, and taking them out from this pit of hell, coasters of the universe today, and this is a vision of light, connection, and a song of giving, with the vision of connecting heart to heart, and the old generation, makes it possible for the young generation to renew our days, as it was in the past!

It isn't a project where heroes help the weak people. This project, find the power of both sides, and all of that, gives hope for another possible way in such material and egocentric period as we experience this days. Its as a fresh water, breaking out from a dry rock in the desert. We are reaching loving hands, protecting and help the young generation trough this project, to find the winds and the spirit of human love, which are inside our soul - hidden but not extinguished. We invest in this young generation, hoping that they will bring a better message to our nation and maybe as an example to the whole world. It promotes human and humanity, not leaving misery on its' ground. Here is a partnerss-hip dance. Young and old, are demanded to dance by connecting together! Apparently, the question is what is it for youngsters to dance with old people? Which dance can succeed between such different generations? Here hide the magic: the miracle is deep inside our hearts. There isn't any difference between the generations. Each heart feel and can connect itself to a true love and deep collaboration. When they both connecting, they turn to be a beautiful flower of eternal unity (= The song of the soul).
For you dear friends, who support Amutat "L'Chaim", please remember and sign on your hearts: you don't help only survivors but you help to promote the young generation by uplifting their spirit with the massage of "love thy neighbor as thyself" as a way of life, and not as a passing episode. We are a little island in the forests of insanity, and the world which destroy itself. But, from destructions, there is always new building. I feel that we build very special building: heart and humanity building, which is still a little candle . But, the fire will grow ! We ask from those who understand this song , to continue support this unique project and you will blessed.

Shabbat Shalom!

Daniel

Here is another example of request from the city of Jerusalem, asking Amutat "L'Chaim", the little organization, for help. Ofcourse, we could ask where are all the sources of the city of Jerusalem or other richer organizations?... But, probably we won't get any answer. Therefor, dear donors, we will be thankful if you will react to this case:
Shalom Daniel and Rivka!
1. I thank you for helping to buy and fix an Air Condition in the house of Shoshana Shpitzer. I am sure, that she and her daughter will have a better summer without suffering .
2. I ask your help in buying a oven for cooking and bake for Mrs' Eva Manov, survivor who live with her daughter who is 100% handicap, and she have income only from the social insurance and a little completion.
Please, let me know how we can cooperate and help her.
My blessings,
Esti Sofer - Bach, Social worker - Jerusalem

Modiin
Shir : My visits on the weekend
On Thursday night I went with homemade tasty cookies (which my mother made) to bring in my visit to my beloved Rozita. It was one of my exciting visits I ever had. Along two hours, we talked about endless subjects: laughed, got excited, and even cried. Ten years ago, she and Miki, her husband moved to Modiin and didn't know anybody there, and felt very lonely and unhappy. Five years ago, Miki got Alzhaimer and Dimension, and she had to take care of him. Lucky her, she met four years ago a women which introduced her women in her age and today' she is involved in many activities , doing creativity work and very happy with it even the times in between, are taking care of her sick husband. She tell me that every were, she is the oldest one (85) and because of her many names (Rozitz, Rachel,Rozitza...) the death angel can't find her and this is the reason she is still alive... I said that because of her strength, determination, optimism, and the smile in her face, she is alive and well. She is very happy to have friends and can't wait to get to know her new visitors from Amutat "L'Chaim" .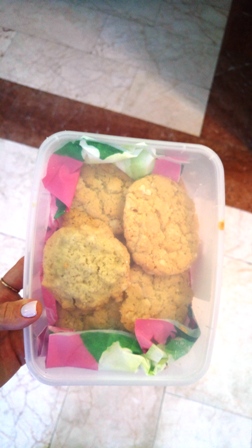 Rozita has been born in Yuguslavia, and along the war she was running from place to place , hiding from the Germans, changing places often. She had few things that she believe that were saving her somehow ... one is a necklace, which she has got for her 7th birthday, from her mother with a pendant with "Moshiko" (Moshe Rabainu) holding the two tablets ( of the ten commandments), and on the other side written the pray of "Shma Israel". Another pendant of flower (from her grandmother) and a little heart that her brother gave to her mother. She told me that whenever she was hungry (and it was all the time...) she used to say "Shma Israel" by touching the pendant, and it gave her hope .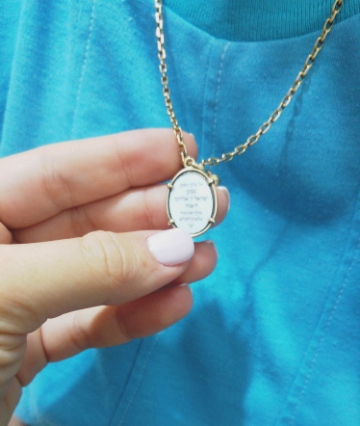 The pendant of Rozita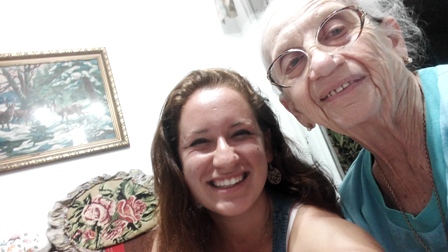 Shir and Rozita

On the end of the war she was only 13 years old, and she walked 27 miles in the cold whether, snow , dust and hunger, knowing that her destination is where her aunt and uncle stay. Indeed, she reached the place, and it was on the evening, when the farmers and her relatives, set around the table for dinner, and when she opened the door, she saw a big loaf of bread on the table, and instead of saying Shalom, she said bread, and has fainted. Her aunt, took hot stones and gave her the warmth she needed, and when she waked up, her first word was : bread! They gave her piece of bread with jelly, and it was the best piece of bread she ever had in her life ...her stories were very exciting and I am so happy to have this special connection we both have , being able on this hard and unhappy period of time in her life with health problems of her husband and hers - as well, supporting her by being there for her and listening to her .
On Friday, I continued my visits . I started with charming Lea. We spoke about history, trips in the world, about our love to read books, and she told me how sorry she is not being able to read after losing almost her sight (after 4 strokes)and her ability to travel ... Trough her stories the history has got new meaning, by listening about the expulsion from Spain of her grand grand fathers or her escape as a 8 years old girl from Yuguslavia, who went with other children and they were smuggled through Italy to Switzerland, and couldn't get in for the first time. Only on the second try in another point of border, they have got the permission to get in... She spoke about the cooperation of the occupied population with the Germans, and on the other hand, about a pastor, who gave the hiding place to those children. I felt that I gained so much from her story , more than any history studies I ever had...
My next visit was at precious Mordechai. We spoke for about three hours. He told me about his family and children. About all the different works he has worked and told me how much being ddiligence and investment is important in life. He said that he had good life in Russia with getting good salary, free apartment from the government and the appreciation he has got . But, "blood is not water ", and as a Jew, he wanted to make 'Aliya' to Israel. He expressed his surprise of getting me and Chagit (his new volunteer) believing that it's G-d's gift for him. I told him that I do it because I feel being emissary, and my good will to help in our nation, feeling responsible and the obligation, making other people to feel cared and as a result of it, to feel better. He agreed with me, and said that he keeps doing it till this days.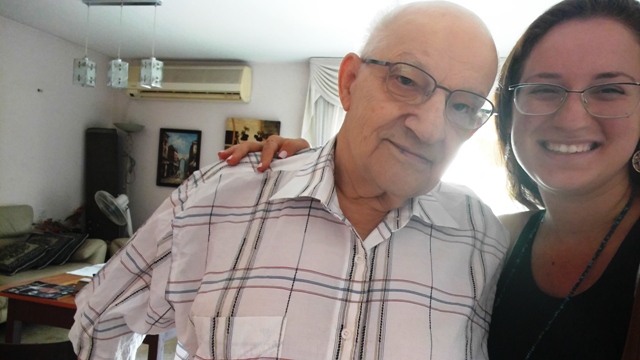 Mordechai and Shir
My last meeting was with my beloved Janet & Jaston. It was short but with a lot of joy. On Saturday, their grandson is going to have "Shabbat Chatan" (groom celebration), before his wedding next week. They both, are very excited and Janet, as a good mama, helping with all the preparations. I told them, that when I will have with the bless of G-d - my wedding, They will get my invitation first and personally.
The visits were so exciting and I finished with a big smile in my face understanding why I do it and what it gives to me - the love and giving to others. May G-d will give all of them, the strength and health of being able to have them, and from me, to give and get all of this high feelings .

Shir

Moria and Tair : Friday, we went to visit Svetlana & Dimitri. It is our last visit becouse we are going to start our international service . We brought them a beautiful picture with greetings. They were so excited . We sat and updated one with another what's new . We are going to continue on visiting them.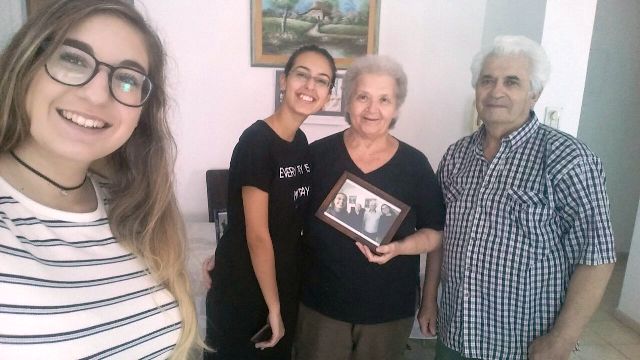 Moria and Tair with Svetlana and Dimitri
Dear Tair and Moria! Good luck in your service! We hope to hear from you and see you (at least in the pictures). Have a wonderful and interesting year. Many thanks for the visits, keep bringing the light where ever you are.

"L'Chaim's " family.
Rechovot
I met Avraham, in the picture you can see me and him, his wife wasn't around . We spoke about our country, history and more. We decided to tell each other about our life. I also, went to Tobi and her husband, and we spoke about family, the world and history. I offered to advise them with their little garden. I read these days, a book, telling the story of Tobi's life and it is very interesting.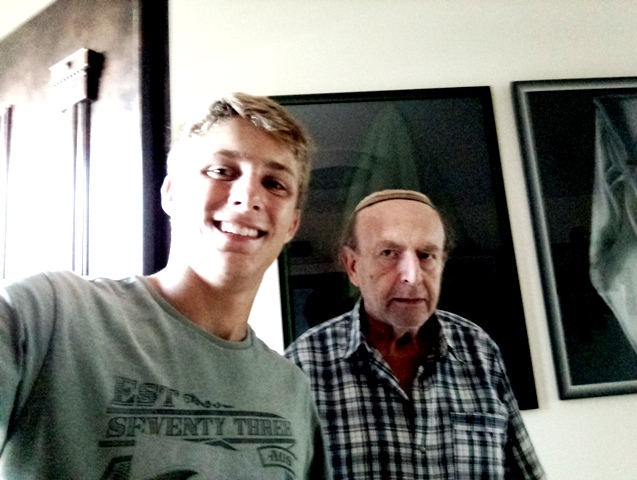 Israel and Assaf

These is our news for this week.
Shabbat Shalom!

Rivka

The connection of the human, to the spark of G-d in him
August 11, 2016, Menachem Av 7, 5776

Dear friends!

In this letter I would like to touch on a matter connected to the switching of the awareness which is happening in our world bringing new awareness to us. During this period, many people feel the heaviness and sometimes lose hope because of the dramatic movements that are occurring in the world. The wise people and the prophets from past generations, knew how to point out the dark periods. Indeed, this is a dark period and there are sensitive and good people that even their love of G-d comes to the point of despair and they turn around, giving up everything and exposing themselves to the nonsense of mindless programs to direct their life. But, here is the great message which maybe, will bring the light, will stream encouragement and strength to souls. Firstly, as we have written before, we should know that whatever is happening, what the the good way is to correct the ways of the human on the way to the kingdom, on the way to the heaven. Now, we will touch the symbolic soul which is characterized within sensitive souls. The person who walks with a good heart, wishes to give and support, to help and spread words of light, but many times receives from most of the people who refuse the message – a negative message.

In this situation, a man of truth can find himself very lonely and desperate, without support or words of comfort, he will close himself in the temple of despair, close the shutters of his house and soul and give up his hope from the world. But, there is another person who can see and feel the same sights and experiences, asking himself: if G-d will say to himself the same, when He will see that His world is sinking in his creation? But miraculously, the men will have moments of ascensions, reaching up an amazing awareness: Is it what I feel? (This is what the man says to himself) Is the Creator desperate? Will He stop streaming His light? Will He retire because of the unjust deeds of His sons and daughters?

The answer is very clear: G-d doesn't give up ever! He sees our spiritual despair, our poverty, our helplessness, He feels our pains and orphanhood. Here is the great miracle, all of us have inside us a spiritual spark within, as it has been said:" G-d has created the human in his image". Is it possible that all of us feel the evils and pains of the world? and then, a new strength awakes within us and we ask to be as our Father in heaven seeing all this pain as a great chance to spread more light on each step, knowing that the Almighty wants it that way. This is the way, how the merciful Father, acts towards His sons and daughters in order to be connected to each living soul. We are taking away the language of our ego, from seeing with limited and a separate perspective, we adjust our angle of sight so to love the universe and are singing the amazing creation song called: "Love your neighbour as yourself". We elevate ourselves as much possible from being poor and each of us in his own way, adopting a new way of seeing things, not asking anymore the mercy of the Almighty, and even dealing with reconciliation, like trying to ask again His love . In the end: we are in the middle of the period of "between the straits" and very soon it will be the Fast of the 9th of Av. I should remind you that this Fast is for the destroyed Temple and baseless hatred. We in "L'Chaim" obligate ourselves, to continue on doing, with love, support, awakening and strengthening the huge gift we have got from G-d :
L I F E !
Yours, with love,
Daniel

News from the North
Rosh Pina:
I surprised Blanka and my visit was special. She didn't expect me, and how happy she was. Her body doesn't look 90+ (years old) ! She still managing and healthy. In her mind she is a youngster. Blanka is very intelligent, and wise, full of spirituality and with life experience. If I talk about what happens in this world, she put her hand on the TeNaCh and give wise answers. She is amazing and loves the students and they love her. Yam and Eden from last year, keep in touch with her. She looked at me and explained: "Every Friday, Yam and Eden call me and wish me "Shabbat Shalom". She look forward, to receive new students. Blanka does have already plans: she will teach them the roots of Eretz Jisrael. She has a book in Hungarian language that she will be teaching them with. Maybe the book is also in Hebrew, she will find out.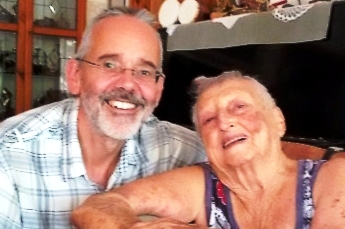 Blanka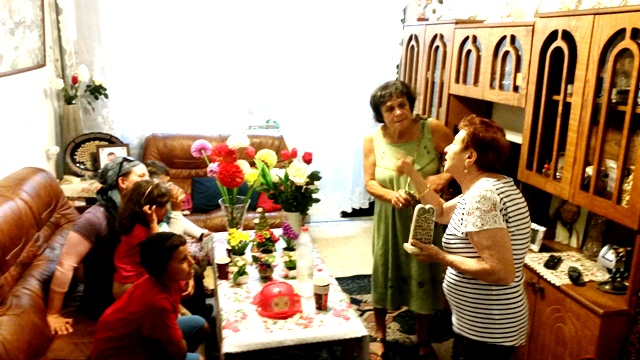 Klara, Rivka, Hadassa with the childeren

Ginosar
Eli-Ram was happy with the nice wishes from Margo and Sheila and for the stamps they have sent him! His backyard has changed, because they started to build new houses there. They removed the trees on one side of his house, so, his house and the garden are exposed to a lot of sun, dust and noise. He can't do anything about, but it causes him an extra stress during the hot summer . Also Eli-Ram has plans for the next group of students. He want to write the story of his life (written and on video). I wish, he will succeed. Moishe, Tzachi, Avraham, Zivanit (Zelma) and Batia waits patiently, to the next group of students . It will still take some time. Ruth loves very much the students, but has decided not to receive them this year. I hope, she will still reconsider her decision, because she has gained so much last year, from them.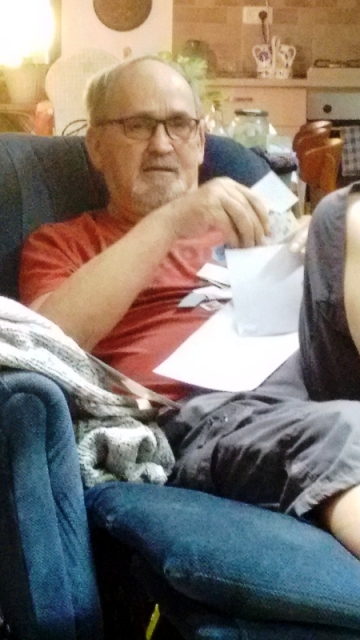 Eli-Ram

Katzrin
Jafim was happy when I came in with a package of fresh vegetables and fruits. But, what made him most happy, was that ten days ago, he became a grandpa! His first grandson was born. Far away in Bela-Russia. There, his son, try to make money with an Israeli company. There, he found his love, and got a child. Jafim hopes to see his grandchild soon. Also Jafim is longing for the students. He love to sit with them and tell them stories.
With Ela, Etja, Shlomo and Shaul, Tsila and Leonid is all well, beside, the daily struggles, they all, have on their age. Shlomo's wife LiLi was surprisingly, much better and recovered. Her face shined and she looks 100 times more healthy. Thanks HaShem for this miracle.

Kiryat Shmona
All are well in Kiryat Shmona, exept Ida . She is still struggling with her legs. That will not change. She is thankful that her head is working well. All were happy to meet again with me and for the food package that they received.
Larissa was so thankful that Shir came to visit in her house in Tzfat and helped her, to manage all kind of paperwork which she need to deal with, after Anatoly's death. Shir: I knew Larisa and Anatoli (bless his Memory ), and won to visit them . From the first minute, we had good connection and I enjoyed visiting them. Lucky me, I am serving in Zfat and Larisa moved to Nof Kinneret which is very close to Zfat. When I heard that Anatoli has passed away I promised Larisa that I will come to visit her. My three hours of getting fresh air were with Larisa , who was surprised and gave me a long hug . We sat in her new place with two of her sons which were in her house and our language was mixed: Russian, English, Hebrew and the most important : the heart language. My visit was very emotional. Larisa misses Anatli and was very sad. She told me many stories and showed pictures. The house was neglected along the period of taking care for the sick beloved Anatoli and there are many maintains problems in the house. I told her that we are on the process to open "L'Chaim"s branch in Zfat. She was very happy to hear that she would be able to be again, part of our family. The visit was joyful and with endless love. I wish to come and visit again and wish her all the best.
Neot-Mordechai
In Neot I visited Steve, Iby and Rachel. We started last year to visit them and now they can't wait until the new students will start to visit them.

Chazor
This year, we plan to open a new branch in Chazor - city , next to Rosh Pina.
There, Shuky and me met Jaffa, for the first time. Together we visited two other families, survivors from Tunesia. Shoshana, Rachel and Josef. We will start to visit three families. Later, more can be followed. Last week I have been catching up with my visits and met almost all the survivors who are under my wings. Thanks for your support and prayers.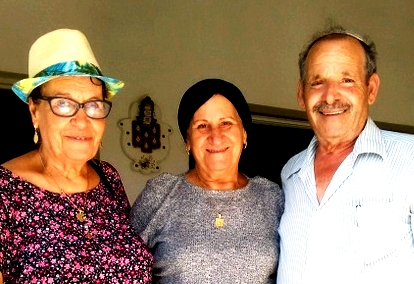 Jaffa, Rachel and Josef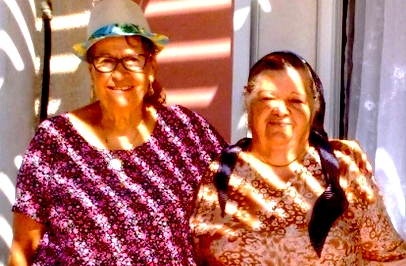 Jaffa and Shoshanna

Shalom,
Timek
PARDES CHANA
This time we had great experience. Rabbi Shacahr came with his wife Hadassa, and 4 of his children(he has seven beautiful childeren): Nachat, Nachman, Shlom-ya and Elyiashiv. Their father keep doing his emissary with us, since it has started here in Pardes Chana. He decided to show and share with his family what he is doing here. They behaved wonderful, and really could contain this experience.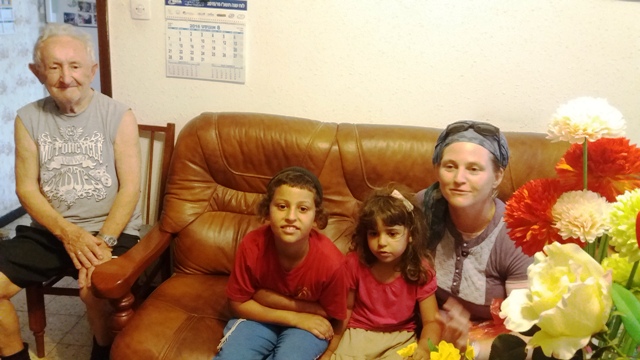 Leonid (left), Hadassa (to the right) with the childeren

The light we saw in the eyes of our winners when they came made them to behave differently than ever. It has started when we came to Chayia & Morrris. ze bedankten ons steeds opnieuw. Zvia their daughter, brought to each of the children a present and as people that use to get from us it was for us, a real, big surprise . Also the smile and the happiness, were so definite and convincing . At Klara and lionid, from their very tide economic situation she took out sweets and gave to the children. We brought a reach package of fruits and vegetables and they thanked us again and again. Rachmill was happy too, even we were told he is sick.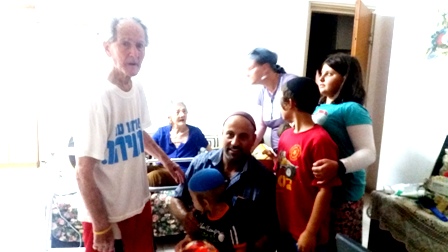 Morris en Chaya, met Rabbi Shachar en zijn kinderen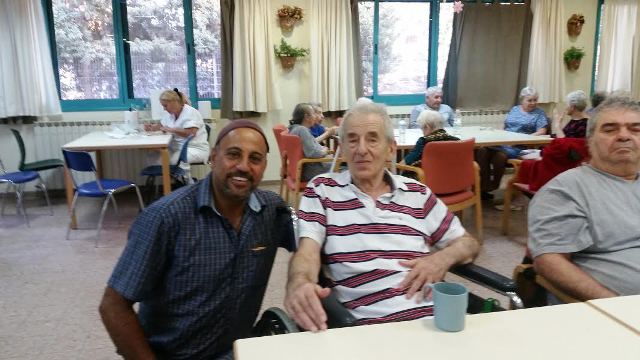 Rabbi Shachar met Rachmill

Mordechai and Yehshyia were happy to see us. We met a new survivor named Gizela. She has lost her husband 7 months ago and feel very lonely. She has born in Transylvania on the Hungarian part. But after the Paris agreement it turned to be part of Romania. She looks very nice and it's hard to believe that she is 89 years old.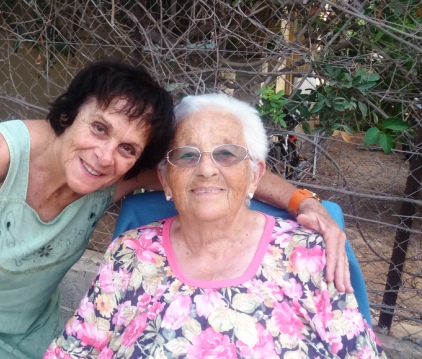 Gizela with Rivka

She has been in Auschwitz and for two terrible weeks, she had to "work" in the Crematorium, and then, she was transferred to Bergen Belzen, and then she started to work in a factory for ammunition and she stayed there till the end of the war. From there she was sent to Sweden and there, she says that for three months she was in the hospital to recover after being malnutrition . From Sweden she came to Israel. Her only son, is in the U.S.A. and he keep connection with her - daily. Also she attends a daycare for seniors, and it keeps her busy . When I came with the begs she said that this is the first time that a public group bring her something, and expressed how happy she will be to have the visits to brake her loneliness. Dear Aliza, is at the hospital because of Pneumonia, and even there, she exchange jocks with the stuff there, hoping to return back as soon as possible. Lets wish her fast and full recovery.

Rivka

Here is a letter from Rivka Hodayia , student from the Ulpana in Kfar Pienes (Near Karkur), who was our volunteer and helped us with her friend Orit. It wasn't easy and not very safe, to go after her studies in the late afternoon to visit . But , she was so definite and insisted from herself to do so. She proved that she is rare and unique in her way, and with that the skies are only the limit... Very soon she is going to start her meaningful service in the National Service (it is instead the army for religious girls) and here are her words to us:" Daniel, Rivka and Amutat "L'Chaim"! I want to Thank all of you, for having the privilege to be part of this very special and meaningful Amuta. You are doing a holy worship for the youngsters and the winners as well! It's done with pure meanings and with a real good will and this is amazing! I won to meet Chava (bless her memory), and I got so much from it. Well done for the "March for life" which I took part with my friend Orit, and hope to continue with that. Those marches is giving so much strength for both sides. I wish you that you will continue with this actions with helping and bring joy to the winners.
My deep appreciation, and thanks,

Rivka Hodayia

Modiin
Adi and Neomi: Today, we went to visit our dear Shlomit & Chanan. Adi prepared for them cinnamon cookies, and I (Neomi), prepared fresh rolls. Shulamit accepted us with a happy and shiny face. We sat around the table eating and speaking about the journey we are going to have soon to Poland, and about the army we are going to join. Chanan didn't join us because he wasn't feeling very good, but before we left, we asked Shulamit to give him our love and greetings. It was very cozy and lovely meeting. We really love them.
This week, a charming and unique women has called me and asked if she can join and visit one the winners, after returning from Poland and having the decision to help survivors. She has her own family but decided to give and made very fast made connection with Mordechai, and it seems to me that this is heavenly connection. Here is her impression from the visit: " I am not sure, that words can explain the excitement we had . Mordechai is 87 years old but full of vitality and sense of humor. We spoke as we knew each other before. We laughed a lot and even exchanged recipes. Mordechai love to cook but his legs don't let him to stand to long in the kitchen . We decided to cook together , and he will teach me to do Mamaliga and filled dumpling - What a joy! He asked why I do it and I feel that my soul earned fulfillment! It seems as a beginning of a wonderful friendship.

Chagit
Yesterday, I went to visit ( second time) precious Mordechai. After giving information each other of what's new, he told me how hard it is for him, to find somebody to clean his house and I can see how important it is for him. We went to buy in the Supermarket . Mordechai think that he eat too much but as I see, he need not much. He mainly bought Mineral water and when we asked to have the service of bringing his supplies - home, they refused only because he didn't reach the amount of 200 Nis. Why they do it to an old men??? Mordechai has poured on me, all the compliments and thanks , and it's really warms my heart.

Chagit
Kiriat Tivon
Many Thanks to Amutat "L'Chaim" and to the "Angel" Daniel , who act for us: I am survivor from Kiryat Tivoon. I lost my husband on last February and since then,I have to be challenged with all sorts of difficulties and between them those , connected with domestic problems. Recently, I needed an urgent help with broken Air Condition. It was very old and I needed to put a tub in order to collect the water which were dropping from the instrument. When I called Bat El , who is in in charge on this area, in terms of helping survivors, and she directed me to Daniel to get help with this problem. Right away, Daniel understood what's the problem, and found the right men with a new Air condition and told me " Dear Roza, till Friday , You will have for Shabbat the new A.C." and this is what has happened. I didn't believe that there are good people , who give all their time and energy to give all the help to us - the survivors, and wouldn't be calm till it will turn to be truth. Daniel, didn't even said his full name, and organized good people for the mission and in a few days, I am sitting and enjoy the new A.C. , needing no more tubs to collect water from the dropping old A.C. I send my regards from my bottom of my hearts to the donors in the country and abroad, who support and mind about us, for you dear Daniel, blessings for your holy project . May God blesses you, for all the god you do for us. From my heart to you."
Roza Zhobotero, Kiriyat Tivoon.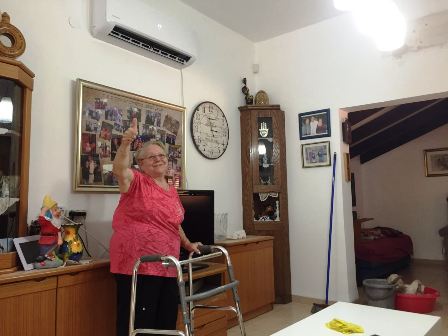 Roza


Dear Daniel!
"We are speechless, and want to thank you. You have a heart of gold, and power to do good things for survivors. God blesses you and will give you back all the good things in the world.

Roza's children

To invest in humans and News of this week
July 27, 2016, Tammuz 21,5776
Dear friends!
With a big joy and excitement, we are in the middle of the preparations for another period of visits with new students. At these days, our representators, meet the heads of the Mechinot and other institutes, on preparing our program for the new year which are coming soon. Yet, good things is happening in the Amuta. Asaf, from Mechina Maayn Baruch, who finished this year, is building a new branch in the city of Rechovot. He is a soul with a very special spirit and different wind streaming in him. After being one year in our project with Menashe (bless his memory), he understood the vision of "Lechaim" . Shir , our representer in Modiin, supports him and helps him to begin this brunch. I have got from him an SMS that made me very excited, where it explain his special soul: " Shalom Daniel! I have planned my date with the winners for next week. It brings me a lot of joy, and I feel that I am ready to give. One f the survivor's grand daughter, was surprised and was happy for such initiative." It is encouraging to see how much is our investment in the spirit of the humans. They are the commodity which is required most. I spoke with Reout, the volunteer coordinator in the Mechina Maitzar, and she told me that our project is wanted between the new students, after hearing their friends from the year before, about their special experience, and they want to join us. Again, I should remind you, and make it clear: our vision is to invest in the humans ! Indeed, giving material support is important but not the main thing. What's important is to learn together with the new generation new language or to return to what has forgotten: the heart language! In this project, the students meet their real essence , and it's so wonderful to see how it grows slowly but more and more. To my joy, more people from here and abroad , understand the special essence of this project, on investing in the human spirit , to raise light in their hearts, to pour vitality which comes from the Biblical imperative : Love thy neighbor as yourself! We believe, that this project bring to the world the good and the light , and invite you to continue singing with us the new song and to the others: to join us.

Daniel
A letter of thanks from the families who had 3 days of rest in keshet on the Golan
Shalom and blessings to Amutat "L'chaim", for amazing Shabbat with our blessed families of many children! We want to thank from the bottom of our hearts, Daniel Braun and Shuki Kestenbaum, with their open heart and the light in their face , for organizing a wonderful Shabbat for us to rest and enjoy. We are three families can't effort such vacation ,but, with this team, who did all the efforts to give us the best , by opening the beautiful skies of the Golan Heights for us, You are an excellent team, and we got back our strength as a families and each of us. R' Shachar with his guitar sang with his nice voice songs of the love for Israel, redemption and strengthening and he made us and our children as well to join and being happier, by singing with him . It was a very special present and thanks to the donors, who made it possible. With all our appreciation, Hashem will bless you for giving us with all your hearts such good time. Chazan, Shiftin and Chesdai families.
We are the Chazan family, Thank you from our bottom our hearts for the great kindness you have made to us. For a wonderful vacation we have passed on this last Shabbat in Keshet . It was for us , the first time after 24 years to go out and being in calmness. Bless you in all what you do. With deep appreciation, : Avi & Limor and the children's: Talia, Reot, Yedidia,Moshe,Shira, Zopia, Renana, Naama, Elia and Mordechai.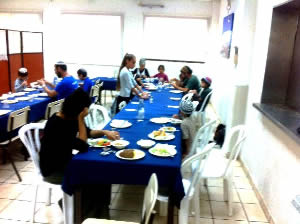 Having shabbat together !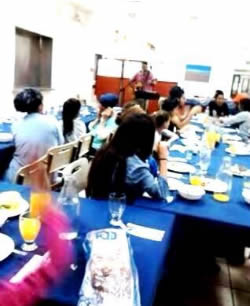 Rabbi Shachar picking up his guitar, to sing together.

Reot (Maitzar): Hi Daniel!
After two years as a the counselor of the volunteering projects in the Mechina in Maitzar, which were meaningful and challenging, our students volunteer in many places and with varied populations and with survivors in Kibbutz Genosar. The visits are only two hours in a week, but the connection between and the survivors and the youngsters is deep, pure and exciting. Most of the students, keep their connection by calling them and visiting them. What proves the effect of your project is that the previous ones tell the new ones about your special project and before we present the options, they ask to be part of "L'Chaim". The feeling of mission and satisfaction by giving through this special connection with this winners, that maybe, they will never have another chance, to be connected with such special people. This is a year which is most effected them in doing for society.
First visit in Haifa
Tal : I wasn't so sure about getting an appointment with Naftali on my last vacation before my introduction to the army and yet wanting to do something good. When Naftali opened the door I saw smile on his face who took me to the work room which was filled with papers and computer. He apologized for the mess and told me that he was accountant and loves History. These days he has problems of knowing good enough his computer he want to do much better with it. I tried to start helping him and hope to see him again and continue where he has stopped.
First visit in Rechovot
Asasf: Yesterday night after working in gardening , I had my first visit with Tobi. It's a long time that she has gets proposals for visiting her , and lucky me, to me she didn't refuse. She told me that she have plans to invite her family to her garden, and they are about 100 people. I will be happy to help her with that . We spoke about the world war two, and how it affected the people in the country here. Later on, I gave her some tips for her garden and offered my help. I hope that she loved it and it will have continuation.

News from the North
After returning from a visit at my family in Holland, it was good to start visiting my people. In Holland I met Lammie in Meppel with her whole team of L'Chaim's volunteers. Margo has sent me a couple of encouraging letters to pass on to the shoa winners whom they are very much attached to. I also started to meet with the schools to prepare the next year.
I met Israel from Rosh Pina and I was wondering how he is doing after the loss of his dear wife. Actually, he is doing very well. His oldest son, lives next to him, so, there is life around his house. Israel drives with his scooter to the town and does some gardening. Each day, he has help with cleaning and cooking. ( Israel is 92) !
I found Jafim in Katzrin , feeling very lonely and his house was in a big mess. He seems not to be aware of it at all. Everything is fine for him and everything is on its place. He said that he has someone who does the cleaning. I wonder... It is heart breaking to see Jafim living in such a circumstances. Until now, he rejected any help from the students or me. He was happy when I came and could give him the extra monthly support from "L'Chaim-to-life", which he need so much .
Shaul in Katzrin, is very happy since he moved to his new apartment. In this place, his house owner, is nicer and the expenses are much less than, in the previous apartment. Last month Shaul worked hard to make his house cozy. He has again, plans to do creative things. Because of the summer heat, he was unable to travel to Jerusalem to see the dentist that will fix his teeth.
In Kiryat Shmona, Anatoli Limunsky has died (on July 20th). Klara, Rina, Neli, Lisa and I visited Larisa and his two sons, during the mourning period. Larisa was very happy that I came. She knows that if there is a need she can turn to someone. This last half year, Anatoly health was going down very quickly, Beside his Parkinson, he got a couple of new serious problems for which he had to be in the hospital. Finally he didn't chose for chemo therapy and spent his last months of life at home. Larisa was crying. She misses her dear husband so much. Anatoly was a great and lovely man.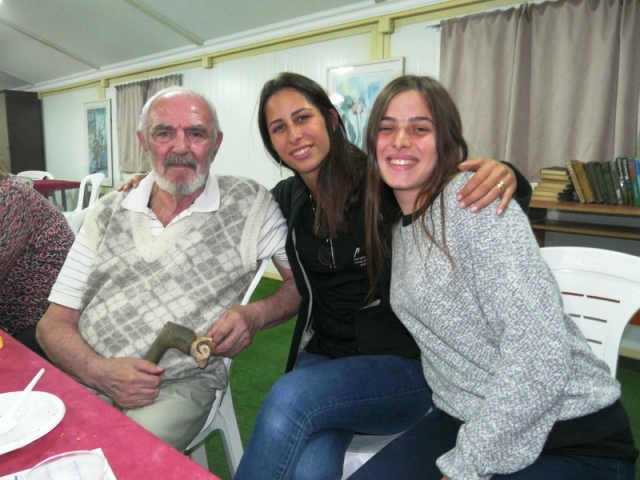 Anatoly (picture has been made in 2014)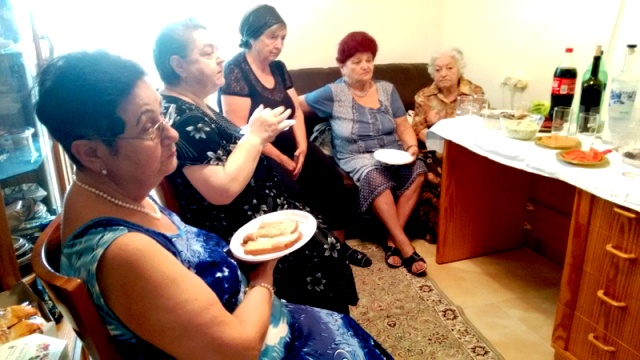 Staying with Larissa, remembering her husband Anatoly.
It is hard to see shoa winners, passing away, but we know that the little love I and my students gave them during their last years of life, have made them to be happy and it gives them perspective and the will to live.

Shalom,
Timek
Modiin
Ofri: This week we have visited Janet & Jaston , and we were very happy to see Jaston, a better health . We spoke about actual matters and drank lemonade with a cake hand made . At the end of our good spirit visit, they handed to us a little present as their blessing to our vacation.
Shir : Even the vacation, our volunteers find the time to visit our winners, and here what they say: Arbel and Shir: We came to visit Svetlana & Dimitri and brought Chess as a present to them. Svetlana told us about the Health problems they have to compete. Hope to meet them next time with a better health.
Shir: Tal, is a very good friend of mine, who studied with me and we serve together in the army. He told me that to fill up his soul he wants to give and volunteer some where and ask if he can join the brunch of Amutat "L'Chaim" in Modiin. Our first visit was at Svetlana & Dimitri, and they were very excited knowing he is going to visit them every two weeks. Here, what his impressions: Last Friday, I went with Shir to Svetlani & Dimitri. When Dimitri opened the door , he shook my hand and from Svet. I got a warm hug, and they invited us to sit on the couch, four people two generations. First, Svetlana showed me her little office in one Nylon and a little note book and there, all her notes, everything in order - just amazing. Dimitri, who has celebrated his birthday at this week, picked up one of the pictures from the table and showed me and they appeared young soldier as a fighter in the Soviet Army. We heard funny stories from Svetlana, and Dimitri, whenever he joined the conversation, was so funny that we couldn't stop to laugh. At the end , Svet. said : let's sit around the table and celebrate Dimitri's birthday. So we did, drinking and having the tasty cake Shir brought for that. We kissed and said good by ' till the next time. Just a perfect morning, with excitement, joy, and good feeling of doing good thing with a marvelous couple . It was more then I imagined , because, when you give, you get twice - back. It was a great privilege.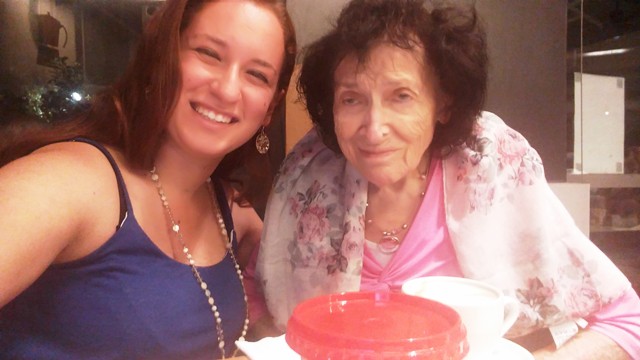 Shulamit
On my free day from the army, I managed to get a "date" with Sulamit after long time of trying to find the right time and not being able to do it. I was very happy to have this opportunity and we went to sit in a coffee house , we spoke, laughed ,making up of what has happened. She told me about the period after her falling down along three weeks of checking out and trying to find the reason why it happened and how she is afraid to walk feeling not stable. Chanan, feels much better and this is wonderful news. Their daughter is going through Chemo treatment, against Cancer... I wish, that they will heal and get better. I told her about the surprise I did to my mother on her last birthday, and Shulamit told me how much she invested on doing her children's birthdays by preparing costumes, and shows. We spoke how rare a true friendship is and she told about one friend like that, which she has. She is really exciting me each time we meet. Waiting to meet her again.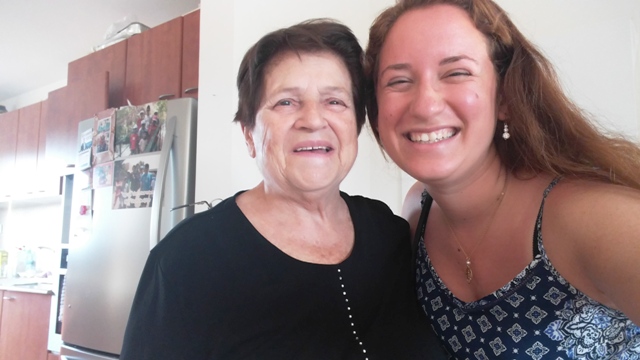 Lea

On my last day of vacation before returning back to the army, I went to visit Lea. It was funny and fascinating, with full stories and memories. I told Lea that I was in Eilat at the weekend, and she told me about her sister (bless her memory)lived in Eilat and they used to come and visit her. Her family really traveled along the country and she know I srael from North t South. Sadly, because of her 4 strokes she has lost her stability and her ability to see. She love when her children and grandees come to join her, eating together at holidays times. She find out that to have worker living in her house is very frustrating, because she is not independent anymore. Beyond all of that , she is the most optimistic of all my grand mamas. The smile and the positive thinking is her. I wish her to be happy and healthy.
Timrat
On Friday we went to visit Gad &Tamar at their temporary apartment in Migdal Haemek . We came bringing Chala and wine for Shabbat. It was very hard to see them so helpless and even not getting out from the house. We promised to come and visit more often. Smadar.
Daniel: Gad & Tamar, their situation is not simple. We are in a constant connection with them . Gad is at the hospital for the last 5 days, because the stress effected his health, his life is not in danger. We take care and come to visit Tamar. We already have started to give them and help with their basic needs, Yet, the challenge is big and their future in a fog. It isn't clear if they will come back to thier house after the renovation , or will move to an elder house. It is the family decision and seems to be far away. We are walking with them ready to help as much as we can. I would like to thank all the angels with the big hearts, for donating to this family. Please! just keep do it because they need more. We are all the time connected with their daughter Ruti.
Pardes Chana
On Thusday, R' Shachar and me, went to our visits . We have started at Rachmill, who this time, was very busy in relations and expressed his longing for the students and the group of the military casualties from Gan Shmuel. He told us about his confusion when getting (after one year and half of silence), a phone call from his daughter and said that for him she is a "stranger" and what can he share with her?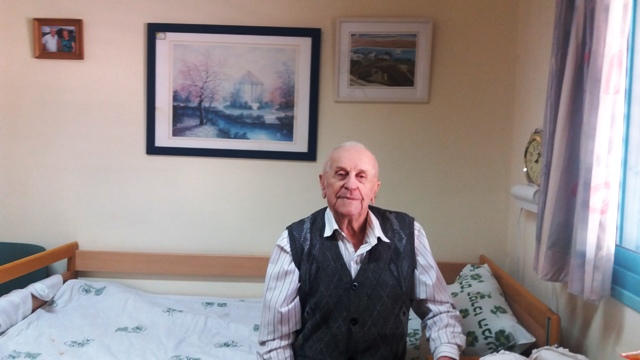 Mordechai

From him we went to Mordechai, who expressed his satisfaction from the house where he live , giving him what he need and this means at his age: peacefulness. Ishayahu was sleeping and we left a sign and went to Chaya & Morris. This time, their two daughters were there, and they sat (for a change) outside the house and spoke with us. Chaya burned her leg and the leg was bandaged .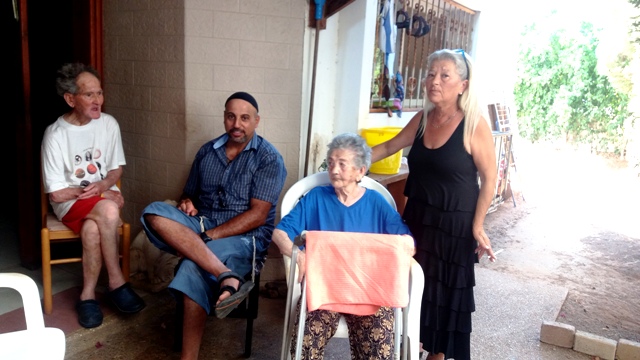 Chaya and Morris

From there, we went to Klara and Lionid. for them the rich package is very vital and it was with basic supplies, fruits and vegetables. They were very happy to get it.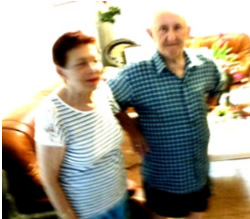 Klara and Leonid

At the Boarons, we left the packages and went to Zippora, who just came back from the Medical clinic because of headaches which are bothering her very often. We met there also her daughter with her two girls. She thanked us for our visit.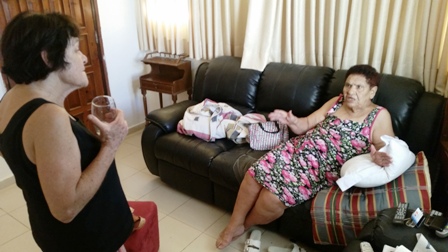 Aliza

The last and beloved, was Aliza. She offered us water and told us that she isn't so well and stayed in the hospital for one day because of high blood pressure.

We wish all of our winners health and all the best.
Rivka


A letter from the daughter of Gad and Tamar
Jul 24, 2016, Tammuz 18, 5776
Shalom Daniel
Many thanks to you and all - who is doing this work, for the support and the true will to help.
As I see, the first priority is :
1. To do eye glasses for both of them,
2. They need two prostheses and treatment for their teeth .
Again, many thanks for giving us the feeling that they are not alone.

Blessings Ruti,
Tamars' & Gads daughter
Gad & Tamar Bar Levav - report from the fire
July 14, 2016, Tammoez 8, 5776
Dear friends!
This week, we were witnessing a tragedy and yet, a big miracle, to our beloved winners: Gad and Tamar Bar Levav. Because of negligence of technician who did the work on the upper apartment of their neighbors , flying cinders as a result of drilling work, and the heavy hot weather , caused the fire which was at night and hit the house of Gad badly. Luckily, a neighbor saw it and rushed to knock on their door and Uzi, their son, who lives with them, has managed to take them out without any harm, thank God. With good connection, Uzi has found for them a place to stay for this time, in Migdal Haemek. But, all what they had in their house was burned. Gad called me and said very excited:" When it happened , I knew that I was not alone and I have Amutat "L 'Chaim"...."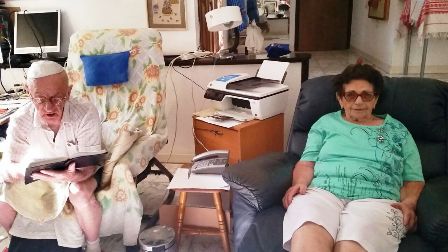 Gad and Tamar
In my opinion? it was great miracle! The Nazis, burned many Jews but Gad and Tamar were saved , and also this fire, didn't hurt them even all what they have, turned to be ashes, but their spirit is not heart. Very soon, we will know what the insurance is covering and then, we will give more details about it. We are going to stand on their side, along all of this journey.
Daniel.

16 juli 2016
Dear friends!
Now, the picture is clear and we can start to act. First, I went to see it, in my own eyes, the destruction that have left the home of these precious people. After that , I made connection with their daughter Ruti, who live in Petach Tikva. Through her, I understood clearly, that all what they had is gone! She already bought them some clothes for the beginning. But, their needs, are much more including more clothes, more personal things, and mainly, they need new furniture's also new Air Conditioners, because all has turned to ashes. About renovating the house, it's a process done by the insurance company and we hope that it will be done as soon as possible, and they will be able to return to their home. It's a real tragedy, but as I have said, a big miracle has happened here: they are alive and good spirit is inh them - knowing they are not alone!
Dear friends! I , Daniel, promise with God willing, that we will help them with all what they need, and we wouldn't be calm or in rest, till they would be able to return back to normal. From you I ask donating with all your hearts and generosity and we will use the money in the fast and effective way, according to our judgment and in order to improve their conditions. Also we will take care of more visits in order to raise their moral feeling with our warmth.
Please, act fast and with generosity as you do always.
Thanks,
Daniel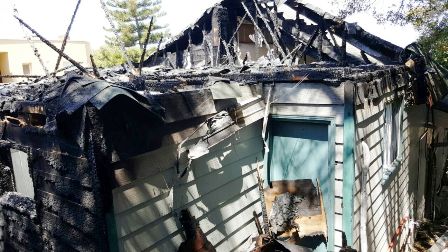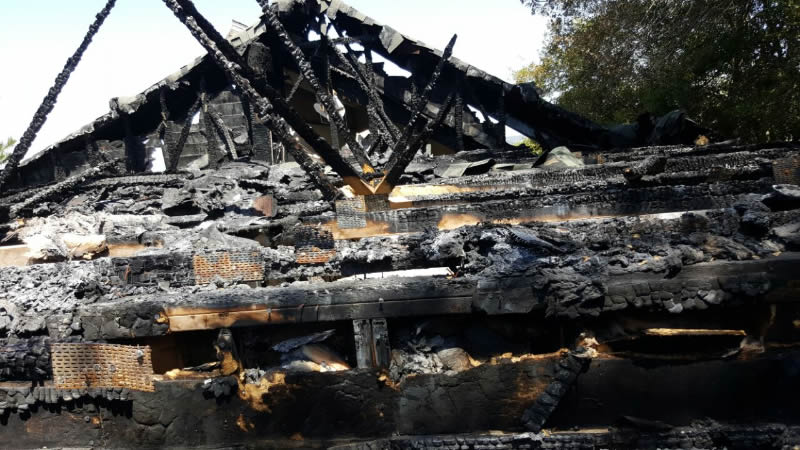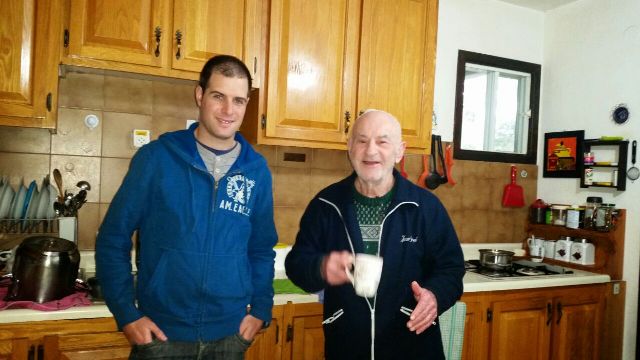 Gad with his grandson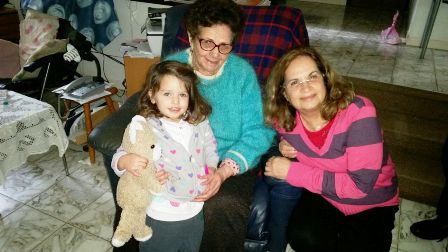 Tamar with her daughter and granddaughter



A short report from

- Rosh HaShana 12/9/15,
- Sukkot 1/10/15,
- Chanuka 7/12/15,
- Tu Bishvat 25/1/16,
- "March for life" 4/2/16,
- Purim 24/3/16,
- Pessach, 22/4/16
North
11/9/15: Ellen, Sophia and Ya'acov, our dear supporters of L 'Chaim-to-life from Holland, joined me today on my Rosh Hashana visits, to the shoa survivors in Katzrin, Rosh Pina and Kiryat Shmona. Every single visit was unique and special.

Timek
*
Daniel and me (Timek), have visited the three mechinot in the North of Israel to bring the "L'Chaim's" vision and the volunteering program to the new students. As expected, the students of all the mechinot, were very impressed and moved during our sessions. Daniel talked to them with the heart language. Not ratio is important in our project but, the language of our heart and feelings. 9/10/15 During my last visit in Genosar, EliRam told me, that recently, all the students from Mechina Meitzar, who joined "L 'Chaim" project, two years ago, came to Genosar and have visited the survivors, two by two, as they were used to do it in 2013. You can imagine the excitement. This happened also, in Kiryat Shmona with the last group of students from Ma'yan Baruch. This is the fruits of "L'Chaims" volunteer program.
13/11/15 : starting to adopt survivors from Neot Mordechai, Kfar Bloom.
7/1/16 Bringing warm soup in the cold weather to each of the survivors.
29/3/16 I want to thank Mr. Daniel that helped us by giving us the wheelchair to my mother. I spoke with many people and organizations but so far Daniel is the only one to help us. Zafrir (Haifa).
24/3/16 Purim celebrations with all the survivors (see the pictures).
24/4/16 Mechina Kfar Hanasie Upper Galili, have decided to organize Pessach meal for the Survivors in the area, who are neglected so much and don't get the right help from the government, with Daniel and Timek. Yael :" It will stay in our mind as a successful and joyful event, and we hope that we opened some kind of tradition in our Mechina.
5/6/16 Menashe from Neot Mordechai, has passed away, bless his memory.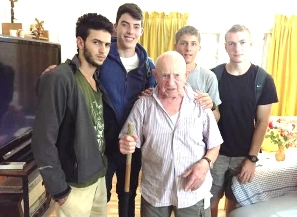 Menashe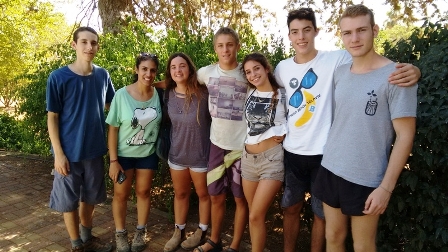 The studentes from the Mechina Mayan Baruch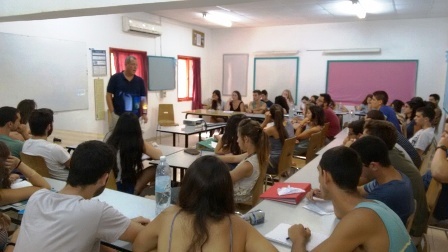 Mechina Kfar Hanasi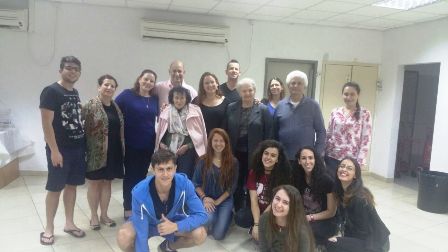 Pessach in Modiïn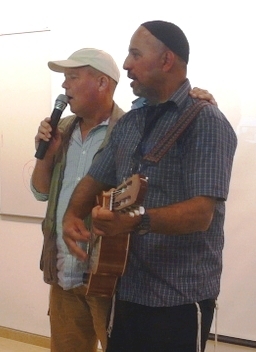 Rabbi Shachar and Daniel, singing together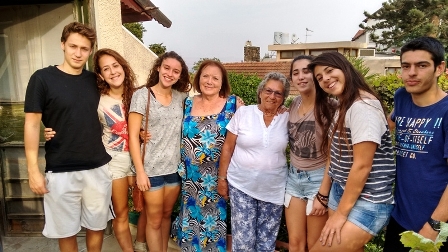 Tom, Yam, Yael, Noam, Eden, Eial, Rachel and Esther (Rosh Pina)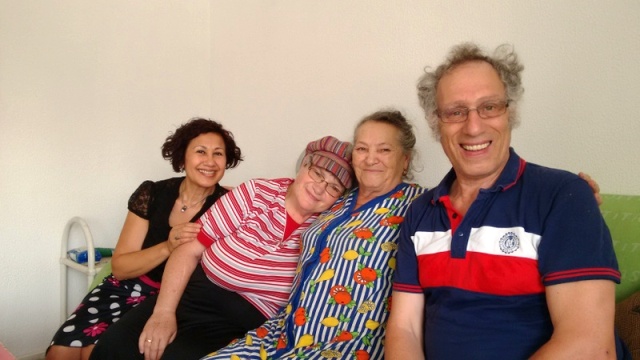 Visiting Zina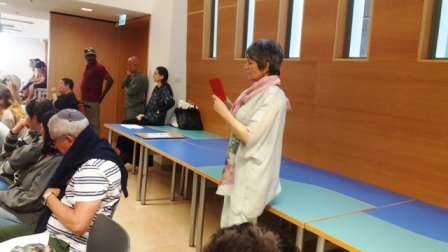 Margo from Holland
The March for life: It was amazing!!! heavenly atmosphere which expressed the essence and the vision of Amutat "L 'Chaim". The march was a gift from heaven and a great privilege, and a real love for Israel and for the glory of humanity. It felt as a happy family assembly. The students from Neve Michael , the Mechinot and the high school "Yachad", were so pleasant, accompanying and protecting the elders, doing it naturally. It felt the strength and the quality of those youngsters, who give their time and love, to this elders who has build this country. The gap between generations, just has vanished. Margo and Shilla ( from Holland) join the March and visit us. We all , fell in-love with both of them. Margo: I have a life changing effect about the next generations. What a privilege to be a small part of it. It makes me more than ever motivated to go on and tell people in Holland about all of you: You all made for us a beautiful, unforgettable journey, and as Sheila said: "A journey for life..... You are precious and beautiful!!"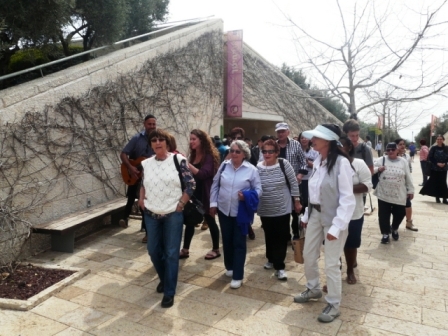 March of the living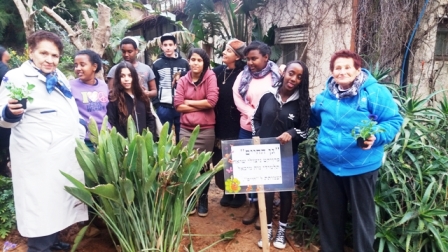 T"u Bishavat the holiday of trees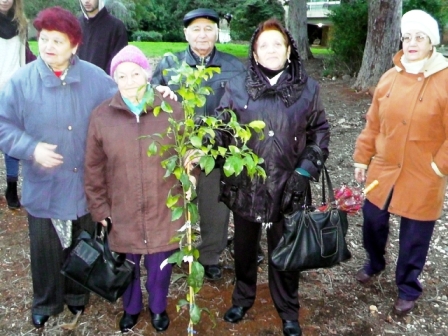 Klara, Neli, Anatoli, Raya and Rina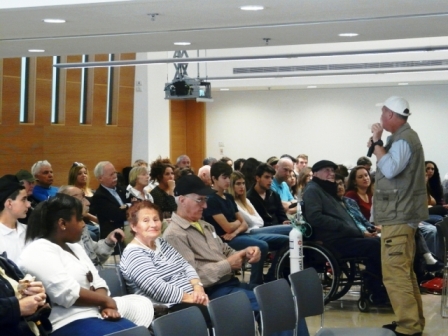 The audience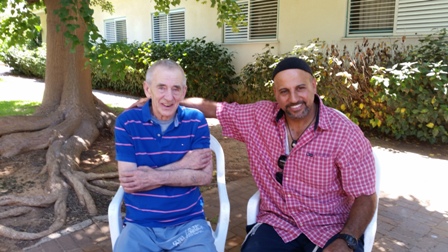 Rabbi Shachar and Rachmill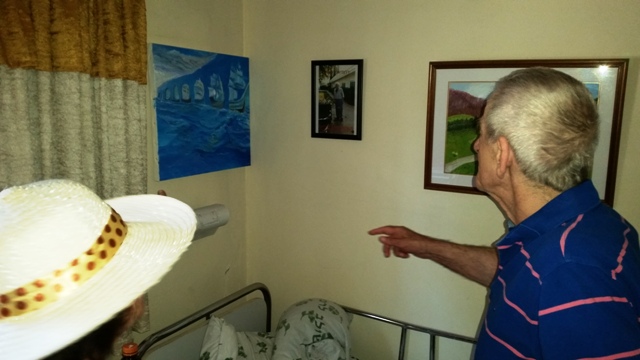 Rachmill shows his pictures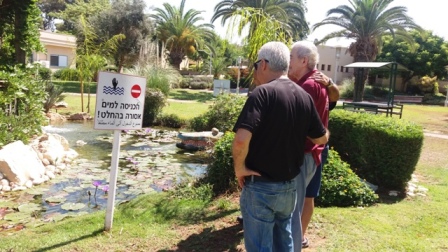 Enjoying the lillies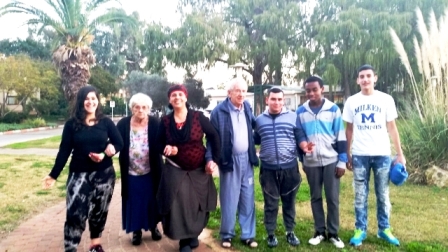 The group visiting survivors in Pardes Chana

Pardes Chana: This Wednesday, it was the comeback of the students from Neve Michael. Most of them continue with us and were very curios to start again and meet their friends, the survivors, who were also very happy to see them again.
9/10/15 Benyamin Litman has passed away.
14/10/15 June: giving ceiling fan to Klara and Lionid.
20/6/16 Goodbye party for the end of the year. Our visit, with the members of the club of injured people from the I.D.F. and terror victims , at Rachmill, ishayhu and Aliza, have started with a lot of excitement. We met on Sunday, at nine o'clock, with Daniel's words of orientation, and went out with presents hand made by the group. It felt great.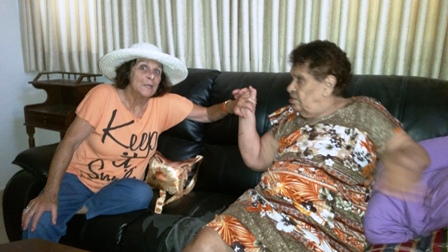 Aliza and Rivka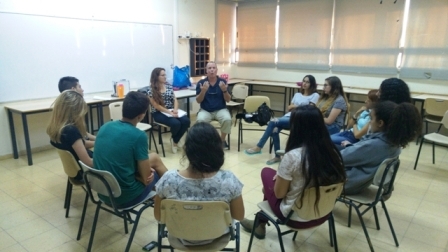 Oriëntation by Daniel

Modiin: breaking news: Our dear Shir, managed to organize her old school to take part of the project. Good luck Shir!
4/10/15 : I have no doubt that we start here, very exciting activities, and I am proud to see the nice side of those youngsters from my own school. I can't wait to the opening meeting: students and survivors. Also, we are planning to have fundraiser event in Jerusalem next month.
16/10/15: The opening btanch of "L'Chaim" event in Modiin: The event was very exciting. Girls and boys from the 7th and 8th grade, thirsty for something different, deeper, who drank with thirst our words, Shir's and mine. |
10/3/16 Fundraising event in Modiin by Shir and the volunteers from "Yachad" high school: Young girl named Shir , with unique firmness and vision, surprised us, and with her lead and the help the charming students of "Yachad" high school, raised magnificent evening that meant to bring awareness about Amutat "L 'Chaim" and also with financial income from it. The school hall was full of people, the students sold food and drinks, and a charming singer, volunteered to sing and moved hearts of his listeners.
24/3/16 Shir: tomorrow (Sunday), I start my basic military training in the army, and very excited carrying in my heart all the greetings from the "L 'Chaim" family.
24/4/16 Saider Pessach with survivors as one family. June: New winners is joining "L 'Chaim" in Modiin.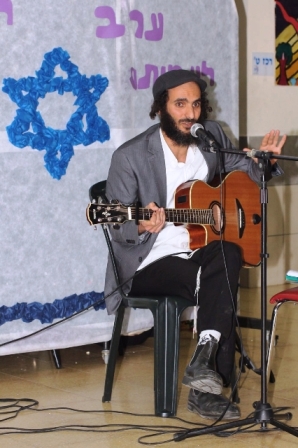 Het Yossi Nativ quartet

Beer Sheva: Our survivors, thanked me for the holiday gifts, given by Amutat L 'Chaim and greeted me and the Amuta. 14/1/16 Roza is 100 years old (PIC. with the Mayor of Beer Sheva).
3/3/16 Efrat gave birth to a baby girl. On the beginning of May, Rozelia has passed away and her daughter greeted us and thanked all what we have done in her life. Also the Media was at the holocaust memorial day very busy with Otto's problem of getting from Amidar an apartment on the ground after pleading for years. ( till now, the problem wasn't solved).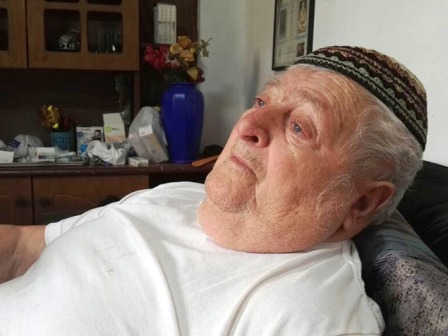 Otto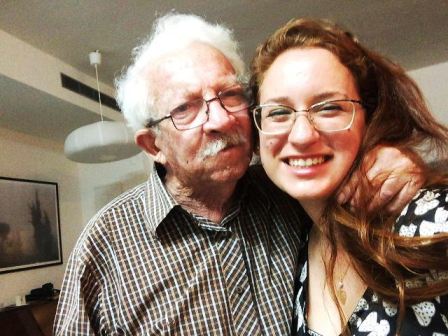 Zvi with Shir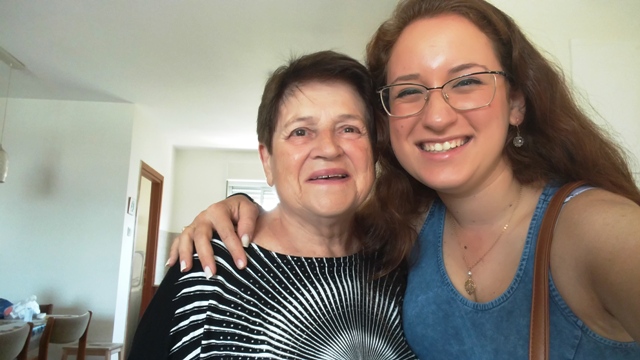 Rosita

Timrat
1/10/15 : Before Yom Kippur we have decided, after seeing Tamar & Gad's Siddur and the book for Yom Kippur, which were very old and some pages were turned, to bring them a new ones. Yedidia and Hillel, came to them and brought the new books and the surprise and the excitement was really on its peak. They said to me after getting also some sweets for the holiday, that our attention and minding about them, warms their heart and give them so much happiness.
19/4/16 We went to visit Gad and Tamar in Timrat, with supplies for Pessach and Matzot. Both of them were very excited from our visit and the supplies. Tamar told us that she is doing Saider as she remembers from her parents, with all the symbols of the holiday.

28/6/16 Shoshana Shpitzer from Jerusalem, asked us for Aircondition and it took only one day and the A.C. were fixed in her house. We got a very nice letter from her Social worker greeting and thanks us for the fast action.
2/6/16 Many thanks to our volunteers from the Mechinot who is finishing their studies and prepare themselves to join the I.D.F. and we know that "L 'Chaim" project, will stay for ever in their hearts.
The sun will go out from it's hidden place
June 29, 2016, Siewan 23, 5776

Dear friends,
The last two weeks here in Israel have been very hard in terms of the weather. We all feel that along with the heat, there is another element here, and it's to do with the malaise and a total loss of energy. In the Bible it's written that at the end of days "the sun will go out of it's hidden place", and I would like to expand on this idea . Of course, it is what I feel and you don't have to agree with me. When the Almighty says in Parshat "Hazinu (Listen!"), that this period will be a concealing of the face, it doesn't relate to the human face but a concealing of the light of the Almighty, to dilute the divine light, that is, the divine spirit (Sh'china). G-d says: "Let see what will happen when I hide my face…" It means a feeling of energy depletion; the air is still. There is a feeling of wilderness in the air. It is said in the book of Amos:" the one who forgets the Almighty, is hungry and thirsty"... It means the feeling of dryness and walking in the desert with a growing thirst. Also it's written: " and the young women and young men will faint… "Of course, again it has a double meaning of spiritual and physical faintness as well. The message here has some optimism and much happiness. The thirst and the hunger and the feeling of faintness raises in our hearts the awareness of our need for the divine light which gives new life to our soul as: "There is no one then but Him"! From the faint feeling and from the energy confusion, almost being helpless, which occurs within our hearts, the cry goes to the right source: the divine light - The Almighty.
This week, I had the chance and privilege to implement fully and with high spirits, the vision of Amutat "L 'Chaim". It was really saving a soul of a very poor survivor who lives with her daughter in Jerusalem. The social worker called me and asked for urgent help with an Air Conditioner. Miraculously, with a lot of good will and praying, being able to understand the urgent need, and because of doing it in the right way when you have the money, it is easy and simple to do it. Thank you dear donors, and don't forget that here are a lot of needs. Unfortunately most of the organizations are going on their summer vacation and we realise that the meaning of vacation has been twisted and withered when not applied in the right way. Lammie, our friend from Holland reminded me that even the Almighty is never on any vacation as it is said: "The saviour of Israel will never slumber or sleep" except Shabbat and holidays, because the Almighty have to rest a bit... Who can understand, will be able to understand it.
We will be here in the summer, and will try to help who ever we can.
My blessings,
Daniel
Shoshana from Jerusalem, is with us for many long years. This summer, she couldn't bear anymore the heat in her house and asked for help from the social worker, and told her about amutat "L'Chaim". As Daniel heard about it, he organized immediately the funds and the one who will fix it, and after one day, it was in her house. I spoke with her and she was speechless and very grateful for the fast reaction. Here is the mail which we got from her social worker:

To Daniel, Amutat "L 'Chaim"!
I would like to say thanks to you and your Amuta, for helping and giving an Air Conditioner to Shoshana Shpitzer, who is survivor and known to our services. She is 94 years old, and has only the Social insurance as an income. She can't spend such amount to get by herself an Air conditioner which, can help her in the summer and the winter. As I asked you to help , I was answered immediately, and Daniel organized it right away and the next day the A.C. were fixed in her house.
I am so grateful to Amutat "L 'Chaim" and the donors, who help survivors, giving them a better life and honor at their old days.
Well done!
Esti Sofer Bach, Social Worker in Jerusalem.

Modiin
One year has passed ,and I find out that dreams comes true if we want it strong enough, even if you have to go against the main stream...
This last year, I got to know my new grandmothers and grand fathers, and another ten wonderful new sisters and brothers. I met my family who was with me all my life and continue to go with me where ever I go.
I experienced fulfillment , satisfaction, I have studied about life , family, about myself , about giving , dedication and mainly about endless love. All that is left to say is to say thanks from the bottom of my heart to you, our winners, my dear grannies , for the love and the warmth, the hug and your stories, and the privilige you gave me, by letting me to enter to your houses and and your hearts. And you, my dear volunteers, for your persistence, submerging, good will and giving any time with your hearts. Thank you for what you are, I above all what I imagined . Many thanks to Daniel and Shuki, who have created 12 years ago this project, and I have the privilege to take part in it.
On our last meeting for this year, we agreed in our sharing circle, about experiences we specially remember. Presents were given to the winners and to the volunteers, we saw slide pictures and were excited together, remembering all the events we have gone through, along the year.
With tears of happiness and excitement in my eyes, I wish everybody, to continue celebrating, to love and enjoy life for many more years.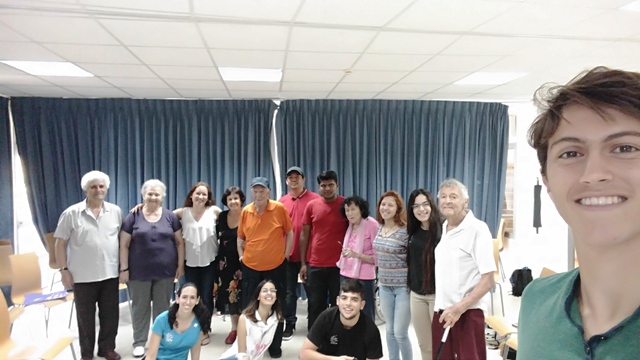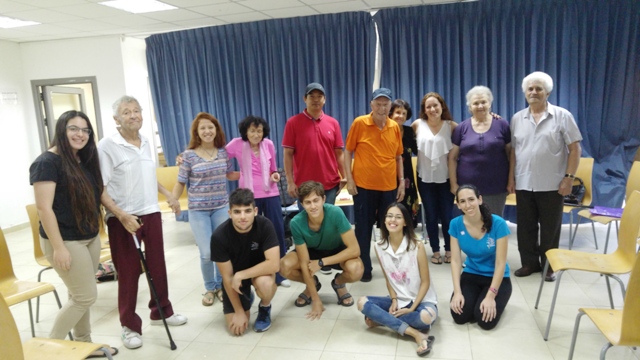 Volunteers and survivors together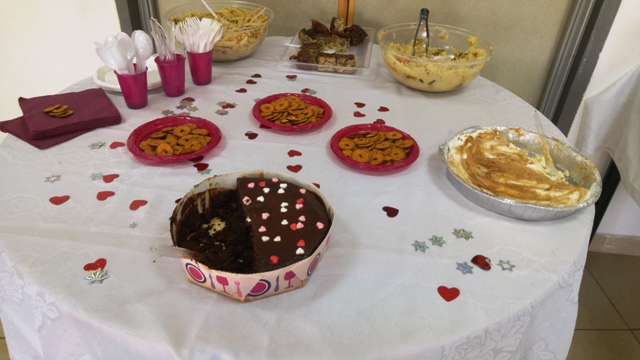 Refreshments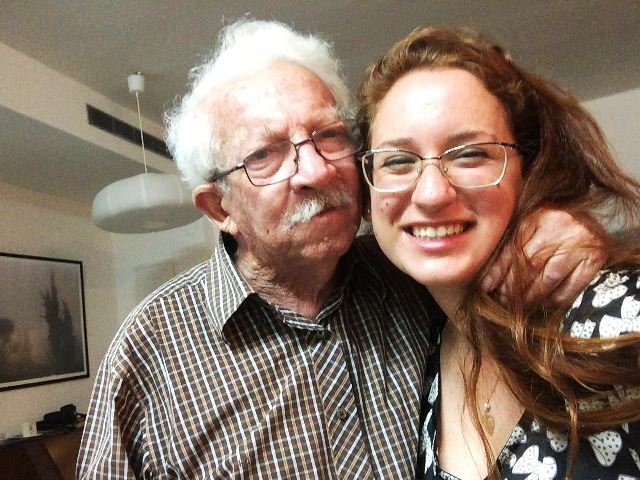 Zvi with Shir

Wishing, to expend our family next year.

Right after our meeting of closing the year , I continued with my visits of the new winners , who are going to join us next year: Rozita accepted me, with a lot of excitment, she opened up and told me how she came from Yugoslavia after running away along the war from place to place.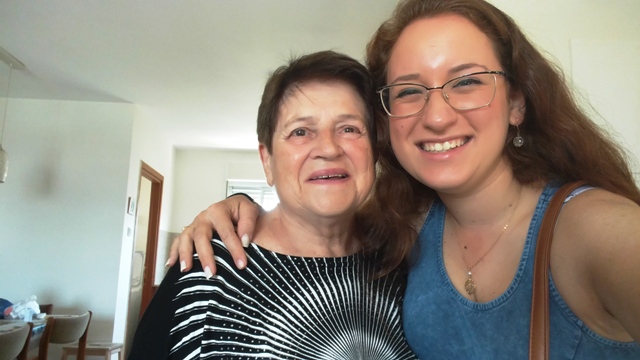 Rozita

Here, in Israel she met Miki her husband and they has started from nothing to build a new life together. They had to move from one apartment to another, and suffered hunger and poverty. They gave birth for three children. Today, two of their daughters don't speak with them because of their disagreement with their parents to move to protected accommodation, against their will to buy their own house for the first time in their lives.

Miki, suffer from Dementia and other sickness, and they are almost 90 years old. Rozita suffers seeing her beloved man losing his personality and I promised her that she has gained me as her daughter and I wouldn't leave her whatever will happen.... Even all her suffering, she tries to smile and I wish her all the best and promise to myself that I will try to bring light in her life. After her I went to Zvi and we had laughed and really enjoyed each other very much. I helped him with the computer and because he is a Musician I showed him videos of our best singers, and he enjoyed it very much. Zvi is different from other winners , he is very independent' live as young men and have whatever he need, visiting every once an a while his children, but most of the time he is alone and need my visits very much.
My last visit was at Lea's home. She is beautiful inside and outside. She showed me the recipe-book of the family that her granddaughter wrote at the age of 12 years old. We spoke about the situation in the country, and she told me how much she loves Israel. She noticed that I were bracelet on my hand with Magen David and told me about Magen David her sister had wear along the Shoa and the British times in Israel. I read to Lea becouse she almost has lost her ability to see after 4 strokes. I promised her to read for her whenever I will come.
Shir

Pardes Chana
A week before the group from the club for injured people of Z.H.L. from Gan Shmuel , went with Ruti to Aliza. They laughed and spoke about what's happening trying to get to know each other better.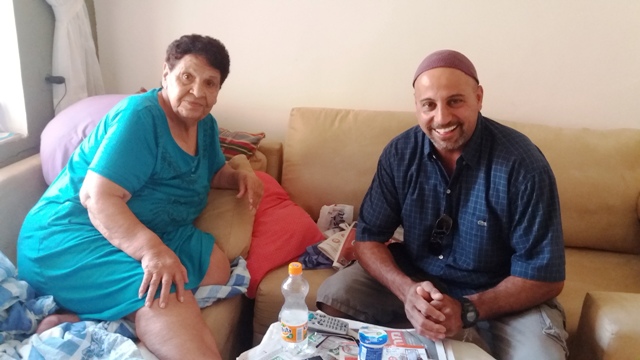 Aliza

On Monday, I went with a group, to visit Rachmill. We took him to the green aria, and also to the pool where a purple lilies is blooming and it looks great (see the picture)' and then, we set under the shade of the trees and the group gave him a new picture which was painted by one of the people from the group who couldn't come and he loved it. Rachmill, spoke with us and was happy, and suddenly, he asked to get back to the house, and after two minutes, he just collapsed and we had to call the nurses and brought him a wheelchair' picked him up and we left him with the nurses. As a result of this case, we decided on this summer days , not to take him away from his yard, and be as close as possible to the house. Later on we got the information that he was dried out because of the heat.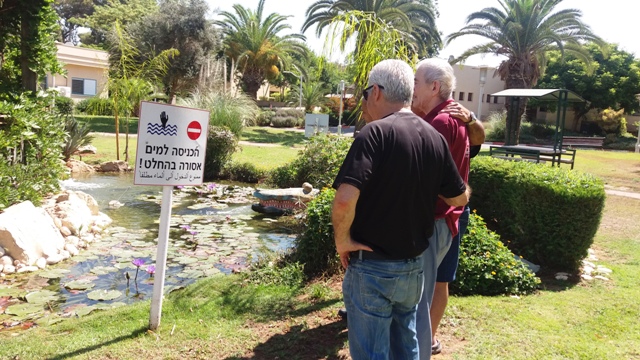 Beautifull lillies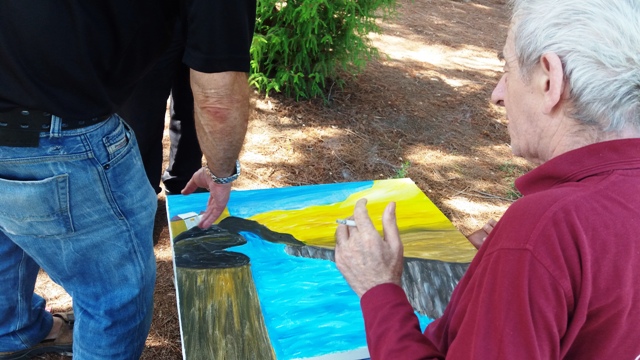 Picture given to Rachmill

Monday, R' Shachar and me went to visit our winners all by ourselves, because the summer vacation of the students. We have started with Aliza, who came from the court because of her neighbor, who complains about a hug tree in her yard , which he think that it have to be cut down and are running after her, for a long time. Nothing was really finished but the judge, seemed to be on her side and we hope for a good solution for this matter. She also told us about her granddaughter, who was in a nervous break dawn and now she is better. From there, we continued to the Boarons, with them we spoke about their health and tried to convince Avraham to smoke less .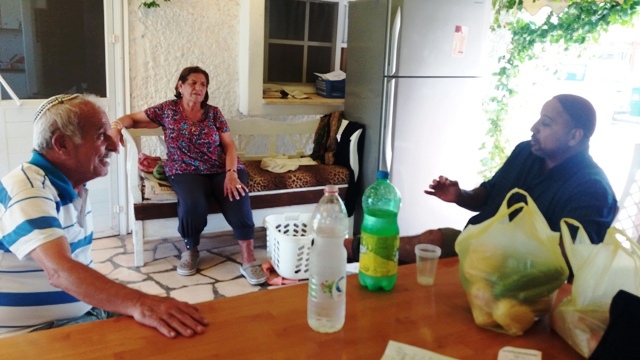 The Boarons

To Zippora, we came and she proudly showed us the new color on the ceiling , which her daughters did and also made more order in the house which had mountains of clothes which is not needed at all, and we saw at the entrance of the house new plants . She thanked us very much for the bagges with the fruits and the vegetables we brought. From there, we went to Klara and Lionid. We saw and heard from them how much the enjoy the ceiling fun and it is helping them, and also for the bags with the fruits and vegetables. We found Chaiya in her bed, and Morris, just heard the voice of his beloved R' Shacahr, joined us and we spoke a bit with them . Rachmill won my visit on Wednesday, he was full of satisfaction about his life and the love he gets everywhere. He felt much better and we have sat in the house and didn't get outside.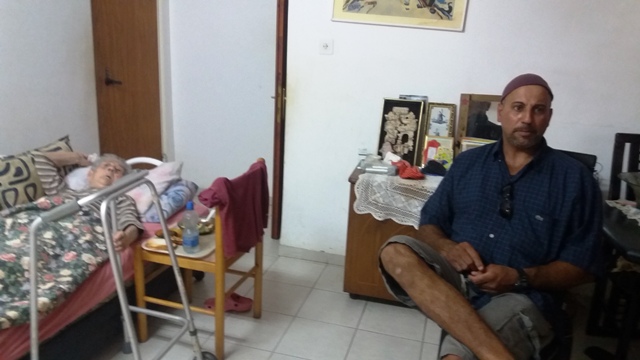 Chaya

On Sunday, we will visit with the from Gan Shmuel Aliza, Rachmill and Meir .

Rivka

Timek from the north, is on a special vacation in his homeland Holland, and mean to get back in the middle of the month. Then, he will start his visits and organize the new students from the Mechinot on the North.

This is our news for this week. Have a good and peacful weekend.
Rivka



World Rehabilitation in the Kingdom of Shaddai
June 16,2016 , 10 Siewan 5776
Dear friends!
Continuing our essay about the Holiday of Shavuot, we must remember that getting the Torah by way of the Hebrew people, was part of correcting the world for the Kingdom of Shaddai. What is it about? The kingdom of the Almighty, asks people to crown G-d in their life here in the land of life, which means to bring holiness into our life on earth. There is a thick mire, which engulfs the earth everywhere and the people as well. Living in bodies of flesh and blood, and all it entails, means that repairing the world is a long and twisting journey, through which pitfalls men learn on the way to distinguish between sacred days and ordinary ones, between good and bad, between light and dark. Unfortunately, the world these days, is like a kindergarten, and the eventual sublime spiritual destiny, stays far away from our lives. Mankind walks in the darkness as a prisoner of itself, in the slavery of triviality, which opens unreal borders of the ego which then, forces itself on reality. Violence is growing, the technological culture takes people far away from a real vision where at long last sight,can understand the process of the world and by using the past experience, more deeply understand, how to complete the passing into world rehabilitation. It is only the mist of time and spiritual blindness that there is no possibility for people to see the magnitude of the times, and the new wind which is rising up and asks growth from us. One of the meaningful instruments in the process is the relationship to a person, a connection without any interests, from heart to heart,which elevates the souls of those, who meet each other, the power of feeling alive, an enthusiastic awakening, new inspiration, a unique creation, the taste of life, the deep essence of the holy of holies! There is no better way, to make a person to be connected to himself and ignite the divine spark within his inner soul, than meeting heart to heart with somebody else, a meeting of learning from each other which reflects as a mirror does, echoing strong energy and only when the ego, is put to one side with the ability to see the other as a complete organic part of us. Such meetings must be directed precisely. I don't mean gatherings just to flatter each other in order to receive the same back, and be pumped up by charismatic leaders which makes them dependent and empty, very far away from themselves and from their strength. I mean for meeting of inspiration, when the giver is and the one who receive, gets heaven. It's communication of integrity which echoes a holy melody and gives rehabilitation on a higher level. During the years of Amutat "L 'Chaim" we are experiencing this miracle every day, how clean and pure connections can elevate a person to heaven. It is precious in this materialistic and egocentric world in which we live. I feel a great privilege to stand at the top of this project which is called "l'chaim": to feel the joy of a meaningful Jewish creation (in Hebrew: lehargish Chedvat Yetzira Yehudit mashmaotit). Also, it is a meaningful privilege for us to feel the blessing of the Almighty , having a consistent project which brings healthy color to the cheeks and light to the eyes of our partners. It's a project which is dedicated to its vision of staying simple and humble, echoing the light and the joy, coming from these holy meetings, healing our country and the rest of the world. It is a great privilege to be supported by those wonderful people overseas : Lammie– the head of "L 'Chaim" in Holland, Margo in the south , Marianne – translating from English to Dutch, Kais from "Shoresh", Pim and Roze from "Christians for Israel", Pieter from "Bait Emuna",CHRICHCHE from "The community", and the rest of the people who are active here in Israel. Of course, Thanks to our friends from Norway mainly to Hans and Signe, to our friends from Singapore, Bruno and Gru, Yudit Setz from the " Christian Embassy", Maxine from Australia, to our friends in Sweden and the U.S.A., and of course, to our volunteers and the Shoah winners here in the country, and Shuki the treasure director. On top of everything, to the Almighty, who blesses this project more than we can imagine.
Very soon, new volunteers will join us and meanwhile, we continue our activities of the summer.
My blessings,
Daniel

Modiin
Our soldier Shir tells : Today 9/6/16 I came straight from the Army to pick up from home the cakes my mother has made to the new winners how are going to join our branch of "L 'Chaim", in Modiin.
I have started with charming Tzvi, who lives alone in his house and has all kinds of musical instruments. He played in the Police orchestra for twenty years. Tzvi came from Romania, and as a child he stayed with his stepmom who was very cruel to him, because his father was taken to slave labor in the camp. Most of the time he is all alone . Some times he goes and visits his grandees' in Jaffa and Modiin, and doing babysitting.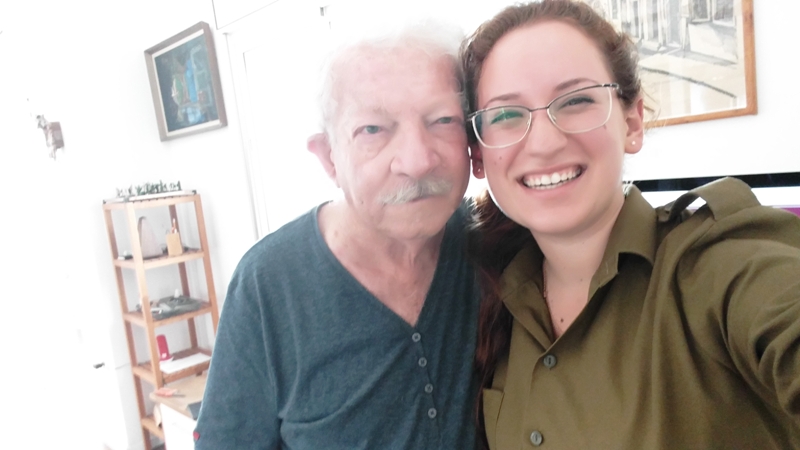 He played for me on a guitar and I was very excited. From now on he wouldn't be alone I hope.
From there, I went to Avraham and Mona, full of life and charming. They told me that they are grandpa and grandma in full time job. Their grand daughter Shira (6 years old) came, and said to me that this is "Taxis Saba" and he told me that he is driving his grandchildren to their school, and for their courses. Mona , can hardly walk but fill them with warmth and love. Along my visit Avraham brought Maya and another grandi. Both of them came from Romania, and willing to tell their story easily. They showed me a book which a friend of Avraham, who was with him along the war, and wrote about it, and were very excited for the "L 'Chaim" Idea and the visits.
On the next day I went to visit Mordechai. He came from Russia, Along his life he did many things. He was an officer in the Russian army, he was managing Convalescent home, and then, when he came to Israel , he turned to be a teacher for physical education and a teacher for Chess. He joined world Chess competitions and sometimes as The Israeli representative in some world competitions. In our first phone call I felt that our connection is going to be great, and when I came with my uniform he said how much he adores the soldiers in Israel, and his love to this country. He told me about his wife , who has passed away six years ago, and it was great to know him.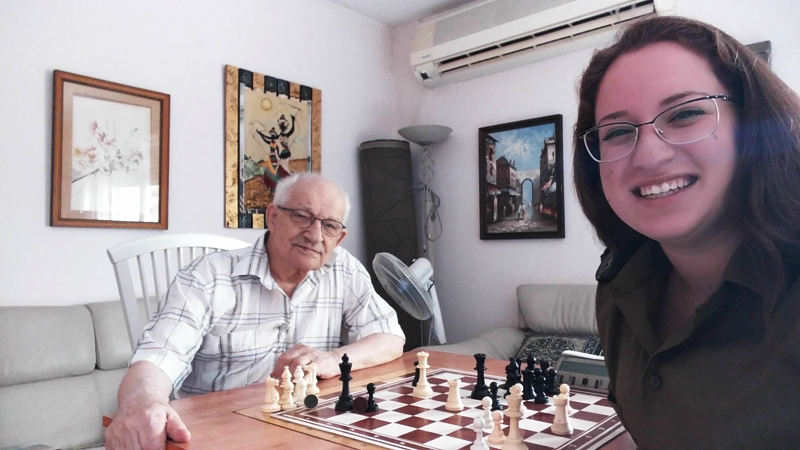 On my next visit he promised to teach me Chess. I just can't wait….
Lea, accepted me with two of her children's and two of her grandchildren. It was warm and nice. She had four strokes and almost lost her ability to see. She told me her love to read and how much she misses it, and expressed her hope that the volunteers will read for her . Her family were excited to hear about Amutat "L 'Chaim" and told me that they are also, busy with volunteering mission in helping for children's with special needs, at a Senior house and also at the Gariatic ward in the Hospital. It was great to get to know such a good people like this. The last visit was a bit complicated. Rozita didn't feel so well when I came. She is 85 years old and her husband Miki is going to be next month 89. They came from Yugoslavia from the same city, even came in the same ship to Israel, and only here they got to know each other and from then, for 67 years they are together. Rozita is suffering to see her beloved husband having advanced Alzhaimer and recently she had to complete on having caregiver, living in their home. She told me that she couldn't tell the story of her hard times at the war and told me a memory of police men, running after her and catching her… Rozita is joining many activities for seniors but she is not happy and I hope that our visits will bring some joy to her life.
We are going to celebrate the end of the volunteering year in another two weeks, and till then, best wishes to all.
Tair and Moria: We had short visit at Svetlana and Dimitri , Svetlana told us about her studies in the University and gave us good advices about how to get what ever you want. As usual.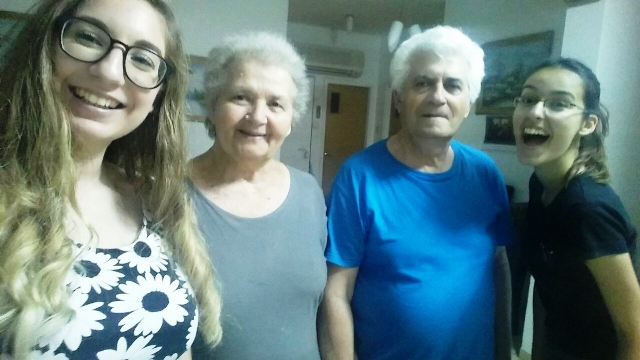 It was great to meet them.
Beer Sheva
Yossef is all right, nice and optimist. Yet, it is hard for him to get out from his house, and has started to think about moving to a senior protective home, and even signed for it, but not sure about it. He told me, that he applied for more helping hours from the Social Insurance but were refused and he pay for those extra hours, because he really need this help.
Suzan was in the hospital for almost three weeks because of her high blood pressure, and just came back home. She is not getting any response for her request to move to Natanyia.
Olga had a very high fever and she had to be hospitalized to be checked, she sounded very weak and I promised to speak with her another few days. She didn't let me come because she was afraid that I will catch her virus.
Otto is still on the third floor and nothing helped him even having the T.V. at his house, nothing has changed . His health is not great, but I came with my little daughter and he was very happy with her and for a while he forgot his problems.
These are our news in the south. Best regards to all of you. Efrat.
Pardes Channa
Today, Tuesday afternoon, we came to our winners and picked them, to celebrate with us and greet our dedicated students from Neve Micheal, Zvia and Shiri for the end of their year of studies. For the event we prepared certificate of appreciation for them :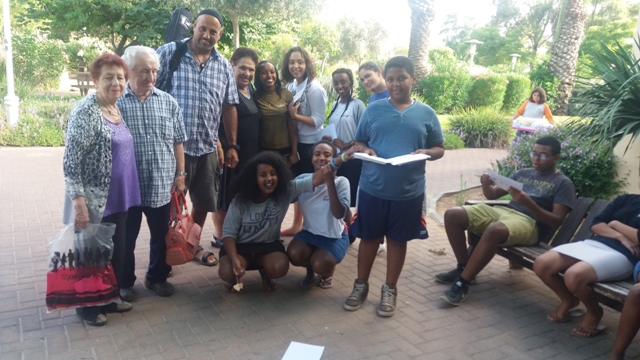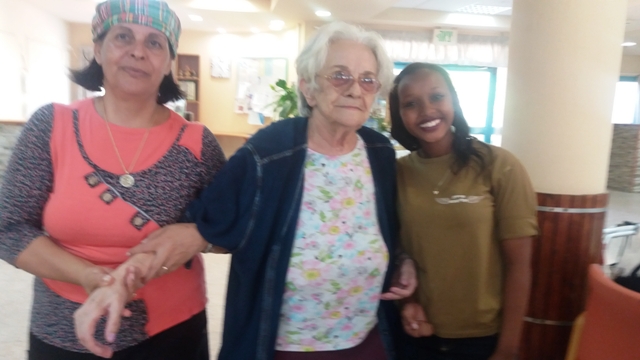 Tal-or, Maiya, Priel, Elinor, Sara, Galit, Etxv, Efrat, Liel, Hodayia, Sara H, Salomon, Ortal, and more who joined us when they could. The joy they have brought along the year is (it can be seen in the pictures,) was unforgettable: singing, dancing, laughs and hugs.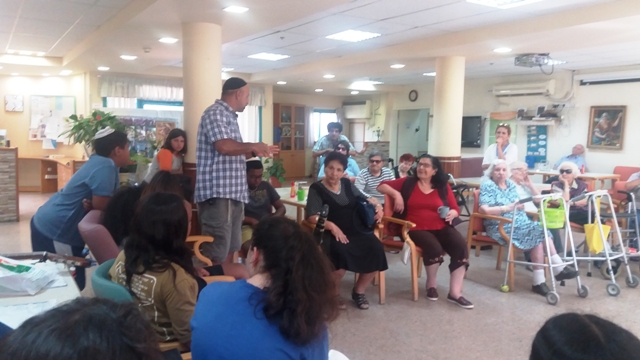 And of-course Rabbi Shachar with his guitar and the endless kindness in all what he touch. And me, your loyal one, who try to arrange and pull the strings, here in Pardes Channa, on doing the best for our winners. Above all of us Daniel who is conducting and on the head of the project of Amutat L 'Chaim.
It was a real fruitful year with celebrating holidays together and the weekly visits with the feelings of giving and getting – as well. In the certificate we wrote: "On three things the world stand on the Torah, work and charity" and also "There isn't a men, which don't have the spark of the power of giving, because if it wasn't, the world would be destroyed. Therefore, the Almighty took care that this spark, would stay for ever in the mankind". The party was very happy. Daniel said to the students how much their dedication is appreciated; R' Shachar also brought some ideas from the Parashat Hashavoua and also greeted the students and expressed how much warmth they bring to our winners. I gave to each of them the certificate of honor, and Tal-or played on her Clarinet, Israeli songs, and then, the Guitar joined her and we got up for a dance and sang together. Aliza also, spoke and said how much she love the visits , and Zvia brought nice refreshment to all of us and also pictures to Rachmill, Ehosyia and Mordechai. It was a real happy good-by party and all of us went very satisfied back home. We wish a real good summer vacation to Zvia and the group, and hope to see them back with us on September.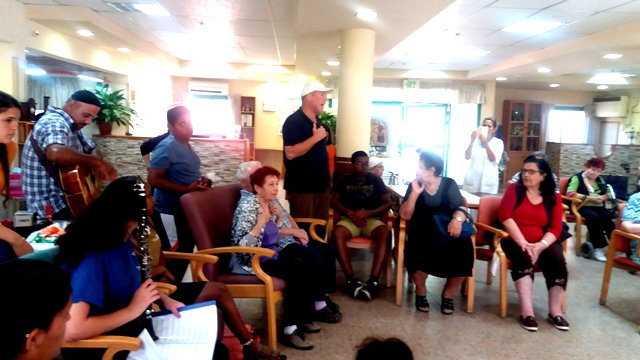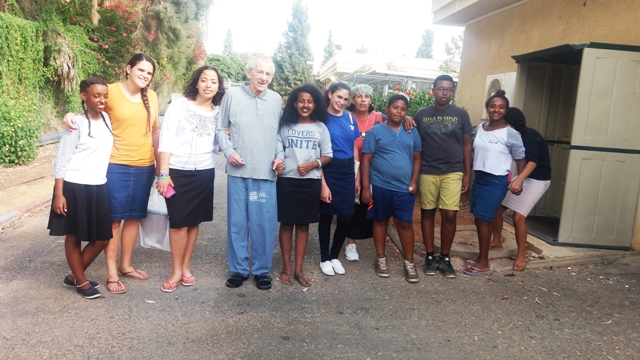 Rivka
The holiday of Chag Shavuot – When our Torah was given
June 8th, 2016 - Siewan 2, 5776
Read this report at the feasts


Angels of tidings
June 1, 2016, Ijar 24, 5776

Dear friends!
I am very happy to tell you about the beginning of a unique project which came to us from heaven. As I told you before, I was invited on the memorial day to tell about the project of Amutat "L 'Chaim". I met a group of injured people from the I.D.F and terror, in their club IN Kibbutz Gan Shmuel, and right away I felt the spirit of the blessed work and the great love which is given to those people, by the lead of Noa Feldman- the manager of the club.
It was very clear to both sides that this is a beginning of working together, with the massage of healing and intensification. Indeed, we have started to prepare the meeting by choosing the right winners and Noa organized the group from the club, who were already very excited , ready to go to the approached "battle", heart to heart. Also me, gave my humble contribution by coming on Sunday morning to give my blessings and to study the very deep journey which we can meet many feelings, and a great chance to compete and enhanced. As matter of fact a holy session which bring winners with the injured people , by expelling from them a tremendous healing light, which they have mainly because they have passed so much, and they keep two big bins: one with bitterness or with sweetness: to take out sweet from the bitterness. Choosing in the sweet bin is intensify and radiate fantastic light of hope, and fixed existence, healing for all who are in touch. After the opening meeting, with words of encouragement and reinforcement from Noa and Rivka, we went to start our way. I will conclude with these words: the whole day was to establish a day of light and holiness. I felt very high with it and it is a long time I didn't feel that way.

I want to compliment Noa dedicated women, who is a wonderful partner for our new way, full of love with abilities and strength, walking as an angel, and Ruti, who work in the club and joining the project, and mainly the angels, the group of the volunteers who brought a lot of joy and massage for our winners. Well done to Rivka, who prepared the visits in sensitive and accurate way, in order to succeed from the beginning.
Also, we support and give immediate help, thanks to your donations – dear friends in the world, if it is orthopedic shoes, or ceiling fan, or teeth treatment to those who need it urgently. I want to thank you wonderful people, from the bottom of my heart, to you. I know, that it comes not only from your wallet but mainly from your heart!
Many thanks to our volunteers from the Mechinot who is finishing their studies and prepare themselves to join the I.D.F. and we know that "L 'Chaim" project, will stay for ever in their hearts.
We thank to our loyal friends abroad and in Israel: to the outstanding friends who translate from English to the Dutch and Norwegian language, and to all the active people who do for the Israeli nation and Amutat "L 'Chaim". It is great privilegee to work with you .
We ask for our special campaign, for immediate help, to be continued. There are many people, a view hondred, thousands, who need this kind of help.

Best wishes to all of you!

Daniel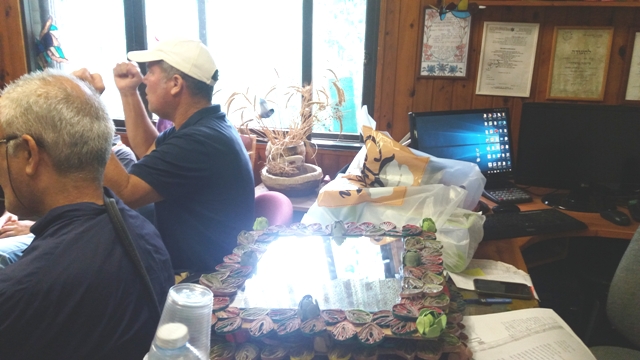 Daniel, giving some oriëntation


Pardes Channa
Our visit, with the members of the club of injured people from the I.D.F. and terror victims , at Rachmill, ishayhu and Aliza, have started with a lot of excitement. We met on Sunday, at nine o'clock, with Daniel's words of orientation, and than, Noa, the manager of the club. Both of them, tells us about the "butterflies in their stomach", and their excitement for this new beginning. Then, I spoke and gave an idea to whom they are going to meet. After that, we were divided for three groups, and went to our mission equipped with a mirror, as a present – made by those dear visitors ( see the picture) .We went to Rachmill and Ishayiahu, and the group and the adrenalin in the air, made winners to speak and communicate wonderfully. Plannes were already planned, to do things together, to act and waken old abilities and talents, which were forgotten… Ruti with her group went to Aliza and there, was also exciting meeting and she told them about the time she was in Italy as a child in a close camp, and the communication was very good and healthy. The meetings with the winners, were very exciting and elevated our souls. It's a beginning of a wonderful friendship. We felt very good about this first step which were made and will give all of us the energy for the continuation. On the end of the visit , we gave greetings and flowerpot to each of the groups.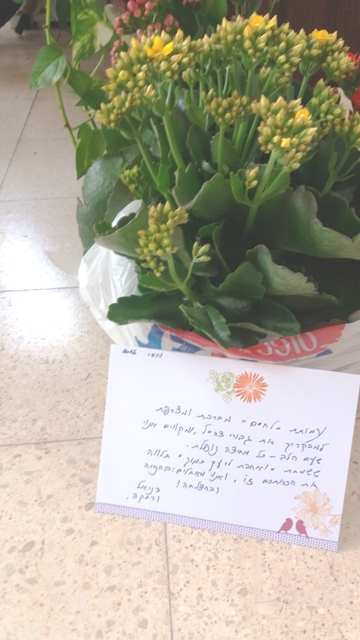 Welcoming new volunteers with a nice flowerpot.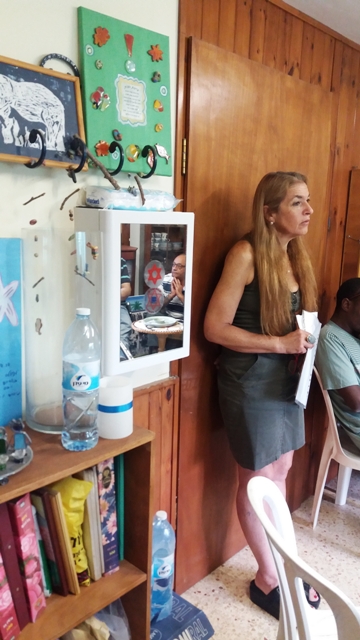 Noa

Noa: "The world is build from different people who carry scares on their body and in their soul. They come from different places, from different wars, but share many things. Their daily battle is the privilege to live in honor with support being accepted by the society around them. Our way of competing, is to use smiles, encouraging words, grace and being attentive. All of us, deserve it and yet we have to give it and we shouldn't forget that, and the strength it gives when we together, cooperating, cherish the faith in the human beings and the good things he have. We have to go hand by hand, to give from heart to heart, and this is the way how all of us, will overcome and be stronger."

On Monday, Zvia and the students from Neve Micaheal, R' Shachar and me, were with a lot of joy and goods underway to our winners. The Boarons told us about what they have experienced, as children's in Tripoly ( Capitol of Lybia ), and how they had to run away and hide on the roofs, hearing all the screams, fires and shootings, till there came a messenger from Israel, and took groups of them at night and smuggled them to the land of Israel. Zipora, accepted us, grateful for the beg, full of supplies. She told us that while preparing food for her granddaughter, hot oil "jumped" on her hand, and left her hand with burns, and she is trying to be recovered. From there, we went to Aliza, who prepared for us a Ice-cream cake, which was very tasty. She is always happy to see us. She told us about her granddaughter is depressed and R' Shachar, offered to meet her and play with her Guitar as they did before and enjoy it very much, when she was at Aliza. But, she couldn't come and we continued to Clara & Lionid with a new ceiling air fan for their sleeping room, which Amutat "L' Chaim" bought for them. When R' Shachar heard that they suffer from the heat in this room, he decided to fix it for them right away. And for two hours we worked together in order to fix the fan. At 20.00 we left them. I should remind you that this tzadik must go back home, to the Golan Hights… This men, spread with his guitar and high soul, only good where ever he is at. We won you dear Shacahr! You can imagine how grateful Klara and lionid were, and they thanked also to Amutata "L 'Chaim" for the great present they have got. Zvia and the girls, visited Rachmill, Mordechai and Yonna. They took Rachmill to walk in the gardens and he said that the fresh air is making him so happy. On the house of Mordechai they did exercises and danced (see the picture) with Rachmill. They felt great when they went out. We are getting close to the end of the year and prepare, to celebrate the end of another successful year.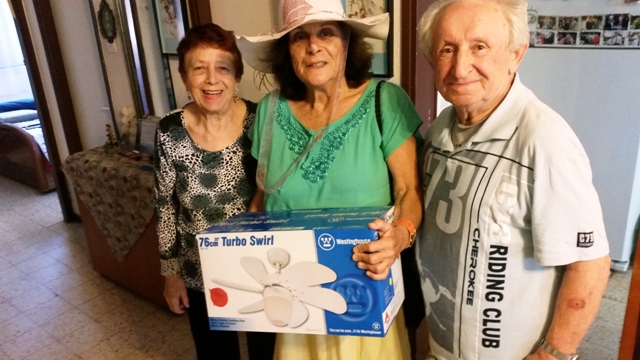 Clara and Leonid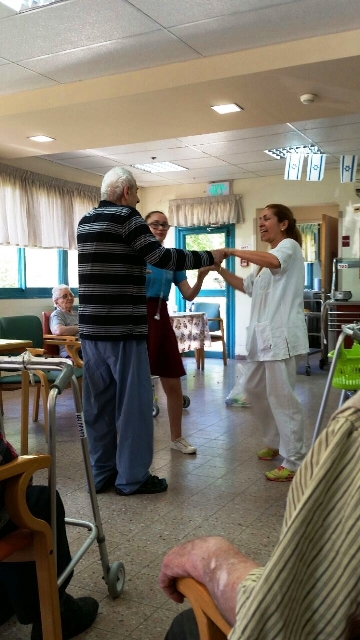 Rachmill dancing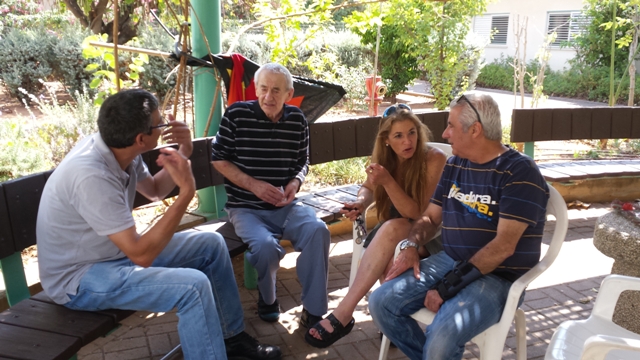 Speaking heart to heart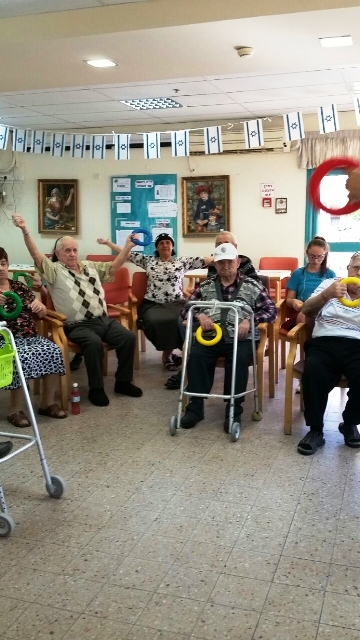 Mordechai doing some gymexercises with us.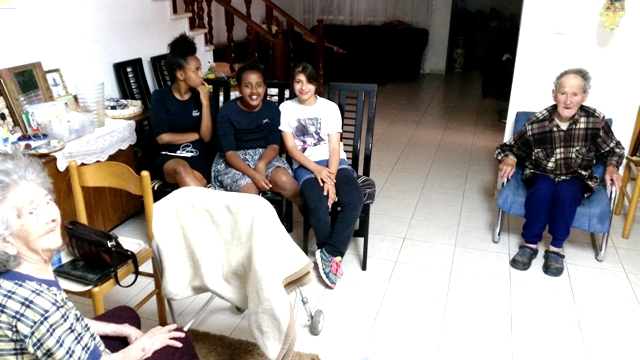 Chaya and Morris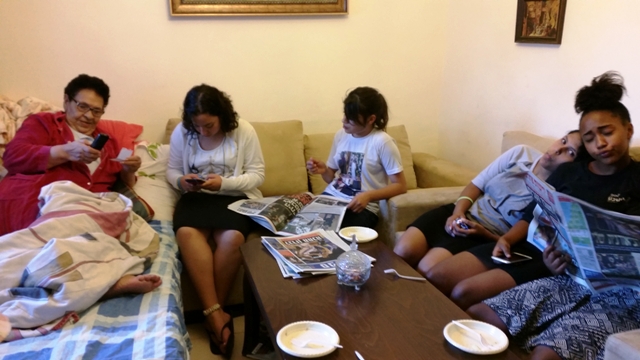 Exchanging phonenumbers at the place of Aliza

Best wishes,
Rivka

News from the north
End of the year. The party in Mayan Baruch:
The students from Mechina Mayan Baruch prepared a nice goodbye party for the winners from Kiryat Shmona in the Kibbutz. They welcomed warmly the winners and the atmosphere was very spontaneous.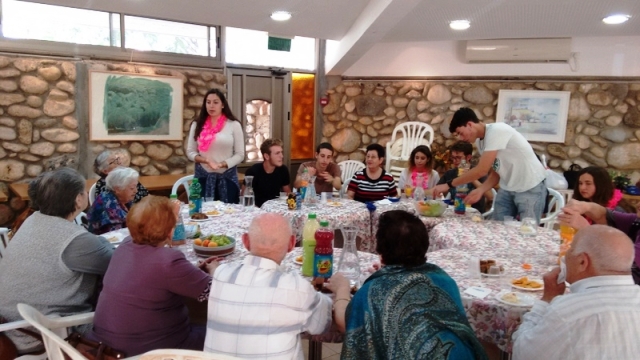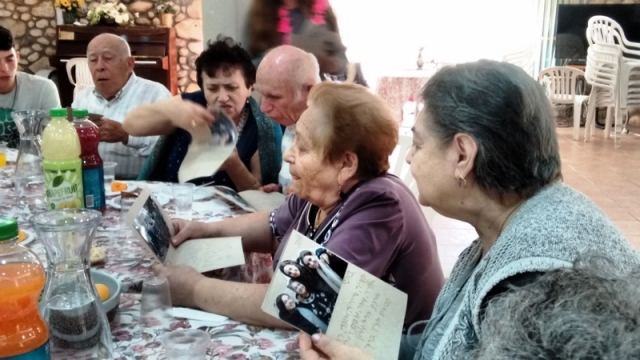 Mordechai, Ludmila, Israel, Rachel and Lisa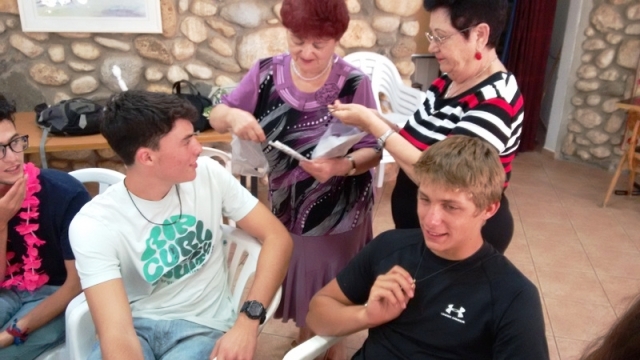 Klara giving presents to the students.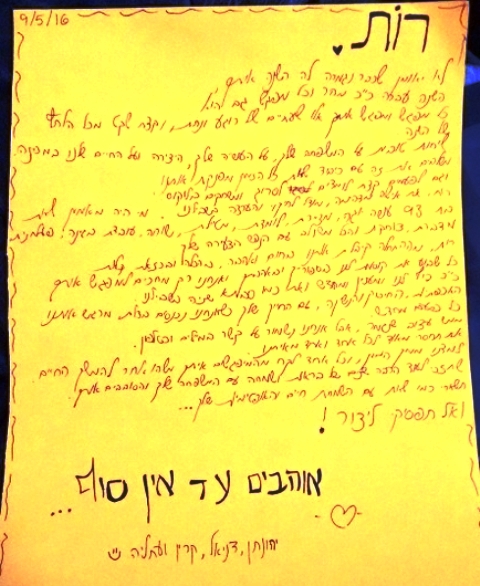 Blessing, written by Ruth

We are already, part of a beautiful family, which will continue, even after this goodbye party. The students will keep contact with the winners and their doors will stay open any time.
Shiraz (one of the students) told the winners: "We had such a great "mazal" ( Luck) to be part of the L 'Chaim's Project.
Rina answered: "and we have got "mazal" that you came to us"….
Students and the winners thanked me and the 'L'Chaim-to-life" foundation, who made all of this possible.
The students made personal blessing cards for each of the people with photos. The winners bought to each of the student's nickels as a symbol to never forget each other.
There is developed a big love and friendship in this short period of time in this season. The warm love will remain in the hearts for long time.
Tal, one of the students, played a beautifully waltz, on the piano. The idea was that the elders would teach the students how to dance. It worked fantastic.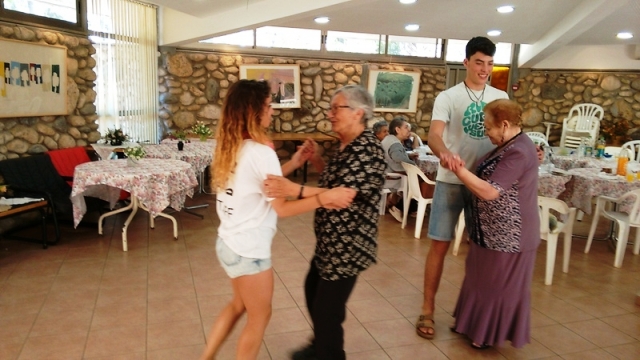 Dancing the waltz together
Ofir prepared a slide show, with all the pictures that I made during the year.
Before our return back home, we went together to the spot, where we have planted the Clementina tree on the holiday of TuBeShvat. The tree is growing well. The gardener of the kibbutz, is taking care for the tree. The students made a sign: "Tree of L' Chaim" with all the names of the winners and the students.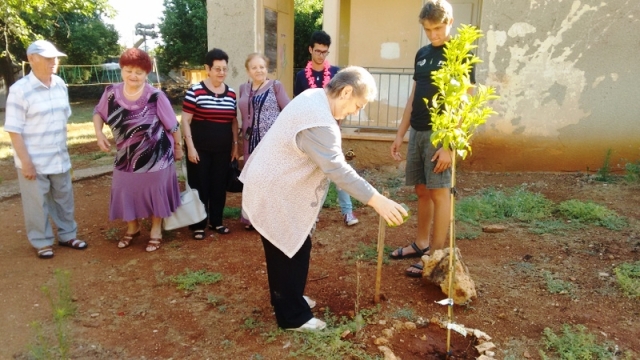 Lisa watering the tree planted on Tubeshvat.

With full of joy, I brought the winners back to their homes. They again, expressed how much they appreciate this project and can hardly wait for the beginning of the next season.

Katzrin
Last week I have visited the winners in Katzrin and gave them their monthly support.
Jafim received, an extra help, because he is the most needy one, from all the people we support. He received our help with a great joy and thankfulness. It helps him managing, the end of the month.
Kfar Blum
Me and Asaph, went to visit Menashe and Freddy. Asaph has developed very special contact with those two dear shoa winners.
He also took initiative, and brought every week with him, 4-5 problematic kids (age 10-11 where he was responsible for, as part of his other volunteering program) This worked very well. Manashe and Freddy love kids, and the kids received amazing love from them. This is definitely, will impact their further lives.

I hope to be able to continue what Asaph has started in Kfar Blum also next year with another dedicated students.

Shalom,
Timek
Modiin
Alon: Last Thursday we came to visit Janet & Jaston. She accepted us with blessings but said that Jaston is not feeling so well and he fell asleep. After a while, we met him and we went to the balcony to breath fresh air. We saw, how happy Jaston was to see us, and how he felt much better. Janet prepared tasty Burekas with her well known Nana tea.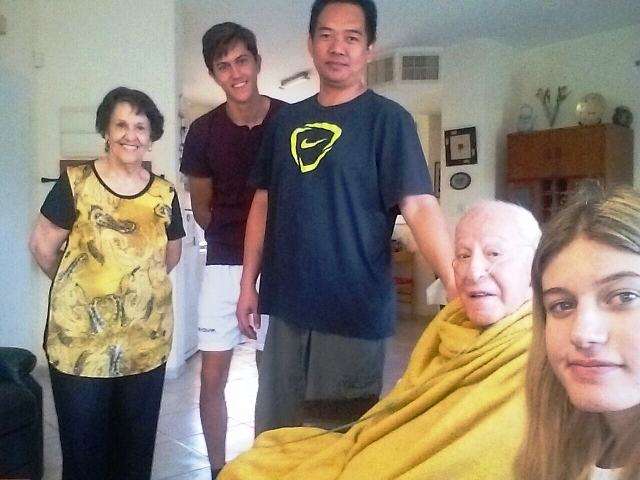 Janet, Alon, Roi, Jaston and May
Tair: Yesterday, we met Svetlana & Dimitri after missing them for a while. Both of them have passed not an easy time and we decided to bring them Remicob, new game, which they didn't know before and we thought them and played together and ate the cake we also thought that will make them happy. We enjoyed it very much and they too. Svetlana wrote a song about our meeting: What a surprise, The girls came, brought a cake, and raised our moral , Dimitri played – what a joy, Thank you girls, it was really fun. Thank you very much.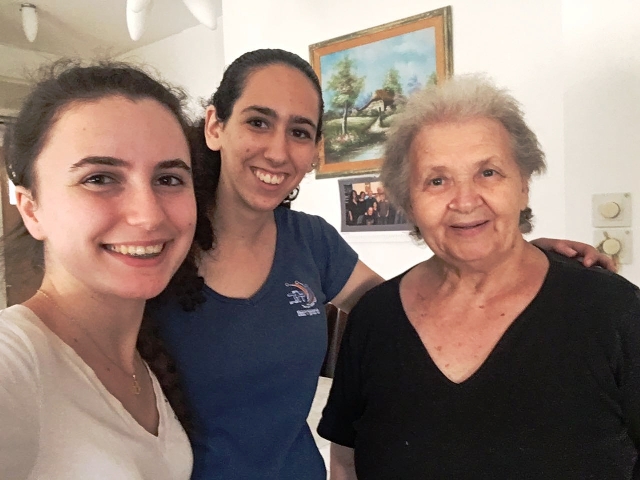 Svetlana
Adi: We have visited charming Shulamit & Chanan. We set on the porch, nearby the herbals we brought on our recent visit. They felt much better and accepted us with great joy. We spoke and had very good time with them. Arbel: On Wednesday we met Svetlana. Dimitri didn't feel so well and stayed in his room. She told us about the hard day she have passed because of a burst pipe in their building and she as one of the people in the committee who responsible on the building , she took care for the problem and felt very responsible for solution. But, she took the time to be with us and even thought us in RUSSIAN the names of the colors and even the time we enjoyed the visit, and wait for the next meeting.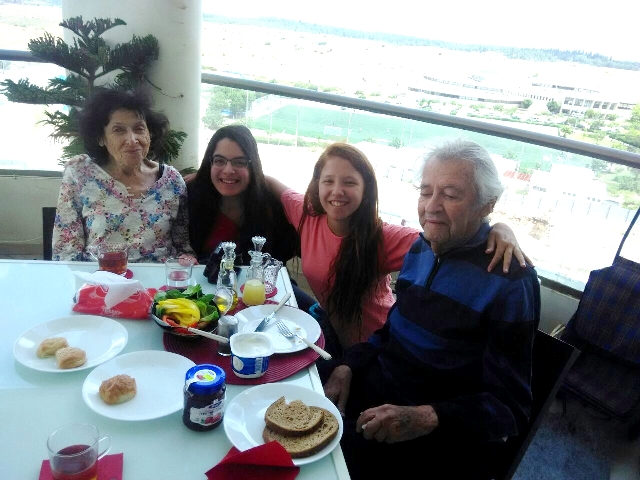 Visiting Chulamit and Chanan

This is our news. Have a good weekend.

Rivka
The new project of "L' Chaim"

May 20, 2016, Ijar 12, 5776

Dear friends!
Last week I told you about the exciting meeting with the club for people who were injured either in the army or from terror incidents. I told them about our intense project: the "L'Chaim" project, which creates a special connection between the young generation and the old, and brings healing power to both groups as well as spiritual elevation and helps them to find secret strength which is hiding as a treasure within them, waiting to be found. These people, who have been injured, experienced difficult traumas, and heard about so many methods to help them and are tired from it, as I said last time, before I started my lecture I felt a lot of negativity which turned into excitement, hope, and a new belief that it fits their abilities. Yesterday, Rivka and I came to meet again with the manager of the club in order to download to the ground our plans, and formulate a common work plan which will add a lot of light to the participant's lives. It was deep conversation and ideas were raised. Ruti, one of the dedicated crew came to join us. At the end of our meeting the decision was : On Sunday 29/5/16, the people from this club will start to adopt and be adopted by winners from Pardesh Channa. We built the program in an exact way, making sure that it would last for a long time. We shared our experience and wisdom and found that we speak the same language. We will start with four volunteers and visit three shoah winners and the visits will be in the morning. I must say that we felt as if we were in the story of Cinderella… the shoe just fits the foot. It is a feeling of creative renewal and empowerment which will add light in the meeting of human creatures made by the Almighty even within their limitations. You will hear more in our coming reports. This is the place to say a huge thanks for the wonderful activities which were done during the holidays and after them. Many thanks to the active people in the world: from Norway, Australia, Singapore, Sweden, America and specially, the wonderful group from Holland with Lammi and Margo, and Cees from Shoresh, and Pim from Christians for Israel, who, day and night, are collecting money and spreading the word between good friends from south to north and doing with all their hearts even though they are not nearby us.
Again, I ask you to pay attention to my special request for survivors who need to take care of their teeth and other medical needs and suffer from not having enough money, to have the necessary treatment. Donations have started to come in, but we have a long way to reach the goal. 300 elderly survivors will finally have life made a little easier for them, if they are given this special amount of 10,000 Nis.
The summer is hot in the Holy Land, and we need urgently help with airconditioners, electricity bills and beyond. Also, more monthly sponsors will help us adopt more survivors for ongoing support.
Daniel

Modiin
Shir:
My visits on the end of the Memorial week:
My mother prepared tasty cakes, to each of the couples and I brought it with me, to them.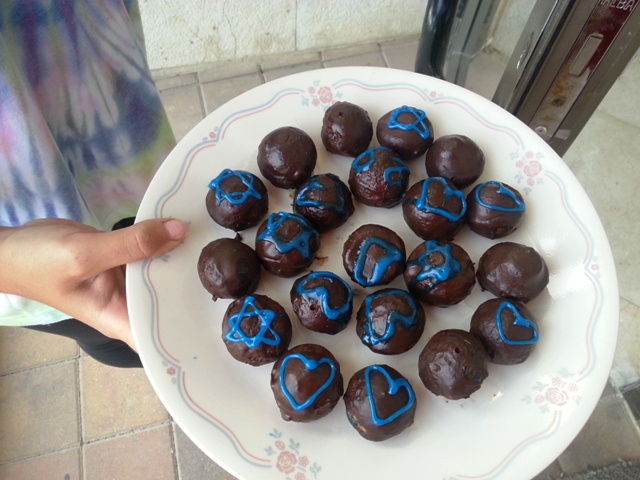 Janet &Jaston, are very excited for the coming wedding of their grand daughter. They told me how much they love their visitors and are happy for their visits. Jaston continue with the treatments of his health, and I wish him full recovery. He told me about himself at the Shoa, as a young boy who had to take dead bodies from his street to a concentration place and the constant bombing, caused them to feel very scared. For Svetlana & Dimitri it raised a lot of memories, and Lionid told me in Russian, Svetlana translated it and while getting help from the computer, was insisting to learn how to say it in Hebrew. He told us about his family's escape attempt to Uzbekistan and while they were on a goods train they were bombed and many people got killed, He was the responsible "man" at the age of six, and he had to help his mother with his younger brothers. I ended my visits at Shulamit and her charming daughter. Chanan is waiting for a medical cardiac pacemaker and because of his bad situation these days he very often stays in the hospital. I hope that the operation will bring him full recovery. Meeting Shulamit daughter was charming. We spoke about their family and Shulamit laughed so much (after a long time that I didn't hear her doing so). We spoke about the importance of good education, and Shulamit shared with us her experience with children with difficulties. These are my visits with my precious winners on that weekend.

Shir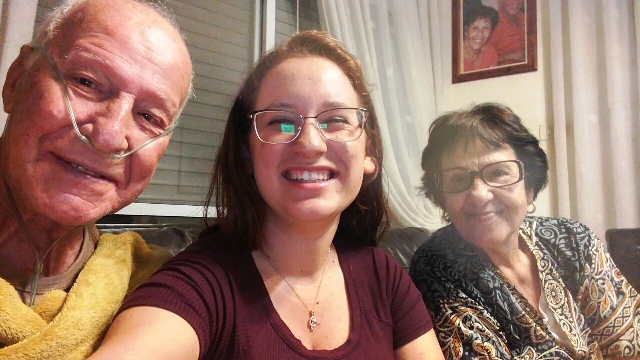 Jaston, Shir and Janet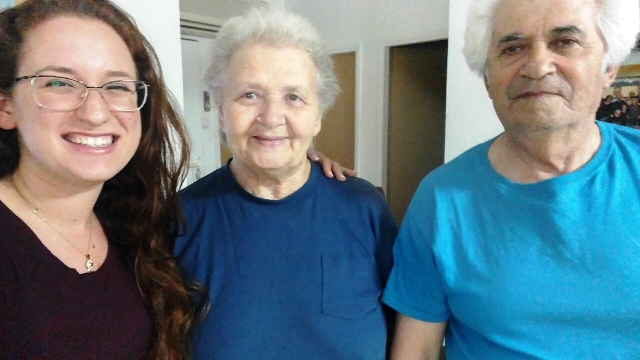 Shir, Svetlana and Leonid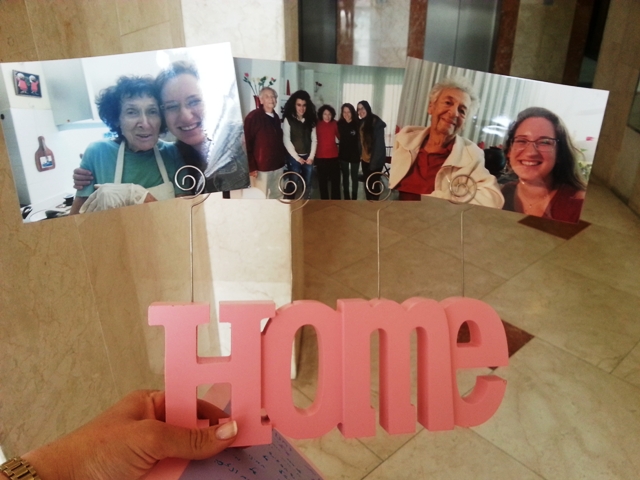 Present for Chanan, during the time he'll have to stay in hospital.

Arbel and Shir visit Svetlana and Lionid: On Thursday we met them and helped Svetlana with the computer. She showed clips of Russian singer and we showed her Um-Kul- Tom, who was a well known Egyptian singer. Svetlana thought us the Russian letters and at 20.00 we stood together listening the siren for two minutes for the memory for all the battle casualties. We watched part of the Ceremony in the T.V. and it was very touching. We can't wait for the next meeting.
On last Friday, me and Adi, went to visit Shulamit and Chanan, after he was at the hospital for one long week. He is going to have this week, after waiting so long, the transplantation of medical pacemaker. We wanted to make him happier for what is waiting for him, and brought with us written greetings from me Adi and the two other girls who come to visit them regularly (but couldn't join us this time). Adi prepared cupcakes with the symbols for the Independence Day, and I brought them pictures from our visits, meaning that they will take it with them, while being in the hospital, to feel better, there… They were so excited from this gesture. Shulamit showed us pictures from exhibitions of her students when she was young teacher. She couldn't stop to thank us wondering how this connection is so warm, even with the gap in age. I answered with thanks for their good will to let us to be part of their life. We pray and hope that Chanan will go through the operation and will be healed as soon as possible.

Shir

North of the country
Genosar :
The final visit of the students was great. All the students first, visited the shoa winners in their homes and brought them present and personal blessings of appreciation. Most of the students, promised to stay in touch with whom they have visited along this year.
At the end, Eli-Ram invited all the 20 students and other winners from the kibbutz, to his house for pizza that he ordered as a thank you for a wonderful year. This became already a tradition. EliRam was so thankful and spoke again about the fact that because of the visits, he didn't need an ambulance anymore, to take him to emergency room. In the past, sometimes, the ambulance came three times a week. This is past. Now, he posts all his paintings (he makes 2 paintings a week!) on the face-book and communicates with the students via the social media. Eli-Ram showed us the growing number of pictures hanging on his refrigerator of the students that became his friends from the past years. The students will come and visit the winners when they can, during their army service. The winners have confirmed that on special occasions and on their birthdays, they get phone calls from the students or postcard with greetings. They are not longer alone for many many years. It gives them a lot of strength. The students say again and again, that this volunteering project, they love the most of all the other projects they did during their studies in the mechina Meitsar. It was again a blessed year.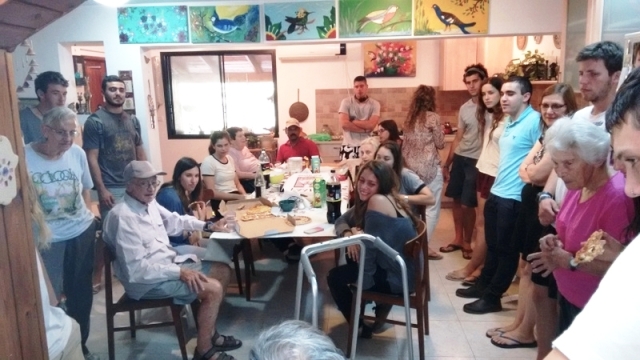 Being together in the house of Eli-Ram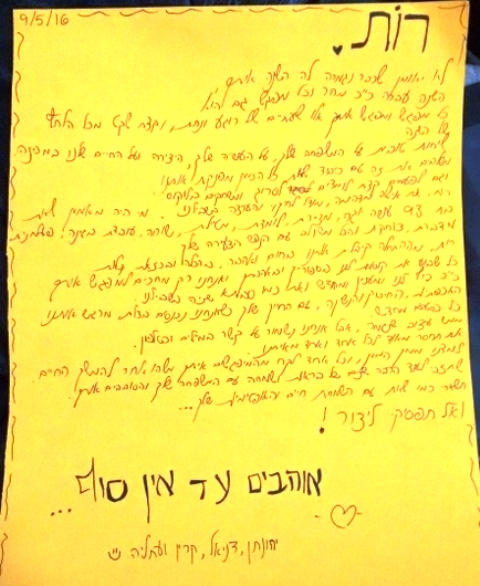 Blessing for Ruth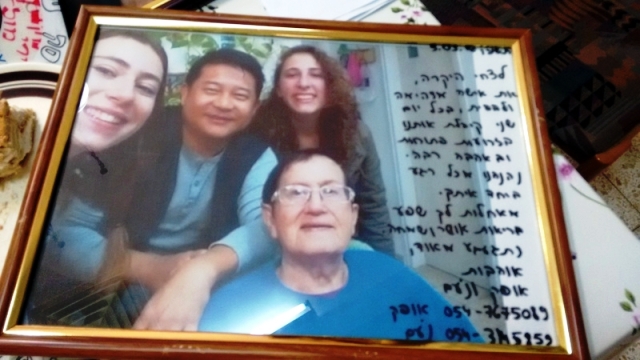 Blessing for Zachi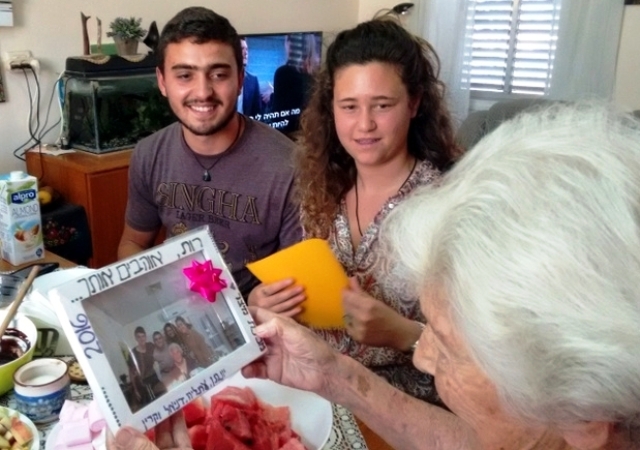 The present from the students for Ruth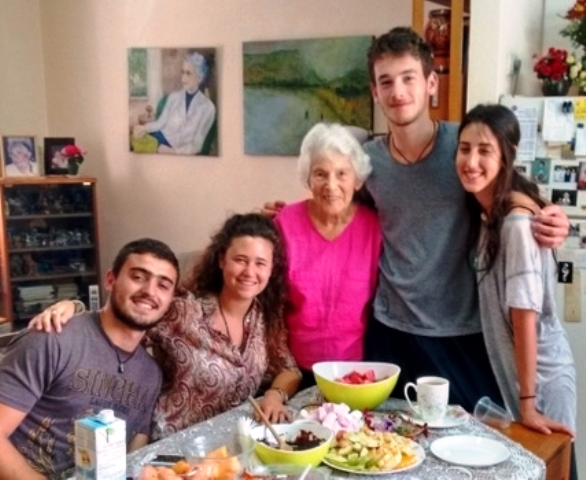 Ruth with the students thas has visited her this year.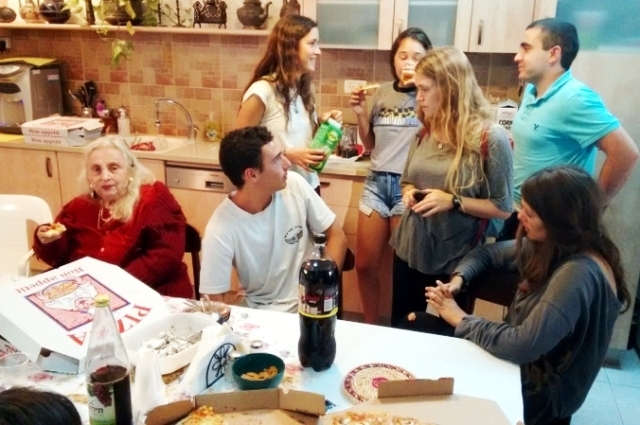 Zelma with the students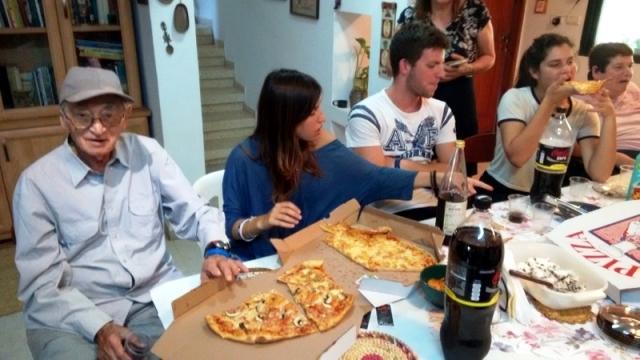 Avraham (left) , the students and Batya (right).
Kibbutz Neot:

This visit was for the students from mechina Mayan Baruch the final visit to the winners in Kibutz Neot. This year, it was the first year that we adopted Ibi, Rachel and Steve. At the beginning, the winners didn't know what to expect from this. Now, they are so happy for this beautiful present of heart to heart connection with the students that they wouldn't want to miss this opportunity. You can see the fruits in the beautiful pictures.
Yam: To Ibi my very best friend! You add so much of meanings along this special year. We studied so much, through you, about life and I am very happy that I had the chance to know you. I mean to come and visit you on the summer , and will try to come and visit you when I am in the army. If you will be in the centre I would love to meet you. Wishing you, best in health and happiness.
To Israel: Our meetings with you were amazing and very interesting. We studied from you a lot and got from your spirit and your way of life so much.

Thank you,
Elinor, Gil and Tom
There are more beautiful letters saying how much the students love their adopted winners.

Kiryat Shmona:
The girls Juli, Shir and Shiraz visited Klara and Mordechai, before all the other students, and then went to Neot. We had a great time to talk and play Rumicub. Klara has several medical problems and had to go to the doctor in Rosh Pina. Her daughter came to take her to the doctor.
Especially for the winners in Kiryat Shmona, the students plan to invite them for a special goodbye party in the Mechina Ma'ayn Baruch at the end of this month. We hope, that the winners from Neot and Dafna will come.
Katzrin:
Shaul showed us his new apartment, located few streets further down, from where he used to live. He is so happy that he could move from his old apartment. Shaul enjoy very much his new balcony. Eyal and Elinor stayed with Shaul. They have built a special warm relations with him through the year. It is hard to imagine that the year has passed so quickly and that the students visits come to an end. Shaul always received the students with love and open heart in his house. He told them endless stories from his interesting life. It was always fun and the time was always too short.
Also Etja received the students with open arms. Yam and Yael visited her this time. She would like to tell them her story from the shoa, but her Hebrew is limited and so we listened and tried to put the puzzle together. Next time, the students want to bring someone who speaks Russian, so Etja would be able to tell her story in her native language. Jafim, Shlomo and Ela had appointments with their doctor so we decided to find another time to say goodbye to them later this month.
Rosh Pina:
Tom: Israel was excellent . It was a bit sad to say good-bye. We made a picture of me Eyal and Israel and put it in a nice frame. He was very excited to get it. Eden: At Blanka, the visit was very good.
We talked about many things, she is always happy when we come, and she told us yesterday that she never had such a good contact with previous students from our mechina, she has with us!
Shalom from the North of Israel,
Timek

Pardes Chana
Zvia and a group of students, came to visit our most lonely winners, who we come ones a week. Rachmill and Yonna came out of the house, and it was few hours before the Memorial Day for the soldiers who died along the wars, and we sang with them songs for this day. Yonna after short time asked to return to the house, but Rachmill tried to stretch the good time with his visitors, who are instead of his family that are not in contact with him. The visits give him such fresh air and attention, which is as each of us need to have. We give it to him and he can't wait till our next visit. Yehoshayia was this time very hospitable and explained to us who the people are, who live there. From there, we went to the ceremony of the beginning of the Memorial day.

Monday, and we gathered, even with the heat wave, in order to come and visit our winners, with a rich package of fruits and vegetables. At Klara & Lionid, we were accepted with gratitude and we tried to help with some domestic problems. Klara have to manage with all the problems because of the developed Dementia of Lionid. Their daughter comes and helps sometimes, and their other son is in America, He is doctor in Mathematics in the university of Berkeley. From there, we went to Aliza, who was happy to see us, giving us water, and to taste one of her good cakes. She always has interesting stories and we love her very much. From there we went first to Chaya & Morris . The guitar and music that Morris likes, did bring a lot of joy.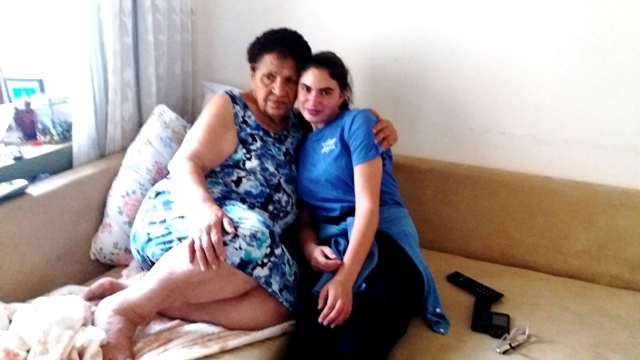 Tal and Aliza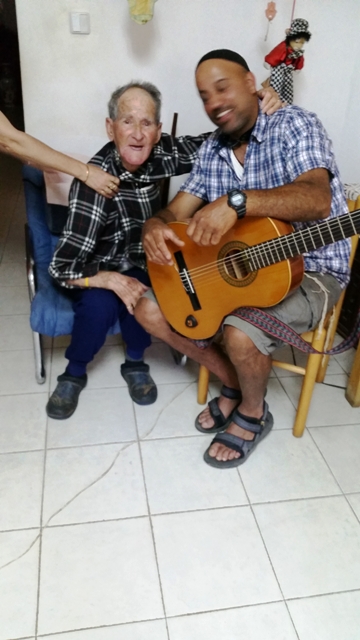 A wonderfull picture of Rabbi Shachar and Morris

From there, to the Boaron's couple, They have a lot of health problems, but could enjoy the visit. Zippora received from us with gratitude the package and told us that her Bronchitis is much better. Shiri and the girls , came to Rachmill who was this time much more focused and could communicate better. Yonna and Mordechai also spoke with us and were happy to see us. Very soon we will have more volunteers and will be able to give some more visits to our people.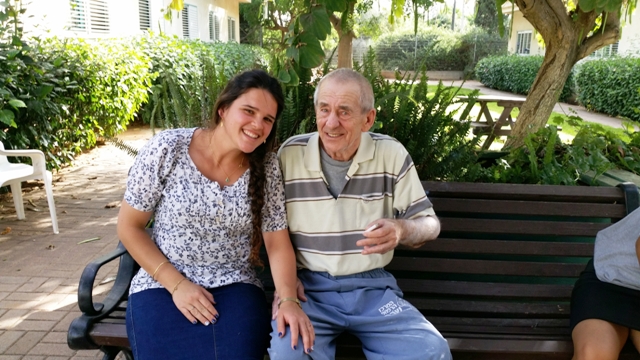 Rachmill with one of the students
Shabbat Shalom!
Rivka
Beer Sheva
During the last two weeks, I was looking for a student, who can come and visit Yossef. We published it and a student came to visit him and he liked it very much. I hope that it will go well with her.
At Roza , I was yesterday. We played Rumicub, and she likes it very much, and even at her age, she is so up to date and it makes the visit very interesting. I bought for her a big package of food and she was very grateful for it and for my visit.
One day before the Memorial Remembrance Day for the Shoa, volunteers from the army called me and asked who they can visit and make that day easier for him. I did send them to Otto, and he was very excited for the gesture and got from them the symbols of their unit . He told me about the interview he had on that day and has been announced that an apartment is going to be ready for him in another two weeks and this time on the groundfloor without any steps. We hope for the best for him.This is what has happened. Efrat.

This is our news for this week.
Shabbat Shalom to all of you,
Rivka
Independence Day
May 11, 2016, Ijar 3, 5776
Following the Memorial Day for the war victims, the celebration of the 68th year of Israel independence, will begin and as I have said in the past, this holiday in my humble opinion is a deny of the real essence of the independence as a holy nation – being in eternal covenant with the Almighty, and this is the only reason that we celebrate this holiday. But, unfortunately the food festival, giving awards which express:"me and my strength"… and in all of this, a rising harmful arrogance and smugness… But, in The Memorial Day for the Shoah, I was the winner in a very special experience: I was invited to tell the story of Amutat L 'Chaim in a club of IDF disabled veterans (People who were injured physically or mentally in one of the wars or terror attacks throughout the years).

I came to Kibbutz Gan Shmuel and didn't know what I was going to say to these people, who are not at their best…. As always, I was all by myself for few minutes asking the Almighty to guide me to say words that will enter to hearts of these wonderful people. It was amazing how the whole antagonism which was in the air, just disappeared as soon as I started, and the words entered right to their hearts. The suspicions just vanished, and it expanded into a joy of creation. There was no doubt: they are joining the family of Amutat "L 'Chaim". Next Monday, we are going to meet Noa the manager of the Club, Rivka and me to create a program which identifying three kinds of sectors: Shoah survivors, youth at risk and IDF disabled veterans. These meetings, from our experience, will intensify these people and instead of feeling destroyed, a hidden fortitude and gratitude will come out from their eternalness and they will go from being victims to being victorious.
I believe with all my heart that having these people part of the project, will empower them and will let them discover their strength, their inner strength and independence. The ability in any of these situations is to get close to the real human spirit and raise each other with huge blessings. When a person has feelings of misery and helplessness, but suddenly, finds out the amazing world created by the Almighty, it is a huge and empowering gift ! I can't wait for their immediate integration after our meeting next week. This is my Independence Day!
My blessings,
Daniel



News from this week/ and the Shoa rememberence day

May 5, 2016, Nissan 27, 5776
Dear friends!
Tonight (Wednesday), we will commemorate the Holocaust Remembrance and Bravery Day. But, as you heard from me, more than once, these days turn into another day of festivals, rituals and ceremonies without any message. The fact is, the media, T.V. and many written articles speak about the sad situation of the Shoah survivors, about them not getting their privileges as survivors. This refrain is getting stronger as the Shoah day gets closer. At the end of this day, we are very close to the next festival which is the peak of the festivals, Independence Day, which is (mostly) about food and empty words.
Of course, one day after the Memorial Day, again the survivors will be forgotten and the shameful treatment will continue as usual. We, the ones, who have connection with many survivors, get daily telephone calls about their endless helplessness. Despair and disappointment are for those precious hearts. Every year it gets worse. These people get older, and the way they are treated in one word is: Â shame! There are thousands of them, who give up and wait to be saved by when they will die. At least, there, they won't be suffering. Of course, there are some of them whose fate was better, and they could rise up from the horror of the Shoah, and live with abundance, with warm and supportive families, and some of them were blessed with the ability to express themselves and tell their story. There are many Clubs in Israel and in the world for survivors, to give them culture, trips and so on, which they really deserve. But, I speak about the ones who are "stuck" in their houses, lonely, sick, and can't even come to join any of this. The real truth is, that many thousands of them can't even afford the transportation to those clubs. All the representatives want to show their activities with much pride. It is easier to be comfortable with the bright and impressive events and forget the sour truth: "We can't help to those, who really need it".... Amutat "L 'Chaim" is taking care of those people. For us, they are Shoah winners, and feel our obligation towards those dear winners, till their last day!!! This is a great privilege for us! Those winners, teach us each day, what is justice! We have been doing it for 12 years, day and night, busy with bringing closer together, hearts to hearts, and light dark places. Yet, we are small Amuta, and out of so many thousand, we give aid to some hundreds.
We don't believe in those ceremonies the way they are done during these days. They commemorate the death rather than life. This is the reason, that we don't take part as an organization, and prefer to organize such events as "The March for Life", holidays or trips, which have a message of life! And above all: we do regular and steady visits, throughout the whole year.
Now, we have a great challenge: I get many requests to help with teeth, medicine, hearing aids and more. Till now, we weren't helping with those because of limited budget ability, except for urgent cases. Our volunteers helped with renovating houses, air-conditioners, electric scooters, and with electric bills and food. We also did something with the survivors for the Jewish holidays, and above all the regular visits and the wonderful connection which were created between the youngsters and the older generation do have a high priority. After realizing that so many survivors are not getting this basic help, I decided to try and organize a one time amount, for each of the survivors 10.000 Nis which can hopefully help 300 winners. It means, 3,000,000 Nis. Within one week or 10 days, we will be able to give to survivors who need it desperately. Even, being able to help 100 or at least 50 of them, (if we will be able to get this amount ) it will be a great blessing. Of course, we continue the regular work, with the help of G-d, we will be able to adopt more survivors in their last years.
In the end, it is a great privilege to be involved in this blessed project.
For you, our friends around the world, thousand thanks for being with us, during so many years, and still with full of energy. My best regards, Daniel.
Modiin
Shir: On the end of the Holiday and after long week in the army, I enjoyed many visits in the country. The first visit was at Shulamit and Chanan in Modiin. By calling Shulamit on the phone, I heard that she is very upset. She told me that for a long period Chanan is depressed because of his bad health and it affect him and her – as well. It hurts me to hear it and I promised that when I will come to my weekend , I will take her out , and she just have to choose what she want to do: going to a restaurant or a movie, a hairdressing, what ever she prefer- on my account. She was very excited for my proposal. On Thursday, I came home, but, they had some friends from the north, who came to visit them and we had to postpone our day together for the next week. After having a trip with my family I have collected nice bouquet of the flowers from the place we have visited, and at the late afternoon, I went to see and brought the flowers and the joy was huge. I can't explain the warm connection and the love between us. I can' t wait for my fun day with Shulamit this weekend.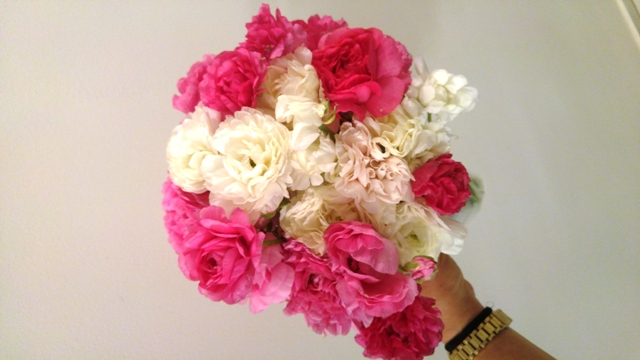 On the last Friday and Saturday, I went, with two of my best friends to the North, and couldn't miss a visit of our best friends : our grandees, we have there. We have started with Klara, Mordechai and Anatoli, with Klara's blinchess, (and this time Kusher for Pessach), and after that, a good Remi game. We laughed and had really fun. We didn't want to leave them.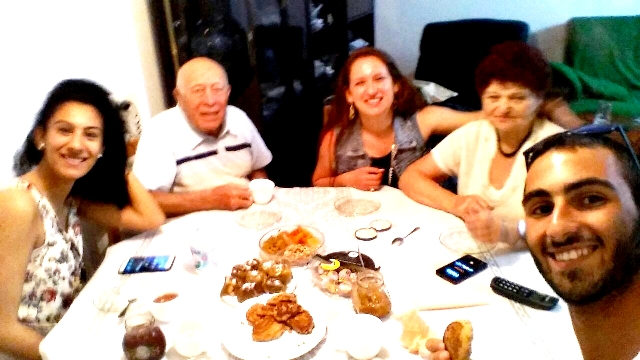 Shir, Klara and Eldar (to the right of the picture)
On Saturday, we went to Kibbutz Dafna, to visit Sofia and Simcha . Sofia looked very good and me and Maitar ( My best friend) surprised her with our visit. She was very happy.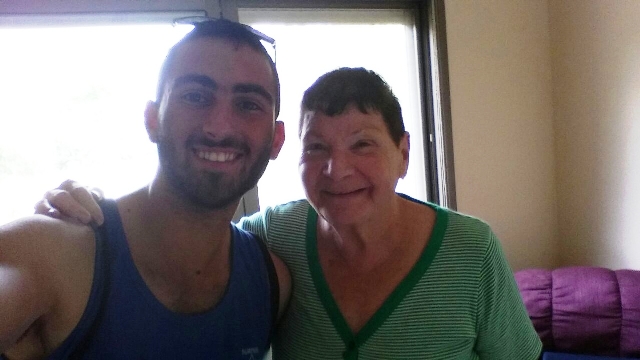 Eldar and Simcha
Eldar, went to Simcha after almost one year of missing her. These women has "adopted" us, last year, and opened her house to us – as it was ours. I felt, even after a year. I came home again. We spoke about life, the last news, and laughed so much. This is the proof, that you can choose family …We wish for all of us a good health, and winning good visits (as we had).
My short response, for our amazing partner: Shir, about her visit with her friends, to the winners in the north.
Dear Shir, and your friends! Holidays and Shabbats are holy days, but there are many people that on those days their loneliness is heavy and the holiness turn to be discomfort, and all the spiritual and physical pains getting stronger at those holy days, and the time stand still, and it can cause 'emotional flood'. You, my dear, you sanctified the holidays and Sabbath brilliantly and I am speechless. Instead of celebrating your vacation from the Army, in parties with your own age, you have chosen, to give your heart and time for lonely winners and you incredibly implemented the most important commandment: "Love your friend – as yourself', at such days when they needed it so much… It is in my eyes really great! A new priority and a new song!!! Thusly, many more – as you!!! Daniel.
Arbel and Moria: Today, The Shoa remembrance day. At such special day , we has visited our survivors Svetlana &Dimitri. Svetlana told us that she was one year and 9 month, when the war started, and about her mother and her family – who saved other families, her meeting with Lionid, and the Aliya to Israel. Her love to the chasse game and to Israel. It was very exciting and interesting. For us, these stories, were the most impressive story we heard this memorial day.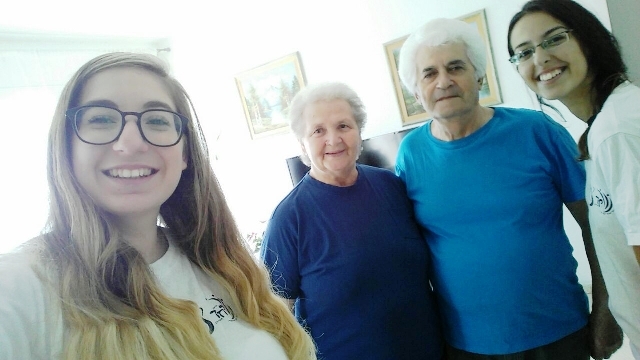 Bezoek aan Svetlana
Shir:Yesterday, we came to visit Janet & Jaston after a long time that we couldn't come. Jaston was very tired and week, but woke up when we came and was very happy to see us. Janet, prepared for us very tasty Pizza, and we met her daughter with her husband. They told us that their daughter ( J & J grand-daughter) is going to get married – soon. It was very good to see them and speak with them.

Beer Sheva
Rozelia, has passed away, and her daughter Zvia, send her thanks for what we have done to her mother along her life, and wish us to continue in our blessed project.
The media was very busy today, with Otto's situation from Beer Sheva. Efrat, our representator in Beer Sheva, is taking care for his problem for a long time. We have made a video about him being stuck on the Third floor and how he can't get out from his house, and the National Company Amidar, "can't" solve it…Today, it was in Walla news, the radio, and more. Let's hope that exposing this specific problem will be solved.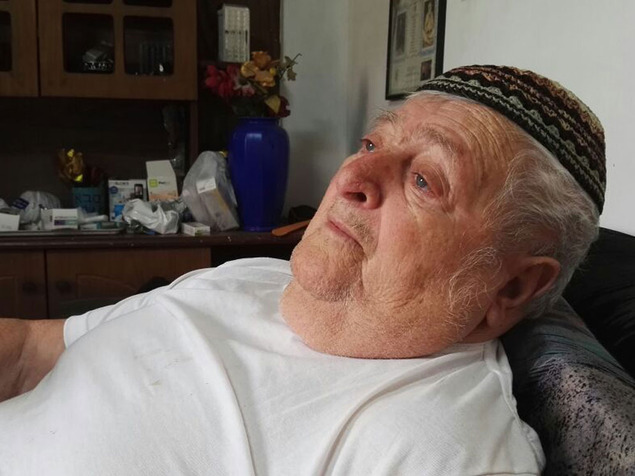 Otto
Olga , is very nice but her health is getting worse. She told me that the night of Pessach she has spend with a friend who is very close to her, and they both, weren't alone. Olga tells about her loneliness, even she have another volunteer, the women who takes care and work at her house, and me. She thanked me for my visit and for the coupons "L'Chaim" has given her.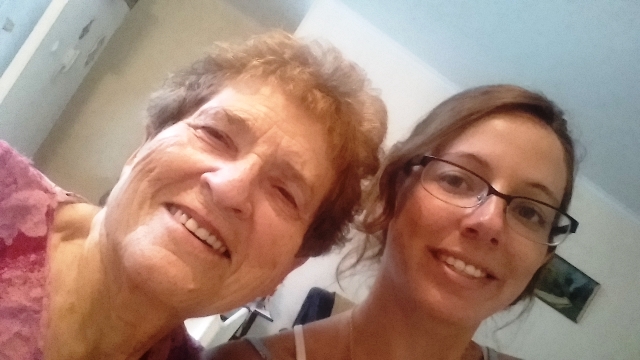 Olga and Efrat
Yossef was very nice. We spoke and he was funny and interesting. His health recently, getting worse and he can't come to the club and he feel lonely much more than ever. I started to look for another visitor for him. He thanked us for the coupons.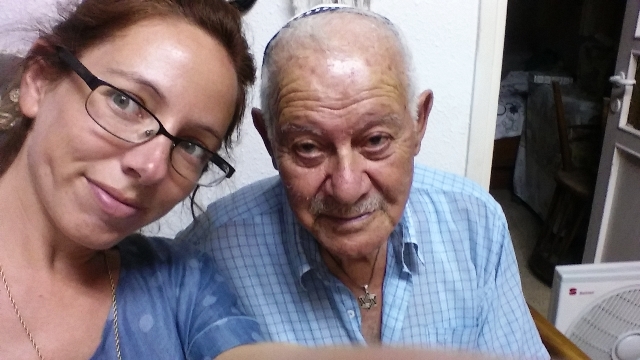 Yossef

Efrat

Pardes Channa
After the long holiday, and our winners were really missing us, and we were accepted with great joy and happiness. We had with us a nice bag with vegetables and fruits. The most exciting meeting was at Chaya's and Morris house. For the first time, we met them outside, in the yard in-front of the house, and Morris cried, being so excited to meet R' Shachar (see the pictures) and the girls. It was for a change, a meeting with laughs and fun. Eliza also, told us stories and wanted to hear the girls, how was their vacation. Zippora, for change, invited us inside her house and consult with us about some problems she have these days. The Boarones also, were so happy to see us and told us about themselves. Rachel, gave a present to Tal and they both were very happy. Klara and Lionid waited for us with curiosity and stories about Russia and their family.They thanked us for the reach bags which are helping them very much. Zvia, Shiri and the girls, went to Rachmill, which was very happy to go out with them, and visit Yona , who was very upset for some reason, but calmed down for her visitors. Mordechai, had a surprise gift which made him to be very happy. Zvia gave him a good photo of him framed and with wishes from us. He was so grateful and happy for it, that didn't stop to thank for the nice picture.
This week, on Wednesday, will be held the Memorial day for the Shoah. For some people, it is hard day with memories of the worst period in their life. We wish them, to go over this day, by seeing what they have achieved even that bad period. Best wishes to all. Rivka.

News from the north
Rosh Pina
Yael visited Rachel. We spend almost two hours with her. She opened up and told us about of her experience at the Shoa, and about her family. We really had very good time with her.
Yam had visited Blanka: It was amazing!! We stayed for 2 hours and spoke about a lot! the holocaust, and her family.
Tom visited Israel: We had very good time laughing with Israel, and he told us about his service in the army. He is well and his grand daughter is very often come to him.

Dafna

Shir has visited Sophia: The visit was very fun, Sofia was glad to see us. We traveled around the Kibbutz with her Kalnoit and it was fun. See picture.
Rom, came to Simcha with Shiraz. The visit was very interesting. She is going to Holland for a visit.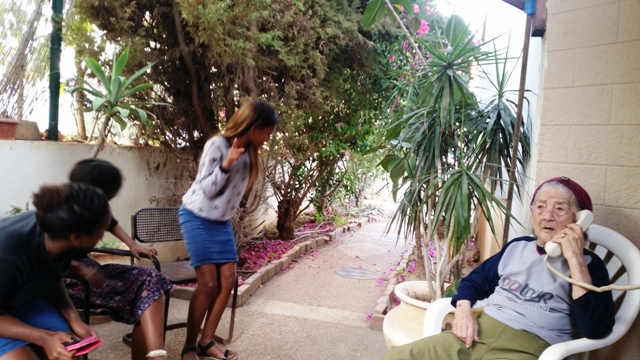 Chaya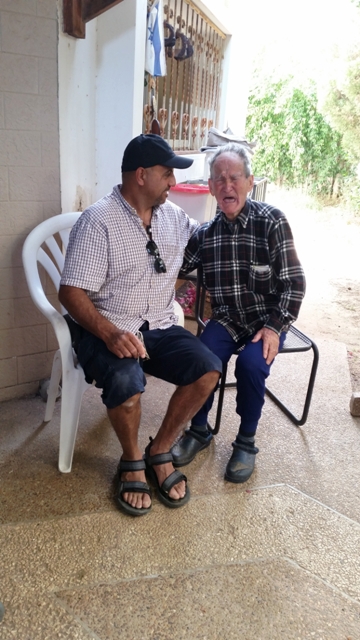 Morris
(Morris emotional)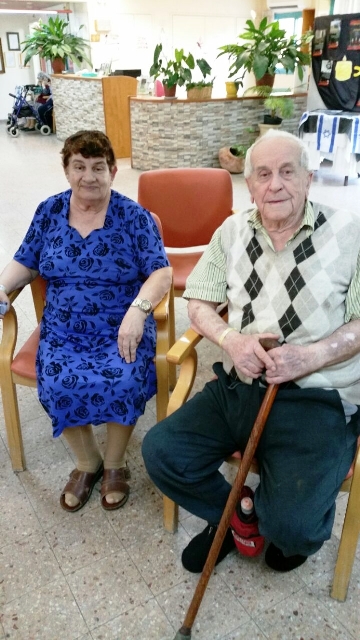 Mordechai (together with Yona)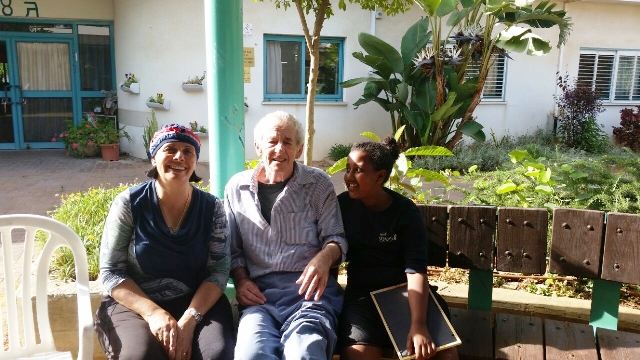 Rachmill

Timek
Have a good weekend
The holiday of Pesach: from slavery to freedom
April 22, 2016, Nissan 14, 5776
Read this report at the feasts
TO GLORIFY MANKIND
April 7, 2016, 28 Adar II 5776
Dear friends!
We speak about Technologic advancement in the world and here I would say my objection for this assumption, because the world has forgotten the glory of humanity, which it has to be nourish and cherished. Unfortunately, even philanthropy organizations, who consider themselves as world saviors, act in an arrogance and pride, as masters to their slaves. On a long run, no blessing comes from this system, which "sanctifying" the "system". Many good and proper people are going out in the world disgraced and rejected. It seems that the visual world is so shallow and can't see the beauty in their daily essence. I should remind you dear friends that Amutat "L 'Chaim" is busy in bringing together heart to heart, with the humanity of person to person, when the human succeed with communication to use all the good potential within him. We should know, that if we wouldn't put that way of communication in our top priority, the world can go down in it's static, degenerate and pathological way. I hope that more and more people will understand the vision of the glory of humanity and the strength which work in Amutat "Lecahim".
My blessing, to all of our friends, in the world and here in Israel.
Daniel
Margo : Israël is G'ds land and the people are His chosen ones....the apple of His eyes.
That is what I always said, but have experienced it this time, in a much deeper way; there is a spiritual climat, that I did not sensed the two times before. Have I slept till now????? This group of people: the victories and the youngsters looked focused, from the hart, with dignity, love strength and alert. All of them, are of the same sensitive attention. Just as everybody, I read the weekly reports, which are beautiful, but now ...we have seen it ourselves, felt it , heard the sounds of the music....a total different story, in the midst of so much love!
It still is coming inside of me, like drops of water falling at dry ground, one by one. Through these precious men and women Hashem could slowly open my hart that was locked; new revelations and sometimes very painful but good. Their way of being has broken down walls around my hart.That fills me with great gratitude and joy. These old men and women are still strong inside and have a life changing effect on the next generations ( and surely also on me!) and what I saw was that the youngsters opened their harts for them. What a transformations takes place in this beautiful organism: from hart to hart...what a privilige to may be a small part of it. It makes me more than ever motivated to go on and tell people in Holland about all of you: You all made for us a beautiful, unforgettable journey, and as Sheila said: a journey for life..... You are precious and beautifull!!
Margo

"March for life'' became journey of life!!
My experiences are indescribable... Without words a lot is told...without words understanding each other.. .. a look
in each other eyes says more than enough, you feel it in your hart.
When I met the victors I felt that there changed inside something...it just happened. It felt as finally coming home and everytime I got a warm feeling in my hart.
The warmth of the victors, the courage en the strenght who comes out of them is so special! In the gardens of Zichron Yacov the victorers were the flowers of the garden. Avraham from Ginosar who we visited after the March has said:
''You know, when I was in the gardens I felt young again!'' What a revelation! Avraham did not feel at that moment that he was 94 anymore!!!
Through these meetings, with the victorers, with the students and the orphans from Pardes Chana, the whole time we were in Israël; there took place a change in my life and my hart. I took Israël and the Jewish people in my hart for ever!
For me this was/has become the journey of my life!
Sheila.

News from the North
Katzrin

I see that the relations with Jafim and the students is growing deeper every visit. Jafim was really happy to see the students. They give him joy and satisfaction. The students really want to help Jafim to make order in his house, but he doesn't accept that. Instead, he asked some of his friends in Katzrin, to help, and his home, looks much better then before..
Shaul is moving, this week, to another apartment and one of the students offered him to help. Shaul is happy to move, even if it is hard because his current land lord, causing him emotional problems that he can't handle anymore.
Ela, is still under medical treatment but hopes soon to be recovered so she will be able to receive the students. Etja is a happy woman that loves the students and tells them stories half in Jiddish and half in Hebrew. The students love her and bring her joyful time in her tiny house.
Shlomo and his wife Lili are struggling with their health. Shlomo is loosing strength. Emotional it is hard to cope with the current health situation. But he is a fighter and will not give up.
Talja is very very sick. She hardly can see, but still she is optimistic. It is a joy for me to spend quality time with her. I am amazed how she still shine in her circumstances.
Daniel

Rosh Pina
Blanka was happy to see us. She is happy to receive the students and to teach them values of life.
Israel, has lost his dear wife on 24th of March. I and the students, had the privilege to sit and mourn with him and with his family.
Dafna
Rom and Ohad visited Simcha. Simcha got also visit from her grandchildren. She shined from happiness.
Genosar
I got visit from some Dutch friends and they joined our visits in Genosar.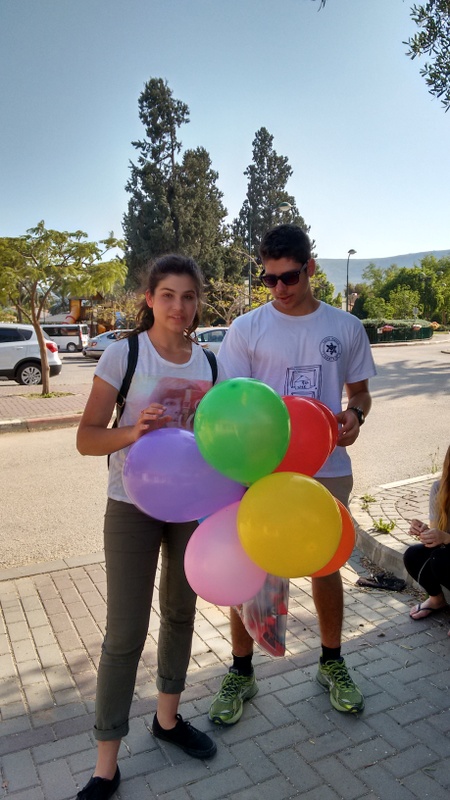 Batya had her birthday, and the students brought her presents and balloons.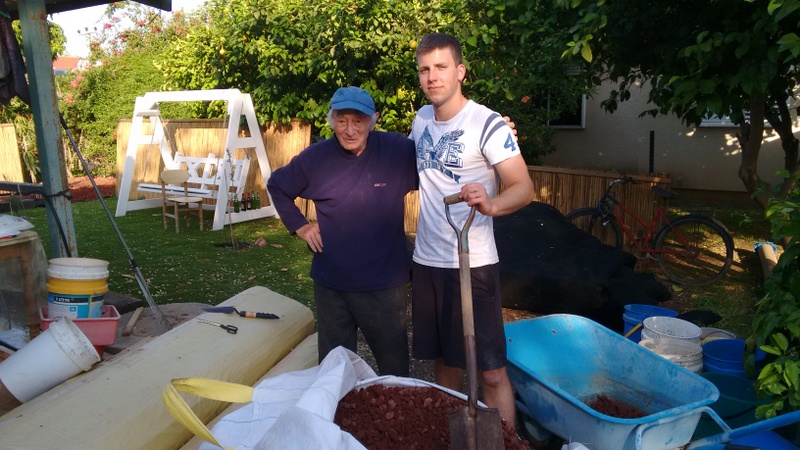 Gal helped Avraham with his new garden. Avraham turned to be 94 and is working hard to make his garden nice. The students help him with that.. Yuval's grand-ma died, and so he couldn't join Gal today.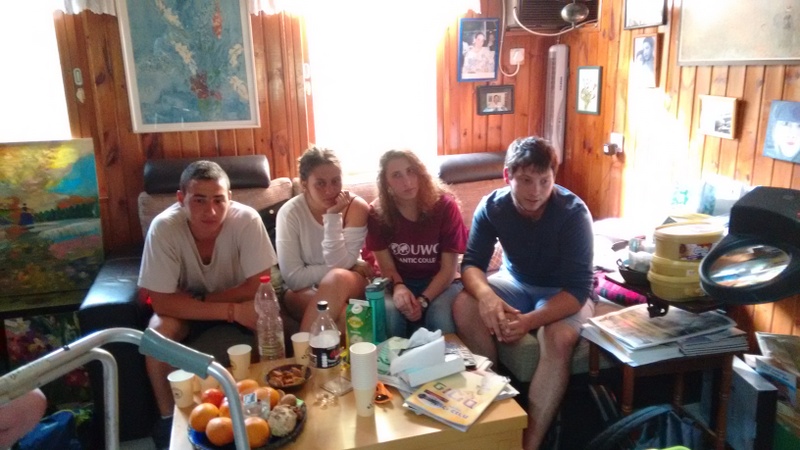 Eli-Ram had a full house of students. They had lot of fun together. EliRam explained that is for any reason the students can't come one week, it is very hard for him. The students give him the energy he needs so much. Without the help of the students he wouldn't be able to work with the computer. The computer is for him a social window. He posts his paintings on the facebook and stays in touch with the students from the last 4 years and with his family in France.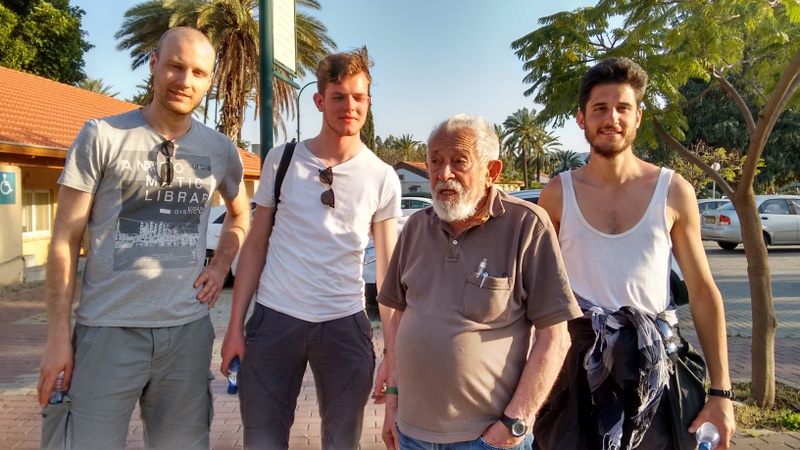 Izik, was happy to see me and he explained to my dutch friends, how it is to be a shoa survivor. Izik is an optimist and he is thankful to God for that. His family was cut off. But he survived and now a new generation has born. he have children, grand children and grand grand children.

Shalom,
Timek.
Modiin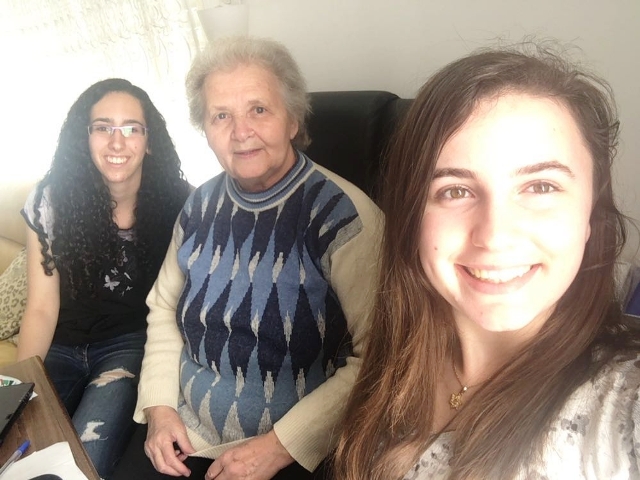 Shir and Arbel: Friday, we came to visit Svetlana and Dimitri. We listened to a song about the holocaust, sang by Svet. friend. It was very exciting. We watched Ukraine talents which was very interesting. It was very pleasant. We can't wait to meet them again.

Pardes Channa
Shiri: This week, we had some health problems and a trip for the students, and the visits were with fewer attendants.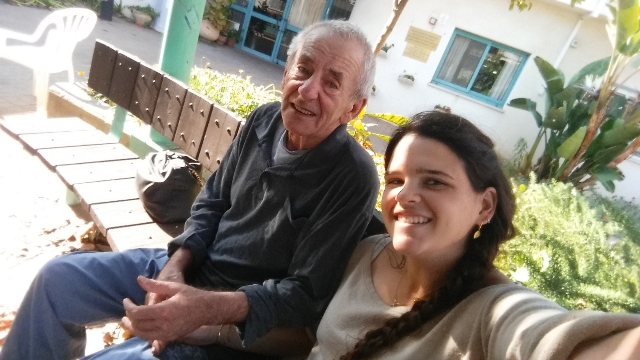 Rachmill was excited to have us. It seems to me that the difficulty to speak brings Rachmill a lot frustration. Yonna, was very happy to have us, but refused to go out. Mordechai, didn't feel very well and stayed in his bed.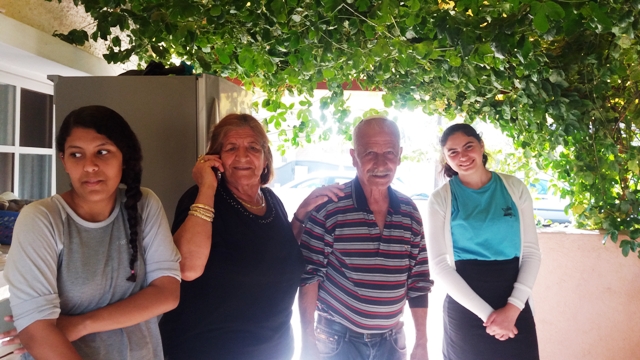 We came to visit the Boarones , and they were very happy to see us. Aliza, had to go urgent to the Doctor, and we missed her. Next time we will see more of our winners.

Rivka


The Holiday of Purim and its Meanings
24 maart 2016, 14 Adar II, 5776

Read this report at the feasts
Fundraising event in Modiin by Shir and the volunteers from "Yachad&quot high school

March 10, 2016, Adar I 30, 5776

Dear friends!
We didn't yet, had the time to digest the excitement of the event of "March for life", and on the end of the week when Shabbat ended, I was invited to Modiin, experiencing one of the amazing event in the history of Amutat "L 'Chaim". Young girl named Shir , with unique firmness and vision, surprised us, and with her lead and the help the charming students of "Yachad" high school, raised magnificent evening that meant to bring awareness about Amutat "L 'Chaim" and also with financial income from it. The school hall was full of people, the students sold food and drinks, and a charming singer, volunteered to sing and moved hearts of his listeners. Shir said very moving words and each word carved in stone, and the students performed too. I had the privilege to say some words and was so excited and happy to see how the vision of Amutat "L 'Chaim" radiating to other hearts here in the land of Israel.
It is my chance to say from the bottom of my heart Thank you! Thank you! Thank you! To each of the active volunteers who took part of the march and the fundraising eve in Modiin. All of you, are our operators of light, and at this days we need such product like this. Of course, many thanks to our donors, where they are: abroad and in Israel.

All my blesses,
Daniel

Modiin
As organizing Bar Mitzva or weddings, with endless excitement, the dream of one evening, passing by, fast as light. Just as that, was the amazing fundraising eve for Amutat "L 'Chaim".
I want to thank all the wonderful people, who came and donate for this evening. To those, who helped to organize this, and, on top of all: the volunteers, the committee of "Yachad", Miriam, and, of course, my family and my friends, whom I love so much. It is so exciting to have good people with a good will. I feel lucky for the privilege to raise such an evening with my amazing volunteers. Thank you for who you are, and for what you do. I am very proud and appreciate each of you, and wish to continue doing good things, to give and by that, to get, and fulfill dreams. As I understood on that evening, dreams can become truth if we believe and want it enough.

Shir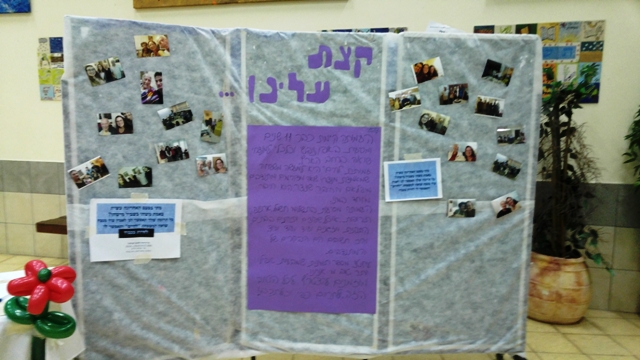 About the project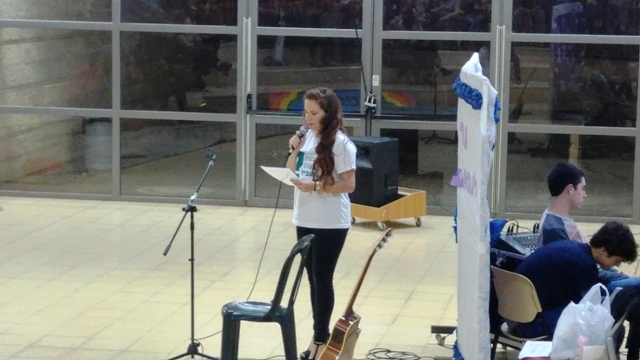 Conducting the event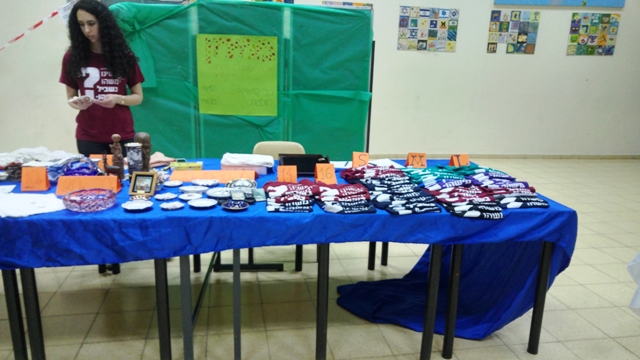 Raising funds by selling products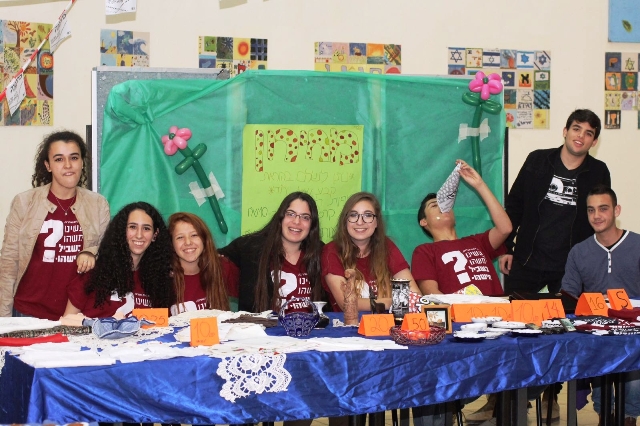 The volunteers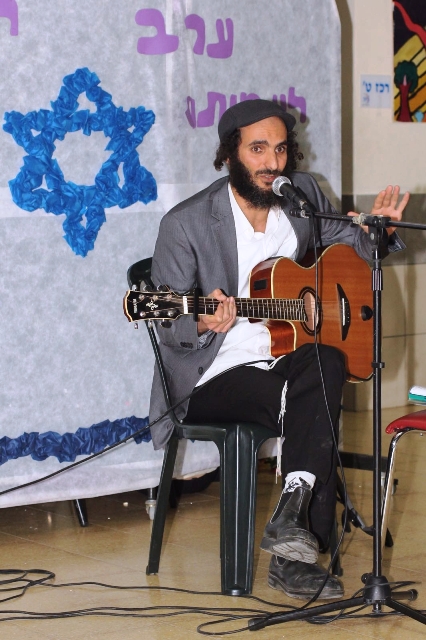 Yossi Nativ of the quartet playing at the fundraising

Pardes Channa
Monday, and we are on our way to visit our survivors. This time we had very precious and special visitors Margo and her nice Gail who came from Holland to see and experience first, the "March for life" and this day - our survivors. It was very exciting because Margo is already part of us and the communication she had with everybody was splendid, and Gail's – too . R' Shachar brought them from the north and they took part in our visits. First of all, they came to Rachmill and there, with R' Shachar guitar, they sang and made everybody very happy. Zvia with two girls, came to Yona, who don't like to get out of the house but, took them to her room and told them about her work as a nurse and showed pictures of her family. Her daughter comes very often to visit her and she is very proud for that. Mordechai also, invited them to his room and he told some stories about himself. I took some of the girls and we came to visit Chaya. But couldn't stay long because they had gas leak and we called for help. From there, we went to Rachel and Avraham, and they told us about their
health problems and about their family. We sat in the porch and met their two grandchildren. From there, we went to visit Aliza, and met her, starting to take off the cleaned laundry and helped her to do it, then, set with her tasty Chocholat cake while she is telling us stories about her life and it was very interesting. Later on, R' Shachar came with two girls, Margo and Gail. Aliza daughter joined us, and she told us about her painting hobby, and then, Margo told her that she has the same hobby. They both, exchanged their experience as painters and on the end they gave each other pictures. We end the visit with kisses and hugs. The friendly atmosphere, brings a lot of happiness for both sides.
My blessings,
Rivka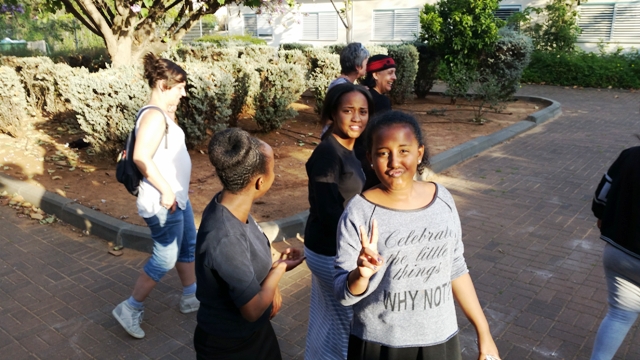 Margo, Zvia and the happy girls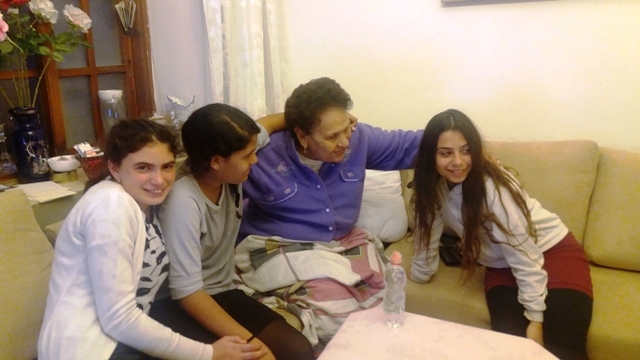 They love Aliza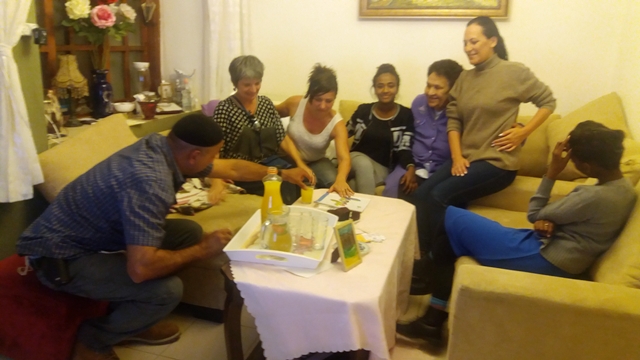 Happy with Aliza's daughter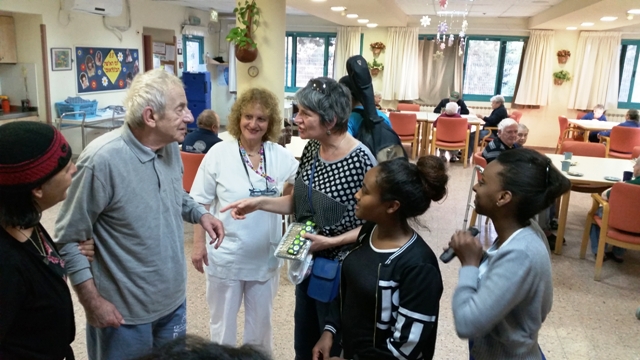 Rachmill receives a small present from Margo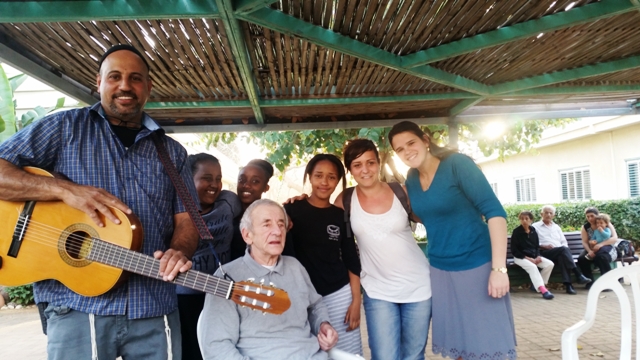 Rachmill in the middle of the attention
Beer Sheva
I had visited Yossef Chadad. It was very nice. We sat and spoke a lot, and I helped him with things he had to arrange. I offered him to subscribe for blind library and listen to books when he is at home.
I visited Shmuel and Sara, for the first time after he came out of the hospital, and having a hard time to get back to their regular life because of a pressure sores which make his recovery harder. Shmuel is very weak, and Sara is worrying about him. They have returned to their club and its activities. The need for a taxi these days, makes it a challenge to their budget. We spend very good time together and they say that I am as their daughter. They fell in love with my little baby.
Efrat
Shabbat Shalom !
About the "March for life"
March 4, 2016, Adar 24, 5776

Dear friends!
All I can say about the "March for life" is that it was amazing!!! Heavenly atmosphere which expressed the essence and the vision of Amutat "L 'Chaim". The march was a gift from heaven and a great privilege, and a real love for Israel and for the glory of humanity.
Many thanks, to those, who do this holy work.

Daniel
******
The "march for life", is another exciting point in the journey of Amutat "L 'Chaim" on it's varied activities. Our Shoa winners, the ones who could come and join the event, were very important part of this event. It felt as a happy family assembly. The students from Neve Michael , the Mechinot and the high school "Yachad", were so pleasant, accompanying and protecting the elders, doing it naturally. It felt the strength and the quality of those youngsters, who give their time and love, to this elders who has build this country. The gap between the generations just vanished.

It wasn't simple to organize all the people, to come in the right time, and starting in time with good refreshment. Of course the greetings is for Daniel , who was the one who thought and brought it to be done. This event will stay forever in our memory. After the march, the volunteers did performances, singing and speaking. Neta from Maitzar, said in her part, a very exciting words about the essence of joining the project and the impact it brought to their life, in terms of getting the heritage from those Shoa winners, as a next generation.
Also, Shulamit from Modiin, who said, that along the years, none of the actions of any organizations who came to them, were so effective and with pure meanings as Amutat "L 'Chaim" and Shir expressed her feelings as the founder of Modiin branch.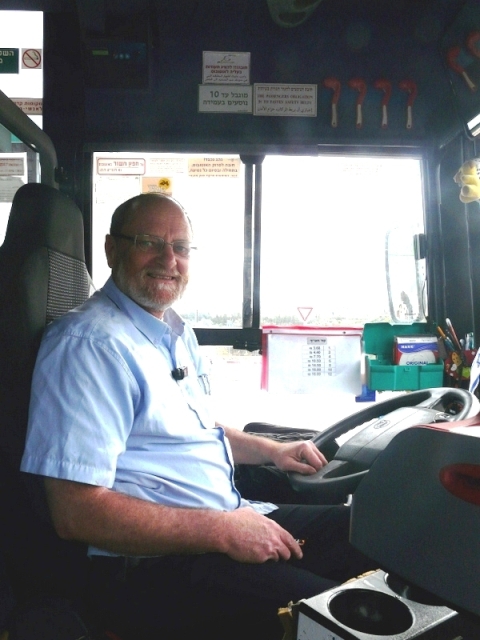 Shuky, our driver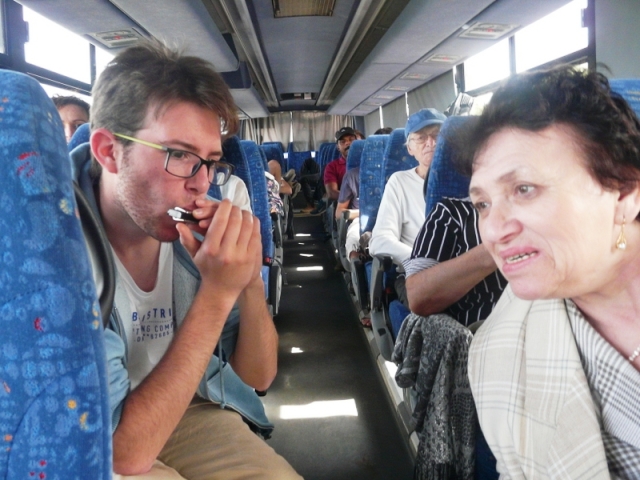 Tal, enjoying our survivors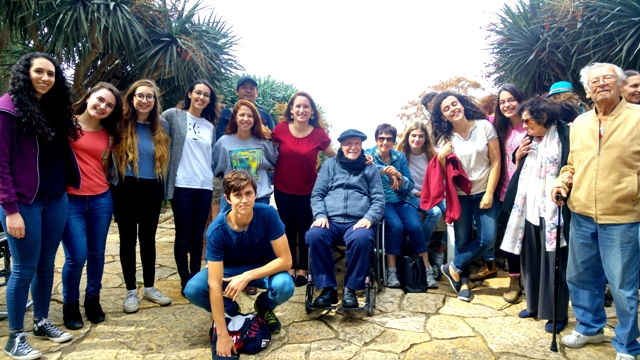 The group from Modiin

On the end of the program all the Mechinot and the two schools were invited to get a certificate of honor for their dedication.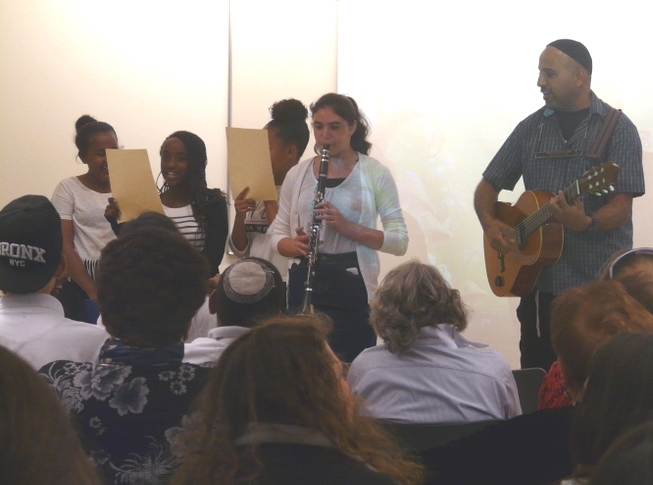 The meeting ended with the national anthem.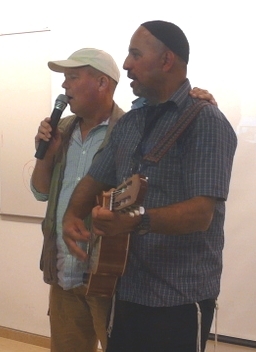 Daniel and Rabbi Shachar singing together the HaTikva.

Rivka

******
02-03-2016 is a date that I wouldn't forget all my life. It's the day of the second March for life in Israel. I write this words and I feel so excited. As usual, it's very easy for me to write but right now, what ever I will write, wouldn't express what does this day means to me. Last year, I joined the march for life as a student in Mechina Mayan Baruch, and this year, I am privileged to come with the brunch, which I built in Modiin, with the Shoa winners and students from my old school "Yachad" and my joy is endless. I feel lucky for getting to know the Amuta , Daniel, who do it in a perfect way and with all his heart. I am lucky to know those Shoa winners from Kiryat Shmona, Dafna and Modiin. I am lucky to have ten amazing students who volunteer and my big appreciation for their work. I am just so happy for winning such family as Amutat "L 'Chaim". Many thanks to all the amazing people here and abroad, who make it possible and taking part in it. I hope, that those, who take part in this action, these youngsters, will turn our beloved country, to be a better place to live in. What has left is to wish all of us health, success in the project, and to make dreams become true, and we will meet in good and happy events. Our fundraising eve, would be held on this Shabbat eve, and I hope for it's success.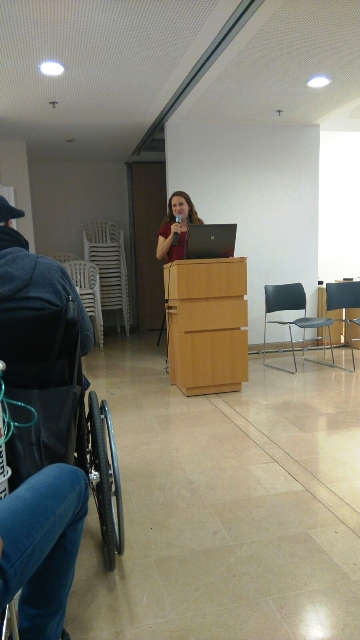 Shir speaking to the audience.

Shir

***
All the survivors from the north: Kyriat Shmona, Rosh Pina and Ginosar, had a very joyful and special day. They enjoyed the march in the Baron Rothshild gardens, beying together with the students from the mechinot: Mayan Baruch, Kfar Hanasi and Meitzar.
The students showed their great love to the survivors as you can see in the pictures.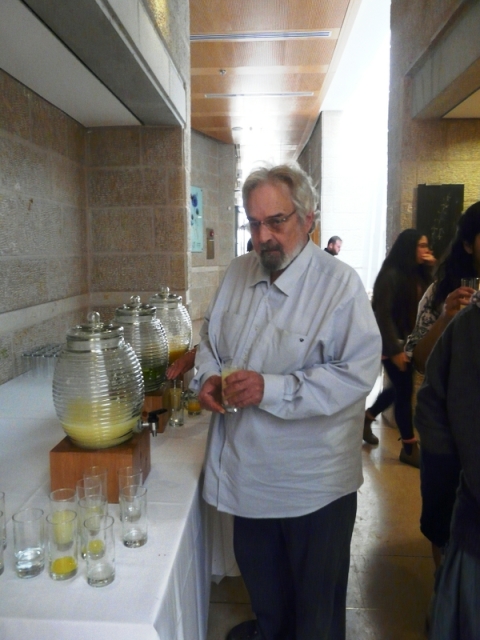 Alex and Talmor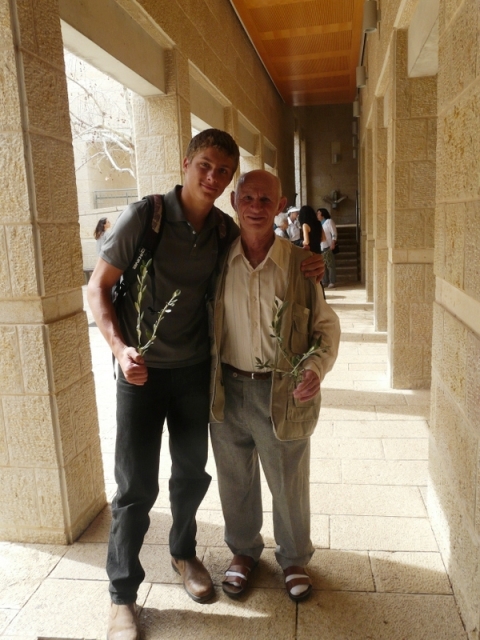 Asaph and Israel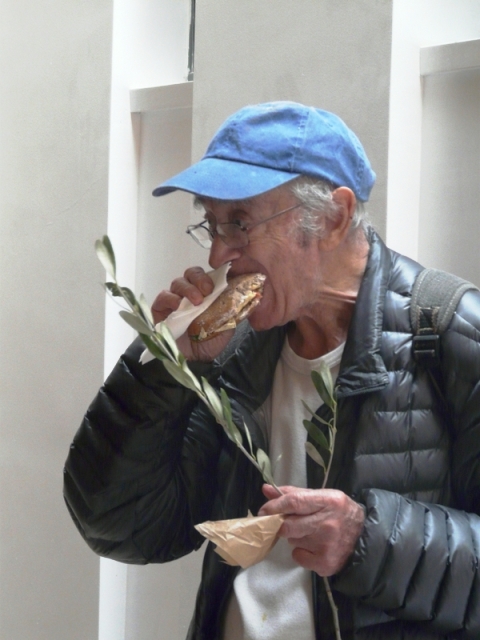 Avraham from Ginosar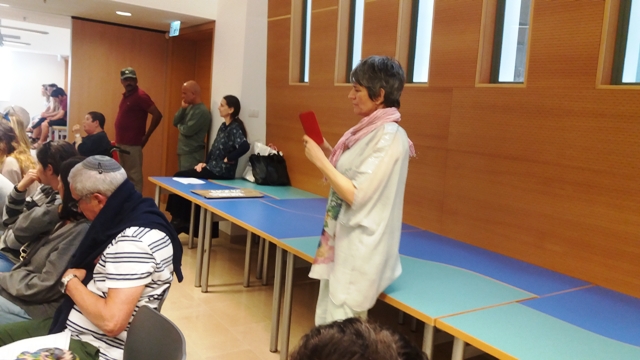 Margo between our survivors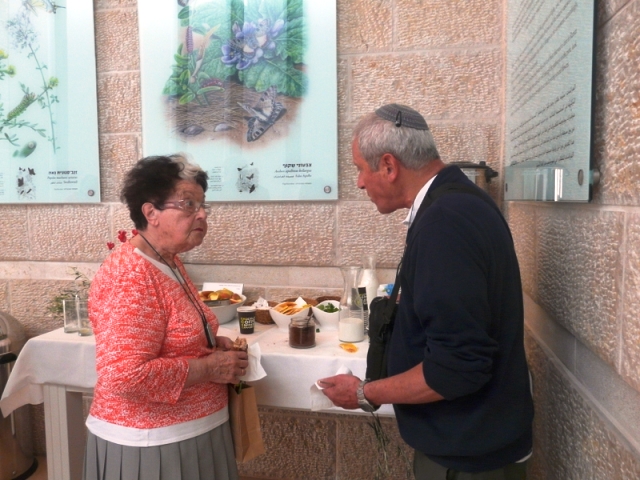 Mindel with his wife.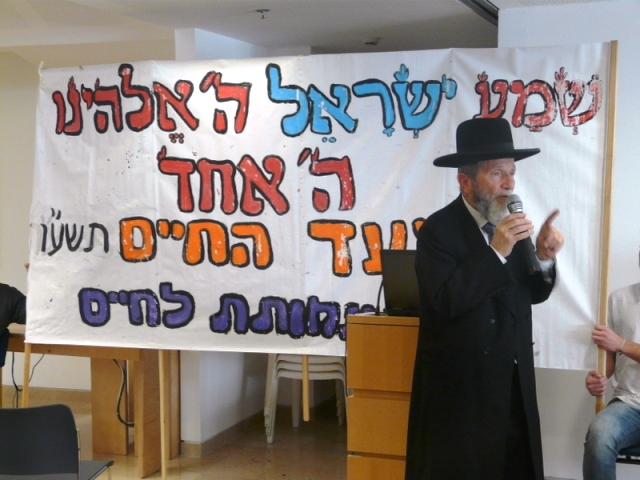 The Rabbi speaking.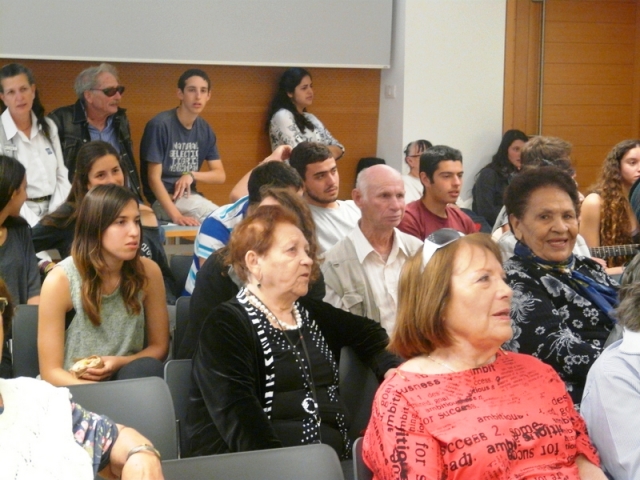 Rachel from Rosh Pina and Aliza on the second row.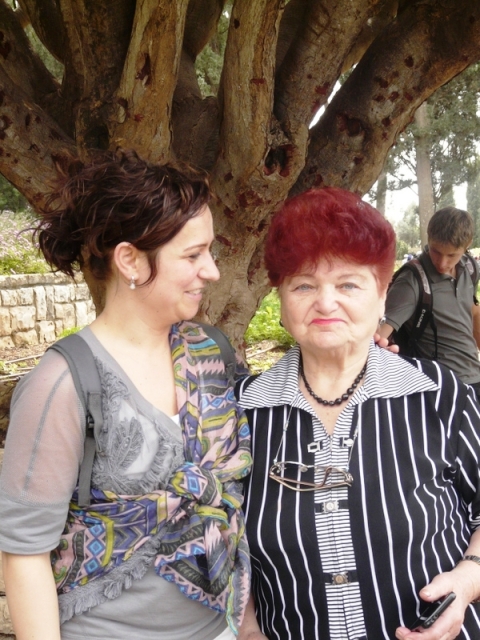 Shaila with Klara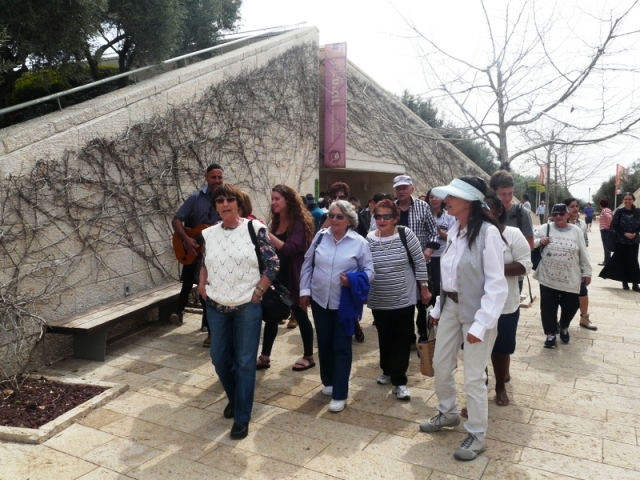 Starting the march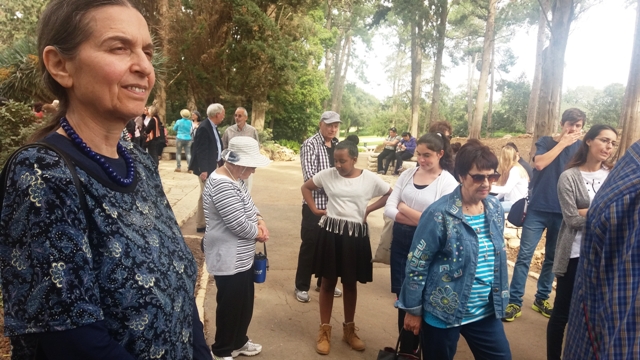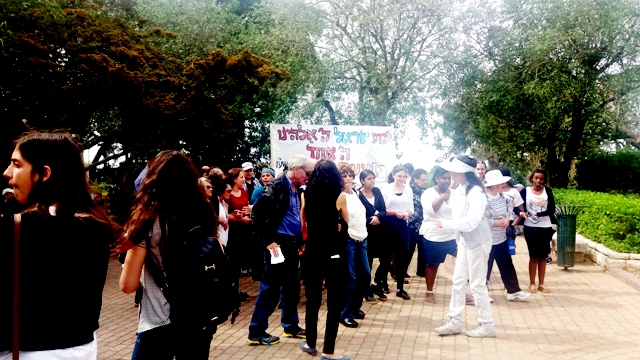 Written on the sign: Shma Israel, Adonai Elohenu, Adonai Echat
Hear Israel, the LORD our G_D is one G_D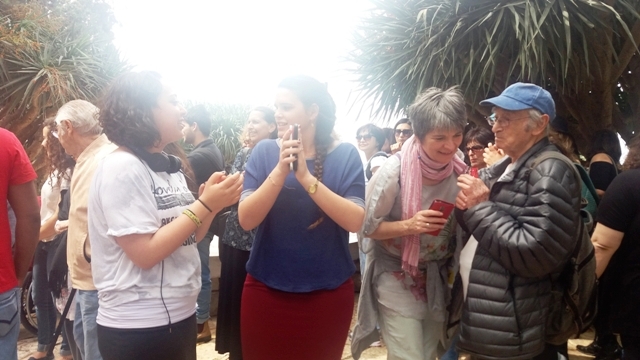 Singing visitors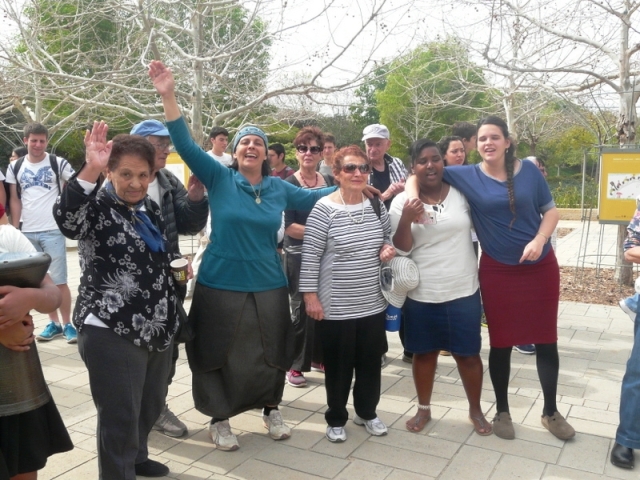 Aliza, Zvia, Bella, Ortal and other survivors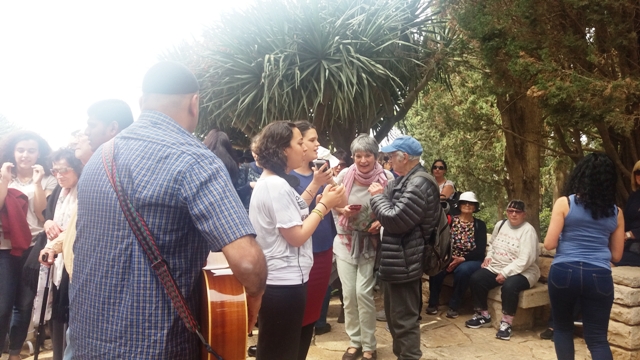 Survivors, Rabbi Shachar and our Dutch visitor Margo (in the middle)



The view on the sea.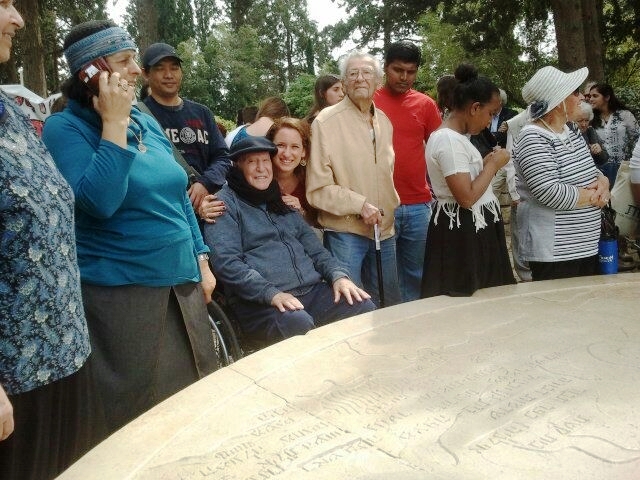 Enjoying the view.
Shabbat Shalom,
Timek
Daniel Braun
E_mail: danielxrw@gmail.com
Phone: + 972 54 772 3510
Welcome to our website at: www.leChaimtolife.org

The March for life

February 25, 2016, Adar 15, 5776
Next week, in a good time, with the help of Hashem, the second March for life of "Amutat L 'Chaim" will be on its way. I would like to remind you what this March symbolizing for us in four words: The sanctity of life! For the last 11 years, Amutat "L 'Chaim" consistently and with Great Spirit, sanctified life by bringing old and young generations to meet each other. It is a real message of being dedicated, human to human 'as they are'. To understand the great privilege of 'united heart to heart' by understanding that it's our flesh and blood. This connection, strengthens the spirit of all partners. We believe, that such project in it's pureness, love and it's serious intentions, and mainly in it's consistency, brings a huge blessing to the world which we are living in. The "March for life" is kind of yearly summation, which unite all the beauty and the holiness of the project by doing this journey hand by hand saying : Yes! Yes! Yes! For life!!!
We pray to G_d of Israel for the privilege of a beautiful day with the amazing bloom after blessed rains in the Gardens of life Ramat Hanadiv! And, to you, our friends in the world: many thanks for your wonderful support along the years.

Daniel

News from the North
Kiryat Shmona
Shir, Shiraz and Juli visited Klara, Mordechai and Anatoly. We had great time together. Klara prepared blinches, as she always does when we visit her. We talked about the studies in the Mechina, and about what the girls will do in the army next year.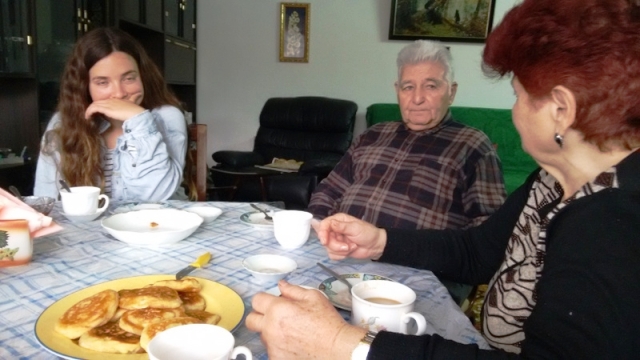 Juli, Klara and Anatoly

Kfar Blum
Asaf and Rom visit Manashe and Freddy every week together with the pupils from the school. Manashe is so happy to see children around. Their friendship with the students is great.
Neot
Rom and Shiraz visited Steve. Steve shared his story with them. He was born in Berlin at 1939, and were sent with the kinder transport to England. His parents have been sent to Aushwitz and died there. At 1948, he was sent to Eretz Jisrael on a primitive ship. He had difficulties to get use to be in Israel, without parents and no relatives. He feels this loneliness his whole life. He was married and has three beautiful children. Steve showed us his book with pictures he made about the Independence Day.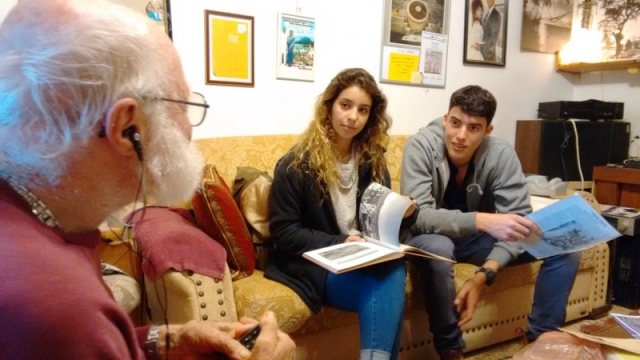 Steve, Shiraz and Rom

Shir, Juli and Ofer visited Rachel. For Rachel, our visits became very important. She enjoy it very much. The students prepared dinner for Rachel and had a lot of fun together.
Ibi was busy, making a painting for her grandchildren, whom she is going to visit next day in Tel Aviv. Asaf Omer and Ohed made Ibi happy. They talked about Ibi's current life.

Rosh Pina

Israel had a lot of joy with Tom and Ayal. The friendship from Yael with Rachel is growing. Rachel was very closed at the beginning. Yael had to put a lot of energy to open her up. And she has succeeded!

Genosar
Lior: Noam and I went to Batia. We talked about what has happened last week. It was very nice.
Yuval: Gal and I did some yard work with Avraham. We had great time with him. He also spoke with us about what has happened this week.
Noam: Ofek and I went to Zachi, we drank together and talked about life. It was great.
Dana: We made pasta for Eli_Ram and Irit. It was tasty and fun.
Atalia: Ruth continued to teach us how to knit, we talked and it was great time as always.
Shalom,
Timek


PARDES CHANA
Today (Thursday), Zvia with 6 boys and girls from Neve Michael went to visit Rachmill whom we turned to be kind of his only family, the light shining from his eyes, makes it worth to come and makes him happy. He was sick with the flu, but asked to go out with his visitors, and when he asks for something, we do it for him. It seems, that the big changes of the weather very often, weakens the body resistance mainly of the old people, and they get sick and not easily get rid from it. Yeshaia is already sick one week, with inhalation and not yet finished with it. Mordichai finally, after a while, was without the breathing machine and was very happy to meet the group out of his bed. Yonna is coming with sandals but don't like to go out and we meet her in the lobby of the house. She loves to sing and loves it so much when she have this weekly visits, and very proud for it. We can see that our visits bring comfort, happiness and good feelings for both sides.

Our blessings:
Zvia and the group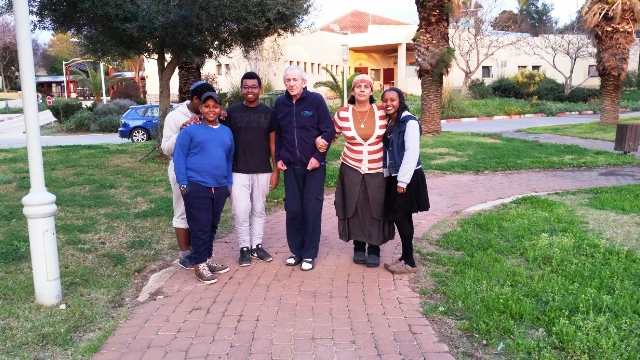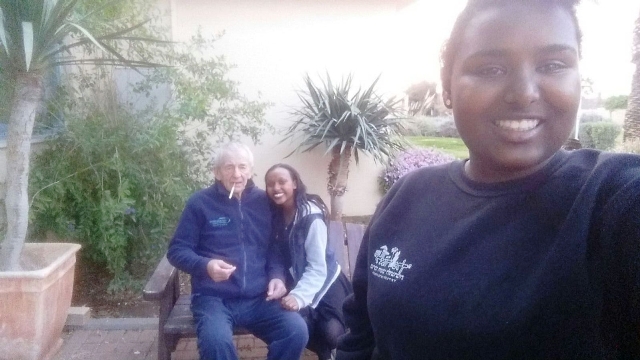 Rachmill with his visitors. They love Rachmill and he loves them.

Modiin
Shir: After hard week with many faults in their house as no electricity, and other problems, they couldn't accept visit of our volunteers, I came to visit on Shabbat, and it was very exciting and gave strength to both sides. Janet told me about what happened, and then, about their family. We spoke about strength and the power of the will when we believe in ourselves. They both, told me about their son, who has lost both of his legs in the first Lebanon War, and has recovered himself , built a family, continued to work, studied and turned to be very successful manager of a very important company. It was most exciting to hear them with shiny and proud eyes. I told them about the coming "March for life" and about the planned fundraiser evening, which will be on the same week, and they were excited and very enthusiastic about both events.
I wish them a better week, with good health and good news, and can't wait to meet them again.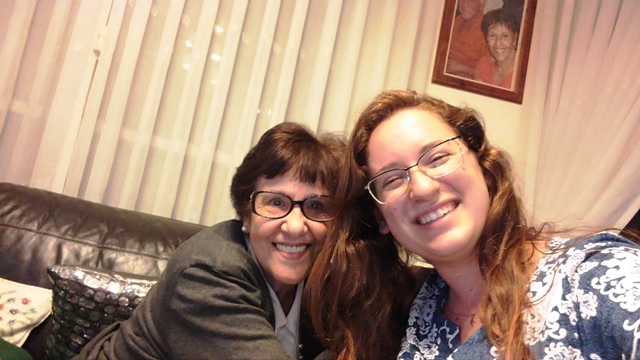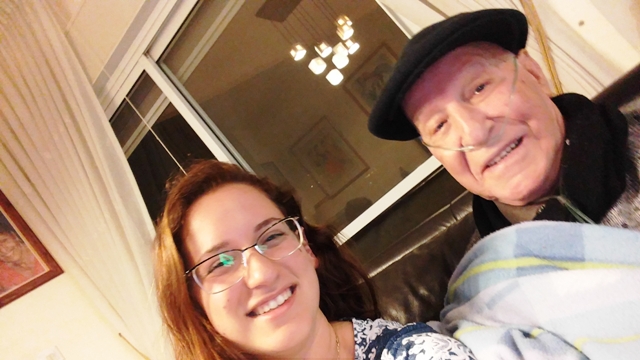 Janet and Jaston met Shiri

This is our news for this week.

Shabbat Shalom.
Rivka



From dark tunnels, God's light will shine and heal
Februari 18, 2016, Adar 9, 5776
Dear friends!
The new language, which we must study these days, is not very simple. It's not familiar. Language, which we must understand very well what's has written in the book of books – the Bible! which is a wonderful treasures, giving us the ability to go through such dark period as it is. In the book of Deuteronomy 32 :" 20 And He said: 'I will hide My face from them, I will see what their end shall be; for they are a very forward generation, children in whom is no faithfulness." And continue in Deuteronomy 32:" 36 God, will judge His people, and repent himself for His servants; when He seeth, that their power is gone, and there is none remaining, shut up or left at large." We study from what's written that our G_d , hide his face from us, which means taking the light away from us and it is a situation that we have to confirm that we are neglected and very sad in our inner souls, and without this light and continuing on the book of psalms 147:"
10 He delighteth not in the strength of the horse; He taketh no pleasure in the legs of a man. 11 God taketh pleasure in them that fear Him, in those that wait for His mercy."
And again we understand that the missing is for the hidden light of the Almighty. We are in the end of the road, without hopes anywhere, but with the hope of His revelation back: the king of the kings. All the other ways , clearly more then ever, as has been blocked and closed from us, as we are in a waiting desert, within fields not obstructed, with dark fog. But the consolation is in it's troubles because from such narrow situation and long last patient we straightening our faith and confidence – which are the only tools to survive at such chaos and destruction at this times. But we are not serene! The Bible teaches us that we have a lot more to learn about our inner souls, the magic treasures which the Almighty has planted in us. As it has said in the book of psalms "from my flesh I will see my God"' it means that reality takes us to understand that His reveal and light could be seen from our inner soul and this is the reason for being on a cleaning and purification period, of long last rehab of addiction. Here, we have help from heaven, which help us to study where we are in our addiction, and what we must do in order to get the new light and heal our wounded soul. On the end and shortly: not with highlighted words, but with a real experience of feeling our blood in our hearts at such period of times. But, the secret of attentiveness, each of us have to study.
Next month, we have two happy events: " March for life" on the 2nd of March, and the holiday of Purim which we will give to our survivors "Mishloach Manot" .
Best regards,
Daniel
Pardes Chana
We gathered in Neve Michael, The dedicated girls and the boys, Shiri, R' Shachar and me, splitting for 3 groups, and started with our visits. R.Shacahar went to visit the Boarons, seeing Avraham after missing him because of his bad health. As you see he really was happy to meet them. Zippora accepted them with a big smile and promised to come and join us to the "March for life". From there, they joined Shiri and the group who took out Rachmill and played and practiced with the guitar and the clarinet the piece they are going to be played in the "March for life". Unfortunately, our dear Rachmill, was admitted to the hospital with kind of stroke, and even to walk it was hard for him this time, and the boys and girls backed him up when they took him out. We hope for him to get better.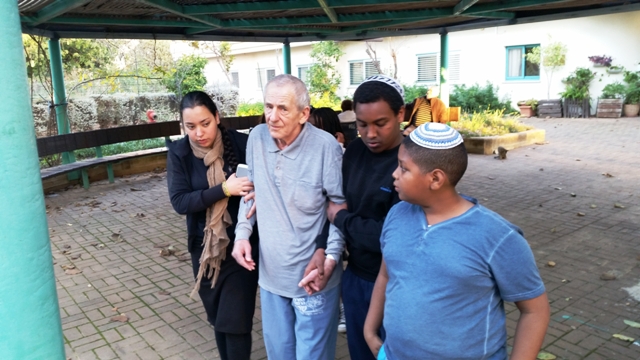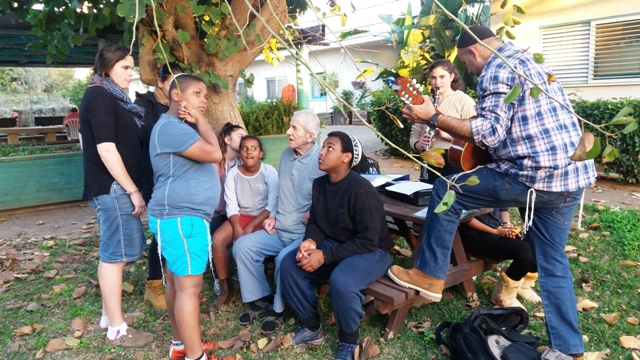 Rachmill

Yona, didn't want to go out and we had to relate to her will. Mordechai is still, connected to the breathing machine, and also couldn't go out even the weather was very good. I went with the girls to Chaya, and Morris, and even their daughter joined us and they were very cooperative, and happy with us. From there, we joined R' Shacahr and the rehearsal they did.
Then, we went to Aliza, who prepared for us good and fresh cookies and was happy to have us. We brought a very generous beg of vegetables to each of our survivors. Zvia couldn't join us this time, but her spirit was with us.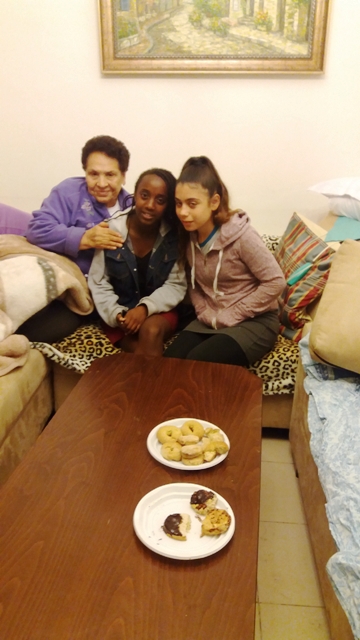 Rivka
Timrat
Last Friday, we went to visit Gad & Tamar. We met Gad preparing the table for Shabbat. He was so excited that we brought two Chalot , which were missing on the table, because he couldn't get it. He shared with us his difficulties of being tied up on going to anywhere without any vehicles serving them, and we offered, to let us know if they need this kind of help, we will do it for them. Even bringing medicines and whatever they need. He was very glad to hear it and said to us that it will be a great help. We spoke awhile, greeted them Shabbat Shalom, and went to prepare our own Shabbat.

Yeshivat Nachlat Israel
News from the North
Katzrin
My visit with the students of mechina Kfar Hanasi, was joyful as always. Shaul showed us ( Ayal, Elinor and me) pictures of his creative work 30 years ago. He upholstered walls, with beautiful mosaic scenes in the city of Carmiel. The mosaic is still there to watch. Shaul was extremely creative at his young age, and has designed exclusive methods for many buildings and many other inventions. Today, he have no energy to do that, but he is interested in any kind of designs and new inventions in the world.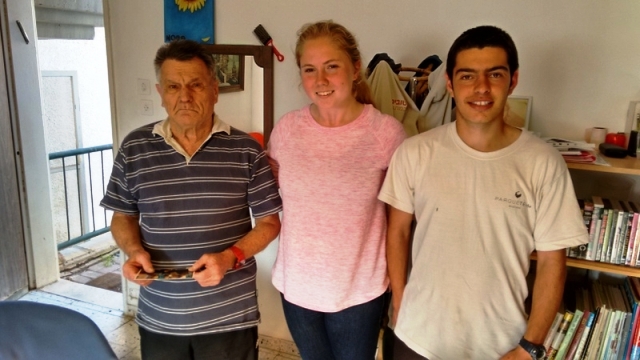 Etja enjoy so much the students, Yam with Yael visited her this time.
Jafim showed Tom and Eden a movie and they talked about his childhood, his mother, and how much he misses her. She died six years ago, at the age of 91. Jafim was born during the Shoa and grew up in Ukraine. His father has died at the front. He was the only child. His mother was intellectual, and found ways to save her own life and Jafims, from the cruel Nazi's. Many of Jafim's family hasn't survived.
Ela is travelling twice a week to Kiryat Shmona for Physiotherapy. Her legs, hurts her.
Shlomo is depressed because of his wife Lili, who struggle for her health. They are 61 years together and very happy with one another.
Kfar Blum
Asaf and Rom visited Freddy and Manashe. Asaph: "It was meaningful. We talked with Freddy about politics, the wars when he was serving the army and other topics. Manashe looked happy today. He is happy to see the kids we take with us on the visits.
Dafna
Shir, Shiraz and Juli has always a lot of fun with Sophia, Chaineke and Lea, in Beit Ela – the nursing home. Asaf and Ofer visited Israel and his wife. They both feel much better. Rom and Omer, have visit Simcha. She is a joyful woman with a warm heart.
Genosar
Ran, Hila, Dani, went to Moshe and discussed about the passing week, it was a wonderful afternoon.
Ofek: At Zachi , we talked about her family, it was lovely with her.
Lior and Noam went to Batia. " We talked about the passing week, it was very pleasent. We also walked with her in the kibbutz.

Yuval: Today I helped Avraham in the garden and then with the computer.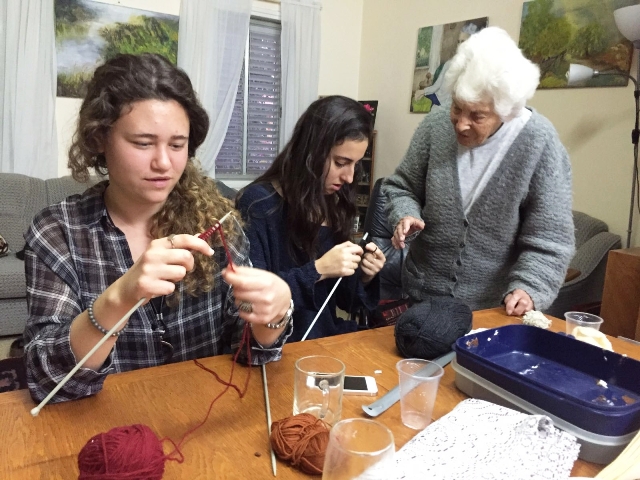 Ataliya: We were with Ruth. We talked and Ruth taught me and Karin how to knit.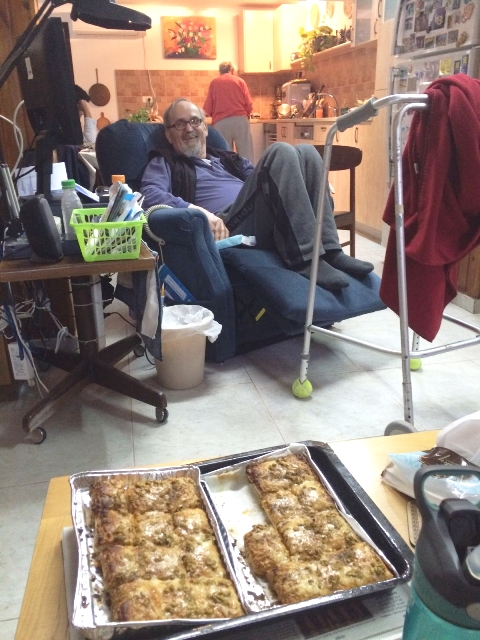 Dana: We had pizza at the house of EliRam and played Taki with Irit.
Again a fruitful week passed with full of satisfaction,

Regards,
Timek
Shabbat Shalom
Faith, the Only Solution in These Days
Februari 13, 2016, Adar 3, 5776

Dear friends!
As I said in my recent essays, the period we are living in, is a time that the old known world is slowly sinking in order to give room for the new world. Such a situation is called "between the times", when the old is not relevant and lost its savor, and yet, the new is not known or found in us. This situation must be understood and accepted, we must release the old ideas which are not serving our growth anymore and block the new winds that fill our spirit. It's a strong struggle with a lot of conflicts. We need to be brave in order to study the new language. Interesting!

One of the most efficient ways, which the Almighty uses for our benefit, is to darken our awareness as we walk without any direction. It feels as if Hashem has forgotten or left us as it written in Isaiah 49:14 "But Zion said: G_d hath forsaken me, and the G_d hath forgotten me. 15 Can a woman forget her sucking child, that she should not have compassion on the son of her womb? Yea, these may forget, yet will not I forget thee." It means that Hashem never leaves us even for a moment. It's true that he hides His face causing us to feel neglected, left alone, but all of that, is only as it seems to be. Here is another verse which gives hope and strength: Isaiah 50 :10 "Who is among you that feareth the G_D, that obeyeth the voice of His servant? Though he walketh in darkness, and hath no light, let him trust in the name of G_d, and stay upon his God."

It means that there is a promise even when it is dark, and not clear, when no solution is seen, Hashem hasn't forgotten us. Indeed, as it already has been said, such a situation is needed for our development of creating a new heaven, by understanding human solutions and human wisdom. The culture of idols is vanishing and not relevant anymore. It seems that there is no solution. Such situations, when lasting too long can cause angst to those who don't have any faith. This is the reason that faith is needed the most these days. The knowledge that there is no one else beside Him! knowing from our inner soul that, this is the key to discover Hashem for ever and ever.
Hear Israel, Hashem is our G_d, the only one!
Daniel.
Pardes Chana
Zvia and students from Neve Micheal, went to visit Rachmill, Yona, Mordechai and Isyahu. As usual, Rachmill was very excited and waited for them, to be out in the gardens and the fresh air. Recently, he have high blood pressure and he have to balance it. They went together to see and have fun with Yona, who love when all of them sing and bring happiness. with Yehoshaya, they had to meet in his bed. Also Mordechai was in his bed and the air machine, helping him to breath properly. Those four are lonely, and when we come we bring them a lot of light.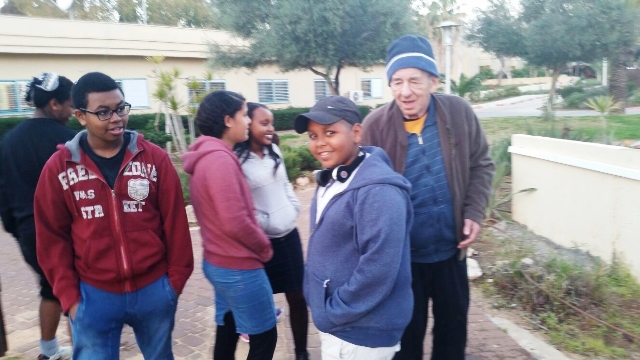 Rachmill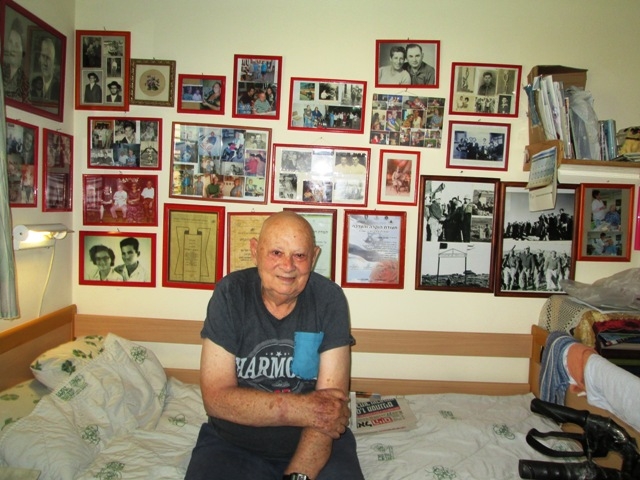 Ishaiahu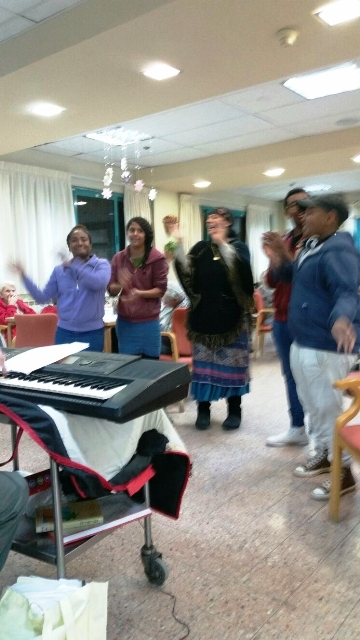 Celebrathing some joy in the centre where Rachmill and Yona lives.


Modiin
Arbel and Shir: In our visit at Svetlana & Dimitri we helped her to look after good computer, because hers is not good anymore. Svetlana told us that the often changes in the weather are not good for her health. We enjoyed meeting them very much.
Adi and Alon: Today, we had our visit at Shulamit and Chanan. Chanan, looked much better then before, and spoke about his talent of taking photographs, and also about the Anti_Semitism when he was in Austria, as young men. It was very interesting and new for us. Shulamit, gave us a tasty soup and cake, and told us about her youth. Alon took a video of shulamit speaking about the importance of the Amuta and the visits, and the joy it brings to them.


News from the North
Kiryat Shmona:
Again, I had spent fantastic time with the students, visiting the survivors this week in Kyriat Shmona. We spent time with Lisa. She gave us homemade applecake, it was delicious. We spoke about her childhood. She has born in Ukraine in the region called Vinicka Oblast, were Hitler had his residency. It was very hard for all Jews to survive during the war. Lisa, was the only child. Her parents, were waiting 10 years for a baby, and when Lisa has born, three days later, her mother died. Her father remarried, and soon the war has started. Lisa lived 4 years in the ghetto. There wasn't any food to eat, and at nights, the good people brought some food. Lisa saw the Nazi's, killing fellow Jews. At the day that the war almost ended, the Nazis gathered all the Jews who managed to stay alive, into the ghetto's, meaning to kill them. Lisa stood with all those people, waiting to be killed. Then suddenly, a general entered to the ghetto on a horse, and ordered the Nazi's to shut down the weapons. So, Lisa miraculously, survived. Her father has died as a soldier in the Russian army. Lisa was left alone, without her parents, traumatized. It was hard to hear such an horrible story.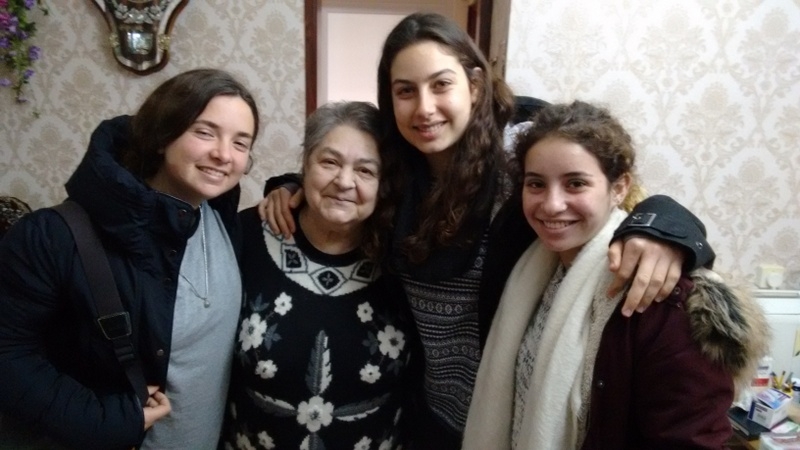 Lisa, together with Juli, Shir and Shiraz
Klara will be operated soon, in her eye (katharax), we pray for her for full recovery. Eliahu was very sick, and now, he is getting better and has returned home from the hospital. Nicolay's Alzheimer is getting worse, but his body is still strong. Zina travels daily, to be with him in the nursery home. Ida's legs are getting worse. She need antibiotics and the doctors can't do much to help in this problem. Her daughter from Haifa, is still with her to help.

Neot Mordechai
Steve was happy to see us. Because of his hearing problem, we had hard time to contact with him, but that problem is solved now. He was waiting for us at the bus station in the cool air. He is excited for the idea to come with us and join the "March for life" in Zichron Yakcob. Rachel is so happy with the visits of the students. She is more and more excited. Shir and Juli visit her now for some times and built already good relationship with her. Ibi will be 90+ next month. Her look is so young and she is young also in her spirit and body. She have daily program and travels to the university of Tel Chai in the program studies for elders. She started to learn English. She is riding on her bicycle in the kibbutz. It is so amazing. She loves the students and can't wait for the next visit.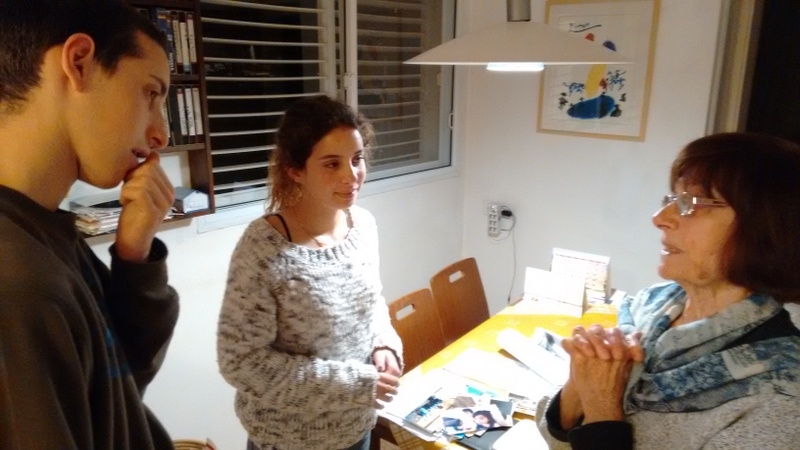 Ibi
Rosh Pina
Yael visited Rachel. Last month, Rachel didn't feel very good and was a bit depressed. But now, she is excited with the students. She want to go to the "March for life". This is a good sign. Tom was visiting Israel. He had fantastic chat with him. Tom: "It was excellent. While drinking coffee, we were talking for an hour. It was a great fun." Yam visited Blanka. Yam: "Blanka is a very intellectual woman, 90+ years old. She loves to talk about Zionism and Tenach. I love her so much."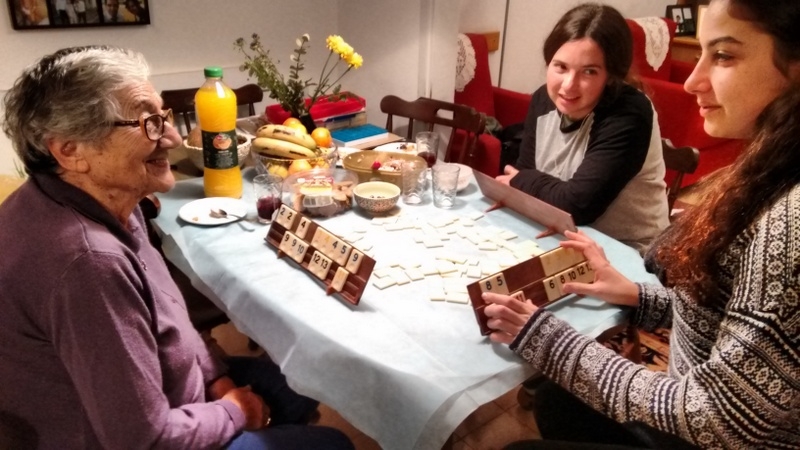 Rachel

Genosar
Ofek: "I visited Zachi as I do every week. She showed me some old photos and it was very nice".
Ataliya: "Daniel, Jonathan, Karin and me we visit Ruth every week. As always, she gave us cakes and cookies. We talked about life and we had very good time with her."
Ran: "Other students had fantastic time with the survivors: Eli_Ram, Zalma, Moshe, Batiya. Avraham was not at home and some students were sick. We spoke about the "March for life" and made up plans for this day."
Shalom,
Timek

News from the South
Beer Sheva
I came to visit Suzan. She was sick as always at winter time, and very disappointed from the government that doesn't let her enjoy life as she wish. My visit gave her much joy because the students have exams and she misses visits. She asked me to bring my baby because she loves children and had been adopted by her self when she was young. She thank Amutat "L 'Chaim" for helping her with an Aircondition.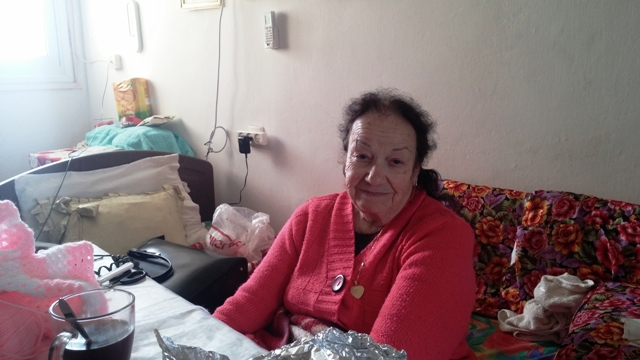 Susan
Last week, I visit Olga. She seems getting weaker but still in a good mood especially when I come to visit her. Economically she hardly manage, and still , getting along with it. She is waiting that the winter will end and again it will easier for her to get out from the house. She try not to use the heater because her low income. She love children and babies and it was charming to speak with her about it.

Efrat

This is our news for this week.

Shabbat Shalom!

Daniel
Heart to Heart as a Way to Repair the kingdom of Shadai
4 februari 2016, Sjewat 25, 5776

Dear friends!
At the right time, and with the help of Hashem, we will do the second "March for Life" here in Israel. This kind of event is with a voice and a vision of 'heart to heart' as it is said in Malachi 4:6:"And he shall turn the heart of the fathers to the children, and the heart of the children to their fathers;" Such work is to bring closer, hearts to hearts, and oversee a project full of glory – like the order of Hashem. Social life based on justice and sanctification of life. Giving hand to a human in crisis, not as a one time gesture, but from the deep inner feelings of this human part of me, my own flesh. It's written in the Bible:" and you shall not stand on your neighbour's blood"… and more:" …love your neighbour as yourself". These are holy superior orders that can be done and we can sanctify and enlighten social life, justifying the assumption that we are the crown of creation. In Isaiah 11:5, it is said, that in those days, a messenger from the branch of Yishai, will come:" And righteousness shall be the girdle of his loins, and faithfulness the girdle of his waist." It means that when the messenger will come at the end of days to announce redemption, his work will be to check where we are as a social group or as individuals, experiencing in our body and hearts – Justice! When it is part of our lives and a great faith is in our hearts.
Now, we will go deeper in trying to understand: These days as it has been written in Amos, we will experience emptiness, hunger and thirst. Everything stands as a wall standing between our will and dreams, as if somebody is preventing us reaching our desires, here and now, as we used to have for generations. Why is all of that? Here enters faith. Our G_d is trying to teach us a new language with which we have to reduce our wills which comes from our ego, and request a waiting period, in which, supposedly nothing is happening. In the fog of the waiting period there are possibilities of many actions: first, we can sharpen our hearts by doing the simple and daily things with more focusing. To bring attention and joy to this moment, which make possible the living, in the here and now! It's hard to be so focused when we are so productive and constantly wanting more and more, jumping from one place to another. The Almighty with His kindness and mercy, doesn't let us run away anymore and suddenly the Biblical concept which tells us some things such as "because it is so close to you, and it is in your mouth and your heart to do " seems more and more relevant. From such a place we can easily see – fellow human beings, feeling the main thing in life – that "… you loved your neighbour as yourself with all your heart:" And you loved your G_d with all your heart and with all your soul with all your strength".
To conclude: We, in Amutat "L 'Chaim", focus on bringing closer, heart to heart, the real way to work with the various shades and opinions among those involved in the project. The connection is for the human as he is, with the fragrance of heaven coming from it and a huge blessing there. We will bring back to our hearts the reminder that the old world – the material tower of Babel is collapsing in front of our eyes , and the new building's components, are founded on faith and security, with justice and mercy – the foundation for resurrection of redemption and bringing hearts together.

My blessings, Daniel.
Katzrin
Half of my volunteer students were ill this week, from a flue, but nevertheless, with those who could join me, we had a very good time with the survivors. Ayal and Elior visited Shaul. He told about his childhood and showed them a Japanese program. Etja is sweet and enjoys the students visit every time. Tom and Yael spend good time with her and then, went to Jafim. Tom likes the chats with Jafim. Jafim showed them a film from the You_Tube which they like. The film was about Stalin, former dictator of the Sovjet Union after the WWII.


Then, we all met Shlomo, who told us about his army experience during the Israeli wars. The worst time for him was the war of Yom HaKippur. He was sent as A parachut to the Suez Channel, to fight Against Egyptians. Arik Sharon was his commander.
Genosar
A famous lady in Genosar has died. Ruth Alon, wife from former minister of the government Igal Alon. She came to Israel in 1937, before the shoa. After the shoa, she adopted many orphan children, who survived but left without their parents. The funeral was at the time when the students came for the visit. All the people from the kibbutz and survivors, joined the funeral to give Ruth (bless her memory) the honner. After the funeral the students went with the survivors into their houses and have spent time together.
Aharoni: "Avraham and I, chopped down a tree in his garden and we ate some fruits.
Guy: "Yuval, Shira Eliya and me, had a great conversation with Zivanit (Zelma). We also helped her with the dishes and helped to clean her house"
Dana: "With Eliram, we had a lot of fun. With Irit, we played Remi"
Karin: "Karin, Daniel Yehonathan and I, played this game (see picture) we are playing it for the last 3 weeks and Ruth is always the winner!"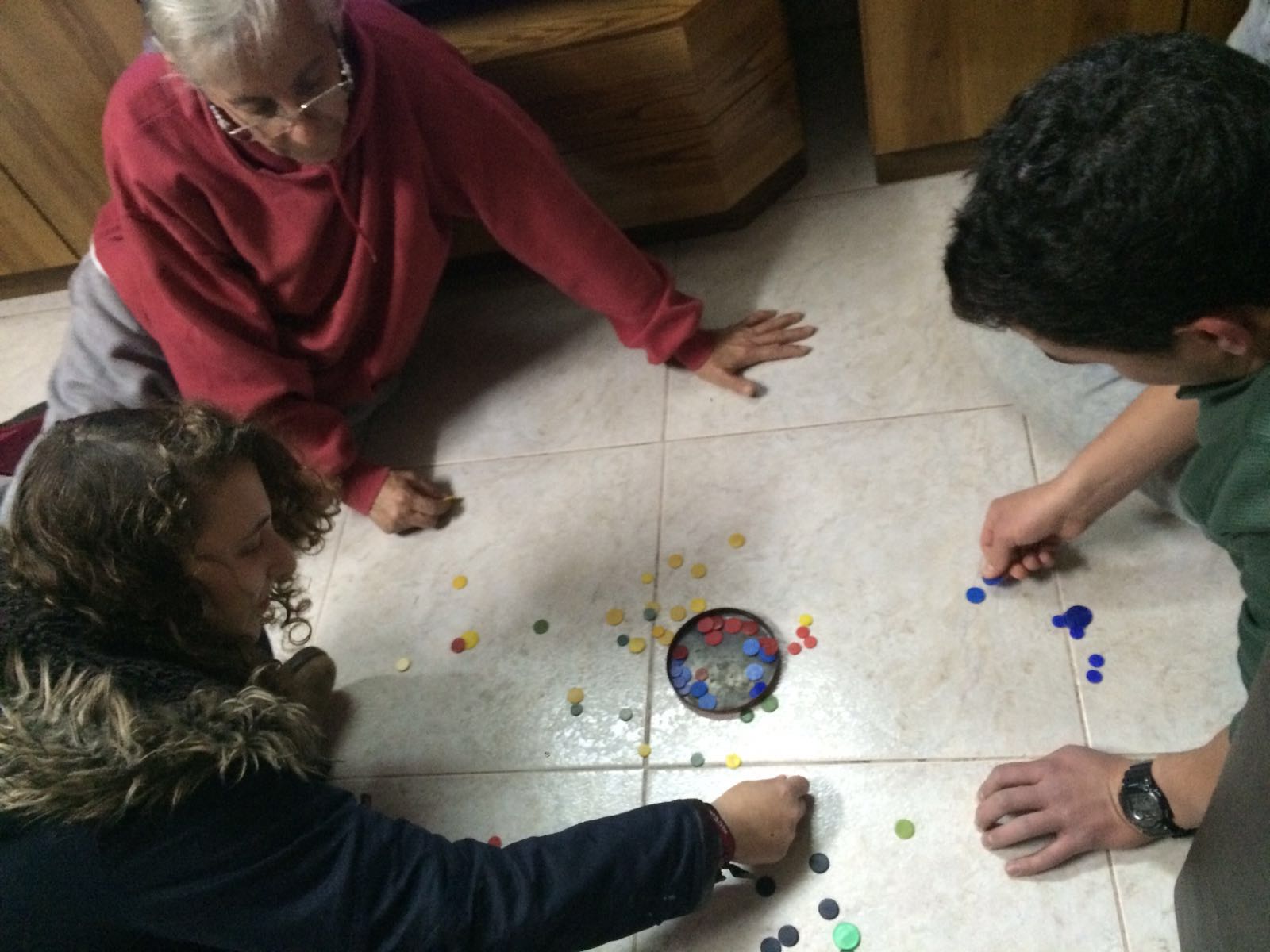 Ruth and Irit playing together

Kfar Blum and Dafna
Students from Mayan Baruch, have visited Fardi in Dafna, Fardi is a new shoa survior that the students found in Kfar Blum. He was a sport teacher in the local school and everybody knows him. Fardi came from Austria. As you can see he enjoys the company of our student volunteers who brought again kids from the school.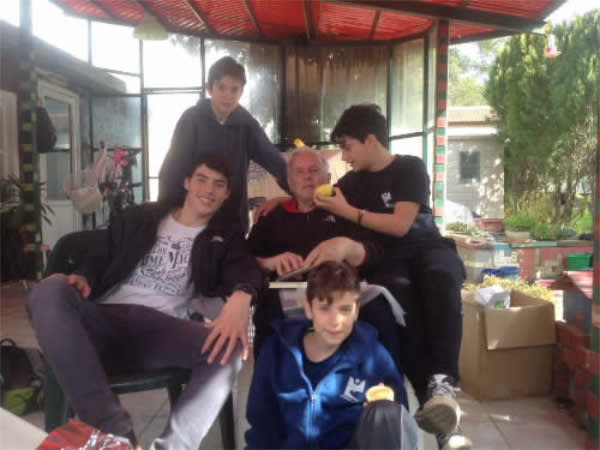 Fardi
Israel's wife is still suffering from the broken shoulder. Israel is helping her a lot. They couldn't meet the students. That was a pity, but at least' they spoke to each other on the phone.
Shir with Ohad visited Sophia: "It was really fun. We brought her cookies and flowers. She was very happy." See the picture with us driving her around in the kibbutz with her scooter.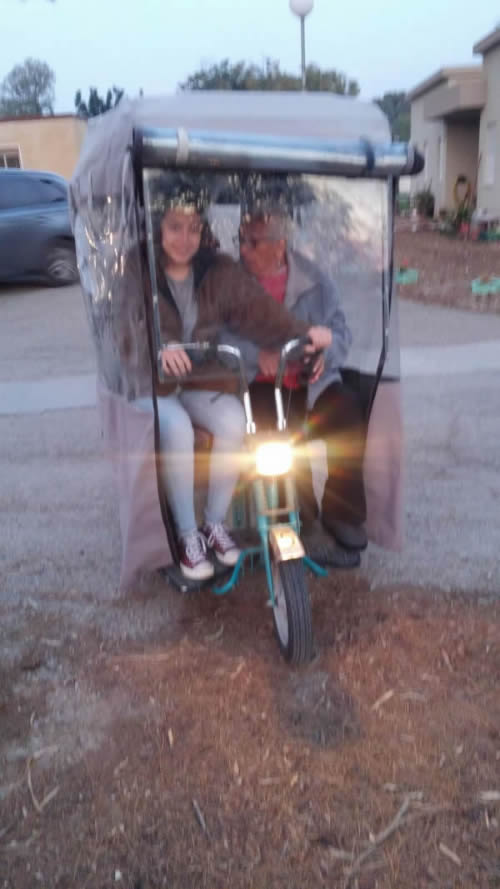 Shalom,
Timek

Pardes Channa
Our visit this Monday, were with two groups: R. Shachar with his guitar, and the girls, went to visit Chaya, who complained about her health and it seems that it's a true situation, she is getting weaker, and doesn't struggling so much. Yet, to see the smile when we come, bringing some light to her life, and it is much. From there to Aliza, who has spent the night in the hospital because of a very high blood pressure, but didn't want to miss the visit of her beloved friends. Her grand daughter, joined R.Shachar with her guitar and they both played and the girls sang with them. Aliza was very happy. From there, they went to Rachel Boaron, who already waited for them and thanked for the visit. Zvia with the other part of the group, went to visit Rachmill and took him to walk in the gardens of the place and then, Yona joined them, happy as a bird, flying, smiling, feeling so good. Mordechai wasn't feeling very well but joined them for a while. Again, we can see how much the visits means, to those lonely people. We are happy to bring this joy to them.
Rivka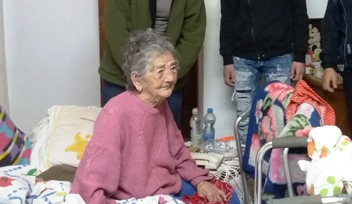 Chaya received Rabbi Shachar in her house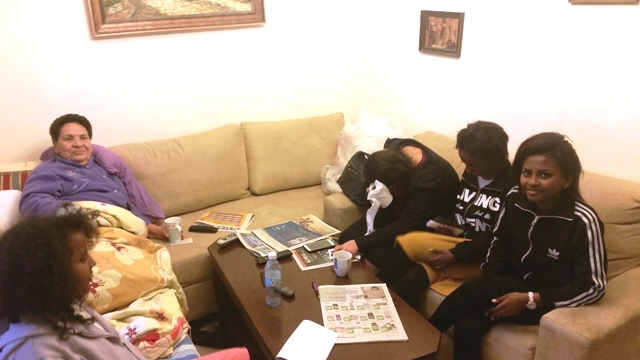 Aliza with her visitors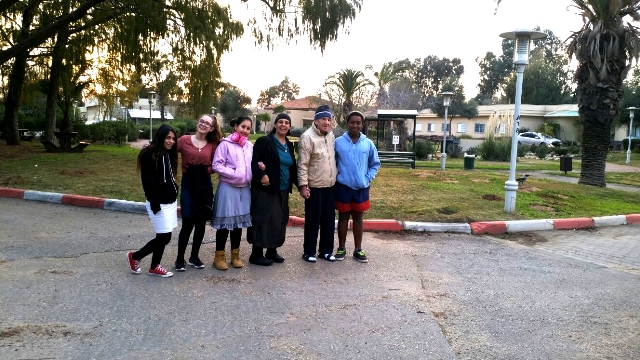 Rachmill and the girls, outside the building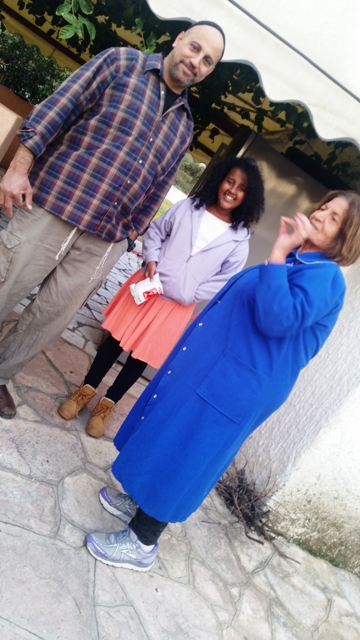 Rabbi Schachar, one of the students and Rachel Baron



MODIIN
Alon, Mai and Ofri : Last week we went to visit Janet & Jaston. She prepared for us a homemade Pizza, and it was very tasty. It feels that, in their house, there is always some good food. We did look at a video, with Jaston, greeting us and the project, and it is part of our preparation for a fundraiser eve, here in Modiin. We really love to visit them.

SHABBAT SHALOM!
Our activities to sanctify life
Our activities to sanctify life at the International Shoa day as an event with vision: T"u Bishavat the holiday of trees, and its connection to faith and safety.


Januari 21 2016, Shevat 21, 5776

These days when the weather is very cold, we celebrate here in Israel the holiday of the trees: T"u Bishvat. We'll tell about this holiday, its special character and beauty, and the connection to the human soul. As it has said in the Bible: "'The trees of the field'. The importance of this holiday is the resurrection of the renewal and the essence of life. We plant trees, renew gardens, and give new life, as part of our work for our own life on this earth. Indeed, it's so charming _ the way of rebirth of a tree which begins with a little seedling, growing slowly to be a tree. We, as humans can learn a lot from it. Of course, it is easier to celebrate Tu Bishvat with feasts, or with using an artificial planter which is not a proper reminder of the "real thing". It should have depth which we have to engrave on our hearts: they aren't a substitute to the real thing which is, taking the trouble to dig holes in any weather, planting trees, giving them water and taking care of them, having a long lasting and tight connection to the plant, because :"The human is as a tree". The trees, nature, fruits, vegetables, are wonderful, having a lovely look and are very healthy. It is important to give back the educational value to our holidays, the long lasting vision and the practiced way of planting and giving constant watering and fertilizing.
On the 27th of January, it is the international Shoah day, and as usual, will be handled many ceremonies which commemorate the past in a monotonous way without any message or strength, if we don't do anything to help them. There are many Shoah winners who live among us, and many of them are suffering from the humiliation of the lack of attention to their basic needs. This is the place to cry out loud for life, and lift up our eyes, our actions and our being, to the tree of life!
We, in Amutat "L'Chaim", took on the responsibility and have done it for eleven years, of adopting them, being with them heart to heart as fathers to their sons, and sons to their fathers especially now, on T"u Bishvat, when our charming students in the company of the Shoah winners, plant together the song of lives, which is full of "to love your friend as yourself". This blessed connection is a garden of songs with a fragrance of life, full of vision for a better world which is done with great love and endless work….
To you, our dear donors, dear friends, please, please, please, instead of visiting (only) the monotonous ceremonies (with their smell of death), come and join us in our Ceremony of Life, announcing life _ help us to adopt more Shoah winners. It is great privilege for all of us!

Daniel
Pardes Channa
Tu Bishvat , and we have started a new "garden of life", in Neve Michaeal, with Aliza , who really gave a lesson to the students, how to plant a plant. Also, another survivor named Bella, joined the planting, showing the girls how to put and plant in the right way the flower. Another important guest joined us, Sima, Yitzchak's widdow, who we remind and will remember, the artist and the great teacher, which has left many art works, and one of his art peaces, decorating the synagogue of N. Michael. The rains stopped to pour water, and we had only the cool weather which didn't stopped our plains. You can see in the pictures the sign, saying: "Garden of life", done by survivors and the students joining "L'Chaim's project .
It was most exciting event (see the pictures).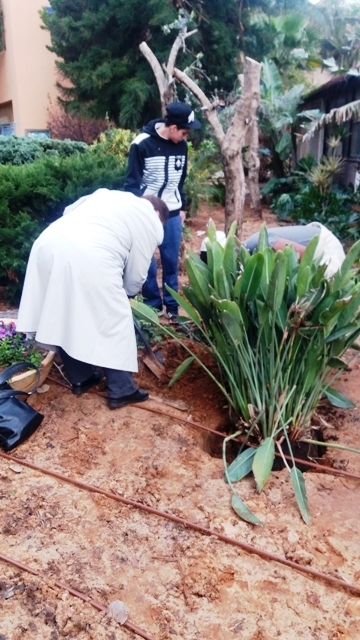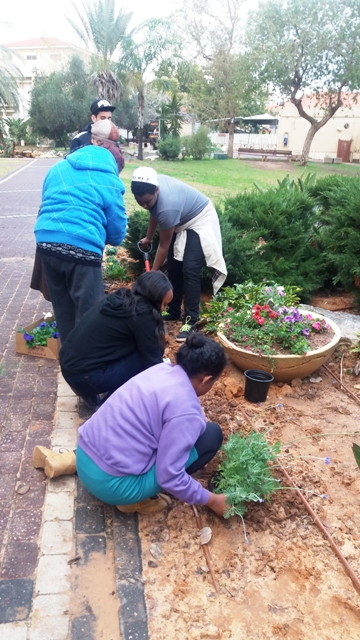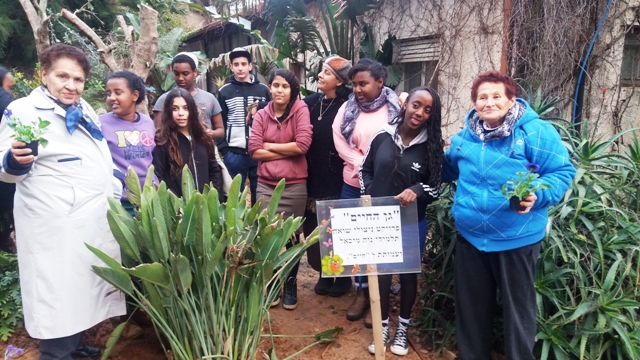 From there, with fruits and plants, we went to celebrate with the ones, who couldn't come to join our planting. We came to Chaya, with Ortal, her beloved student, with the flowers and the dry fruits, as it have to be when celebrating Tu Bishavat. This time, her daughter Zvia, and Ora, our volunteer, who come to visit her every week, joined us and she was happy then ever. We went to Rachmil, who was waiting for us. Yesterday, he fell down and we were told, that maybe he will be in his bed…. But, No! He was waiting for us nearby the door, and joined us, forgetting all his pains, expressing that he hardly believed that we will come in such weather. The girls and the boys sang holiday songs and all the people around with Yona, listened to them and were happy with us. From there, with Rachmill, all the companionship came to Mordechai, who need a breathing machine to stable his breath. Yehoshaya, was in bed, and the visit, took him out from his bed. It was a real spiritual visits, bringing the joy and sound of the holiday.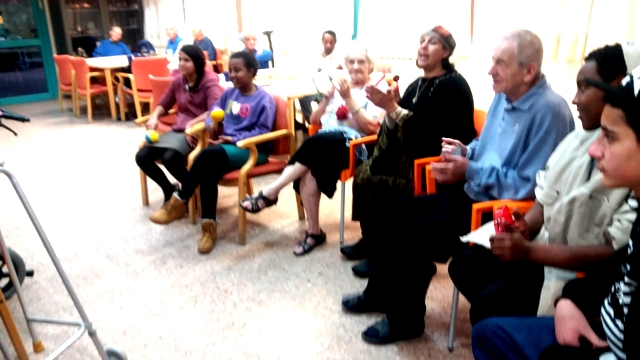 Singing together with Rachmill

Rivka

News from the North
On TuBeShvat, the Shoa survivors from K.Shmona, with the students from Mayan Baruch have planted a tree, symbolizing life and fruitfulness. As a seed of a tree, these people, with many others, have miraculously survived the horrors of the Shoa. Most of them, have lost, their whole families: fathers, mothers, sisters, brothers, aunts, uncles and more. Even thaw, they continued as orphans, lonely, and yet, has started new life, and they have succeeded! Planting a tree, is for these heroes of the Shoa, Its, very important and unforgettable thing to do. It gives them a powerful boost to live and to survive, facing all their difficulties today.
Also, for the young students, this is unforgettable. They have planted a tree with those who survived the Shoa after 70 years! There is no other and better expression, for survivor, to plant a new tree.
After we finished planting the tree, we had a happy celebration together, eating fruits of the land, singing songs, dancing and having fun together, as you see in the pictures.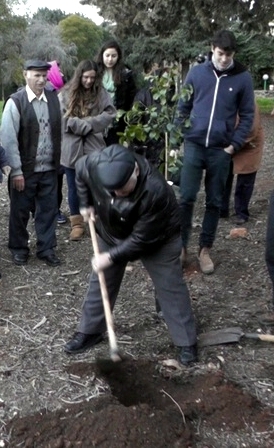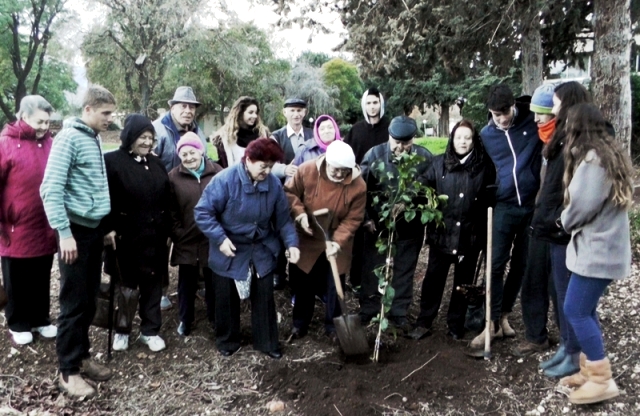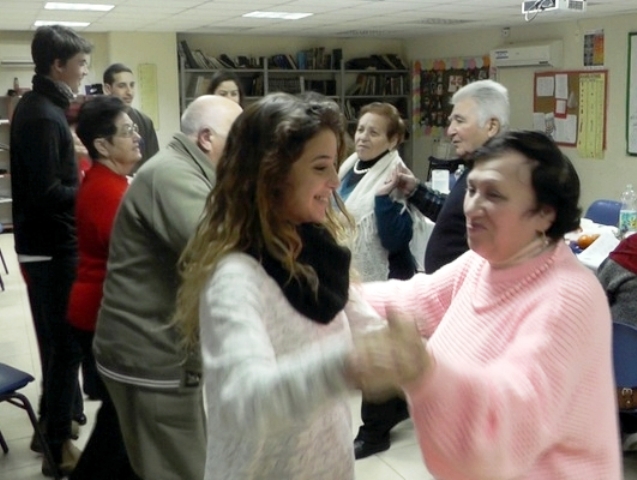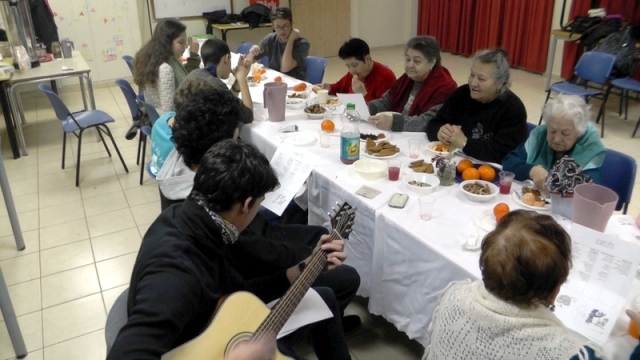 The students, has made a sign, with all the names of the survivors, on one side, and on the other side, were written the names of the students. The tree is planted in kibbutz Mayan Baruch, on the Mechina area.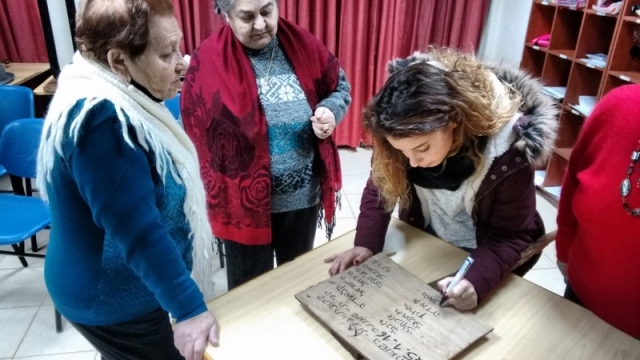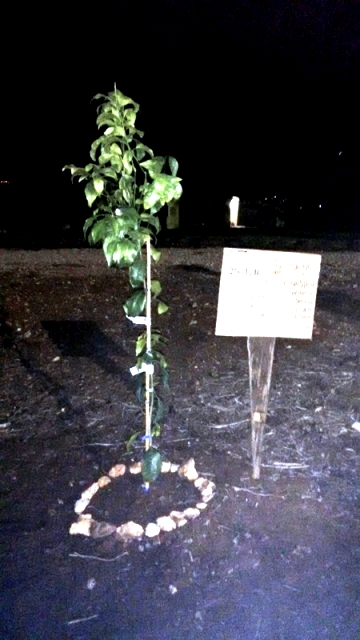 The students of Kfar Hanasi, have visited Israel and Blanka from Rosh Pina and spent also, wonderful time with them.
Shalom and regards,
Timek
MODIIN
Noa and Adi : Today, we went to visit Shulamit and Chanan. This time, Chanan seemed to be much better then before. Both of them told us about the Independence war (we just studied about it at school). We warmed up with cup of tea and a tasty cake, and listened what's new in their life, and were happy to hear that Chanan is going to write a book with collection of his articles since he was young.
Moria and Tair: This week we met Svetlana and Dimitri, who joined us after a while, that we didn't meet him. Svetlana was ready to go to the event of the opening Chabad House in Modiin. She told us about Chabad abroad, and how much she love Israel. It was interesting and again, we enjoyed our visit so much .

These are the exciting events which connected old and young to the land, our land, where we belong, and the only place for us as Israelis and Jews as well.
Have a good and quiet Shabbat.

Rivka

Thanks for the good feelings we earn in our work
January 20, 2015, Sjewat 10, 5776
Dear friends!
Next week, we are going to celebrate Too Bishvat, the holiday of the trees, the holiday of life!
And here I want to say some words to our active partners in the project of Amutat "L'Chaim", which is planting and plant life in many hearts, already 11 years.
First and above all, Huge thanks to the Almighty, who choose us to be his messengers to revive many souls, cheer them and straighten them up, waking their G_d's image, the glory of their humanity which is in each of us. I am full of thanks, every day to the Almighty, who streams His goodness, sowing and waking the best desire, to the complicate reality, we are living on, these days.
Here is the place to give our deep thanks to many people who support directly as a life mission.
First, to our very best friend: Lammie Lassche, the head of "L 'Chaim" in Holland. This special women, without any experience before, from her 70 years of her life, having an amazing strength given by the Almighty, has built a beautiful organization in Holland as a full partner for years in "L 'Chaim" project, with loyalty to our vision without any comparisons, daily along those years. It's a Huge blessing we have won. Thank you Lammie!
Huge thanks to the wonderful people you have with you: Marian & Arie, Jun & Henny, Maria, Yenei, and dear Margo from the South, and many more who help in the store, and more people who spread the light in this lighten project.
Many thanks for Kees from "Soresh" from Holland, for long last great contribution for Amutat "L 'Chaim".
To Peter and his friends, from "Bait Emuna", for their wonderful contribution in the South.
Big thanks for those who contribute each month and understand the vision of this project:
Our friends in Norway: Solvay, Hans, Anna, Jorild, and of course Signe & Hod, for the special love they have to Israel and to "L 'Chaim". Many thanks, to the Norwegian donors, who donate already many years, giving us ability to spread the light, to the hearts of many people.
Special thanks to a very dear lady: Merry Ong, from Singapore, kind heart, who love Israel.
To Maxin & Bill, from Australia, who are going along giving help in the language, and their love for Israel. To Jozef from Sweden, and good friends from America. To all of our donors around the world.
Now, thanks for our active people in Israel:
To my dear partner , Shuki, who is doing his job in a great love and modesty, directing charmingly the money of our Amuta , which helped so many people and Shoa winners, along the years. Many thanks Shuki!
To R' Shachar, his name is as he is: light of dawn! For such long years of bringing songs and light, directly to the people's hearts, giving vitality and strength, week after week. Thank you Shachar of light!
Huge thanks for Timek, quiet men, who gives light from his eyes and his heart to the students and survivors from the North, doing it with dedication, week after week.
Huge thanks to the students who recruit their mental strength and with dedication, love and loyalty, come to visit survivors, giving light with a lot of mercy. Thank you dear students!
Many thanks to Shir, young women that the project has touched her heart and even being under tough schedule, and her service in the army, she has built a branch in Modiin.
Many thanks to Efrat, in Beer Sheva on the south, doing tenderly and delicately work there.
Many thanks to Rivka, who can stand all my caprice as an aimed in his target, also, coordinating our branch in P. Chana.
Special thanks to the students from Neve Michael , Zvia and Shiri who bring all the light to our survivors. The last and dear as well: Bruno and Gro Weneski, Thank you for your contribution.
Again, it's the place to thank to the Almighty , who gives us to have new song. The concept of needy have relocated, instead, come the heart connection , encouraging and strengthening empowerment and values. This is the essence of our project. It is the chance, to bring some logic to this materialistic world, and the most important thing is our consistency, and the length of this work.
Let's hope that Hashem will bless us to be able to bring for many more years light to Israel and the whole world!
From me, Daniel, who love sincerely, the people of Israel, the land of Israel, the G_d of Israel and the Torah of Israel and the whole world.

Hallelujah, Hallelujah, Hallelujah!
Daniel
P.S. You can read here, two stories from our friends in the south of Holland, which show, how it can be done with some creativity, with good intentions, and above all, with faith, loving humans and Israel. Well done, dear friends!

SOUTH OF HOLLAND
Recently, there was an old lady, who live in an elderly home in the north of Holland. She thought, "what can I do to help L'Chaimtolife?" She is good in baking cakes/cookies, so, she baked a lot of them in her small kitchen at her apartment. Everyone smelled the good fragrance, and came to visit her. She sold the little cookies to many people, because she is a very good baker. And now, she gave the results to L'Chaimtolife: (about 240 euro…).
If you can not give, you can maybe make something or bake or cook like this old lady???
Everyone has got a talent from G'd….
There is a man, who told us that he always save money and put it on an account. Recently, he discovered that the amount, within 5 years, were doubled!! What he normally saved in 10 years,now he saved in 5 years. And he could only understand and conclude, that it has to do with his love and giving to the Jewish people, to the land of Israel!!! The more he gives the more he receives.
Actually that is a promise what G'd gives us in the Tenach.
Just think about it and pray what you can do to support L'Chaimtolife.
We really need more people who want to be connected with their heart, put it in action to help now. Margo.

News from the North

Katzarin

This week, I went with the students from Kfar Hanasi to Katzrin. We brought happiness and joy to the houses of lonely survivors. It was a cold and stormy day. The students visited Shaul, Etja and Jafim.
I visited Tsila and Leonid, and we also visited Shlomo. Ela had an appointment with her doctor in Kiryat Shmona. Everyone received a good package of fresh vegetables and fruits. Shaul told Yam and Ayal, about his three children. He does not have any contact with them. He misses them and feels really very lonely. He rejoices every time, when we come to visit him. Etja loves the students. She told Eden and Noam about her childhood, about politics and about her children and grandchildren.
Yael and Tom visited Jafim. Jafim had a friend, who came over, and that was very nice for him, because Jafim has nobody around. His son, moved to Russia to earn some more money. Shlomo was depressed when we came. His wife is struggling with her health quite a long time and Shlomo is stressed about it and then he also doesn't feel well. Our visit brought joy back. Slowly slowly a big smile shined up on his face when he told us his life stories when he was a soldier in the early years in Israel.



Timek and Shlomo

Below what the students wrote from other visits that afternoon:

Regards,
Timek

Genosar
Hila: Ran, Dani and I went to Moshe. As always, we discussed the passing week. we really had, a wonderful afternoon. Around 6 pm, we went to Mika, and we had a great time with her.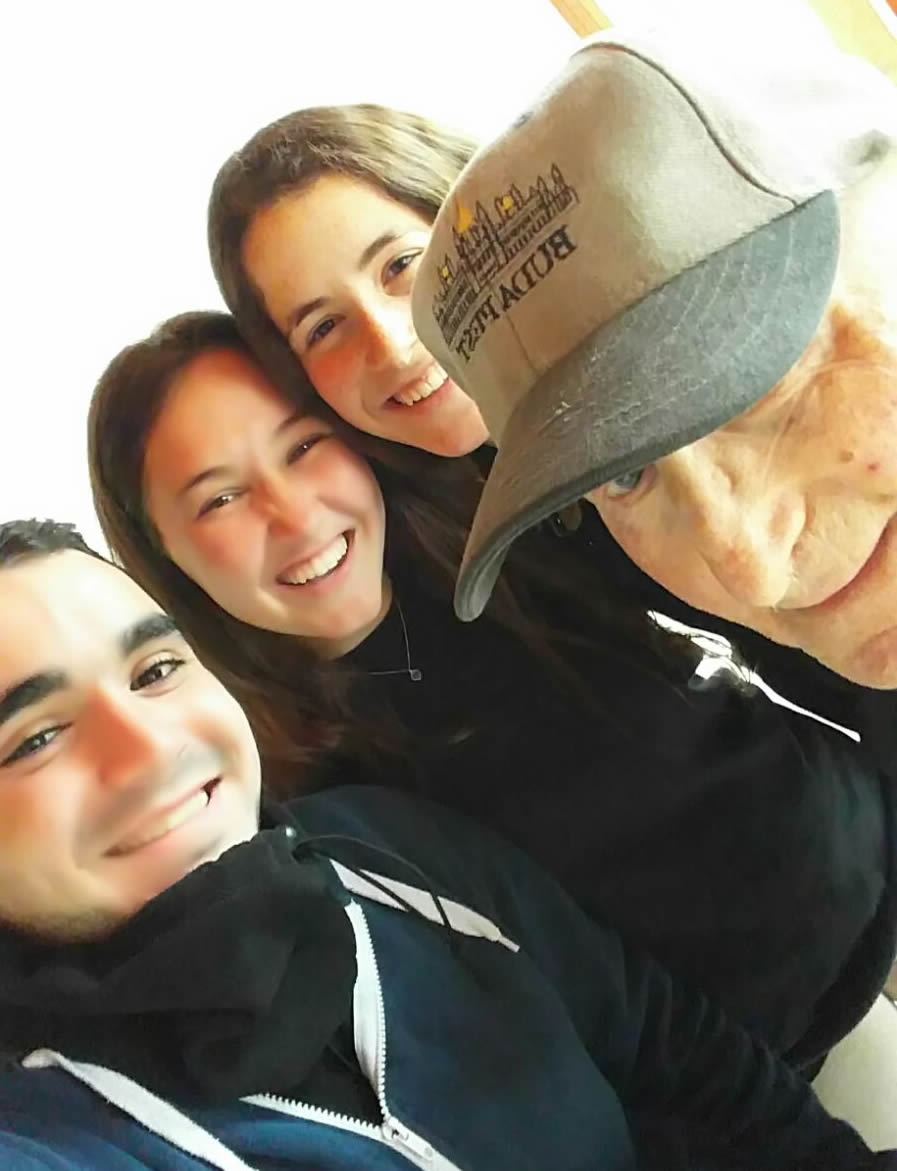 Moshe
Noam:
Ofek and I, had a great chat with Zachi as always, we drank tea and ate cake. We talked about Nepal and about the recognition she got in the Genosar magazine .

Dana: We also had a lot of fun with Eliram and played rummicub with his wife Irit.
Noam: Today, we had a wonderful talk over a cup of tea with Batia, we went trough her old albums and she showed us her witch collection . It was nice afternoon.
Jonathan: Me and Daniel, did yard work for Ruth and then, we joined Karin and Attalia and played board games with Ruth
Aharoni: Yuval and I did some yard work with Avraham. We had a great time. He also told us about his son's working places.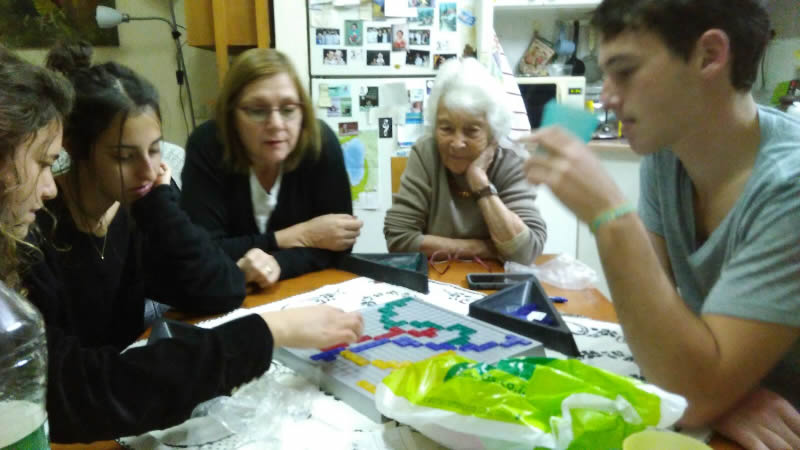 Dafna and Kfar Blum
Asaf: Visiting Menashe is always special. We talked about his childhood. How he was beaten by the Nazi's.
Ofir: Me and Asaf had a great time today, with Israel and Tzafra. They were very nice and it was interesting talking to them. Few weeks ago, Tzafra hurted her arm, and she is still in pains, but feels better.
Rom: Visiting Simcha was great. We had very good time with her.
Pardes Chana
Monday afternoon, and we are gathering in the gates of Neve Micheal, all of us: R' Shachar our charming and dedicate partner, he, and his Guitar, from Moshave Keshet in the Golan Heights, Zvia, Shiri, The boys and the girls, and me, the one who write and collect all what's happen, trying to share with you, our events. We were divided to a little groups and went to visit our survivors , who wait for us happily. This time, Shiri, Shir and the boys, came with me to visit Chaya. She was sitting on her bed, and told us that she falls down very often and her very thin body is covered with browses and her head as well. Morris, sends hello from his bed, covered under his blanket. Zvia, their daughter, said that we are the only ones who care and come to visit them, and how the supplies, help them to eat more properly. From there, we joined the big group which was sitting in a circle with Rachmill and Yona, Both of them, so proud and happy for the event. R' Shachar, played on his guitar, and the residence in the house, enjoying from all the fresh and nice singing of the youngsters. It was kind of rehearsal, for the future "March for life" we are preparing at the beginning of March. From there, they went to visit Mordechai, who was also, happy to see them, joining their singing. My little group continued to Aliza, who accepted us with kisses and Huges. We spoke with her and listened to her stories, and were happy being with her. Again, we finished our visit with good feelings, bringing so much happiness to those who need it so much, thanks to "L 'Chaim" who support and make it possible.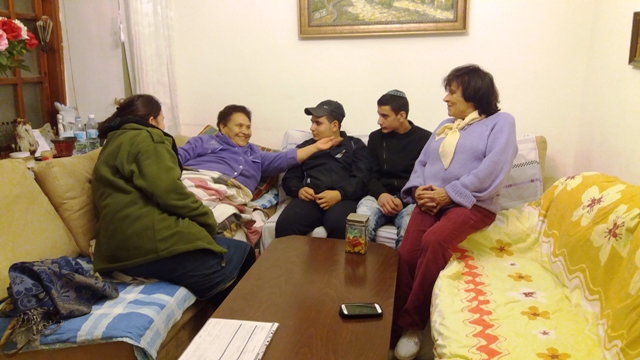 Aliza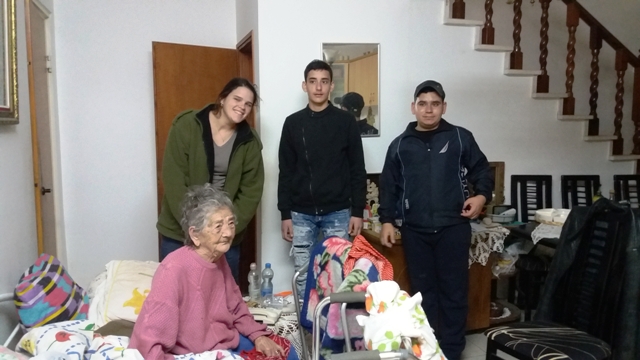 Chaya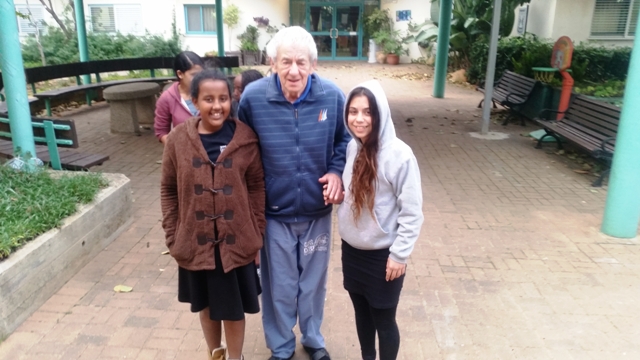 Rachmill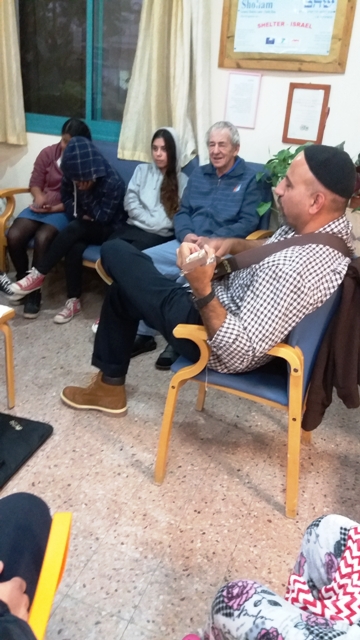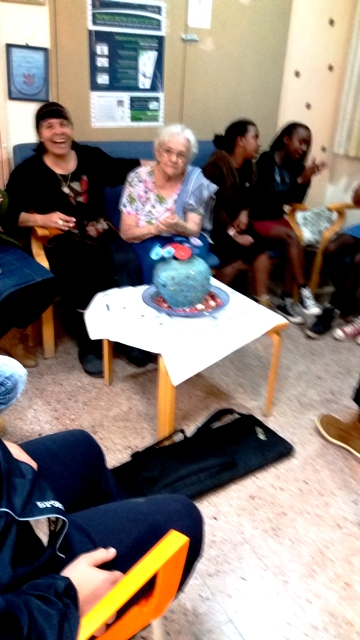 Yona
Rivka

Modiin
Arbel and Shir: 17/1 , we came to visit Svetlana & Dimitri. She told us about problems she has to solve, and about her week, and how she has passed it. We saw her grandson Dani dancing. As always, it was very good to visit and see them.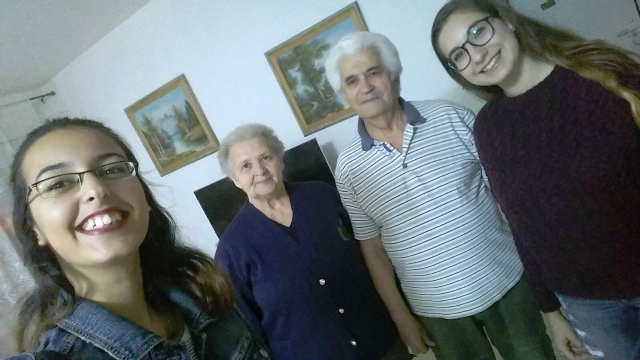 Shabbat Shalom!
Newsletter from January 15, 2016, Sjewat 5, 5776

The North of Israel, this week
Kiryat Shmona
This week, we visited Rachel. Shir, Shiraz and Juli, from Mayan Baruch. Rachel waited for us with a cake she has made. Baking is her hobby and it gives her pleasure. She doesn't have any connections outside her house, besides her children, who live, quite far away.
So' our visit, is a sweet change. We talked about her childhood in the ghetto and about Ilja, her husband who has passed away few years ago. We talked about their aliyah and a lot more.

I have visited Ida with Klara. Her feats are not good. She hardly can move from her chair. Her daughter from Haifa, is staying with her to help. Unfortunately, she develops the same decease as Ida, and she is very unhappy about it. She is isolated and every visit is a relief. Many times, she doesn't have energy to receive people. She can't join us when we have celebrations with the students.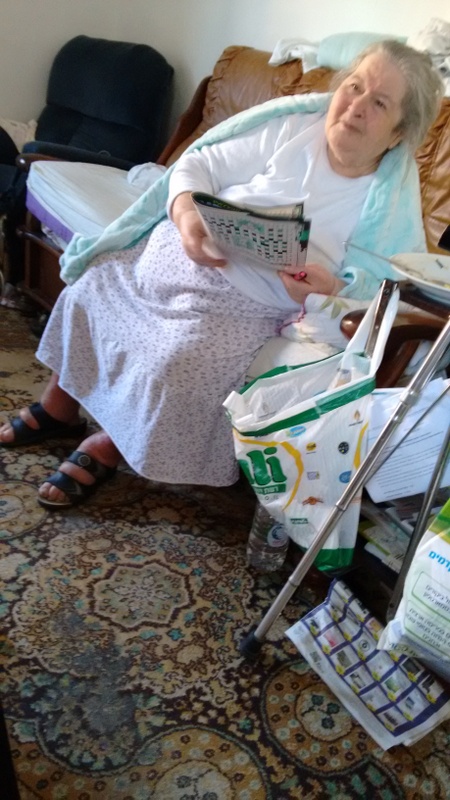 Ida

Kibbutz Kfar Blum
Asaf and Rom visit Mordechai every week. This time, they took three school boys from the class where they help these children during the morning. This was a great surprise for Mordechai. He doesn't have his own children and he enjoyed so much and asked Rom to take a picture with them.. He showed the number on his arm from the Nazi camp in Ukraine. This was very impressive for the boys. They never met anybody before, with a number on the arm, made by the cruel Nazis .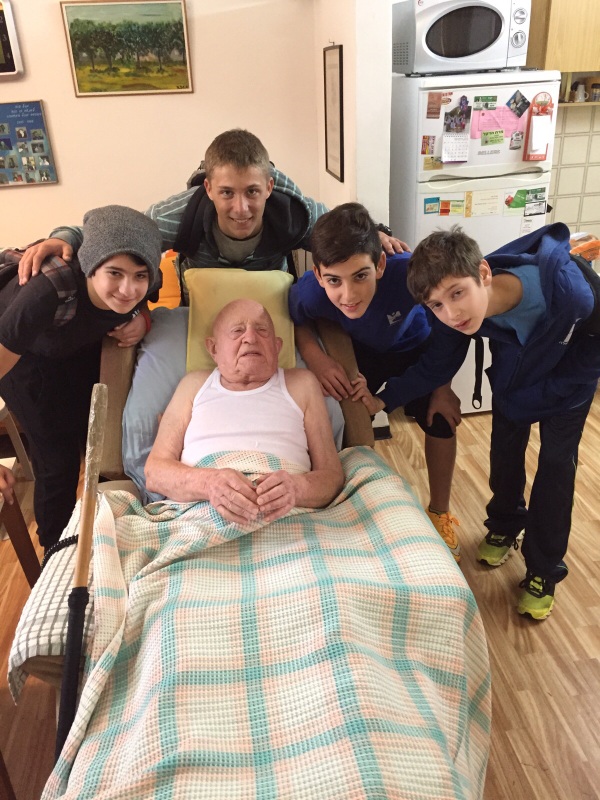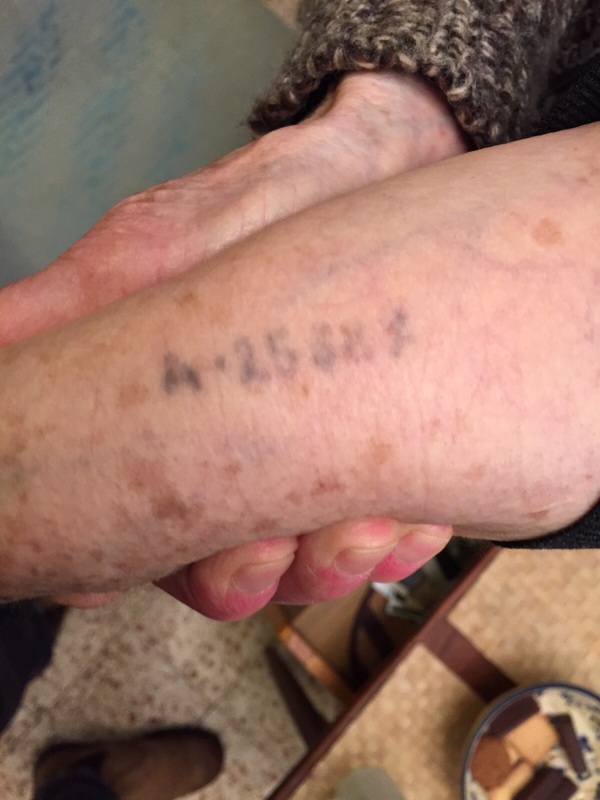 Menashe with the boys, showing his arm with his number on it to the boys.

Kibbutz Neot
Asaf and Ofir went to the house of Steve. Steve were saved because he was sent on the Kinder transport to England. After the war, he moved to Israel and became a soldier. He was the best sniper in whole Israel at those times. The students listened to his life story with a great interest.
Shir, Shiraz and Juli
went to Rachel. It is already, great friendship. Rachel loves the girls and other students too, enjoying them so much. She would love to have us, every week.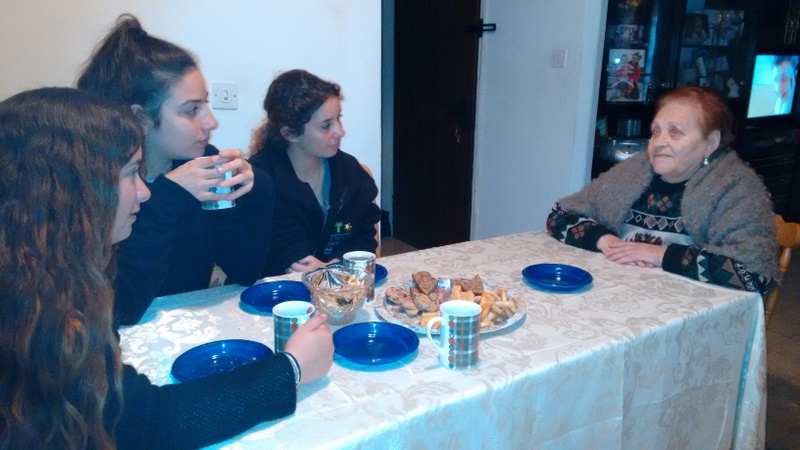 Rachel
Me, Rom and Omer, have visited Idi. It was incredible to hear the very details of Idi's life during the WW2. She was taken to Auschwitz to a workingcamp in Germany. It was half a year before the war ended. She and her other sister, has survived. Their parents and two other little sisters and little brother, disappeared and she never saw them again. That is all she can remember from her family.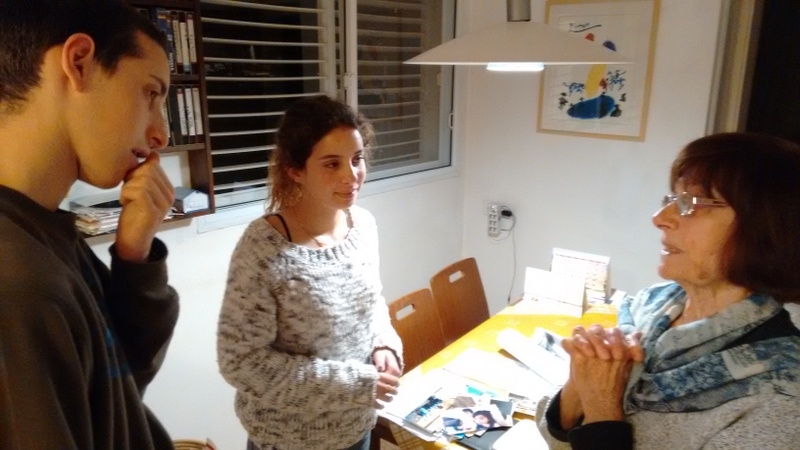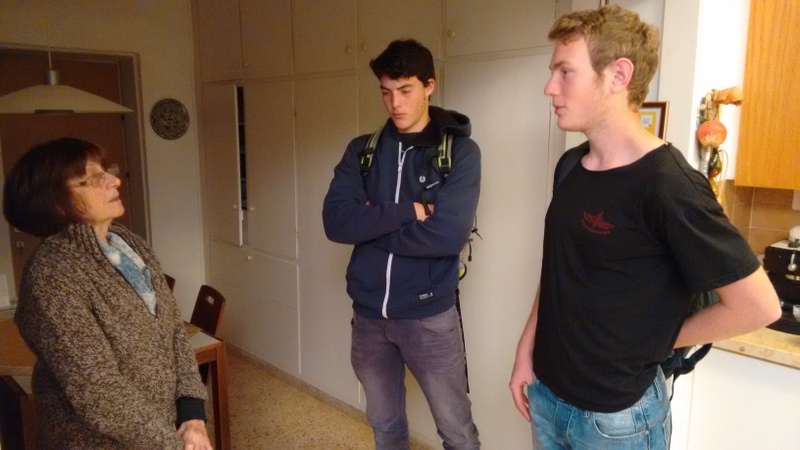 Idi with Rom and Omer
Rosh Pina
Yam and Eden, from Kfar Hanasi, came to visit Blanka. It was her birthday, 89 or 90, (she doesn't remember..). They celebrated together. Yam: "Blanka was so happy with our visit. We love to visit her. She is so close to me that I feel as she is my grandma."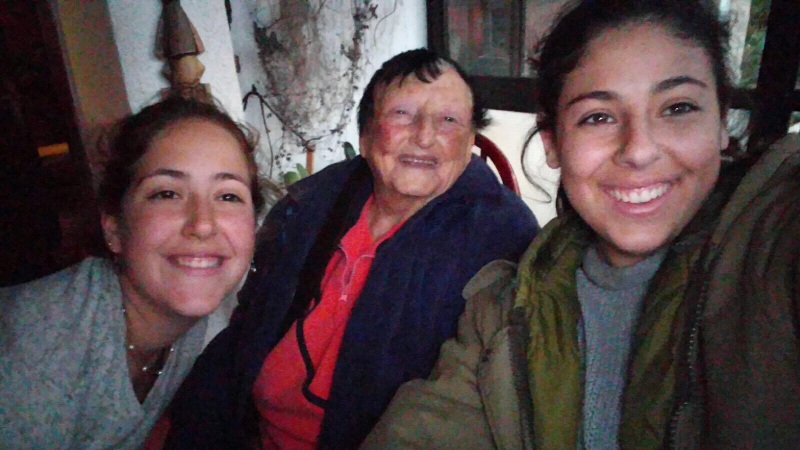 Blanka

Tom and Ayal visited Israel. He also had his birthday. He became 92 years old. The students brought a cake, and celebrated his birthday with him. They really enjoyed it.


Kibbutz Genosar
The students from Meitsar, have visited the survivors in Genosar..
Eli_Ram, Ruth, Zelma, Batia, Mojshe, Avraham, Zachi. All of them have spent a quality time with them. The students prepare a show for them about their lives in the Mechina. They hope to be ready with this, for Tu_b'Shvat (In another couple of weeks).
Greetings form the north of Israel,
Timek

Pardes Channa
THURSDAY, Zvia with 3 boys and two girls from Neve Michael, came to Rachmill who was not in his best mood this time but they took him outside to visit his friends in the other house and met Yehosiyahu and Mordechai. Yonna joined them also, and as you can see they danced and were very happy carrying other survivors with them. When I spoke about Rachmill I heard that he didn't want to eat any soup (from last week) but the one which the girls brought him. Also, when he knows that we are going to come, he is a different person, and waits for us with enthusiasm. The students from Neve Mechael love to come and visit the survivors. You can see each week, more students joining the project.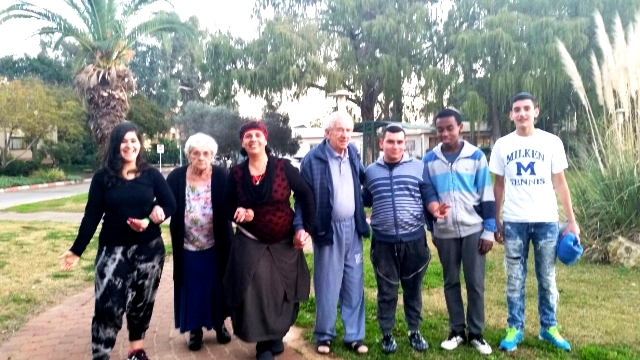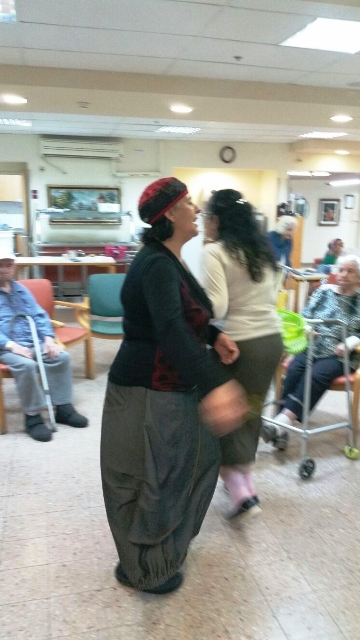 Left: Jona and Rachmill with the group and Zvia in de garden. Rechts: Rivka and one of the students, dancing.

Special greetings to R' Shachar for his Birthday, from all of us, survivors, volunteers, here in Pardes Channa, and "L'Chaim's" family as well.

Rivka

Modiin
Alon, Ofri and Mai: Yesterday we went to visit Janet and Jaston. Jaston didn't feel very good' and yet, he told us about his childhood and here is his story: He has born in the Capitol of Tunisia (Tunis). When he was 13 years old, the Nazis' came to Tunis, and their life, became really hard. His brothers were sent to work in the workingcamps and their conditions were really very bad. Those, who refused to work, were executed. The British forces were bombing by their air forces and Jaston remember how they had to dig tunnels in the cemetery to have a hiding place along the bombing times. Another half a year and the Germans withdrew their forces from the city, and everyone was cheering up (Jaston's father thought that it is not real and it's kind of experiment, done by the Germans). When Israel was established many families have decided to leave and go to Israel. Most of the people from Tunisia, had to go first to France, and his family had to stay for one year before they could go to Israel by a ship that brought them after 5 days of sailing to Haifa. Jaston has started a business for shoes. Then, he met Janet and they got married and live happily as a couple for many years… This is his story. Janet came back from a one day trip, and told us about her experience. Roi their worker, made for all of us, a good tea, and we spoke happily together. For us, it was so good to see this wonderful couple again.

Tair and Moria: Today (Wednesday) Svetlana received us without Dimitri, because he didn't feel very well. We realized that their health problems are not easy to handle, and how strong she is and yet, she keeps patient and strong, even if it isn't so easy. We enjoy to meet them and each time is special for us.


And the South

Efrat, The new mother, returning back to us and here is her report (after giving birth to her daughter only month ago):
On Thursday, I went to visit Otto, who was very happy to see me, and was very excited seeing me after giving a birth. We spoke about many things and it was very pleasant. Yet, he is mad about the public company (Amidar) for not giving him a house on the ground, saying that this is a big fault. Also complained, that only us, taking care about him and do something for him. The rest of the organizations, don't help at all.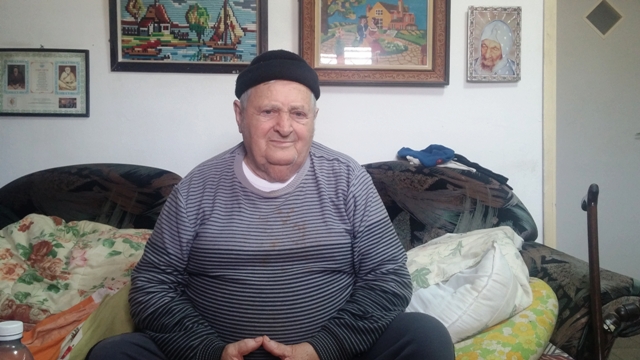 Otto
Yesterday, I went to visit Roza. She don't remember very well but she is so sweet and pleasant, and very happy for my visit. I told her that the mayore of Beer Sheva published in his Face_book about his meeting with her for her birthday (101 years old!!!), this she remembered and told me how excited she was meeting him and having his greetings. I checked if she have all she need for the cold weather, and we played Remmi. I brought her a home made chicken soup, and she was very grateful for that. (see the picture below) Efrat.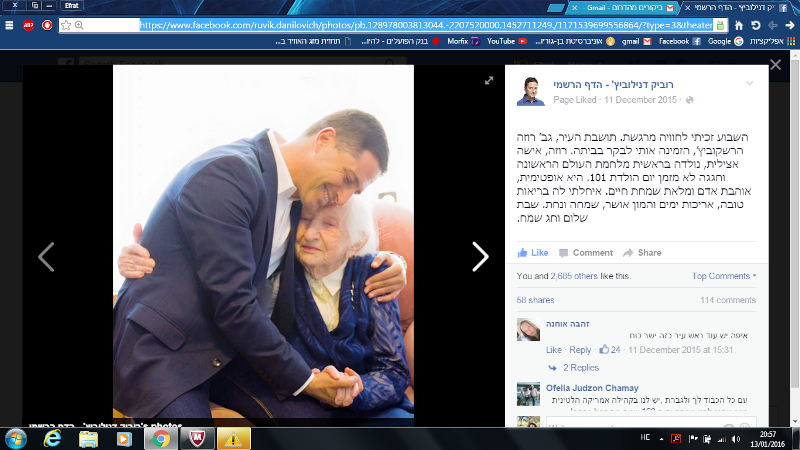 Roza

Timrat
Last Friday, when the rains was dropping, we surprised Tamar & Gad, bringing them Chalot and rolls for the holly Shabbat. They were surprised and set with us asking questions about the praying book (Siddur), and we tried to answer as best as we could. He thanked us so much for our visit and said that Hashem has sent us to him….We also, felt so privileged to do this Mitzva, going back to prepare ourselves to the Holy Shabbat.

The Yeshiva students from Nachalat Itzchak.

This is our news for this week.
Shabbat Shalom!

Rivka

About indifference, its reasons, and how to be rid from it
Januari 7, 2016, Tewet 26, 5776

Dear friends!
There is an important point for our attention: the feeling of being tired, indifference, and it is in the human soul, all around the globe. What is the reason for it?
The reason is that humanity consumes itself by infinite pursuit after materialism and all that serves it, and the media as well. It comes to the point that the human mind is exploding with information and doesn't stand up to the burden. The fatigue stems from the fact that the soul doesn't get proper food which is supposed to fill her with vitality and strength. As we all know, materialism is limited and its aim is to exhaust, but addictive and tragic, because people can't stop the crazy running from nowhere to nowhere, so, it has created unbalanced attention for some parts of our body and the neglected parts can't use the enormous potential inherent in every human soul. This monotony around which the entire world revolves, denigrates man and soul. The human being gets tired, restless, without any vision. It equates to a feeling of dryness, a desert… In Amutat "L 'Chaim", we bring to active people, a wonderful food for the soul which has a name: Human action! Heartfull, spiritual, which fills up the hearts of those who are doing it with enthusiasm and satisfaction. It isn't easy to keep such energy and motivation now_days, when it's dark, and the indifference is everywhere and in every corner. Only a few understand the present need, and our ability to cheer up, and move towards G_d's horizons of freshness and vitality.
Yesterday, we had a special event, bringing human warmth to the hearts of Shoah winners, and touching the youngster's hearts. We brought warm homemade soup to each house, and with that, the students were full of light, creativity and that was much more significant than the soup itself. Try to imagine, our sick, old and tired survivors without any energy, especially not able to prepare good soup. Suddenly, those youngsters appear as angels of light in their homes, with full hands of hot soup with a big smile, love and joy, having the privilege to spread that light to those wonderful hearts.
Dear friends! This project, keeps bringing happiness, awakens and brings a different spirit, in the light of the general low spirit around, with endless terror, corruption, and squawking melodies which degrade the privilege of our existence on Earth. Our active volunteers, bring a lot of light which demand a lot of energy and a long lasting vision, which we keep bestowing on those youngsters weekly, already for 11 years!!!
Again I ask: there are many Shoah winners whom we can adopt and warm up their hearts and houses. We are a very little organization, with a Hugee will to lead this light, which can bring so much happiness. In the name of the love of the G_d of Israel, the Israeli people, the land of Israel and the whole world, I bless you all our friends, and ask again to try and add more supporters to "L 'Chaim"s family, by continuing to act with happiness, and giving vitality to the soul which is what it needs : The glory of humanity !
May Hashem will watch us and this blessed energy,
Daniel
Pardes Chana
Today (Monday), our visit was in the mood of bringing warmth to lonely hearts. Zvia and the girls from Neve Michael, have brought warm soup, to each of our survivors. The last few days were very cold and on the mountains was even snow (in the north of Golan Heights).It was accepted with great surprise and gratitude. Even our Zipora, opened the door to R.Shacahr and the girls, and could speak a while with them. As usual, she stands near by the door, but doesn't invite us inside her house. Today it was different; she was more willing to be with her visitors. Rachel Boaron had today a Cataract operation in one of her eyes and again we couldn't meet them. Chaya was very happy to see them, and R.Shacahr played on his guitar for her. Morris, was sick and couldn't join his beloved friend (R.Shacahr). Chaya most of the time in bed, and it is hard to take her away from there. Only Ora, if she comes before the sun goes down, can convince her to go for a while out from her bed, and even outside. She was grateful for the soup.
From there, they went to visit Aliza , who was very happy to see and speak with them. Zvia and Shiri went with the other group to meet and take out Rachmil from his place. And, he was waiting for them very excited, ready to go out and go with them to see other people. It seems to us that,joining us, gave him a lot of energy and a better mood. He looks better and as he said that he finally, accepted where he stays and try to enjoy as much as he can. They went to meet Mordechai, and Yona, the new survivor and all of them really enjoyed being together. She showed her room and pictures to us and also excitedly told the people around her about us. The soup will be warmed and it will remain in their stomach as a warm memory of our love to them… Shiri write:" Today it was so much fun to take Rachmil, meeting Mordecahi and Yona. The girls feel the joy they bring to the survivors, giving them strength to go on…".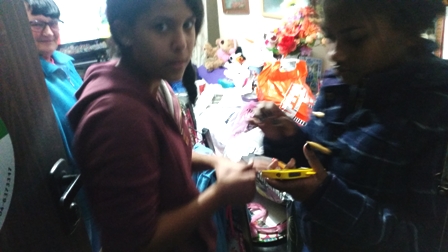 Zippora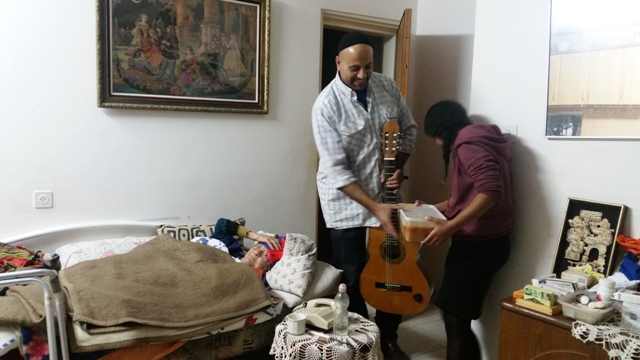 Chaya (hearing some noise en smelling the nice soup; wondering what is happening behind her pillow? : ) ) What a wonderfull smile on her face!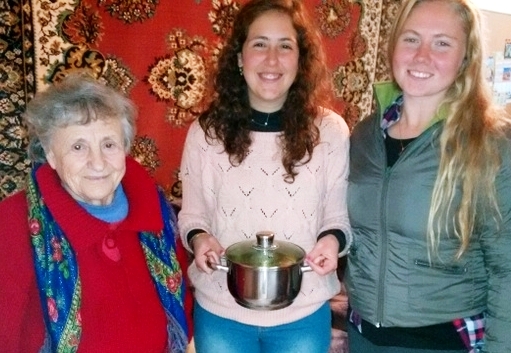 Etja, Yam and a new student working with us.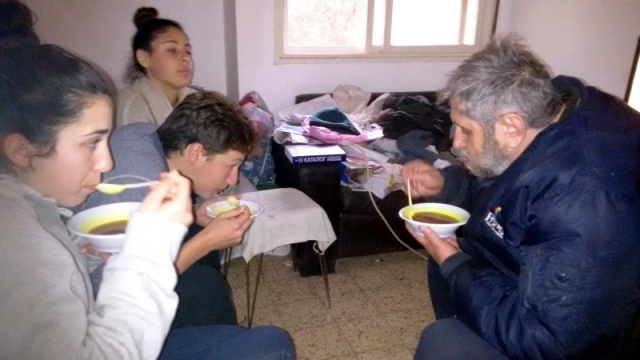 Jafim, enjoying the soup.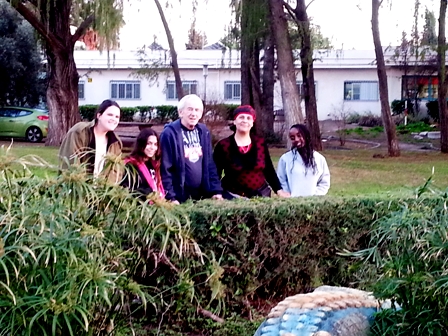 Rachmill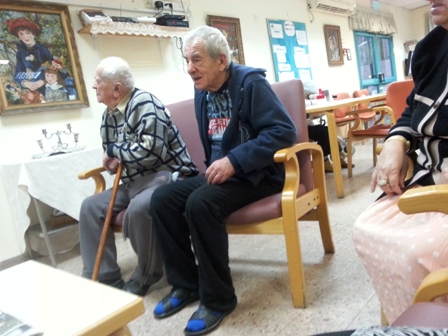 Rachmill and Mordechai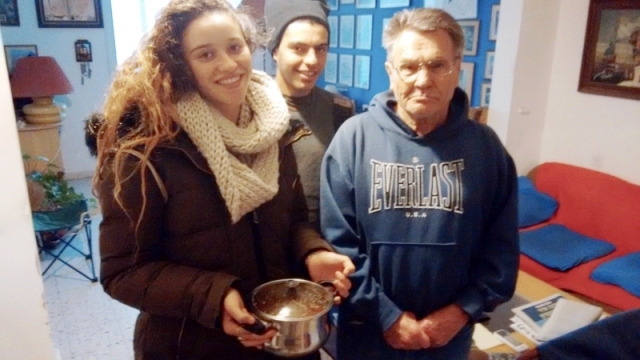 Shaul with the students Yael and Ayal
From there, they went to visit Aliza , who was very happy to see and speak with them. Zvia and Shiri went with the other group to meet and take out Rachmil from his place. And, he was waiting for them very excited, ready to go out and go with them to see other people. It seems to us that,joining us, gave him a lot of energy and a better mood. He looks better and as he said that he finally, accepted where he stays and try to enjoy as much as he can. They went to meet Mordechai, and Yona, the new survivor and all of them really enjoyed being together. She showed her room and pictures to us and also excitedly told the people around her about us. The soup will be warmed and it will remain in their stomach as a warm memory of our love to them… Shiri write:" Today it was so much fun to take Rachmil, meeting Mordecahi and Yona. The girls feel the joy they bring to the survivors, giving them strength to go on…".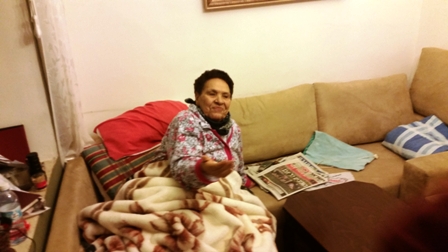 Aliza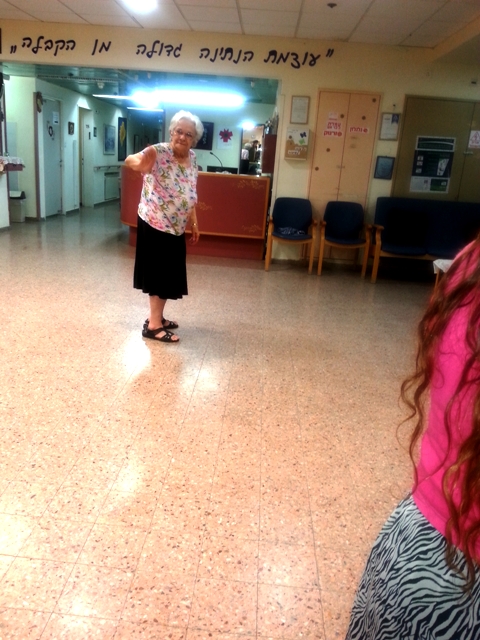 A happy Yona
Rivka

News from the North
Katzrin:
This week, I brought with the students from Kfar Hanasi a home made vegetable soup, "The Dutch Fantasy Soup", to the survivors in Katzrin. The receipt came from my dear wife, and I made it all by my self. My first one!!! The soup was received well and consumed with a great pleasure by survivors and students. It was one of another cold day, we have this winter in Israel. Enjoy the pictures.
Genosar:
Each visit to Avraham, by Yuval and Aharoni, start first, with work in his garden, helping Avraham to make his yard niceer, and then, they talk, This time, about his uncle and his childhood.
Ofek brought a CD compilation to Tzachi (as she promised last week) with old Israeli songs she has found on the YouTube. Tzachi loves to listen to the music and she sings those songs while she listen to them. It brings her back to a good memories.
As usual, Eli_Ram is waiting the students with great joy, and can hardly wait until they will arrive. You can see on the picture how happy Eli_Ram is. Then he talks a lot and tell many jokes. The students, help him to resolve problems on his computer.
Shalom, thanks ad regards from the northern part of Israel,
Timek
Modiin
Despite the cold and the rains that had the last weekend I came to visit Svetland & Dimitri. So much warmth was there. We spoke about the situation in the country, and it caused sweet Svetlana to cry. I told her that she is a real Zionist and she was happy to study a new word and what does it means. I helped her with some things in the computer and she told us about Dimitri's sister, who has passed away, not long ago. And we saw some videos with her family at some periods of their lives. We also saw a video how her daughter was awarded as the best worker and Svetlana was so proud to show it. It is so warm to know that there are so many good things in this country and in the world even with these days full of terror.
Shir and Arbel

GOOD AND PEACEFUL SHABBAT TO ALL OF US.

E_mail: danielxrw@gmail.com
Tel: 0(0972) 54 772 3510
Welkom op onze website: www.lechaimtolife.nl

The Difference between Redeemer and Messiah ( Messenger)
Januari 1, 2016, Tewet 20, 5776


Dear friends!

The Bible, is a holy book and the form of writing requires accuracy and understanding the language. Unfortunately, there are many misunderstandings and distortions which were created because of the stubbornness not to learn things from the Jewish people, who were chosen in order to be a light to the world. So, we will touch on this matter which requires explanation. Today, we will discuss the meaning of the words Messiah, redeemer, and the main differences between them.

We will start with the word Messiah: The word Messiah, mentioned in the Bible, is in regard to a king's coronation, by a prophet who is doing it according to the command of G_d. The chosen kings were anointed, such as Shaul and David who were the kings who were anointed by Samuel. There isn't any connection between redeemer and Messiah. According to the Bible, the redeemer is the Almighty. The messenger of the Almighty was Moshe, who was sent by Him to take the Israeli people out from Egypt, and to teach them the word of Hashem. Either way, the king and the messenger are chosen according to the will of Hashem: giving His spirit if He desires, or not – as happened to Shaul. Summarizing this matter clearly, is, that Messiah is a king or a Messiah of war which has been crowned by a prophet according to Hashem's will. There is no connection to the word redeemer.

And now, to clarify this we will go to the prophet Isaiah 11:1 "And there shall come forth a shoot out of the stock of Jesse, and a twig shall grow forth out of his roots. 2 And the spirit of the Yehova shall rest upon him, the spirit of wisdom and understanding, the spirit of counsel and might, the spirit of knowledge and of the fear of the Yehova 3 And his delight shall be in the fear of Yehova; and he shall not judge after the sight of his eyes, neither decide after the hearing of his ears." We understand that even with this wonderful clue about the coming messenger who is from Hashem, he will be in His counsel, and His blessing, but mainly, in His spirit.

Now, to the redeemer: Here again, in Isaiah 43:11, 12 "I, even I, am Yehova; and beside Me there is no saviour. I have declared, and I have saved, and I have announced, and there was no strange god among you; therefore ye are My witnesses, saith Yehova, and I am God."
Isaiah 43: 14 Thus saith Yehova, your Redeemer, The Holy One of Israel:"
Isaiah 42:" 8 I am Yehova, that is My name; and My glory will I not give to another, neither My praise to graven images".
Isaiah 44:" 6 Thus saith Yehova, the King of Israel, and his Redeemer Yehova of hosts: I am the first, and I am the last, and beside Me there is no G_d."

So, we can see that the redeemer – the savior, is the master, the Almighty. He is the One, and no other than Him. About the messenger, he always comes in the name of Hashem. We should understand once and forever: we have reached the time in which its meaning is renewed, without intermediaries, straight from His spirit, and this is the meaning of redemption as it has been said by one of the prophets : "And they will not teach one another the word of Hashem, because the little or great ones will all know Hashem". It means that we are moving to another reality, without any twisted perverted animations which has twisted humanity completely. We will have to study a new language, a new heaven, a new earth and also a new heart.

At this period, we are part of a process (as it has been explained before), the Almighty destroys step by step, the known world –the pagan world, by removing props and supports. Again here is a clear saying: Isaiah 3:1_3: "For, behold, Yehova, G_d of hosts, doth take away from Jerusalem and from Judah stay and staff, every stay of bread, and every stay of water; The mighty man, and the man of war; the judge, and the prophet, and the diviner, and the elder. The captain of fifty, and the man of rank, and the counselor, and the cunning charmer, and the skilful enchanter."

All of that, He removes from us, step by step completely. It isn't very convenient it can cause pain. Suffering from the departure and the melting away of all the known, giving room for a new reality. We must be part of this process and accept it without trying to run away from it, to study, watch, feel and experience it. To have patience, which demands a real struggle with a mind used to fly crazy flights, between the past and a future which does not yet exist. We must study and train our rapid brain which doesn't give us the chance to be focused on the present (the here and now) ! Digging up all the treasures, given by these moments as a gift for our life today! As all of what has said, it will be wonderful to accept a true messenger, who will come to help humanity to get back to the way of covenant and for the Father in heaven. Meanwhile, till this messenger comes, we will be the messengers as it has said:" In the spirit of our Mashiach Yehova. Each of us were created in His image.

My blessing for the Era new year, to all of our non_Jewish friends!

Daniel


News from the north
Kiryat Shmona
Eliahu was taken to the hospital for the second time. He has problems with coordination and eating. It could be caused by a cerebral hemorrhage. His wife Bracha and family are very much concerned about Eliahu and were happy with my visit.
Lisa showed me the ceiling and the walls of her kitchen and other two rooms: where the water and moisture from the above apartment is running into her apartment. She is desperate. It is already two years that she is trying to speak with the land lord (Amidar) and the woman that lives above her, without any results. The cockroach as big as 5_10cm, are running in her kitchen (she lives on 5th floor!). The walls show concrete rot. The wallpaper and the paint is gone. The shelter of the tiny balcony is falling down because water continuously drips down. All of this time, Lisa tried to solve this alone, but she can't anymore and asked help from "L 'Chaim". We will help with money, but first, we have to resolve the issues that make that uphold the work to start.
The landlord is arguing: It is not his problem, it is the problem of the upper neighbour. The upper neighbor apartment is an private apartment. The lady that lives there is not willing to talk with Lisa. We started now to approach the social worker of Kiryat Shmona to help resolving these issues so, we can send a worker to repair the leak problems.
Thanks and greetings from all other survivors in Kiryat Shmona: Israel and Raya who celebrated their birthday this month, Nicolai and Zina, Rina, Roman, Ida, Ina, Neli, Anatoly and Klara.

Shalom,
Timek
"L' Chaim"s family, wishes Mazal Tov to Zvia (from Neve Michaeal) for having a new born granddaughter. All the best from all of us .








Timrat

We came to Gad with fresh Chalot for Shabbat. He was very excited and heard my explanation about the importance of Chalot . We left his house and Gad's eyes were shining.

R. Meir, the head of the Yeshiva in Migdal Haemek.

Modiin
Tair and Moria: In our visit at Svetlana & Dimitri we worked with Svet on the computer, helping her with some problems. She added us as her friends in the Facebook, and showed us some articles she has published. We studied how to write our name and addresses in Russian, and find out that Dimitri Is fan of Macaabi Tel Aviv (Sport). It was fun and funny. We can't wait for the next visit.
Ed. : Maleachi 3:1 says: "Behold, I will send my messenger, and he shall prepare the way before Me: and the Lord, whom ye seek, shall suddenly come to his temple, even the messenger of the covenant, whom ye delight in: behold, he shall come, saith the LORD of hosts. But who may abide the day of his coming? and who shall stand when he appeareth? for he is like a refiner's fire, and like fullers' soap: And he shall sit as a refiner and purifier of silver: and he shall purify the sons of Levi, and purge them as gold and silver, that they may offer unto the LORD an offering in righteousness.Then shall the offering of Judah and Jerusalem be pleasant unto the LORD, as in the days of old, and as in former years. And I will come near to you to judgment; and I will be a swift witness against the sorcerers, and against the adulterers, and against false swearers, and against those that oppress the hireling in his wages, the widow, and the fatherless, and that turn aside the stranger from his right, and fear not me, saith the LORD of hosts."


Cheering Up Souls
Dear friends!
This time, some words about the essence of "L'Chaim": At this dark period, many people and mainly the ones who have difficulties as old people, and survivors, can be broken by the cold, alien, and tyrannical journey of life. Each week I am excited to see and feel the light, love and kindness which our volunteers bring to our survivors' lives, mainly to the ones who are broken, lonely, sad and without any vitality. These wonderful souls gain a double amount of "infusion of love", undemanding, and as fresh water to the tired soul. It's already been 11 years of work, and I feel, that this format is a big blessing and sometimes, a lifesaving project.
Dear friends! In this dark, materialistic world, without any vision, it is a unique and special project. It floods light and goodness to all who are involved: Shoah winners, volunteers and donors as well. We should remember that there are more survivors whom we can adopt into L'Chaim's family. Again I plead to the ones who can or want to adopt new Shoah winners. As time passes by, it is much harder for those people at the end of their road. Let's give them the bloom of love and light, as our survivors continue to be winners.
To all of our non_Jewish friends in the world, I wish you a happy holiday. G_d will bless you.
Daniel

Pardes Chana
After the holiday of Chanuka, we gathered with the nice group from Neve Michaeal with Shiri, R. Shachar with his guitar and me. On the way to our visits we suddenly got a call from Or, the singer who wasn't with us a while and decided that he miss it and joined us again. We were divided for two groups and went to visit our dear survivors. The group, who went with me and Shiri, went to visit Rachmill. We surprised him with Or who sang with him on the March for life last year, and they both sang together again the song (see the Pic). We took Rachmill out, from the place, which he couldn't be out for one and a half year … he was so excited and as a child in the wonderland walked with us looking around, enjoying the walk, and our visit to Mordechai. He met there some people, whom he has met, long time ago and was so excited. Shiri wrote: "The group enjoyed so much to see Rachmill excitement when he was out, seeing around, feeling free and so beloved. It was worth to realize how much we can give him in our visit. We spend with him a real good time and he seemed so happy and fresh.". Shiri and me met a new survivor, a very nice lady and her name is Yona. She was very happy to meet us, and we will speak with her longer next time. R.Shachar, went with his group to Chaya & Morris, bringing his guitar, singing with Morris a song, who was so excited that has started to cry. He loves R.Shachar very much. If you remember, we used to come only to Chaya, and Morris wasn't cooprative at all and was very anti and mad about everything connected with us and life at all. But see how the love and the sympathy worked on his soul, and now, he don't miss any of our visits. From there they went to visit Aliza , who was sick, but didn't want to miss their visit and, as usual, enjoyed it very much , told them stories and had fun with them. From there, they went to the Boarons and Zipora, bringing them a nice package of supplies but didn't stay for long.
For me it was a great experience to take Rachmill out and we will do it again next week .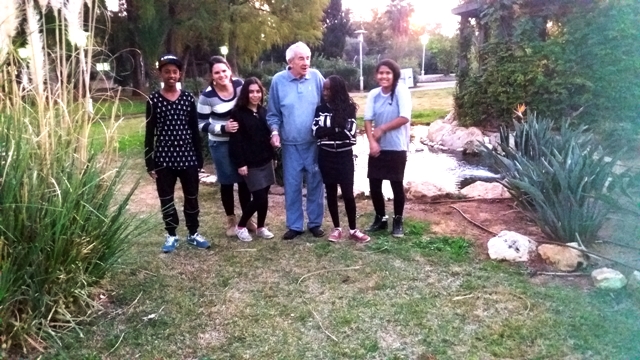 Rachmill with the students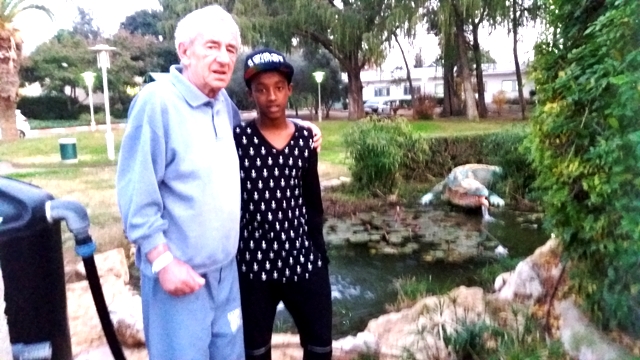 Rachmill together with Or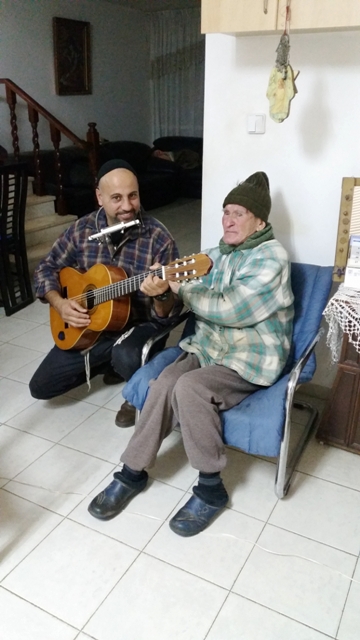 Rabbi Shachar with Morris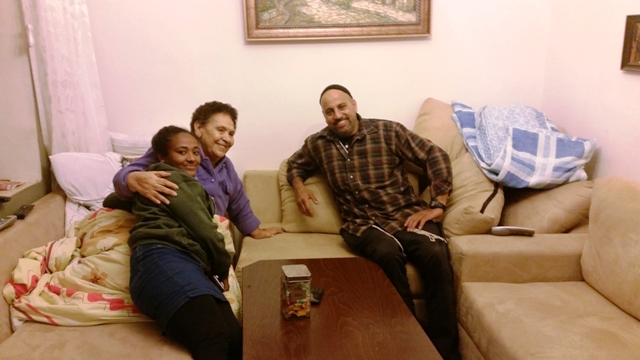 Aliza with one of the girls and Rabbi Shachar.

Best regards,
Rivka

News from the North
Genosar
As every week, the students visit the survivors in Genosar, in their houses. Ruth has celebrated her 93 ! birthday. She looks, twenty years younger, very vital and active. The students brought her cake and wrote a blessing for her, wishing her all the best and thanked her for the warmth and hospitality she gives them". In the pictures, you can see her shining. Ran and Hilla, came to Moshe, and they discussed the passed week. We had a wonderful afternoon together. Then we visited Mika and had a great time with her too. Yuval and Aharoni, went to Avraham and did some chores in the yard. Later, we fixed his printer. Then we had a great talk about social issues in Israel.

The birthday of Ruth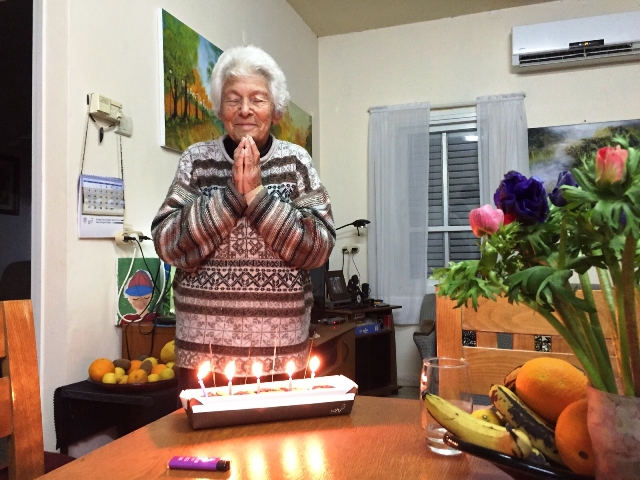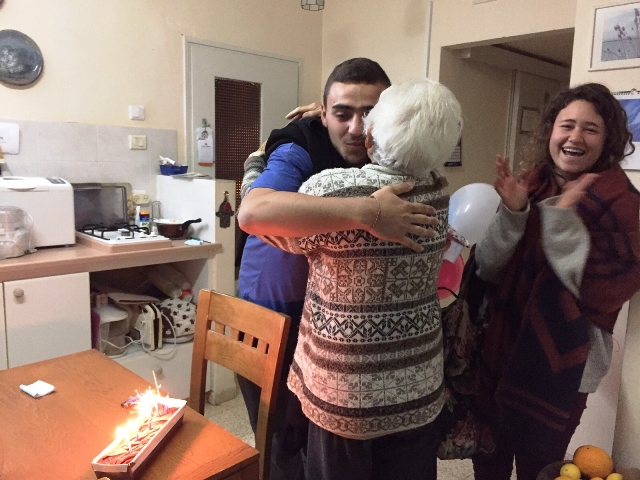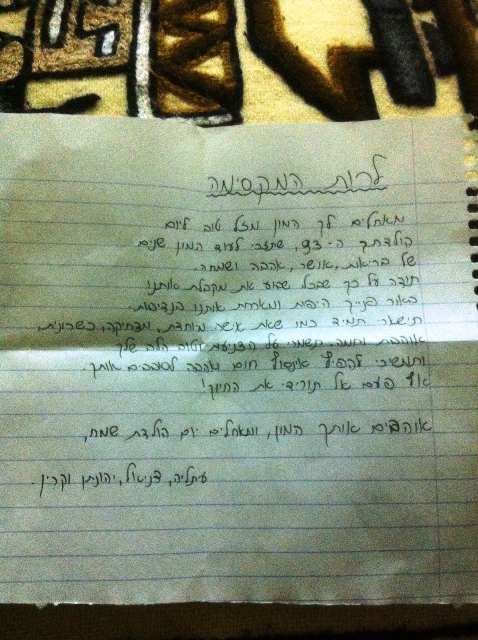 In Rosh Pina, the students visited Israel. Yael write: Rachel his wife, was not at home. I really like to visit Israel, with his stories from the shoa.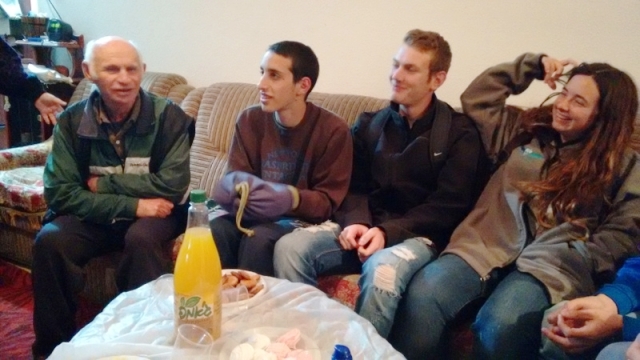 Israel
In Kiryat Shmona Juli, Shir and Shiraz visited Rina. At the balcony they played Rummikub together and had a nice talk. Later, the students visited Israel and Ludmila. Israel told us his touching story about his life.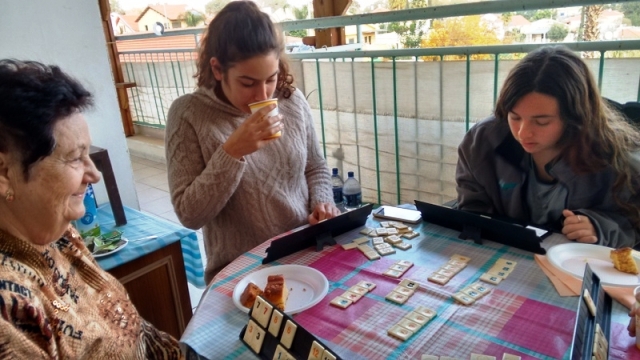 Rina from Kiryat Shmona
In Kibbutz Neot, Idi received us with great love. Some of the students didn't yet heard her touching story until now. Idi showed us pictures showing her work in the shoe factory of the kibutz. See the picture. Also Rachel had an interesting story from the shoa. She has lost her both parents and grew alone. Since she made an Aliya (few years after the end of the war), she has landed in kibbutz Neot. She is a very happy and satisfied character. She loves to have the students in her house. It breaks her long hours of loneliness.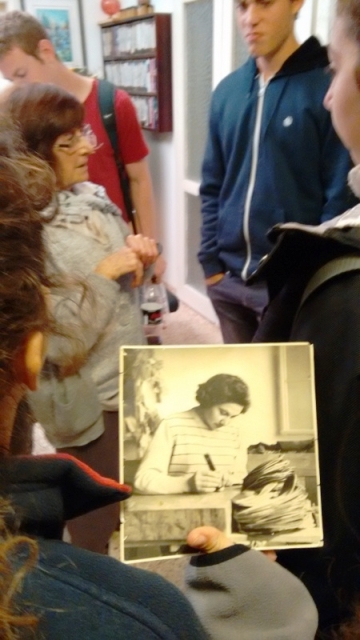 Picture of Idy
Kfar Bloom: Manashe enjoyed the students this week. Every visit, he tells a bit more of his life. This time he told us about the traumatic moment, when his family was taken out from the ghetto. It was left in his mind as one of the worst moments in his life, and he spoke about it.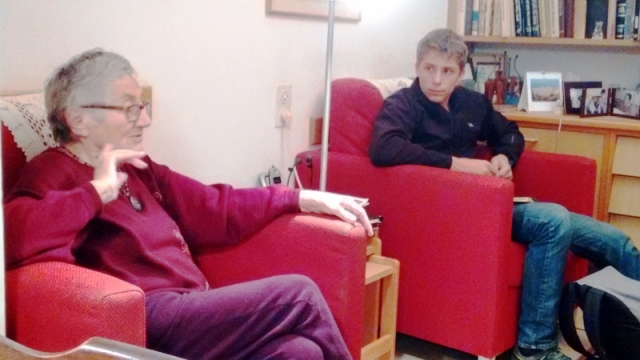 Rachel from Neot
Again, we closed a week full of activities and good visits, and satisfied.
Shalom,
Timek
Modiin
We add here the missing pictures of the visit at Chanuka of Shir and her friend.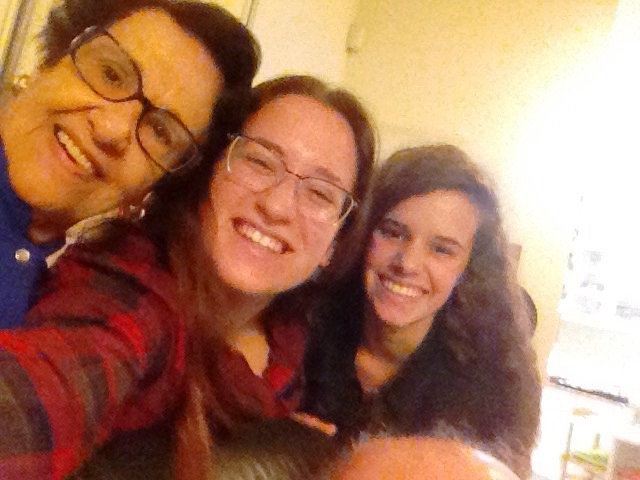 Shir and her friends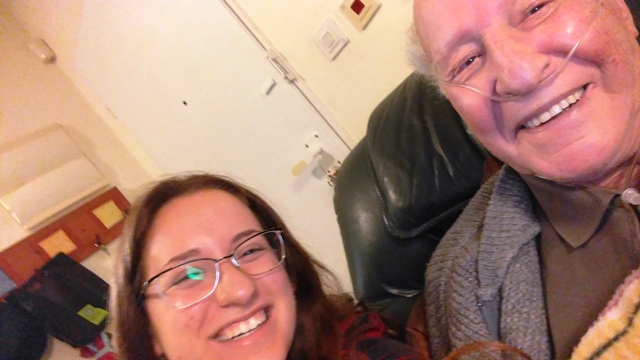 Shir and Jaston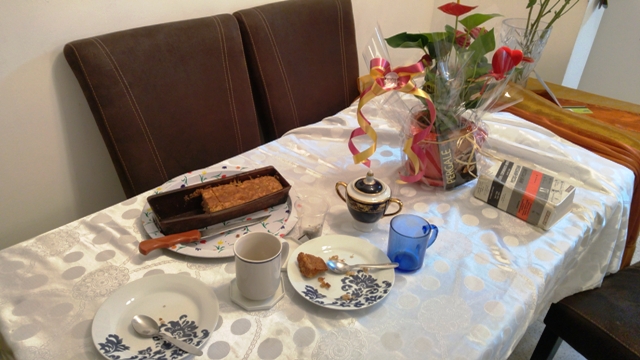 The lovely table at the visit to Svetlana and Dimitry.

Happy holiday,
Daniel Braun

E_mail: danielxrw@gmail.com
Phone: + 972 54 772 3510
Welcome to our website at: www.lechaimtolife.org
The Message of Salvation According To the Law of Moses

December 19, 2015, Tevet 9, 5776


Dear friends!

Today, we will discuss the necessary process as understood from the Bible which we have to adopt to our hearts and understand when it touches the subject of longing for salvation, emphasizing the process according to events. Let's see: The beginning of the message and its main part is for Israel and for the world to realise that there is One God, one king and no other one or more as it is said in the praying of the prayer, the heart of the Jewish nation: Deuteronomy, Ch. 6:4 "Hear, O Israel: Yehova is our G_d! Yehova is one." It isn't a metaphorical promise that we can take lightly, but very deep and meaningful, which breaks many myths and distortions which have already caused destruction and decay to mankind, from their ways of ruin, on the road to Bet El! As it has been said before, today the Almighty uses many tools to bring back His "naughty" children from the old world and the old concepts and doctrines, which unfortunately, were twisted and have brought us to what's happening nowadays. This total destruction is a necessity, to prepare the hearts of humanity in order to create a new earth and new heaven. Yet here, I would like to spread light on a very significant matter which is called destruction, and yet, a positive process, requiring us who consider His name, to see that during this destruction it goes slowly and is controlled. It gives us, His sons and daughters, time to study and take the best and the good from the blessing of this process. With each wave of destruction, we have the time to study and digest by comprehending the events. Again,we can see that the meaning of the journey of correction in which we have to take part, by being part of it, is one: changing perceptions! And the main thing is not the test of results, but a realization that the journey of correction is not static and has no familiar structure, but is a daily struggle, hour by hour, minute by minute, to choose between good or bad, finding the holy resources which are within each human : the divine spark!

We have the ability to get closer each moment, wanting to be as the Almighty: it means, being able to understand that this struggle is because we didn't come here to rest, but to repair and find our G_d in this reality in which we live. It isn't about clear, significant victories. The essence of victory is infinite development without smugness or weakness, with challenges each minute and each breath. In simple words, on the prom party, we are supposed to get a "matriculation certificate" with which we can prove that we have experienced the battles, fallen thousand times, standing up, trying again, sometimes with success and sometimes without success but never stopped trying.

Ladies and gentlemen! Pay attention to this! It is the essence of our existence on earth! The process of studying is important. The outcome belongs to the Almighty. Our participation is expressed by our love for Him, agreeing to struggle daily, minute by minute, and what supports us in one word is: faith! At the prom party, it will be discovered: Zechariah Ps' 14: 9 " And Yehova shall be King over all the earth (And the whole world); in that day, shall Yehova be One, and His name One." And another one on Zechariah Ps 8:23 "Thus saith Yehova of hosts: In those days it shall come to pass, that ten men shall take hold, out of all the languages of the nations, shall even take hold of the skirt of him that is a Jew, saying: We will go with you, for we have heard that God is with you."
In summary: the spoken distraction at this period of time is painful mostly to those, who refuse to depart from other idols (new ideas, bad habits, foreign idols and more). We must memorize again and again that His name is one! Reality is part of this One! Any ideas of separation, are as a results of exile mentality.. Meanwhile, we will continue to get stronger and give strength, knowing and trusting that this generation is excellent, with great ability to walk towards a new and true world, with light and harmony, but with many challenges yet... Daniel.

News from the north

Genosar

Every week, on Monday afternoon, 20 students, arrive to Kibbutz Genosar bringing joy and happiness into the houses of our survivors.

Talja, Karin, Jonathan en Daniel has visited Ruth. At the entrance to her cozy house, they received great Huges. Ruth asked them to bake Sufganiot. While they have started with great enthusiasm, she went out to the neighbor, asking for an egg. After a while, they sat around the table, and had a pleasant talk with her. At the end of the visit, all the sufganiots, have gone and again, all the students Hugeged and kissed Ruth, returning with full of satisfaction, back to the bus.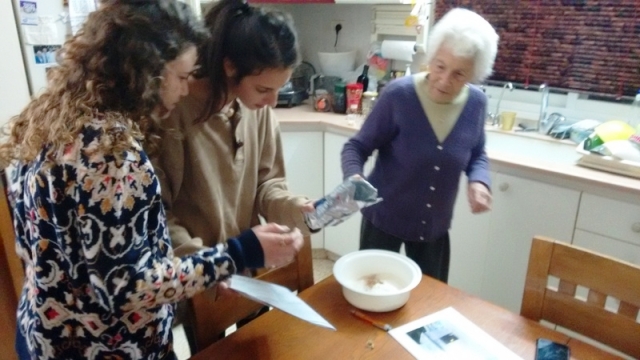 Ruth
Ofek en Noam has visit Zachi. They love her. She is wise and intelligent woman. Ofek, took her Smartphone and found on the YouTube some of the old Israeli songs from the sixties as Arik Einstein and more. Zachi enjoyed it. She listened, smiling remember the songs singing along. Next time, Ofek will bring her CD with music from this same period. That will make her happy. Zachi pointed to the refrigerator with a big smile on her face. There, on the door hung a nice letter from the students of last year with pictures. They still are in touch with her.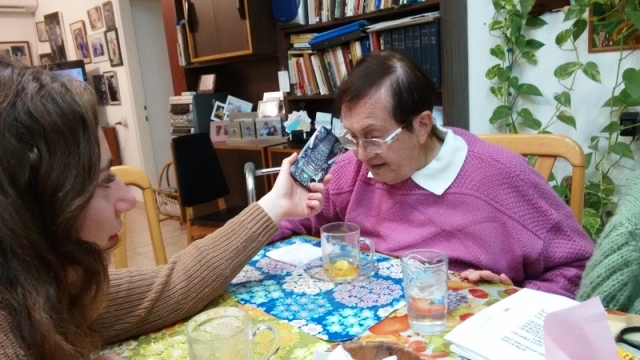 Zachi



The letter from the students last year.
Eliram has got new computer, which through it he stay connected with his family abroad and friends on the face book where he posts his new paintings. While Tomer is fixing some of PC programs, Dana had a talk with Eli_Ram's wife.
It is a real joy for me to see how effective this program is for both the lonely survivors and for the students. It is a life changing experience for them.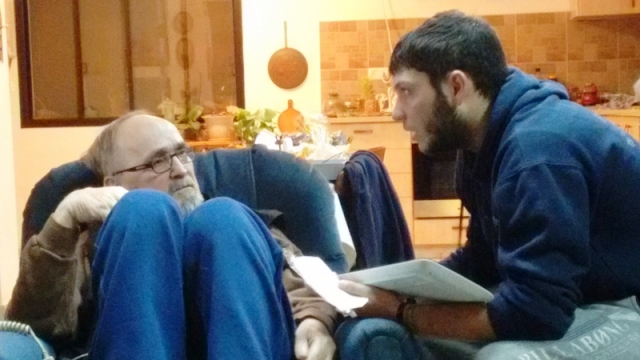 Eli Ram
Timek

Modiin
My weekend visits for Chanukah
Shir : After a while that we didn't meet, and after hard and not very healthy period of time, I could finely come to visit my Shoah winners, fulfilling my self with them, bringing to each of them a beautiful flowerpot to light their houses with colors , and Chocholat to sweeten a bit their lives and a cake, made by my dear mother (The apple is not falling far from his origin… rivka) and (of_course) a written greetings from my heart.
Svetlana& Dimitri: Svetlana was so excited from my gifts, and told me that they had their 54th years of their marriage, and how Dimitri gave here in the middle of their shopping spree, he disappeared for a moment and surprised her by bringing a big nosegay with white and purple flowers to her (see the picture and the photo when they were young). Svetlana told me how much she appreciates the visits of Arbel and Shir, and that these girls are very talented on studying Russian. She told me how much she love our country and whenever she see in the facebook that somebody say against the country, she response and try to show the bright side of Israel, and with what she believe in. It is most inspiring in my eyes. Our meeting was warm and heart _ full.
On Saturday, I went to Janet & Jaston. A girlfriend joined me, after hearing so much about the Shoa winners; she wanted to see how it is. We heard from them how their grand daughter has got a proposal to get married. We heard about the special celebrations of Janet's birthday, How all their grandies came and cooked and backed to the family a good meal. Jaston mentioned how excited he was on seeing his relative coming with their visitors few weeks ago. It was so charming – being together again.
At Sulamit & Chanan, our visit was short because all the family was coming very soon. Sulamit having hard treatments in her teeth, and Chanan is not getting better, and his hearing aid stopped working and it frustrated him so much… but, asked us to come more often and enjoyed so much the chocolate, saying that it was just what he needed.
I hope for a better and healthier period for all our winners, and many exciting meetings with them.
Arbel and Shiri: We had this time short visit at Svetlana & Dimitri, and yet, it was fun and funny as always. They told us about their Chaunka celebrations, and also about their grand_children's. We bought good cake for the holiday and we ate it together. It was fun and good to see them.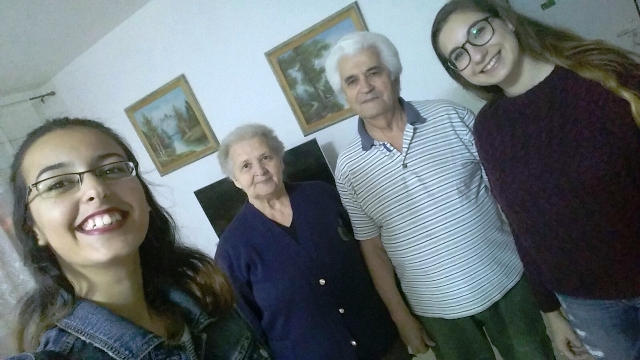 Arbel, Moria, Svetlana en Dimitri

Shabbat Shalom to all of you,
Rivka
Without a Vision a Nation will Perish
December 3, 2015, Kislev 21, 5776

A Connection between Generations

Dear friends!
In this article we will touch partly on the significant processes along the passageway that is moving us from the old world to a new heaven and earth. These days we are witnessing a particular reality in communication which exposes corruption and other improper behaviours, lacking a great deal of morality: facts, that publish corruption that touches all parts of our lives, of religious leaders, politicians, parliament members, high police officers and more. Such information, enables us to see the inappropriate behaviour between men and women, people and money, and standards of lies against truth. The dimensions of these catastrophes are Hugee. The fall of humanity from values is not surprising and is a necessity for the total destroying of all the old values which are exposed in their deep degeneration and as a cancerous disease, erasing them is not easy. It requires deep reflection, and a spiritual remake and asking about the meaning of the human and his existence on earth. We must remember that media is not representing anything superior…and beyond doubt, not the truth, yet, it is as an instrument in the hands of its creator (the Almighty) for the sake of uncovering lies in a clear and considerable way in order to understand the need for the divine revelation and salvation of the world by the Almighty. These days, the young generation is the clear proof of the summary of thousands of years of ideas which through this young generation, reveals the decay and distortion of the way of truth – the way to Bait El. This generation is amazing, full as a pomegranate is of seeds, smart, talented, with an open heart which makes possible the light of the message of the dawn, which they can't name. They are hungry and thirsty for noble values, and the main thing is that they don't have any example from the old world except special cases. For them the old world doesn't have any relevant message, and they kick and trample, ruining what's left of the little drops of light, which were from the dawn of ages. All of that is very good. This hunger and thirst is exciting those young amazing hearts, and also the old generation can't deny anymore the mouldiness and the cobwebs of their old ways. The young generation has a new language which forces the older ones to expand and open themselves in order to fit into the new language which drives our life these days. What is this language? The technological language, which doesn't have any human message and it is poor in communication of heart to heart, human to human, as healthy created beings. Yet, there is a hidden blessing: As much as the technology develops, as human connection between people grows less, the thirst and hunger is getting stronger and when by the grace and the will of the Almighty, when having reached the end of our tether, all of us, will want to know and even cry out loud for a better world, with nobility, light and beauty, where the presence of G_d will stream in the veins of life in each person.
Next week, we will celebrate the holiday of Chanukah with our Shoah winners. All events, photos and experiences will appear in a report, so you get an idea of how joyful this feast is for our survivors (and for us).
My blessings, and my deep gratitude, to the Almighty, and the ones who think of His name.
Daniel

News from the North

Visits in Katzrin with students of the mechina Kfar Hanasi :
Our visit at Jafim's house was interesting. Tom: "We spoke about history of Russia, about Lenin and Stalin, we listened to all kind of music that Jafim likes".
Ela, doesn't like to speak about shoa. Yam: "We spoke about Ela's husband and two sons who all passed away. About her family and grand children. Ela is a creative and warm person. She spoiled us with her hospitality."
Noam+Eden: "We love Etja. She is so cute. We spoke about her life as a child in Ukraine and about her grand children and children. At Shaul we playd puzzles and spoke about politics and Japan. Shaul enjoys the quality time we have spend with him."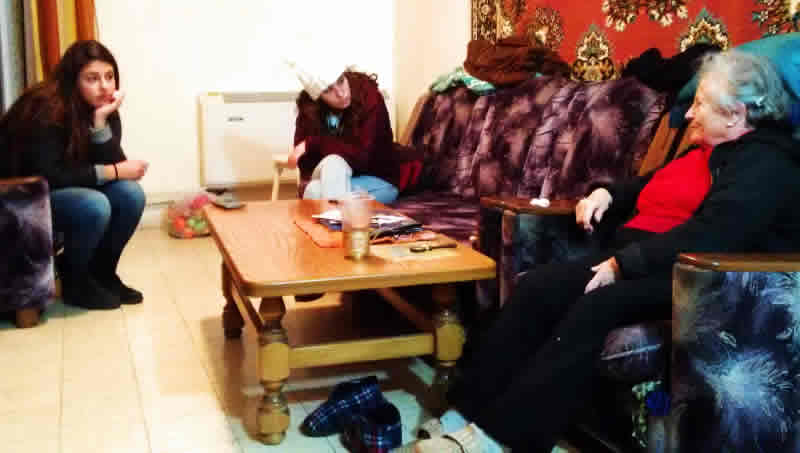 Etja
Visits by the students of Maayan Baruch in Kfar Blum and Dafna:
Asaf, Rom and Ofer: We have visited Israel and Menashe. This time they didn't tell us new stories from the shoa as they did on our last visit, although, the meetings where meaningful and add more to our friendships". Shir, Judi, Shiraz and Rom has visited Sophia and Simcha: our connection is growing and we love what we do.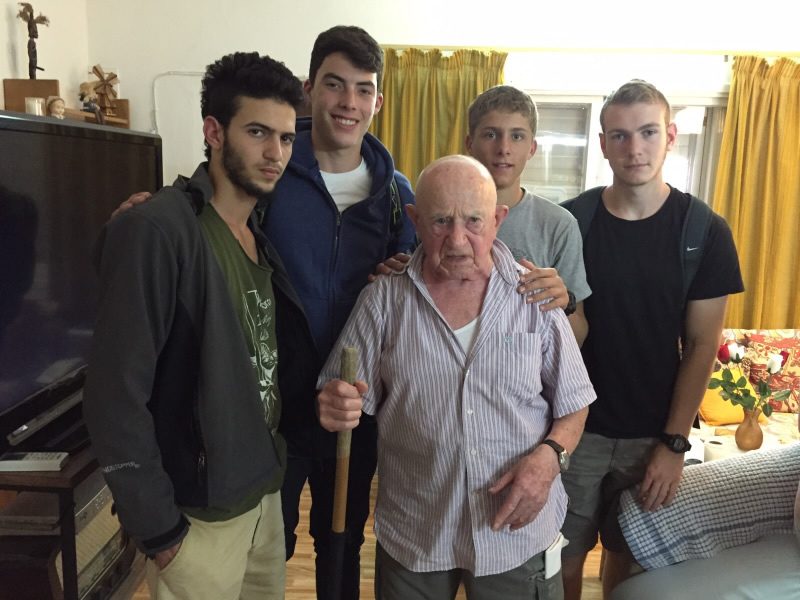 Menashe

Visits in Ginosar by students of Meitzar
Aharon: "Yuval and i did some yard work with Avraham. We had a great time. He also told us about his son's profession"
Noam: "Batia and I had a great conversation we talked and drank tea, and had a wonderful afternoon. I'm looking forward, to our next meeting in two weeks"
Noam: "Ofek and I went to Zachi as always, we drank tea and discussed the passing week, we also played some games however she didn't feel very well therefore we stopped playing and in stead continued talking."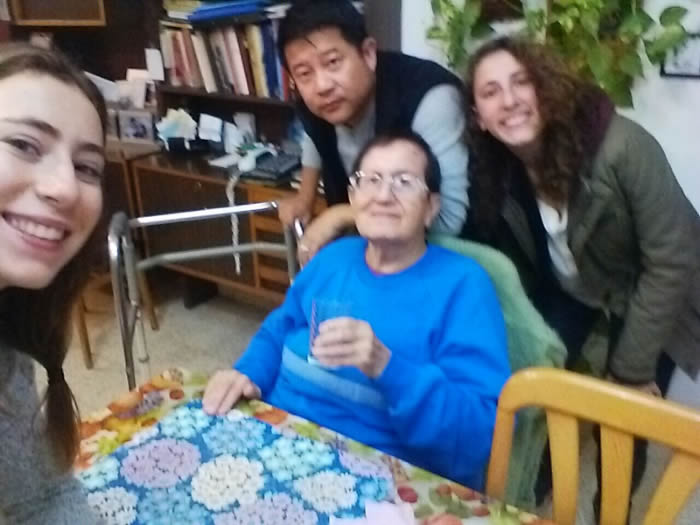 Zachi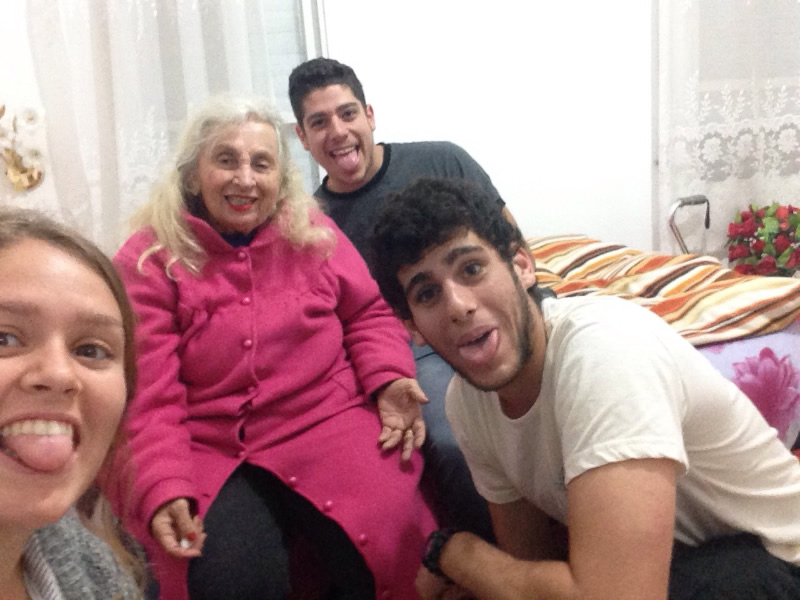 Zelma
Regards, Timek
Modiin
Shir, our energieser from Modiin, surprise us again and again. This time she has created a feed_back questionnaire to the volunteers who is doing the visits with such good energy and good will.
Here are some of the answers she has got :
Till now, I can conclude my volunteering as a great and special experience. I am happy for choosing and joining "L 'Chaim's" project and getting to know such an amazing couple.

The connection between us and Svetlana &Dimitri, is very special and interesting. We laugh a lot and tell jokes and we have also serious moments and moments of appreciation. They took care for our food and till we reached back back home safely, it excited us very much.
We didn't feel any hard times along the meetings and after that. In my opinion the project is great the way it is.
The meeting with the Shoah winners is an 'island of separation from the fast tempo of the world around us' and I love it. Svetlana is funny , communicative and yet worried. Dimitry is a very honoust person and in his quiet way he is funny too. They are an amazing couple and I am very happy to visit them. We wish all the volunteers an inspiring year for all of us.
Thanks Shir. It's good to have such feed_back.
This is our news for this week.
Shabbat Shalom.

Rivka

The Place Where We Are is a Holy Land
November 27, 2015, Kislev 15, 5776
Dear friends!
Last week, we touched on, the feelings of hunger and thirst as a divine wave, flowing in our hearts. And we could understand that both _ those feelings create, in simple words, a loathing of our existence, the way it is. We said, that such a situation, is not appropriate to the human, because his soul, longs for a new thing. Yet, he is still in the old world, and the new is not clear and hasn't yet appeared, and the old is repugnant, dry and without any smell or taste.
Here is a revolutionary idea: Let's memorize it for ourselves: The place where we are, is a holy place! It is probably for us, the best, exact and right place for this time. It's interesting, that most of the time, people think that in order to cure their souls along the way, to implement some fulfilling satisfaction, they have to change places or change what they are doing, hopping that the next place will quench the thirst. As we know, in the end, even the new place, will become old to us and the process will start again, looking for new places, which can quench the thirst of the soul. Such an outlook, is over! Today, we need to adapt ourselves to the new situation, in which we learn to relate to the interpretations of the concepts that we have used so far. It means, that instead of trying to run away from the places where we are, we call them temporary.
Another important, valuable matter is, to know if the hidden treasure_ the one without a name, that we can not pronaunce or shape out yet , the one which we look for, all our life, is there. In the place which we loath so much – the here and now! … But, what if we will find ourselves in the present, not running all the time? What will we find that frightens us so much? Pains, anxiety, problems, from which we used to run away.
Here we have a universal divine, wonderful line: Pay attention my friends! The place inside us, which we loath so much, right there and inside us, is the hidden treasure. That very place where supposedly according to our interpretation, made us feel as if we are stuck, not being able to feel those areas… finding out amazingly, that it's not so frightening and the opposite, it brings a great release and growth. Suddenly, the Almighty Himself is there, alongside the issue we used to call a problem or an illness. In simple words: able to understand that all the time these traits ruled us as idols, and limited us, and we mistakenly, thought that they are real and even identified ourselves with them. And behold, when we are capable of understanding that the new change which is coming to the world is beginning within us and is deep within our being! It changes our view of life. Then, all that we have loathed, will be for us a great challenge and a healing process with great potential by getting us out from the world of imagination, the demons and spirits, separating and blocking of freedom which stream like fresh water_ on land, and the world. A holy experience, entirely redemption, hallelujah! Hallelujah! Hallelujah!
Remember one thing: we are in a journey, in a middle of a process, and have not yet, reached the end: every day, every moment. This is what it is all about ...
Daniel

Modiin
On Sunday 22.11 we came to visit Svetlana and Dimitri. Svetlana didn't feel so well, but we came and were happy to be there. She told us about her childhood, Shoah, and how she feels in Israel. Also she shared with us her beliefs and her way of organizing life. The pleasure was from both sides.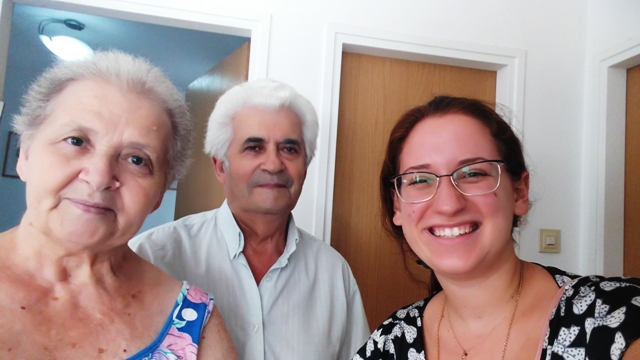 Svetlana, Dimitri and Shir

We entered to Janet and Jaston, with balloons and cake, singing songs for his birthday.
Their face was so happy. We spoke with them about the happenings around us, and we met their daughter (she is funny I have to say), and we saw how much they are good people and good as parents.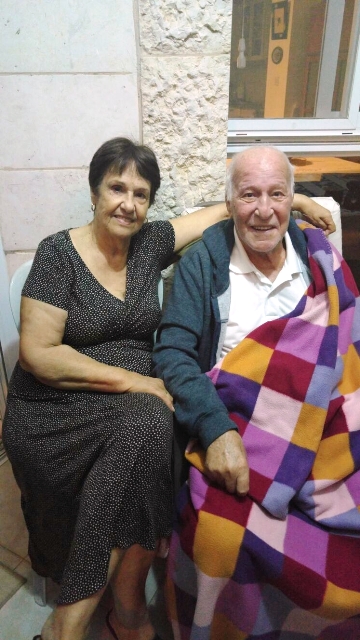 Janet and Jaston

Shir

News from the North
Students from Mayaan Baruch visit survivors from Kibbutz Naot Mordechai
This week, we have visited survivors from Kibbutz Naot_Mordechai. First, we met Steve who was waiting for us at the entrance of the Kibbutz. He brought us to the houses of Ibi and Rachel. Then the students, have split in groups, and all of them, has spent quality time with these hero's of the Shoa. After two hours of listening to them, asking questions, we had to go back home, otherwise, we could stay there the whole night… The impact on the students was overwhelming. Shir said: "This is why I signed up for this project".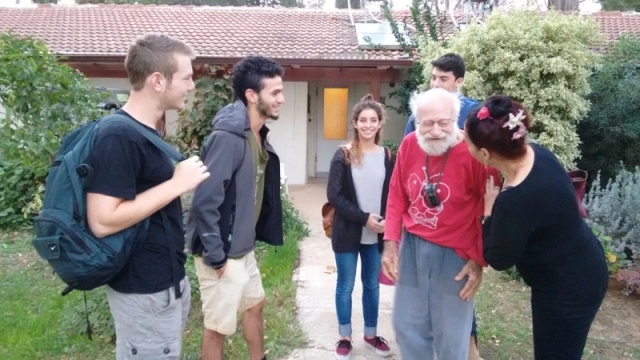 First visit to Steve
Ibi is 90 years old, Born in Czechoslovakia. Her look as she is in her 60's. She have fresh mind and body. She has survived Bergen_Belzen, (one of the most horrible camps), and have the most horrible memories from Mengele hospital with what all she came through.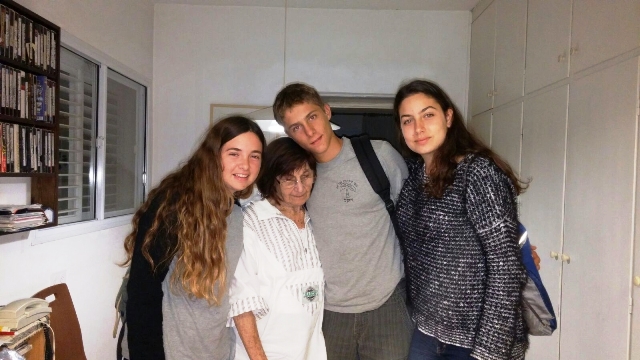 Ibi with Juli, Asaph and Shir

Rachel, 91 from Berlin, experienced persecutions and pogroms in Germany since 1933. Just one month before the war has started (1939), she was taken from her mother and was sent on a kinder transport to Sweden. There, she spend 7 years and made an Aliya. On her way she was sent to Cyprus, and only after being there she could reach the land of Israel.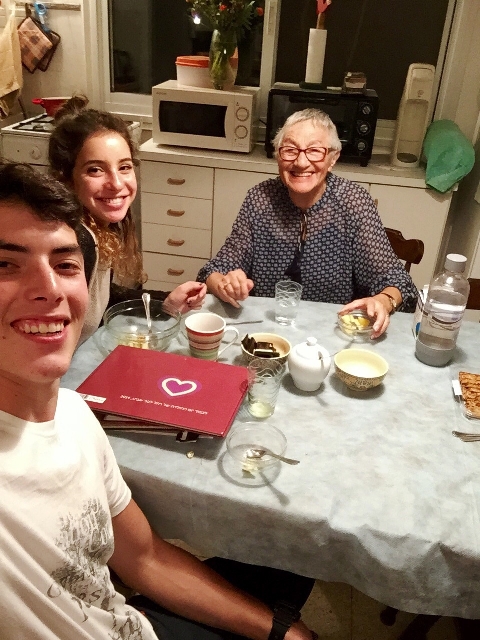 Rachel with Rom and Shiraz
Steve, 84, has born in Germany, and still with full of energy. He survived because he was sent with the kinder transport to England.
I also visited all the survivors in Kiryat Shmona. All received fresh package with vegetable's and fruits. Zina visit every day her husband Nicolaj, in the elderly house. It is very difficult for her and she is very much alone, but happy for the contact with us and with the group of Shoa survivors in Kiryat Shmona.
Rina, mentioned that her husband has died 4 years ago. Shir Juli and Shiraz, have spent a great time with her.
Israel and his wife Ludmila, are afraid of the scary situation in Israel. Their children and grandchildren live in the center of Israel where the daily terror attacks, affect the normal life of all the citizens.
Neli, Roman, Klara and Anatoly are healthy and grateful.
Rachel was with her children and grandchildren. Lisa and Ida and Ina is struggling with their health.
Anatoly and Lariza moved to Zfat, because of Anatoly's bad health. We and the group of K. Shmona miss them very much.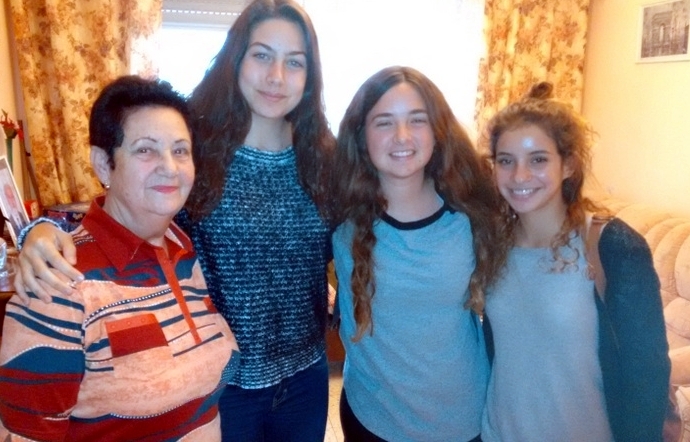 Rina, Shir, Juli and Shiraz

Students from Kfar Hanasie visit survivors from Rosh Pina
Yam and Eden, had a great visit with Blanka. Yam wrote: "It was our best meeting until now!!! We started talking about the shoa and her story is so interesting!!"
Tom and Ayal wrote about their visit at Israel: "It was special and interesting. I feel that Israel is more opened. It is exciting."
Rachel couldn't meet this week with the students, so Yael and Noam joined the students who visited Israel and Blanka.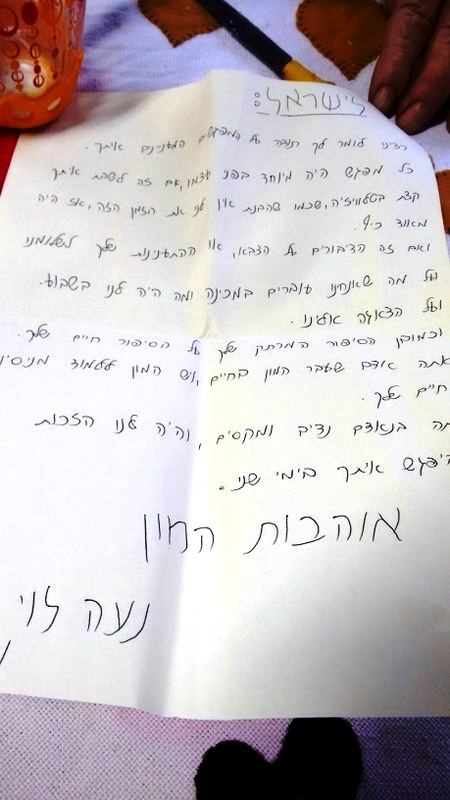 A letter to Israel

Students from Maitzar visit survivors from Ginosar
It was Moshe's birthday. Ran and Hila made a cake for him and wrote a nice blessing for him. It was pity that Moshe didn't feel so well. But still, he enjoyed this precious time with the students.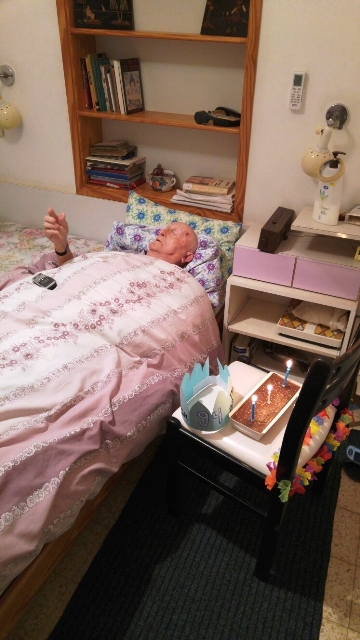 Moshe

The connection, with the survivors, from Genosar is getting better every week. They know each other much better. Ruth showed them her paintings, Avraham told them interesting stories, At Eli_Ram, they played games and they took Batia in her wheelchair around the kibbutz.
Shalom Timek
Pardes Channa
Zvia and another 6 girls from Neve Michael , who couldn't come last week with us, and want to continue their volunteering in the project, came to visit Rachmill, Yehoshya and Mordechai. They have start with Rachmill who was very excited and asked them to sing with him, to dance, to go out and was very happy to be surrounded with these nice and young girls who love to cheer him up and have the patient to listen to his slow speech, bringing the wave of fresh air and healthy youth. One of the nurses looked at him and couldn't believe her eyes, how it affects his behavior and the light in his face. After a while, they departed from him and went to visit Yehosayia, who accepted them with his pleasant smile. They joined the music player, singing and dancing with the rest of the people who joined this activity. After that, they went to his room and he told them stories about his life showing pictures and having good time with the girls. Mordechai, joined them later on and also was happy to see and speak with the girls.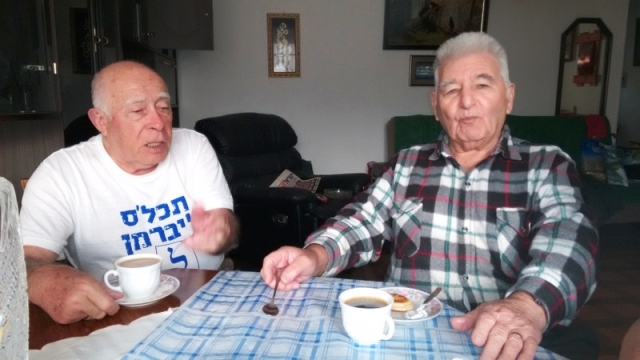 Mordechai and Anatoly
We are going to visit those people weekly, and it was the start of it. All of that is because of the good will and enthusiasm of the girls who couldn't join the visits on Monday. We have the biggest group we ever had since we start the project in Neve Michael. I would say no more, because it speaks for itself.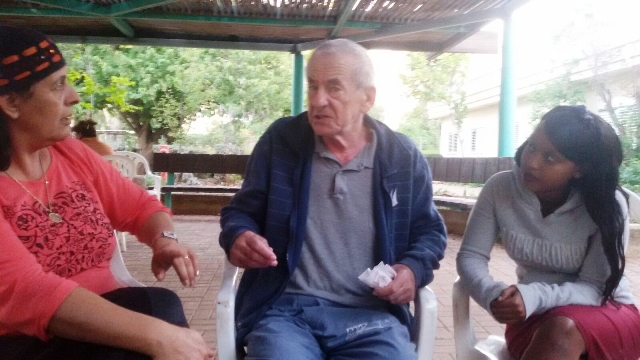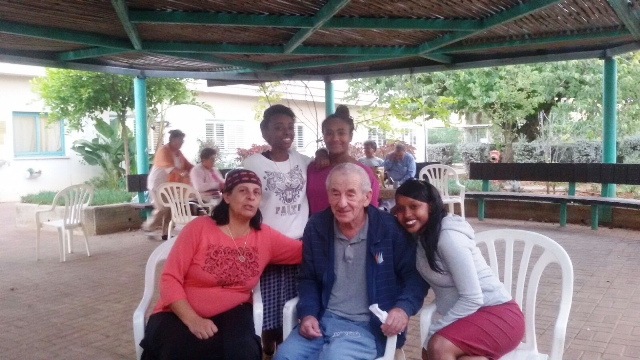 Rivka, Rachmill and the girls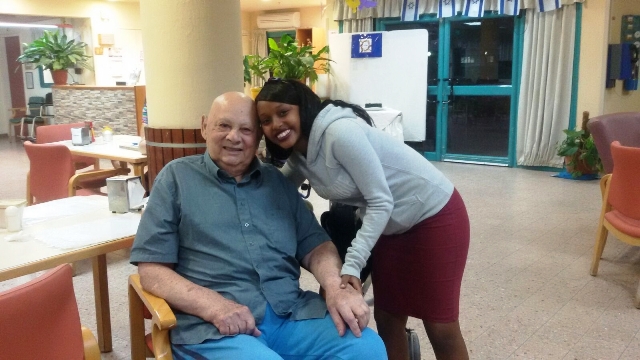 Yhoshiyahu


Beer Sheva
Last week, I visited charming Suzan. She is very upset for the lack of readiness from the government, to give her apartment in Natania, where all her little family lives. She is very kind and it is very pleasant to sit and speak with. Her love to knit, help her to be busy. She thanked me so much for my visit. I promised to come back.
I went to visit Ana. She looks so good and knows how to do it. Her mood was good and still, I can see that her ability to hear, to see and walk, are going down and after loosing most of her friends she feel lonely. But, her optimism, let her appreciate what she have and even keep her sense of humor. It is very pleasant to be with her.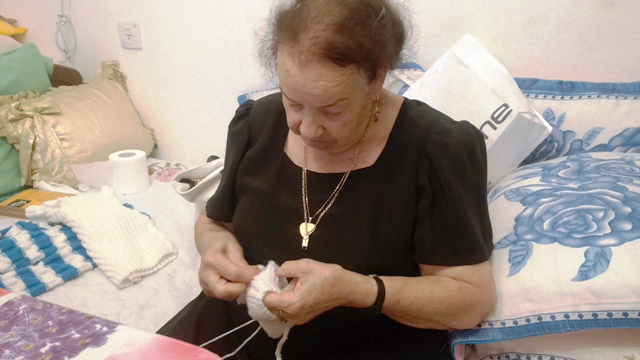 Susan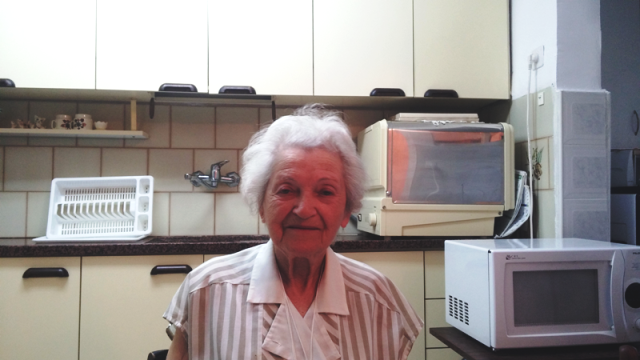 Ana
Greetings,
Efrat

Our visit at Gad's in Timrat:
We have visited Gad, even letting us to know that he is not feeling good, but when we came he was very happy. We brought him the medicine which he needed and couldn't get. Also, we fixed a leak of gas from his stove. He thanked us and greeted our Rabi.

This is our news for this week. Let's hope for a quiet weekend.
Rivka

Hunger and Thirst, as a Spiritual State, According to the Prophet Amos
21 november 2015, 9 Kislew 5776
Dear friends!
I have written a powerful and precise sentence from the Book of Amos, which describes a special spiritual state: Ch 8:11 "Behold, the days come, saith the G_d, that I will send a famine in the land, not a famine of bread, nor a thirst for water, but of hearing the words of G_d."
Today, we will try to understand what 'thirst and hunger' means? And what is their purpose? Hunger and thirst are the feelings of a lack of nourishment and dryness. Such a situation, creates a big discomfort in the human soul. And, why is that? The human soul is never quiet, wanting and desiring something, which most of the time we don't understand exactly why. Most people, don't know how to deal with such feelings, and try to fill themselves with cheap solutions which dull and fade the real reason to those feelings of disquiet. It's interesting that even when we listen to our soul, succeeding to find inner treasures within us which fill us with satisfaction and joy, they don't last long. A new hunger and thirst will appear again in our inner being.
The big secret is that we should remember that our discomfort causes us to move, to cast about and search for relaxation for our troubled soul, but which will never fill us unless redemption comes!
Here is my explanation: The feeling of inner restless and the infinite yearning to find something is a big treasure. The true longing is towards the divine! To merge again with the divine: to return home! The Almighty is eternal and within our soul, there is a spark of divinity which will never be quenched till it will rest in the vastness of G_d's space. This inner movement, stops us from sinking, or resting on one's laurels. This is a great blessing which doesn't let us backslide … Now, when all hopes are lost, thankfully Hashem, has thrown on us this spiritual wave which is stronger than previous years. People walk today with the feeling that the earth is shaking under their legs. There is no proper known foothold which brings some consolation and confidence…. The old world is collapsing from its familiar shape. This is the reason for the hunger and thirst to be stronger, but most people are not capable of bearing this paradox. The gap between what has existed and what is new, is not yet discovered! The solution dear friends? There isn't any solution! We have to carry on with faith and valour, the twilight road, between the times, which are called the end of days. There isn't any final solution. Only the Almighty will solve this when He will remove the curtain, the screen, the hidden face, and will "stream" the light of His existence, his Holy Presence as we should know, there will be an amazing and wonderful situation of healing for the world. There isn't any food, or medicine _ as good as that can be _ to give a cure for this thirst. We should remember: it isn't a curse, it's a great blessing, and yet, is there a word of comfort? Do we have any alternative tool that can help us to walk bravely at such challenging times? The answer is Yes! Faith! The faith that G_d want us and is with us, even in His hidden way.
It means that solutions can be found without getting out from this state but to agree and accept within our inner_selves, that these feelings of thirst and hunger are great blessings! Also, we have to learn the secret of listening every moment and with each breath. Each moment contains a big treasure. The secret of existence is here and now! The great healing in this spiritual work is hidden. To listen and learn inside ourselves, and reveal each situation, each matter, is a wonderful situation fitting our welfare and our learning on the way to Beit El.
In the end, there is another surprise: The sensitive person, the one who can feel G_d's supervision in any situation, in depth of a matter, will suddenly feel the stream of happiness and vitality that comes from a well of fresh and pure waters from the well of eternity.
My blessings, Daniel.
Dear friends! This week we have started to adopt new Shoah winners. Again I would like to say, that I feel a great blessing and lightness which happens and is created between the young generation and the old one, a healthy cure, a connection between souls.

Many thanks, to all of our friends from the world and Israel, who support this precious and important project.

News from the North
This week, was exciting for all of the 34 students, who participate in the L 'Chaim's project in the north of Israel. This time I visited the survivors in Katzrin with the students from Kfar Hanasi. Shaul, enjoyed a quality time with Noam and Eden. He told them his Shoah story. They made puzzles and listened to a Japanese song that Shaul loves very much. The song is a remembrance song for the Tsunami Which was in Japan, few years ago. Ela had a visit from Yael, Tom and Eyal. She also told her story from Poland. She has lost her parents and remained an orphan. Ela was hidden by a priest in an orphanage house. She baked a cake for the students. Etja spoke about her past in Ukraine. She is afraid and concerned, with what is happens these days in the world . Talja is very sick. She has lost most of her ability to see. She is very week now_days, and can hardly move her body without help. Yet, even with those difficulties, she hasn't lost her hope.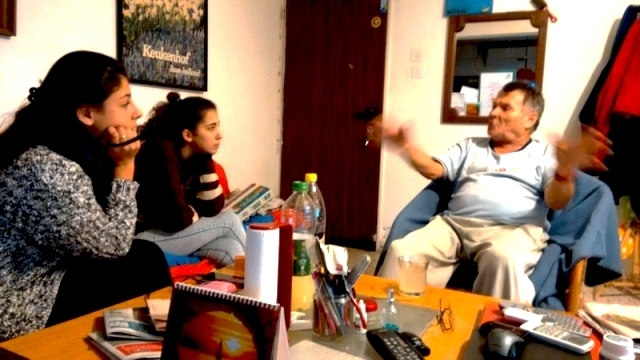 Shaul, Noam and Eden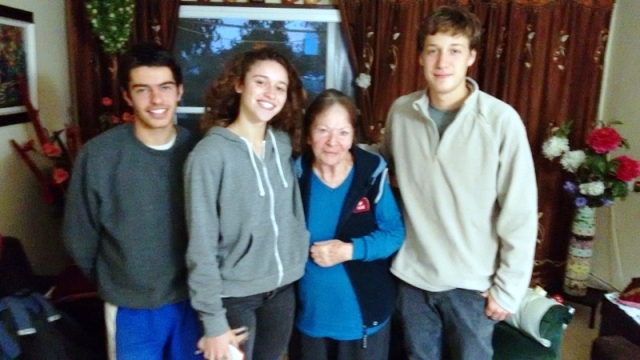 Ela, Ayal, Yael and Tom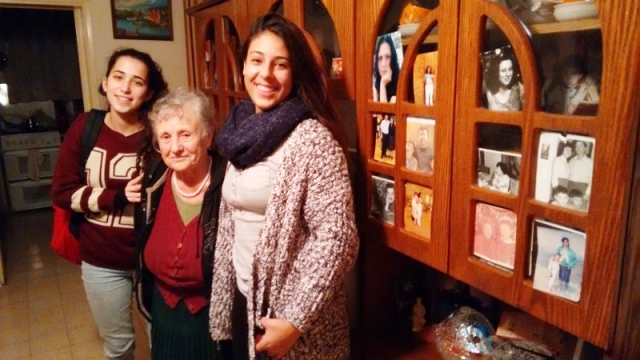 Etja, Eden and Noam

Jafim has told us his life story. and of his parents as well. He was born on '45, just at the end of the war. Many of his family members, didn't survive. His parents survived because they fled from the Vinica region and were hiding close to border of Romania , where the Nazi's had less power.
Jafim is traumatized from the war and the period after the war. The students, offered Jafim, to clean his apartment, and I hope, that he will be open for it.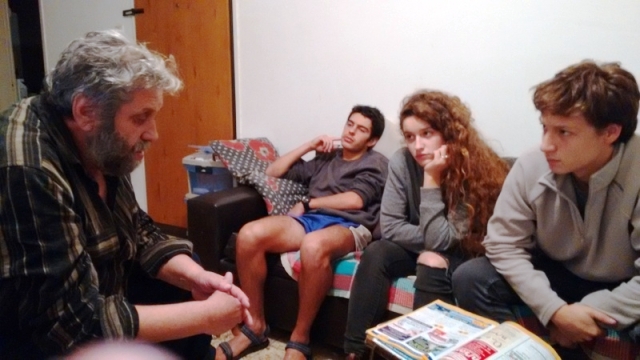 Jafim


Kibutz Dafna and Kfar Blum
The students from Maayan Baruch, have visited for the first time two new survivors from Kfar Blum. Menashe and Frida. Later on, they visited the survivors in kibbutz Dafna: Sophia, Simcha, Chaineke and Israel.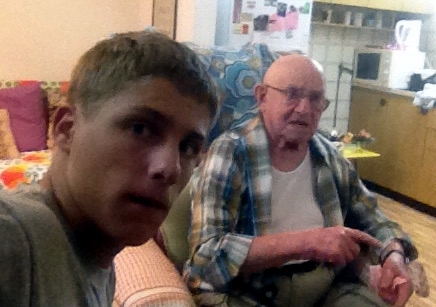 Asaph and Mordechai

Asaph: Today was very important. Me and Ofir, has visited Menashe from Kfar Blum. Meeting him was very interesting. I wrote down for my self what he said. We will go there next week too. Later on we visited Israel in Kibbutz Dafna. Israel, as you have said, has very hard stories. His house is nice, and his wife Tzipora too. We had tea and cake, which was great.
Rom and Ohad have visited Frida. She live in the nursing home. She is very lonely and the visits of the students, are very important. She can't express her self very well, and also, talking to her was quite hard for the students. Next time, we decided to be valuable to do active things together so she will be able to open up more.
Other students reports, on their visit in Dafna: Shir: It was very nice to visit Sofia. We spoke about her family, and showed us old pictures. Juli : We came to Nurit , and she was very happy to see us. Our discussion was interesting. Shiraz, Our visit was with good and warm atmosphere. Simcha, waited for us, and told us about her family and her past. She hope that we will come more often. We wait to see her again.
Kibbutz Ginosar
Because of a change in the school program, the students of Maitzar have decided, to give an extra visit to the survivors from Genosar, even it was not planned for this week. As you can see in the pictures, the students and the survivors, already get close to each other. The excitement was great to both sides.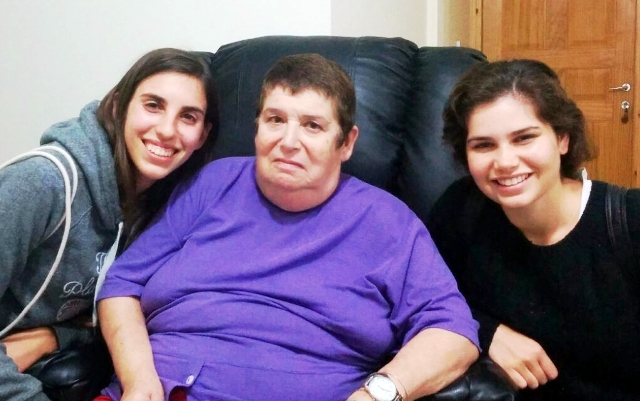 Batja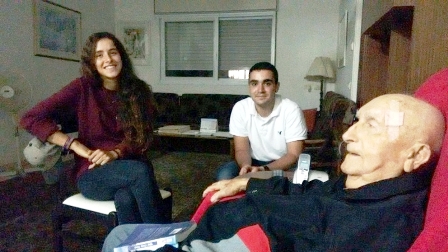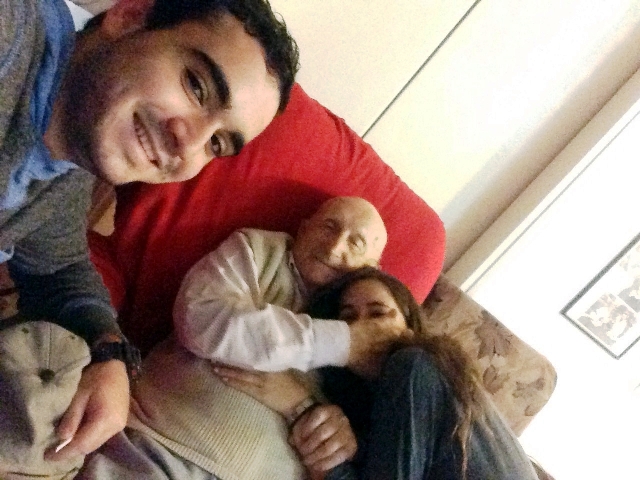 Moshe, Ran and Gila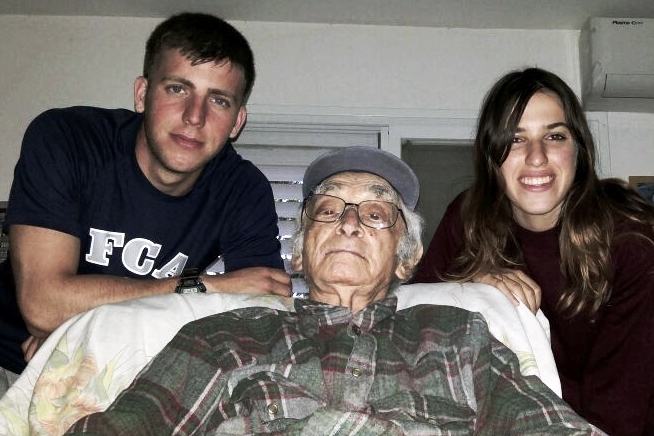 Avraham, Yuval and Gal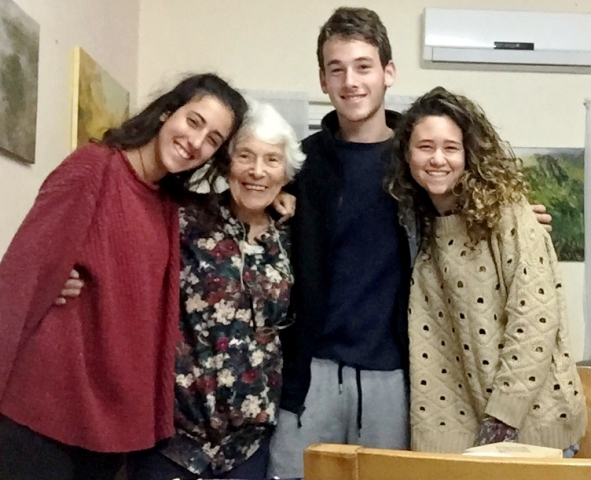 Ruth, Daniel, Karin and Atalia

Shalom,
Timek

Pardes Chana
On Monday, We gathered, R. Shachar who came all the way from the Golan hights, the group of enthusiastic girls from Neve Mechael and Shiri with them, and me, Rivka. We split for three groups: R. Shchar went with the girls to Chaya and Morris. R.Shacahr brought his guitar and played for Morris a very well known song, in Yeddish (ah Yeddishe Mamme). Morris was so touched in his heart that he started to cry and the girls too. It was very special for both of them. From there, they went to the Boaron couple, but couldn't meet them, and only left the package of dry food they brought. This couple suffers from many health problems and need a lot of visits in the medical clinics. Avraham have been fainted in the bus, on his way to one of the clinics. Try to imagine how difficult is it for him. Zippora, suffer from her Astema, so our visit was short. From there, they went to Aliza, who love so much the girls. She kiss and Huge and the girls in return, love so much to come and visit her. Shiri who work in Neve Michael already her second year, as her service to our society, and it called National service. She went with the girls to Rachmill, who was very happy to except them and he joined their songs and dances. Here what she wrote about it: "Rachmill looked much better then the last time we have seen him. He was so happy to see us. He danced and sang with us and it was very hard to leave him because it made him to be sad …" From there, they went to meet Mordechai, and he told them stories from his past. Here what Shiri wrote: With Mordechai it was real good. He told us about his wife, his sister and about his work. He was very happy to meet us and felt really good ". From there, they went to Aliza , and it was a gathering at her house. She really enjoyed it, and spoke with us telling stories from her life. I went to visit Ester, and she was this time very talkative and told me about her family , showing pictures and getting excited about them.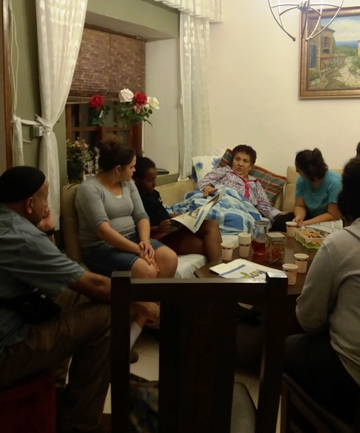 Aliza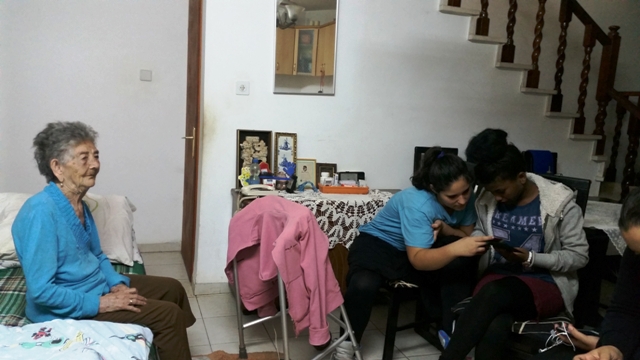 Chaya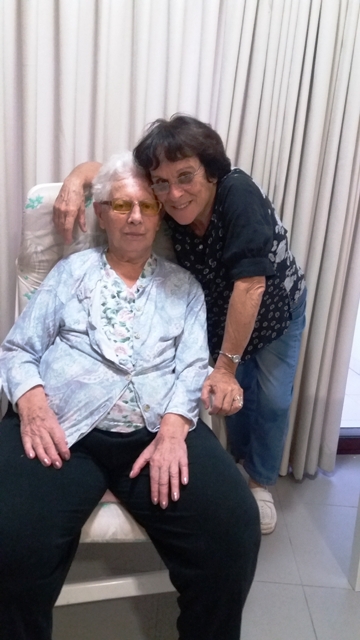 Esther and Rivka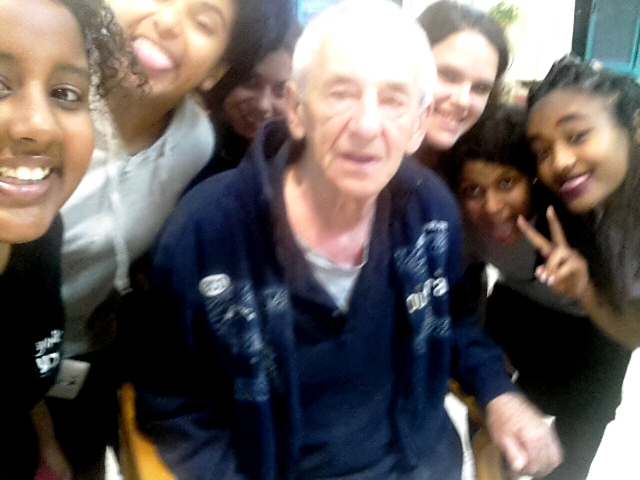 Rachmill
We are going to visit with the girls who can't join us on Monday, and they will go with Zvia on the next Tuesday. These girls, are not willing to miss the visits, and our survivors, the loneliest ones, will have each week a visit. We feel how the project means to both sides, and the girls do it with a lot of good will and joy.
Best regards,
Rivka

Fundraiser event for Amutat "L 'Chaim" in Jerusalem
Oktober 9, 2015, Cheshvan 27, 5776

New song
Dear friends! Yesterday, we had a great experience and unusual one, on the wonder journey of Amutat "L 'Chaim". All of that, has started from a young girl with Huge heart named Rotem, who were also last year, a good friend of Shir, in the Pre Military program Mayan Baruch, but, wasn't involved. She is going soon to the army too. Shir probably has passed her anxiety and motivation, and as a results of it , she made an event, full of light. Apparently, light can be everywhere, if it with open hearts, even in a Yerushalmic Pub, a place for leisure for youngsters, who is not so thirsty for Beer, but their real thirst, goes as far as significant use of giving with meanings. Along weeks, Rotem worked and planed a wonderful production, with Shir and the owners of the place (Pub), with endless generosity, who gave it, without any fee, after hearing about the Amuta and it's essence. The most charming thing was, the two singers: one is very young and his name is Matan Ajami, and the second one is well known, famous, and beloved one, and his name is Nimrod Lev. Both of them, agreed to perform as their donation to the Amuta. I had the privilege to open the event, speaking to many youngsters from many places. I felt their hearts, beating with me, thirsty to hear any massage with essence, a real thirst, which I felt, coming from them.
First, I thanked the owners of the Pub, and than, turned to singers and told them:" You are a special souls. Many artists, doing volunteering performances for lofty goals, but it comes with the media, publishing it every were, giving honor to them. But here, in our modest event, without the media, with minimum publication in the Face_book and Whats_up, with pure meanings, simply for the sake of giving and empathy, connecting with the light as it is. I said, that they have God's blessing for their giving. Of_course, I continued telling about our vision and the essence of our project. People bought shirts, paid for tickets, drinks and food, knowing that all the funds are for "L 'Chaim". I felt the love of Hashem in this Yerushalmic Pub, full of smoke, spread alcohol but under it, or above and maybe deep down, the loving spirit with good will of Israeli and Jewish beauty, caused me to go back at three o'clock in the morning, full of joy and inspiration. This place, even thow, being a place of smoke and alcohol vapors, made me feel that those who were there , look for more spiritul meanings,and I felt and inhaled a fragrance of love by all means, with united hearts and continuous love.
Again, I would like to thank:
*Rotem, a girl and women, with her Huge heart, for her dedication and determination to give.
*Many thanks to all the wonderful Mechina students (from last year).
*Many thanks to the owners of the Pub, to Nimrod and Matan.
* and above all, to our God , the God of Israel. Amen and Amen.
Daniel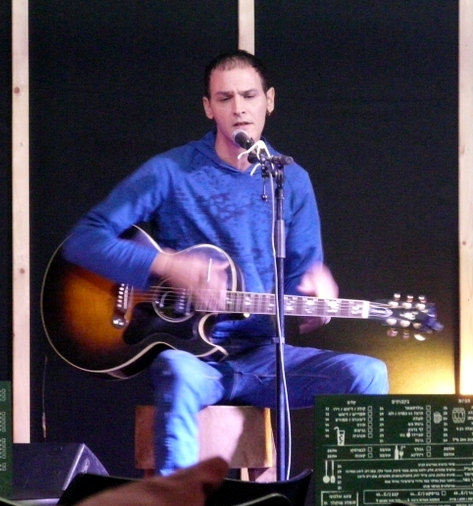 Nimrod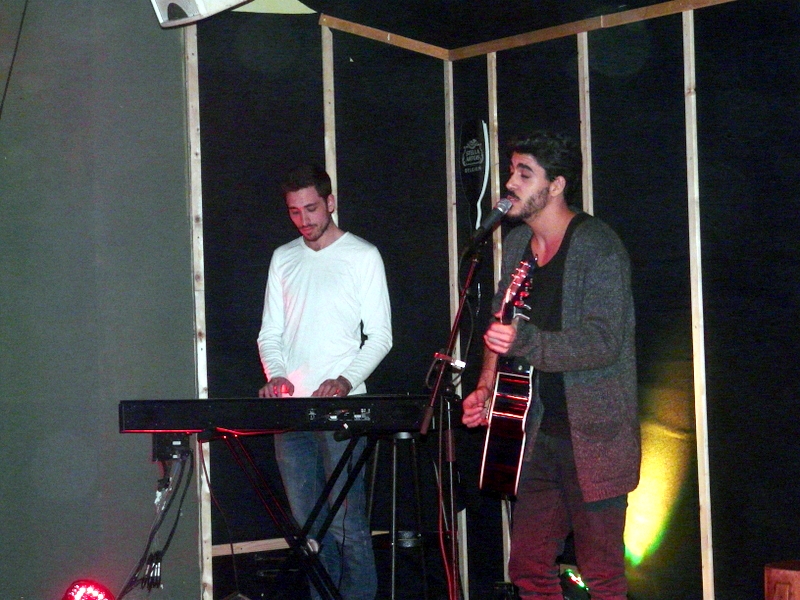 Amir and Matan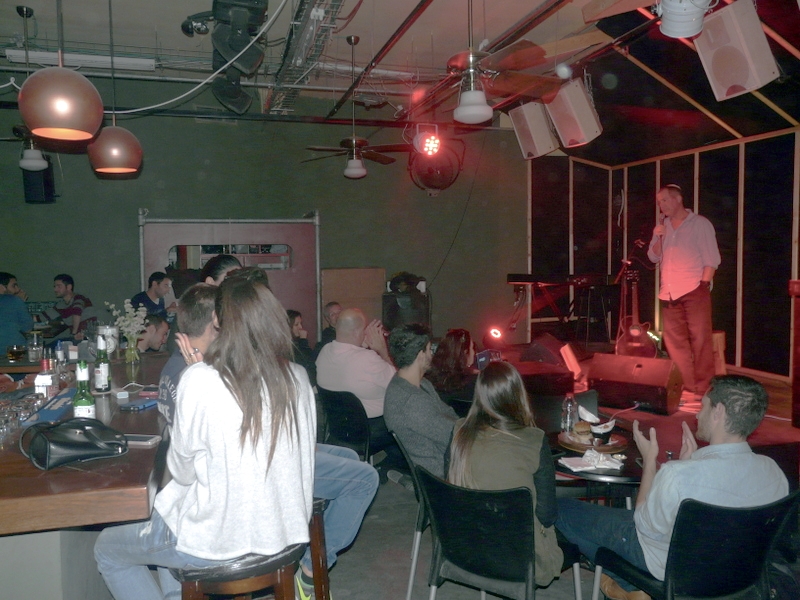 Daniel telling about L'Chaim to Life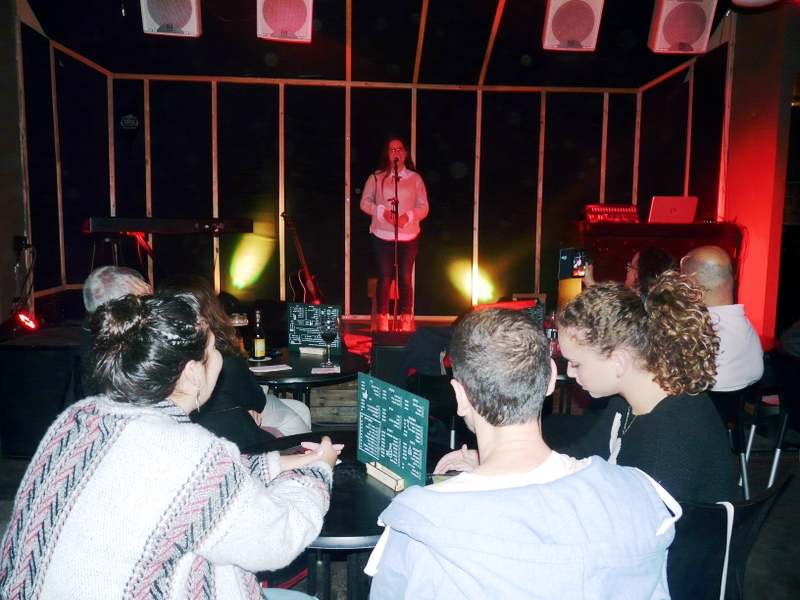 Shir on the stage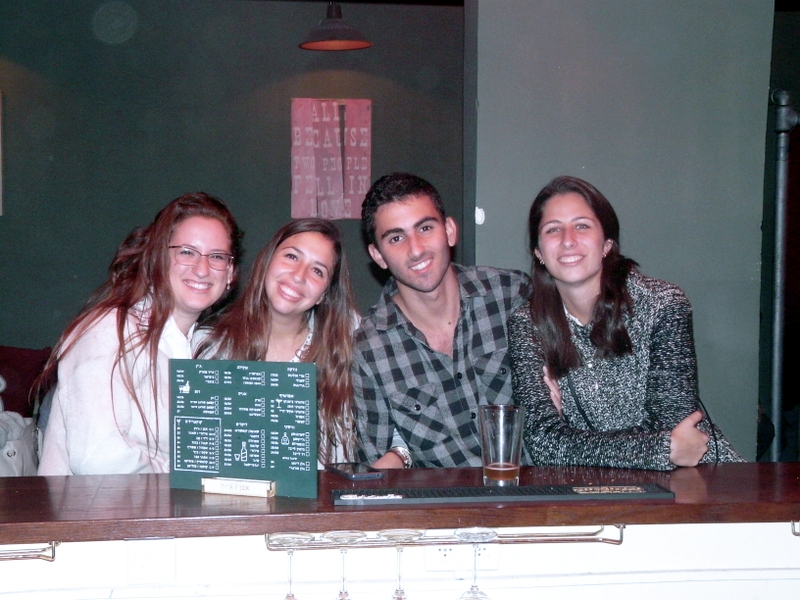 The students

News from the north Ginosar

Last week, I visited Ginosar with my friends from Holland, along the visits of the students from Meitsar to the survivors. We experienced how beautiful the students interact with the shoa survivors. We visited Zelma, Eli_Ram and Moishe (see the pictures below). The group from Holland was very impressed by what they experienced during these visits. Before, we all met Daniel, who explained them, how L 'Chaim__to_life operates, and the vision that L 'Chaim has, to build our future from the past.
This week again students visited Ginosar, here follow a couple of feedbacks from the students:
Jonathan and Lior, went to Batia's house. We had a nice chat with her. We also, took her with the wheelchair to the Yigal Alon center, to the hotel and to the farm. Batia enjoyed it very much.
Noam: Today we went to Tzahi and watched a film about her life. It was very interesting and we are looking forward to discuss it with her next week.
Gal :Today Avram came a bit later from Tel Aviv. However, we met him for a while and had a small chat with him.
Dana: Today I went to Eli_Ram and it was great, we had a good chat with Irit his wife too.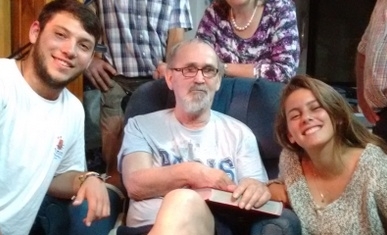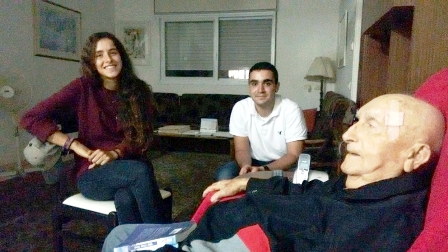 Picture left: Eli_Ram / Picture on the right: Moishe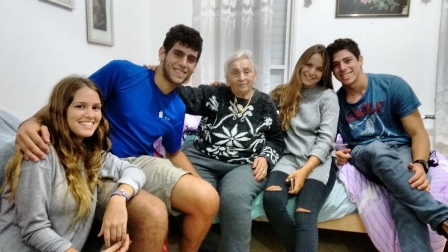 Zelma

Dafna / Kiryat Shmona
Omer: This week, the students of Mayan Baruch has visited Dafna: It was nice. Each couple of us, went to the elderly he were assigned .
Israel had an appointment with the dentist, so I went to visit Sophia instead, and Asaf visited her. It was really nice and fun. She told us about her life in Argentina and coming to Israel. Each one went to the elderly he is assigned with.

Dear Timek, it was very nice to meet Nitsolim. I'm waiting for the next visit. Thank you.
Ohed from mechina Ma'ayan Baruch : The encounter with the survivors in Kiryat Shmona and Dafna, were very interesting and I learned a lot about the war and from the painful stories of the survivors in their life, in addition to get to know those nice and fascinating people. I enjoyed very much to take part in this volunteering program.
Rom : To connected and to meet the survivors, really intrigues me. See picture with Anatoly..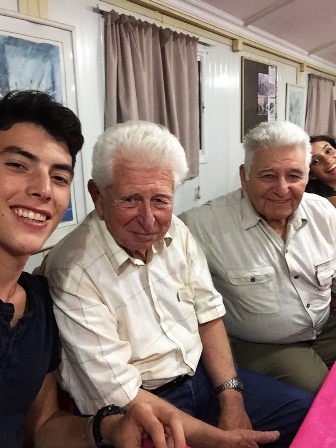 From left to the right: Rom, Anatoly and Mordechai (husband of Klara).

Rosh Pina last week

Tom and Ayal (kfar Hanasie) : With Israel it was excellent. He told us fascinating stories. He is a special person who can teach us so much.
Yam and Eden : Hi timik, with Blanca it was great and very interesting. She is a real Zionist. She connect us to Eretz Jisrael.. (see picture with Blanka). Yael and Noam: Rachel came from Romania, She likes our visits very much and yet, she doesn't talk much. I hope she will open up soon, as we learn to know her better..
Katzrin
Yesterday, me and the students from Kfar Hanasi, has visited survivors in Katzrin. It was first visit for the students. Shlomo told us how he got freed from Auschwitz and how the British, brought him and other orphan kids, to Eretz Jisrael. His new life in Israel has started in Zfat. It was at 1945( still under British mandate), and they were surrounded by violent Arabs until the Independence day at 1948. When we met Etja, she was a bit scared, because of the fect that a strange people, offer her help, and she felt a bit afraid from that. She was happy to see the new students and told us a bit of her story from Vinica,Ukrain. Shaul was excited to meet us; he couldn't wait for this moment. We had a great chat with him and talked about the current situation in Israel, and how it was for Shaul to live in the Golan Heights. Ela received us, with a great hospitality and love. She just returned from Zfat Hospital. Ela came, as an orphan from Poland to Israel and now she is a widow and has lost two sons. One in the army and the other has died from cancer. She have one daughter left, that cares for her.

Shalom,
Timek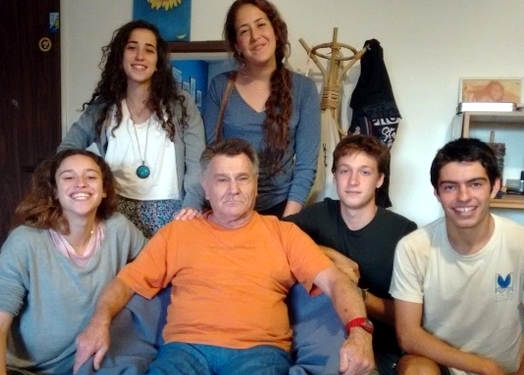 Shaul wit the students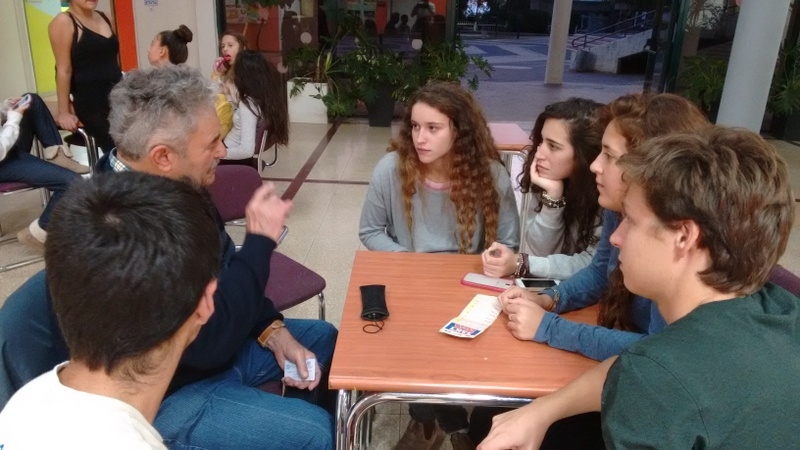 Shlomo
Pardes Channa:
We had our visits this time with eleven girls from Neve Michael, and there are more, but, not all of them could come on that day. The range of the students, who want to join the project, has been expended, and we are consulting what to do, because all of them are very enthusiastic. We where three groups, and started with Chaya and Morris. This couple, doesn't have the strength to go on… and it is very hard to cheer them up. For Morris, R.Shachar, is his beloved person between all of us. When he comes, he is so happy and willing to cooperate. Chaya is more cooperative with all of us and mainly with Ora, who come to visit her once a week. R.Shachar also came to visit Ester , whom we going along many years, and every time she is very excited to meet us. Aliza, didn't feel so good , but was happy to see us and told us stories, and field the table with hand made cookies and something to drink. The students love her and each visit, don't want to miss her. I believe that she forgot her pains along our visit. The Boarons, also, waited for us with refreshment, and for the first time we heard that they feel better. It was good to hear, and we wished them to keep up that way. Zippora, waited for us and greeted all of us. Zvia and me with the girls, went to Rachmill. This time, we didn't have any one to play for us, and we took him out of the house to walk with him and to make the wheels of his mind to work. Slowly, he could express himself a bit, and as you can see in the pictures, his joy is seen. From there, we went to Robert a new survivor who came from Romania, and has born in the work camp for his Jewish mother and a gentile father, who wasn't in the camp. Somebody informed about her identity, and she had to go to work in the camp. Somehow, the father convinced the authorities (may be by giving a nice bribe) to take her after awhile, out of the camp. But they had to get away far away from their home city. Mordechai told us how he, as a 5 years old child, got caught saying some words against the Church, nearby the church, and the children, who heard it, has report it to the right people, and it came to be a case in the court. the judge, after listening to the case, has found that the words, couldn't be heard because of the distance between the other children and him… and this decision, have saved him… for him, it's the first time that he felt free enough, to speak and tell us something from his life. We said good _ by, and when we got out of the house, we met a women, who met the girls at their last visit and they spoke with her. She kissed them and said haw lovely they are. You can see how a delicate texture is build up already, between the elders and the sensitive girls who are with us. Best wishes, Rivka.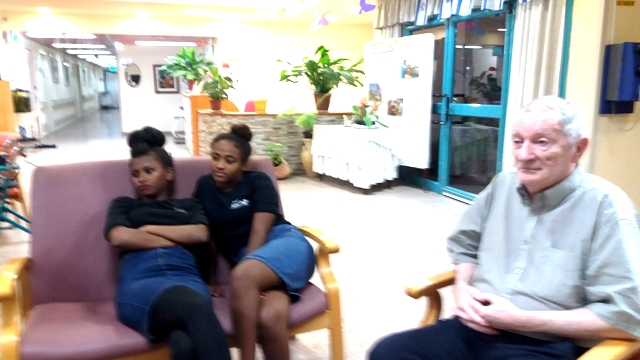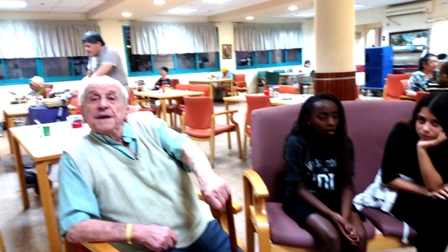 Picture left: Robert / Picture on the right: Mordechai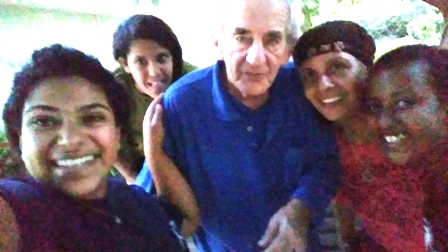 Rachmill
Modiin
My first visit, as a soldier today: not with my uniforms, because I am in a pre military course. From now on, I will be at home only Friday and Saturday, Then, I will be visiting my beloved survivors. Jaston is not feeling well again, but we hope for him to get better, and Janet continue to take care of him dedicated with all her heart. I spoke with her to let herself to relax a bit because of the helper who is living with them. We hope that next weekend we will go to a movie. I also spoke with Svetlana and Dimitri, and Shulamit and Chanan. Both couples complains about their health, but as Shulamit has said:" If we get up in the morning and have the will and power to get up and stand on our feet, It's enough"….
Mai, Ofri, Alon: On Sunday (this week), we had a special visit at Janet and Jaston. Mai, brought her uncle dede, with his wife Mili, who is a second grad cousin of Jston, and the meeting was very happy. We heard memories from both of them and stories about their life in Tunis. Janet has prepared for this special occasion Farixa. It's kind of food from their homeland. It was very tasty, and our first acquaintance to this food (see the pictures).

Best wishes,
Shir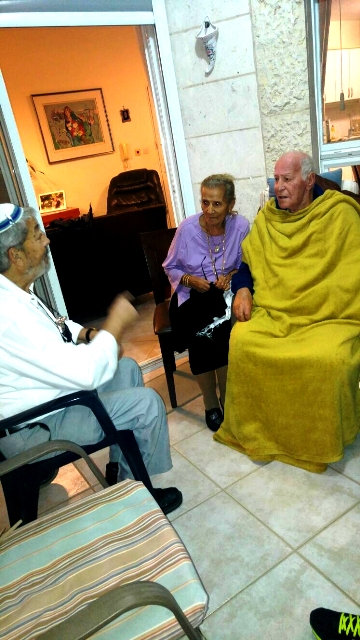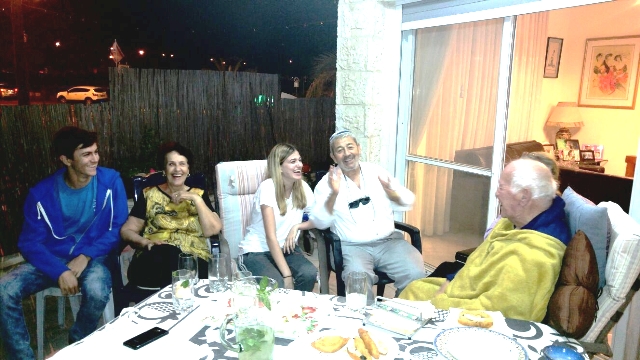 On the picture on the left: Jaston & Janet. It is so wonderfull to see how the reactions are during the visits to our survivors.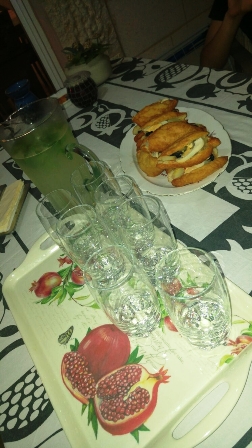 Farixa and lemonwater
Arbel and Shir: On Wednesday this week, we have visited Svetlana and Dimitri. We drank together Tea and ate cookies, and heard stories of their life. Svetlana shared with us her reach experience in life. Both of them feel much better after a long week of medical examinations. Svetlana made us to feel already as her family. Waiting for the next visit.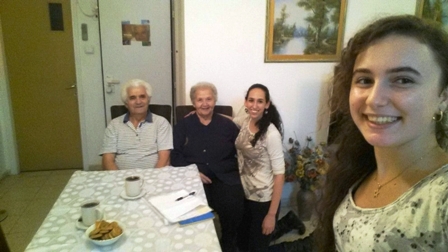 Shir, Arbel, Svetlana and Dimitri

This is our news for this week. Shabbat Shalom to all of us.

Shir


The news of the end of Oktober
Oktober 30, 2015, Cheshvan 17,5776

Modiin
Tair and Moria: We enjoyed from our first visit at Svetlana and Dimitri. We brought chocolate and greeting card which were accepted with excitement and thanks. We sat together drinking tea, listening to their stories about their family and good advices from Svetlana about life. They taught us to count till ten in Russian. It was fun and we already wait for another visit.

Shir: My visits in the North

On our way to Mechina Mayan Baruch, we went first to our "grannies" in Kiriat Shmona. We came to Klara, Mordechai and Anatoli. We prepared together with Klara, her delicious and well known Blenches and ate together. We saw her grand grand new baby, and Klara sang for us a song in Russian about our strong and amazing army crying from the excitement of doing it. We has to catch up some information and then said good by. After that we went to visit savta Sofia, who were sitting outside the "Ela house" (The elderly house). She was so happy to see us and told us how exciting it is to meet the new students. For her , the life in the elder house aren't easy. But, she continue to join the activities with the Galil elders, and walking in the Kibbutz roads. It is so nice to have the feeling as we are visiting our own family. I wish to feel that way as long as it can be.

Next week Shir and her partners are going to do fundraiser event for "Lechim". We wish them good luck and report will follow after the event.
We will have many activities next week. Our report will express it.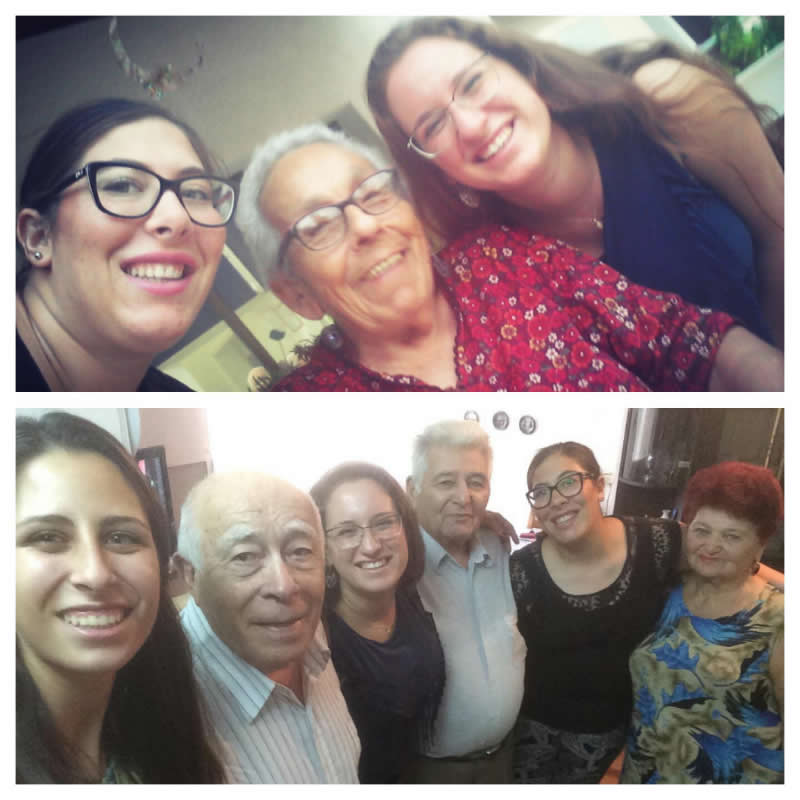 Pictures:
1. Tair, Moria, Dimitri and Svetlana.
2. Shir, Shiri, Sopia from Dafna.
3. Shir, Klara, Anatoli, Mordechai, Shiri and Daniel.


Beer sheva

Two weeks ago, I have visited Roza, for her 101 birthday!!! I brought her a beautiful flowerpot, and she was very thankful for that. It seems that she is in a good mood, but, getting older. She wish to all, a good health for those, who help and care about her.

Olga, is charming and getting better after her second operation. She is weaker, and not going to courses as she did before. She is very excited about my pregnancy and it brings her to speak about family as an issue.

Sara, has called me yesterday and told me that Shmuel, broke his leg and stay in the Hospital. We went to visit him there, and found him in a good spirit, and, seems that he have the will to get better and over it. For Sara, it's a new reality. First, to do all by herself and to go each day by Taxi to be with him , and this is challenging their economy. I will try to help and take her when it will be possible.

These is our news, for this week.
Efrat

Shabbat Shalom to all of us.





Changing Awareness into a Journey of Redemption
Oktober 23, 2015, Cheshvan 10, 5775

Dear friends!

In my essay today, we will try to touch more in each of us, the needed steps in the process of preparation towards the changing of human awareness. Moving from the ego awareness (the lie of separation) towards opening the inner eyes by removing partitions (G_d's awareness). But, as usual, in order to be able to know the healing secret, we must get to know the source of the illness. Again, it should be said clearly that the road to health, is not by ignoring or running away from the source of the illnness, but, by getting to know her and learning to go through it, studying her language, her whispers, her manoeuvres, and all of that, can be learned in one way: to open eyes from looking outside to looking to the inside. We should know that unfortunately, this secret is not studied in any educational institutes, neither in any prayer houses. The studies of the inner world, the inner movements, the way to work with those powers, is for our own sake.

It isn't another Philosophy, but a real necessity which may be crucial and dramatic at this period of time, when we are called to take responsibility for our present horizons according to parallel changes in our planet. Here, are some quotations from the Bible, which tell the people of Israel about the possibility of life in darkness, or _ as a blessing _ a life with light. One of the nicest verses says: Psalm 143:3 "He has made me dwell in darkness, as those that have been long dead." Long dead means _ the western culture, with its spirit of heresy and materialism, which is considered as if dead in terms of spirit. Here is the big lesson: one of the most common hazards is to fly after the flock without being able to think independently or originally, instead of refusing to be as a leaf in the wind trap of the mob, of the culture which carries the people along as blind, without the ability to judge, being in total exile from the touch of the inner soul.

Let's clear the matter: When we are stuck in a mass event, no matter its character, there is Hugee power for such gatherings and the movement which happens at such events. A person who is far from himself, easily follows after the power of the mob which is automatic, without the ability to watch and explore more deeply. Alas, but humans live that way these days. One of the reasons for the big lie which in its 'light" people go after, is being foolish and getting to the lowest level of wisdom. This is the lack of the touch of soul within his spirit, his soul, within himself, with his independence which is his strength. It means, that he needs to know the whisper of his soul, and his pure senses. This is how an honest man finds his way, all by himself, away from the silly mob, who have forgotten the great gift: the Hugee potential which is in him: to be in His image! This is the reason, why it is so simple to switch our soul for the cheap mass media with empty arrogant analysts, who are mistaken and mislead others when they speak, who easily make mistakes and cause others to believe them. As it has been said in the past, the way to know ourselves is mainly by the inner language of voices and characteristics, and the collapsing or extending of the painful or exciting or rousing, behaviour patterns we have adopted from our childhood into a world without awareness. But, we shouldn't see these phenomenons, as paralysing problems or a reason to despair, but the opposite. We must understand that what we call bad, is a wonderful trigger to change it into a good opportunity. Such a trigger is called a, "life journey" or you can call it the "journey of the life experience". But, the work is not for the lazy ones. It's a sanctifying work which demands a real will to have changes. It demands many hours of slowing down and relaxation, while studying the amazing instrument which is called human consciousness. Here lies the fundamental news: this knowledge, we can know from our inner body and not from the outside, as it has been said in the Bible: Job 19:26 "And from my flesh, I will see G_d". In conclusion, we should remember: Here there is no guarantee of legendary wealth, or definite fairy stories which have a beginning and end. It isn't like that. It is a fascinating endless journey which has its ups and downs and many challenges, which demand from us to have a big will, and an inner honesty in order to understand, that there is no one but Him! But in order to understand that, we have to know our divine substance, that we were created in his image.

One last sentence: Those, who are worried about the hypocritical action of the world leaders towards Israel: All that we see is for our sake and under full Divine Providence. In the book of Proverbs 21:1 it's written:

"The king's heart is in the hand of G_d, as the watercourses: He turneth it whithersoever He will." And we need to say – no more!

Wishing you a change of your minds, bringing redemption, and open your hearts.

Daniel

News from the north

Kiryat Shmona
Yesterday me and Klara organized the first gathering of the students with the survivors in Kiryat Shmona. I collected the survivors from their houses to a local community meeting hall. And also, the students who choosed, to volunteer with us through their year of studies in Mayan Baruch, pre_military study program.

We had also, a honorable guest from the Dutch organisation Christian Friends for Israël, Pim van der Hoff and his wife. Also Daniel was with us.

After Klara's introduction of the ghetto survivors and herself, from Ukraine, Moldavia and BeloRussia, the students have started to chate and dance with the survivors. Both groups, were waiting with excitement to meet each other. These moments gives me always, a great joy and energy, to continue with the beautiful vision of L 'Chaim_to_life, bringing the youth and elders together.

On our way, one of the students Asaf, has told me, that he specially, chosed his volunteering program on Monday morning in order to be able , to volunteer for L 'Chaim_to_life in the afternoon. Asaf looked forward to meet the survivors because this is for him the "real thing". Shortly after, it happened. On our way back, Asaf told me what a big impact, the gathering gave him. He said:" I am speechless". He will write his impressions in his diary, in order not to forget this. Asaf took time to speak with each of the survivors, and so, did all the other 7 students in the group. They mixed with the survivors as if they knew them already for years. The barrier of language was broken. The language of the heart took over.
I must explain : Most of the survivors, speaks very poor Hebrew. I saw, that even those who don't speak a word in Hebrew, had a quality time with the students. Some students, has learned, their first words in Russian. All of us, went back home satisfied, looking already forward, to meet each other in the private homes.

The pictures show how beautiful the students and survivors interact, one with each other.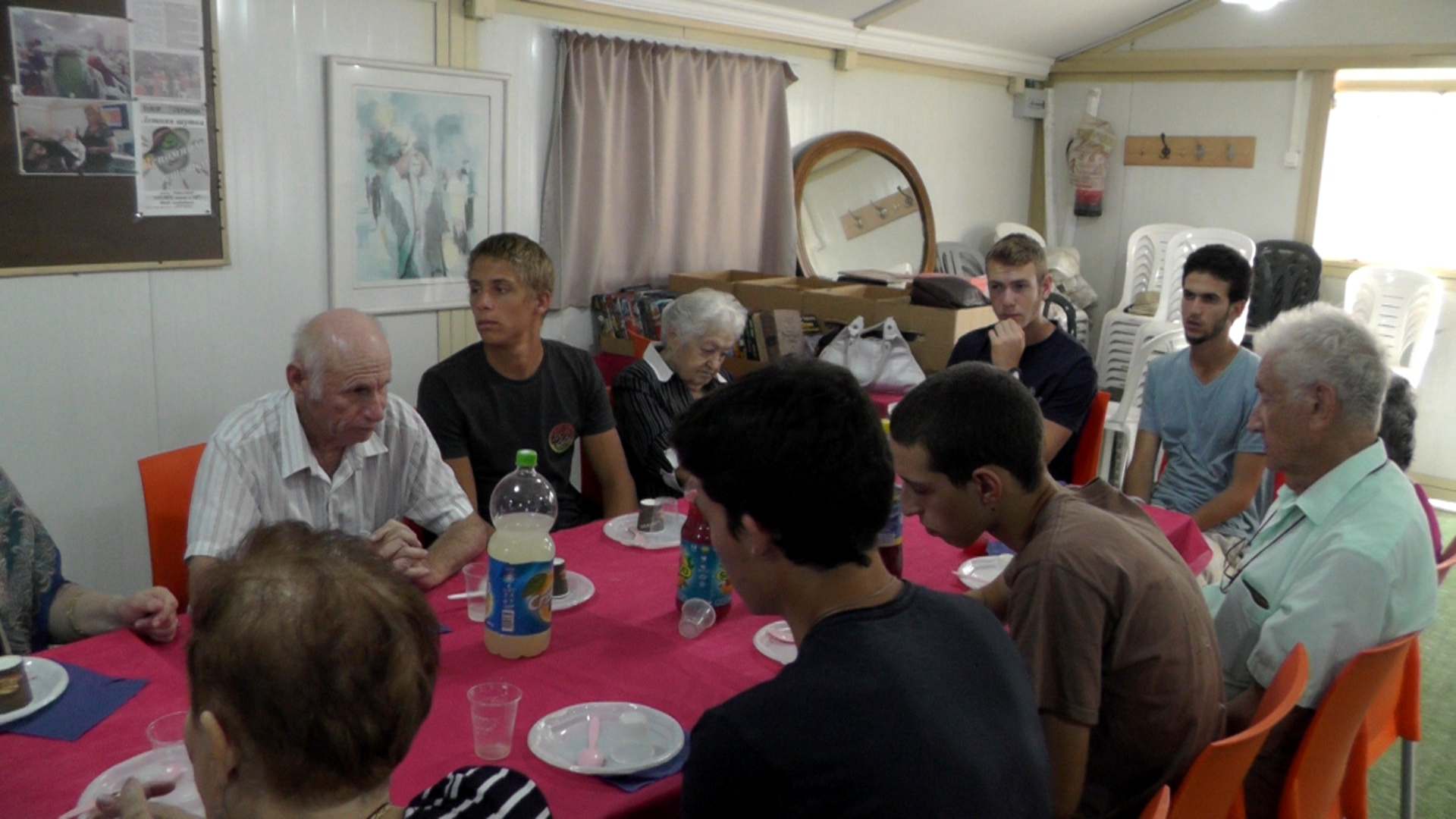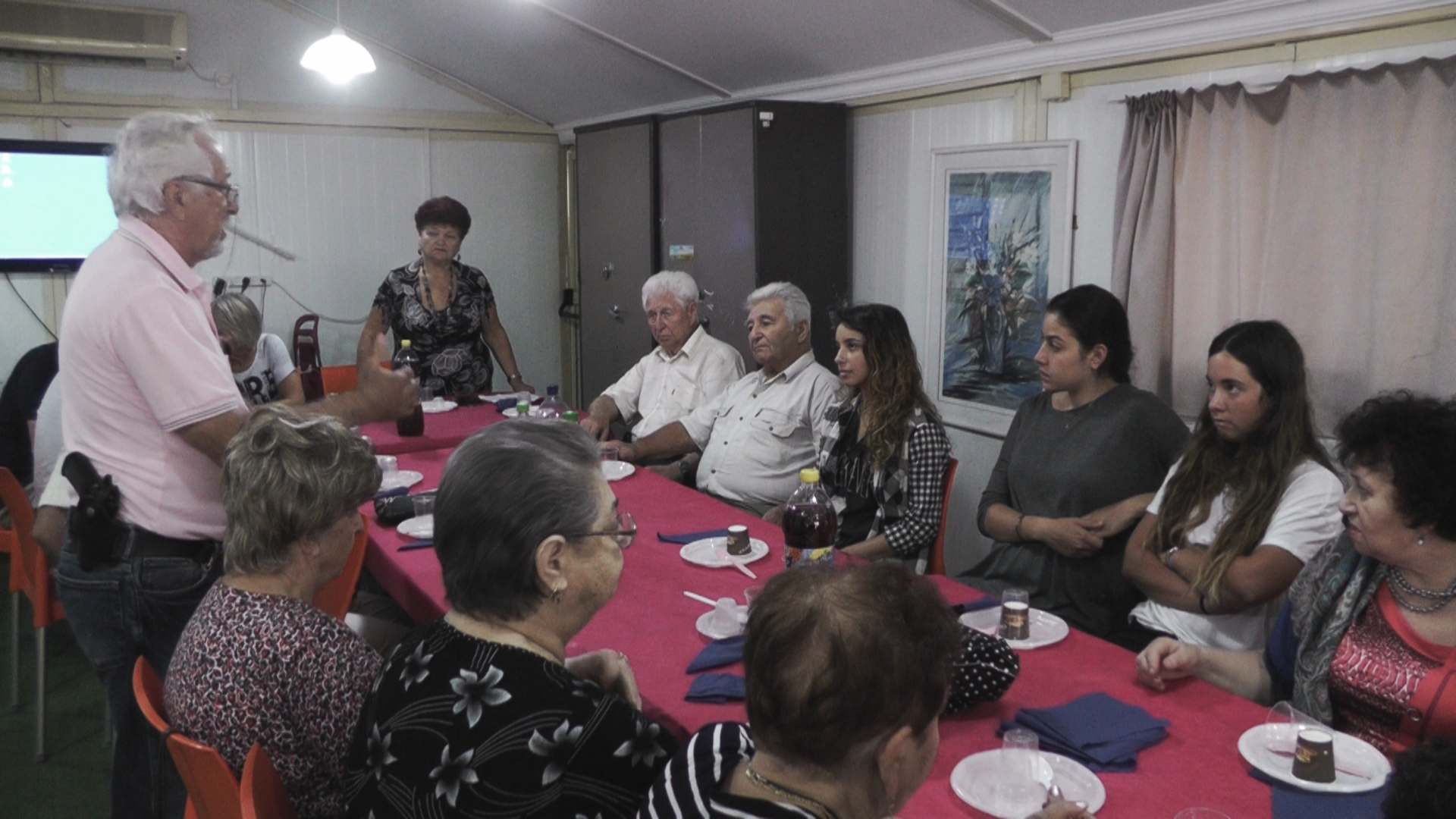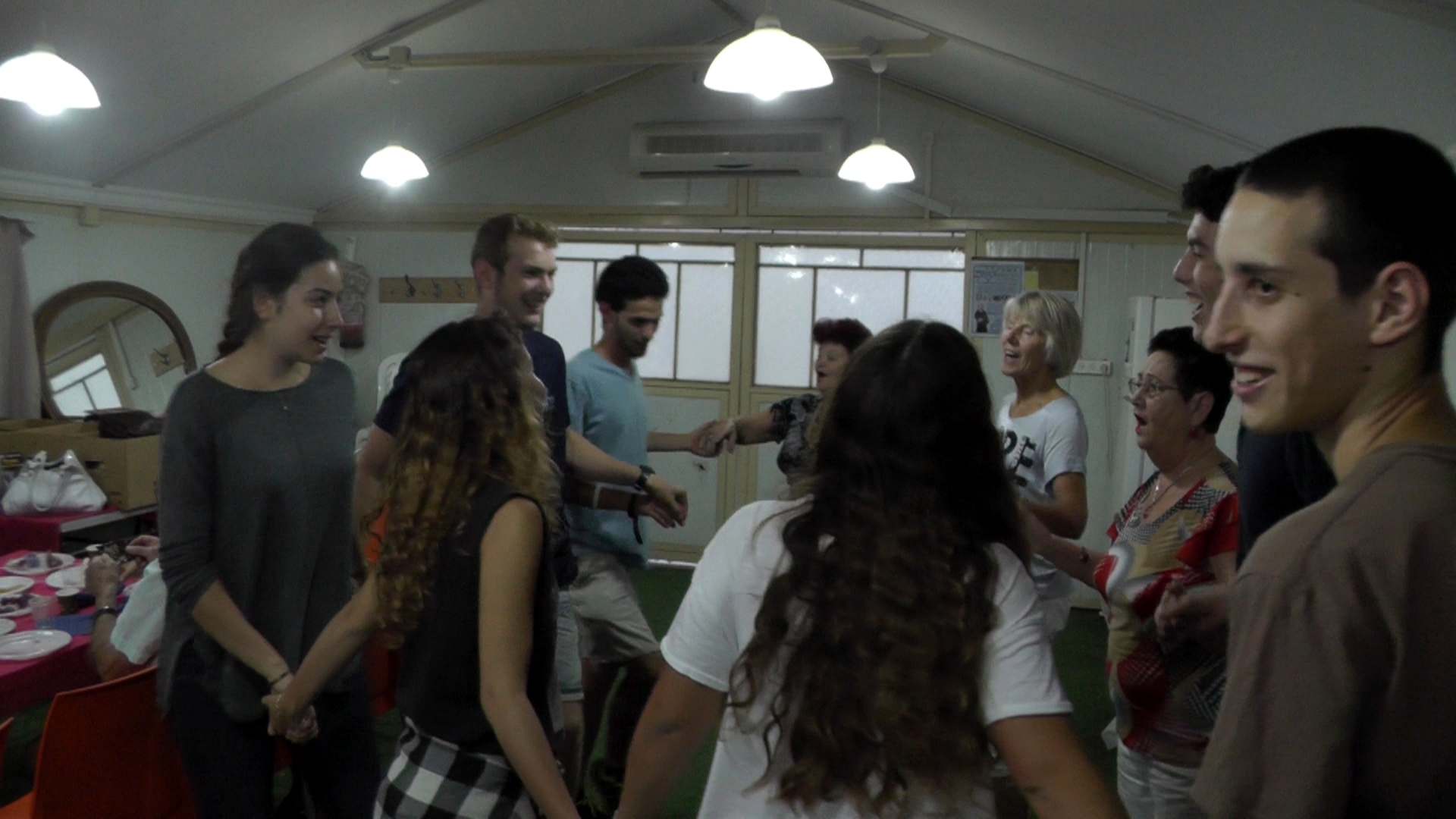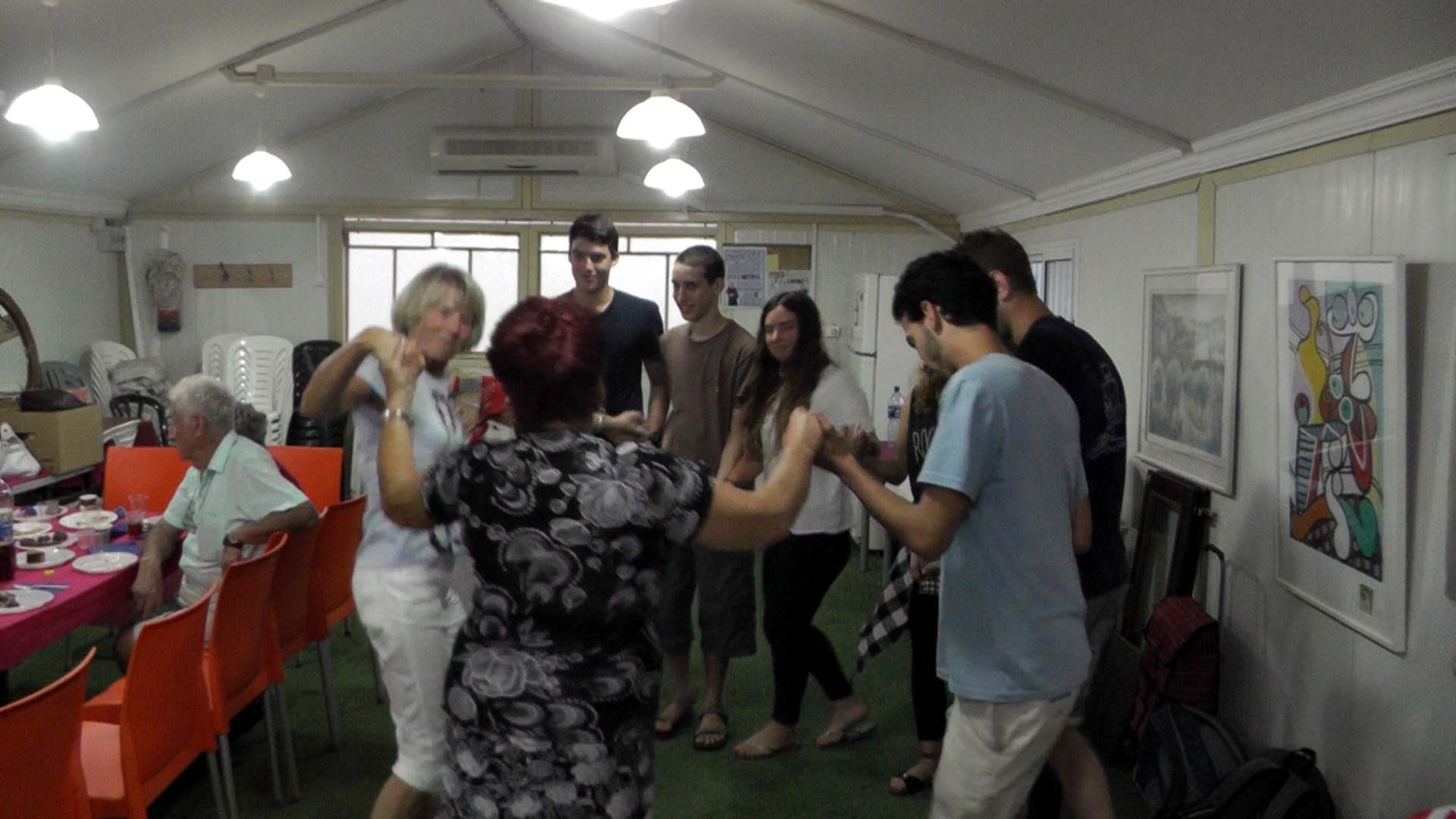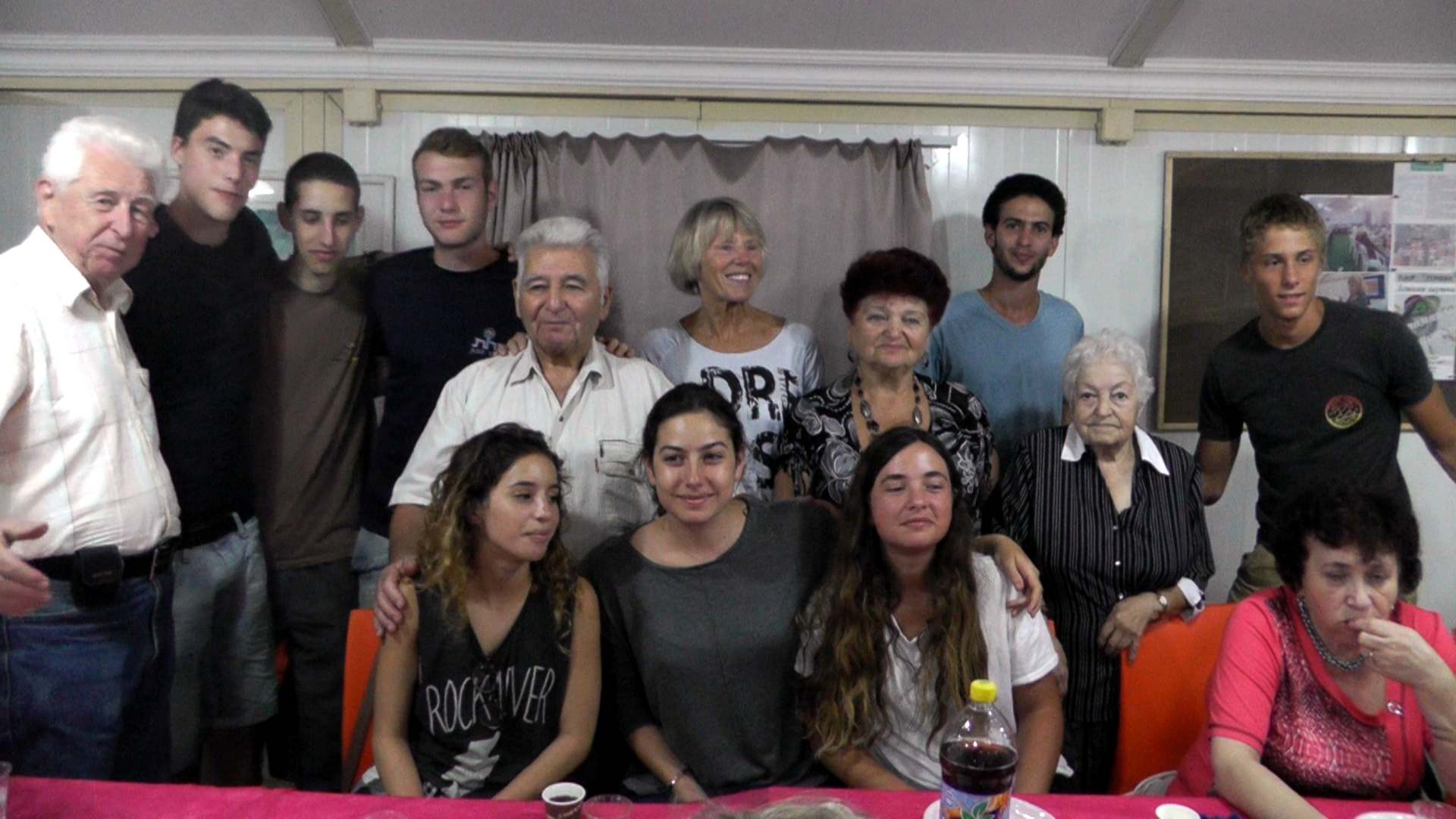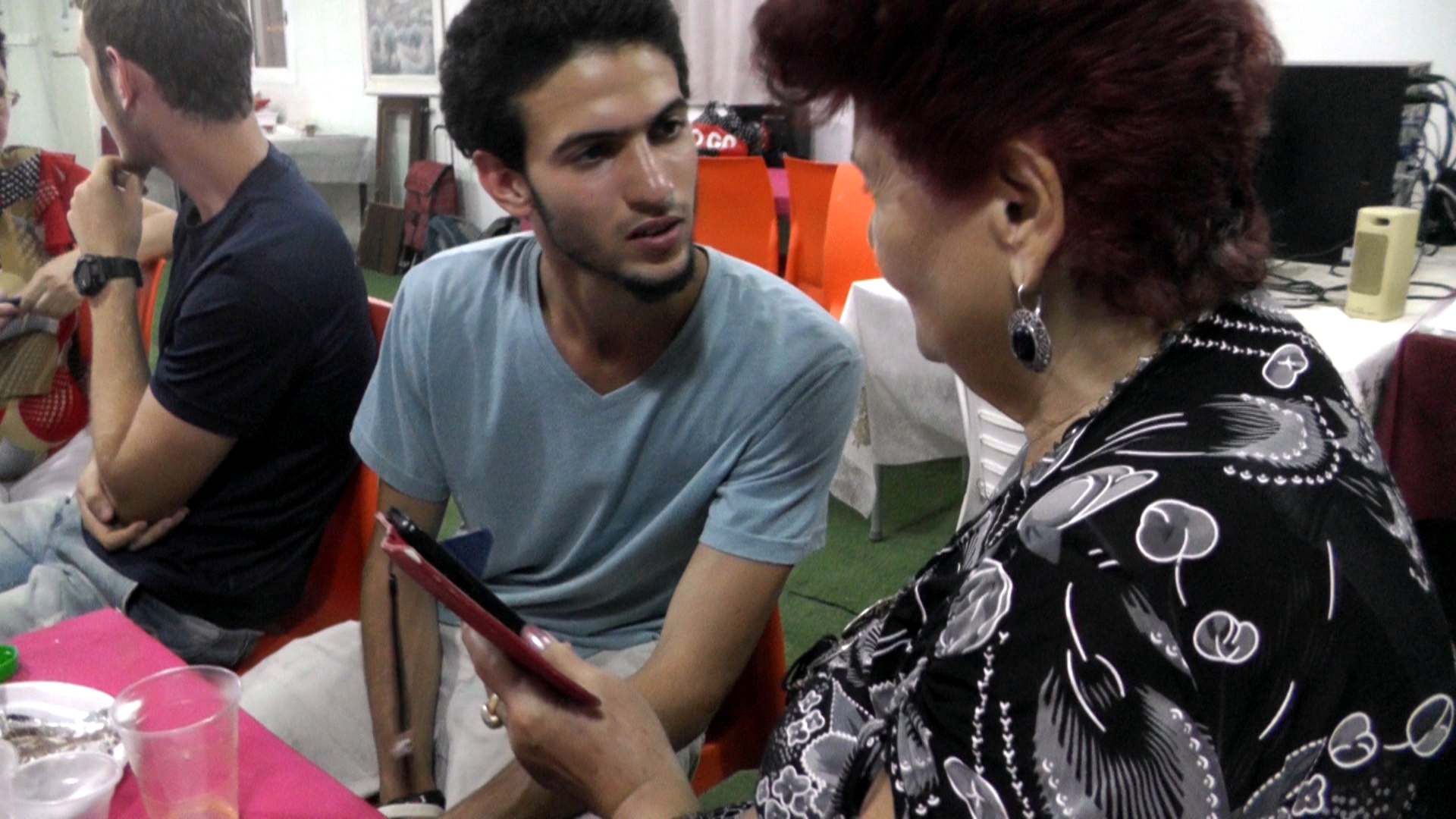 Klara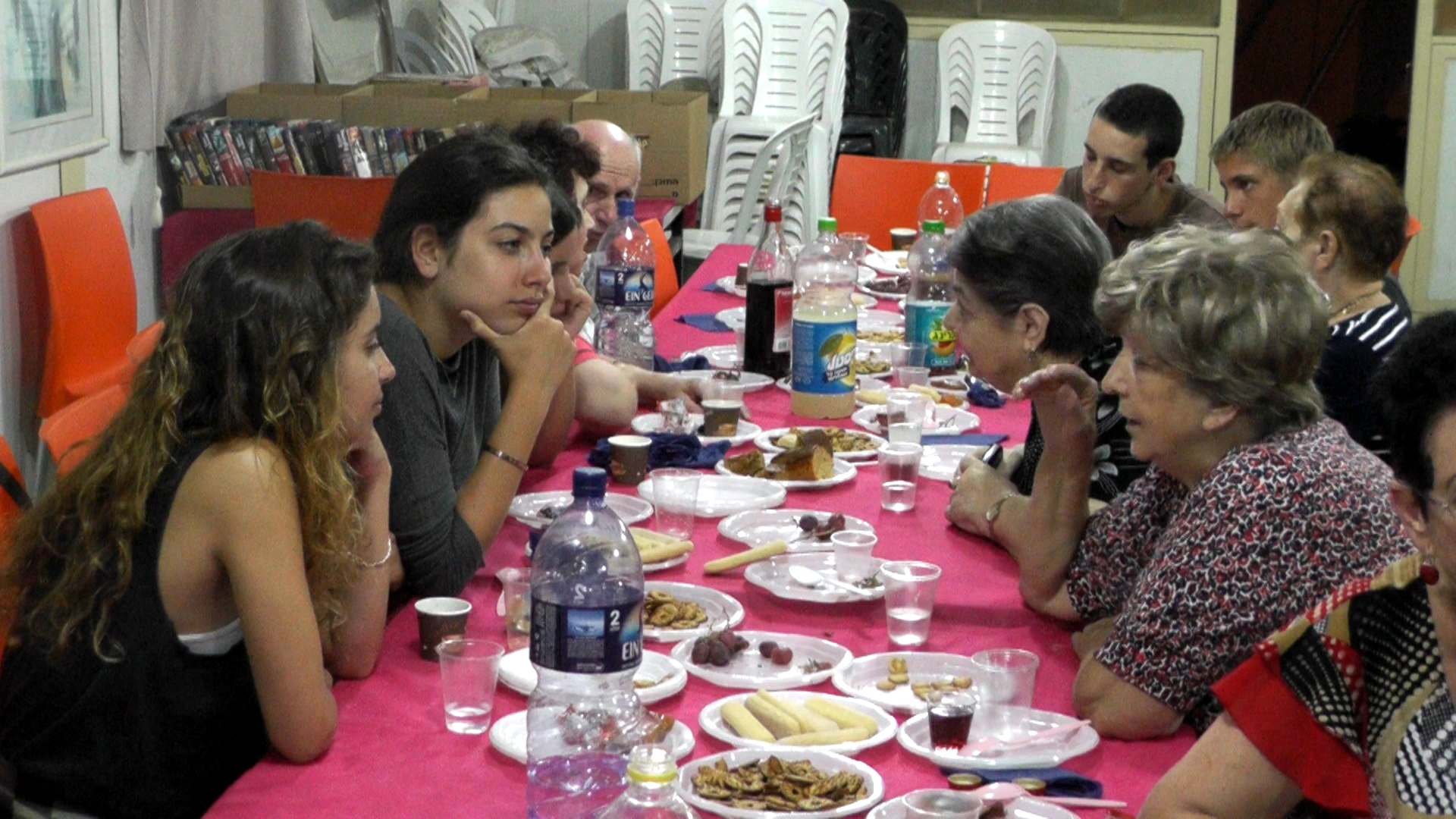 Larissa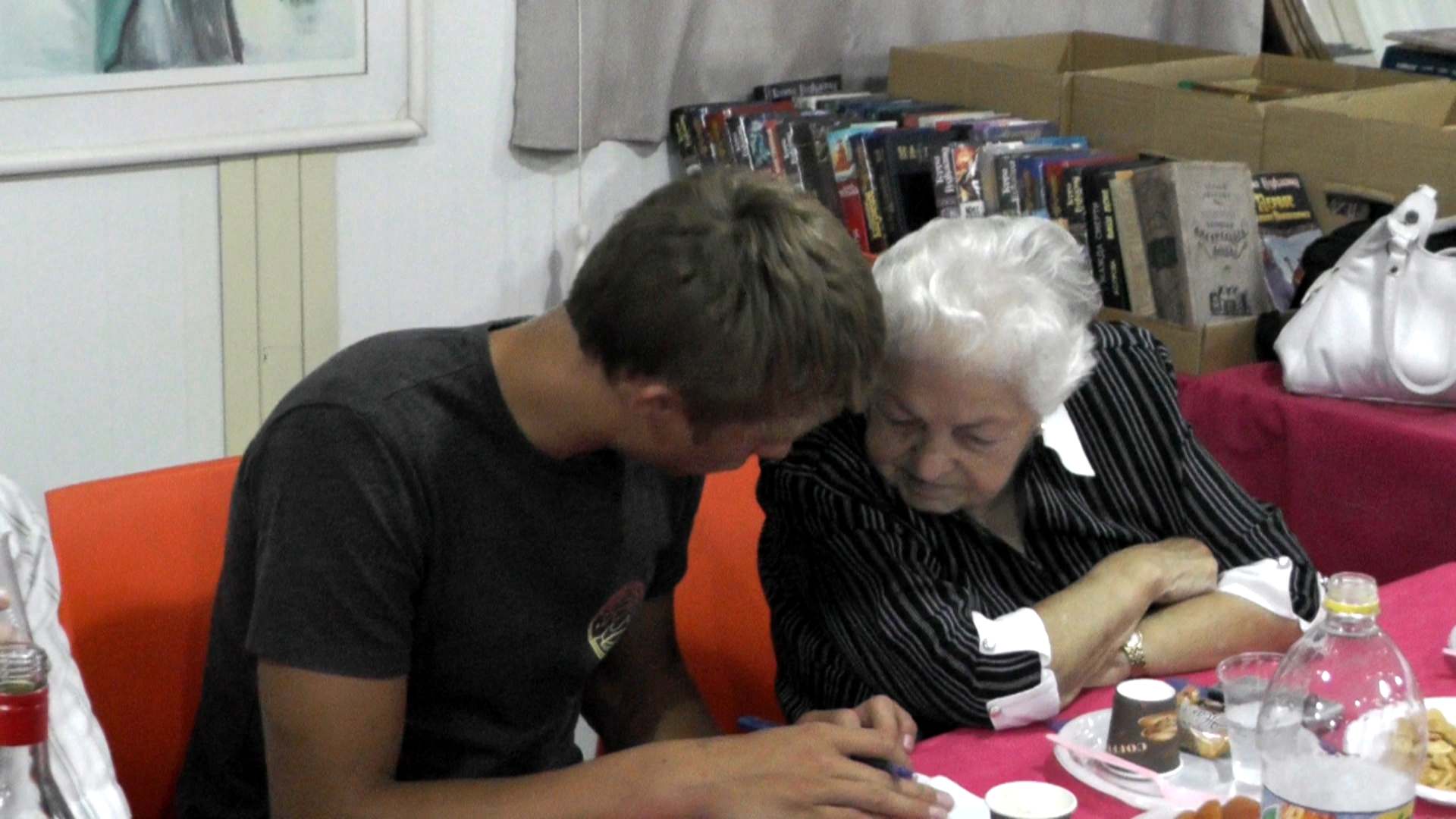 Neli
Thank you for your support,
Timek

Modiin
Sunday 18/10 , Shir and Arbel, has visited Svetlana & Dimitri. We have celebrated Svetlana birthday, with chocolate cake which we baked, and we sang to her in Russian. She was very excited, and Dimitri, prepared for us tea, and we sat together around the table , eating the cake and drinking with pleasure the tea. Dimitri, showed us pictures from his childhood and from their wedding, their children and their grand children's. Svetlana spoke openly about her opinion, thoughts and her remembrance. It was very pleasant.
Shir and Arbel
The first visit at Janet & Jaston: It was amazing. They are so charming, who know something about life. Meeting with them makes us the feelings to Huge them physically and spiritually. We thank for our ability to listen and their ability to tell. We hope, that as Shir, to be as their grannies as shir is already. Than, we will know if we could give such love as Shir gave them, before we came…

Ofri, Alon and Mai.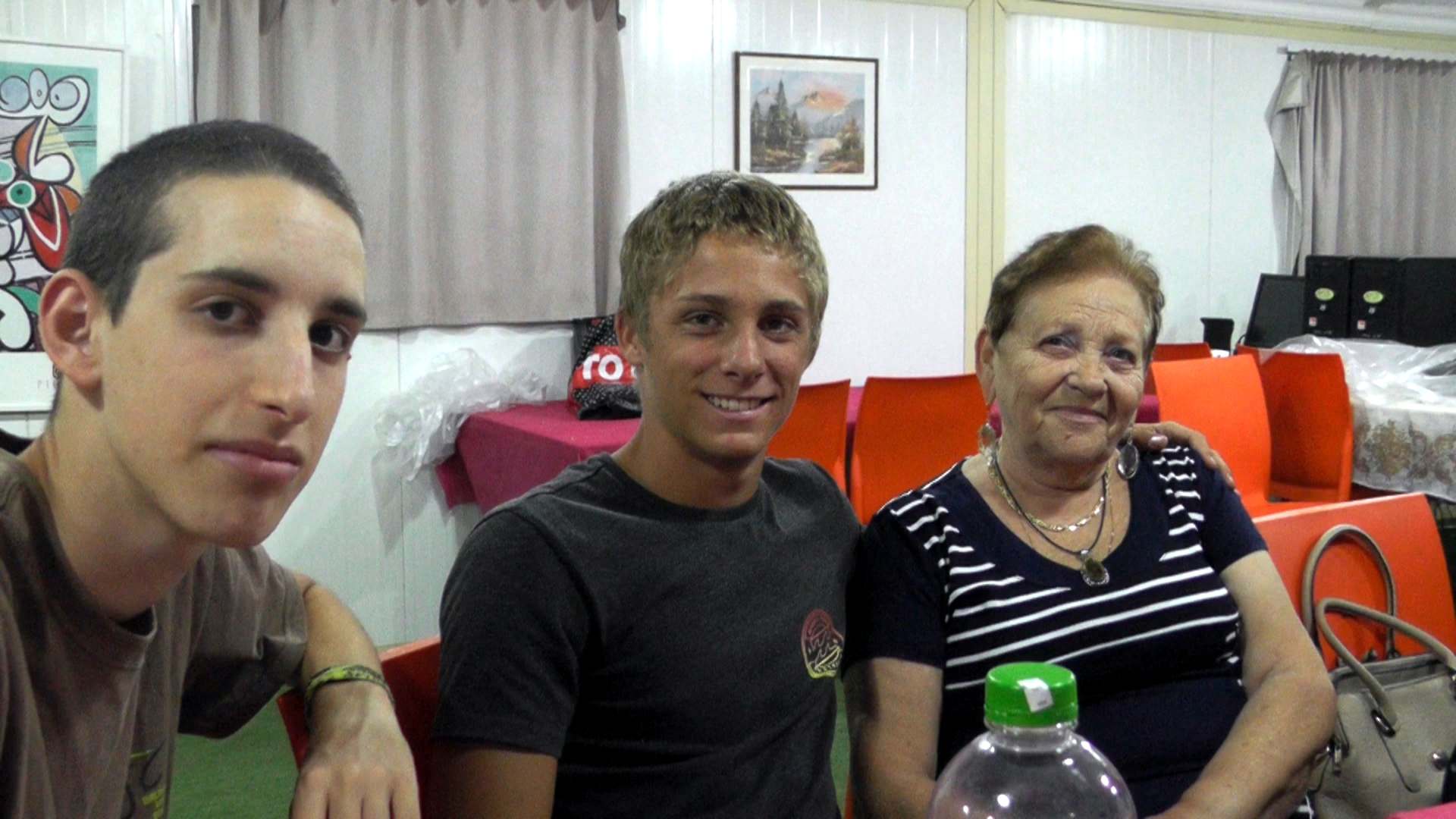 On Thursday 22/10 we have visited Shulamit and Chanan. We sat at their saloon, and with a good cake, and spoke with them. Shulamit told as many stories and Chanan showed us pictures of a very famous architect and showed us pictures of their children, and their families. It was very exciting and the time passed very fast.

Adi, Noa, Neomi.
Shir: Three visits with the volunteers
This week I visit the three couples in "L 'Chaim Mod'in", but this time it was with the new and incredible volunteers, and the chemistry between them amazed me.
We have started the week with our lovely Janet and Jaston. They were very excited to meet the volunteers. The conversation was interesting and funny. Jaston feel a lot better , and with his better feeling, his hummer have come back to him, and he made us to laugh a lot. It was great visit, and the volunteers were wonderful.
Later this week, we came to visit Svetlana and Dmitri. The amazing girls_ Shir and Arbel brought a delicious cake with candles and even learned two Russian songs. Svetlana was really emotional and happy to the roof. The smiles have lightened the room. Svetlana and Dmitri joined the girls and they all sang happily. In every visit, I see how much they want and need company. Svetlana speaks with shining eyes and she always has some more stories to tell. From time to time , while she is speaking, Dmitri tells here, something funny, and she translate it to Hebrew and we all laugh. It is pretty amazing to see the change of their voices and faces when we came. The sadness go away and smiles and happiness take place.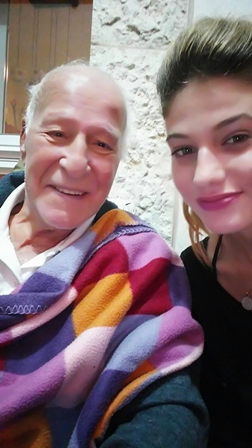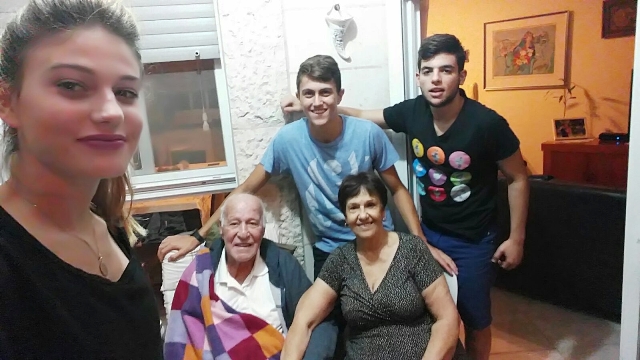 The third and the last visit of this week were just perfect. From the moment we arrived to their house, no one in the room stopped smiling. Lovely Shulamit, told us about her meeting with Chanan in the army. Canan showed us many family pictures and also photos of his favorite artist. The conversation was fluent, the girls were wonderful and Shulamit was really emotional and very interested in the volunters stories.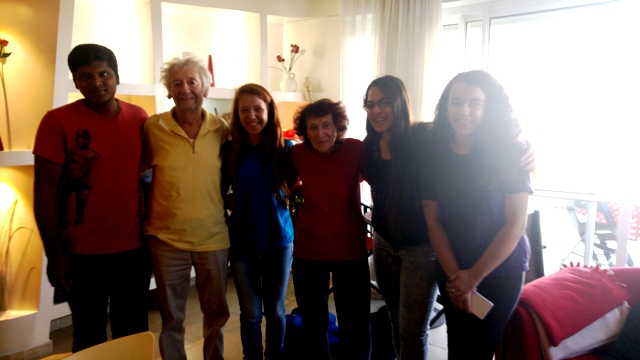 And from my own perspective, I just thank G_D for all of this. The touching words, the Huges, the smiles, and the joy, coming from the holocaust winners and the volunteers, fill me with pure happiness. This project is just like a flower. It gets bigger and even more beautiful than ever. Next week, I will start my service in the army, knowing that something amazing is happening now. Next week the other two girls who volunteer with Svetlana and Dmitri will visit them for the first time in their house. (Svetlana and Dmitri have two couples of volunteers due to the multiplicity of volunteers).
I wish all of us to keep giving, helping and just being.

Pardes Channa
This was our first visit with our new volunteers from Neve Michael. Shir came with them and the visit? were in the spirit of a new beginning.
Both sides, missed each other. We have split to four groups and the first group came to Chaya. Ortal, who is joining the project from the beginning and acquired Chaya's love, took over the lead and spoke with Chaya and Morris, asking question and did a real good job. We are very proud of her for that. Chaya won this week Ora's visit too (who are with her already two years), and they went out from the house to breath some fresh air.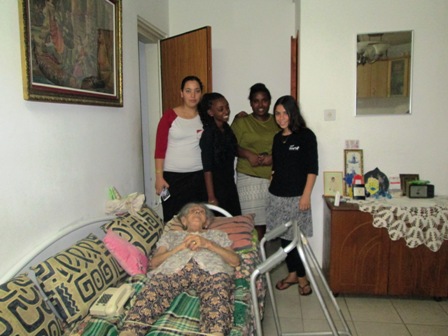 The second group came to Rachmill and the joy was completed when an Accordionist came to the place and the girls with Shir and Rachmill, danced and sang with the happy music and it changed Rachmill face completely. Another group went with R.Shachar to Yehoshya, who was happy to take them again to his room continuing the story of his life with the pictures on the wall. And then, out of his room, they met other survivors, who were happy to get to know them.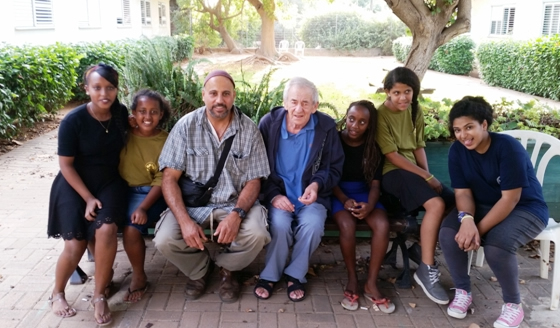 Aliza, excepted us with a big smile, with Huges and kisses, and a table with something to drink and a cake that she baked specially for us. We looked on some of her pictures, from trips, she had with her husband (bless his memory), and than, another group with Shir, joined us and the party was happy.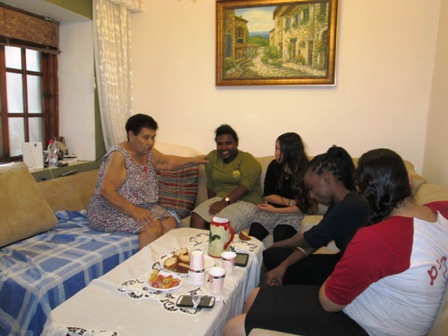 R.Shachar went to the Boaron's, but didn't find them, and left for them a beg, full of vegetables and fruits. Tzipora, was very happy to see R.Shachar, and expressed her gratitude to him and for the bag. Ester, fell down three weeks ago, and she is so painful that she couldn't accept others, than me. But she is so grateful for our constant connection with her.
It seems, that with this fresh group, we will have a very good year. Many thanks, to Amutata "L 'Chaim", who is taking care for our survivors for many years.

Rivka
We would like to greet our treasure Shir, for her new begining in the army. We are sure, that also there, you will be the best because you are connected to your heart. Good luck dear Shir, we will follow after you and wish you the best.
Shabbat Shalom!

Phone: + 972 54 772 3510
Welcome to our website at: www.lechaimtolife.org



ISRAEL IS BLEEDING
Oktober 16, 2015, Sheshvan 3, 5776

Dear friends!

These days, the Israeli nation is experiencing terrible and horrific terrorist attacks by Arabic youngsters, who as human monsters wildly harm any moving object in their way. This is the place, to take this situation and understand its serious and deep meanings. But first it must be said that with terror you have to fight:" The one who comes to kill you, kill him first", when there is a war, we should understand why an attack is needed. In order to understand we will have to go through the 'time tunnel', back for thousands of years to our father Avraham, and the relevance of his story to this essay.
As we know, Avraham had two sons, the first one, was Hagar's son (Sara's slave) _ Ishmael. Avraham,in his sorrow, expressed in front of G_d, his submissive request that the world will be blessed by Ishmael's seed. But, the Almighty did not agree with Avraham, and announced to him His extraordinary message, which is hard to be understood by humans:" From your seed, the blessing will come, you will have your son from Sara, and the world will be blessed". This son, is Itzchak. It means that logically, Ishmael is the firstborn, but G_d, turns the facts, and made Itzchak the blessed as the firstborn, from whom will come, Israel. Yet the story is not finished; when Hagar runs away from Sara, she hear the words from G_d's angel who told her to return back to Sara and her son Ishmael, because, from him, will also be many nations. Indeed, it was said about his nature and the nature of the nations who will come from him:" Because he will be wild man, and his hands against everyone…"… Let's understand the meaning of being a wild man, and how this nature is affecting Israel and the whole world today: the human body is as the world, with head, heart, and inner organs. When Israel is the head, dedicated to the alliance to, and holy for, his G_d, the head is conducted according to the Holy Spirit, who is conducting the whole body and the governing of it. But, when the head and the heart are not functioning well, the inner parts, the wild drive, the animal drive leads the people. The Israeli nation is the heart and the head of the whole world. But when they are sick, the lower, wild, animal like, killing parts, are functioning, it is Ishmael [the position of the second son].
It's written in the Bible that the Israeli nation has the potential of being very elevated, which means controlling the physical and the animal drives. But, also it has been said that if the heart and the head = Israel, won't be dedicated in their alliance, they will be very low. It means that, temporarily, Ishmael (the extreme Islamic ISIS) is taking the lead. This, is what we can see now. But, we should remember that this firstborn which Ishmael took for himself is temporary, and is as an instrument to wake and shake Israel up, to return to being again the head, bringing back Itzchak to be the firstborn. The terror is not only on the borders, but has reached everywhere, and the knife that stabs a Jew, is stabbing our all nation, shocking us and making each of us to watch out more intently and closely. Suddenly, the grotesque and exaggerated consumption, in property and shopping malls, for a moment doesn't mean anything. Here we fight for our souls! The knife penetrates to the depth of our souls and hearts, and the cruel alarm clock demands without any other choices, a deeper cry and understanding, a cry for the G_d of the universe, the only One who can save us from these troubles.

In Isaiah 26 it says: " 0 Come, my people, enter thou into thy chambers, and shut thy doors about thee; hide thyself for a little moment, until the indignation be past. For, behold, the G_d cometh forth out of His place to visit upon the inhabitants of the earth their iniquity; the earth also shall disclose her blood, and shall no more cover her slain." …It means not to hide because of fear, but getting in with our soul, closing the door from any noises, from any materialistic culture, getting to know deeper the whisper of the soul. To enter silence as "Aharon held his peace". Again, we should remember the strong sentence in the portion of Haazinu, which we should memorize again and again in Deuteronomy 32:39, "See now that I, even I am the one, and there is no god with Me; I kill, and I make alive; I have wounded, and I heal; and there is none that can deliver out of My hand." It means, as it has said many times before, we are reaching a situation that we won't be able to get out from. No political or military solutions that lack inspiration or faith, but only a stable trust in Hashem, G_d of armies, the G_d of Israel! He is the one who will save us and no one else! Yet, what is our job here? Our job, is not changing the world, but we can change our inner selves, to study the secret of self_repair which is unique to each of us. To study the secret, of our soul, and bring silence to our life, by trying to study the spirit of the present moment, each moment. It demands, a lot of courage by changing habits and by getting rid of addictions and reaching the secret of calming the soul, and take away as much as possible, the excessive activities that sicken our soul. Learning the secret of focusing, the secret of our strength, our independence, ourselves, and our divinity (a real divine spark).

My blessings to you, with my prayers,
Daniel


Modiin

My visit at Svetlana & Dimitri , always excite me. The joy of Svetlana, realizing that somebody cares and love here, touches me. Dimitri is an amazing husband and human being. Their calendar show only the picture of their grandson who have his birthday this month. Svetlana have her birthday also this month and he added her picture near the calendar. Because of the pains of Svetlana hand , he is doing most of the works in the house. When I offered to help him, he said that I am doing enough and I couldn't convince him on that. Svetlana, told me that at the age of 55 , she was in Ukraina, and knowing that she is going to make Aliay to Israel, she has started to learn Hebrew all by herself. She came, already knowing Hebrew, this must be such a strong will. They are waiting to the first meeting with the new volunteers.

My visit at Janet and Jaston 7/10
It was amazing! Jaston, looked wonderful, with a big smile on his face, with his sense of humor which has came back to him and he was very energetic, which he wasn't before. Janet, seemed more relaxed as some of the daily burden, turned to be lightened. We spoke about the difficult situation in our country and Jaston has told us a story from his childhood, when he was only 4 years old and his sister was only 3 years old…Both of them set on the steps on their house in Tunnis, which was very close to the open Market. Suddenly, a stranger took both of them and walked in the market, while their parents, wasn't aware of what has happened. One of the paddlers from the market, saw them with the stranger and ask him where he is taking them, and the stranger said that these are his children and he take them "home"… the paddler, knew their family and understood that he try to kidnap them, and he start to hit him and took them back to their parents. It shows how different people are and we shouldn't judge only according the extremes. There are many different kinds of people, and we should know that. They asked me if I will continue to come and visit them when I will be in the army.
The opening " L 'Chaim" event in Modiin 11/10/15
Four month ago, as a student in the Mechina, I thought about building "L 'Chaim" branch in my home city Modiin. The moment came, my dream came true, and we set together Daniel, Shoah winners and young enthusiastic volunteers sitting in one room in my amazing old school" Yachad ", and the best volunteers from the 7th and 8th grad creating a unique new creation by uniting two generations who meet each other and connecting each heart.

Daniel was the first who spoke with the new volunteers by explaining with stories about what the Amuta is doing. Then, arrived the Shoa winners:
Janet & Jaston, Svetlana & Dimitri, and Shulamit (Chanan couldn't come because he was in the treatment process at the hospital), even going through painful teeth treatment she came after my pleading to her. On the end she greeted me and said how much she enjoyed the event. We did a circle of interdicting ourselves, and what does this meeting means to each of us. Shulamit said that she is happy to realize that there are such good youth who is interested not only of themselves, and it's makes her to understand that the country have a good future with such youngsters as they are. And than, we split to a little groups: survivors with three youngsters. Three circles with immediate warmth and good spirit.




Daniel begins this session...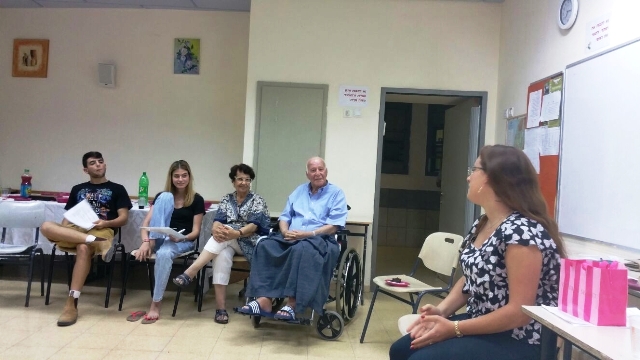 Also Shir is taking her part.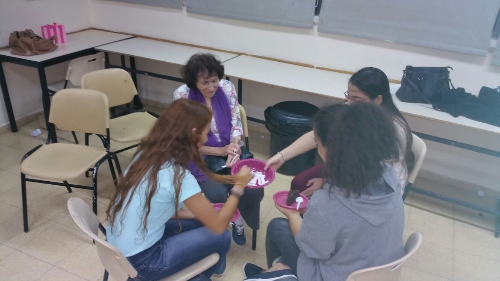 Shulamit with the girls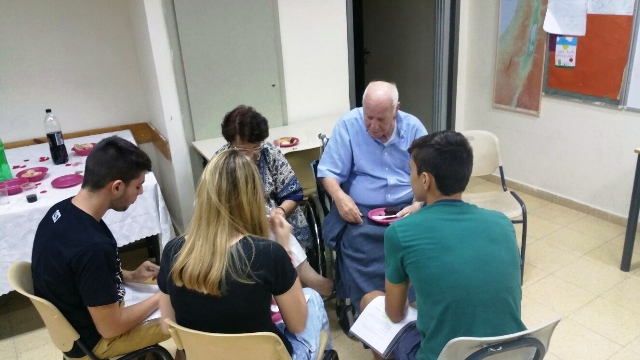 Janet & Jaston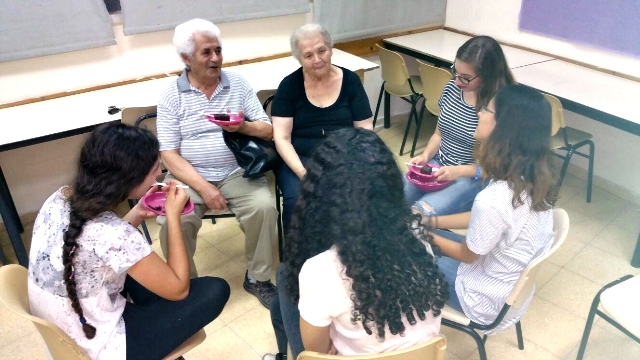 Svetlana & Dimitri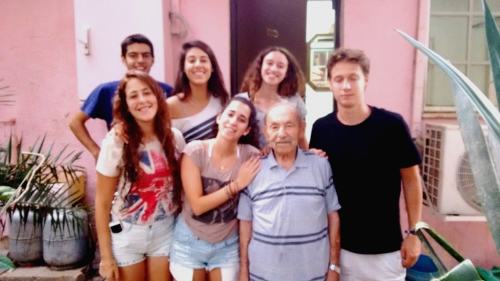 The students of Kfar Hanasi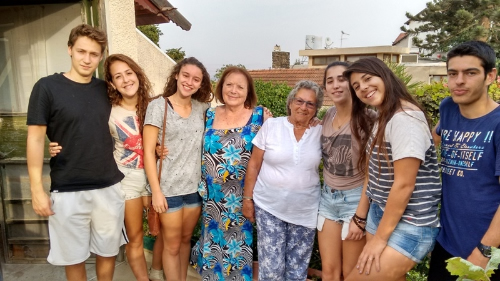 The studenten Tom, Yam, Yael, Noam, Eden, Eial, Rachel and Esther
Svetlana and Dimitri, shared funny stories and the joy and laughs were very high. With Janet and Jaston, they found that Mai (one of the girls) is a relative of their family. With Shulamit were they asked :" If you could fly now some where, would you do so ? " and one of the answers was, :" There is no where else than Israel, the mutual to each other is only here. Finely, we have our own country why to fly out from it?" This answer was very touching and excited the entire group. On the end, we gathered again to conclude all what has happened. We gave Svetlana for her birthday perfume and my old cellophane which is for her it is very advanced (She told me that hers, is not working anymore). The reactions after_words were with a lot of excitements: the volunteers, can't wait for the beginning of their visits, and the survivors, expressed their gratitude for the meeting, and their expectations for the next thing to come. For me, I thank G_d and the participants, who took part, and especially to Daniel, whom without his help and support, it couldn't have happened.
I wish ourselves to be able to do as best as we can to those Shoah winners, and bless them happiness and good health. L E C H A I M !

The opening event in Modiin!

Oktober 11, 2015, Tishrei 28, 5776

Dear friends! On Sunday, even the terror cloud, I droved to Modiin, to see the fruits of a long last invest by Amutat "Lechim", open a new gates and this time it's the young generation the followers – fulfill a dream. The event was very exciting. Girls and boys from the 7th and 8th grade, thirsty for something different, deeper, who drank with thirst our words, Shir's and mine. And the old Shoa winners, said that with such spirit Israel will be different. I can't say more. But, again I ask from you our donors, to bring more people to join and help with this project. We are not big, and each donor is important, and let us to adopt more survivors.

Many thanks, and blessings for all.
Daniel

This little essay was published on Facebook by Svetlana, after our meeting:
For Shir Shalev: I want to tell about Shir Shalev. It is hard for me to write in Hebrew , but I wanted that she will read it when she will get up in the morning. The meeting she has organized so well and exact, happened because she is serious and have a Huge heart. I guess that it is a result of her excellent education, which she has got from her parents. The event and the project were successful because she knew her goal and organized it wonderful. As a volunteer, she came to visit us and listened to my stories, even some of them isn't pleasant at all. Dimitri and me, has met the managers of the project, the volunteers and another two families who is survivors. They told us about the project. It was organized perfect and the atmosphere was very pleasant. The students want to make us happier and that evening , we would never forget. At the 25th , Shir is going to the army. I wish her good luck, and come back safely home.
Svetlana

News from the north
Rosh Pina
Our first visit with the students from Kfar Hanasi in Rosh Pina went fantastic. The new students, fell directly in love with the survivors. Israel, Rachel,and Esther. For Rachel it is the first visit. She is new survivor, which we visit in Rosh Pina. Rachel is from Romania and she has born at 1930. She made Aliya on 1950, and lived many years in Jerusalem. Now she lives in Rosh Pina for several years, in order to be close to her only daughter. Rachel was so happy to receive them. She Hugeged and kissed them when they arrived and when they left, even more. Esther is Rachel's friend and neighbor. Esther is from Bulgaria. Most of her family has died in the war.
Israel is known to us and we visit him for years . He told us, most deep stories from the camps, that I didn't hear before. Israel was very open, like he knew the students for years. This is the fruits of our work. Israel loves to get attention and love it from the youngsters. His age is 91 and this gives him troubles. But he overcomes the pains and smile, and always very optimistic. We couldn't visit Blanka. She felt sick and had no strength to receive us for a visit. She loves the students and wants to be with full energy. She looked so much for this moment, but next week, is a new opportunity.
Dafna
The students from Mayan Baruch visited shoa survivals in Dafna. Ruti the social worker in the Kibbutz, guided them the first time. They met Sophia,
Israel and Tsipora and Simcha. Ruti introduced them to the survivors. Next time, the students will split in couples, and visit them privately.

Ginosar
The second visit for the students from Maitzar. Still new, but they made a beautiful connection already. Here are the highlights from the students:

_ The first meeting was very exciting. We came back with a lot of stories and experiences and they wait to the next meeting with them.
_ Next week, we wouldn't be here because we are in a trip.
_ I am sure, that we can do as much as we can, to help these survivors and make them happier.
_ My visit with Hila at Moshe was really good. It was so nice to meet him and see how adorable he is. We asked him a lot of questions, in order to get to know him better. Next visit, we will play with him games which he love. Looking for the next meeting.Thank you, Ran.
_ Shira, Yuval, Elia and Gal, had a real fun time with Zivanit (Zelma). She told us a lot of stories about her past and told many jokes. We helped her out in the garden. Looking forward for the next time.
_ Karin and Atalja, went to Ruth's house. She showed us all of her art works, and told us a little bit about her family.
_ I (Dani), visit alone Izik and Sarah, because my partner Roi, was in "gibush" (for the army). It was really short, but they were very kind.
We talked and Sarah, showed me her art works. Yuval and Gal were with Avraham. We had a nice chat. He asked us questions, and told us about his life.


Katzarin
I (Timek), visited the survivors, and has spent, quality time with them. Everybody had something to share.
Etja had a visit of her grandson, who lives with his family in belgium. She saw her grand_grand daughter for the first time.
Shaul have problems with the new landlord who wants to kick him out of his apartment, even having a valid contract. He hates to handle arguments about such matters. But, on long term, he will have to move out from this apartment and find a new place. This causes him, a lot of stress.
Shlomo, attended the circumcision, of his late grand_ grand son. This, made him to be so happy. Shlomo can't wait to meet the students. He is passionate to speak about his past.
Ela, struggle with her body. She must travel often, to the hospital and see, other doctors and physiotherapist. She is alone, and, that makes her life hard. That's, why she loves the students. They bring light in her life.
Jafim is happy with the new Air_co. which he received during the hot summer from "L 'Chaim". He also got a part time job from the city counsel. He is happy about it. That, makes his life a bit easier and also meaningful.
Thanks for all your support, we need it,
Timek
This is our news for this week. Lets hope for a quiet Shabbat to all of us.



The news of this week
Oktober 9, 2015, Cheshvan 2, 5776
Pardes Chana
Today (Thursday), we did many things, which were one after another. First, to join the funeral of Benyamin Litman , our dear survivor who has passed away yesterday. Not too many people were their, but we joined his last way as we promise to each of our survivors : Zvia, David (The principle of Neve Michael), me and Rami who was visiting him once a week, taking him out and spoiled him with Ice_cream or a little trip to see the sea, and helped even, to bring him, for health examinations, when it needed. We joined his little family who said after the funeral, that they saw how much we helped him. Benyamin didn't leave any one after him.. We will remember his strong and good voice when he sang or laughed, and his good spirit and joy when he saw us. Bless his memory! (see his picture and a pic. from his funeral).
I went with three girls from Neve Michael, to visit some of our survivors, and we choosed the loneliest ones: First, we came to see Chaya. She is suffering from her legs and hardly can walk. You can see in the picture haw happy she is with the girls (001). From there, we rushed to Rachmill who we surprised and was very happy to see us. We took him out and walked with him in the yard, stopping by one bush, full of flowers, took a picture with him and the girls (002), and you can see how happy he is. We told him about Benyamin, and we sang with him the songs they sang together. Racmill seemed like a thirsty flower, which had a good shower of water, he opened up and we met a men with Accordion, who came to play for the people in his department, and he gave Rachmill to sing some songs, and we couldn't wish for more to him…. leaving to Isaiah and Mordechai who accepted us with a big smile. This time, Isaiah took us to his room, and showed us his wall, full of pictures (see pic. 003), telling a bit of his part of building this country as a soldier, Kibbutznik, rewords diplomas and a bit of his story of his life. It was most impressive, and Mordechai (see pic. 004) , who joined us, saw it for the first time, and they realized that, on the way to Israel, both of them, were exiled at the same time to Cyprus by the British, and spend one whole year there, in the camps for the Jewish survivors who weren't allowed to get in to Israel. We left both of them being better friends, then before…. From there, we start back to Neve Michael , and on our way back, the girls expressed their will to see Aliza, because they misses her, but we didn't have enough time to do so, in order to get in time for the orientation meeting with Daniel with new students (see pic. 006,007), who came to listen and decide if they want to join the project. Most of the original group continues on their 3rd year (already…), of visiting survivors. Daniel, gave them explanation what Amutatat "L 'Chaim" means, and the privilege of giving, especially, to those survivors, who are lonely and need our help. They listened and showed enthusiasm and interest. We hope, to have more students and to have them as partners in our project.
Our best regards, Rivka.
During my last visit in Genosar, Eli_Ram told me, that recently, all the students from Mechina Meitzar, who joined "L 'Chaim" project, two years ago, came to Genosar and have visited the survivors, two by two, as they were used to do it in 2013. You can imagine the excitement. Also, Zelma, told me that the students from previous years, keep in touch with her They phone her to wish her "Shabbat Shalom", or "Chag Sameach" for the Jewish holidays and also remember to great her for her birthday, and her husband's "Azkara" (memorial day).
This happened also, in Kiryat Shmona with the last group of students from Ma'yan Baruch. This is the fruits of "L 'Chaim"s volunteer program.
Baruch HaShem!
Timik

Modiin
My visit at Shulamit & Chanan 7/10
After having a very hard days of sickness and hospitals, finally I met the charming couple Shulamit and Chanan , recovered from their sickness, wishing Canan to have full recover from his cancer. I missed them and they missed me and our meeting was very touching from both sides. They heard from me about my visit in Palma De Maiorka , a week ago, and they told me funny stories about their trip with their Grandson for his Bar Mitzva (13 years old). When I told them about the Amuta, they were very excited and were amazed for the blessing actions. Shulamit was so amazed for what I did here, in Modiin, and she made me almost to cry, when she said that it is very clear to her that I am doing it from my soul and heart , and she feel that our connection is deep with the touch of the cosmos… I explained that it is my privilege to know them, to laugh with them and to get excited together. I wish that their visitors from my school will have such special and good connection, as we have already.
Next report I will tell about my visits at the other survivors.

Shabbat Shalom!
Shir

News from the south
Beer Sheva
My visits were from the holidays of Rosh Hashana till Sukkot.
Yosef was as usual very nice even telling me how lonely he feel and need companionship. He was very excited to get my package for the holiday, and said about getting better after suffering with his Astama, along the days of dust and hot weather. We decided to go out next time if the weather will stay as it is now.
Anna, also, was very happy to see me and get the package for the holiday. She is charming, but complains about loosing many friends who are passing away from this world. She have a good lady who takes a good care of her and also, the family of her brother who is not alive anymore. She feel lucky because she had a good life when she could.

Shderot
Benyamin, is very happy since he had moved to the charming apartment on the ground. He did a marvelous job to the ground around his house, and already has peppers and tomatoes. For the first time, he told me about his past. He was a farmer with all the new methods, and had many growths, and even trucks serving his farm.
Maiya, so charming, full heart with love and never complains. She was in a good mood and even called me before the holiday, to greet me for the new year. Her visitors from the previous years, keeps visiting her and call her on Shabbat and holidays. She is planning to do matchmaking between Ido, her volunteer with one of the girls from the Ulpana, who keeps connection with her….
Izik and Miriam, couldn't accept me , because Izik has had an operation, and he pass it not easily. I went to them, just to leave my package near their door, and luckily, I met their son, who came to visit them, and he could pass my greetings for them, and took the package.
My best wishes,
Efrat
This is our news for this week. Shabbat Shalom!
Rivka
Daniel Braun
E_mail: danielxrw@gmail.com
Phone: + 972 54 772 3510
Welcome to our website at: www.lechaimtolife.org

Starting a new season
September 18, 2015, Tisjri 5, 5776

News from the north
This week, Daniel and me, have visited the three mechinot in the North of Israel to bring the "L 'Chaim's" vision and the volunteering program to the new students. As expected, the students of all the mechinot, were very impressed and moved during our sessions. Daniel talked to them with the heart language. Not ratio is important in our project but, the language of our heart and feelings. The students asked; what can we do at the visits? and the answer was: follow your heart and give there, your expressions at the moment of the visit. I am looking forward to work with the new students this coming year.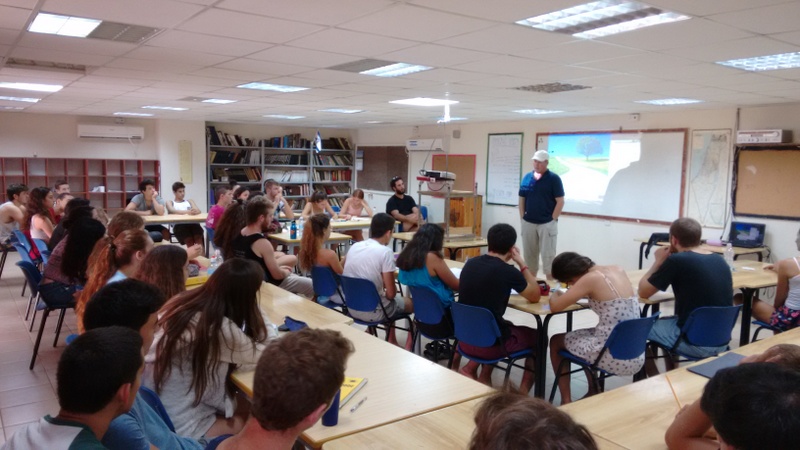 Rosh HaShana Visits
Ellen, Sophia and Ya'acov, our dear supporters of L 'Chaim_to_life from Holland, joined me today on my Rosh Hashana visits, to the shoa survivors in Katzrin, Rosh Pina and Kiryat Shmona. Every single visit was unique and special. Here are few impressions:

Katzrin
Etja from Katzrin, opened her home, and welcomed our guests from Holland with a big Huges.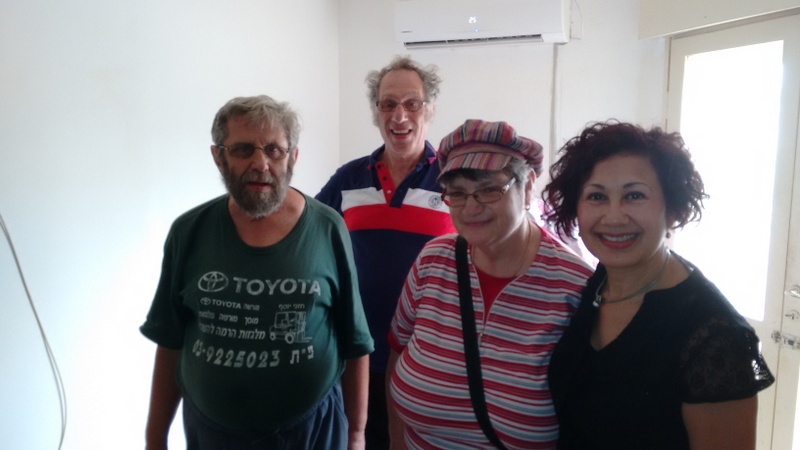 Jafim expressed how thankful he is for the new airconditionfor entering it to his house, was a real relief. I saw how happy and how satisfied he was then, few weeks ago.
Shaul desperately needs expensive dentist care. The governmental health insurance, doesn't want to cover the cost. Sophia and I , will be looking for a solution.
Ela fell down badly, last week in her garden, and hurt her face and knees. She has still, pains.

Rosh Pina
Israel fell down in his garden, and hurted his foot badly.
Blanka was so happy to see us. Immediately she started a chat with our dutch friends. It was hard to say goodbye and leave for our next visit.

Kiryat Shmona
It was Nicolay Platok's birthday. Without knowing that, we brought cake to Zina, so, she would bring it to the nursery home where Nicolay lives. Nicolay's health is not so good. He doesn't eat the food he gets, only if Zina feeds him. She travels every day to be with Nicolay. She is very lonely, and has no family in Israel except her granddaughter that lives near Tel Aviv. Her only son, lives in Donjesk in Ukraine the place where the fighting is going on and on.
Anatoly and Larisa Limunsky, are going to move to Safed. Anatoly's Parkinson, is progressing badly. He can not live anymore in his apartment on the 4th floor without elevator. We will be missing them very very much.
Ida was in a better mood then last time, but her problems with her body has remained. She hardly can move in her own apartment, and going out is very hard for her.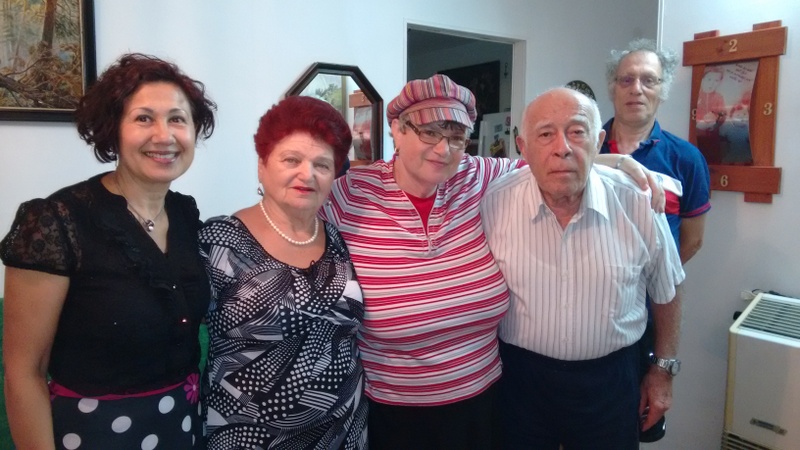 Klara welcomed us as a real Jiddische mamma. With a great joy. Me and my Dutch guests, traveled back home.
Shana Tova,
Timek

News from the north:

Beer Sheva
Shmuel & Sara: They really missed me and host me with joy. They told me how they are and showed me pictures of their family. Their computer is old and hardly functioning, and important in their life and can't effort a new one. They pray for another student after the one, who they loved, has left. Economically they hardly manage, but not complain. They thanked me for the holiday gifts, given by Amutat L 'Chaim and greeted me and the Amutat. From there I went to Suzan, who was very glad to see me. The social worker that she was very connected with, has left, and she helped her in her "battle" with a amidar for finding a house in Nataniya. She went with the manager of amidar in Beer Sheeva to Nataniya, and instead of showing her a house, she brought her to a senior house. It was an insult for Suzan, and she got sick because of it. Her legs are better and she was grateful for our gifts for the holiday. She offered to teach me how to neat.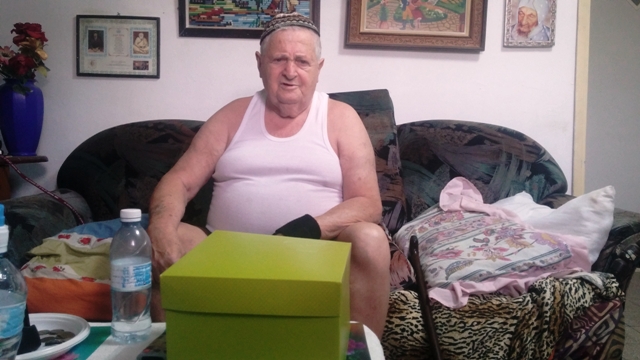 Otto as usual, started with complains. But when he finished it, he told me about the visit of his volunteer who is a new soldier, and the good visits of another volunteer who manage to get him a second hand Air Conditioning ( for free), and his life has really changed with it. For him, our care and visits, are very important because his opinion about the government and the survivors is very bad. We are softening this image with our attention and help. His massage is: well done Amutat "L 'Chaim" ! Many thanks for holiday gift and greatings for the holiday.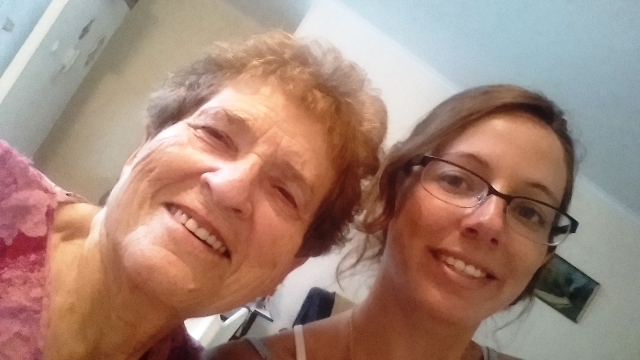 Charming Olga, feel much better. It seems, that her strength is coming slowly back to her, and she is functioning and happier. She has lost her last sister one month ago and it was a great sorrow because she is the only one who has left from her family. Luckily, the daughter of this sister, is in a good ties with her and she is not all alone. Our gift was received with joy and Thanks for me and the Amuta.
Roza was very excited for my visit and the gifts for the holiday. She is charming and heard who donate those gifts out of their love, and was very thankful. She told me what's new and how she gets along with the new lady who takes care for her. She is reading magazine in her language and follow after the news of the world.
Shana tova to all of you!
Efrat

Pardes Chana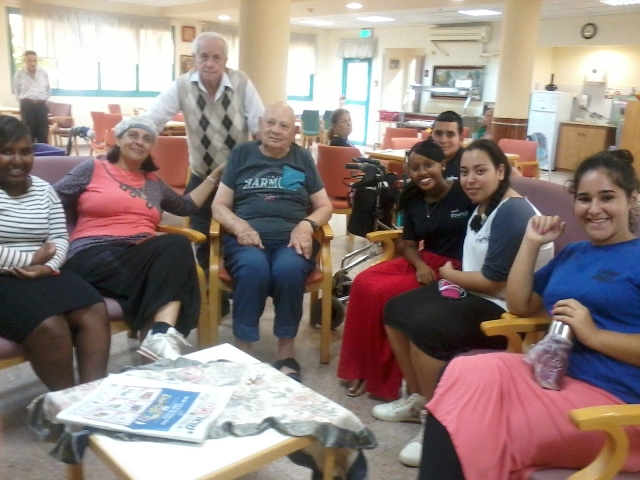 This Wednesday, it was the comeback of the students from Neve Michael. Most of them continue with us and were very curios to start again and meet their friends' the survivors who were also very happy to see them again. We has started with Rachmil, who was so excited with tears in his eyes, happy to meet us and he showed his paintings which are filling colors in a painted paper. His hands are more stable and this, give him the ability to paint. Zvia, walked with him in the yard and spoke with him. We are checking how to take him a least once a week, to be out of the place where he stay nowadays. . We wished him Shana Tova and continued to the two new survivors whom I met two weeks ago: Mordecai and Isihayhu. Both of them (see the pictures) were happy to get to know the students and we familiarized each other.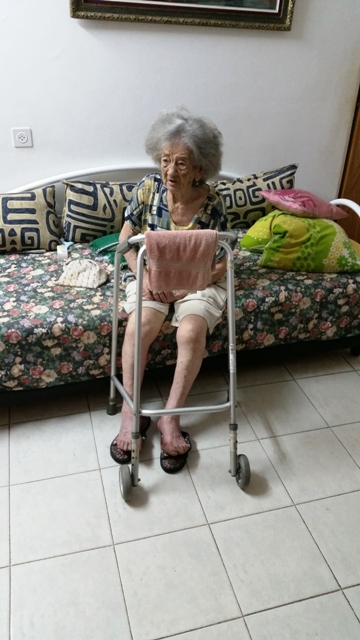 From there we went to Chaya & Morris. Chaya, is on her bed and she have bruisers all over her face after falling down two weeks ago. She , and Morris, don't have any will or energy to enjoy life and they are stuck in the house and almost not seeing the outside of their garden even. The only one, who takes her out is Ora here dedicted volunteer, who come once a week to be with her. From there, we went to Aliza, and she told us about the treatment she is getting for her eyes. She was very happy to see the students. R. SHachar, surprised us with his new look (see the picture). We loved it. Now, for the first time we can see his face, which are not covered, and it was almost to get to know him from the beginning.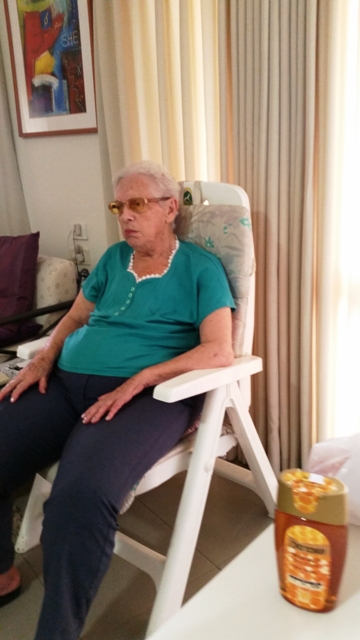 On the same time R.Shachar went to visit Ester, who is going through many medical examinations, but so thankful for our visits and appreciate so much this contact with her. The Boarons, were very happy to meet again the students and greated us for the holiday. Zippora is suffering from the weather, because she have Astma, and hardly stand the weather. Benyamin, is at the hospital. If he will get back before the holiday, the students promised to visit him. All the survivors has got apple with honey, and they were thankful, and greeted Amutat" L 'Chaim" and all the good hearted donors, making it possible to have those visits and the bags of food they are getting. Also, love and cherish R. Shachar, who come all the way from the Golan Heights and do with love and mercy the visits. All of us ,want and hope, for a sweet and good year.

Best greetings,
Rivka

Modiin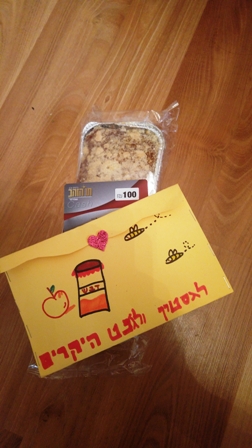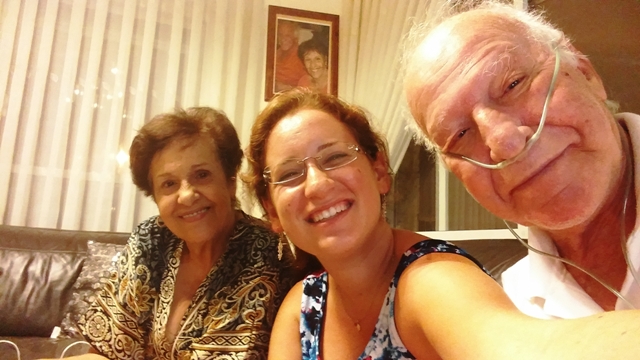 Janet & Jaston: After returning from my exciting visit and presentation about "L 'Chaim" in Mechina Maayn Baruch, I came to visit at my beloved grandies in Modiin. When I got in to their house, I saw Jaston sleeping on his chair, connected to a breathing ventilator. His health sitaition is not simple at all, and have a hard time to get back to himself. At first, he didn't recognized me, and when he realized that it's me he was disappointed from himself, and said that actually I am like his grand daughter so it can be forgettable. He is in a very low mood and we spoke with him, convincing him to cheer up. I wrote a greeting card to them and Janet even cried when I read it to them.

For Janet, taking care of Jaston, it's hard , and she told me that a long time she didn't do anything forherself, and even having the man who live with them and taking care of Jaston's needs, it is hard for her even leaving the house without Jaston, who trying to force her to go out and spoiled herself a bit. He even proposed her to go abroad and travelÖ Her sorrow gave the idea, to offer her to go with me for a movieÖ She reacted so excited and told me hoe many years she didn't do it. Jaston joined her excitement and encouraged us to go. So, on the next day , we went to see the movie named " The story of love and dark" (Amos Oz, a well known Israeli writer) which is telling about a family that ran away from Europe , from the Shoah. We had a real magic evening , and I promised her to do it more with her, proving her that instead of upsetting Jaston, it made him to be happy for her. I am sure that it gave her some new fresh air to continue to help in a better mood, with Jaston.
Today I met lovely and special woman whose name is Lea. Lea is a "Holocaust winner" from Poland. She is a widow and she has only one daughter, who came few days ago, back to Israel, after five years of living abroad. At first, Lea didnít agree to meet me, because she was very disappointed of many organizations, which promised her a lot and didnít do anything when it came to reality. The woman, who told me about Lea, named Sara. She is a lovely woman, that also volunteering for "Holocaust winners". She is also, a daughter of "Holocaust winner". After years of taking care for her mother, who has passed away, she decided to help other "Holocaust winners". "Eventually, Lea agreed to meet me". Our meeting today, was very exciting. Lea is a modest, sensitive and gentle woman. She was very emotional by the present for the holiday and especially from the letter I wrote her and even cried a little. After I explained her that "L 'Chaim" is different from the other organizations, she was really interested to join the "L'chaim's family in Modiin". And I can't wait to our next meeting and to getting to know her better. Another couple that I met due to Sara is Svetlana and Demitri. They came to Israel from the Soviet Union 21 years ago. Dmitri doesn't speak Hebrew, Svetlana speaks a little Hebrew. Six years ago, Svetlana fell and hurt her hand, and she is still in painl today. So Dimitri takes care of her and helps her with everything, including getting dressed and taking a shower. They also, were very emotional by our visit. They told us, that during all the long years of been here, they didnít get any help from any organizations, and didnít even know that they deserve help as a "holocaust winners". They have two children. One of them lives in Modi'in, but despite this fact, they meet very rarely and for a short time. They say that the reason for it is that their daughter is very busy. As we all know, everything in life is an issue of priorities. Young volunteers will add a lot of light and joy to their life and I wish them great health and joy.

Visiting Shulamit and Chanan, is always, with full good energy. I met Shulamit and their worker in the kitchen , working for the holiday eve, preparing holiday meal. When Shulamits' helper got out the kitchen, I entered and we cooked together happily. Shulamit's mother was kind of righteous. All her life, she helped other people and took care for her own three children. One of them has now a little organization, who brings food for the needy people. Shulamit sensitivity and optimistic view, are exciting me every time.

Chana, told me about his childhood in Vienna, and their visits there. This week, Chanan has passed one day of examinations in the hospital. It was so good to meet them.
Shana Tova,
Shir
Breaking news: Our dear Shir, managed to organize her old school to take part of the project. Good luck Shir!

These are all our events, Shabbat Shalom

Daniel Braun
Email: danielxrw@gmail.com
Phone: + 972 54 772 3510
Welcome to our website at: www.lechaimtolife.org