Endles melody
September 8, 2017

Zfat
Leahy and Mor : We had a great afternoon on our visit (Tuesday afternoon), which included coffee, cookies and playing Rummy with Diamenta who gave us a good lesson how to win....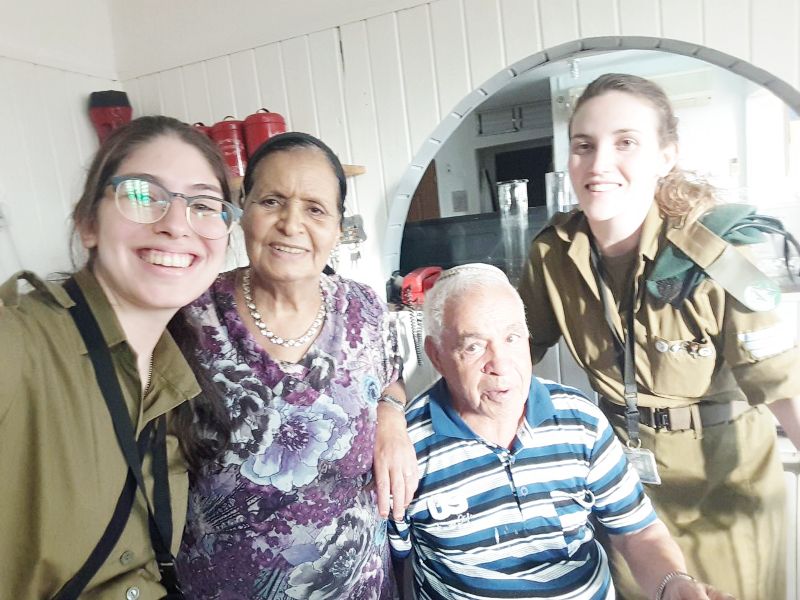 Lihi, Mor, Diamenta and her husband

We talked about Rosh Hashana and the food she makes, and the effects of others kitchens she knew when they were on their first steps in Israel that affect until today about the food she prepares (especially Iraqi and Moroccan kitchen. Diamante told us what's going on with her grandchildren and she also told us she had a weekend where hosted one of her granddaughters. They spent quality time together until she went home.
At the end of the meeting we went to buy milk from the grocery store. It's a lot of stairs and hard to climb it. Unfortunately, we must to postpone our next meeting because she is going to have treatment in one of her eyes and it will take time for her to be recovered.
Shir : On Friday , I went up North to visit my grandparents who I missed. After two hours of driving, I got together with Eido and Eyal (my brother) who came from the base to Grandma Esther.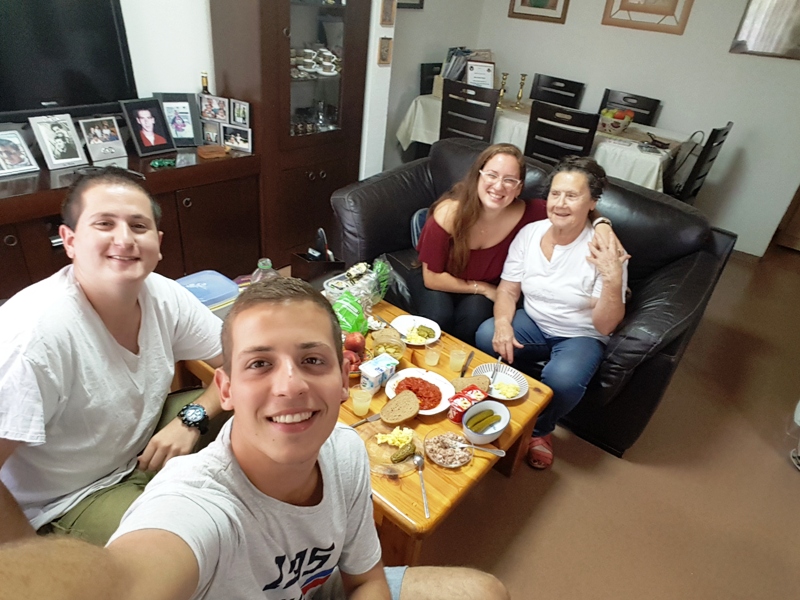 Esther

We prepared a Kings dinner, from everything and from the huge cooking pot of Matbucha she has made ( it's a Tunisian food which is based on tomatoes, pepper and Garlic). We talked, laughed, and called a very good friend of Esther, Ronny, because we knew that it is his birthday. We sang for him and we wished him happy birthday. Later on, my brother Eyal had to return back to the base, and I came back after I did a little shopping to Esther . With Yugoslavic songs, I already started to hummed the words, I rearranged laundry and Astor's bedroom that need to be taken cared and her physical situation don't let her do it , because recently, she can't bend over because the pains she have in her legs, but she worsened by "there's nothing to complain , and I should be happy". It's magic, her ability to be always positive. She told me about her family, the children and grandchildren, and her work with the elderly. Excite me very much about 95 years old one she cared for six years, who loved her very much and died last week. She went the next day to work and was very sad. We talked also about music and songs and I told Ester what I love so much in her ability to enjoy even from the little things as drinking coffee, or a gesture from somebody.... I have this too and this what connect us so much.
Each weekend visits, I bring amazing cookies made by my dear mother made with a lot of love for every one of our winners. Then, I went to Shalom who was excited and couldn't believe he really sees me.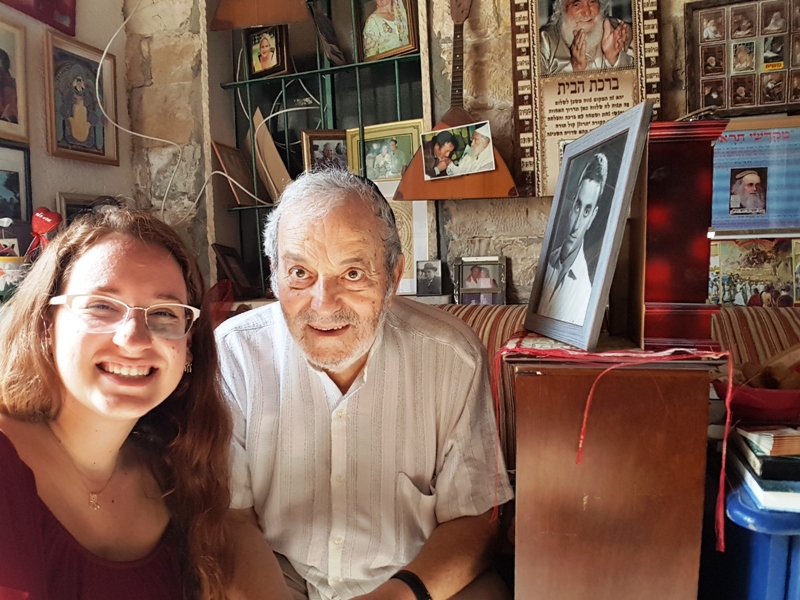 Shalom and Shir

He said that he missed me very much, and spoke about his pains and being alone. He told me about an incident in which a truck nearly clipped him, and he survived miraculously, even when he loses something, he call the Almighty and feel that Go-d saves him. He greeted me and we were both very excited. I told him that soon the Mechina students will come to visit him, and this fact made him happier.
Later, I went to Juli. I met her daughter too: Ofra, that I already know, and a lady who live with her for 12 years. She was a friend with Juli's granddaughter, and lived with her. Also I told them about "L'Chaim" and they were very interested, especially the visits of soldiers. She's was happy that I came and told me that she wanted me to come. She told us that she goes four times a week to the Club because she is very boredat home, and talked about the years she was healthier and active and took care of the elderly people.
Finally , I went to Lilian and Meir. Lillian was crying when I entered. She told me about her difficulties with the family and the apartment and the difficult situation of Meir, who can't sleep at night because he can't breathe.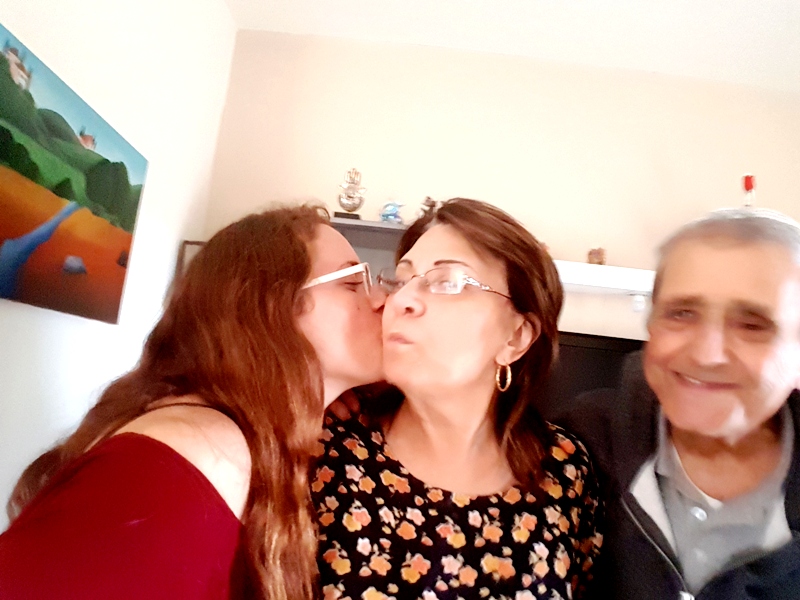 Lillian and Meir

She told me, that she is not independent and scared and feel very lonely. It's really sad to hear and see her like this and I offered her all sorts of things like going to a café or a walk or to the Park , but she was really tired and weak and cried a lot. Impulsivly I offered that the next time when i will come, we will do something fun. She never stop thanking me. She gave me chocolates for the new year and that moved me, because she was thinking about me a lot. Of course I gave them warm regards from my family who knew them when we came to visit together and handed back.
Pardes Channa
We are almost getting into the period of the holidays, and getting ready to meet the students from Neve Michael , to meet and speak with them and renew the idea about "L'Chaim". We also going to meet new students from a new school attending to be part of the project.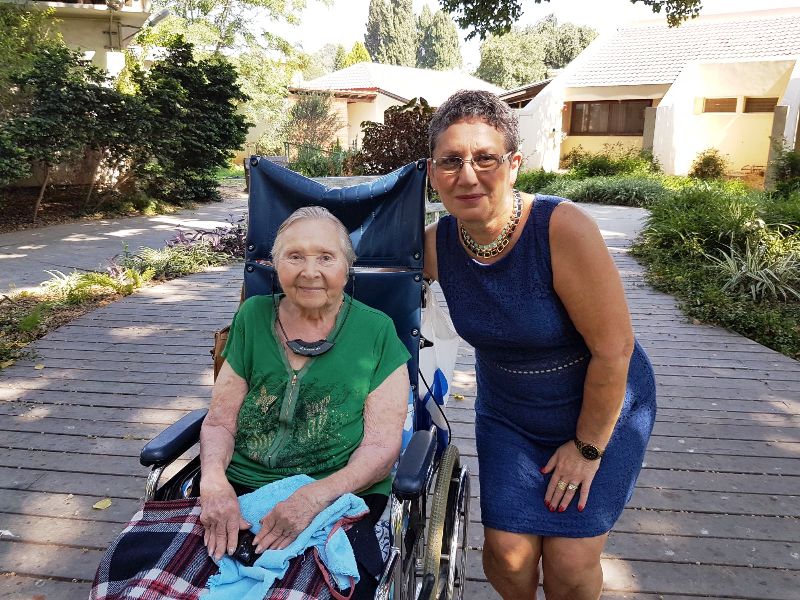 Lydia (in the wheelchair) with Chaya

Chaya, our volunteer in Ein Shemer, met Lidia and she was sad because it was the memorial day of her father and even it happened many years ago it still hurts. She was very happy to meet me, and in the T.V . was a program about Tashkent, the city of her birth and childhood. She was excited to see, recognizing places that she knew.
Rivka: I came yesterday to visit Gizela, and she suffers from a strong pains after falling week and half ago, but not recovered, and say that her weak bones (after working in the snow - bare foot in the war) don't stop hurting her and she even gets Morfin, in order to calm her pains a bit.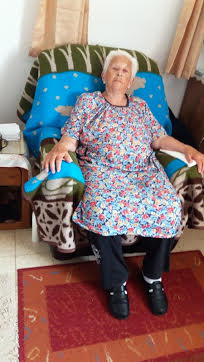 She is always very happy when we come, saying that she is out of her troubles for a while. She don't have appetite and feel cold even these hot days of August and because of her pains she can't use any thing to cool the air in her house. She speaks about "joining" those who are not suffering anymore... I will try my best to lit her days and visit more.

At Aliza's, the meeting was warm and cheerful. She is happy although she wasn't in her best but look positive and handle everything . She told about the vacation, that her daughter took in the North and that this was refreshing and gave her strength. Tzvika, I couldn't find at home. He was admitted to the hospital due to very low hemoglobin levels in his body. I talked with him and promised to visit him there. Klara, currently staying at her daughter's because Lionid moved to a nursing home following his demented condition, which reached a stage of aggression, and cannot be under the supervision of Klara anymore.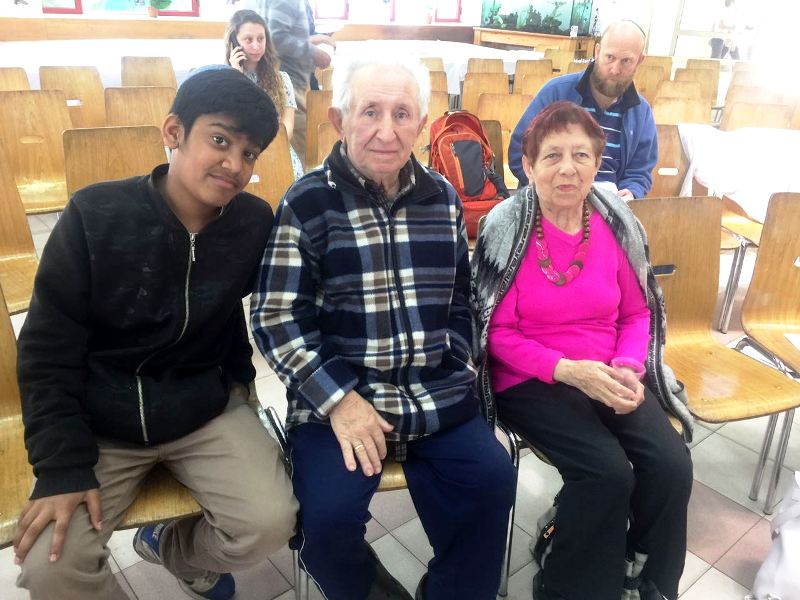 Klara, Leonid with one of the students

For Klara it's very hard , because until now, she wouldn't let someone else to take care of him . With Zippora, the beginning of the year, gives her finely, free time to herself because she kept watching her granddaughter at the vacation, and now they have to go to school again.
Wishing every one Sabbath Shalom.
Rivka
News from the North
Chatzor :
It was good to see again Yaffa and Ruchama in Chatzor. Yaffa took care of Mina, the sister of her husband so much, that she fell down and hurt her elbow. Now she needs a lot of rest for herself.
Mina, is the most needy of our survivals in Chatzor. She is already one year very sick and the doctors couldn't find the real reason. She went through so many treatments. Her gall bladder have been removed and that didn't help either. Mina lost a lot of weight. Recently cancer was discovered in her body. She needs to start chemotherapy in Haifa hospital it is a challenge. I pray for Mina that God will help her through and that she will recover quickly and will regain her strength. According to Jaffa, Mina can't live at the moment alone in her house. But Mina doesn't want to go and live somewhere else.
I am happy I found Judith, a lady that visits Mina every week, sometimes two times a week now. She is a tremendous help for Mina and also for Yaffa.
Ruchama's hospitality and friendliness is great. She can't wait for the start of the new visits. Bracha spent a few weeks at her children's house in Beer Sheva.
Rosh Pina
Rachel moved into the house of her only daughter, who felt that Rachel needs to have her around, since her best friend Ester who lived in her street, has moved to Tel Aviv. Rachel is happy in the house of her daughter. We spent a good time together and talked about politics, personal life, and about cats.

Meeting Israel is always special experience. Israel is 93 but so young in the spirit. It is incredible. He told me amazing stories from his time in Auschwitz and Buchenwald. Since being a kid of 10 years old, he had to define his destiny in this world alone, without his parents. His father has died in the ghetto before he and his family was transported to Auschwitz. His mother and other family members have been sent to the gas chambers and he never saw them again. Israel was the youngest kid of 12 children. G'd watched over his live and this is truth until this very day. Many times he escaped dead in the camps. Upon arrival in the concentration camp, when everybody was ordered to leave all possessions behind, he grasped a whole bread and hided it. He passed unchecked through the next checkpoint. Israel until today doesn't understand that the gestapo didn't noticed the leave of bread that he carried under his arm. Upon arrival in the barracks, he sliced this bread and gave everyone to eat. Israel was 13 years old at that time.
Tiberias – Beth Avot "Kineret"
Here I met Tali. I was there to prepare this new place for volunteering. After the Jewish holiday, eight new students of the mechina Meitzar will start to visit here four elderly people. These are not shoa survivals, but elderly people that long for more connection outside the elderly house, connection that the staff can't offer them. This is where Lechaim-to-life want to step in and make a difference. The staff is very happy and enthusiastic about our plan to bring students for weekly visits.
The names of the eldery people we will be visiting are: Michael, Carmila, Baruch and Elias. Maybe we will have some changes, but for now these are our names. Miriam, that would very much love our visit needs to go for dialisa in the hospital during the time of our visits, so we can't visit her. I met with her and with Carmila and Michael. All are very sweet people.
Regards,
Timek
Modiin
Chagit : I visited yesterday with Mordechai. He got me a present for the new year's, and I was so excited. Always express love and gratitude. I made him to smile, even though, he didn't feel so good.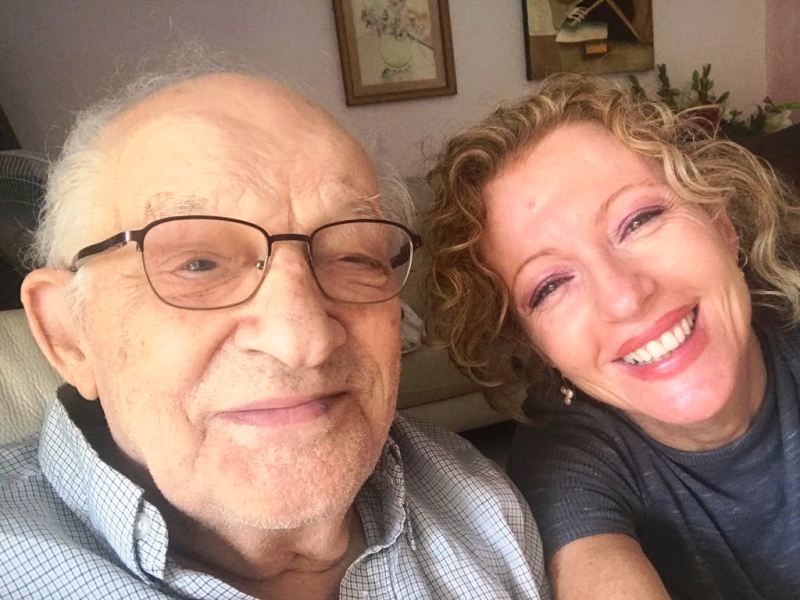 Mordechai and Chagit
Shir : It was a fabulous weekend full of visiting grandparents in Modiin and Zfat. I started visiting the exciting and chilling (as usual) Rozitza, sorry to see her after having a blow on her head after falling down. She calmed me down and said, "I fell good" because nothing was broken, and only some bruises has left . Rozitza is one of the most active women I know.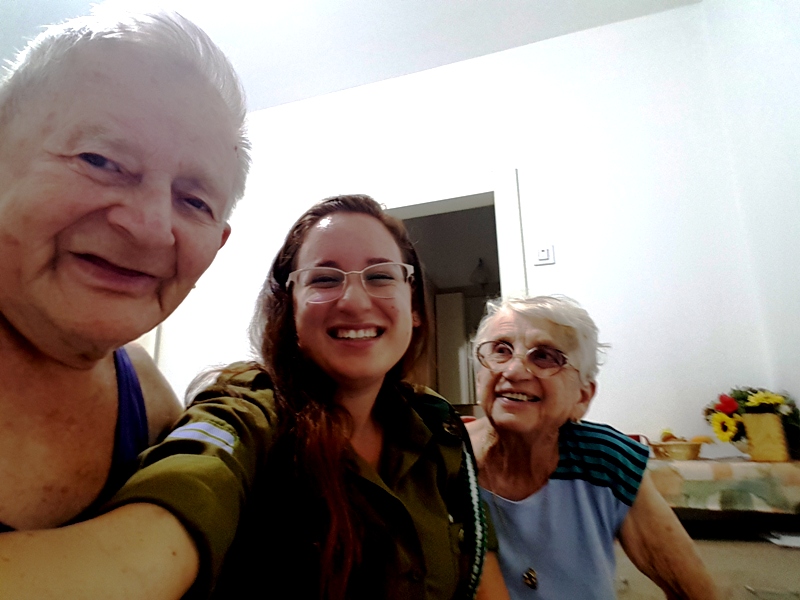 Rozitza, Micky and Shir

She loves the country with all her heart, and is excited about the army. I decided to surprise her and came dressed with my uniform . She is very excited! and said that it isn't obvious that we have our own army and State, and showed me her picture appeared in an exhibition at Yad Vashem. In the picture was posted: "We are the generation that have built this country, and you're the next generation to protect her. ", and told me the story how she saved the picture, because most of the images were destroyed. My beloved grandmother, was so happy and excited and I was too. When I got up to leave, I heard Mickey waking up and went to say hello to him. She explained that a lot of people he can't remember, and when I came and he saw me, he jumped with joy out of bed and said: "Shir, Shira the soldier", excited to see me, and I was too...
The next visit was at Rachel and Nissim. Finally I met charming Nissim her husband, who came from France. I met also her only son Chaim with his wife and their 3 grandchildren . I was very happy to meet the family, seeing them face-to-face. Rachel talked about her suffering. It hurts to see how even today, she feels not treated properly and don't get's what she deserve... I talked about it with her son who struggled for eight years until she received her compensation ( five of her brothers has died already, and three of them in six months). Rachel told about her son's childhood and army stories which some of them are funny, when Rachel ran after Chaim bringing him things he had forgotten and home- made food. Everyone in the army knew who is Chaim's mother . Those days were completely different she did all those trips by buses . It was an exciting and joyous encounter. It also told Rachel and Nissim about the Amuta and they were moved and said that they heard the interview that was with Grandma Esther in the radio and were very impressed and happy when I finally reached them and offered to visit and helping them..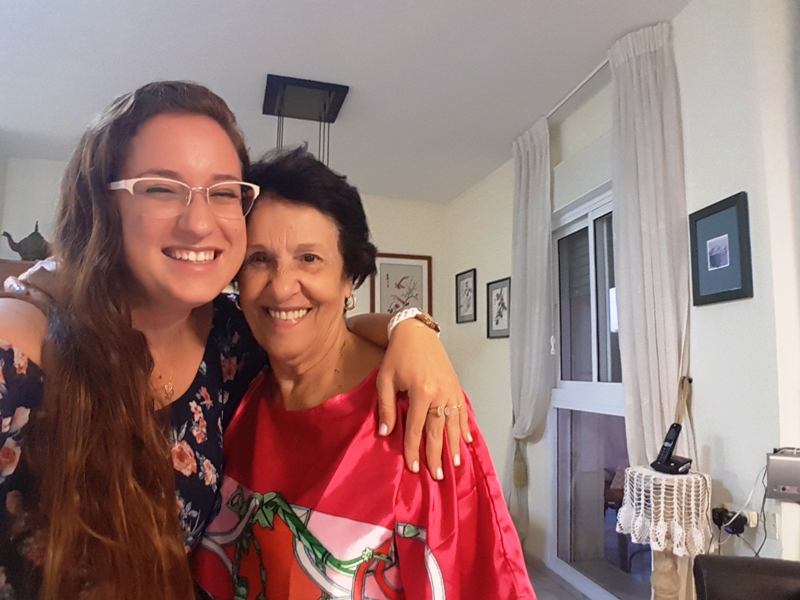 On Saturday, I went to visit my dear Janet.
Long time I didn't see her and missed her greatly. Janet wasn't feeling well and was a lot at her daughter's place . We talked about one of her grandchildren who just finish the army and about my plains after the army. We talked about shows and music, and our love for live performances of singers, and also about the wonderful volunteers who came to visit her in the past, especially one that keeps with her close contact constantly, sends her messages and visit.
My last visit in the wonderful weekend was with many tears at Shulamit and Chanan. It's really braked my heart when I saw them like that. We talked about the great treatment of their daughter Ilona . I reminded Shulamit as always, the "soul medicines" as the disc, the workbook and pictures of her family and the food she loves , and to strengthen with Nietzsche's law :" Who has for what, can bear almost any of the how". Shulamit is really weak and feels that she has no power. It's hurts to see my beloved Grandma, who has become one of the most beautiful women in my life as she is . She told me about their amazing brides. They have a wonderful connection and it isn't obvious? I explained how much I love and care for her with tears, and told her that I will be for her whenever she need me. I love her with all my heart.
In all my visits I brought to the winners tasty cookies which my dear mother made with love. It was excepted with excitement by all of my dear winners.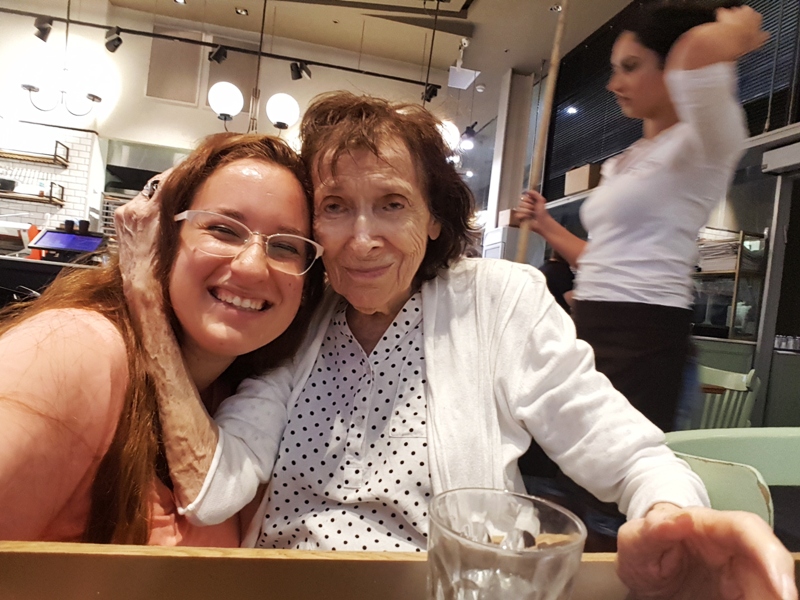 Shulamit

Shabbat Shalom!
To Amutat "L'Chaim"!
August 24, 2017, Ellul 6, 5777

I would like to thank from the bottom of my heart, for Daniel the head of the Association, and all credits for the ones who is doing in the country and abroad, Shir, Rivka, Meir and more. You never abandoned us, along our hard times, doing everything to the house which was burned last year, when my father has died a month after the fire. You accompany us. also this days, on restoring the House. Your help has been invaluable! your caring, warmth and embrace, have helped a lot. Thank you so much, for installing an air-condition in the renovated house. It will help our mother a lot.
Bar Levav family: Tamar Rutti and Uzi. Thank you, and well done !!!




Ruti (Tamar's daughter)
Pardes Channa
My journey started a week ago after having a phone call from dear man named Roii, the national Manager for Ariel bakeries, telling me that after meeting our dear Shir, he departed so enthusiastic about the project, and he expressed his will to contribute to our winners pastries.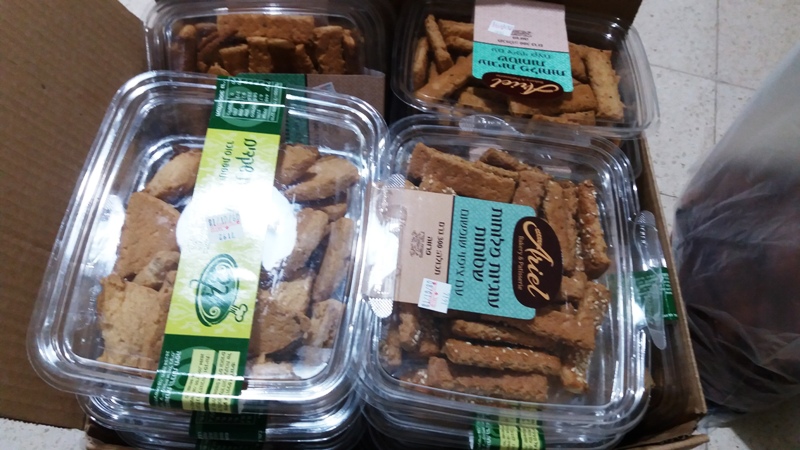 I explained him that we keep te health of our adopted winners and we can collect only things with minimum sugar and thin bakery. Thus, I arrived on Friday morning, hoping to meet this wonderful soul, in the city of Hadera (near Pardes Channa). whatever request I received, and the box was overflowing with pastries: cookies, low sugar and salty pretzels . Last Wednesday, I went with bag full of pastries to meet the survivors. I started with Zvika , who recently has joined us , and has got from us an air-conditioning--and he never stops thank us for the privilege.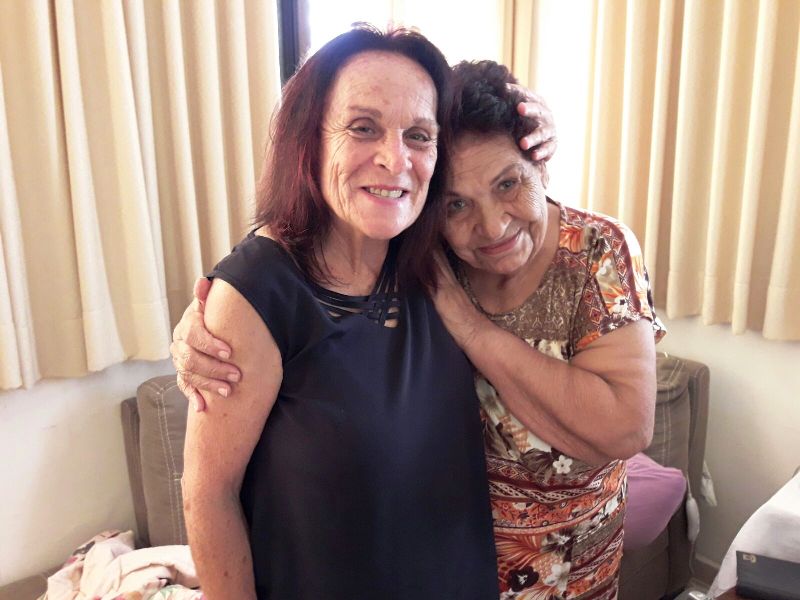 Eliza

From there I went on to Eliza, following on my previous visit, demanding from her to use the medical services Indeed, she was hospitalized because of having troubles of respiratory and swelling all over the body. Now slightly she is getting better and were invited by her daughter for two days of holiday in bed and breakfast in the North to recover. She hesitated if it fits her powers, but yesterday I helped to convince her to go out and get fresh air. She has a very loving and caring children. We wish her relaxing and gathering new strength. From there I came to Gizela, that, since she has fallen, does have bruises all over her body. She didn't come to the elderly Club, as she usely does, because she is still hurt.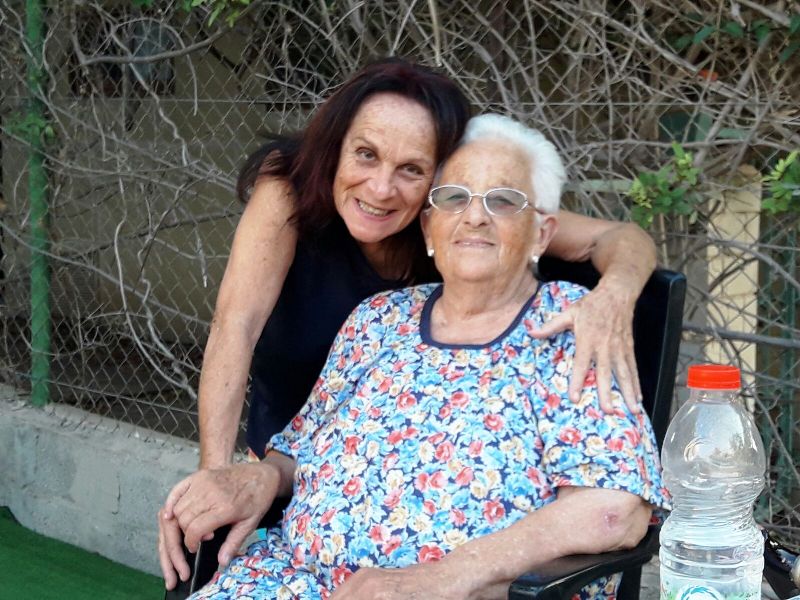 I gave her the package and we sat and talked about the way old people are treated . She claims that doctors don't do enough, to find her a cure for her pains. Her worker lady, was supposed to go on vacation, but because she couldn't find a suit, and Gizela's condition, she had to stay in the country. We heard her crying about it , despite taking responsibility not to leave Gizela on her own . As you know, the only son she have, is in America and she is really lonely.

From there we got to Zippora, that despite our efforts to convince her to repair the air conditioner (which was given from us). She refused because of the fear that "it wouldn't get back to her..." . This is the mentality of a Holocaust survivor. She also welcomed the pastries we admitted. At the Boarons, I met their daughter, who was released only a few days ago after being in the hospital almost half a year. The whole family was constantly traveling to central of Israel along her stay in the hospital. Now they try to relax and to enlist the help to their daughter which is still very unhealthy. Yaffa, the daughter of Morris and Chaya, I met her and asked her to give the muffins to Morris. Thank you Roie from Ariel bakery for the nice treat , and the goodwill of donors to help in the Aircondition.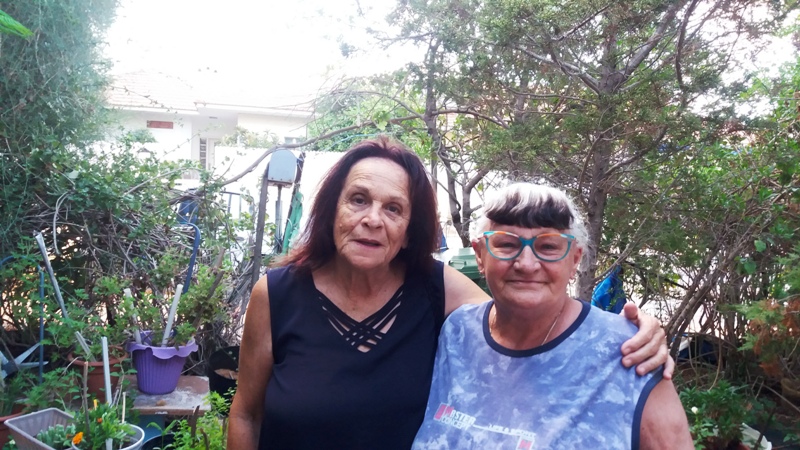 Rivka and Zippora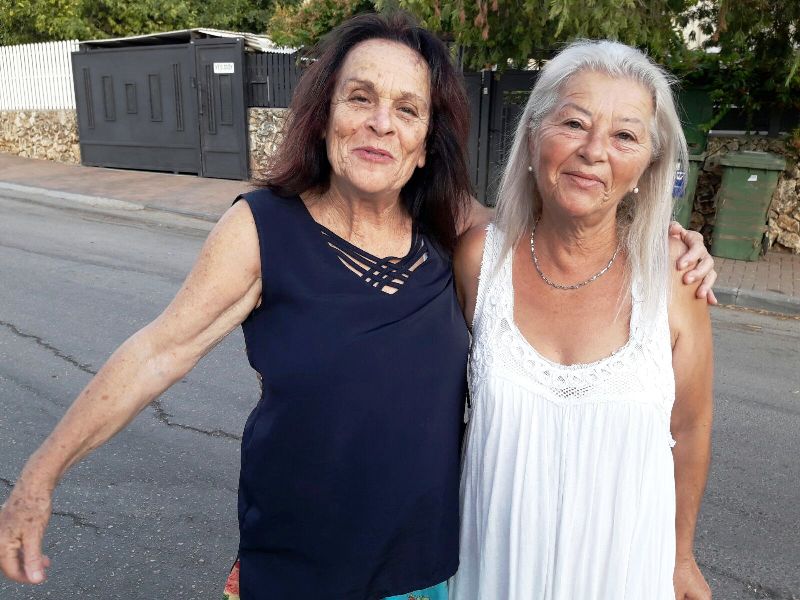 Rivka and Jaffa

Rivka


Modiin

Shir : last Thursday I came directly from the army with uniforms to Grandma Sara. She was very excited to see me and Steve . We talked about the trips to Poland and the volunteers that came this year. Grandma Sara has done two trips to Poland with the students from Ychad (my school) . She said, she recently went through the letters she has got from the the students she was on these trips. We were discussing if is it important or not to make the journey in Poland. We couldn't decide definitely. On one hand "It's better to see by our own eyes" which is as close as possible, and as someone, who has experienced the journey, it is very powerful and stronger than any movie. On the other hand, a lot of travelers are not prepared enough. In addition, there are things you can do on earth that you can learn and understand a lot about the Holocaust. I think the best combination is early preparation and a tour of places (related to the Holocaust in the country) discussions and conversations with evidence and then also processing discussions. It was a very interesting conversation. Grandma told me how difficult it is to live in our country economically. Especially for old people. She said that many clubs for Holocaust survivors, require money to join, and it is a shame. I told her that by Thursday, we start the third year of "L'Chaim".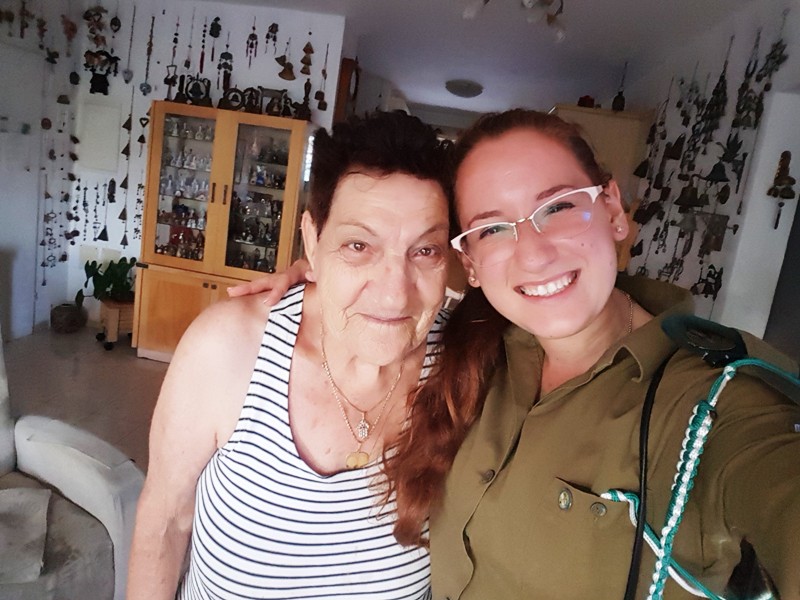 Shir and Sara

On Thursday night, I took out my beloved Shulamit . At first , she refused saying she did not have the strength to go out. But, I convinced her and so we went out together.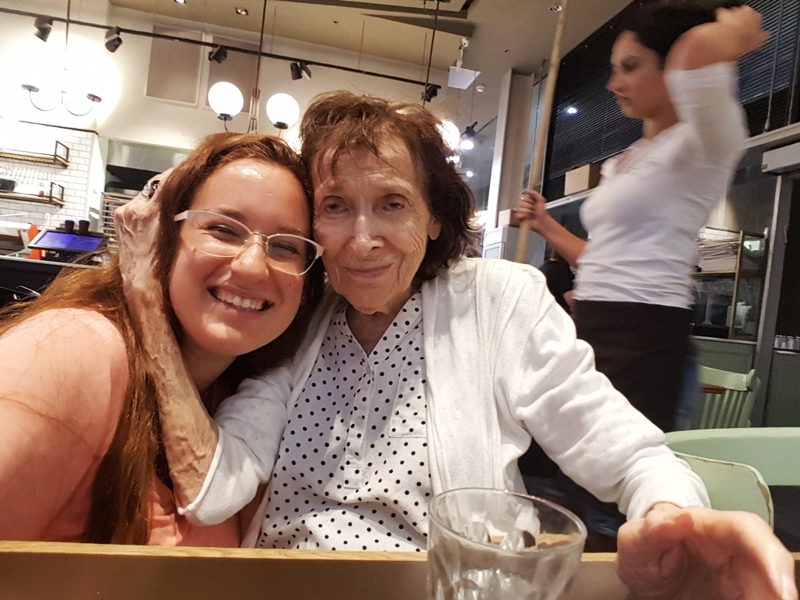 Shulamit
Jumping to the end, because she said that the change in her mood ever since I took her, up to the moment I entered her home was huge. We bought together gifts for her grandchildren (one of them enlisted to the army this week). Then, we sat in a coffee shop. We talked soul to soul. Channan is in a difficult situation, and she is really depressed for the situation seeing the man she loves for over 67 years, in this situation. We talked also, about children who have to treat their parents. Shulamit said she feel it is too much trouble. I told her that the right of children to give their parents after being along a lifetime an unconditional love, caring, and giving. We talked, we laughed, were upset and excited. Finally, we passed a florist shop, and I wanted to buy her bouquet of flowers, but she refused for this. So I bought a flower to their daughter, who is doing everything for them. When we got back, I went home to say hello to Chanan who was as usual in his bed. I wished him good health and told him I wish him a lot of power. It was just an amazing day.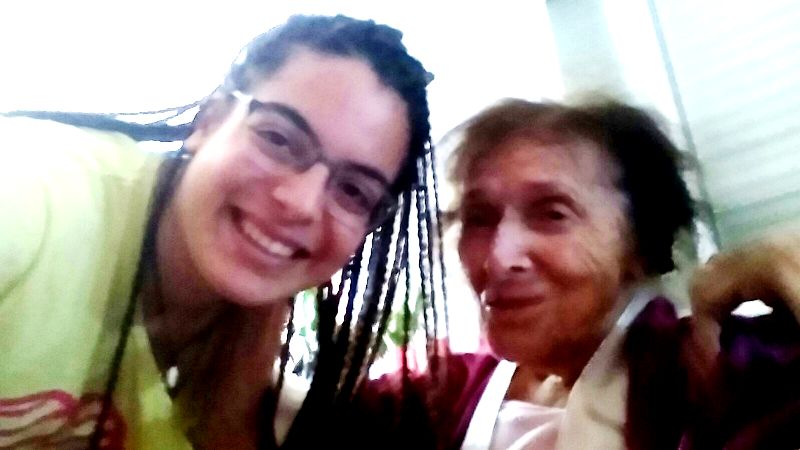 Neomi and Shulamit
Naomi: Shulamit barely could stand on her legs and was really tired. Chanan is in bed almost all day long and she told me a little about his condition. We spoke about how they met and her family and her parents and it seems that she miss her past . I love her and hope she will get better.
Chagit : The last two times I visited Mordechai the subject of our conversation were his glasses. Twice he snapped the pole in the glasses. He was confused and looked over the whole House. I came to take him to examine his eyes ( I am Optimteristit), we found that the glasses just broke again and he understood that they are fixed. In short, after a short relief and anger on himself, instead of reviewing his eyes, we sat for a chat about life, about his kids and Mordechai made a Compote.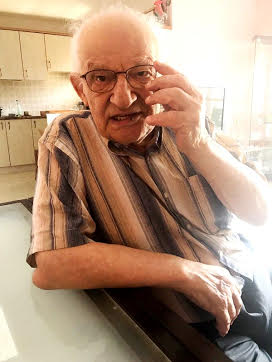 Mordechai
Tel Aviv
Oreal: I came to Jenny and Sino (her caregiver) . When I realized that she is not feeling well, I was glad that I had the option to make her happy.
At the beginning of the visit, Jenny told me enthusiastically that her book shipment has finally arrived home, and now everyone who wanted to buy it, can do so. We published in the Facebook and left her phonenumber there for buyers. Then, we sat down to eat dinner and I was glad to discover that Sino, last week learned words in Hebrew ! I believe that within a year, Jenny will teach sino Hebrew fluently! We finished the evening on watching entertaining movie "Marie Antoinette".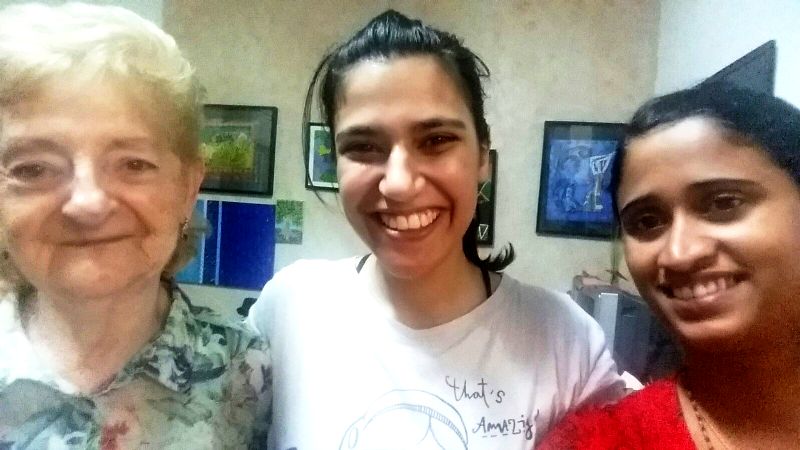 Jenny, Orel and the lady that takes care for Jenny

Jerusalem

Noga Yael and I, went to visit Eti for the first time. We were both, full of concerns that it maybe not meet according to our expectations, or that there should be a lot of moments of silences.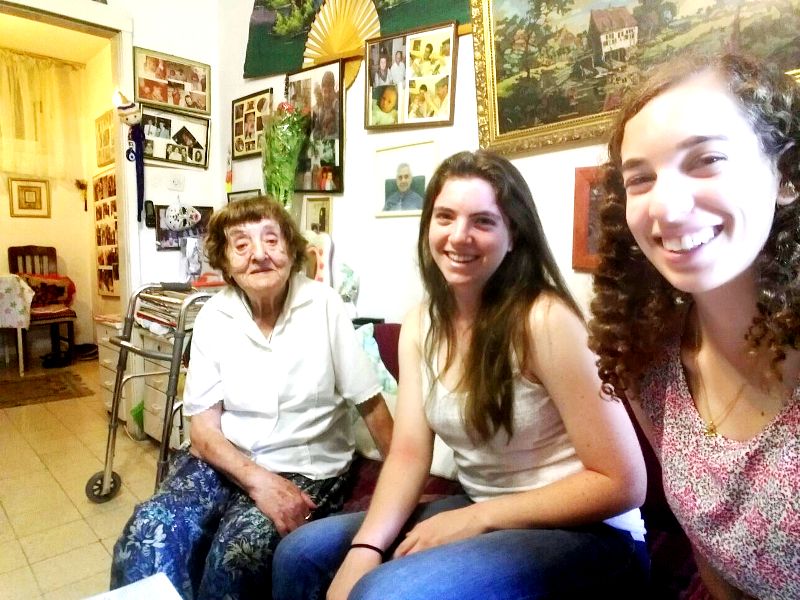 Etty, Noga and Yael

In practice, we found a lovely and lively woman that kept asking us questions about us and told us about herself, her family here in Israel and very little about her family in Romania. The walls of her small salon, is full with pictures of her family: son, grandchildren and more. She told about each of them with love and dedication. In addition, she told us about her financial situation. She gets from "L'Chaim " a little amount a month, but only the cream that she needs for succeeding to walk, cost her too much. It was hard to hear her about her distress and despair from her country and other factors that should help her. We both, left with warm feelings to her, and we hope to get there as much as possible.

News from te north
Shir : on Friday, I went with my best friend from the army, Steve, to the Upper Galilee region, to visit the area and of-course, visiting my beloved grandparents there. We started a warm meeting with Clara and Anatoly.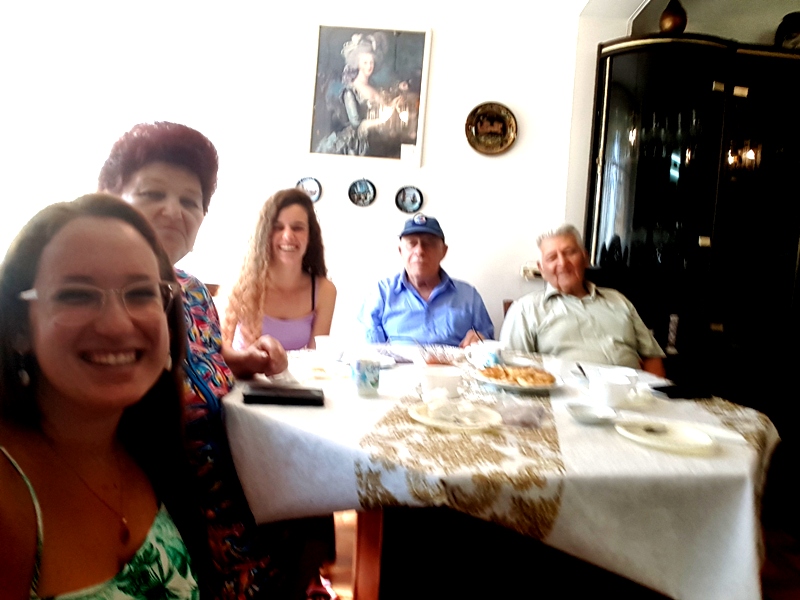 Shir with her friends and Klara and Anatholi

I was glad to see them again. They have received me and Stav, with love. And a conversation ensues with spicy Russian-Hebrew on the table with the blinches, Clara's traditional treatment. We updated, and shared experiences and pictures and talked about life, family, military, new students from the preparatory program who're about to begin, with the winners in Kiryat Shmona Then, we played a few rounds of gin rummy. It was very funny and suspenseful. The visit was filled with love and smiles and I can't wait to come again. Steve fell in- love with them too from the first time she met them.

On Saturday, after the trip in the river, we stopped at Sophia. Her daughter told me several weeks ago, and said she was in a critical condition and underwent a brain events and she is very confused and not remember people. Indeed she didn't recognize my face, and didn't know who I am. I reminded her and showed her a pictures of the year when I was in the Mechina. I was very sad to see her so confused and weak. But I was glad that I could come to visit her making her happier .
Zfat
Noa:
Noa : I went to visit Diamenta. She was very glad that I came. Ofcourse, welcomed me with a big hug and kisses, gave me cookies and made an instant coffee. I told her how I spend my vacation abroad, and she told me how much they enjoyed their vacation in Tiberias. They have a new grandchild, and they are very excited for it. We have seen some news together and talked about the situation in the country. I was there only one hour, because they arrived late after meeting her son, and I had to go for a farewell party in a youth club. But that was really fun to see her and Chanan. They always accept everyone with open arms, and it's just lovely.
Leahy: I arrived to Eli and as always he had a big smile on his face.
Eli told me that he had his son and grandchildren on Saturday and I was happy. Then I saw this album that his son prepared to honor the birthday of 95 and did for him a surprise party. Eli tells among other things about his military service in Golani and that he insisted to enlist to the army even being already 29 years old.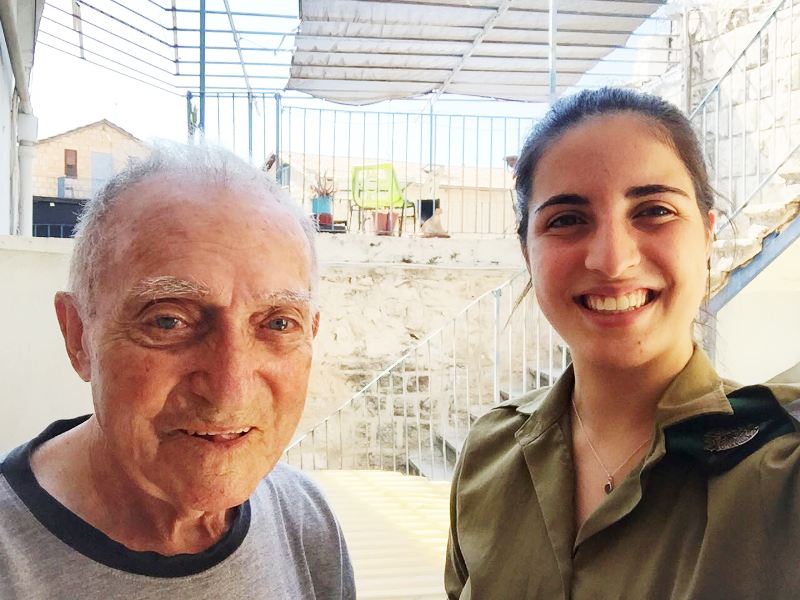 Noa with Eli
Shabbat Shalom!
Rivka

News from L'Chaim
Augustus 10, 2017, Mechachem Av 18, 5777
News from the North
In Kiryat Shmona I visited all the Shoa victors. We spent quality time together and it was good to hear from everyone how they feal during the summer months. All were happy with the food packages they received. Klara invited her brother Anatoly for lunch and also her youngest brother Michael from Beer Sheva spent few days with them. Anatoly and Michael went fishing together. That is what Anatoly likes very much. But, he didn't bring any fish home, so Klara made pancake's. It was a joyful time together.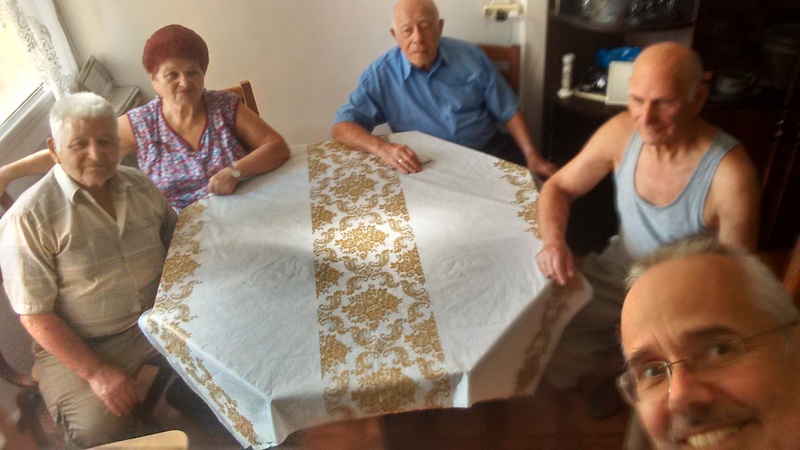 Anatoly, Klara, Mordechai, Michael and Timek

Ida was tired when I came. She receives no comfort and spent a lot of time alone. Today one of her grand children came to visit her. Ida has a new little cat that makes her happy. A new problem she face now is her eyes. She can't read anymore and needs a stare operation. When is not clear yet. but until then she can't do the only thing that she still could, reading and solving puzzles.

Lisa is in the middle of a stent treatment. One artery is fully blocked. Lisa felt very weak for a few weeks ad didn't know what is going on with her.
Roman showed me how his vegetable garden is growing, especially the cherry tomato and grapes. Gardening is his passion and keeps him vital.
Israel, Zina, Rina, Ina and Raya are doing well and pass warm greetings to everybody.
Warm greetings,
Timek

Tel Aviv
Orel: afternoon on Thursday , I visited Jenny. It was after arrangements for the long weekend, so, this time we decided to stay home because it was hot day outside, we couldn't pass up the opportunity to indulge and eat ice cream with whipped cream. It was really fun to snack on and catch up on everything. After that, I helped the genre to find her way around the Internet, and taught her new things in the Hebrew language . It was fun!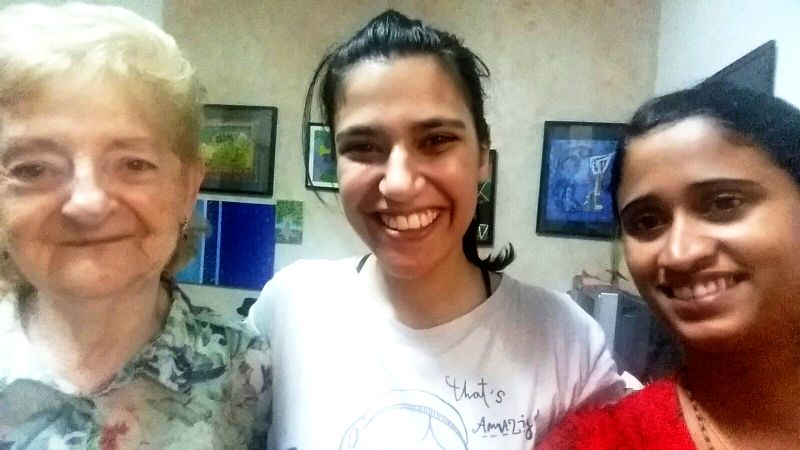 Jenny, Orel and Jennies' volunteer

Today at 9 of AV visited the lovely Jenny in her house in Tel Aviv. It was a very special meeting! She played me a love song she wrote called "romantic" song that was very exciting. And very symbolic of our love on opposite sides and the relationship alive, that was reached that stage where we're so open these private issues either. After that Jenny's daughter came to visit and I knew that this girl is clearly with a sense of humor . We ate dinner and then we published her request, to volunteer on giving reflexology or even for lower price. It is sad that a woman, who went through so many difficult things in life, need to rely on good hearts of people. But I'm very optimistic and believe that the savior will come.

Pardes Channa

Rivka : I went out on Tuesday afternoon to visit our people who recently their health is not so good. I heard from Gisela about her fall on Saturday. According her description, she fell "like a log ..." Luckily, she didn't break anything but have full of bruises and blue places on her body . After having many c.t. photos. She's hurt and without energy. Then I went to take Yaffa - Chayia's daughter, and drove to the institution where Chaya is lying und breathing with instruments.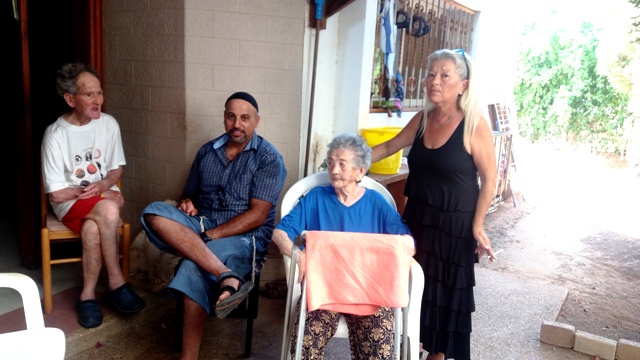 Chaya, Morris, Yaffa and Rabbi Shachar
I tried to talk to her and she responded with open eyes, and the feeling is that she is going to answer me . But it's not happening nearly six month already. Yaffa treats her with great devotion, and I feel much respect for the amazing care she give to her mother. Yaffa also comes to Morris to help him on doing things that she is the only one he permits to do.

What moved me was my meeting with Aliza with her cheerful smile on her lips.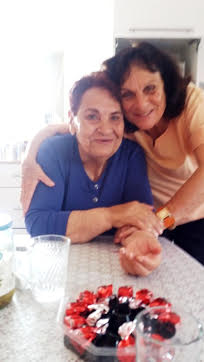 Aliza

This time when I saw her with edema in the face and all over her body, and demanded her to use our advanced medicine in our country, and she assured me that she will turn to tests in order to know what was going on. It has been three weeks of
respiratory problems and lack of energy but nevertheless, she didn't forget to make me a package of cookies and pretzels, made by her own hands, that she doesn't give herself. ... and cook for her children and grandchildren, and tries to show that everything is as usual. And that's not so. I wish all our winners good health.
Rivka
Modiin

Matan and Dor went to visit the Jehudith and she did not feel so good and hurt her leg. We went to do her shopping at the supermarket.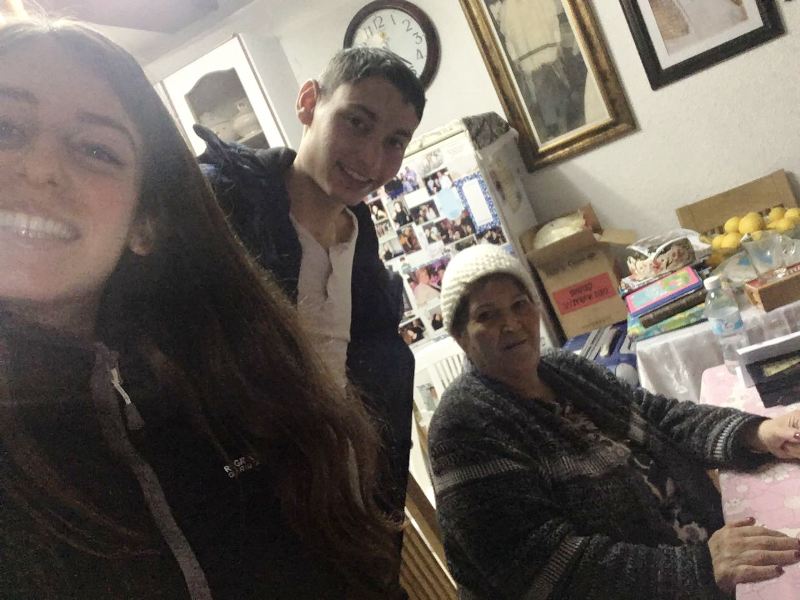 Yehudith

Shir : After a busy day of traveling from Modiin to Tzfat and back to Modiin, I decided to take advantage of my little vacation and visit my Shulamit and Chanan. On our conversations on the phone, I realized that the situation is difficult but I did not know how much... I was really sad to see them like this. Shulamit was really sick this week and thankfully now a bit better and stronger. We talked and I showed her the diploma I got from the course as showing as to grandmother and she was thrilled and delighted. Then, I spoke with her realizing that it's a difficult situation and I asked about Chanan, who was in bed. She said that he is really sick, not getting off from his bed, not talking and communicating and that his condition is deteriorate and really hard for her.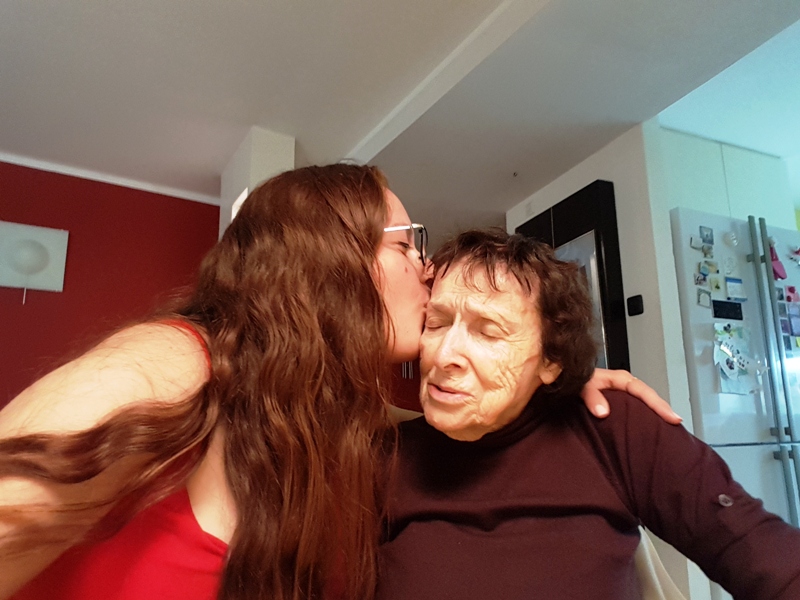 Shir and Shulamit

I tried to find with her what can bring him any good and she said:"nothing"... adding that she no longer has the power in general. I told her Nietzsche's sentence "a person who has reason for what , can bear almost anything". It means: person who has a purpose and a reason to overcome, he will be able to go through everything. She actually agreed and said that it good to learn from smart people .
Then I decided to try to take out Chanan , after three days of not getting out from his bed. Sergei ( his helper) and I, put a lot of effort and went with him and held him and we got him out at the end, into the living room.
They ate dinner and Chanan ate chocolate ( I remembered how much he loves it) . Ilona, who handles them with dedication (she arrived later in the evening) and we, were excited and could not believe he is out of bed.
It was very hard to see him like this. And I told him that we do not give up and don't let him to do so....and together, will help him and raise him.
It was sad and happy evening . I hope they will get well soon, and will strengthen and be happy. It was a privilege to help them a little...
Zfat
Shir : We dropped to Esther on my last day at the base. She was very happy and excited that we came. I said and promised her to visit when I'm in Zfat . She was very happy. She said yesterday Ori from Mechina Braam, who came to visit with his friend and she really enjoyed that they came and talked and laughed and played cards together.
She also told us about a funny incident which happened to her with her friend. When Esther brought her accidentally eat uncooked hot corn and discovered it only after eating it..., and we laughed a lot. As usual we did not want to go and we enjoyed every minute

Shir : On the way back from Zefat, even the busy day, I decided I have to visit Meir and Lillian who was in a low spirit. I gave them a new bedding set that one of my friends from the Army has decided to contribute it to my Holocaust winners. He won it at one of the competitions at the base .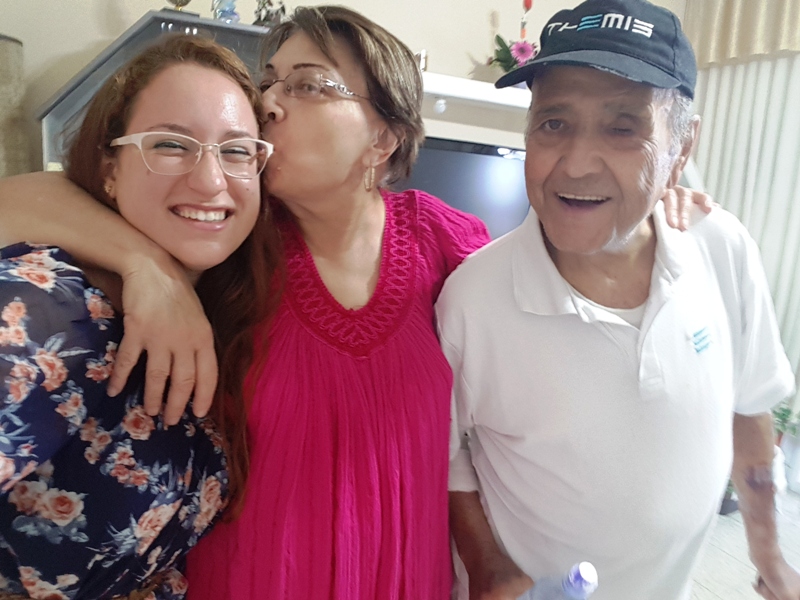 Shir, Lilian and Meïr

Indeed, they were happy and said they wanted to buy long ago ( at Pesach) but couldn't effort it... We talked about my course and they haven't stopped to congratulate and rejoice with me. Meir said that he pray for me each and every day. We talked about friendship and love and relationships. About compromises on key features and their kids and their friends in these contexts. Open talk and interesting as always! I enjoyed myself so I could come in spite of the short time and make them happy.
We wish to our dear freind Maxine from Ostralia, full recovery from the operation she have passed. Wisshing to see you with full health.

Shabbat Shalom to all of you.

Rivka

The situation - Squill (Urginea maritima) !!!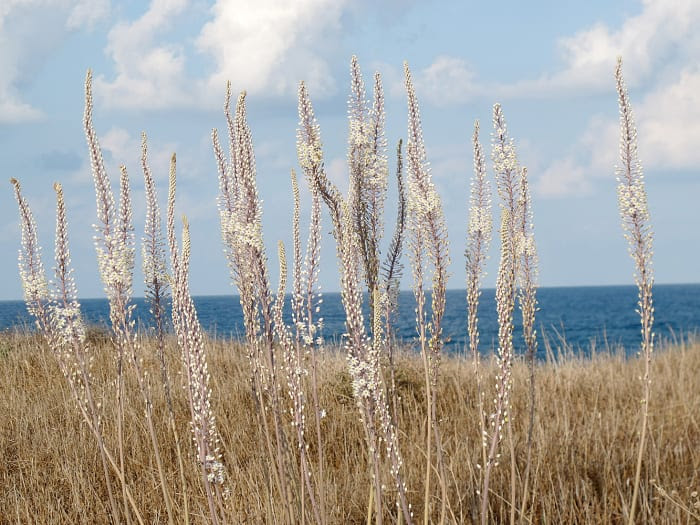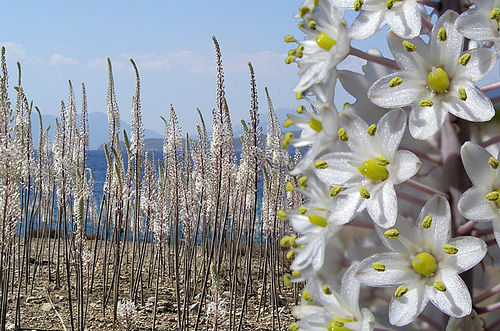 Dear Friends!

Anyone who knows me, knows how much I love nature. For me nature is not only beauty and contemplative place, this is a place to get a lot of divine insights. We are at the end of a very hot summer. One of my favorite things to do during the period towards the end of the month of Av, and for the purpose of understanding - mid-August which is these days, is to discover the tiny treasures, which give us the sign that the fall is knocking on our door. The one, who has not heard about the amazing beautiful ( and protected) plant which is called Squill. It is not easy to find the squill at first, but one of the greatest pleasures that I know is to look. And it's mostly in the coastal dunes where I come and I watch very carefully eagerly and expectantly, dry expanses of dunes to find the squill !!! This morning, I got up early (as usual) at five thirty in the morning, and after swimming in a spring, I came to the gas station to drink my first cup of coffee , as well as watering my vehicle, his "coffee" . As usual, I watch intently and study the area, and then, all of a sudden - yeaaa !!!! Beautifully carved, as majesty, sticking between two dunes, stand alive and wonderful squill ! A big smile dawned on my face, as a person who can observe nature in depth, seeing the story of the faithful God, planting plants and creating beauty and uniqueness. This smile was the smile of a curious child, who had revealed a treasure trove. The girl from the Coffee, recognized me and asked : "Daniel, what's up?" I replied with a big smile: "The situation is Squill !!!", and I saw her face lightning with joy for the news.

And now, a few sentences that caused me a great happiness. This letter explaining my words later on:
Libby, Aviv, Ariel, Mayan Talia: It was really great to meet Riri after so long. Each day in Poland I thought of her, and every time, I "ate" myself for not meeting her before our trip.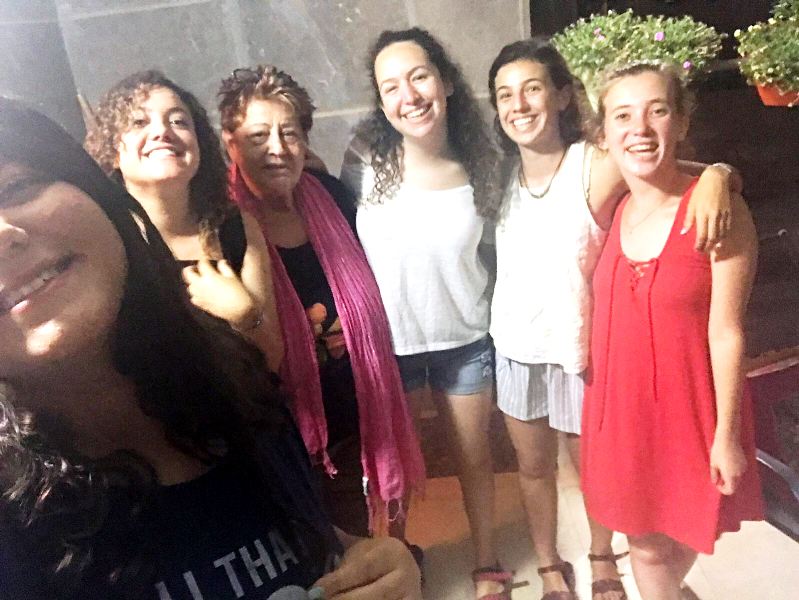 Mayaan, Libi, Riri, Ariel, Talia and Idan

Once we got back, I kept calling her, and we finally came out today and we are so happy to meet her. Every moment with this woman is refreshing. It brings me such a huge love and joy, and she is entirely family to me. All her grief - I feel as mine . Whatever makes her happy - I'm happy million times !!! I'm really grateful for every moment with our grandmother Riri !!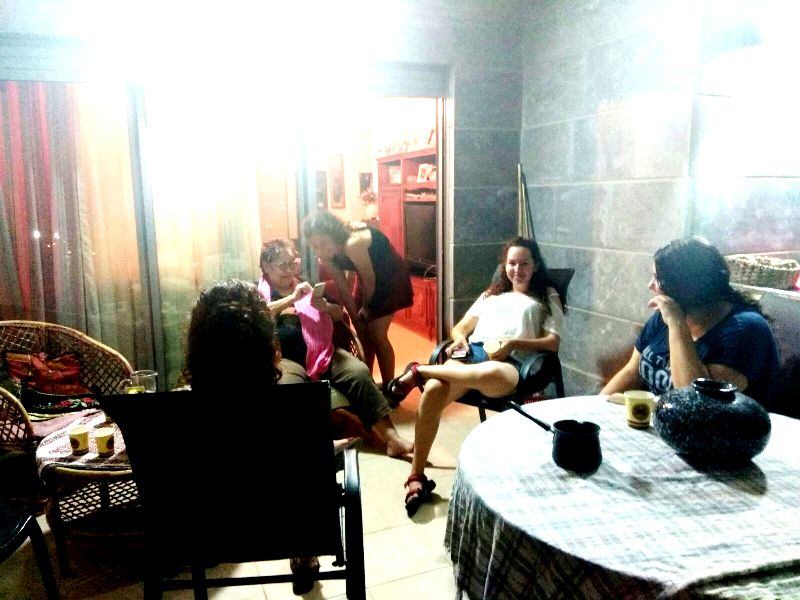 End of the reaction of one of our students.
As I said, this summer is long and tiring, especially because of the situation in the country and in the whole world . As the squill, here too, we have our own beautiful flower. The smiles and happiness 'which come from a deep roots , from the amazing young men and women, who are volunteers here every year, bringing to the adults, to their hearts and life, and of course, vice versa, a smile from thier inner soul, and it has incredible power and effect in that dark, shallow and bleeding world as we are experiencing now everywhere. These approved activities, equal for healing by itself. The amazing thing of all, is that it is not far from us .... all of this is a matter of priorities. How easy it to bring light and grace through life. It has been said by God: "Love your God, with all your heart, with all your soul and all your might" !!!
I am proud of our volunteers who bring a lot of light into this world. And now, very soon, new volunteers will start , and another year of bringing a blessed goodness and grace for the whole world !!!
Shabbat Shalom !
Daniel
The month of Av - constructing the temple heart
July 27, 2017
Tzfat
Shir : I came to Tzfat, although I am far from Tzfat , but came with the car to visit .


Visit Esther: Ido and I,
have visited my beloved grandmother Esther, doing with her shopping. We talked about last week. We had a cake that I brought from my mother's birthday. We played cards and talked about the charming volunteers, which she is missing very much. Precisely during the visit Uri (from the Mechina) called to ask how she's doing.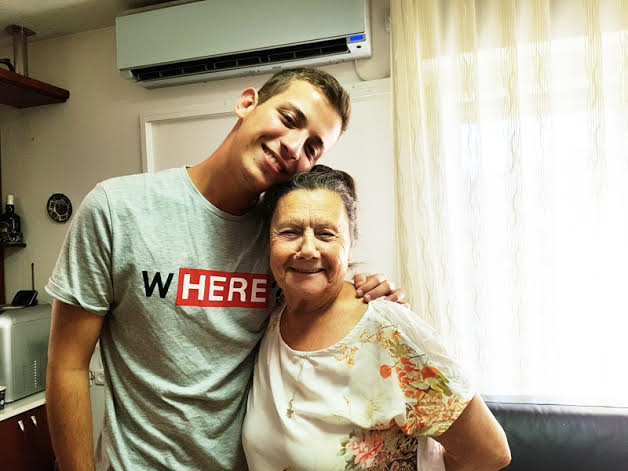 Esther

Visiting Larissa :
Larissa showed us her garden and picked grapes straight from her garden, and we ate them together. She told us about her visit to her sick sister in Kiev who is suffering greatly. And her longing for Anatoly. She cried for her husband. And we encouraged her that she at least has won many years taking care for him, having established a family, even lovely granddaughters which she showed us on her videos.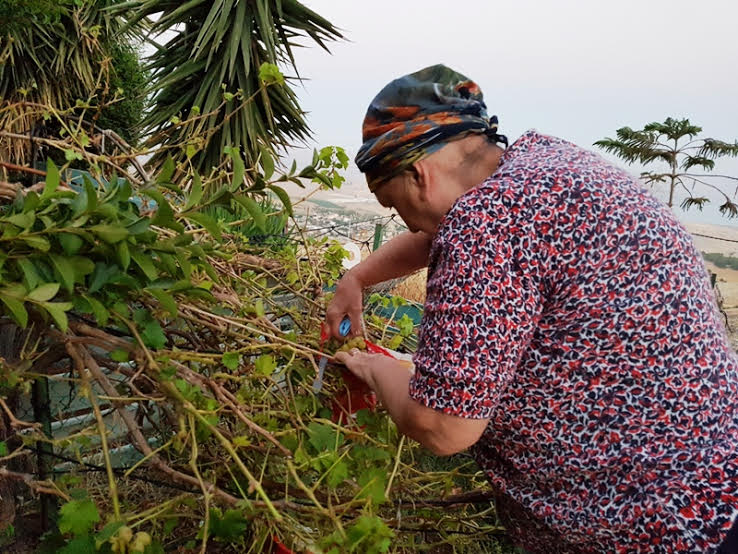 Esther in her garden
Visiting Meir and Lillian: visit and Lillian was amazing, also we met her granddaughter Ella. The one who I already knew, because she joined us during the march for life - this year. During the visit, we talked about love and marriage and the special marriage of Meir and Lillian.
Soldiers visits
The soldiers Ayelet and Naomi visited Larissa on the 17th of July. We decided to buy groceries for pancakes and doing it together. She already prepared the dough. We cooked together and did pancakes and croissants. We talked about health and well-being. She told us that her sister recovered a little and she had good visit in Ukraine. We told her about the army. We heard from her that she made Aliya on later age due to get closer to her children. She worked at the post office, although she was a teacher . We love her company. It was really fun and hard to leave her.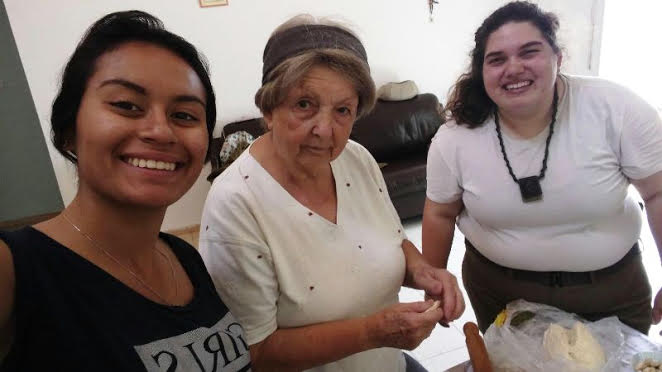 Ayalet en Naomi, together with Larissa
Lee he and Mor:
It was wonderful! Diamanta and Chanan are amazing and interesting people. We arrived and after serving us a cold drink we sat down to talk. Then we played Remmi, (Diamante won nearly all rounds)-and we learned it very slowly. We ate and it was really delicious! (Of course). Suddenly it's been three hours , the time flies and it was good for both sides . Waiting for the next time.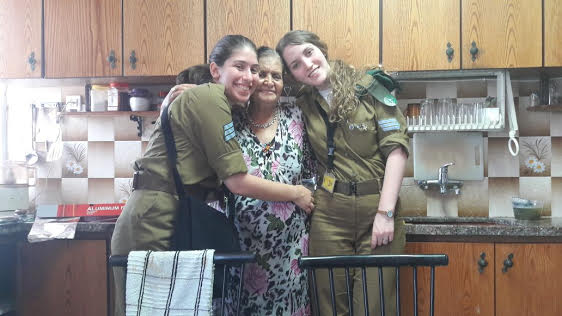 Diamanta with Lee He and Mor
Noa- Diamanta had her birthday today. So we bought her a gift and wrote her a blessing. We arrived to her home and found her and Chanan in the kitchen. This time we lit fireworks and surprised her. She, of course, was very excited and hugged and kissed us, as always! We brought her a gift (bought her beautiful cookies and post another set of template with knife) After reading her our gracious blessings she stood and started to cry with excitement as 'how much she loves us' . She started almost to cry. I was very glad to see her talking with great excitement!
Matan and Dor :
We came to Yudit today. We didn't go to the market with her as it was planned because it was too hot for her. So, we took her with us to the grocerystore and helped her shopping. Then went back to her house and made lunch Tunisian food (Couscous and soup). We sat and talked. It was delicious (and spicy!). She was really glad we helped her with the shopping (otherwise she would have to do it all by herself), and, of course, glad that she could invite us to taste her food. We had fun, and will be in touch with her obviously.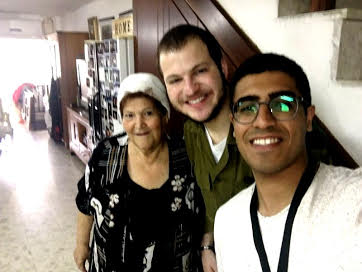 Judith
Noa: Tuesday last week, I went to Eli , picked him up and together we went to a place called "Heaven".
There we ordered coffee and cake. We talked about life and enjoing the magical scenery. I told him about his last week, which was very busy in the military and unfortunately prevented me from meeting him. Eli of-course, said that it was OK and he thanked me very much that I came to visit him. We talked about religion and politics. He also told about the surprise party his son organized for him recently, with many of his friends and family.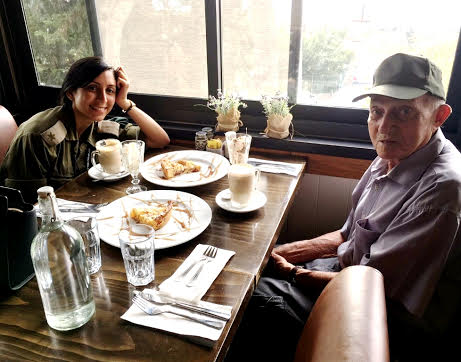 Today, on my visit Eli gave me the book about his life and I was very excited and thankful to his gesture.We talked about the book, about my trip to London, his family and he honored me with cold watermelon. As usual, it was good to see him and hear the fascinating stories. We talked about plays and shows, and it reminded him when he and his wife and daughter, as new comers (to Israel) went to see the musical movie "the suburbs story ". Eli described this experience as exciting and unique.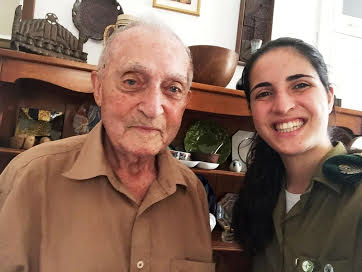 Eli with Noa
Modiin
Shir : I started my weekend at grandpa's 82nd birthday. We celebrated together with volunteers of Svetlana and Dimitri.
?I brought flowers with me. 12 Volunteer brought balloons and cakes they had made. We sang in Hebrew and Russian.
?We laughed a lot, ate a Kingly breakfast they prepared us and enjoyed it together. May we celebrate many more years together. In the pictures-Aviv, Shir, Oz, Arbel Svetlana Dmitry.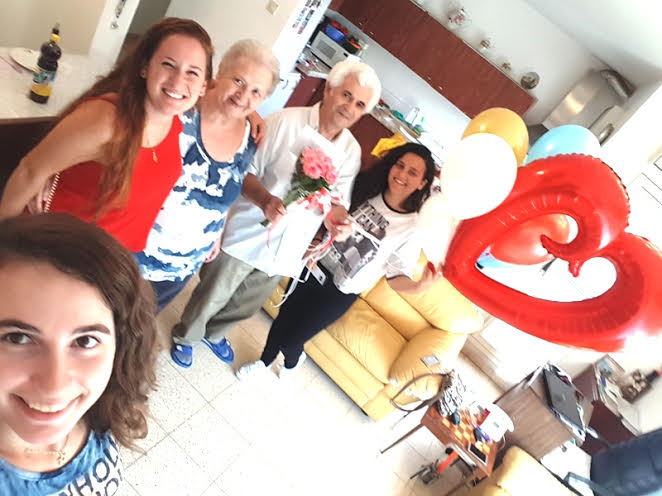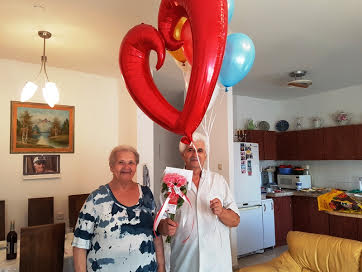 Adi and Naomi: We visited Shulamit and Chanan. It was good to see his smile when we went to their house. We sat in the living room talking with Shulamit because Channan was tired. We talked about our plans for after school, the army and life.
Shulamit's daughter was also there. They're very happy that we had visited them. It had encourages also their daughter.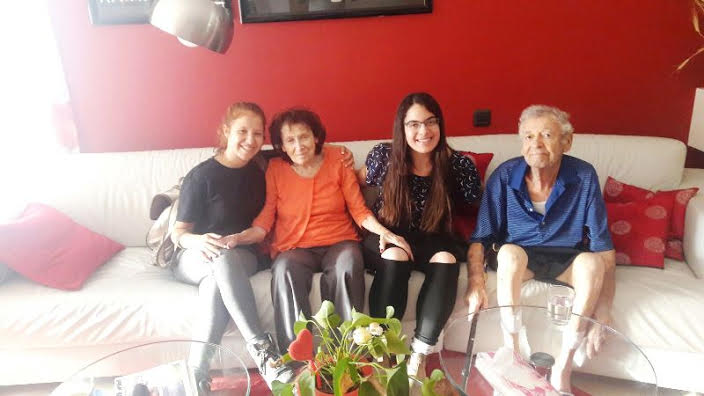 Shulamit, Chanan, Adi and Naomi
Pardes Channa
We went to visit some winners in Pardes Channa. First of all, Zvika, to see how he managed with the new airconditioner which we have installed for him, and if he knows how to use it. Indeed, there was a problem, which were solved quickly, and he couldn't stop to thank the donors for this gift. So I give this 'thank you- note' immediately to you our donors, on behalf of Zvika. Thank you for your involvement with people as our Zvika.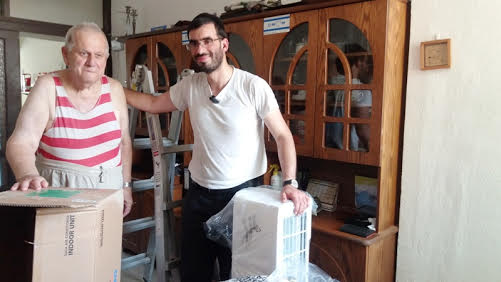 Zvika
I came to Zippora, and we're working right now, against "amidar", checking why not release the company so she can buy a house with all the rooms she have right now and has been for many years serving her. Fortunately, we enlisted with Alex Talmor who try to find the obstacles in its path. She is very grateful for the caring and conscious about having Alex who is a lawyer, and do it voluntarily, to examine the issue.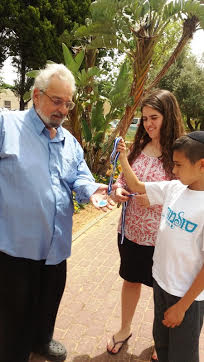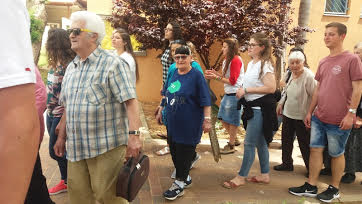 From there, I came to Gizela who is already for days, feel severe pains all over her body, and doctors don't know how to help her. We tried to talk and see what's best and less painful. We wish her to get rid from the pains. From there I went to Aliza. Also Aliza does have medical problems that need to get resolved, but there is always a smile and her optimism. She tries to make the best of it.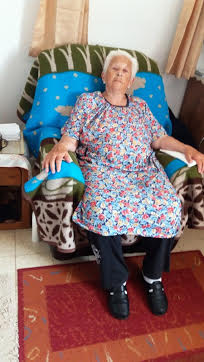 Gizel
Chaya: I met Lydia at Ein Shemer.
In honor of her birthday, I arrived for the celebration and met her family who expressed their appreciation for my visits.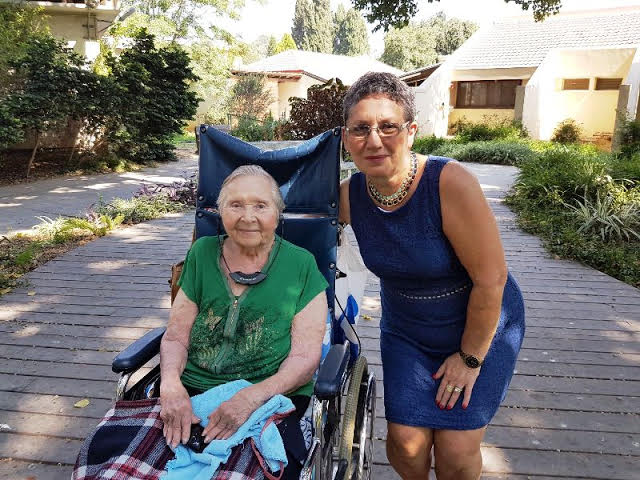 Lydia and Chaya

Rivka
News from the North

Dear Friends.
After one week of recovery, after my operation I could start visiting the Shoa winners again. It was a joy to me to visit and speak with them.
Eli-Ram in Ginosar was watching Tour d'France when I came in, to visit him. We watched together and had fun and a relaxed time. He follows the tour everyday. It brings him back to his French roots. The reporter speaks in French and Eli-Ram smiles and it makes him very happy. It gives him a nice break during the long days and the hot summer. After watching the tour, we talked and spent quality time together. From time to time the students give him a call or visit him while passing by and that makes him happy. He keeps a room for them when they are serving the army and have a need to overnight.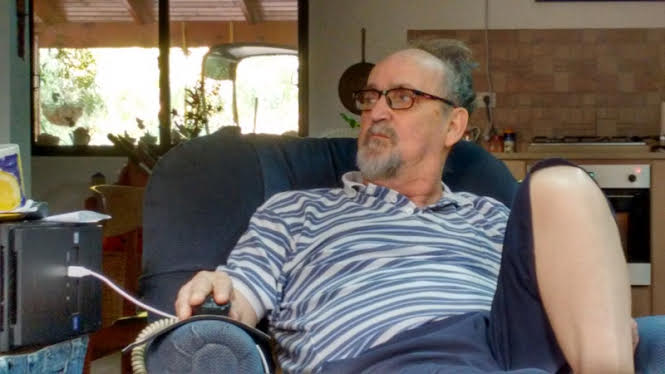 Eli-Ram
Ibi and Rachel in Neot are both, very lively even though the summer is hot. They rest well during the hottest hours. Every day they follow a senior program or in the kibbutz or in Tel Chai Collage. They enjoyed my visit, we talked about the students and the great time it gave them. They are both looking forward for the new students.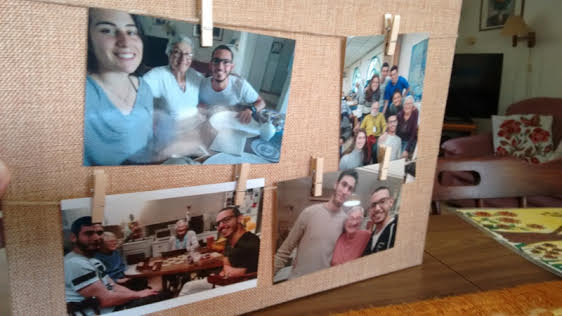 Shalom,
Timek

Shabbat Shalom !!!

The period between the straits
July 14, 2017, Tamuz 20, 5777
Pardes Channa
End of this year, in Neve Micael : We all, gathered in Neve Michael, with cool refreshment , with a big smile and songs, welcoming us. Also, joined us, students from America and Canada, a guests of Neve Michael who wanted to get the impression and know the winners.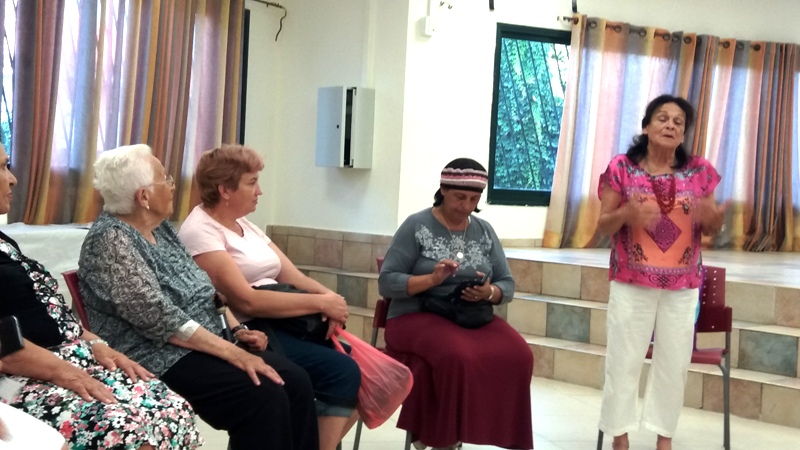 Also, we were honored with the presence of the daughter of Chaya and Morris - Yaffa , who has long accompanied her mother who is unconscious and on a respirator. Yaffa is an example of a girl who has been tirelessly going along with her mother. First in the hospital, and now an institution Malben. We did a round of introduction, and each said something about how he felt about the project. It was very exciting to hear people thank and bless by expressing their feelings that they are not alone and who much we care for them.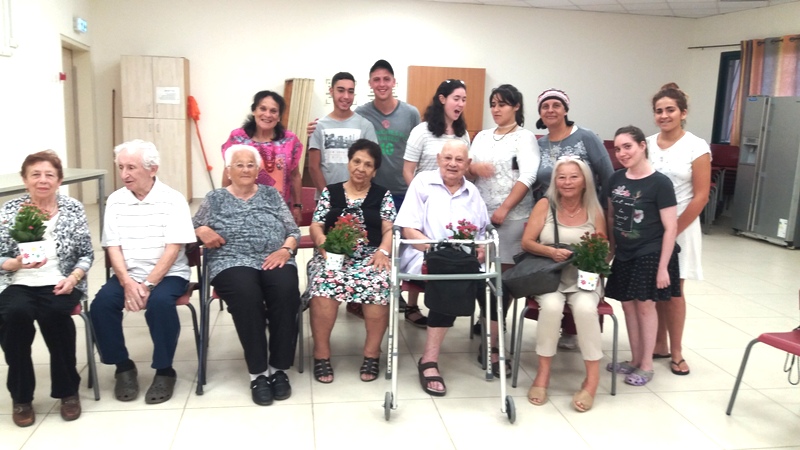 We played games and the winners got an award. You can see the pot each of our winners has received, and in the greeting card everyone had a photo from one of the visits they had. After hugs for goodbye, we scattered, feeling with the taste for more. Thank you Zvia. You did a lot for the project. Hope to see you again at the beginning of the year , refreshed and ready for another year of events.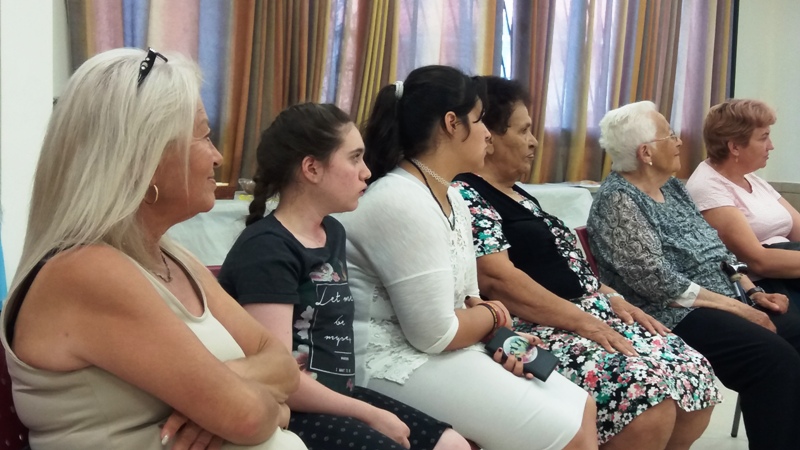 Zvika Givon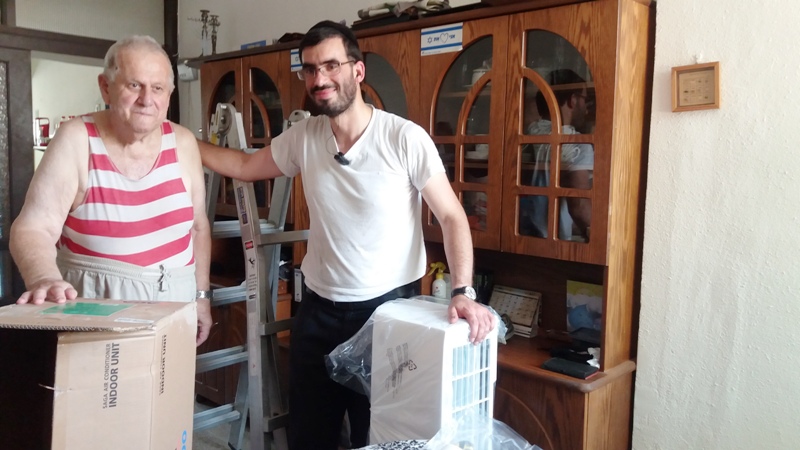 Giving an Air condition in Pardes Channa Zvika Givon: Zvika with Pinchas, born in 1936 Tykocinski, Romania.
I've known for a long time, and recently, agreed that they could visit students at the beginning of the year.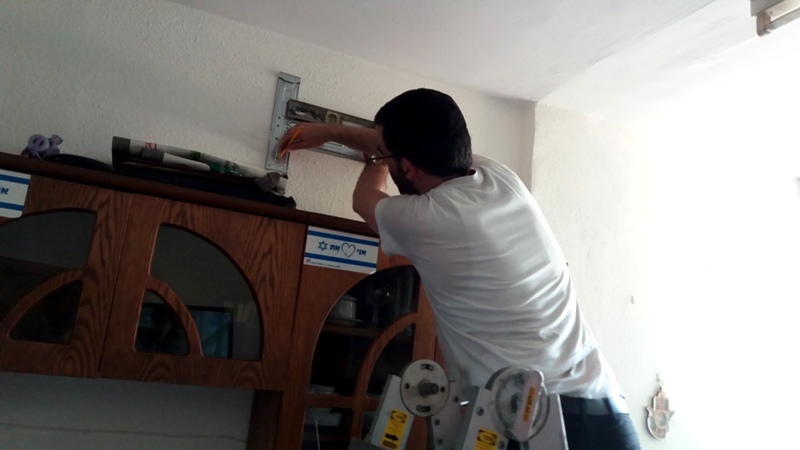 Ghetto was established there, and when he was eight years old, the Germans broke into their home and tried to rape his mother, but she resisted and was shot to death before her two children Zvika and his sister. The children were taken to their uncle who took care of them. On 1948 , he came through Youth group for Aliyah to Kibbutz Sarid of Hashomer Hatzair movement. At - 1954 he enlisted to the army. After his military service he returned to the kibbutz , and continued to the only Communist kibbutz Yad Channa, and from there came to Pardes Hanna. In 1962 he has married to his wife, who has died 16 years ago. Worked in a Factory for plywood, which was in Kibbutz Mishmarot. The couple had no children, and he live with a very modest pension from the age of 65 due to the closure of This precious man, live in our hot summer without an air conditioner for many years.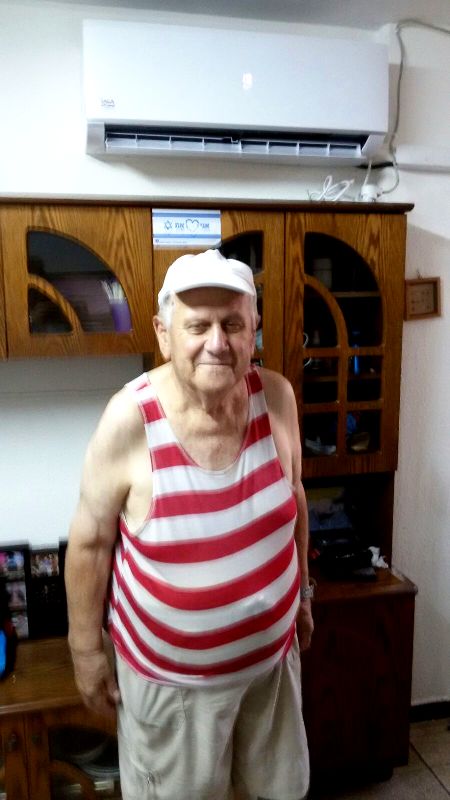 Zvika



We decided to help him and on Wednesday, came Pinchas, and installed the air conditioner. Zvika is so grateful, and very excited about the gift he has received, and constantly asked:" what I have gained to get this kindhearted. You can see the course of the installation, which ended successfully, and for a change for Zvika this summer. Thanks to the donors and all , who care about the air conditioner which we have installed for Zvika.

Rivka

Special visits in Zfat
A few weeks ago, five special visits took place in Zfat. Preparatory (student) initiative from Kfar Hanasie, with studants from the 9th grade joining the projecct called: "seeing far" (amazing project makes it kind of just ninth through twelfth grade) came to Zfat. About 18 have visited five houses of Zfat Holocaust winners.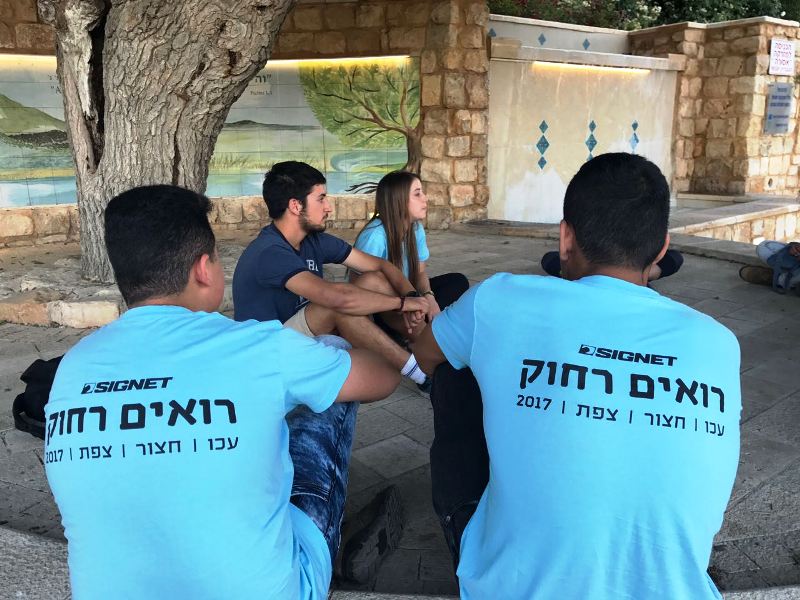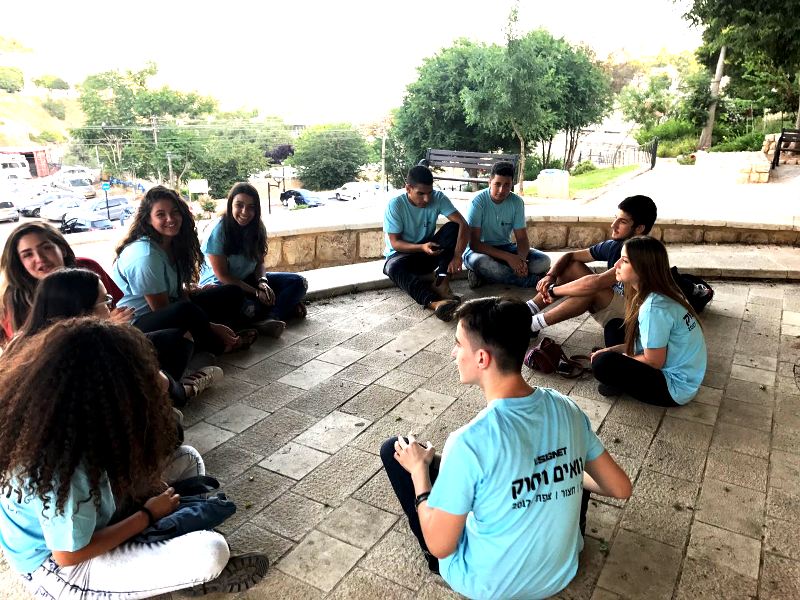 Students from Roim Rachok

These visits, have left a mark and may be stay with them for years, and may be, will be part of "Lechaim's" in Zfat family life.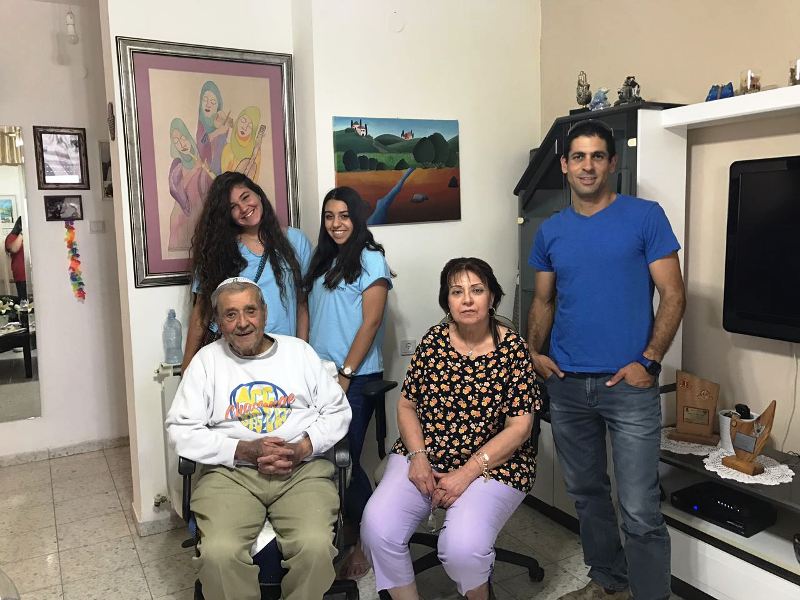 Ninth graders, visiting Meir and Lilian.
It was enjoyable to hear the stories of the survivors and our particular history as Israeli'es!

In addition, the hosting was really outstanding. The survivors really were fascinated. The students liked to hear their stories and saw how aged people grandparents and even more, stand on their feet and even work.
Visiting Ester-was really enjoyable, because I admire this woman, aged 81 working in helping the elderly, and found that she works with my grandparents in the nursing home where they live. Esther's story is really fascinating and interesting and I was glad to hear it. The part I liked best, is that Esther still focused and clear.
Visits in Tel Aviv
Ben-Israel-Orel met today with the winner named Jenny Rosenstein Holocaust winner from Tel aviv.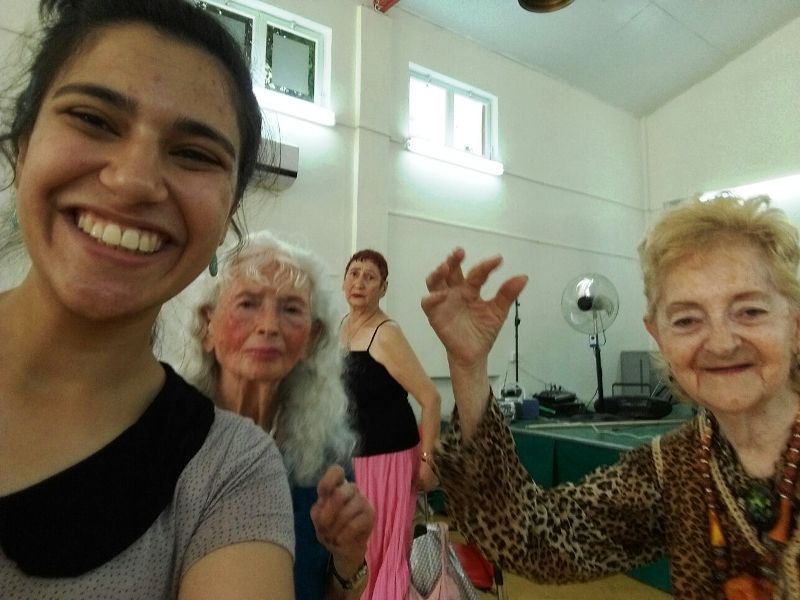 Orel and Jenny

During the visit , I met a charming woman, gorgeous having an inner forces in this world! Jenny told me about a book she wrote called "angel over the door," which describes the life story, a moving and heartbreaking story, begins in Chernovtsy, Ukraine. In addition to her writing, Jenny expressed her feelings inside with the brush, and has a variety of spectacular paintings. Behind every painting, she have a fascinating story to complete . Jenny is very active on Facebook. She uses the time pleasantly, posting events for winners. Thanks for the privilege to know Jenny - I learned a lot and enjoyed helping her! Waiting for our next meeting.
Modiin
Shir : This weekend, we celebrated the 90th birthday Mickey, Rozita's husband. The volunteers, Rozita and Mickey (NIR and nadav, Ariel, flied to camp abroad) and I, came with cake and Fireworks. We sang to Mickey, read to him greetings and he was very happy.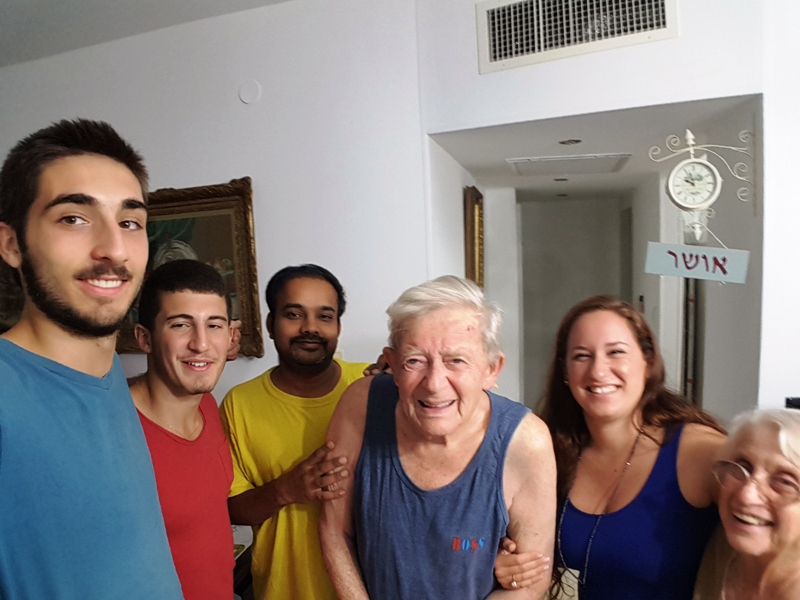 Rozitza, Miki, Shir, Babo, Nadav and Shir

Then we talked for hours with Rozita, who told us that her daughters, renewed their relationships after many years and it pleases her. She told us about all kinds of periods in her life and it was fun and exciting to hear her telling.
Shir : last Saturday I went to visit Grandma Riri . We live in the same building.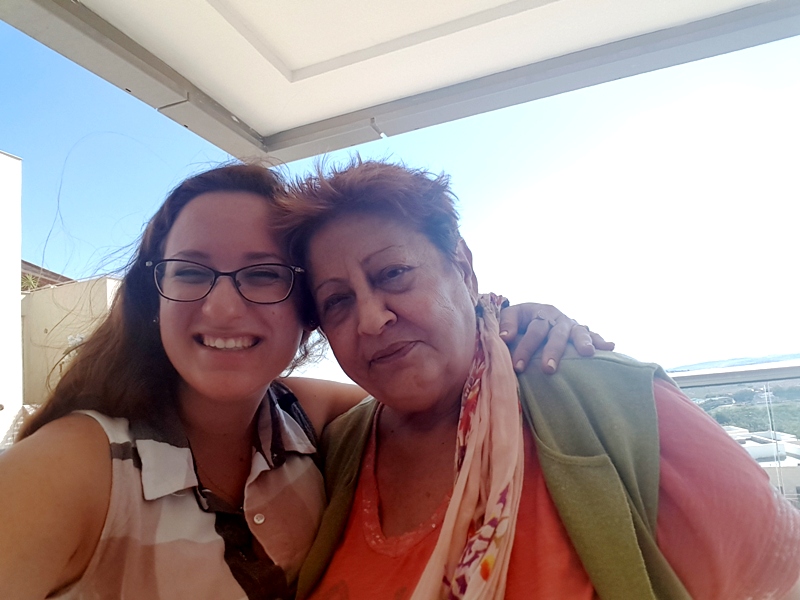 Shir and Riri

We sat together in a new and beautiful terrace. Riri told me that she was very concerned about her work. She works hard with kids and concerned about this matter. She also does massage. I told her I would help her. We have defined together something, to publish on Facebook for baby siting in Modiin. I took many cards, as massage and put it in the mailboxes of our building which have 25 floors. After calming her down, I promised to help, we drank coffee, and ate amazing cake she has made. She told me all about her family. Her son lives in Finland. She showed me the pictures of grandchildren who all live abroad. She said that soon, they will come to Israel and she is waiting for it.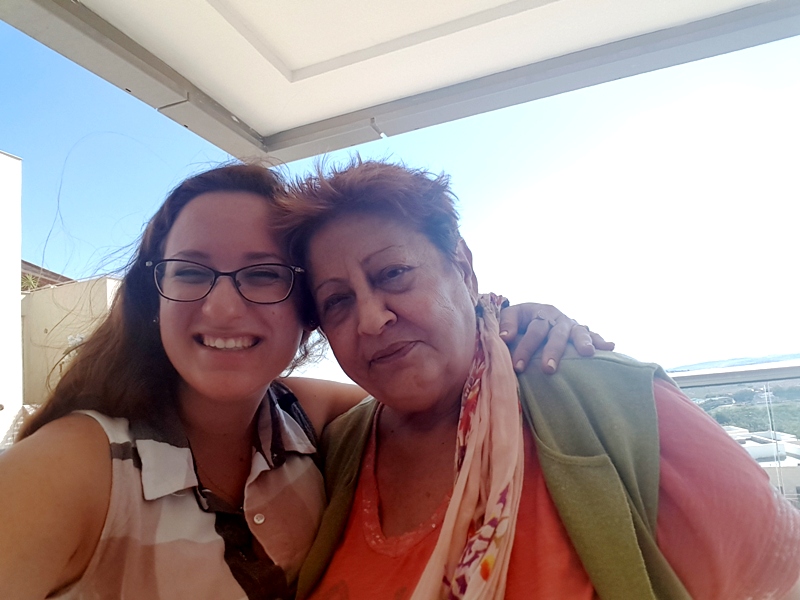 She earns five granddaughters. AVI and I, are really happy that real grandchildren already told her jokingly, " what will happened when we will come, don't you have your new granddaughters? It's so good to watch that even she works hard and away from her family, our meetings brings her so much happiness and joy.
Dear Timek ! Happy birthday from all of us , the femily of Amutat Lechaim!
Shabbat Shalom !

Rivka
News of June 29, 2017
Personal letter of Daniel
Modiin
SHir: ...."How good it was that we met . What I am without you? We were excited together, Is all of this for us ? "... End of the second year and I'm speechless.
I really can't express how much I love our "L 'Chaim" family in Modiin.
How proud I am of this elite youth, with high quality, moral, and truthful. Hard to believe that those charming acquaintance, who came to me the first meeting last year and now, recruits, or going to continue preparatory, spreading their magic and make our country a better place. Such youth, strengthens my resolve, to work in education in the future, and 'create more such salt of the earth' as they are.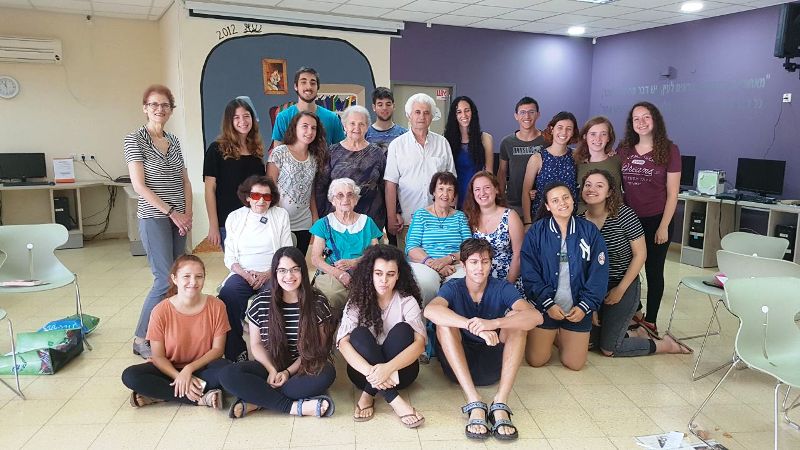 I can't explain how much I love those who have started this year and in another month, will travel to Poland with fresh memory of what the Holocaust was, the rebirth of Israel, which is the most special memory that can be.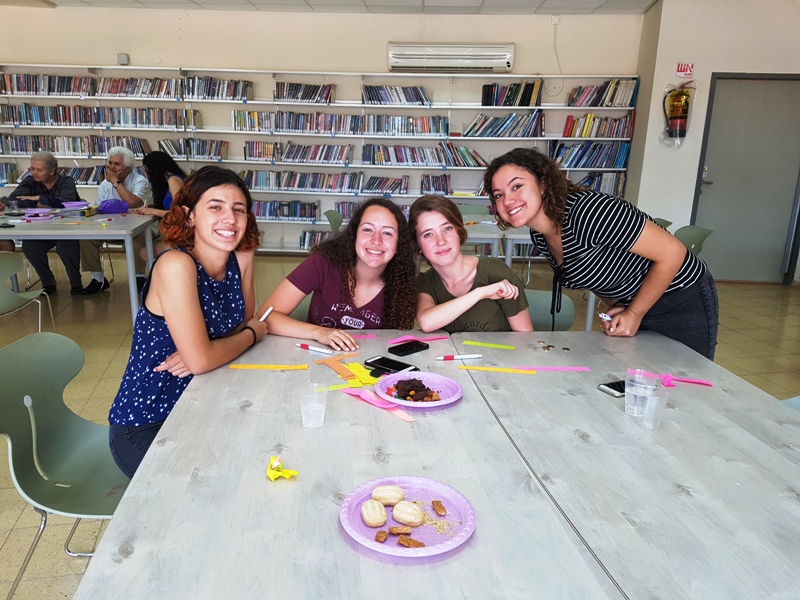 Beyond that, I can 't explain how much our family were extended with soul and heart. I did not think that I can really contain so much love and it amazes me every time.
Thank God for the privilege to be part of this family, the power to concentrate it, the ability to learn from wonderful people. Thanks to my parents and my amazing friends who accompany me all along; you're the cherry on the cake.
Wishing all of us to be healthy and we will have many more years of happiness and love and joy. I know that our "jars of happiness" we made, will help at some provisions difficult moments. So thanks to all who are part of this sunshine of my life called "L 'Chaim" ! So thanks to all who are part of this sunshine of my life called "L 'Chaim" !

So briefly, what we had today: We started with thanks .
The volunteers handed out to the winners pictures and I wrote letters for them. Then we sang the song "How well we met," then reviewed with notes to each other. The points which have raised, were simply amazing! The words grandfather, grandmother and grandchildren were used a lot .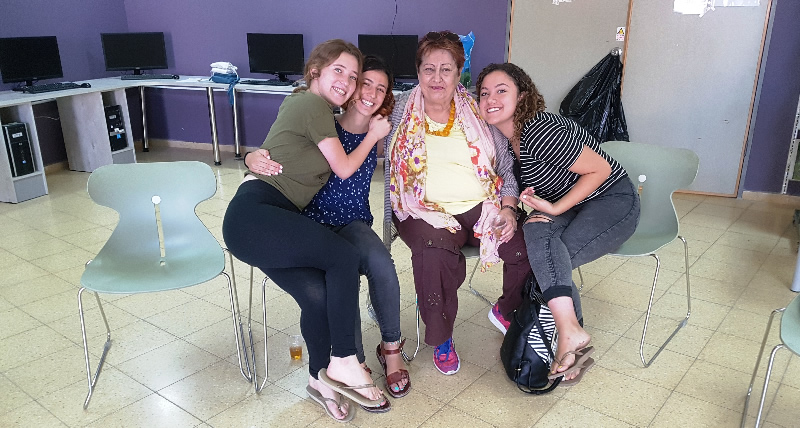 Idan, Talia, Riri , Maayan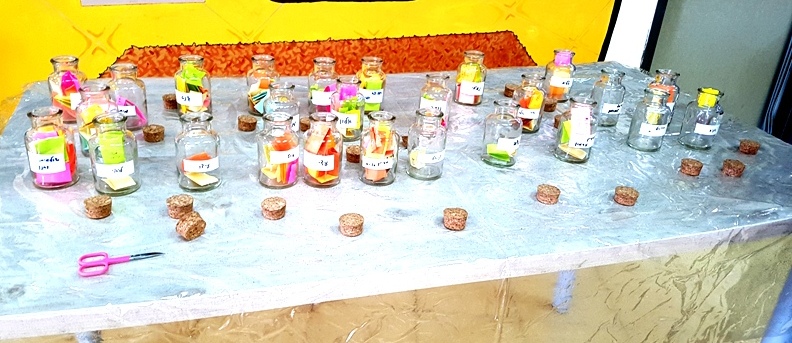 Amazing to see how this dream turned to be reality and true in-with two years. Then, we made the gift which is "a jar of happiness" - a jar full of good things we wrote to each other and the idea is that when any of us need to be cheered up, he will take a note from the jar and will get strength from it.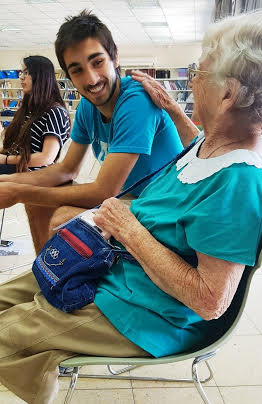 Maya visit Svetlana : Although I'm a little busy lately, I had to give her an hour this week.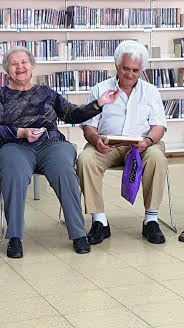 Svetlana

Every meeting with Svetlana, is very exciting. I always wonder if I have more to resume her technology. Lucky me , she have a new smart phone ... We went through the settings and contacts Whats up send a contact for the first time cell phone. The nicest was to teach her the What App Web.
As if they invented it for her. She is so excited and editing. I think it would be very useful to me. Svetlana, always feels that she need to give back, so, I'm always learn things from her. She showed me how she organizes a list of recipes for her notebooks in the right order, and told me to teach my children. Just lovely. Thanks for the privilege of knowing her ...
Shir : So after I introduced Shlomit to the songs of amazing Ishayi Ribo, I decided to offer his performance, and so I did. We went together Shlomit and her daughter Eilona.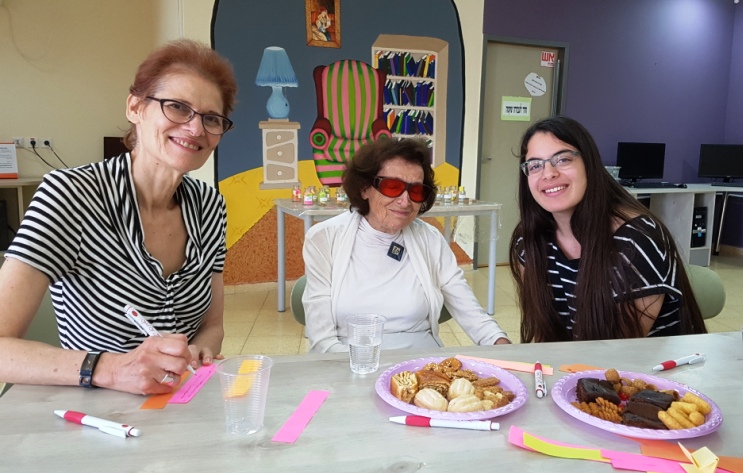 Neomi, Sulamit, Eelona

The performance was in Beit Horon, and there, also live one of the volunteers that came to the show. We ate at the cafe, we talked about music and its power to cheer and encourage any mood. During the remarkable performance, we were happy, we sang, cried and enjoyed very much. Shulamit said that it is a special music that touches the soul and the musician should have a lot of sensitivity to create it . We enjoyed this very evening and Shlomit didn't stop thanking us and we said we'd look for more good performances ?
Jerusalem

Keren : Today I visited Eti after a long time ... I really missed her and
I realized that she missed me too.



Keren with Eti
Today, two things happened to me extraordinary:
The first reaction of me on the fact that I would be a warrior in the army. and asked me: "the truth, donot you afraid?"
A woman like her, winning Holocaust, did not receive any relief in her life, who lives in a small apartment in the middle of Jerusalem, and encountered a number of obstacles. She realized straight to my heart, not a matter of pride and ego to serve like one in me, just ask about things that do not always talk about them.
The second thing was the situation would soon disappear ..
She asked me to open a personal letter and read it to her.. On one hand I was happy with the content, on the other hand I was a little angry about it, but in the end she got the honor she deserves.
I was glad we met!
North
Kiriat Shmona
It was great to meet again all the shoa winners in Kiryat Shmona. Now, without the students. As always I had touching and heartwarming visits. Everyone was happy to see me and they give thanks for a valuable food package support. Israel invited me for the wedding party of his granddaughter. Klara's blood pressure is now good and so she feels much better and stronger now. Lisa will have a heart veins operation this month. Ida is still mourning because of the loss of her daughter Marina. Rina, Neli, Roman, Zina, Bracha and Ina are sending their regards.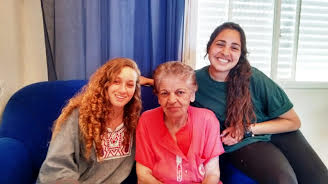 Mina
Mina Solomon, originally from Romania, since her arrival to Israel in early '60ies, she is living in Chazor since then. I found Judith to start visiting Mina every week. Judith is 71 years old, second generation shoa winners from Hungary) and it is her desire to visit those who need that. Before, Judith she has visited Blanka. Since Blanka has died Judith was looking for someone else to visit and now she is dedicated to support Mina.



Israel
One of Israel's Weitsman (K.Shmona) , had a wedding in Tiberias, and Israel invited me for this special occasion. Israel enjoyed from the wedding very much.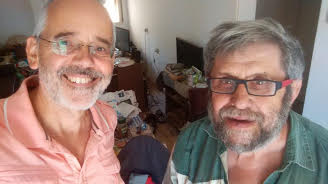 Jafim

Jafim (Katzrin) is excited with my visits and he hopes to meet with the students again. That gives him so much strength and joy.

Sad news is that Moisje has died suddenly. He had heart problems. One day he just fell down and passed away, without any suffering. Me and the students will miss him.He enjoyed so much life and the students. Bless his memory.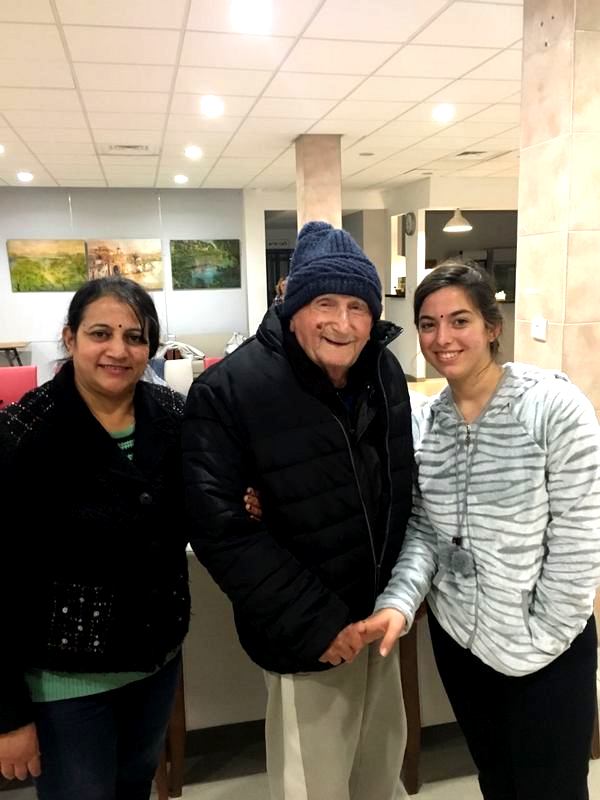 Moisje
Timrat
Shalom ! We went to visit the Tamar and she was very glad that we came. She showed us pictures of her family - children of children and grandchildren. She told us about her family where they live, how many children etc .. She also told some stories about the past - immigration to Israel, being acquaintance with her husband and living in Kfar Hachoresh, and later in Timrat.
It was very interesting and we were happy to see her.
Ruth and Rayia, Ulpana Tiferet.
Zfat
The last visits of the students from Baraam :
Hee lee and Liam : We went to Eli and I think that it was the most exciting ever been. As usual, Eli hosted warmly and exceptional .... with tea and biscuits.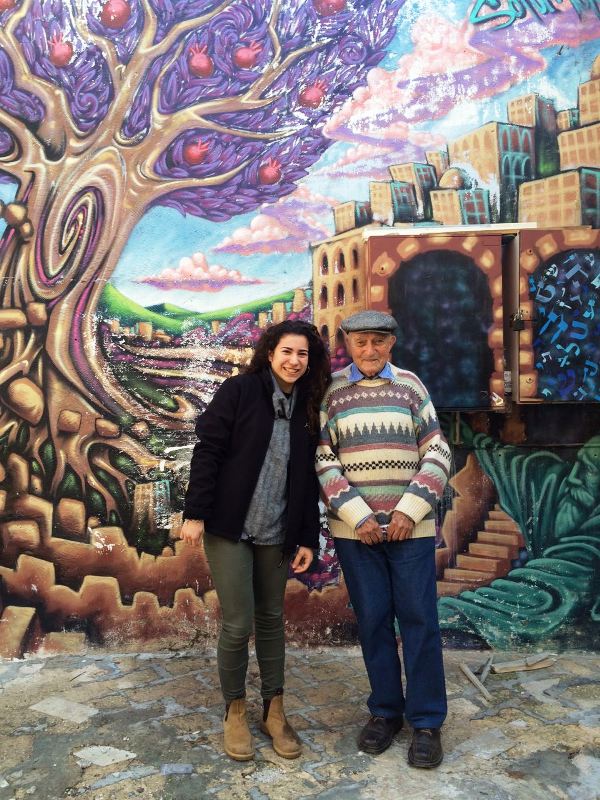 Eli

This time, the meeting was a little different, Eli brought songs that he loves and connects them and we listen to them... We spoke about them and it gave us to see things which we never seen before. Eli sang "Put me under your wings" and said he dedicated his book to his wife Ayala. We could see his love for her and his sensibility for her.
Me and Liam talked to him about the future that awaits for us: army, school ... Eli support us with all what we are going to do. I hope to hear from him soon, when the book is ready. I already miss him, my grandfather Eli from Zfat.
Dori and Yoav- unfortunately, we didn't meet Julie because she went to the dentist ..
We went to Judith. She offered us fruits and waffles which she bought specially for us.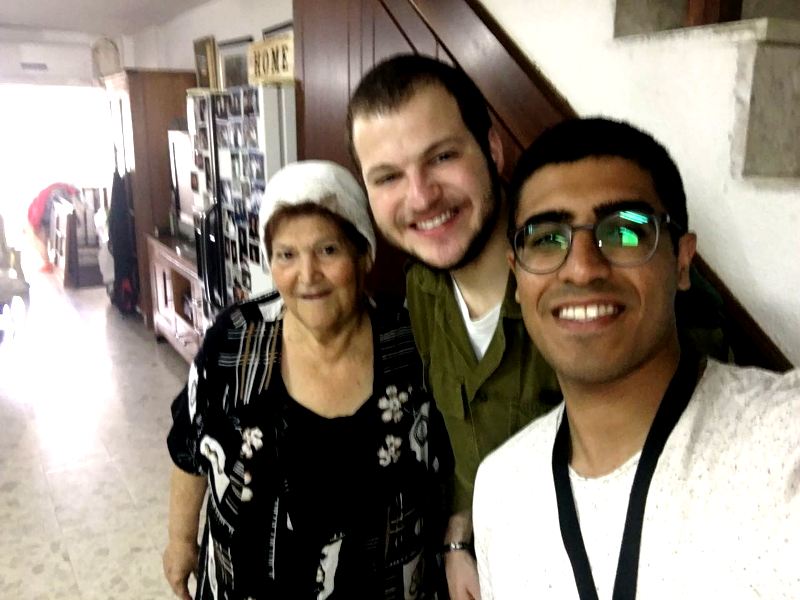 Yehudit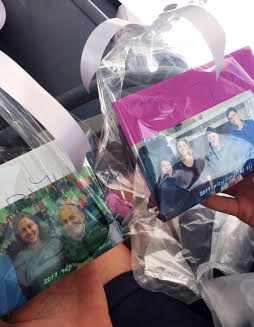 We played Remy talked a bit about tattoos and religion. I win all the time and she was really proud of me. Her social counselor Orly came and joined us. She was in a good mood for the visit, and smiled a lot. As we were ready to go she hugged us tightly and kissed us and thanked us and mentioned how important it was for her, our visits, which caused her to feel that she is not alone anymore.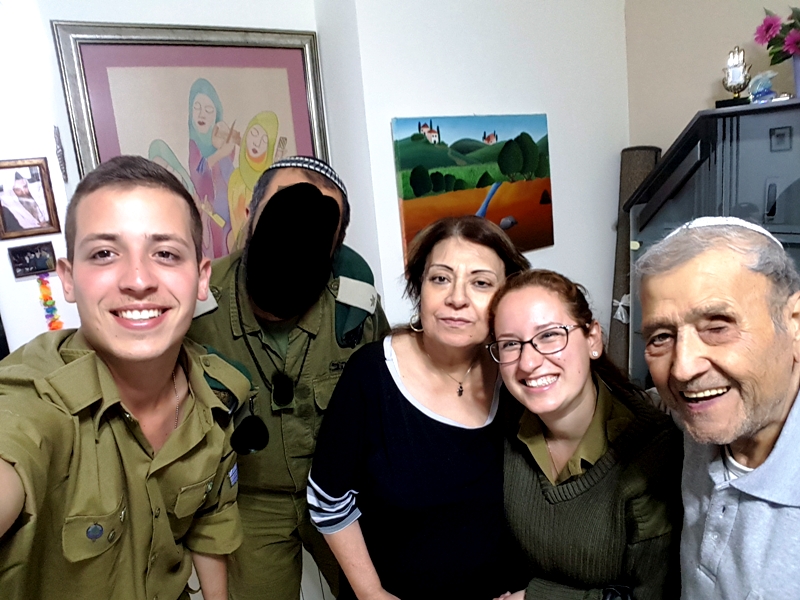 Meir, Shir, Lilian, S.A., Eido

Itamar and Neta : We first visited Meir and Lilian. We sat and talked about the our next way. We brought them a gift and they were very excited and put the photo on the central bureau. After that, we went to say good-by to Eli and from there to visit Shalom. He initially gave us a work of cleaning the kitchen and the bathroom and there was a particular favorite of his requests, but not terrible ...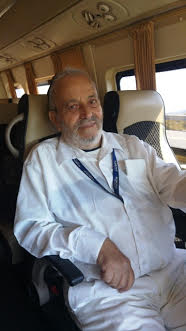 Shalom

We brought a gift and tears were in his eyes as he said: "Thank you! just do not forget me." It was really exciting and we promised to keep in touch with him.
Ran and Ori: last meeting with Esther playing cards as usual. We ate lunch together and talked as usual without focusing on the separation.|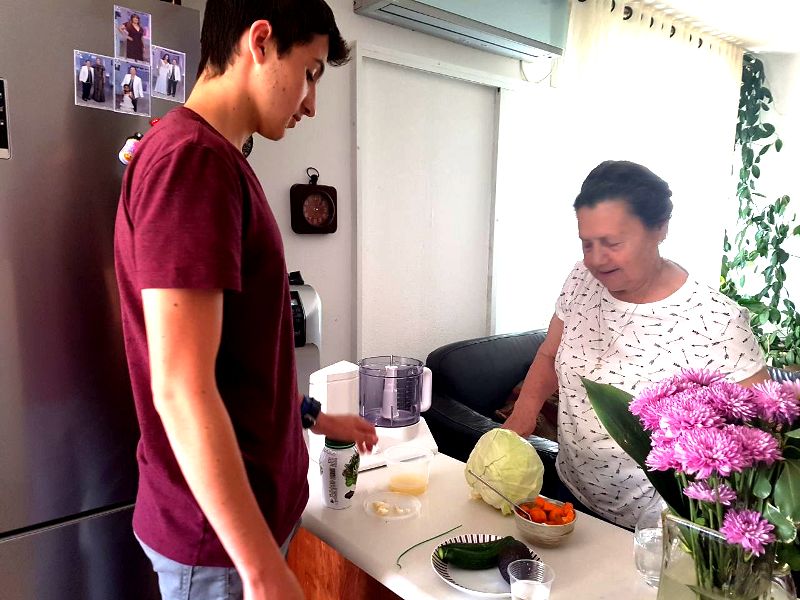 Uri and Esther

Some boys came to hear her story and we were happy to hear the story again and see her excited. It was as amazing as always, and we parted with exchanging letters, knowing that this was not the last meeting. We're really, feel lucky to meet Esther. The meetings were undoubtedly far more amazing than we have expected and certainly will continue to visit her.
The soldiers : Mor and Lehee : We had fun with Chanan and Diamante today. We have improved a little bit better with the game Remmi. Diamante made excellent vegetarian food and told us a bit about her life in transit camp here in Israel. They were there for two years with people from different places and with different languages. She loved the life together and the company there. When she reached the age of 12, she was sent to study but fled when they wanted to give her immunity. Her sister remained there and she returned back to her parents.
Pardes Channa Chaya Kimchi , our volunteer in kibbutz Ein Shemer says: I was exposed to the March for life and the activities of "L 'Chaim" in Neve Michael this year, and asked to join and be a volunteer. I met Daniel in the House of friendship in "Ein Shemer" and met with the social worker there Tamar, and started to visit Lydia, a lovely woman of 83, a winners as "L 'Chaim" defines. Russian-speaking only. (I may be born in Russia but don't speak the language fluently because we did not speak Russian at home, only Yiddish) Nevertheless, I decided to visit Lydia and I found a very pleasant and intelligent women. Currently my visits are held once a week on Fridays for an hour. We sit in the garden nearby and speak smooth talk with my broken Russian .I use translator and can be understood in Russian. Lydia talks and I understand most of the conversation . I brought several photo albums from my trips to Moscow and St. Petersburg. We looked at the pictures together and Lydia was so happy to see places that she visited in the past. She has a very clear memory, she remembers names and places and really excited . One visit, I showed her dance group of Ballet Moussaieff which I had on Facebook (well-known Russian band) and she really enjoyed it . In addition, I bring her familiar Russian songs and try to sweeten the time we are together. I see the joy in her eyes when I come to visit and really binds us warm. Last Friday, I could not arrive at an almost constant it is usually in the morning, I called another night before and asked one of the workers tell her not to get in the morning.



Lydia

When I arrived in the afternoon I saw the joy in her eyes nevertheless arrived and she told me Informing her calling. Later in the conversation of my visit the previous week and the conversation was, Lydia made me a sheet with the Russian alphabet to learn the language . Lydia tells me about her family and she will tell me when they will come and I probably soon will meet her cousin as she wish.
These are our words for this week .

Shabbat Shalom !!!
Rivka
Summary of this year in "L'Chaim"
June 15th, 2017, Sivan 21, 5777
North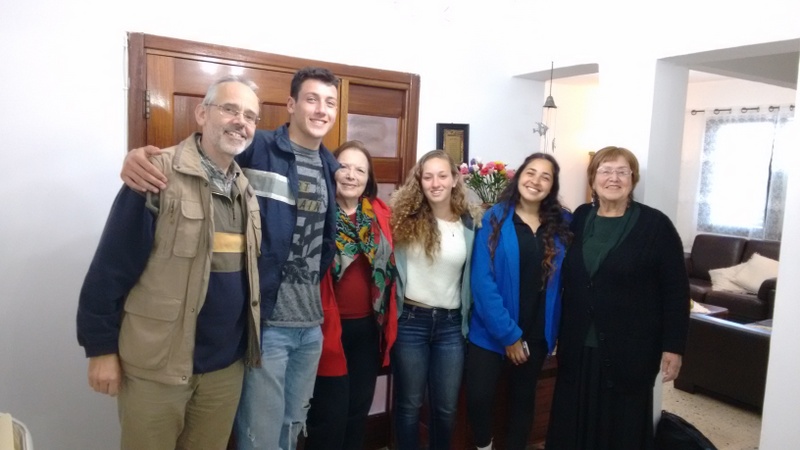 Timek : This year was again a special year. We started for the first time in Chazor, with the students from mechina Kfar Hanasi. The students were extremely dedicated and they have build deep friendships. Especially Eden and Noam , who did extraordinary great job by helping Mina emotionally and physically to overcome her difficulties. During this year our dear Survivor Blanka from Rosh Pina passed away. This was very difficult and sad moment to all of us.

Also the students from Mayan Baruch connected beautifully with the winners of K.Shmona, Neot and Dafna. Especially Rachel connected with Eliav and Nadav and vice versa.
The students from Meitzar came with full dedication every week to Genosar to visit the winners. We lost Avraham which was a great loss and sorrow, and the students needed to find a new balance. They did a great job and they did it with joy and love. I am very satisfied about the deep connection I am able to make with the students and with the winners. It is amazing to be part of this holy work. Shalom and blessings from the Galille.

Timek
Pardes Channa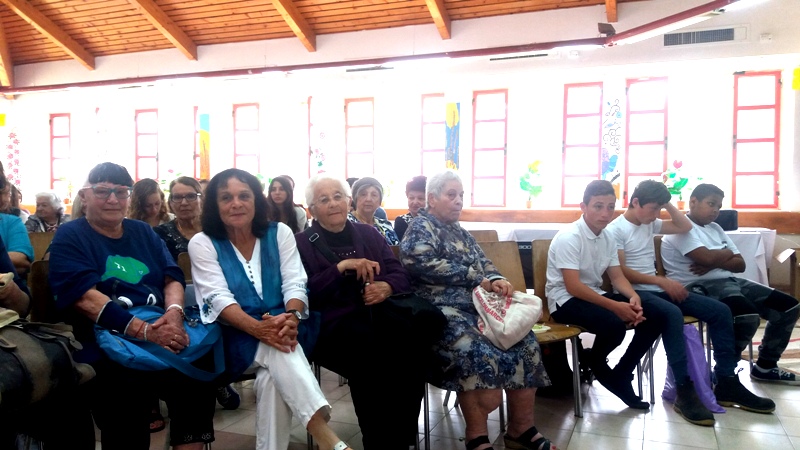 Rivka : As the first branch of the "L'Chaim" can be summed up this year, especially during the holidays and exciting events headed the "March for Life" held on April 26. Daniel , who planed and coordinated all the seals with our branches in the country, winners and volunteers organized themselves to come ( and for elders it isn't easy at all...) the students who prepared the program and did it in the event. On all of it, was conducted by Daniel and the exemplary skilled organization by Zvia, Yechiam and of course David the manager of Neve Michael, who opened the gates of the place and hosted us generously.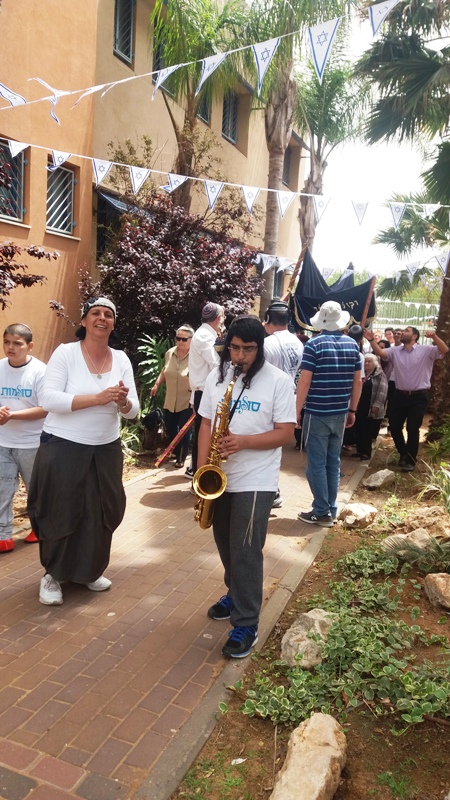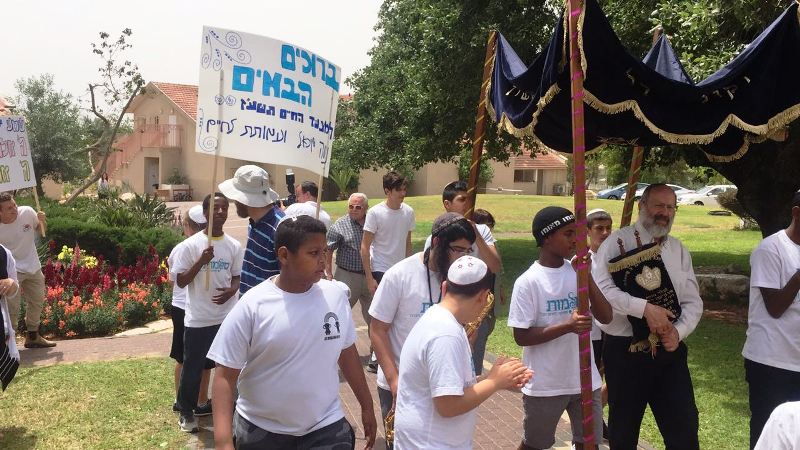 The visits we did, made the students to be with much more involvement and caring. The peak was the support that was given by those lovely students, to our guests at the March, and this can be seen in the pictures. We made a real journey with these girls and boys, who have learned to approach and be more interested and have started to ask questions which was initially impossible at the beginning. Even physical proximity is possible due to the proximity of heart built into love. We accompany the winners already for about 12 years, and Neve Michael, as children at risk, have become part of the project, and show loyalty along the past three wonderful years. We are expanding the project with volunteers and more places that we will visit. I believe, that we can reach more individuals who will be happy to receive us and their lives will change by having contact with us.

Modiin and Zfat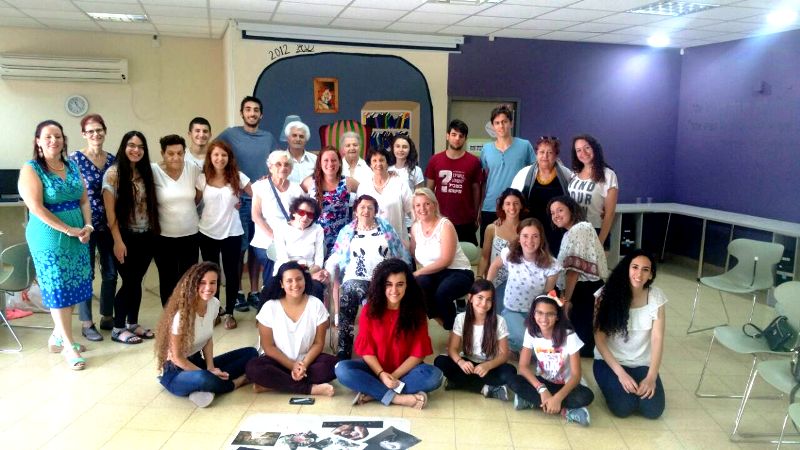 Shir : Difficult to summarize my third year in the organization. Hard to explain how much love and light entered my life since I started to volunteer work, and other preparatory program since I started in Modiin and Tzfat .
Some numbers:
51 Active volunteers on the project.
Altogether 42 winners that I met personally.
Dear Jaston the one which is no longer with us and we miss him terribly.
4 Dear women - Ricky, Lihi, Shira and Dorit (Dana store ) joined "L'Chaim", contributed and added lots of good for the people.
2 Fundraisers.
3 marches for life, with 1 interview on the radio and 3 articles in the newspapers.
Over 1600 phone calls.
Over 8000 posts and whatsups.
Countless visits and group meetings and lots of love.
Just a pleasure. True happiness. Fun to be part of "L'Chaim" family. Fun to see how it comes and touches people and leaves a mark. Amazing to see children and the elderly, who were strangers and became grandparents and granddaughters/ grandsons.
Fun to be filled again and again, until the clouds come out smiling or crying with emotions.
Fun to be moved from a volunteer. Any image. Any conversation.
This kind of thing just hard to describe in words.
All I have to say is thank you. I won. And only continue that way.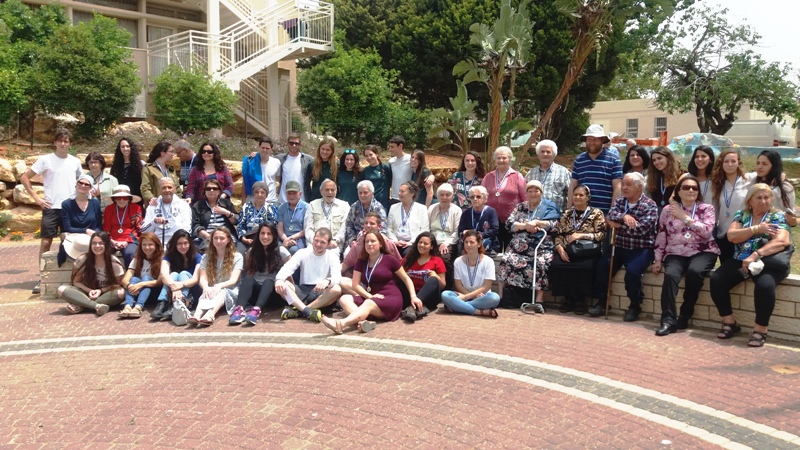 We have another important partner Shuki Kestenbaum, who do amazing job on the back of the screens , and in charge on our budget, with dedication and wisely. He deserve all the greetings.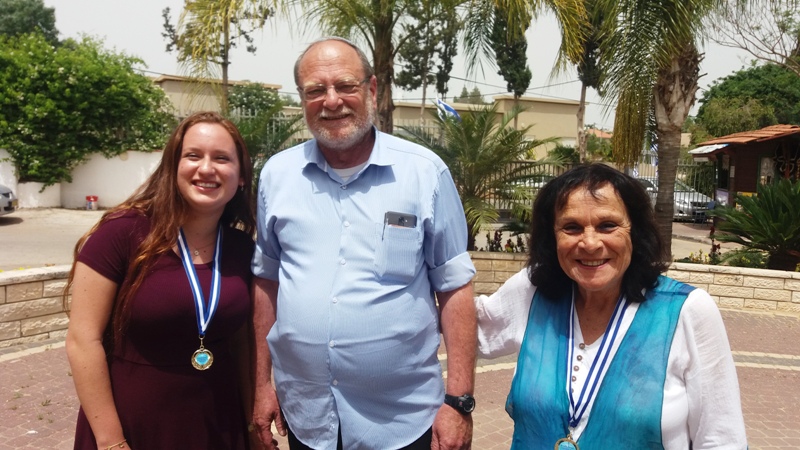 These are our words for this week.
Shabbat Shalom!
Letter from June 8, 2017, Sivan 14, 5777

Special words from Daniel
The personly note from Daniel will be placed under Daniel 5777 from now on, so only the news remain. This prevents slow loading by the presence of a lot of text on this page.

Zfat
Matan and Dor : Thursday 18th / 05 We went to visit Yehudit for the first time. First, we made a brief acquaintance between us and her. She told us a lot about her family and showed us pictures of her children and grandchildren. In addition, we saw one of her sons who came to her at the same time. During the visit, I learned that Yehudit is very warm , generous and loving, and was very active in the past . But now, due to her age and diabetes, she no longer, can be active as before. She barely cook,, the very thing that is missing, as well as the loss that she felt when her husband died a few years ago.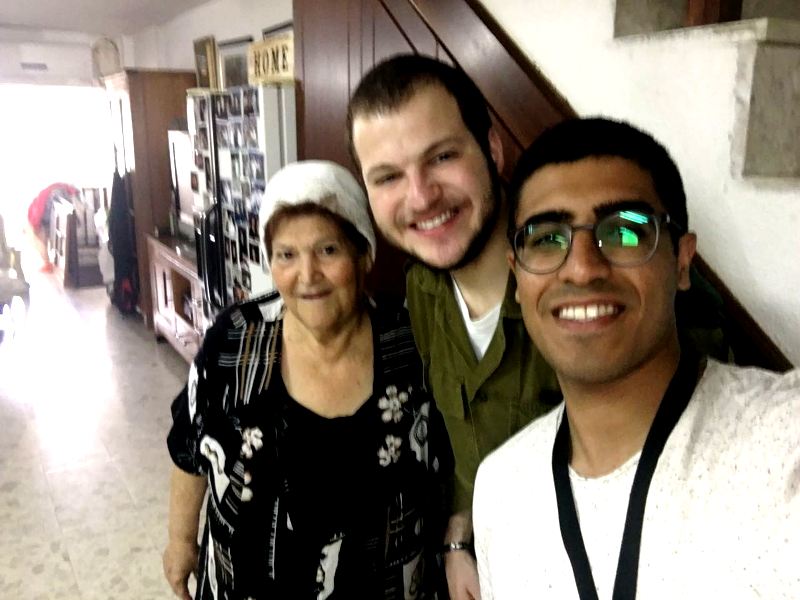 Dor, Matan and Yehudit

Sunday to Tuesday, she goes to the club and says that she really enjoy. But other days, she don't have much to do and is quite boring. Every Friday, one of her children take her home and she pass the Saturday with them. We agreed with her that we get usually on Wednesdays and at the next meeting, we'll take her to the market . We will be in touch weekly. We really enjoyed and learned a lot from her.

Shir : Last Saturday, my parents came to visit me and my brother Eyal in our base, and we invited Esther to our meeting and had late celebrations with her for her 81 birthday .



The birthday of Esther

She was very excited and so happy to see my family and it felt completely natural part of the family. The conversation was fun and funny and very moving. We lit fireworks, sang to her, and ate a delicious cake and fruit and cookies that Esther had prepared, Ido and I, read the blessings we wrote, and the joy was prolific! Wishing for many more such meetings together and celebrate her birthday many more years !
The soldiers - our new volunteers
Noga and Noa : We met Eli yesterday for the first time, and found a man with a lot of joy and fascinating stories! Eli told us about community involvement, activities and competitions which took part during his years in Zfat. Eli is 95 and having clear memory and each story is successfully precise in each detail. In addition, Eli practice routine to maintain on being active and also travel to visit his son in Netanya, helping at a nursing home near by his house and taking part in "Amcha" ( organization for winners) which is located in Zfat.

Noah : It was perfect! Eli is just awesome, enchanted every minute and mostly fun seeing how clear, friendly and happy he is to share. It's going to be an amazing time with him and I'm glad to have the privilege to know him.
Shir : The visit with my commander
Today we went Ido, Major A and me, to visit Lilian and Mair from Zfat. The visit was very exciting. We were received with love and warmth. We spoke a lot of military stories. We shared and laughed. Meir told us about his experiences in parachuting. A' related and told us about parachuting with a childhood friend as a present for his 40th birthday. Ido and me , also told about the skydiving experience we did. It was very funny.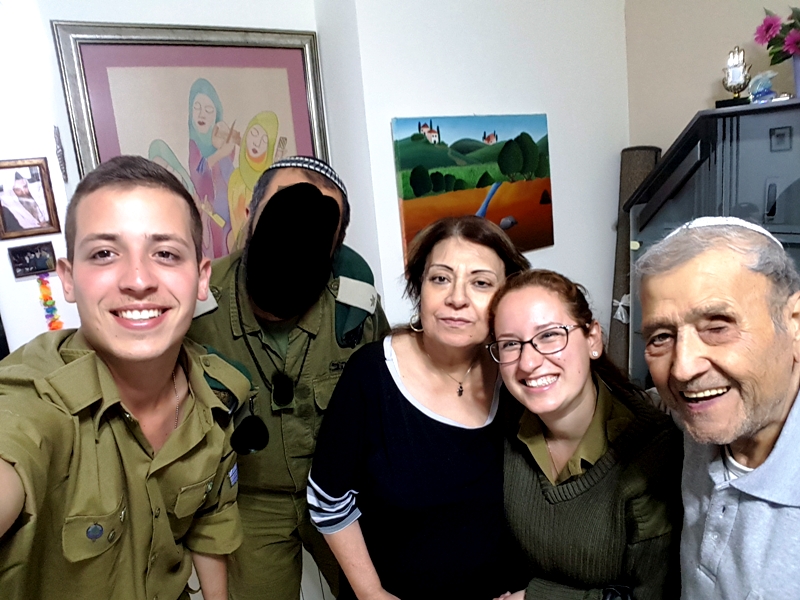 Meir, Shir, Lilian, S.A and Eido
Llilian and Meir, told us about their family and they pointed out how important it is, not to spoil too much the children because : "life is not a picnic," as he always says. A' gave us some words from the Talmud and the Torah verses, related to topics we talked talked like: women's dignity, hard work and the power of faith.Was very exciting. Even dear A, was glad he could participate in, and moved us by taking active part in our visit.
Stav and Arad : Today we came to charming Lilian and Meir. They told us a lot about their familyand the health problems that they have. We were sad to hear it, and I wish we could help.
Ayelet, Shir and Neomi: Our first meeting with Larissa. It was lovely meeting. We have prepared pizza together and sat facing the landscape of the Sea of Galilee.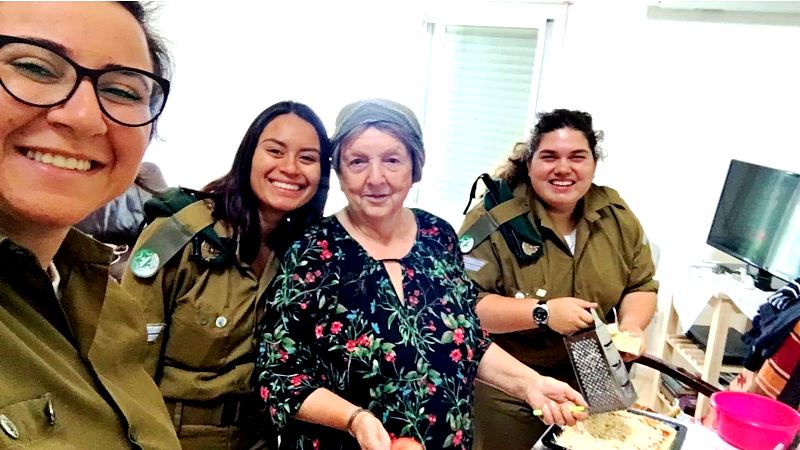 Ayelet, Shir, Neomi and Larissa

We talked about her children and her husband, and heard stories about his job, working at the Chula land. Also heard that she was a teacher for literature in Kiev, and came, only 20 years ago to Israel, how she met her husband and how much she misses him. We were happy to laugh with her and keep her our company. Larissa was about to visit her sister in Kiev. We heard a little bit about the war as a 3 years old girl going through the war. And the loss of her father. We are waiting for the next meeting.

Shir : "When you give and feel empty-it is sacrifice, when you give and feel full ,it is love"
Yesterday (Monday), at the first end of the year with the amazing volunteers from Baram and Holocaust winners from Zfat and throughout the past year, there was a lot of love. Although, many of our Holocaust winners could not attend due to medical reasons, there was a great joy and a sense of longing and "do not want it to end."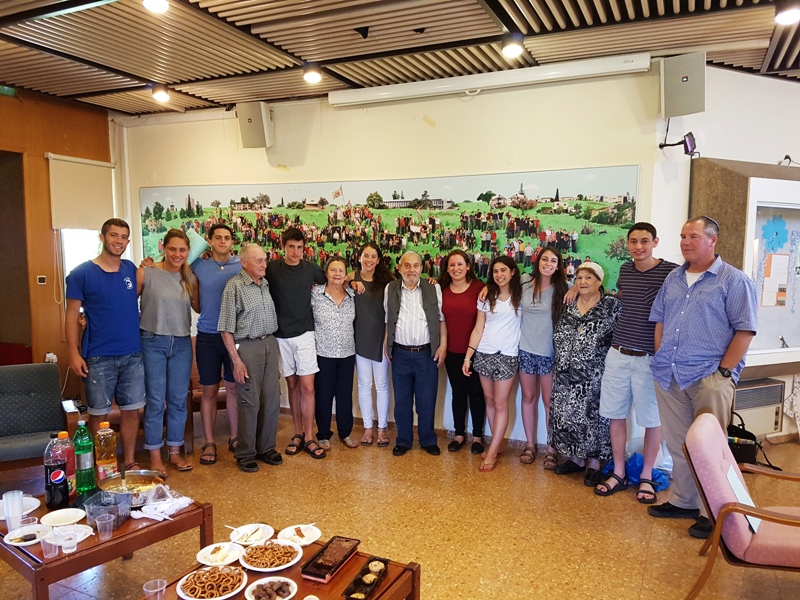 The L'Chaim family from Baram (Zfat)

After a year of endless dedication, the lovely volunteers brought a lot of light and joy to the life of the winners Zfat and my life as well. We made a circle and each of us in turn, took out a note and answered or completed what was written, for example, most remembered meeting this year is .. something I've learned from the project, I believe that .. and so on.
The shares were very exciting. Winners reiterated how much it added to their lives, letting them feel welcome and equal volunteers assuage the loneliness and helped them whether the talks or whether things at home. It is hard to believe, a year has passed already.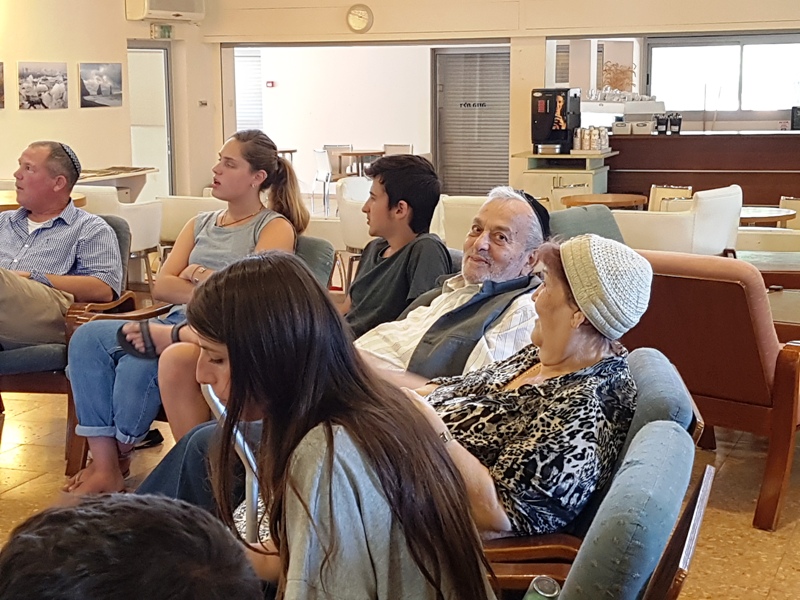 The end of the year
The shares were very exciting. Winners reiterated how much it added to their lives, letting them feel welcome and how the visits, doing things together and the talks drove away the loneliness. It is hard to believe, a year has passed already. Everyone was new to everyone and just yesterday we finished as a "family for life" with a lot of grandparents and grandchildren.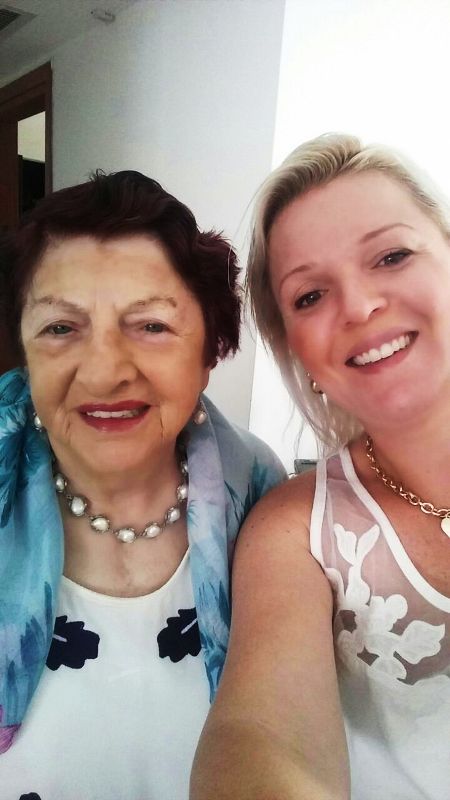 Ani and Rachel
The volunteers read a letter, for the winner, thanking them for letting them to get in their homes and hearts, making them feel at home and were really grandparents for them.
Then Daniel spoke about the past year and how successful it was. Finally we sang together with Itamar playing on his guitar.
We took pictures, ate, hugged again and again and again. Know that this is not a real goodbye forever ...
I have no words to describe my appreciation for this amazing group. I could not ask for better volunteers and dedicated ones. I enjoyed so much to know and be there with them and for them throughout the year and I already miss them.

Modiin
Anni ( a new volunteer ) : I do not know where to start ... or my excitement in their .. I met amazing couple, thanks to stunning Shir.
For the first time, I called and formally introduced myself (over the phone), knowing nothing for what to expect... Rachel told me about the pain in her body, about weakness and the old age.
She told me briefly about the time she was a girl and her father was sent to Auschwitz ... Immediately crying .. I could not hear her, being so sad and I decided to ask her to unplugging the phone and within 2 minutes I was there.. When I arrived ... a hug, a kiss, tears and joy. I became very excited about meeting her. She told me about being a little girl of 9, carrying four year old brother, for about 2 km' to the clinic. Also, seeing her father being taken with other men from the village where they lived in French camp .. not sure what to expect, but thought that he would not return ..
Her mother said to her brother, when the Germans entered to the house, to put on a short pants, as a little kid and this saved him from death.
They came to Israel on a ship, She is the oldest sister, but her two sisters has died within a week, and her mother died 34 years ago.
Very hard for her that her only son and his wife and children live very close, across the street, and do not come to visit. So, I arranged a visit and a meeting between them and two grandchildren. She remembers all the details, dates of birth of all of them. Lighting a memorial candle for each one's birthday, family. She asked me to call her Rashel, as she was called in France.

Now we have Rashel and Nissim. Nissim is a modest man and very smart, full of knowledge. You can learn a lot from him about relationships. He serves the 5 o'clock coffee to Rashel , with glass of water and taking care of her. He plead to her not to be sad and not to cry. Since then, I think about them, and immediately they became part of me. I came to visit once again with sugar-free cookies, conversation, and Saturday embrace. We met this week and saw each other on the street with her nurse and straight, hugs and kisses. Rashel was not feeling so good this week but she is a little better now. Every day we talk how the day went and how she feels. I share them my life, my children, my job, they listen eagerly and got to know my daughter Yam . I promised Rashel to smear and polish her nails. Thank you for the opportunity!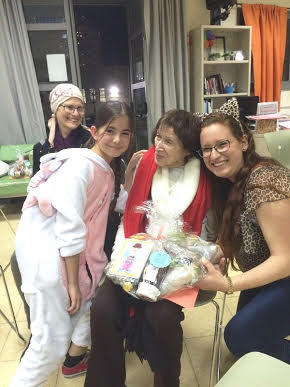 Rashel

Noa Neomi: Thursday morning Neomi and I went to visit Shlomit and Chanan. Chanan was in bed, but Solmit, was glad to see us. We sat together in the living room and updated their situation and how we are on a cup of tea. Normally, she share with us her experience and advised us on various issues. Shulamit is still in recover her crash , but is worried about the condition of Chanan, who was not able to get up and see us.
Happy birthday for Riri with Ariel, Libi, Talia and Mayan : She was lovely and alert and very happy, the summer is good for her. We celebrated and sang Happy Birthday to her, and she told us about the visit of her son and her grandchildren, and she was very happy and said that she does not remember the time she was so happy, more healthy and feel good about herself.
She made us Kremshmit !! We sat on the new porch with tea and a piece of Kremshmit. It was just wonderful.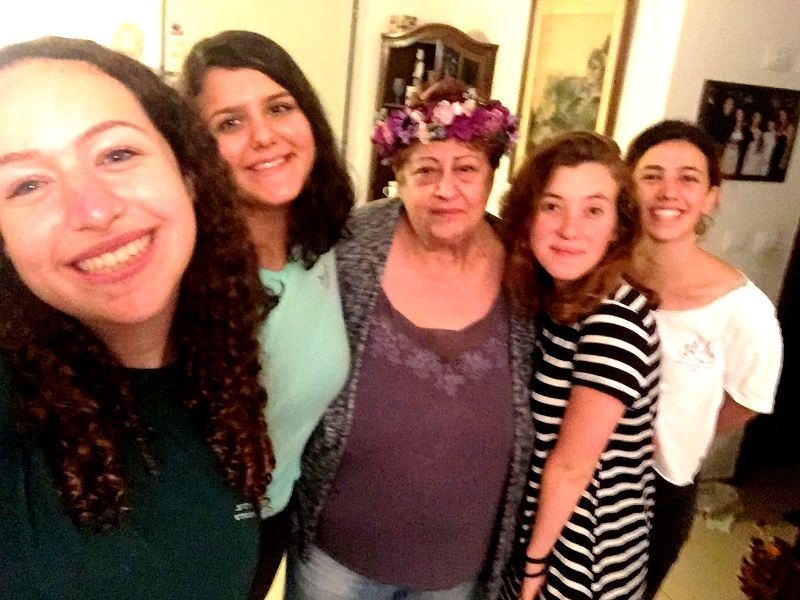 Talia, Maayan, Riri, Ariel and Libi
There is always that feeling of great satisfaction and a feeling Elite impossible to explain the amount of our love to her.
Shir : the party of the Pentecost, in Modiin : "You should know that every blade of grass - has a special song, and by singing their own, herbs have the tune of a shepherd ... and the song of the heart is filled with weeds and longing ... "
This is exactly the feeling we felt today with about 30 people of " L'Chaim's" family, from elementary school , high school students, soldiers mothers, winners with the older woman between us which is 86-year-old.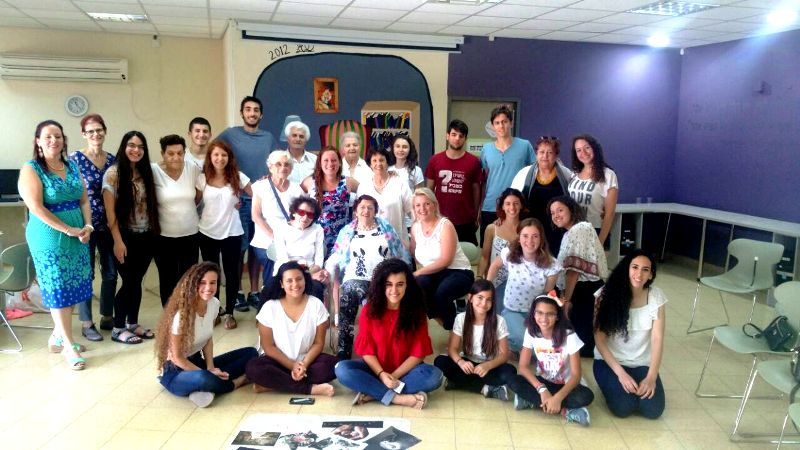 L'Chaim-family in Modiin
We celebrated together the holiday of Pentecost, grandparents and grandchildren. We started with delicious tastes of the holiday along catching up one with another and then, , we went on a big cheerful circle , we heard and sang together the Song of the weeds. Then, we moved to a special activity given by a wonderful woman named Shira Aharoni who teach craft.
Each of us , had to select an image that describes his feeling for "L'Chaim" and had to continue on a drawing page. After we returned to the cycle of creation, moved to tears when everyone shared what he did and how he feels. Finally, we put everything in one huge piece which will be hunged in the school.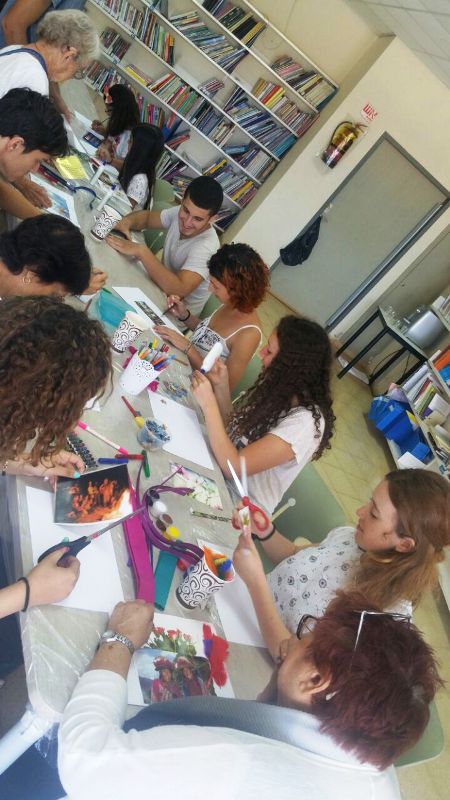 Painting
I was amazed at the degree of maturity of the amazing volunteers, the elementary age students and my wonderful volunteers from the high school and of course the wonderful Holocaust winner that thrilled us all to tears by their sharing's.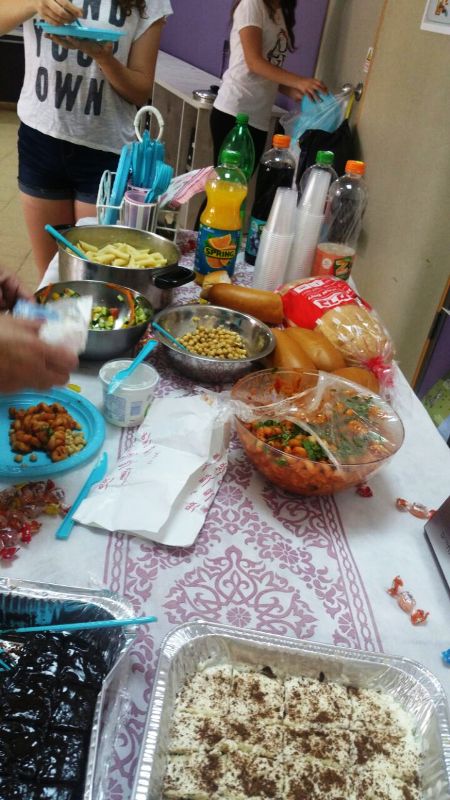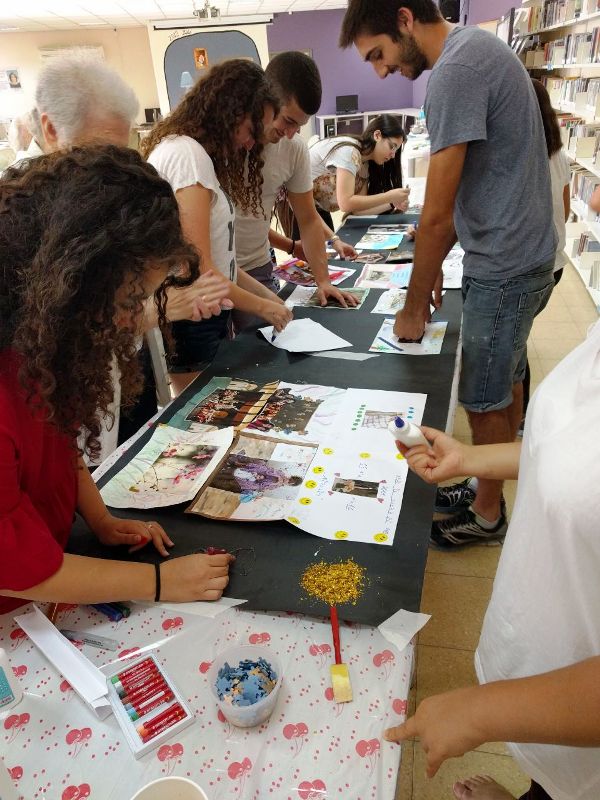 Some of the things which we heard:
Riri, said in tears, that before, she was very lonely because that her entire family lives outside of Israel, and she was just like a wilted flower. Since "lechaim" entered to her life, they brought her back to life and her drawing was full of light and colors.
One volunteer, select the image of a face on a tree , and added a picture of roots and wrote "Rozitzh and Mickey", "Israel", "Hebrew songs" and more. And said that the project has strengthened his roots and caused him to know himself better. Many volunteers painted flowers and said that volunteering cheeks, adds color and joy to their lives, and they feel that they are flourishing and happy to see how their Holocaust winners, also blooming.
Another painting was with various forms of groups ( elephants, dancers, etc.) and the explanation was that the magic going on, creating a real family. Everyone feels part of the group. Anyone special in itself and adds another pieces in the puzzle of life. No matter the age differences, all are friends for life. Grandparents and grandchildren. It's just unbelievable.
I can' t describe in words, how much today's meeting touched me. The kind of day will stay in my memory and I will tell it to my children and grandchildren. It's exciting to see how life are magic, and this vision is comes up every time, every meeting and every group, small and intimate visit the homes of our favorite winners .
All I wish is that we continue to love, being excited and happy, shine, helping to connect hearts and we will celebrate together for many years. May The Tune of life will come more and more precious people. "And the singing grass, lets hear [brings forth] the melody of the heart."
Pardes Channa

We also, getting shortened in times, and the students of Neve Michael soon, leave for their summer holiday and will not be around to see the winners. We visited last week and we had the opportunity to sit down with Yeshayahu, talking and laugh with him, with out his friend Mordechai, who couldn't join us.. Jonah also, was not available, so we said hello and went to visit Aliza even having medical problems with her eyes. But, she received us with a warm smile, and made a delicious cake. Yaffa, Chaya's daughter met us. She told us about herself and what she do for her mother, even she is on a respirator and unconscious. It was an astounding lesson to the girls, how much a loyal daughter can do for her mother. This time we received quality cheese and more products, as a gift for the holiday, which was excepted with excitement.



Klara

We were at Gizela, Zipora, Klara & Liaonid, and waved hellow to the Boaron family , tackles uneasy situation of hospitalized daughter. They sit beside her most of the time. Chaya, our new volunteer met Lidia who live in Kibbutz Ein Shemer, and had a wonderful time with her, bringing pictures from her trip in Russia' Lidia's home land, and the excitement was really huge.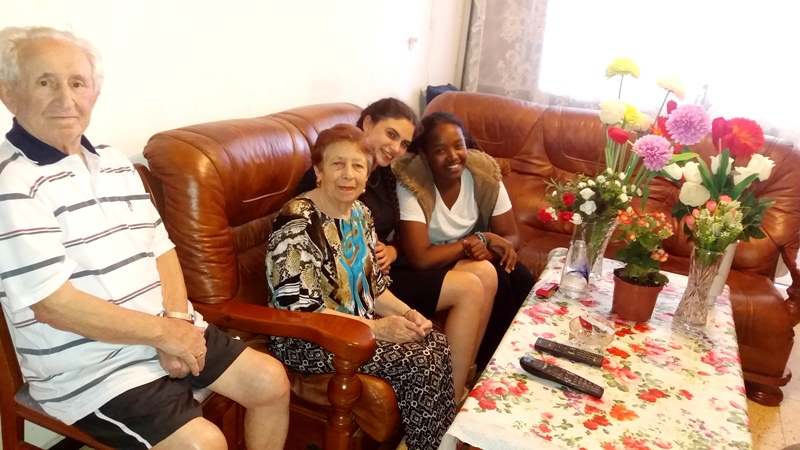 Klara and Leonid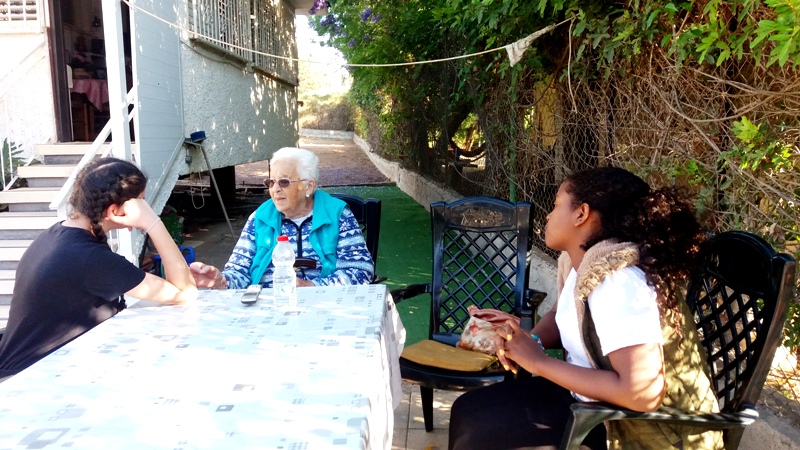 Gizela
We have a loyal partner - Ruth, who make possible for us to have some free products, and this week she lost her husband who was sick and didn't recovered. We send her our condolences.
On the night of Matan Torah - I had in a good Mazal, in the atmosphere of the house, a beautiful grandson, sweet brother to his two brothers who are also charming. Their father was born on the same date. The wonder of the chain of life.
Rivka

Ed. : In behalf of L'Chaim Nederland, congratulation Rivka, "Mazzel Tov".
News from the North
Good by party in Mayan Baruch.

All the winners from Kiryat Shmona and Neot who were able to come, joined the goodbye party in Mayan Baruch last Monday. We celebrated also the Shavuot festival.

Eliav, questioning about Shavu'ot

The students, prepared a questioner about the holiday of Shavuot , from the Tanach, and the winners answered very well. It was fun to connect to our Jewish Roots together, youngsters and the elderly. Then, we played Shavuot Bingo, again depicting and learning about all the attributes of Shavuot The students and the winners did it together.The students expressed their feelings about joining " L'Chaim" project. This volunteering work, did a lot to them and they learned a lot from the winners. It was for them a year of great satisfaction and the students promised to return back within a short period, to visit them again because they turned to be part of their hearts. Also The winners, expressed their gratitude to the students and to "L'Chaim", for providing this beautiful opportunity to meet. The visits of the students means a lot to them and they receive joy and strength.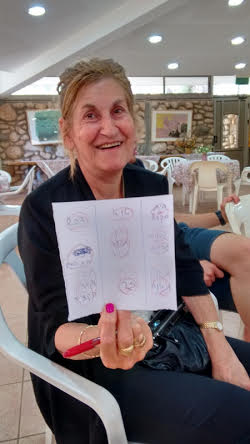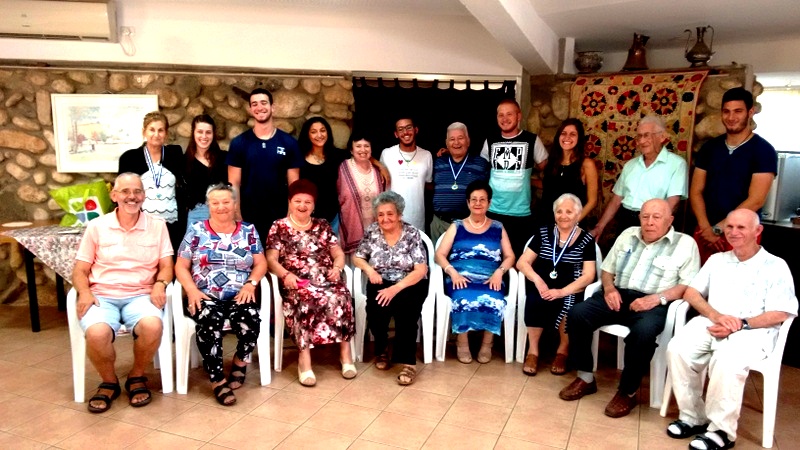 Picture of the group from Kiriat Shmona and Mayaan Baruch
Timek, has received a blessing and thank you note, from the students for his efforts in this project and strong relationship that he developed between the students and the people they have visit..
After our party, we went to the homes of those, who were unable to come, to say good by for now.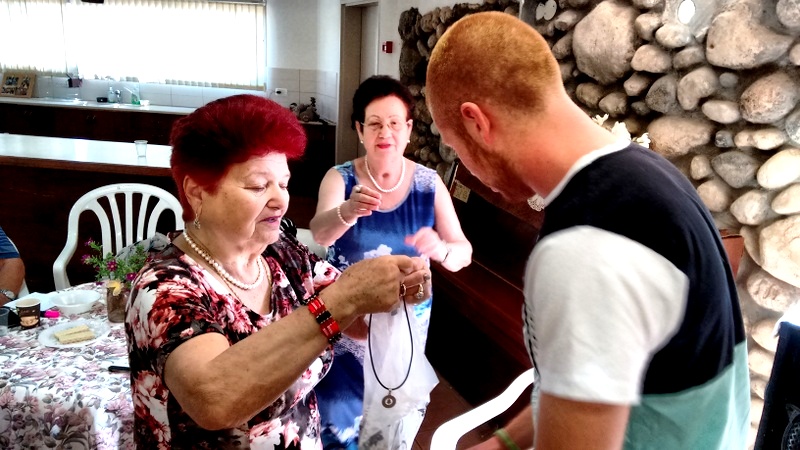 Roy receives a remembrancecollier from Klara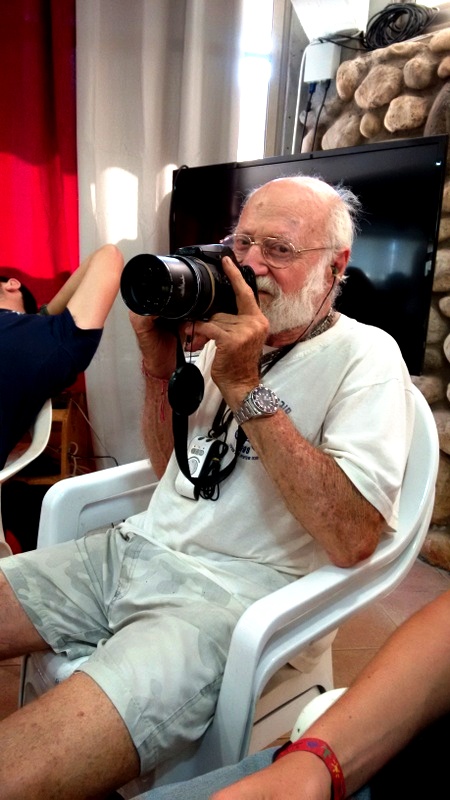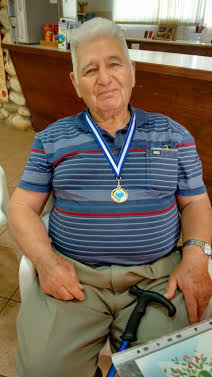 Steve

Video about the event

This connection that has been made, will last! To all our donors: thank you for standing with us and make this work possible. Timek.
Shabbat Shalom!

Rivka

The difference between academic wisdom (called " progress")
and the wisdom of the heart - which is the wisdom of the Torah of Israel
18 mei 2017, Ijar 22, 5777
Dear Friends!

This letter may shed some light on one of the tragic mistakes of the meaning of the word "wisdom", which is the concept of wisdom, as it is these days. In my humble opinion, it does a lot of harm to the human race! The Western technical wisdom, is full of technocratic intellectual arrogance that while "promoting" technology and science, to the terrible self-destruction. On the other hand, it removes the natural heart of human wisdom, the spiritual one , which can bring humanity to an amazing human flourishing. Western intelligence, based entirely on ego and achievement, with dislocating effect. Unfortunately, IT also, reached the walls of Beit Midrash, and scholar, a person who read and have wide knowledge , to him, quibbling in the endless meanders, and "As more you have - it's better! ". Unfortunately, these wisdoms, takes the man away from the secrets of wisdom which is lies as open secret, or hidden but not shut off, in the depth of a person, who were given a very wonderful gift from the Creator of the world, if only we knew to learn the language. Scholars have turned to be academics , knowledge became the essence, and the essence were completely forgotten. It should be recalled, that according to the Torah, the word "knowledge" equals "experience", "knowing with all your heart, all your soul, and with all your might." To know and feel the heartbeat of knowledge with in each of your move. The unique poetic truth, of your kingdom your world umbilical connected to your soul upper light tripod.
The crazy speed of information, consumer culture, have become serious addictions. The Language which is the wisdom of the heart, is rarely spoken in our parts, almost! Many of those, who are considered a fillers of Torah thinkers, think that anyone, who knows more verses or even Hlachot, considered as scholar, but it isn't like that! True wisdom is the ability as it was stated, to walk wisdem in our lives! Israel Torha, condemns the theory of too much Wisdom . Abraham our father, had a clear blessed directions : Be innocent! This he was told by the Creator. Our leaders also, were known, mainly because of their shyness and humility, which allowed their inner space to learn every day, each moment, the language of the heart, the language of God who appears in our lives in every event and occasion. Every situation: the good one, and the one which considered bad. Every situation is a remarkable lesson of the heart language, but there is one condition : modesty and humility !

Academy arrogance and factors of progress, destroy and trample everything good in the gracious light field which is called the world of rum! the language of the heart, with a singing soul. Even King Solomon, as we all know, was the most wise man, and in spite of his wisdom, at his old age, it was an obstacle for him. He himself, as honest as he was, saying again and again reiterated the book of Ecclesiastes and Proverbs: I tasted all sorts of wisdom, and I saw the futility of everything. It's not an exact quote but this is his spirit. We were told in our sources that Having large knowledge and wisdom - experiencing often pains, and Solomon concludes so well that in the end all of this is nonsense! What has left for us is the Torah of Moses, which is the human voice.
Finally and briefly again, it seems that most of our favorite leaders were shepherds. The prophets who were simple but sublime humility. Thus, the sages, the Baal Shem Tov - the founder of Hasidism, and Htni"a -the Admor Shneor Zalman, and of course Rabbi Nachman from Braslav, who begged from us to return to the language of the heart, and the music of our soul. Today, more than ever, we need to re-learn this ancient language. However, this requires a fundamental change, integrity and pagan worldview, which is competitive, fast and academic. Slow down! learn to program yourselve the directions of your live [despite the circumstances], both at the times of uphill and downhill. These are very precious pearls for our time.

Sincerely,
Daniel
Jerusalem

Keren: Today I met Eti after a long time that I haven't see her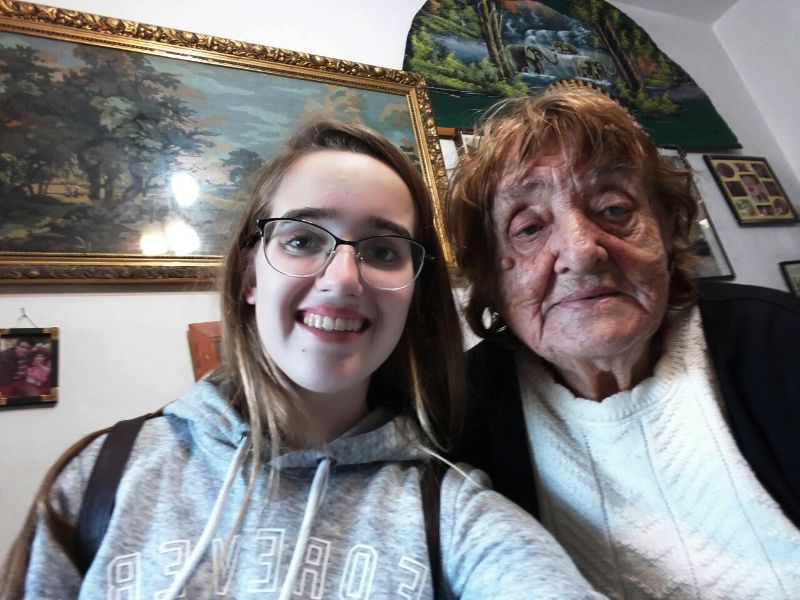 Ety with Keren

... We missed each other very much , and it was fun to see her again. She looks great! She cut her hair, did her nails, bought new clothes and feel younger. She told me about her weekend activities ,and at the club and. I told her about the graduation exams and other non-fun little I enlisted. and told her that after meeting her, I was going to Tel Aviv rate (music) , and she straightly, ran to the fridge to give me cane of Coke, and made me a bag of cookies to take with me. I had good time with her and really missed her

Ido visits in Rishon Lezion
Today I visited Elijah and the lady from the national insurance Alizh .
Elijah entertained me as usual and we had really nice time. We agreed that the next time I'll get cards and we will play together! Elijah told me that this Thursday , will be a memorial to his wife Mazal, who died 11 years ago, and told me it isn't easy for him. Elijah is a man that you can learn a lot from him about how to deal with situations that are not easy. We are waiting for the next meeting.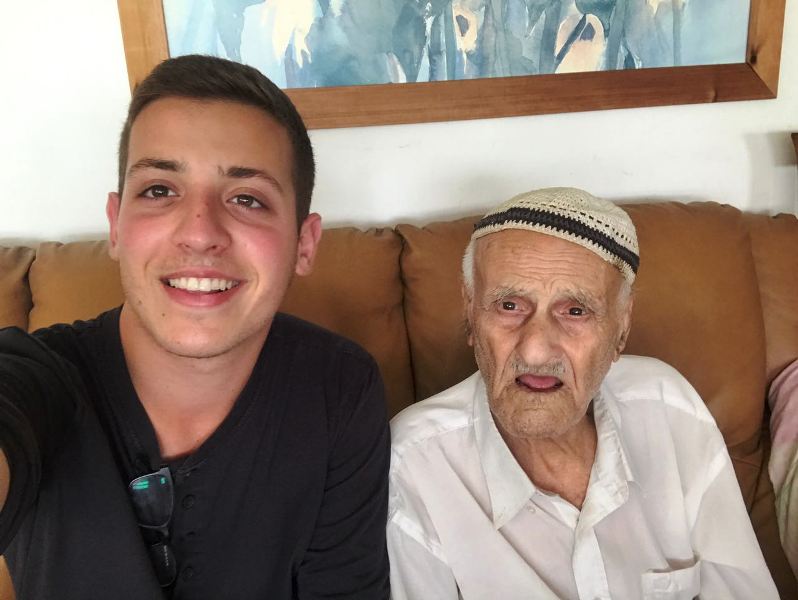 Eliyahu

I visited Klara. We sat in her living room and talked about all sorts of topics. Klara told me how much the state of Israel is important to her to her and how much everything here is not obvious!
Klara shared with me the difficulties facing Social Security and how barely she can't get help her at home. I told Klara that she is not alone with the authorities, and we're always here to support! Today I was at Mina, and with it there were other friends who came to celebrate her 87th birthday!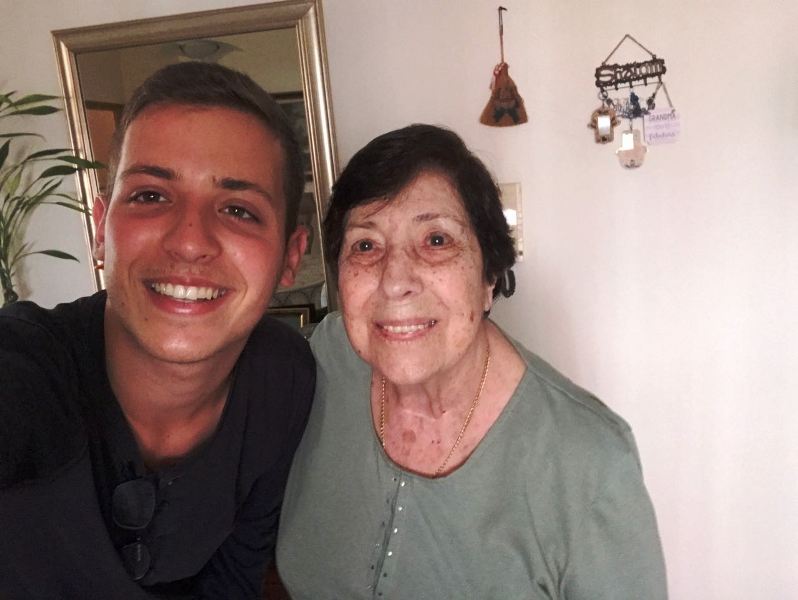 Klara
Mina is an amazing person and I was not surprised at all to see that she was surrounded by friends who love her! Mina sat in the living room, and every time friends talked about another issue that concerns them . But the beauty was, that all the conversation is over by saying, "Sure it will be good ".
We had a birthday cake from Mina's children , and cheesecake which my mother prepared for her. At the end all the members went to an activity of Lag Baomer, organized by them in the nursing home. Waiting to the next session!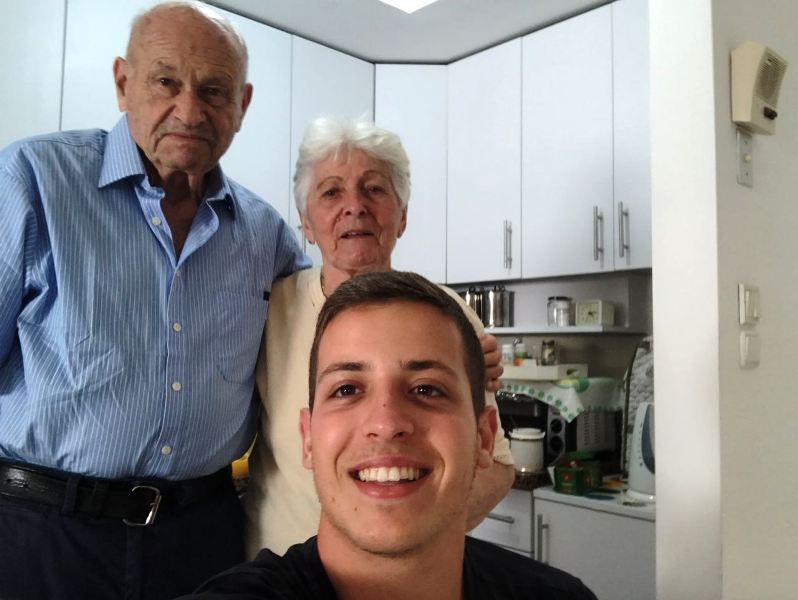 Eira, Mina and Ido

Zfat
Koren and Noah visited Diamenta. We played a game and asked her a bit about the day center and she said she likes it very much. In addition, we met her grandson and her daughter with her son. It was a nice meeting. Then her friends arrived and we sat with them and ate with them. This was very fun!
Ran and Uri: We visited Esther. It was amazing !! We planned for a long time to prepare together chickpeas and on Monday finally succeeded. Esther really taught us and we have made together. Regardless, we brought her a bouquet in honor of her birthday tomorrow and she really, really excited and did not thank us and it was fun to see how she was happy. We were playing rummy as always, so we needed to go It was insanely fun, exciting and funny as always.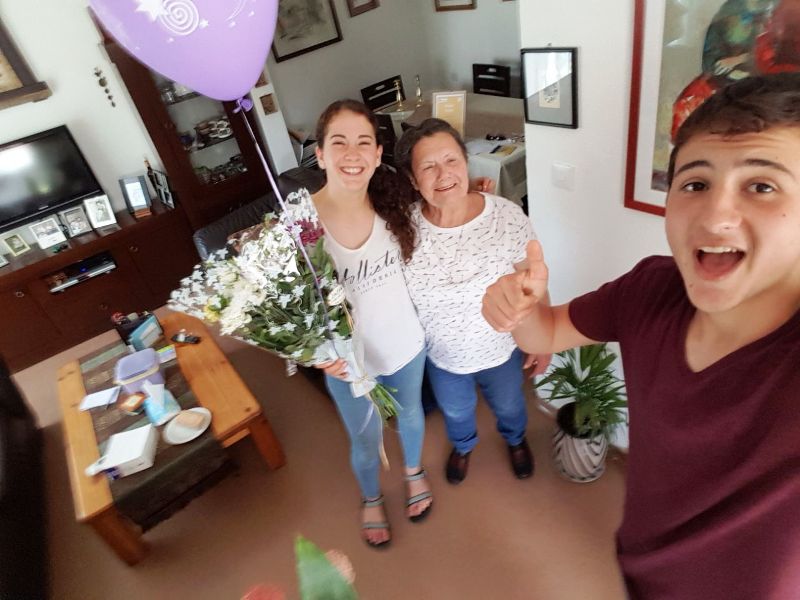 Esther

Hee Lee, Neta and Liam, came by Meir and Liam. They hosted us with a lot of warmth. We spoke to them about Meir's military service. They both, advised us about things in life, told us in what way we should take things that happen (positive and lighthearted). It was very pleasant to hear their stories and experiences.

Then, Larissa reminded us the celebration of the victory over the Nazis by Russia . She remembers how her mother took her to the East along with her sister and every night they moved from one place to another, runing away from the police , who searched for Jews ... she says she was only 3 years old but she remembers those passages. It's not something that children should pass.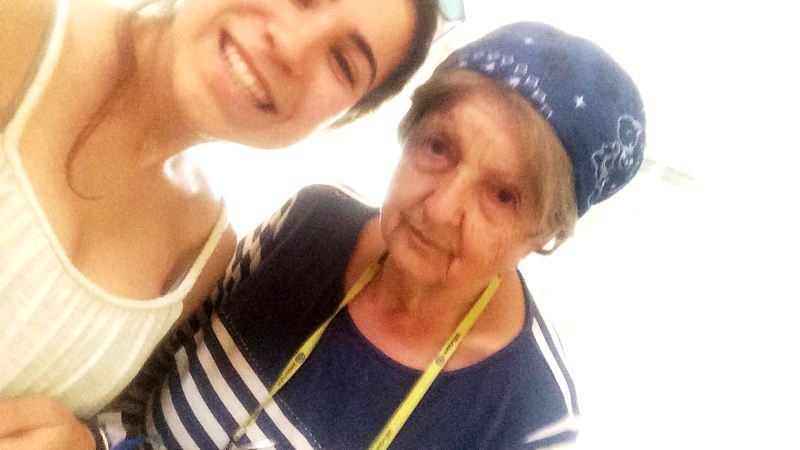 Larissa

So we were at our beloved Eli . We talking about actual things. Eli shared with us his views and his knowledge in general.
We learned that he played football as a teenager ( that, we did not know!). This was the last meeting with Eli and we will be very sad to leave him because we have a lot of emotions for him.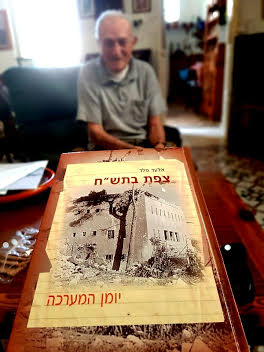 Eli
Shir's visits in Modiin
A new family from Modiin! Thursday 11.5 I first met Rhachel (Nisim, her husband, went to sleep). When I entered, I saw a beautiful woman with hypnotic eyes and hands were sliced immediately embraced me. "I am a person of hugs," she told me and I told her and hugged as if we know for years. Rachel told me that she was born in Lyon in France. Life took her through many hardships. At the war, she and her family fled from the scene she was just eight years old. She had five siblings. Her father was sent to Auschwitz, her mother did not function very well, her big brother 16-year-old was sick. Three sisters were sent to the boilers during the war and she kept the house and took care of four brothers and lived in horror. She told many stories, and taught me how much courage a little girl from 8 years old can have and what things she has faced. Once, her younger brother had a falling tooth which he put in his ear. She was terrified but took him to the hospital, in the middle of the war, not knowing what would happen visiting a hospital as Jews, but she refused to give up her brother's health.... She said: there were wonderful doctors and nurses who treated them and immediately brought them food and said they wouldn't harm the Jews. So we talked about that terrible and horrifying period , and even that there were also lights and wonderful real good people, despite and in spite of everything.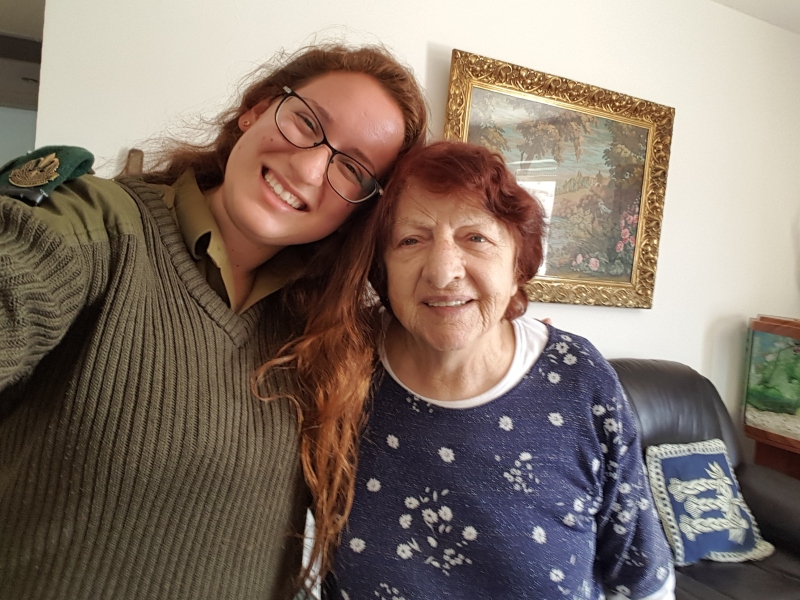 Rachel
Nisim was born in Turkey and came to Israel at a young age, met and married in Israel and they have a son named Chaim , who also live in Modiin, and helps them greatly. They have three wonderful grandchildren who come to visit them very much. Rachel underwent heart surgery and many surgery in her feet and can hardly walk. She told me that for years, she was taking care of people, and today they have nanny named Corinn, who comes every day to help her at home who she knew a decade ago when they worked together. I was privileged to meet Corrine who helps them a lot. Rachel was very happy hearing about our organization and that we call Holocaust survivors- winners. She was excited that we come mainly in the evenings, when they are alone and without help.
Other regular visits:
Today, Friday, 12.5 my best friend from the army and I went to visit along to Janet , Rozitzh and Mickey.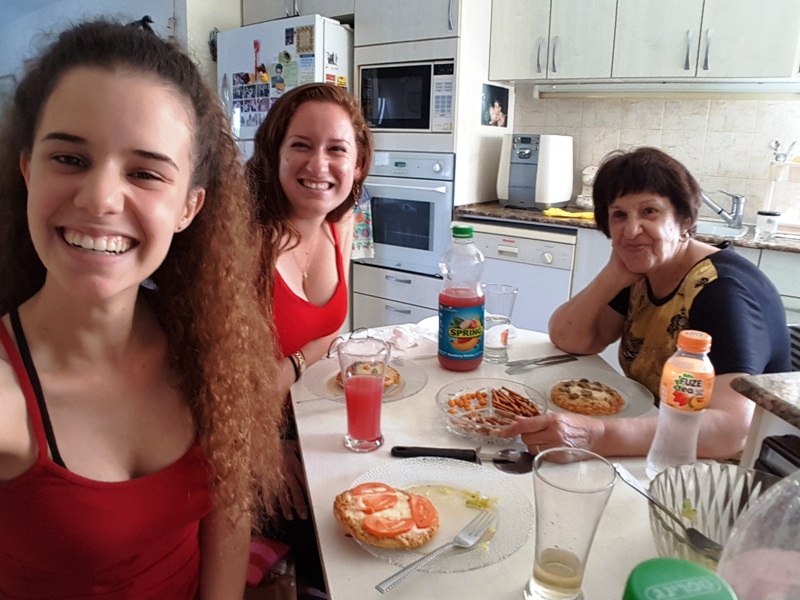 We first , arrived to dear Janet , who has returned from Bulgaria.
Janet told us about many experiences from the trip and showed us pictures. We talked about some of the common places and the big cities which are the most unique and authentic. Janet told us that she kept a diary of all the neat places where Jaston (bless his memory) and she, have traveled in the world with all the details and locations. She also indulged us "as she bought all the rest of her granddaughters' Bulgarian soap. Then we ate lunch together. We told her about the army and asked about all the other cherished family members. Then, Janet said that yesterday, she has cut pear to eat and then, the phone ranged, and she can not remember where she left the plate and searched all over the house. Then we started to play "Find the pear" like "Treasure Hunt" or Afficoman of Passover and eventually fall found it in a suitcase and laughed a lot. The visit was full of joy and laughter and enjoyed every second.
Then we went to Rozitzh and Mickey. Rozitzh told us about the newspaper article which she was involved with the project of "Memories through the lens" and when she were asked what she choose as the sentence that would be written below the picture in the paper and she said: "We are the generation that built this country and you need to keep her generation". Rozitzh talked about the March of the Living and Rozitzh kept saying how exciting and amazing it was. Rozitzh was very excited.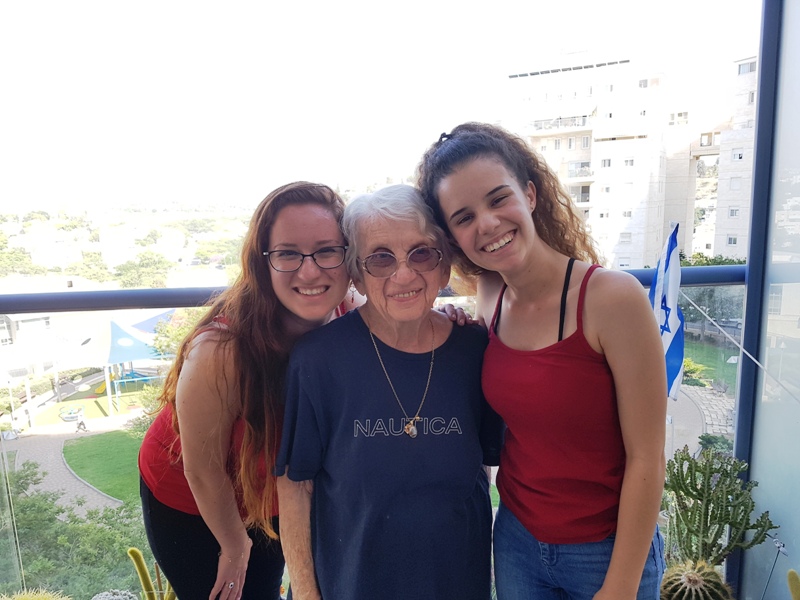 Rozitza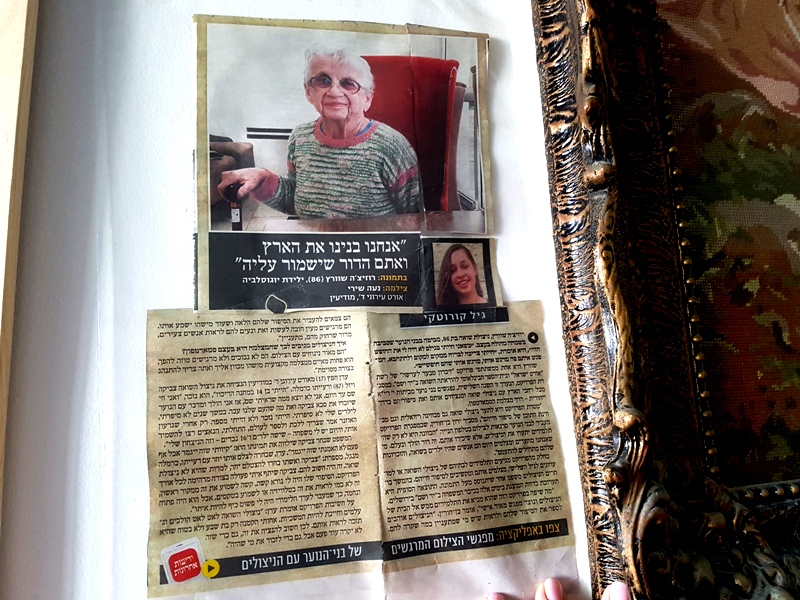 The article in the newspaper
The day came that I visited the wonderful and unforgettable Shulamit and Chanan, my favorites. I arrived and did for Shulamit a nail polish, our privet tradition as she like. We updated some recent events, Shulamit told me that she fall earlier this week, and the situation of Chanan is really bad. She was very interested in my life as usual. Today, I didn't let Chanan to stay in bed and we talked and laught,, and he did wonderful work that I brought and enjoyed very much. He painted a leader, with a bulletin board to place picture, or small pages. Then, I made a stack of papers with them, with good things in life which included the children love, family, nature, ability to learn from everyone, their home and much more.
I told them that all the things should be written, and every day, they have to replaced the note on the bulletin board and remember the good things in their life.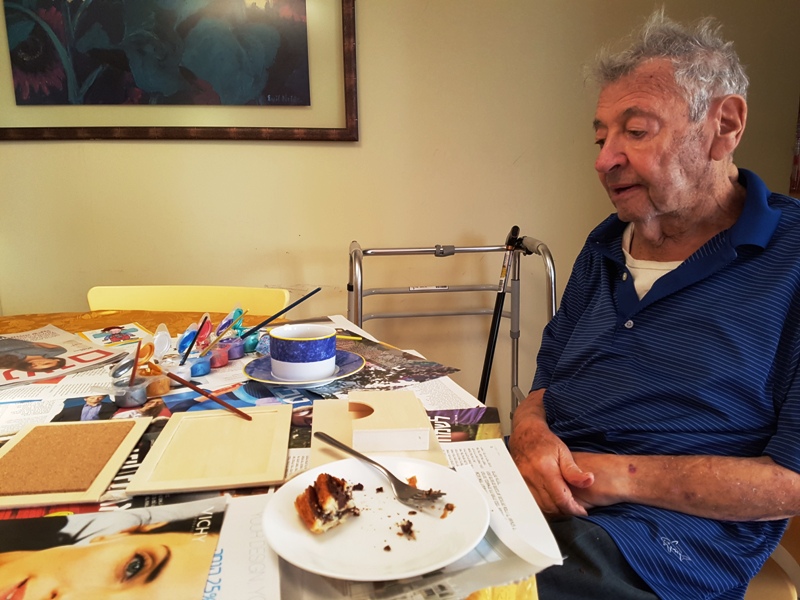 Chanan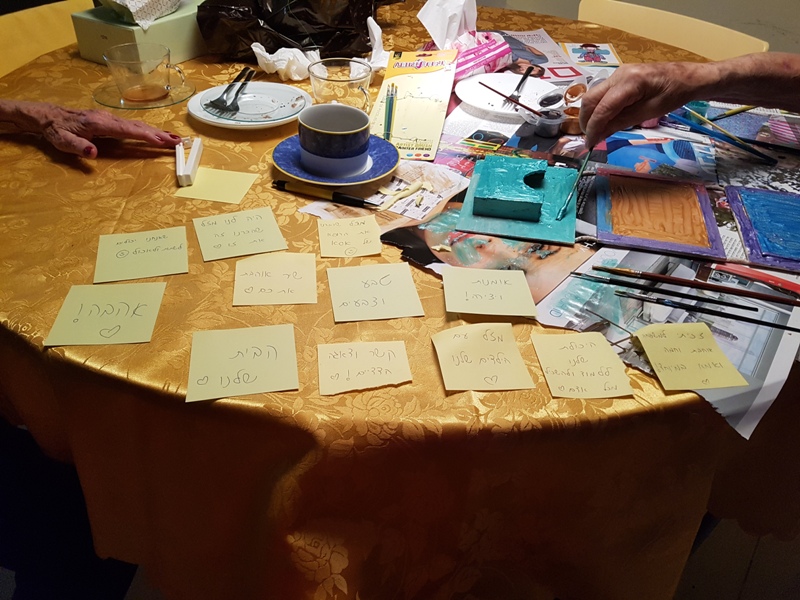 The papers Chanan was working with

Beyond art, Shulamit and I won uplifting conversation about issues-of people love, friendship, and taught together and learned. We talked about our religion and tradition and the affection both for our Jewish sources. Then we talked about artists who sing Jewish texts and knew her singer Jesse Ribot. We heard many songs together and enjoyed each song and song filled the soul with relief and real joy. We both went just excited this encounter, this rare relationship we have built bridges created all age gap and simply connects two people and creating a real up companies. Just won together.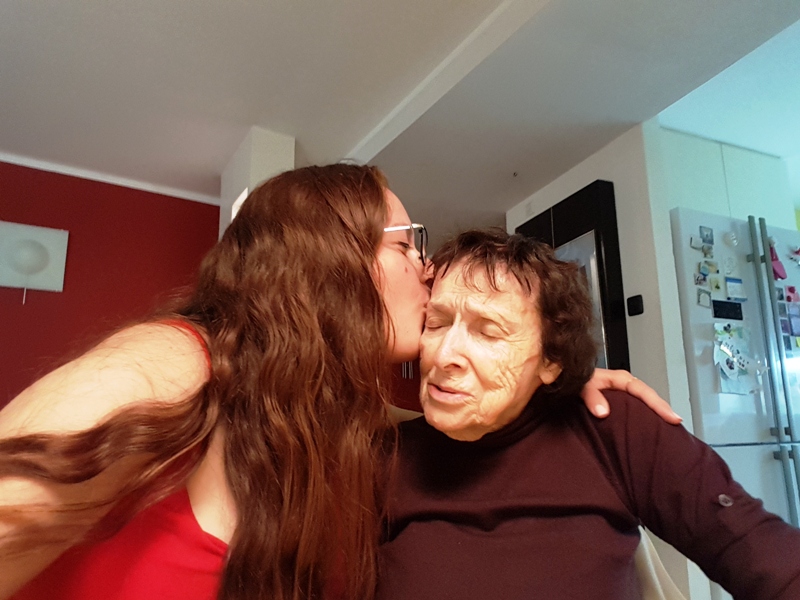 Shulamit
Just before returning to the army for a long time, I went back to visit my Shulamit. I gave her the text I showed her previous visit and CD I made with all the music together and were excited from one poem printed with words.
Pardes Channa
We visited all our winners. The students from Neve Michael, have got new energy after the special experience of hosting the "March for Life". End of the year approaching, but the visits were a great celebration. Zvia: It was great ! We talked and laughed with Mordechai and Ishayahu, who told us how they celebrated their Independence Day. Even Jonah was very happy to receive us.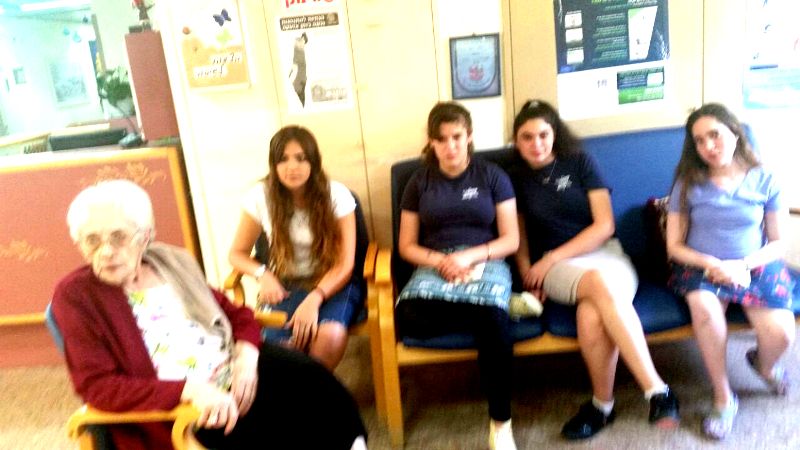 Yona
Aliza , had her birthday, and we came to hug, congratulate and rejoice herClara and Leonid always happy to have us, and we feel how much it pleases them when we come. Rachel is in the same difficult mood, because of her daughter who has been badly burned.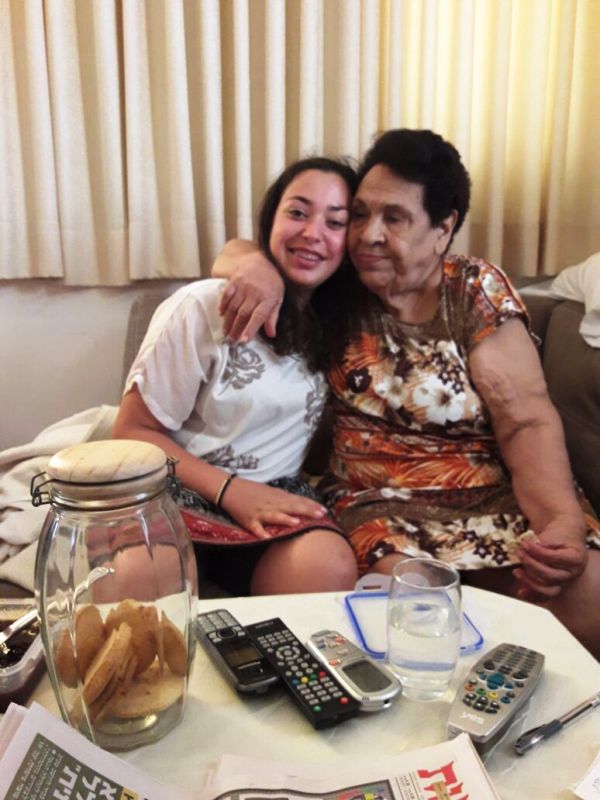 Aliza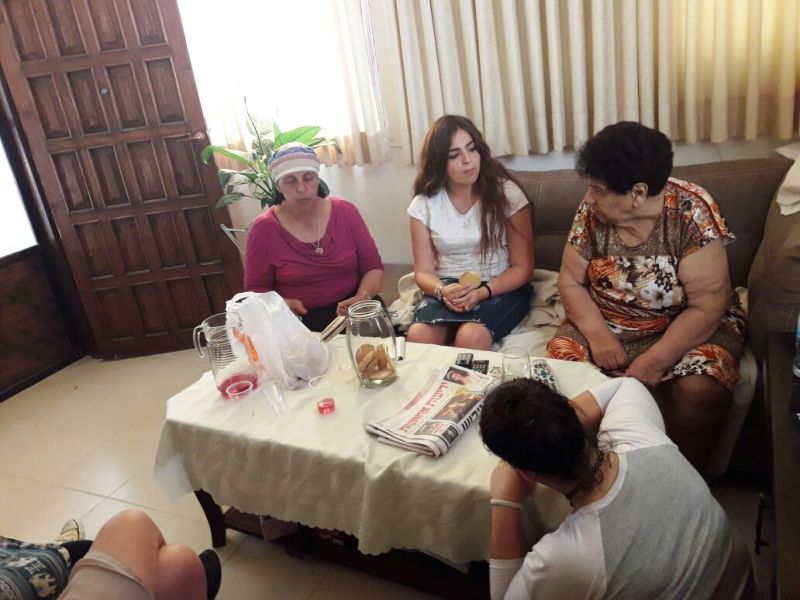 Chaya is still sedated and her condition has not improved, but is stable and is taken out from the hospital, and she stay in a place which is taking care in her condition. Ora, her loyal volunteer, encouraging her daughter, who sit next to her as much as possible. Two new volunteers Chaya and Chaya, visit in Kibbutz Ein Shemer, and route a new link as their friends, accompanying them by relieving their solitude. Zipora, receives personal care by a lawyer , who volunteer is a lawyer, and did some of his time a program for Holocaust survivors in the broad cast. He tries to help her with legal problems, and we hope for good news. Gizela really love our visits, and always waits impatiently for our arrival. She tells about herself and what is happening to her. We wish healing to the sick ones , and success in solving problems .
News from the North
The students are approaching the end of their volunteering period with " L'Chaim". It was a blessed year and new friendships. Some of the students wants to open Lechaim branches in their own home towns and others who will follow the second year of study want to volunteer with us also next year.
Chazor
This was our first year in Chazor and it was great! Bracha, Ruchama and Mina enjoyed the love the students brought into their houses. Mina got much help from Noam and Eden who helped her with solving her problems on a structural base and listened so patiently to her distress stories.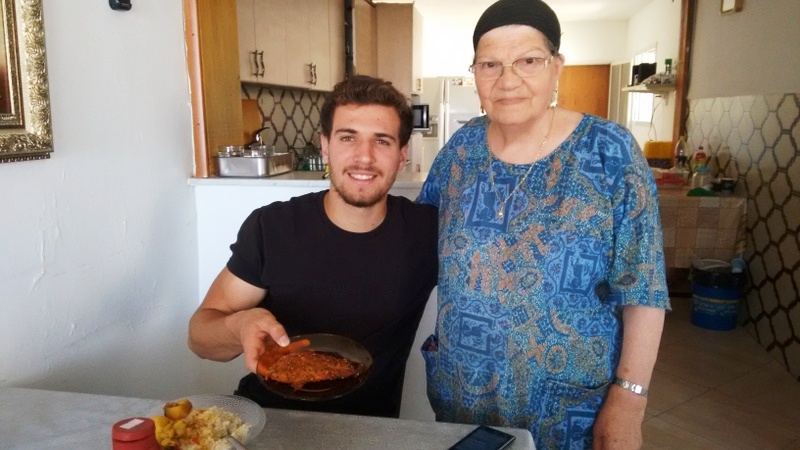 Ruchama with Ido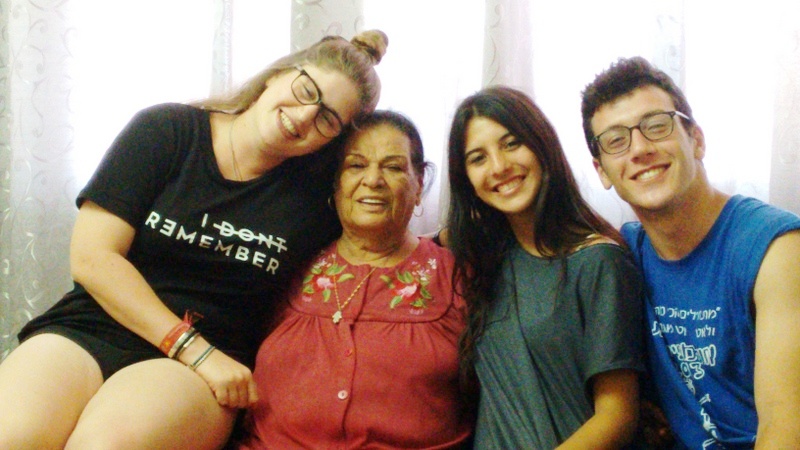 Bracha met Maya, Yuval and Yotam

Neot
Also Ibi, Rachel and Steve have been fulfilled with them through the visits of the students. And the students learned a lot from them. The students have build strong friendships that will last for long, even if they will go into the army. They promised to keep in touch with the shoa victors.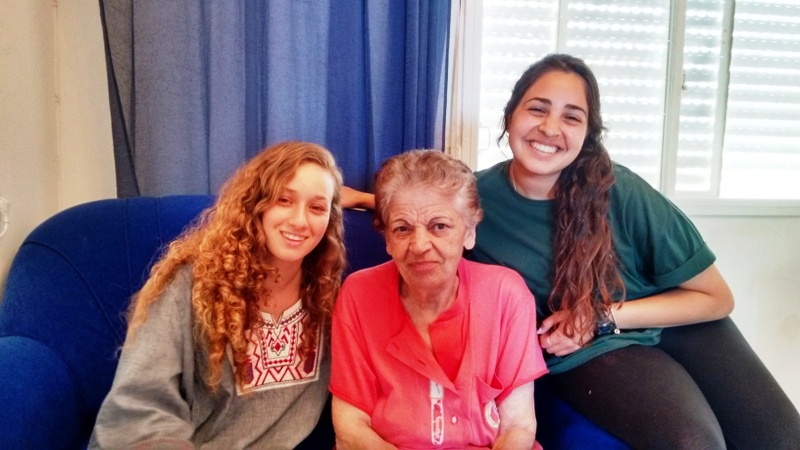 Mina with Noam and Eden
Shalom,
Timek
Shabbat Shalom !
The March for Life and news
April 20, 2017, Nissan 24, 5777

Dear Friends!

On Monday, again occupied by the media on Holocaust Day events with debilitating repetitive rituals repeatedly playing the same tune theme of laziness, to support and honor the last Holocaust survivors. Here again, these ceremonies have an odor of addiction of the passing wind. On the day of the Holocaust Remembrance Day, everyone is talking about it and tomorrow comes the Independence Day, and everyone is speaking about their barbecues on fire, and about bright events, and tears of crocodiles, crying and wailing , delete the interest of the Holocaust survivors. We in "L'Chaim" as an organization continue a true celebration of endeavor and uplifting actions over 12 years, emphasizing for alive relationship and true connection throughout the year with the winners, a connection, which is elevates the sanctity of life of young people as to the adult's. Our highlight, which concentrates all of the blessed operation is "The March for Life" saying: yes, yes, yes to life !!! Full of uplifting and prayers for the unity of people, the love of God, the love of the land and the people of Israel in all its parts. The parade will symbolize the love of life and the triumph of life and mutual responsibility by walking hand in hand along so many years without extra publications, without a well-oiled machine of "sales", but activities, resulting from heart to heart, and for heaven's sake, to increase the light energy in the world. We refrain from inviting any political people or celebrities, and all the spotlights are directed on the activists, doing wonders, with a modest budget, but with great heart and unlimited desire. Showing and teaching that priorities must be the basic essential humanity by , "Love your neighbor as yourself".
"The March for Life" will be held next week on Wednesday, after the traditional Holocaust Day events and in order not to use the momentum counterfeit and momentary glorification of the parade, but just to be together and to experience real deep content pulsating heart of all partners. We thank God for the opportunity for us to engage in full light and blessing, being able even the non-advertising professional with a very low budget, and to have incredible project, with human values, and above all, to be a Jew with a value of holiness.
We also thank all the many donors, who go along with us, hand in hand from the beginning , in the hope that we will continue to accompany the winners of the Holocaust until their last day. With God willing, we will continue operations, even more challenging, when the time comes, with the spirit of "L'Chaim".
Bless you all, and after the parade you will get pictures and full reports.

Sincerely,
Daniel
P.s. The students from the Mechinot and the schools, were in the holiday vacation and will start again their volunteering.

Timrat
Before Pessach, we went to visit Tamar in her home.
She is very happy when people come to visit and talk to her. We brought her groceries for Pessach and sat down to talk . As always, speaking with Tamar is very interesting and flowing. Tamar told us that last month, she fell twice on the way in the bus, which takes her to the club. She was taken to the hospital and amazingly had only bruises and some pain, but she wasn't significantly damaged. Tamar waited very enthusiastic for the Seder among her beloved extended family. We spoke about her last year, which was so difficult , and even all of what has happened to her, she was not complaining and contented. Her burned house in Timrat began to be constructed, and Tamar is waiting to return back to her natural environment. We wished Tamar a lot of pleasure and fun at the Seder with her family and to have only good news in her life.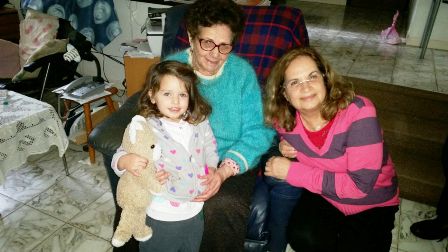 Tamar with Ruth and her grander
Shir : My Seder this year was unique. I didn't celebrated it at home with my family, but in the army with a different family which included Eli our beloved winner from Zfat . Eli could not celebrate the Pessach with his family because his son and his wife went to celebrate in Africa with their daughter (who lost her husband from illness) and he did not have a festive mood . I suggested that he would come with me to celebrate the Seder at the base, and so it happened. The base commander, took Eli by himself , and arranged that me and Eli to sit next to him on the on the chair of honor, and also, he dedicated one of the four glasses, for Eli and spoke about the project of "L'Chaim". It is very special to see, such a sensitive and conscientious officer. Eli kept thank us for this invitation , and brought me flowers as a real gentlemen and told a lot of stories about his life .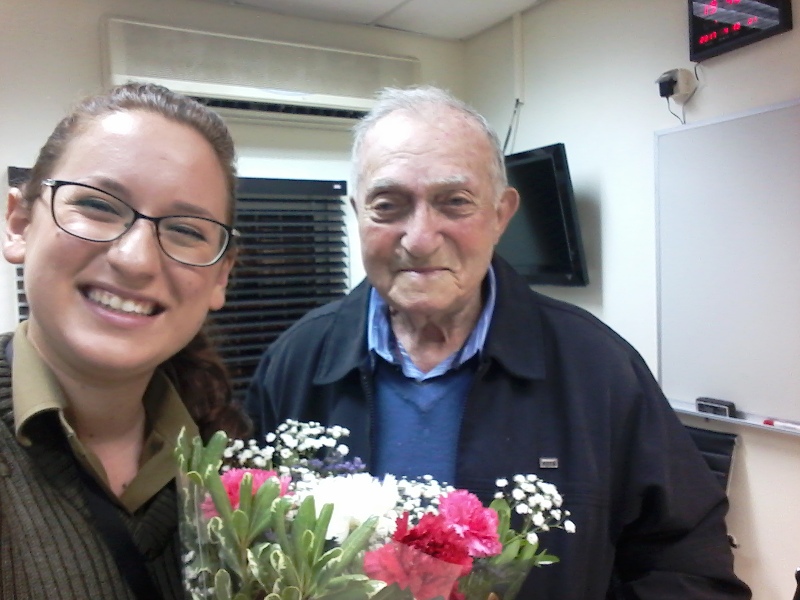 Eli

He told us about his last birthday of 95 , which where celebrated with 40 friends and family . His son has decided to bring him a good writer, for doing his biography , and these days they are in the midst of his fascinating story of life.
Eli was born in Hungary and suffered greatly in a row of concentration camps. Many of his relatives perished in Auschwitz. Only his brother and sister, were immigrated to Israel. Ali told us also, that his wife was the tenth generation of Zfat, and her great grandfather was "Mochtar" of Zfat in the Ottoman period. He said that, thanks to a talented historian, who found his wife's lineage - Ayala (bless her memory), until around 1819 and found that she belong to a well-known rabbinical dynasty.
It was interesting and fascinating to hear his story. And I was especially hurt to hear how much he feels lonely, and what our visits do mean to him by helping and bringing joy and happiness to his life . We enjoyed every moment and wished each other, that we'll be able to celebrate together many holidays and events.
Shir : On the second holiday of Pessach , I went with my family to travel in the north. Thursday morning I went to visit Mair and lilian from Zfat , After a week full of phonecalls of sadness and crying, I decided to come and celebrate with them.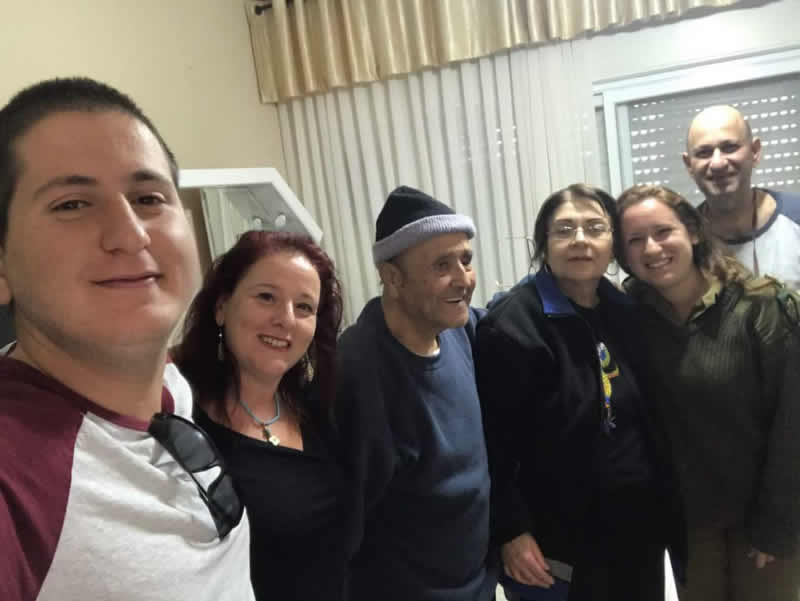 Moti, Shir, Meir, Lilian, Shlomit and Eyal

As usual, I was welcomed as their daughter. I also met two of their lovely children. After we ate a delicious breakfast, we made a list of the good things in life . The list contained among other things, that they are together, they went out from terrible house with water which was droping on the ceiling and walls...It could be much worse and then, it appeared our very special relationship we have built. Then, my parents came to take me to walk. They joined me for the first time and met Meir and Lillian. It was really exciting to see people who are so dear to me, and the immediate connection which was there right away. Further trip, we decided to go to the upper Galilee, and you can' t visit the area without going to those beloved grandparents . First we went to see Klara and Mordechai (Kiryat Shmona).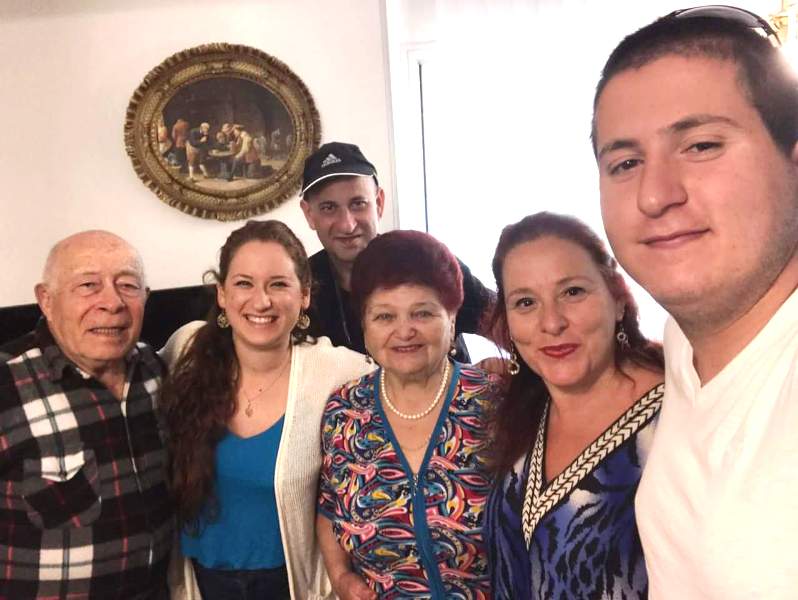 Clara and Mordechai

They were really happy that we came. According to Clara's tradition, she must do something to eat , so we ate together special kosher Blintzs for Pessach. We spoke many languages . Sometimes, when Clara suddenly, has forgot how to say a word in Hebrew , my mother understood her in Yiddish and translated for everyone. It was funny and full of joy. Clara told my parents about their family, and about her brother and that she and Mordechai, have met in the university when they were both, studying economics . The last visit was at the house of Sofia.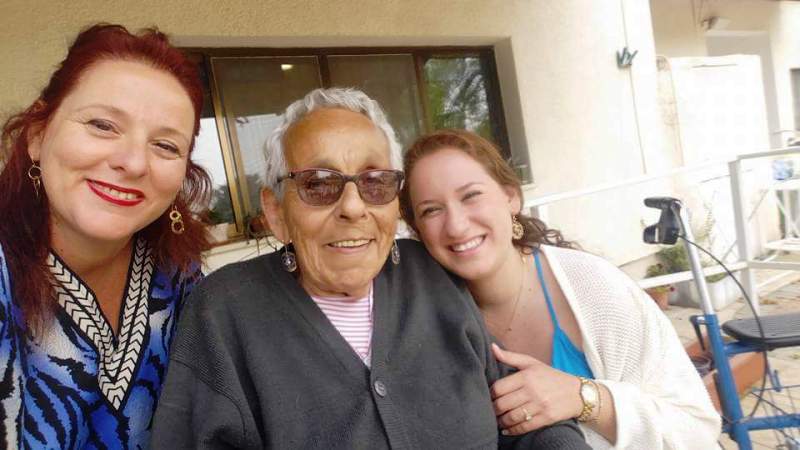 She was happy that we came. She told that everything was fine with her, and she never forgets the songs and me that we were happy with it.
What moved me greatly, was the immediate connection between my family and those new grandparents of mine.

Shir: Eli came to the basis today, to speak about his life story.
We decided to have this meeting relatively small, to make him feel comfortable to talk. Eli told us about his fascinating life.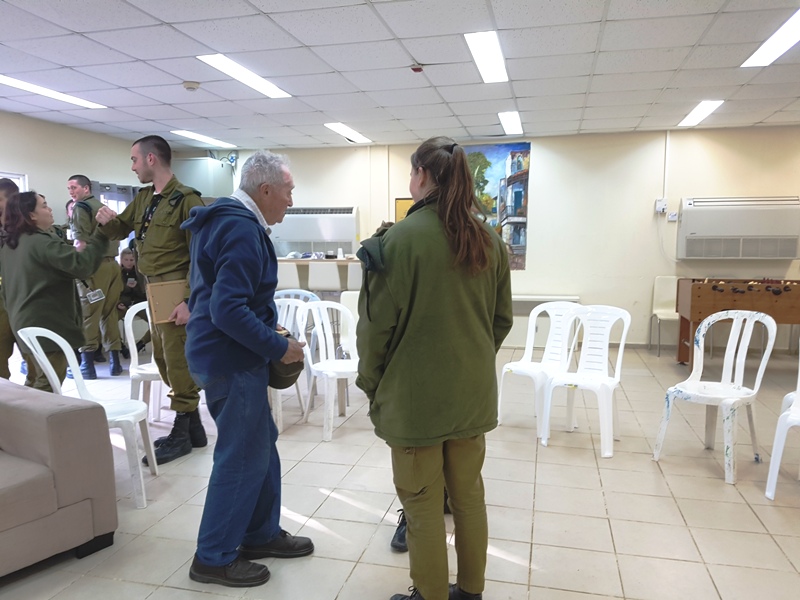 He started about his childhood in Transylvania region of Romania, which were in the past as a region of Hungary. The last difficult experiences he had during the Holocaust, and among others, was the story of the breakup from his mother and his older sister. After returning from forced labor and just before the train departed from the concentration camp, his mother and his older sister were on this train,, and she said to him that her feelings were that this would be the last time they would see each other... And so it was.
Later, he told us about the hard work in Russian refugee camp where he was until 1948, when he made Aliyah to Israel , and about his wife, the two children and grandchildren.
The meeting was very interesting, and I was glad to see that Eli was very comfortable, and enjoyed telling about his life. He and I also, spoke about the visits, and he thanked me very much for the exciting Seder he has attended in my army base..

Pardes Channa
The day before the Passover, came Zvia to our winners in Shoham, carrying a beautiful present, that moved Mordechai and Yeshayahu, and also Jonah gladly accepted her visitor. Mordecai was moved to tears, and told her that for years he did not get a present for the holiday like that. Even at Aliza, we came, the two of us, and her home was changed. Her daughters, did a whitewash and completely changed the order of the house, and the excitement was great when we arrived, with holiday gift chosen by Zvia, and it was Matzah tray with very nice embroidered cover. About our dear Chaya: she is still sedated and we have no idea what is happening to her. Me and Ora, her loyal volunteer , came several times to visit, but we can only speak to her daughter who is there near her, taking care of her with an astonishing fidelity. Pessach, she slept to her mother's bed. Morris, her husband, has trouble digesting the situation and we are trying to help a bit, too. Let's hope for happier news about Chaya.

Rivka
Shabbat Shalom to all of you!
Summary of Purim and we continue our journey
March 23, 2017, Adar 25, 5777

Dear Friends !
Lately, you have received mail about a variety of activities of Purim and other happy events . Indeed, after deep thoughts, we did not want to save you to experience the size of joy, creativity, and the amazing project, consisting entirely light, the floods which bring streams of so much happiness. This project is intensifying and raising up the kindness of human souls. These days, it is a series of light in a sea of darkness, surrounding us from all sides. One woman, approached me and told me: "Daniel, your reports charming but very long. .." I asked her, "How long does it take to you, to read the report from the beginning to the end ? "And she replied:" Fifteen minutes. "I asked her," How long do you spend in front of the dark rivers of the media? " She paused and then replied frankly:" hours. I'm attentive to the news of terror poison which flooding and insulting our lives with almost no light at the end of the tunnel and without hope". "Then, I replied, fifteen minutes of contemplation words so certain and wonderful experience, that shows that there is another way of living! And even better, with a lot of good pictures worth a 'thousand words' showing the togetherness of young and old, serving the fruits of the wonderful relationship, heart to heart, with rivers immense of joy and hope. And all of that takes place here in Israel. A big change, begins with small steps".

The woman admitted that it make sense. And in the end, it's all a matter of priorities, and what we really want to put at the top of our attention, with negative news rivets, should you assume corruption and extreme violence or make a courageous decision, so suitable for liberty, open focus on the good, spend a little time to invest and to have only beautiful words, but also prove, that you can do and so we are doing and have done for 12 years! And please remember, one of the reasons that many people spend so many hours to the negative information such raising news factor into the minds, addicted for such negative energies. Please! Try to accustom your brain, to receive goodies and take it to the utmost priorities. It's much more healthy and beneficial. Take your choise ! Blessed are them who dedicate their time to read some of those lines.
Thank you,
Daniel
Rishon Lezion
Bar and Aido: We were visiting Mina and we enjoyed every second. When we reached Mina with our delivery and she was very happy and thanked us. With Mina was Arye, a friend who she knew in the nursing home.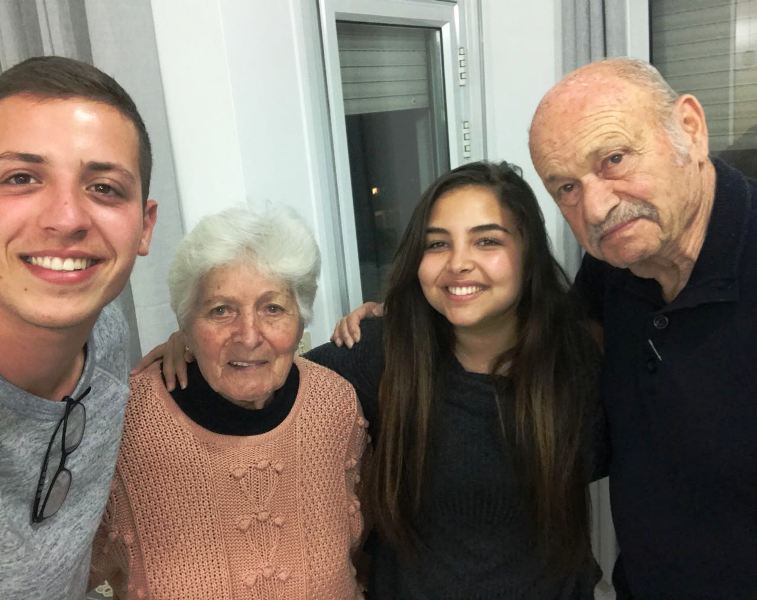 Arye told us that both of them guards each other in the nursing home and take care that they would not have a dull moment. Mina also told us about her escape and her family from Romania during World War II. One of the most moving stories was appointed about a little boy, whose her father has found in a tank at the end of the war. The father realized immediately that this child belongs to relatives and took it with him. Later, they came to Israel with the child, and he has married and raised his own family. Hope to return again soon to visit Mina .
Jerusalem
Nitzan and Ronni : Long time we did not meet Eti, because that was very difficult to maneuver with our military service, and she was really excited to see us. We brought her flowers and she gave us " ears of Haman" , and it was really exciting for her to see me in uniform! We really enjoyed our visit !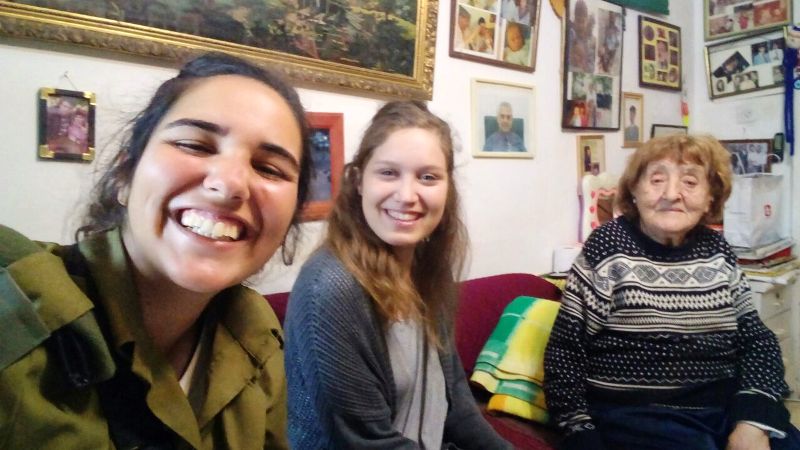 Modiin
Ariel , Nadav and Shnir : We came to Rozita. Nadav had his custom. We brought her a packet delivery.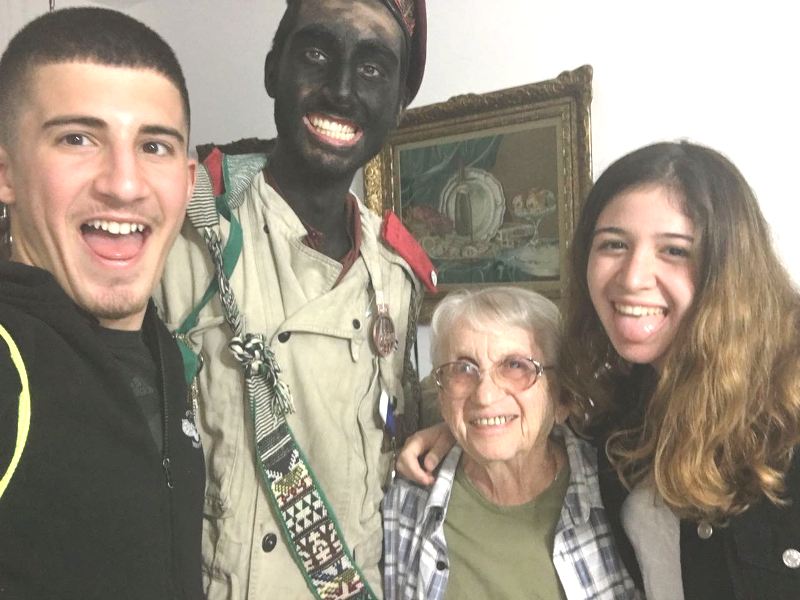 Rozitha told us the story when she worked in the Red Cross Hospital in Budapest, where she helped nurses to treat patients, and in return she received some kind of soup which wasn't particularly nutritious. Anyway Rozitzh described that one day, a beautiful girl, were brought to the makeshift hospital at a former school after she was shot . The girl was Jewish, and she was brought to the bar of the Danube after the Nazis shot her the way they used to do to many Jews (Jews were tided together and the one who was shot, pulled the rest of them to the water and they drowned). She was a beautiful girl , only 20 years old but unfortunately could not survive. The nurse took from the dead girl a small chain with Magen David , and Rozitzh took a small Sidur from the girl pocket ... This Sidur is kept since then. Shir : On Wednesday, I visited and met the lovely couple Chemda and Yankelle , who we helped in renovating the shower after he has passed a very serious operation . I came to them with Purim package and I was greeted with hugs and kisses. They thanked us greatly for our help in renovating and donations. They showed me the shower and explained the complexity of the process of breaking down the bathroom and shower, building and moving the toilet . Yankel told me about his last severe hip surgery. He said he have a rare and violent bone cancer, that only one percent of the entire world have it , so it is very difficult to deal with. When he reluctantly answered the phone, he told me that if not for his love to Chemda, maybe he would give up. A year ago, when they found the cancer, the doctor said that without the chemotherapy, he was dead within a month. Since then, it has been difficult and painful treatments and excitedly told me that there are three things that help him and that the power and energy of delight, classical music (he said that he taught himself to play) and sports . I enjoyed to recognize this funny couple who told me during a visit over 15 different jokes. And I was glad to hear that even though they do not have children, they have a full social life and quickly connect people wherever they are .Then, I came to Shulamit and Chanan.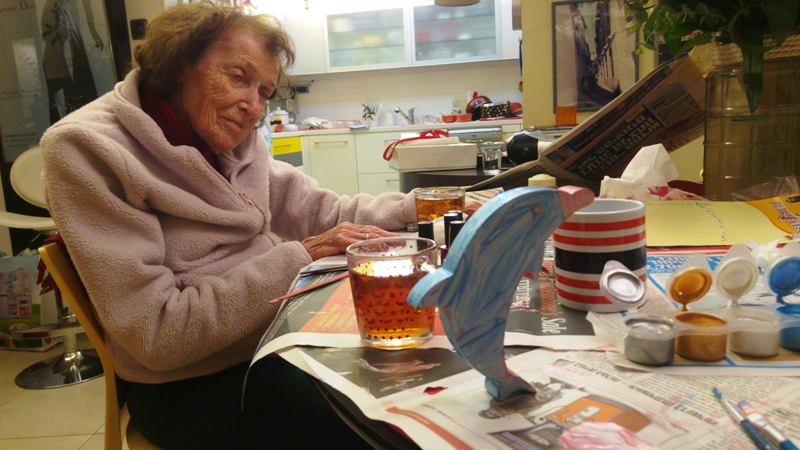 Shulamit

Chanan has had a difficult day and as we came he really Woke up. We had a delicious soup and dinner. Shulamit and I , started writing about her life. Shlomit told me that in the past her family and grandchildren, wanted very much to write, and she had no power to tell. I told her , that we are in this together and we will start together, and slowly will create this book because everyone in the world has something to say and keep for the future generations. Thus, in the last quarter, we started to work with great excitement. Shulamit began to tell me about her childhood in Riga (Latvia). Shulamit was born on 31/12/30 in Riga, and immigrated to Israel at the age of 4, with her family. She said that her family was complicated. Her mother came from a very Zionist family and her father came from a family that was the complete opposite. Her Zionist mother: Yehudit Sima Gel, begged her father that if they would not make aliyah, she would leave him. They decided to immigrate to Israel . Shulamit said that when she was a year old she went blind in both eyes and only thanks to the determination of her mother, enlisted the help of four senior professors, they were able to salvage some vision of Shulamit. "It is my luck," my mother, Shulamit and the whole family, lived in the Israel, in a large part, called "Givat Shmidov" in Kiryat Ata, (their family name). There were five families and they were a traditional family . Shulamit said it was nice but hard to live with a family tribe . Shulamit also told me that she was recruited to the "Palmach", with friends when she was between grade 10 to 12. It was a training period of new immigrants, who arrived from the concentration camps. She said they were unhappy and didn't want to listen and hear their horrors they had to tell. She sat and listened to them and said it was a difficult experience and meaningful life to accompany them and to listen to those who were really sometimes, even older . Shulamit's stories, with her sensitivity, tells them and it is engraved in my memory and I am grateful that she has agreed to start with me the common way of writing history .
On Thursday I got a cake and gifts to Rozitzha.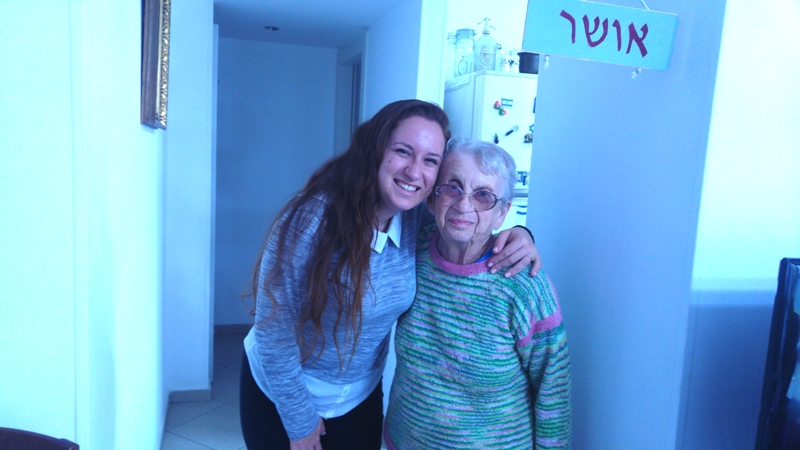 She is going to celebrate at -20/3 , her birthday and since I have to return back to the army on Sunday, it was important for me to celebrate with her in advance. Rozitzha was so excited for my blessings that I wrote to her. She talked about this week and that she is now, filming her project called "the lens of Yad Vashem". I joined her to the filming. She said among other things, after being asked , what she wanted to say to future generations, and she said: "We are the generation who built this country with ten fingers! Your generation, should maintain and nurture our precious land ".
Zfat On Friday, we went Maitar (my best friend since the age of 4), Ido Bar, and me, especially from Modiin and Zfat, to see them and bring incredible dish, prepared and contributed by wonderful women from Modiin. The response was amazing, we had an exciting day full of joy and love. We started the visits Shalom.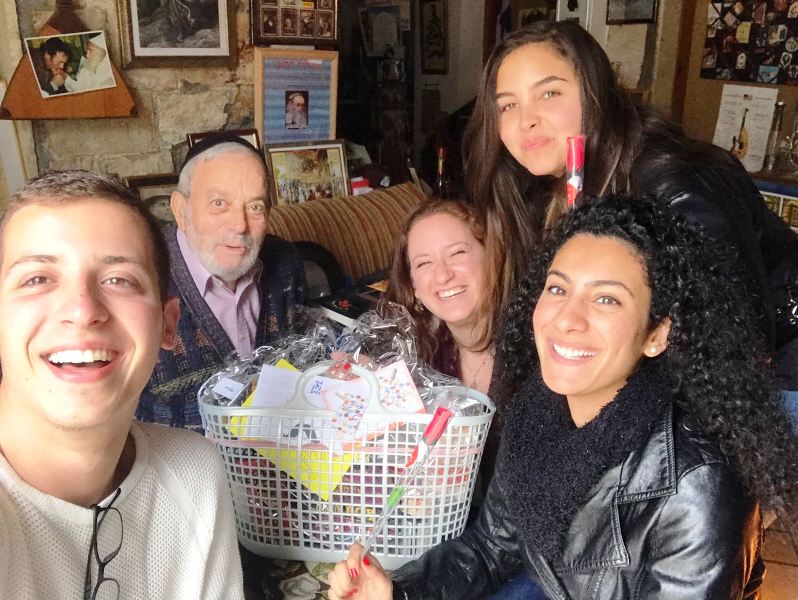 Bar, Shir, Shalom and Eido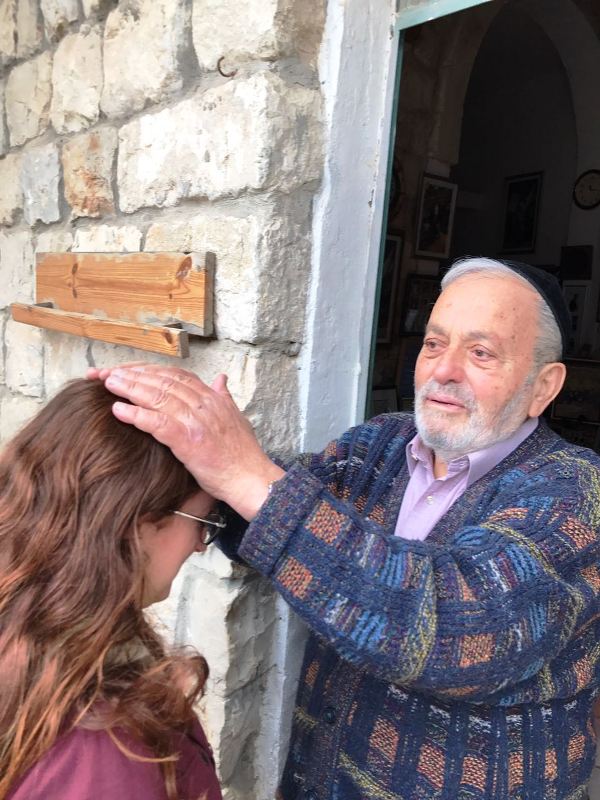 Shalom blesses Shir

He got us excited and amazed that we had come to visit him all the way from Modiin. The visit to Shalom was humorous as usual. We took pictures and Shalom made us laugh with his mimics as a cat . Then, he greeted us, one by one, and brought to each of the girls - flower . Later, we met with Eli.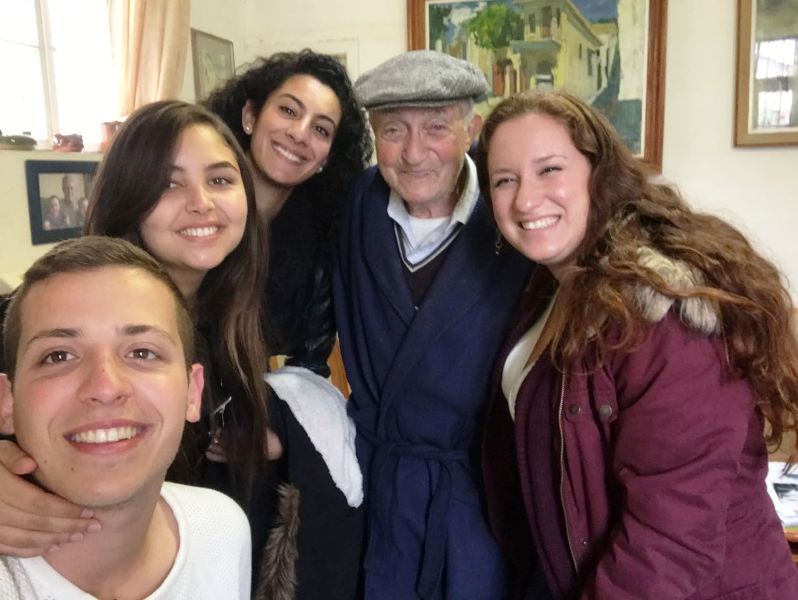 Eli

He was very happy that we came and told us how hard the daily solitude is for him, and our visits and the students visits, excite him and help him to brake his solitary. Eli told us a bit, about the history of Zfat and that not long ago, he discovered the glorious family line of his wife. We talked also about acceptance of the other and he said he accepts and loves all people, no matter if they rabbies, secular, Arab or Druze. We agreed with him. Then, we went to dear Judith.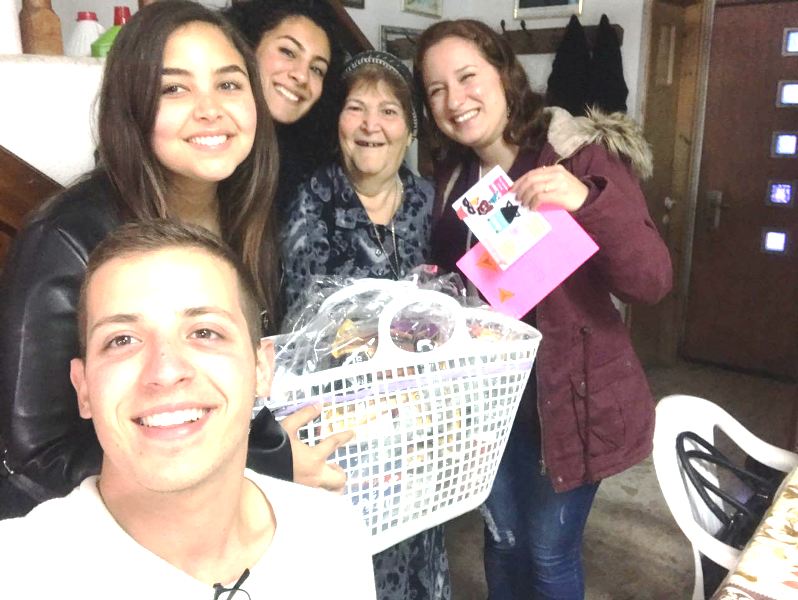 While we were at her house, her son arrived to take her to spend Shabbat with his family. We showed her the packet delivery and read her the blessing of the family and the blessings that I wrote. When we read the line "We wish your house and your life will always be filled with abundance and blessing." Judith burst into tears. She said tearfully that her husband, who died eight and a half years ago, wished her always, to live in abundance. She thanked us a lot about the visit, and the blessings. We were happy to see her so happy .The next visit was at Julie's .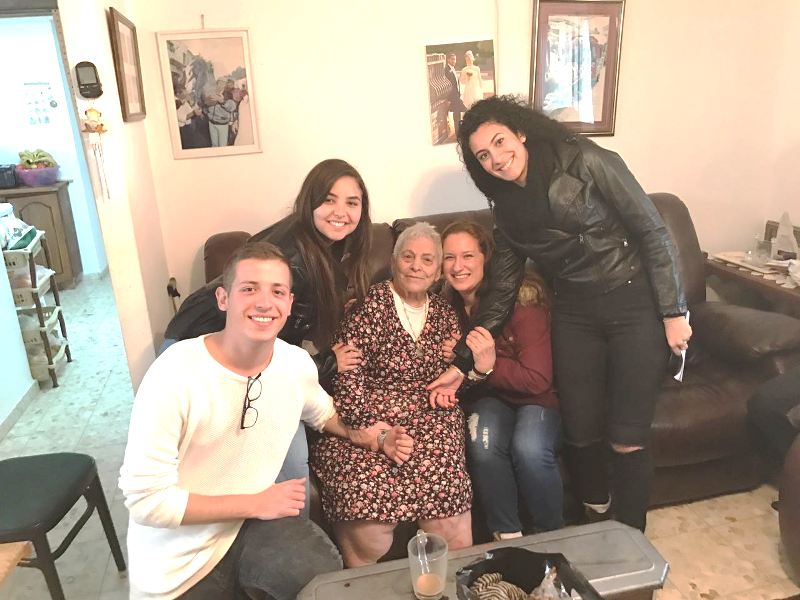 She had full house. All of her family, grandchildren and great-grandchildren were there. It was a memorial to her husband and the whole family came. They respected us with homemade falafel and told that they had previously, a falafel shop. We laughed when we discovered that she has two grandchildren (in addition to us, as Jolie said) with the names of Shir and Ido.
The visit was very happy . After many complications in the narrow streets of Zfat, we were able to reach her house (thanks to the dedicated guidance) of Diamanta, home of Chanan and Diamanta.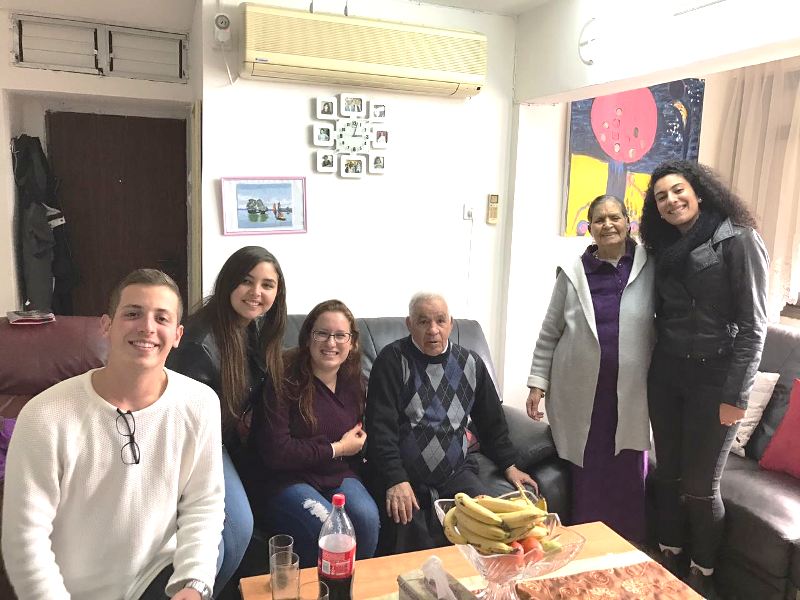 Diamanta and Chanan with the students

We came at the height of the cooking. Diamanta was very happy to see us face to face. They thanked us for coming, and that we thought about them and came all the way from Modiin, to meet them and make them happy . Later, we went to amazing Meir and Lillian.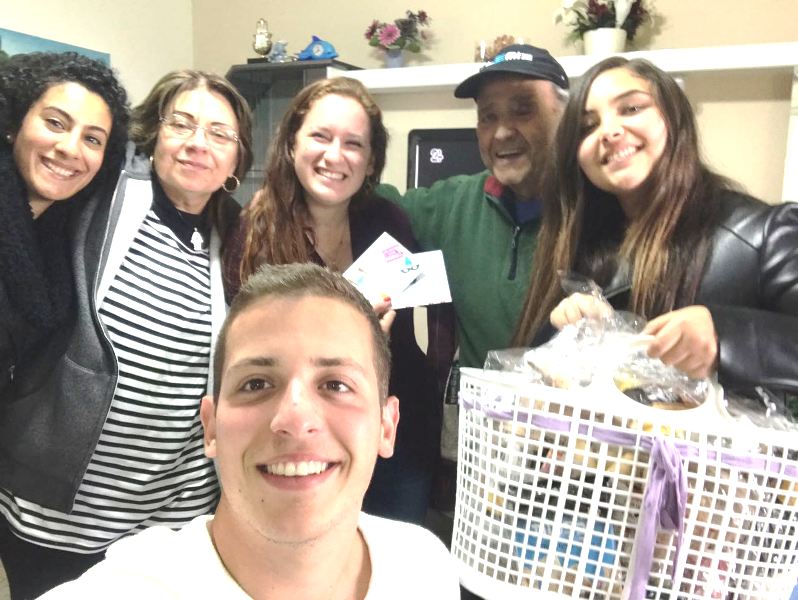 Meïr and Lilian
We were sitting at home, eating together "Haman's ears" (donuts with poppy seeds) , we talked about doing renovations in rented house, where they live and they told us, about their difficulty and pain with a claim on their old house, which was demolished because a shower which was built illegally in their nabours house and destroyed their own home. They said that Lillian went into a deep depression and has lost weight about 25 kilograms and almost hospitalized. Then Meir understood that they must go away no matter what. They were excited for the packets and the blessings. They brought me a lovely blessing and a gift in honor of my 21 birthday and moved me greatly. They said that their granddaughter, who attended the terrorist attack in Jerusalem, took the case very hard. Meir added that it is very logical the effect on her, but she have to continue to live and forgetfulness is a great gift of humanity. Without it, we would go crazy. We were very happy to see them and are looking forward seeing them again . Then, we went to visit Dear Larissa .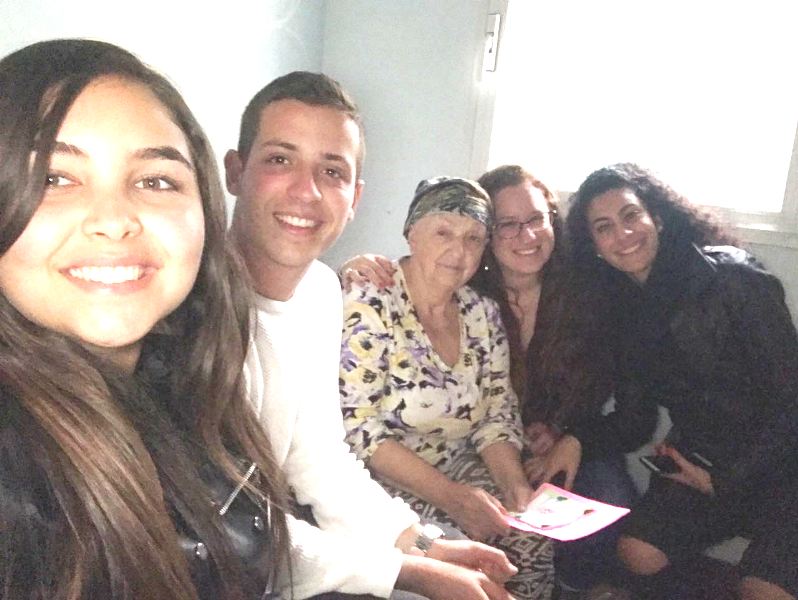 At the house of Larissa

She was very tired but filled with excitement that we came to visit her. She thanked us for sending packets and cried excitedly with cute Russian accent, and said that the blessings we brought are so much. We told her that everyone comes to celebrate Purim and receive packet delivery and it always gives us and hosted us with love and we want to spoil her. We ended the visits with Our Purim Queen Esther.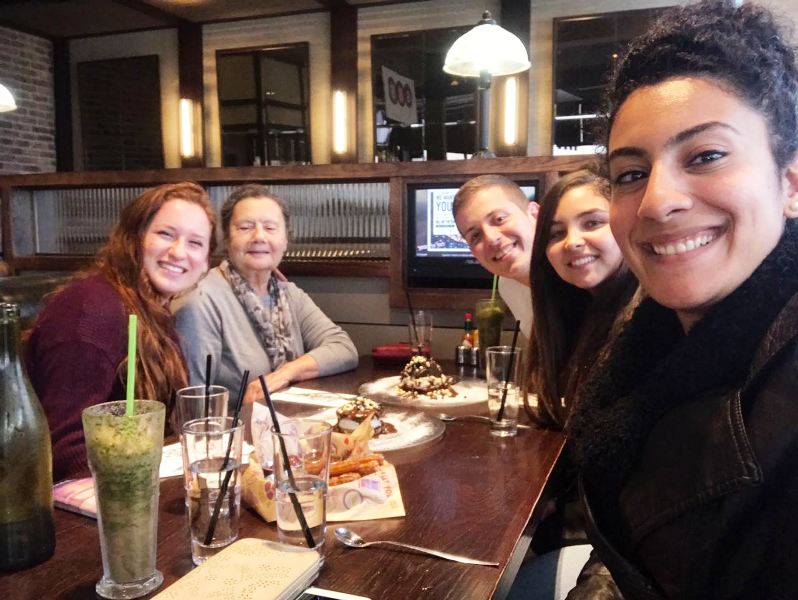 At the home of Esther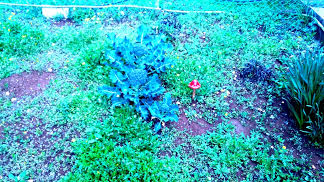 We went to a restaurant together in Rosh Pina, where we met Timek and we brought him 30 gift packages, which were collected by the high school students and families from Modiin . Esther told us how excited she is, every time we come to visit her. After recovering from surgery, it was for her very difficult to sit and do nothing, according to the recommendation of her doctor. Esther told us that recently, she have flashbacks of the Holocaust, suddenly she remembers certain moments and specific scenes she saw. She told how her family throughout the Holocaust, was on the run. She was a little baby with swollen feet from the cold. She could not understand how they managed to go through this hell.... how would parents would have the power to carry them and how well they were able to get out of it. I said I thought it was the love and staying together as a family, that saved them. Her parents felt they had to take care of their children so, they have a role and they have to survive and not be broken . We had so much fun together, ate, drank and laughed together. We finished the visit, of course, bringing Ester back home and - saw the broccoli grown remarkably and we received wonderful jams prepared Esther . Finally, we went home, excited, full of love and happiness on we got to know grandparents are wonderful, make them happy and rejoice with them .

Pardes Channa
We had our visits with a big package of vegetables and some fruits. We couldn't take pictures this time, and we can tell about the good connection between the students and the survivors. Yeshayhu, didn't want to get up from his bed, but as soon as he heard us, he got up and came with his big smile and joined our singing and dancing, with the Organ Player who happened to be there. Also Yonna and her friend, were happy to see us . At Aliza, it's always fun. She tells jokes and many stories about everything. Chaya, is very weak, hardly eat and sometimes she is not speaking with sense. We brought her a special food (enshur), which was given to her as a donation, and it can help her maybe to get stronger. Zippora, received a Lawyer in her house, who volunteer for the Amuta and came to help her with her problems. Gizela, was happy to see us and thanked for what we are for her. We have a new volunteer for her which will adopt her besides or visits.

Best wishes,
Rivka

Experiences in the poetry of nature
Tidling of the repentance


February 23, 2017, Sjewat 27, 5777

Dear Friends!
Last week, I had a unique experience, along a morning trip in the Upper Galilee Mountains. And here is the poet experience :
It was a rainy day - thank God. Abundance of water everywhere. Here, the sun came out from behind the clouds, and I went to the love of my life - nature! Paint and song by the God of Universe. So, I walked up and down, happy and perfumed from the beauty, full of life and vitality everywhere. Israeli Anemones and cyclamens on the land which stimulate the cells of my life. Excited and thrilled , I discovered, lovely realization, when I climbed on a steep rise. With all the soil moisture and water flow, the road was easy to walk. Water flows and soil allows walking. When I got to the top, it was a flat area. Did I reach peace and quiet ??? Here my friends, I discovered a remarkable discovery: the plain area is muddy, and it was there, where everything is flat. To walk on it, became more difficult, and my feet sank in the mud of the soil and stagnant water, and I felt heavy and tired. With all the beauty around me, I was passing one signal path when I got rebellious. There, again flowing water movement and soil allows walking. Again I got back my vitality and all of a sudden I had a remarkable notion: our life here, are full of ascent and slopes. With all the attempts, we are experiencing, they are as fresh water, flowing within us, and allow us to discover more and more the light and the close presence of God. The secret of the answer is the essence of our being here, in the soil of the land of the living. When we understand it thoroughly , the ups and downs are the secret of Jacob's Ladder. Great happiness swept over me and suddenly from the depths rose the question: Are ups and downs a necessity in the journey of life? It is a trigger, the alarm, which introduces us to ourselves, with our pains, longings, with our joy, work, creativity, and all of these, suddenly revealed as great thing. With all of this experience, it is challenging us, to distinguish between illusion and truth, between the forces of health vitality, revealed in us just when we are on the slopes or increases ... and what about the flat area? Indeed, it is good to stop occasionally, to strike, to rest, but don't look after the rest, the laziness, thinking that this is the reason we got into the world. This is not the case! We must move! The song of life is circuitous and surprising, and behold! As you understand more the divine will that plugs into our lives, a greater happiness fills us even if the outside world looks bad. Even if the so-called external reality shows that everything is bad, the redemption process, mortgaged goes outside the world of interior - The temple of the heart and Soul!
Finally, lets remember! Walking flat, does not make any development. It causes standing on the same spot and manor old habits. It invests us with mud, and burdensome, and makes us an inner blindness.
How I love the prophecy of Isaiah ch' 29 :" 18 And in that day shall the deaf hear the words of a book, and the eyes of the blind shall see out of obscurity and out of darkness". Sincerely, with life and joy, hallelujah! hallelujah! hallelujah!!! Daniel.
Rishon Letzion
Ido and Sahar : Today we were, for the first time, with Elijah. He hosted us very nice and said he would be happy that we will visit as much as we can. He received us with open arms, and told us a little about his little family . He told us about his life, and about his daughter Shoshana, who has died. Now he has three children: Albert , Mordechai and Dina. Elijah told us that he was born in Morocco, lived in Bat Yam and moved to Rishon Letzion already 16 years ago. We were delighted to recognize a person with values and humble, and happy to get a grant from himself. Already waiting to our next visit.
Tu Bishvat celebration in Pardes Channa
This time we received an invitation to get to Neve Michael plantings of Tu Bishvat, and our winners, despite the rain, arrived and were greeted respectfully in the dining hall of the boarding Neve Michael with a table laden with all goods (see picture).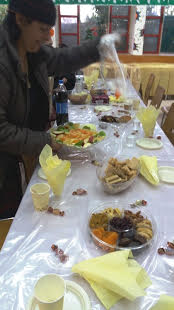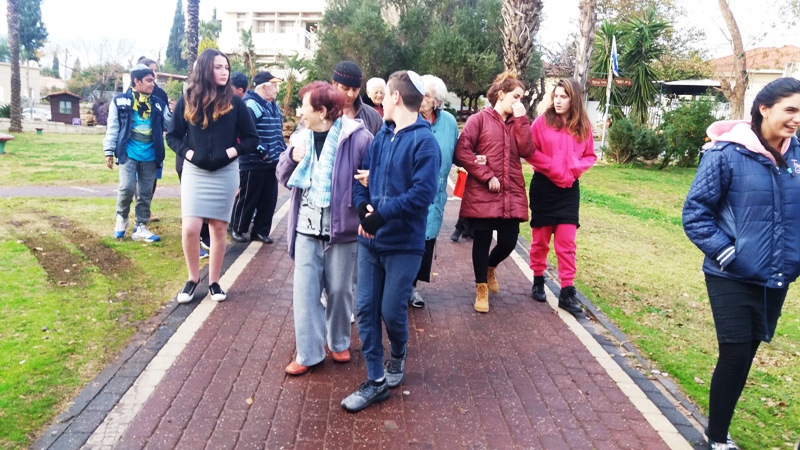 Unfortunately for the students, Aliza, fell two days ago, and was bruised so she had to take complete rest and could not get up and come to plant. We wish her full recovery.
Yona from her Shoham house, came and participated with joy at the event, and when she came back she told everyone, how much she enjoyed Clara and Leonid, Gizela with her nurse, came and participated in the celebration.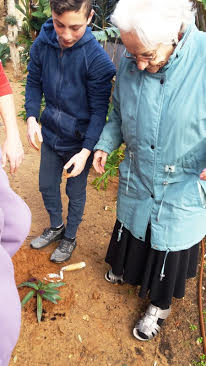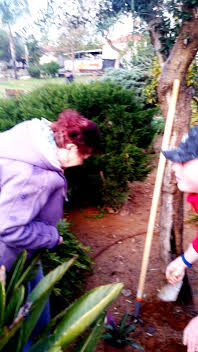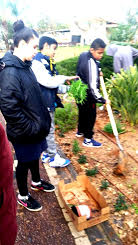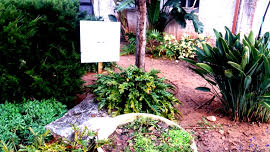 We did start with singing and blessings. Then, we started to play trivia and the subject was of course, Tu Bishvat.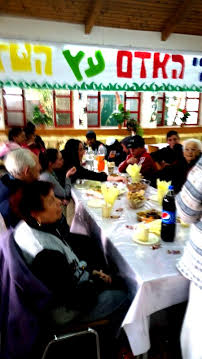 In the middle of the game, the skies has brightened somewhat, and we went out and planted in the area of the communal garden of "L'Chaim" and Neve Michael. When we have returned back to the dining hall, we continued to play trivia and tasted delicacies things on the table. The event was very warm with our generous hosts. Warm thanks to Zivia, who was worrying for such event which was very nice and pleasant. Each of our winners received a plant for their homes.
Rivka..
Modiin
Talia and Maayan- as (almost) always we met with Riri on Monday , even being busy at a stressful period of tests and matriculation examination. But we have decided that it is important that we will meet, even for a short time. We started to talk and tell stories as always. We realized how those moments are important to us - with all the hustle and the stress, noise, school, obligations. Here we have some peaceful moments , sitting on the couch (luxurious in the world) sinking into it, eating fruits and talking, laughing and relax. Riri, taught us how to record in the whats-up, because we saw how hard it for her is to write - and it was very entertaining. She even sent us a great message in which she tells how she enjoyed and she love us. We brought her a small gift in honor of Tu Bishvat (potted mint that soon will be renovated porch) and sliced fruits.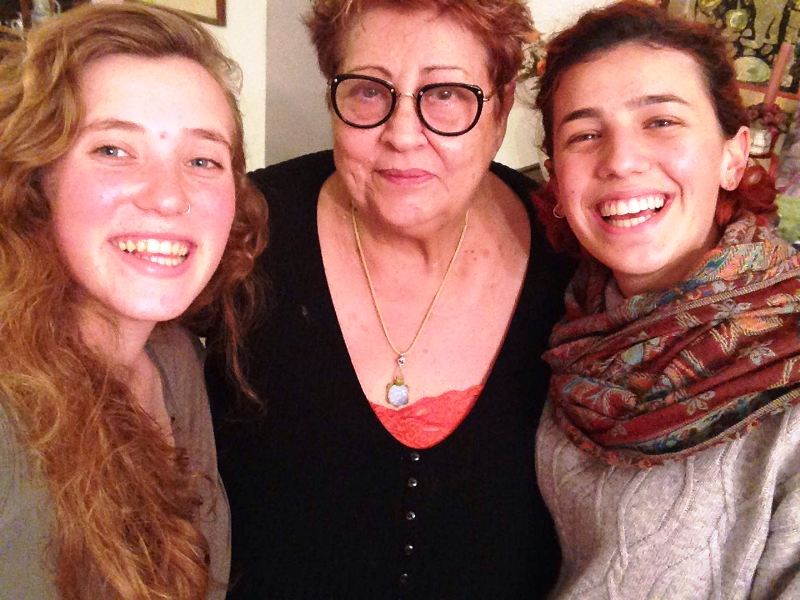 Riri
News from the north :
Mayan Baruch

Last week, We have been blessed with dry and sunny weather, while the whole morning was rainy. I decided to carry on with our plans and the winners agreed to that. The students and winners have planted an Almond tree as a symbol for life.
We dedicated this tree to our dear winners, who has passed away recently .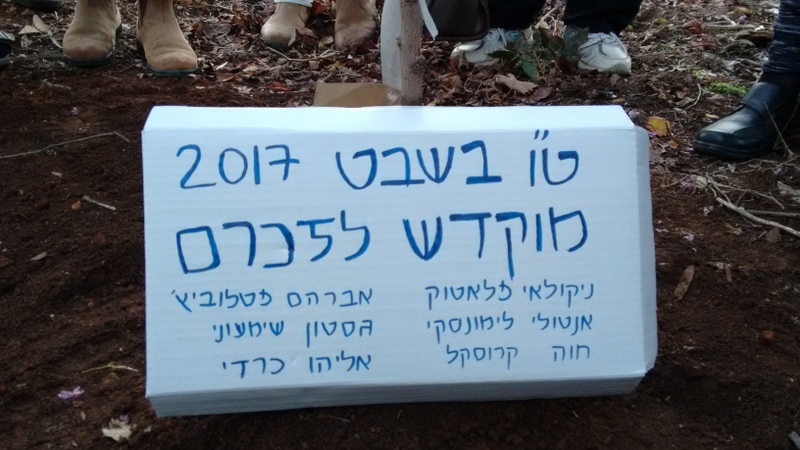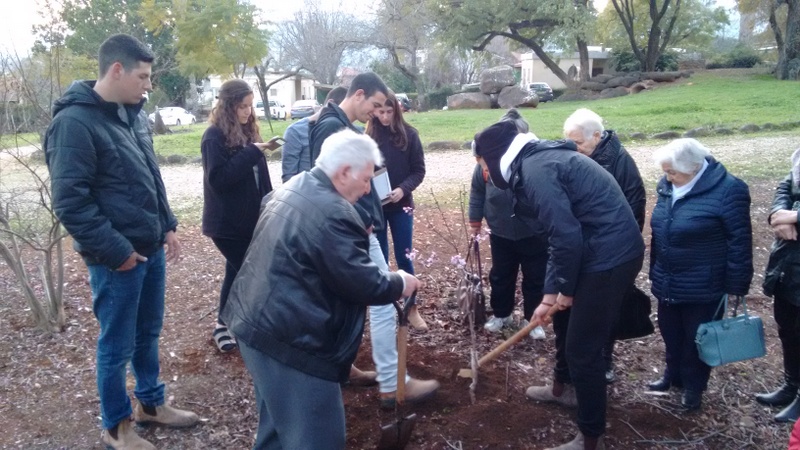 Planting an Almond tree

These are:

Nicolai Platok from Kiryat Shmona (Zina's husband).
Anatoly Limunsky from Kiryat Shmona (Larisa's husband, she now lives in Zfat).
Eliahu Karadi from Kiryat Shmona (Bracha's husband).
Chaya Kroskal from Kibbutz Genosar.
Avraham Petolowitz from Kibbutz Genosar.
Blanka Pieg from Rosh Pina.
Gaston Shimaoni from Modiin.

Bless their memory.

It turned out, a great blessing and victory. We had refreshments together, we sang songs of Tu BeShvat and played bingo, which trained our brain and memory we returned satisfied back home.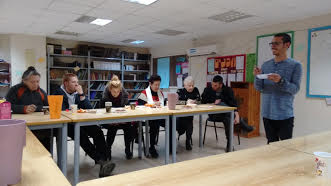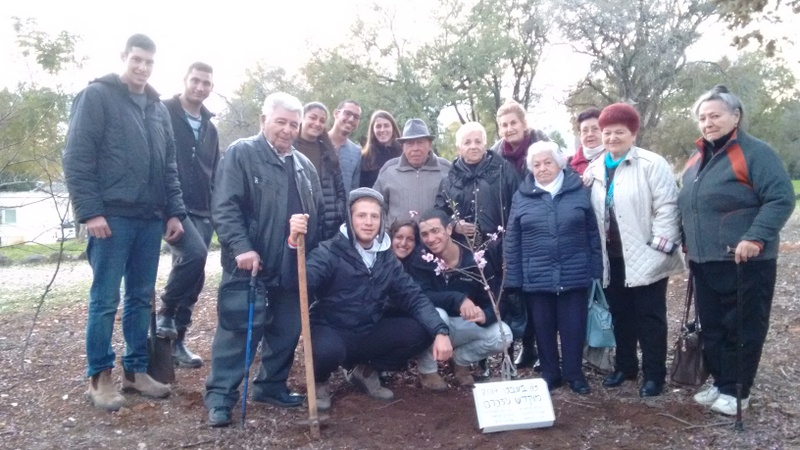 In addition, me and Anatoly, have planted a citrus tree at the entrance of Anatoly's apartment. It was his great desire which is now was fulfilled. Look on the picture how satisfied Anatoly is. Planting a tree in Eretz Jisrael is something special. something eternal. Now every day, when he leaves his house or returns home, his heart is full of joy when he looks at this tree of life.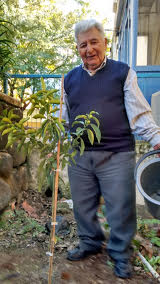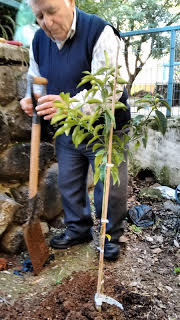 Anatoly


Genosar
The weekly visits in Genosar continue well. Miri, Eli-Ram's wife, enjoys Nitsan's help in her garden. Eli-Ram told me that Miri doesn't easily let other people to work in her garden, but Nitsan caught her heart and they enjoy working together.
A few weeks ago, Eli-Ram was hospitalized, and his heart was found to be not so well. After a few days, he returned home safe and his heart has stabilized now. EliRam is telling the students his story of life. He does it very systematically with all the details.
Batia, Israel Moshe, Tzachi all are very satisfied and fulfilled with joy when the students come. The students already build up a close friendship with them.

Now after Avraham's death, there is a gap. Two students Tzur and Anat who have been visiting him for four months, missing him very much. Zevaniet receives phone-calls, from students who have visited her in the past. . That gives her strength. Now-days, she is struggling with her health.
Chazor
In Chazor Bracha with the students: Maya and Yotam made a nice meal and talked together. Bracha is very happy. She has a big family, but far away. During the week, she is left alone. Her husband has passed away .
Ruchama also, enjoys it a lot when Daniel and Ghezi visit her. Eden and Noam help Mina very much. For Mina these two girls, are a great blessing. They help her with so many problems, when Mina can't express herself. She is very lonely and the students are her sunlight in the dark. They bring her to the doctor when she needs, they do shopping for her and other things.
Neot/Dafna

The students visited Israel in Dafna, Steve, Rachel and Ibi in Neot. They all, had a great time with them. The relationship is growing deeper and that is good to see.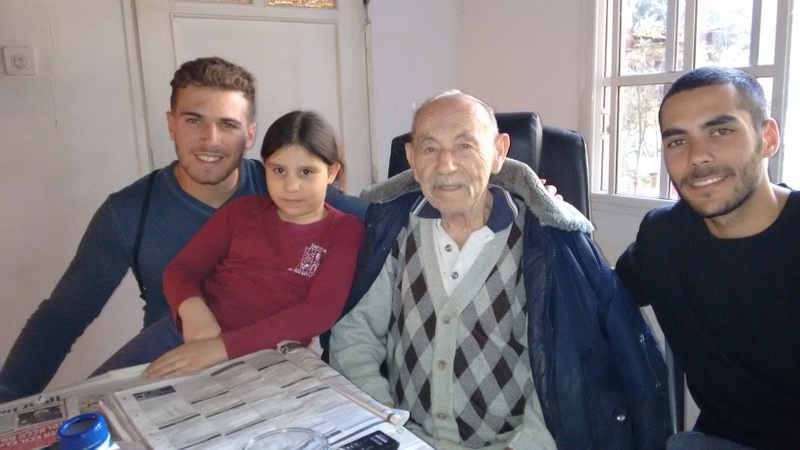 Israel
Rosh Pina
In Rosh Pina me and the students of Kfar Hanasi visited Channa, a new winner from Tunis that the students start visiting since Blanka has passed away. Channa is very creative and communicative and still young in her soul. She lives in Rosh Pina already 70 years. Her husband passed away five years ago.She has two daughters. Her husband's family, have lived for 18 generations in Israel when she married him.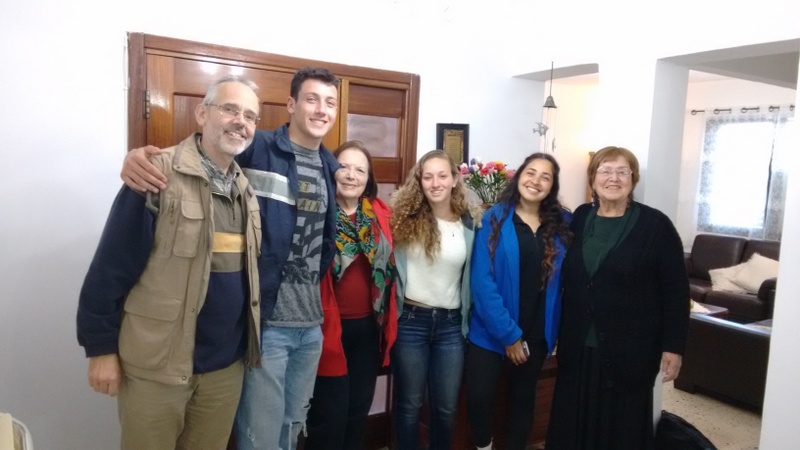 Visiting Channa and Rachel

Rachel was a bit tired and had not much strength. She got a strong flu already some weeks . Israel is doing well.
Baruch HaShem!
Timek
Zfat
Yoav and Dori: Today we were with Yehudit.
She told us about her journey to Tiberias, to rest and enjoy. For her it was amazing and she really finds it hard to come back, physically and mentally. She told us, that in the club, they play a lot , and she does physiotherapy there. She told us that she enjoys when a woman came to her to polish her nails.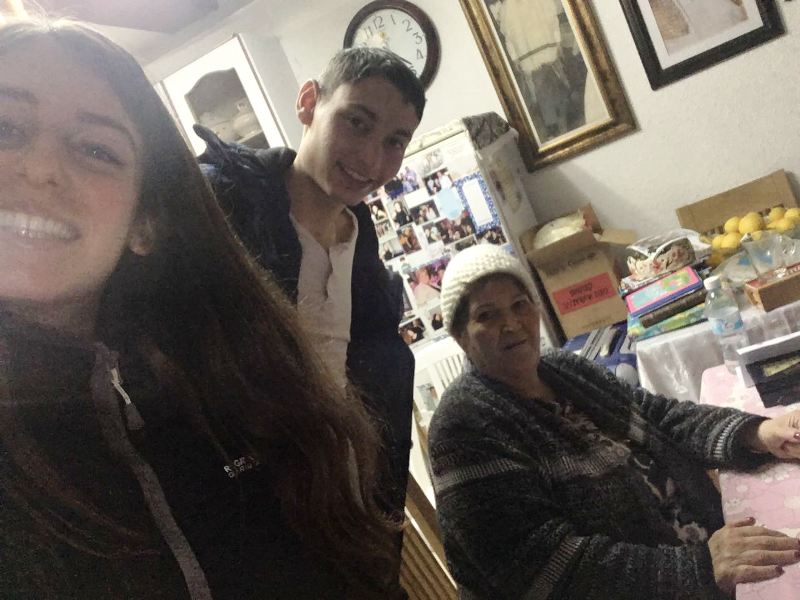 Yehudit
Liam Neta and Itamar Today, we visited lovely Lillian and Meir. At first we helped them cover with plastic coffin and gas leaks to not get wet and they were really glad we did it. After that, we sat drinking tea and biscuits. We talked a lot about the orthodoxies and the territories, because we have just came back from a Saturday in Judea and Samaria. I got to know Meir for the first time and familiarity have turned out that his brother used to live in my kibbutz (Kibbutz Gezer) and Meir has served in the military base of the council of my . In summary, I had a really nice day and fun.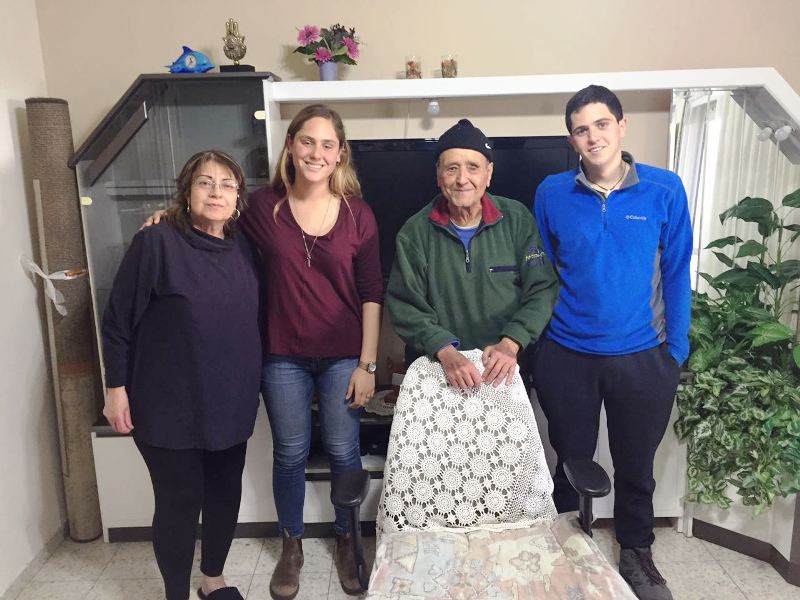 Meïr
Itamar and Netta, came with me to visit Eli. It was amazing, he told us about the Holocaust and poured a million stories and was moving like crazy. He talked about how he was separated from his family, staying in labor camps, and explained us the areas in Hungary, Austria and Poland. Our conversation brought us to hear from him and it turned out that in two months a biography of his life is going to be established. His story is always exciting.

Ran and Ori: We got to Esther, and Uri had to leave to the summons of the army and had only half an hour. Esther really appreciated it and was excited that even though, he made it and came to see her. Then we were left alone. She told me about her job and the people she works with , it sound that they like her very much, and she does everything with love. Then, like every week, we played a few games. It is always fun to come to her.
Koren and Noa: we had the visit to Diamenta and Chanan. Chanan did not feel so good after shopping , and he so went to his bed . We talked about what has happened earlier in the week and Diamenta told us how was it to do shopping in the market. While playing, Diamenta told us a little, about Tunisia and what was the reason for her family to immigrate to Israel. We had a very tasty lentil soup, she had prepared and then we have joined her with baking cookies. She was very happy that we came, and we, really enjoyed her.
Shir : New week, and I went early in the morning from Modiin to visit Meir and Lillian my dear couple. They accepted me with hugs and kisses and with great joy. Lilian immediately, started to set the table and she kept asking what to bring, and did not stop to spend and when the table was fill the table as if it's a whole regiment of people. We talked a lot, and Lillian said, that she is very sad because of difficulties of their son and their apartment. She thanked me for all the vouchers we brought them for the winter and said thank God, Meier was not sick as he was last winter in which he suffered greatly . We talked about their granddaughters. One of their grand, was in Jerusalem bulldozer attack, and took it very hard. Meir reiterated, how important is a work ethic and recommended to invest in life. I agreed with him .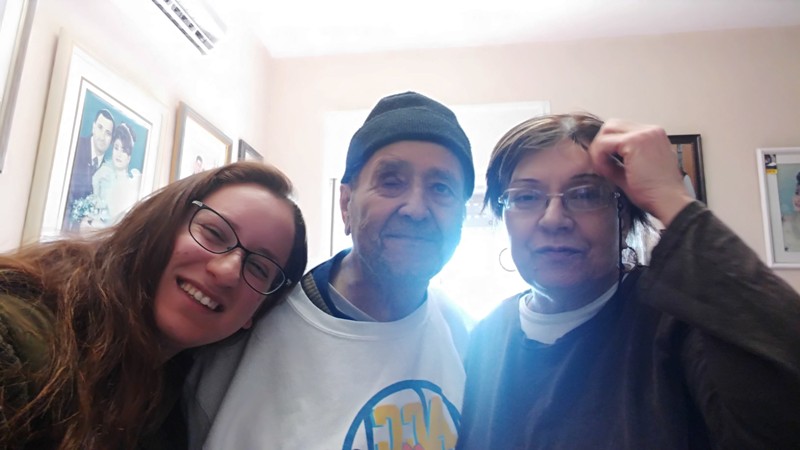 Shir, Meïr and Lilian

They told me how much they like my visits and how precious the volunteers are to them, and how they are impressed from them because they are best youngers. I enjoyed them very much and I told them about the "March for life", which is going to be in April, and they were excited and happy . I wish them, that all the troubles will be out and I told them again and again that they are not alone. They thanked me and Meir greeted me in prayer and I was very excited. Dori and Yoav: We came to visit Juli and talked with her about the territories and it came to discourse on the right and left and the death penalty for terrorists. It was really interesting. We agreed that although disagreements between us, we can love each other.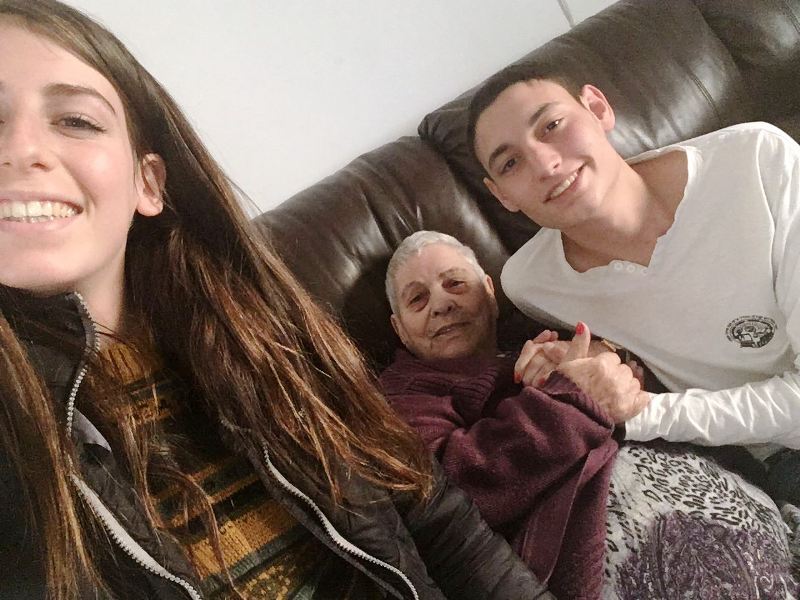 Yulia with Driand and Yuav
Itamar Lee Hee and Neta - we were at Shalom. He said that our visits relieves him of loneliness. He was really nice and he entertained us nicely. He said he was a photographer in his past and we listen Moroccan music, which he like, and told us about his actions along his day.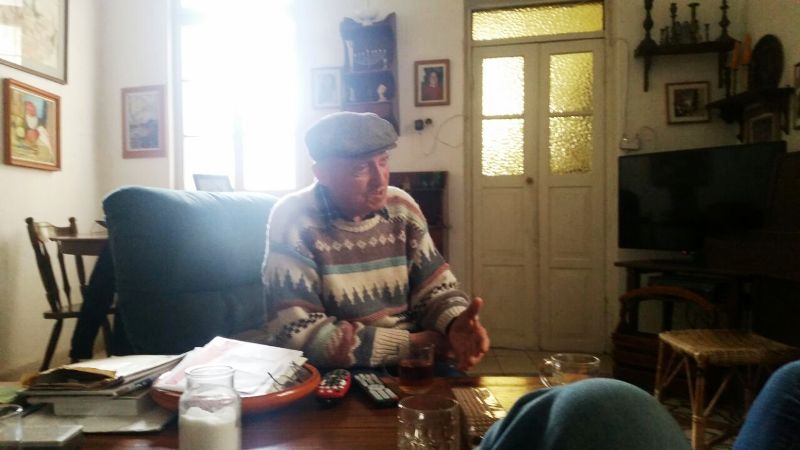 Shalom



Neta

We were also with charming Eli. He was very happy and told us how important our visits for him. It was heartwarming. Eli told us about his routine, his past and his daily activities. Eli plans to take us to the Hungarian Museum and we look forward to this . Ran and Uri yesterday: Esther didn't feel very well. She had high blood pressure that lasted for several days but she still insisted that we would come to visit.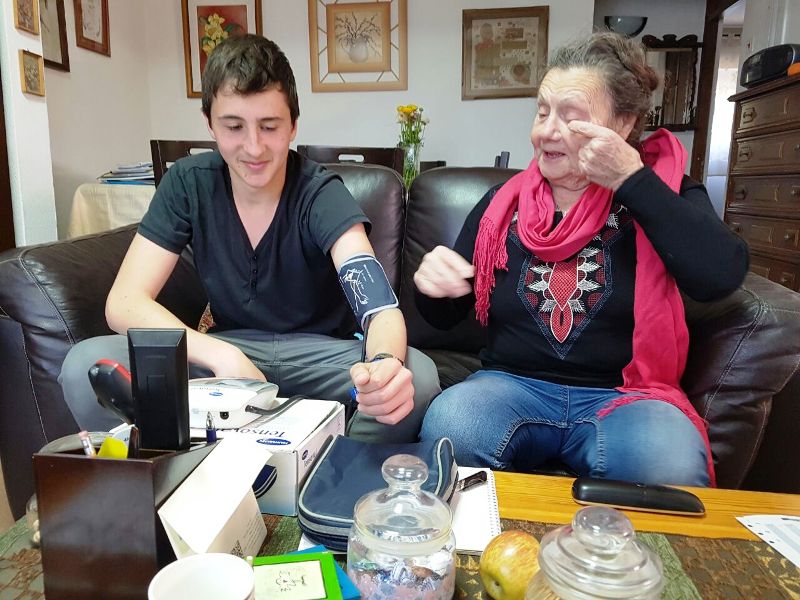 She was so happy and her mood has improved over the time and we had fun realizing it. We played cards and laughed. It was amazing to raise her spirits and ours as well.
This is all our news for the last two weeks.
Shabbat shalom !
News of this week
February 9, 2017, Sh'vat 13, 5777

Dear Friends!

As you can see, some of our work is also to say goodbye to a precious Holocaust winners, who have completed the podium role of life as we know it. Again, we have to say, what a huge privilege to to know these wonderful people. For me, this is a generation that borders generations, and all of that, belongs to the eternal dynasty of Israel throughout these generations. Jaston, Abraham and Chava, had received a great love from our operators, who received much love back from them. There is nothing, as wonderful and with life value, as the relationship between the young and the adults, giving moral and commandments of life, with continuity to the next generation, who learn from the past and will do better in the present and in the future. Secret beauty and light, inherent in this project as perseverance, continuity and deepening of these ties, forming roots. How important it is, to plant roots and to know the greatness of this nation, the crooked actions along the saturation long history of ups and downs. How wonderful it is to be part of the people, living and connected, to a large vision, living with the commandment "Love thy neighbor - as yourself " living life with the respects for lights which strengthen the spirit. This is our flag and vision.
Thank you dear winners: Abraham, Chava and Jaston, for giving us the opportunity to accompany you in your last years. Stay in peace on your bed, and give a good word about us in heaven. We will continue to adopt new Holocaust winners, wherever we can.

Sincerely,
Daniel

Shir : On Saturday, Jaston, my adopted grandfather and my dear beloved, has passed away. I remember my first visit to the home of Janet and Jaston, two years ago and a half. The connection was immediate right moment I arrived. I met a pair of warm and loving family.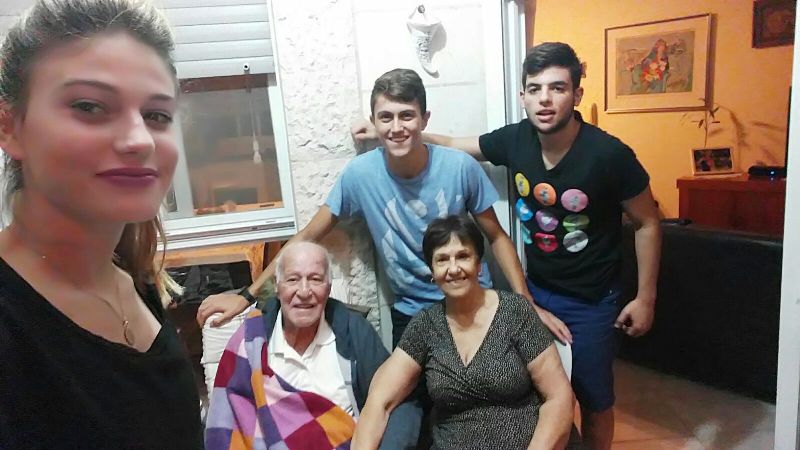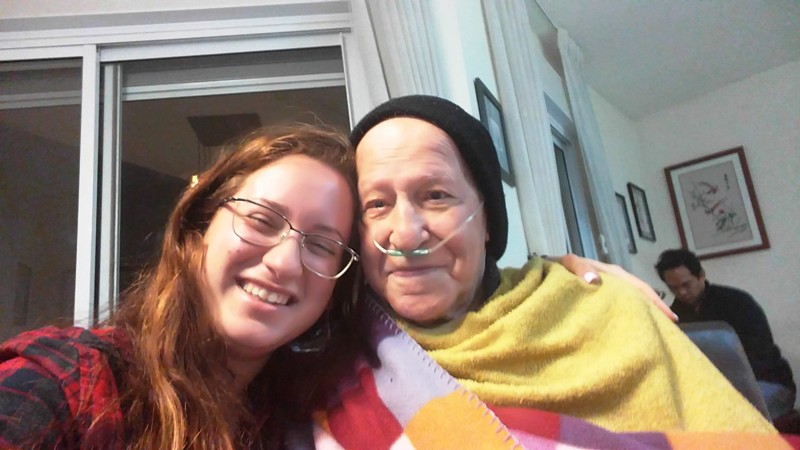 Jaston

I immediately felt at home with them. I remember Jaston always smiling, telling stories about his life and his family with sparkling eyes. Jaston was born and raised in Tunisia. After the Holocaust, he immigrated to Israel. Janet and Jaston have married young and lived for many years in Jerusalem. He was a very diligent and worked long after the age of retirement . He worked in orthopedic shoe store. I remember he told me excitedly how he liked to work and how important it was for him that the people will be comfortable and they will be able to go where they want and feel comfortable. This feature has characterized him. It was always important for him about the people around him and he did everything to make them to feel comfortable, pleasant and good. He was a family person and always very proud for all the children, grandchildren and great grandchildren. He always wanted everyone to be close and connected. He managed it in his life and in his death. I was excited to see how the whole amazing family, surrounding Janet with much love. My longing is huge, and there are no words to describe it. I can' t believe that I wouldn't see him again, I will not get into their house without seeing him beaming at me , giving me hugs and greetings as only he knows to do. But alongside the great longing and sadness is mixed with the feeling of a tremendous joy. I am happy that I got to know him. I won the connection with him, hearing about his life, laugh with him and his special humor, rejoice with him and make him happy. Jaston was a real fighter. For five years, he fought the terrible disease. He could not do it without Janet, his guardian angel, and all his family. Their special love over 59 admirably years. I will remember him forever with a smile and the twinkling eyes and his warm golden heart.
I wish my beloved Janet to have no more sorrow, and to have health and happy life with all her wonderful family, that became my family too.
Genosar : I am very sad that Avraham has died so quickly after few weeks of hospitalization. The students, especially Tzur, have developed a very close relationship with Avraham in the last four months, and has visited him every week. Few days before Tsur has visited him in his tiny house and Avraham's health was not good already. Avraham has died on the age of 91 years old. At the funeral Tzur and some other students, have attended it .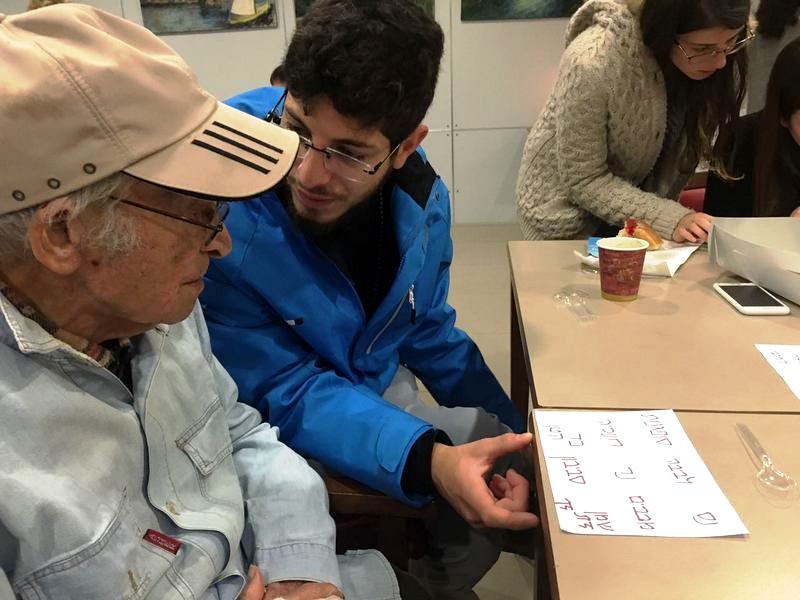 Also two days ago, Chava has died. Chava was also 90+. On the last two years of her life she spent in the nursery home in Genosar.
Our new branch in Rishon Letziun
Aido : I visited, for the first time and had the privilege to meet, amazing person. Beyond the fastest connection through the eyes, there was also, an interesting connection, I came to Mina with flowers, and it made her to take a collection of pictures with her husband who have passed away, and I could see a lot of flowers that he used to bring her. Mina told me about him (Avrham) . They have two children : Sammy and Sarit, also grandchildren, and great-grandchildren, sisters, brother and a very interesting life story, which began in a small town between Romania and Moldova, and its first victory over and over in Israel. I promised to be back soon, and there is no doubt that I will be waiting for our next session. Outside the Protocol Mina told me about the newest nursing home transition and transition economic difficulties brought along. She explained that she had a certificate of exploitation, but nevertheless, the country still barely helps her.
Zfat
Hee Lee and Lee Am: we came to visit sweet and amazing Larissa.
And because Liam has not yet met her, she told him about her life. She showed him photos and took him into her life.
Time with Larissa was a delight. We made food and sat down to eat, we sat outside in the warm sun and spent several hours together.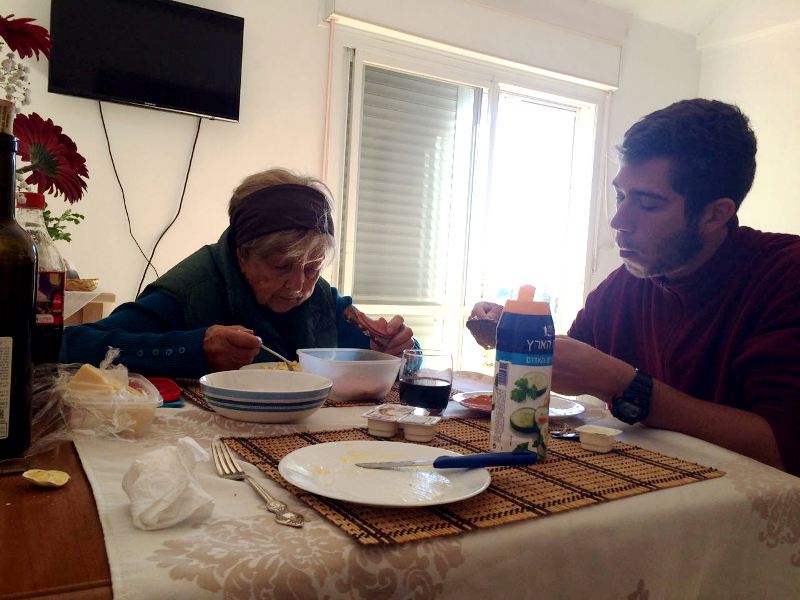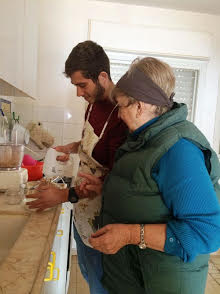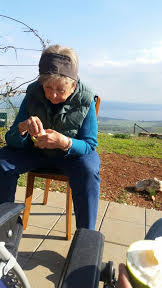 It felt so good and fun and we really felt that we were doing for Larissa happy time. She shared with us a sense of warmth she feel with the Israelis and the love she receives from people they supposedly alien and unknown to her ... it was very good to hear that these are her feelings
We went out, smiling , looking forward to the next meeting.
Ran and Ori: today visited the dear Esther. As usual, we played cards. Shared experiences after not seen each other for two weeks. She really interested in us and concerning for us. It was fun as always.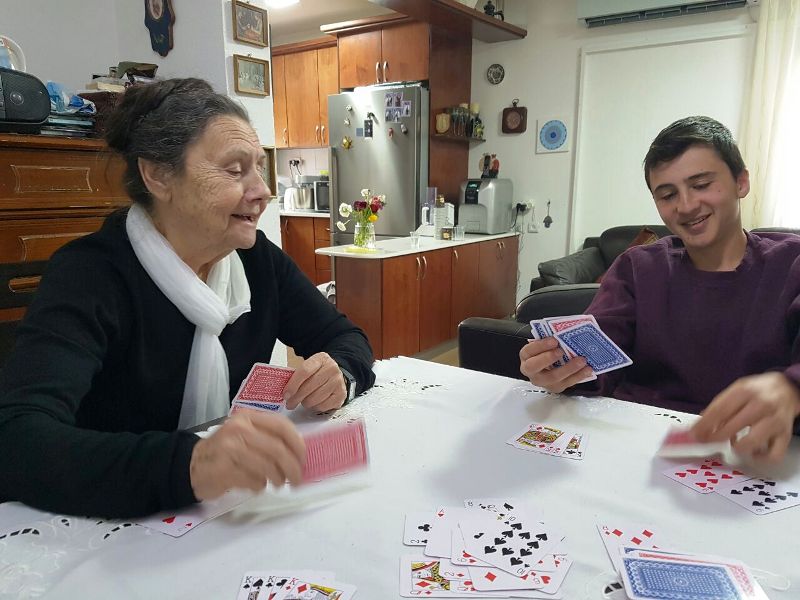 Koren and Noah- Today was our first visit. We arrived home to Diamante and Chanan . They told us a little about themselves, several grandchildren and about the children they have, what they do along the day., and all sorts of stories from Zfat.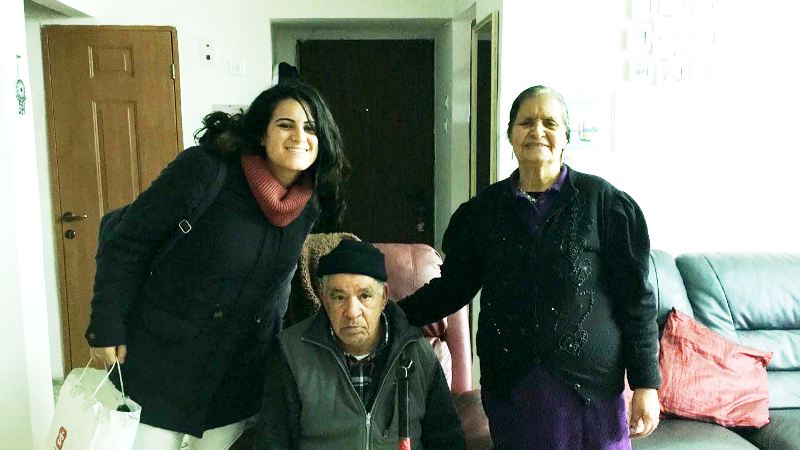 Chanan and Diamanta with Noa
We told them about ourselves a little bit, from where we are and how old we are. We shared with them what this kind of service this year and we gave them the idea what we are doing here and what's our duties.
Koren and Noa : We just finished the visit to Diamanta and Chanan. Chanan did not feel so well after shopping, so he laid in bed and couldn't sit with us.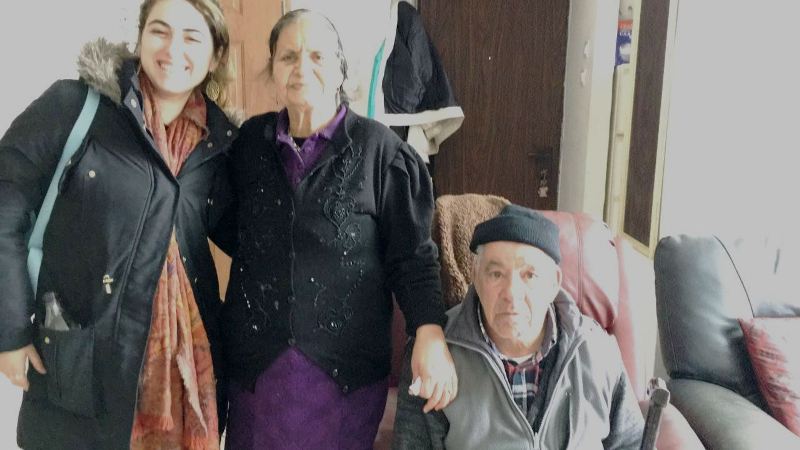 Chanan and Diamanta with Koren
We talked about how was our weekend. Then, Diamanta taught us some nice games from the past in Tunisia.
In addition, we were playing some Rummikub game, and it is challenging her and makes her a lot of joy (she is very competitive and it's nice to see her play).
While playing, Diamanta told us about her childhood in Tunisia. and about her two sisters who live in Zfat, and four brothers who has died before she was born. Diamanta is very funny woman with big heart. She told us about the Tunisian food .We said to her farewell with a smile. She was very glad that we came.
News from the North
Visits with other winners, goes very well. EliRam, Tzachi, Moshe, Batia enjoy the visits as you can see from the pictures and notes from the students. Neta and Nevo with Israel: He told us a very interesting stories. We love it .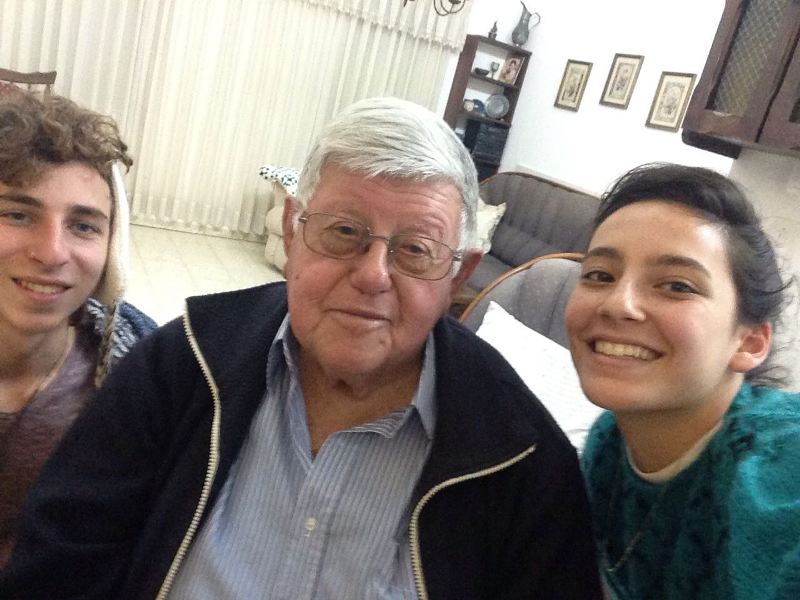 Israel with Neta and Nebo

Alon and Anat with Moshe: We discovered that Moshe love to play Domino and we all played and enjoyed it very much . At Zhachi we met Ana, the new lady who takes care of her.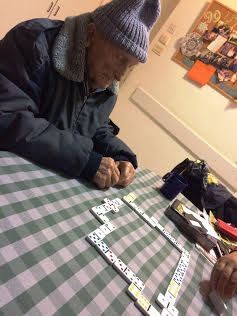 Moshe
Kiryat Shmona and Neot
The students from Mayan Baruch visited Rachel and Steve in Kibbutz Neot-Mordechai, It was a great joy for them. In Kiryat Shmona, Bracha was excited when the students came and brought love and joy in her house. Also the visit with Rina, Klara, Rachel and Israel were great. The visits encourage the winners, they know that we care for them and it give them strength in managing their lives and health issues, which are not easy for them.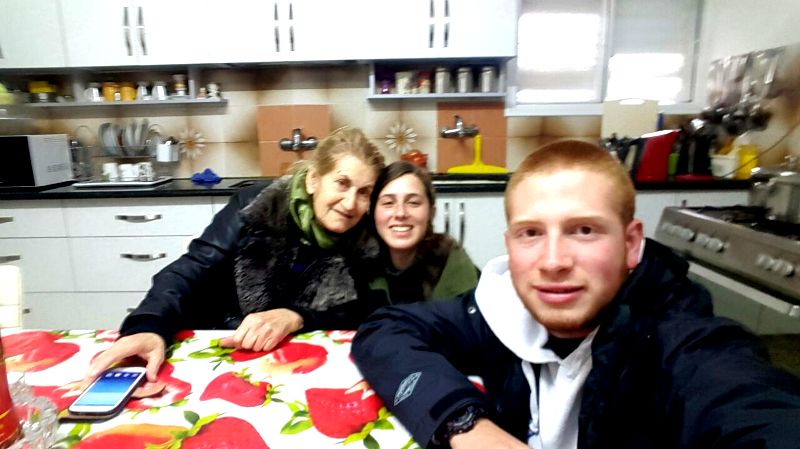 Bracha with Roy and Ellen
RoshPina

Rachel, Esther and Israel, has received visits from the students from Kfar Hanasi. They loved it. Rachel and Esther spent a week in Tiberias hot springs,but Rachel got very sick last week. Now her health has returned back to normal. Israel is doing well and feels much better. Israel is always excited when the students comes. He has a lot of memories which he can share with them.

Shalom Timek.

Visits in Pardes Channa
It was a rainy afternoon, we divided into two groups and went out for our visits. Zvia and other girls, went to visit Yonna and taught her to play checkers.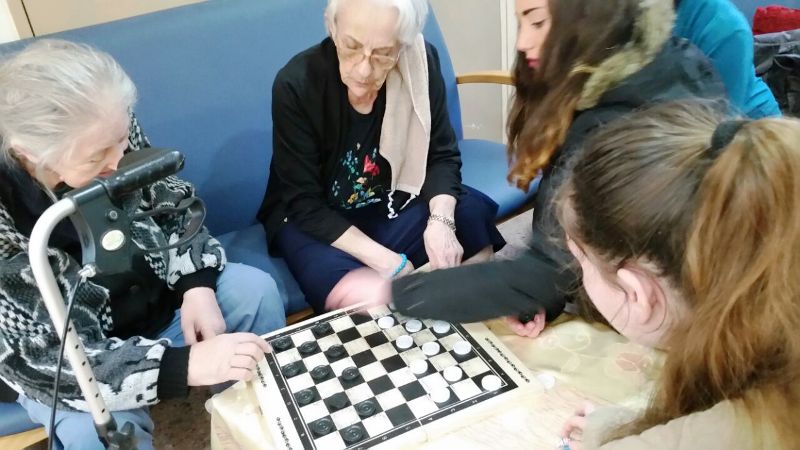 Yonna playing checkers

She took us to her room and showed photos from her past as a nurse. At Mordechai and Yeshayahu, was playing somebody Israeli songs, and the girls with Zvia joined and sang along with the occupants. Yeshayahu has not had yet the knee surgery, and it has postponed for another two weeks. I'm with two beautiful girls, went round in the private homes. This time Chaya was well enough and agreed to be photographed.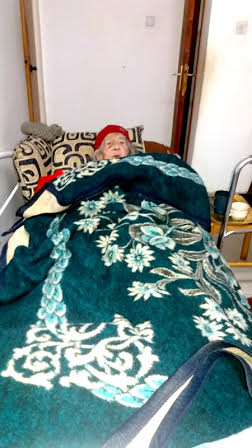 Chaya

Klara and Leonid were happy to see us and served delicious candies. Leonid's situation is not better but is treated excellent by Clara and are very happy to see us. At the Boaron's we met Rachel and she told us how she's doing. Also two grandchildren joined us and we had a lively discussion.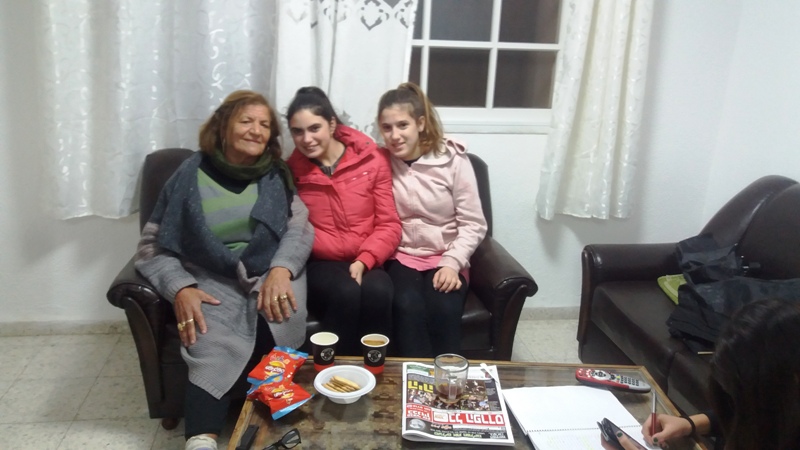 Rachel Boaron
With Zippora we met at her house and she told us about the unresolved issues still facing her. Gizela receiving us with great joy, and the girls saw the handiwork of her helper which was very impressing, and she gave them a beautiful flower from beads as a present. We ended with Aliza. Nobody gives up her visit, she always welcomes us with a smile, even if she is painful. This time, the girls got a taste of couscous she have done and licked their plates with pleasure.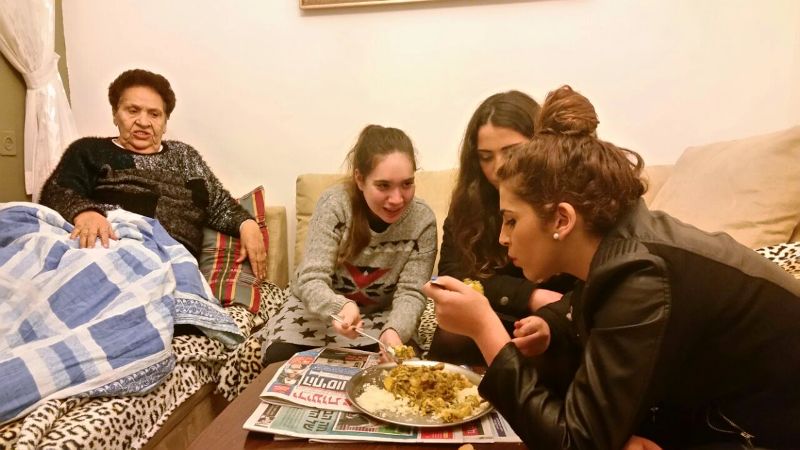 Aliza, with the girls

We returned happy and satisfied. We plan to celebrate the holiday of trees (Too Bishvat).
Rivka

Modiin
Shir : My visit to Rozitzh
Last Friday I visited my Rozitzh. A month later, she was in the hospital and were a lot of telecommunication, finally we met. We hugged long.


The book Rozithzh got from the religious man in hospital.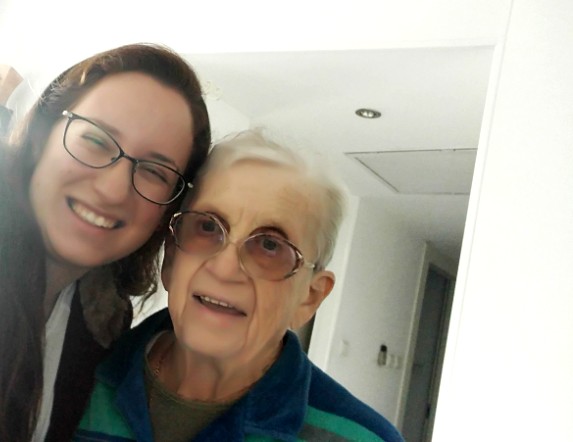 Rozitzh told me that she had a flood of memories during her stay in the hospital.One story moved me deeply. Religious man, to the hospital and gave a short prayer. She looked at the cover of the book he used, and gave her , and saw an exciting sentence which was written there:"Be thankful and believe that everything is for the best."
She told me that she thought that her sickness came from heaven. Her husband, was supposed to undergo surgery that she feared from it greatly. She said that there's a chance, that he wouldn't come out of it. And she says that apparently, she became ill so he would not go for this surgery.
She also said, that with this prayer, she remembered the rabbi's women,who brought her back to be closed to God after she has rejected religion after the holocaust. We had a fascinating conversation about God and faith. She told me that the rabbinical has said that the greatest sin is to do a mitzvah without believing in it, and it is better not to do it. She told me that she strongly believe and keep the commandments and believe in them.
Moreover, we talked a lot about her unique relationship with Mickey, her husband. She told me how their life have began with two suitcases that later, became the wedding table was suitcase on suitcase, covered with a map they received at their weddings. Thus, how they have began the life together . Two children with a dream.
Rozitzh told me she was happy all the time. Happiness is what led her to win from the terrible difficulties in her life. Good faith and be good.
My Rozitzh moved me to tears and I wish her to continue being healthy and happy.
Chagit : Today we went Mordecai and me, to do shopping at the supermarket Super . Mordecai was a gentleman and insisted on leading the wagon ... Then we had talks about his home life, the past, our laughter as always ! I can sit with Mordechai hours talking about politics, history and just about life. A lovely man and very dear to me !!!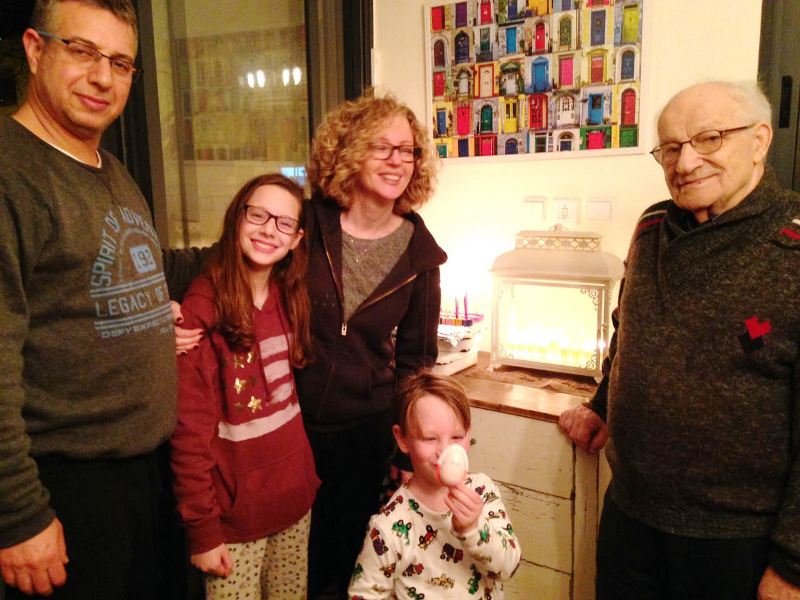 Chagit and the family of Mordechai
Maayan, Shir and Arbel : On the 26/1, we visited Svetlana and Dimitri. We talked with Svetlana about the Israeli politics and she told us her opinion on many issues. She gave us advice: always be with conscience and not to remain indifferent. At the end of the meeting, we saw together videos of a little kids singing. We are waiting for the next meeting.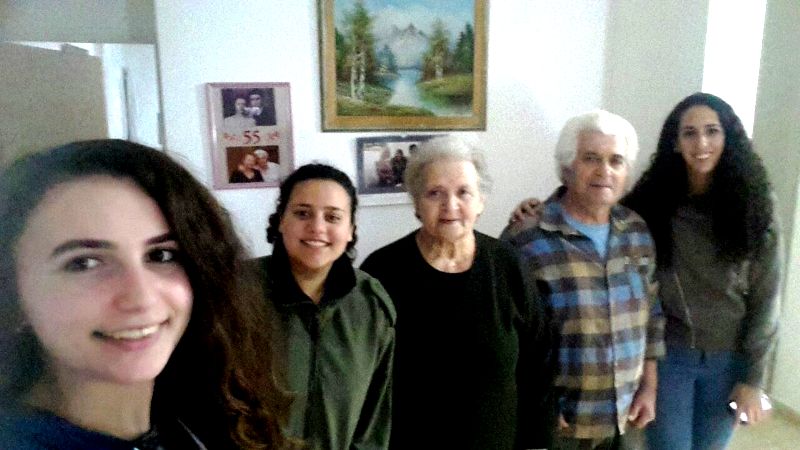 Svetlana, Dimitri, Arbel and Shir
Noa, Adi and Neomi: On Thursday, we went to visit Shulamit and Chanan. Sog'ii made us a delicious Indian food, we sat down to talk about the mood in the recent weeks, and of course, they were interested in us .
Shlomit told us about her daughter, and we shared about decision, which makes intersections. Hannan explained the pictures hanging in their walls in the house. Among other things, we talked about the places we have visited around the world, and we got to taste food from a different places. We came to the obvious conclusion, that in Israel there is the most delicious food.
Nadav Ariel and Snir : When we arrived at the home of Rozitzh and Miki, we were happy to see them after a month in which Rozitzh was in the hospital. During the conversation Rozitzh told us about her experience at the Holocaust. She recalled the first time when the family were preparing to run away from the Nazis in Yugoslavia. It was very close to the Seder on the holiday of Pessach.. Later on , her father was arrested and held in the local prison, even though, he was innocent. Rozitzh indicates that once, her nervously father has said to one of the commanders of the Hungarian soldiers in prison, "what do you want from me ??!" In response to the Hungarian soldier who said that if this Jew "dare to speak to him again, he will punish him by taking their house , Rozitzh emphasized during the story that this was not just an apartment house. Her father agreed and asked the soldier to give him three days to pack up the family's words before they leave. The third time they ran with her father, who has been taken to labor camp near Minchen Germany, Dachau. That day, the 13 year old Rozitzh, initiated her escape, with her mother and her brother (aged five). They visited her aunt that lived in the same village which were known as the rich Jews among Gentiles. There, she saw her cousin who was slightly younger from Rozitzh. Her cousin asked Rozitzh if she wants to see the gramophone, she had received for her birthday. When Rozitzh came in to her cousin's room to see the tool , her aunt caught her and threw her out and told her to go away and look for her mother. On the way home, she decided to go through the train station to see when they could get away from the village. When she reached home, she said that at 1: 30 they are going to leave and to catch the train and run away. Years after the war, Rozitzh discovered that only about five minutes after leaving the house of her aunt , the Jews were evacuated . Rozitzh said that it was her birthday present from God which directed her to escape and it saved them...
BS
Timrat
We got our regular visit at Tamar on Monday. Tamar has taught us to prepare mashed potatoes and stuffed peppers. We talked a bit about what's happening in the news while we talked she has got a call from her niece who said that her sister who is with a disease has mentioned her and Tamar was very excited..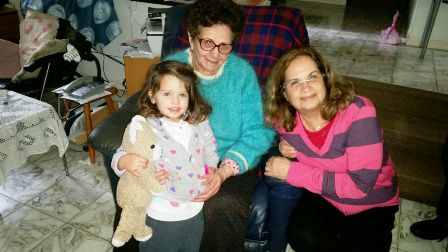 Tamar, Ruth and grander
She spoke with her on the phone with her sister and told us what they have been go trough together. The visit was very nice and pleasant Tamar was happy for our visit.
Jerusalem
Keren : It was really fun today, Eti has knitted again, ( after a long stop) and showed me the socks she'd knitted to her grand grandson. We talked a bit about what happened to her this week and what I had. After taking picture of both of us , she asked me to bring her a photo of the two of us, and promised to keep it.
Shabbat Shalom !
Rivka

The third march of life - 2017
January 26, 2017, Tevet 28, 5777

Dear Friends!
In good time and G-d willing, on the 26th of April (after Passover), we will march for the third time. This time, it will be unique mainly, because of the fact that it will be in "Neve Michael," where our wonderful pupils, mostly children of Ethiopian immigrants, will host the Holocaust winners and all our partners and students, who will come from all over the country. This year, the focus is on the march of the tree of life! which miraculously and symbolically is about the older generation reunited with the younger generation, symbolizing the eternity of Israel, and the continued remarkable journey of this nation with all its challenges and the way of how the winding road goes. The March for Life will symbolize the essence of the whole project which is increasing in spirit gusts of growth, human development and connection, prompted by such a dark period in which we are in. This is a project of the depth of the very being, developed in many hearts and which facilitates personal and general things that really matter: altruism, mutual concern, bringing the best for each one : young and adult, and the results are, a development of social sensitivity to the meaning of existence.
I feel that students and adults, no longer see this action as a project only, because it has turned out to be for the students and the elderly, a way of life which illuminates our daily lives. This is a first class educational endeavor, which more and more young people seek in order to take part in it. It should again, by being focused on and aiming to do everything thoroughly, and actually to have the experience! To experience it with all their heart and mind. It's fruit is wonderful. We, in "Lechaim" determine the quality and not the quantity and the seriousness, joy, and happiness, it brings. We do not collect projects or experiences, we are the project and we are the material and there is a big difference between the two of them. The Western world, jumps from one thing to another and it is very common, but not the truth. This is the ego of "as much as possible, so I'm worth more!" But we believe that grasping at a lot ? you have grasped nothing ....
And it is important to focus on one thing and take roots, and there is no limit on how much it can be expanded by learning, while doing one thing thoroughly and consistently.
About the March: This time we wil carry a Torah-scroll (Torah as a symbol of the ETERNAL, that represents Truth (EMET), Righteousness (MISHPAT) and Trust (EMUNA). We proclaim with the scroll that He deserves our praise in all we undertake) and pray together for unity; the prayer for this world, love for Israël and love for the G-d of Israel!
For the march we bring our shoa winners and students from the north, the south and Jerusalem to Pardesh Chana (a town south of Mount Karmel). For this purpose we rent some busses and minibusses. This event is from 11:30 till 15:00. Food and drinks will be supplied. Also a philharmonic orchestra will take care of a musical completion, and medals will be given to the shoa winners and volunteers. Several shoa winners will give short speeches. All Mechinot (students) will tribute to this day. Also soldiers from the basecamp of Shir will attend. A cameraman will make a video of the meeting. The home of Ethiopian orphans is great in helping us out by lending us their facilities. Most support is on a voluntary basis, but there will also be costs to account for. L´Chaim needs to spend around $ 3000,- for this. We humbly ask you, our supporters, for a donation for this special meeting - which is an honour to the shoa survivors and to the Eternal One.
Sincerely, Daniel.

Visits in Pardes Channa
Our visits, were marked this time, more or less allright. Besides that Yeshayahu is about to undergo knee surgery, and we send him here, to pass it successfully and then, rehabilitation will be quick and successful.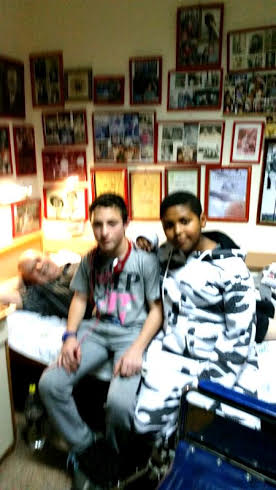 Students visiting Yeshayahu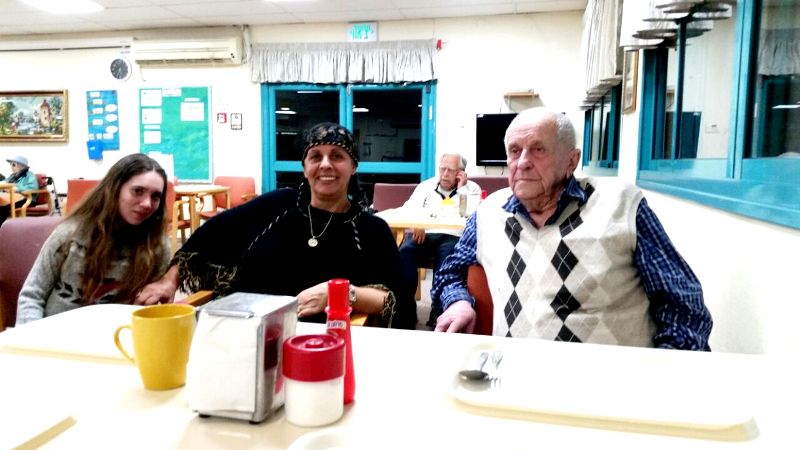 Mordechai

Mordecai, was happy to see us, and Yona was delighted with the chocolate that the students, brought her because she really loves it.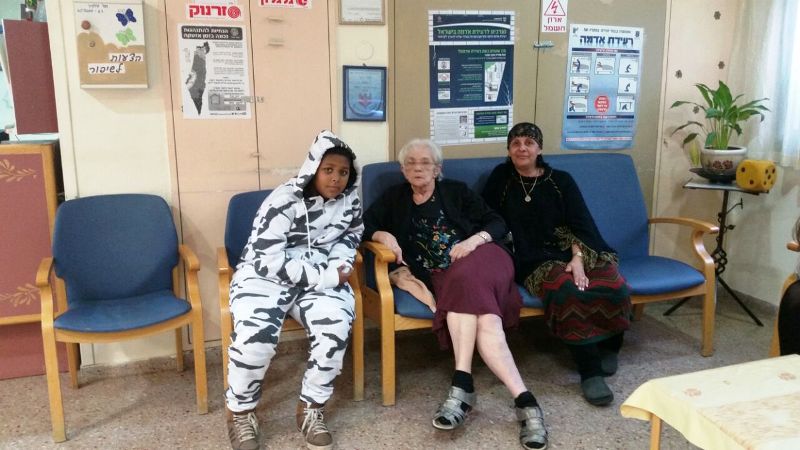 We visited, in - spite of her sickness - Chayia and Morris. She layed in bed and was very weak, and Morris with their daughter Zvia, welcomed us. Clara and Leonid, told us about the visit of their son and the newly born great-grandson, of their grandson who lives in Netanya. Their planter does not "feel good" and all the plants did not last. We are waiting for more sunny days to come to the balcony where they hold the planter and then we will plant again with them again. At Zipporah, things haven't been solved, but we are trying to help her.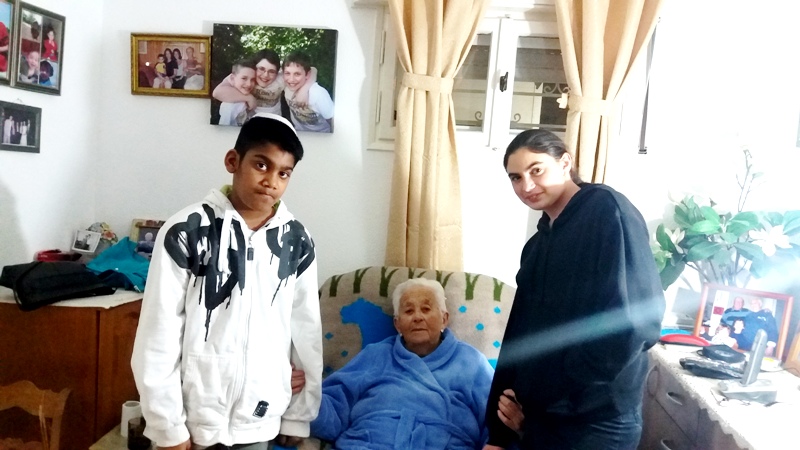 Gizela

Gizela has returned from the hospital where she was for a week. She is recovered and hope to continue the club and return to healthful and happy days.

Aliza, enjoys her blossoming garden and enjoys our arrival.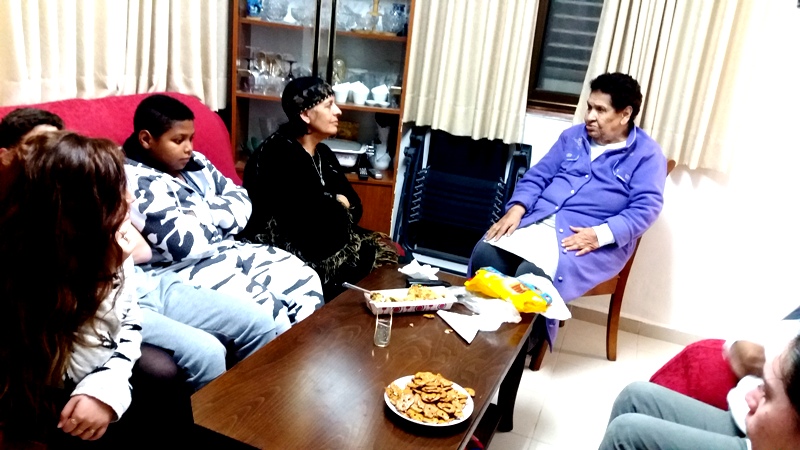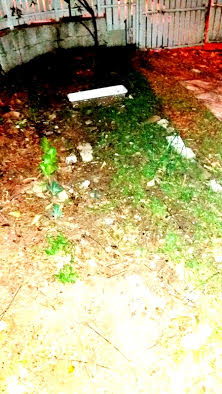 Of course, she "opened" the table and honored us generously. All our winners, received a bag of vegetables and fruits.

Best regards,
Rivka

Modiin
Ariel , Maayan and Talia - we were visiting Riri, our grandmother.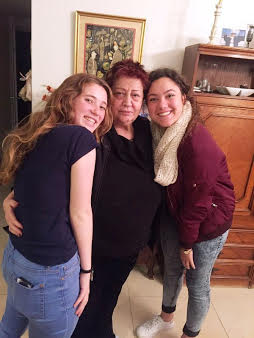 Riri with the students
It was really fun and we laughed and talked and she served us cookies. She told us that she is very tired all the time. Though it is always fun to come to her. She shares with us things and makes us feel the best in the world !!! We really enjoy to be with her. She's amazing and fun and we always love to come to her.
Another visit at Riri: Eida, Maayan and Ariel : We reached our lovely grandmother Riri , at six in the evening, she just got back from the kindergarten and despite working a whole day , being very tired , she greeted us with smile and hugs. We were an hour and a half with her and enjoyed every second !! It was so fun, funny, and heartwarming. We enjoy it and always go out with a huge smile on your face !!! So glad we knew her.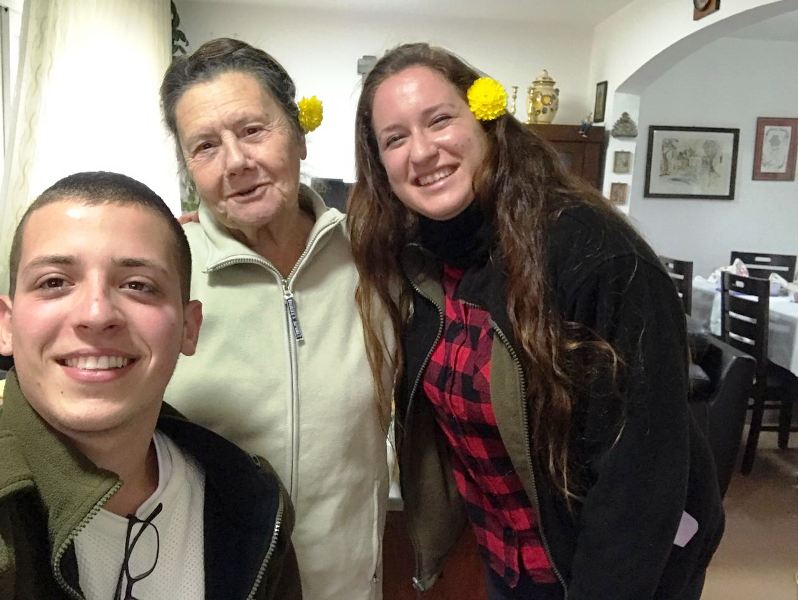 Esther
Zfat
Shir: On rainy and cold Saturday, we went, my good friend from the army Ido and I, to visit our beloved Esther. We had a wonderful lunch, Esther cooked with lots of love. W heard the Philharmonic, Esther was so excited when I told her that they will participate the "March for life" (with God willing). We talked about this week, and Esther amazed us that it did not matter if she did not feel well or slipped, she said everything with a smile and said that despite all of that, she went to work, met her friends and received love from the lovely volunteers. We talked about the love to the flowers and were fascinated by the flowers which brought light in her house. We played together Remy, in it was also nice and funny.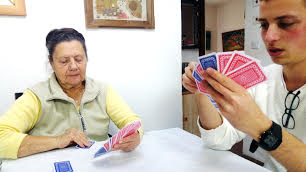 Later on joined us Alona, her younger daughter, and we were happy to meet her . We did not want to go, and as always we promised to come back soon. Esther and both of us , are so happy that we can built a warm relationship as a family.
Liam, Hee lee, and Eitamar: we came to our sweet Eli and it was just plain fun! Eli made us to have a round of Zfat, which included the history of synagogues and residents, and it was just interesting. Beyond the fact that Eli just know full stories, we could see, that he was radiant and happy.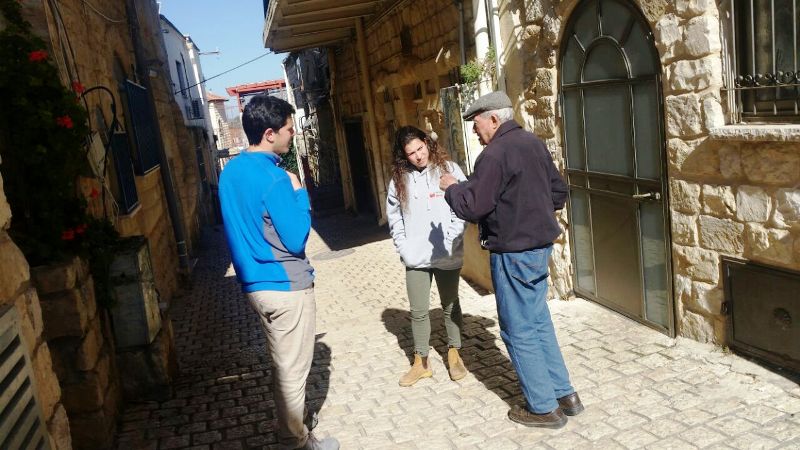 We went outside and he showed us his city. It was fun and satisfying. We talked with him about the situation in his home country - extremism among ultra-Orthodox and the secular, the situation in the territories and it was really interesting to hear his opinion. Eli told us stories about his wife Iyala. Very beautiful stories and exciting ones ... He said that she was the best thing that ever happened to him, and because of her, he was cured. We were moved to tears.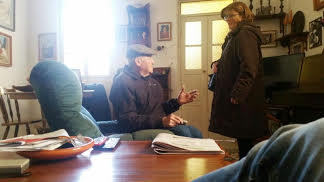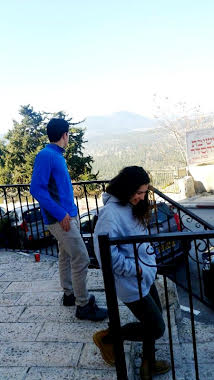 Eli talking about his wife
Yoav Dori, Ran and Ori: It was our first meeting with Judith. It was very nice. We talked with her and we played Remmy. Her name is Judith Bukhris. She is a widow, living in Zfat for 50 years or so. She have seven grown children and she meet them each week-ends. They come to pick her up, every time, another child. She immigrated to Israel at the age of 4 from Tunisia. We loved to meet her and had a nice visit.

News from the North
Genosar
Few weeks ago, Avraham had to rush to the hospital. The doctors discovered cancer in his body. Me and the students, who visit him regularly : Tzur and Anat - were shocked. Just few weeks ago, Avraham looked fine.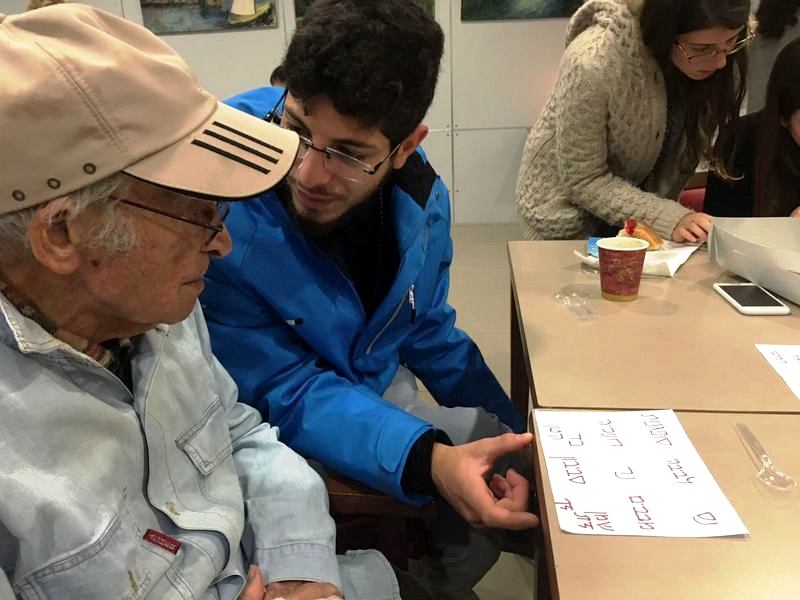 Avraham

This week, he asked the doctors to bring him back to Genosar and if they allow him, he will return home before shabbat. He is still very very sick. I don't know yet the details. After his return home, I will find out.
Nitsan worked in Eli-Rams garden with Irit - EliRam's wife. While Lihie and Aviv worked with EliRam on his life story.
Israel and Batya had a great time with the students. Anat: " Mosje was sick and didn't feel well. It was sad to see him so sick. After encouraging Mosje we visited Tzachi.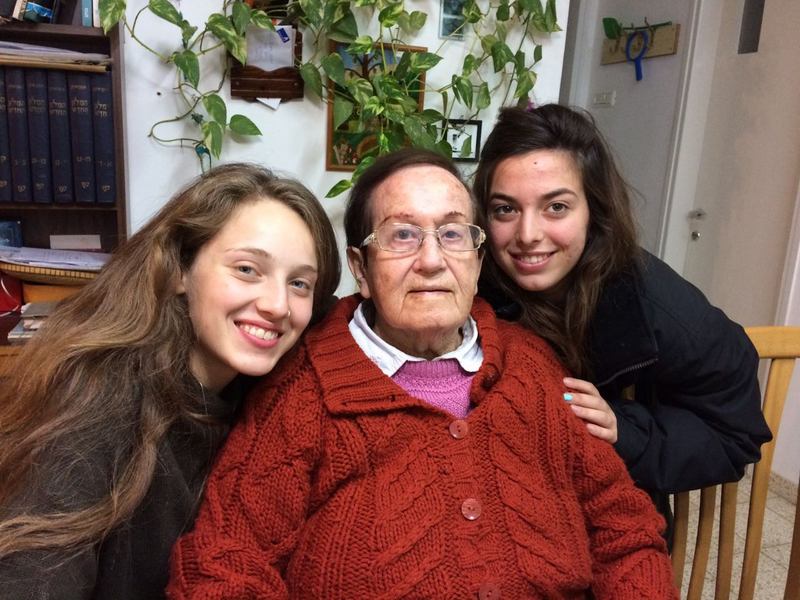 Tzachi

We listened to her favorite songs and she sang as well. It was great and we look forward for our next visit."

Chazor
Bracha and Ruchama enjoined much from the students visit. They talked about their past and what is interesting them. We also, watched a film together. In the meanwhile, Noam and Eden where helping Mina with difficult matters concerning her apartment. They need a lot of patients to help and to explain her and to calm her down. Noam and Eden deserve a special appraisal because they don't come to have fun, but they really help Mina to resolve life issues. I found out that Mina has basically nobody around to relay on and these students fulfill a tremendous job. I asked them if it is not too much for them, but they replayed no, they see how needy Mina is and they want to help her. Eden and Noam offer help to Mina with appointments in the hospital, doing shopping for her, bringing her to the doctor even outside the volunteering time. I am really impressed what and how they do for Mina.
Kiryat Shmona
All the winners have received support from L'Chaim for warming up their houses. The cold winter continues and we encourage them to use heaters, and they do and are very thankful for the help they receive. I didn't expect, that this week the students from Mayan Baruch were going to volunteer, but somehow their program have changed. The boys made all the efforts to visit Rachel and Steve in Neot and with me Omer and Yuval visited Rachel in K. Shmona. She made a cake for this occasion.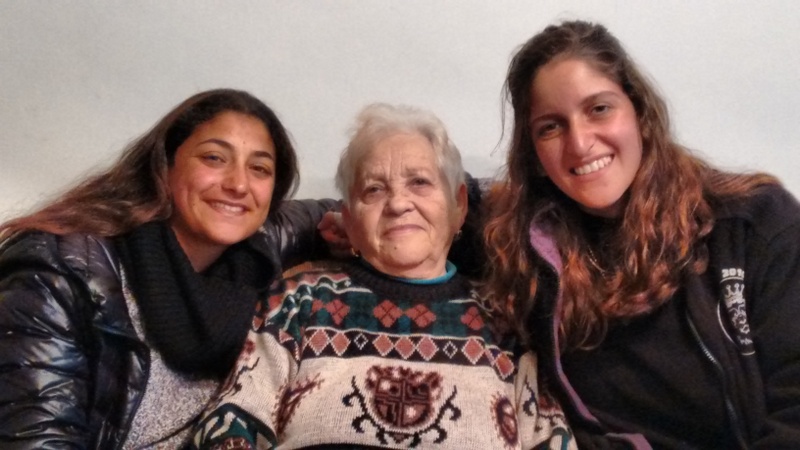 Rachel

It was fun and students love to visit Rachel again. Anatoly, Klara and her brother, who came to Klara's house.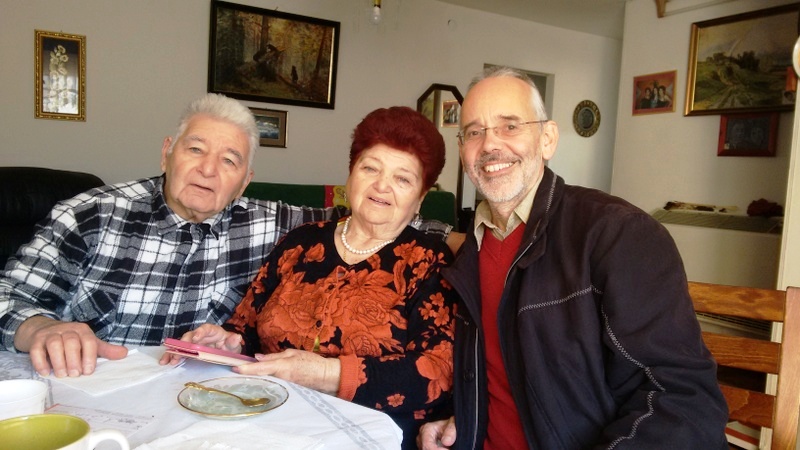 Visiting Klara and Anatoly

We had great time together. Lisa's elevator didn't work, because some of the neighbors don't want to pay the monthly fee. For Lisa this is a big problem. She lives on 5th floor and wanted to go down to catch some sun on a bench, but without elevator it is very hard for her. She depends on the elevator. Israel and Ludmila are doing fine and thank God for waking at every new day. Neli: her son made a new garden in front of her house. He made a fence and planted flowers and a lemon tree. Neli is fulfilled with joy.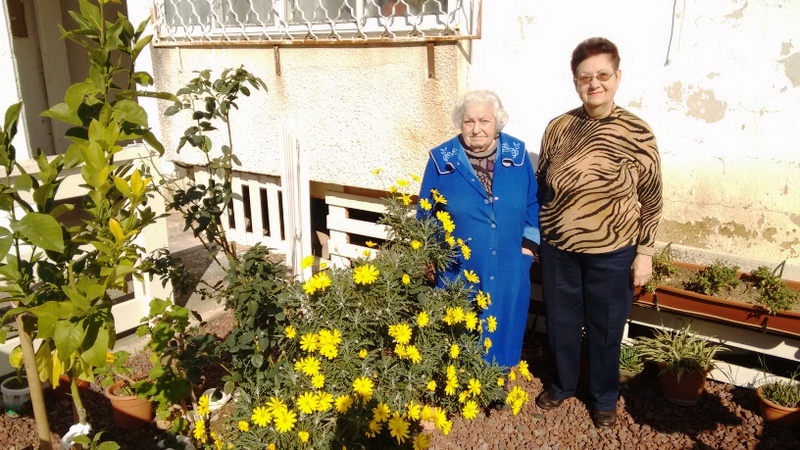 Neli
Regards,
Timek

Jerusalem
Keren: Eti told me about her experiences in the club activities. I already feel much more comfortable with her and really have fun.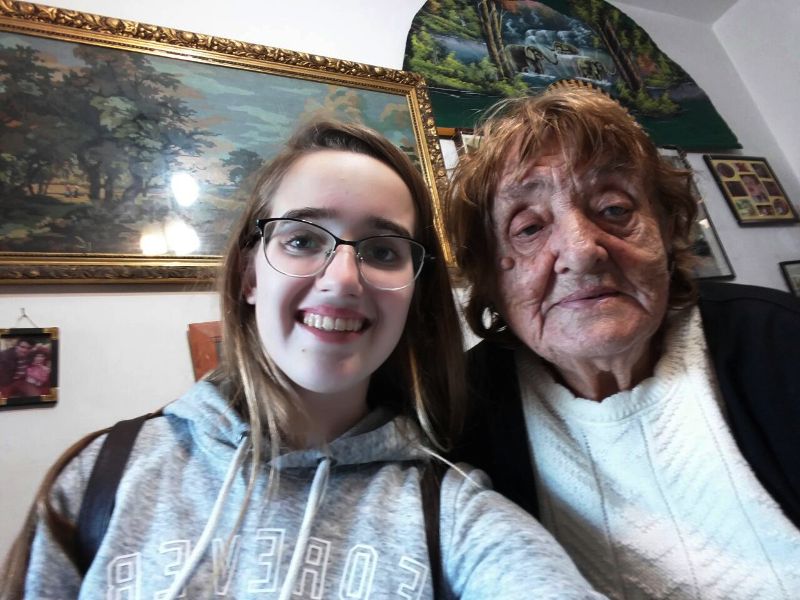 Eti with Keren
I told her a little bit what happens to me on the processes of military tests and she was very interested. We arranged to meet again next week.

With thanks to our dear Shir, we are opening another branch in the city of Rishon Lezion. Shir has successfully excited her friends from the army who have contracted the 'virus' and have also sought to establish and operate a branch in their city - Rishon Lezion. With a great effort by Rivka to find the winners, we were able to open the hearts of three winners of the Holocaust there, waiting for a first visit.
Shabbat Shalom to all of you,
Rivka


Daniel Braun
E-mail: danielxrw@gmail.com
Phone: + 972 54 772 3510
Welcome to our website at: www.lechaimtolife.org



Justice and Law - according the Bible
January 12, 2017, Tevet 14, 5777

Dear Friends!

During this period, we have witnessed a fiery public discourse about many issues of which the leading story is of Elor-Azaria. I would like to try and understand the reasons for this violent discourse and its disastrous results. First, let's try to understand the matter which is called justice. The word humanitarian is a beautiful word but also dangerous when it is not understood in a deeper way. We can see in the annals of history, the disastrous results of generations of Western humanitarianism. Western European humanitarianism is in favour of freedom and democracy in which everything is permitted. But when there is no internal work on the proportion, and a healthier judgment between right and wrong, everything becomes a rotting pulp of the one thing that is inflated above other considerations. This allows much evil and cruelty, as it is written: "Without a vision - the nation will perish ".

But, what is justice according to the Bible? First, the provisions of the Torah and its laws were established by the Creator of the universe and the galaxies, with this amazing potential of the Torah, the origin of the land of the living. The Torah and mitzvot, were given to us so that we would have a social life based on Law and Justice given by God. But, notice the beauty of these laws through the great commandment for peace - as pleasant as the singer of Israel has said: "Seek peace - and pursue it! " and the commandment of " Love thy neighbour -as yourselves! But simultaneously, there is also benefit from that most wise man - King Solomon who said: "A time for peace and a time for war. time to embrace, and times to refrain from embracing", and there is a clear and sharp command, "the one who rises to kill you, kill him first." The world of Torah requires of us daily, of reckoning and a never ending task to learn the borders. To learn "that life and death is in the tongue". The situation today is, that the Right and Left are in such a deadly conflict, that when an interest arise such in as the matter of Elor-Azaria, personal interest is blurred and quickly rises up into political concern. This conflict, only serves one thing: the enemy. Our bitter enemy is not impressed by Western Humanitarianism, without boundaries. They despise it and interpret it as weakness and that's what motivates them to hurt the divided nation of Zion in every possible way . The enemy smells the blood, as a shark in the depths can identify blood. Unfortunately, the bad blood goes first in an internal struggle. History has proven all along, that every time we have tried to curry favour from the Western countries, and we tried to get sympathy and approval, we got exactly the opposite. See where humanitarianism led the Western culture: the Holocaust as one example. And another example: open borders without restrictions which have increased the terror and will continue to increase it.

We have to know, that the probabilities and the only power, which exists in us as a people with healthy vision, is based on biblical values and beliefs and not from the world and their institutions. The biblical vision, teaches that the right - is the right of Hashem, but He must be in peace with the left as one body and mind. But all of this, is conditional only if we are united in the eternity of pure nature, with the God of Israel, the people of Israel, the Land of Israel, without guilt, without whipping ourselves, and indulging in self-hatred, following the media and the noisy majority, but learning in our inner soul, the wonderful worlds that are full of divine potential-existing in our souls. But that requires real integrity and courage to look and see our real inner soul, as well as the history and chronicles which have led us to this point, as the Bible says, "between two generations." In other words, look back at your past and learn from it, about the present. This is the period which requires a lot of courage, not only to tell the truth, but mostly to walk within it, to project the truth and not be afraid to say it, but within a form and manner that has no violence in it. We must remember that, the only way in which to face the challenges which are right for us, we need a real motivation and a genuine desire for unity. To cleanse and remove from our midst the cry of hate and violence which only pollutes the world. The word truth requires, to find out the truth, which is burning without hesitation, to dance gently, with joy, determination, and love for Israel. Understanding the remarkable potential that exists in us since the dawn of the creation and the cooperation, which will do good, will serve as a beacon to Israel where truth and justice, will work out as an example and light to the world. courage! courage! courage !!! Grace is the light of the world.
Dear Friends!

For those of you, who take the time to track our visits weekly, keep in mind that the most important thing is not what it says but this huge grace and light, every meeting itself, which awaken in adults and young rivers of grace, Indeed in times like ours, it's build a real bridge to a better world. Pray for us, to expand and intensify activities everywhere. This light and grace is the significance of this project. Conditional love and communication between such different worlds. But it bring hearts to heart as one, with significant vision shared from the dawn of the day, to the end of the days.
Daniel

News from the North
After Chanuka, we have returned to the regular schedule of our visits in Genosar, Chazor, Rosh Pina, Kiryat Shmona, Neot-Mordechai and Dafna. The students know their way to the winners , love them very much and connect with them with a great joy. Here follows some of the highlights from our visits of the last two weeks.
Rosh Pina
On the night of Shabbat , the 6th of January, Blanka has died on the age of 91 years old.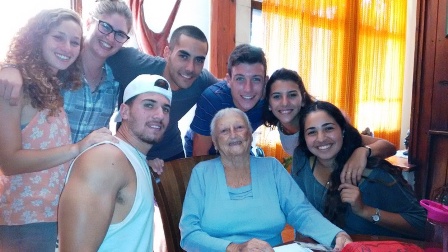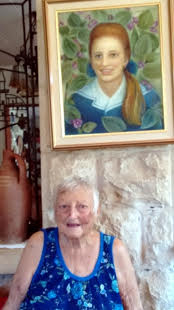 She wanted to live more. She loved Eretz Jisrael and the Tanach. She was connected with the nature and her garden was a paradise. She longed so much to teach the students the love and connection to Eretz Jisrael, the only Jewish homeland on the globe. But her health, didn't allow that anymore. The last visit of the students was in November 2016. See the beautiful picture! Then she was hospitalized and last week, she came back home and died peacefully , fulfilled with satisfaction and thankfulness to HaShem. After Shabbat, some of the students from Mechina Kfar Hanasi, joined me to the funeral. Day after our regular visit to Israël and Rachel we came to visit Blanka's three daughters, and grandchildren in Blanka's house. Her daughter, thanked us from the bottom of her hearth for the visits of the students through the last three years. Students Yam and Eden, from last year, have been in touch with her all this time, while they serve in the army. Again, we have lost a very dear friend and brave winner, bless her memory.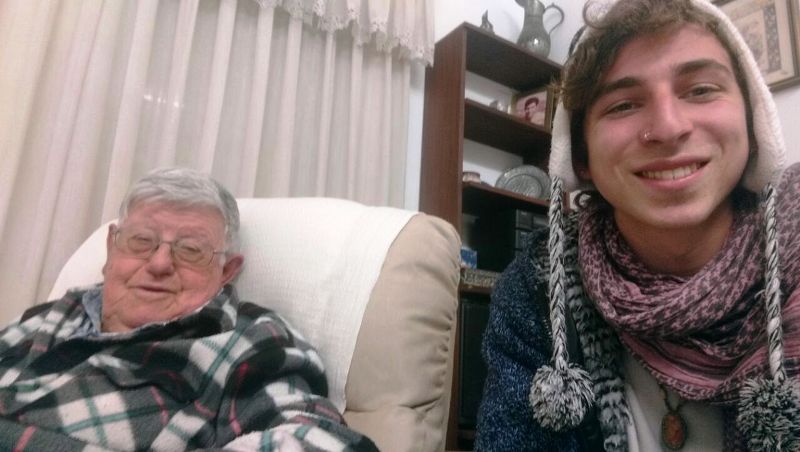 Israël together wit Ofer
Israel fell down, and for a few weeks he could not walk . He refused to go to the hospital. Now he feels much better. Baruch HaShem. He also 91 years old and is getting weaker every year.

Rachel loves the students so much she receives so much joy from them.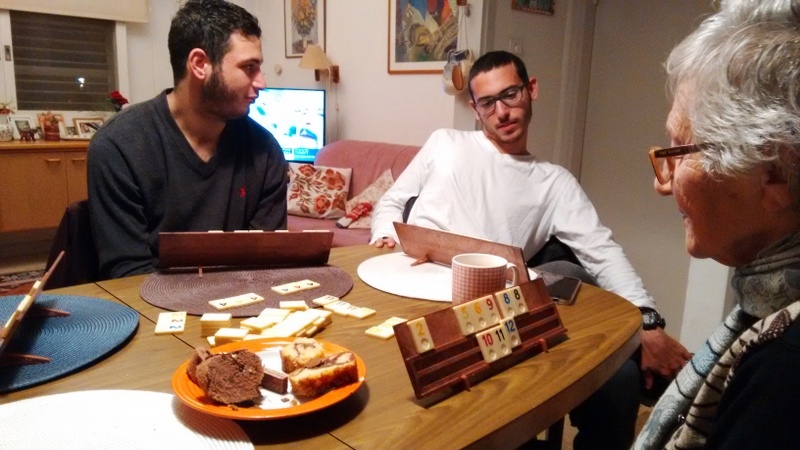 Rachel gets visits from Nadav and Eliav
The students love Rachel and Rachel is excited with them. Last week they played Rumicub together and had a lot of fun.
Neot-Mordechai
Ibi is very active with painting and following activities in Tel Chai Collage. So she remains young in her 90's. Her house is cozy and Yuval and Omer love to visit her. Rotem and Omer visit Steve. Steve has a great photo camera and make's pictures everywhere he can when he leaves his house. He showed Rotem and Omer the chanukka pictures he has made during our Chanukka party.


Dafna
Roi and Ela visit Israel from Dafna. Israel and his wife are a busy couple and traveling a lot. They love the visits with the students and together have a great time.
Kiryat Shmona
Many have been sick during the wintertime. Klara went through heart operation and is recovering slowly. Klara, Bracha, Israel, Rina, Neli met with the students and had a great time together. Klara tells the students all the stories from the ghetto in Ukraine while they eat pancakes that she prepare which has turned to be tradition. Roman, Klara and Lisa also enjoy much from the garden already have started to use the products in the garden they have grow.
Chazor Noam and Eden visit Mina. Last time, they made shopping for her. It was cold and rainy and Mina couldn't go alone. It helped her so much. Yotam, Yuval and Maya visit Bracha. Bracha was hospitalized, with problems in her leg. Now she is back, resting in the house and they talked about Chanuka and watched film together. Daniel and Ghezi visit Ruchama. They love Ruchama she is very sweet and loves animals.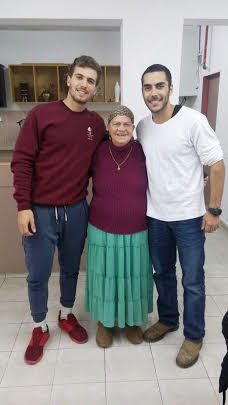 Mina


Genosar

Our weekly visits to Genosar are great. Lihi and Aviv visit EliRam and write down the details of EliRam's life story.



Eli Ram

Tsur and Adi visit Avraham. Gal and Nevo visit Batia. Batia was hospitalized but is back again. Neta and Ofri visit Israel. They love to hear the stories from the first years of the Kibbutz Genosar. Anat and Ella visit Mosje. They have joy together. Mosje is so happy and much more alive person because of the visits. Alon and Anat visit Tzachi.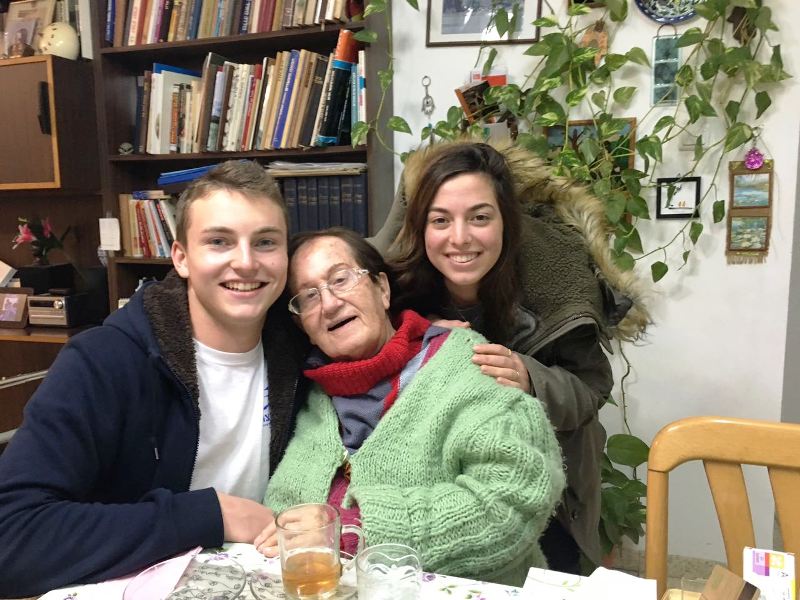 Alon, Ella and Tzachi

Ofri: Today I was alone with Israel. It was e really nice. We ate a tangerine and we saw some animals TV channel and news Alon : Today I were with her when Tzachi were very nice and had heard Arik Einstein songs and talked about Hanukkah and the last two weeks. Zachi even sang some classic songs we heard !!
Tsur : It was very interesting with Abraham . We met his son Eli, and we had a good conversation with both of them.

Timek

Pardes Channa
After two weeks of passing Chanukah, when the students from Neve Michael were on study leave, We have returned to conduct the project "L'Chaim", and the capricious weather was calm and no rain. So, we went as a group with Zvia to Shoham, to visit our winners there. This time, Mordecai after so long, began to tell some details of his past, and he told us that he was born in Poland and his father was a grocer. But had to run away to Germany and they was there for four years. Through the youth Aliyah, he was taken to Israel, but was captured and exiled to Cyprus by the British. Few months later, he was allowed to come to Israel, Joined the army as liberated, lived in Haifa and married, but they were unable to have children. He was a grocer and always in a business of buying and selling. He expressed his appreciation , and thanked us for persisting to come and visit him. even Yeshayahu sat and heard the story, and told about himself. He was married twice and had an adopted son who has died at the age of 57. In his room, he showed several honorary certificates hanging on his wall for his volunteering activities. Jonah told us that her daughter comes and takes her sometimes to her house. We saw the planter developed and Jonah really love it. I'm with another four students, went to visit the winners living at home. Something really exciting was to visit Clara and Leonid, who told us that their son who lives in the USA, and is professor of mathematics, teaching at UC Berkley, came to visit, because they (no longer) can visit him. The excitement was great.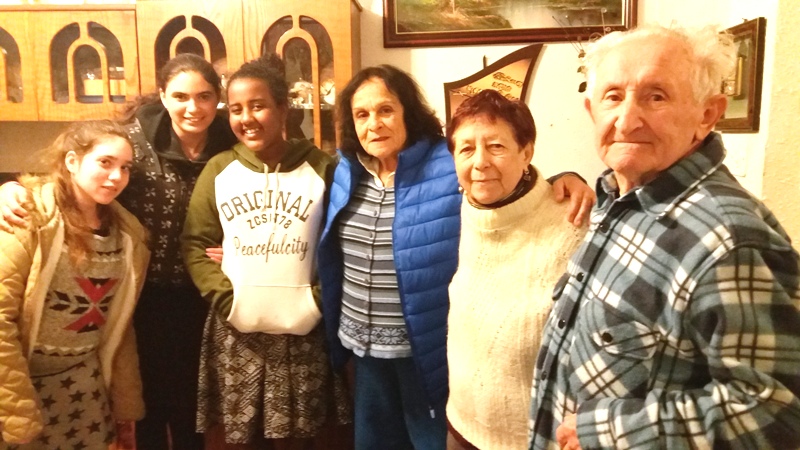 Clara and Leonid

Zippora, came back from her birth city ( in Hungary) with deep disappointment because she couldn't reach her sister's grave, and actually find out that her nieces (four) has converted to Christianity, and want nothing to do with their aunt Zipora, and would not even tell her, where her sister's ashes. But she was happy to see us and request our assistance in connection with her neighbor harasser. Gisela is already 90 years old , she told us about the day club she spends her morning every day.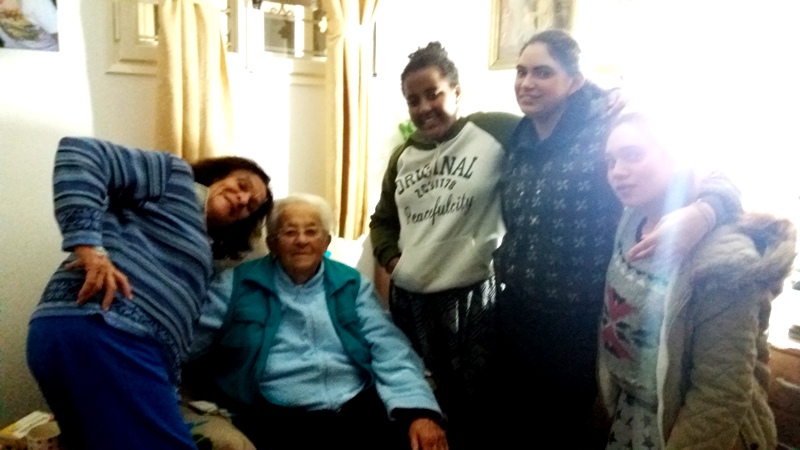 Gisela
We finished without missing Aliza. Her renowned garden of her, really roused , and all the plants which we planted are flourishing.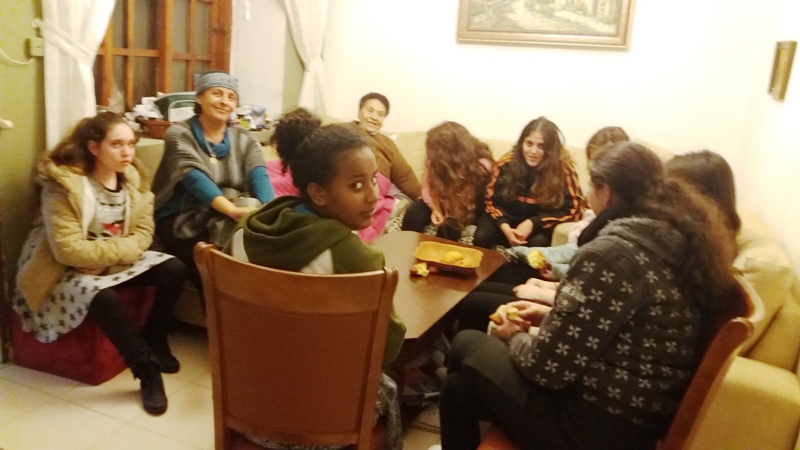 Aliza
As we left, it started drizzling Rivka. Modiin Chagit : On Canukkah, the eighth candle, we host Mordechai at my house. He had the chance to know all my family, and played checkers with Asaf, the younger one of my children, and chess with my husband. Dear Mordecai came with a stunning bouquet of flowers, and sweets for the children. It was exciting and empowering to see that we have another grandpa (Saba).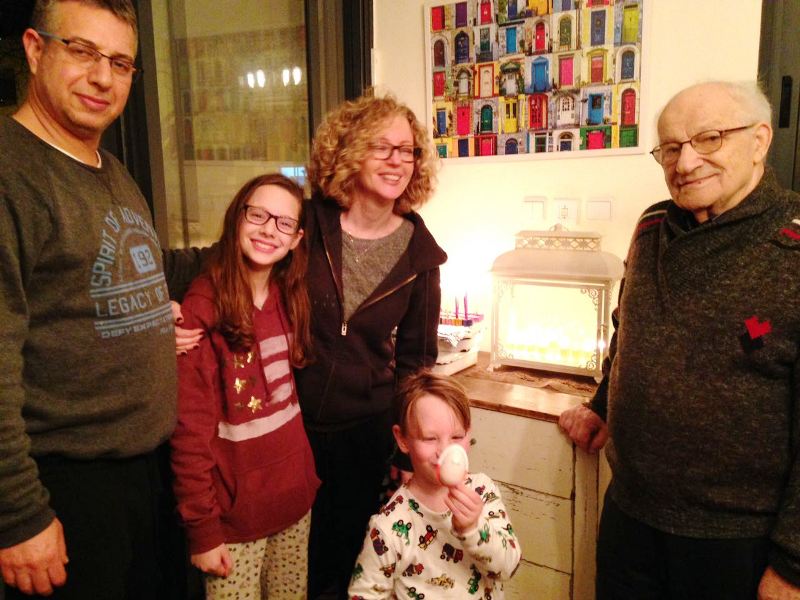 Mordechai's family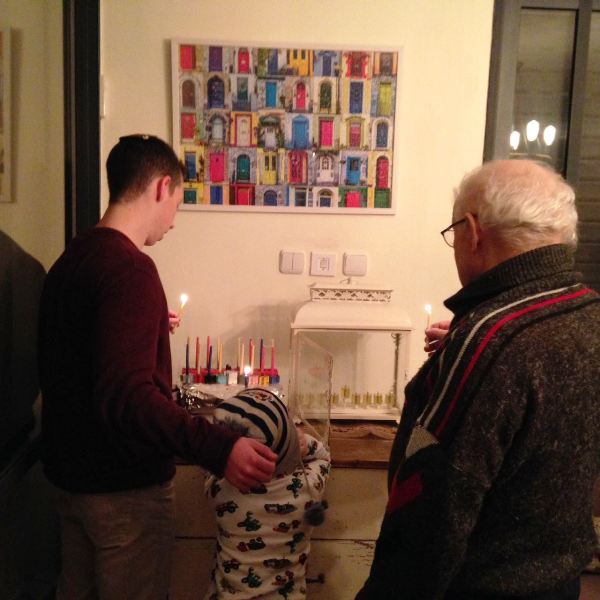 Lightening eight candles
Ofri and Alon : We have visited on Tuesday Janet and Jaston.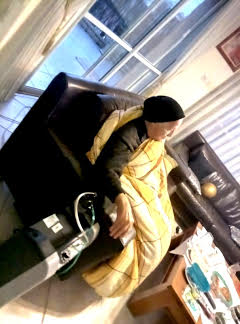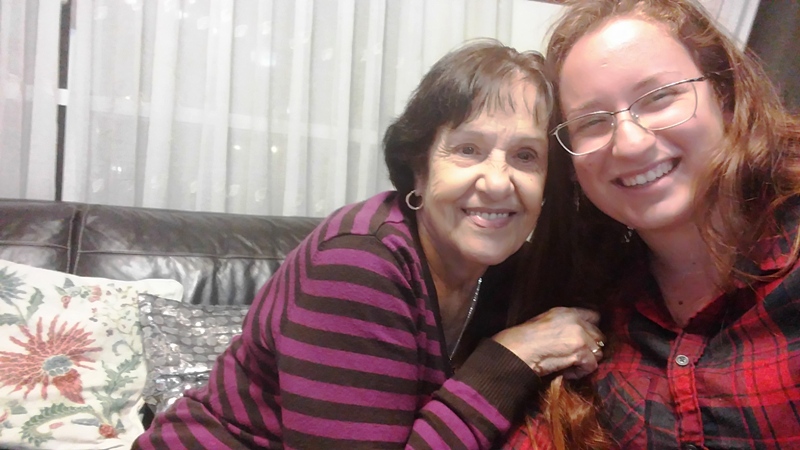 Jaston and Janet

It was an emotional meeting on the occasion of Chanukah, reminding us again and again the extraordinary capacity of our people to survive against all odds. We were pleased to see an improvement in the condition of Jaston. Janet made us pizza, chocolate, tea, and donuts. Together we lit candles and sang. We already wait for our next visit.

Shir and Arbel: On 29/12 we have visited Svetlana and Dimitri. Svetlana told us that their grandchild is about to get married. We talked about our plans for the future and Svetlana gave us advices for life. We lit up Chanukah candles and it was very nice. We alreadyn wait for our next meeting.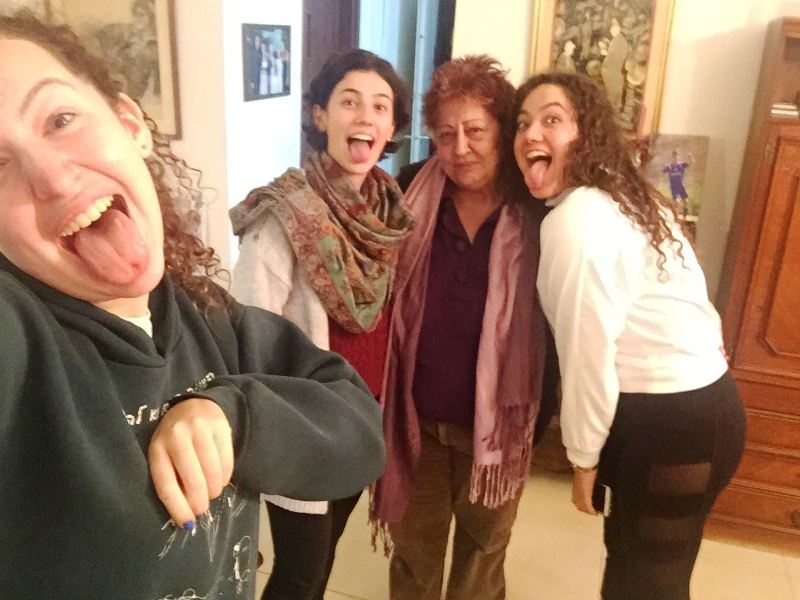 Eidan, Riri, Talia and Libi (from the right to the left)
Libi: It was really fun to visit Riri.

We found her preparing casserole chickpea. We, talked about the disease she has passed and still recovering from it. About her work (she really enjoy and love the children ), expressing her real will to get back in shape.
Eidan : We drank tea and ate biscuits, with a lot of fun. She was just smiling and really enjoyed that we came.

Shir : Visits In Modiin :Last weekend I had two very exciting visits.
We arrived for the first visit (with my lovely volunteer Naomi) to the house of Shulamit and Chanan. We celebrated together Shulamit Birthday. The joy was huge. We arrived with flowers and Kafkiis which Naomi bought, and we sang birthday songs, Shulamit and Chanan blew the candles together. Also charming Eilona , their daughter, has joined us for a short time, and we realized and were sorry to see, that she is going through chemotherapy treatments which are nt easy at all. Finally, there were only Shulamit and I. I polished her nails, as she likes, and she was excited and happy. I read to her my blessings, which I wrote, and she was moved to tears. We had a long conversation about happiness and emotional connection we have built , and how rare and special this bond, that we have, and didn't stop to thank each other, with words of encouragement, wishing good things to ourselves. May we celebrate together the coming years, with health and happiness. My second visit was in Janet and Jaston. It wasn't an easy visit and included tears on both sides. Janet spoke painfully, about the difficult situation of Jaston. The difficulty of the treatment and her own worries and pains. It broke my heart to see her like that. We spoke at length about it that she should relieve her worries because, otherwise, she will collapse from all the doctors, worries and anxieties and she needs to rely more on the therapist, who lives with them and drop sometimes responsibility. I offered all kinds of ideas that will make her better and she thanked me. One of the things we have decided is, that I will send encouraging words to strengthen her, if she is low [in feelings]. She said that it will help her. Please pray for our dear Jaston and Eilona (Shulamit daughter), for health and healing.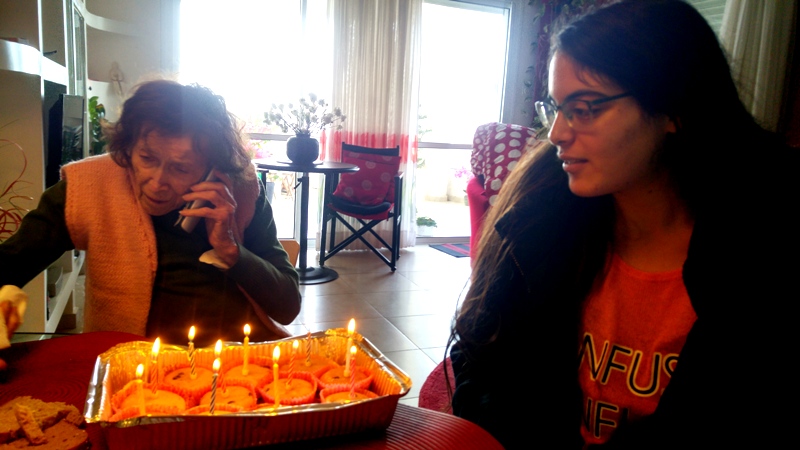 Naomi and Shulamit
Arbel and Shir : On 11/1 we visited Svetlana and Dimitri.
Svetlana bought a new computer, so we helped her and answered her questions that she had about a connection to the computer. Later on we talked about Politics. We had a great time.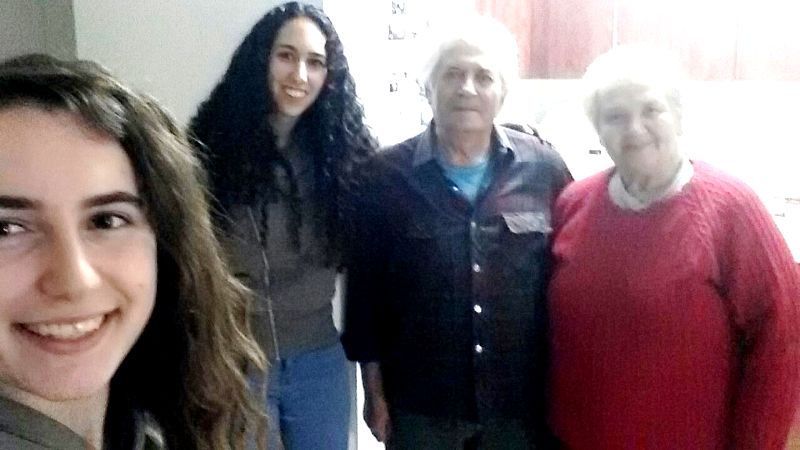 Arbel, Shiri, Svetlana and Dimitri
Zfat
He-Lee : I was with Larissa, who received me with warmth and love in all this coldness of Zfat ... Larissa organized in advance and prepared dough, because she wanted to cook together ... We have prepared pizza.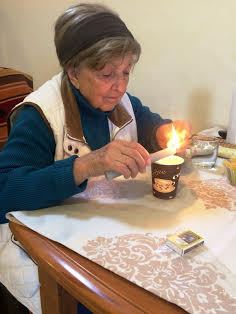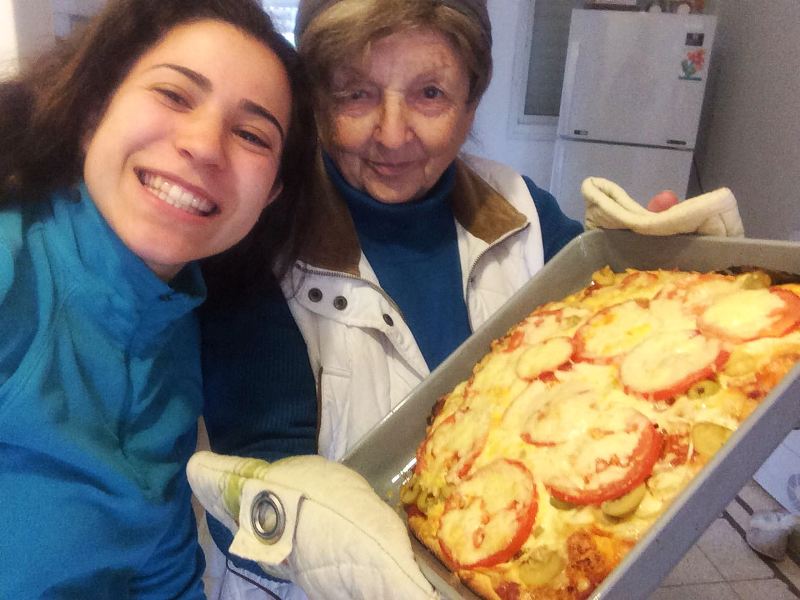 Larissa

I felt her love to me every minute of this session ... We talked about her late husband and her longing to him. She compared Kiryat Shmona to Zfat. The children and grandchildren and great grandchildren, and what she likes to do in her spare time. When Larissa told me she had decided not to lit menorah' I decided to do with her candles dripping, and it's made her feeling a bit of the holiday. It brought up memories to Larissa when she was raised in Kiev, and in which they did also with candles. I saw that this memory made her feel good and warmed her heart. I really enjoyed and I love it. In addition, we talked about Eli. Larisa know every house and alley street that Eli was ... We talked a little about the war and that it has al been done by humans... Aitamar: I came to Shalom for a short time. I was not supposed to get there , but saw that I had some time, so I got there and said hello and asked how he is . He does not tell much, and still don't feel and sleep well. Ran and Ori: It was really nice with Esther, as always. We arrived and were happy to see each other. We ate, talked and then we played cards. Esther taught us the rules and how she plays with her friends.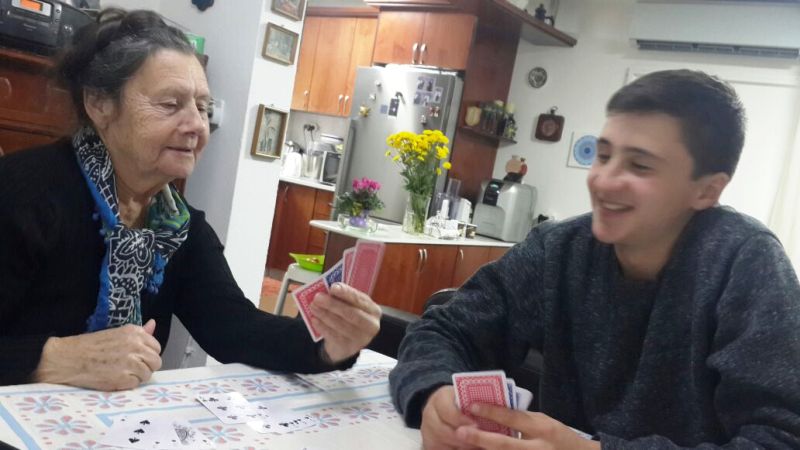 Esther

Shir : Last Saturday, we went, Ido my good friend from the army and I to visit Ester. Esther was waiting for us with the Shabbat table, with good food. As soon as we came we forgot the cold and the rains and the warmth of the house of Esther filled us. Amazing how so far from our house in the center, we felt at home. We ate lunch together. We saw pictures of the entire family of Esther and heard stories about the family. One story particularly, moved me: Her great-granddaughter Adele, when she was only four years old, came to Esther at a family event, and said to her "Grandma, I know you're alone but do not worry. I'll take care of you all your life." We spoke about the wonderful experience of Chanukah party and Esther could not stop to thank for the caring and the warm attitude.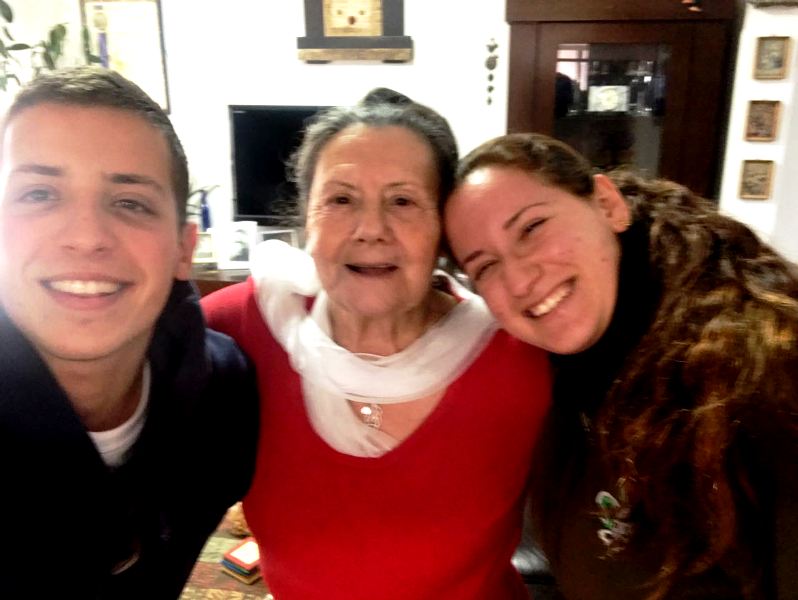 We enjoyed so much and just did not want to return back to the base. We promised to get back soon and suggested that the next time we will cook the meal together.
Some of the other volunteers, had a mission this week, in a village called : Jordan River, and couldn't come.
Jerusalem
Keren visit Eti
Today we had a nice meeting, as usual. I arrived, and we ate cookies and talked small talk. She told me how she has celebrated Chanukah with all her family and two friends. She shared her experience in the club activities, and the visit to the Museum in Cholon. It was fun to talk to her as always, and fun to be with her.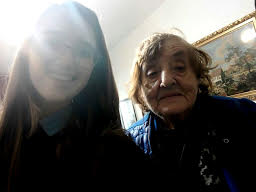 Eti
This is our news for this week.

Shabbat Shalom,
Rivka



The Authentic Rights to the Land of Israel for the Jews as a Spiritul Vision
December 15, 2016, Kislev 15, 5777


Dear Friends!
These days the demagogues celebrate and experts of experts cluck their tongues, talking about the Palestinians rights, for statehood in Israel and the fact that for thousands of years and for many generations, they are sitting here in the country long before the people of Israel returned to their country after two thousand years of exile. Unfortunately, even among us, there are people in their own prison, still viewing it wrongly, trusting their wisdom with their eyes open, refusing to understand the depth of the inner eye, that it belongs to the nation of Israel.

Let us go deeper and learn: Indeed, at first glance, when viewed in the West Bank (Judea and Samaria ) and elsewhere, the Arab work their land, their hands gnarled and cracked, talking about their lives here in Palestine, and you can mistakenly think, that they are authentic residents. Through a parallel eye, not the spiritual one, it also shows how in 1948, surprisingly, came thousands of Jews, stricken with amazement as dreamers, even their smell wafted foreign and exile. They gathered from North Africa, Eastern and Western Europe, North America and many other places, having the pungent smell of a foreign culture and we're a strange collection and unfortunately, not yet weaned for the results till now. Indeed, it's difficult to see so many brothers acting in the Holy land as foreign and alien with short memories, quick to adopt Western culture in one piece, with no message, and still maintain this culture. For many of them, the dream of a country, like the rest of the countries, will flourish here. But here's the news: It will not happen!
Of course there are many Jews and Israelis, who feel the light and the sanctity of the place. Yet , as in a deeper look, where is the authenticity of the people of Israel at the cost of the land of Israel? Well! The answer is in a surprising place: deep in the heart! Where the relationship is all holy, full of love and as groom to his bride, tearful from thousands years, of longing and still feeling like a dream returning back to Zion , only few decades ago. But authenticity it has been revealed with a tremendous inner power of love, which can't be explained. Eternal love, eternal relationship, related to the umbilical cord that comes from - how surprising -the eternal covenant with the Almighty of the Universe, the God of Israel! This is not a covenant, written as a business contract on paper. This alliance, was enacted into the hearts of our ancestors. This contact is inviolable! The same connection and authenticity, we feel in our hearts as Jews. That power of authenticity has no logical explanation, but the eternal fire is burning. With the same quality which we can also feel the deep connection of Jew to Jew, where ever he is. This is the secret, that through redemption, and re-discovering, the secret of the illusion of separation that finally, we will regain as one body and one heart. While these feelings will be revealed with redemption, we feel the sparks from it. Only sensitive and attentive people feel internally the mysteries and they can feel so well these days. As evidence, with all the different opinions and baseless hatred, at moments of command, or distress, it is clearly awakening in us, the love of the Holy Trinity: The land of Israel! The Jewish nation! And the love of the God of Israel! Even if these words are not common in the consciousness of every person. Deep down, the truth is burning. The Eternal Flame is hidden but not turned off!!! From a place like this, with gratitude to Almighty, Who brings us back slowly, to celebrate the discovery which we have expected for thousands of years, bringing us slowly to the celebration with choir and songs. Blowing in the wind of revelation as it has said: "And on that day, will be Hashem One and His Name one!!!

Let us remember and attribute to this faithful bride that for thousands of years has waited for the return of her lover - her groom, and the country was a wasteland for thousands of years, waiting longingly to her groom to come back. Now, only remains to break the glass and say good luck and love the Almighty and complete redemption.
Again Finally: God's promise is eternal! The land of Israel, the people of Israel, the God of Israel - are the key to national redemption. hallelujah! hallelujah! Hallelujah !!!
On this occasion I would like to thank heartily all the contributors of Donors both Jews and non-Jews, who have contributed generously in favor of the victims of the fires!

Bless you dear friends!
Daniel on behalf of all Israel.
Pardes Chana
This time, we were back in full forces with Zvia and her special group of students from Neve Michael. First, many blesses to Zvia. Congratulations for winning a new grandson (two days ago), and blessings for her recovery after a grueling week of illness. Because of the approaching Hanukkah holiday, we had to do our visit ahead and light Chanukah candles symbolically, and bless our winners Hanukkah blessings at this time. So, equipped with donuts and a bag of vegetables and personal blessings for the holiday to each of the winners' which the students have made. Yona, Mordechai, Ihosiah, received our gifts with gratitude and excitement. Ran -Tal, came with the clarinet and it was a great joy.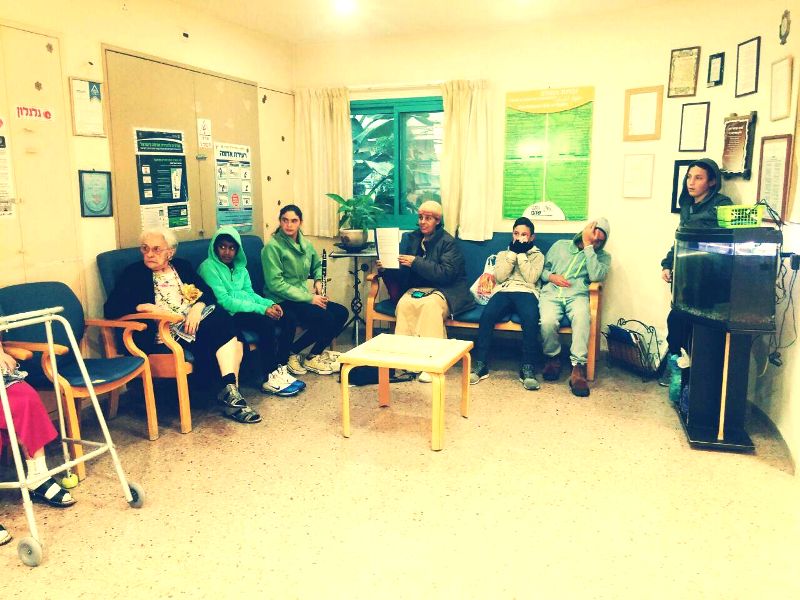 Morris and Chayia, to our surprise, accepted us both, out of bed with good mood and they were happy for our arrival.
With Clara and Leonid we lit a candle.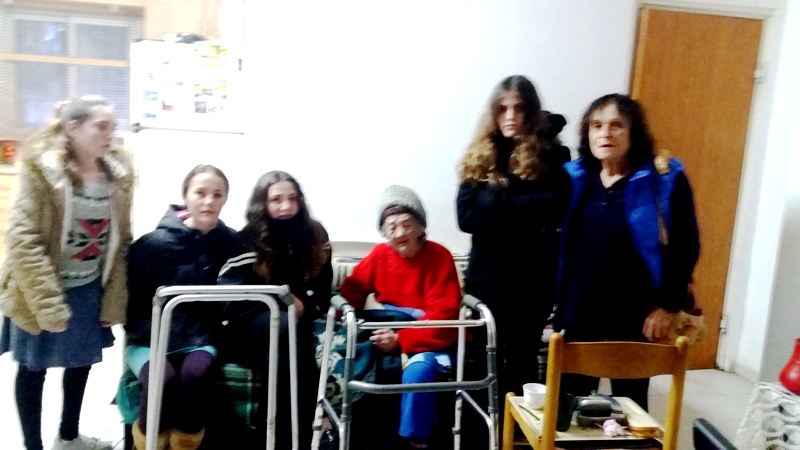 Chaya

The Boaron couple was very excited for our visit. , Rachel have pneumonia and we lit a candle and wished health to both of them.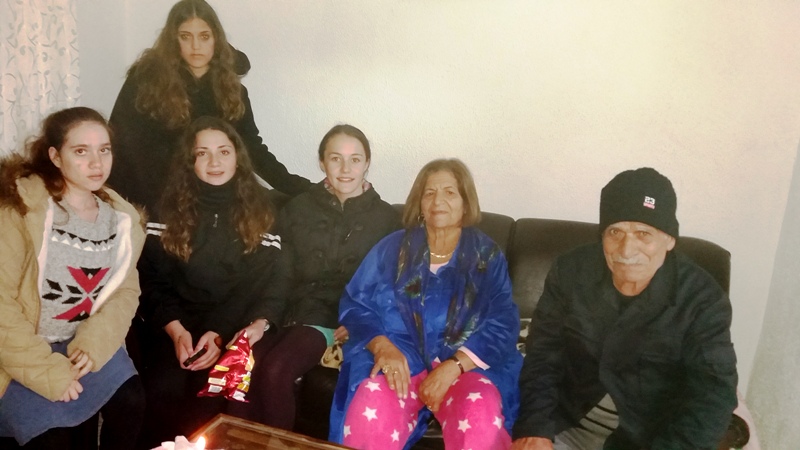 Gisela fell and was sore. She probably will need to start using a walker, in order to keep her balance. Aliza was in the hospital because of pneumonia, and we found her already after all , glad that it's behind her. We sang Hanukkah songs after lighting the candle.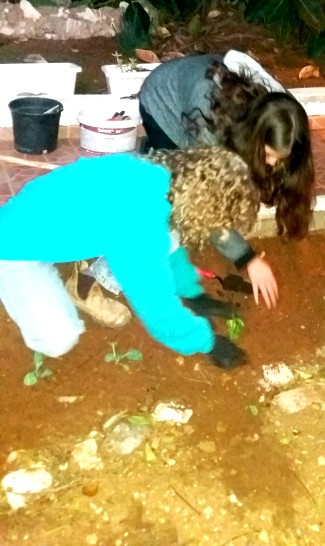 Planting with Gisela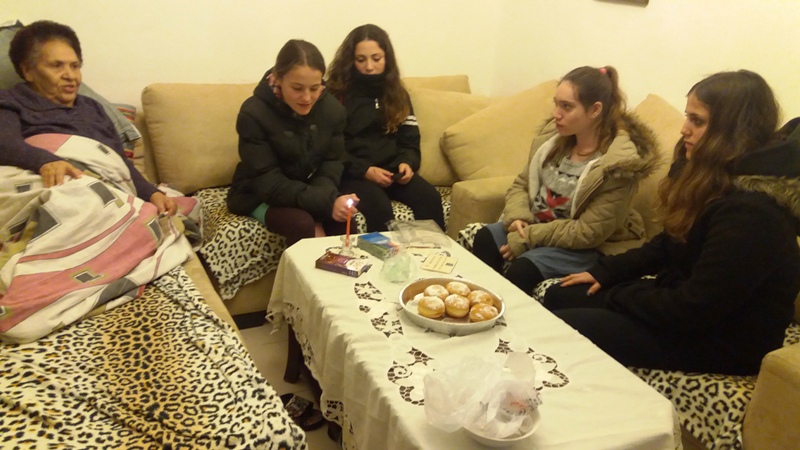 Lightning the candles with Aliza

We expanded her garden in our visit - week ago, and planted her lettuce, cilantro, cauliflower and fennel. We wish everyone a Happy Chanukah, filled rainfall for the benefit of the farmers in our country.

Rivka
News from the North
Kiryat Shmona
This week, some of the shoa winners have got a cold: Rina, Israel, Rachel. The wheather has changed, and winter came into their tiny apartments. Klara was hospitalized with a complicated heart (bypass) operation. She is recovering at home but doesn't leave her house yet. We pray for all the sick winners a speedy and full recover!
Bracha (the wife of Eliahu who passed away) is very glad that the students come and visit her every week now. I got a phone- call, from one of Eliahu's children, and they thanked "Lechaim" for taking care of his mother. Bracha feels much less alone and is happy that students come and visit her.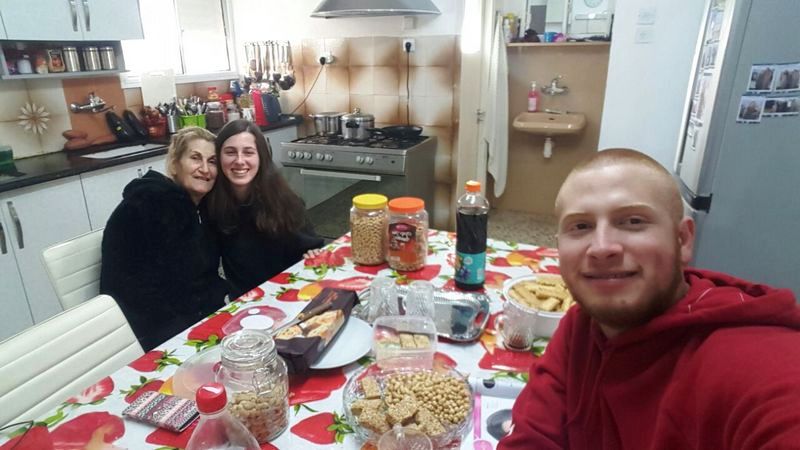 Visiting Bracha
The students love to visit her also.
Neot-Mordechai
Nadav and Eliav adopted Rachel.



Rachel

They simply love her and do all the efforts to visit her every week. Rachel loves them very much. She feels the attention and that gives her good and warm feelings. This week, Rachel was also sick. The same is for Ibi and Steve.. Omer and Rotem adopting Steve and they love it.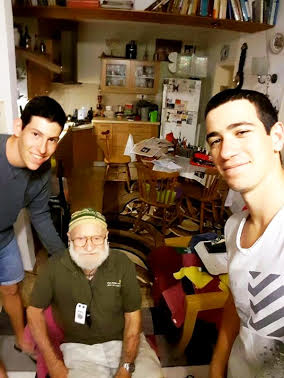 Steve
Rosh Pina
Unfortunately, Blanka was hospitalized in Tzfat, and has returned home only few days ago. She behaves in a very severe condition. I hope to be able to visit her soon.
Israel had also some problems with his stomach, but feel better. He is excited when the students come and visit him. He tell them all the most interesting stories form his past.




Israel, with the students Eido and Yotam
Rachel has been opened up very much, since we started to visit her. She speaks about her daily life, shows us pictures and tell about her family.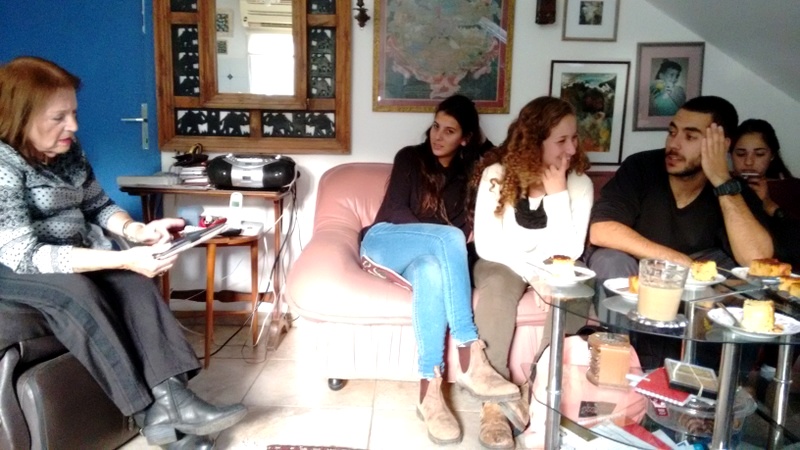 Chazor
The visits at Bracha, Ruchama and Mina are exciting. Bracha made a soup with the students and Ruchama showed the students her hobby: birds. She has some exotic birds. Mina was not at home this week. They all, had a great time together.

Genosar
Avraham got a visit from his son Eli who lives in Los Angeles. Eli was happy to see the students and that his father is so excited. Avraham will be celebrating his 95th birthday and the family is making efforts to make something special for him. Eli also took Avraham to the translator who is translating his book into English to see how the progress is going.
Israel enjoys Ofri and Neta. They listen to all his stories from the Kibbuts. Israel is one of the oldest people in the Kibbutz and knows the community very well.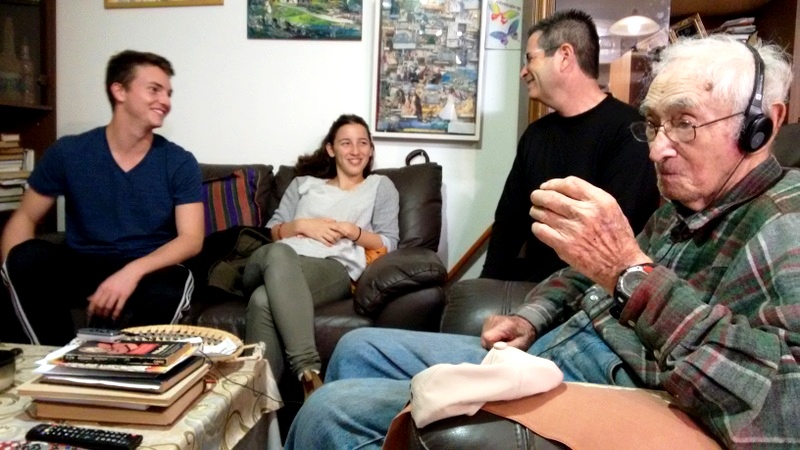 Israel
Lihie and Aviv are listening to EliRam's stories, and write them down. They also try to make for him a family tree and help him organizing the pictures of all his paintings.
Mosje is extremely happy with the visits and I see him revived after the dry summer.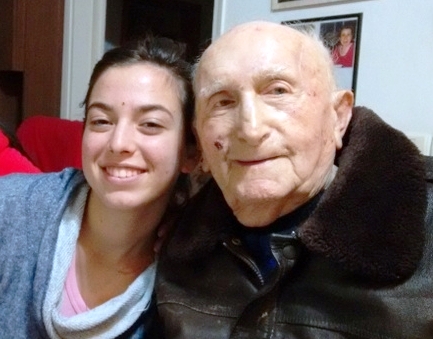 Ela and Mosje
Greetings,
Timek

Modiin
Nadav Snir and Arial- met Rozitzh after the terrible fires and a lot of rains, that made Mickey staying in the house about two weeks, but when we arrived, we saw the smile on their faces. We spoke about her foreign worker, who comes from India , and that, led to a conversation we had about the current situation of Israelis prefer to work only in high-tech, and the contrast to menial as this once. The fact that we sat in front of the people who built their own state, led us to a different thoughts. In addition, Rozitzh reminded us that her husband Mickey, is 90 years old and was just two hours from being killed by the Nazis. At the end of the war, the Nazis received a Telegraph with the order to murder the Jews in the camp on that evening. Thanks to the miracle, the camp was released two hours earlier by the Russians. It was discovered only because one of the Russian soldiers did find the message in a case .. Thanks to them, the Nazis did not manage to kill them .... and thanks to that , the two of them have established a legacy intact. In addition, she continued to tell about their foreign worker who would have to work a year and a half just to pay the contractor who hired him ... amount of thousands of dollars. She said she gave him her room, and once, she has passed by his room, and heard him choking with tears of longing for his family in India which he can't see.
Shir : Today I went to visit my adopted grandparents. I arrived to charming Shulamit and Chanan . We were very excited to meet at their home, after she fell and being hospitalized for a long period . Finally, she is back home but with pneumonia.. She is still not at her best. Also Chanan is depressed becouse of his health. I spoke with Shulamit on a various subjects : about the family and how important it is and not obvious, and about the celebration of the 18th birthday of my brother, and relationships and the most important thing in it is honor and honesty. Furthermore, we talked about the positive attitude and I reminded her of what she already knew, that attitude change everything. I told her, how important it is to wear willingness glasses to look at, and focus on the good ,,, so good that they are growing and getting stronger. She was very excited and impressed with my wisdom, and expressed her appreciation to my phones and interest, throughout this difficult period. I told her, that it is from my heart and she is dear to me as my grandmother.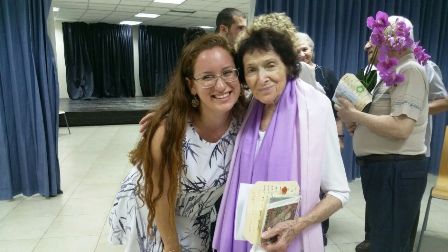 Shulamit
Then I came to charming Janet and Jaston. At first, I suggested to Ganet to take a break and go to a movie and a restaurant to celebrate her birthday which was last week. However, Janet said that she didn't feel comfortable to go out and leave Jaston in such situation, despite having handles. I understood it and we stayed home. Jaston's health status is really not good. He suffers many problems, and constantly is in testing situation. He might need to start dialysis (hope and pray that he will not). Jaston almost wept with emotion, when he woke up and saw me and Janet hugged and kissed me and thanked me longer so. We talked about the birthday celebrations of Janet with her family, the children give a lot of wonderful help with the treatments of Jaston, about my service in the army, and again about take a positive attitude. I explained Jaston that our thoughts are like plants. If we plant roses, we will have roses, but if we will plant thorns we will have thorns. I explained to him how it affects and the easiest way to get depressed.. He repeated my mantra:" It would be better" and it will be better. I told him he needs to be strong and get well and celebrate Chanukkah and approach to dance at my wedding someday. He was delighted when I said it, and said that it is his dream.Janett said that in honor of the wedding of the eldest granddaughter Jaston has made passing suture Wedding canopy for their grandchildren, and their names embroidered on the canopy. He said, that he is waiting to dance with my canopy. Janet congratulate me. May it will become truth .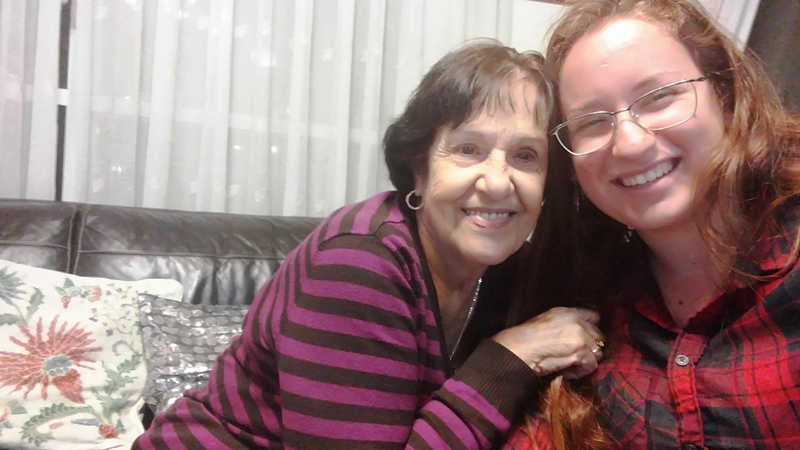 Janet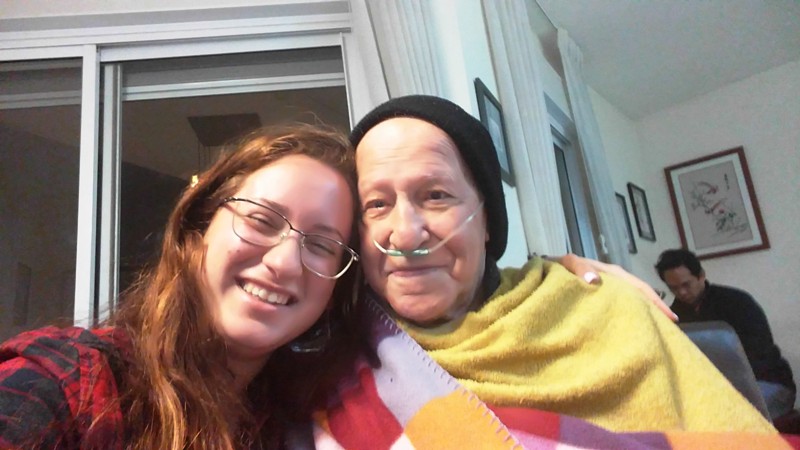 Jaston

Aviv and Arbel- on Wednesday 14/12 we visited Svetlana and Dimitri. Svetlana showed us tapes of her grandson Danny dancing in the T.V. program "Dancing with the Stars". . We loved to watch it with her .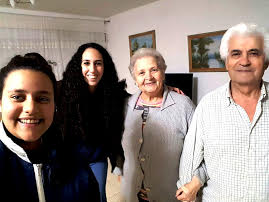 Svetlana and Dimitri
And we are waiting for the next meeting.

Jerusalem
Nitzan and Roni visit Eti : The visit was great! And indeed beyond getting to know better each other Eti told us more stories .. She spoke about the life she had in Romania, and about the mill her family have had , and how she used to bring flour for free, to gentile friends of her, who had no money, In Romania, she was happy and had a lot of money. She wanted to know about about the army. Everything was really interesting and she was smiling and happy and this is the most important thing.!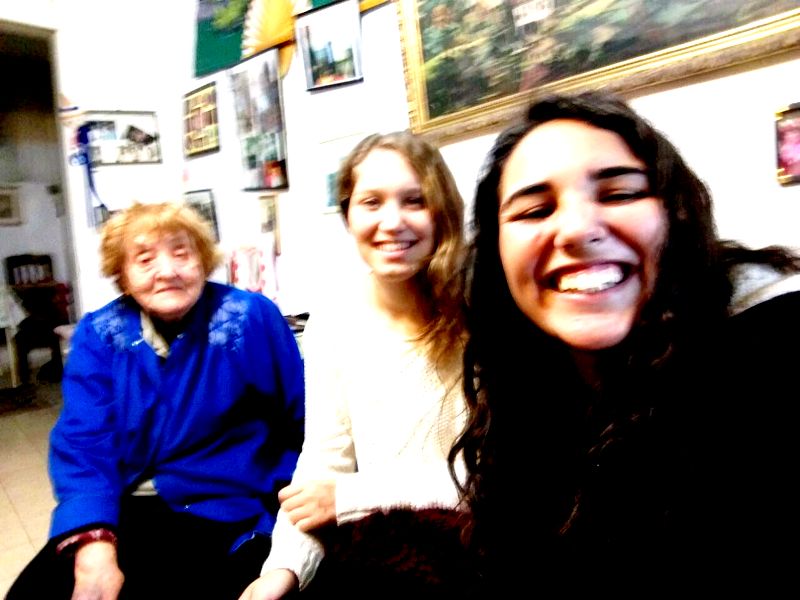 Eti, Ronni and Nitzan
Tzfat / Baraam
Ran: Today was the appearance of Esther. She sang with the choir Russian and Hebrew songs, and I was invited to come and hear. It was really nice He-Lee : I went to charming Larissa.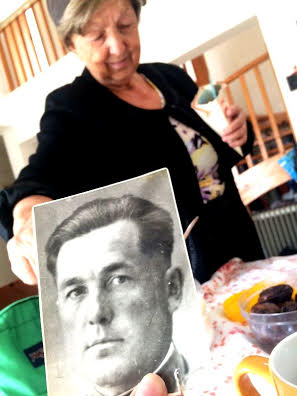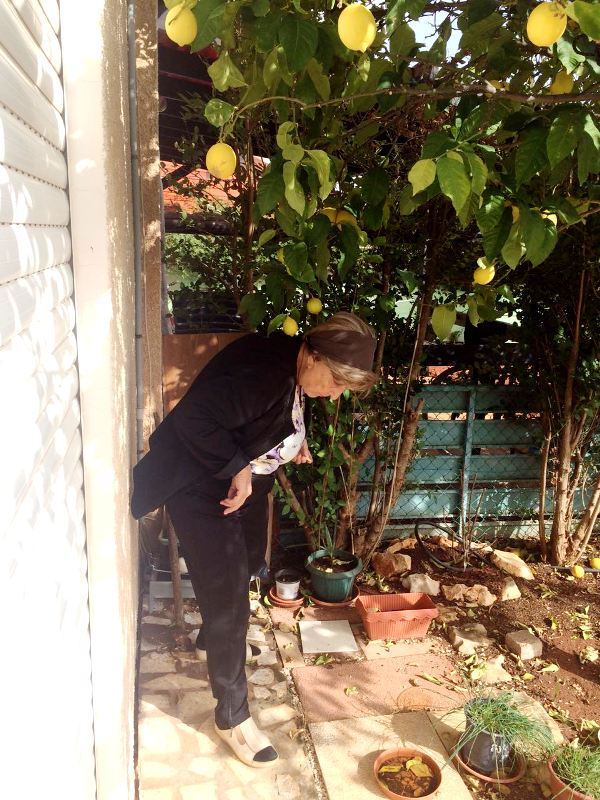 Larissa
She hosted me with love , refreshments and a huge smile .... Larissa and I , really understand each other - completely. She told me about her life in Israel about the life she has left in Kiryat Shmona and Kiev ... about her late husband , expressing her longing for him, for her children, and her hobbies. Larissa is so lovely, and sitting with her brought me to tears. I felt, when I listened to her, that I give her something, she did not have such a long time and it was just beautiful. Larissa told me about her family and how they cooped during the period of the Holocaust. She showed me pictures and I it was hard to leave her ...Waiting to see her again, she just has toured my heart.

Itamar and Neta: Today, we have visited Meir and Lillian. Meir seems a bit weak and said he doesn' t feel so good. We sat with a cup of tea and cookies and we talked a lot about the Army on the rise for youth today ... One of the stories he told us, was that when he was 10 years he came to Israel, only with his older brother and they were separated each in a different kibbutz. He cried so much until he climbed on the bus and the police had to take him off the bus ... Our meeting was really interesting and fun and Meyer had such a big smile and it's really made us to feel glad! Dori and Yoav: We visited Julie
and she told us about Maital, a girl who was adopted and lived with her for 12 years. Maital was not feeling well so she stayed at home and we had the chance to meet her, and get to know her better . It was really nice.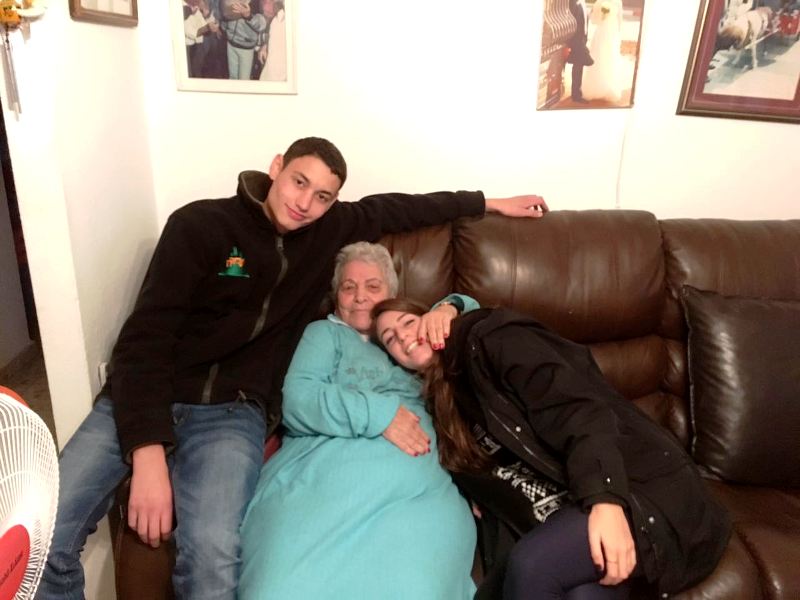 Juli, Dori and Yoav
Shir : My-visits : Today, I had few hours free from the army, and went to visit my beloved winners in Zfat. I came to Jolie to the club she is joining. She was so happy and excited to see me as I am. In the middle of the meeting, she became dizzy and felt really bad so we went to the rest room together and rested and talked about how important it is to appreciate things and Health. She told me with tears her longing to her husband who has died ten years ago, and for her five children and grandchildren and great grandchildren. I enjoyed very much to see her, to know more and help her by taking care of her, as I could. Then I went to the beloved couple, Mordechai and Lillian.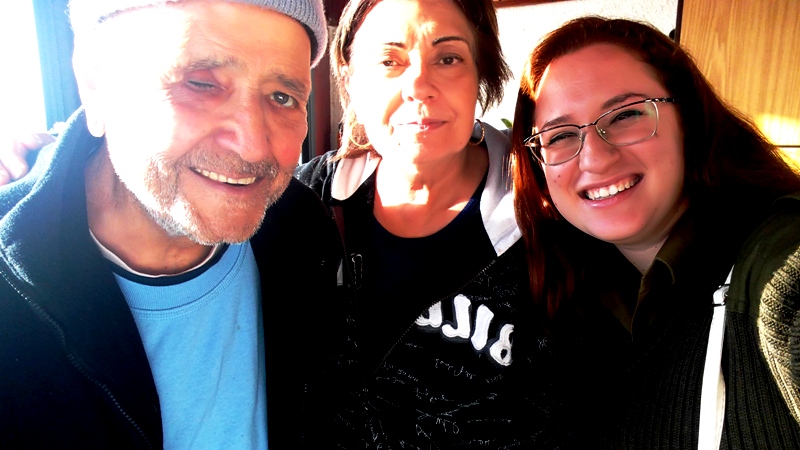 Mordechai and Lilian

They have accepted me as her grandchild with huge hugs and kisses, food and lots of love. They spoke about their children, about their past , and Meyer's army service on the Nachal Paratroops, and the wars he has fought. Lillian praised him and told us about his amazing volunteering acts by adopting two people and helping to restore them after a hard trauma's. He also has volunteered with autism, has always made extra while working at the hospital. I was very excited to hear her stories Lillian said she was never independent and have a lot of fears. All her motherhood she was a housewife and she is afraid to go out, walk, and enjoy. I said that next time, we will go together to do shopping. She was happy and kept thanking me for all that I care about them. We also talked about relationships and how important the respect and understanding and sincerity, between a couple. She said that they are going to celebrate fifty years together this year. I wish them the best for their celebration. I told them, that when the day comes, and will I will get married, they will be invited to my wedding course.
Lee am and Lee Hee : Today we walked with Eli in the amazing area where he lives ... it was clear to see on Eli that he will keep smiling and enjoy ... Each of his neighbors, appreciate him and wished him good health It was very interesting to see the history of his place.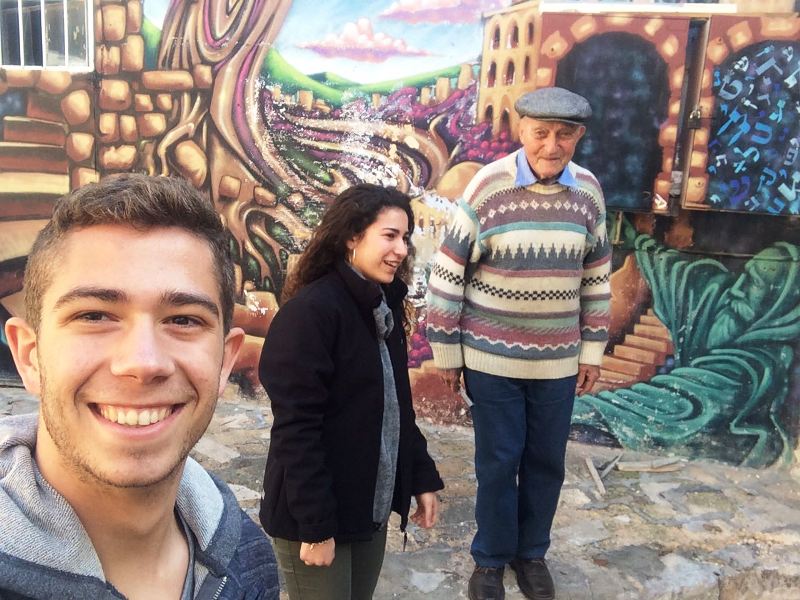 Eli, Liam and Lee Hee

We sat with Eli and he told us about his work in the camp, where he was staying during the war and the time he worked his army service in the Russian army and worked in the supply room with other Jews. The story of Eli and his family is not just (his sister was in Auschwitz and her daughter was taken from her to the crematorium.) Eli told us that he is not to judge a man without knowing him. It's just amazing his way of thinking after all he had approached in his life ... we just love him, and Monday turned to be the most fun day in our preparatory course Eli introduced us, as if we were his grandchildren and it was fun and exciting. We reached a deep level of closeness which were created with us.
Itamar , Ran,Ori and Neta: We came to visit Shalom, and he was really in a good mood and happy to see us. He told us that he can't sleep at night. We helped him to install TV converter, which he bought . He even showed us the roof of his house, and the ruined walls of his room service , and the water leaking from the ceiling that makes a lot of mold ...we will be happy to help with these matters.
This is our news for this week.
Shabbat Shalom !!!
Rivka
Tikkun Olam in the kingdom of God
December 1, 2016, Kislev 1, 5777
The Israeli nation - workshop
My very dear friends!

Israel have experienced, two difficult weeks , which shook the entire nation, and it is clear, that most of the fires were ignited by the Israeli Arabs. I would like to put the whole situation in a spiritual perspective. There is a great message and a great option to grow from such trouble. First, keep in mind: Israel is chosen to fulfill a mission, with a global cosmic written in the world, the depth of respiration, tripod up with the Creator. Enemy extremists, radical Islam, have one function: to inspire us and bring forth the inherent powers , stored within us, on realizing Tikkun Olam in the kingdom of God! The last terrible fire , took out tons of good inherent from the people of Israel. Help, mutual commitment, unity, firmament heaven, and in such situations, there is great satisfaction in heaven. We must remember, that the phenomenon of identification and desire, are the hours of tremendous hardship to help and give. It is worthy and respectable, but not enough. Of course, those beautiful hours in which human light of glory, publishes the cloak of grace and sanity that we so desperately need in our materialistic world, drowning in this swamp . It should be remembered, that on all the destructions, there is a great opportunity for seeding new and renewal. Construction of a new way of thinking, a new birth. This what I feel, that many people share in this period: This whole situation, with all the pain, and the shock , requires relearning how to hold and operate differently. This is the essence of enabling troubles, coming into the world as a whole and as individuals, to enable us to repair, growth, new growth and reproduction.

Dear Friends! I promise you (with no vow), which is also directed against the enemies of Israel: Where you destroy, we will clean and will plant new gardens! Where you destroy, we will build twice. Where you will plant hatred, there will enhance the light of love! Where there intensified unite and love ! This is our answer to our enemies that they have to know the people of Israel and the holy soul, and the relationship with the Almighty, which is unbreakable! This is the everlasting covenant! The Israeli nation has been the most painful experiences in the history of existence, and only such a painful situation, revealed us and strengthens us in the light of the Holy Alliance, to the remarkable statement that "Israel eternity will not ever lie!" Israel is alive ! Israel is alive greatly ! Israel is alive very, very much !!!
We at "Lechaim", continue the project : tree garden of life, and continue to build a light-hearted, among young people and old.

It's time to thank from the bottom of our hearts, to our friends in Israel and around the world, Jews and non-Jews, for your wonderful generous contribution, so we would be able to provide assistance to the victims of fires. Thanks and most appreciation, Hallelujah! Hallelujah! Hallelujah !!!

Daniel
Modiin
Shir : At the end of the week, I came to visit with my best friend (since the age of four ) Rozitzh
It was a visit with full of humor and fun. Rozitzh was thrilled to get to know my friend Maitar, and we showed her our pictures as little girls. We talked about friendship and the benefit of it . Rozitzh told us about her family, all the apartments she and her husband Mickey were in the country and she told us that he is her best friend. Rozitzh told and showed us the new computer she have received and how she is slowly, learn to use it . She showed us the mandalas she just paint, and it's impressive and amazing. She said that even her shaking hands "everything is possible" . She is doing sudoku and other things.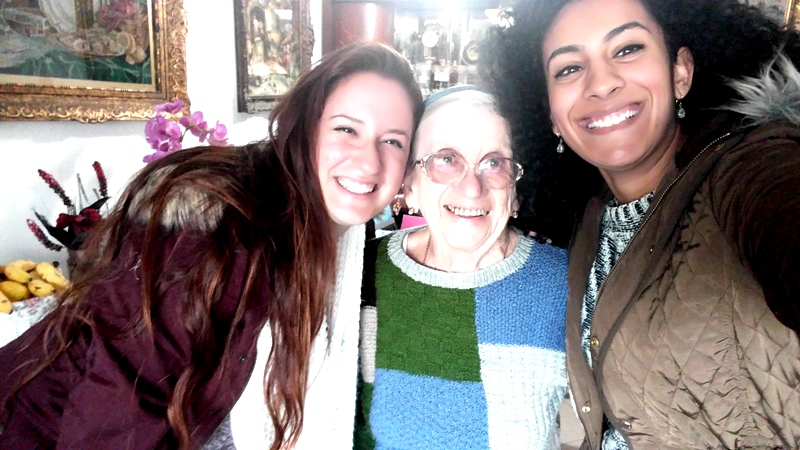 Shir and Maitzar with Rozitzh
Ofri May and Alon: We came to visit Ganet and Gaston. Ganet made pizza and distributed to all of us a large quantity of lemons and she taught us how to make a pickled lemon. It was nice to catch up on the latest period. Ganet and Gaston told about the period after immigrating to Israel with memories of the Kadesh Operation and the Six Day War. It was interesting to hear and good to see them after a long time we did not meet because of Jaston's hospitalization.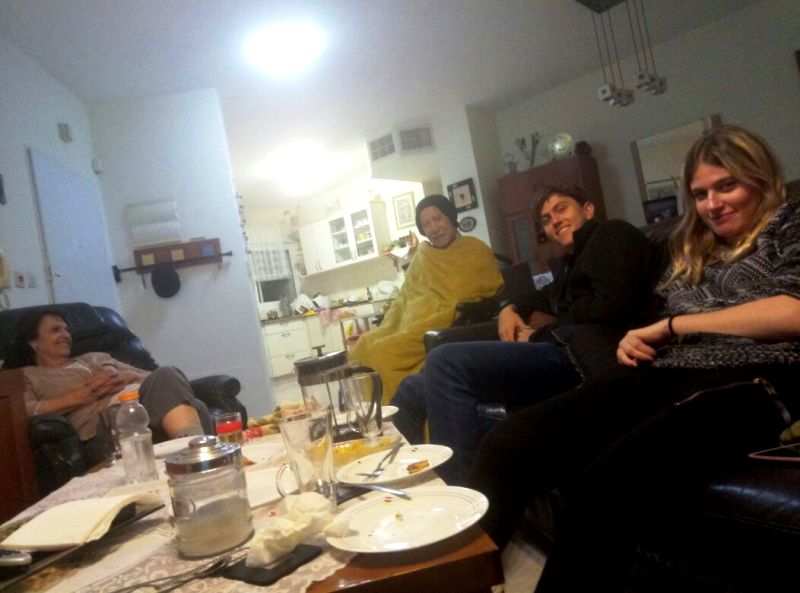 Janet, Jaston and their visitors
Tzfat
Shir : Last Saturday, my good friend from the army and I, went to visit lovely Esther. Fortunately, we had the chance to get to know Bracha, her closest friend for 40 years. Their relationship are full of humor, honesty, encouragement and criticism, and it made us laugh and we were very pleased with both of them.
We ate together sambusak, and Esther prepared salads. We talked about their family they were proud of their successful children and grandchildren and Esther told us that her great-grandson was born yesterday (Wednesday).
I explained about the organization and what is our vision. They were very excited to Esther said, it is very different from other organizations that focus only on the past and they must to tell it every time.
She explained how important it was for her to have the chance to speak, but sometimes it is very difficult. So, she was drifting with fascinating stories about her childhood in Yugoslavia. The escape of her family in the woods, the special meeting of her parents. One story was particularly exciting and it was about her brother Joseph. One day, while hiding in one of the villages , her brother went to look for food. The Germans suddenly, sprung up and they realized that they must run away. Her parents had big dilemma, to escape alone? or wait for Yossi?... They realized that they have no choice because if they wouldn't run away, everyone will die. And Joseph were left behind. They were sure he was dead and her mother Esther even thought she saw him being shot by the Germans while running away. They kept running and sat Shivaa on him thinking that he is not alive. Ten days later, she heard her mother's voice call: "Mom Mom". And it was none other than Joseph. Esther excitedly told us the story and we all were excited and it sound to us a nightmare.
Finally, we had to go back to the army although we could stay longer hours but we enjoyed every minute of our visit.

He lee and Liam: We have visited charming Eli.
He hosted us warmly and served us tea and biscuits ... He told us about his family, and showed us his amazing attic ... it was really fun and nice to me just adorable seeing his enthusiasm to speak with us and share all he can.

Students from Baraam :
Neta And Aitamr: Today we came to visit Shalom. We entered to his small apartment and sat between books, photos and watches ... We sat and talked for an hour and then accompanied him to eat lunch.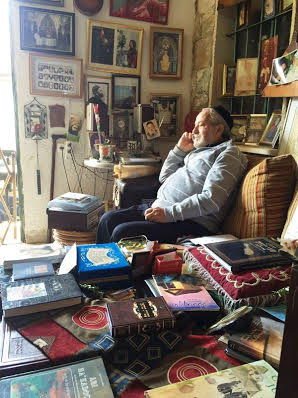 Ran: we arrived and were excited to meet Esther, as usual. We sat together eating the food she had prepared and spoke to us. After dinner, Esther started told us some of the most exciting story about her childhood and her family. We were pinned down. If we did not have to go we would have stayed to hear more ...
Itamar : We arrived to Ester and sat down having a nice pleasant conversation over coffee and biscuits, she talked about the choir she is taking part and check the possibility that we will come to one f their performances. She told us more about her family, she showed us pictures and a film in which she has participated.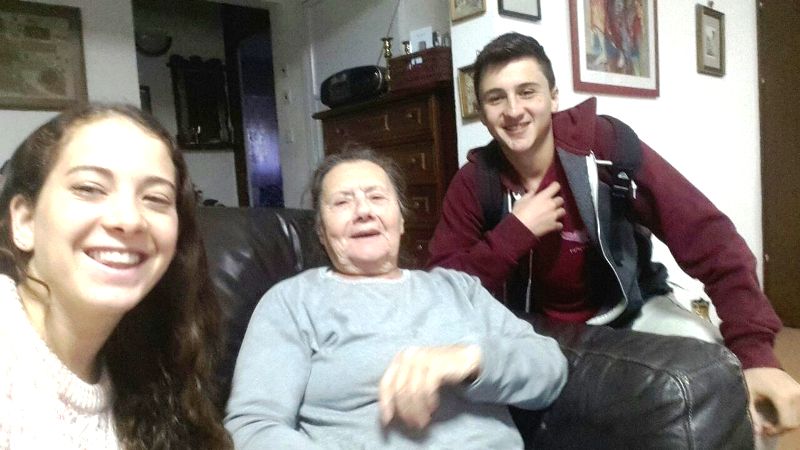 Esther, Ran and Itamar

Dori : We met Julie for a short visit. We sat in her house and she told us about her life and her family.
Liav: We have visited Julie and her friend who was with her. We had a very nice visit, we sat and talked about life and their families. We told them about ourselves and what we do in the Preparatory Mechina this year and it was really nice.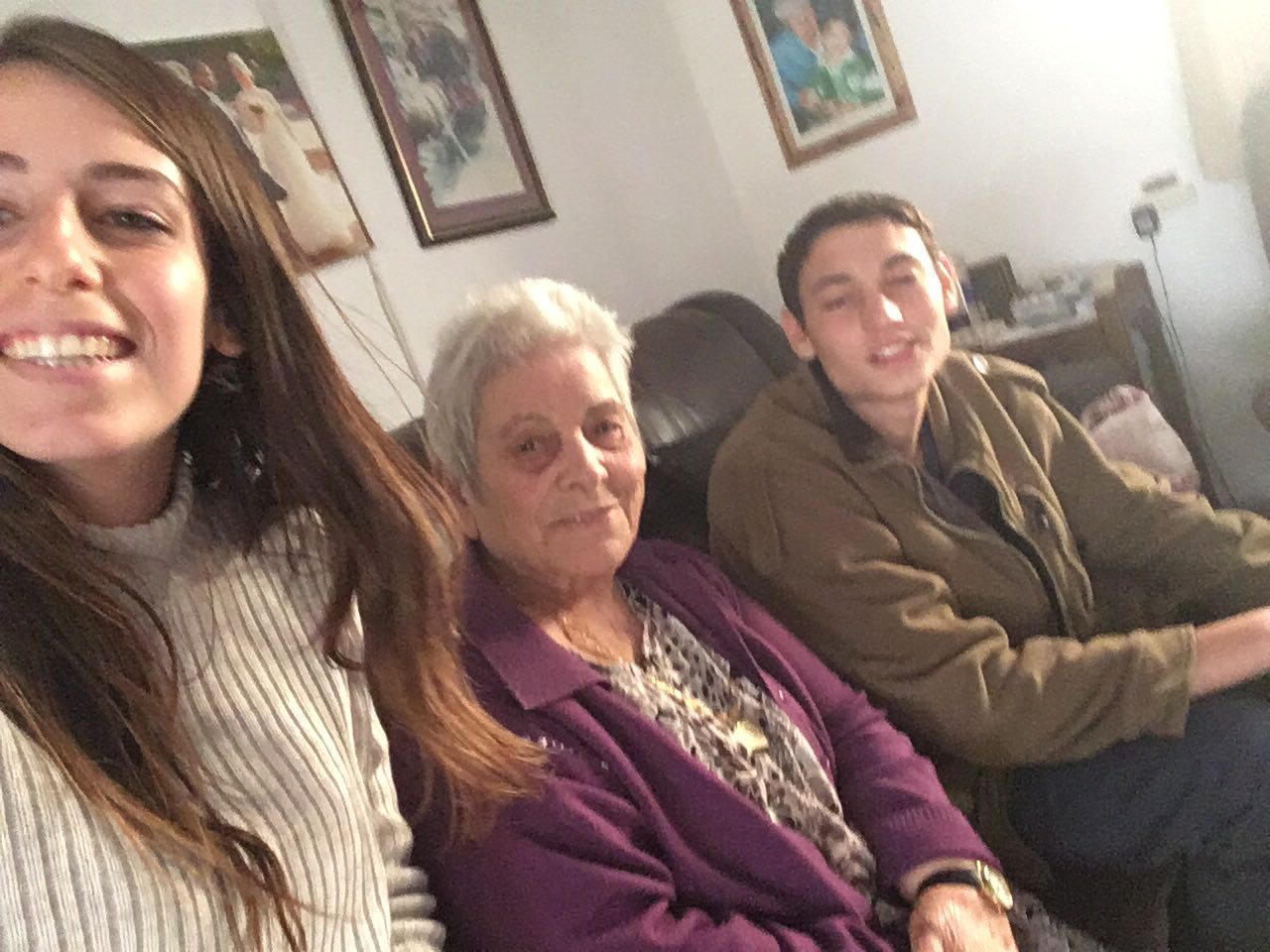 Dori and Liav with Julie
Hee lee, Liam and Neta,: We came to visit Eli and he continued his story about his life and it was fascinating and interesting ... We enjoyed every minute of it .He is just sweet and funny, and we like it very much.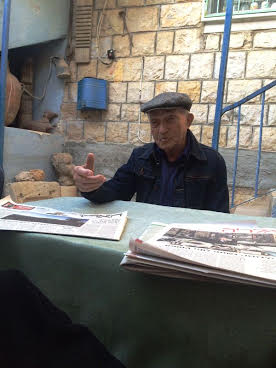 Eli telling stories
Jerusalem
Tamar has visited Edit. We had a very nice meeting. This time we spoke about religion and heritage. She bought and gave me a candleholders for lighting Shabbat candles.
Pardes Channa
This time we had the holiday Which the Ethiopian students have celebrating at Neve Michael. Only two boys (twins) could join me in our visits. Because of our relationship with the Ethiopian students and their celebration, I would like briefly, to explain the essence of this holiday which has become a national holiday, here in Israel, and is celebrated by all the Ethiopian community. Sigad holiday: 1. References to the covenant between the people of Israel and Almighty, and the revelation on Mount Sinai . 2. Fasting and an apology: Forty-nine days after the end of Yom Kippur fast, they, continue to do some soul-searching, self-healing and repentance. On the fiftieth day , they celebrate this special holiday. While the center of Yom Kippur is the soul of the individual, the center of this special holiday is the soul of the entire public . 3. Longing for Jerusalem : One of the key ideas that underlie this special holiday is a longing to come to Israel, and Jerusalem.
So, equipped with a bag of vegetables and much good will, we went for our visit. We started with Chaya and Morris. Both of them were in bed, and Chaya feel bashful to be photographed because she has bruises from falling again and again . Next week, we'll plant a vegetable patch in their yard. From there, we went to Clara and Leonid. We went to see how are the plants, and indeed, Clara has used already, celery from her planter, for the soup she did. The Boaron's has planted the plants, and we gave them directions how t take care of it .

At Zippora, we saw the planter which is blooming, and greet her for successful way, of her trip to Budapest, her hometown, for the first memorial day of her sister's death.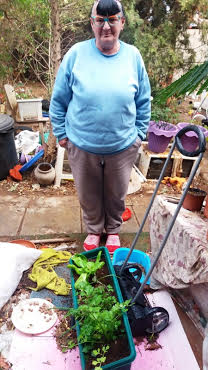 Gisela received us with gratitude and joy, and complained about her health condition that makes her a lot of pains and frustration.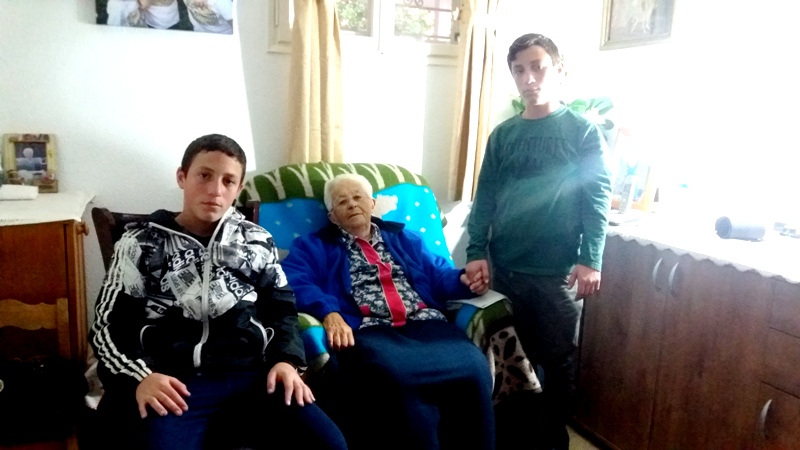 From there we went to Aliza, looking on the new garden that we did on our previous visit and was still not exactly green. We will wait and see. The precious boys, were obliged to return to Neve Michael, so we were separated from them till the next week. We wish fr a good days of rain after the dry weather, and the green will prevail and will be throughout the country.

Sincerely yours,
Rivka

News from the North
Chazor
The Garden of life project in Chazor and K.Shmona is going well. As you can see in one of the pictures, Mina's garden of life, is alive! You can see the leaves of the onion bolls that we have planted two weeks ago and they are already green! In the meantime, Mina enjoys the mint and Louisa leafs in her thee. Also Mina's balcony is free of any rubbish since Noam and Eden has cleaned it two weeks ago.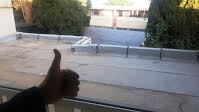 Also Ruchama's and Bracha's garden of life, is growing well. It makes them happy and the students enjoy it too !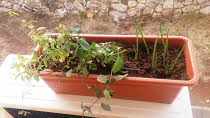 Bracha, is teaching Yotam, Yuval and Maya how to make Shakshuka. It was fun to cook together and the Shakshuka was delicious.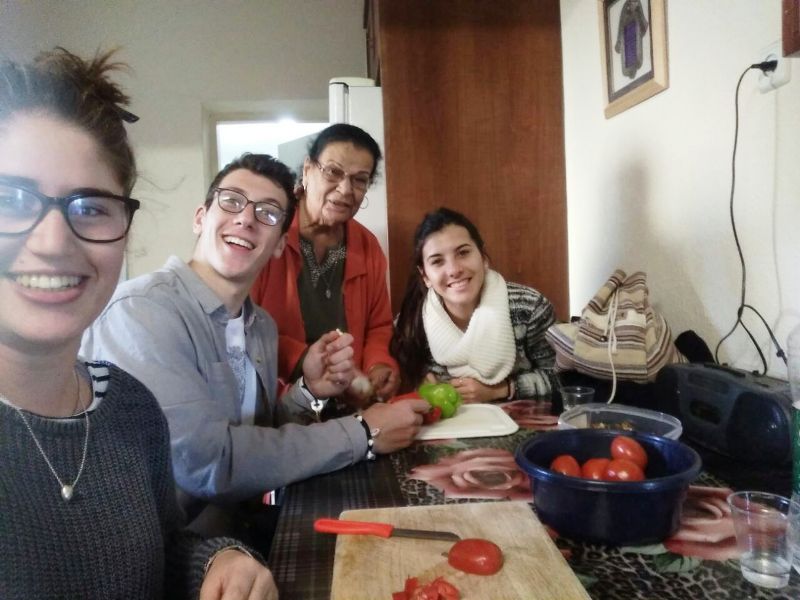 Genosar
The students, feel more and more attached to the winners in Genosar. As the relationships grow, they get a deeper stories.. Last week, I brought a group from Holland to Genosar while the students were visiting the winners. It was impressive for them to see this project so alive with all its dynamics between the two generations.

EliRam, has just finished his new paint and it seemed me very impressive and colorful. Wow! The painting is a sight of a village in France, where he used to live, just before he made Alija, and moved to Israel. EliRam gave me this painting spontaneously. It means a lot to me. EliRam's painting is now decorating one of my rooms. Thank you EliRam for such a great gift and expression of your love!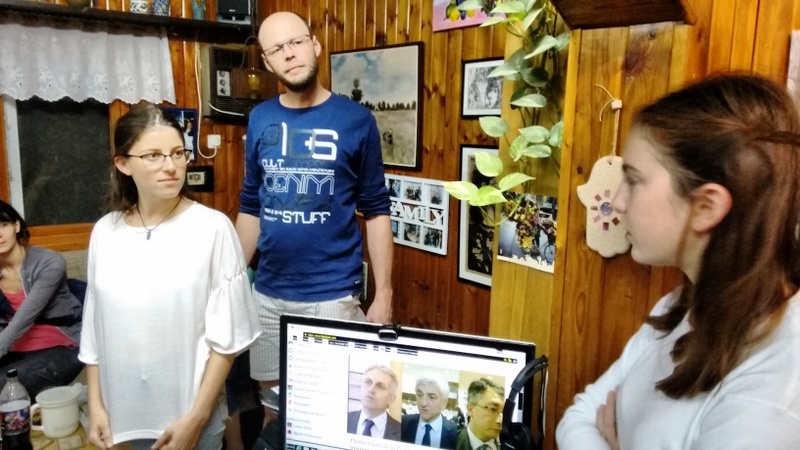 K.Shmona
We have visited Bracha, the precious wife of Eliahu, who has died, three days before Yom HaKipurim, after being hospitalized and was from Libya. Eliahu was for the last two years, very sick, and could not move. It was hard time for Bracha, she took care of him day and night. Suddenly, she is left alone in her house. So, our visit bring some light into her life, and she gladly, have received our invitation for Chanuka the holiday that are going to come soon. Even though, Bracha is not considered as Shoa victim, she was nine years old, when her young life suddenly have changed. She grow up in Mosul ( Irak), and on one day she and her family were sent to Israel. They had to leave their nice house and everything what they had. Her life has changed completely. When she told me her story, I felt her trauma of being as refugee. The first years living in Israel were very hard. She lived with her parents in barracks in the Chula valley, at that time it was a swamp, full of malaria. No fresh water and no woods, to make fire for cooking. It was many years of hardships and survival. Now, she have 6 children and 15 grandchildren, but inside her soul, still something is burning. We are dedicated to improve her spirit.
Israel was excited to see the students. They helped him to write a letter in Hebrew to the Government.
Neot
In Neot, Rotem and Omer have visited Steav. Steav tells always, such interesting stories. Nadav, Roi and Ela
visited Rachel. She is extremely happy with the students. She has such a positive approach to life, even thou, that she was brought up without parents. She still feel and look young. even being already 92 years old !!!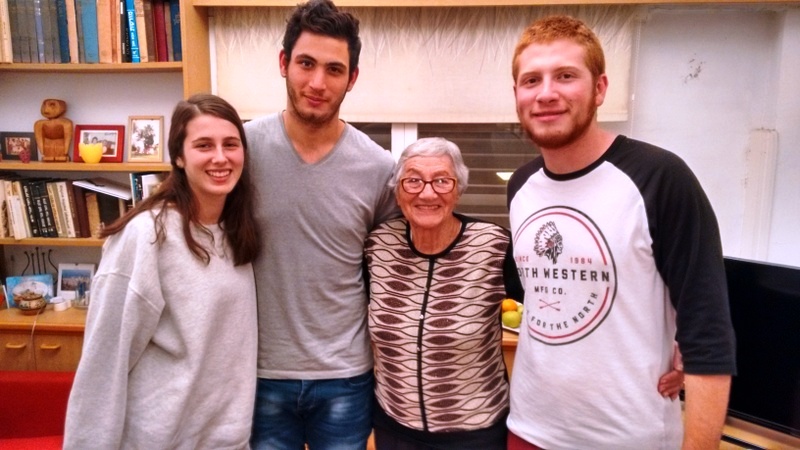 Yuval and Omer have visited Ibi.
They love her and Ibi loves them. She is now, writing her story.of life. Every week, a friend comes over to write while she tells her story. Ibi spoke about her husband Max. A very talented man. Max has died on 2015, before I met her.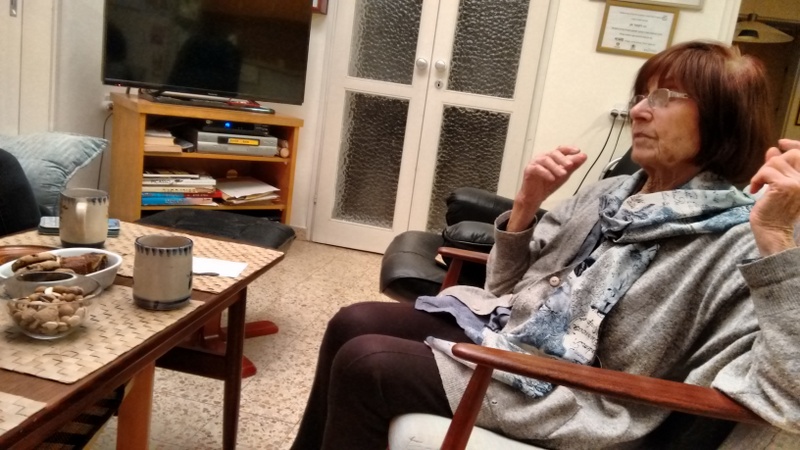 Shalom and regards,
Timek
This is our news for this week.

Shabbat Shalom!
Rivka
E-mail: danielxrw@gmail.com
Phone: + 972 54 772 3510
Welcome to our website at: www.lechaimtolife.org
A New Heaven and a New Earth & Chapter2, and more news
November 17, 2016, Chesjvan 16, 5777

Dear Friends,

I would like to report about the great continuation of the project "The Garden Tree of Life", I would like to touch on the issue on which I wrote last week, about the spiritual perspective of the U.S.A election results. So, here we understand that G-d, confuses our language today. Language is based on the old opinions and old habits which have apparently, reached the end of their career. A lot of people, talk about confusion, lack of direction and a way of life that creates a strong sense of uncertainty and confusion which is the dissolution of old securities. In many cases, people interpret their feelings as something needing to be checked.

Firstly, it should be noted that part of the new language is that we must learn today to be flexible and not catalogue situations in life, as difficult as they are, pathological explanations, which were hard as stones. Situations of life, in which the person can get a different perspective, for example: to feel confused and disoriented, is that a bad thing? Here my friends, lies the surprise that can reinforce and greatly encourage. So, the sense of confusion and loss of direction is an internal wasteland and is not a problem but a great blessing!!!!!

How? When an era ends and there is an intermediate period, where everything seems inflamed, as it has been said by the prophet Amos. This period of dryness, calling us to learn a new language. It shows us, that these days, old thoughts and behaviours are no longer serving us. So, we have a choice, to choose how to think, how to speak, and how to do. This is the charming magic of God's gift, which was given to human as a partner to the creation in the land of life. And one must understand something deep under and over - there is no one but Hashem! He runs the whole affair, which is called life! As it was said in our sources: everything is predetermined and there is freedom of choice! And with this paradox, we have to live our lives when on one hand everything is divinity! There is nothing, but Him! On the other hand, G-d has planted within us wonderful feelings. We share this wonderful symphony with the ultimate goal, to finish the game of hide and seek that has been happening since the dawn of Creation, in order not to stop again, but continue our search for the loss of what we loved: the G-d! And at the end of the trip a great promise will have been realized: we all know the name of G-d! The concealment, a screen, illusory - will be removed, and the honour of G-d will be revealed to us all, big and small. So, we understand that in order to get even realizing the implementation of the Covenant and prophecy, we are in one of the most challenging periods ever, of human knowledge. It demands courage and determination, even if our world has been turned upside down, and all the old margins removed. We need humility and modesty, we need to have an entirely heavenly grandeur: Faith! faith! faith! Everything is going well and approaching toward the redemption of the world. With blessings and strength, Daniel.
And about the project of Tree of Life, I want just to say: we have had a great privilege of inspiring a project that is full of health, creativity and joy. All further details, are from our representatives throughout Israel.
Best regards and appreciation, from your Israeli friend:
Daniel

Pardes Channa
Yesterday (Wednesday), we did another step in the project tree in the garden of life. We arrived with precious Snunit, and with her we have built a bed of vegetables in the garden of Aliza.

She was glad to finally see, that her denounced neglected garden gets a new face. Her planter is flourishing and rising, and now the new flower bed flourish, and it pleases her so much. The charming team, included : Efrat, Eliel, Fasil and Eliezer. They were perfectly attuned to the provisions of Snunit and you can see the results.

Finally, we sat together with cheerful Aliza , and received from Snunit, explanation about planting, seeding and what we have done to benefit the earth. It was a valuable lesson and the students thanked her for the lesson and the joy they had while doing it .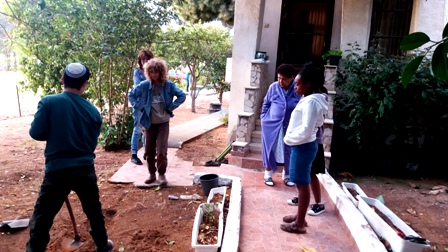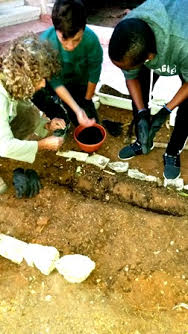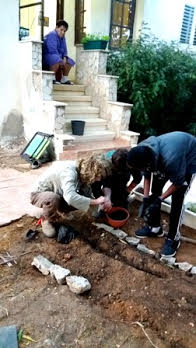 Starting the work at the garden of Aliza
At Gisela, we saw the results of the dedicated treatment in the plants. Everything blossomed and she has been used already somthing from the plants, in the soup she has made. She talked about her loneliness after the death of her husband, and told us her shocking story ,that she had to do in Auschwitz, where she had to work "only" two weeks of removing corpses in the crematorium ... all of it, has happened while she was only a girl of the age of 16 years old. For her, the most difficult part of the week is Friday, when she lights the candles, and no one come and bless her for the Shabbat . The story, moved the students so much, that they promised her to get organized and try to come and greet her before the Sabbath. In Neve Micheal, every other weekend, they travel to their families and they can't come every week. Snunit also promised, to make the effort and get there when she can. I must say that this year, the group from Neve Michael, has opened up and responds much more than before, and has more communication with the survivors. This is a great blessing to all of us. In Shoham, Jonah was happy and took care for the planter with us.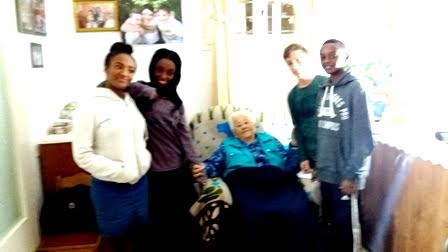 Gisela with the students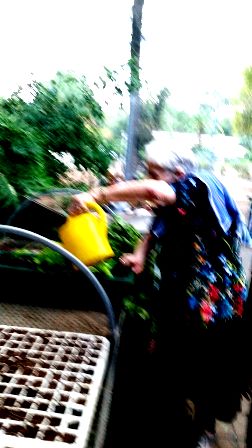 Yona, watering the plants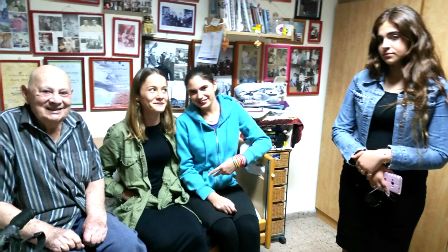 Yehoshyia with the students

Yeshayahu, invited us to his room, and told us about his family, and the light which recently has been lit in his life, with one of his nephews, who has started to visit him (he has no children of his own). Mordechai was not feeling well, and stayed in his bed. Clara and Leonid received with excitement and deep gratitude the rich package of fruits and vegetables we brought them.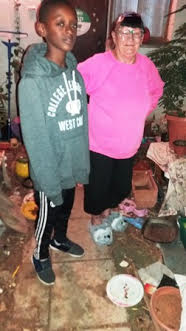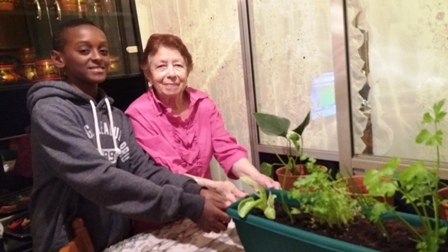 Clara and Fasil, taking care together for the plants

As well Zipora , and Chaya. Everyone are more or less, alright.

Sincerely yours,
Rivka

Visiting in Jerusalem
Keren : For the record: I am coming to give by listening with patience, but actually, I get a lot from it. Apart from the point of view of an elderly woman, on her last part of life. I get perspective for the life after 80 years. Today, I brought my Ukelili (small guitar) and played many songs. After a while, rose her smile and she told me "everyone , who has troubles, need to find what makes his soul to feel good." I am happy that the music, touched her and our meeting was so positive.

Nitzan and Ronnie : We met Eti for a real quite short time , but still enjoyed, We feel how each visit , our relationship gets more personal. We feel more comfortable with her and she is- with us. Today, we laughed a lot together! We had a lot of fun.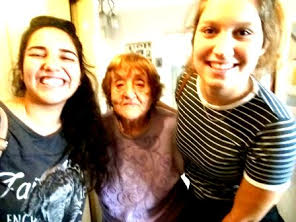 Eti
Tamar: Today, was my first encounter with Edith. I came to her house and she came to pick me up and we had the chance to make a short trip. We talked about our life story of each family, hobbies and we have slid to philosophy. We thought together what I could to help her on our next meetings: arrangements, travel, cooking together (perhaps). And we sat for a good many hours, enjoying together.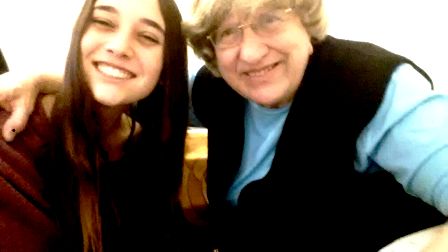 Edith with Tamar

Zfat
Ran and Ori : We visited dear Esther and it was very nice. We ate with her and drank coffee. She showed us pictures of her family and friends. We met her friend and it was really fun. Lee hee and Liam met with me at home and was excellent. Eli shared with us his history and his extensive knowledge of the world historical periods. He told us about his relationship with Yigal Allon and about his activities in Tzfat. It was charming and cozy, Eli was interested in us and listened to us ...we love him very much.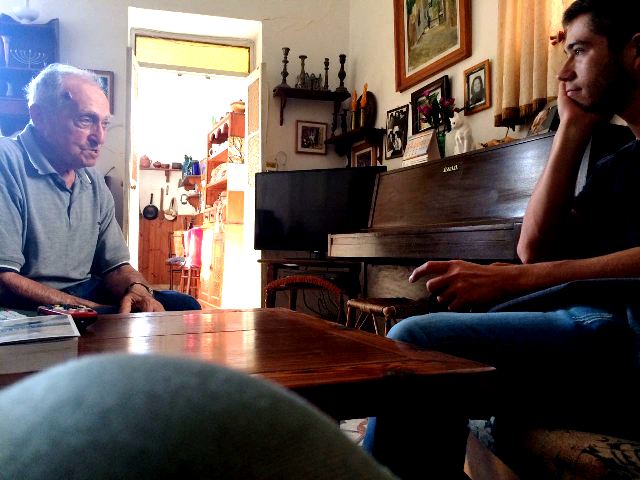 Eli and Ran, sitting and talking together.
Yoav and Dori : We had a nice visit at Golie. When we arrived, it was difficult for her to stand up so, we have prepared for the three of us, tea and biscuits and it was nice. We talked about all stuff and it was nice to talk and recognize it. After that we saw a bit of television, "Our song", and she really liked the program.
The visit to Shalom, have been postponed at the last minute because he was really sick. We wish him full recovery, and we hope to visit him next week. Pictures: Liam and me, and my camera: a minute of a nice moment.

Modiin
Shir (the student) and Arbel : On Monday, we visited Svetlana and Dimitry. Dimitri had a haircut and looks cheerful as ever. We played chess with Svetlana. Svetlana won by amazing course. After a game of chess, we talked about current events and Svetlana showed us articles and translated from Russian posts she wrote on Facebook. It was nice and we await to our next meeting already.
Snir, Ariel and Nadav: Rozitzh told us stories about her family and showed us old album with pictures of her family right now and we told her about our annual trip and sent her pictures from the visit.
Shir : I came to visit charming Mordechai.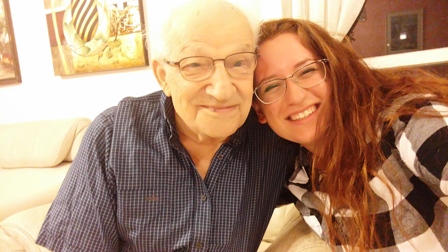 Shir met Mordechai
Mordechai having a tough time, he's really sick and his mood is affected greatly. He told me he could not sleep and that everything does not work in his body and said that he is lucky that his head works and continue to play and win in chess. I told him to focus on the good things in life and the problems and difficulties have always and for everyone, but should focus on the good things and then they also grow and improved mood. Then I told him to say three good things in his life and he talked about his parents' love Zell and his love for his children. His cat is like a son to him and the volunteers who come to visit. I was very happy to see him and make him happy.

News from the North
Kiriat Shmona:
We had an exciting fellowship with the Shoa winners. We have surprised them with the gardening project. It was a great joy, to see them enjoying this new idea of growing their own vegetables. First, we have visited Roman and his wife, who were already, waiting for us. Roman showed us his recent video, where he speaks about his past in the ghetto of the Viniza (region in Ukraine). In this Region, Hitler had his palace and there, he also killed 1.5 million Jews. He has a very touching story. Most of his family has been killed. Only he and his mother, survived. Roman, visited recently, all the places in Ukraine, where his childhood started so dramatically. He expressed his appreciation, that the grave's have been so well maintained. The survivors from that region. have paid to gentiles there, to maintain the graveyard. They do it, with love and honor. Then students with Roman have started to plant the vegetables. I gave them instructions how to do it and they did it very well.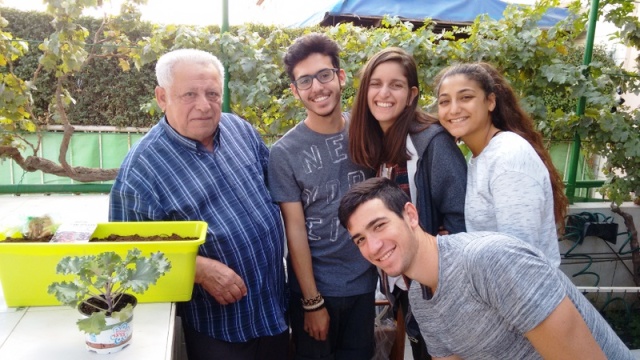 Roman, Eliav, Yuval, Omer and Rotem
(from the left to the right)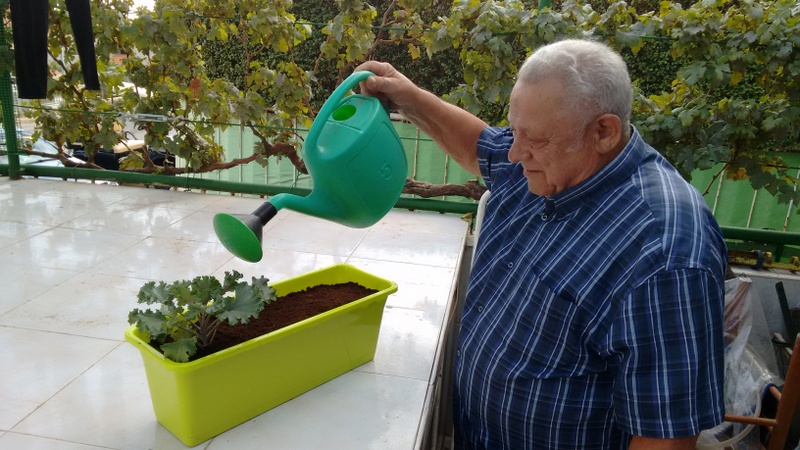 A very happy Roman

I brought for the winners to plant : union bolls and cherry tomato seeds. At the end, Roman gave water to the plants. Roman loves gardening, it bring him such joy. Then, we continued to the houses of Klara. Mordechai, Israel, Ludmila and Lisa's houses. They all enjoyed very much as you can see in the pictures.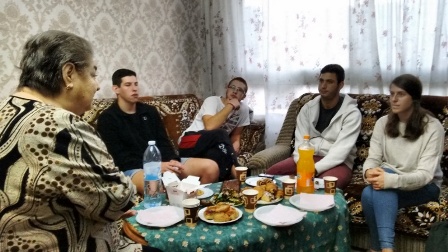 Lisa, Nadav, Omer, Roi and Ela
(from the left to the right)



Planting Cherry Tomato's
Shalom.

Rosh Pina and Genosar :
Last week while I was with the students in K. Shmona, students of Mechina K.Hanasi have visited winners in Rosh Pina and students of Maitzar visited winners of Genosar. It was the first visit without me, directing them and it was quite a challenge to navigate to the houses of the winners. They all, found their destination and had a great time. You can see the smiles on Blanka and Rachel's faces. They are so exited and the visit gives them such a positive energy.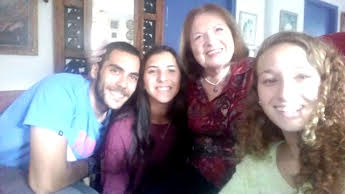 Students with Rachel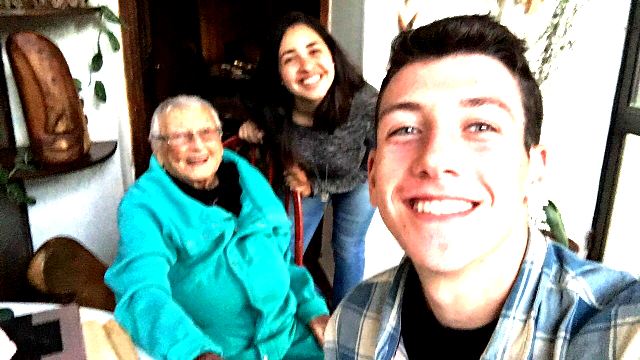 Yotam and Yuval with Blanca

Also the students, gained so much from it. So, look at the pictures and read their reports. I am very proud of these new students!

Maitzar in Genosar
Alon visiting Zachi in Genosar:
We were late because we didn't find our way, but we enjoyed even the short time. We laughed, and she shared with us the last two weeks she has passed. We already wait for our next visit.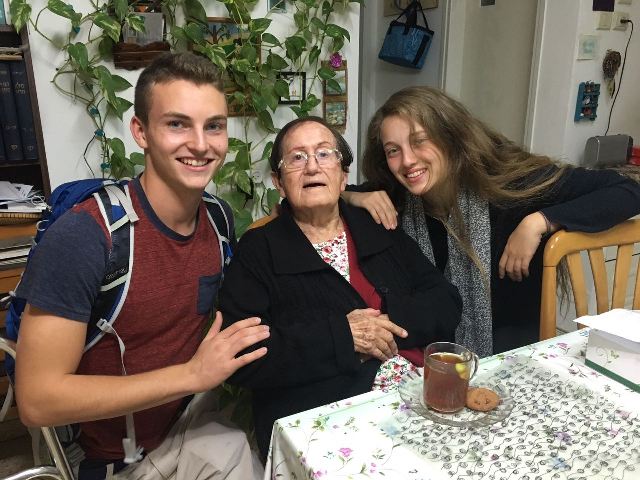 Elon, Zachi and Anat

Alon and Tzur visiting Avraham in Genosar:
We came to Avraham and we helped him with the fence and his garden, and he explained and acquainted us to his garden. In his house we spoke about his book, about his family and his hobbies. It was interesting, and we wait for the next visit.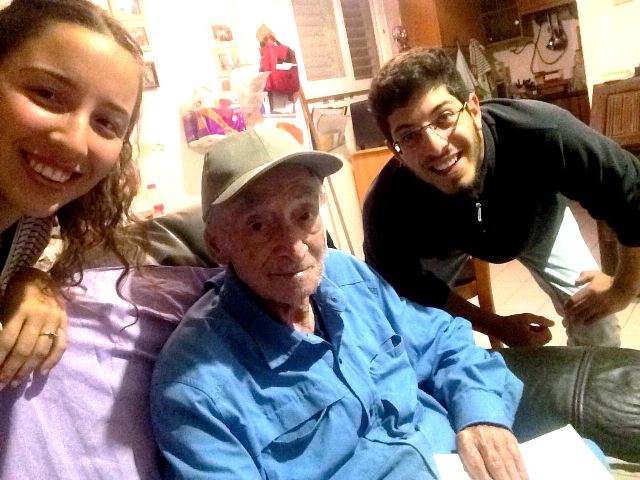 Adi, Avraham and Tsur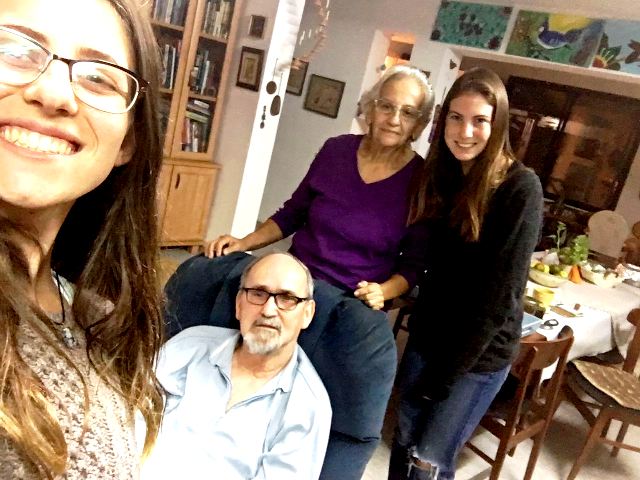 Lihi and Aviv with Eli Ram and his wife

Tsur and Maya visit Israel in Rosh Pina:
Me and Maya, came to visit Israel, and it was a lot of fun. He talked about the holocaust and about his grandchildren and about his service in the army. It was very interesting story.

Ofri : I planted where now it prevails with Israel. It was very nice, pleasant and interesting. Can't wait for the next week!
Ofer and Neta : We enjoyed. Gal : It was fun meeting with Batia !
Chatzor
Our first visit in Chatzor. We went each in couples, to the winners homes.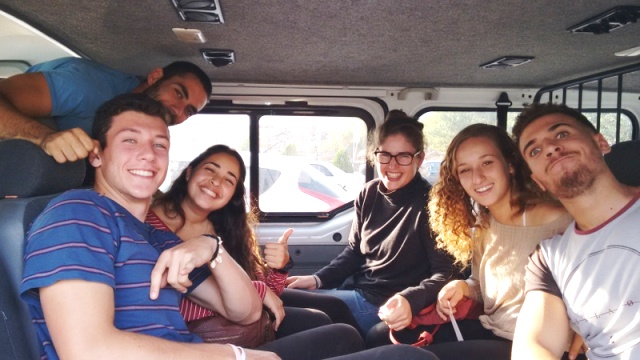 The students from Kfar Hanasi

The students were very excited to start.
One of the students has said at the end of the visits: "Timek, you are making us a better people. That's why we love you! " Thank you, dear students, for such a great compliment. Eden and Noam have visited Mina. She was extremely happy and enjoyed the idea of the garden of life as soon as we came in. She spoke about her health. She needs to be operated and has a lot of problems at the moment, and going often to the doctor and to the hospital. Mina is quite lonely and has no good neighbors in her building. She showed us the roof from her window and the dirt that comes from the neighbors of both sides and from the neighbors above her. She explained that she used to clean it, but now, she have no strength anymore. She needs to climb up from her window. There is no other access. So, Eden and Noam, went and cleaned all the rubish. What a joy and relief for Mina. |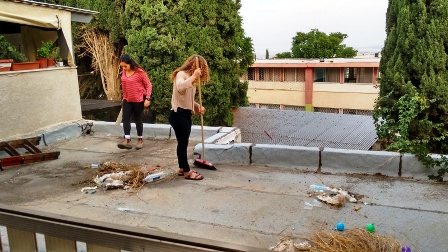 Cleaning the roof of Mina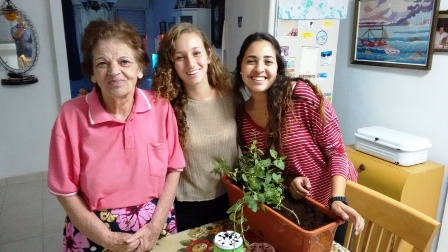 Mina, Noam and Eden, celebrathing the project of "The tree of life".
Now the roof will stay clean, because every two weeks, the girls will watch. The neighbor looked ashamed what was going on. Before hand, he had no respect for Mina, but now we expect he will keep the place clean.
After cleaning it was time to do the garden of life. Mina has no flowers nor plants in her tiny apartment. So this is giving her connection with nature a bit . She loves mint and lemon (Luisa) and onions. She can start right away to take the leafs and drink nana and lemon tea.
Daniel and Ghezi have visited Ruchama:
She was waiting a whole day to receive the students until we came in, at 3PM. She said to me: "from the first moment I saw them, I knew that these are good people". She is very happy and smiling and the garden of life, brought her even more joy.
Yotam and Maya visited Bracha
They talked and decided that Bracha will teach them to cook. We brought basilica plant, unions balls and cherry tomato seeds. That will taste good!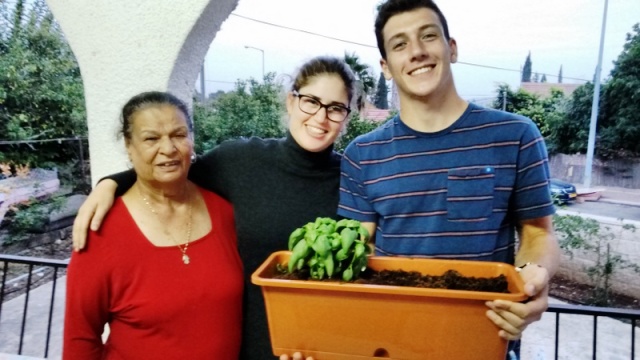 Bracha, Maya and Yotam

Shalom and regards,
Timek
This is our news , Shabbat Shalom!
Rivka



The Project of "Returning to the Tree in the Garden of Life" and news

November 3 2016, Chesjwan 2 , 5777
Dear Friends!
In good time, the Garden Tree Project is on it's way. During these days, our students are going to the homes of the Holocaust Winners, armed with a new message: seeding common vegetables which will grow in their living rooms. This is an inspiring project, with much to contribute. I owe this idea to my friend Yair Cohen, who produces healthily living and tries to inspire people with complex situations, helping them to find the power of the garden of life. Our conversation which we had recently, brought to me an overwhelming desire to bring to the students and adults, the idea of health.
There is a Biblical text which is beautiful and inspiring in the book of Genesis 1: 11 And God said: 'Let the earth put forth grass, herb yielding seed, and fruit-tree bearing fruit after its kind, wherein is the seed thereof, upon the earth.' And it was so". And later said God, Genesis 1:29 And God said: "Behold, I have given you every herb yielding seed, which is upon the face of all the earth, and every tree, in which is the fruit of a tree yielding seed--to you it shall be for food;"
That my friends, is what God gave us: the green fields and the fruits of the land, and seeds that are supposed to provide us with our health. For hundreds and perhaps thousands of years, man has got very far away from the earth. The industrial world has wrecked the human soul. We have forgotten what it is good for us and consumerism preys on us completely. Everything comes ready and quickly to our table. Fast food is harmful, causing many diseases. The most common is diabetes, and many diseases that reduce to zero the vital energy which is so important to man, and is wonderfully available in organic fruits and vegetables that allow us to live better and healthier. This project is to get back to the garden of life, a revolution really, where the young and old will receive basic raw materials: planter boxes, soil, and various vegetables, and with us they will sow them themselves, and commit to take care of them all by themselves, so, one morning, they will see the upraised first leaf popping up, which will be the fruit of their labour... I believe with all my heart, that when a person takes responsibility "and by his sweat, he will eat bread", that way, he will believe more in the food which goes into his mouth.

Of course, discarded ideas were offered - to buy them something with ready vegetables in it. But I felt that there is a depth in doing it from the beginning, from the soul, and plant the seeds and of course take care of them until fruits are taken from it. We will go from house to house and we'll start this project with the understanding of the eternal salvation we all are waiting for. It is learning to take responsibility for our lives and our health. Its making us get close to earth and it holds a heavenly row in the garden of life. You will have friends who understand the greatness of the hour and the wonderful garden tree of Life. I would like to tell you a vision of hope (with God's help), that during the next few years we will be able to influence hundreds of people to have a change in their lifestyle, even slightly. And more so, when the wonderful vegetables grow with even a possibility to share with neighbours. This week, the students from Neve Michael, with Zvia and Rivka, with one professional advisor from the nurseries in the area, will join us to direct us in the project, and next week, also Timek with the students of the Mechinot, will plant seeds with the Winners in their homes.
Finally, let's remember something important: The ones who love the Bible and G-d, who look in amazement at all the dramatic events taking place in the world: natural disasters and horrible wars, attribute all of this, to the change of the old world. Let us remember that the main war is happening in different battlefields. These fields, are inside of us. Here a change is prompted, in the human consciousness, by changing concepts, changing the reference, by agreeing to depart from prejudices, from a pagan culture which has minimized the human soul, for too many generations. Let's give attention to the fact that the most obvious changes are the changes within ourselves. There is the real battle. The real change won't occur if the person does not agree to the change inside of him. This is the value of the process, little by little. But, this process is required more than ever. And I should remind you: when a person has responsibility, there is no longer a passive state in which we live. Passivity is a dissease which undermines the magnificent role we play as a beloved partner for "Tikkun olam" in the kingdom of G-d. That's the reason that our project, will encourage for years ahead, to take responsibility, to build contacts, to strengthen and encourage non-perpetuating wretchedness, and say Yes! Yes! Yes! For life!
I would like once again, to encourage you to spread our word wherever possible, and encourage people to join this blessed project.
Daniel

Pardes Chana
We won this time, for the first time, to bring for our winners pots with seedlings and soil, to plant with them : parsley, lettuce, celery and green onions, in a large planter. Snunit, who work in the gardening nursery, joined us for this project, which "turned on" to the idea and offered her help saying that her mother is a Holocaust survivor. Initially, she guided the students, how to do the planting and then she'll also guide the survivors, how to take care for plants that have been planted with their own hands, as she also explains the use of what they can do with the plants. Our winners, were completely surprised. Indeed, most of the people from P. Channa, have started their lives as farmers, but it was kind of a reminder, appears to connect them back to what they experienced as new immigrants and young people upon their arrival to Israel. In this picture you can see how Snunit explains to us, how to do the planting, and then we were ready to get off when we were divided into two groups.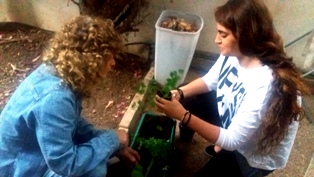 Snunit with Sofia, one of the students

Zvia with the boys, went to Yonah, who was very excited and she have planted, watered, and told all her friends about it.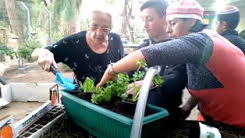 Yona planting some herbs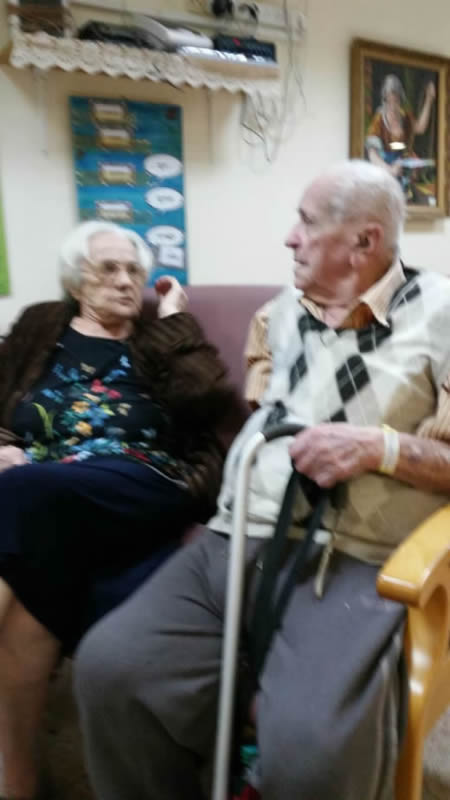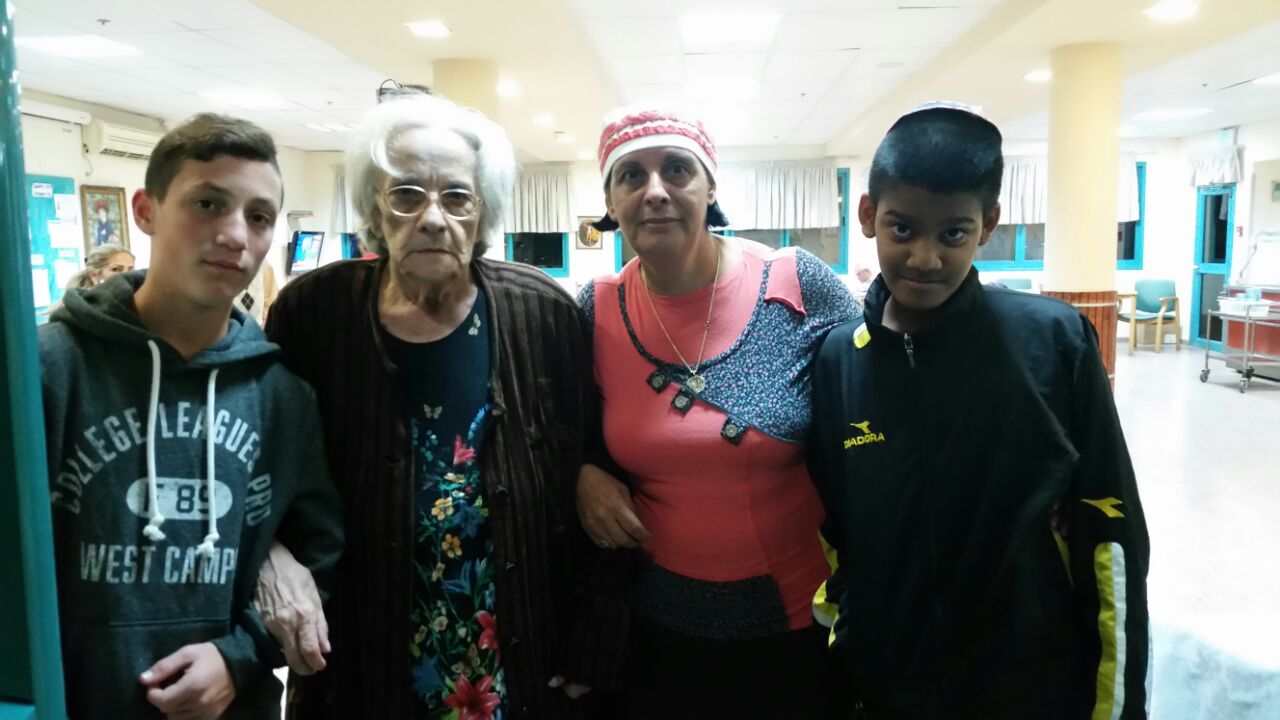 Yona with Mordechai
And even for the first time, agreed to leave the house, and join the visit to Mordechai and Yeshayahu. Yeshayahu - went for a several days through hospitalization, and was in bed recovering from his illness (heart problems). Mordechai, was happy to meet them, talking about his health and well-being. I went with a group of girls, went to Chaya and Morris, who were in bed with health problems, but were happy to see us and with their daughter, we planted and explained what to do with it. From there, we got to Clara and Leonid, who received us with joy, and Clara planted with joy, with us. Leonid is very fond of flowers, and certainly she will share with him the treatment of the plants.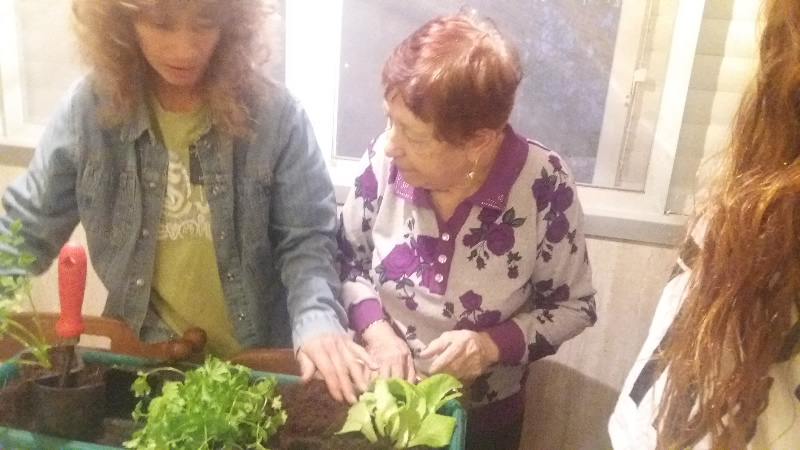 Clara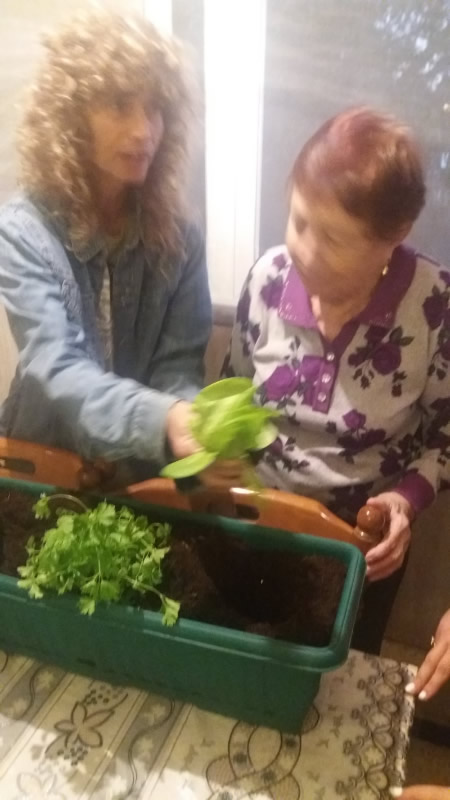 From there we came to Zipora, who accompanied us in planting and promised to take care of the planter. At Gizela it was a great joy. She really loves her garden and it was an upgrade, which she never thought about. She got out of her house, and joyfully has planted with us.

Aliza also, rose from the sofa, despite her back pains, and with pleasure has planted with us, and said that it was the beginning of refreshing her abandoned garden, because of recent medical conditions.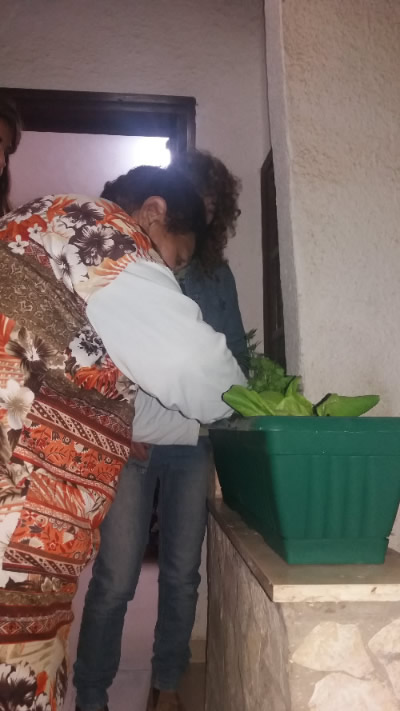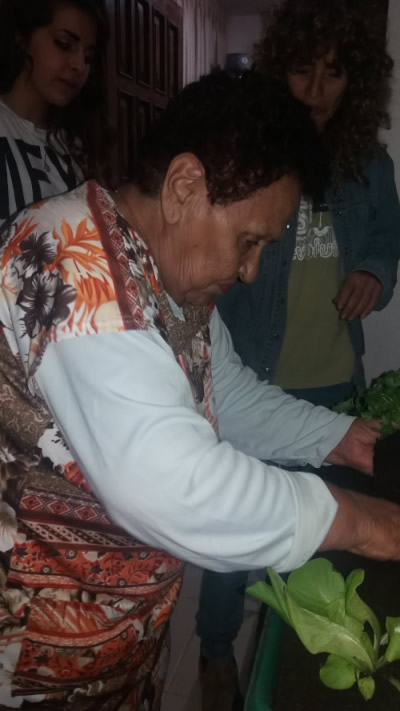 Aliza
We returned home with the feeling that something fresh and new, has happened today, and will promote and increase awareness of our survivors, for what they can do to better their quality of life and food.

Rivka
North: Neot-Mordechai
This week, was our first visit in kibbutz Neot-Mordechai with the new students of Mechina Ma'ayan Baruch: Rotem, Nadav, Yuval, Omer and Omer, Eliav and me. We visited Rachel, Ibi and Steve. All of them has received us in their tiny houses with open hearts and great warmth. The students were impressed and exited. They loved to get to know the Shoa survivors. This is what they have chosen as volunteering mission, and are very motivated. After the visits, all of them already knew, who will visit who, next time. But they loved them all and want also keep in-touch with all of them. That would be possible with all the activities that this year lay in front of us. As you can see from the pictures, after first visit we are already one family. Rachel felt so happy with the attention she have got.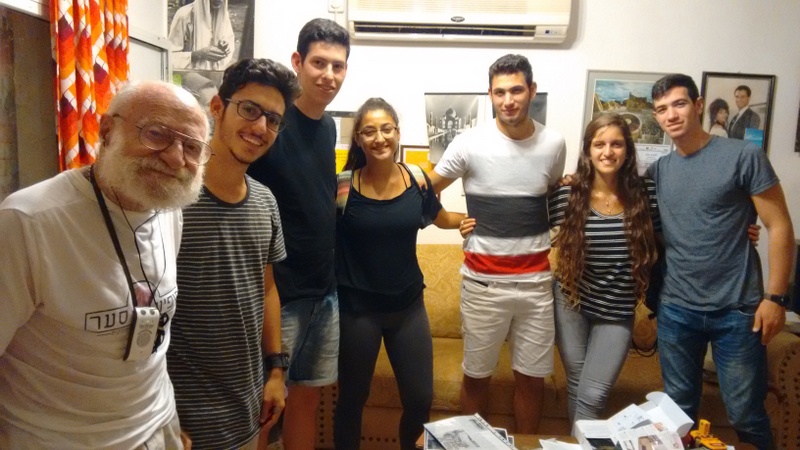 Steve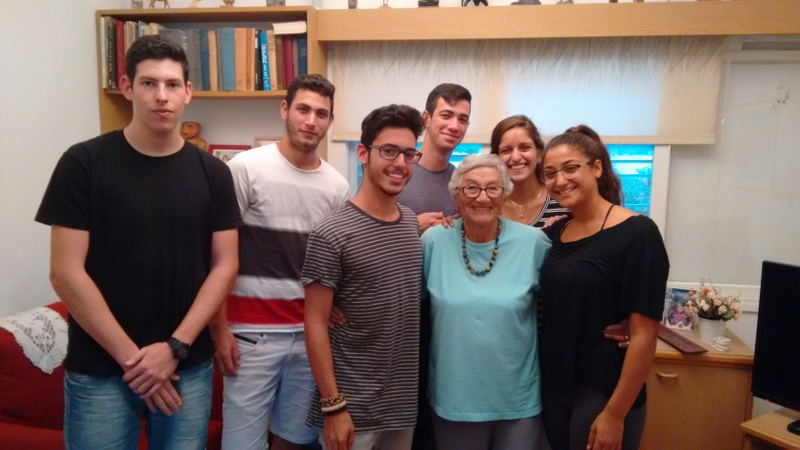 Rachel
Ibi told us that the students from last year, keep in touch with her. She showed us her paintings and her pottery. She is amazing and talented woman, 91+ years old and studying in Tel Chai collage all kind of interesting subjects! All of us received a big hug from her.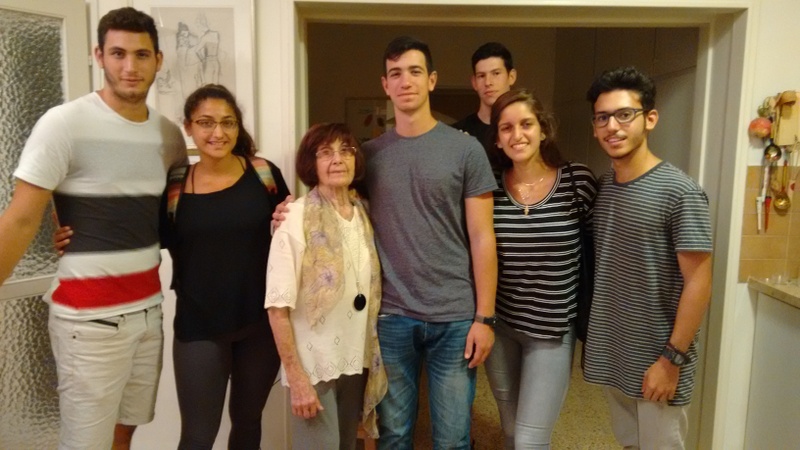 Ibi
Steve loves to tell us amazing stories from the first years that Eretz Jisrael became a independent nation. All of them are for their age, extremely healthy people. What a blessing after being through such a difficult period of life in their youth! We are heading a great year together.
Warm greetings, Timek
Modiin
Nadav, visited Rozitzh and Mickey on the last day of Sukkot.
Nadav: "When we entered to her house, we saw cups and half eaten cookies on the table. Rozitzh said that we came after a very special guest before our arrivel. Many years ago, the son of her cousin, was a soldier in the Yugoslavia'n army. He really wanted to come to Israel, but the country, was at the middle of a war and therefore, he was obliged by law, to remain in Yugoslavia, and continue to fight. After long time, in the base of the soldier, Samuel, asked his commander, to return back home. He claimed that he ran out of clean clothes, and he have to see his parents even for a short time. The commander, allowed Samuel to go, but only for 24 hours. But he argued that he would not return in such short time, because he lived far from the base. The commander have extended his vacation time, enough to have the time to see his parents. When he reached his home, he poured the contents of a tie on the bed and told his parents he going to run away from the army and going to Israel. His mother was crying, because she was scared but Samuel, did not hesitated, and took the train towards the airport. Rozitzh, who at thet time, lived in Canton, have received a message that Samuel is going to land in Israel at midnight or at 3 in the morning in Israel. She went to the airport to welcome him at midnight, but Samuel was not present and she went back home in Holon. At 3 o'clock Samuel has landed in Israel (as he wished). When Rozitzh with Samuel arrived safely home, she called his parents to inform them and said the weeping Samuel's mother: "Do not cry, here is your son, be happy for your son " and tears of emotions and joy were from both sides of the ocean .

Alon and Ofri visited Janet and Gaston after long time they had not seen them:" Gaston has returned from the hospital after being a month having long hard treatments. We drank hot tea with mint which have raised in their garden. It was nice to catch up and talk about everything. In addition, we discussed about various kind of academies services which their grandchildren did and strongly recommend for us".
Tzfat
Neta: when we came to Meir and Lillian they were acted beautifuly. It was mainly, introductory conversation. They told a lot about their children and grandchildren, and about Meir's military background. We talked to them about the court that they have with their former neighbors. They were more interested in asking questions and it was really nice.
Hie-lee: We met today Eli and it was just fun and exciting. We sat with him for almost two hours outside his beautiful house . Eli told us about his life, about his routine and of course, he was interested in us and in our life. The meeting was with many laughs and full of humor. We were very pleased with the connection . Eli was simply charming. We look forward to another meeting with him and to get to know him more.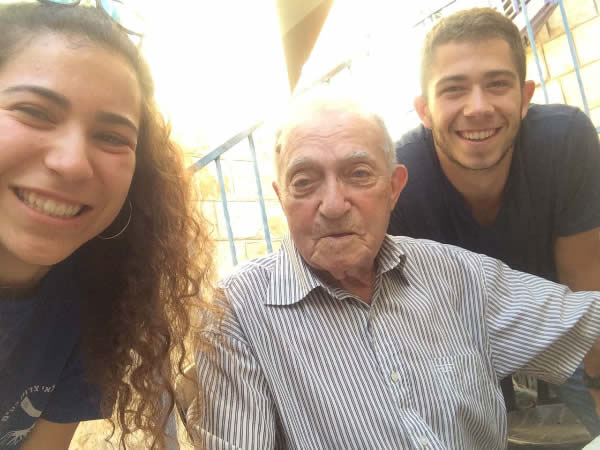 Eli
Ran: It was really fun with Esther.
I came straight to her, and she hugged me and told me that she have waited for me. We made Chummus and she told me about her family, about her work (she works in a nursing home for over 15 years already). It was really fun to talk to her, she's insanely funny and flows .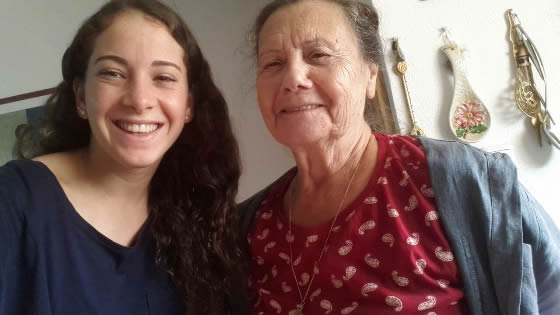 Esther

Jerusalem
Keren : Today I met Eti , for the second time. But for her, it felt as the first time. She probably has forgotten, and told me about herself just like at my first visit. She asked me the same questions and told me the same stories. She brought her a box of dry cookies but approached them with a smile that I could not refuse. It has been a very desperate tedium and I said sarcastically, "I can't wait to go.. " We talked a bit about what she likes to do and how she runs her daily life. I invited her to a concert and I promised her that on my next visit I will bring my guitar. After a while, a friend of her grandson came and I saw how happy she was when her house was filled with people. I realized today, how much boredom and lack of inaction can lead to despair, and how important our visits there.
Dear friends! As the one who is working hard to bring the best news in the best way. Please, if you have anything to say about the articles, you are welcome to say. Criticism is the only way to do things better. If you wouldn't say, how would I know. So feedback is vital here, and everything will be relevant....Just let me know.

Shabbat Shalom !
Rivka

From the Lechaim-to-life team in Holland
October 19, 2016
For many many years, Lammie Lassche dedicated her life to support Lechaim-to-life. And she does it with all her heart. Last year, she opened in her home town Meppel an extended second hand shop for sponsoring Lechaim-to-life in Israel. The shop is called L'Chaim to Life-shop.

You can see the team and Lammy on the picture inside the shop: from right to left standing: Liesbeth, Annie en Jaap, Titia, Saskia en Lammie and on the front sitting: Theo, Hylkje en Marian. Four people of her team are not on the picture: Maria, Froukje, Greetje en Gerbrig.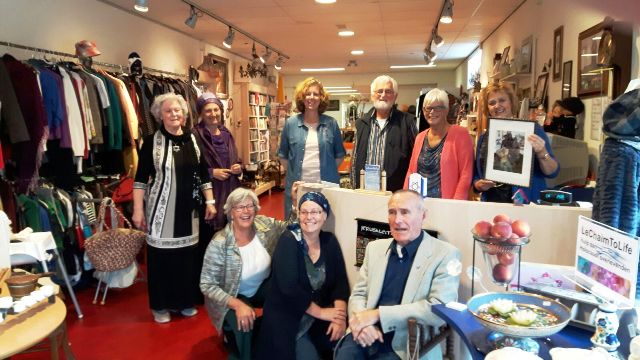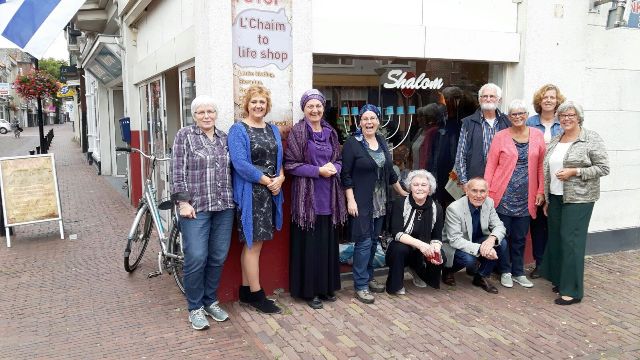 The new shop

Lammie writes:
The shop is open everyday except on shabbat. All the team members work some hours a week in the shop voluntarily.
Through selling of our products we help directly the Shoa survivals in Israel through L' Chaim to life in Israel.
We know that money only can not re-pay what had happened to them during the dark days in Europe, but we know that the love theShoa survivals receive through the visits of the students and through other care they receive, it means a lot to them.
People bring their second hand items for free to the shop from a short distance and some from far away. With our customers we share how the students bring joy to the houses into the shoa victors and how it affects their lives.

Each day is for us a new challenge, but we receive the strenght and encouragement through the newsletters and the pictures that we receive from you in Israel. We hope to be able to continue to support the work of L'Chaim-to-life in Israel for a long time. We experience G-ds blessing from what you do, every day.

Warm greetings from all of us, Blessings from HaShem,
Team of L'Chaim-to-life in The Netherlands.



Rosh Hashana events
September 30, 5776, Ellul 27, 5776
Dear friends!

This week is the one before Rosh Hashanah. We have started wonderful and magical activities with the new students who have volunteered to be part of the project. We started with the wonderful Modiin brunch that Shir started a year ago, and continues it's second year.

On Sunday, we experienced an amazing meeting with a lot of enthusiasm, joy, light and blessed action. But before that, I will tell the story of what happened before the event. Shir, had prepared the event of the opening party in the school where she has studied. Her plans were perfect. The winners were supposed to get a ride to the event, and the students as well, and the attendance was supposed to be full. But, life brings surprises, and on Sunday morning, I got a phone call from Shir, and she told me with some disappointment, that some of the winners can't come to the opening event. I felt the same as her, but, right away I smiled to myself and realized that the Almighty is playing with us by testing our faith. We spoke, adjusting each other's thoughts, by agreeing that any number of people who come, would still make it a great success because, each person is a whole wide world! The numbers are not important, but the quality is, with love and a god will. It is not dependent on anything else, to lead to success. The quantity is an issue, which depends only on the Almighty. Quality is dependent on our faith, our pure hearts, and our intentions.

This is what happened!!! We entered to a mood of much joy, looking at the wonderful number of the new volunteers, and the new winners who have started to join the project, and mainly, the blessed activities which are done by a rare and pure soul called Shir, Shir of light!!! I felt that we are relaxed, believing that the evening will be as best as it can be, and we, did our best. I started happily, on my way from Zichron to Modiin. I first, met the new students and the ones who continue from last year. The spirit was active with joy, and after an hour, the winners came and joined us. A nice number of people, most of them came, and the amazing thing was, we breathed magic air with a light in the eyes and in the hearts of each one of the attendees. The event brought bright light, more then we can understand, and all of this, was under Shir's organiziation, done with all of her heart. The winners spoke and expressed their big joy of being with "L'Chaim's" family. We have passed a big lesson of faith. I returned back home, happy, with full energy and revived strength.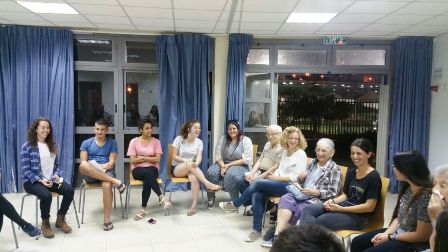 First meeting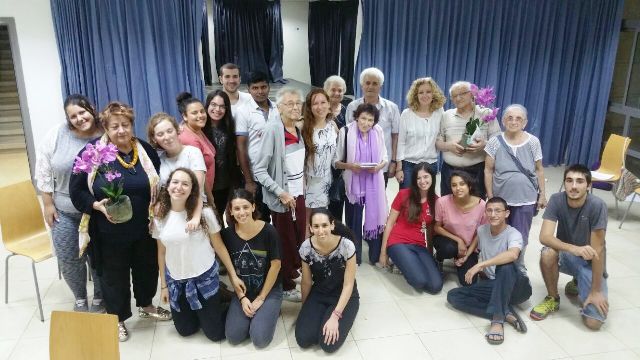 L'Chaim family, second year celebrating Rosh Hashanna

Again, my full appreciation to this youngster, who is serving the army and yet, succeeds to fulfil her vision of building such a wonderful branch in the city of Modiin. On Monday, the first visit of the students from Mechina Maitzar - in Genosar
(see Timek's report).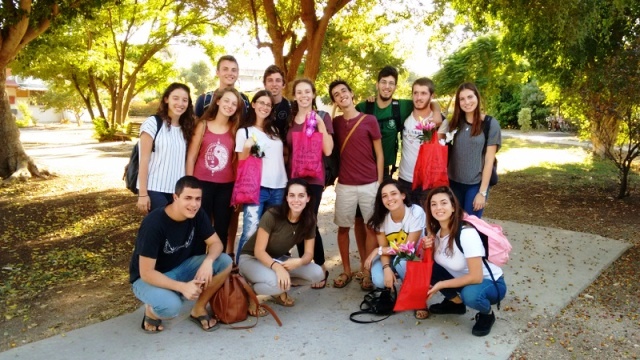 Meitzar

On Wednesday, Mechina Kfar Hanasie, with the leadership of Timek, will start to visit in Chazor and Rosh Pina.



Mechina Kfar Hanasie
On Thursday, the second miracle of Shir: The opening of a new branch in Zfat. We will take the winners to Kibbutz Baram, and there, the students are arranging the first meeting by hosting the winners for the celebration of Rosh Hashanah together. It wasn't easy to get through the bureaucracy of this poor city, but with patience and the spirit of love, we will start to make our way there.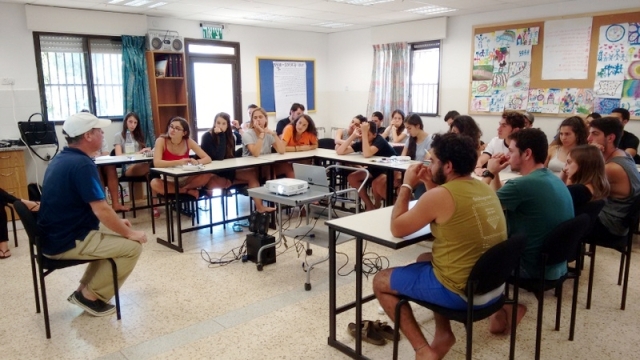 Mechina Baram

On the same day, another beginning will be for the new students of Mechina Maayan Baruch, and they will visit for the first time, taking a gift for the holiday, the winners in Kiriat Shmona, Neot Mordechai and Kfar Bloom.

Finally: It is a great privilege to bring so much happiness, and to receive happiness from them, the ones who make possible the connection of heart to heart, soul to soul, with the vision of educating the human being and the Israeli nation in the spirit of true giving !!! Many thanks to you, our donors around the world and in Israel. You are full partners in this blessed project!

Shana Tova umevurechet !
(a blessed and good year).

Daniel
Modiin
The Magic miracle has happened again! I even don't have the right words to express my satisfaction, the joy and the smile, which has stayed on my face, the endless love and how lucky I feel with the "L'Chaim" family. First, for the privilege to have such my own family , which is going with me and support me, along this way. Second , to win meeting such amazing winners ,grandmothers and grandfathers, who turned to be part of my life. Third, to have such volunteers, the old ones and the new ones, who had a big light with smile on their faces. It was real unification, between our winners and the volunteers. First, we met the volunteers: me and Daniel, to give them orientation about "L'Chaim's" vision. The curiosity was palpable. Our listeners listened, and asked questions. Then, the winners were invited in, and each winner, set with his volunteers. We asked , each of the participants, to say something, which makes him to be happy. Most of the winners, spoke about their Aliya to Israel and their excitement for those youngsters, who are willing to give them, with all their pure hearts. Then, by showing a picture or object, the stories came out, and were sometimes very funny, or very interesting and exciting. The most excited one, was Riri (Rivka), the new winner. She is all by herself and very lonely, because all of her children, is abroad. When she saw her volunteers, coming to her and going to be as her grandees, she broke with tears of excitement.

We finished with presents for the holiday which were vase with permanent flowers. Also, art greetings cards, made by the girls who study in the studio of my teacher for the Arabic language, and my personal card to them. We took picture of our widen family, and you can see the lighten eyes of our members. I wish to all of us, to keep blooming, to love, to speak from our hearts, to give and get excited, and just enjoy the magic touch of the "L'Chaim's" family. After speaking with Janet and heard that Jaston is at the hospital, I decided to go and visit him. I brought an apple cake, made by my mother, Orchid and greetings card for Rosh Hashana. He suffer from a strong ear infection and now is getting the right medicine, surrounded with his family members. I hope for his healing as soon as the holiday come.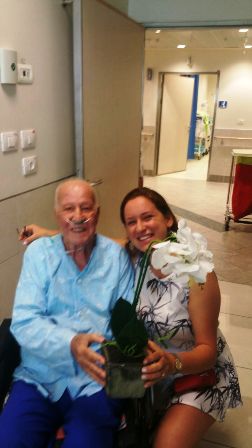 Jason in hospital
We met Eti, and our meeting was mainly, for getting to know each other. She asked about us and we heard about her with pictures of her family. We got out with big smile on our face. We believe that she also enjoyed as we did.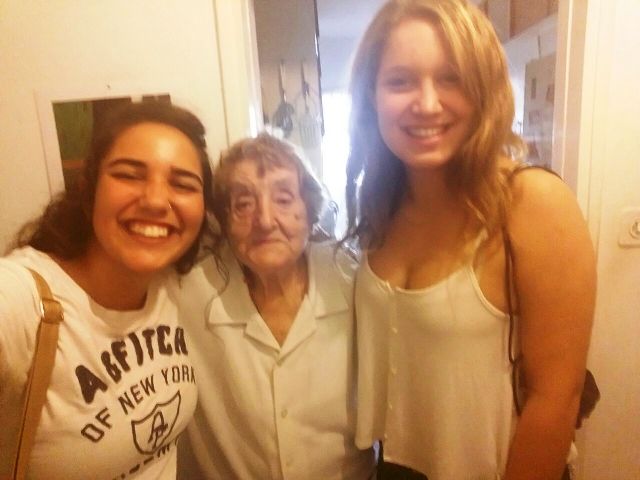 Eti
As part of cooperating between my old school "Yachad" in Modiin and the "L'Chaim"'s Family, today, a group of students from the school came, to Svetlana & Dimitri, and renovated the walls of their house by painting the walls and all of that has done with love and efficiency. Svetland reacted for this gesture with a written words : What can we say in our situation? Many thanks for your gesture. We are speechless! Such good boys, Shneor (their leader), Shir.... Thank you for everything, kisses and just watch yourselves.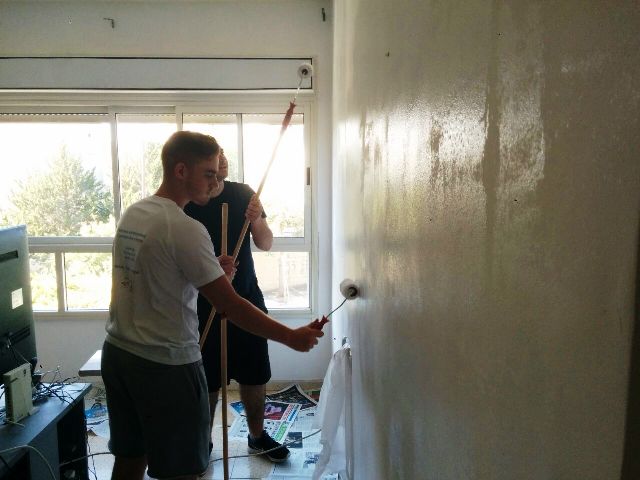 The house of Dimitry and Svetlana got painted by the students.
Shir
Zfat
Shir : We won a great donation from Dana's family. They have donated from their heart to the winners from Zfat, as a gift for Rosh Hashana. It is really amazing to see this nice people who join our efforts to fulfill our winners and on the way, they gain their fulfillment..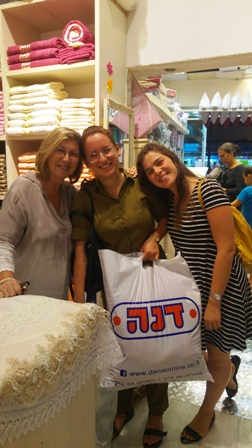 A gift from Dana's shop
After a week of activities, We met today (Thursday): winners, Mechina students, soldiers, Daniel and Assaf , to the opening meeting of "L'Chaim" branch in Zfat . It was for me to meet for the first time the survivors who I spoke on the phone long amazing discussions, and met the volunteers who is taking part in our project. With the ride to Baraam , came Ester, Eli, and Shalom. We met in the club of Kibbutz Baraam. Daniel and me spoke about the Amuta and then, we sang together accompanied with guitar song for Rosh Hashana, immersing apple, and cake with honey, and then we were splited to groups and introduced to each other by playing games.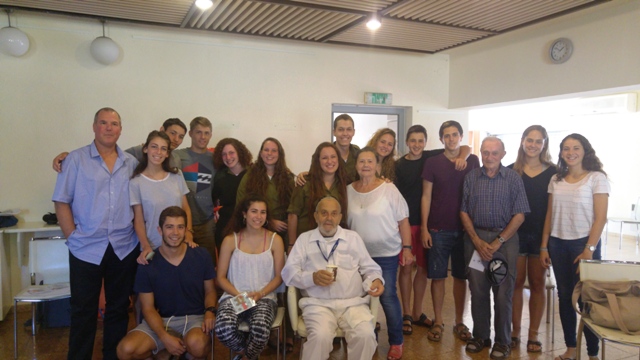 First time in Zfat.

We finished with a story about Chinese story about Bamboo and what have to invest, and put diligence, in order to make it grow and bloom. and this we compared to our new plant/branch, which we have to raise and make it bloom. The part of giving gift for the winners (Dana's donation), and the art greeting cards, which has done by the girls from Modiin. The winners were very excited and said that they wait for our visits. We on our new way!!!
North
Maitzar in Genosar
New very passionate and devoted students, from Mechina Meitzar, have arrived yesterday, for the first time, to meet the shoa winners in Kibbutz Genosar. Me and Brigitte, received them with love, and brought them into the houses of the shoa winners, who waited the students along the summer. It was special moments to everyone. You see the pictures of Moishe, and how happy he is. He requested to get visits from two girl students. Why? Because he have two sons, and not any girl. Avraham is a very communicative person , and want to know each of the students, their name and the place where they live. Then, he analyzed the information, and tried to remember a moment in his life that he was on that very place. These are very funny moments. Also, because he is over 90 years old, and don't hear well, we showed his visitors, the book that Avraham wrote and were translated recently to English, thanks for the help of Margo and Shir.
One of the students, is from New York and during the first chat with Avraham, they realized that he know Avraham's granddaughter, who live in Los Angeles, and is involved in the International Israeli Youth project. This shows me, how amazing G-d way's , and what a small world we live in.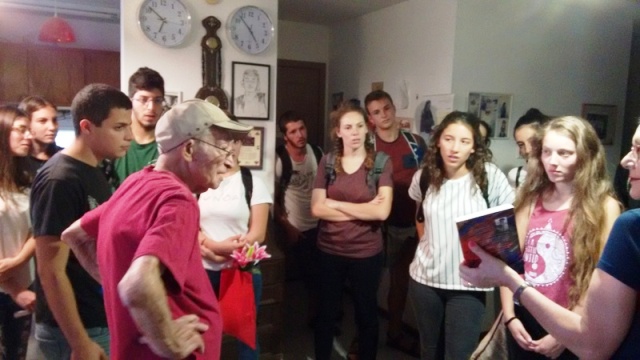 Avraham

EliRam, as usual, was direct, funny and was joking. He showed the students his paintings., He gave 2 paintings to mechina Meitzar, as a present. He have plans for this year: to write with the students his full shoa story. And he promised: Pizza party, at the end of the year if the students "will behave well"... Again a joke. It is a tradition: Pizza Party on the end of the year at Eli-Ram's. He is so thankful!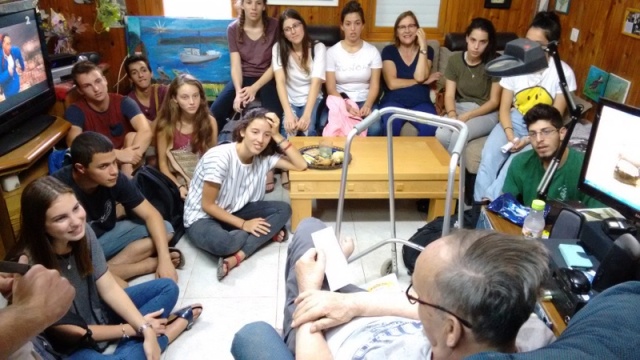 Eli-Ram

Izik told the students a bit, of his amazing story of how he grew up in a traditional Jewish family, studeid Tora in the Chaider, and how he has survived Aushwitz, together with his father, and how he came to Genosar and have started a beautiful and fruitful life that he still fully enjoy every day. Sara his wife, is now in the hospital. She broke her hip, but is revalidating well. Batiya, Tsachi and Zelma were also so happy with the new students. It is exciting for them. The students and me were all very satisfied after the visits.
Our first visit with the students of Mechina Kfar Hanasi in Chazor
Yesterday, I met for the first time, the students that will be with me in Chazor and Rosh Pina. The introduction to new Shoa survivors was excellent. Each of the winners, have received gift for Rosh HaShana.
Yaffa, is our main contact in Chazor. she is from Tunesia. She knows the people well, and that is what we need to start with. Our first visit, was at Mina. She is from Romania and is all alone in her tiny apartment. She is extremely happy to get visits from the students.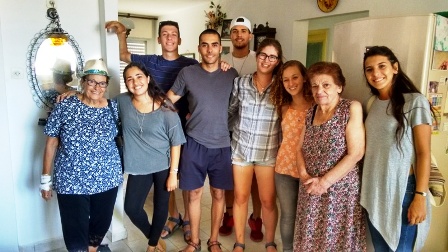 Mina
Then we went to Bracha. She is also, from Tunisia and since then, she live in Chazor on the same place. In the beginning, her house was a tiny house and each time, they extended a bit. Bracha brought up eight children, four girls and four boys. Her husband has died last year. Since then, she is lonely, despite her great family. But besides the High holidays and shabbat, she doesn't see them often, because all of them are working or studying or live far from her. Next to her lives Ruchama, a very sweet woman also Tunisian. She appreciate the students visits very much.
First visit in Chatzor, by R' Shachar with his children, visiting Etka and Eva, which were very happy for his visit. "My children reminded those two nice ladies , their childhood. The visit was very successful, and I hope to bring more families to adopt winners here in Chatzor.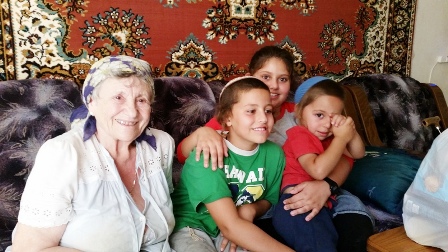 Etka with the childeren of rabbi Shachar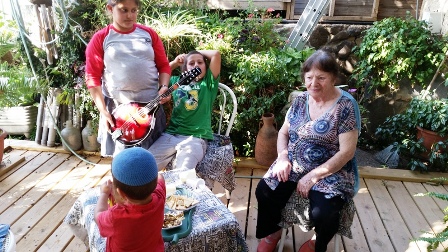 Ela
Shana Tova!"
Shachar
In Rosh Pina we has visited Rachel. This is the second year, that we visit Rachel. I remember the first visit last year, when Rachel was very shy and hardly communicated. Now, I see different Rachel. Open, loving and communicative. These is direct result, of the impact of the students visits. Rachel was moved when she saw us coming in, and cried overwhelming from excitement .

Israel was ready to tell part of his experience in the working camps and Aushwitz. He remember that the nazi's have served pork to the Jews, and no one ate it, unless somebody who was so hungry. And after the Russian Army has captured the camps and released those who remained in life, Israel was obligated to travel to his place of his origin. There, he has found his parents house, occupied by non Jewish family. In the salon of the house, they had pigs (inside of the house). Israel couldn't take it, and has left to Italy. He couldn't enter Eretz Israel , so he was sent to South America, for one year before he could make an Aliya. Israel worked also, for the well known "Mossad", and was one of the agents who helped to catch Eichman.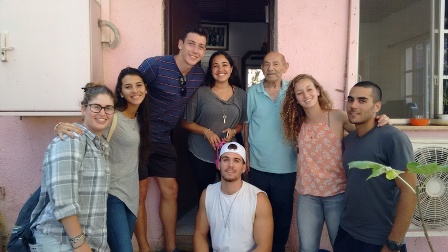 Israel

Blanka was excited. Along the whole summer, she was waiting to the new students and prepared program to teach them. The key idea is to teach the students, the importance of gardening, and taking care of Eretz Israel which is a beautiful present form G-D, and not take it for granted. Israel is the only homeland for the Jewish people and she see it as a great gift and miracle.
First visit today in Kiryat Shmona with the students of Mechina Mayan Baruch.
I picked up the students and we drove to Klara. As soon as Klara met the students, I could sense the love from both sides. The students walked side by side with Klara to Neli's house, and later on, to Roman and Rina. Today was Roman's birthday! We spend quality time with Rina, Israel and Rachel. Israel told us, a touching story of his life, from being a little boy until now. The students listened to all the stories with open hart an devotion. It was fantastic start for this new season. The houses of the winners, are open, whenever they want to meet them. They will receive them with open arms and love. The students have showed, great love to these wonderful winners.

Shana Tova,
Timek